Banana Porridge
This post may contain affiliate links. As an Amazon Associate, I earn from qualifying purchases. Please read my disclosure.
Jamaican banana porridge is simple, nourishing, naturally sweet, and so easy to make! It's vegan, gluten free, super satisfying, and will totally satisfy your sweet tooth. The best part? In just 15 minutes you can have a delicious and healthy breakfast the whole family will enjoy!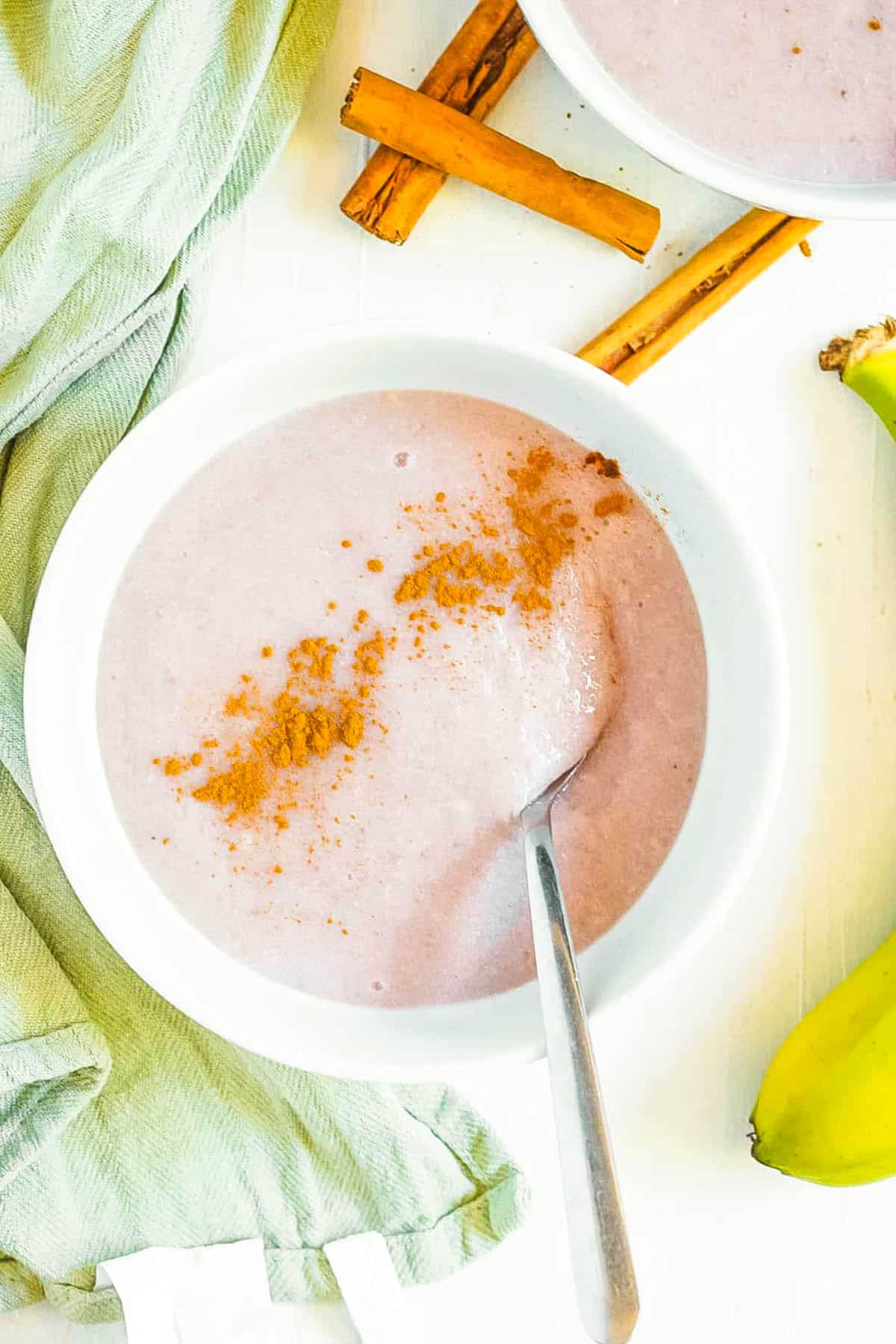 This easy green banana breakfast recipe originated from the Caribbean islands, and it also happens to be vegan, gluten free, can easily be made sugar free, and is kid-friendly too! You can top your porridge bowl with fresh fruit and nuts or shaved coconut for a satisfying breakfast that is great any time of year.
Jamaican breakfast porridge is super fast to make and it's perfect for picky eaters. My kids love the creamy texture and sweet flavor that the bananas bring. I think this green banana porridge recipe will become a new family favorite!
This healthy banana cinnamon porridge uses coconut milk in place of regular milk and coconut condensed milk in place of sweetened condensed milk. It's vegan and dairy-free, but even dairy-lovers will love it. What I love the most is it fills me up and gives me the energy I need to get through my day.
If you have not tried porridge yet this is a perfect recipe to start with. Jamaican porridge is a cooked porridge often made in a variety of ways. It contains condensed milk, milk and spices but can vary to include oats, cornmeal, plantains and in this case banana! It's sweet and satisfying and definitely serves as a cozy breakfast perfect on a cold morning. I guarantee it will become your new next favorite breakfast recipe!
👩🏽‍🍳 Why This Recipe Works
A great breakfast option that can be made with just a handful of common ingredients
Top with nuts and your favorite fruit for added nutrients and fiber
Make this easy banana porridge in just 15 minutes
Great for picky eaters
Enjoy this easy recipe for breakfast, lunch, or dinner – even as a snack!
Gluten-free, dairy-free & vegan and so delicious!
Make it with or without dairy, based on your dietary preferences
Latest Recipe Video!
🥘 Ingredients
This vegan banana porridge recipe calls for pantry staples you can find at your grocery store or you may already have them in your cupboard.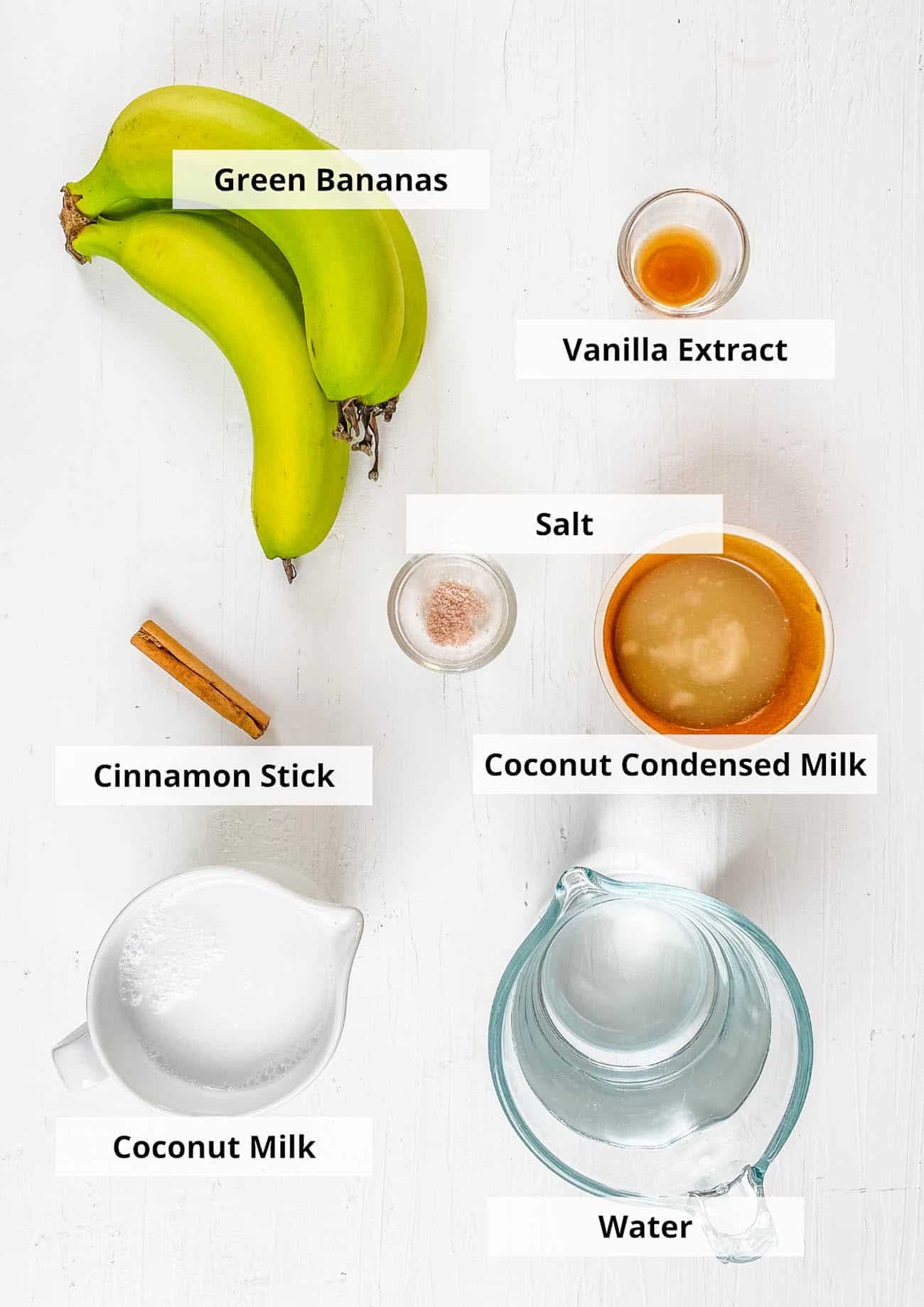 Green Bananas: Unripe bananas are essential for this recipe as they provide the texture and consistency for this creamy porridge.
Water: The water brought to a boil infused with cinnamon and vanilla brings the perfect balance of flavor and moisture to perfect your gluten free banana porridge.
Cinnamon Stick: I use a cinnamon stick to achieve a nice cinnamon flavor. You can add 1/2 teaspoon of ground cinnamon in its place.
Vanilla Extract: One teaspoon of vanilla extract gives this recipe the perfect touch of vanilla flavor.
Full Fat Coconut Milk And Condensed Coconut Milk: We used a combination of these two milks to provide creaminess and sweetness for this cinnamon Jamaican banana porridge. You can use sweetened condensed milk if you prefer. Note: the nutritional information below is based on condensed coconut milk which has less sugar than regular condensed milk.
Salt: Adding salt to this recipe helps bring out the flavor of this mashed banana porridge. Make sure to add it at the beginning of the recipe. When you add it at the beginning of cooking, your porridge will be more flavorful and delicious.
🍲 Substitutions
Milk: You can use any plant-based milk or dairy milk you prefer. Non-dairy milk options like soy milk, coconut milk, almond milk, or oat milk all work great. If you are not dairy free you can use regular organic whole milk which is also delicious.
Green Plantain Porridge: You can also use green plantains for this hearty breakfast instead of the bananas!
Sweetener: You can sweeten this recipe with an array of sweeteners such as brown sugar, coconut sugar, honey, maple syrup, cane sugar, sweetened condensed milk, or agave nectar. Or you can leave out the sweetener altogether for a healthier option.
🔪 How To Make Banana Porridge
This recipe is simple to make! Here's how to make this banana and cinnamon porridge.
Prep The Fresh Banana: Peel and slice bananas.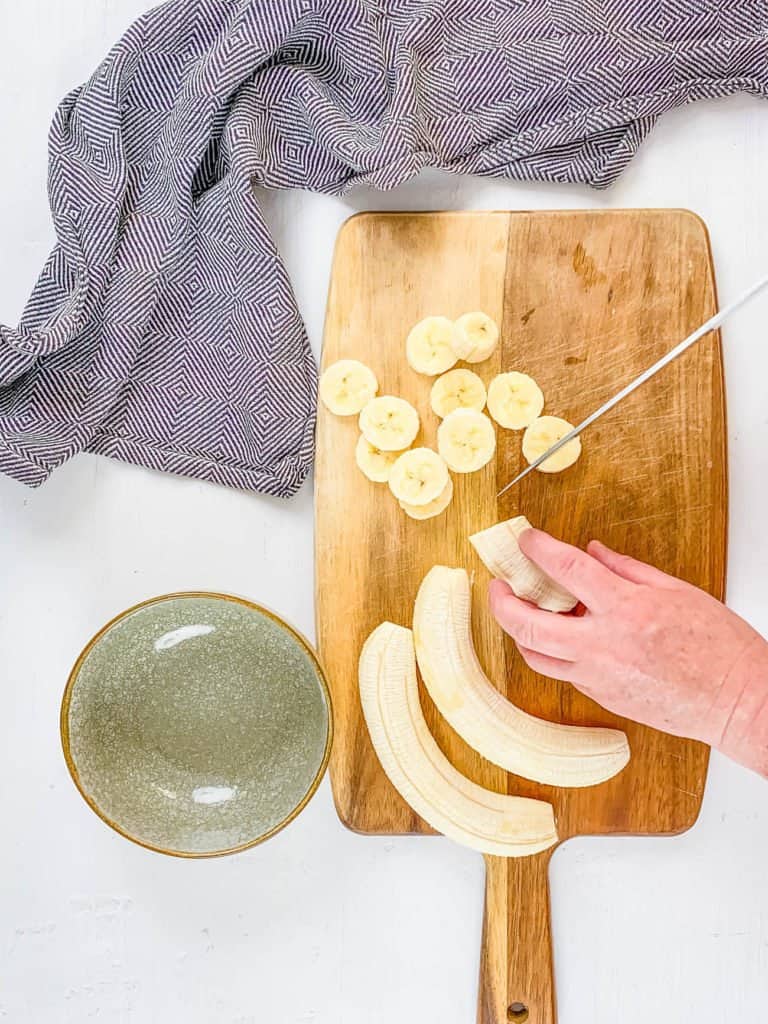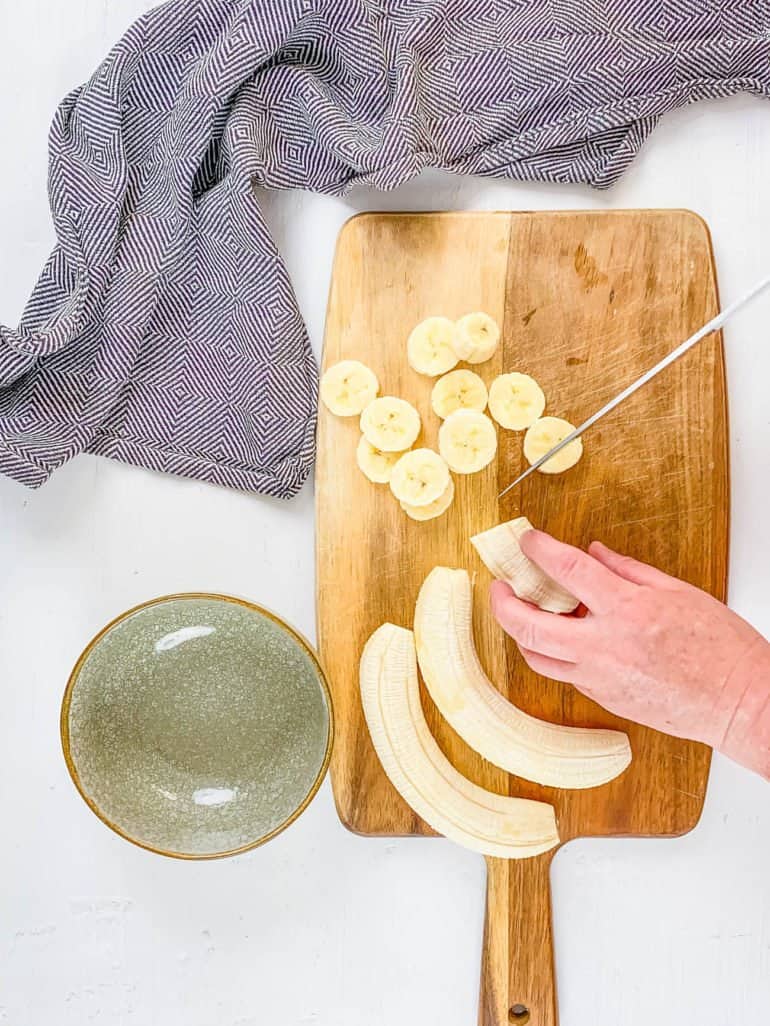 Blend Banana: Place the banana pieces along with the coconut milk and salt into a high-speed food processor, blend until smooth.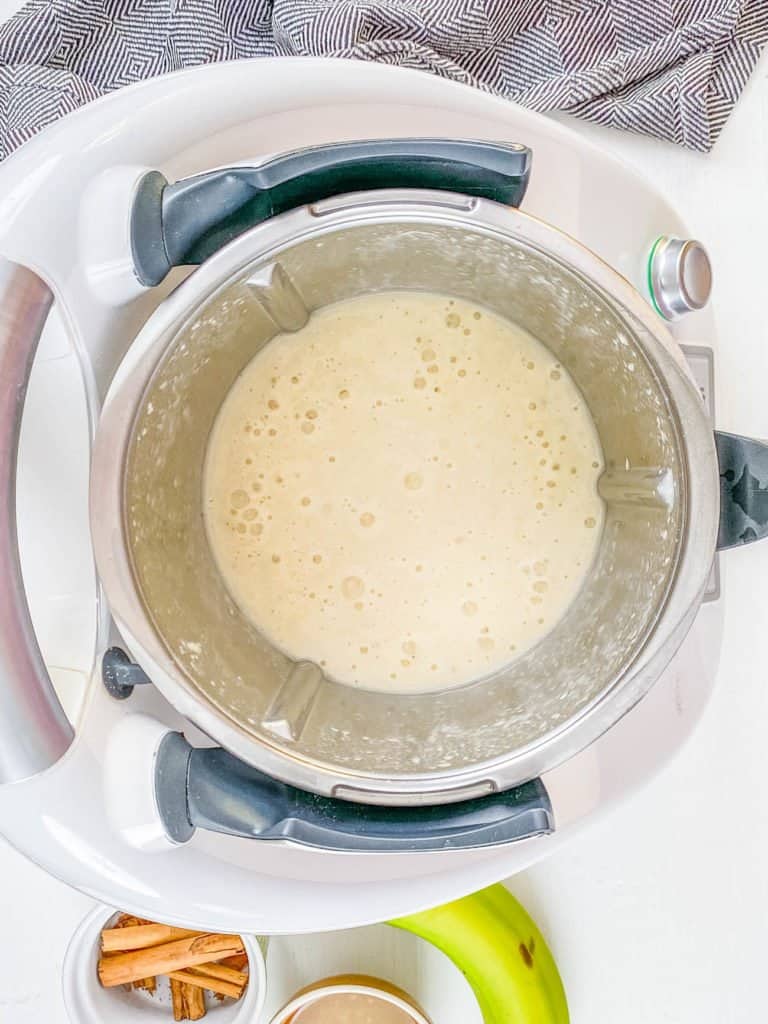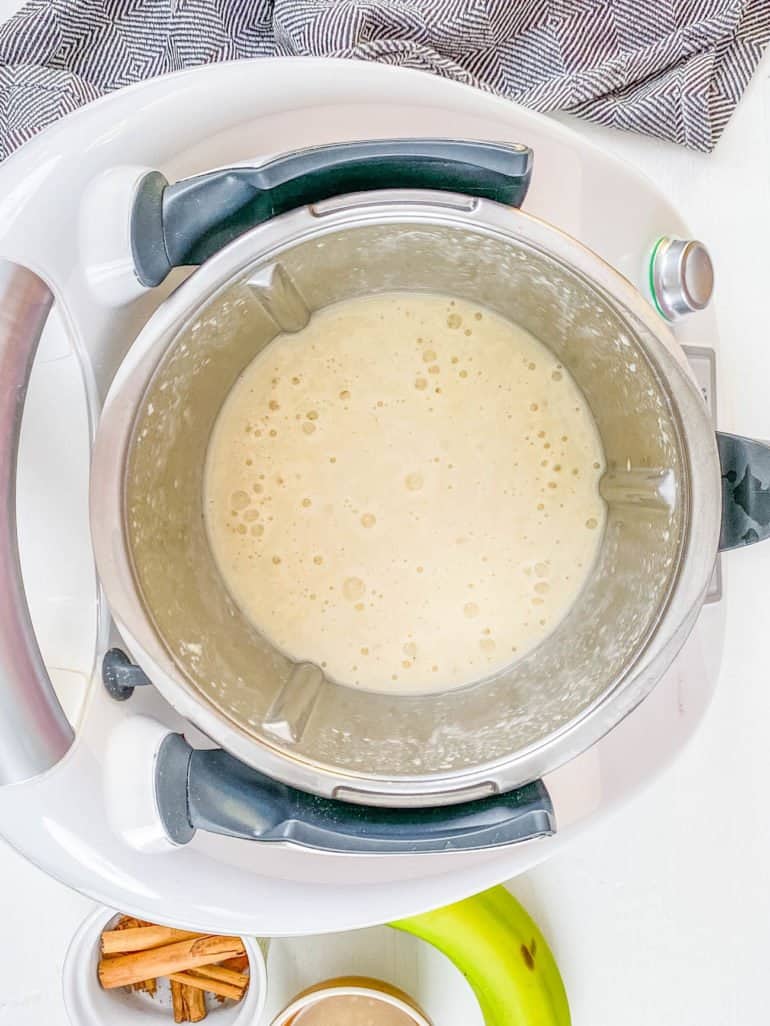 Boil Water, Cook Green Bananas: Bring the water, cinnamon stick and vanilla extract to a boil in a small saucepan or pot. Stir in the banana pureé, bring to a boil, reduce heat and simmer, stirring for 10 minutes as the porridge thickens and cooks.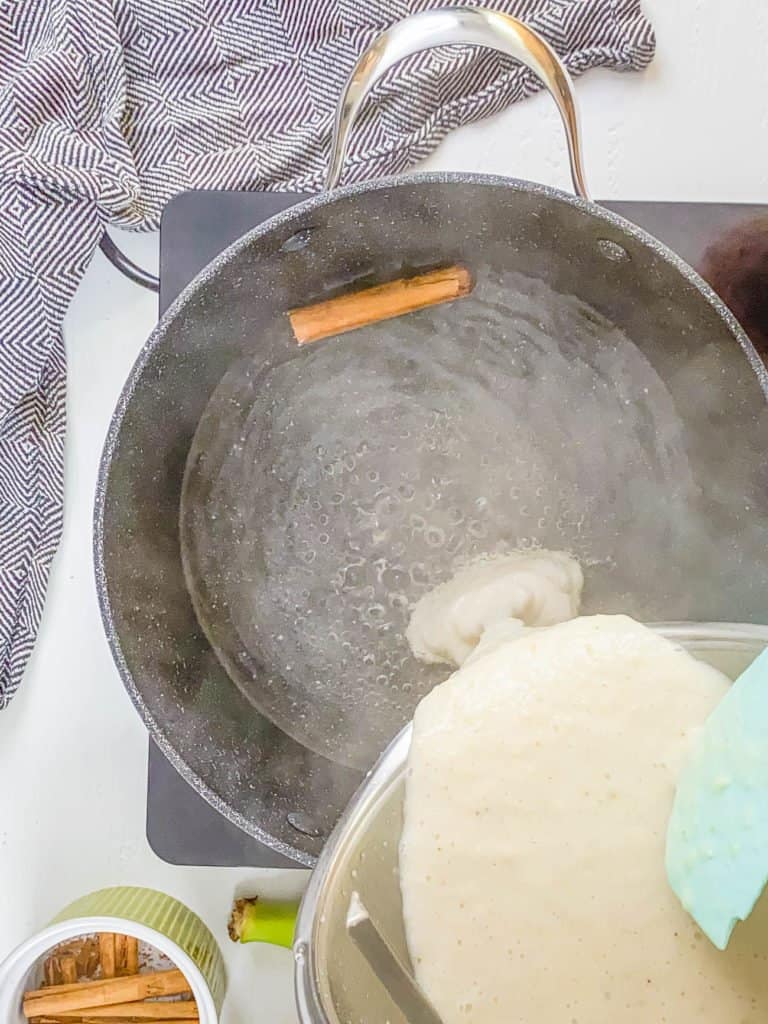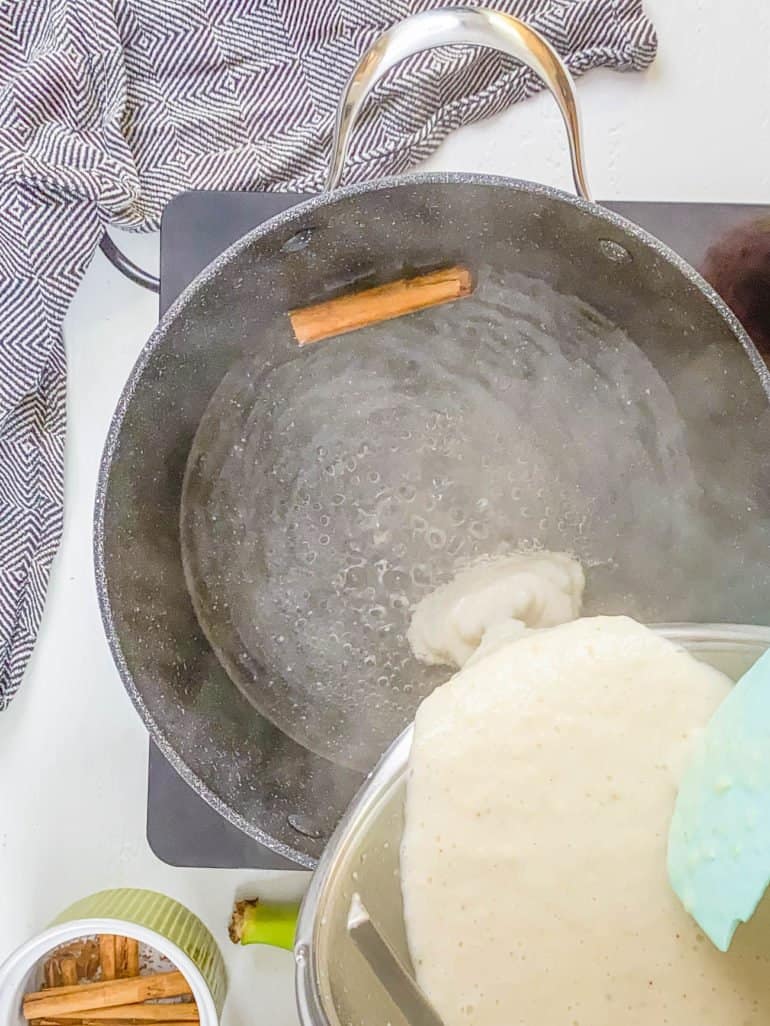 Add Milk: Stir in the coconut condensed milk to taste.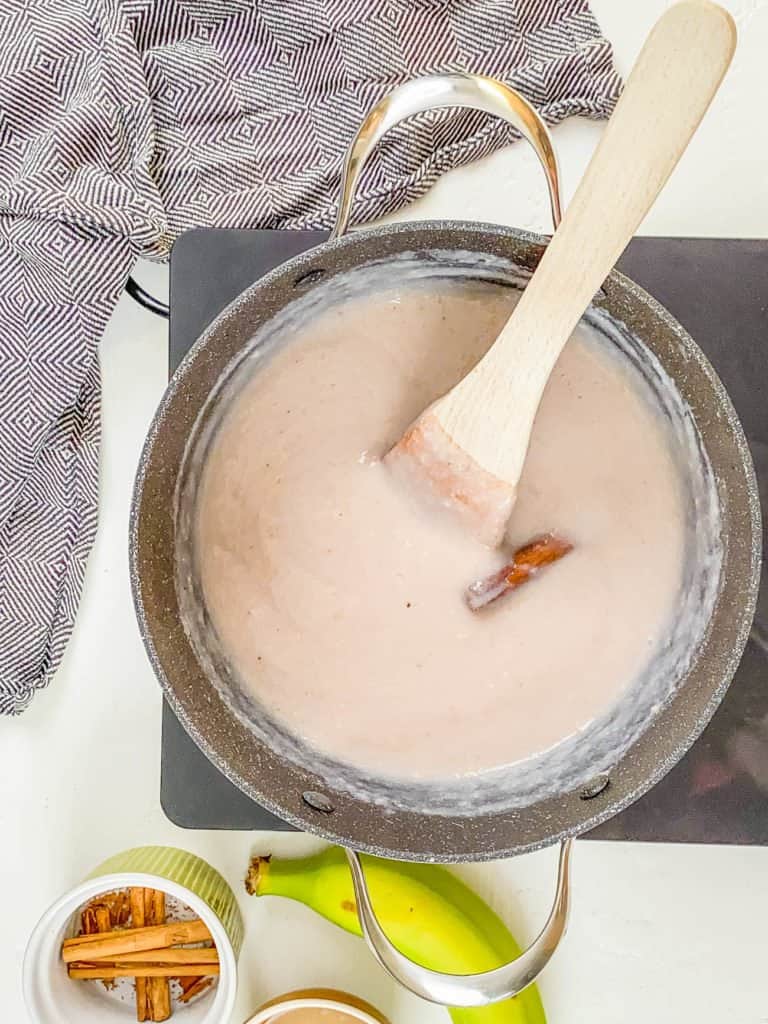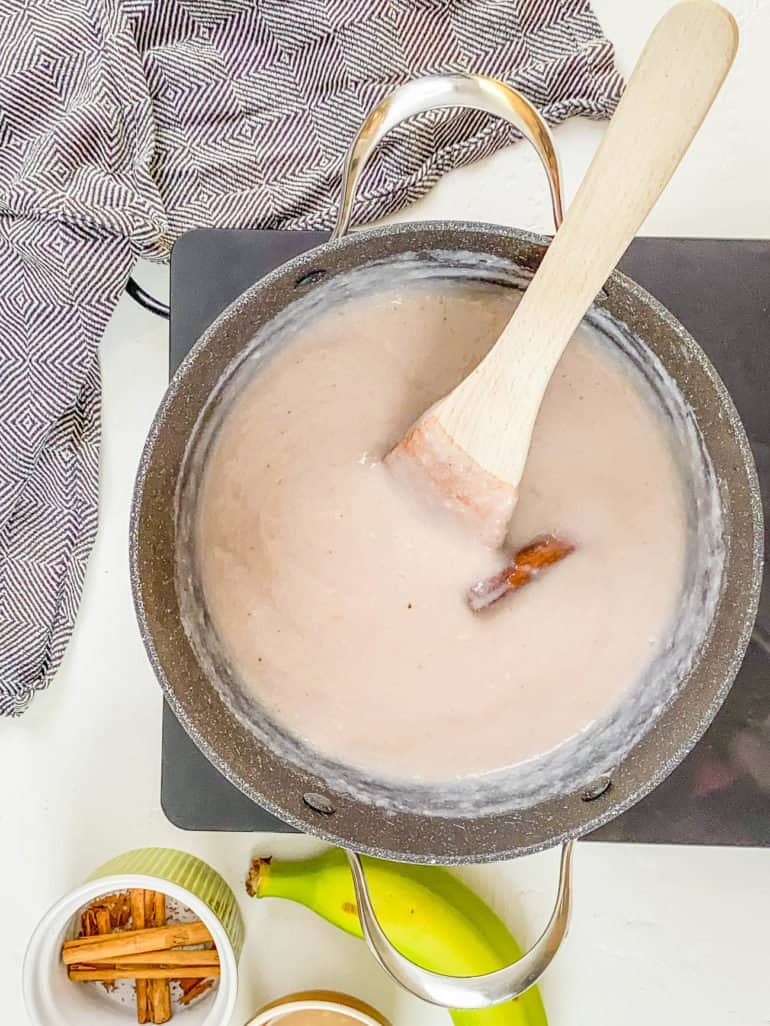 Serve: Remove from the heat and serve. Add extra milk to thin out the green banana Jamaican porridge if needed.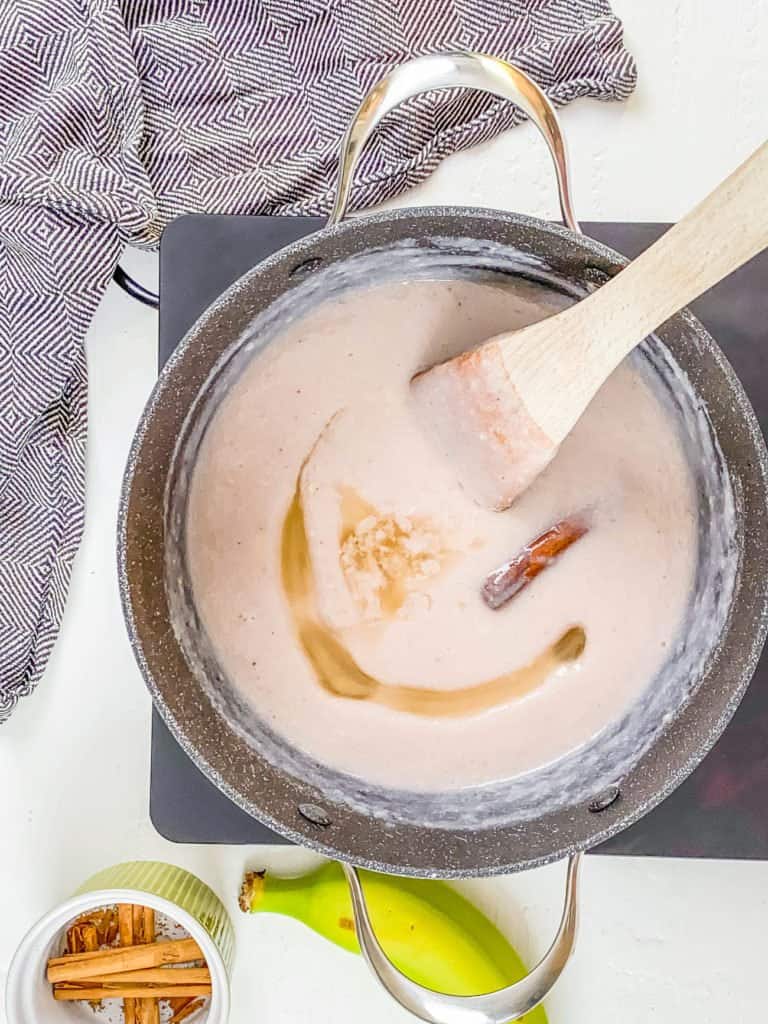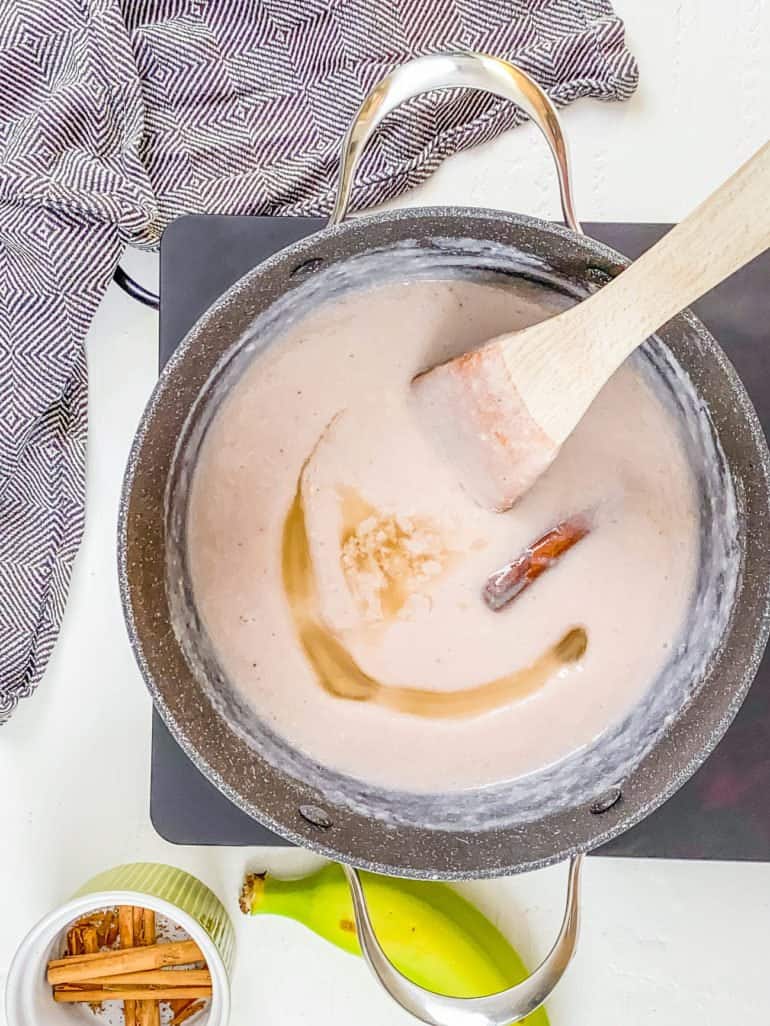 💭 Expert Tips
Let it rest. After cooking, allow this porridge con banana to rest for a few minutes before serving. This will give the flavors a chance to meld together, and the porridge will thicken slightly as it cools. It should have a creamy consistency. If you like more texture, you can blend it less for a more chunky feel.
Use green bananas or plantains for this recipe, ripe yellow bananas will not work.
Cook low and slow. Cook the porridge on low heat to allow the flavors to develop and to ensure it doesn't burn. Stir it regularly to prevent it from sticking to the bottom of the pot and ensure even cooking. This will also help prevent lumps and achieve a smooth texture.
Start with less sweetener (condensed milk) because you can always add more, but you can't take it out.
🍽 Serving Suggestions
While you can enjoy this porridge all on its own, it also tastes great when paired with a breakfast drink, a smoothie, or even some toast! Here are some of our favorite ways to serve this porridge with banana:
🍌 Banana Porridge Toppings
Adding toppings is the perfect way to customize this recipe! Try any of these toppings for added flavor and nutrients!
Fresh Fruit: Top with passion fruit, coconut flakes, pear compote, mango, blueberries, raspberries, blackberries, sliced banana or even caramelized banana slices, strawberries, or chopped pineapple.
Nuts And Seeds: Chia seeds, pumpkin seeds, flaxseeds, crushed pecans, walnuts or even chopped almonds would taste great.
Sweet Drizzles: For more decadence, try a drizzle of sweetened condensed milk, chocolate sauce, caramel sauce, blackberry simple syrup, strawberry simple syrup, peach simple syrup, or vegan honey!
Nut Butter: Add a dollop of your favorite nut butter, such as peanut butter or almond butter to make banana nut porridge. For a twist, you can also try pumpkin seed butter, vegan nutella, or this white chocolate hazelnut spread!
📖 Recipe Variations
You can customize this hot porridge recipe with banana in so many different ways!
Make It Healthier: Use light unsweetened coconut milk, and half the amount of condensed milk to lower the fat and sugar in this recipe. If you're watching calories or sugar intake, you can use monk fruit sweetener and unsweetened coconut cream instead of condensed coconut milk.
Chocolate Banana Porridge: Add 1 tablespoon of unsweetened cocoa powder when you add the banana puree.
Peanut Butter Banana Porridge: Add 1-2 tablespoons of peanut butter at the same time you stir in the coconut condensed milk! Almond butter would also taste great.
Banana Cornmeal Porridge: Combine ¼ cup cornmeal, 1 tbsp oat or almond flour, and ¼ cup plant based milk to make a paste. Add to the water with the rest of the ingredients, and cook for 15 minutes until cooked through. You can also just make this cornmeal porridge recipe and add banana!
Banana Oatmeal Porridge: For a hearty bowl of Jamaican oat porridge, add in ½ cup cooked rolled oats when you stir in the banana puree! You can even combine this recipe with this quinoa oatmeal to make banana quinoa porridge!
🫙 Storage Directions
In The Fridge: Store the porridge in an airtight container in the refrigerator for up to 2-3 days. Reheat on the stove or in the microwave. You can add more milk to thin it out if needed.
To Freeze: Since this banana cinnamon porridge recipe only takes 15 minutes, it's easy to make fresh and you may find it tastes best this way. But you can also freeze this recipe if needed! Let the porridge cool completely, then transfer to an airtight, freezer-safe container. Store in the freezer for up to 3 months. Reheat in the microwave or on the stovetop until warmed through. When reheating, add additional milk or soy milk if needed.
❓Recipe FAQs
What is banana porridge?
Creamy banana porridge is a Caribbean breakfast porridge made from green bananas, water, milk, sweetener, and cinnamon.
Is banana porridge good for you?
Yes! Caribbean banana porridge is healthy as long as it's made with a lower amount of sugar and whole food ingredients. This porridge recipe is full of fiber, potassium, folate and antioxidants – all great to promote general wellbeing, healthy digestion and heart health. I also reduced the sugar from the original version which makes it a healthier low calorie option.
Is Jamaican green banana porridge good for diabetes?
This recipe definitely has health benefits and can work for diabetics. It is just important to keep in mind the amount of carbohydrates and sugar you consume in one meal and adding some protein to the meal to support stable blood sugar levels is beneficial. I recommend reducing the condensed coconut milk by half, and adding nuts on top or adding some peanut butter to this recipe if you are a person who has diabetes as it adds more macronutrient balance.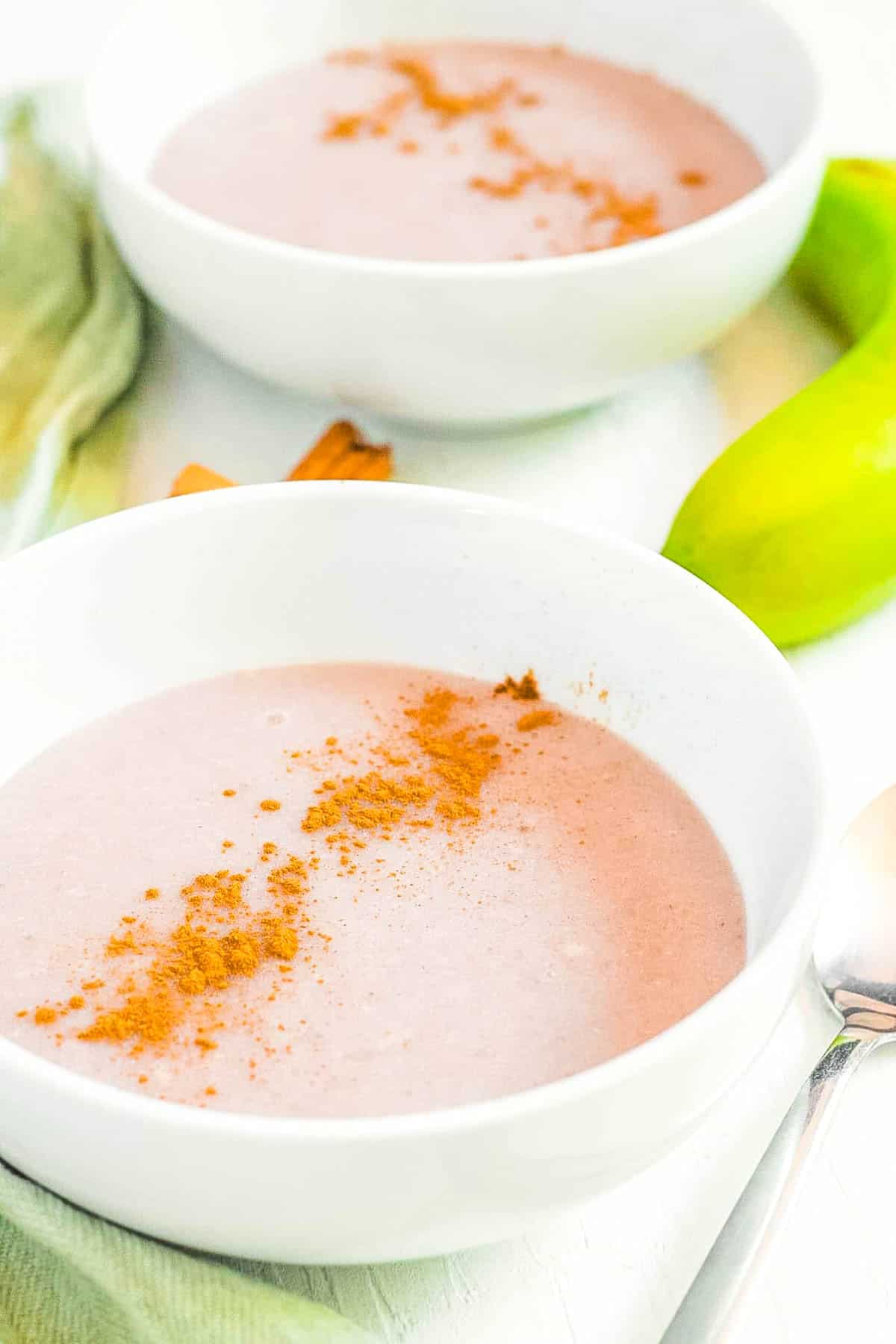 🥣 More Healthy Breakfast Recipes!
Love this plant based breakfast recipe? Please leave a 5-star rating 🌟 in the recipe below and/or a review in the comments section further down the page!
You can also FOLLOW ME on FACEBOOK, TWITTER, INSTAGRAM, and PINTEREST to see more delicious, healthy, family-friendly food, and if you have any questions, I'm here to help!
📋 Recipe Card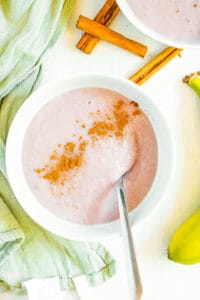 Print Recipe
Banana Porridge
Jamaican banana porridge is simple, nourishing, sweet and so easy to make! I love this healthy banana porridge because it quenches my sweet tooth with natural sweetness that is good for you. In just a few minutes you can have a delicious and healthy breakfast the whole family will enjoy! 
Instructions
Peel and chop the bananas.

Place the banana pieces along with the coconut milk and salt into a high-speed food processor, blend until smooth.

Bring the water, cinnamon stick and vanilla extract to a boil in a pot.

Stir in the banana pureé, bring to a boil, reduce heat and simmer stirring for 10 minutes as the porridge thickens and cooks.

Stir through the coconut condensed milk to taste.

Remove from the heat and serve.
Notes
Use green bananas or plantains for this recipe, ripe yellow bananas will not work.

Store leftover in the fridge for up to 3 days.

Adjust sweetness to taste by adding more or less coconut condensed milk. Coconut sugar or brown sugar can also be used to sweeten if desired.

Any plant-based milk can be used instead of coconut milk.
Nutrition
Serving:
1
cup
|
Calories:
243
kcal
|
Carbohydrates:
19
g
|
Protein:
3
g
|
Fat:
19
g
|
Saturated Fat:
17
g
|
Polyunsaturated Fat:
1
g
|
Monounsaturated Fat:
1
g
|
Cholesterol:
4
mg
|
Sodium:
66
mg
|
Potassium:
405
mg
|
Fiber:
2
g
|
Sugar:
11
g
20 responses to "Banana Porridge"