An American Girl in Paris
This post may contain affiliate links. As an Amazon Associate, I earn from qualifying purchases. Please read my disclosure.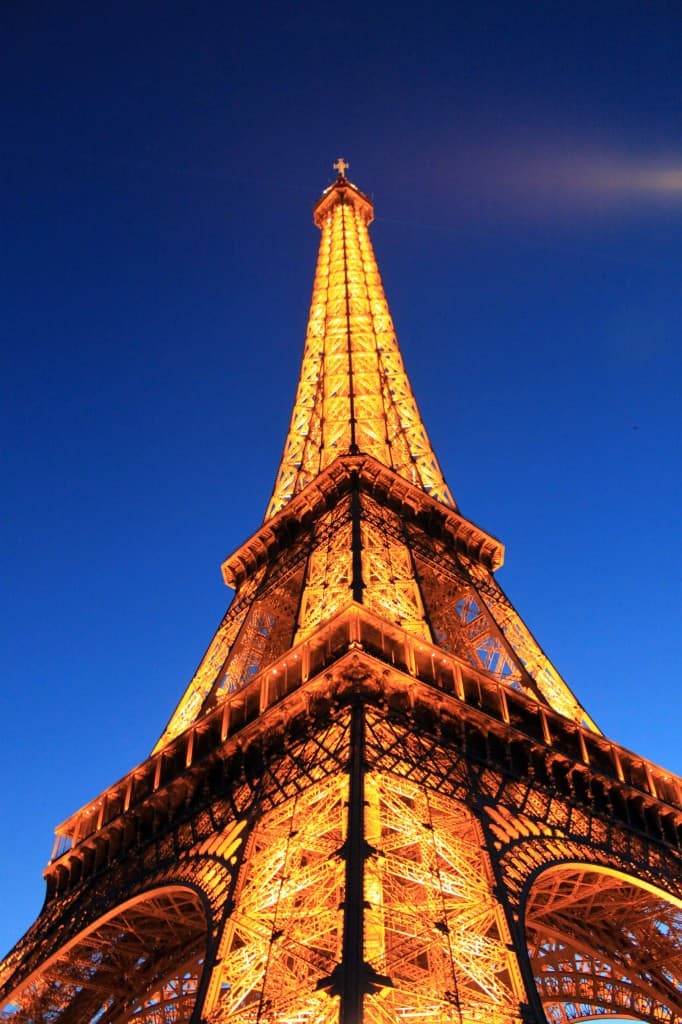 Hi Everyone! Sorry for the long delay since my last post – I've been out of the country for the past few weeks, enjoying a wonderful vacation in France! The husband and I were there for most of September, visiting Paris, Nice, Monaco, Eze, and the Luberon Region. It was an amazing trip, full of museums and markets, art and architecture, long runs through beautiful gardens, and of course – lots of delicious food. And while one might say that vegetarians have a tough time eating in France, we didn't find that at all. Between the freshly baked bread, cheese, crepes, wine, chocolate and fruit/vegetable markets, we were well taken care of. Not only that, but Paris and Nice both have some really creative, all-vegetarian French restaurants which we frequented as well – with some delightful dishes that I can't wait to share with all of you. This post is all about the foodie finds in Paris; stay tuned for another post about all the wonderful food we found in the South of France! For any vegetarians out there, this is your guide to eating in Paris. For everyone else, I hope you'll enjoy my recommendations – as many of the places we ate at were veggie & meat friendly.
Our first dinner in Paris happened to be at an all organic, vegan restaurant in the 3rd district. We arrived early in the morning at Charles de Gaulle airport and after getting our bags, exchanging money and hailing a Taxi, we arrived at our Paris apartment 2.5 hours later. We opted to rent an apartment in Paris since we'd be staying there for a full week and since it was much cheaper than staying at a Hotel (for the location and amount of space that we wanted). Our apartment was in between the 1st and 3rd districts – on Rue Saint Denis, and it was gorgeous. It was on the 6th floor of a building that had no stairs: yes, we walked up 100 stairs exactly to get to our place every day; but it was totally worth it. The view from our terrace was breathtaking, and while my legs definitely "felt the burn" daily as we went up and down the staircase, I couldn't have imagined staying anywhere else. The best part was – the owner of the apartment was super nice and very helpful – giving us some tips about the neighborhood and setting us up when we arrived. Check out the view we got to wake up to every day: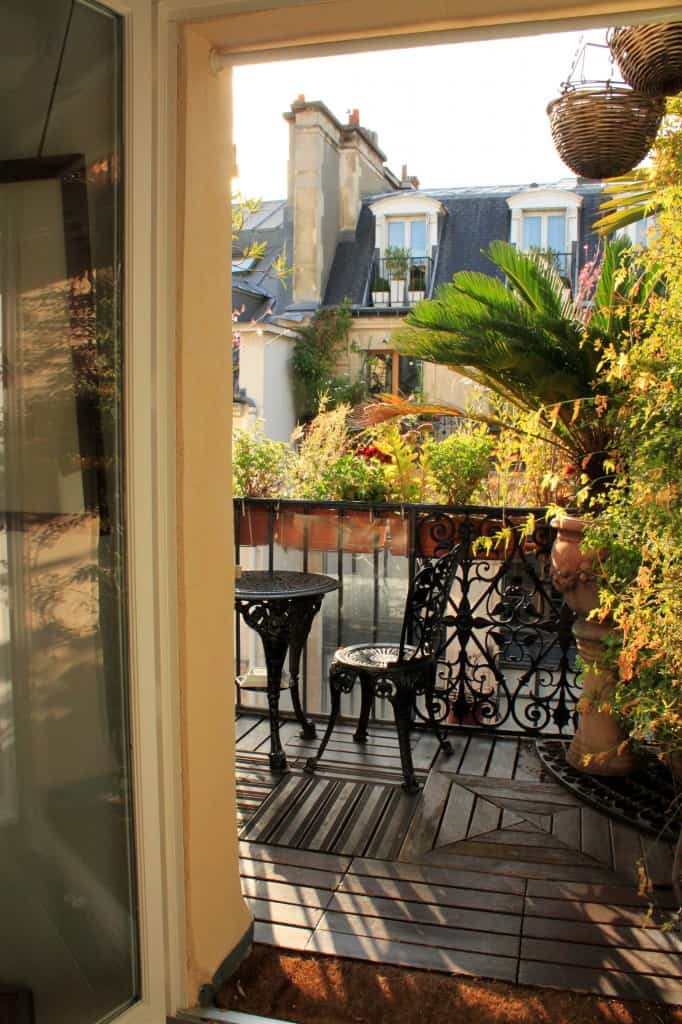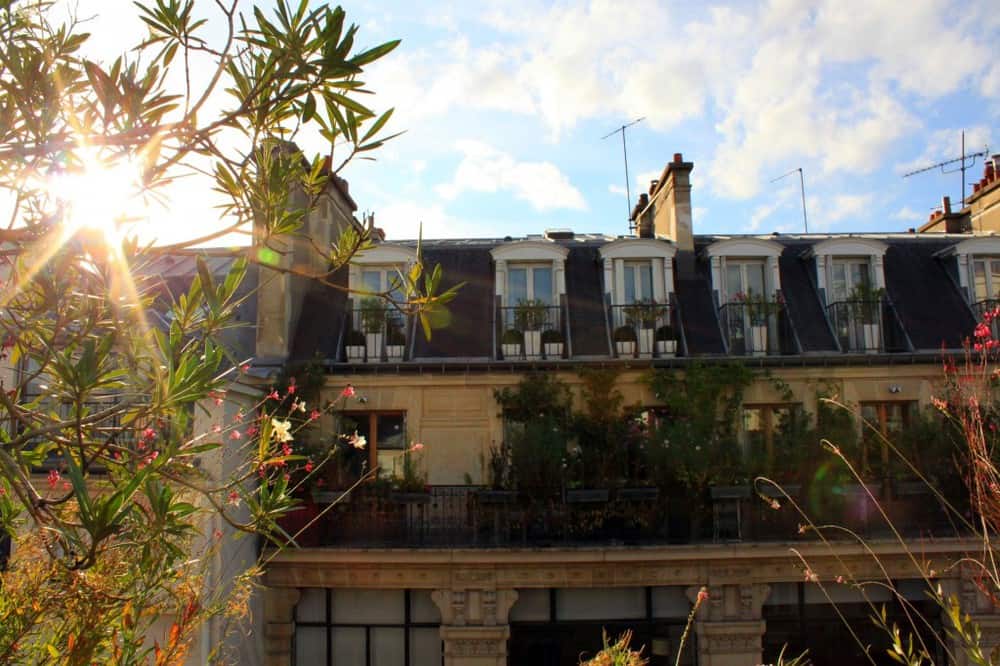 Pretty great right? The staircase leading up to our apt kind of reminded me of something from a Gaudi house, and since we went up and down at least a few times a day – the husband and I realized we walked up/down 600 steps every day in Paris! Now that's the way to burn off the daily croissants and pain du chocolats we had.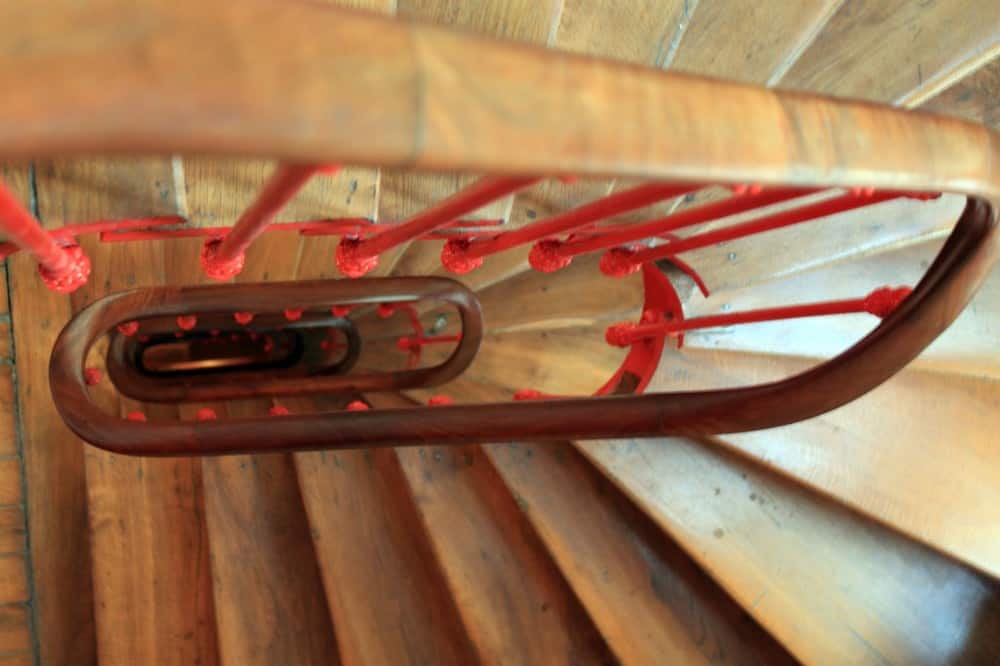 So after checking in and getting settled, we ventured out into our neighborhood to pick up a few essentials (milk, fruit, cereal), and had our first Parisian meal at Le Potager du Marais at 22 Rue Rambuteau. The people who run this restaurant are super nice – our server had just started there and despite the language barrier she was very helpful and accommodating.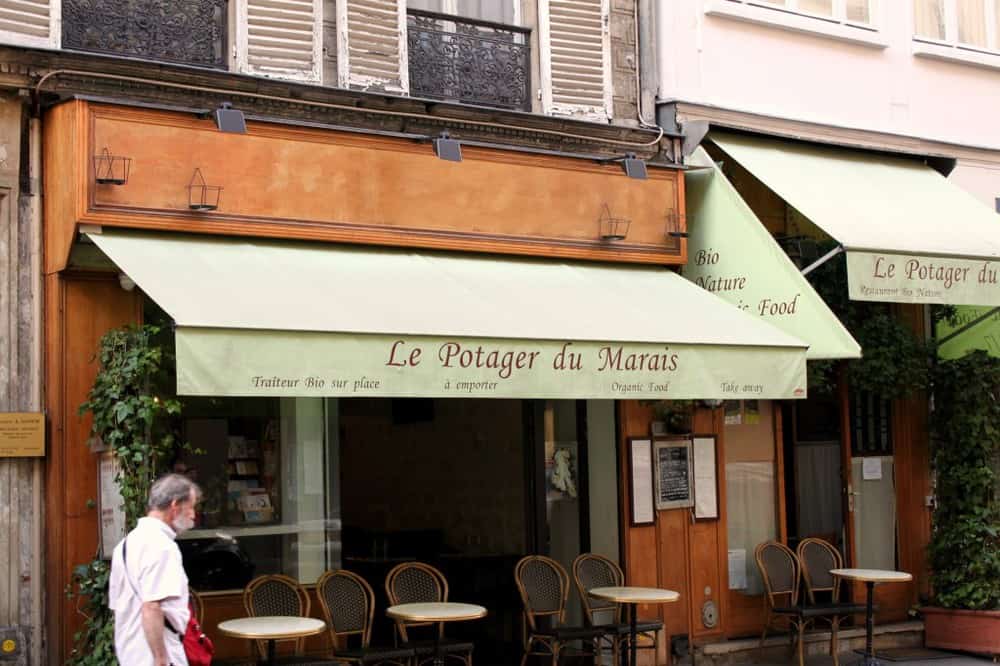 We ordered two vegetable curries: mine was a chickpea stew with squash and quinoa, and my husband's was a vegetable curry with brown rice. Both were warming, spicy and delicious – just what we needed after a very long flight.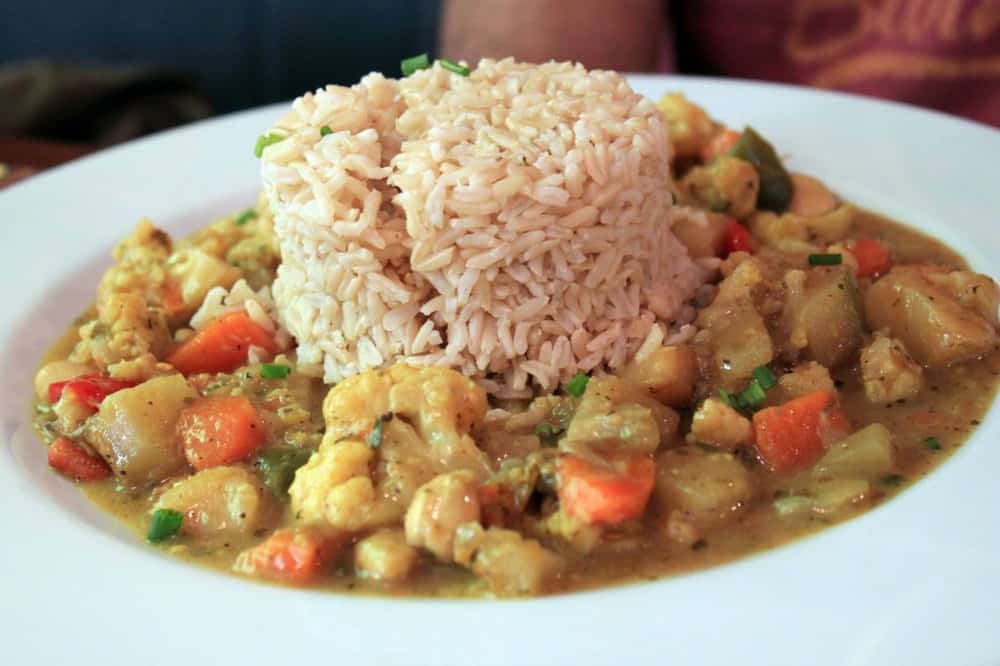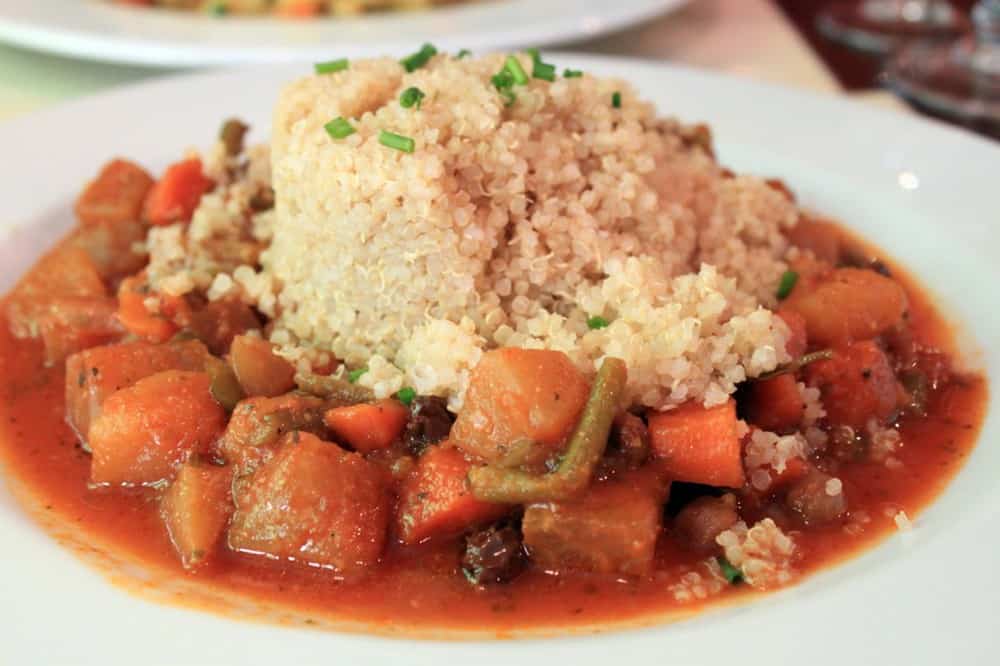 For dessert we ordered the Vegan Apple Tart with Almond Foam. It wasn't the best apple tart I've had (the husband thought the same thing), but it was all-natural and not too sweet which I appreciated.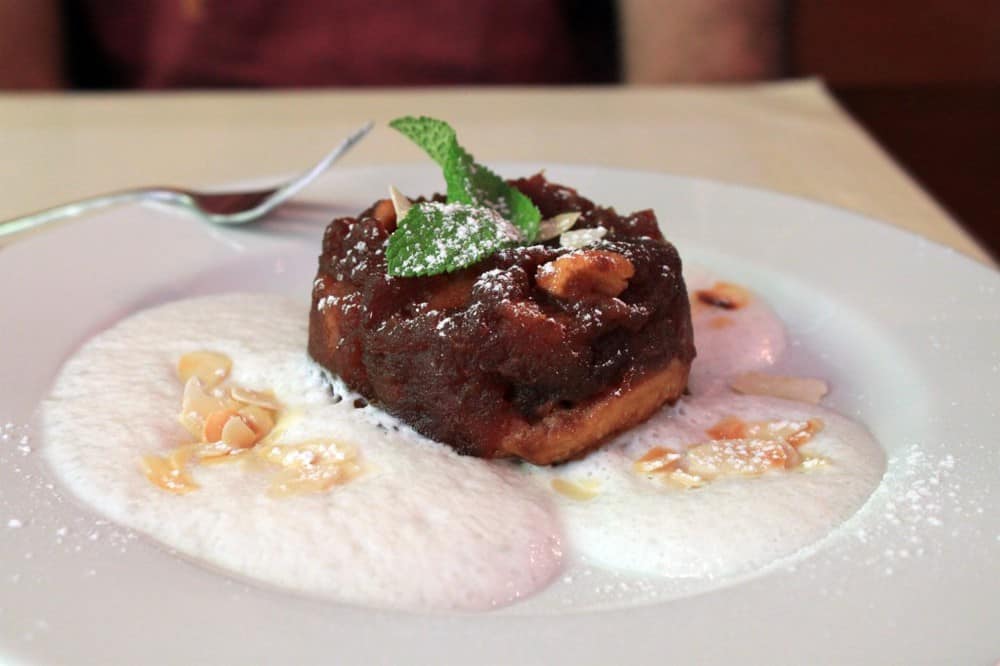 After dinner, we headed back to our apartment and passed out at like 6pm, losing the battle to jet lag but ready to explore Paris to the fullest the next day. On Day 2, we started off the morning with a run from our apartment to the Jardin du Luxembourg (the Luxembourg gardens), and ran through the gardens for a bit. We didn't have our camera since we were running but I'd definitely recommend this garden to visit if you're ever in Paris. It's well kept and has a good running path, and it's near the Sorbonne in the 6th district. On our way back from our run we actually did go by the Sorbonne but we couldn't go inside, and we went to Notre Dame as well.
Before we went back to our place, we stopped by the Creperie Saint Germain on Rue Saint-Andre des Arts where we had a raspberry, banana, and homemade chocolate crepe and a goat cheese, tomato, walnut, lettuce, buckwheat crepe (also known as a galette). Both were decadent and melted in our mouths. Next to the Creperie was a Boulangerie where we picked up an Apple Pastry (the husband has somewhat of an obsession with apple filled desserts), and a fresh baguette, starting our first day off in Paris the right way. When we arrived back at our apartment we were ready for a nice long nap (which lasted 3 hours!), and by the time we woke up it was dinner time. We decided to explore Paris on foot and walked from our apartment all the way to the Eiffel Tower: past/through the Louvre, the Jardin des Tuileries, along the Seine, and arrived at the Eiffel Tower just as night was falling. We stood in the hour long line to take the elevator to the top, and got some beautiful pictures of Paris by night.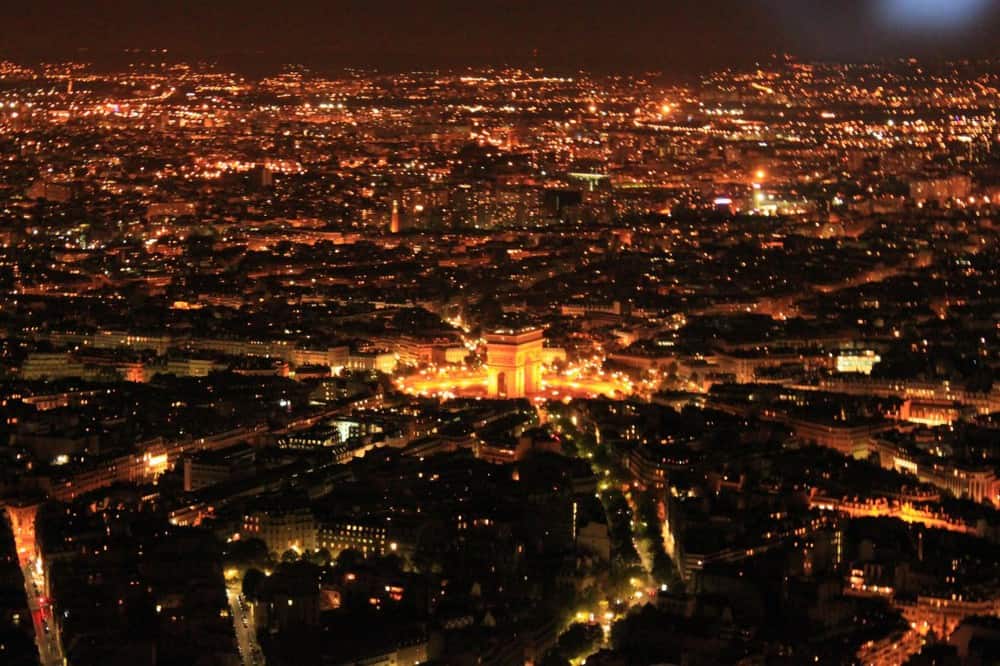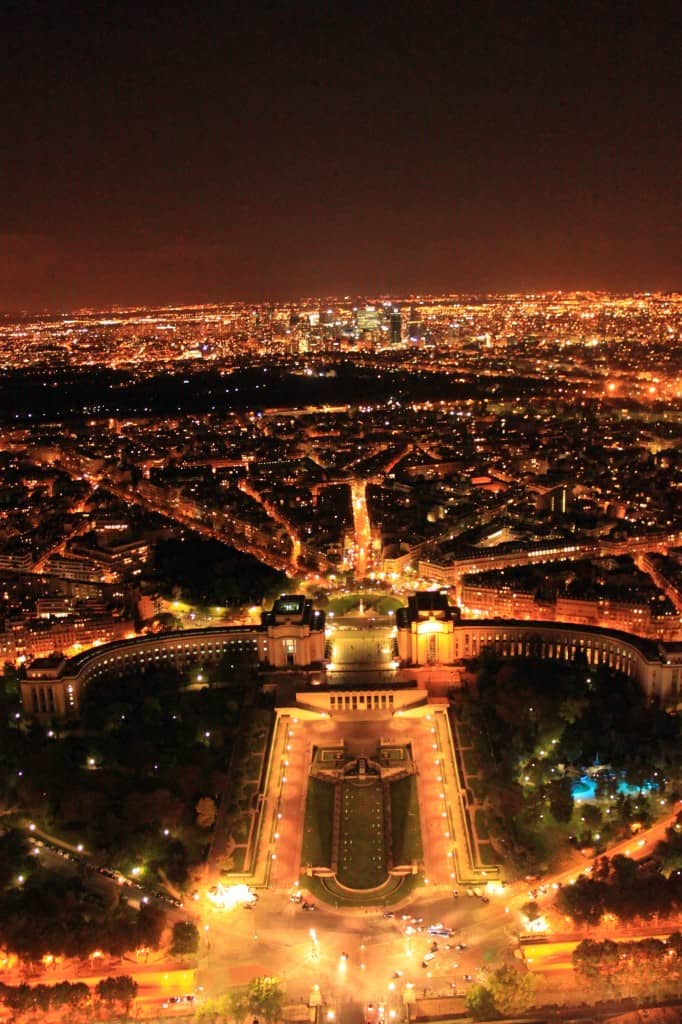 The next morning, we set off to the Musee d'Orsay, and on the way we stopped at the Boulangerie Gourmande on the Rue de Bellechasse. This place was a baker's dream: freshly baked breads filled the shelves, and all kinds of imaginative pastries were on display – it smelled like heaven in there.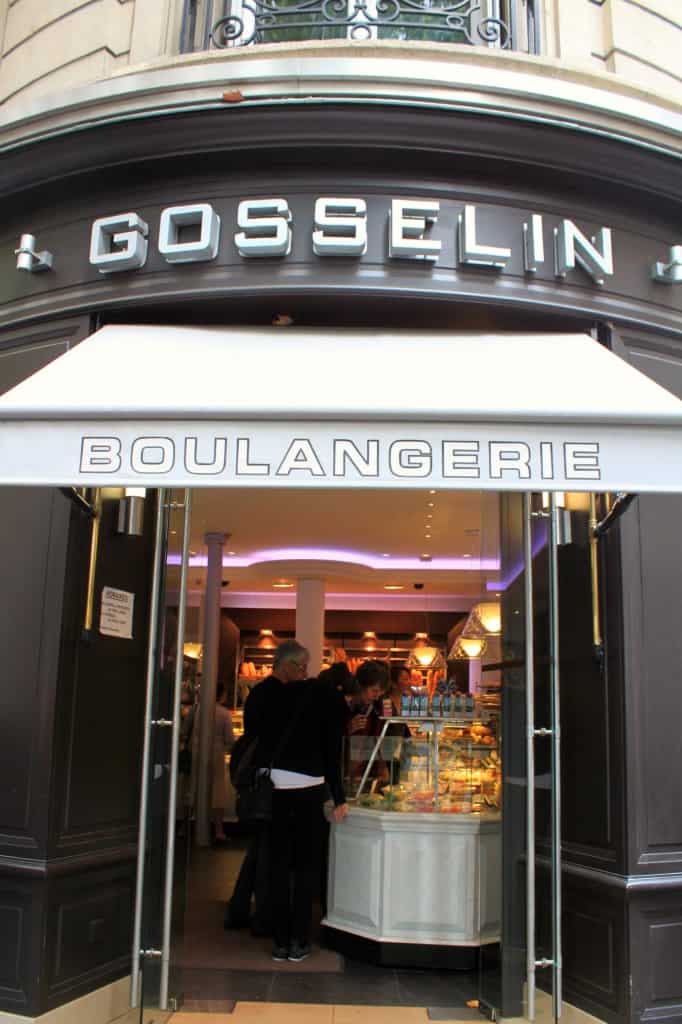 While the husband was buying us a fig, raisin, walnut and pistachio bread, I took a few pictures of the shop – I couldn't help myself.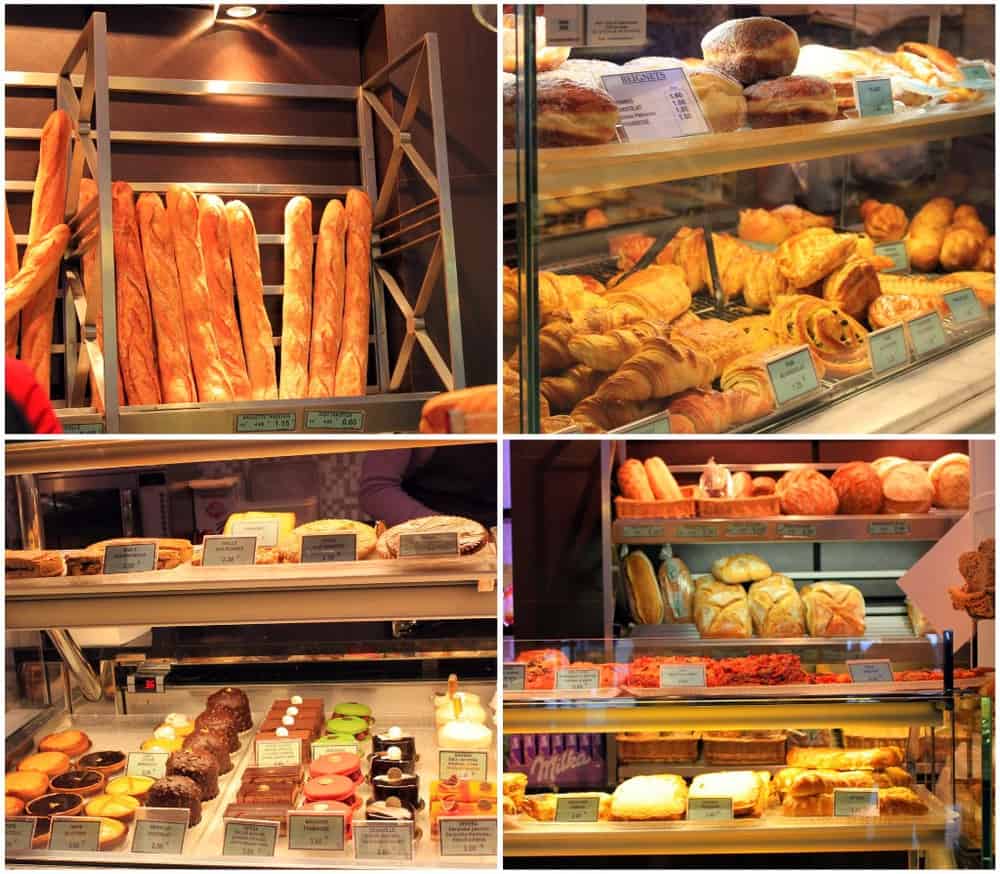 Doesn't that just make you hungry? We enjoyed our fig, raisin, nut bread on our walk to the Museum – the husband made a great choice in picking it out. It was warm and fluffy, slightly sweet from the fig but not too overpowering – the perfect mid-morning snack.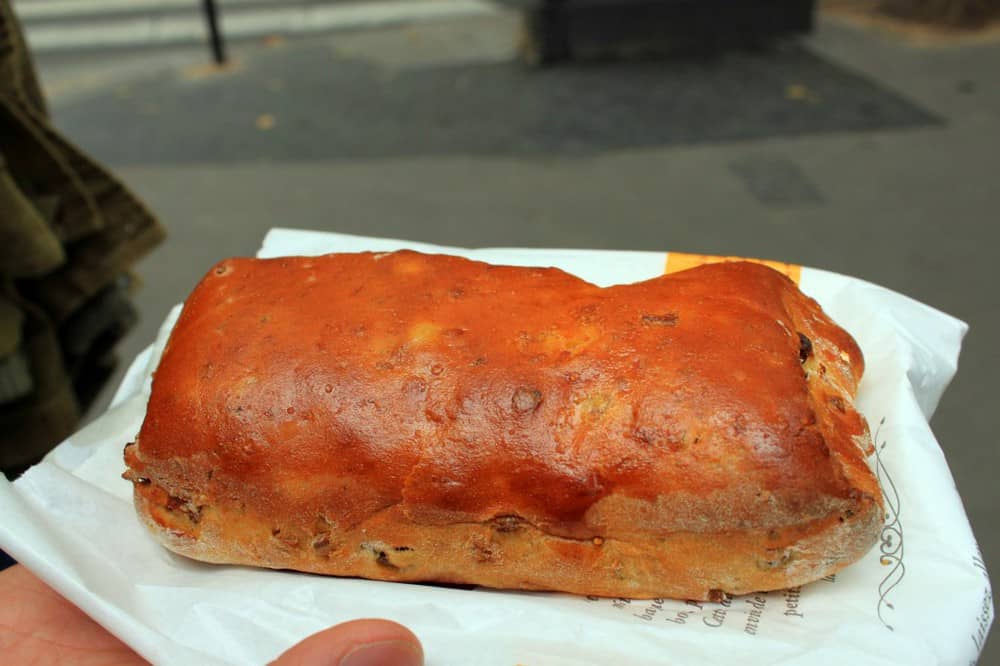 It became a habit of ours to stop into boulangeries on our way to various places in Paris – it was so much fun to eat those breads and pastries while we were just walking down the street – we felt like real Parisians. We also became best friends with the Metro: the Paris Metro is one of the best I've ever seen – it's super convenient, on time and the trains come every 2-5 min. It's excellent. The Metro stops also have really cool entry signs – the husband took pictures of them all over Paris. Here's a sample of one by the Musee d'Orsay (which by the way, is an amazing Museum with works from Van Gough, Cezanne, Monet, to name a few).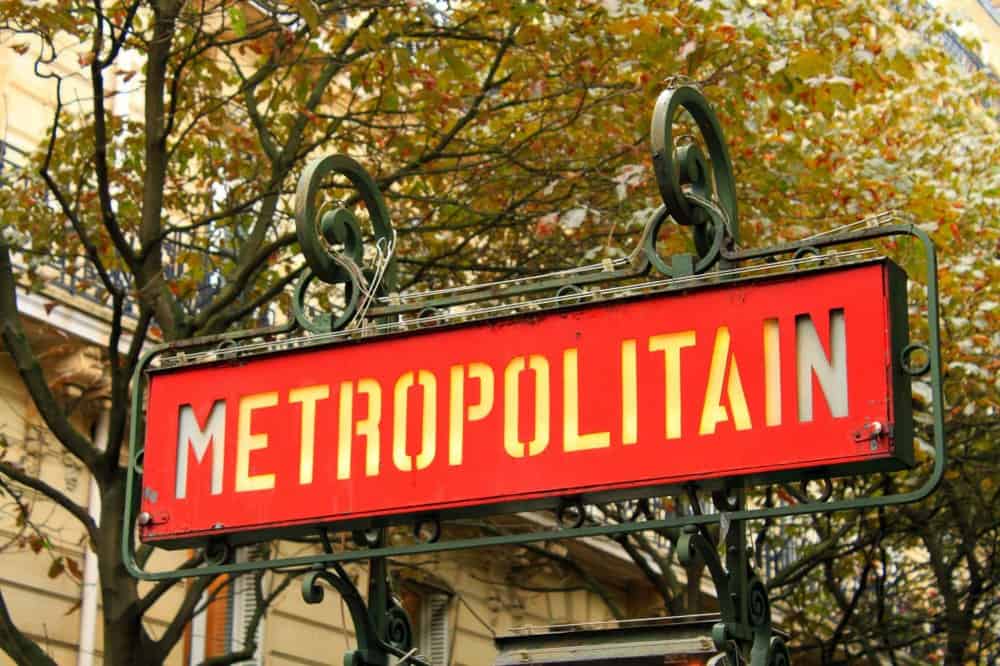 After the Museum, we decided to stop at Angelina to try their famous hot chocolate and get a late lunch.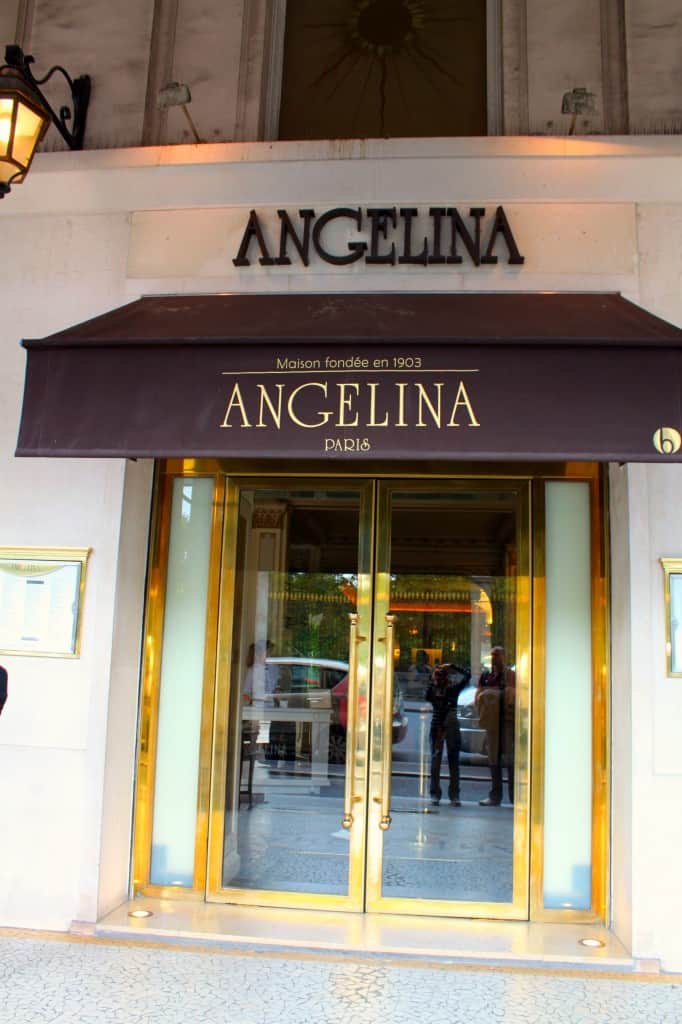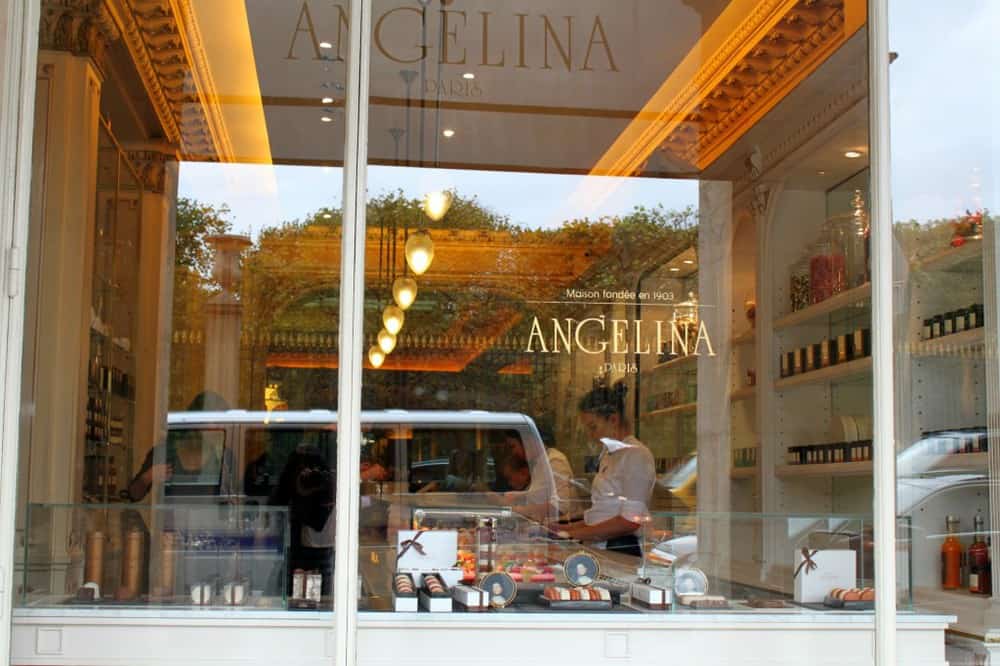 Angelina is a bakery but they also have a really elegant sitting room where you can order all sorts of food and drinks. We ordered their signature hot chocolate, a cafe latte, a farmer's market salad with cantaloupe puree, french fries, and a cheese plate. All of the food was excellent, but the real star was the hot chocolate – it's not surprising that it's what they're known for. It was rich, warm, not too sweet, and literally felt like you were drinking chocolate.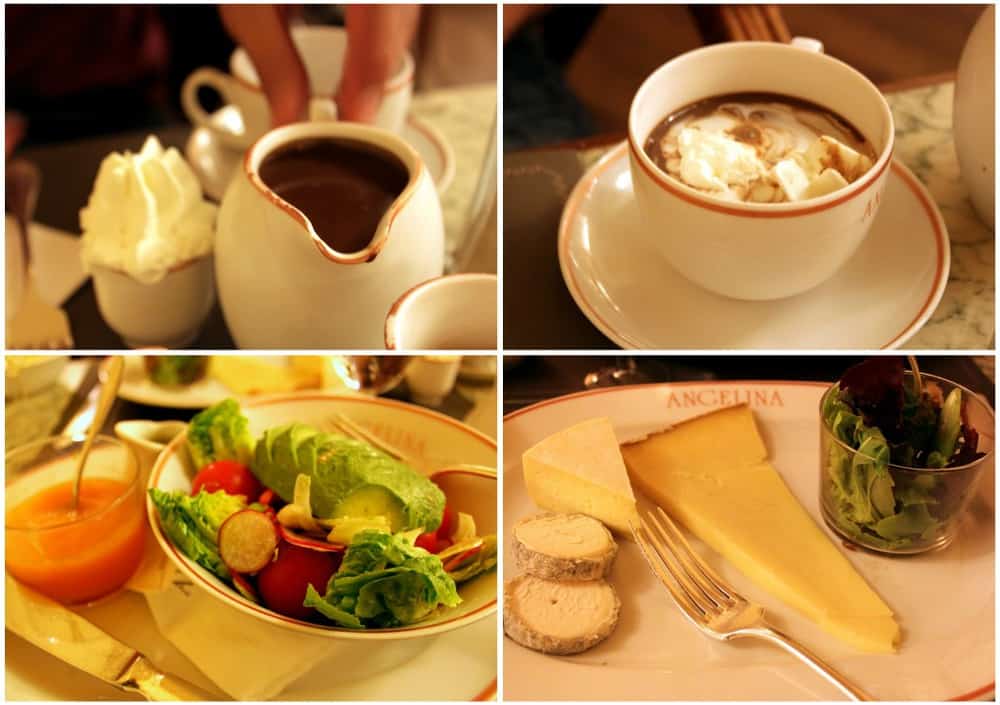 After lunch was over, we had a little bit of whipped cream left. And the husband dared me to dunk my nose into the whipped cream (yes, we were in a very silly mood). Of course, I couldn't turn down a dare, and the husband couldn't wait to document what resulted…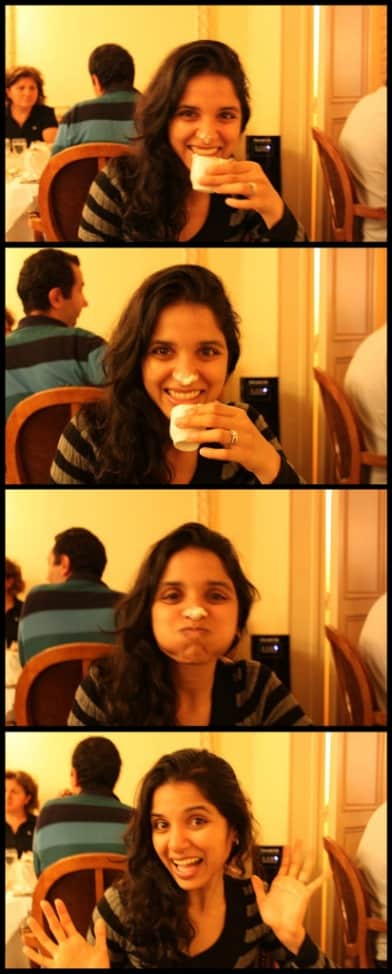 I think the other people in the restaurant thought we were nuts, but it was fun nonetheless 🙂 After lunch, we realized we were right near a ton of specialty chocolate shops, so we decided to do our own little Chocolate Tour/Tasting through a few stores (all of these were near the Tuleries metro). We went to Jean-Paul Hevin, Michel Cluizel, and two others that we found along the same street. These places are awesome – the chocolates are all handmade and super inventive – from 99% dark chocolate ganache, to spice filled milk chocolate, to orange rind covered with dark chocolate – we picked up quite a few individual chocolates that lasted us well throughout our trip. I took a few pics in Michel Cluizel because their setup was so inviting.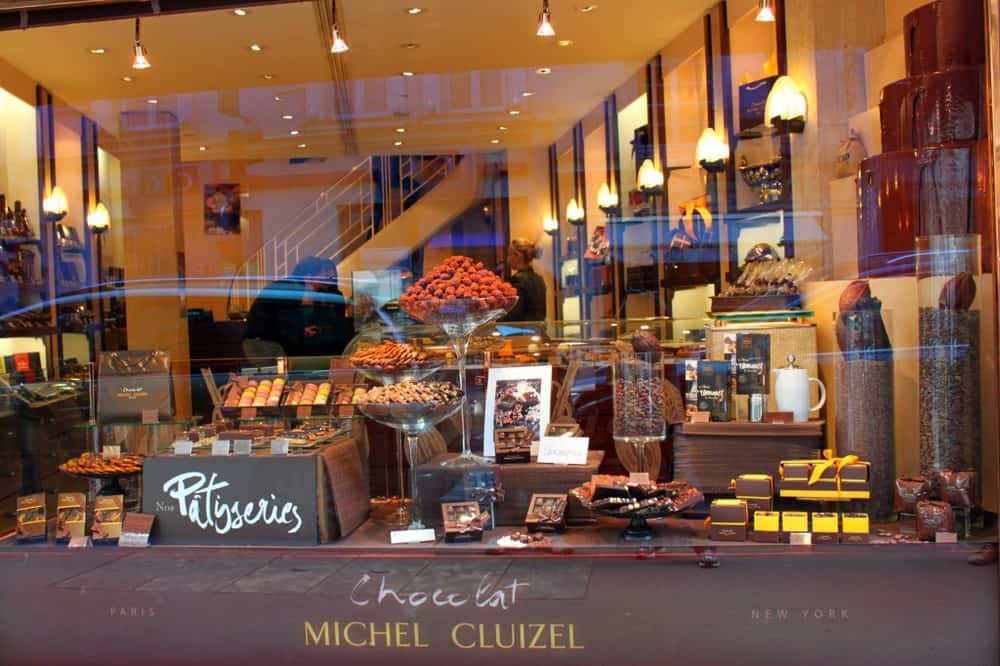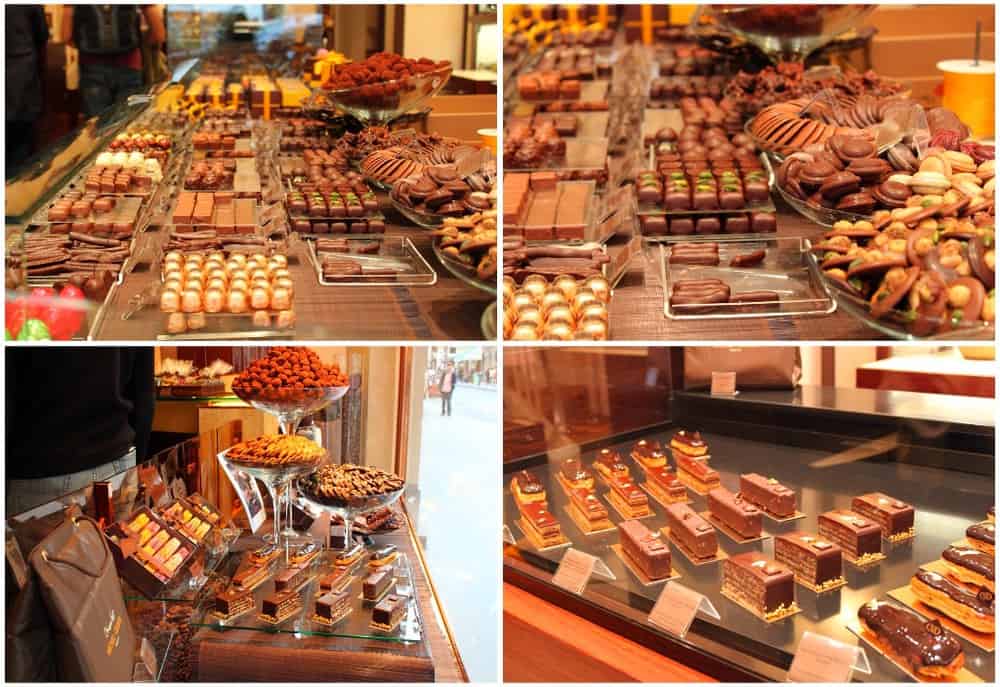 After all the chocolate and our late lunch we were stuffed, so we ended up going to Willi's Wine Bar that evening for drinks and a light bite to eat. The next morning, we both went for runs through Paris: the husband wanted to do a super long run so he went to Buttes Chaumont Park and I ran through the districts of Paris, in and around our neighborhood. When we got back we were starving, and decided to make a trip to Lemoni Cafe, a vegetarian-friendly lunch spot in the 1st district. This was a truly local spot – hardly anyone spoke English – but the food was all veggie friendly! They serve you buffet-style, and you get to choose an entree, a salad and a dessert for about 11 Euros. Not bad for a really filling lunch (we got a lot of food). The husband ordered a spinach salad with avocado and tomatoes, tiramisu, and a veggie quiche.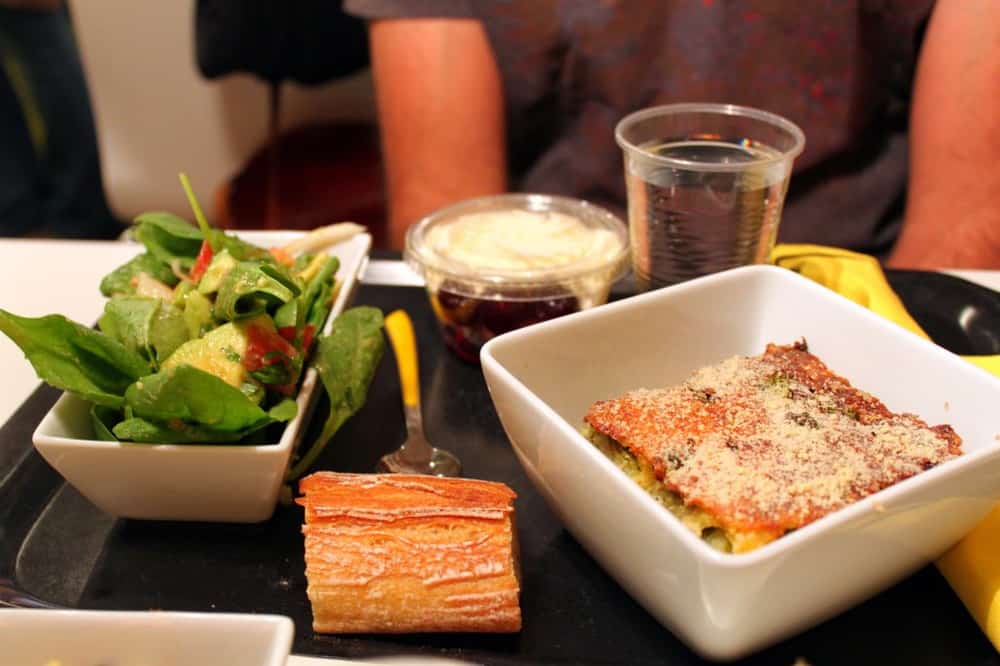 I had a couscous salad, a roasted vegetable, barley and lentil baked dish, and fruit salad for dessert. We thought the lunch was hearty and filling – nothing amazing but definitely hit the spot.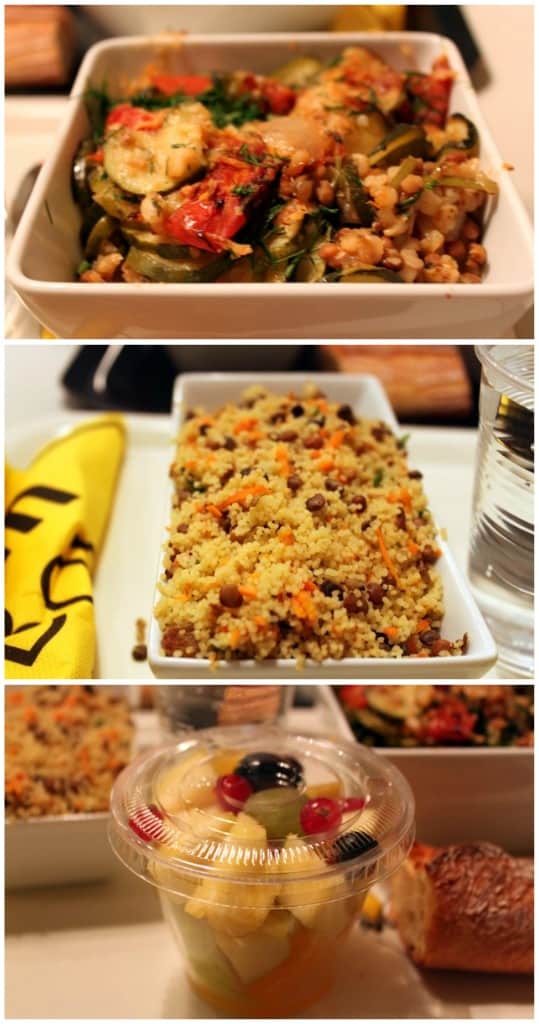 After lunch we went to Montmarte – which is a great little bohemian neighborhood about a 20 min metro ride from where we were staying. On the way back we stopped at Boulangerie de Papa for a chocolate bread and a apple filled beignet. It's true what they say about the Boulangeries in Paris – they make the best breads and pastries you'll ever have in your life. The most noticeable part about it was that none of the breads/pastries were too sweet (much less sweet than what you'd get in the US – even for things like cakes/cheesecake/cookies) – they had just the right amount of sugar but not so much that it overpowered the rest of the ingredients.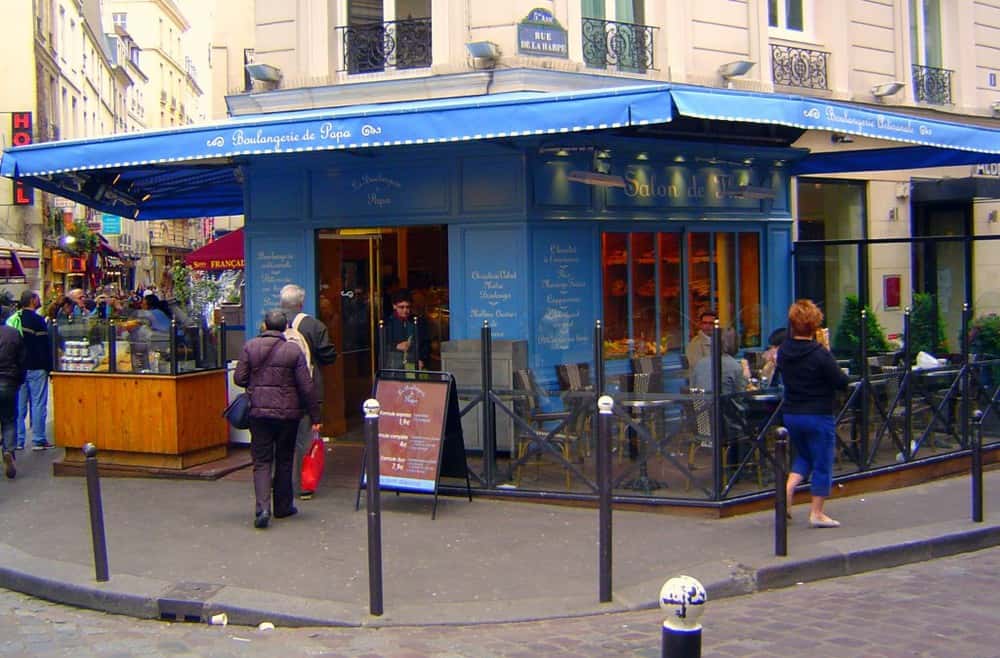 For dinner, we went to Bianco on Rue Montorgueil – which is a really lively street full of markets, restaurants, bars and shops. We ordered two glasses of red wine which admittedly, didn't taste that great at first, but with the food tasted wonderful.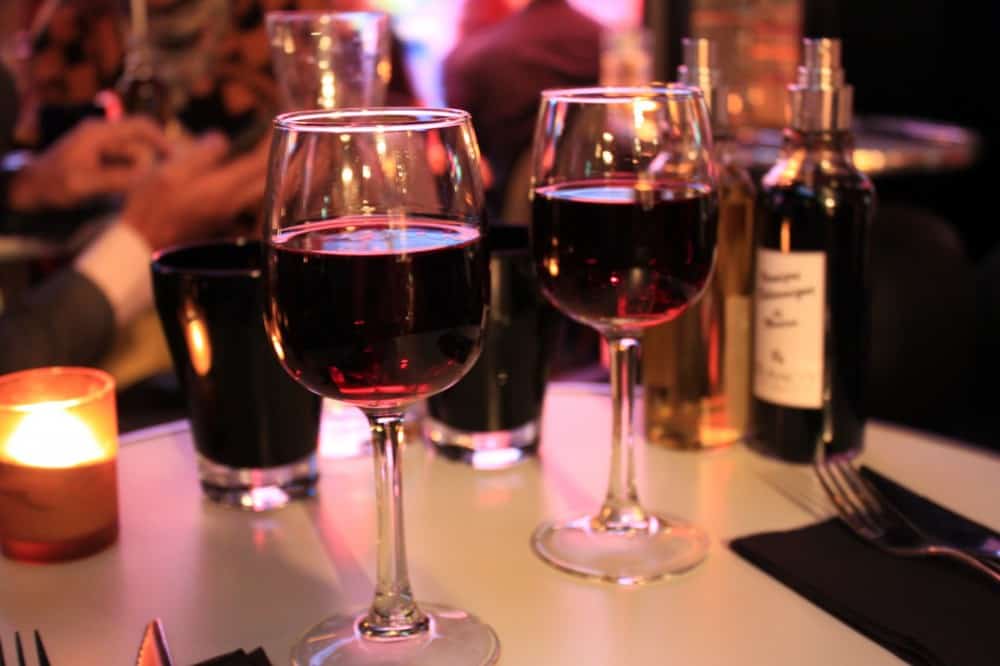 Bianco, an Italian restaurant, was obviously very veggie friendly. We ordered a 4 cheese pizza with brie, fontina, mozzarella and gorgonzola cheese and a bruschetta with sundried tomatoes, roasted eggplant and melted mozzarella on top.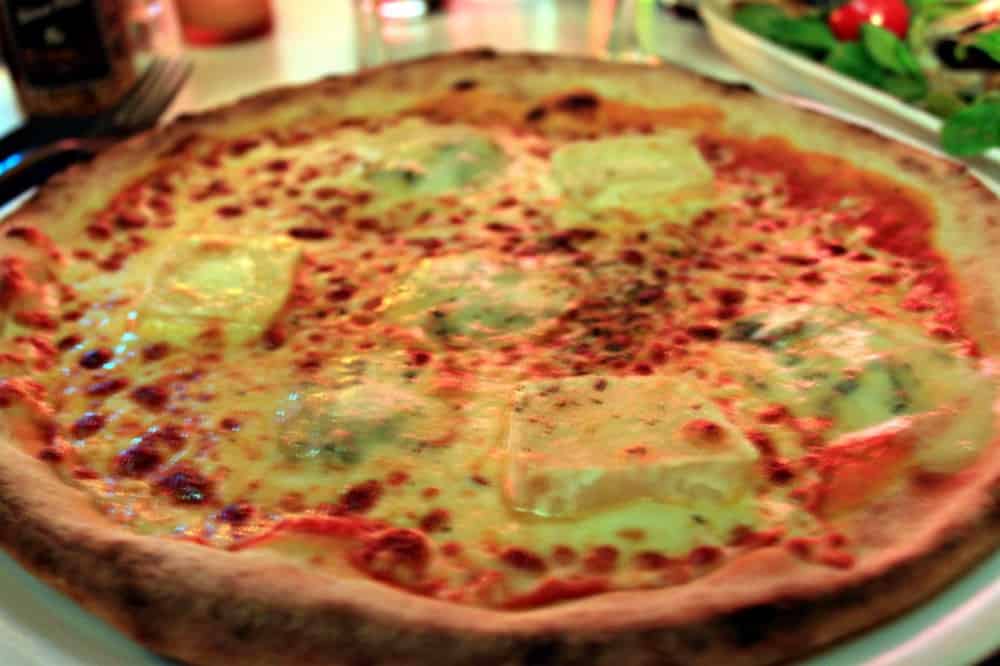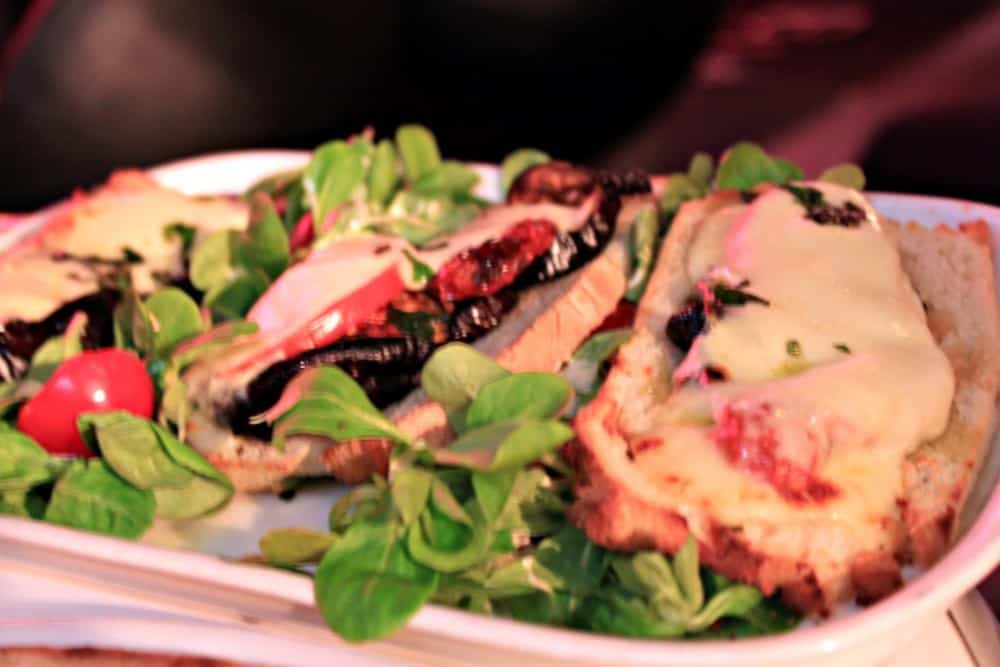 Both dishes were delicious – the pizza crust was freshly baked, fluffy and slightly crispy, and all the cheese on both of the dishes had such rich flavor. The great part about Paris is all of the sidewalk cafes and outdoor eating in the summer. At Bianco, all of the outdoor tables faced the street – perfect for people watching. The only thing, which we learned pretty fast, is that outdoor seating is considered "smoking," while indoors is automatically considered "non-smoking" – so depending on how high your tolerance is for smoke, outdoor seating may or may not be for you. (It wasn't for me unfortunately).
After our walk home, we decided to dig into some of the treats we had picked up the day before on our chocolate tour of Paris. So for dessert, we had cheesecake and chocolates. The cheesecake from Jean Paul Hevin was some of the best I'd ever had: the filling was whipped and extremely light, and the crust reminded me of a pastry crust vs. the traditional graham cracker cheesecake crust. It was also not very sweet at all – so you could really taste the flavor of the cheese when you took a bite.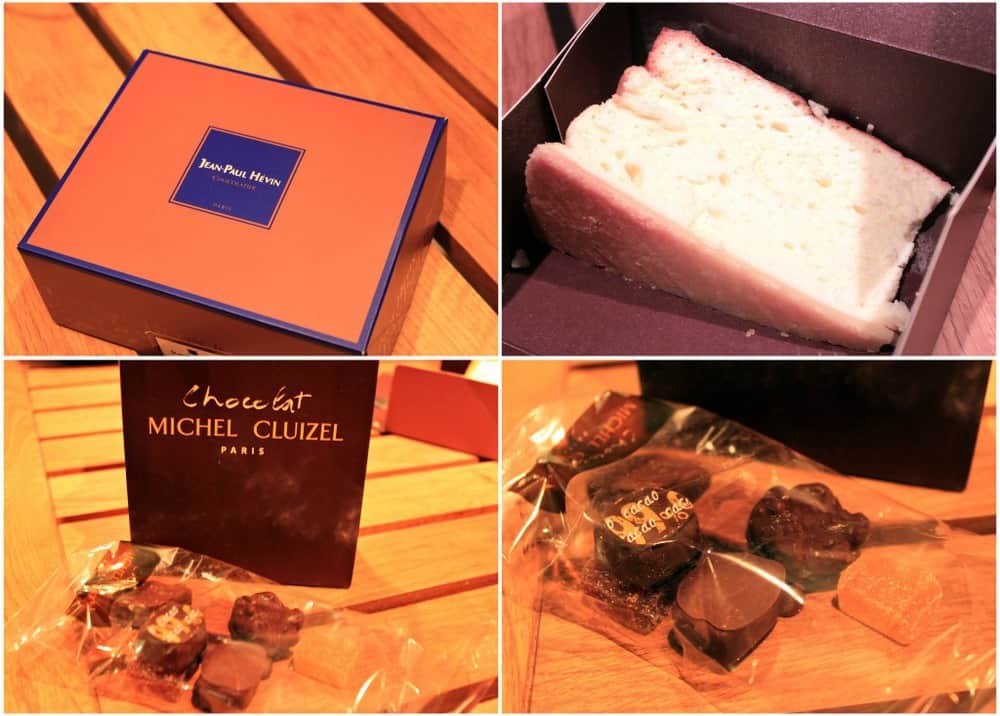 The next morning, we headed to Versailles for a day trip. I made a picnic of Peanut Butter & Jelly sandwiches, apples and potato chips. We ate our lunch in the Versailles gardens overlooking the beautiful grounds of the palace. When we got back, we had a craving for Mexican food, so we decided to try a neighborhood restaurant called Rice and Beans. I was a little skeptical at first because it looked like a real dive, but the food turned out to be excellent. We ordered fresh guacamole and chips, and shared a plate of veggie tacos with avocado, grilled veggies, and goat cheese served with rice & black beans.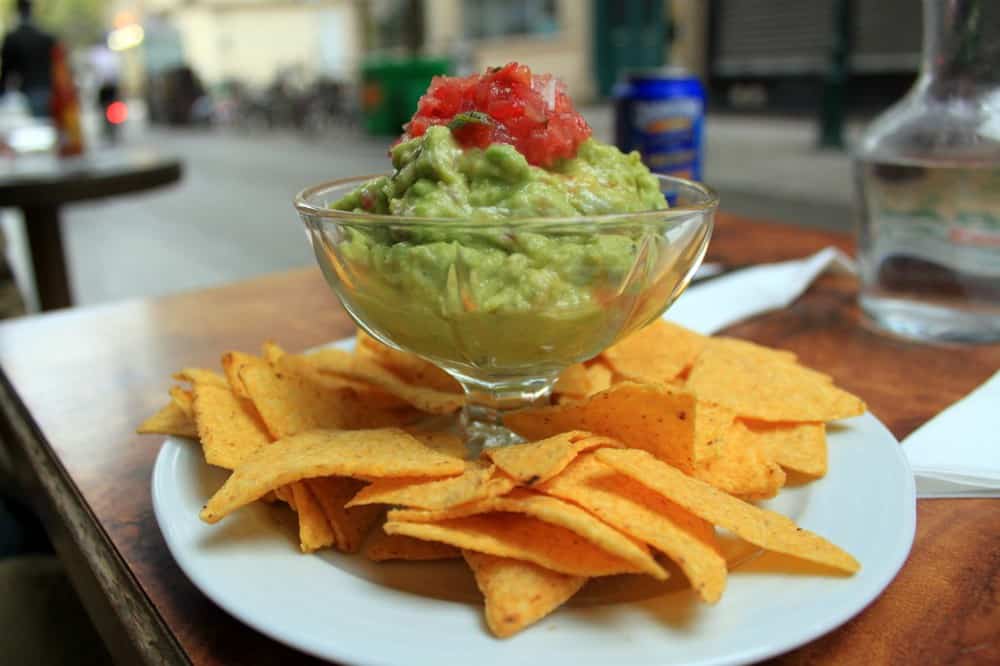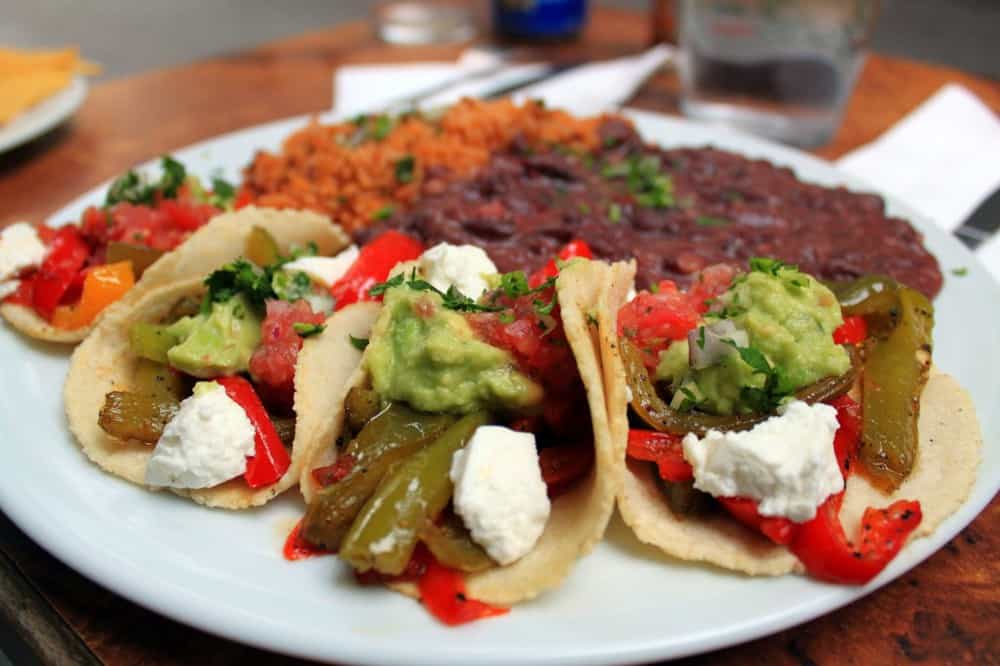 The owner of this place was a really cool guy – and since we got there right as they were opening for dinner, the food came out unbelievably fast. After dinner, we headed to a local bar – Juvenile's – for drinks and dessert.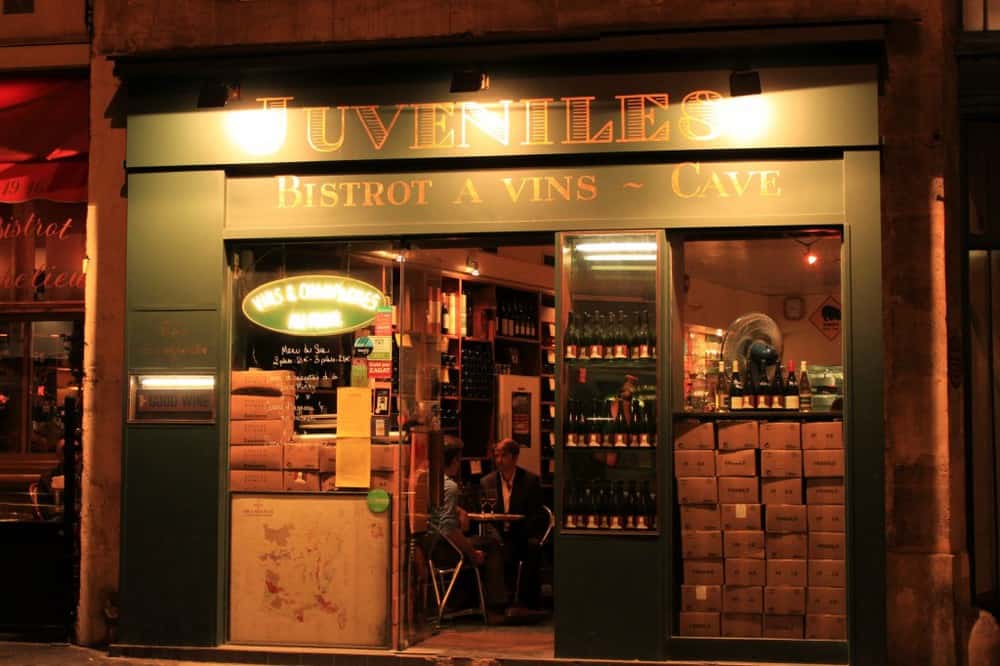 Juvenile's was one of the coolest wine bars we've ever been to. It was pretty small, but always packed – even on a weeknight. The decor was warm and rustic, and the people that work there were extremely friendly. The bar has a daily food menu as well which seemed pretty gourmet (but we opted out since we had already had dinner). We ordered a white wine and a rose, both of which were excellent and slightly sweet. For dessert, we ordered the chocolate cake with raspberry sorbet, and the cheesecake (to compare to the cheesecake we had earlier).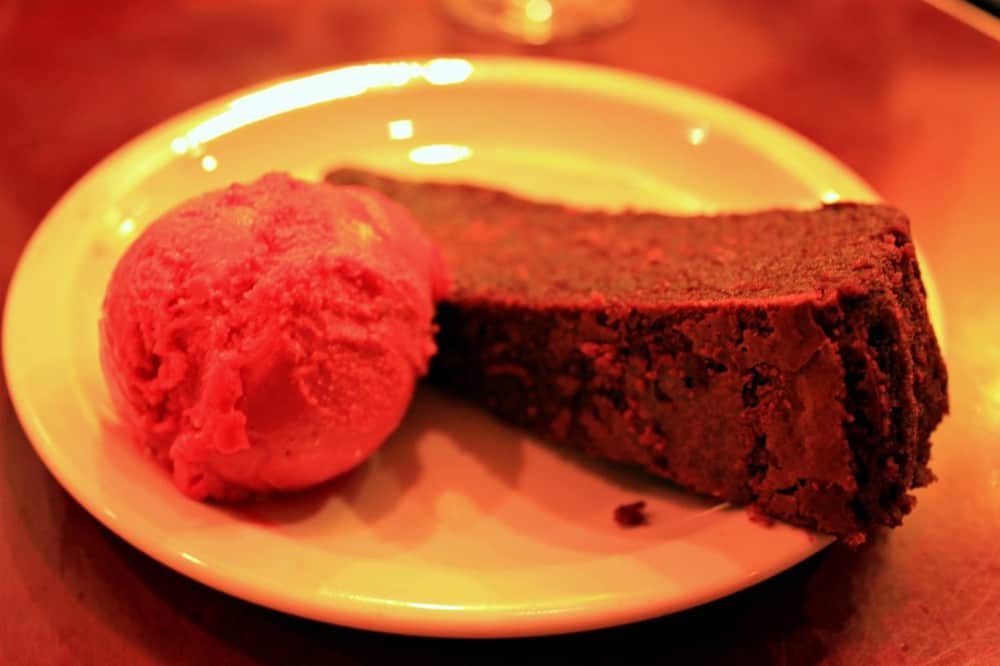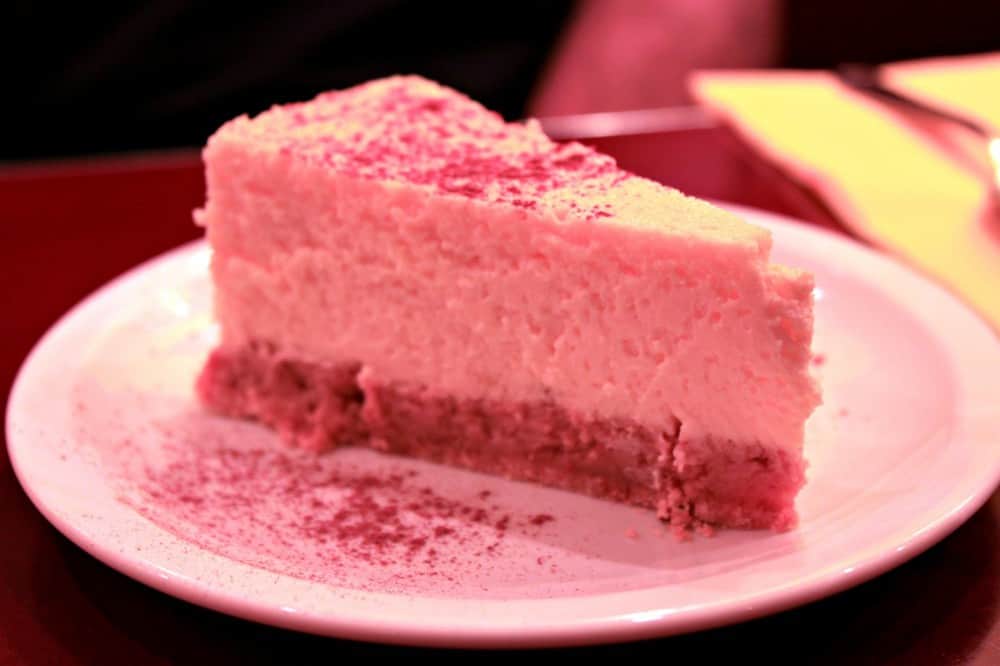 In keeping with our experience with desserts in France, these were fantastic. The cheesecake was more like a traditional cheesecake: with the graham cracker crust and more sweetness than the one from Jean Paul Hevin. The husband said it reminded him of the Sara Lee Cheesecakes he had growing up – although I bet this one was probably a lot more fresh than those were!
The next day we headed out to get crepes for lunch. We went to Breizh Cafe since I had read it was one of the best creperies in Paris.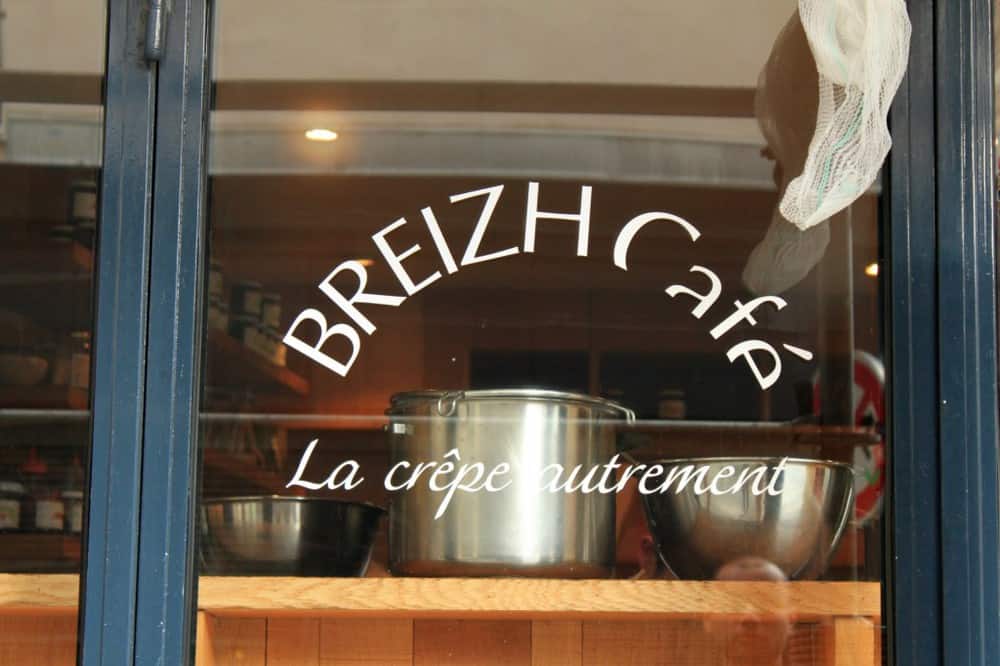 This cafe had a really warm and inviting ambience – they'll let you sit there as long as you want, chatting and people watching. They were also very English and veggie friendly which was nice. We ordered a sweet and savory buckwheat crepe (a galette). The galettes are their specialty – made with organic buckwheat flour and filled with all sorts of interesting ingredients. Ours came with cheese, tomatoes, zucchini; and the sweet crepe was filled with, you guessed it, apples (per the husband), and topped with fresh homemade caramel and vanilla bean ice cream .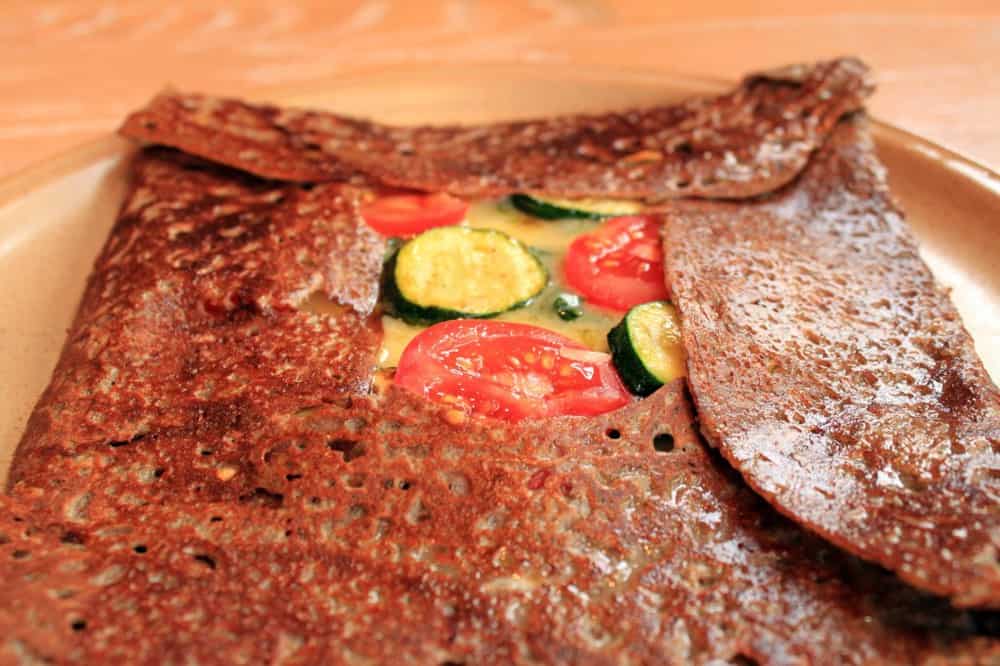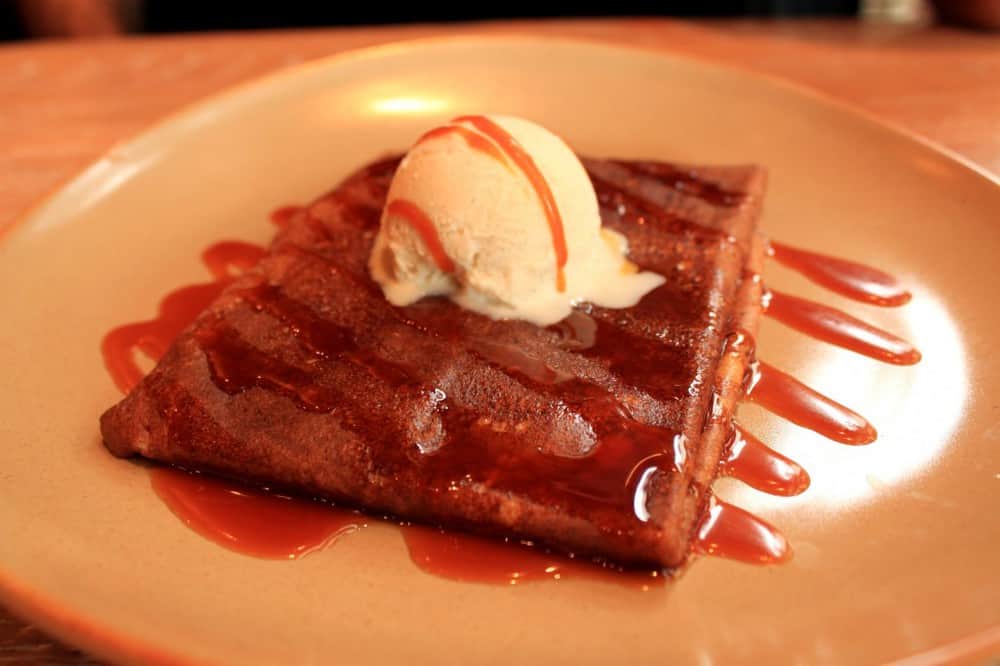 After lunch we walked around the Marais district which was full of cute shops, restaurants and bars. We stopped at this bakery and got an awesome chocolate chip cookie, because even though we had just indulged in crepes, we couldn't resist the smell of these cookies…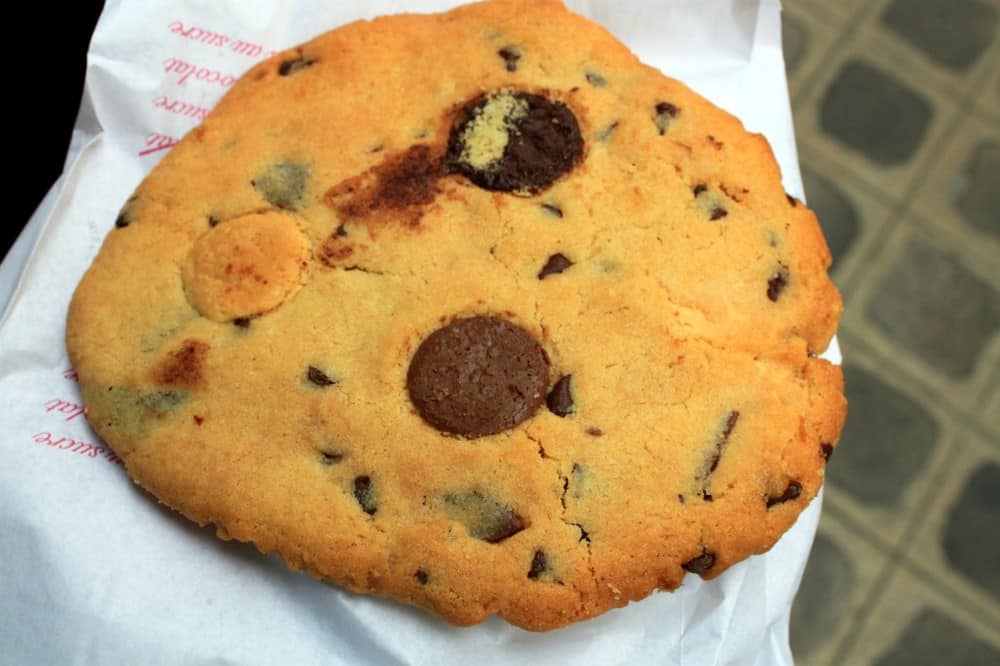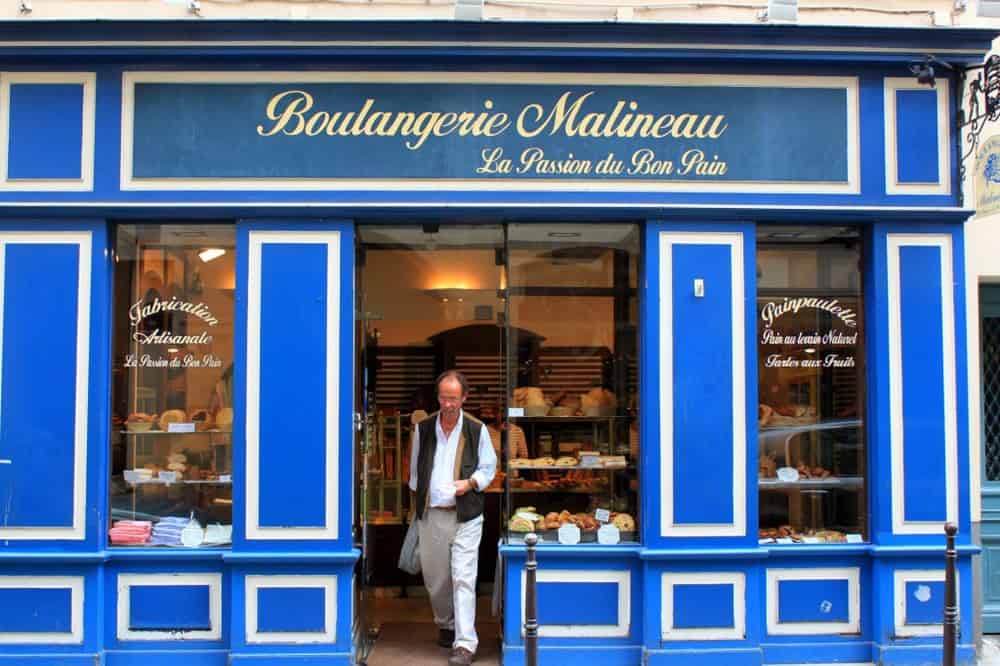 The boulangerie we bought these cookies from felt like the quintessential Paris bakery, with smells of fresh bread and butter wafting into the street. The cookie we bought was so rich it fell apart in our hands as we were eating it, the wonderful tastes of butter and chocolate filling our mouths with every bite.
After the afternoon of decadence, we decided to walk it off a bit and visit the Louvre. The Louvre at night was spectacular and I was amazed at the scale of it all. We spent a few hours walking through the various exhibits, and on our way home we picked up a bottle of wine and a few snacks for dinner: apples, cheese, crackers, cherry tomatoes and grapes. One of the advantages to having an apartment in Paris was that we could make full use of our kitchen – which worked out well for the light dinner we needed.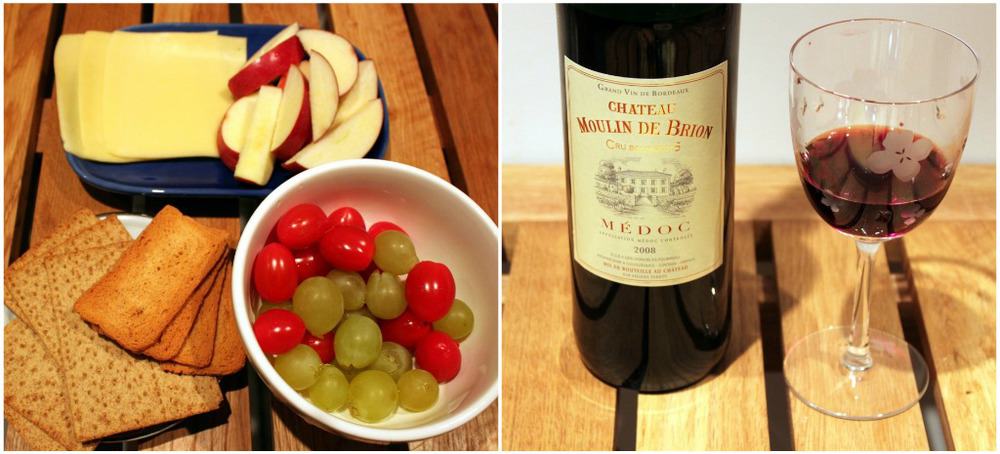 One of my favorite things to do on vacation is to go running and explore different parts of a city. The next day, the husband and I went running through the Promenade Plantee, which is an elevated garden in the 12th district. The path from one end to the other is about 3 miles, and is filled with canopy like trees, gardens, and bridges. It was beautiful and seemed like a great picnic area as well. On the way home we picked up a pain du chocolat and an apple pastry (it became standard as a post-run snack), and decided to have an earlier dinner at Le Grenier de Notre Dame, an all vegetarian restaurant right across from the Notre Dame.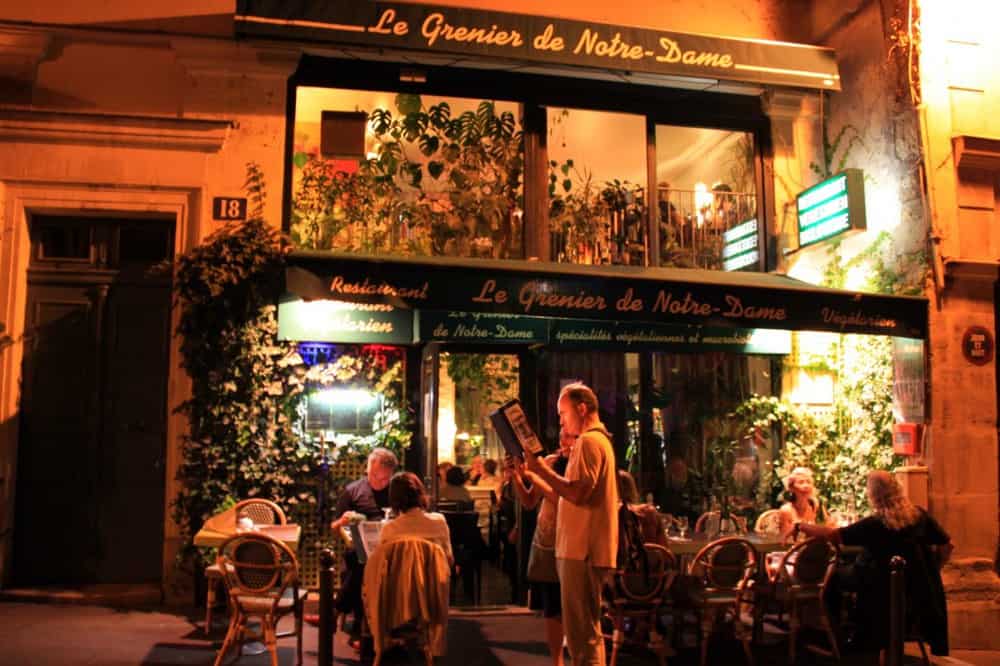 This place really filled up in the evening, and people ended up waiting outside to be seated by the time we were through with dinner. Inside the restaurant felt like eating in someone's home – it was quaint and cozy, with vine and plants cascading their way down the walls. We started off with two freshly made juices: an apple, carrot and ginger juice for me, and a pineapple, banana and coconut juice for the husband.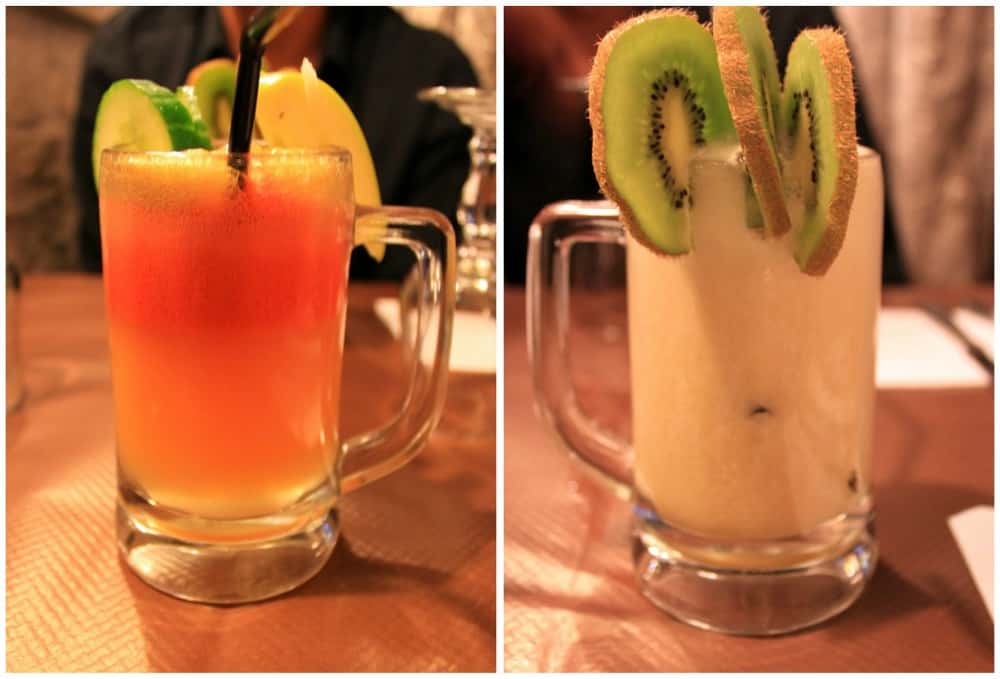 For dinner, we ordered the fresh vegetable soup – which was a hearty blend of pureed vegetables and spices, and two vegetable dishes. Mine was a mix of all kinds of stuff: roasted veggies, quinoa, baked tofu, fresh salad, a veggie burger patty, and stewed cannellini beans. The husband was a vegetable casserole with tofu, seitan and white beans.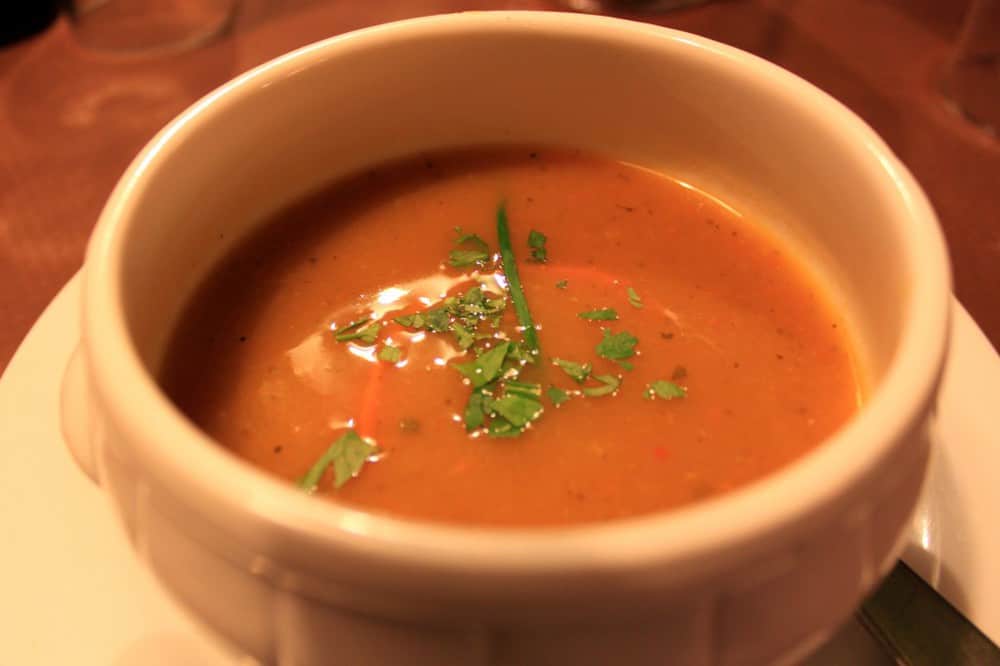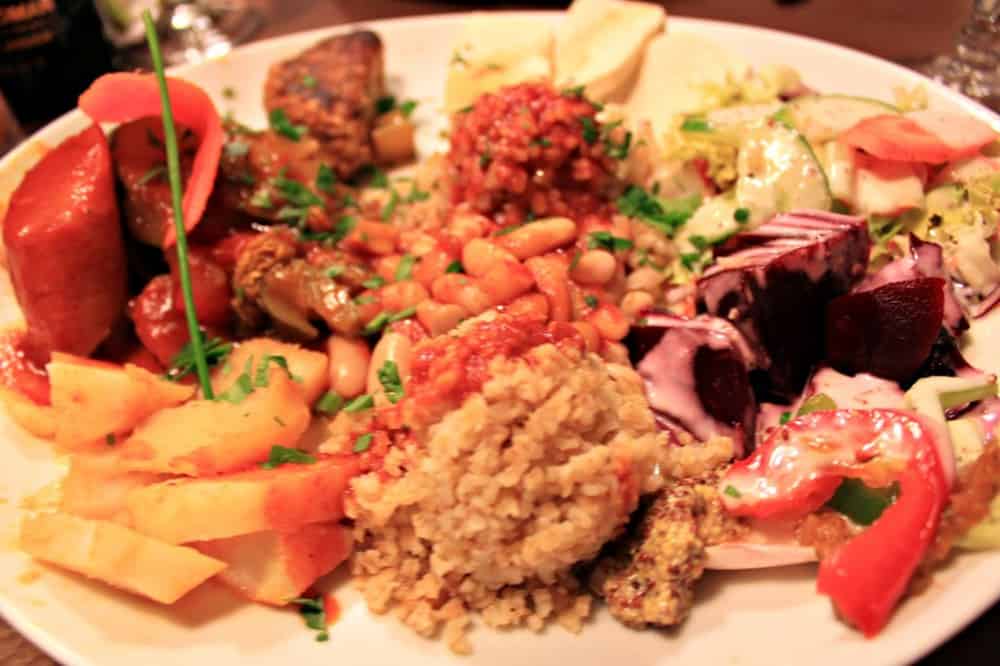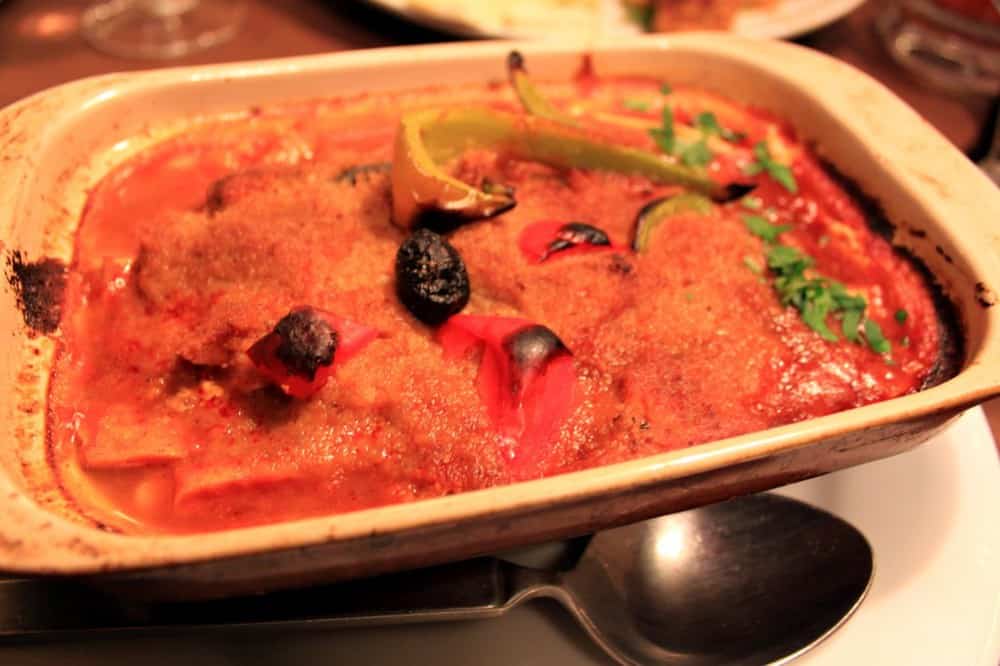 After dinner we took a long walk through Paris and to the Champs Elysees, taking pictures of Paris by night. It was an amazingly hot night, perfect for enjoying the city. Paris at night is really the epitome of romance, it was beautiful and majestic, the architecture of the city standing out against the warm streetlights.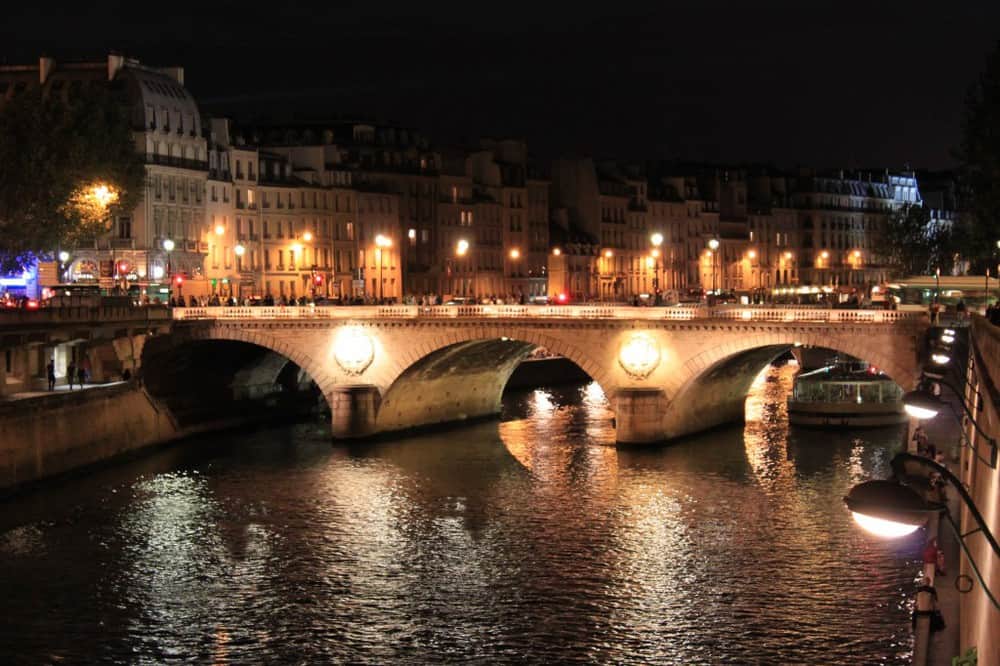 We got lucky and found a couple willing to take our picture in front of the Arc de Triomphe, and despite the language barrier and the fact that they were unfamiliar with our camera, they did a great job.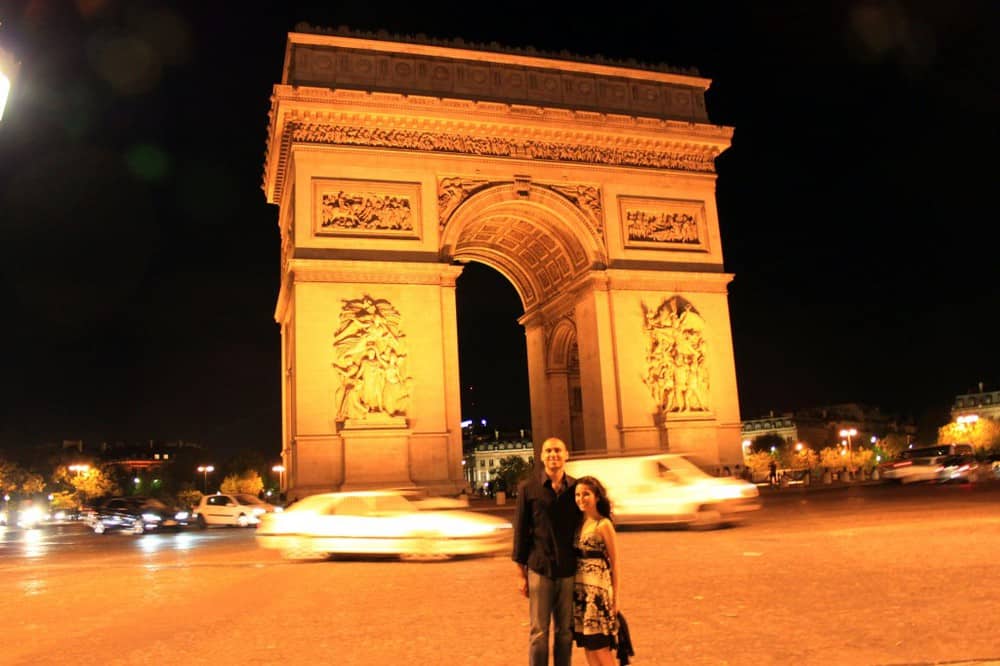 On our way back we stopped at Laduree – one of the most famous patisseries in Paris.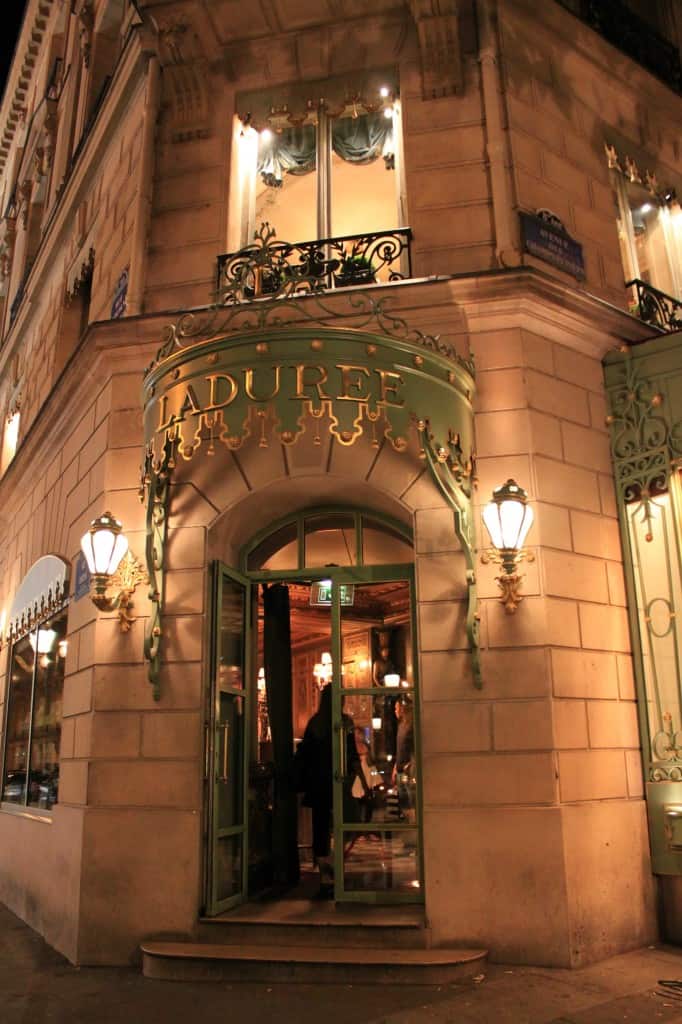 They're famous for their macaroons there, so we bought 6 macaroons to take back with us: orange cream, strawberry, chocolate, coconut, vanilla bean and praline. I snapped a quick picture before we started eating – the macaroons looked like they were floating in a cloud.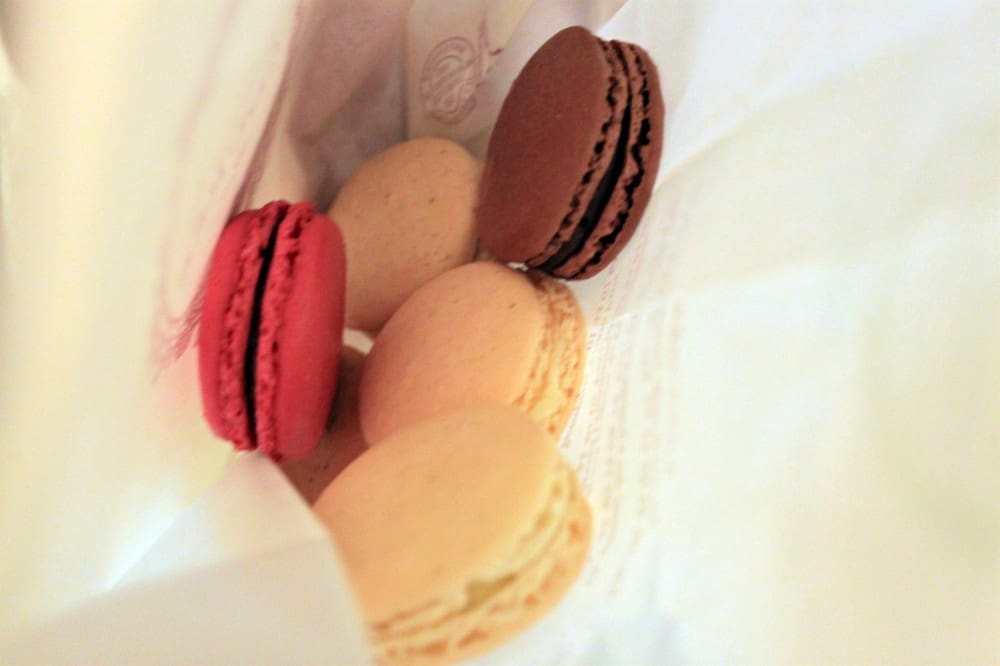 For our last day in Paris, we explored a new neighborhood near the Canal Saint-Martin, located in the 10th district. The Canal is a really unique area of Paris – a lively spot where most of the locals hang out. Near there, we had our last dinner in Paris at an all vegetarian restaurant – Soya. The owner of this place was really cool – a hip, young guy who would sit down next to you and explain the various items on a menu like he had known you forever. The owner's cat also hung out in the restaurant – napping on a chair as we had our dinner.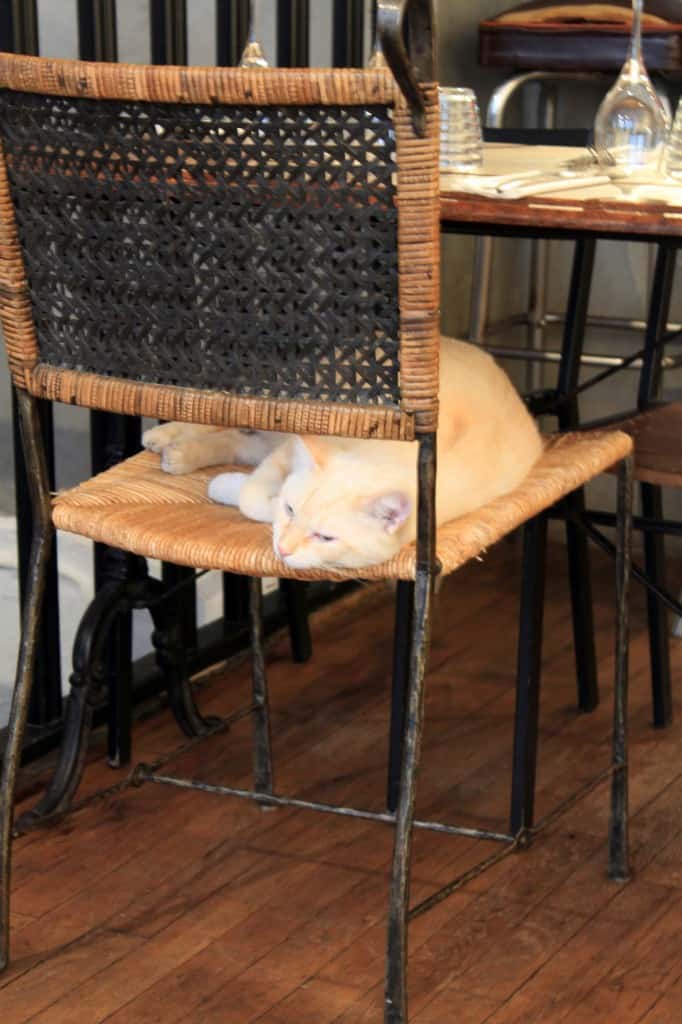 It was so cute the husband insisted I take a picture. For our dinner, we ordered a freshly made vegetable juice with kiwi, a roasted vegetable lasagna made with tofu, and a vegetable curry with quinoa. Everything was absolutely delicious – spicy, filling, with unique flavors that we hadn't tasted yet on our vacation in Paris.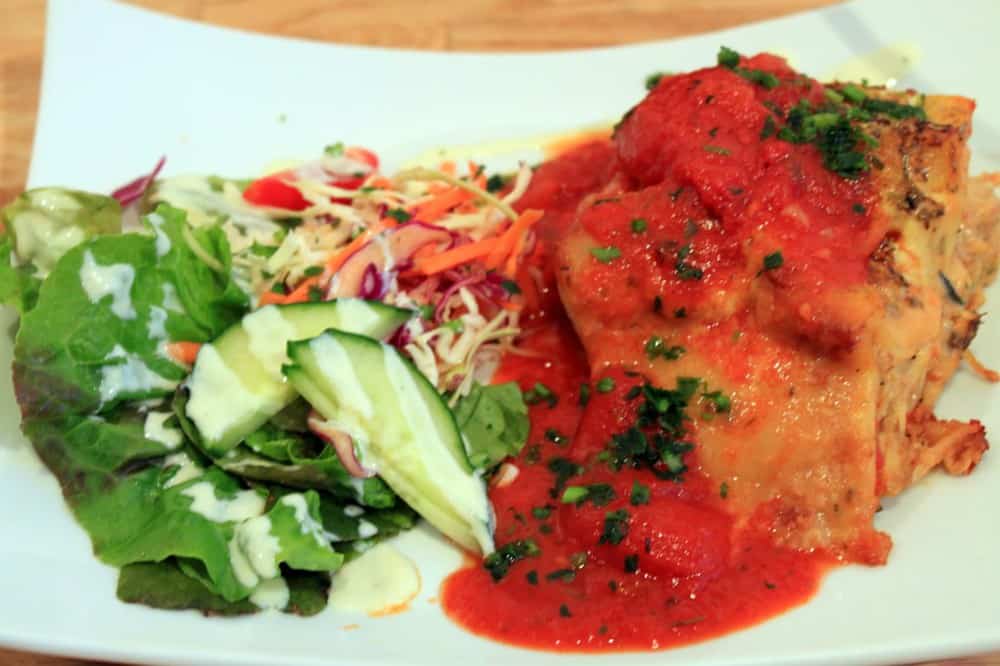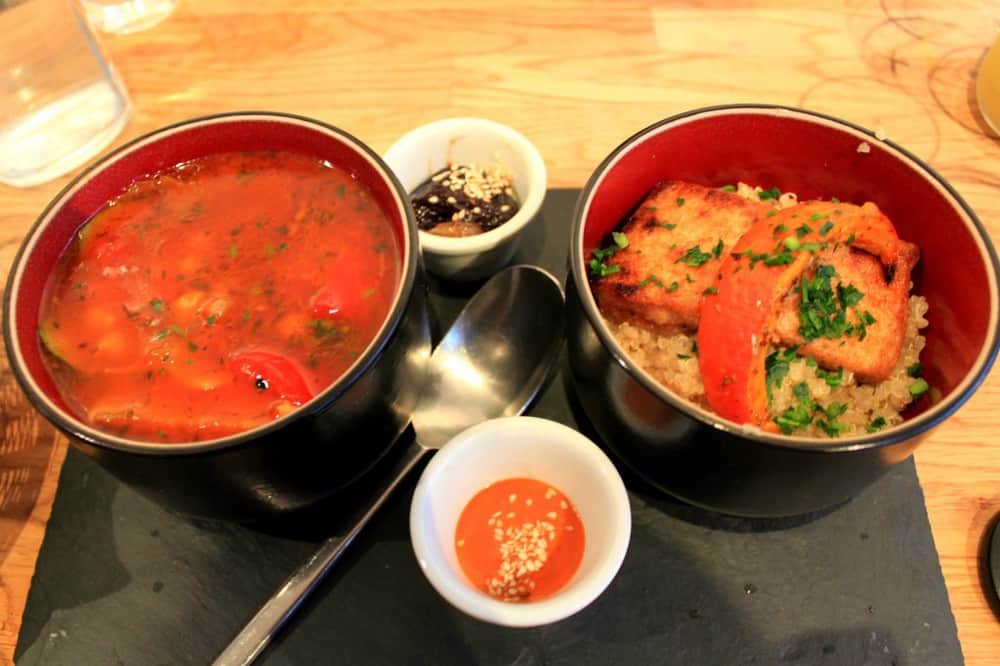 While we had originally thought we weren't going to get dessert, when the owner described their tiramisu to us, we couldn't resist. It was a non-traditional tiramisu, made with fresh chocolate cookies and chocolate creme – but was delicious regardless. It was the perfect end to our stay in Paris: sweet, unexpected, and decadent.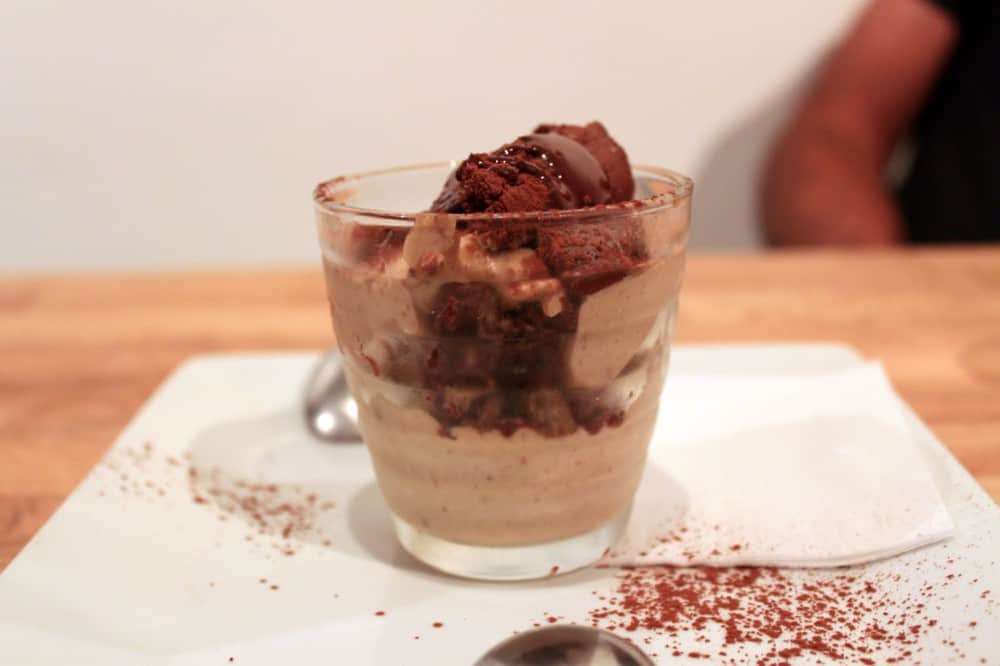 21 responses to "An American Girl in Paris"