15 Minute Gourmet Dinner: Butternut Squash Ravioli with Parmesan Olive Oil Sauce
This post may contain affiliate links. Please read my disclosure.
Ok, I know what you're thinking – Butternut Squash Ravioli in 15 minutes?? Impossible. Well, technically, from scratch – it is. But my husband recently found the most AMAZING fresh ravioli at Trader Joe's that only takes 4 minutes to cook! Pair that with my quick and easy sauce and you've got a gourmet dinner in 15 minutes with only 4-5 ingredients!! 🙂 Amazing I know, right? And might I add, it was DELICIOUS. Probably one of the best pre-made raviolis I've had. And it all starts with…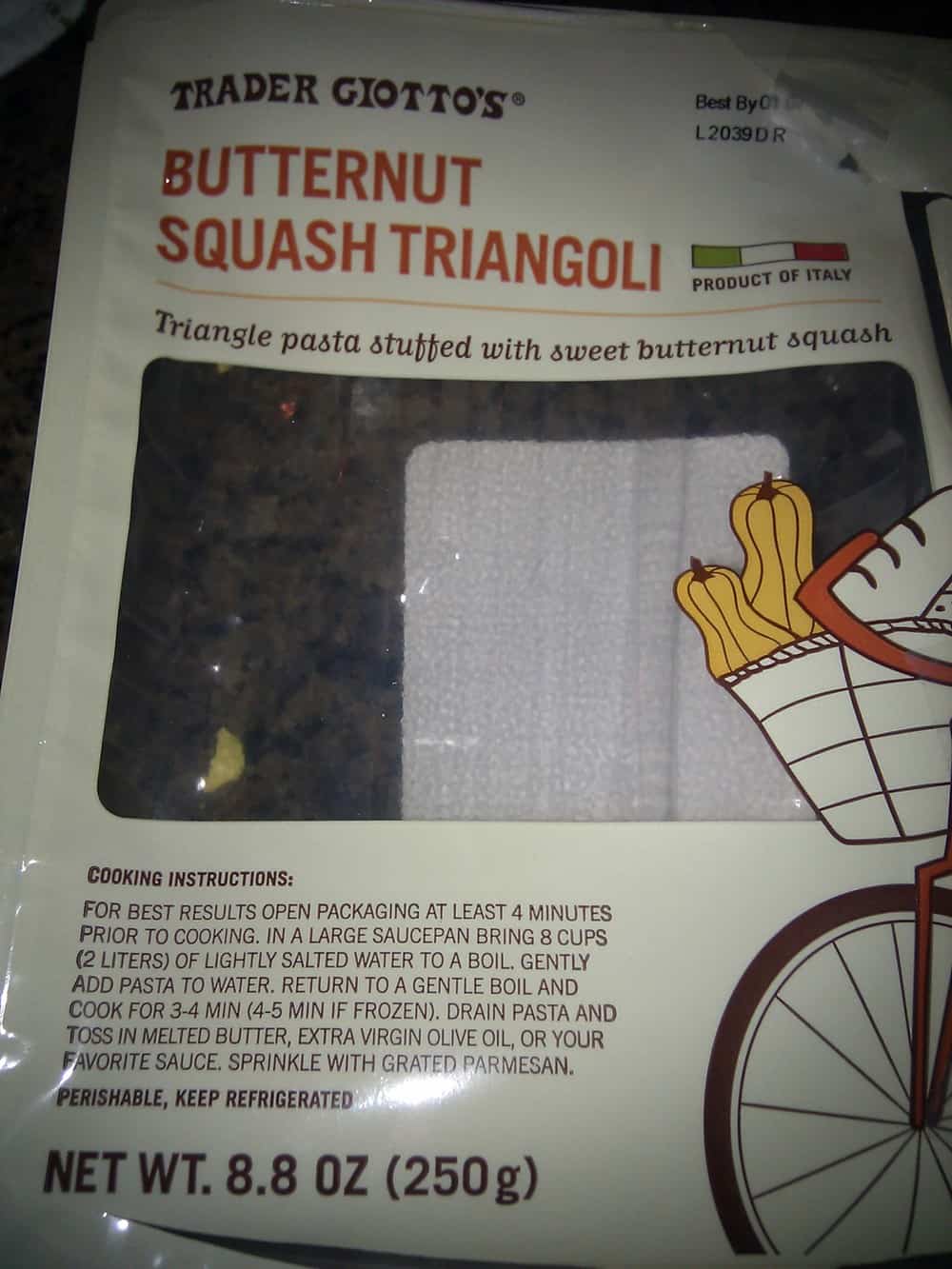 The fresh ravioli! (Ok so this is just the package but at least you know what to look for at your local Trader Joe's 🙂 ). The other great thing about this ravioli is that it's relatively low in calories. You can eat 2/3 of this entire package (which is one HUGE serving – 2 cups of ravioli) for only 460 calories, and you get 8g fiber and 18g protein along with it!
So here's my super easy 15 minute dinner recipe:
Ingredients
Trader Joe's Butternut Squash Triangoli
High quality Extra Virgin Olive Oil
Fresh grated Parmesan cheese
Freshly ground black pepper to taste
Directions
Cook the ravioli according to package directions. Drain & cool.
In the same pot that you cooked the ravioli in, heat a few Tbsp olive oil and 1/4 cup Parmesan cheese over low heat until the cheese is melted in the olive oil
Return the cooked ravioli to the pot and toss in the sauce. Serve and top with 1 Tbsp Parmesan cheese and freshly ground black pepper to taste.
How easy is that?? My husband totally cleaned his plate he liked the ravioli so much. Doesn't it look good?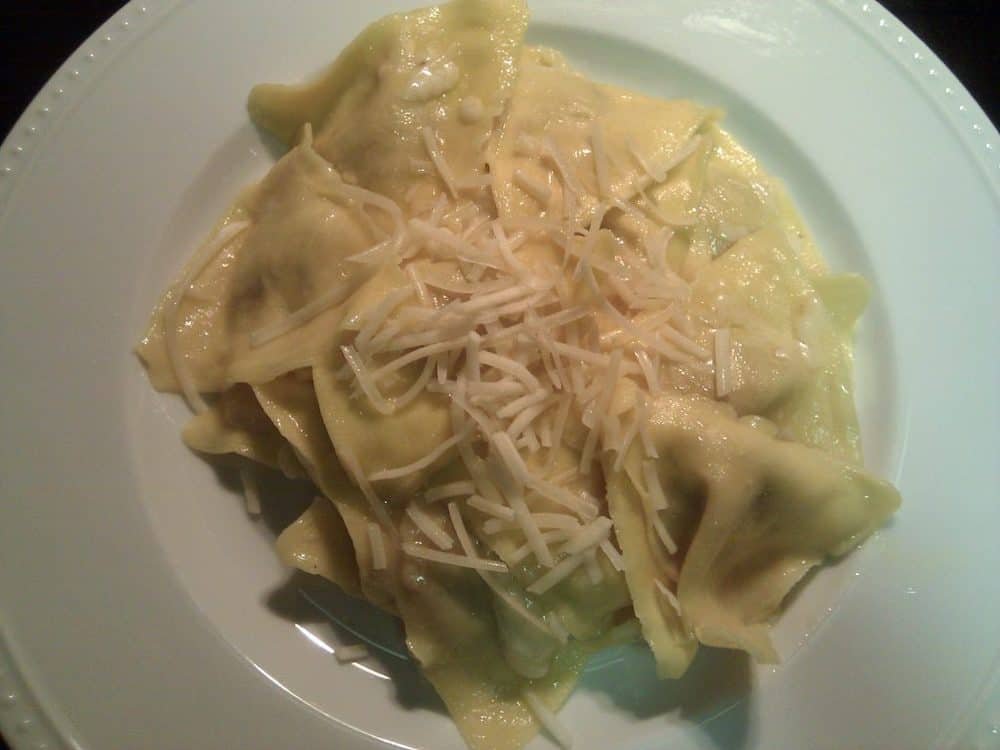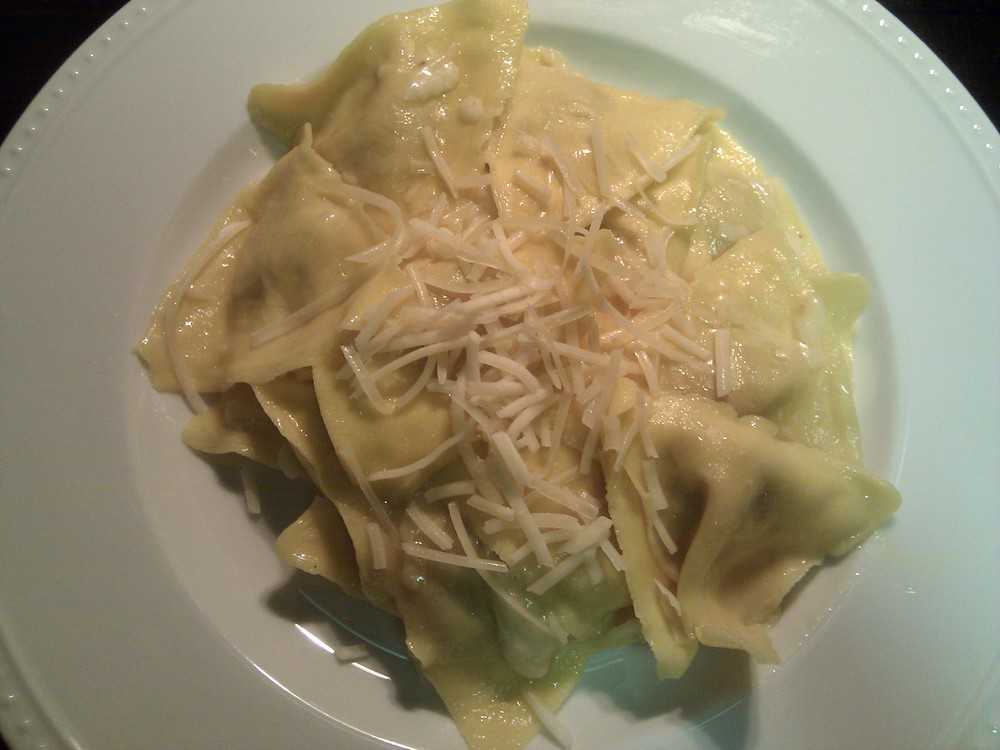 Next time, I'll probably try my Gorgonzola cheese sauce with it to mix things up a bit 🙂 Oh and for those of you who are interested in making butternut squash ravioli from scratch – try my Pumpkin Ravioli Recipe (you can just substitute butternut squash for the pumpkin). Hope you enjoy this quick and easy dish!
32 responses to "15 Minute Gourmet Dinner: Butternut Squash Ravioli with Parmesan Olive Oil Sauce"