Easy Vegan Lentil Loaf Recipe (Vegan Meatloaf)
This post may contain affiliate links. As an Amazon Associate, I earn from qualifying purchases. Please read my disclosure.
In this classic vegan lentil meatloaf, the walnuts and lentils combine with carrots, shallots, and savory spices for a blend of flavors that's sure to impress. Topped with a slightly sweet tomato glaze, it's the perfect vegetarian entree. The leftovers make great lunches too!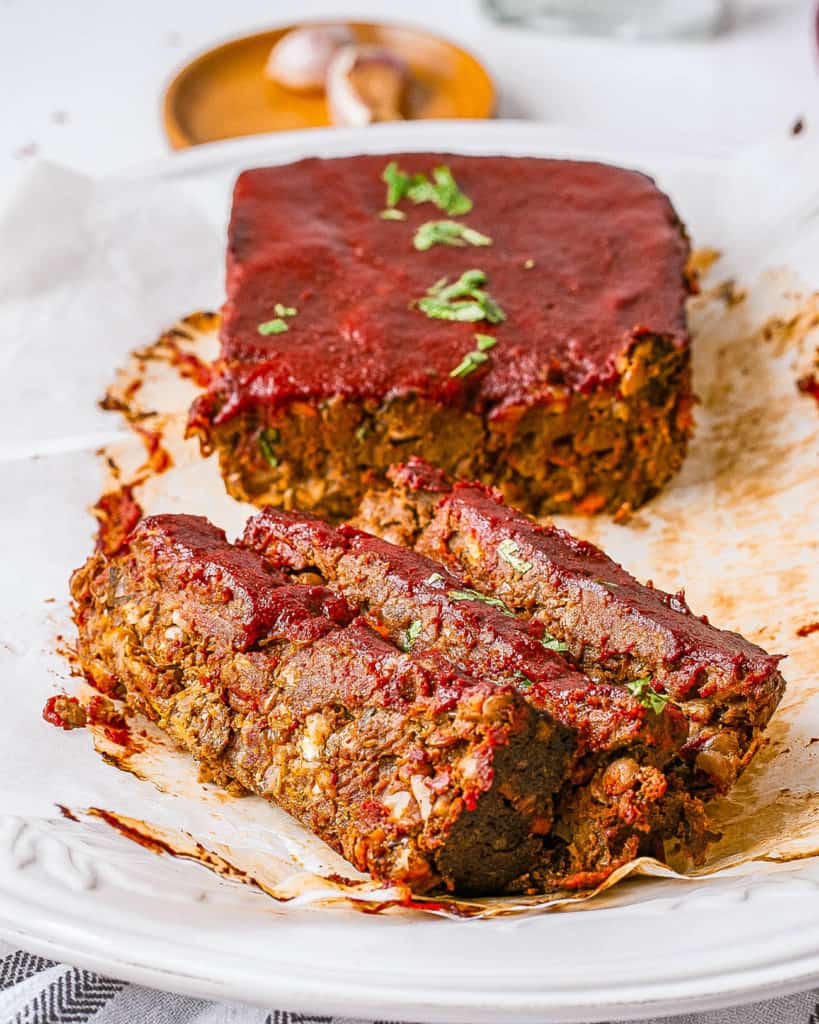 About This Recipe
This vegan lentil loaf is one of my favorite hearty vegetarian recipes to make for dinner! It's super easy to make and most of the ingredients needed are things you can find in your pantry – which makes it even easier. The best part is, this lentil meatloaf is so delicious that no one will miss the meat in this dish at all!
Using lentils instead of meat does wonders for this dish. I wasn't sure if lentils would be a satisfying enough substitution for meat, but it turns out that the texture of this meatloaf is reminiscent of the classic recipe! Lentils make this loaf super savory, hearty and satisfying. When paired with mashed potatoes and roasted veggies, it's comfort food at its best!
I guarantee you will love this simple lentil loaf recipe. It's perfect for a family meal, or for feeding a crowd. And with only 20 minutes of prep time, you're not going to be spending hours in the kitchen making this lentil loaf. It's also easily made gluten-free, and kid-friendly too! Win win for everyone!
Latest Recipe Video!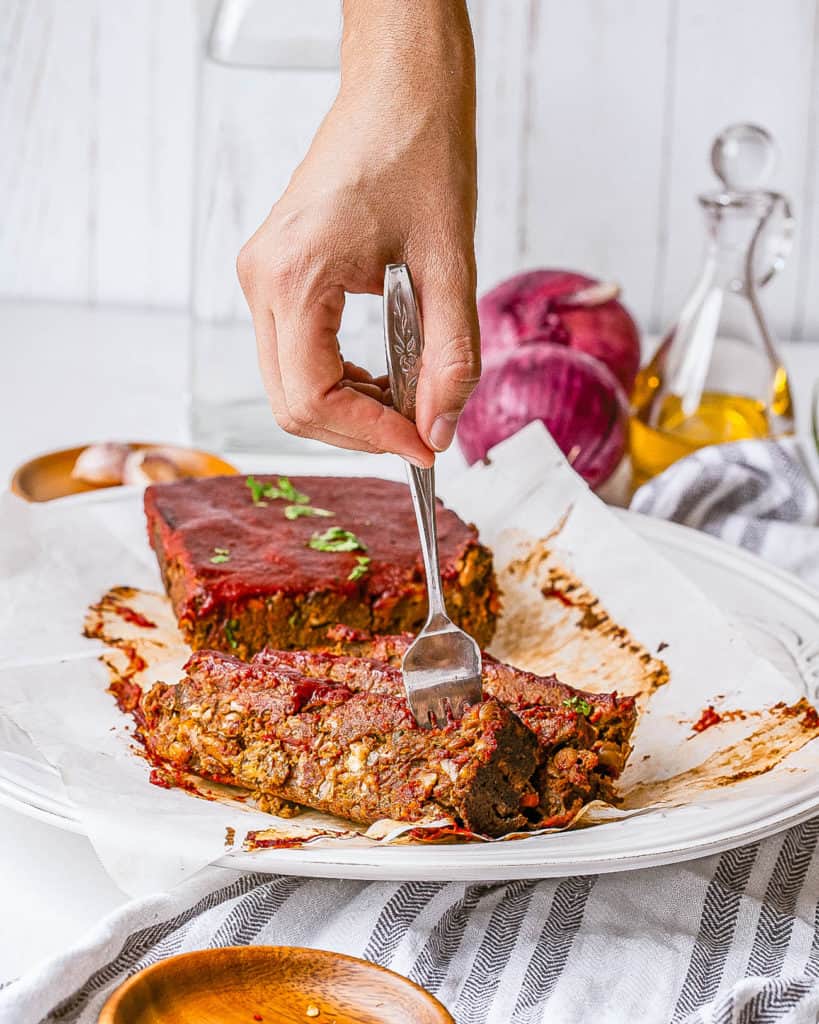 How To Make Vegan Lentil Loaf
Ingredients and Notes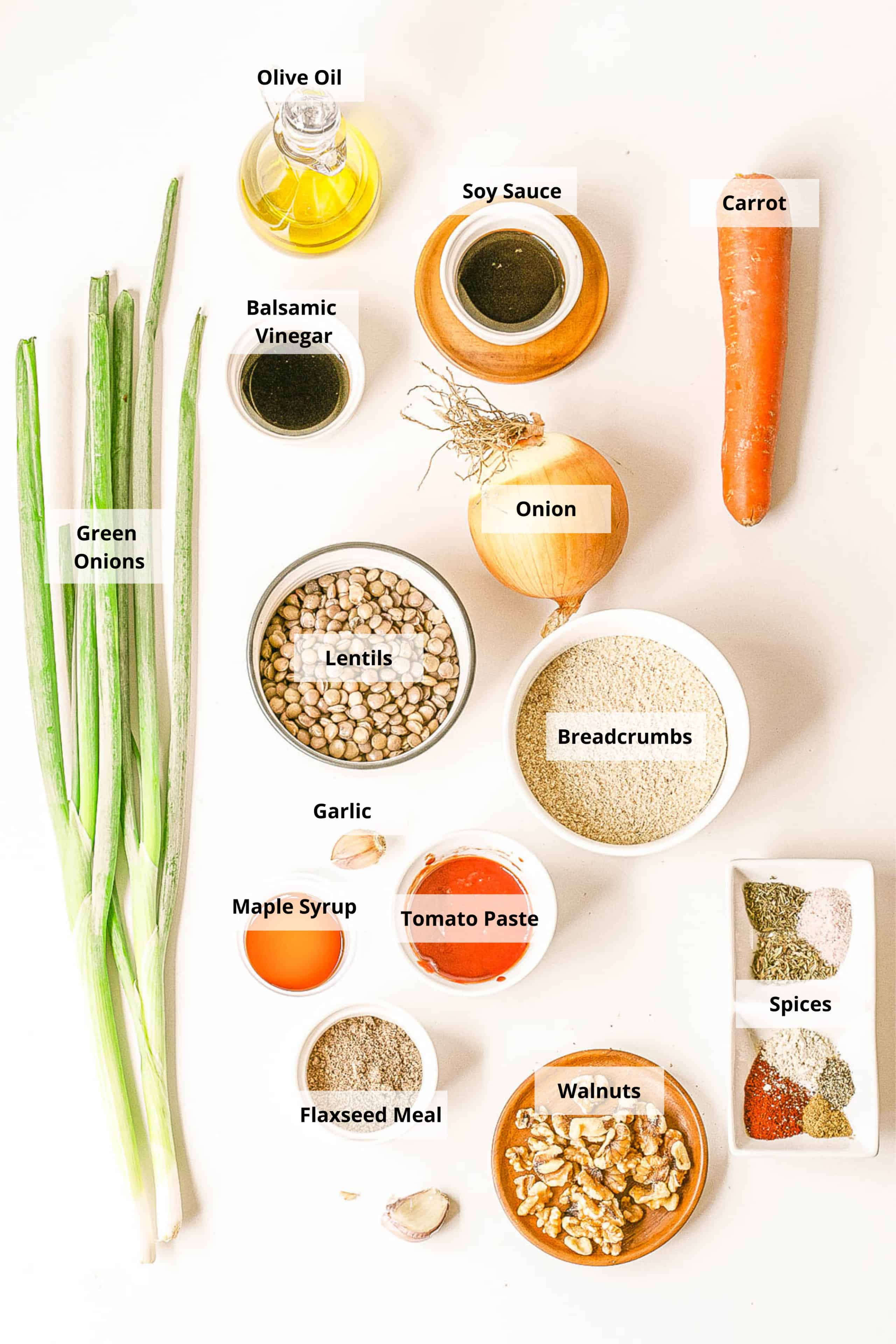 Red Onion, carrot, garlic and shallots: I highly recommend sticking to fresh garlic cloves for this vegan meatloaf recipe. That said, don't not make it if you don't have it on hand. Simply replace with a heaping tablespoon of pre-packaged minced garlic or 2 teaspoons of garlic powder.
Dry lentils: Any type (or color) lentils will work. However, red lentils tend to cook up tougher while brown lentils and green lentils remain more tender.
Walnuts: I chose walnuts for this lentil nut loaf because it blends well with the lentils and provides stability and extra protein. Optional: You can toast these in the oven until golden brown for a more robust flavor.
Breadcrumbs: I love homemade whole wheat breadcrumbs, but any you have on hand is fine. Just like with traditional meatloaf, the breadcrumbs help hold everything together and absorb excess moisture – this keeps you from ending up with a mushy lentil loaf! To make this a gluten free lentil loaf, just use gluten free breadcrumbs, gluten-free oats, or gluten free oat flour.
Flaxseed egg: To make this vegan, I substituted egg for 1 tbsp ground flaxseed and 2.5-3 tbsp water. Ground flax seeds also add some healthy fats to this loaf!
Sauces and spices: This is where the magic happens. You can customize to your liking, but the combo used in this recipe is deliciously savory – and a tad umami – as is. The balsamic vinegar and soy sauce blend is on point, and the smoked paprika really enhances the more "usual" spices like thyme, oregano, salt, and pepper.
Tomato glaze ingredients: You'll find tomato paste, balsamic vinegar, sweet paprika, maple syrup (or brown sugar) and salt in this vegan meatloaf glaze. If you don't want to make the glaze from scratch, you can also use bbq sauce on top of the lentil loaf.
Instructions
For the Lentil Meatloaf
Step 1: Line a loaf pan with parchment paper and set aside. Dice garlic cloves, onion and carrot into very small pieces. Sauté garlic in a heated pan with olive oil until fragrant. Then add onion and carrot and sauté for 4-5 minutes or until onion is translucent.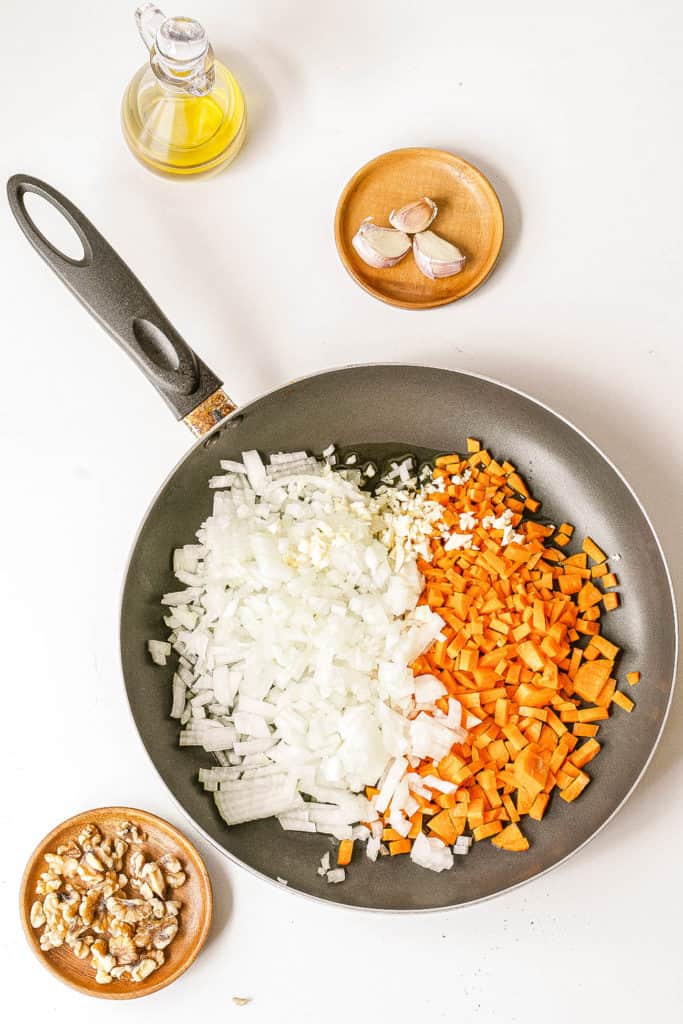 Step 2: Chop shallots and add it to the other cooked veggies. Cook for two more minutes.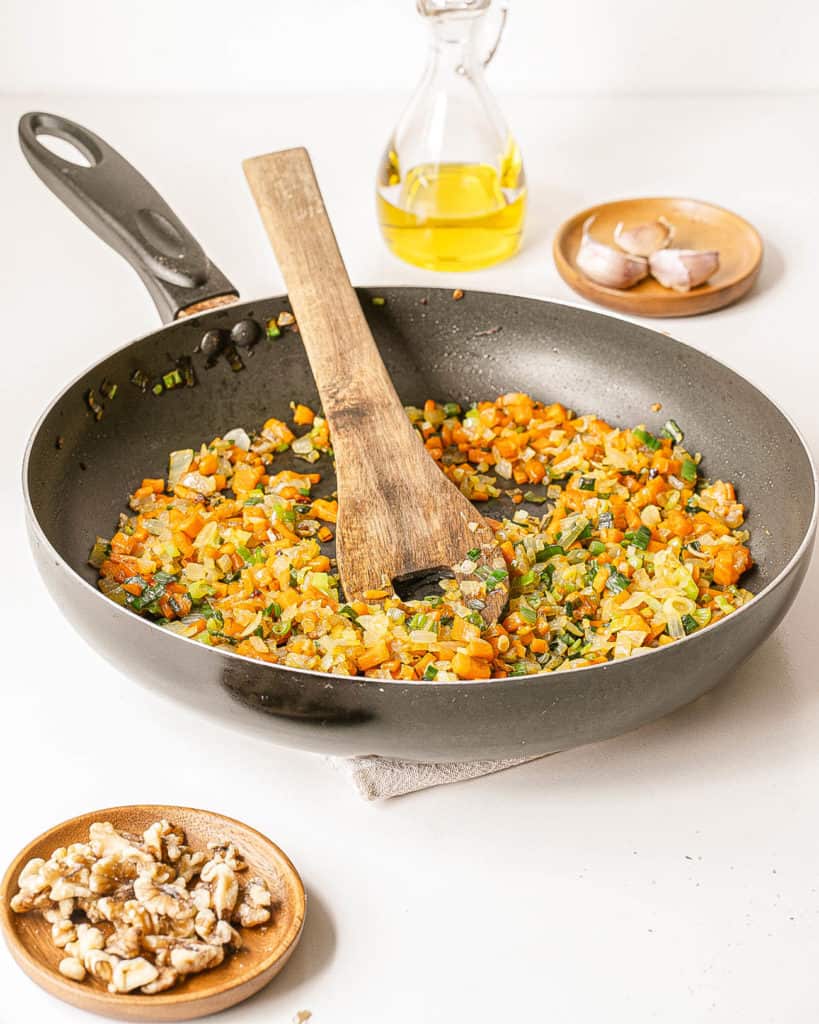 Step 3: Place the cooked vegetables in a large bowl and add 2 cups of lentils (leaving ½ cup of lentils apart). Using an immersion blender, process the vegetables until they form a smooth paste. Then add the walnuts and blend again. This can be done with a food processor or standing blender as well.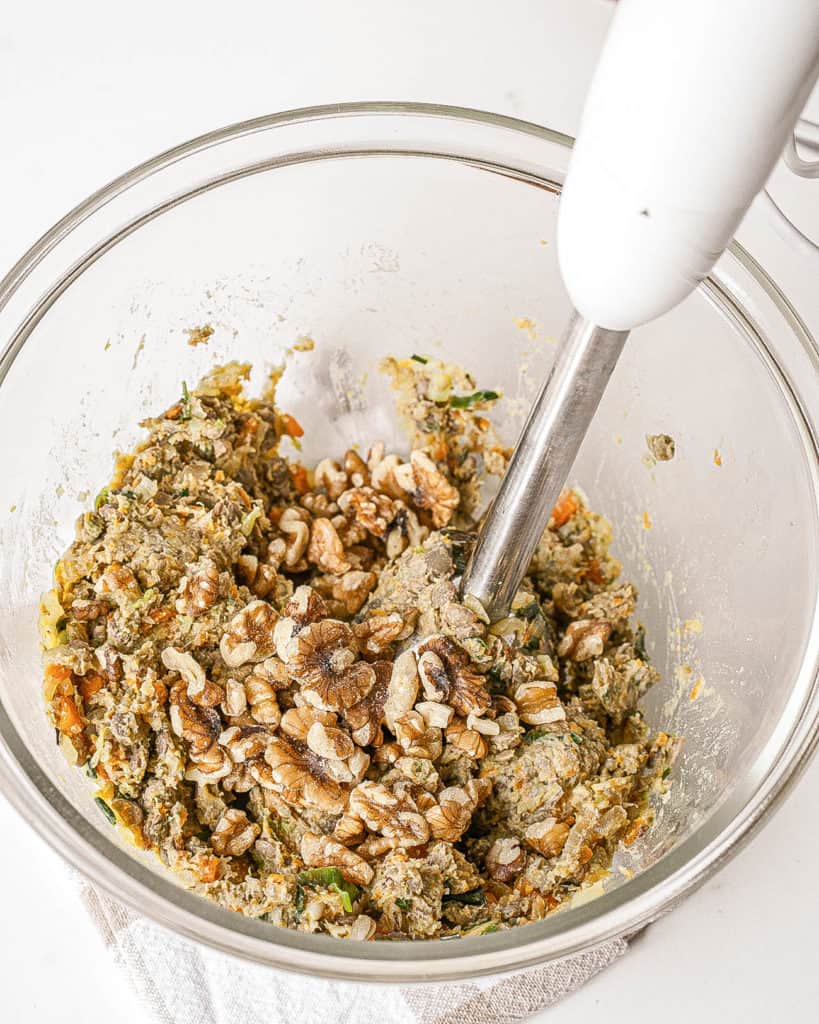 Step 4: Add all the spices, the rest of the lentils, breadcrumbs, flaxseed egg, olive oil, balsamic vinegar, soy sauce and salt and stir to combine.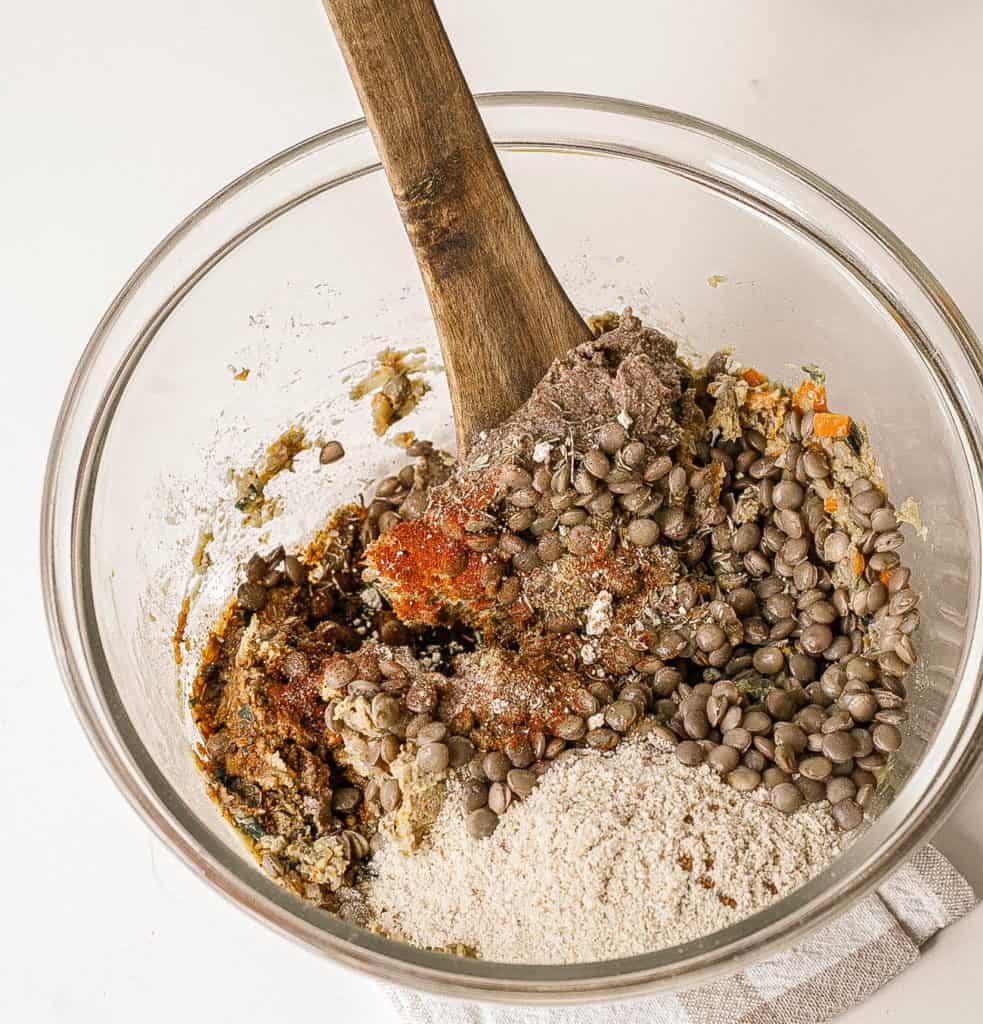 Step 5: Transfer the lentil loaf mixture to the prepared loaf pan and press with a spoon to get a compact loaf.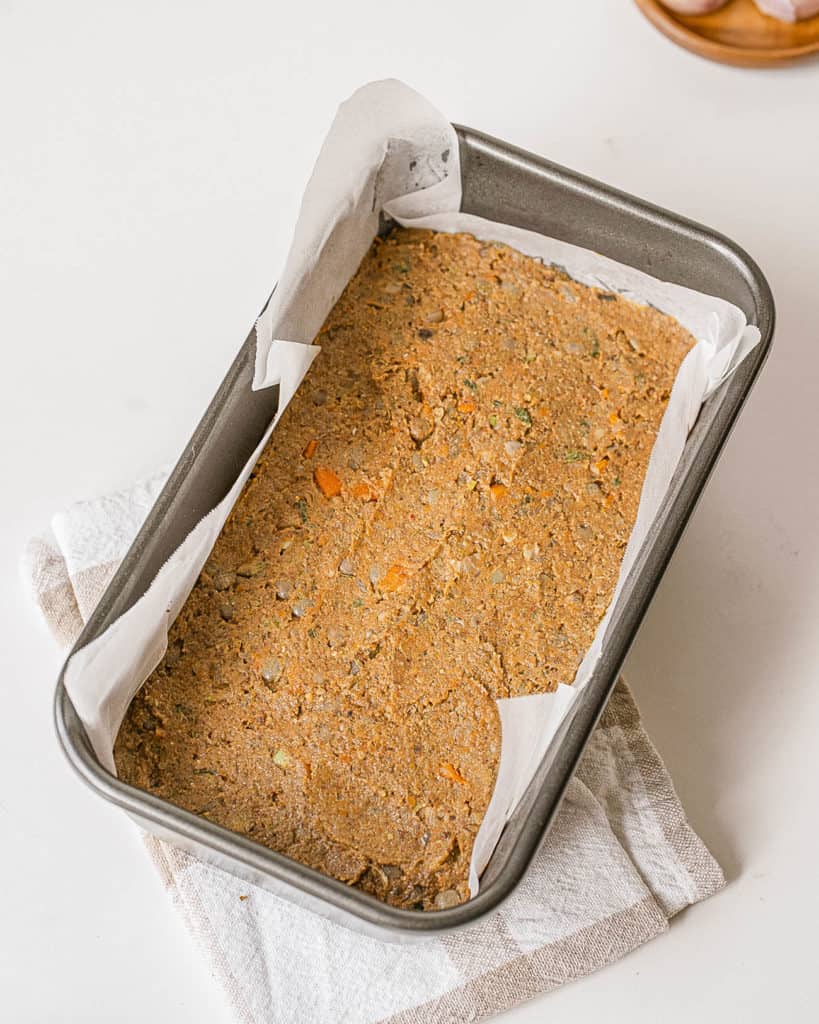 For the Glaze
Step 1: Whisk all the ingredients in a small bowl, and spread it with a spoon over the top of the loaf.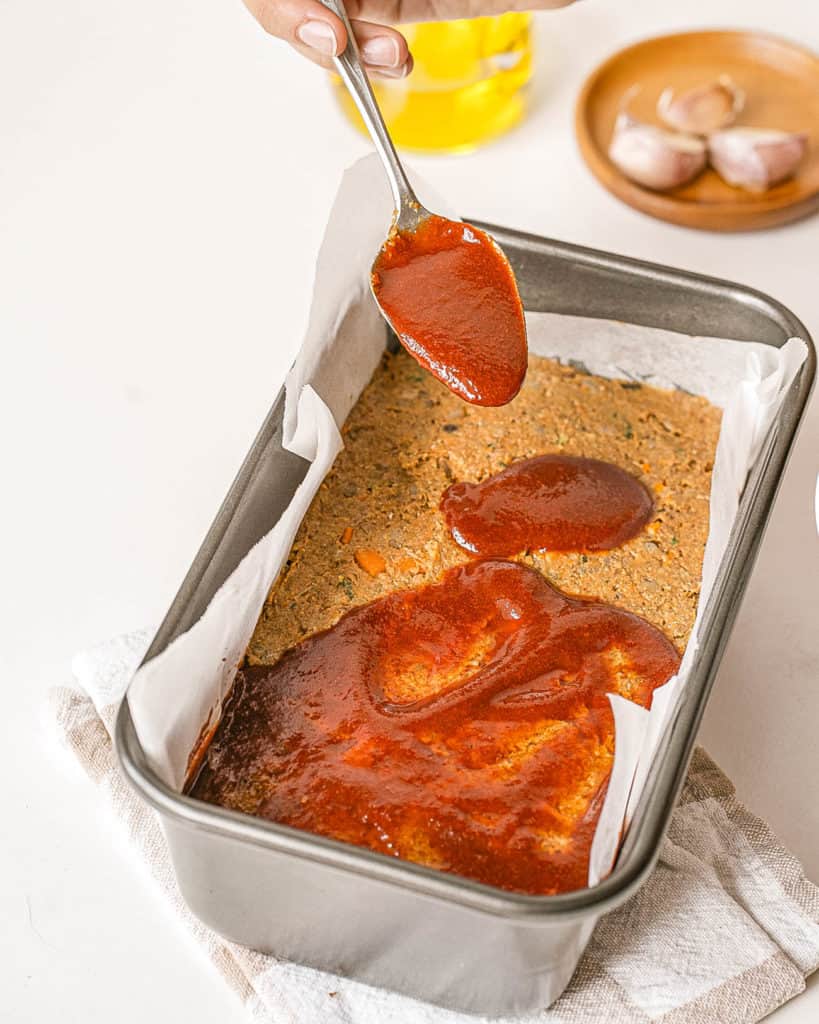 Step 2: Bake for 40 minutes in a preheated oven at 350 degrees F, or until golden brown on the edges.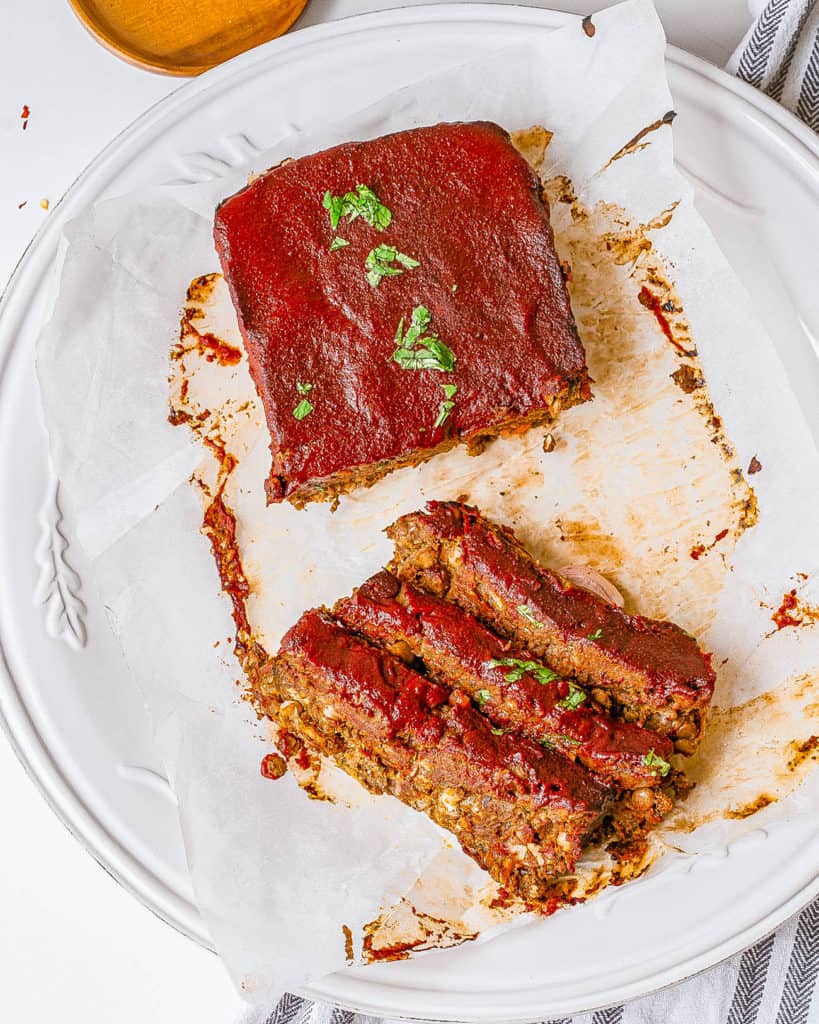 How to Meal Prep
This has become one of my favorite vegan meal prep meals. You can do this two ways:
Option 1: Batch cook the lentil loaf ingredients ahead of time, then store until ready to assemble. For instance, you can cook up a large batch of lentils and store in an airtight container; and then chop and saute all your vegetables and store them in a separate airtight container. You can also make the tomato glaze and store it in a third airtight container. Doing it this way, you can easily double the recipe if needed. You can do this up to 3 days in advance, and then combine the ingredients and bake on the day of. I'll show you how to freeze individual slices for long-term storage below.
Option 2: Make the entire loaf the day before. With this option, you would cook and assemble as you normally would but leave off the tomato glaze. Place in the loaf pan, cover with plastic wrap, and store in the refrigerator. When ready to cook, let it sit at room temperature for about 30 minutes, then top with the glaze and bake.
How to Store and Keep
To Store: Let any leftover lentil meatloaf cool completely, then slice the remaining loaf. Transfer to an airtight container. It will keep in the fridge for about 5 days.
To Freeze: This loaf'smeaty texture holds up in the freezer nicely. Follow the same directions as if you were refrigerating it, but instead just place it in the freezer. You can use a freezer bag or a freezer safe vacuum sealed container. It will keep for up to 3 months.
How to Use Leftovers
In a Sandwich: Use leftover lentil loaf slices in place of deli meat in sandwiches. Pair with whole grain bread, fresh tomatoes, baby spinach and a dollop of mustard.
In a Salad: Crumble up the loaf and use it for added protein in green salads!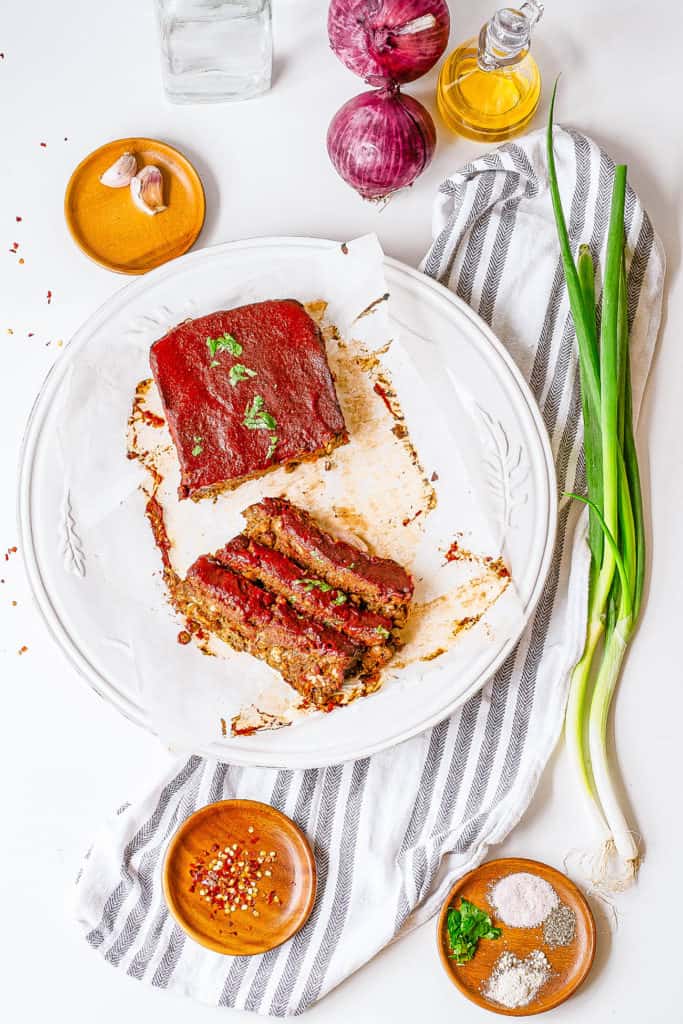 Recipe FAQs
What Should I Serve With Lentil Loaf?
For everyday meals, vegan meatloaf pairs well with a simple side salad, mixed steamed vegetables, and vegan mac and cheese!
I also have a vegan roasted potatoes with rosemary that really complements the flavors in this lentil walnut loaf. Sweet potatoes would be delicious too!
It's also the perfect main dish for the holiday season, so if you're making this lentil loaf for Thanksgiving, I highly recommend pairing with traditional favorites like mashed potatoes and cornbread gluten free stuffing.
Should I Use Dry Or Pre-Cooked Lentils?
Depends on how much time you have! I prefer the budget-friendly option of cooking dried lentils from scratch, but canned lentils or even the steamed "ready to eat" lentils work as well.
To cook dried lentils, you'll use a ratio of 1 cup lentils to 3 cups of water and simply bring to a boil, then simmer on the stovetop until tender. For reference, ½ cup of dried lentils equals 1 heaping cup cooked.
On the flip side, 1 cup dried lentils turns into 2.5 cups cooked.
But I'm also a busy mama, so sometimes I just pop open a can of lentils and call it a day. This vegan lentil loaf recipe can handle it! Just be sure to drain thoroughly and use paper towels to pat dry. You want the lentils as dry as possible before adding to the loaf.
How Long Do Lentils Take to Cook?
Fortunately, lentils are nothing like dried beans when it comes to how long they take to cook. You can go from dried lentils to tender, recipe-ready in about 20 minutes.
Some lentil varieties need to be soaked before cooking, so be sure to check instructions on the package.
If you are using split lentils, it'll be even faster – about 7 minutes. If you cook lentils yourself, make sure to add the salt after cooking. Adding salt during the simmering stage can result in tough lentils.
The key is: cook your lentils until barely tender. Trust me, you do NOT want overly soft lentils for this vegan meatloaf recipe.
Why Is My Lentil Meatloaf Mushy?
Lentils that have cooked too long retain excess moisture, and too much moisture is the cause of soggy lentil loaf.
I honestly haven't had that problem with this particular lentil meatloaf recipe, and I think that's thanks to the bread crumbs and walnut combination. This easy vegan lentil loaf recipe gives you the best texture that's sturdy and holds together really well. It's tender and a tad juicy without being mushy!
If for whatever reason, you still struggle with a soggy loaf, try reducing the excess water in your flax egg from 3 tablespoons to just 2 tablespoons. In fact, if you're using canned lentils, you may want to go ahead and do this from the start.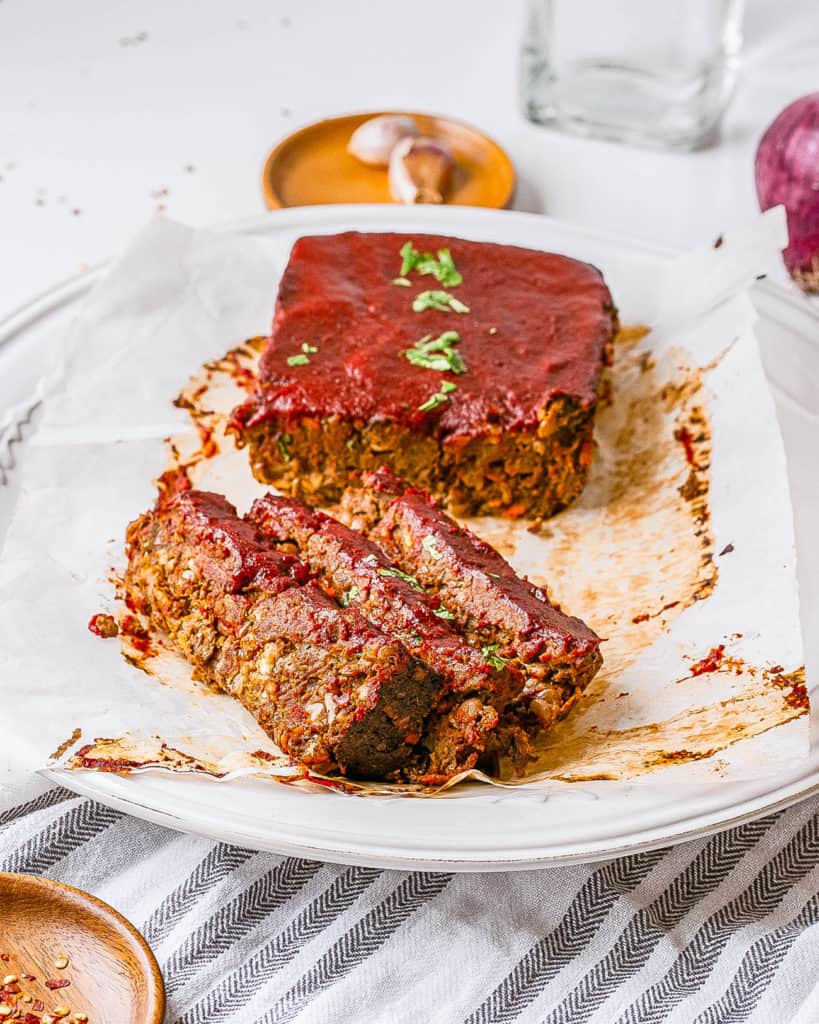 More Vegan Lentil Recipes!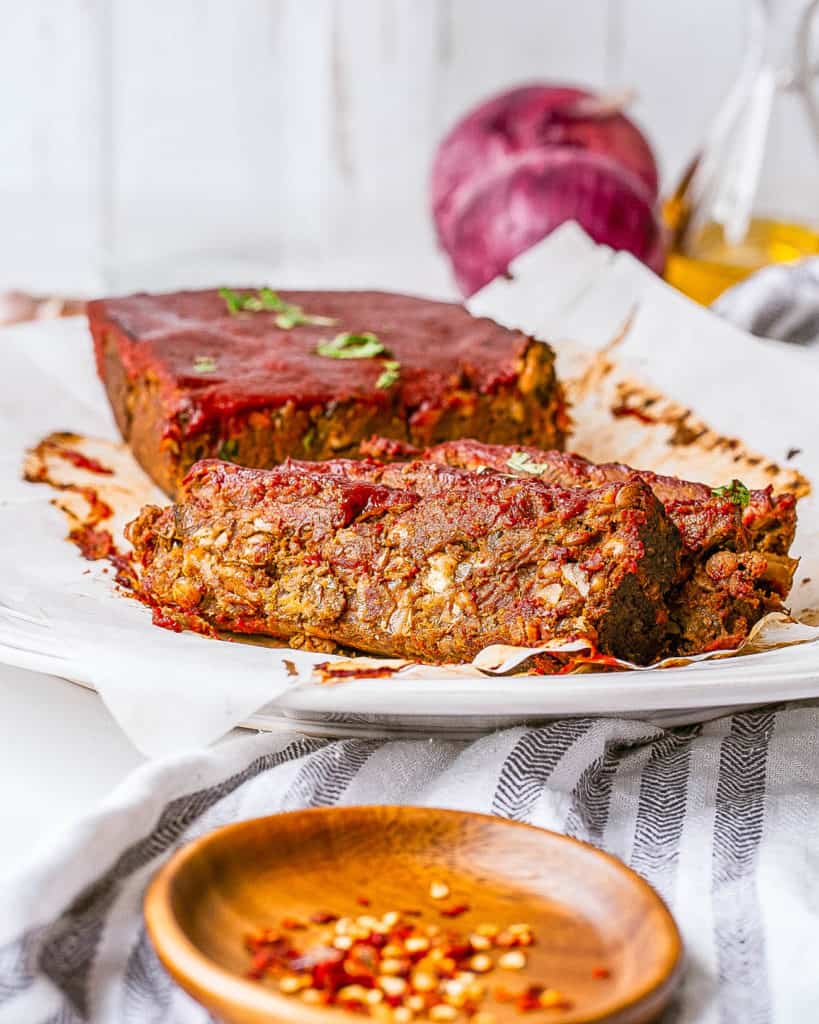 If you have tried this Vegan Lentil Loaf recipe or any other recipe on my blog, then please rate it and let me know how it turned out in the comments below! You can also FOLLOW ME on FACEBOOK, TWITTER, INSTAGRAM, and PINTEREST to see more delicious, healthy, family friendly food!
🎥 Watch How to Make It
Best Vegan Lentil Loaf
Hearty and filling, this flavorful vegan lentil "meatloaf" is the perfect weeknight supper or special dish to serve vegan guests. Unlike other lentil loafs, it doesn't get soggy, and it makes great leftovers for lunch the next day!
Instructions
Line a loaf pan with parchment paper and set aside.

Chop garlic cloves, onion and carrot in very small pieces.

Sauté garlic and 1 tbsp olive oil in a large pan over medium heat until fragrant. Then add onion and carrot and sauté for 4-5 minutes or until onion is translucent.

Chop shallots and add it to the other vegetables. Cook for two more minutes.

Place the cooked vegetables in a big bowl and add 2 cups of the cooked lentils. Using a hand blender, puree the vegetable/lentil mixture until it forms a smooth paste. Then add walnuts and blend again. This can be done with a food processor as well.

Add all the spices, the rest of the lentils, breadcrumbs, the flaxseed egg, 1 tbsp olive oil, balsamic vinegar, soy sauce and salt and stir to combine.

Transfer the mixture to the prepared loaf pan, pressing with a spoon to get a compact loaf.

For the glaze, whisk all the ingredients together and spread it with a spoon over the top of the loaf.

Bake for 40 minutes at 350 degrees F, or until golden brown on the edges.
Notes
Top Tips for Making The Best Vegan Lentil Loaf
Make sure your lentils aren't wet when you combine them with the rest of the ingredients! That will result in a soggy meatloaf!
If you don't have a food processor or hand blender, you can chop the walnuts fine with a chef"s knife and use a potato masher to mash the lentils with the other ingredients in a large mixing bowl.
When blending the ingredients for the lentil loaf, blend until the ingredients are still slightly chunky – you don't want it to be fully pureed.
Feel free to make extra glaze! It's fun to use as a dipping sauce for the meatloaf once it comes out of the oven (this is especially fun for kids!)
If you want to add some heat, try adding some cayenne, crushed red pepper, or chipotle chili powder into the lentil mixture before baking.
Feel free to use pre-steamed or canned lentils instead of dry to save time.
Nutrition
Serving:
1
slice
|
Calories:
180
kcal
|
Carbohydrates:
22
g
|
Protein:
8
g
|
Fat:
8
g
|
Saturated Fat:
1
g
|
Sodium:
644.5
mg
|
Potassium:
371
mg
|
Fiber:
6
g
|
Sugar:
5.5
g
20 responses to "Easy Vegan Lentil Loaf Recipe (Vegan Meatloaf)"