110 Vegan Recipes For Beginners
This post may contain affiliate links. As an Amazon Associate, I earn from qualifying purchases. Please read my disclosure.
With this list of vegan recipes for beginners you'll find something for any time of day with easy breakfasts, lunches, dinners, and standalone snacks, too! As you start your journey into a plant-based diet, you might feel overwhelmed or unsure of what to try. Luckily, we've gathered the easiest recipes that are full of amazing flavor, perfect texture, and whole foods.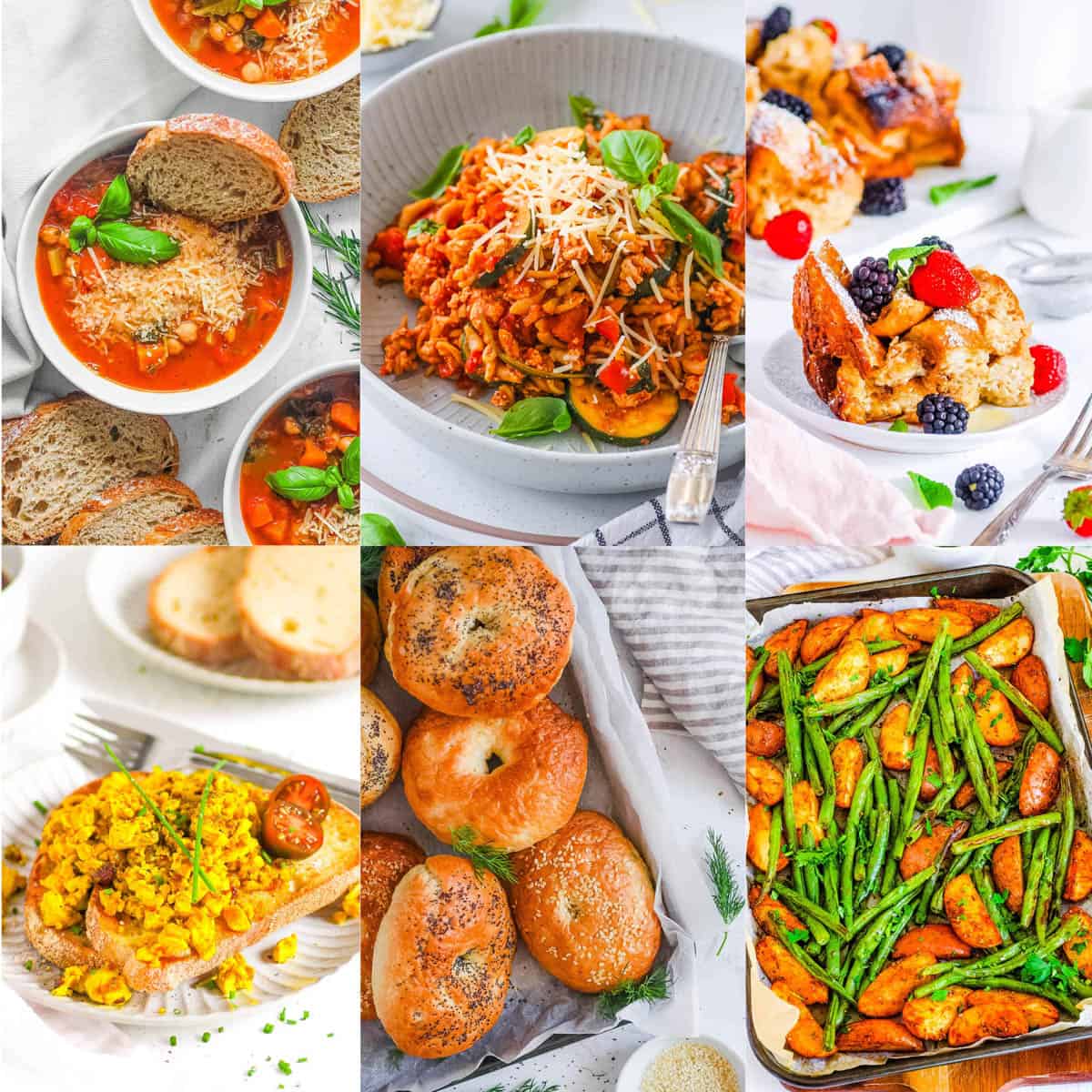 Beginning a vegan diet can seem overwhelming. Especially if you've been used to an omnivore diet, or are just not as experienced in cooking vegan food. But the good news is, it's actually really easy to find vegan recipes for beginners that are flavorful, delicious, and totally satisfying!
Whether you want to dive into a vegan lifestyle, incorporate more meatless meals into your diet, are looking for dairy-free alternative recipes, or are having a vegan guest over for dinner, these beginner recipes will do the trick.
From hearty breakfasts to delicious sweet treats, this list combines plant based recipes for beginners with cooking techniques and budget-friendly ingredients, to make it as easy as possible to make these starter vegan meals.
These easy vegan recipes are a great way to incorporate more plant-based foods into your diet, and are great for starting, following, or trying out a vegan lifestyle!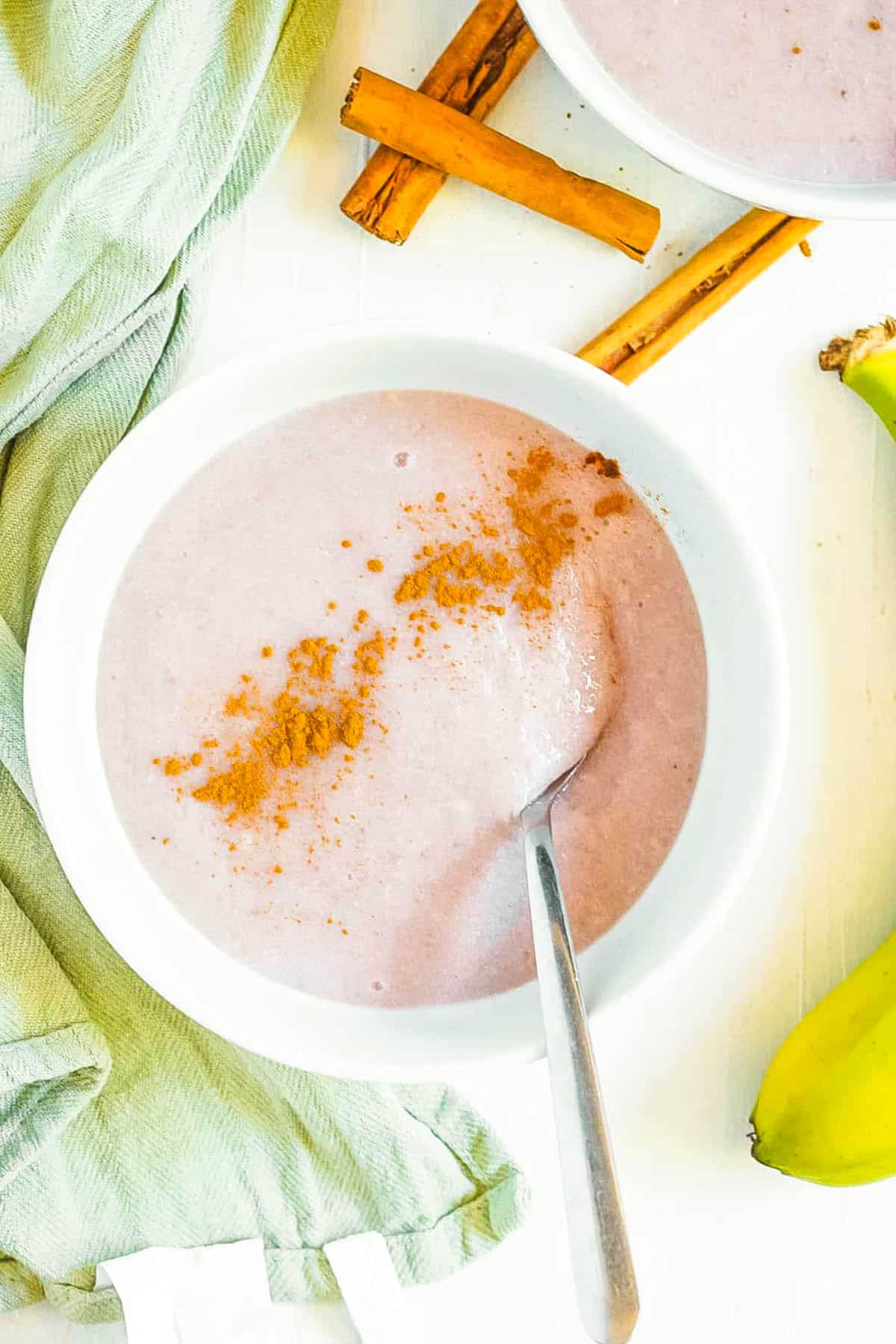 Banana porridge is one of the easiest recipes to make, with simple ingredients and minimal effort required. Customize it with nuts, fresh fruit, or even shaved coconut for a nourishing, convenient breakfast.
Ready in 15 minutes, this Caribbean-inspired porridge is great for busy mornings! It is a family-friendly recipe and kids will love the natural sweetness.
I love that my kids can get involved and add all of their favorite toppings. It truly is one of the best vegan breakfast recipes for beginners, providing lasting energy to kickstart your day.
Calories: 243 — Fiber: 2g — Protein: 3g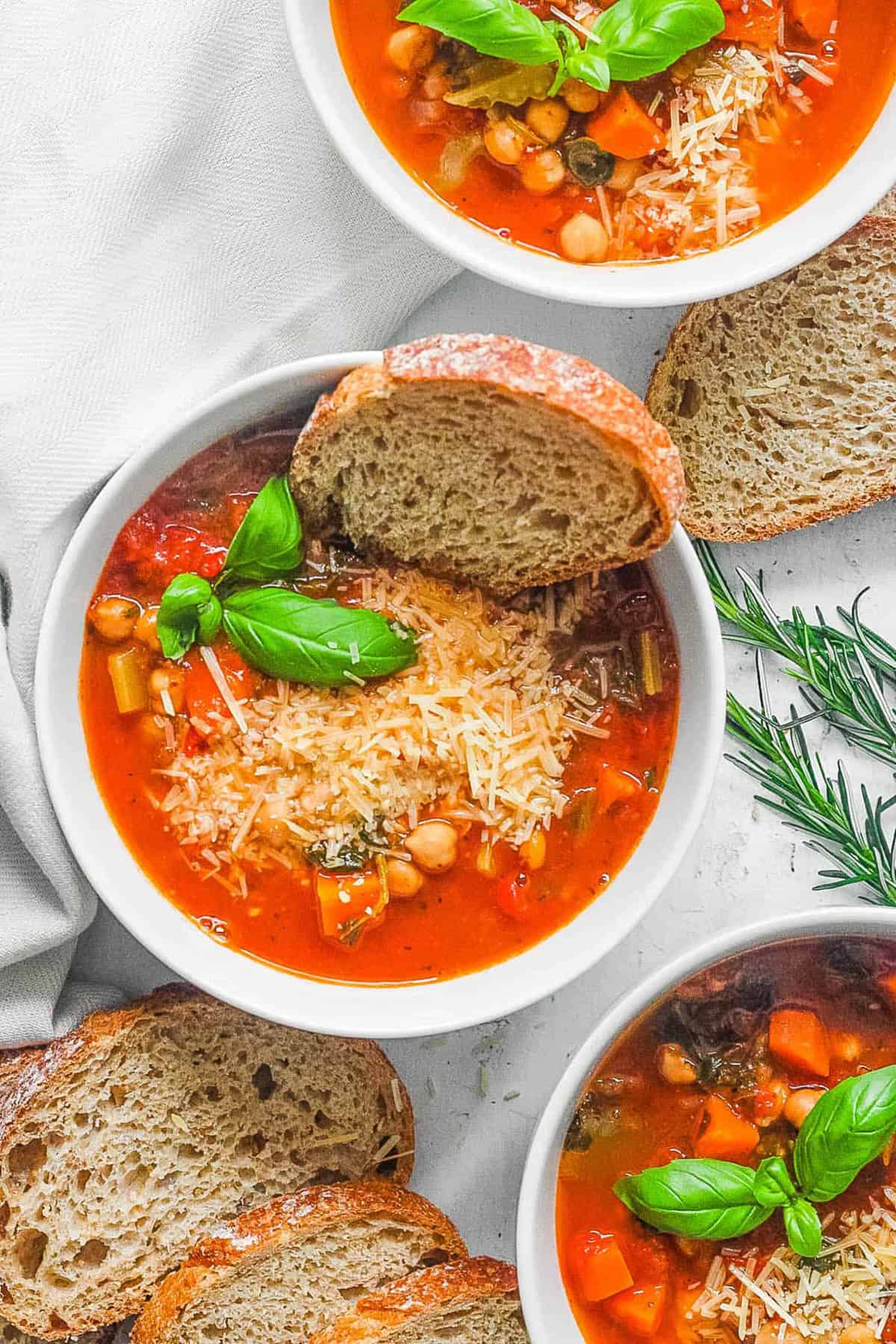 This fiber and protein-rich soup brings out warm Italian flavors with healthy ingredients. It is a fan favorite amongst beginner vegan soup recipes, thanks to its simplicity and versatility.
Easily customize this to your dietary needs, and serve for a light lunch, appetizer, or easy dinner. Kids will love the subtle flavors, and it's an easy way to get their daily veggies.
It is the best comfort food, and perfect for a chilly fall or winter day. The best part? You do not have to spend hours in the kitchen for this easy plant-based soup, yet it will taste as if you have!
Calories: 254 — Fiber: 12g — Protein: 12g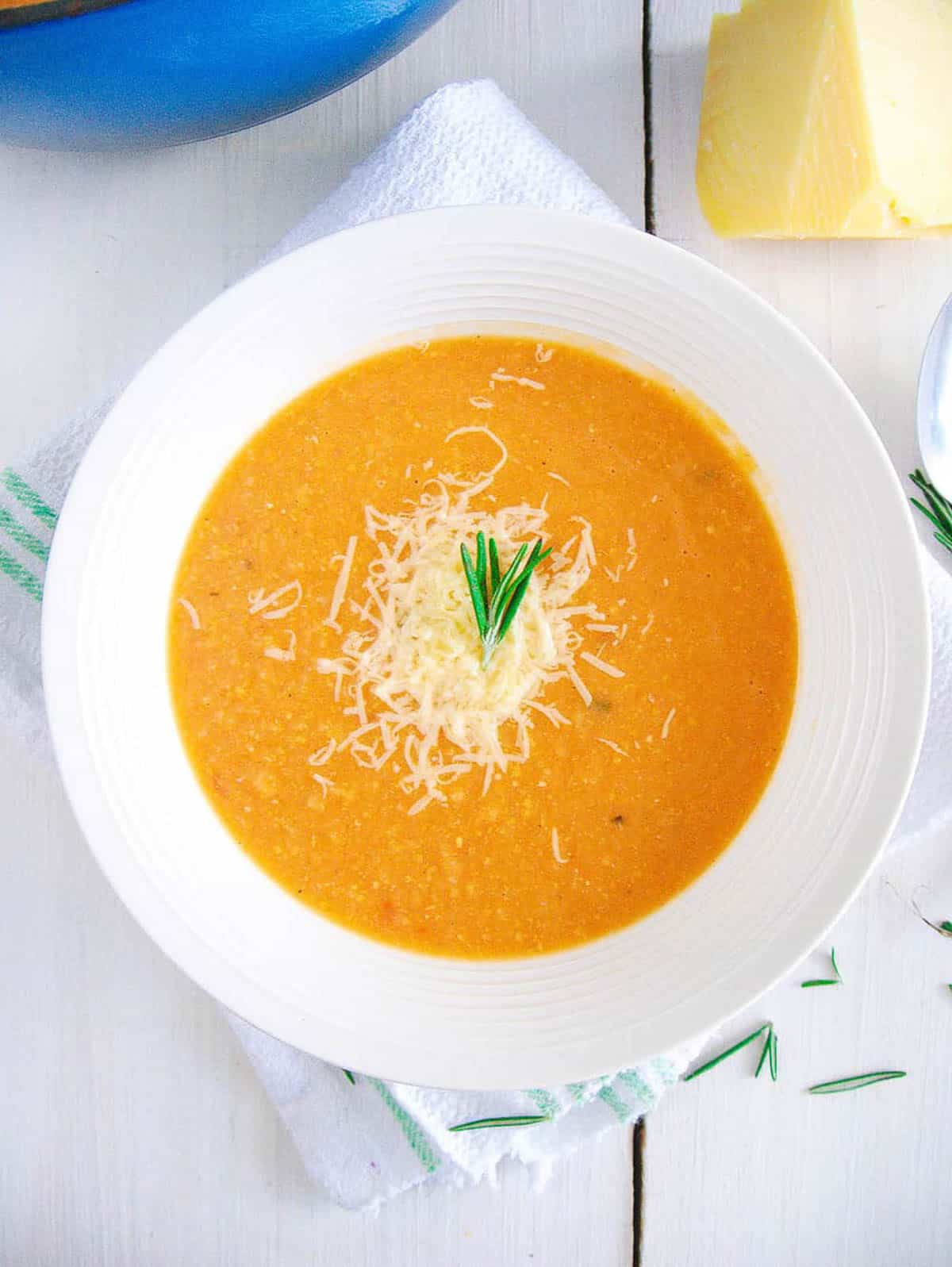 With only 30 minutes needed to make this nourishing soup, it is a no brainer that it makes our list of easy vegan meal ideas!
This soup is traditionally gluten-free and vegan— requiring no ingredient swaps. Plus, you only have to follow 6 simple steps, so even a beginner can master this recipe with ease!
Velvety and rich, this Tuscan-flavored soup delivers a good amount of protein and fiber, while keeping calories minimal.
Calories: 286.5 — Fiber: 9.8g — Protein: 13g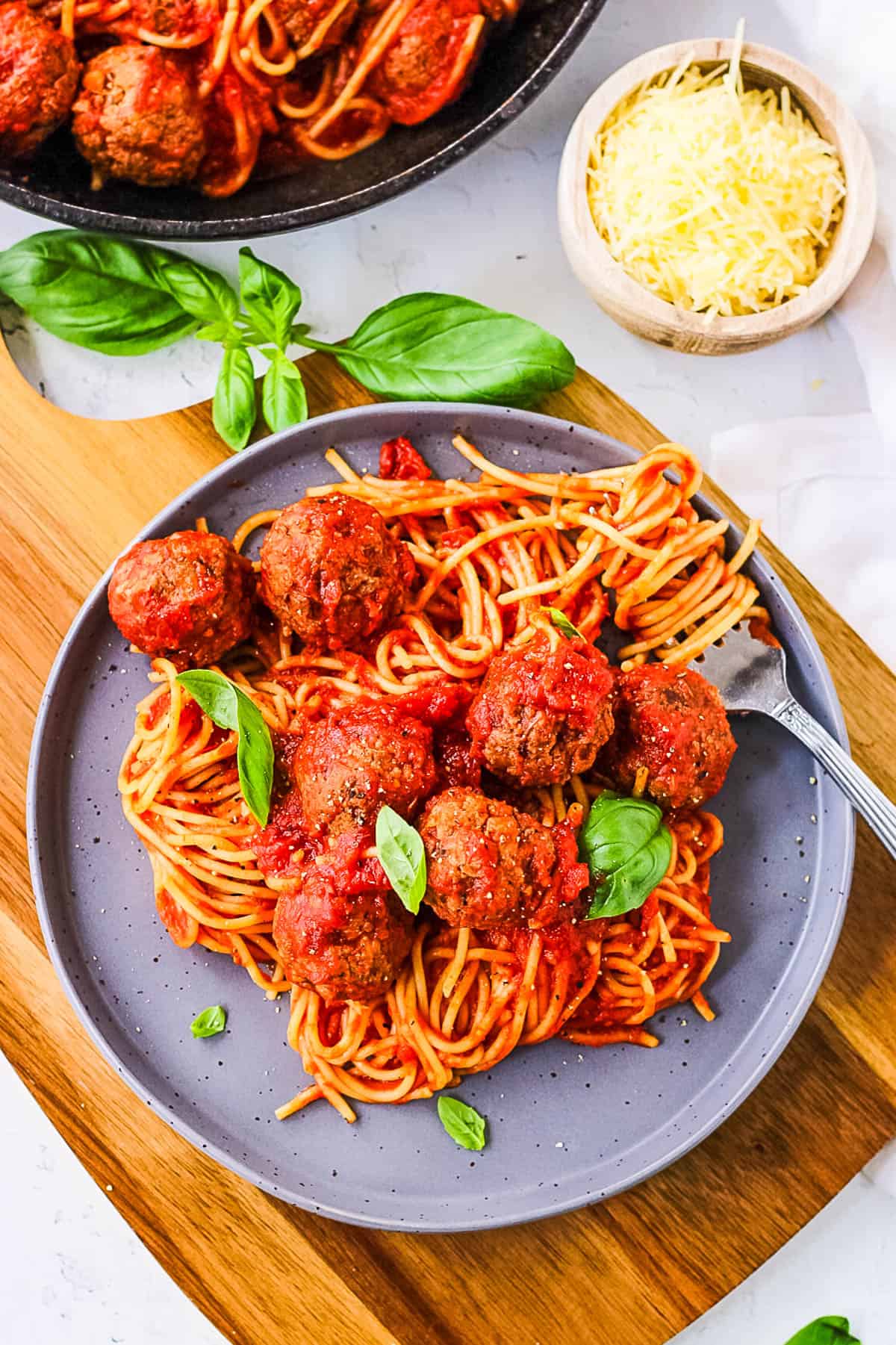 Using pantry staples, this low calorie twist on classic comfort foods comes together extremely easily even if you are a beginner! You can stress less, and enjoy good food!
Whether you want to make these for Sunday supper or a busy weeknight, they're easy to mix up in just a couple of minutes and bake quickly, too. You can also make them ahead of time and bake them when ready, which makes them perfect for parties and meal prep.
These flavorful plant-based meatballs are made with tofu and a savory blend of Italian herbs and spices. They have the most perfect texture that even meat eaters will love.
Calories: 51 — Fiber: 1g — Protein: 2g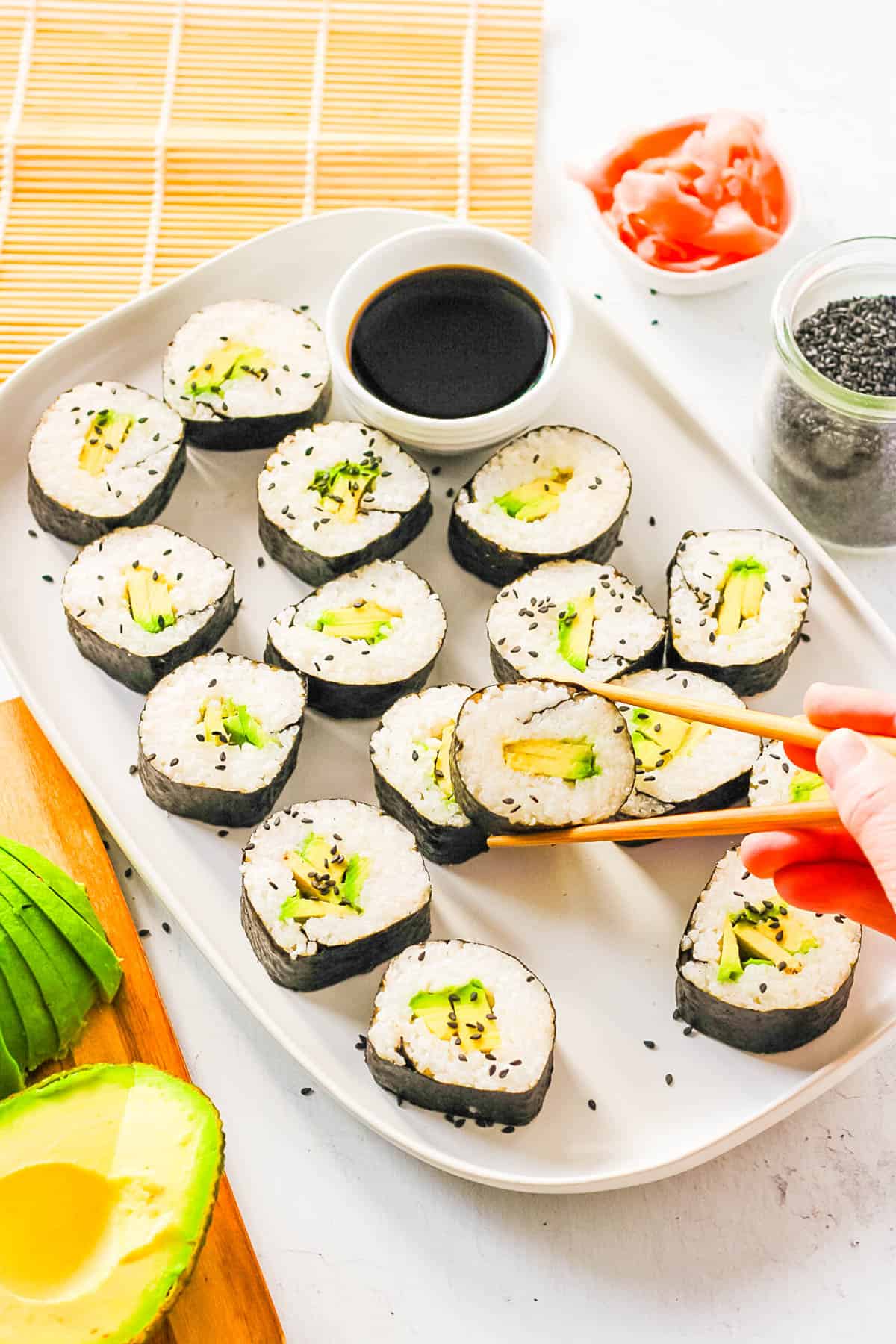 In 30 minutes, this recipe turns simple ingredients into healthy and delicious sushi rolls. Packed with heart-healthy avocado, you'll have an easy sushi meal to impress your guests or enjoy on your own.
These simple sushi rolls combine Japanese cuisine and delicious flavors for a meal that tastes just like your favorite sushi restaurant. You will feel like a sushi chef in no time!
I love making these homemade avocado sushi rolls, and think you'll be pleasantly surprised by how easy everything comes together! These rolls are a great option for lunch or dinner and are a total crowd-pleaser when hosting a gathering.
Calories: 345 — Fiber: 5g — Protein: 6g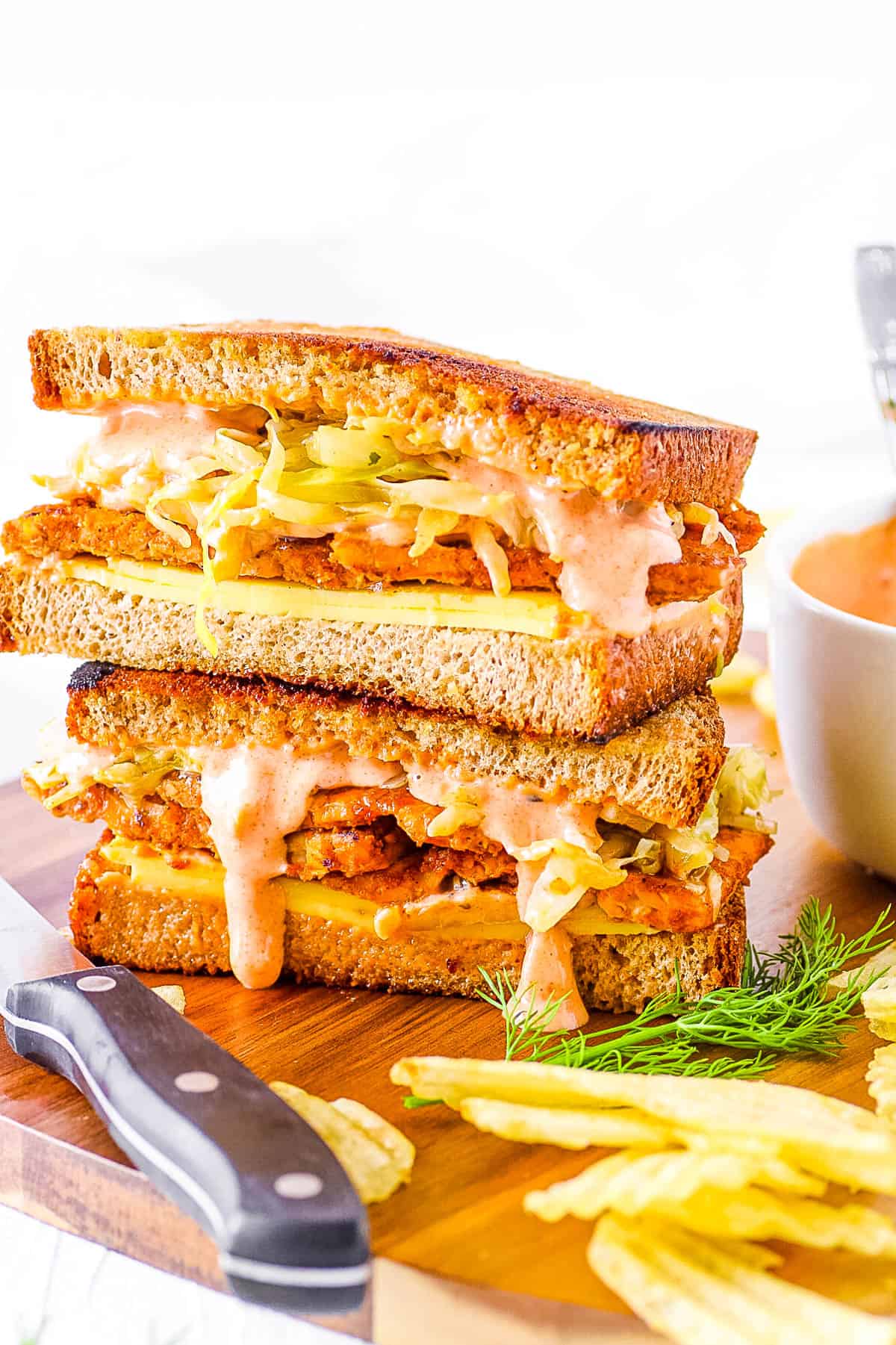 This vegan reuben sandwich recipe is a delicious, meatless twist on the classic reuben sandwich! It's also super easy to make, has minimal prep time, is healthier than the traditional version, and is packed with all of your favorite reuben flavors!
It is perfect for lunch or dinner, and comes with a gluten-free option too! With helpful steps to follow along with, anyone can make this sandwich regardless of their skill level in the kitchen.
One of my favorite things to do is remake classic sandwich recipes in a healthier, plant based way. Which is why I absolutely love this vegan reuben sandwich recipe, and know you will too!
Calories: 611 — Fiber: 6g — Protein: 18g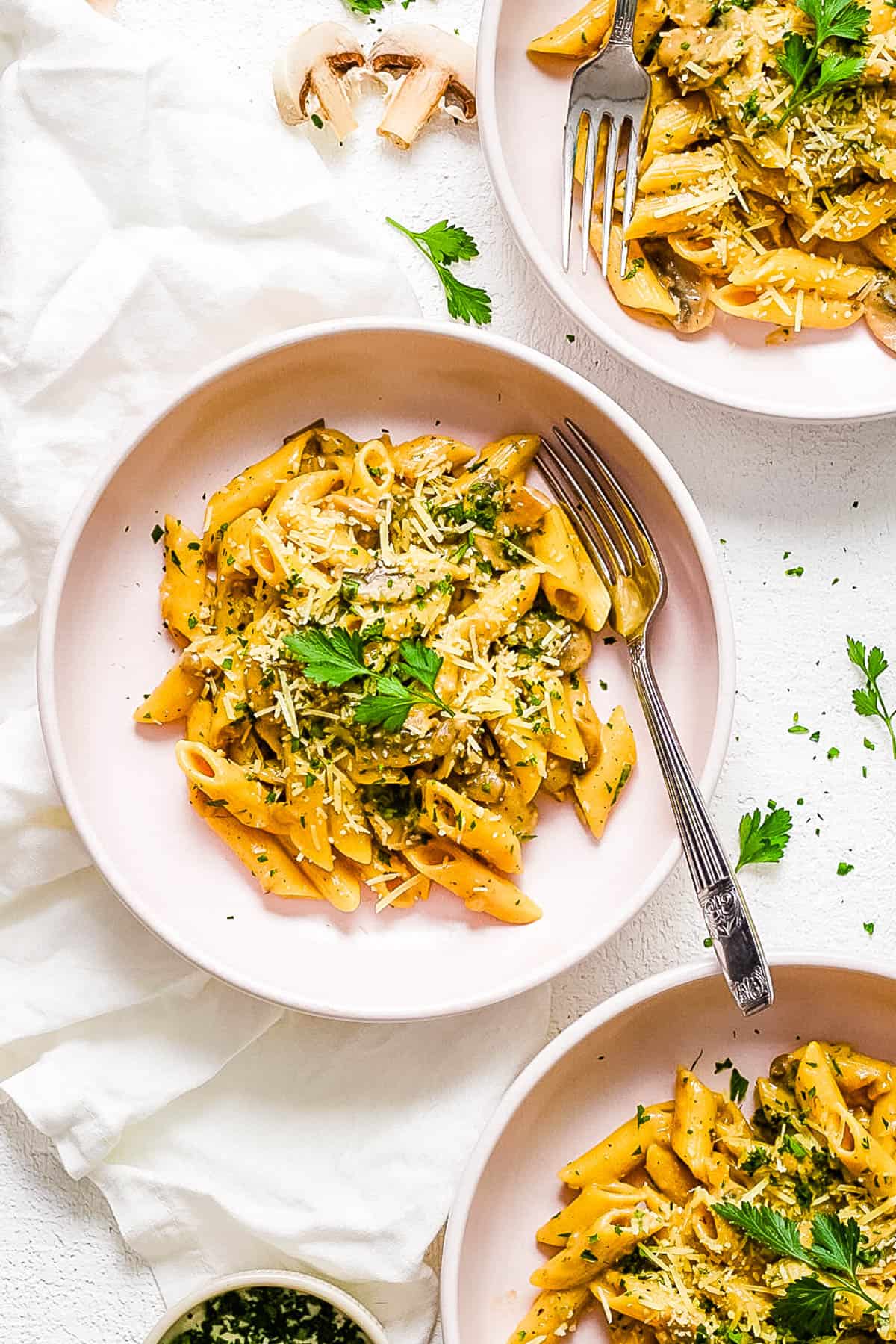 This creamy vegan mushroom pasta recipe will be a huge hit for the whole family. Quick to whip up, it's ideal for busy weeknights when you crave a nourishing and indulgent vegan pasta dish without compromising your dietary preferences.
This pasta is a cozy and comforting meal ready in just 30 minutes—both gluten-free and vegan. While it is perfect for a plant-based diet, it's pleasing for meat-eaters, too.
You'll love the incredibly creamy texture and amazing earthy flavors. Plus, you can customize it with any favorite veggies and spices for one of the best beginner vegan pasta recipes ever.
Calories: 318 — Fiber: 3g — Protein: 10g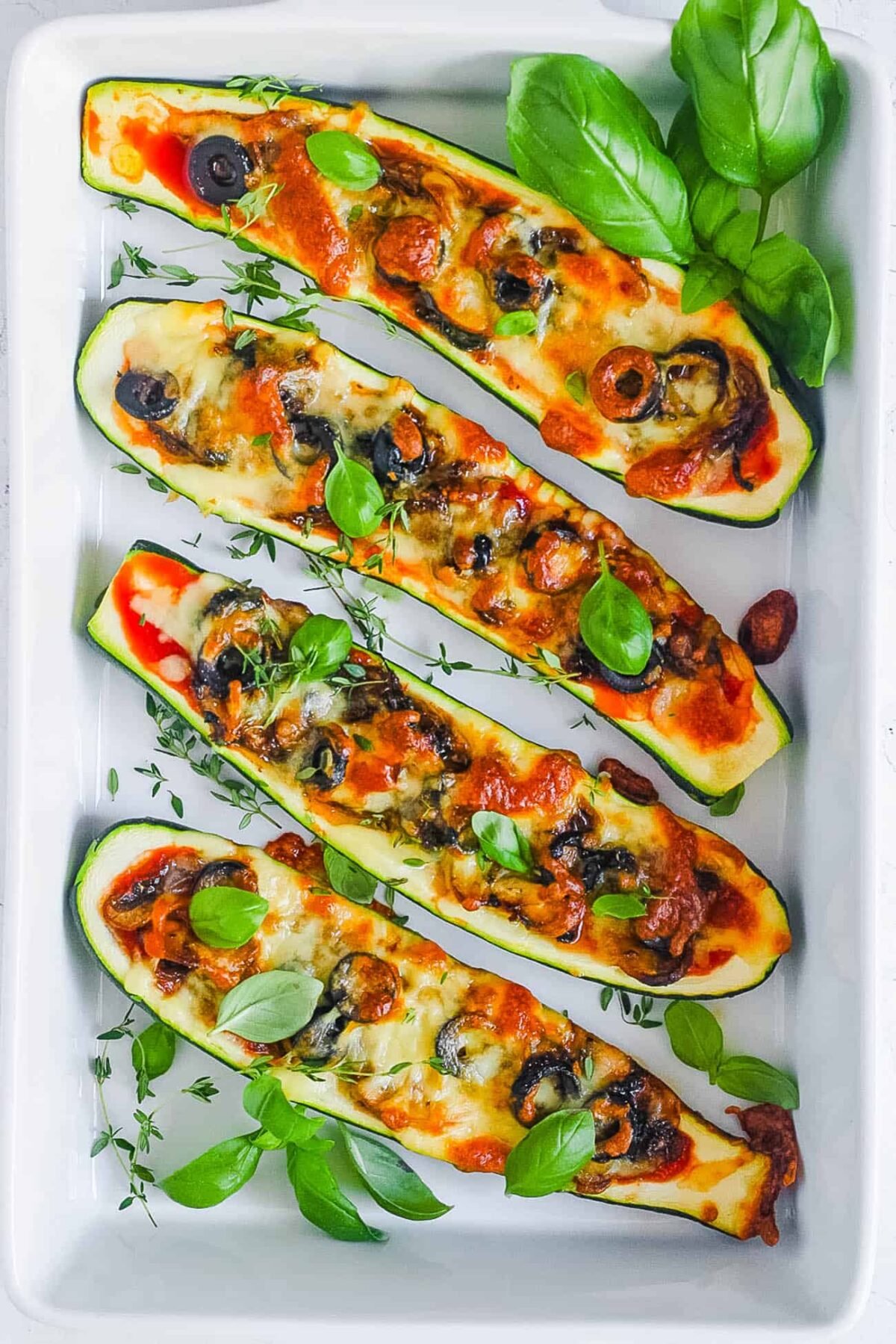 Hollowed-out zucchini is loaded with tangy marinara sauce, perfectly seasoned veggies, and gooey mozzarella cheese to create these tasty, stuffed vegetarian zucchini boats. A healthier alternative to traditional pizza, this is one of the easiest, most flavorful vegan zucchini recipes for beginners.
These satisfying and tasty low-calorie zucchini pizza boats are perfect for anyone with a gluten allergy, those that are eating low-carb, or whoever is trying to eat a little healthier.
By replacing carb-loaded pizza crust with equally delicious baked zucchini, you can easily turn your favorite cheat meal into a delicious, gluten-free, low-calorie lunch or weeknight dinner. It is easy to customize and great for meal prep!
Calories: 241 — Fiber: 5g — Protein: 13g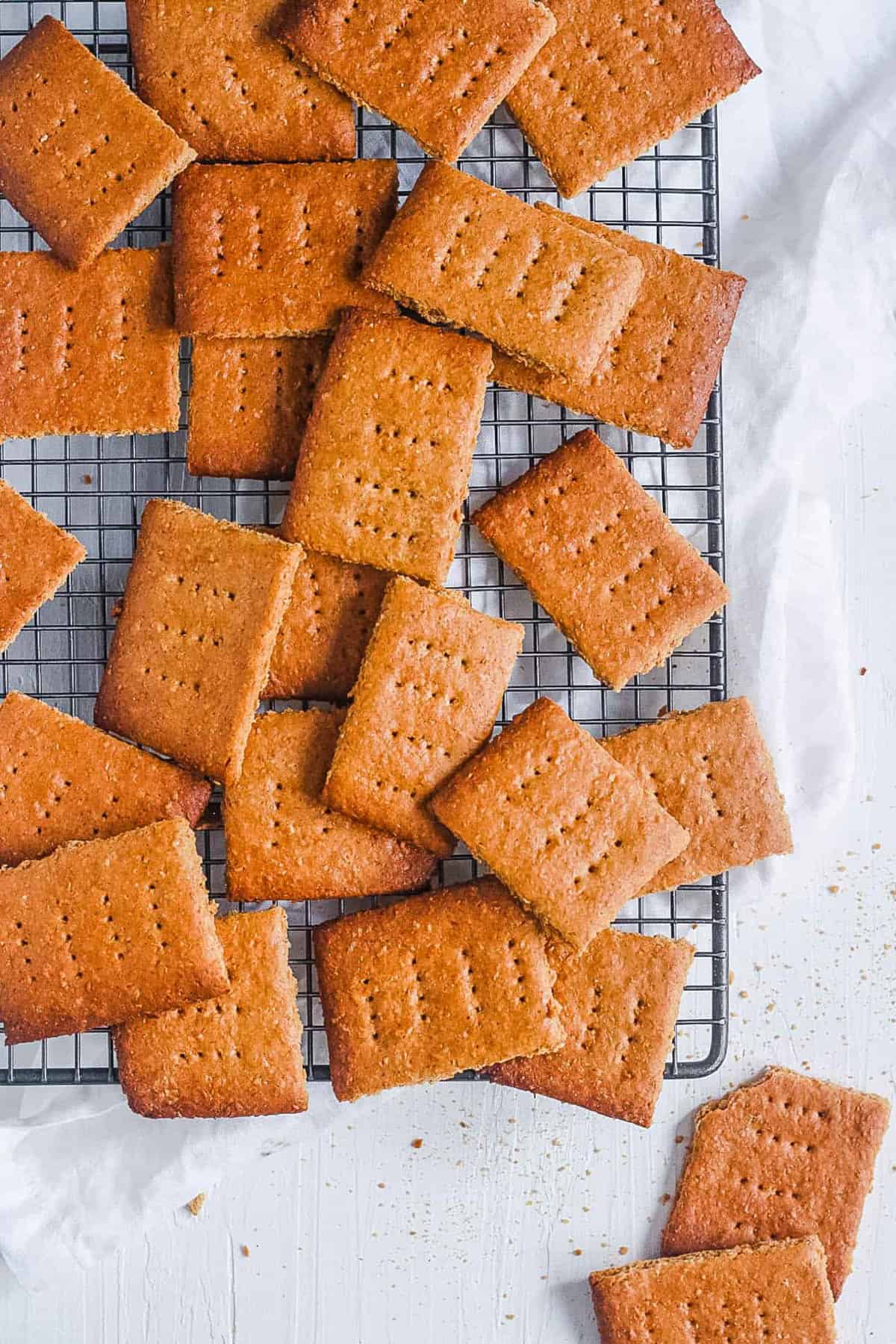 Snack on these crunchy homemade graham crackers guilt-free because this is a low-calorie vegan recipe with simple pantry ingredients. Make vegan s'mores or use them as a gluten-free base for vegan desserts.
Kids and adults both love these because they taste better than anything you can buy- and much healthier too! Plus, they are great for beginners with minimal ingredients and only 15 minutes of prep.
I love being able to satisfy my sweet tooth without highly processed ingredients. You don't have to compromise your health to indulge in this yummy treat.
Calories: 64 — Fiber: 1g — Protein: 1g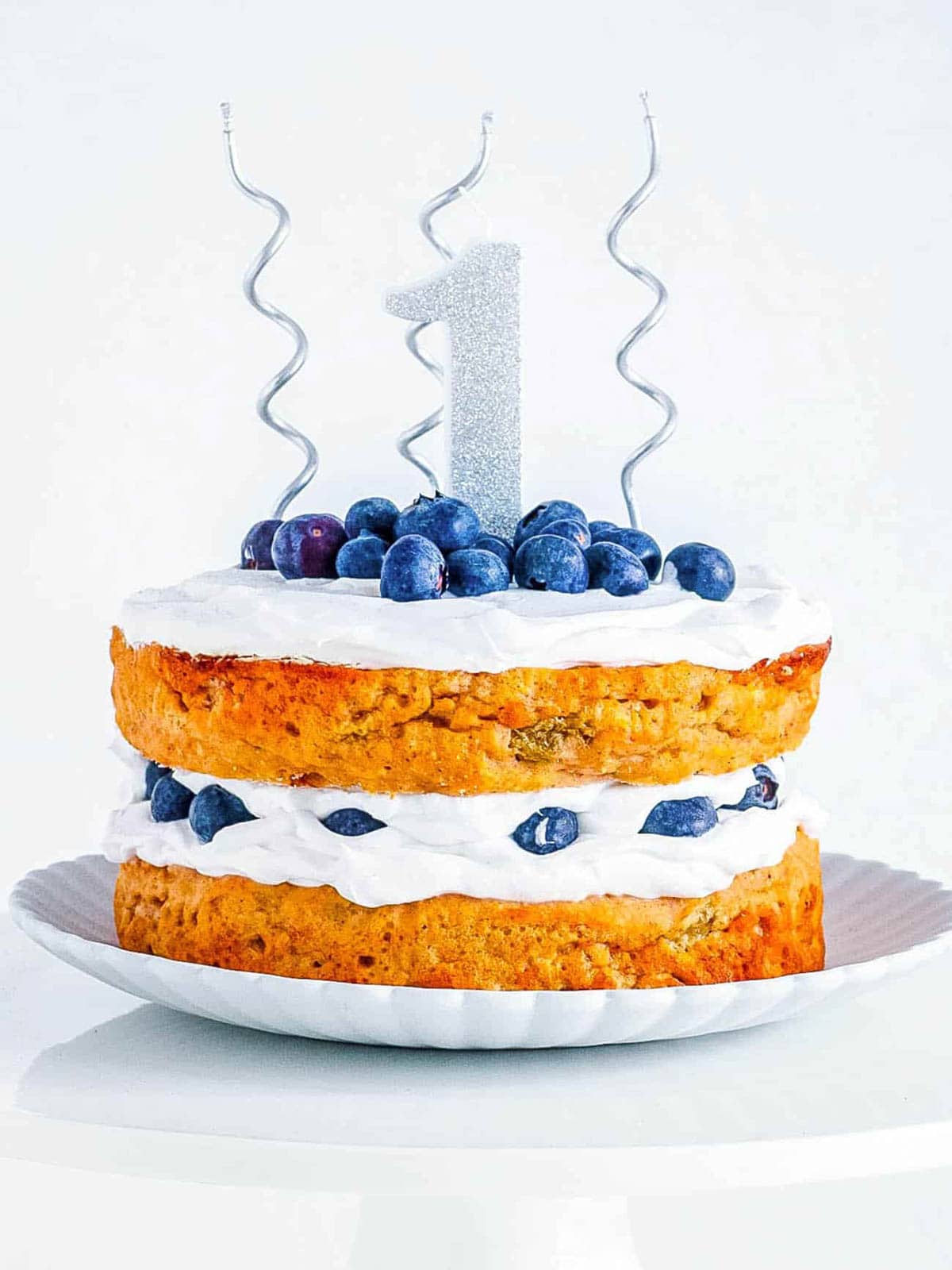 This healthy 1st birthday cake recipe was a huge hit with both my kids, and I know yours will favor it too! Beginner vegan recipes do not get much easier, as this impressive cake whips together in just 40 minutes total.
If your baby has any food allergies, this egg-free, nut-free, and dairy-free smash cake recipe is for them! Since it is made without any eggs, whole milk, or added sugar, it is also vegan and processed sugar-free.
Featuring whole wheat flour, mashed bananas, and applesauce, this is an easy and healthy smash cake for your 1 year old. It has a naturally-sweet flavor both kids and adults will love!
Calories: 210 — Fiber: 3g — Protein: 3g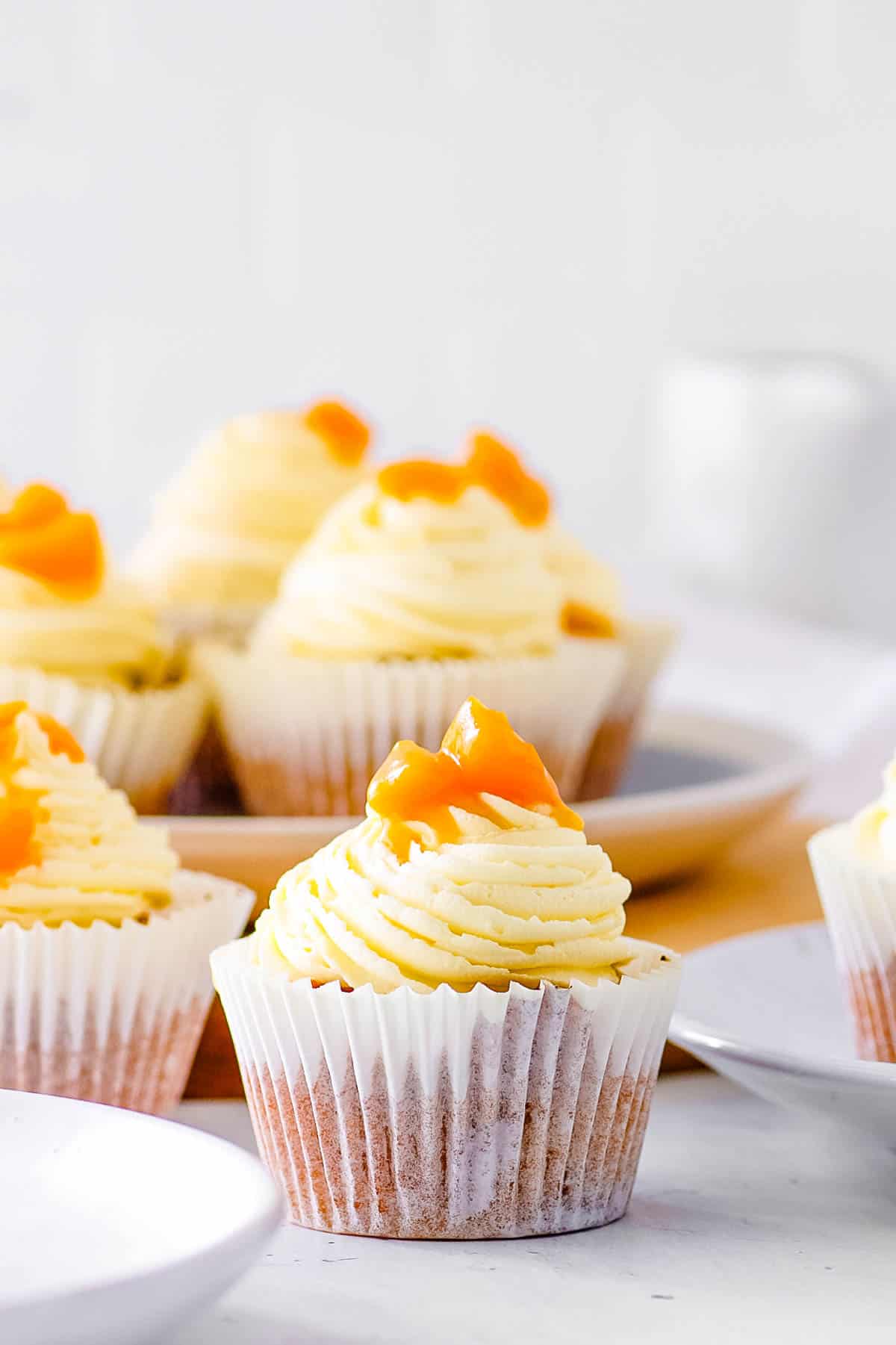 Experience the charm of classic peach cobbler in cupcake form. These easy-to-make treats capture the essence of warm peaches and fragrant cinnamon.
Perfect for any occasion, these versatile peachy delights offer a handheld taste of comfort and joy year-round.
These are guaranteed to become one of your favorite peach recipes! They look super fancy, yet are ready in about one hour total.
Calories: 397 — Fiber: 3g — Protein: 1g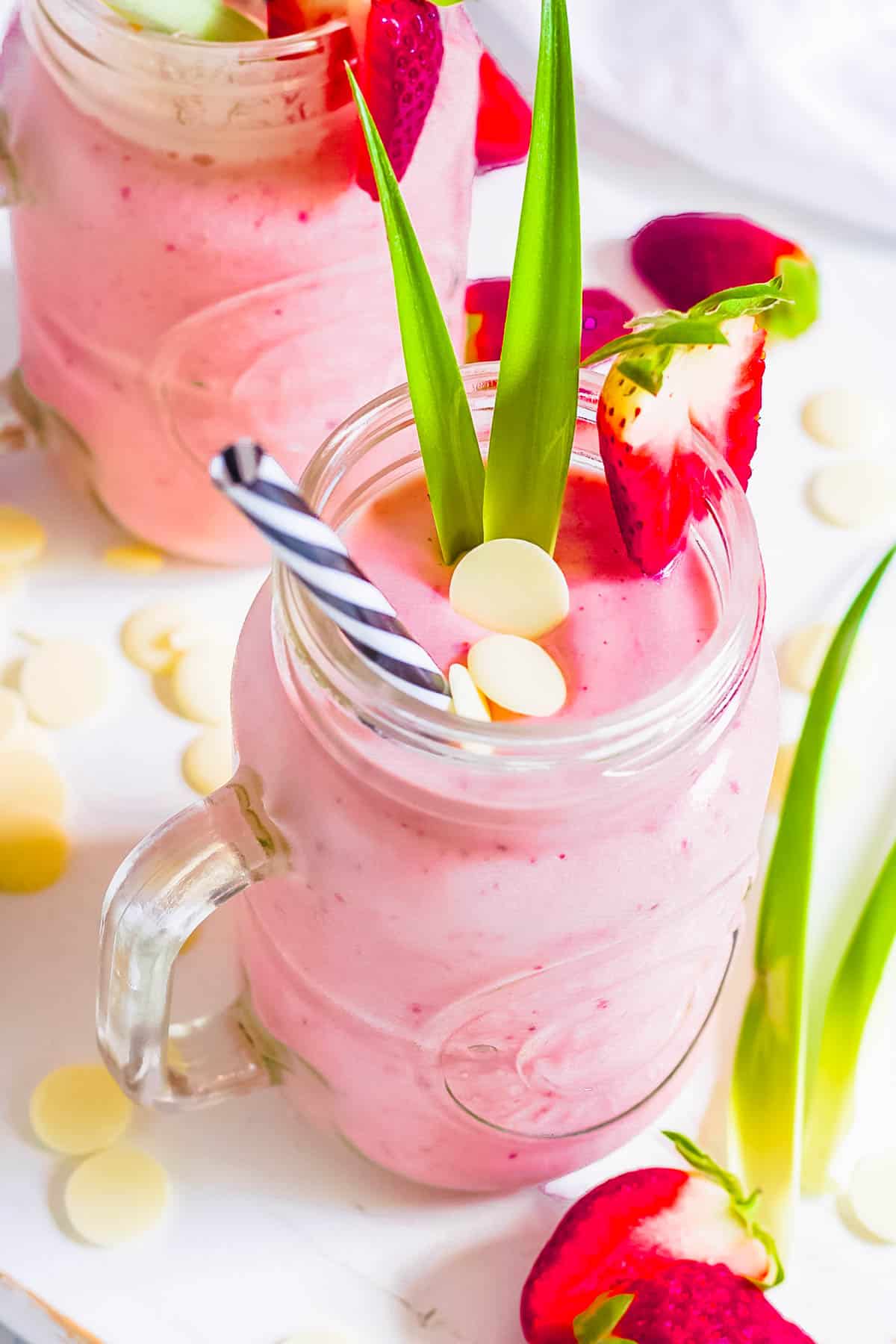 This healthier Bahama Mama smoothie has all the tropical flavors you love while reducing calories and sugar. In just 5 minutes, you will have a revitalizing breakfast or a refreshing afternoon treat.
With just five wholesome ingredients, you will be in and out of the kitchen in no time at all. This is the perfect recipe for those with busy mornings or anyone who isn't the biggest fan of cooking.
Between the coconut, strawberries, pineapple, and white chocolate, what's not to love? The recipe is easy to follow, and super customizable – try adding in a scoop of vegan protein powder!
Calories: 226 — Fiber: 4g — Protein: 2g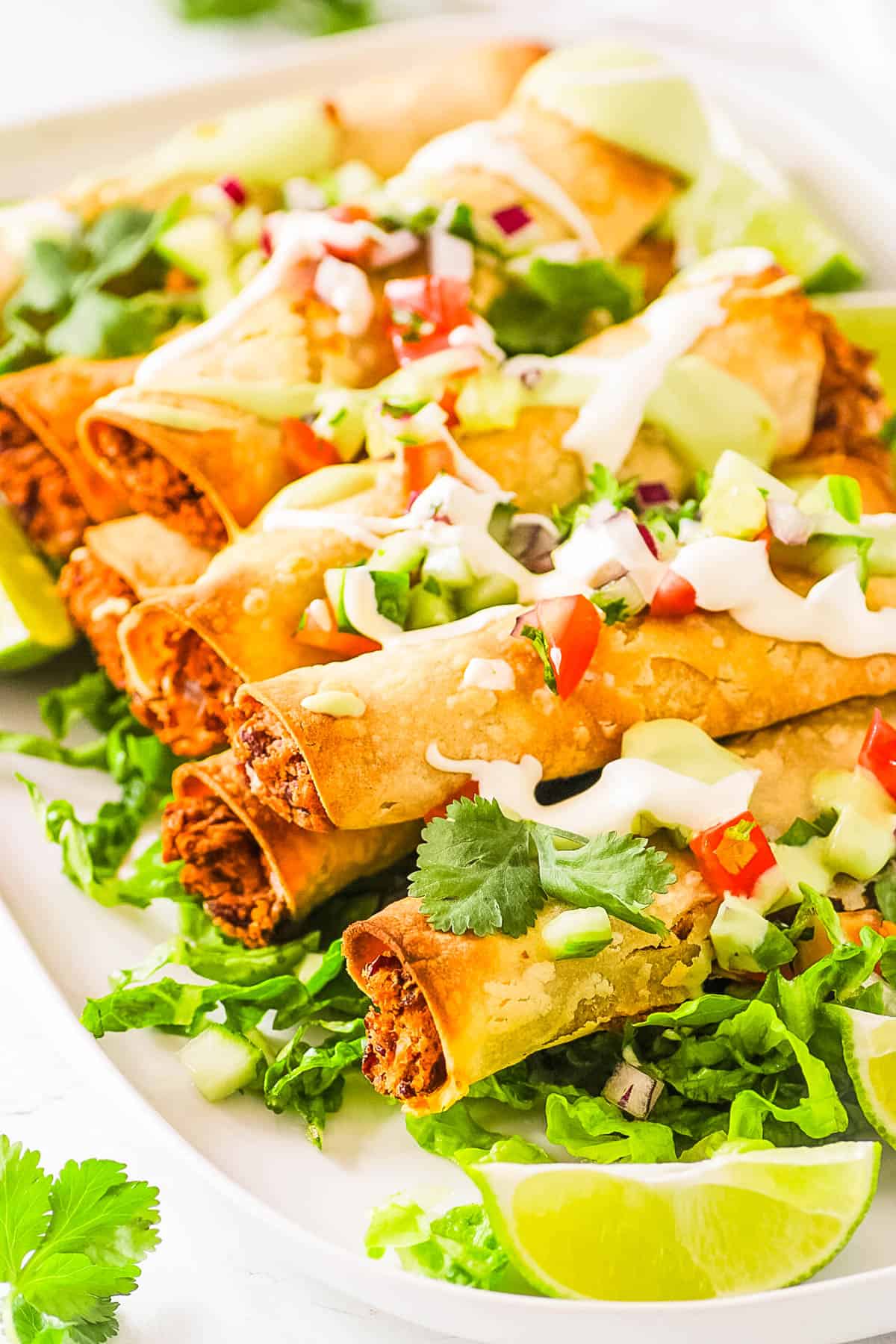 Healthy and convenient, this easy-to-make recipe is your go-to solution for Meatless Monday or a vegan Taco Tuesday. These crispy corn tortillas contain a great spice mix, lemon zest, and a creamy bean filling, making an appetizing handheld treat.
Ideal as a main dish, snack, or even a side, these versatile taquitos are easily customizable for your taste preference. Since they're small, they are the perfect finger food for the whole family, and you can serve so many dipping options on the side, from salsa and guacamole to vegan sour cream.
This easy starter vegan meal only takes a few minutes to prepare before popping them in the oven. Plus, all of the ingredients are super easy to grab at your local grocery store.
Calories: 150 — Fiber: 6g — Protein: 6g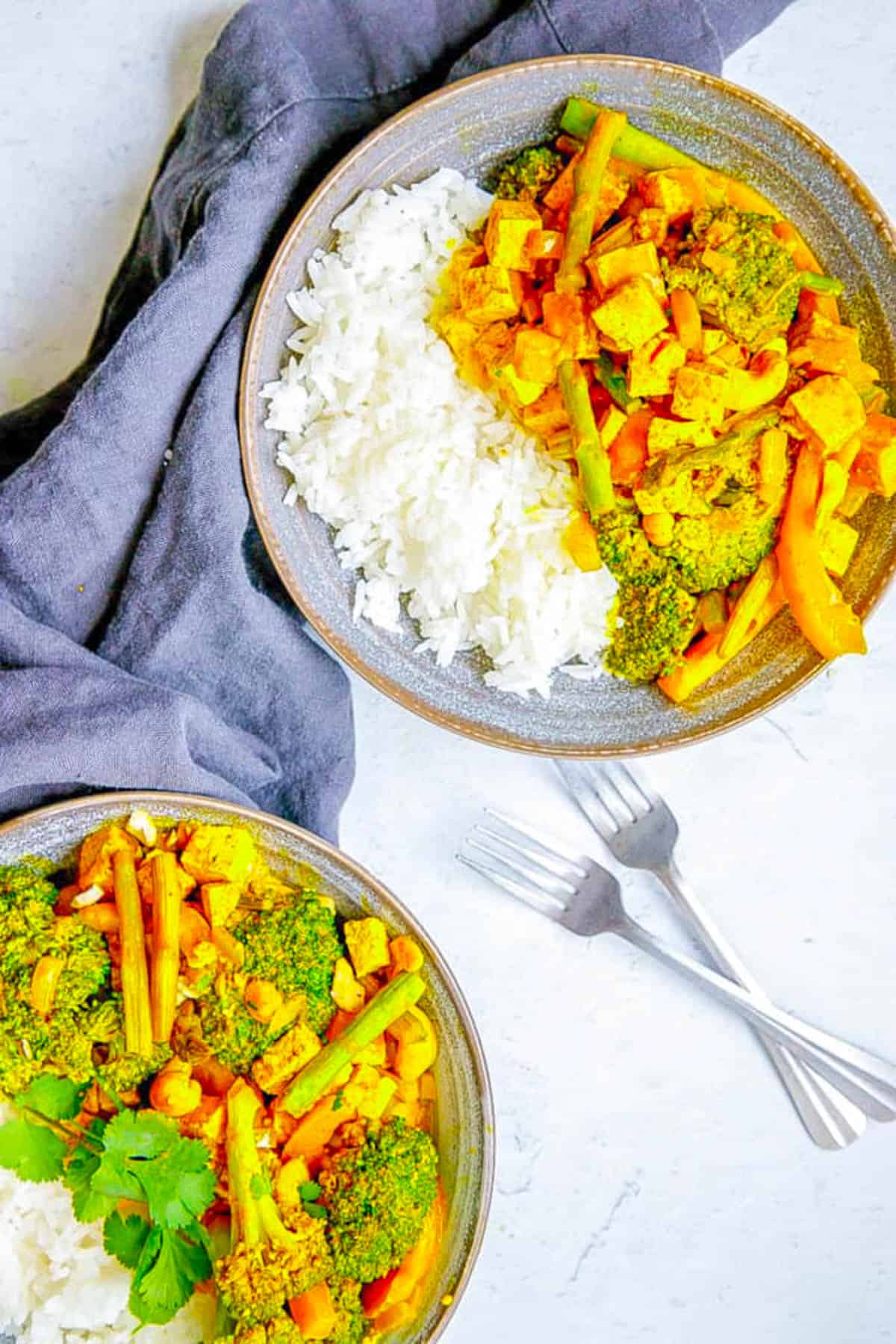 This Thai yellow curry is ready in less than 30 minutes! Plus, no complicated techniques or tools are required.
Vibrant vegetables and a balanced heat level mean this quick recipe guarantees a light yet flavorful dinner that's family-friendly. When you crave vegan curry recipes, try this one out.
Creamy and wholesome, this curry is one of the best vegan dinner recipes for beginners with low calories and saturated fat. Swapping out animal proteins for tofu and cashews makes this curry plant-based without skimping on flavor.
Calories: 227 — Fiber: 7g — Protein: 16g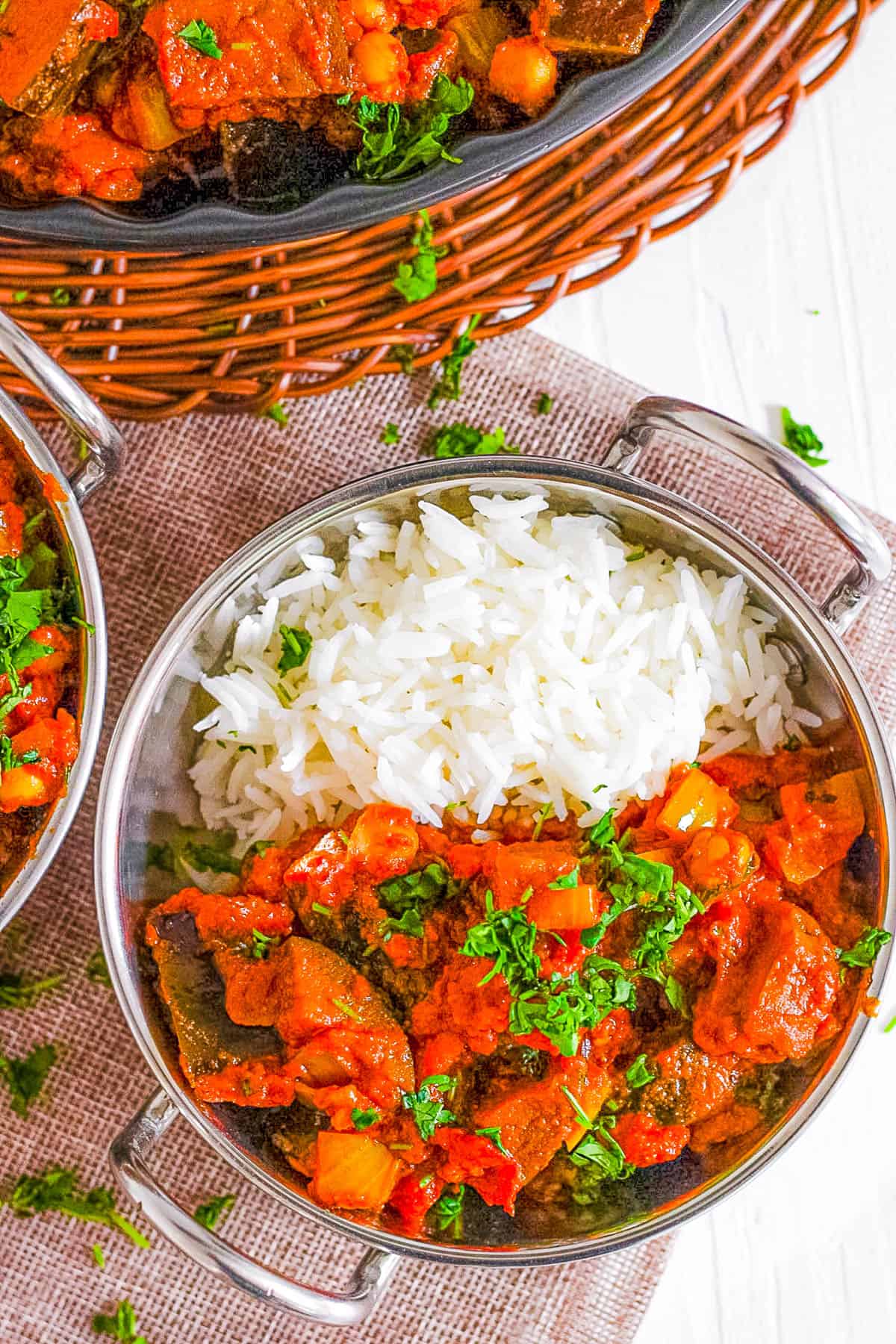 Aromatic Indian spices bring eggplant and chickpeas to life in this vegan, gluten-free dinner recipe. Comforting and bursting with flavor, we're sure this is one of the best vegan Indian recipes for beginner cooks you'll keep returning to.
A one-pot recipe like this is ideal for a family-friendly weeknight meal. You can also use it as part of your weekly meal prep because it heats up well as the flavors sit.
With 10 minutes of prep time and simple steps, I know you will absolutely love this eggplant curry. You'll save time on cooking and cleaning, while still creating a nourishing meal.
Calories: 192 — Fiber: 8g — Protein: 5g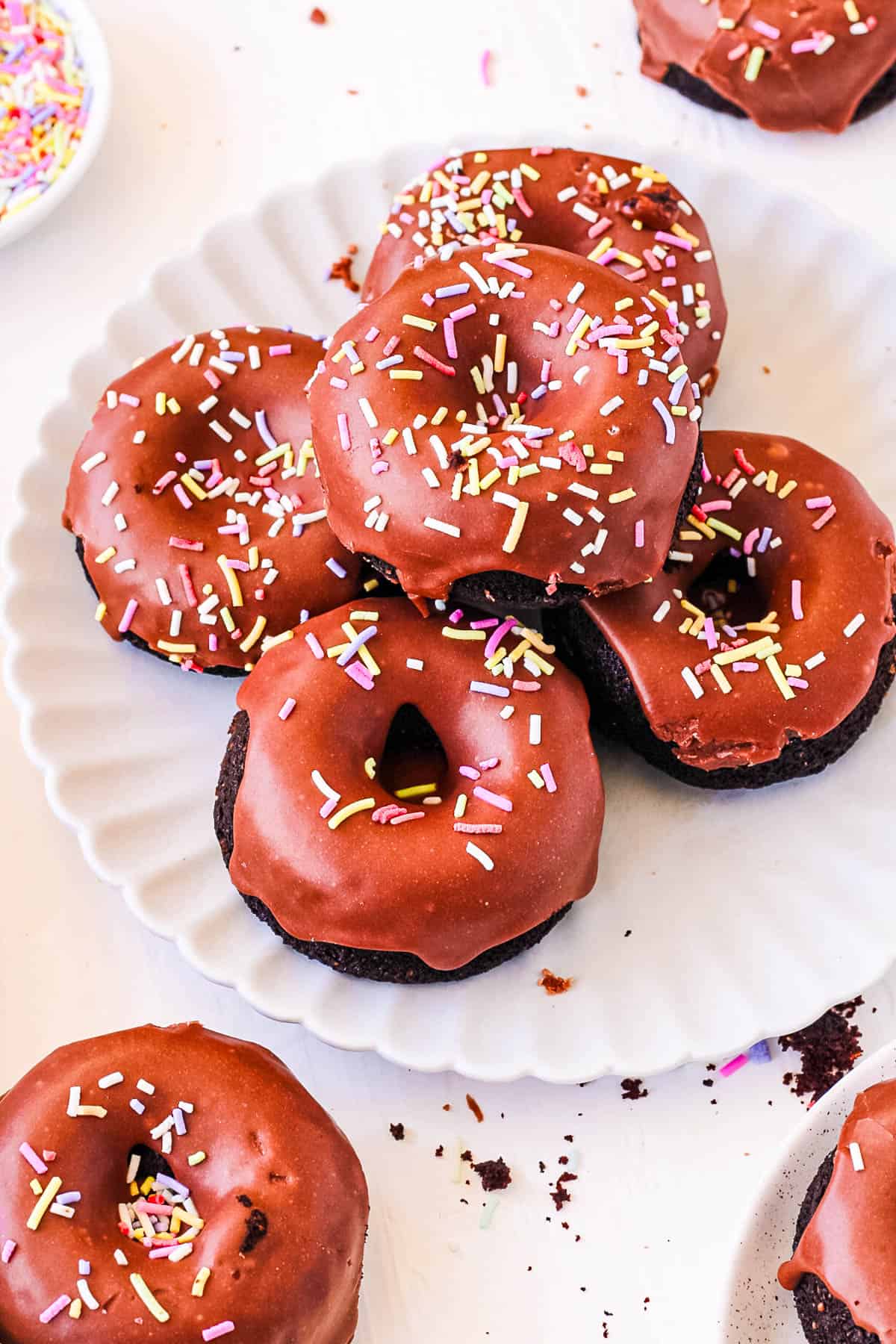 Quick to make, these baked chocolate donuts are the ultimate breakfast or snack that caters to your sweet cravings in a wholesome way.
This family-friendly recipe is perfect to involve the kids in. You can make things fun by topping them with your favorite sprinkles, candies, or crushed cookies.
You can indulge guilt-free in these baked chocolate donuts. They are soft, moist, and glazed, offering all the satisfaction of traditional fried versions.
Calories: 209 — Fiber: 3.5g — Protein: 2.4g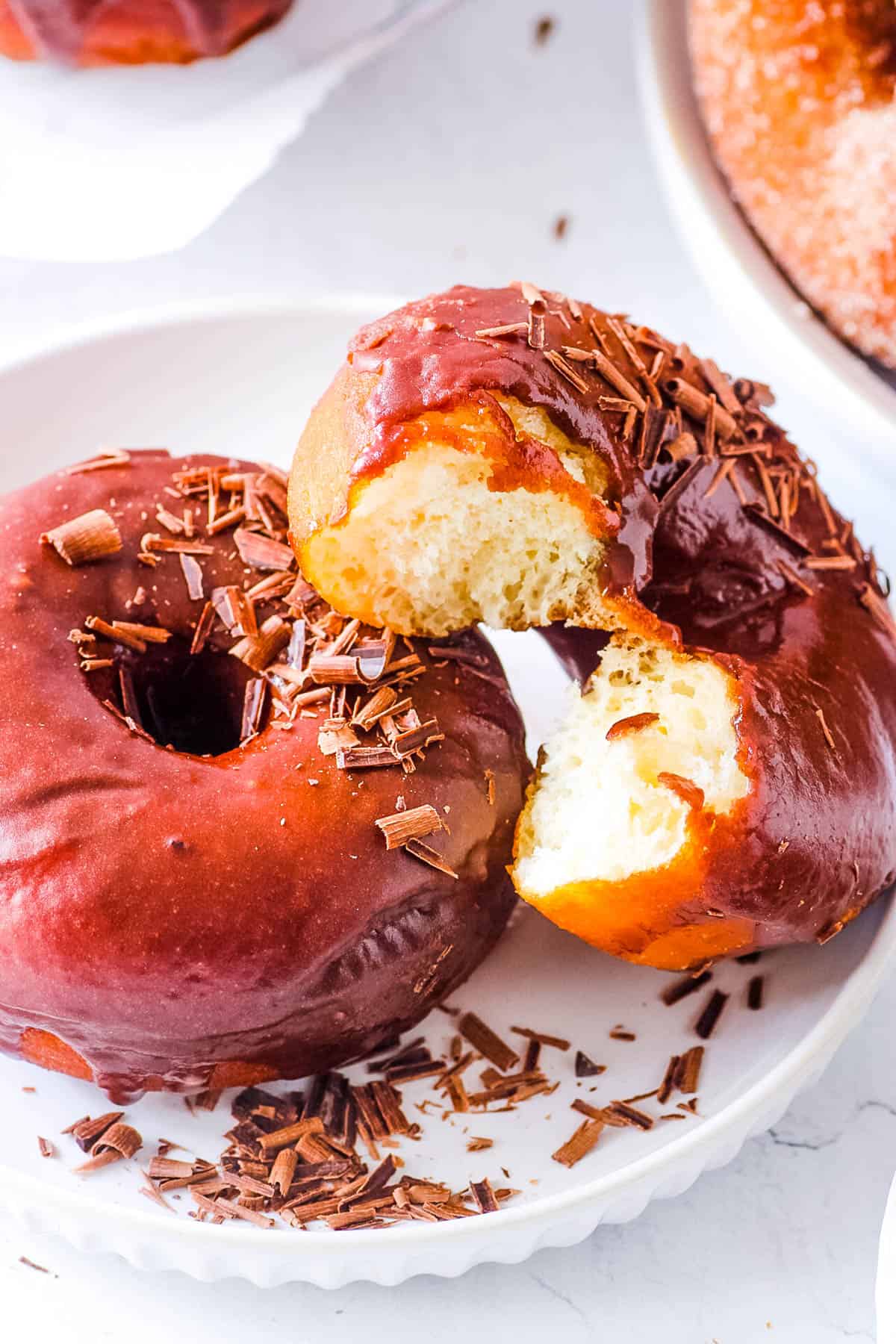 This quick and easy donut recipe is perfect for satisfying your sweet tooth, and will give you cakey, moist donuts every time! If you're vegan, all you need to do is replace the butter in these with vegan butter.
With two mouthwatering topping choices (cinnamon sugar and chocolate), you'll have a yummy treat that caters to different preferences!
Enjoy this soft donut recipe as a quick breakfast, afternoon pick me up, or decadent dessert! Since these are healthier than most donuts, you can feel good about treating yourself to one any time of day!
Calories: 188 — Fiber: 1g — Protein: 3g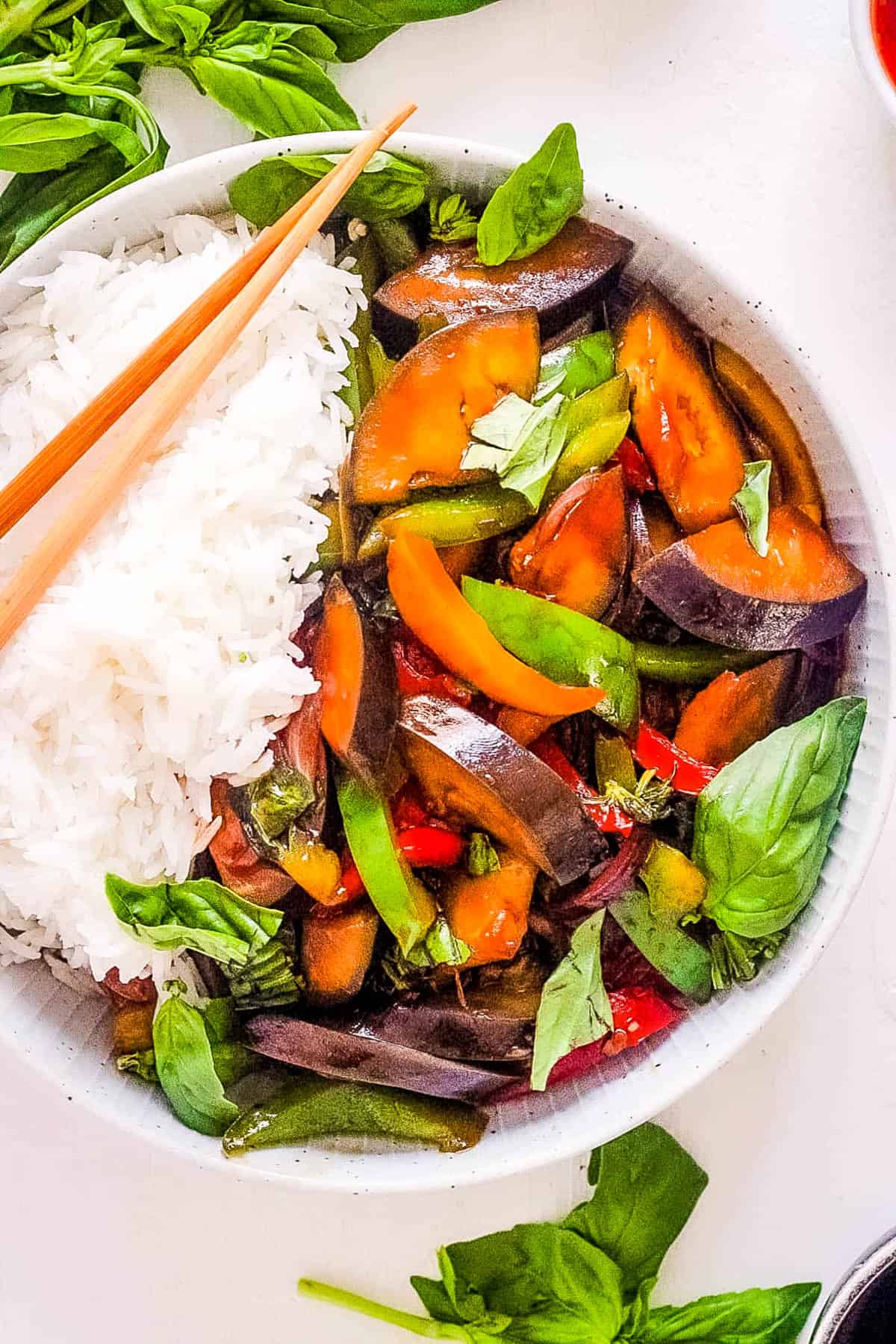 Ready in under 30 minutes, this easy plant based meal for beginners packs a punch of flavor with simple and wholesome ingredients.
If you can sauté veggies, you can make this recipe! No complicated or involved techniques are required to whip up this easy stir-fry. It is perfect for nights when you are short on time!
With less oil, lower sodium, and abundant veggies, this tends to be healthier than what you get in the restaurant, but tastes just like an authentic Thai basil eggplant recipe!
Calories: 151 — Fiber: 4g — Protein: 4g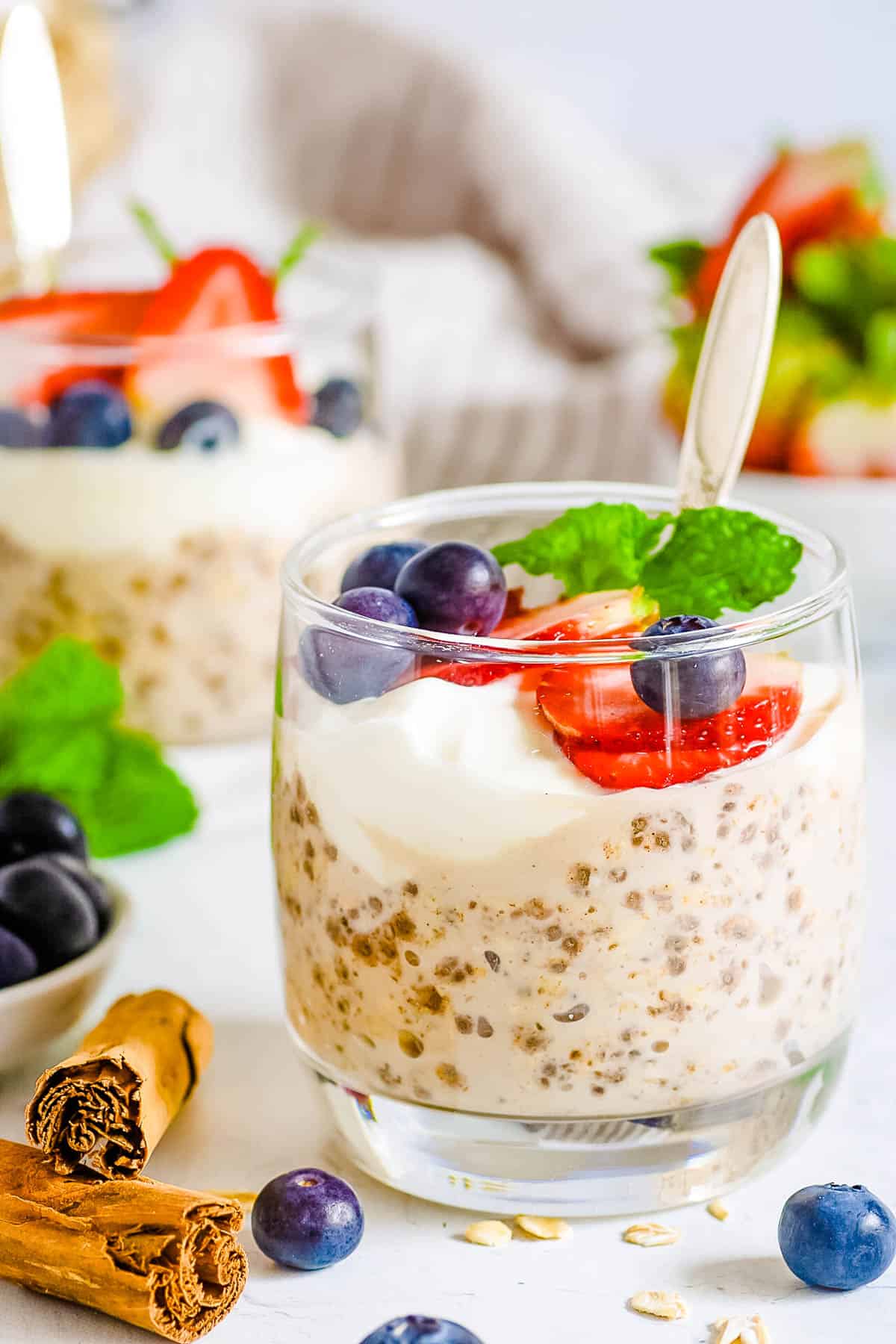 With seven diverse flavor options, this easy to make, vegan meal for beginners is a balanced breakfast that will keep you fueled all morning long. Prep in big batches and customize them easily.
Whether following a vegan or dairy-free diet, these overnight oats can be tailored to your preferences, providing a hassle-free and delicious morning meal.
Naturally sweetened, these overnight oats are indulgent yet healthy!
Calories: 280 — Fiber: 8g — Protein: 18g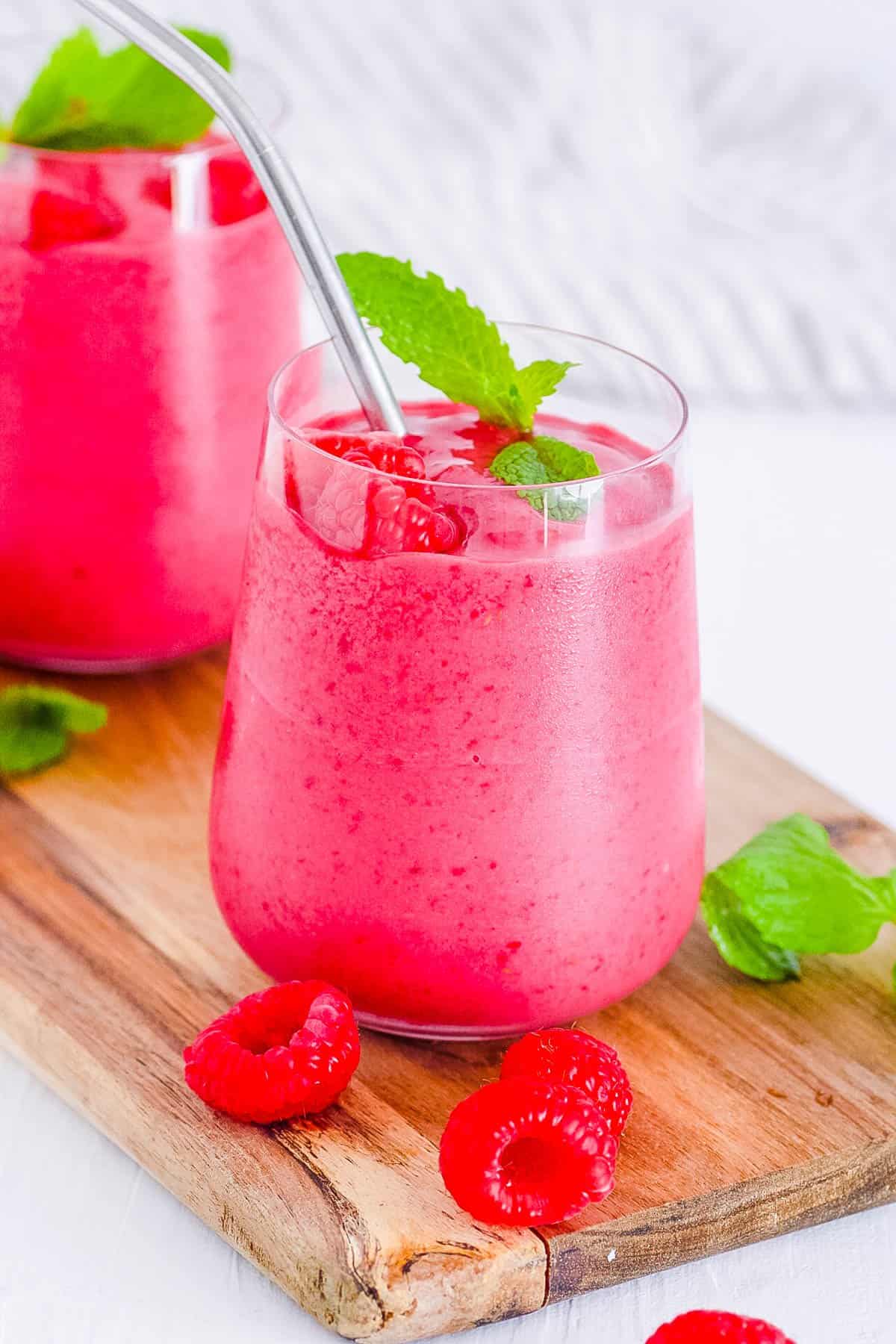 With only four simple ingredients and ready in less than 5 minutes, this refreshing vegan smoothie is both nourishing and satisfying.
Gluten-free and allergy-friendly, this beginner friendly vegan recipe is a favorite among kids but equally appealing to adults. Because it's so easy to whip up, it's perfect for any time of the day.
All you need is frozen raspberries, bananas, plant-based milk, and lime juice( or lemon juice). It's one of those easy recipes you'll want to make again and again!
Calories: 134 — Fiber: 10g — Protein: 3g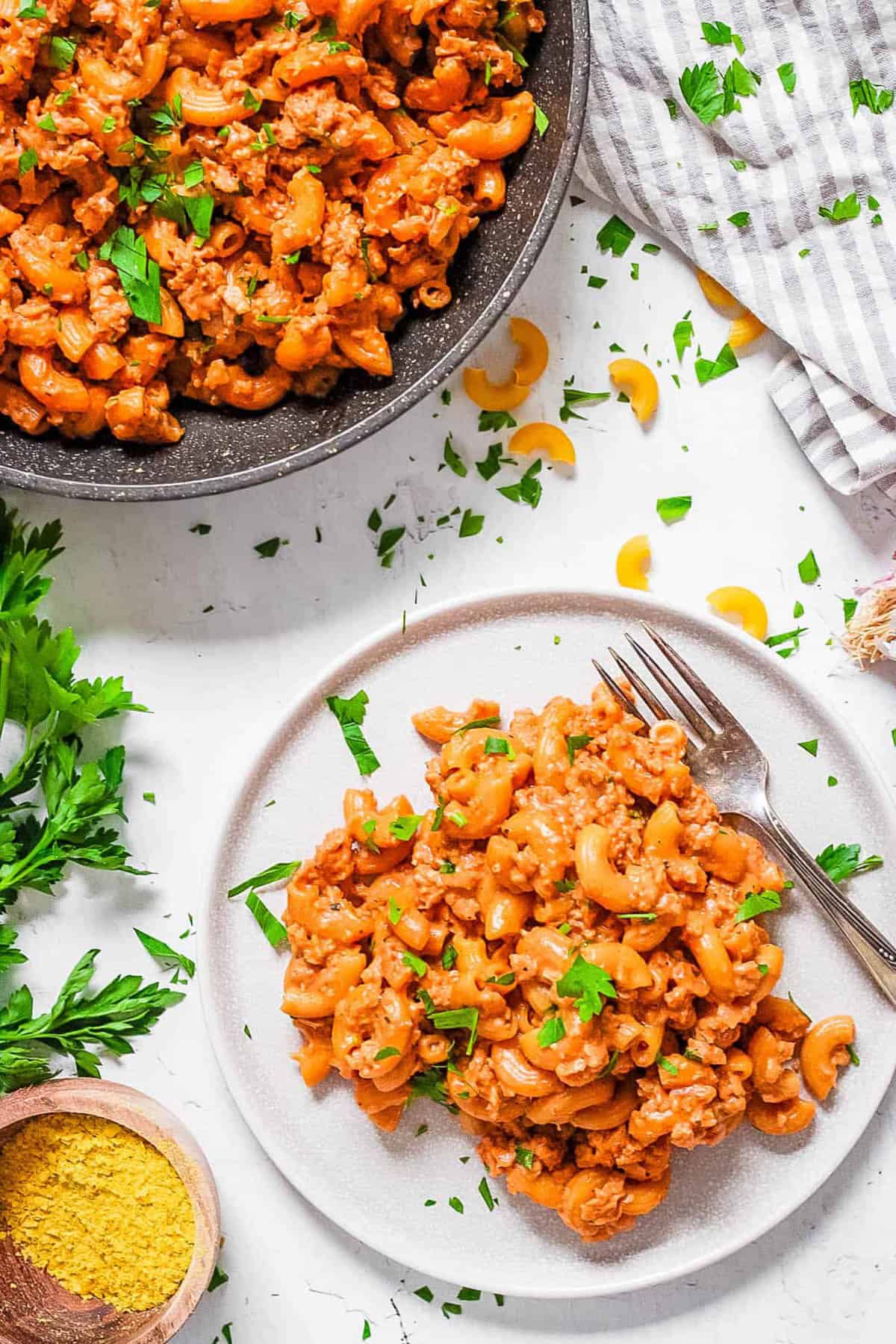 Enjoy this childhood favorite with all the nostalgia, but none of the meat. This easy vegan family dinner recipe is an easy one-pot dish that whips up in 25 minutes!
This no-fuss meal is perfect for busy evenings or when craving a satisfying and hearty dish. With simple steps, anyone can follow along and make this with ease!
I love that this dinner is made with whole foods like veggies, whole grain pasta, plant-milk, and nutritional yeast. It has no processed ingredients or additives, making it a much healthier option!
Calories: 443 — Fiber: 5g — Protein: 24g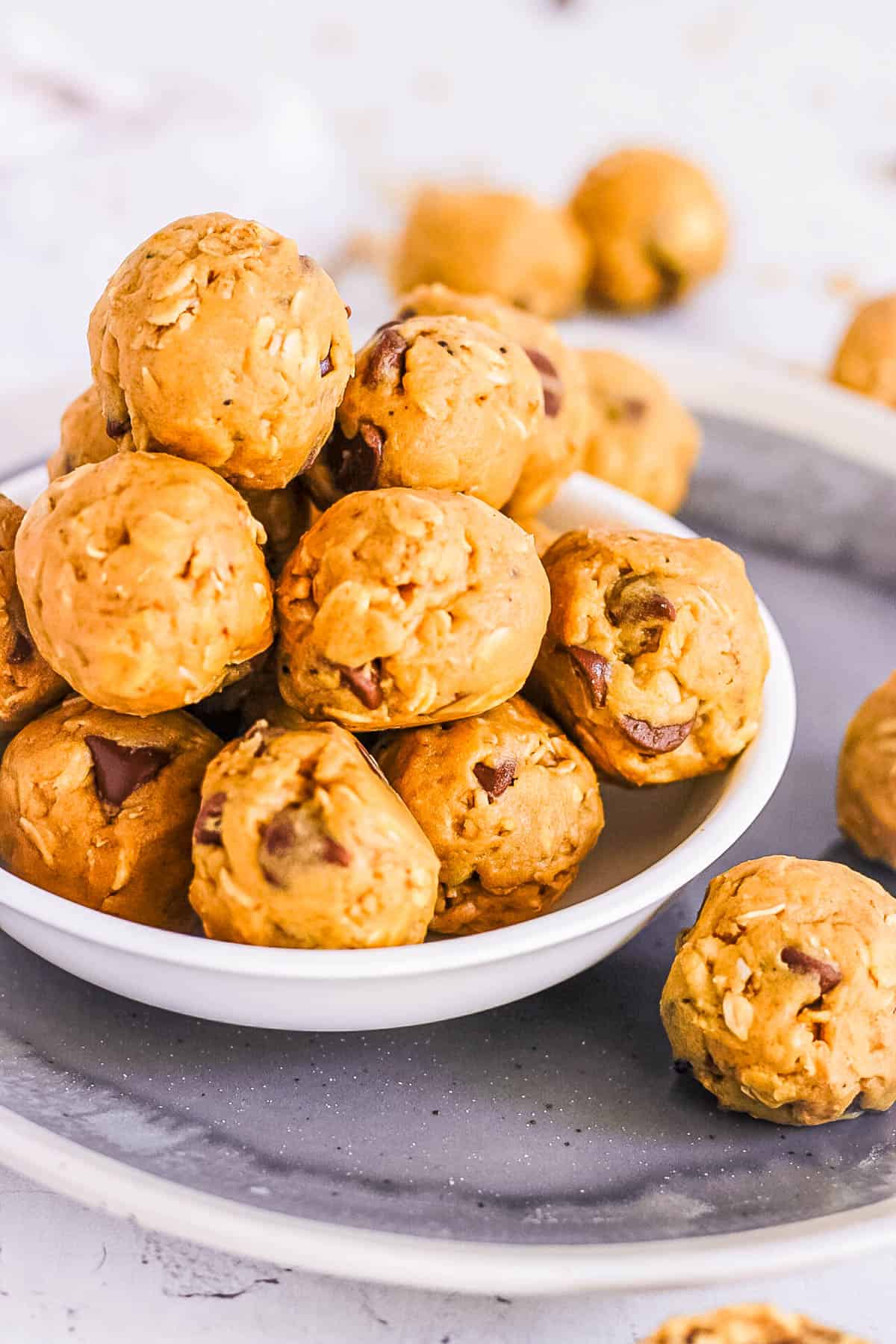 Satisfy your sweet tooth with this easy-to-make recipe that provides 5g of protein per serving. These vegan protein balls are ready in 10 minutes and are great for meal prepping since they store well.
Whether you need a post-workout snack or a quick sweet treat without refined sugars and gluten, this is the recipe for you. If your kids love Reese's cups, these are a healthy alternative that they gobble right up.
Combining deliciously creamy peanut butter and chocolate chips, these no-bake energy balls are versatile and nutritious. You can use almond butter for a peanut-allergy friendly version.
Calories: 136 — Fiber: 1g — Protein: 5g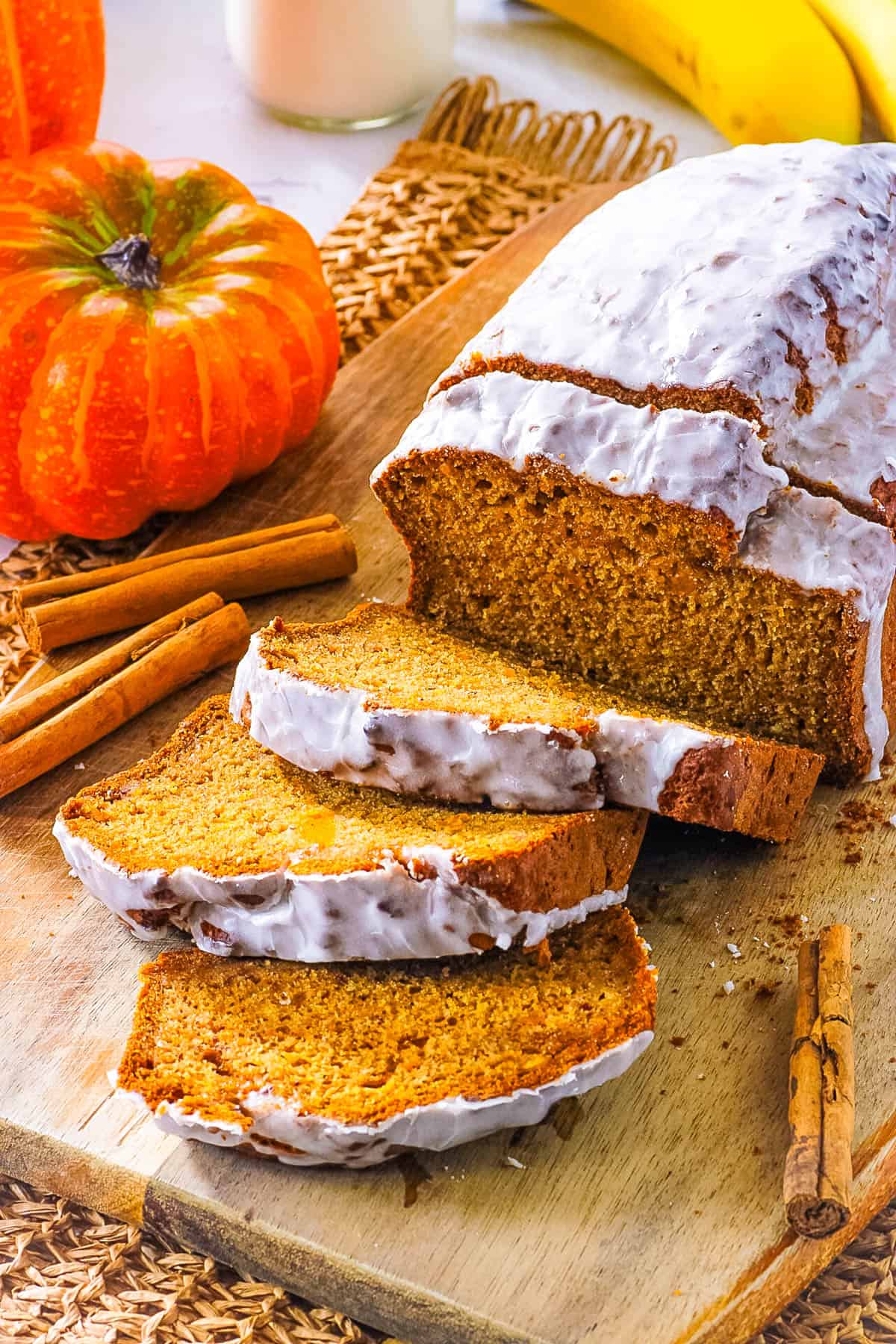 This moist and flavorful vegan pumpkin banana bread is the perfect quick bread for the fall season, or anytime of year! This easy recipe requires minimal effort, with only 10 minutes of prep time.
Kid-friendly and customizable, this is an indulgent quick bread you can whip up regardless of your busy schedule. It makes a delicious breakfast, snack, or sweet treat!
While most pumpkin breads are packed with refined sugar, this recipe uses coconut sugar, and is lower in sugar and calories than most pumpkin bread recipes out there. That means you can enjoy a big slice without a huge blood sugar crash!
Calories: 191 — Fiber: 2g — Protein: 3g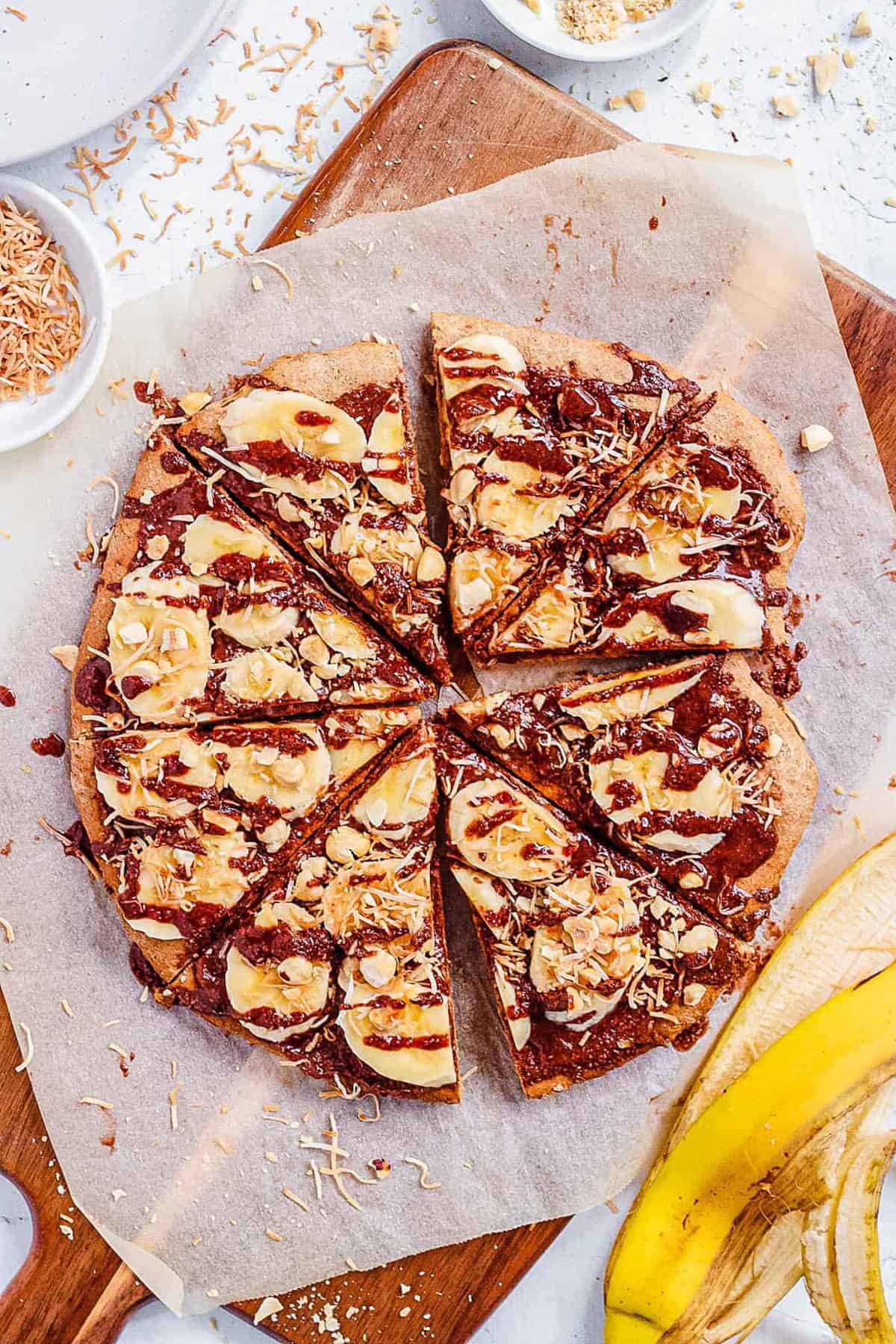 Super customizable and family-friendly, this easy recipe is a crowd favorite. Thanks to a quick crust, it is ready in less than 30 minutes for the perfect last-minute dessert.
Whether it's a festive occasion or a weeknight craving, this vegan chocolate pizza will win hearts and taste buds. You get the perfect combination of textures and flavors that both kids and adults will love.
This recipe is quick to prepare and perfect for sharing. The crispy cinnamon dough is the perfect base for luscious homemade Nutella spread topped with sliced bananas, hazelnuts, and shredded coconut.
Calories: 194 — Fiber: 3g — Protein: 3g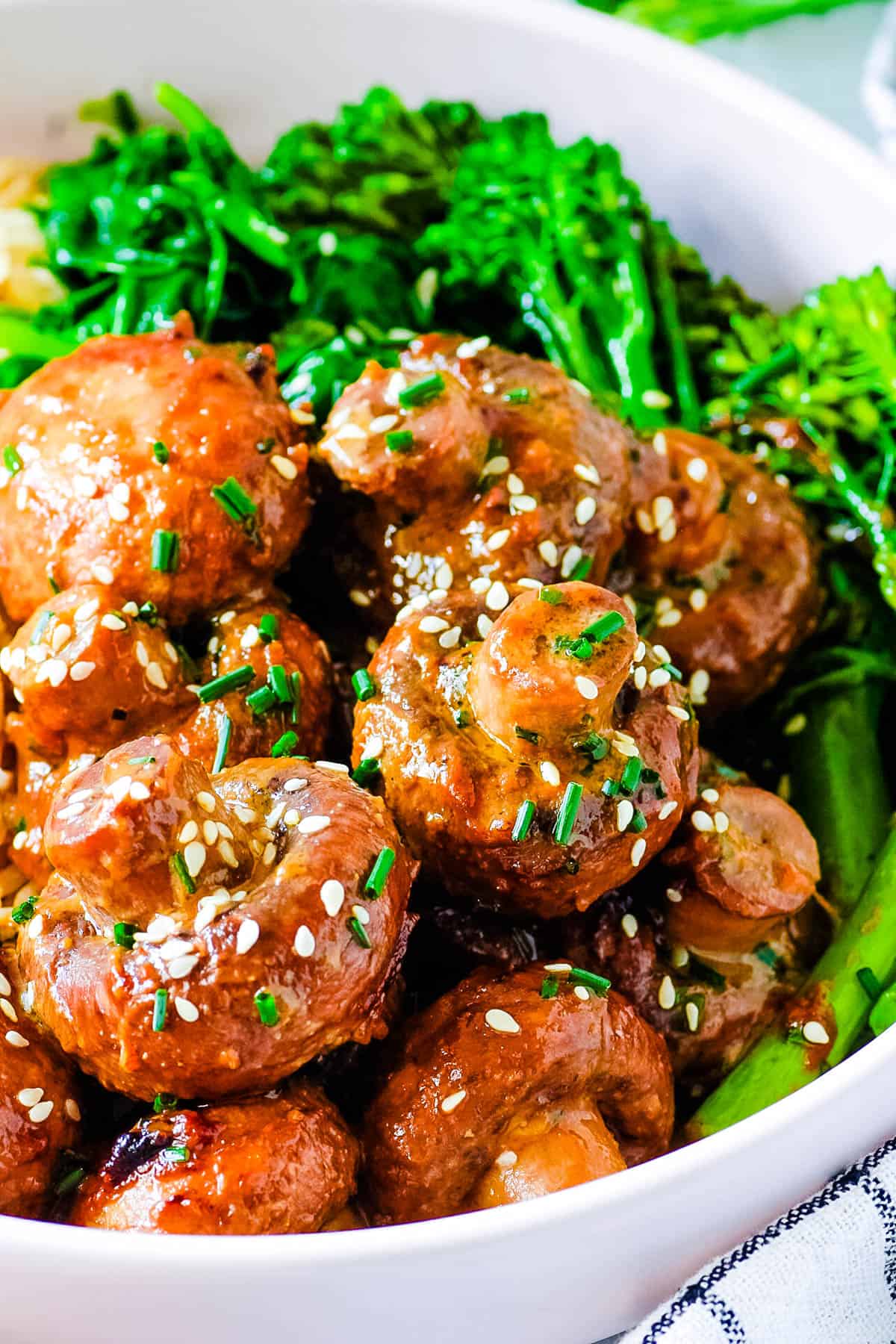 Sautéed mushrooms coated in a garlic miso butter give a punch of umami like no other. This Japanese-inspired recipe takes just 25 minutes to prepare, and the mushrooms come out golden, tender, and flavorful.
Serve them as a side, a main dish topping, or an appetizer. These gluten-free and customizable mushrooms can elevate any meal.
I love that these are high in protein, especially with the minimal ingredients used! They can easily be made vegan with plant-based butter. Vegan mushroom recipes don't get much better than this.
Calories: 253 — Fiber: 3g — Protein: 10g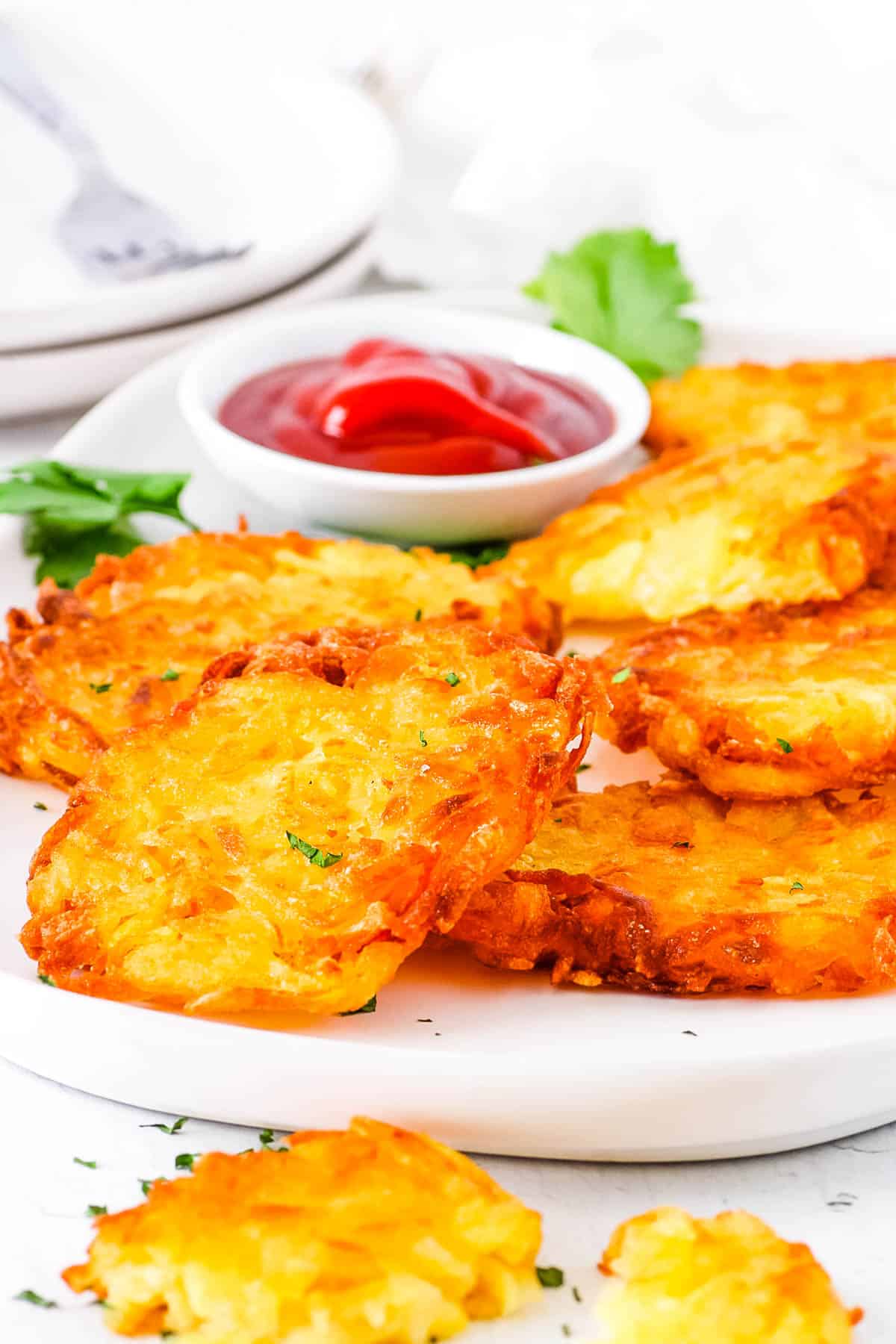 Recreate the iconic McDonald's Hash Browns at home with this easy recipe that guarantees crispy golden patties. Unlike the fast-food version loaded with unhealthy fats and additives, these hash browns require minimal and wholesome ingredients.
Following a few simple steps you can achieve perfect hash browns, even if you're a beginner to cooking! With their crispy exterior and fluffy interior, these naturally vegan and gluten-free hash browns make for a delicious breakfast or versatile side dish.
I love that the cooking process is essentially fool-proof. You'll be shocked at just how easy it is to make these vegan hash browns patties, even on busy mornings.
Calories: 141 — Fiber: 2g — Protein: 2g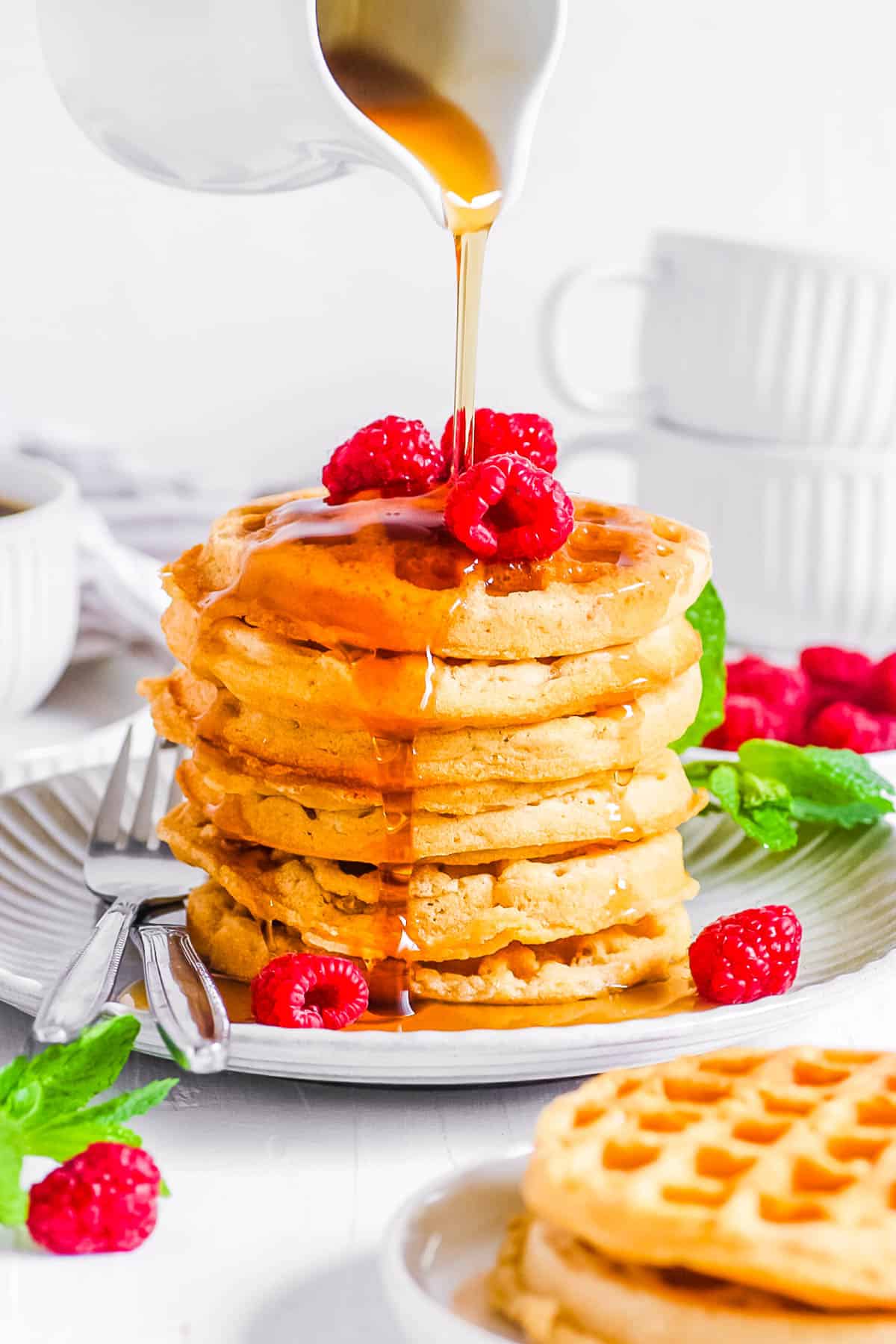 Ready in just 30 minutes, these vegan waffles are a perfect weekday treat or a leisurely weekend morning breakfast that will quickly become a fan favorite in your home.
Great to make in big batches and ready in no time, this gluten-free vegan breakfast is great to serve to kids of all ages, or when hosting a brunch with friends and family.
Get creative and customize the waffles with all of your favorite toppings. Try them out with whipped cream, fresh fruit, maple syrup, and nut butters.
Calories: 250 — Fiber: 4g — Protein: 6g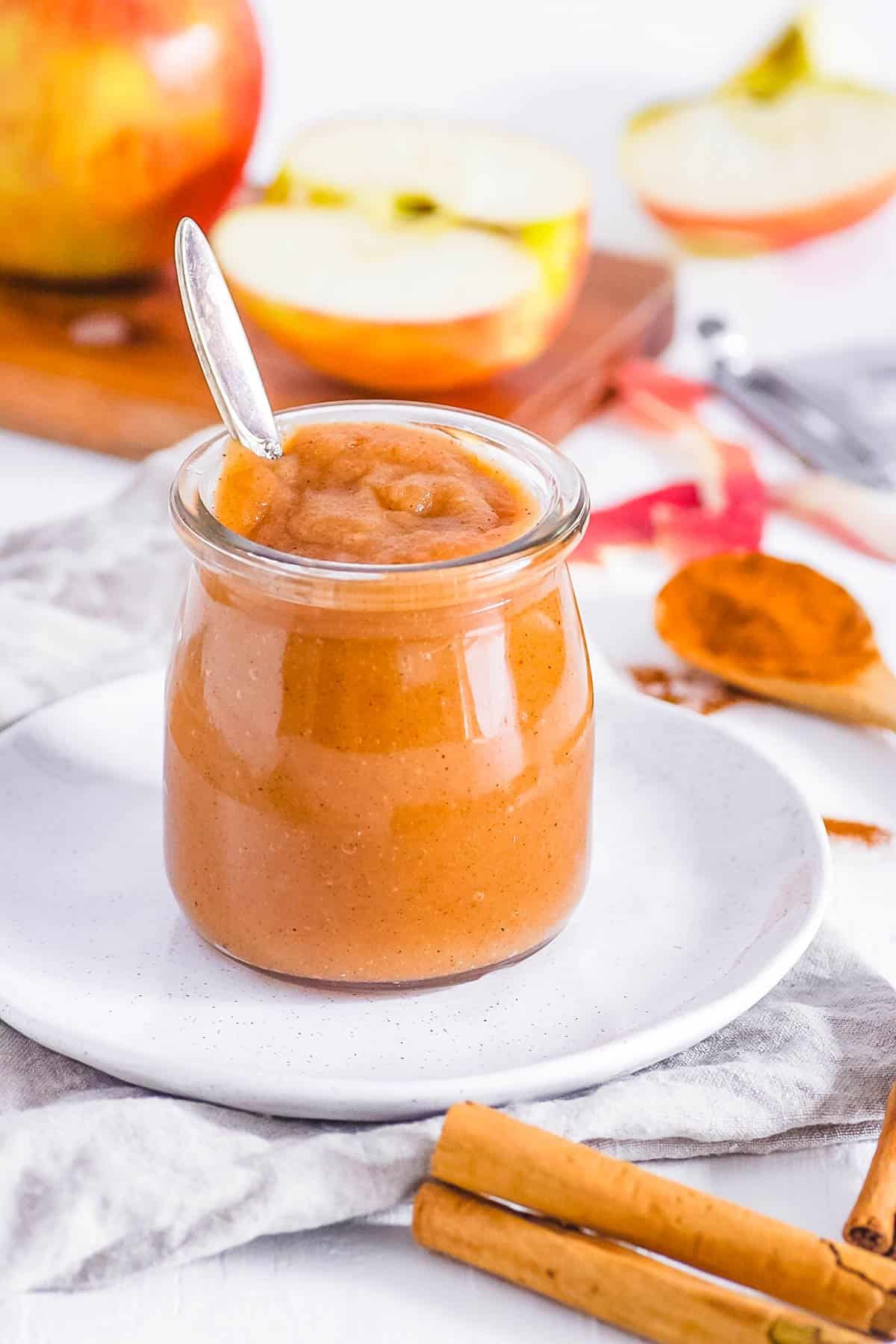 Experience a twist on classic lemon curd with this delightful homemade apple curd. Made using fresh apples and without eggs, this versatile condiment is ready in just 30 minutes!
Enjoy this sweet curd for breakfast, dessert, or a perfect snack. It is great spread on pancakes or stirred into your morning oatmeal. It's vegan, gluten-free, and a great recipe to have on hand when you crave something indulgent and easy.
It's simple yet bursting with apple flavor, similar to apple butter but silky and rich. This a great way to enjoy any apples before they go to waste. Try some on top of your favorite vegan cookie recipes.
Calories: 79 — Fiber: 3g — Protein: 1g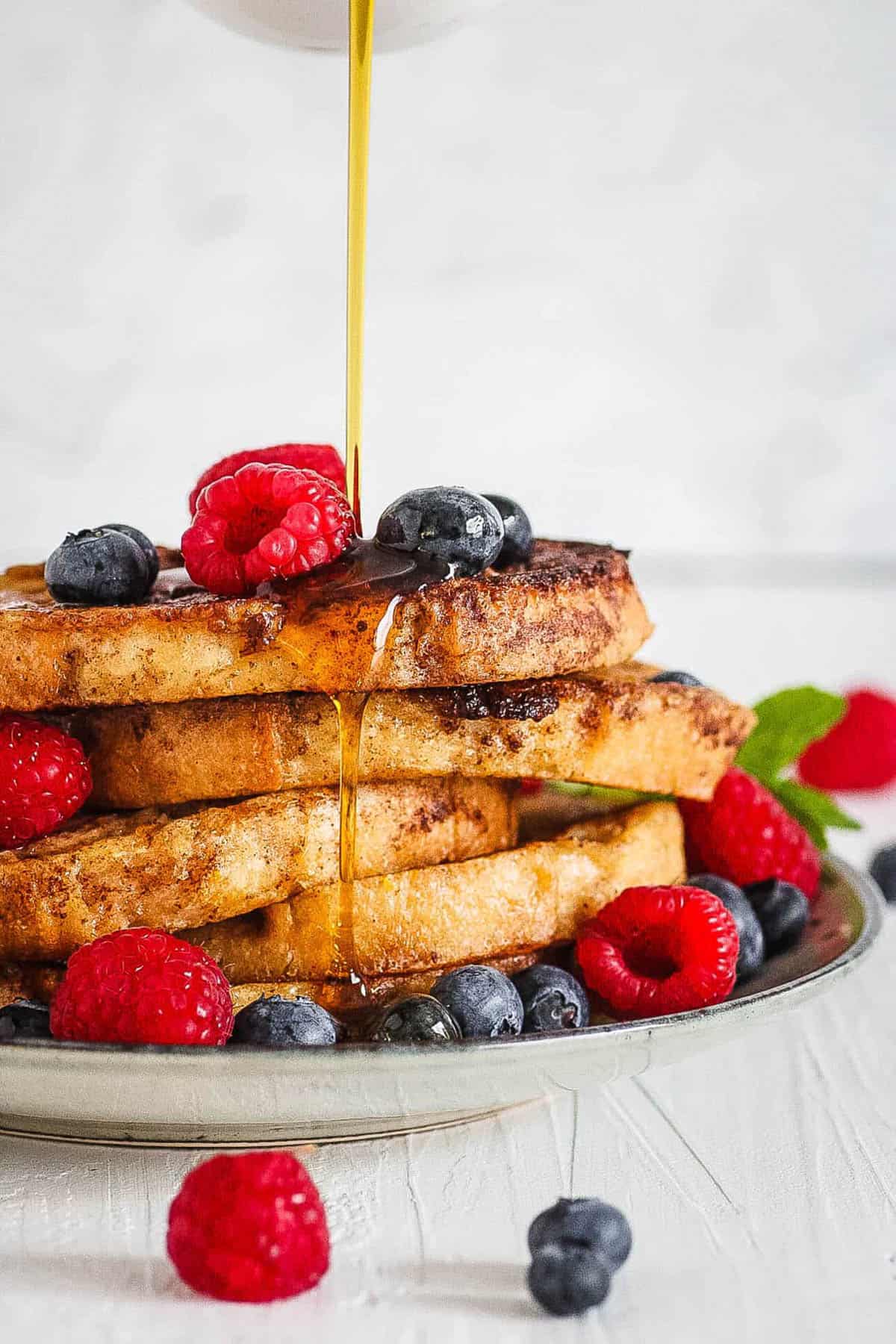 This easy healthy french toast is incredibly indulgent and packed with flavor! Made with healthier swaps, it's naturally low in sugar and is rich in dietary fiber thanks to lots of whole grains.
Great for special occasions or for feeding a crowd, you can batch cook this healthier french toast, or even turn it into a vegan french toast casserole and bake it in the oven for a delicious breakfast or brunch option! It is also ideal for anyone who is short on time, and can be meal prepped if you have a busy week ahead.
You will love how versatile this delicious breakfast recipe is – it's easily made vegan or gluten free, and includes so many different ideas for toppings!
Calories: 259 — Fiber: 4g — Protein: 15g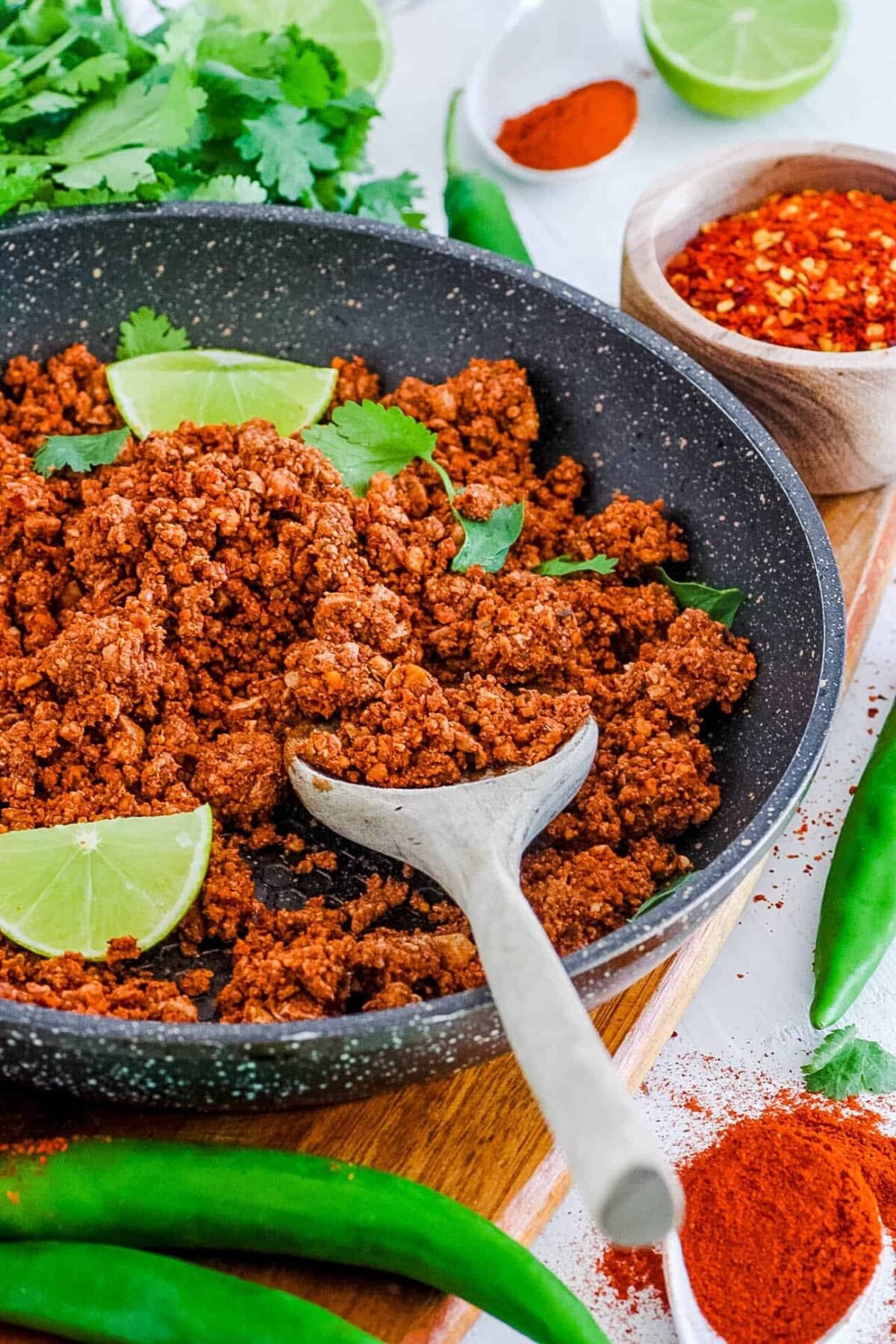 Vegan chorizo is super flavorful, full of protein, and made with crumbled firm tofu, tomato paste, paprika, and chili powder. Ready in under 30 minutes, this was a must add recipe for our list of top vegan recipes for beginners.
It is ideal for new vegans or anyone who loves a meaty texture but wants to stick to a meatless option.
A great addition to any weekly rotation, this tofu chorizo recipe is one for the books. Naturally gluten-free, perfect for taco night, breakfast burritos, burrito bowls, or simply paired with tortilla chips.
Calories: 132 — Fiber: 2g — Protein: 6g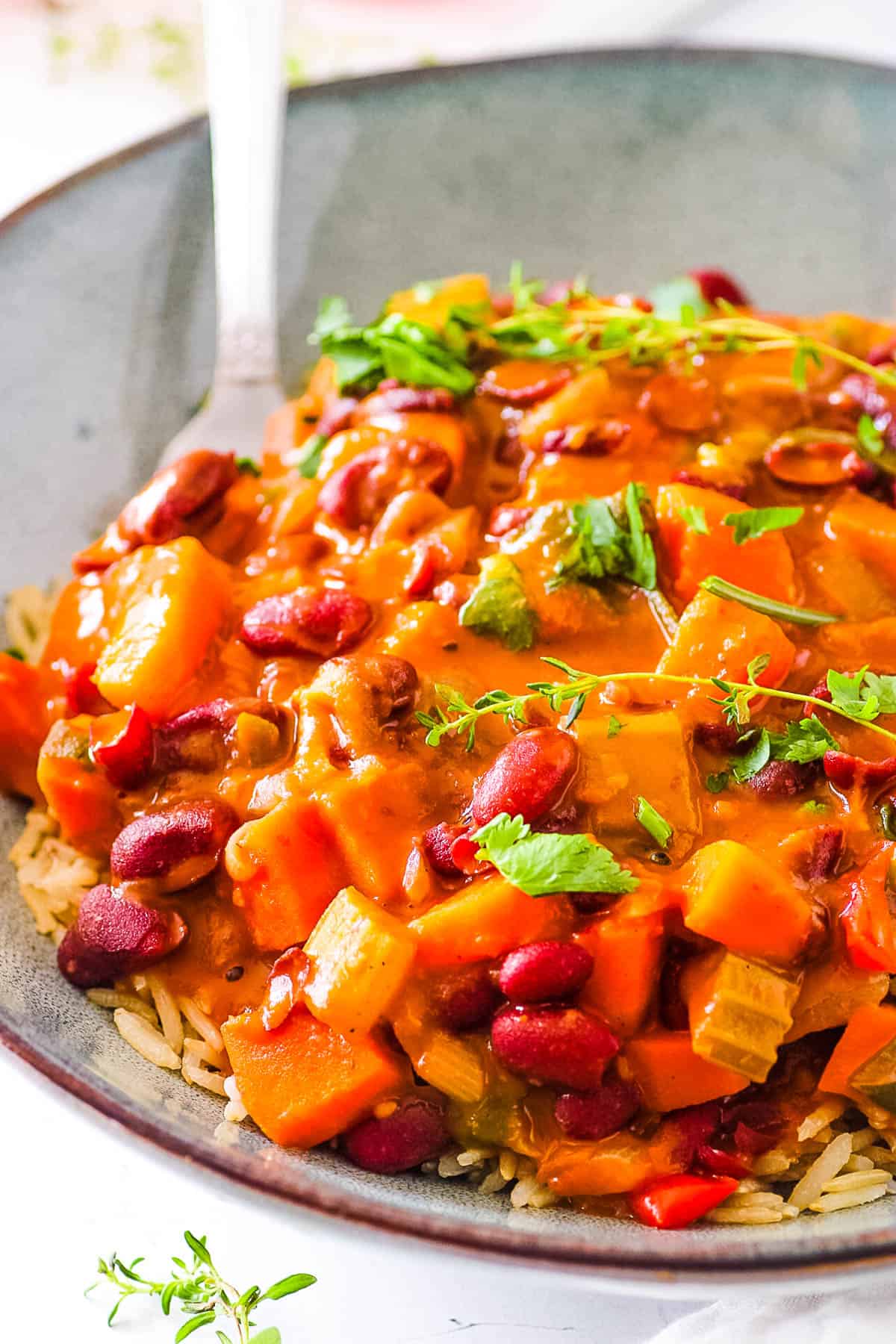 This hearty stewed bean recipe brings Caribbean flavors to your table in the best way, offering a quick and flexible meal that's both satisfying and customizable.
A balance between sweet and spicy, this budget-friendly recipe is perfect with jasmine rice and adaptable to dietary choices, making it a family favorite any night of the week.
With instant pot, stovetop, and slow cooker methods, this vegetarian and gluten-free dish suits various cooking preferences. This is a must try on your list of easy vegan dinner recipes.
Calories: 308 — Fiber: 10g — Protein: 9g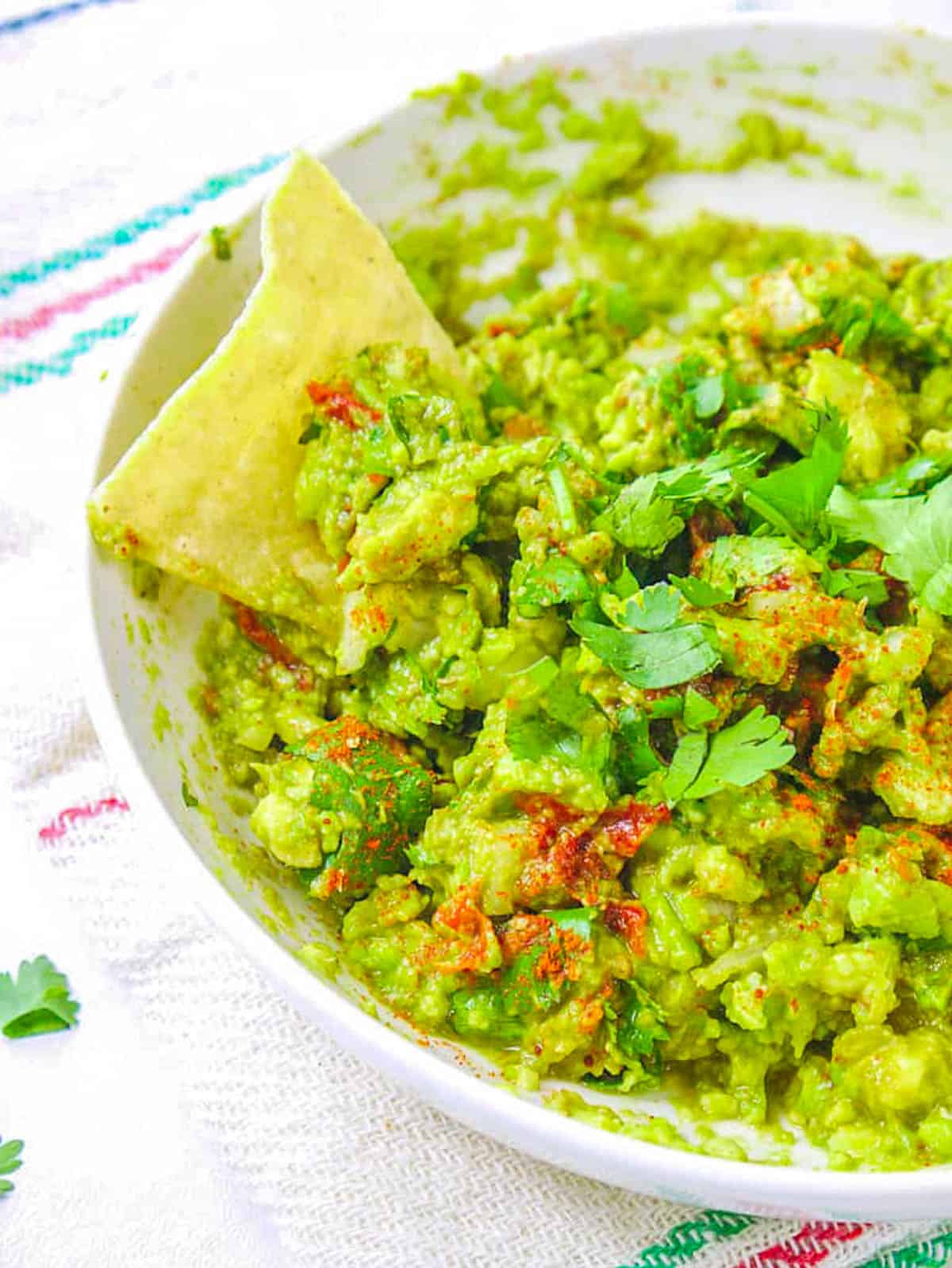 This healthy guacamole is naturally vegan, packed with fiber, and quick to prepare with only 15 minutes of prep time.
With simple ingredients and the easiest steps, this is one of the best vegan recipes for beginners ever. Anyone can make this, and it amounts to a whopping 18 servings!
Enjoy it as a dip, spread, or topping, and savor its nutritional benefits – from vitamins to healthy fats. With customizable elements and a burst of freshness, this vegan and gluten-free guacamole will become a regular in your home!
Calories: 60 — Fiber: 3g — Protein: 1g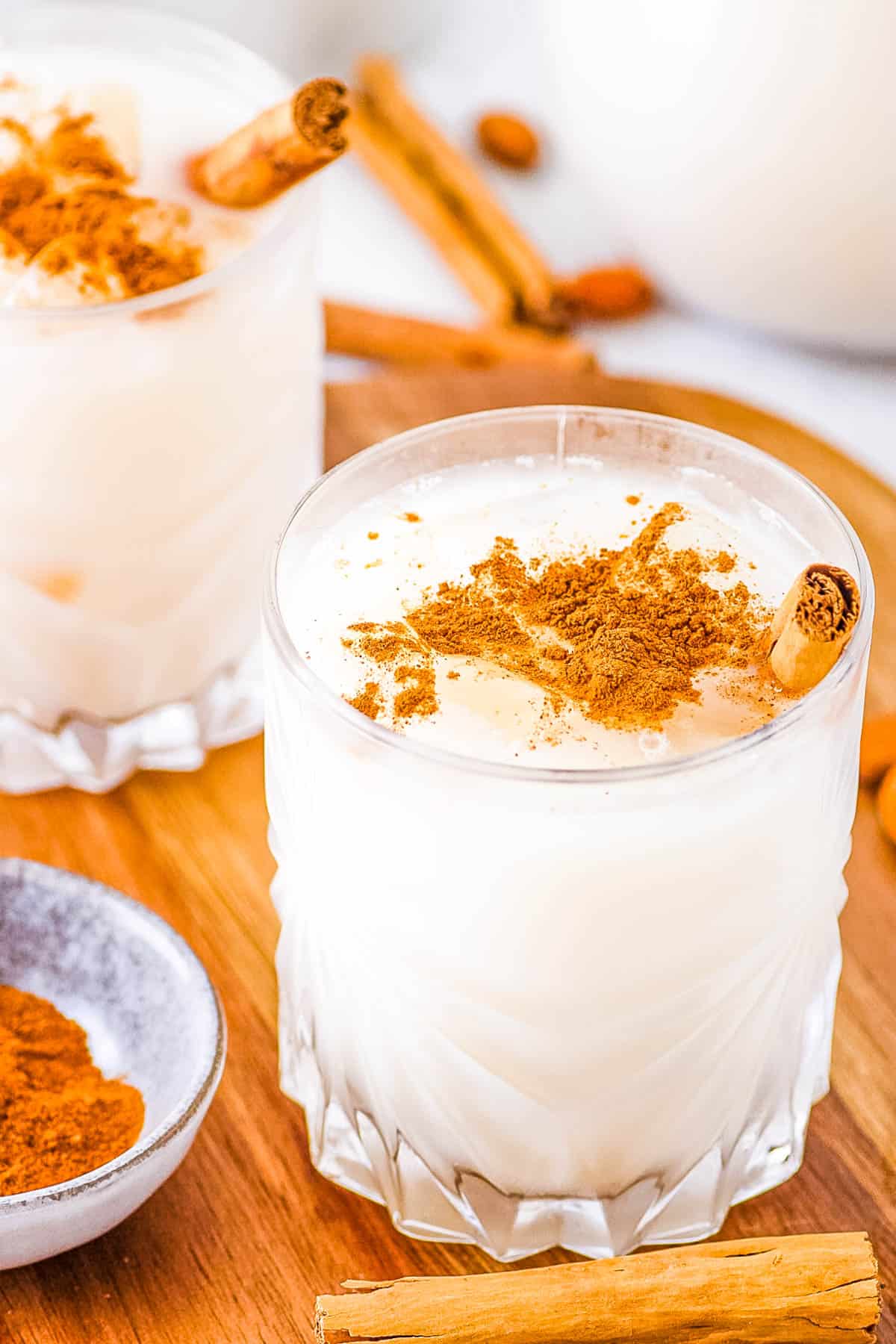 Authentic vegan horchata is a perfectly sweet, comforting, and refreshing drink! With hints of vanilla and cinnamon, this delicious traditional Mexican beverage is so easy to make at home!
Since this drink is vegan and gluten-free, nearly everyone can enjoy it! It is a fun way to spice up your vegan journey, especially when you crave something rich and creamy to sip on.
This recipe uses simple ingredients and takes just 15 minutes to prepare. It is perfect for sipping on a hot day, but it also makes for a delicious alcohol-free Christmas cocktail as well.
Calories: 161 — Fiber: 1g — Protein: 3g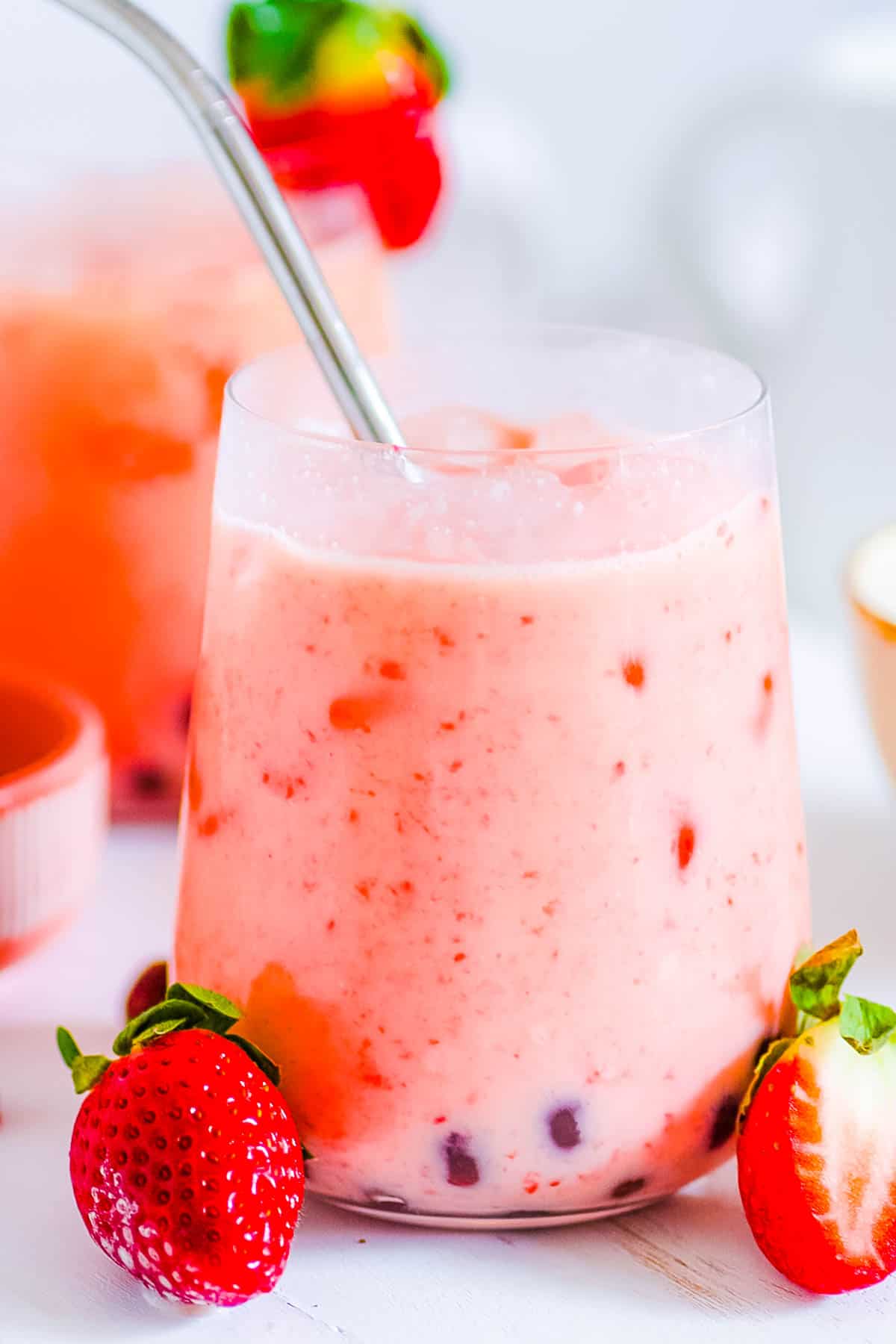 Strawberry milk tea is sweet, refreshing, and simple to make at home! Enjoy in so many delicious ways.
Whether sipped on a warm summer day or savored during the colder months, this versatile treat will satisfy your cravings for a creamy, delicious bubble tea. It is naturally vegan, gluten-free, and super easy to make ahead of time if you want to serve it to friends or family.
Green tea is a nutrient powerhouse I love to incorporate into my daily routine, and strawberry milk boba tea is my favorite way to do it! I know you'll love it just as much as I do!
Calories: 257 — Fiber: 4g — Protein: 2g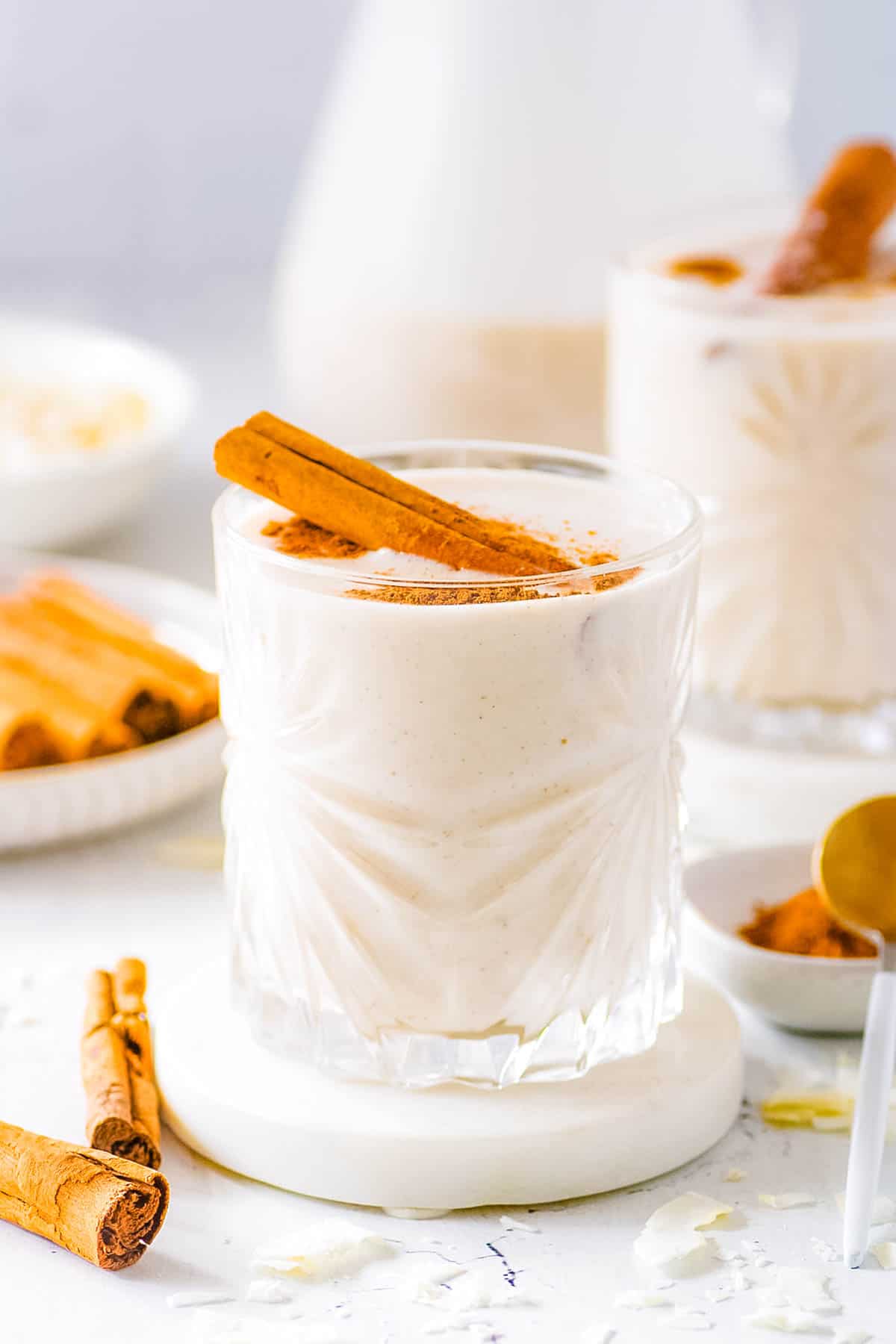 Vegan coquito is made with a combination of coconut milk, coconut cream, vanilla extract, and white rum, along with a few other simple ingredients. It only takes 2 minutes of prep time and is naturally gluten-free too!
This vegan version of coquito has the traditional flavor of sweet coconut and warm spice, but without any dairy or eggs! Try it out at your next holiday party, or whenever you're craving something sweet and coconut-y.
It has an extra creamy texture, and is much healthier than other alcoholic beverages. You can enjoy this without a huge sugar crash.
Calories: 323 — Fiber: 2g — Protein: 5g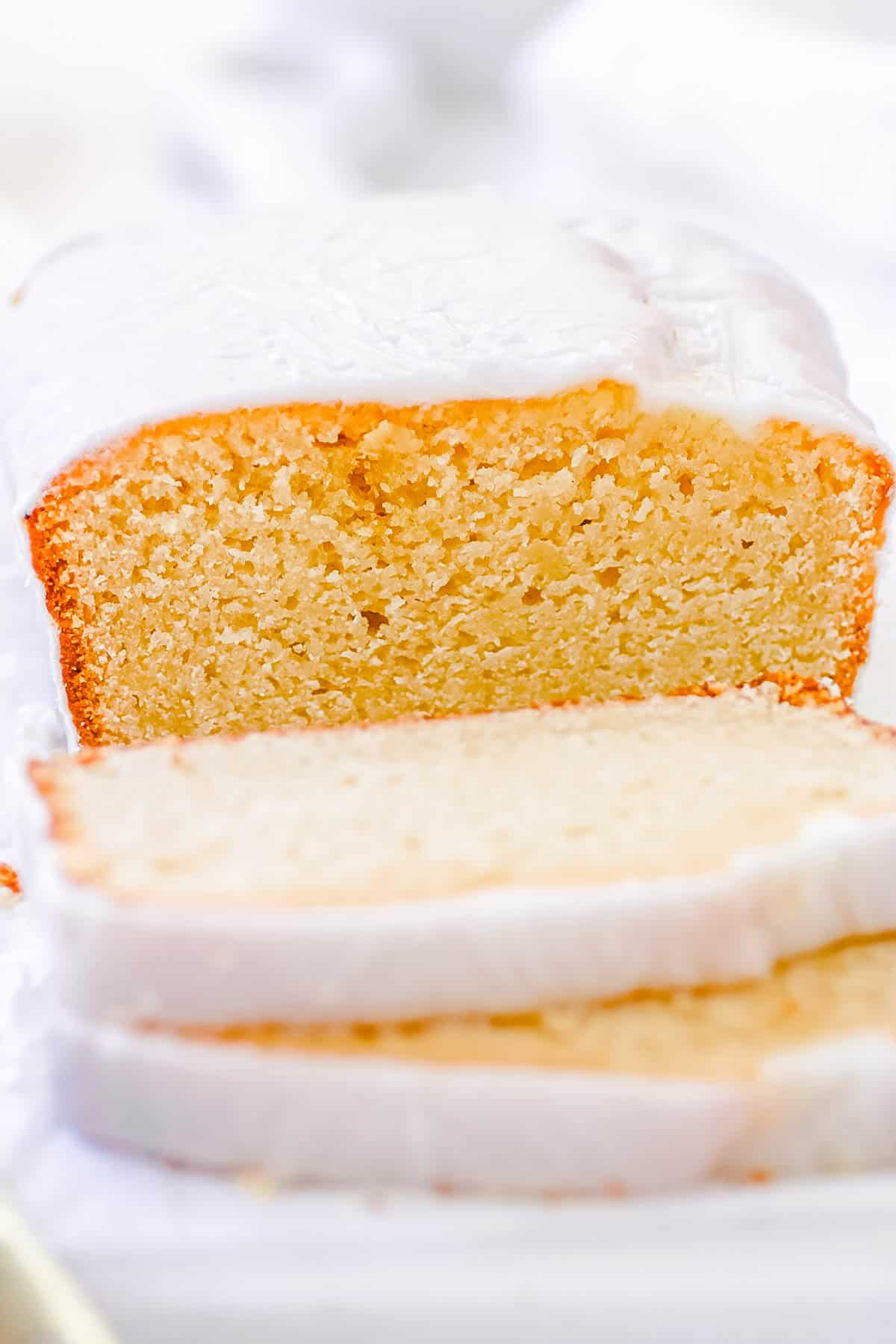 Dairy-free and eggless, this velvety pound cake recipe is rich with vanilla flavor and so simple to make. This healthier version of traditional pound cake remains ultra-moist with the perfect balance of sweetness.
With a mere 10 minutes of prep time, this versatile dessert is perfect for any occasion. It is great when shared with friends at gatherings or savored as a tranquil afternoon pick-me-up.
Personalize it with fresh berries or lemon zest for an exciting twist. You definitely need to add this to your list of vegan cake recipes for beginners!
Calories: 228 — Fiber: 0.5g — Protein: 2g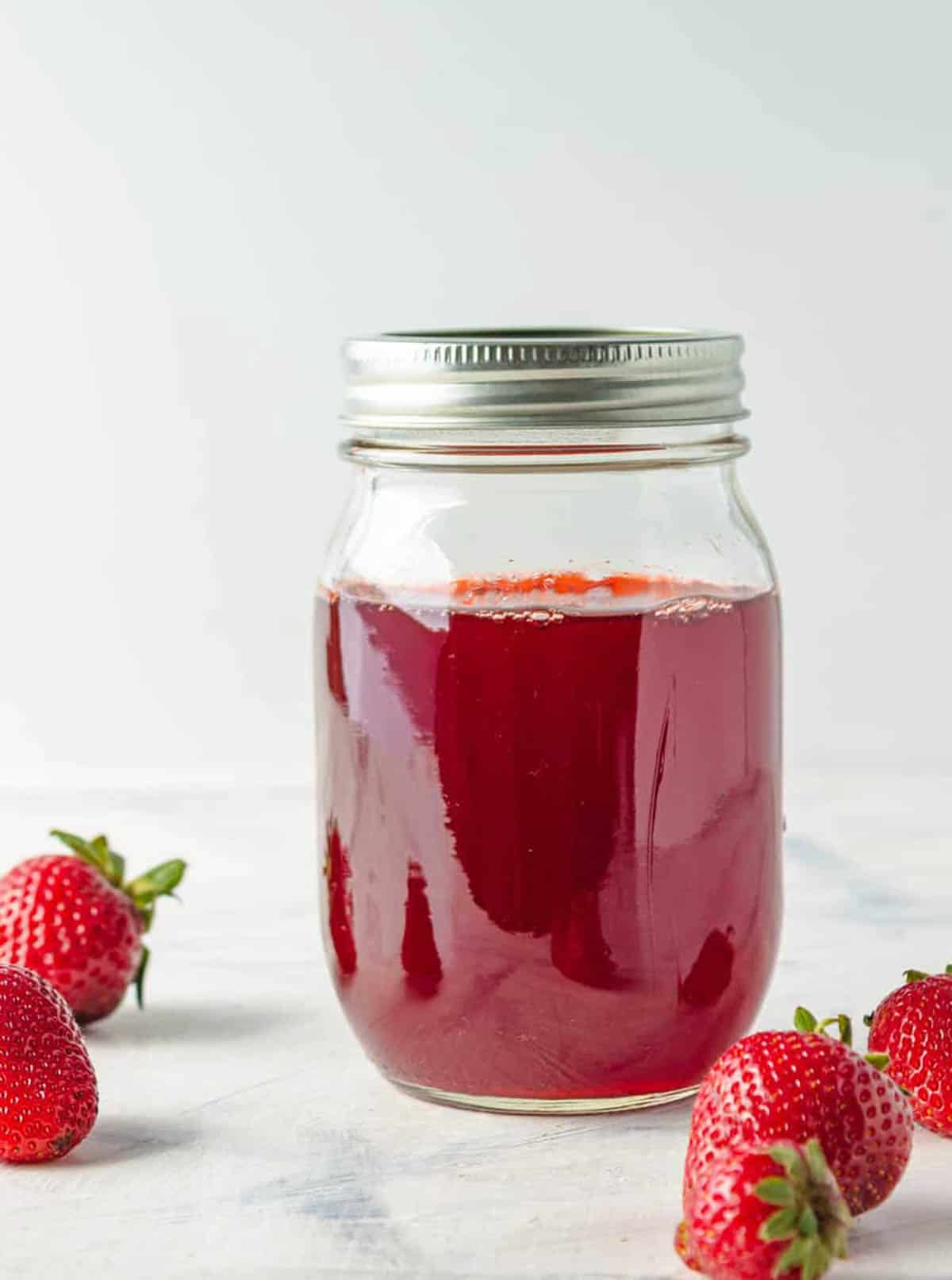 With 3 basic ingredients and a little effort you'll get the most flavorful strawberry simple syrup that anyone can make.
Elevate your beverage game with this lovely syrup, whether stirring up cocktails or revitalizing sparkling water. It is a great way to add extra flavor and sweetness to vegan desserts and drinks.
It's the perfect compliment to just about any recipe, making it a repeat in my house! My kids love it drizzled over ice cream and I love it for a boost in my mocktail.
Calories: 26.5 — Fiber: 0.2g — Protein: 0.1g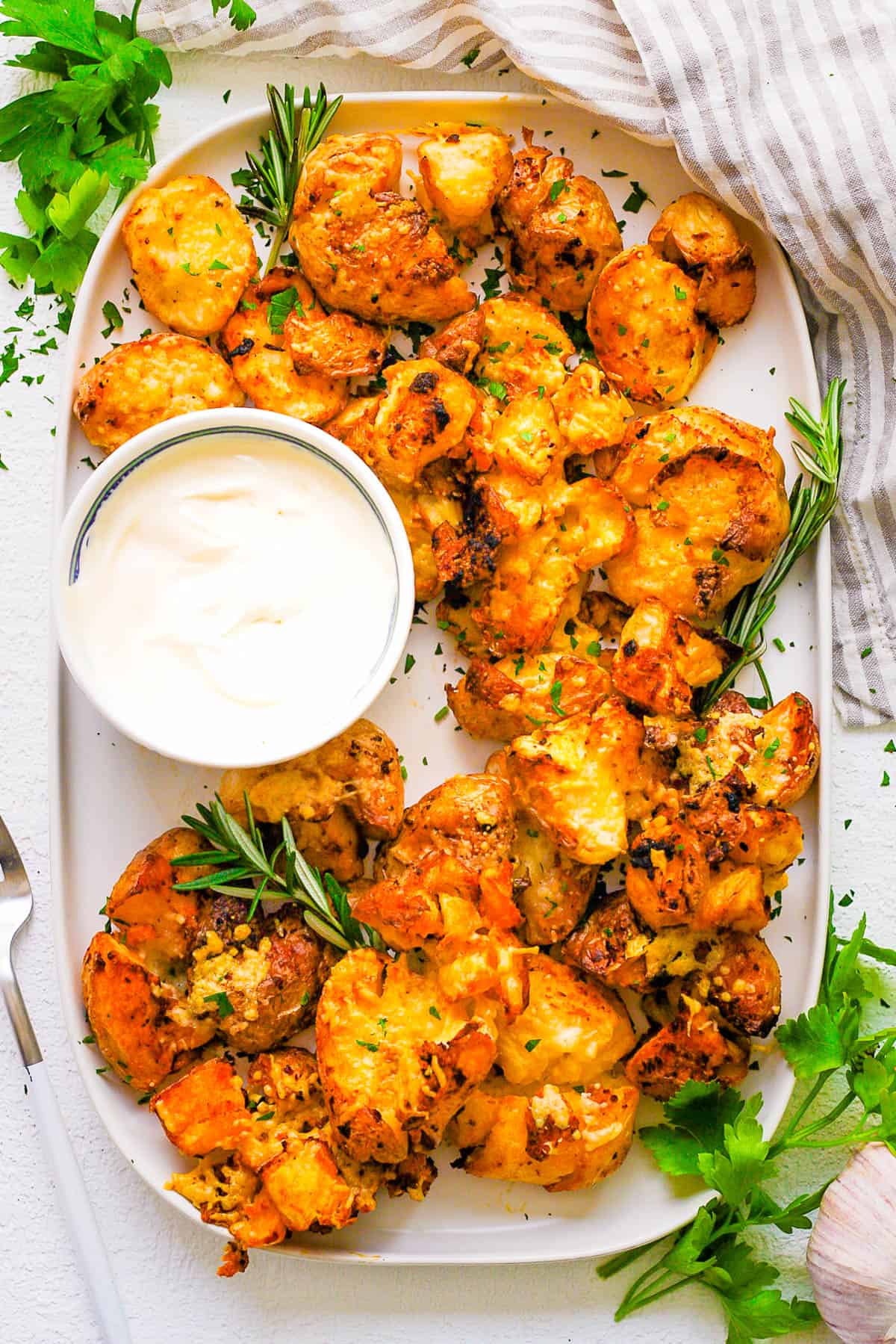 These delicious garlicky air fryer smashed potatoes are crispy on the outside, soft on the inside, and are packed with flavor! They take less than an hour to make, and turn out perfectly every time.
If you're a fan of crispy potatoes, then you're going to love this garlic smashed potatoes air fryer recipe. They are ideal as a side dish for any occasion.
These potatoes will quickly become a family favorite recipe! I love that they offer a healthy alternative to french fries or regular fried potatoes, with incredible taste and texture.
Calories: 241 — Fiber: 3g — Protein: 4g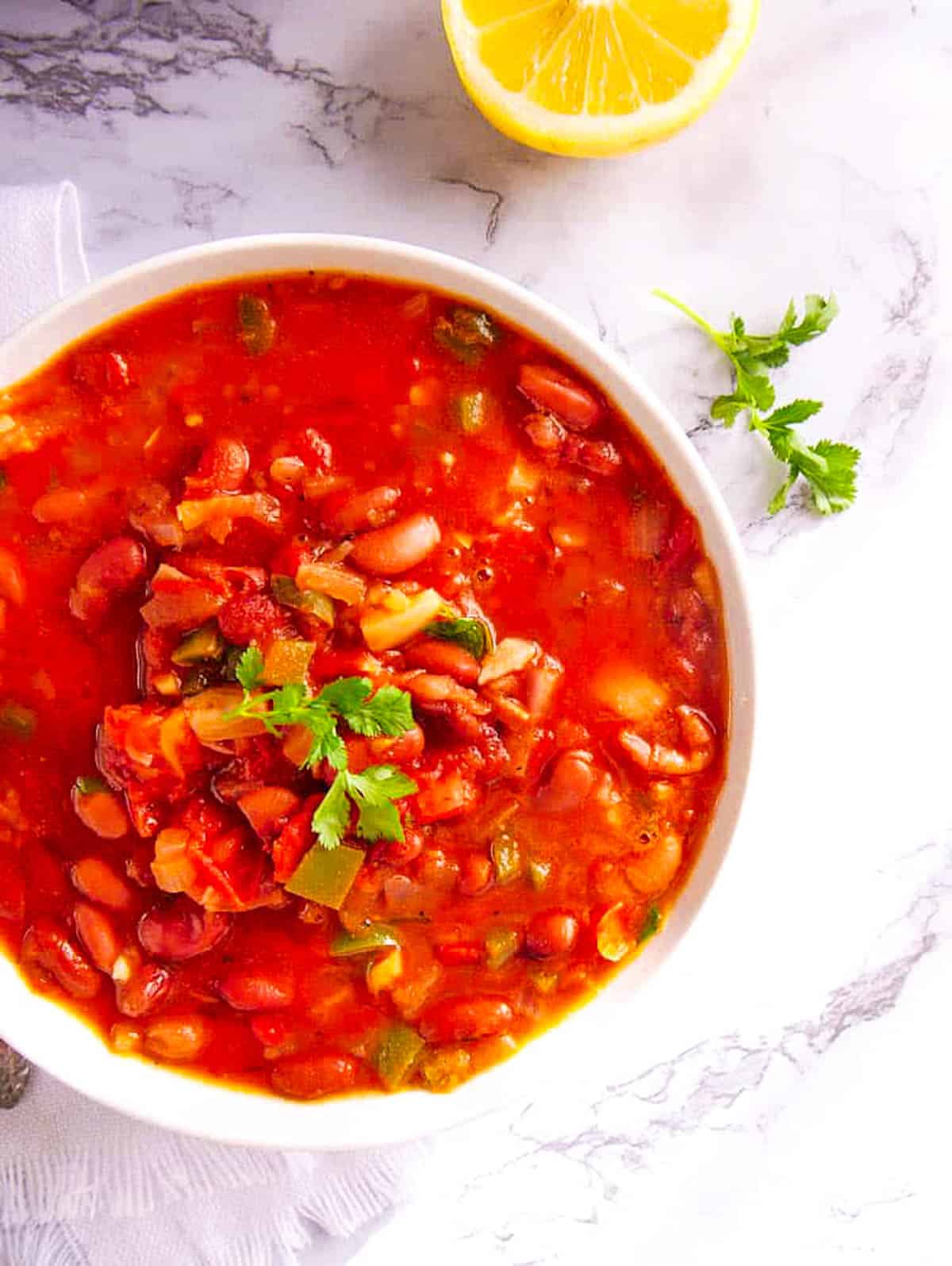 Indulge your taste buds with one of the most flavorful vegan dinners for beginners! This stew made with kidney beans is easy to make in big batches and keeps well in the fridge.
Whether you are looking for an easy family-friendly dinner recipe or vegetarian comfort food, this Punjabi rajma masala recipe has everything you are looking for.
I love that the spices are easily adapted to fit your family's preference, so no matter what this can be a winning dish!
Calories: 258 — Fiber: 13g — Protein: 14g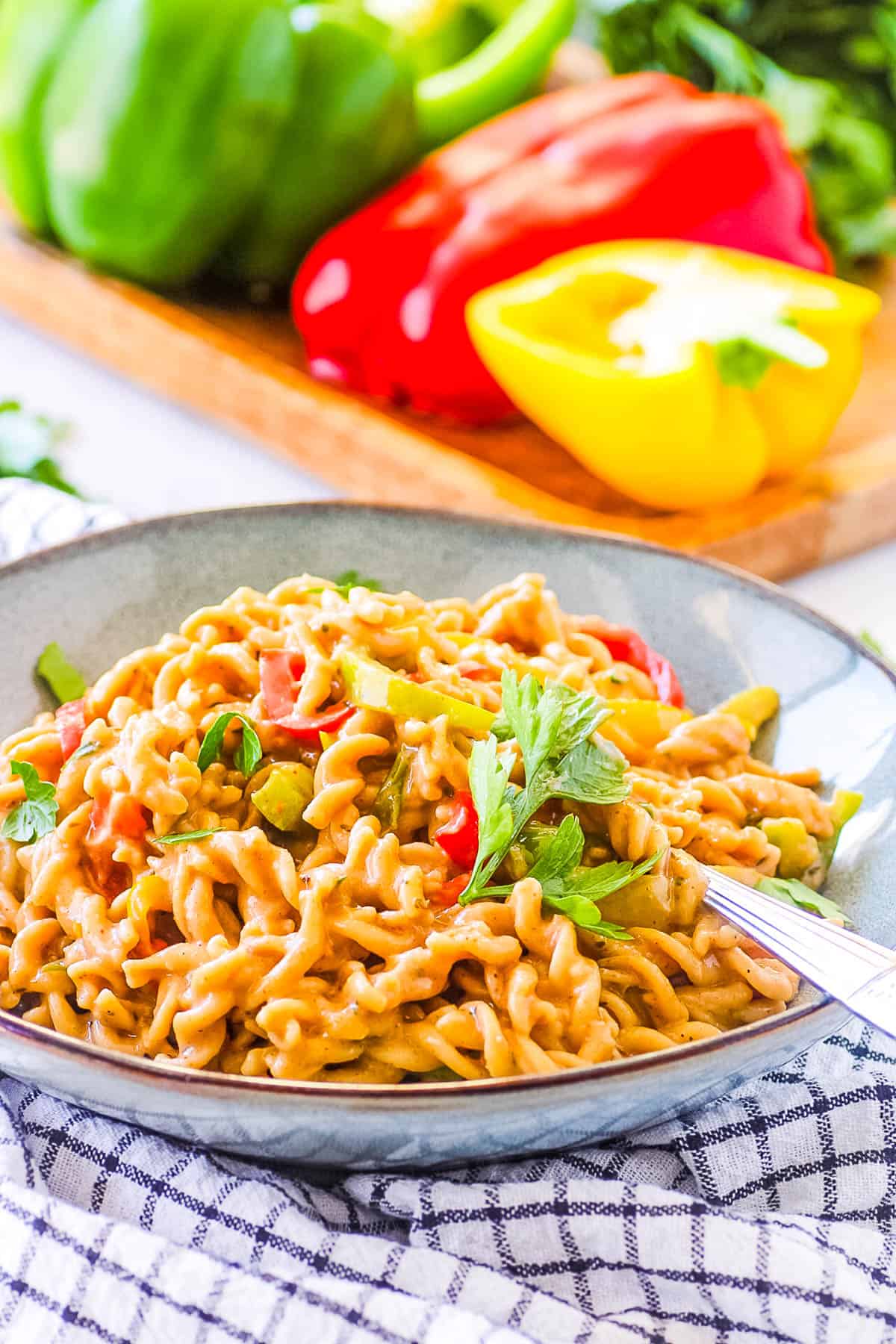 Spicy vegan rasta pasta is made with colorful bell peppers and a creamy coconut sauce. In just 20 minutes, you will have the perfect weeknight meal that the whole family will love!
If you are looking for your new favorite creamy pasta dish, this is it! You can easily make this pasta gluten-free, too!
This simple recipe is full of unique flavor that's satisfying and irresistible.
Calories: 385 — Fiber: 7g — Protein: 1g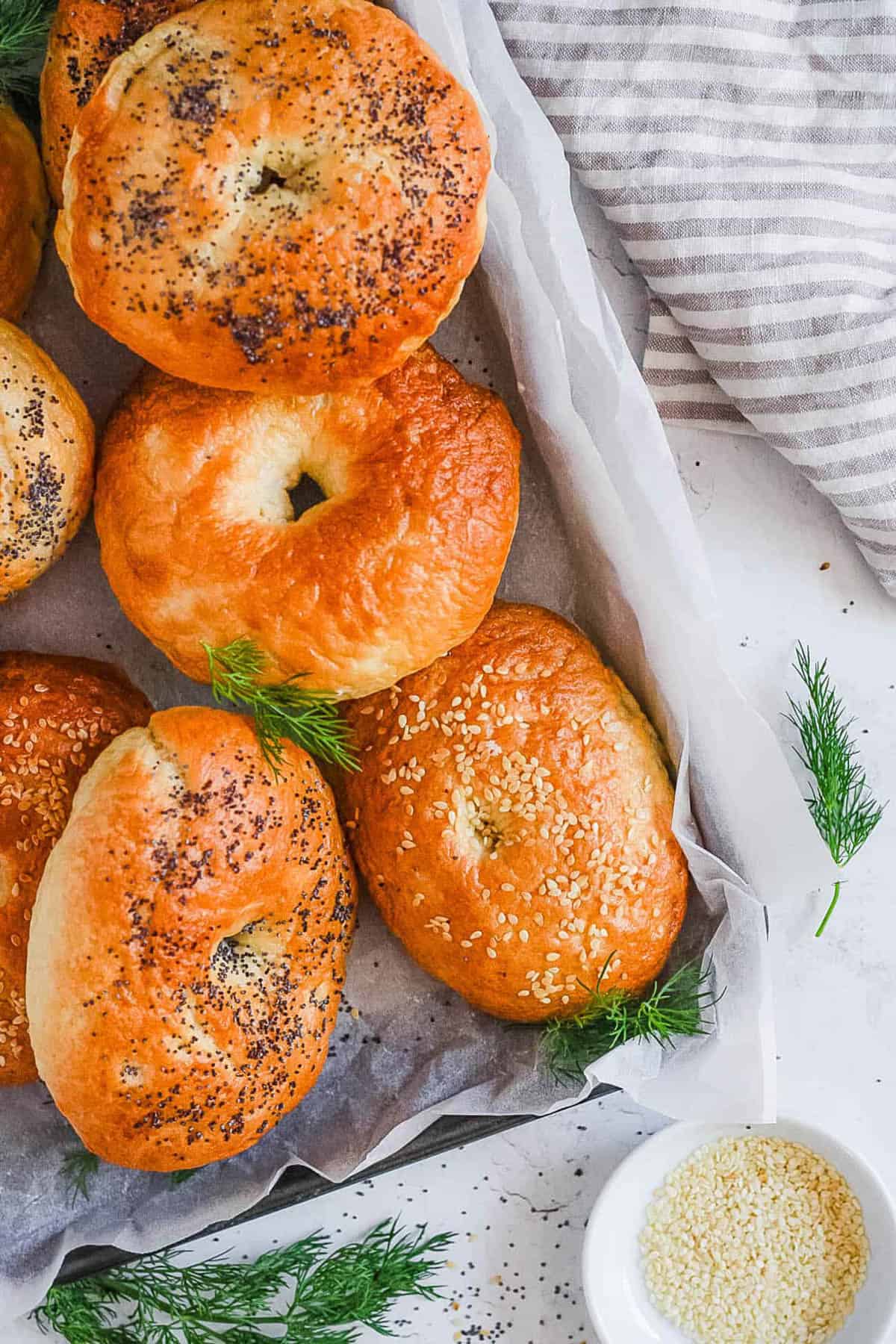 Make mouth-watering homemade bagels with four ingredients and freeze the extras. In just a few simple steps, you'll master this recipe which rivals store-bought options.
Vegan, dairy-free, and egg-free, this hearty recipe is perfect for breakfast or a lunchtime sandwich. Customize your toppings and fillings to match your cravings.
These bagels have the best balance of chewiness and lightness. Add this foolproof recipe to your vegan meal plan to enjoy bakery-quality bagels.
Calories: 223 — Fiber: 2g — Protein: 7g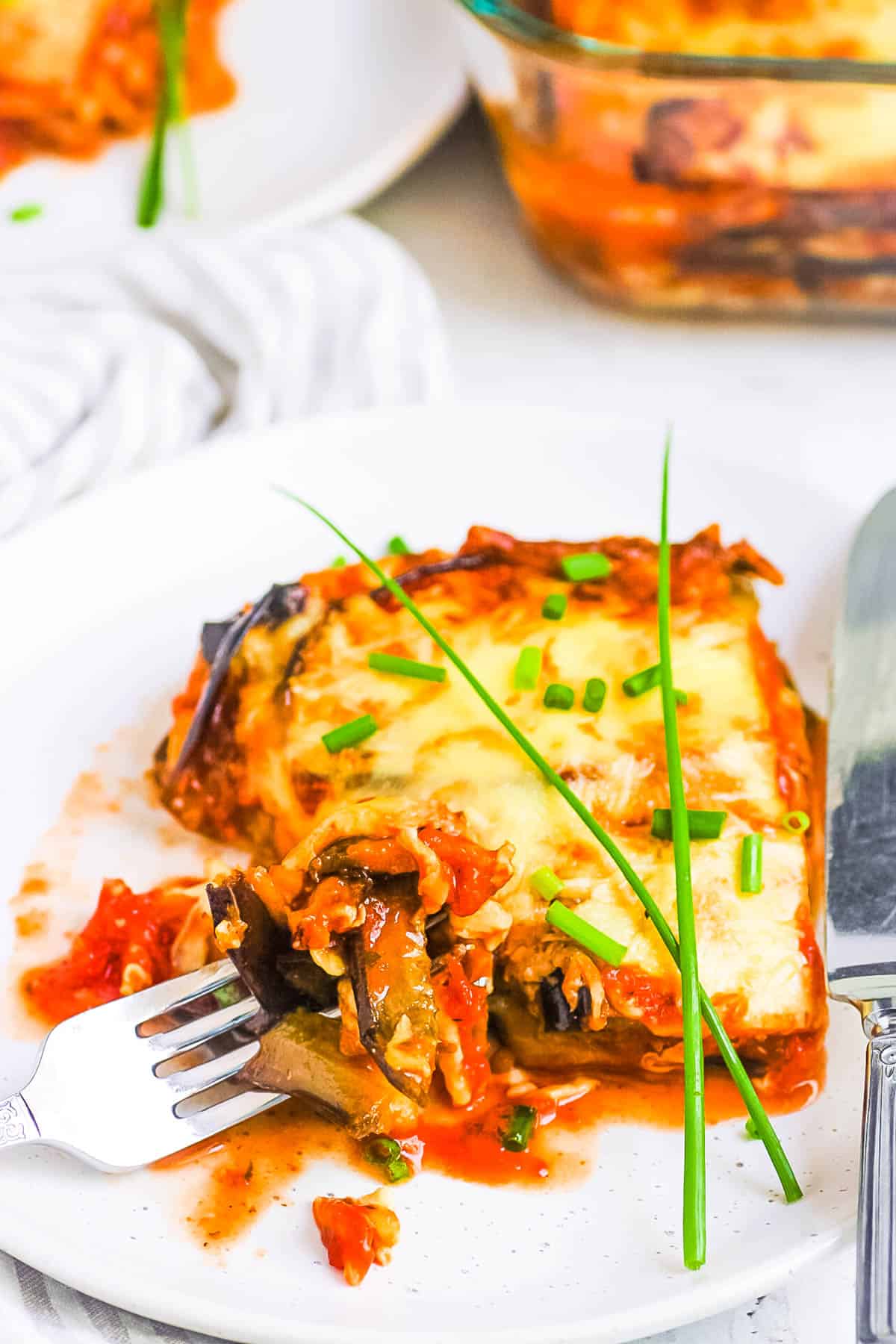 Transport yourself to Italy with this delightful Vegan Eggplant Parmesan. In just an hour, you'll create a mouthwatering masterpiece featuring oven-fried eggplant layered with plant-based cheese, marinara sauce, and fragrant basil.
This recipe offers a gluten-free, low-carb twist on the classic Italian dish, delivering authentic flavors. Perfect for weeknight dinners, this eggplant parm will leave you satisfied and eager for seconds.
I love that this healthier version requires no frying, no egg, and no breadcrumbs!
Calories: 273 — Fiber: 8g — Protein: 4g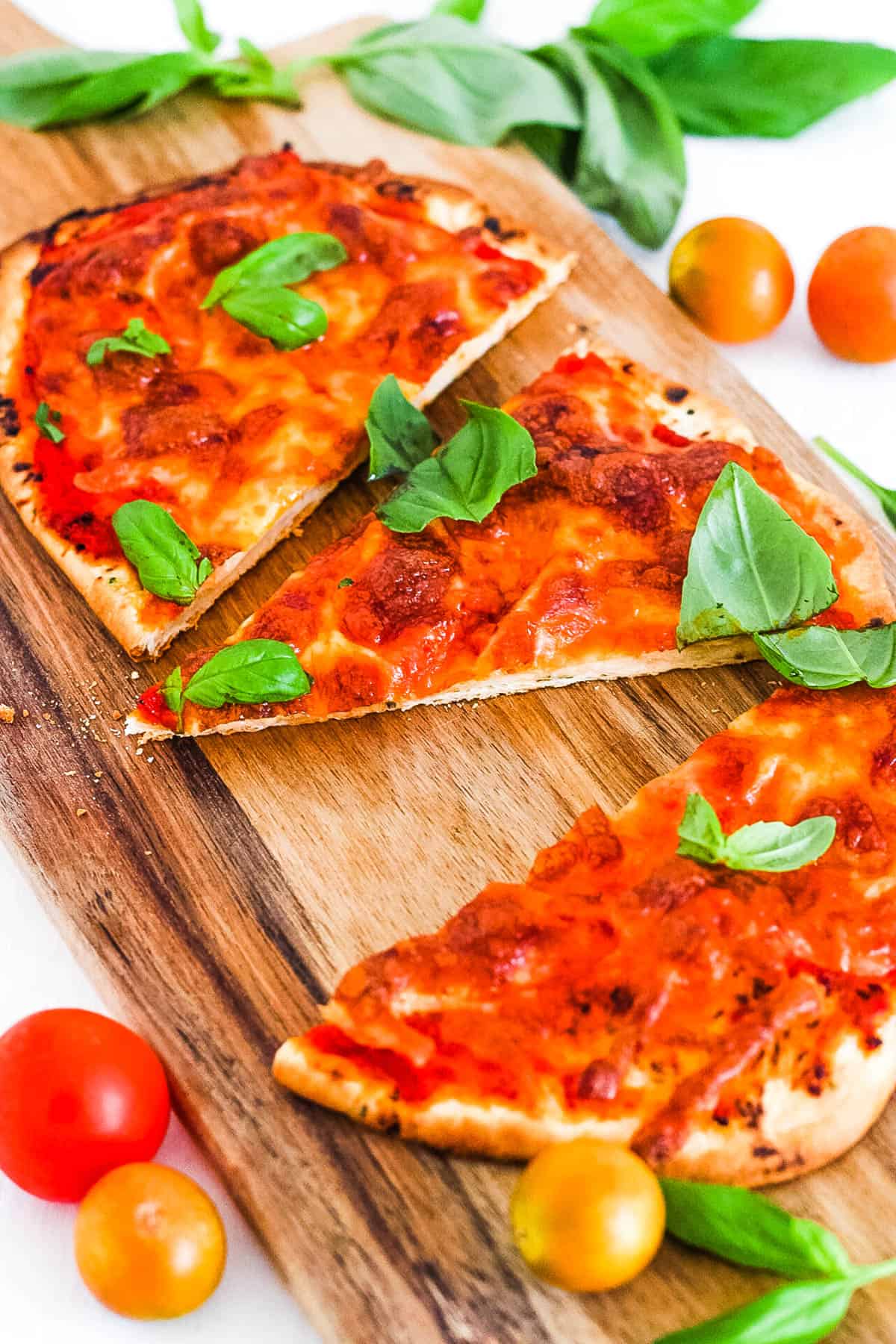 Enjoy a perfectly crisp crust with bubbly cheese and your favorite toppings using naan bread as the base. This quick recipe makes for a fun and interactive meal that involves the whole family.
It is kid-friendly and a great option for picky eaters since it is so customizable. Since it is ready to eat in less than 15 minutes, it's a wonderful choice for anyone short on time!
Say goodbye to soggy crusts and hello to a hassle-free dinner solution that's ready in no time, delivering the best flavors and textures!
Calories: 425 — Fiber: 3g — Protein: 13g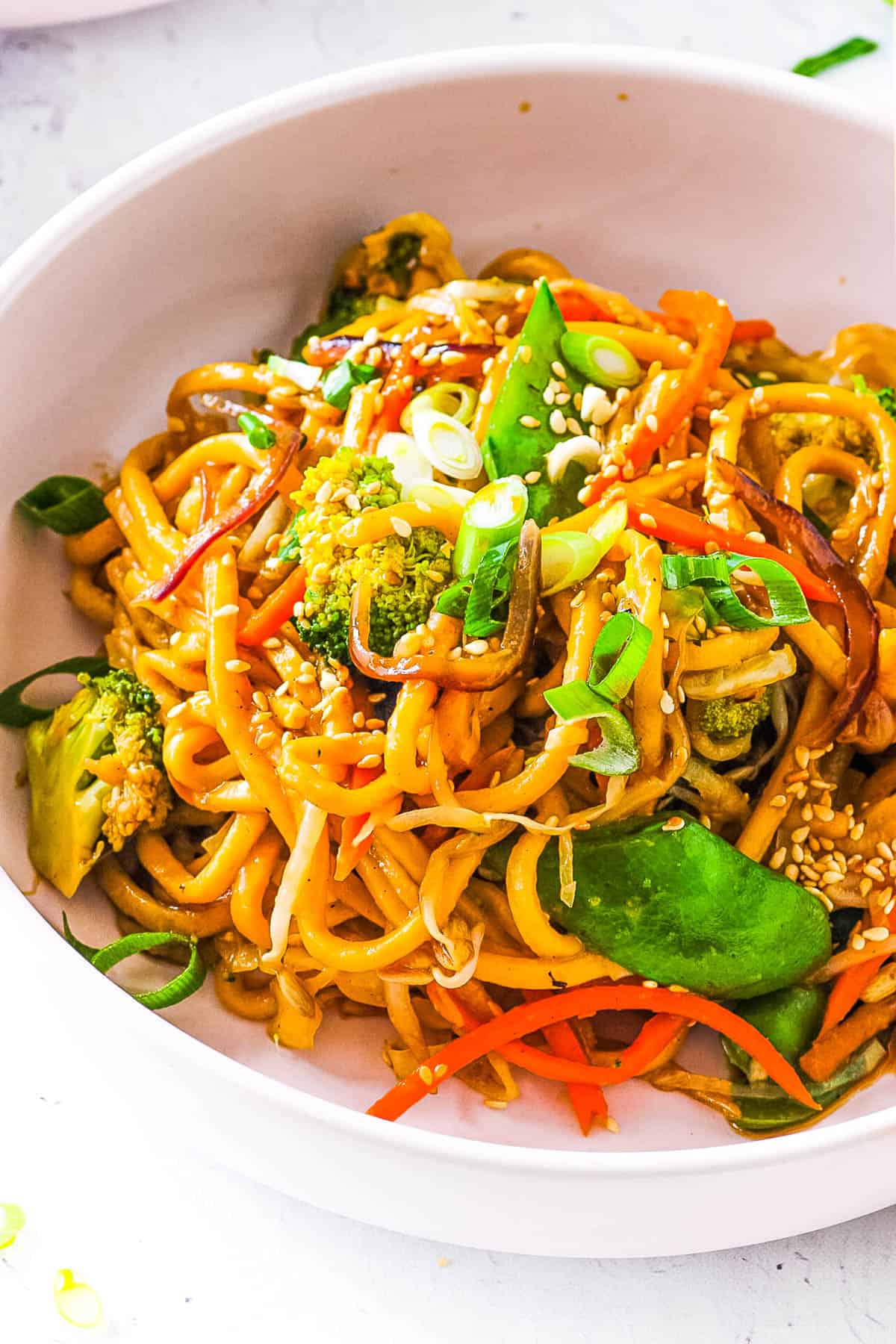 This wholesome, healthy chow mein will quickly become one of your new favorite recipes. The best part? It takes just 30 minutes to make!
This chow mein is a hearty and nourishing meal that is easy to customize to your liking. Add this to your regular rotation whether you're vegan or just looking for a plant-based meal.
Enjoy a guilt-free meal with lots of vegetables and perfectly cooked noodles tossed in a flavorful sauce! Add in shiitake mushrooms, fresh cilantro, sesame seeds, bok choy, and any extras you like. I know you'll love it just as much as I do!
Calories: 549 — Fiber: 13g — Protein: 24g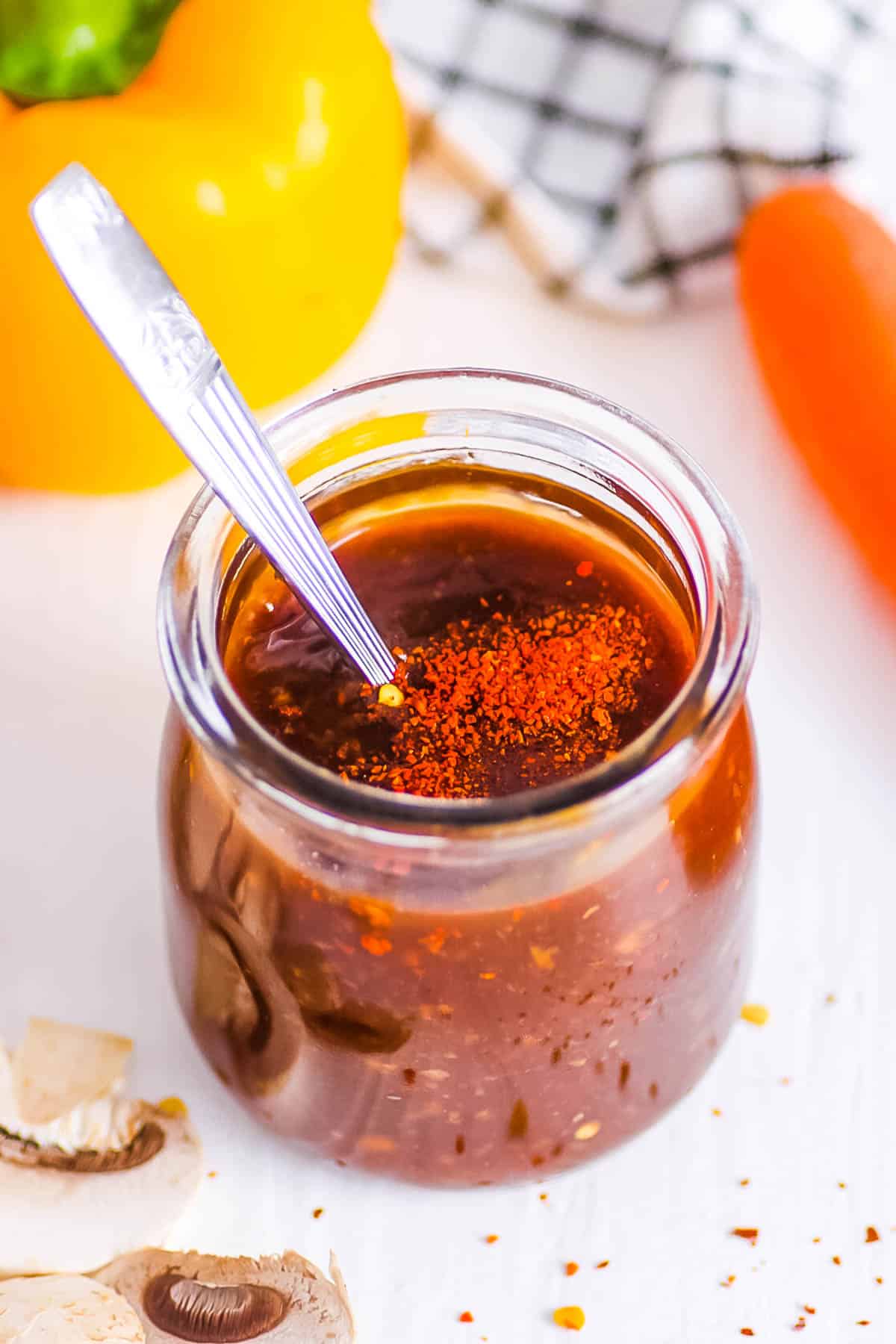 Made with simple yet vibrant ingredients like coconut aminos, garlic, and ginger, this versatile sauce effortlessly transforms ordinary dishes into extraordinary ones.
This sauce is great for anyone with dietary restrictions longing for authentic Asian flavor.
Using this fry sauce, you can effortlessly whip up a wholesome and flavorful dinner in under 15 minutes.
Calories: 34 — Fiber: 0.1g — Protein: 0.1g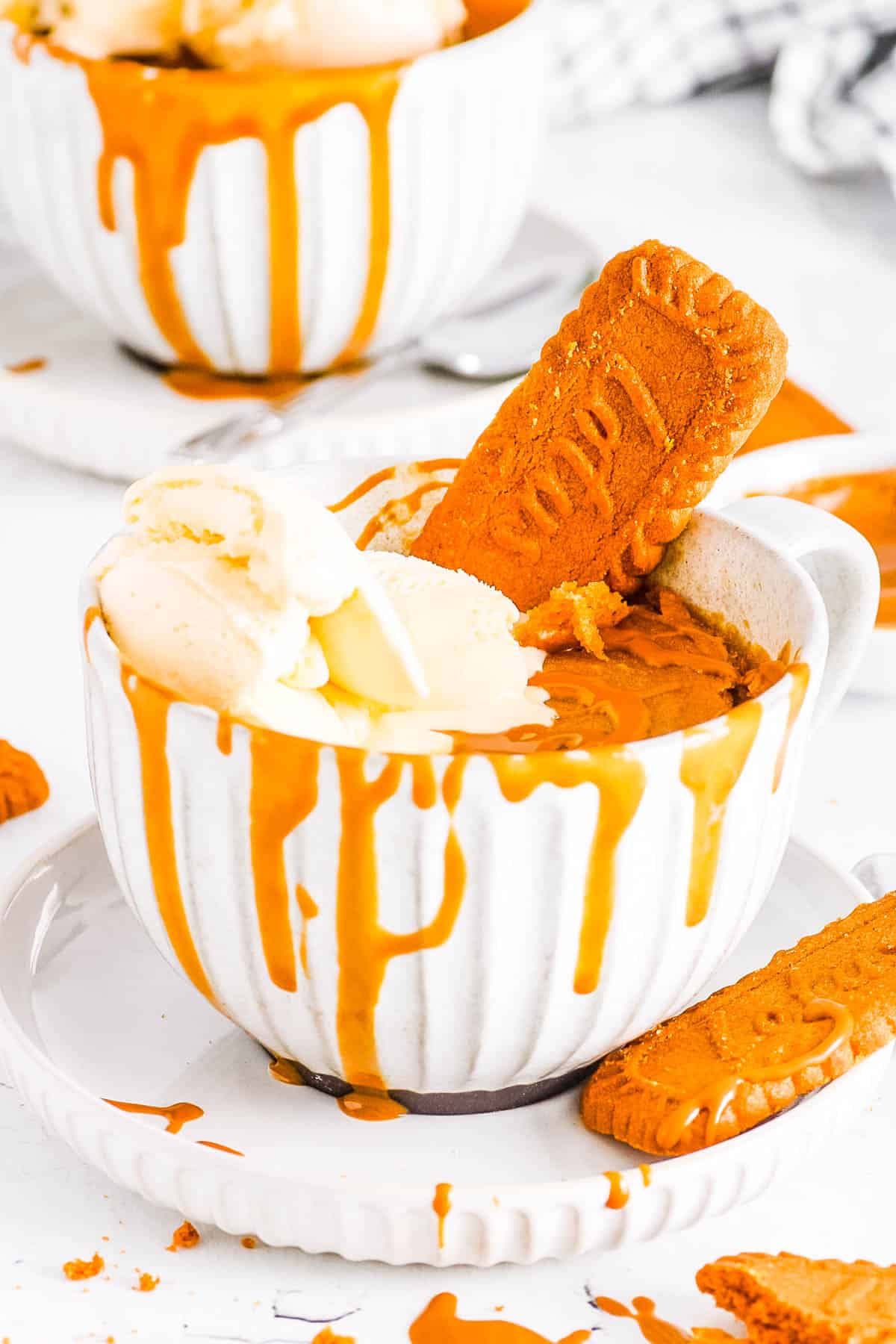 Satisfy your sweet tooth in just 6 minutes with this super easy Biscoff mug cake recipe! All you need is a handful of simple ingredients and a microwave to make this soft, fluffy mug cake for one.
Single-serving desserts like this homemade Biscoff mug cake are the absolute best when you're craving something sweet, but don't want a huge portion.
This mug cake is made in your microwave in less time than it would take you to make almost any other dessert. Its cookie butter flavor and tender cake will make it your new favorite quick dessert!
Calories: 299 — Fiber: 0.5g — Protein: 3g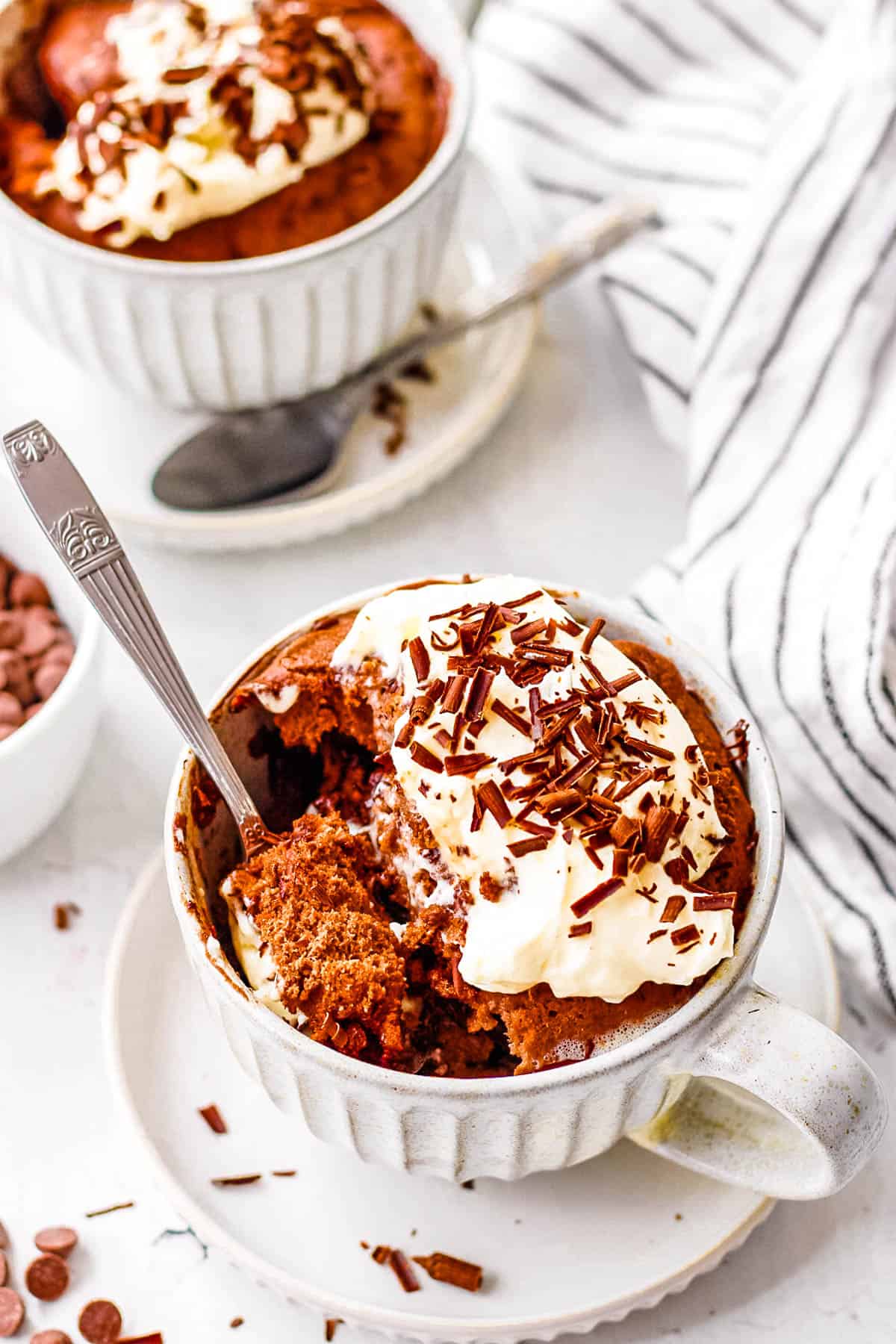 In just 6 minutes, you can enjoy a guilt-free, single-serve mug cake that combines convenience, taste, and nutrition seamlessly.
This mug cake's easy preparation and customizable options, including vegan and gluten-free adaptations, make it a versatile treat for various dietary needs.
With 19 grams of protein in each serving, it's an excellent choice for replenishing energy after workouts or satisfying sweet-tooth urges.
Calories: 378 — Fiber: 5g — Protein: 19g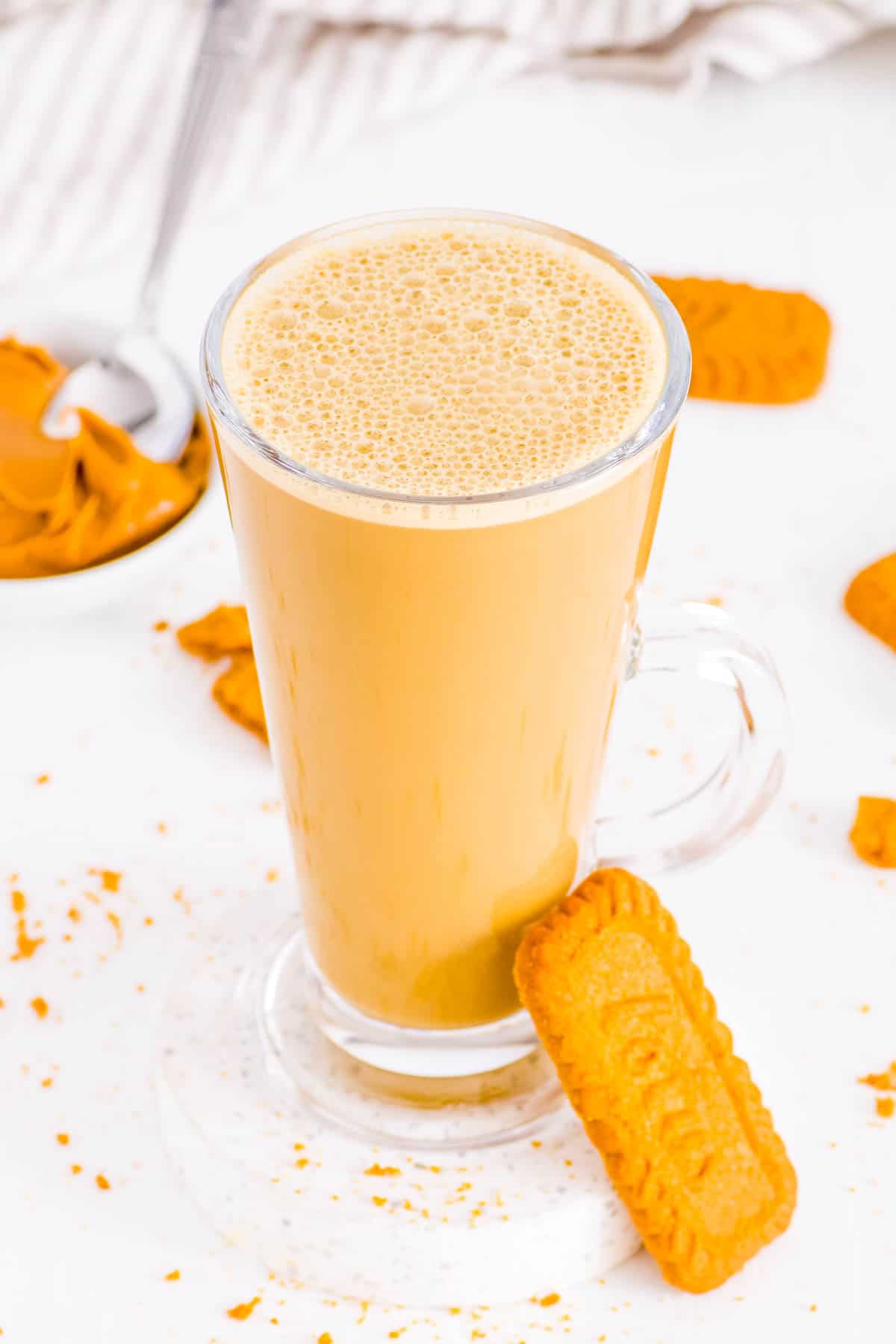 Caramelized cookie butter and your favorite warm milk combine in this Biscoff coffee recipe to create a cozy, indulgent drink. All you need is just 4 ingredients and 10 minutes to make it!
This Biscoff latte is a smooth, easy-to-make treat, perfect for coffee lovers!
If you love Biscoff cookie spread, this hot Biscoff latte will be your new favorite special coffee. This delicious coffee drink has the perfect balance of sweet and bitter notes, and makes the perfect drink to whip up anytime you need a morning (or afternoon) pick me up!
Calories: 115 — Fiber: 1g — Protein: 2g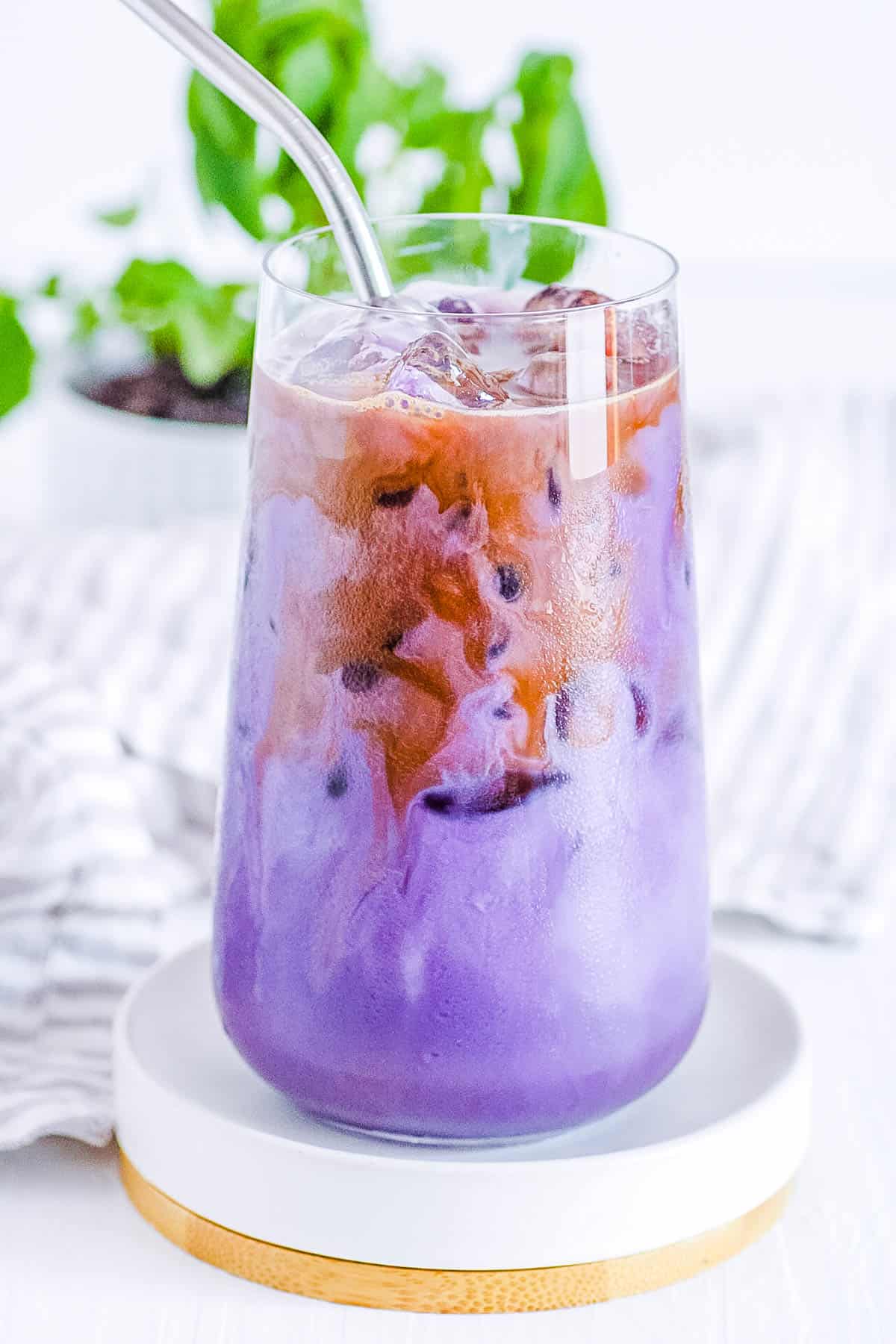 Making this homemade ube coffee recipe is as easy as 1-2-3, with only 5 minutes of total time needed to whip it up.
With a gorgeous lavender hue and sweet vanilla notes from the ube, these purple lattes are naturally rich in antioxidants while also being gluten-free, vegan, low in sugar, and dairy-free.
This creamy and colorful ube latte is sweet and refreshing! Skip the coffee shop, save money, and enjoy this simple iced latte at home!
Calories: 38 — Fiber: 1g — Protein: 1g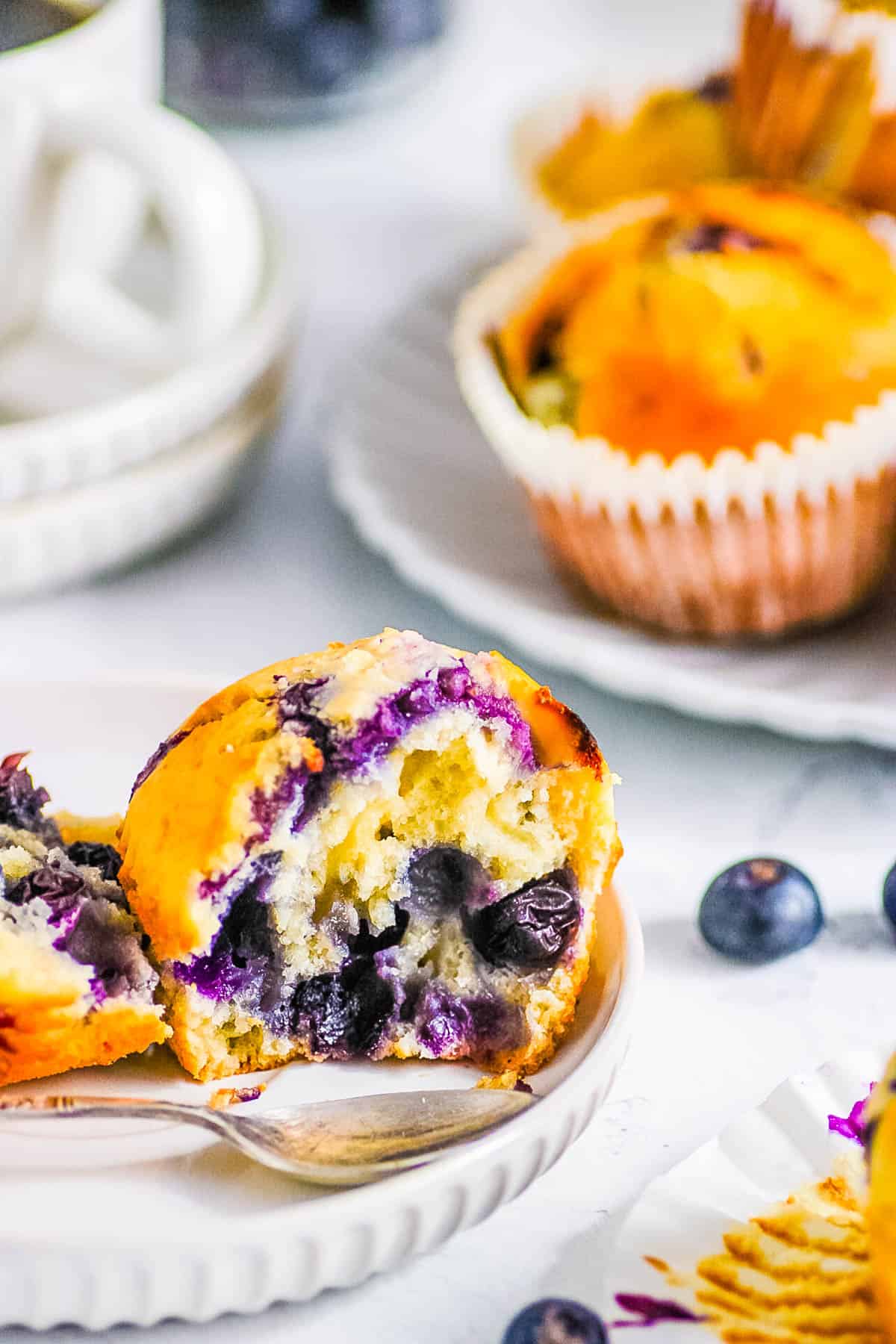 These dairy-free muffins require only eight ingredients and are ready in no time! Not to mention, they're totally bursting with flavor.
Even on busy mornings when you have limited time, you can whip up moist, fluffy muffins that redefine the breakfast classic.
These muffins are a guilt-free option, perfect for breakfast, snacking, and dessert! They have the most perfect texture without any dairy, and can be made vegan with flax eggs.
Calories: 201 — Fiber: 1g — Protein: 3g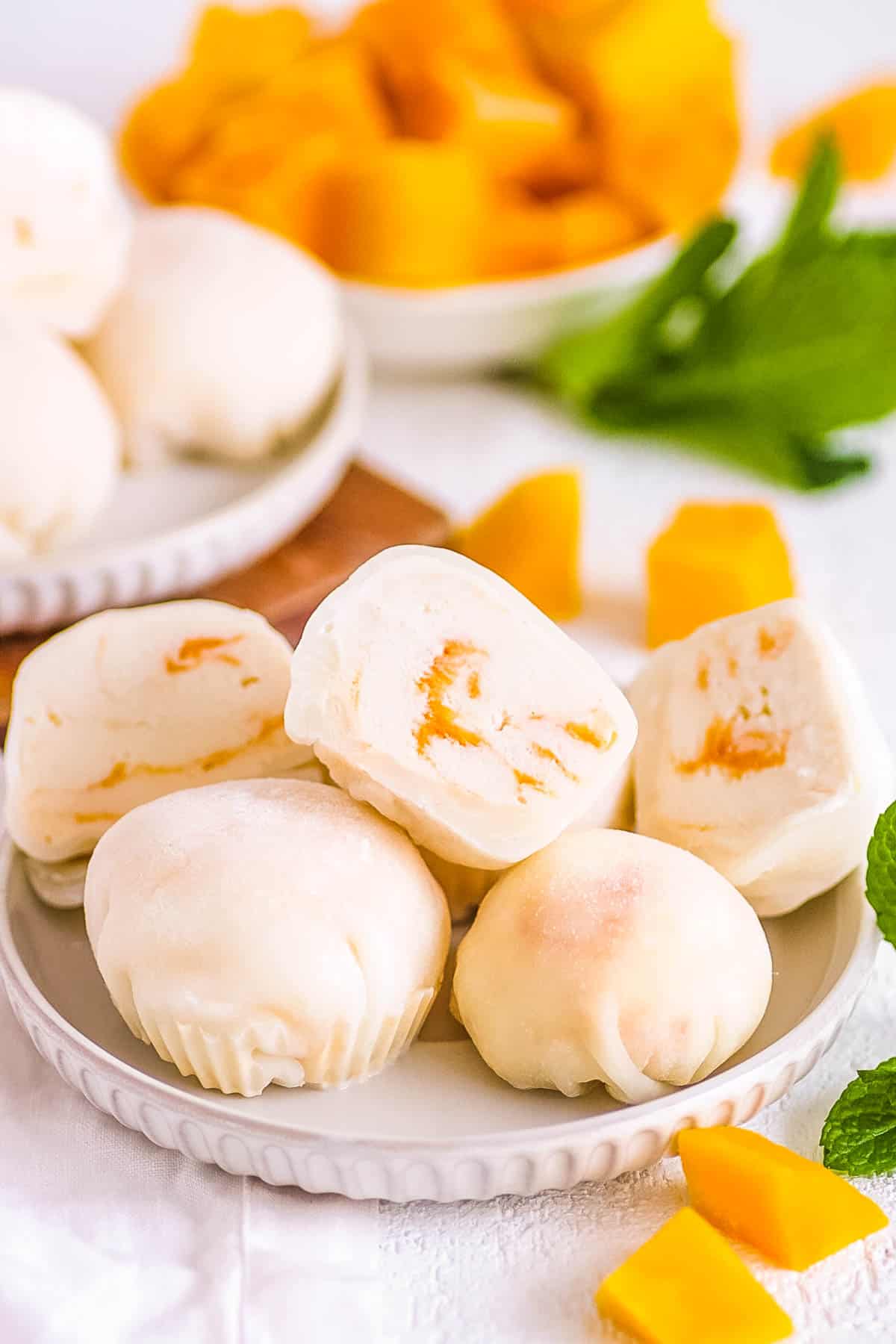 With only 6 ingredients and minimal steps, it is a no brainer as to why this mango mochi had to make our vegan food list for beginners. Plus, you don't need any special equipment, which makes this a super easy recipe to make at home.
These mochi bites are great for a snack or dessert, naturally gluten-free and totally kid-friendly.
This sweet delicacy with a soft, gooey, chewy texture is quickly going to become one of your favorite desserts to make and enjoy!
Calories: 275 — Fiber: 1g — Protein: 3g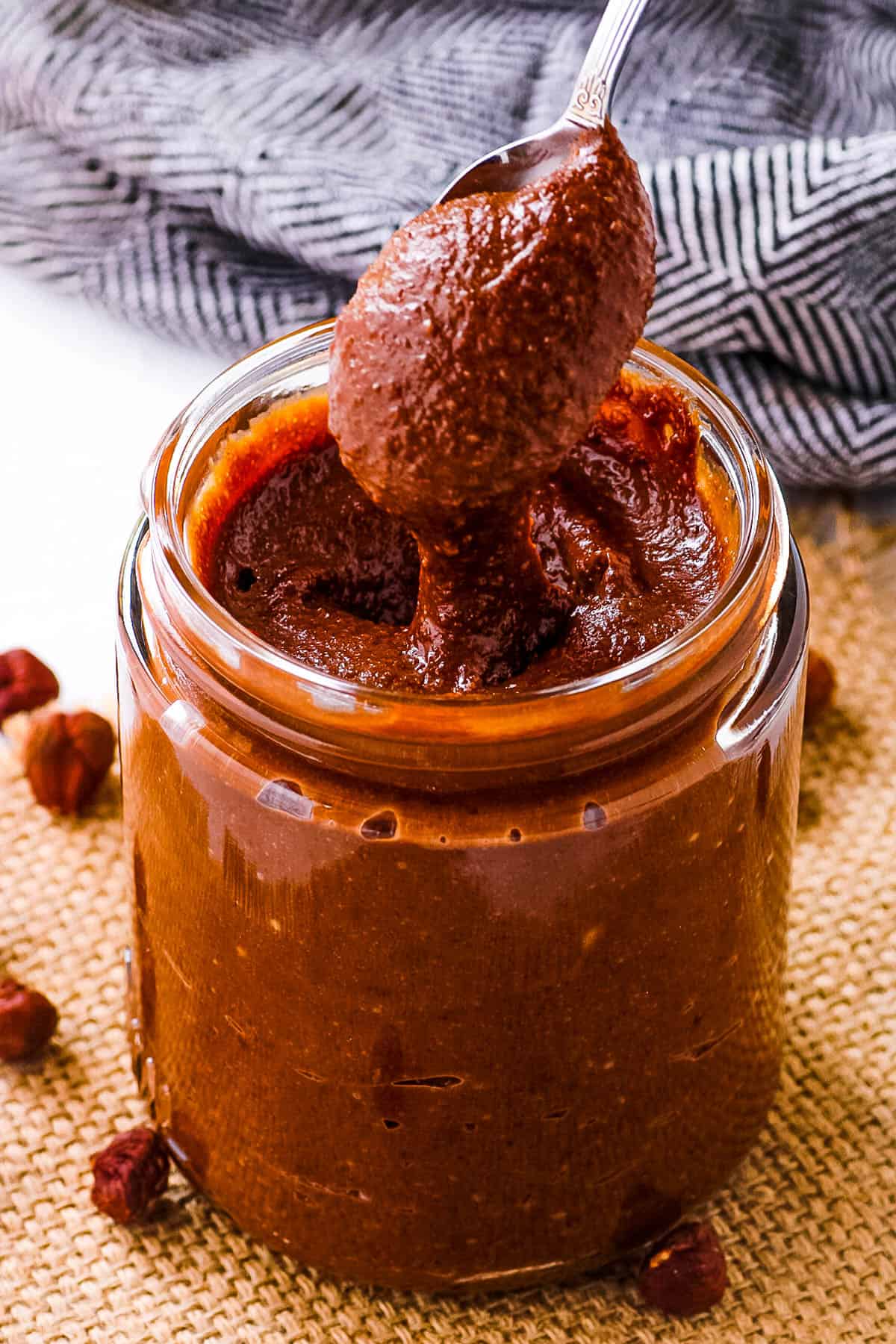 Indulge your sweet tooth, knowing this vegan nutella is naturally sweetened using maple syrup and wholesome ingredients. It's a versatile addition to breakfast or great as a snack.
With healthy, dairy-free ingredients, this low sugar recipe can be enjoyed by all. Both adults and children will love the rich chocolate taste and smooth texture.
Try this creamy spread on pancakes, toast, fruit, and more. Say goodbye to processed ingredients and excess sugar – this vegan Nutella is the perfect treat to enjoy with less guilt and more flavor!
Calories: 187 — Fiber: 3g — Protein: 4g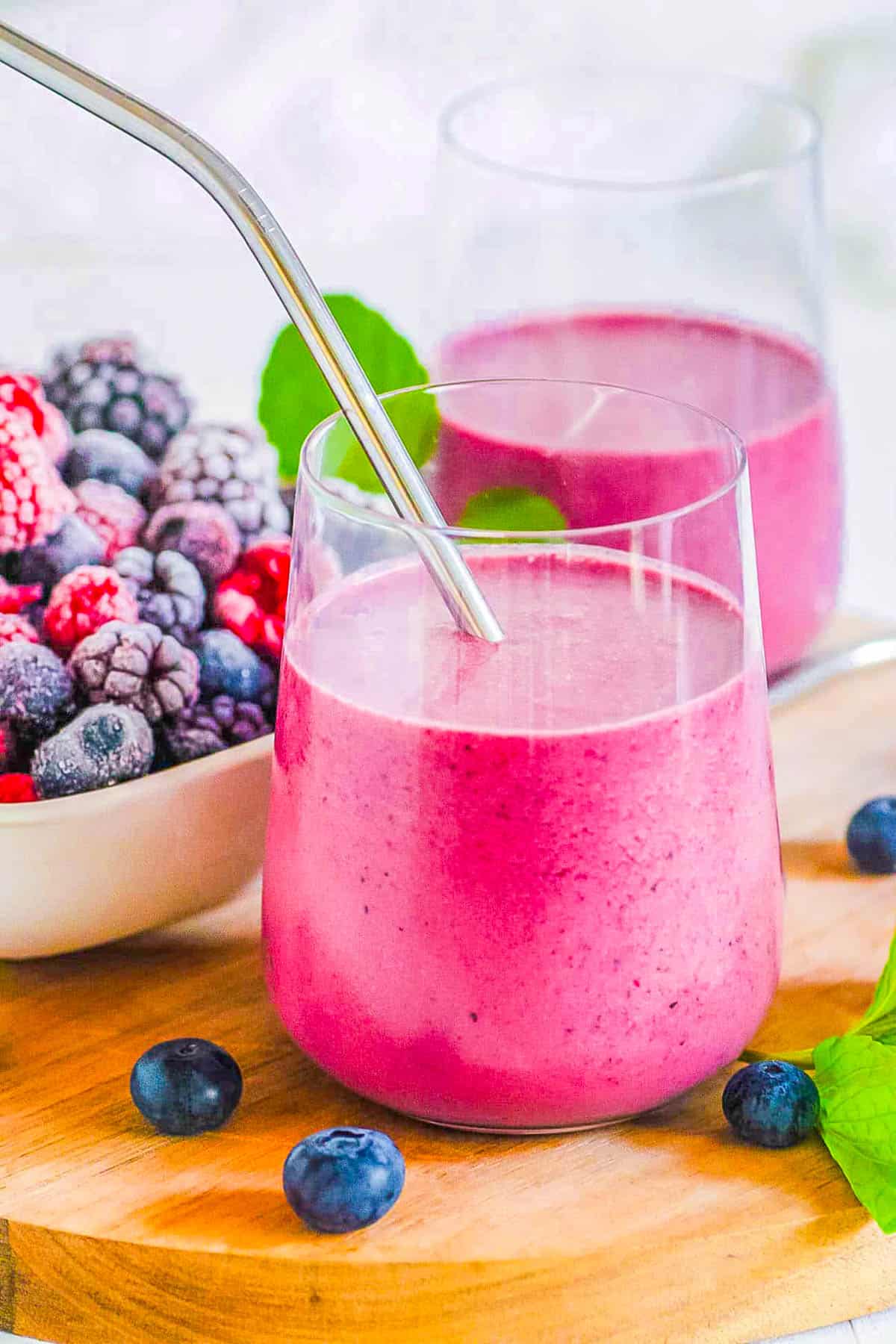 Naturally sweetened and full of antioxidants, this refreshing berry smoothie makes the perfect quick breakfast or afternoon snack. All you need is 2 ingredients and 5 minutes to spare.
This is a kid-friendly recipe, equally enticing for adults! Whether you have a busy schedule, want to add more berries into your diet, or simply do not enjoy cooking, this smoothie is right for you.
I love that smoothies made with fruit don't really need any additional sugar because fruit is already so naturally sweet!
Calories: 119 — Fiber: 5g — Protein: 4g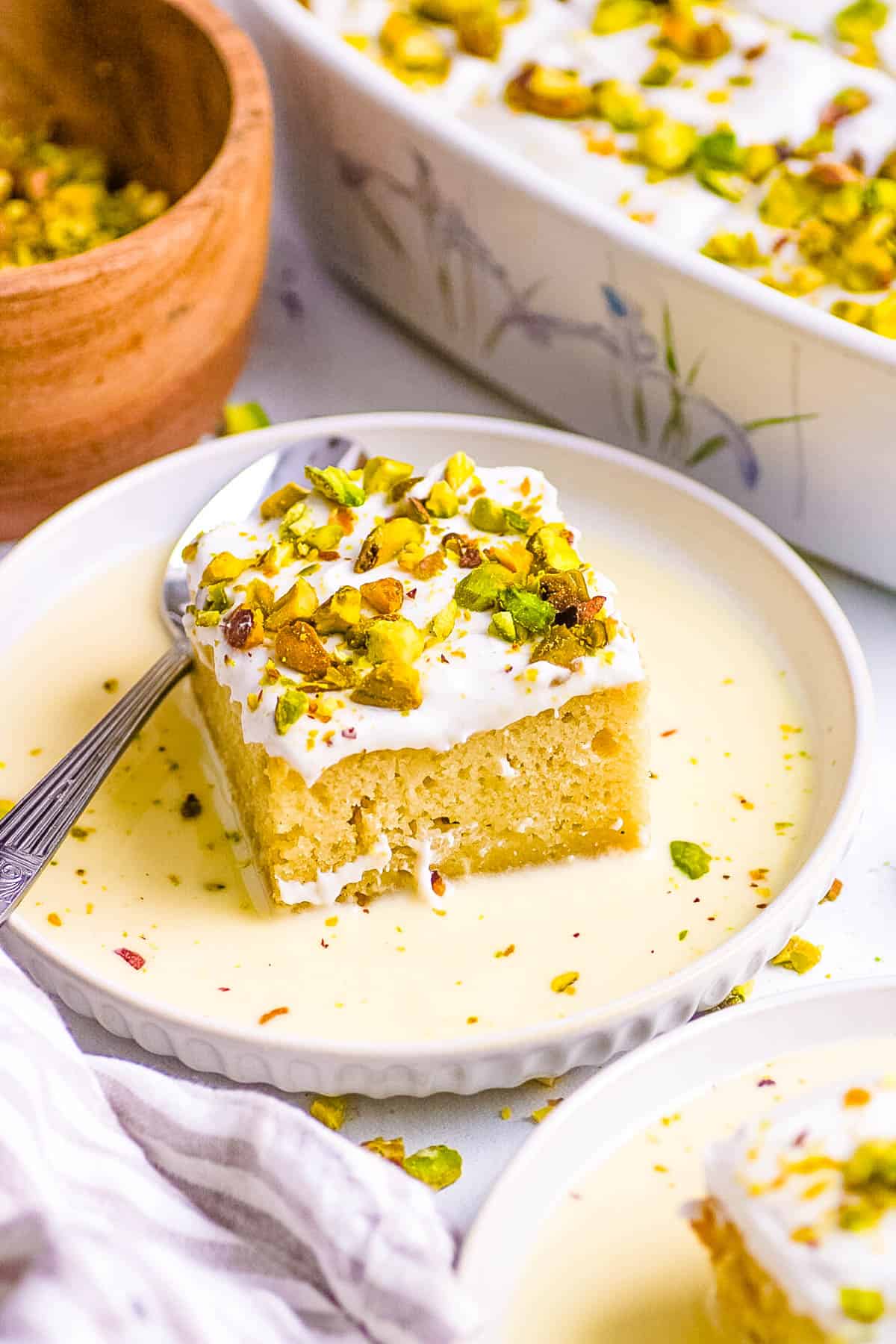 While there are a few more steps and ingredients for this 3 milk cake than other recipes on our vegan beginner recipes list, it still only requires 20 minutes of your time to prep!
This Indian cake recipe is a fun twist on traditional Mexican tres leches cake, and will totally satisfy your sweet tooth! It also happens to be naturally vegan and can easily be made gluten free.
With its light sponge consistency and the vegan whipped cream frosting, you'd never even realize this is a dairy free and eggless milk cake. It really is the best rasmalai fusion dessert ever!
Calories: 296 — Fiber: 2g — Protein: 4g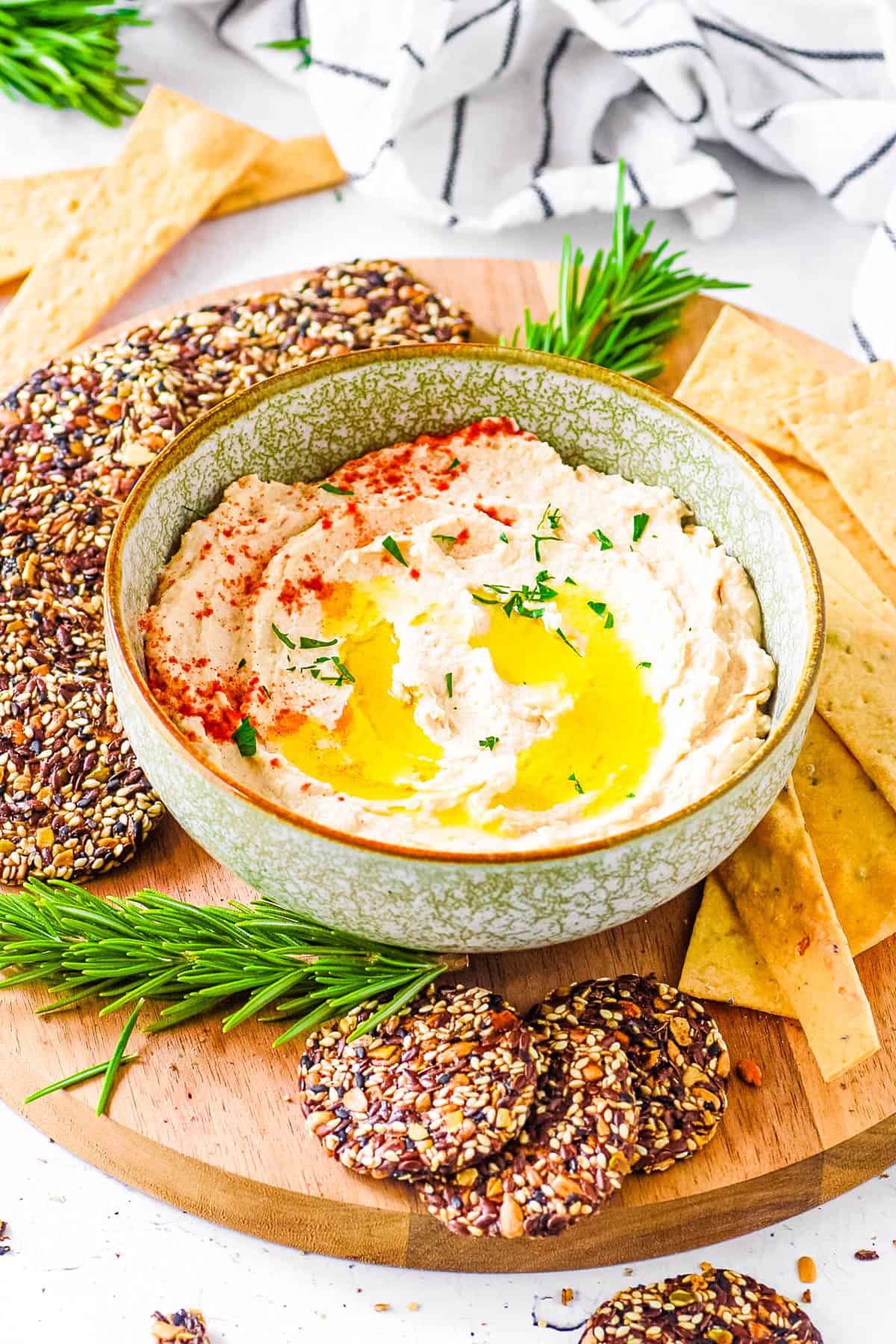 Gluten-free, protein-packed, and vegan—this is a quick recipe with a short ingredient list.
The butter beans blend into a satisfyingly smooth and nutritious hummus that's great for dipping fresh veggies as a side or part of any easy meals.
You will love this creamy hummus! It is so versatile that you can easily pair it with whatever veggies or crackers you have on hand.
Calories: 135 — Fiber: 4g — Protein: 5g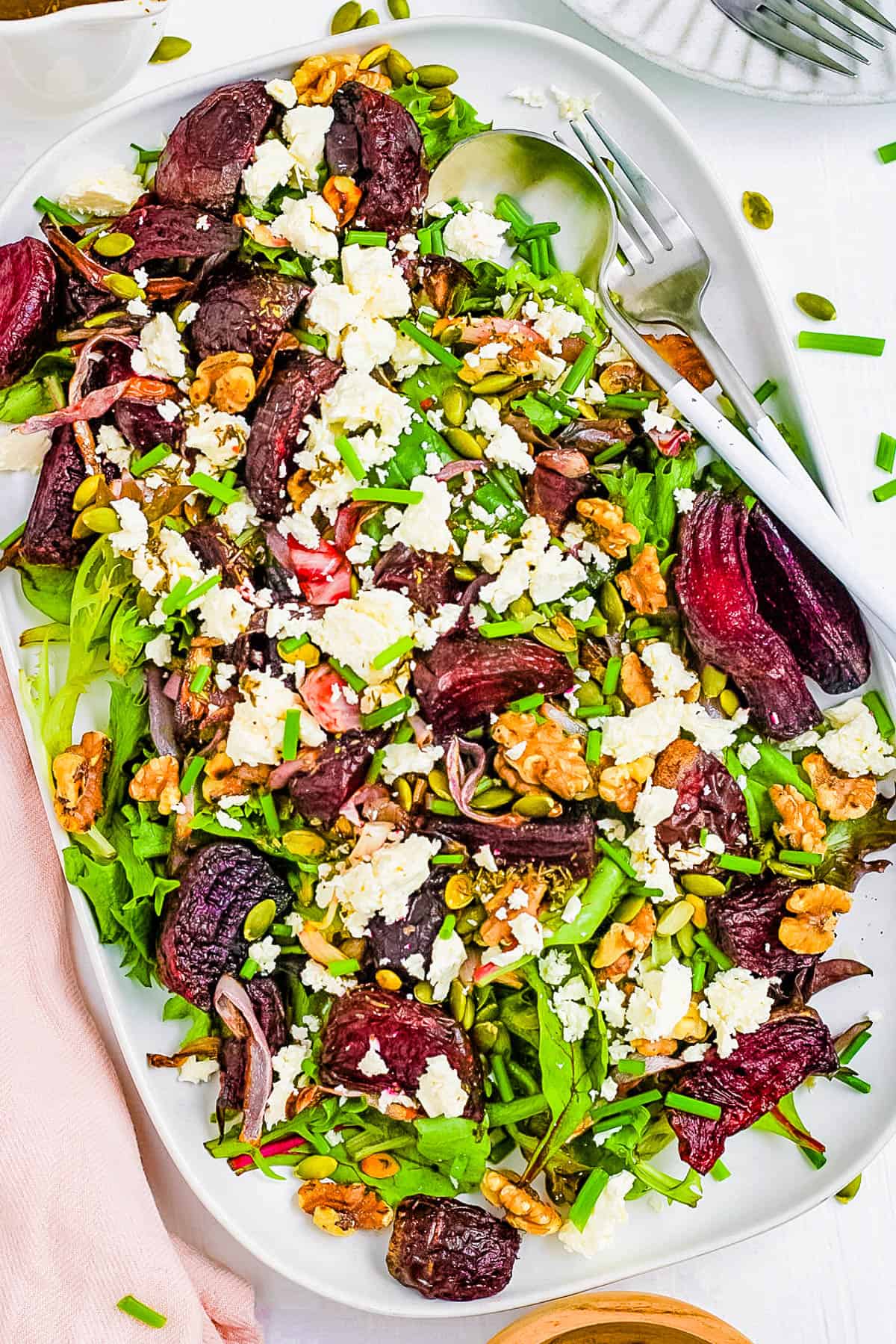 This beet salad with feta recipe requires simple ingredients and minimal steps, making it a winner amongst vegan starter meals.
When paired with the walnuts and feta cheese, this salad becomes the perfect side dish or light main dish for any occasion! Use vegan feta to keep it dairy-free.
Beetroot feta walnut salad is one of my favorite quick and easy vegan meals for beginners – it looks super fancy, has the perfect balance of flavors, and is actually really easy to make!
Calories: 281 — Fiber: 3g — Protein: 8g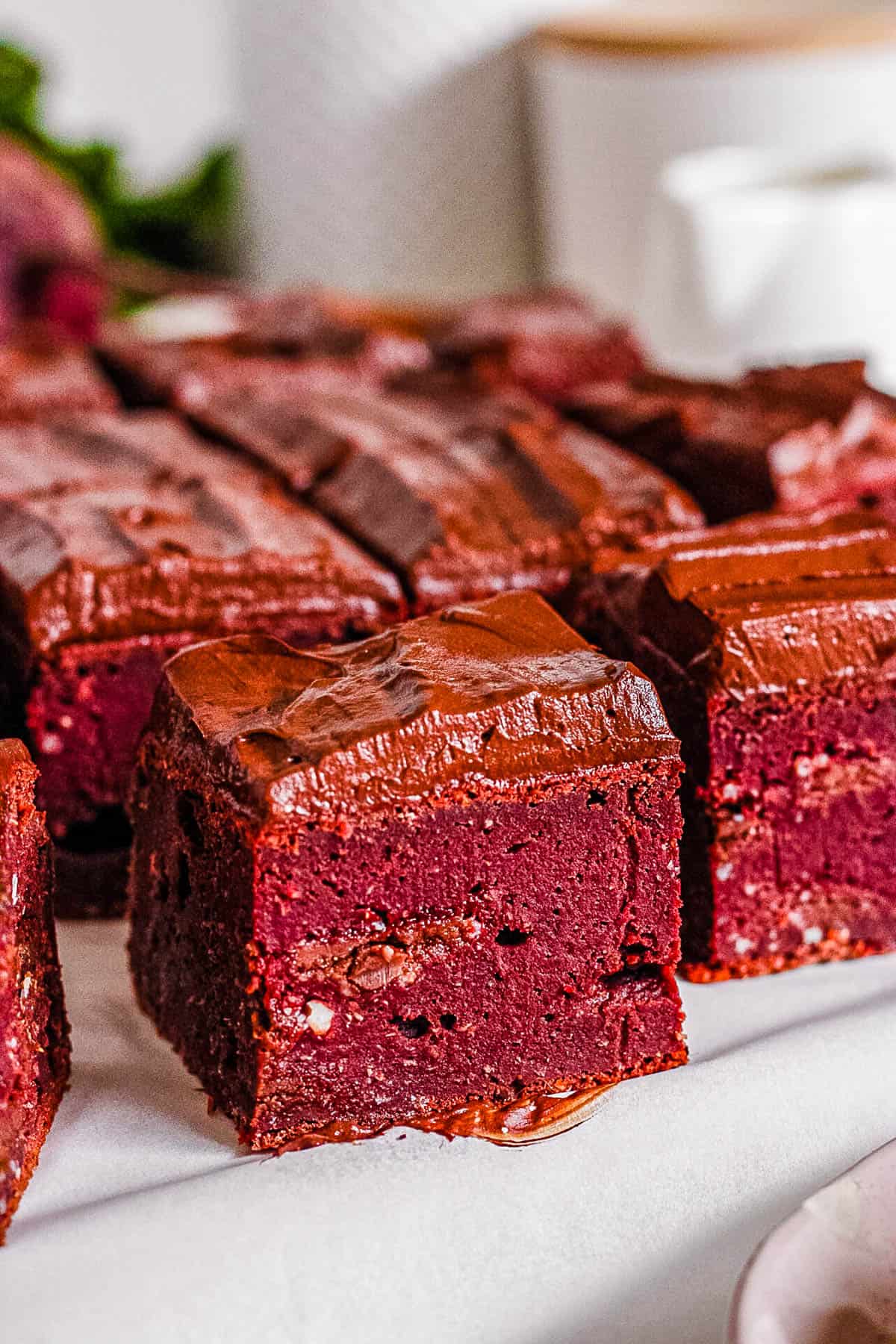 Within a mere 45 minutes, this chocolate beetroot brownies recipe comes together with simple, wholesome ingredients.
This recipe caters to those seeking healthier dessert alternatives without compromising on taste. It is kid-approved, but rich and indulgent for adults, too!
Even if you don't love beets, you will love this healthy brownie recipe. The beets add moisture and depth of flavor, without giving any actual beet flavor!
Calories: 284 — Fiber: 7g — Protein: 6g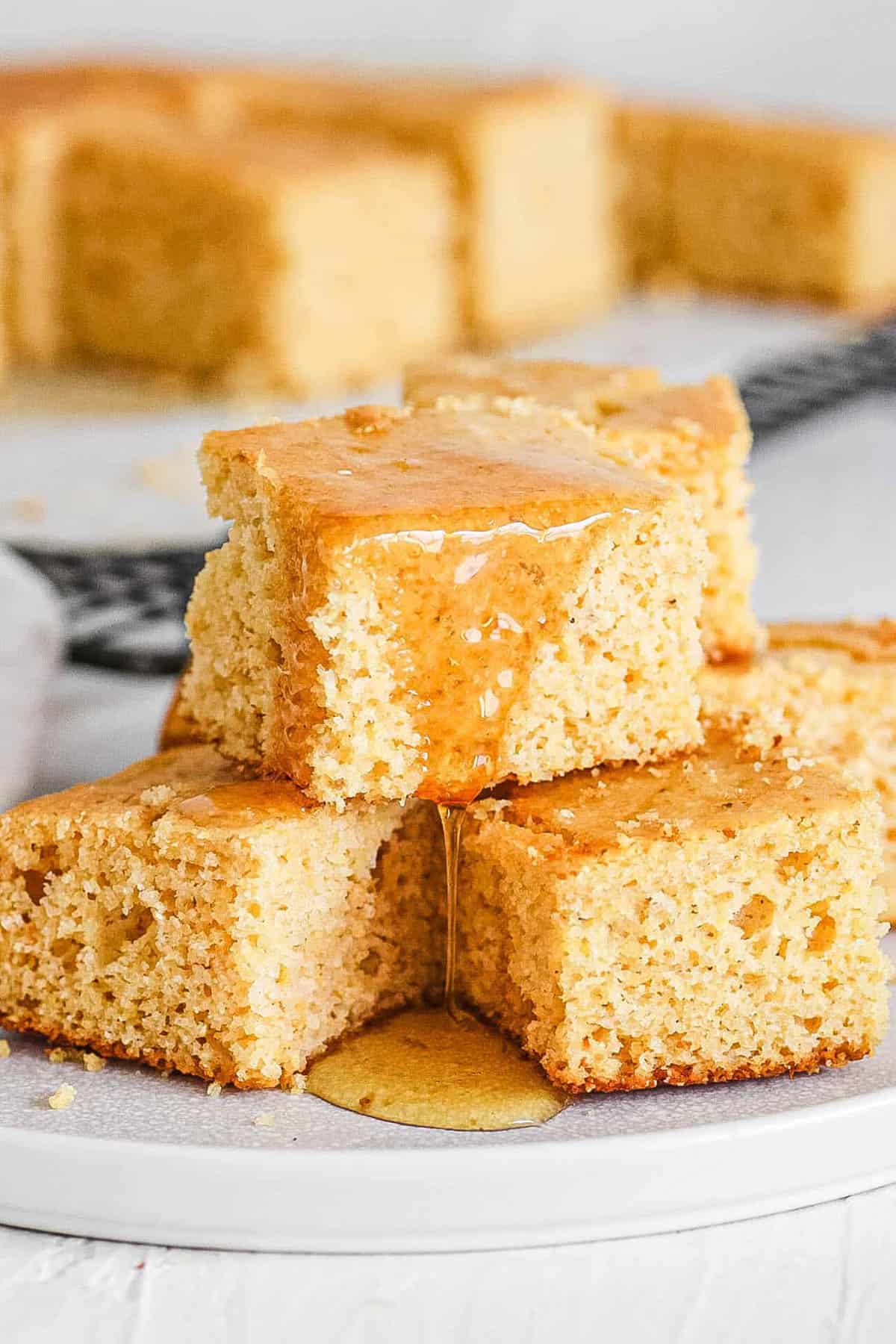 With only 10 minutes or prep time and 25 minutes total, this healthy cornbread will become one of your go-to easy vegan family recipes when you crave comfort.
This traditional cornbread is the perfect addition to any dinner and is a great side dish or snack for the whole family! For the vegan version, substitute the milk for non-dairy milk, substitute eggs with applesauce, add an additional teaspoon of baking powder, and use sugar instead of honey.
You're going to love this easy healthy cornbread recipe! Just like Jiffy, but way better, this southern cornbread recipe is delicious, has the best crumbly texture, and is subtly sweet.
Calories: 125 — Fiber: 2g — Protein: 3g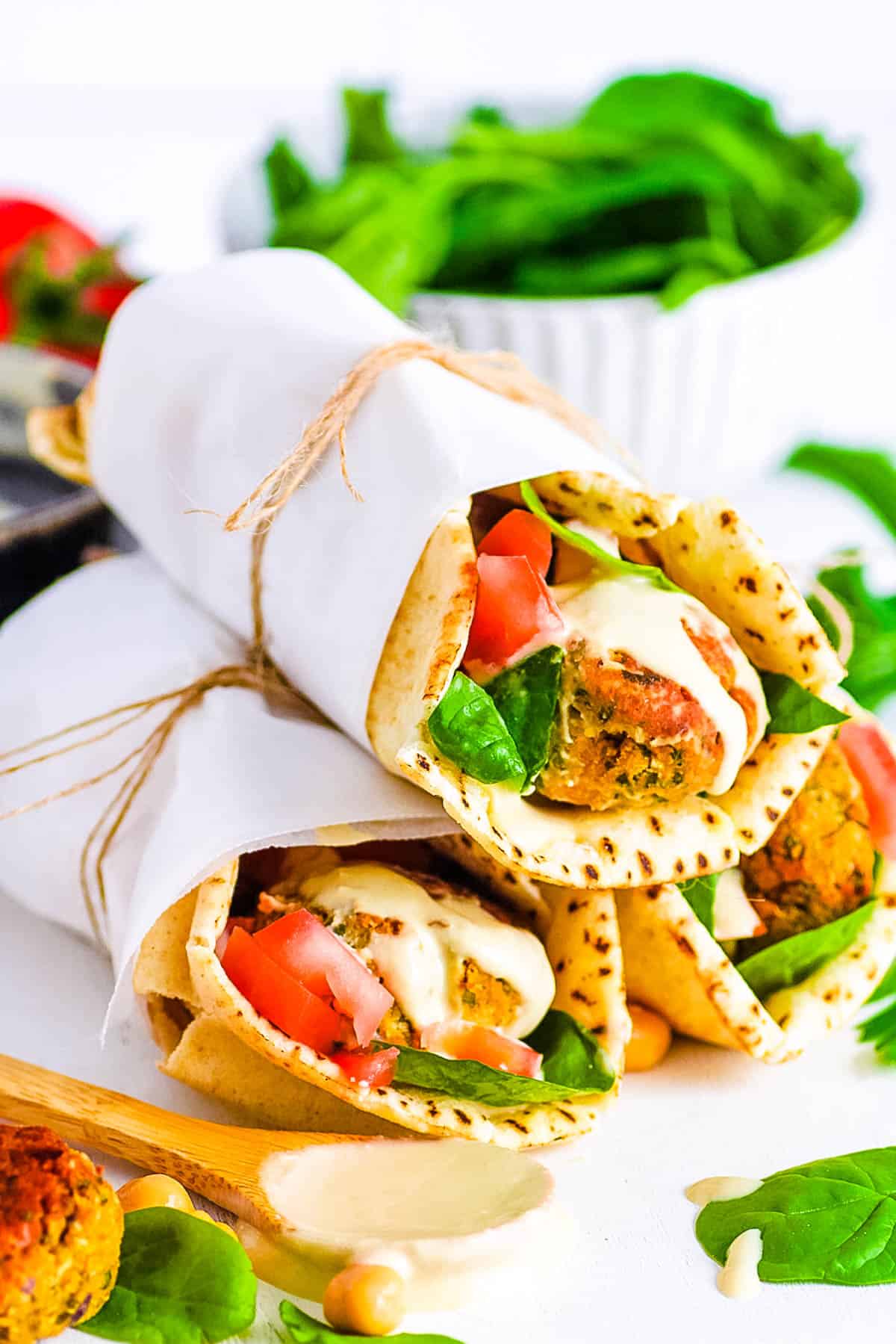 This falafel pita wrap is made in just a few simple steps. Falafel blends together quickly in a food processor and you'll love the fresh taste and customizable flavor of homemade falafel.
These are vegan, easy to make gluten-free, and totally family-friendly!
Packed with veggies and flavored, these baked falafels are an effortless option for lunch or dinner.
Calories: 285 — Fiber: 10g — Protein: 12g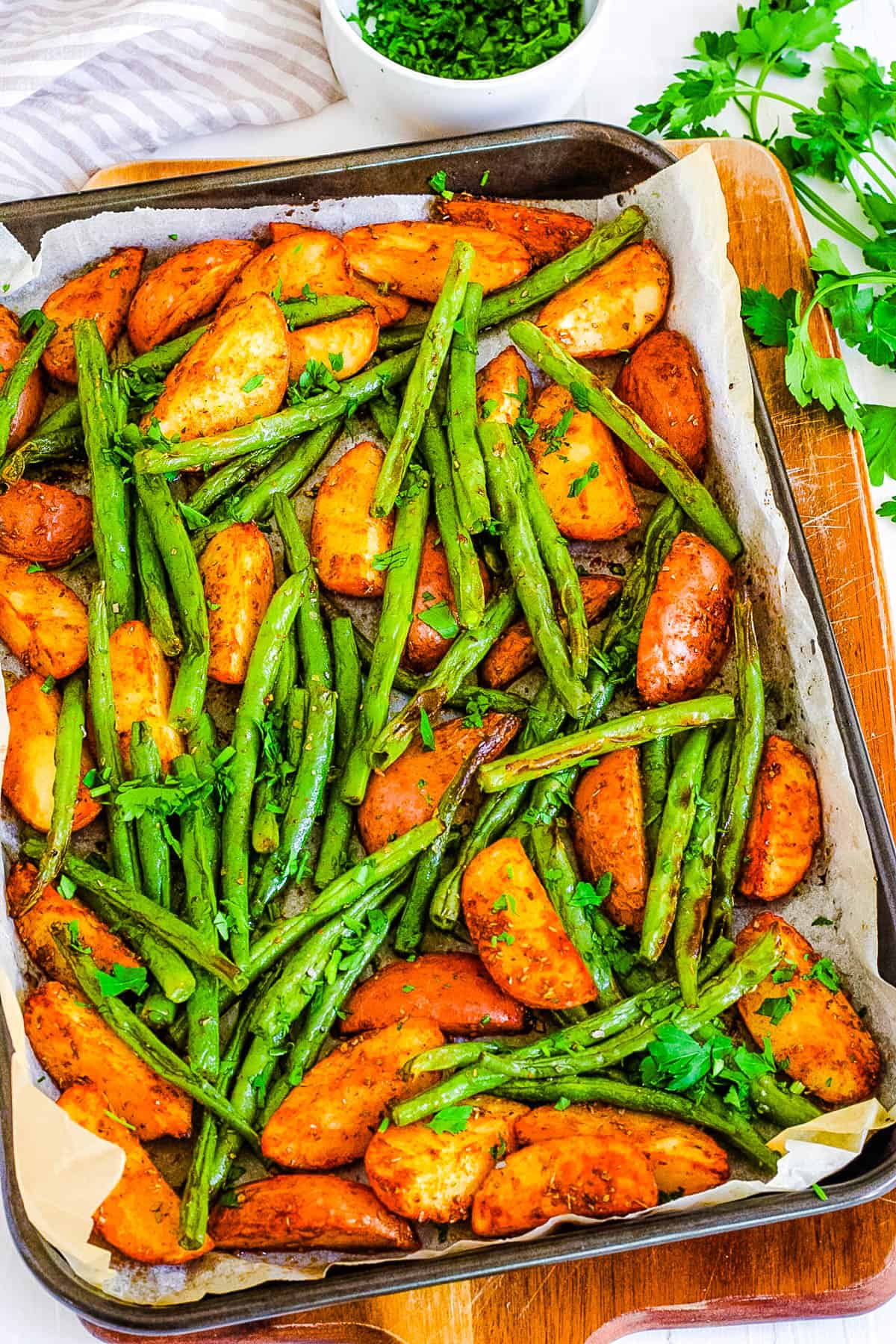 Ready in under 35 minutes, these roasted green beans and potatoes are the perfect addition to weeknight dinners. Your whole family will give this a five star rating when it hits the dinner table.
With just one sheet pan, you'll have a healthy, vegan and gluten free side to pair with almost any main dish.
This recipe is as versatile as it is nutritious. Serve it alongside a vegan main course, a gourmet sandwich, or even creamy soups.
Calories: 213 — Fiber: 6g — Protein: 6g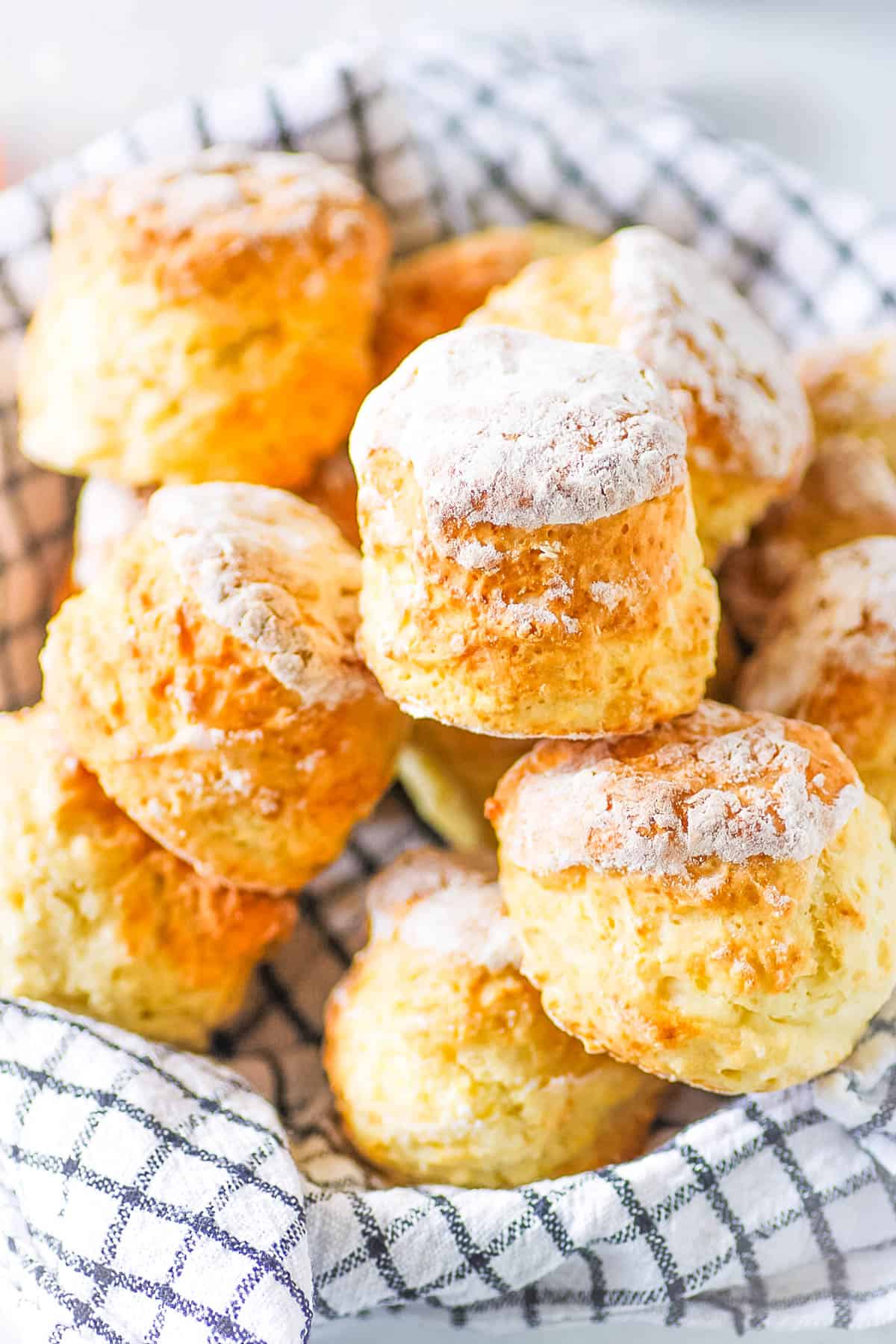 This recipe for low calorie biscuits is super simple to make, packed with wholesome ingredients, and ready in just 20 minutes!
Incredibly light and fluffy, these biscuits taste just like traditional biscuits but with a fraction of the fat. You can easily enjoy these and stay on a healthy diet.
Versatile and satisfying, these biscuits are your guilt-free go-to recipe for both sweet and savory pairings. Use vegan yogurt to keep things plant-based and dairy-free.
Calories: 141.2 — Fiber: 3.6g — Protein: 4g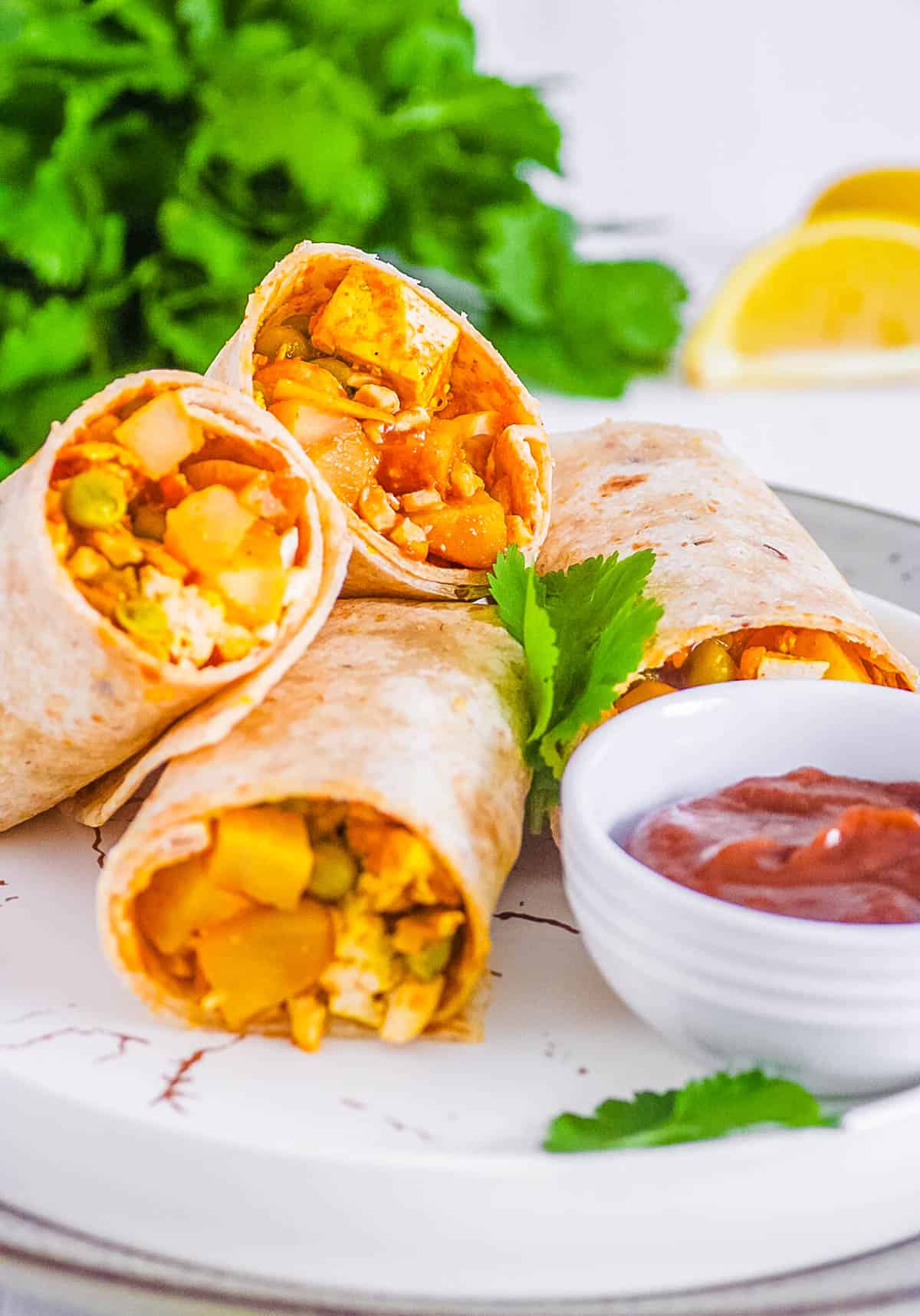 Vegan samosa wraps come together in under 45 minutes, with fresh ingredients and simple instructions. Even a beginner can master this easy recipe!
Enjoy the convenience of a meal prep-friendly, vegan, and vegetarian option, perfect for lunch, dinner, or any time cravings strike. It's time to indulge in the tastiest samosa-inspired treat you can truly feel good about!
Savor the taste of classic samosas in a healthier, flavorful vegan wrap, bursting with spices, and satisfy those cravings guilt-free! Wholesome whole grain tortillas are stuffed with spiced potatoes, tofu, sweet peas, and a kick of jalapeños.
Calories: 370 — Fiber: 9g — Protein: 16g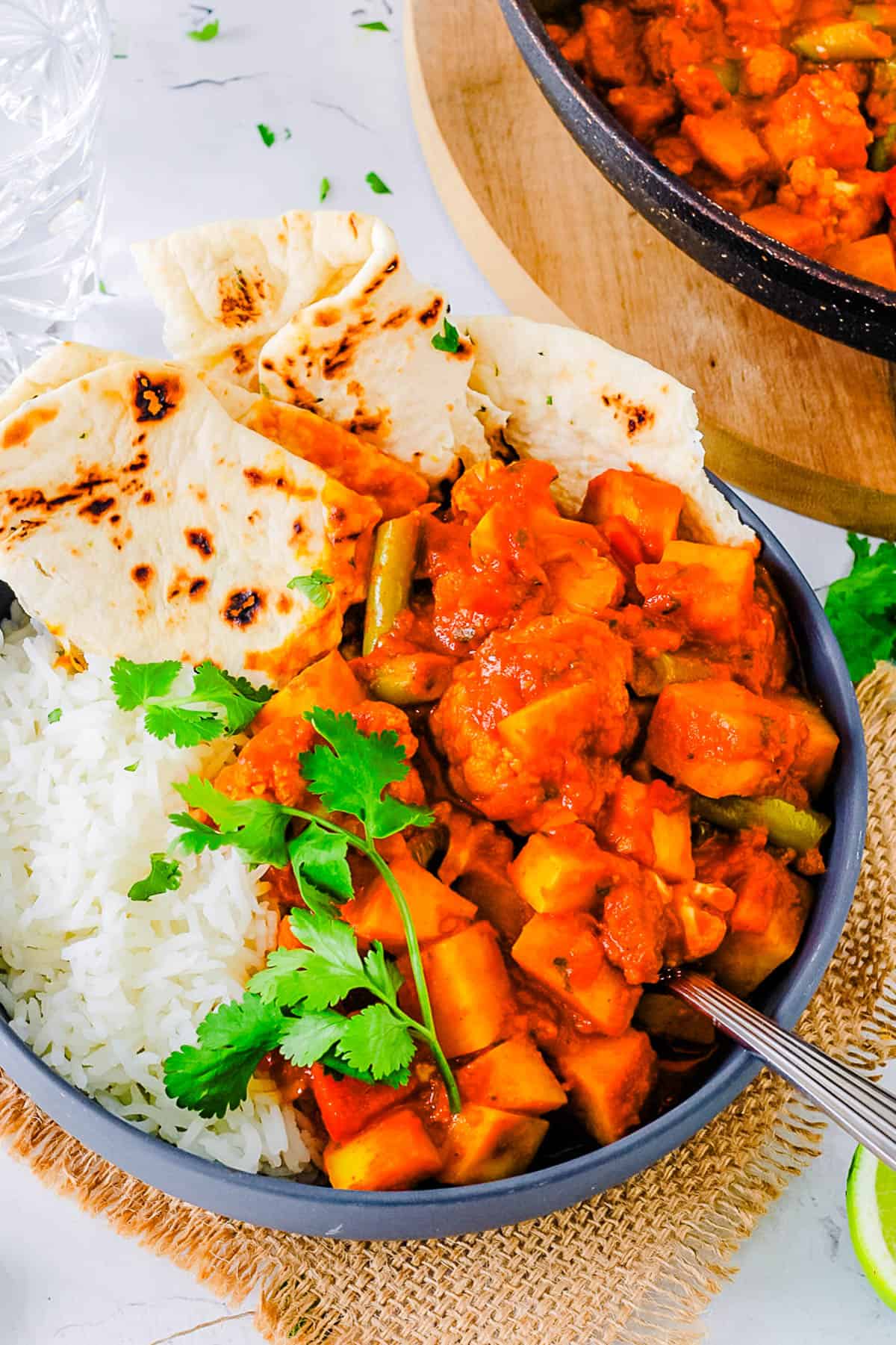 Spice up your dinner table with a delightful bowl of gluten-free vegetable vindaloo! With only 10 minutes of prep time and 40 minutes total, it will definitely become a regular on your list of plant based vegan recipes for beginners.
Perfect for vegetarians and veggie lovers, this vegan main dish recipe showcases the delightful flavors that vegetables can bring to a curry. Even meat eaters will love it!
Homemade vindaloo paste means you can customize this delicious meal that's a modern twist to traditional Indian cuisine. Enjoy it with a side of brown rice!
Calories: 186 — Fiber: 7g — Protein: 7g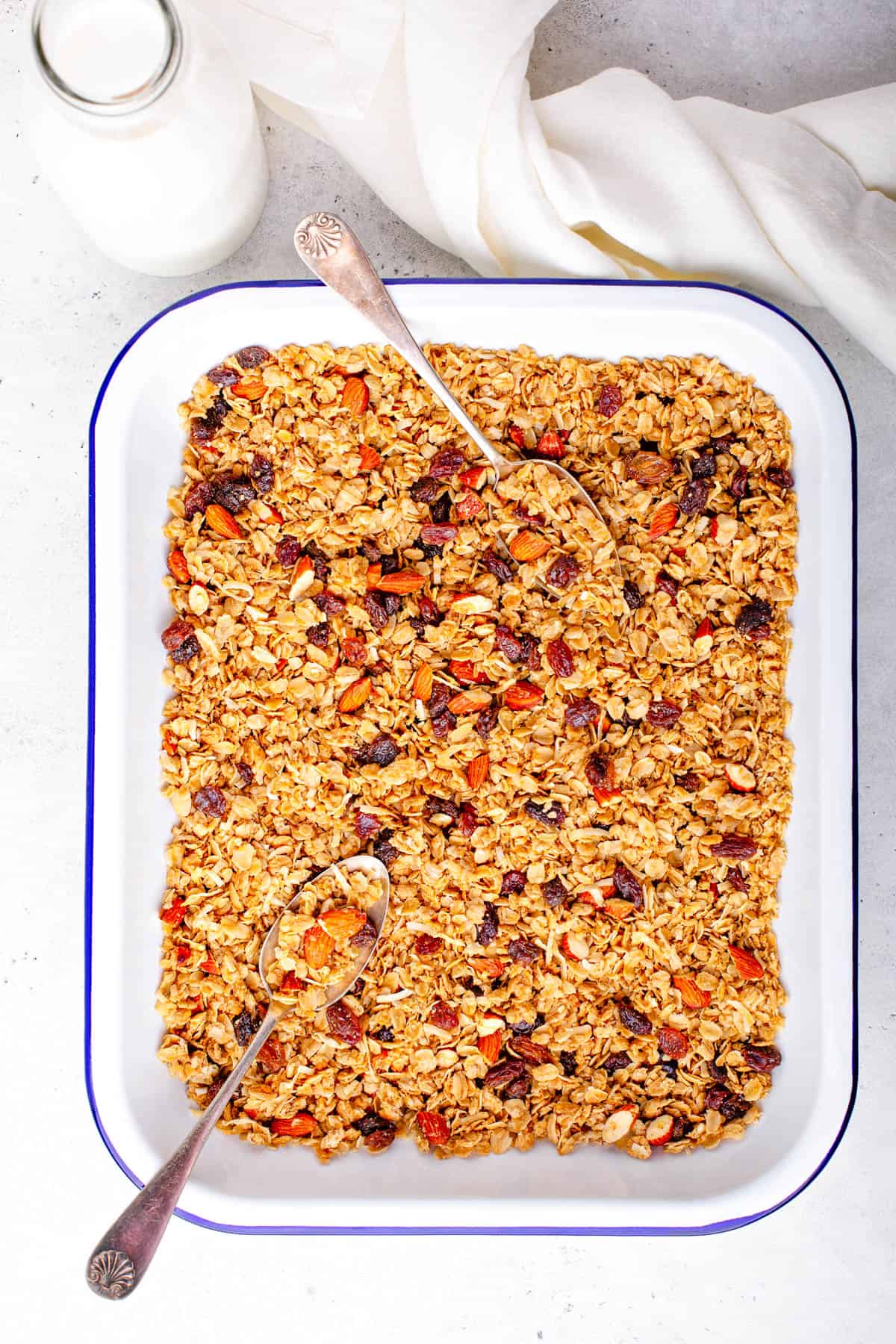 This low-calorie granola is easy to make and it keeps for several weeks, which means that you have a healthy breakfast ready to go on those busy mornings!
With the subtle sweetness of maple syrup (or monk fruit for an even lighter version), this vegan and gluten-free granola packs a satisfying crunch that pairs perfectly with yogurt, milk, or as a standalone snack.
Once you try this recipe you'll never go back to store bought again! It's also more budget friendly to make your own granola at home.
Calories: 104 — Fiber: 2g — Protein: 2g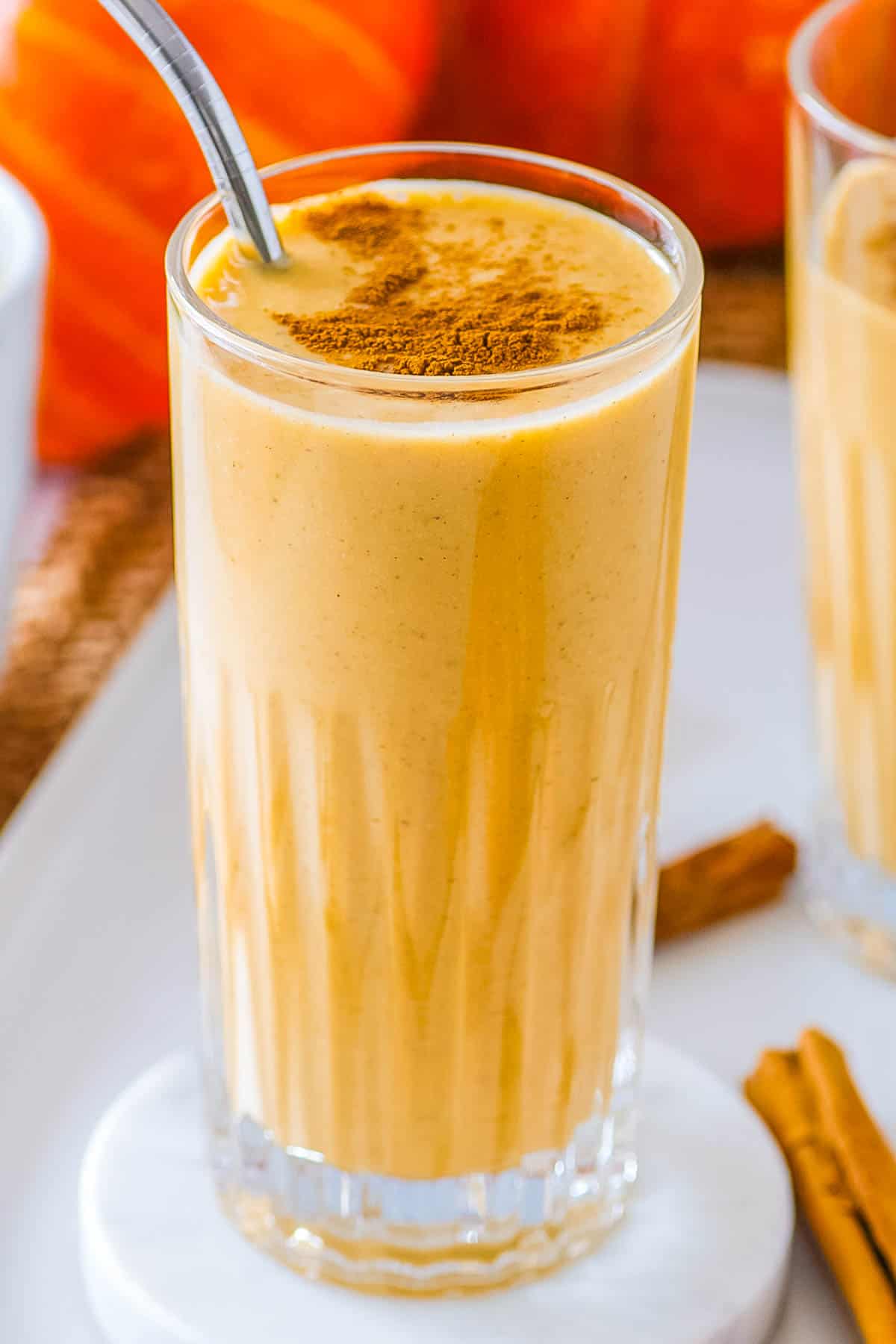 Indulge in the cozy flavors of fall with this creamy pumpkin smoothie that's both nutritious and incredibly satisfying – a guilt-free pumpkin pie delight! Quick to prepare, this velvety smoothie is rich in vitamins and fiber and flavorful.
It's a pumpkin pie reimagined as a wholesome drink that is gluten-free and ideal for on-the-go. The smoothie gets creamy from Greek yogurt, but feel free to use coconut yogurt or almond yogurt.
Enjoy it for breakfast or dessert, knowing that you'll get a dose of protein and fiber! Vegan breakfast ideas do not get much easier than this.
Calories: 172 — Fiber: 5g — Protein: 5g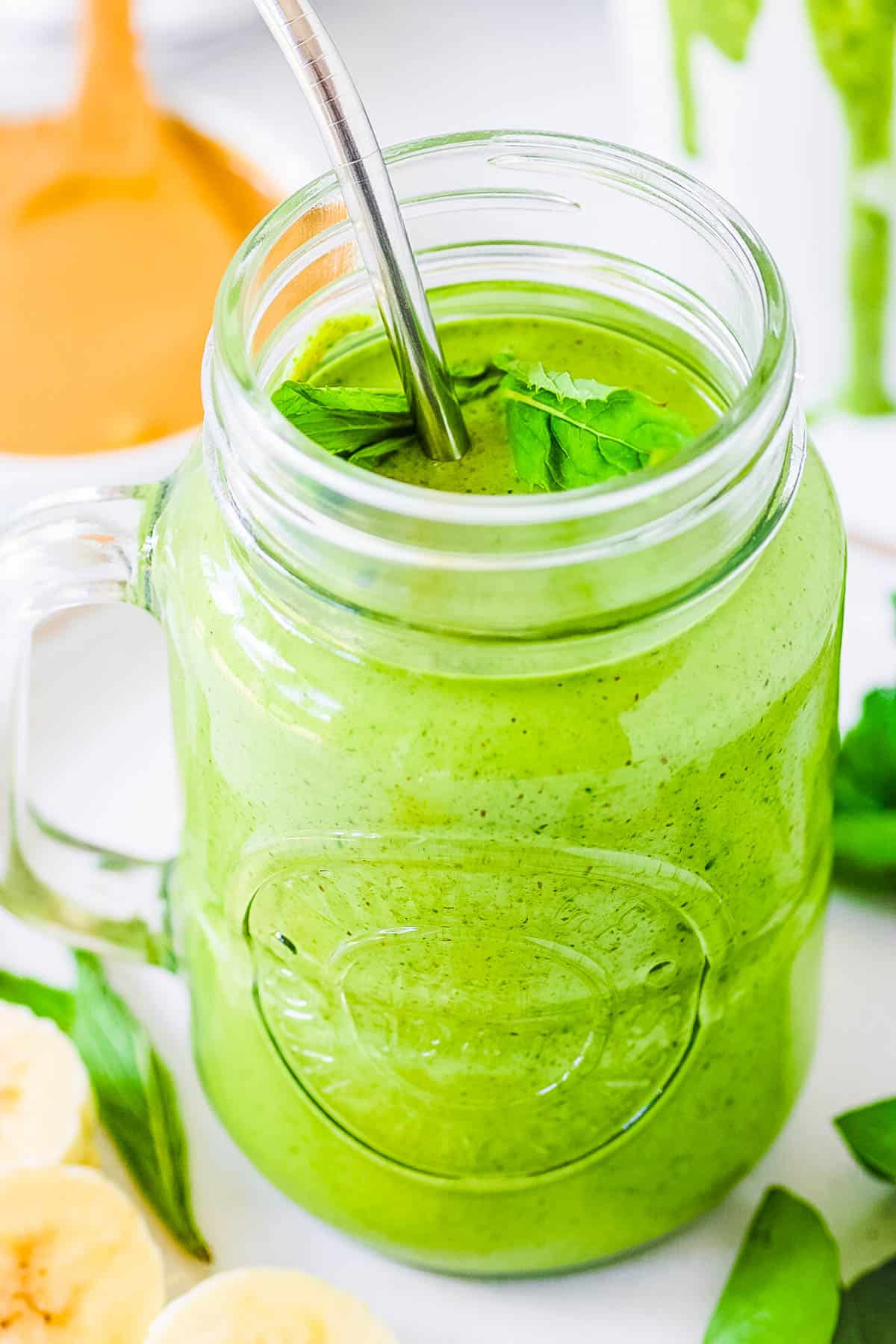 Naturally sweetened with ripe bananas, this effortless recipe is creamy and indulgent while being good for you. Your kids won't mind the addition of fresh spinach because of the smoothie's velvety texture and sweetness.
Family-friendly and ready in under 5 minutes, this is a healthy vegan recipe for a nutritious breakfast or a mid-morning snack. You can also customize the smoothie to your dietary preferences with a few ingredient swaps.
This versatile recipe provides 12g of protein, fiber, and other nutrients. So, you can indulge in its sweetness guilt-free. Grab it on the go, or enjoy it as a filling snack.
Calories: 211 — Fiber: 4g — Protein: 12g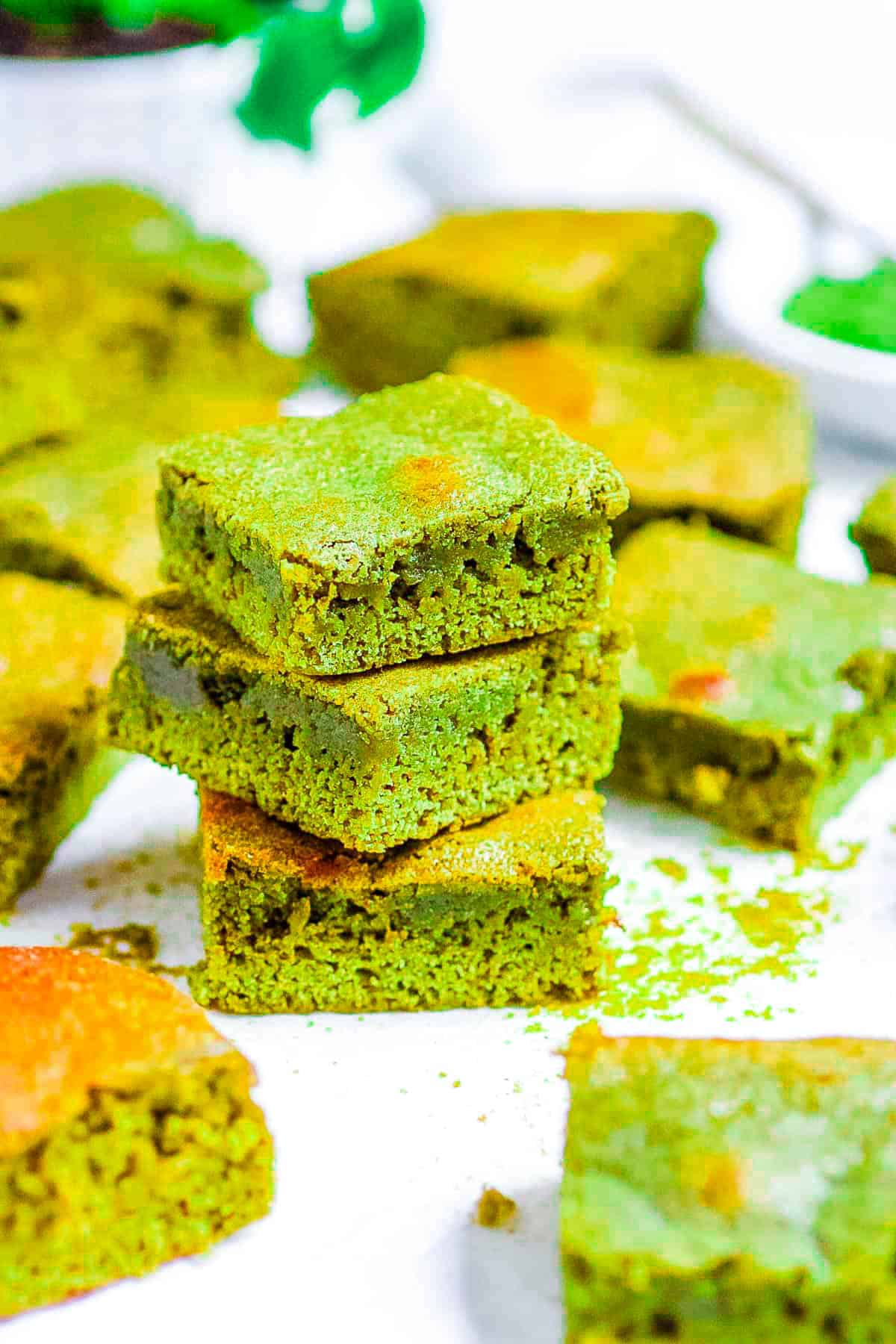 These fudgy green tea brownies disappear quickly and are a total crowd pleaser. You'll need clean ingredients and only 15 minutes of prep time making them one of the most perfect simple vegan recipes for beginners.
With moist and chewy middles, white chocolate matcha brownies are for matcha lovers everywhere! Includes a vegan & gluten-free option too!
Baking with matcha is one of my favorite ways to use it. It imparts a vibrant green hue and plenty of feel-good, healthy antioxidants!
Calories: 224 — Fiber: 0.2g — Protein: 5g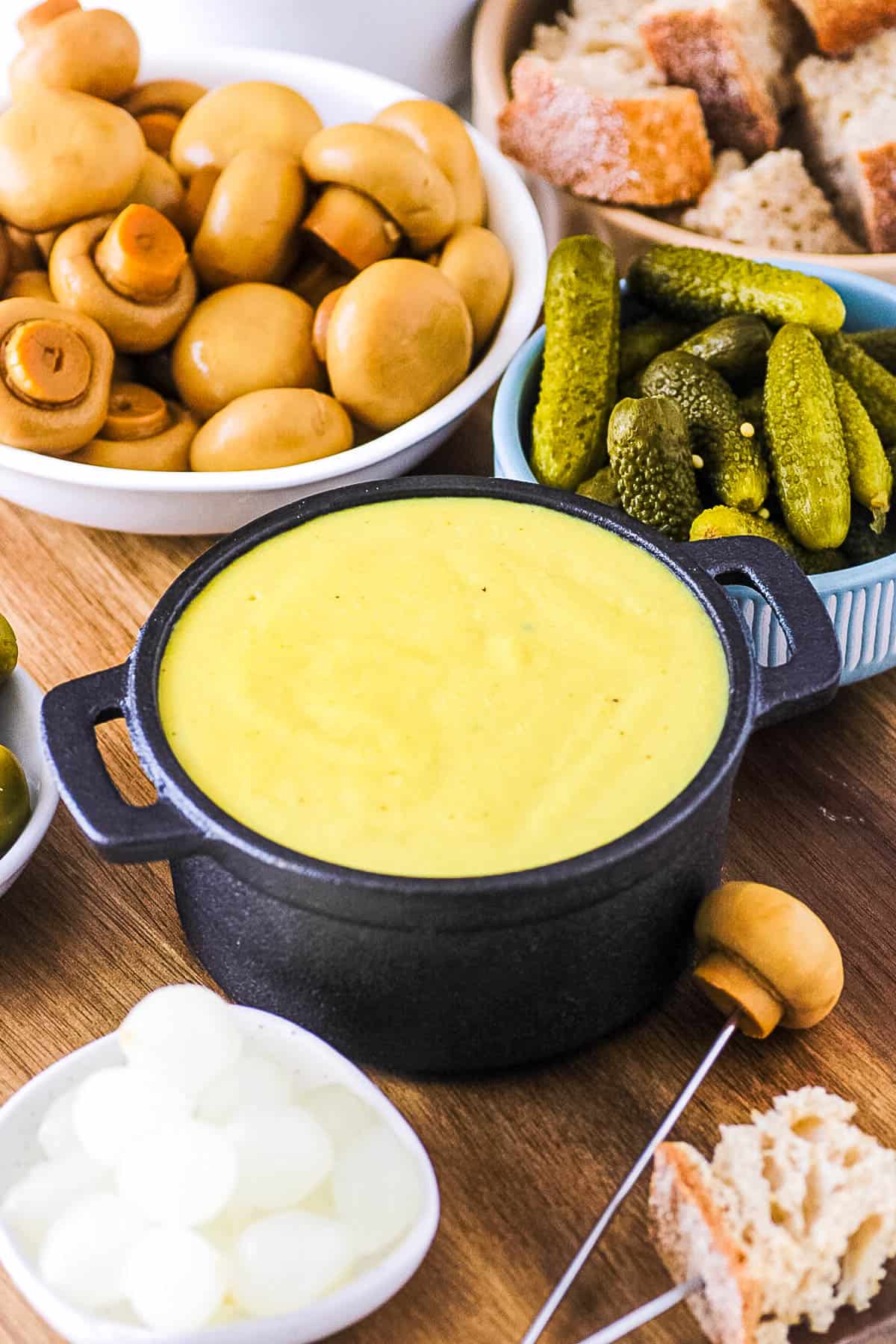 This healthy vegan fondue recipe is a wholesome crowd-pleaser all year round! With only 30 minutes of prep time, you'll have a versatile fondue that's both nutritious and rich in flavor.
Perfect for cozy winter nights or any elegant occasion, this lusciously creamy fondue is a great recipe to have on hand. Both vegan and gluten-free, this is a healthy alternative to the traditional dairy-based fondue.
From casual date nights to festive gatherings, this fondue fits the bill, inviting you to dip and savor in style. Plus, it's a fantastic way to incorporate more veggies into your diet, with endless possibilities for dipping.
Calories: 239 — Fiber: 3g — Protein: 7g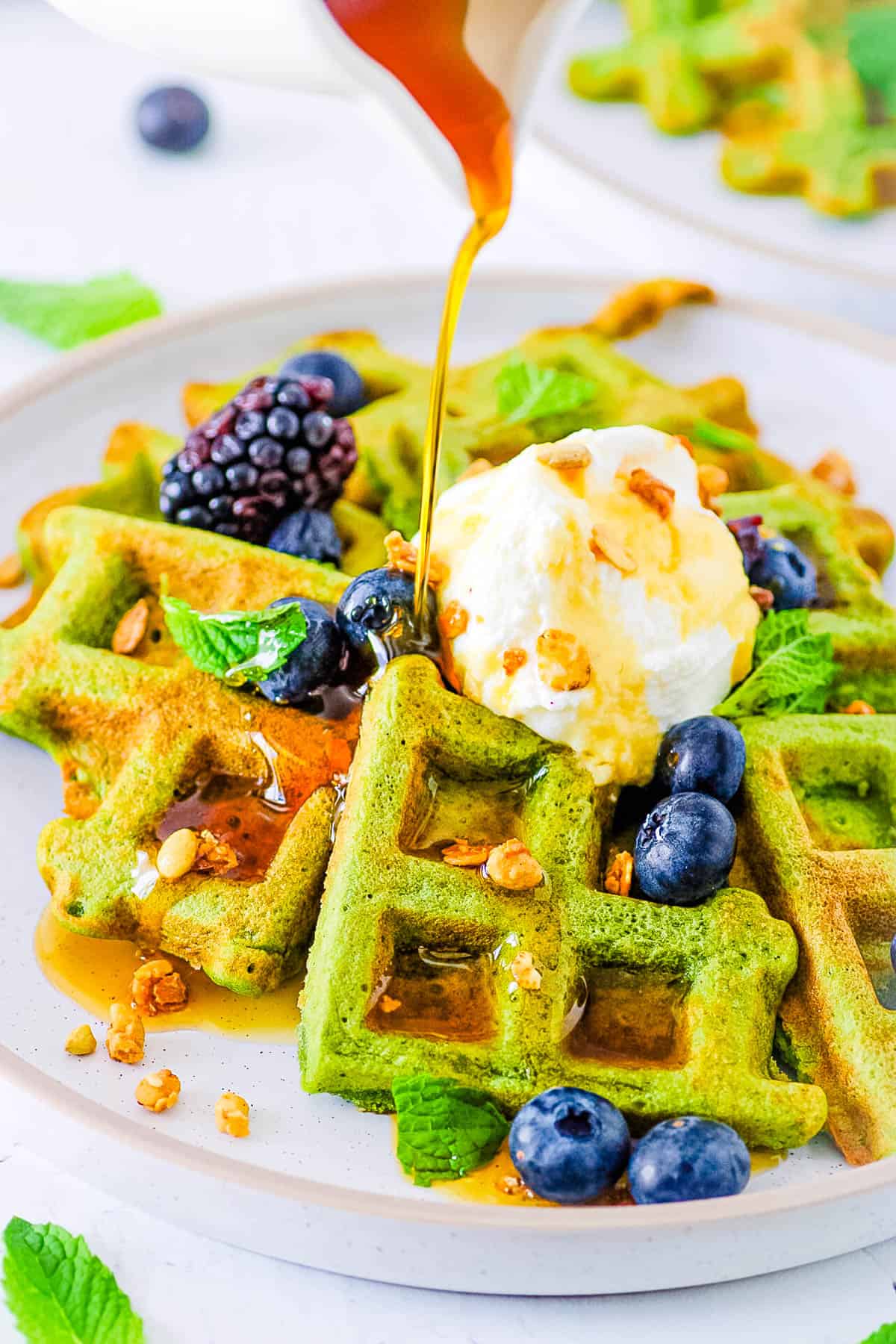 This delicious spinach waffles recipe takes only 10 minutes to make! The whole family will love this healthy breakfast with its fun color and tasty flavor.
The waffles are crispy on the outside, soft and fluffy on the inside, and can easily be made gluten-free or vegan with a few simple swaps. If green smoothies aren't your thing, sneak your spinach in with this recipe!
The green color makes for extra festive St. Patrick's Day waffles or Christmas waffles, but this recipe is delicious any day of the year!
Calories: 271 — Fiber: 2g — Protein: 8g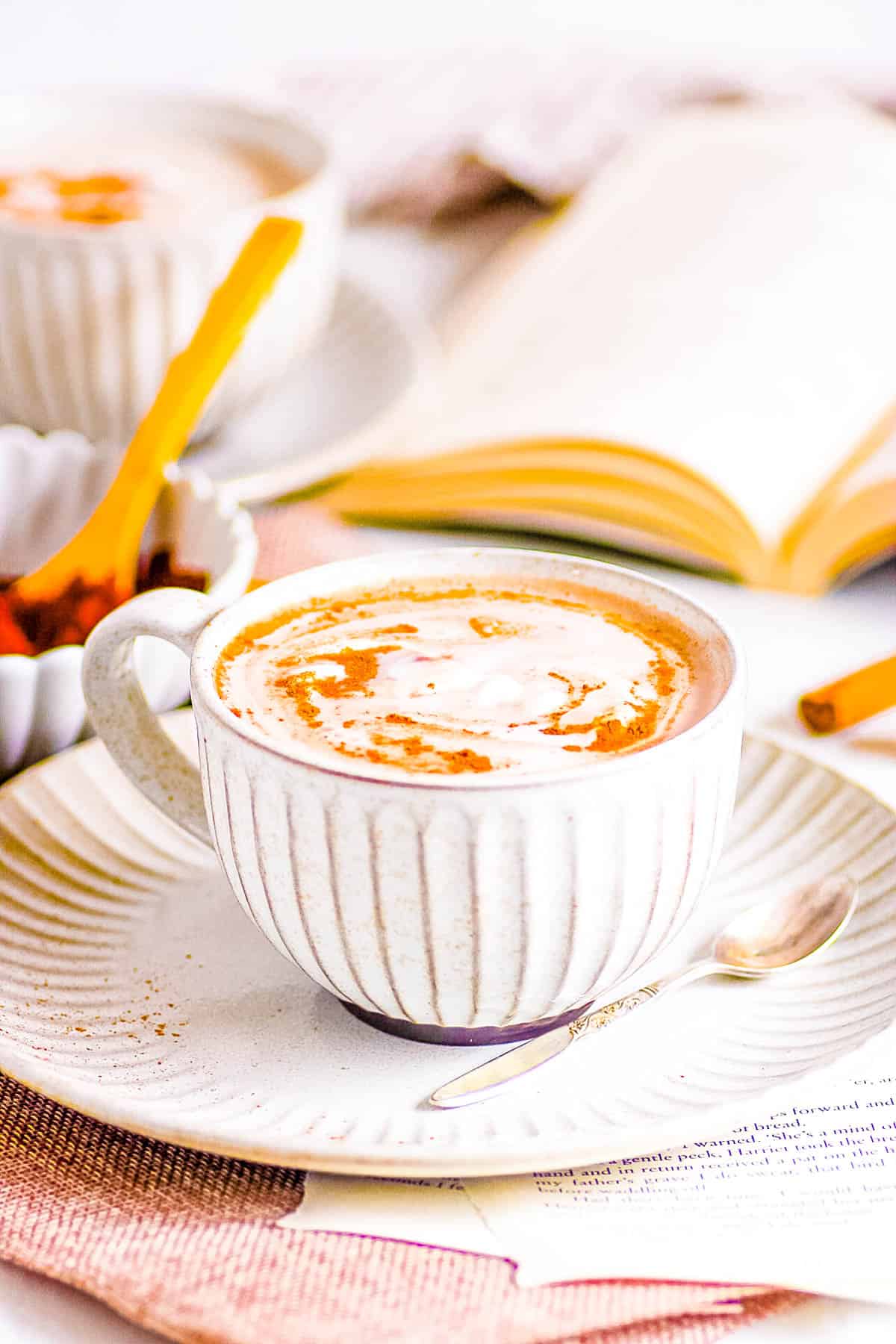 Enjoy the creamy decadence of oat milk hot chocolate, a healthier twist on the classic, ready in under 10 minutes!
This vegan version boasts the richness of oat milk, unsweetened cocoa powder, and a touch of pure maple syrup for sweetness. Anyone can make this with ease, and everyone is guaranteed to love it.
With warming cinnamon and endless topping possibilities, this guilt-free treat guarantees a cozy sip that's both delightful and nourishing. Get ready to fall in love with this cocoa delight all year round!
Calories: 147 — Fiber: 6g — Protein: 6g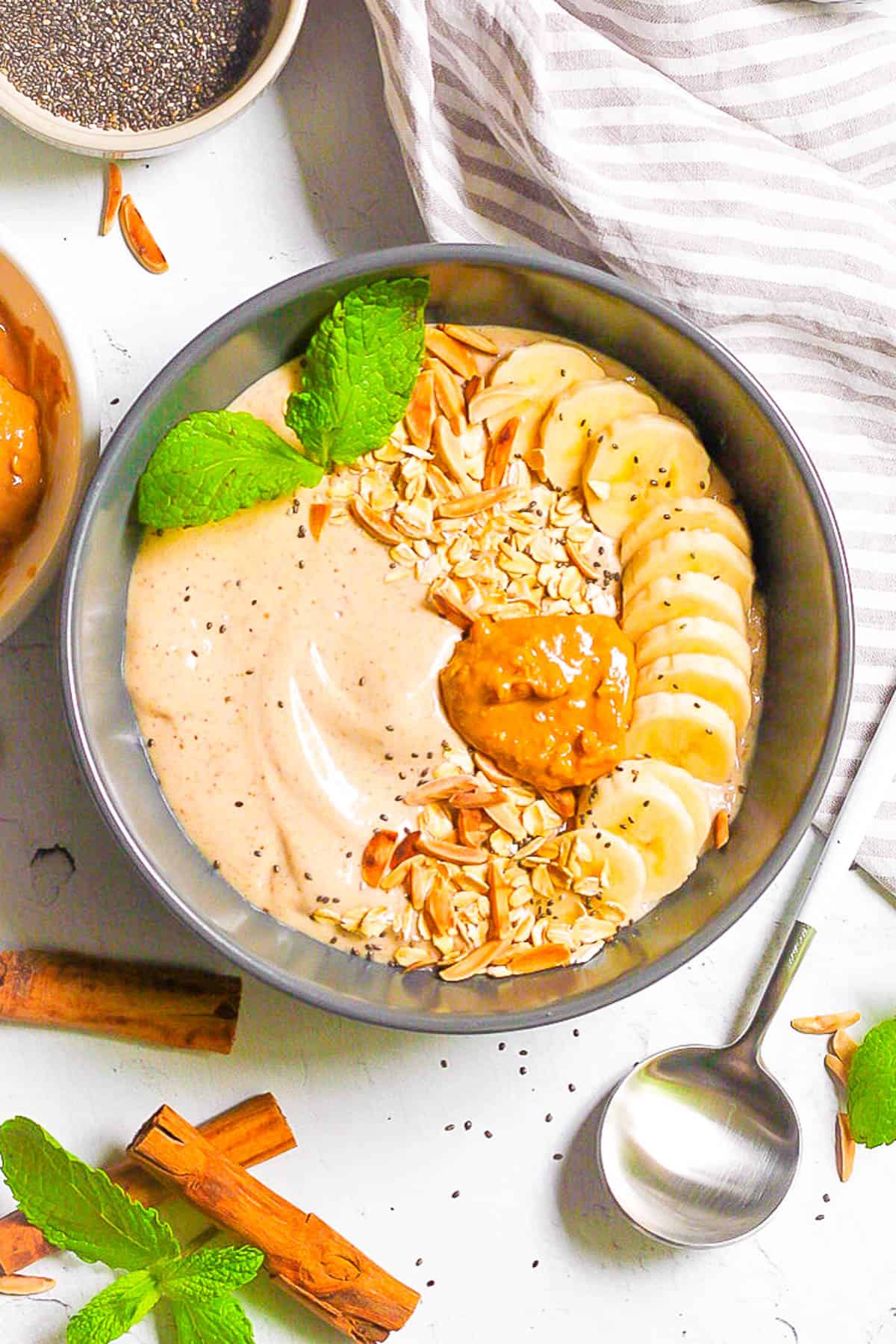 A guilt-free morning indulgence – this creamy banana smoothie bowl is a quick, vibrant, and scrumptious vegan breakfast everyone will love. Plus, it takes only 5 minutes and uses 5 ingredients.
If you are looking for something easy and rich in fiber and healthy fats, this is the recipe for you! Vegan, gluten-free, and fully customizable, this bowl offers a thick, creamy texture to start your day sweetly and nutritiously!
This smoothie bowl looks like ice cream, but it's actually a healthy filling meal that you can feel good about starting your day with!
Calories: 212 — Fiber: 6g — Protein: 4g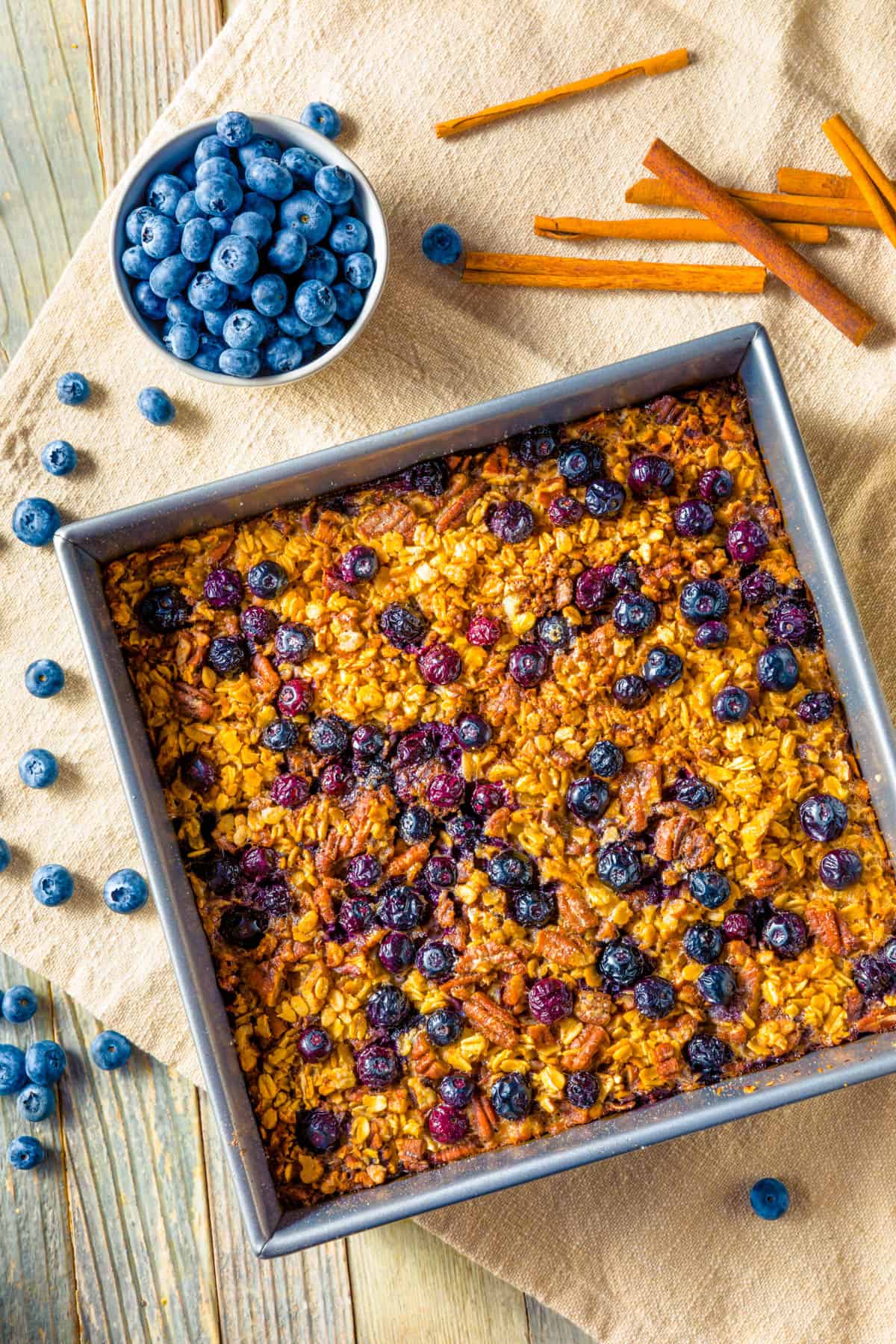 This is a delicious vegan baked oatmeal that's naturally sweetened and bursting with fresh blueberries. No refined sugar or eggs are needed!
Indulge in this vegan baked oatmeal made with the goodness of maple syrup and applesauce studded with juicy blueberries. It's a perfect crowd-pleaser for brunch, holidays, or busy mornings.
Packed with fiber, plant-based protein, and antioxidant-rich blueberries, this egg-free oat bake is nutritious and customizable with 11 flavorful variations. An ideal make-ahead breakfast for a wholesome week ahead.
Calories: 177 — Fiber: 5g — Protein: 5g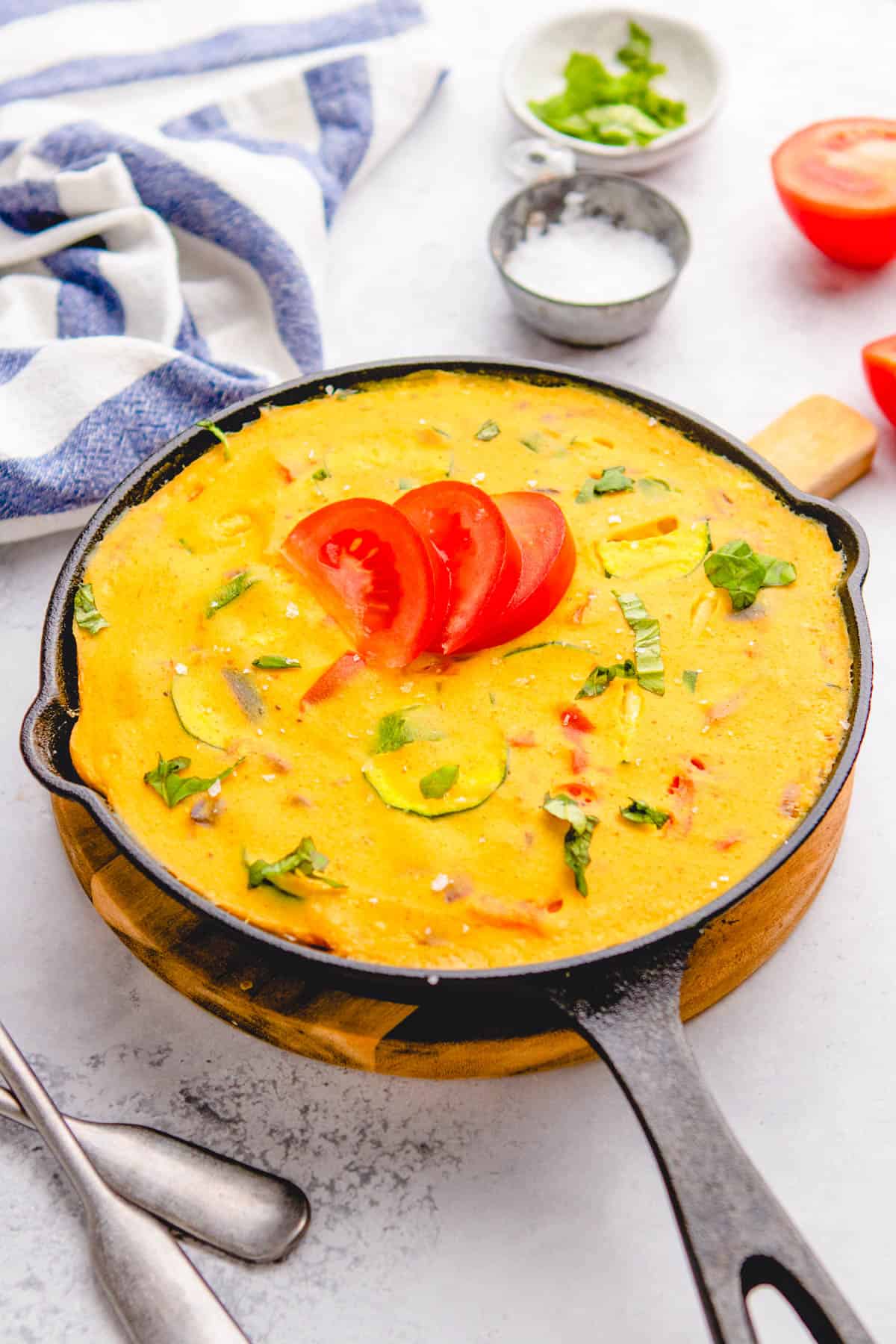 A vegan twist on the classic frittata, this recipe delivers a crispy yet tender delight bursting with flavors. It's also ready in 15 minutes and easy enough for beginners.
The recipe is super customizable and accommodates various dietary needs thanks to being dairy-free, gluten-free, and allergen-free. Whether it's a routine meal or a special morning, this eggless option is a winner.
This vegan frittata swaps eggs for a tofu base, resulting in a savory masterpiece that the whole family will enjoy. Bursting with veggies, it's a guilt-free, protein-rich alternative to add to your list of plant based beginner recipes.
Calories: 187 — Fiber: 4g — Protein: 8g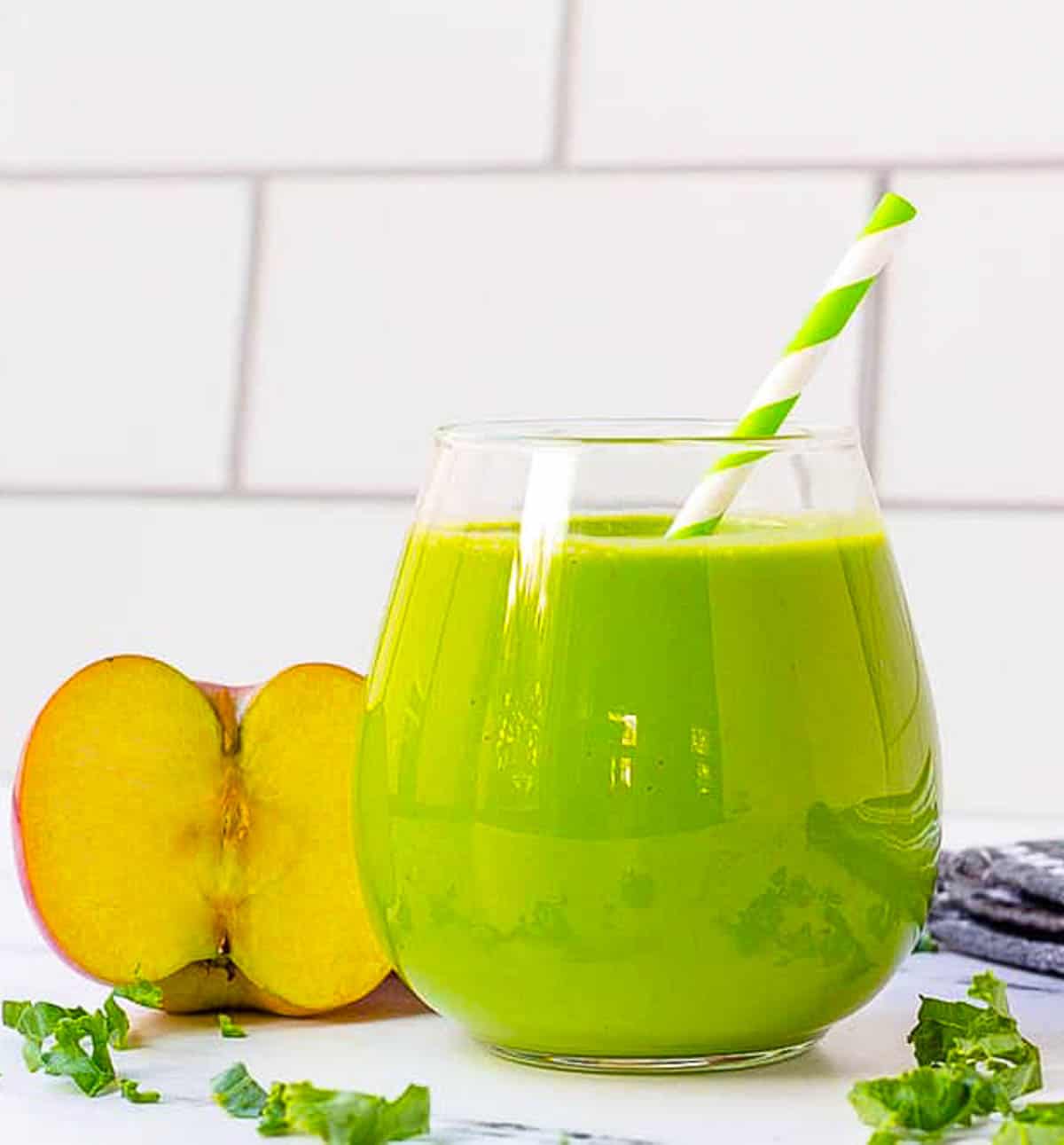 Kickstart your mornings with refreshing flavors. Using only five ingredients, this wholesome smoothie is a perfectly sweet, satisfying treat that conceals the kale entirely!
This ultimate green smoothie combines the best flavors and powerful nutrients, making it an irresistible breakfast or on-the-go snack. Anyone can make this and everyone can enjoy it.
Made with simplicity in mind, its short, budget-friendly ingredient list makes it the perfect beginner recipe.
Calories: 154.2 — Fiber: 6.7g — Protein: 4.3g
Croffle (Croissant Waffles – 14 Ways!)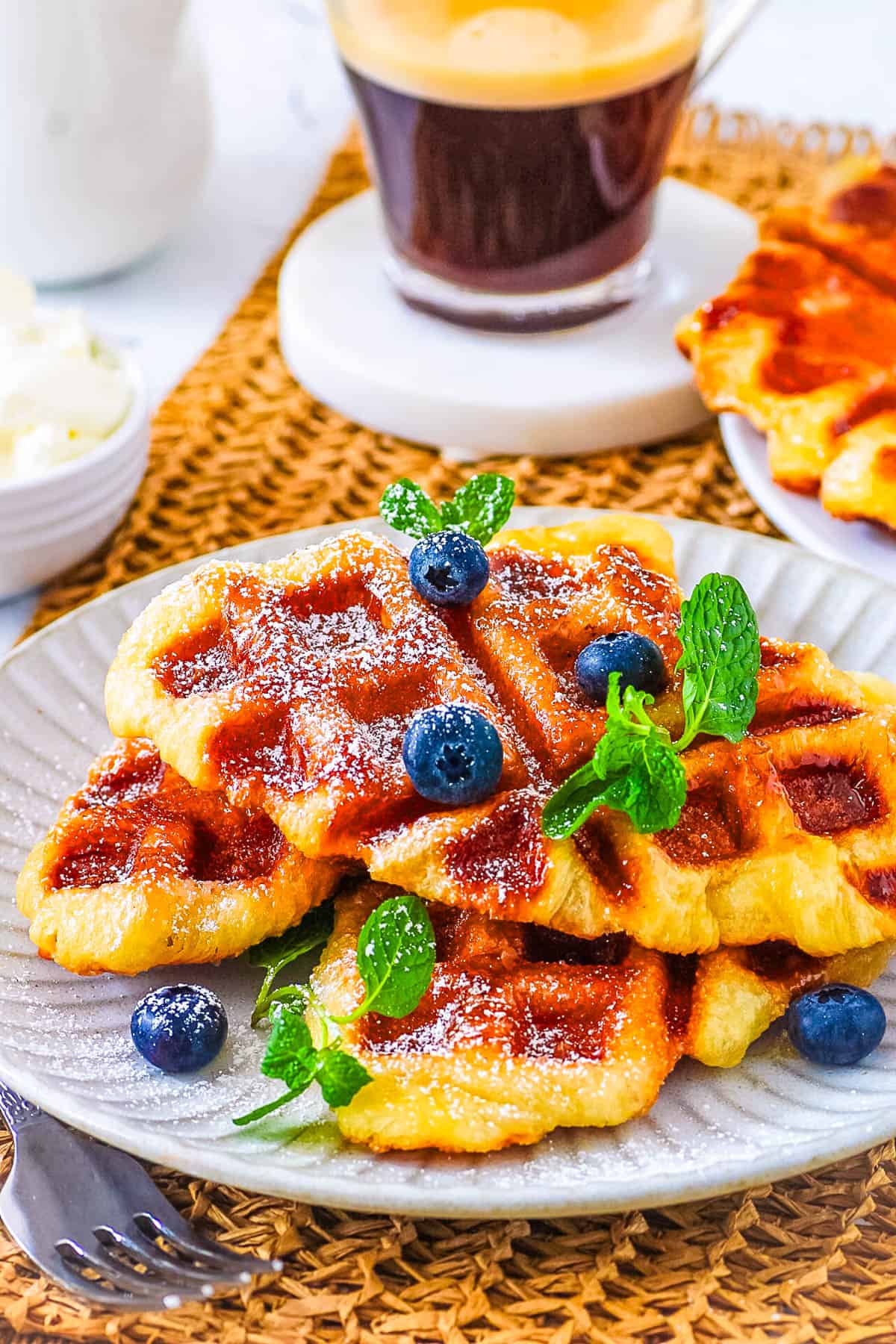 Crafted to perfection in just 10 minutes with two simple ingredients, this easy croffle recipe will become a new favorite amongst plant based meals for beginners. Even if it's your first time making them, it will be a breeze.
It's perfect for a special treat to enjoy on busy weekdays, to serve as part of a larger brunch spread, or even for dessert.
This recipe seamlessly combines the flakiness of croissants and the comfort of waffles for the perfect balance of flavor and texture. It's a quick fix for busy mornings, while feeling fancy and elevated from normal breakfast options.
Calories: 195 — Fiber: 1g — Protein: 3g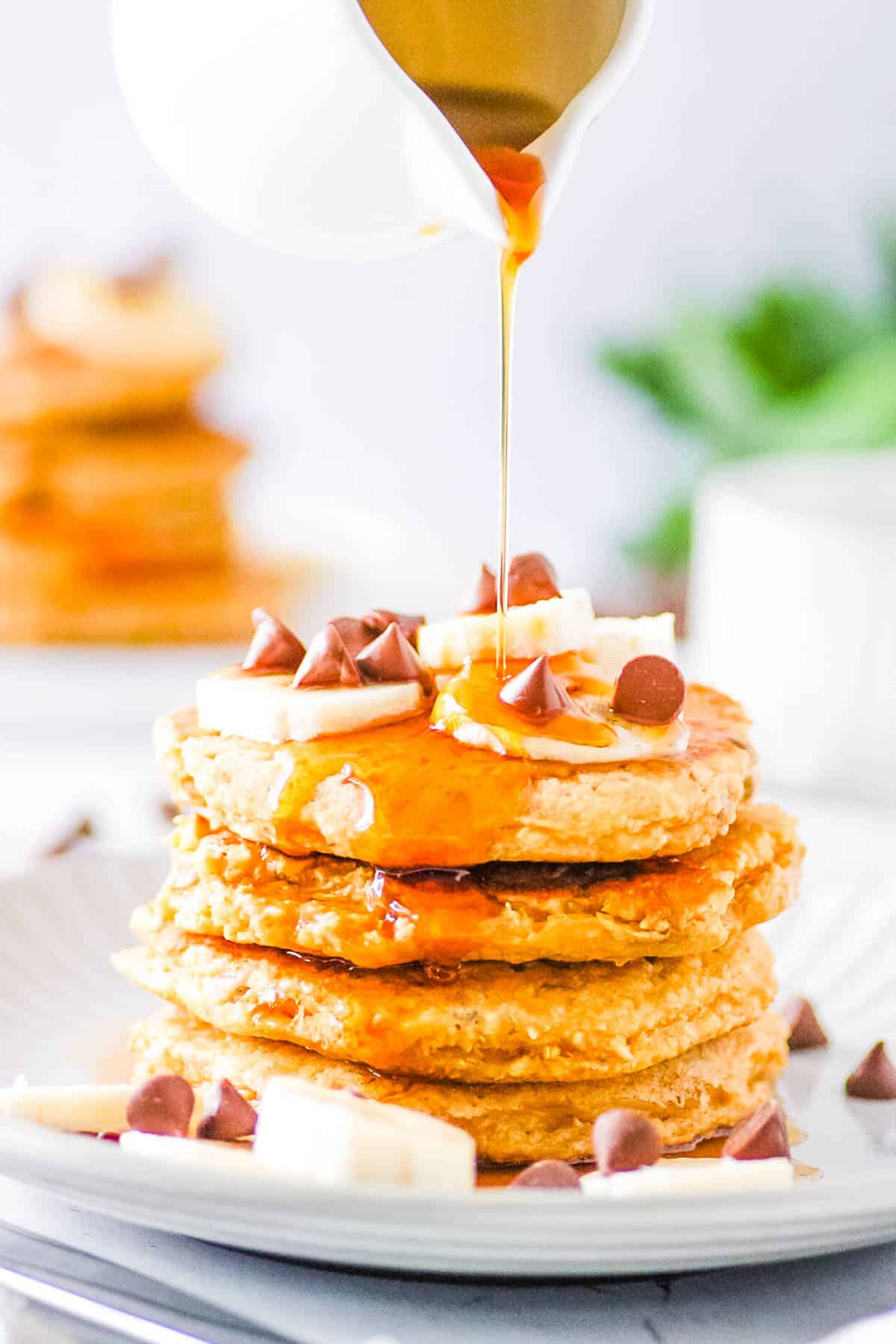 With just a few ingredients, this family-friendly and easily customizable recipe is a protein-packed start to your day.
Whether for brunch, a leisurely weekend, or even a cozy dinner, these oat-flour pancakes bring delight to every bite.
They're packed with hearty whole grains and a secret ingredient that makes them a little fluffy and cakey at the same time. My whole family is always happy and satisfied after this easy vegan meal.
Calories: 154 — Fiber: 2g — Protein: 8g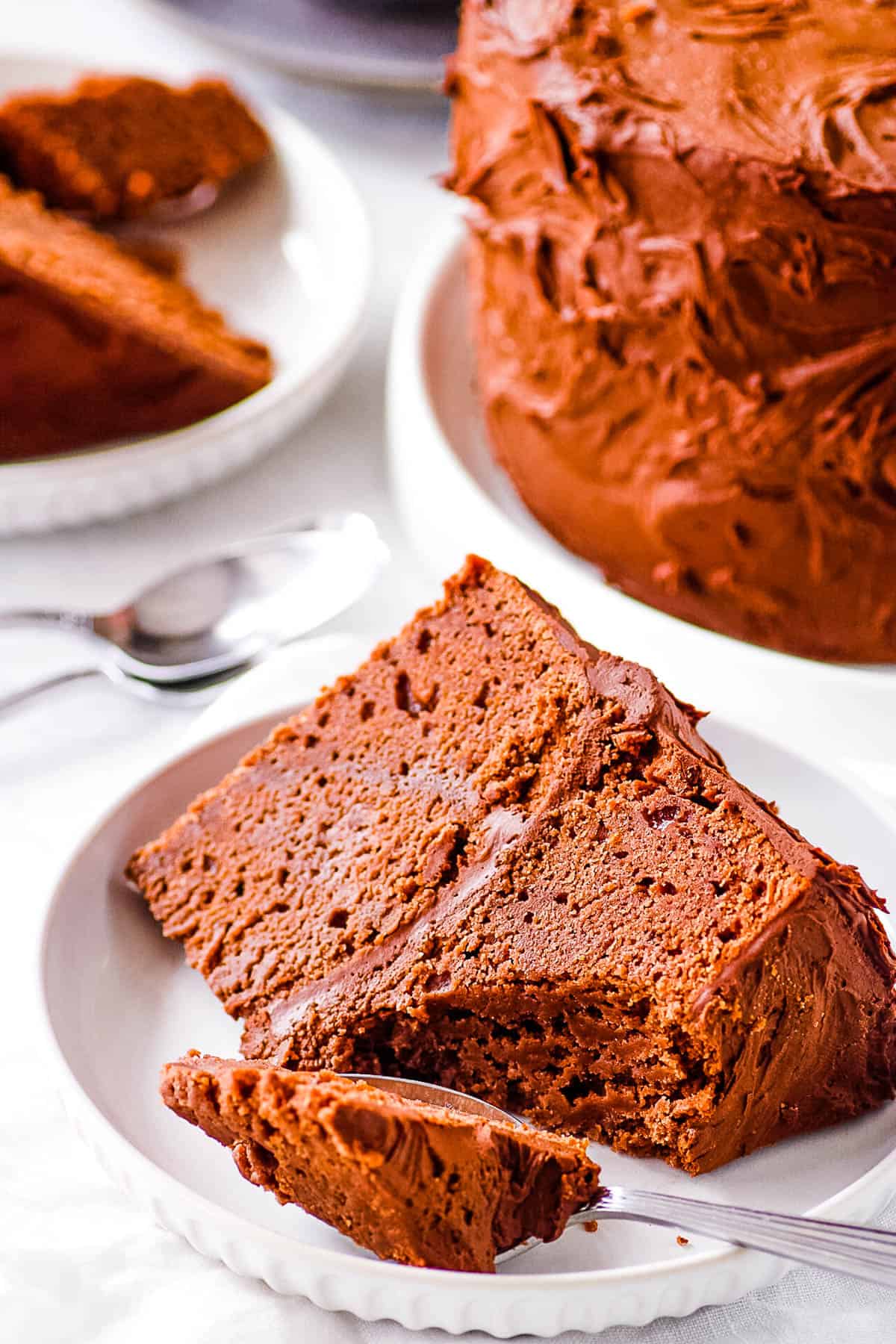 All you need is a handful of simple ingredients to make this no-sugar chocolate cake. Thanks to everyday pantry staples, this cake quickly comes together to create a fudgy and indulgent treat.
Diabetic and allergen friendly, this quick and easy recipe will satisfy your sweet tooth. If you're hosting any special gatherings or simply want to treat yourself to a delicious chocolate dessert, this healthy chocolate cake with no sugar fits the bill!
You really can't go wrong with a slice of this healthy no sugar chocolate cake. With its velvety texture, irresistible flavors, and double chocolate layers, you can literally have your cake and eat it too, guilt-free!
Calories: 267 — Fiber: 3g — Protein: 4g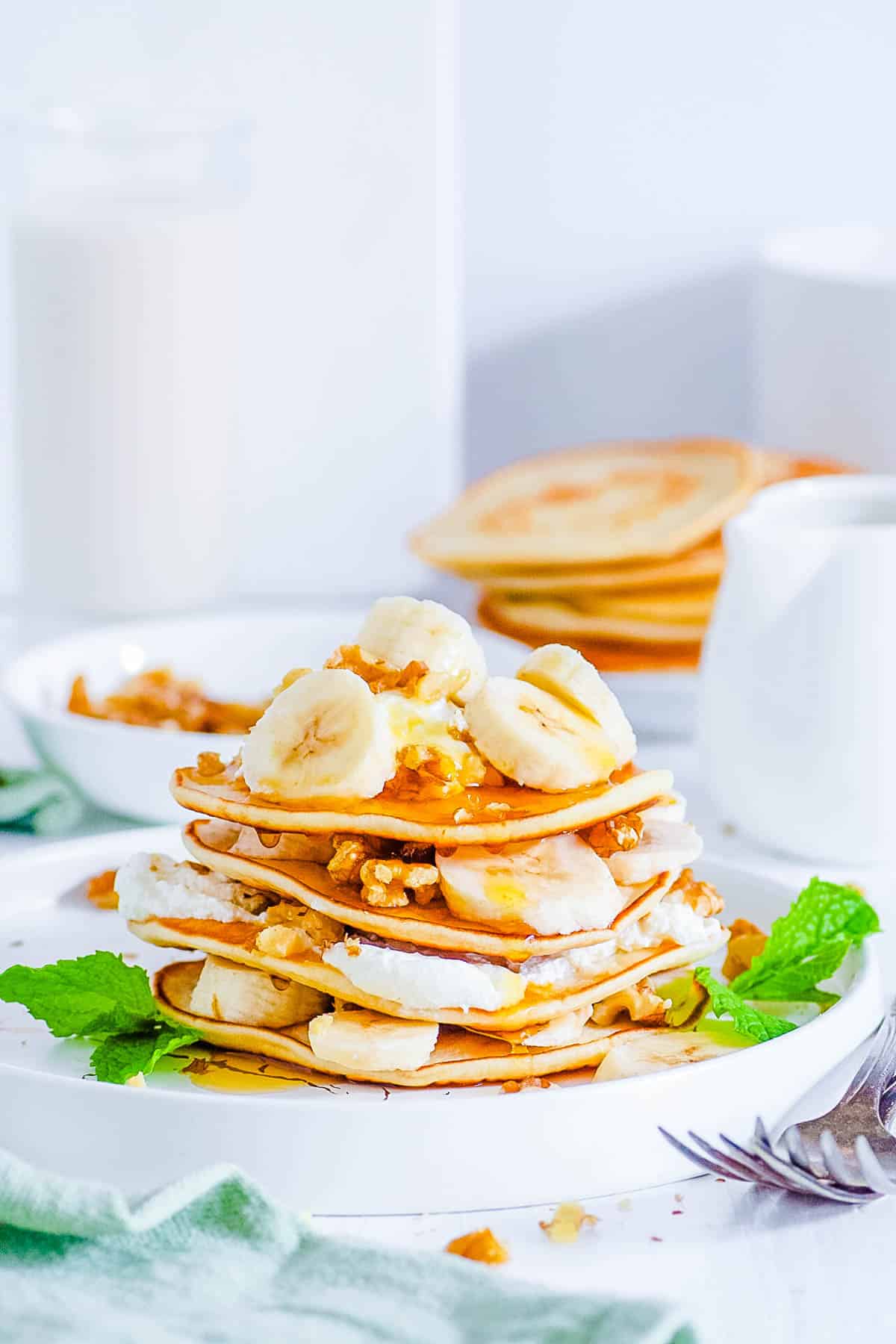 Ready in under 30 minutes, easily adaptable to gluten-free preferences, and perfect for meal prep, these pancakes unite the family around a delicious breakfast spread.
These pancakes will boost your protein to keep you satiated all day. With only six ingredients, this quick and easy recipe will give nutritious and flavorful pancakes in no time.
Top them with fresh berries, nuts, or a drizzle of maple syrup, and you'll have a customizable masterpiece that caters to every palate.
Calories: 215 — Fiber: 2g — Protein: 10g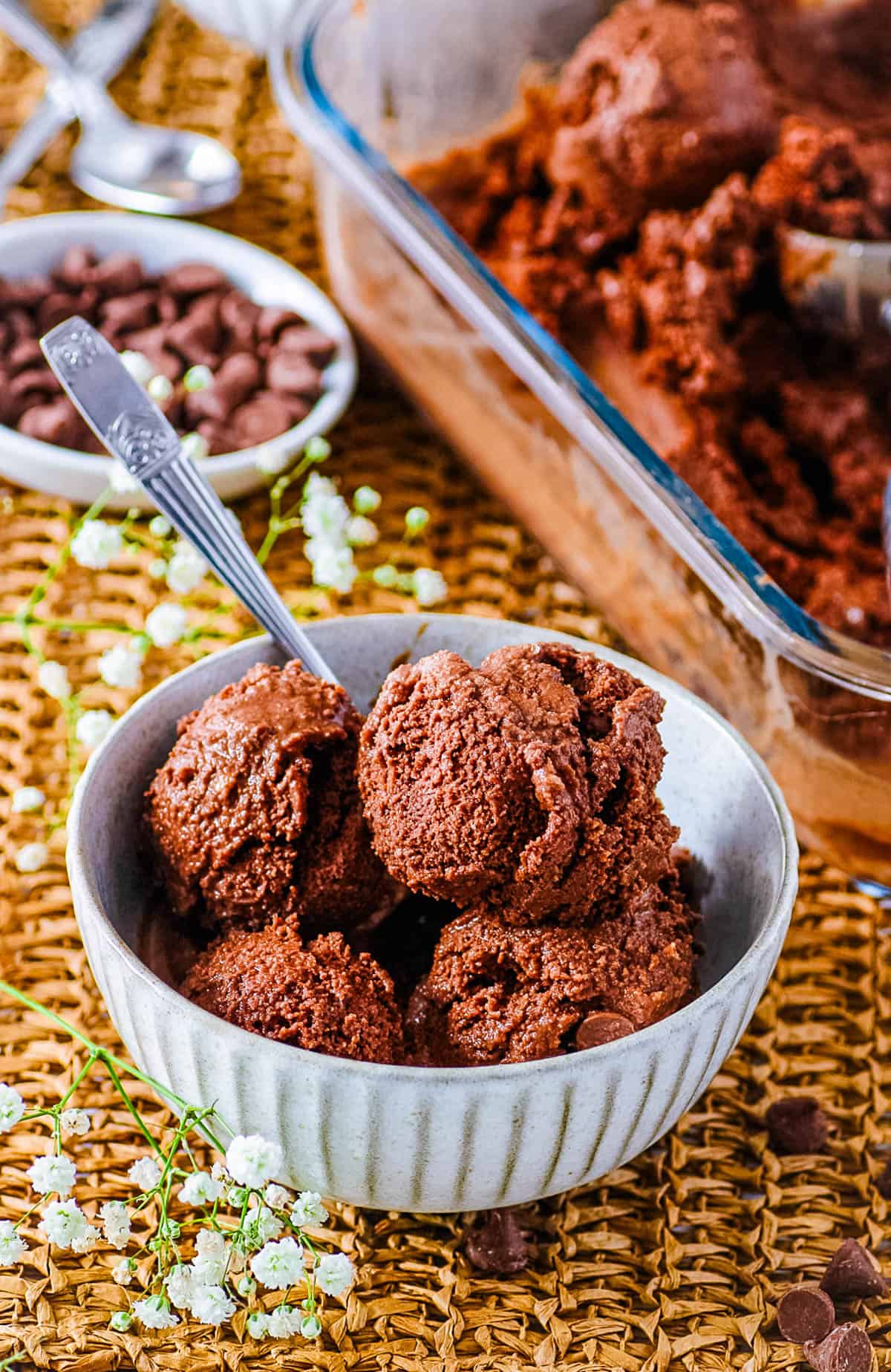 Silken tofu ice cream is a delicious, vegan, and dairy-free frozen treat! Made with just a few simple ingredients like silken tofu, plant-based milk, and your favorite mix-ins, this is a nutritious dessert that's super easy to make.
With 7 different flavor options, there is something for everyone with this recipe! This is a great way to enjoy a cold treat for those following a plant-based lifestyle or who want to avoid dairy.
We love this easy homemade vegan tofu ice cream recipe because it is so delicious and versatile! It is truly the best dairy-free alternative!
Calories: 129 — Fiber: 1g — Protein: 3g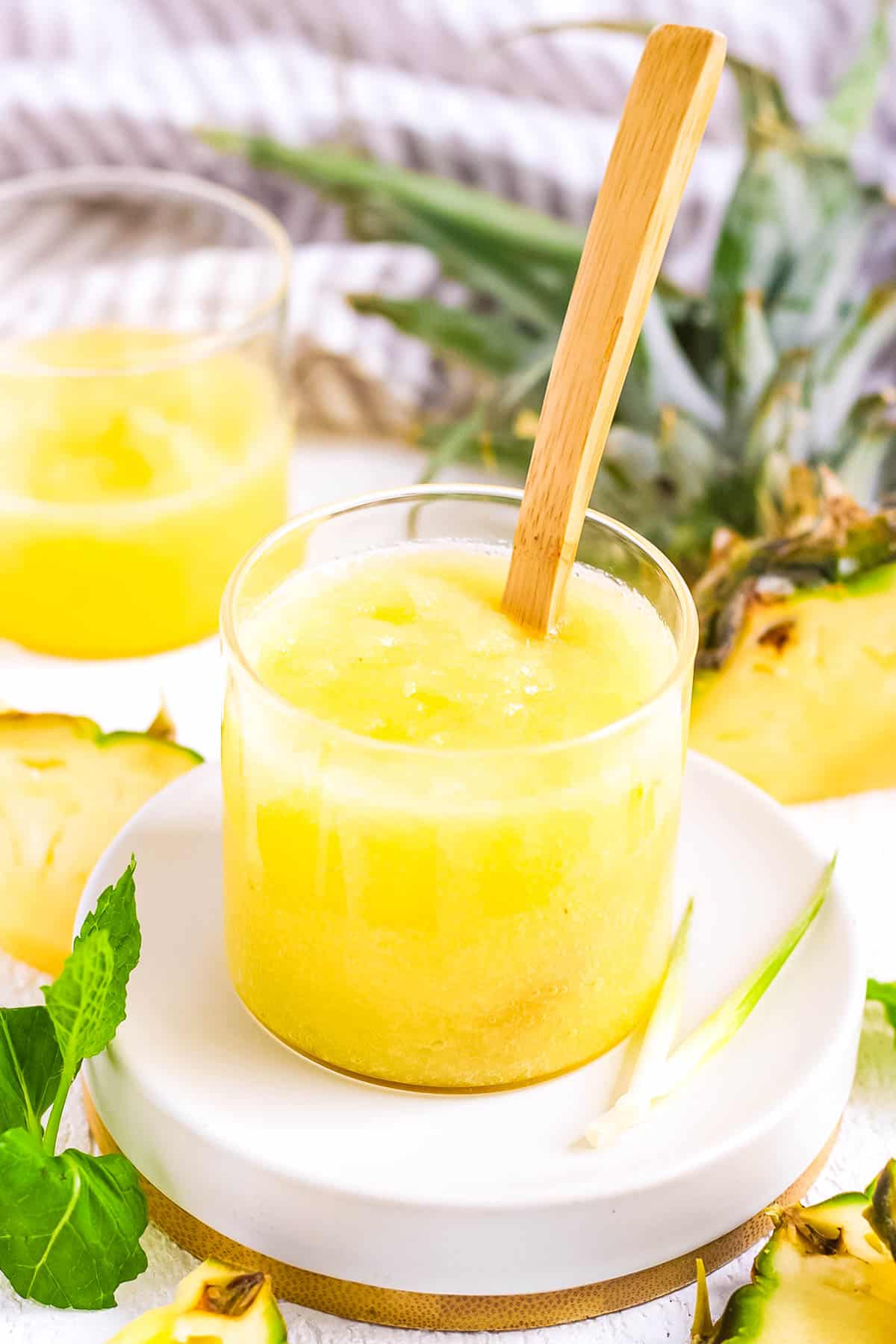 In just 5 minutes, you can create a pineapple puree with only 2 ingredients.
This pineapple puree recipe is perfect for babies starting out on solid food, but equally delicious for older kids and adults. Add it to a smoothie or drink for a fun, refreshing twist.
With amazing tropical flavor and wholesome nutrients to support immune health, what is not to love?!
Calories: 5 — Fiber: 0.1g — Protein: 0.1g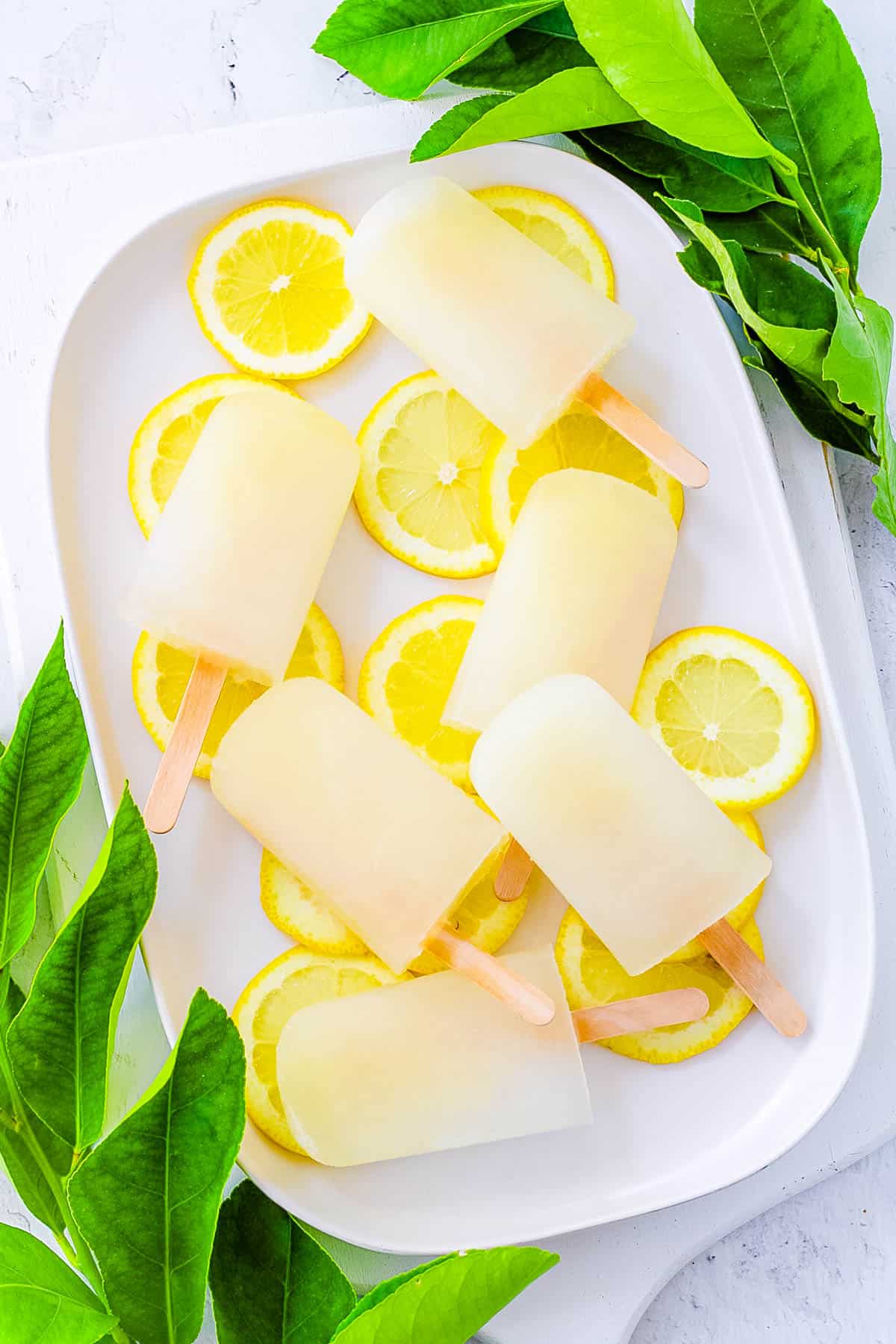 You can whip up this frozen treat in just a couple of minutes! It is super easy to make your own popsicles at home with only a few simple steps.
These 3 ingredient lemonade popsicles are naturally gluten-free, low in sugar, and vegan, too!
These lemonade ice pops have the perfect balance of tartness and sweetness. It is so fun to make popsicles at home, it's a great way to get kids involved in the kitchen, and will become one of your favorite simple vegan recipes.
Calories: 22 — Fiber: 0.1g — Protein: 0.05g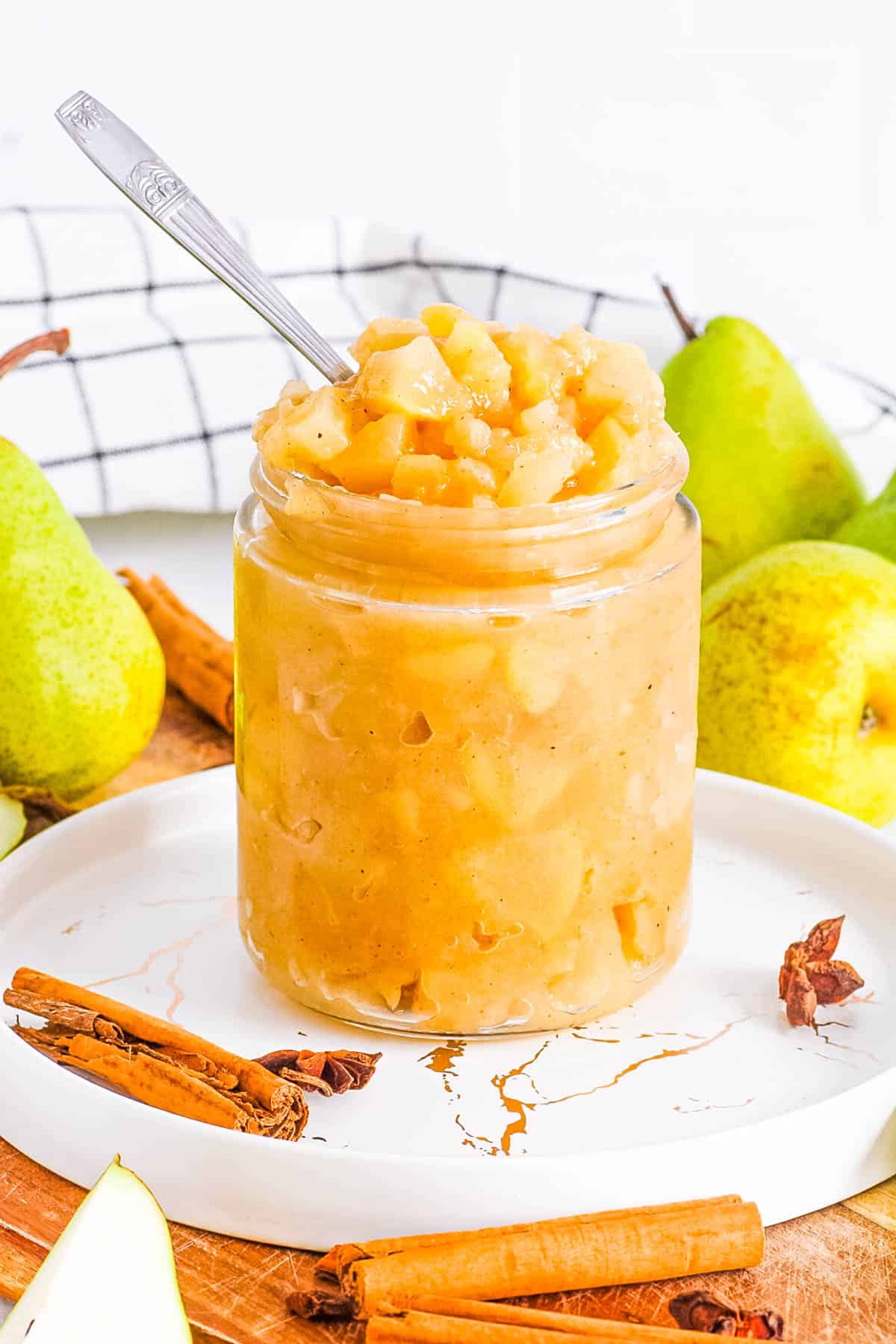 Made with sweet pears, warm spices, and no processed sugar, this easy to make fruit compote is going to become your new favorite topping!
It is healthy, vegan, gluten-free, and refined-sugar free so everyone can enjoy the delicious taste of this compote.
I love the versatility of this delicious fruit sauce. Add it to your favorite waffles, pancakes, oatmeal, desserts, puff pastry, yogurt, crepes, savory dishes and more!
Calories: 82 — Fiber: 4g — Protein: 1g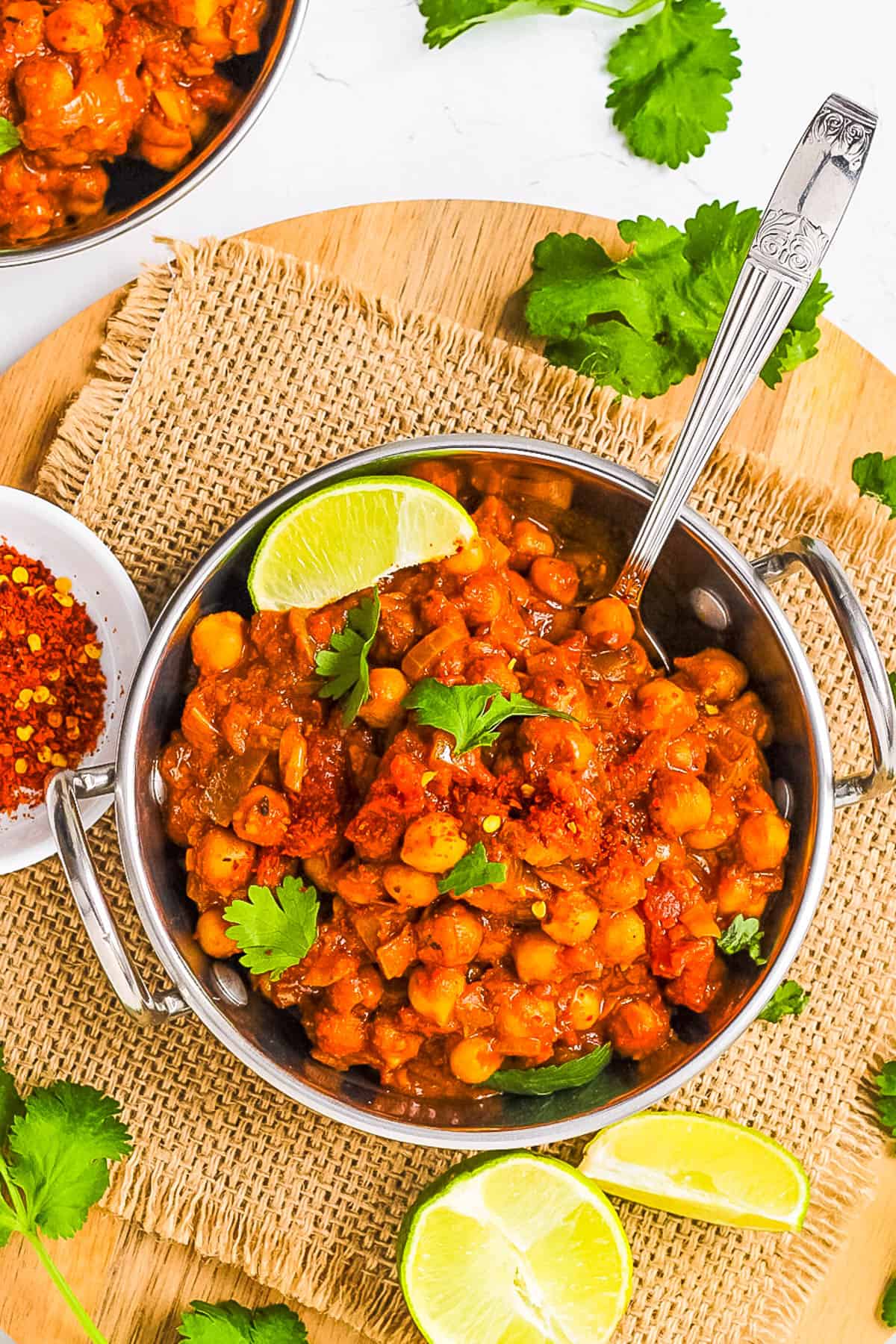 This one pot meal is high in protein, and is ready in just 40 minutes when cooked on the stovetop.
This restaurant style chole masala recipe tastes just like traditional chana masala, but the best part is it's super healthy for you! It doesn't use any cream or butter, which makes it 100% vegan and gluten free.
It's rich, flavorful, with just the right amount of heat and spice, and works great for meal prep or an easy family dinner. I promise, this will become one of your new favorite vegan beginner meals.
Calories: 278 — Fiber: 13g — Protein: 14g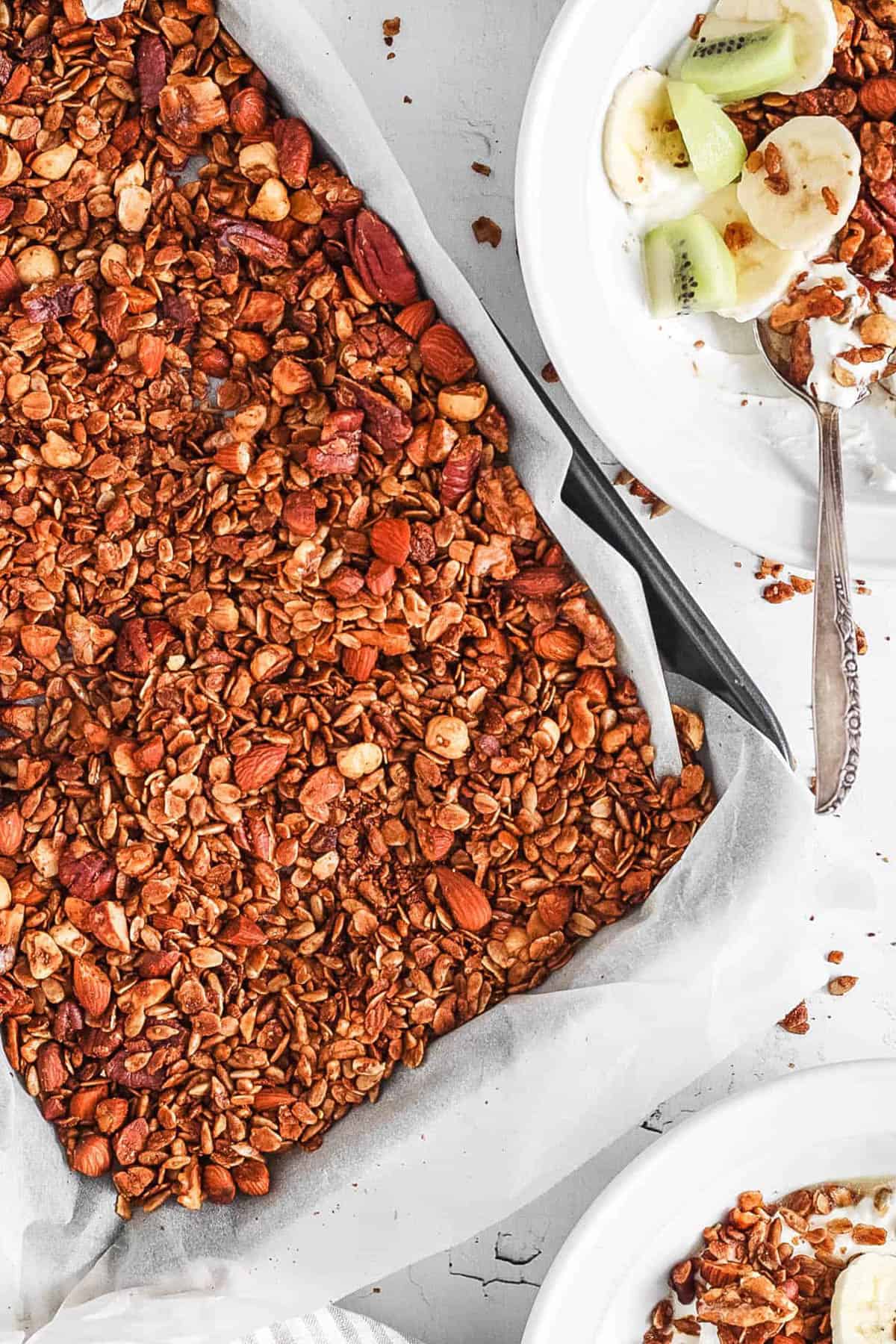 Say goodbye to bland breakfasts with this homemade high-protein granola that's as satisfyingly crunchy and healthy. It only takes 8 minutes of prep time.
A high-protein granola that you can enjoy guilt-free, this recipe is packed with wholesome ingredients. You won't find the excess sugar and preservatives typical of store-bought versions here.
Elevate your mornings with a deliciously nutritious breakfast that keeps you energized all day long. Use the granola to top your yogurt, or smoothie bowls, or enjoy it as-is.
Calories: 298 — Fiber: 4g — Protein: 4g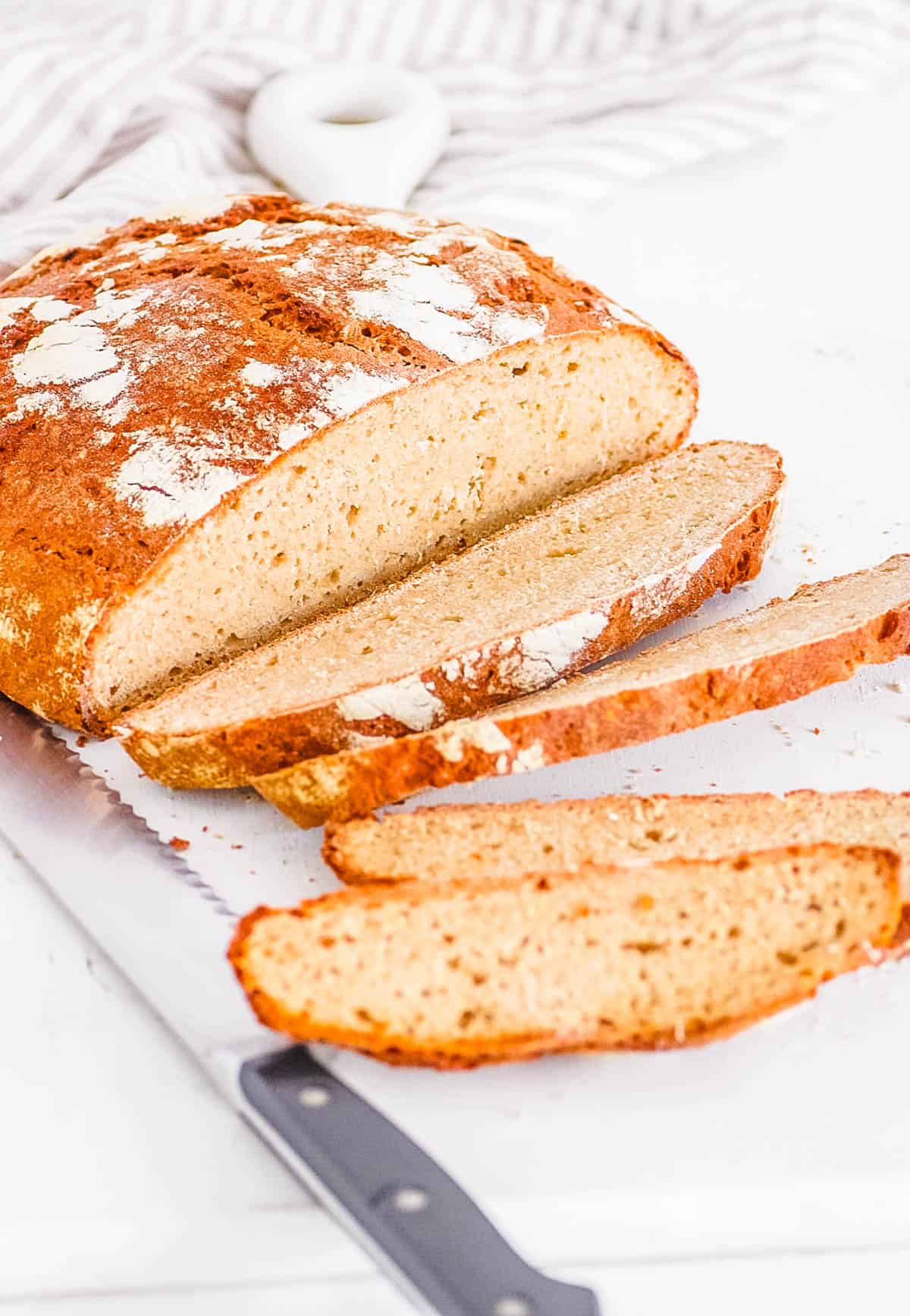 Dive into the world of homemade bread with this simple yet rewarding buckwheat bread recipe. No kneading required – just a quick 10-minute prep, and you'll enjoy a slice of hearty goodness.
Kid-friendly, gluten-free, and easy to make—this recipe tastes just as good as store-bought bread but much more nutritious.
The nutty flavor of buckwheat flour takes center stage in this vegan and dairy-free loaf! Versatile toppings make each bite uniquely yours.
Calories: 145 — Fiber: 5g — Protein: 3g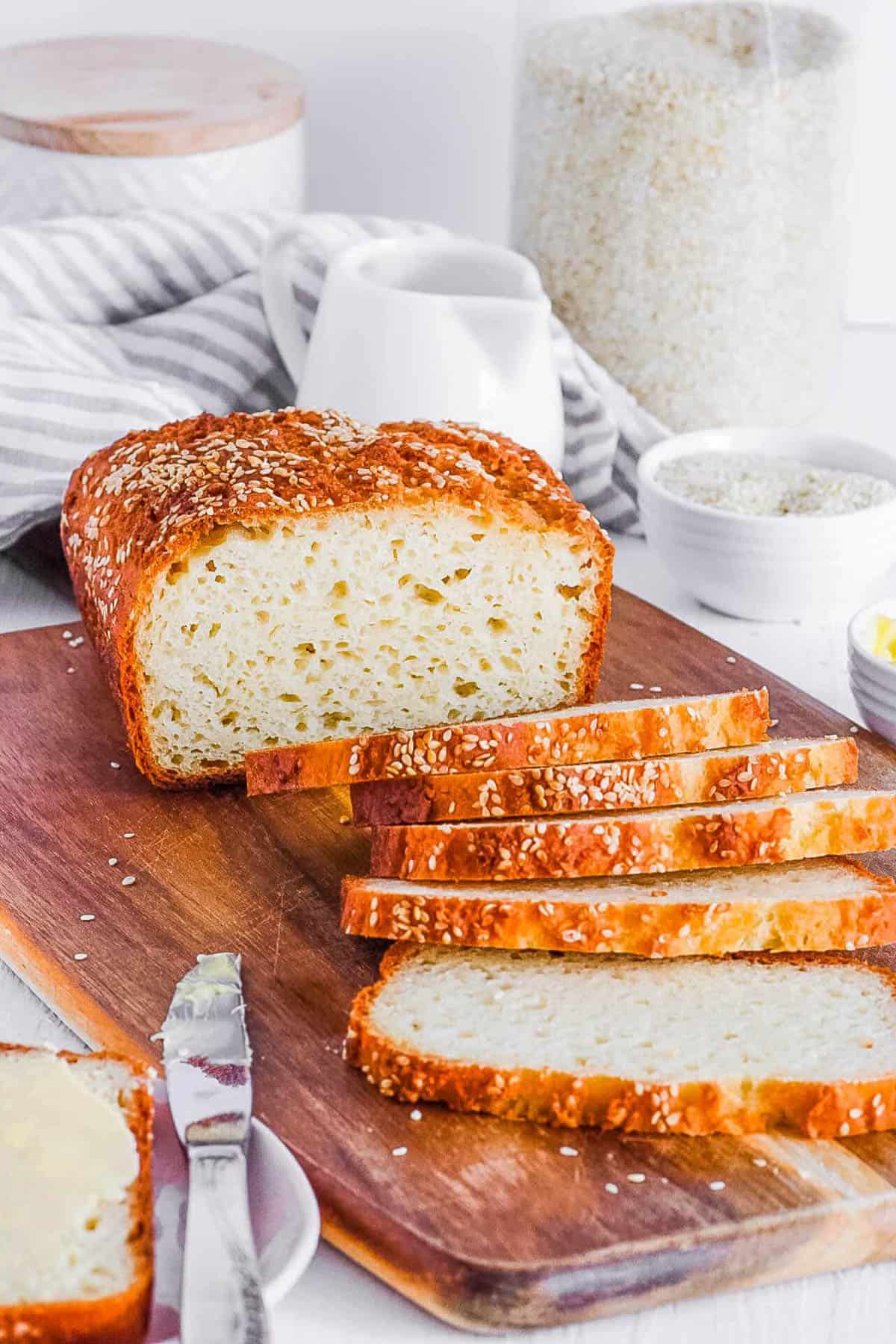 This homemade bread brings the joy of soft, chewy, and wholesome bread, minus the gluten. This is such a simple bread recipe, anyone can make it!
Whether you're a sandwich lover, a French toast fan, or just craving a slice of comfort, this recipe's got you covered.
No more settling for lackluster store options – enjoy the real taste of bread without compromising on health.
Calories: 268 — Fiber: 4g — Protein: 8g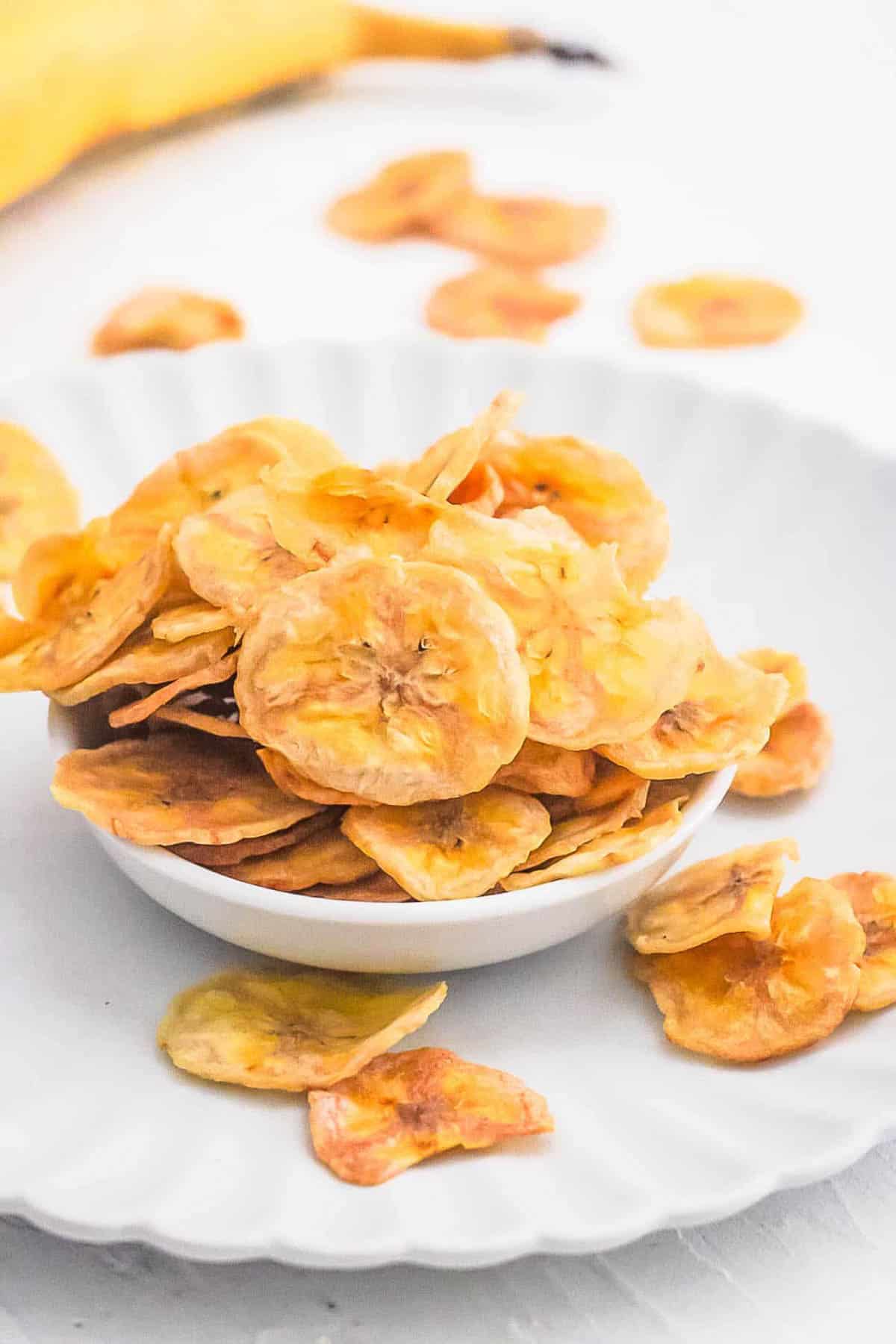 Indulge in guilt-free snacking using only three ingredients with this recipe that offers the perfect blend of crunchiness and sweetness, minus the excess calories!
This speedy recipe yields a healthy snack that's a breeze to make and satisfies your cravings for both crunch and sweetness.
Swap out traditional deep-fried banana chips for this lighter alternative, ideal for any time of day and packed with dietary fiber, potassium, and Vitamin C. Whether you munch on them solo, pair them with a smoothie, or use them as a topping, these chips are a must-try treat!
Calories: 53 — Fiber: 2g — Protein: 1g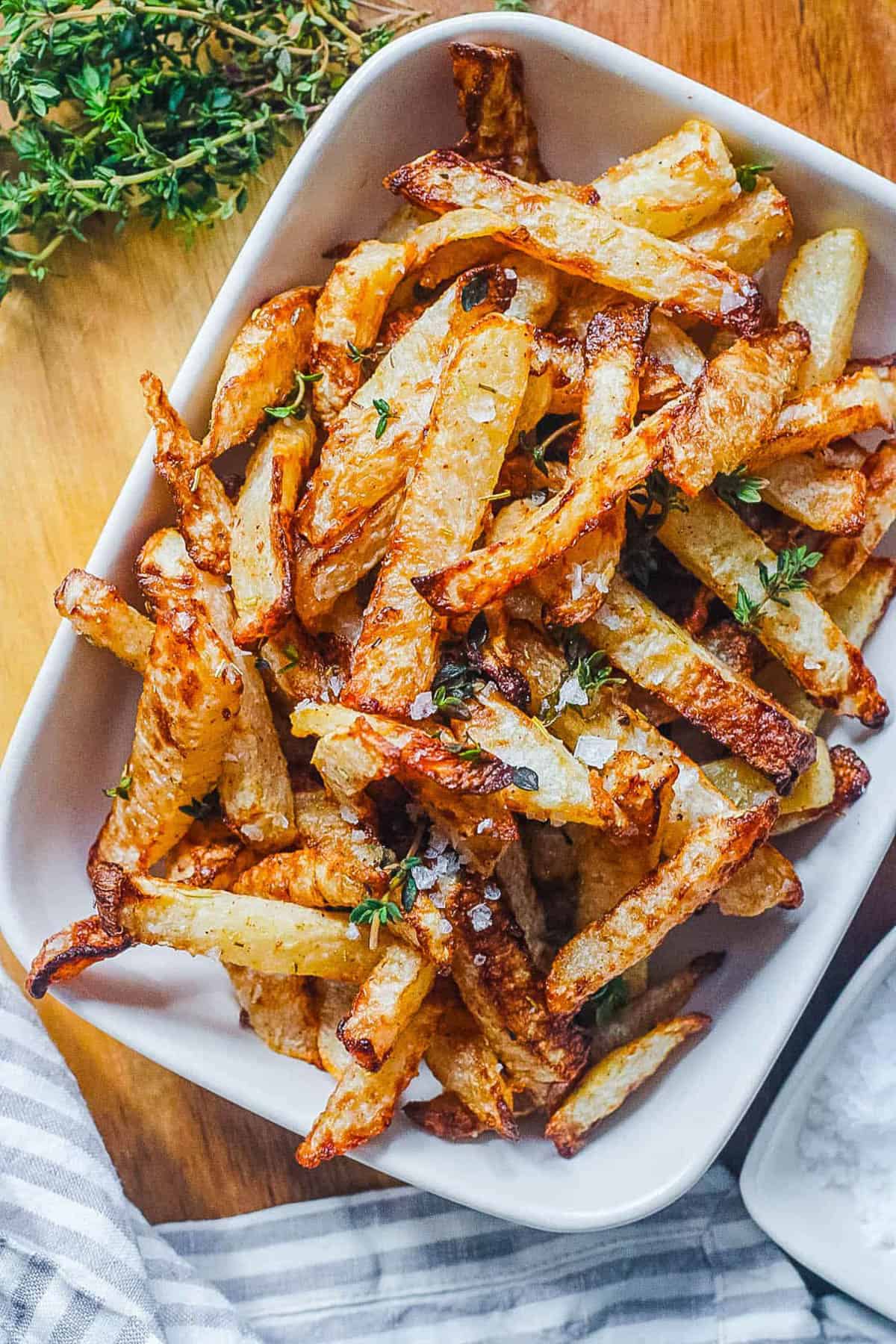 Air fryer jicama fries are crispy, easy to make, and the perfect vegan side dish.
Thanks to their low sugar content, you can eat these fries on a keto diet or low carb diet!
These jicama fries are a healthy alternative to traditional french fries, but are super flavorful thanks to aromatic spices like fresh rosemary, garlic powder, and fresh thyme. Your search for low carb vegan recipes are fulfilled with these versatile fries.
Calories: 115 — Fiber: 11g — Protein: 2g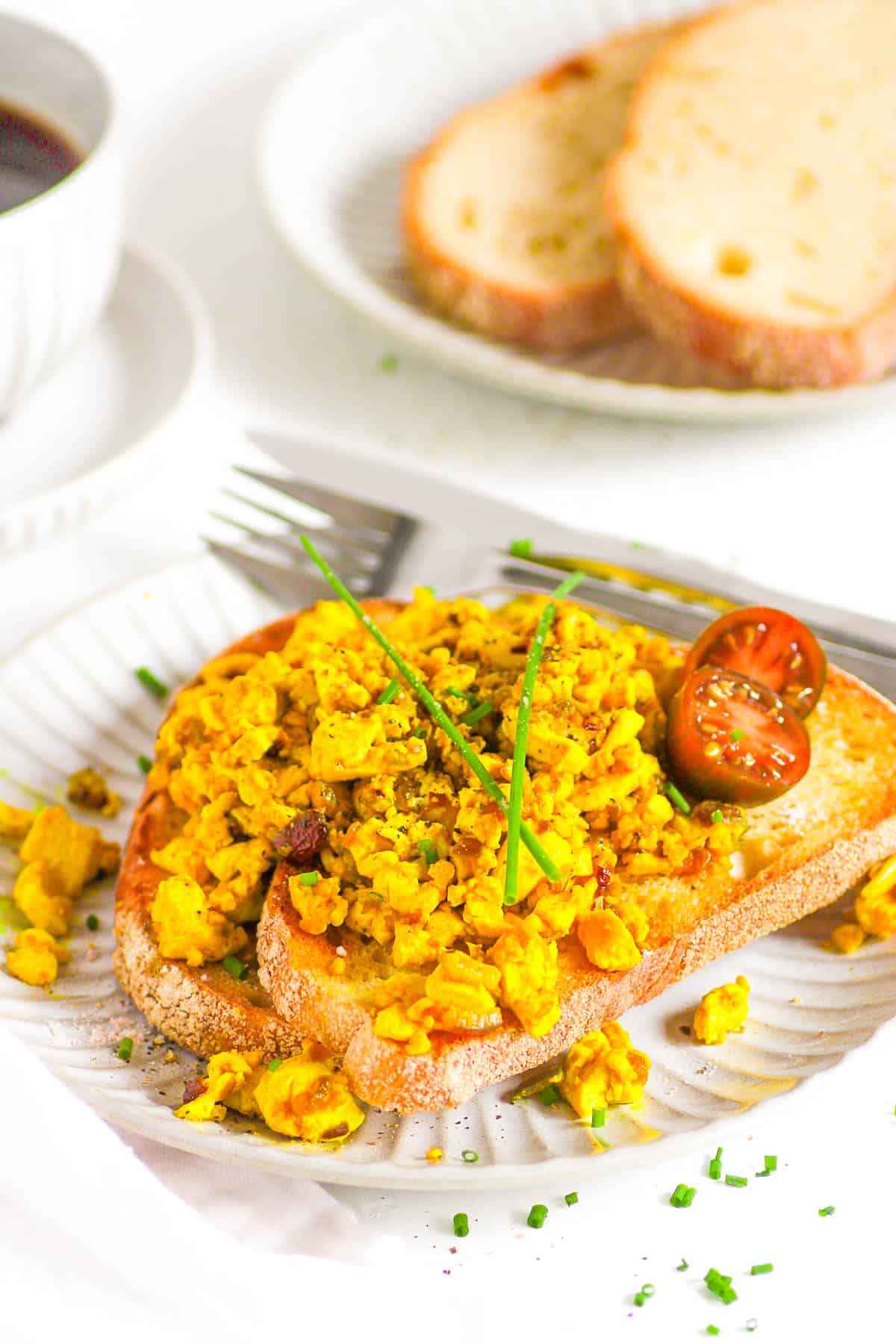 Quick and convenient, this healthy recipe is a speedy and delicious choice for a wholesome breakfast or brunch. It is just as satisfying as traditional scrambled eggs!
In under 20 minutes, you'll savor a protein-packed, versatile tofu breakfast. Whether you enjoy it solo or as part of a breakfast burrito, this plant-powered dish is a protein-rich way to kickstart your day!
Enhance it with veggies or vegan cheese, serve it on toast, or elevate it with sautéed mushrooms and vegan parmesan. Vegan cooking for beginners has never been so easy and tasty.
Calories: 341 — Fiber: 2g — Protein: 13g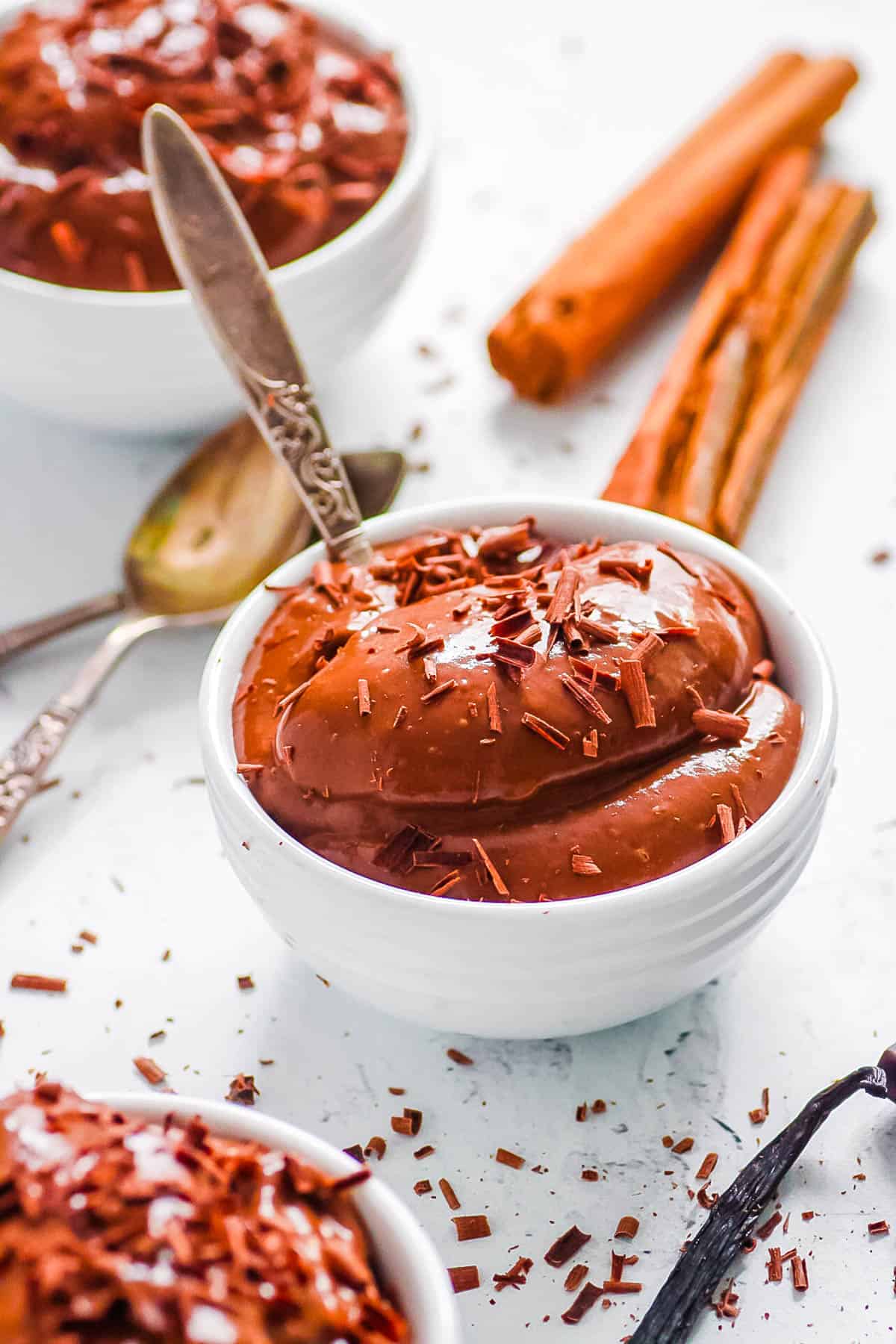 Heart-healthy yet satisfyingly sweet, this is a no-bake recipe that is easy to whip up and stores well for the next day.
Indulge in this creamy chocolate almond milk pudding—crafted from heart-healthy avocado, almond milk, and cacao powder. It is raw, vegan, gluten-free, and ready in 10 minutes.
This guilt-free, no-bake delight combines avocado's richness with chocolate's decadence, resulting in a naturally sweetened treat that's both satisfying and healthy. It is one of the best raw vegan recipes for beginners!
Calories: 166 — Fiber: 6g — Protein: 3g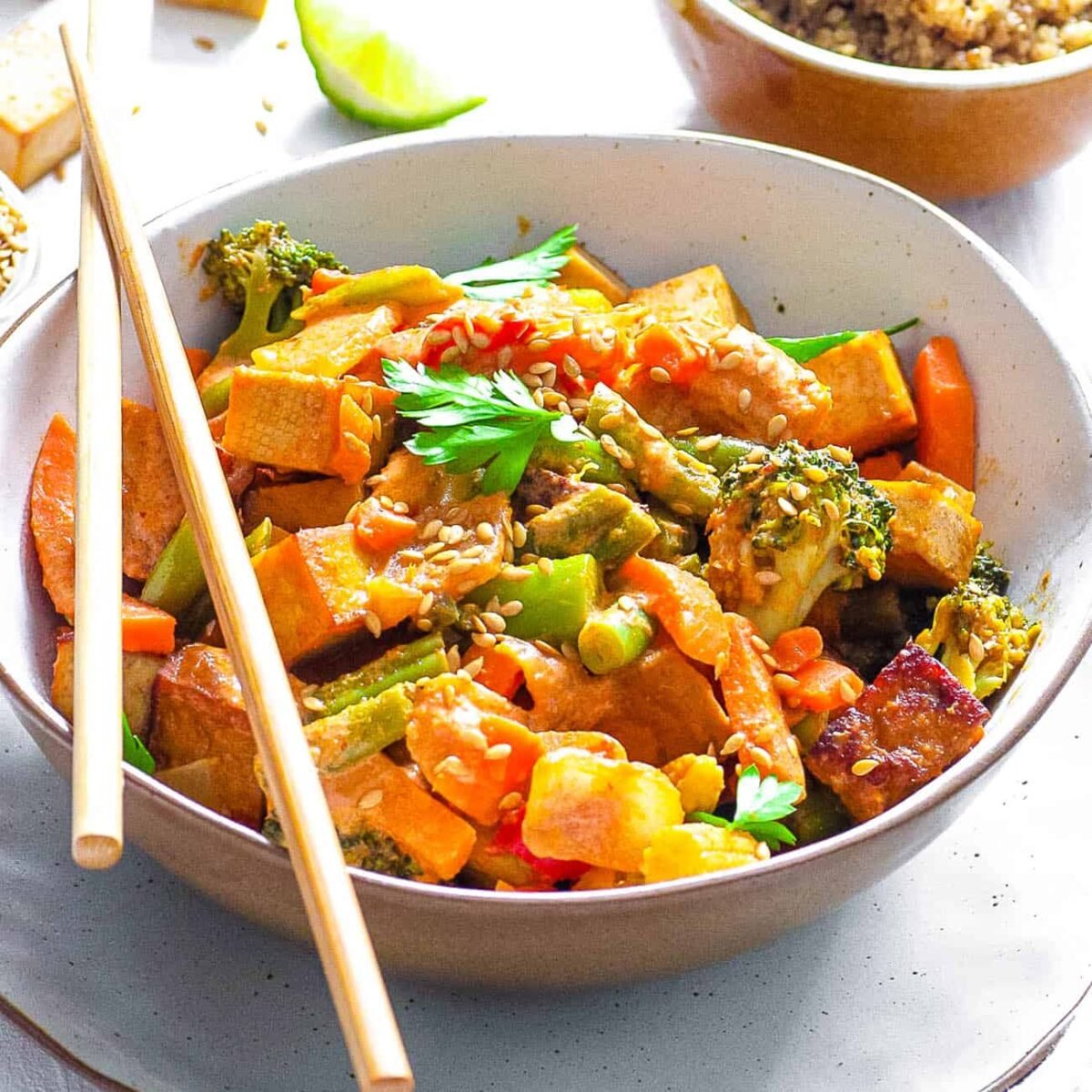 This easy plant based dinner is bursting with savory flavors and ready in under 20 minutes – made effortlessly at home.
This vegetable-packed crispy tofu stir fry is a wholesome, family-friendly recipe with a delightful balance of sweetness and heat.
Perfect for busy weeknights, I love to make this tofu based recipe at least a few times a month. It's that good!
Calories: 395 — Fiber: 7.3g — Protein: 26.9g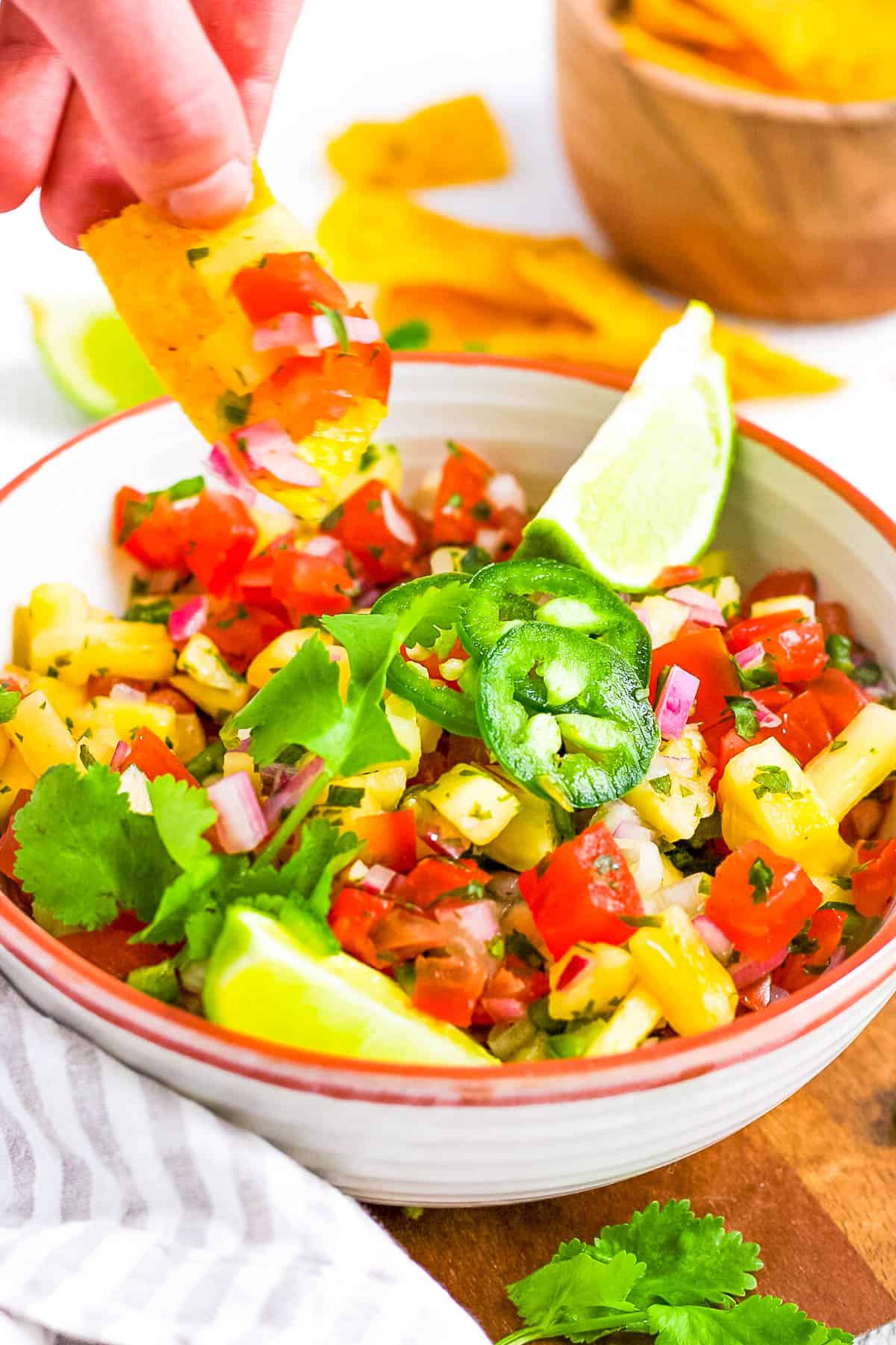 In just 15 minutes, you can make a vegan, gluten-free pineapple pico de gallo. This recipe is a breeze to whip up with only 7 ingredients, but its vibrant flavors are anything but ordinary.
It's a delightful pairing to your favorite vegan dishes for beginners and a fantastic standalone snack. Naturally vegan and gluten-free, many dietary needs are accommodated here.
With its Vitamin C boost and tropical vibes, it's a healthy upgrade that's easy to fall in love with. Get ready to indulge in the best pico de gallo you've ever made!
Calories: 27 — Fiber: 1g — Protein: 1g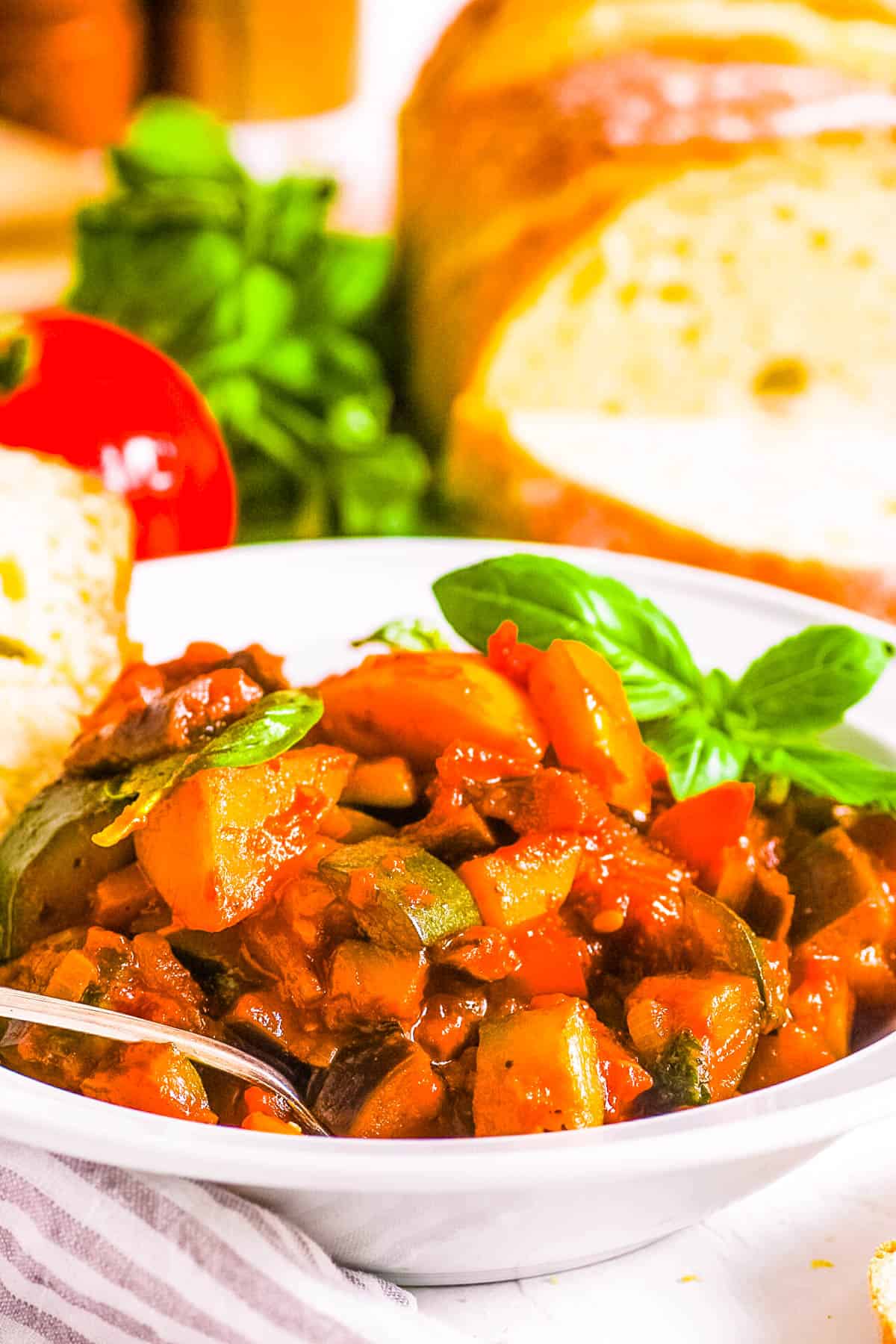 This Italian version of ratatouille requires fresh veggies and just a handful of fresh herbs, all easily found at any grocery store! While this recipe does require a lot of prepping and chopping of veggies, it's actually really easy to make!
With just 15 minutes of prep, this dish makes for an easy vegan dinner for the family.
With a slight Italian twist on traditional ratatouille, this recipe will quickly become a favorite in your house. The zucchini, potatoes, and eggplant give this vegetarian ratatouille an almost creamy texture that is so satisfying and flavorful.
Calories: 312 — Fiber: 11g — Protein: 8g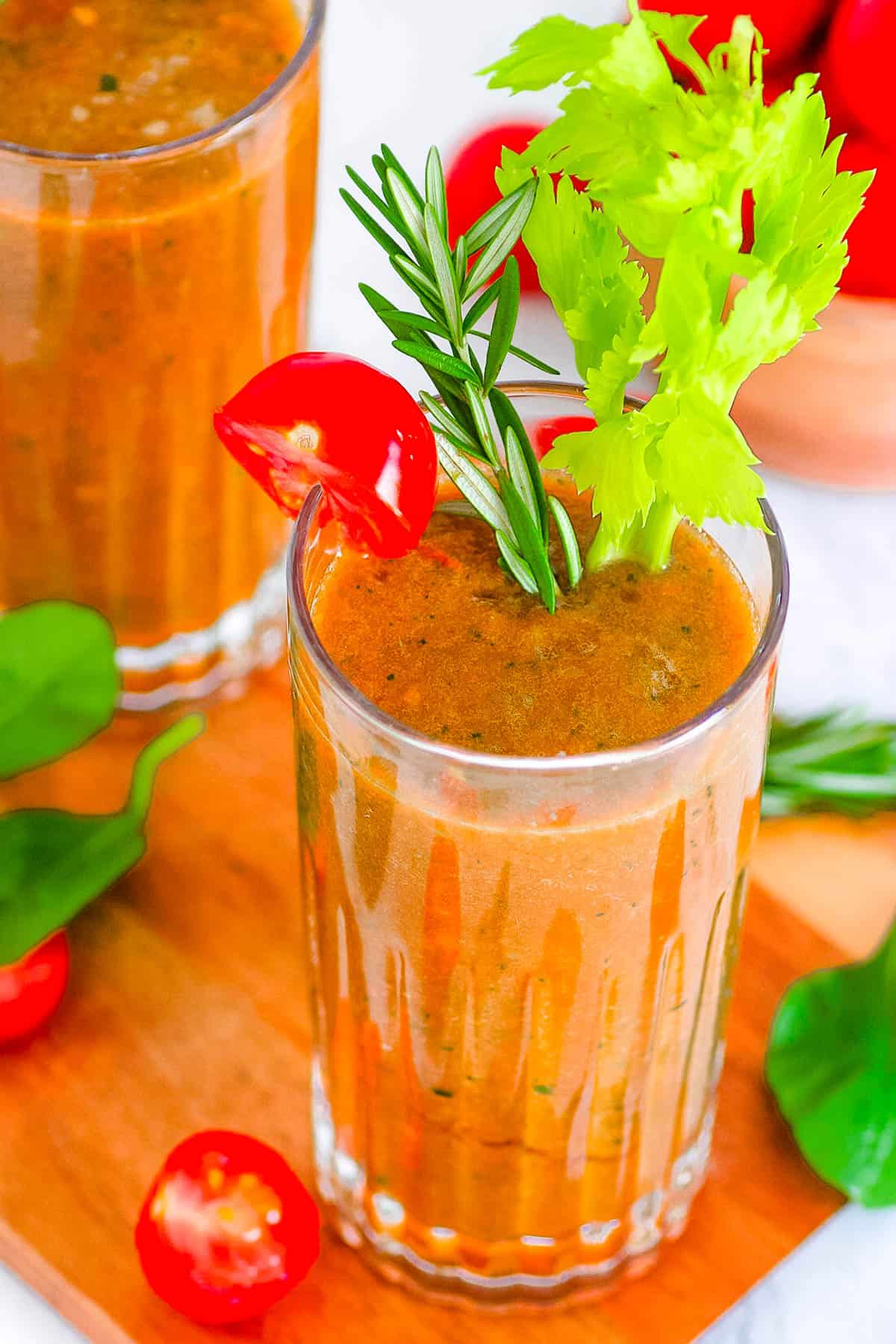 Ready in just 10 minutes, this easy smoothie recipe is perfect for a healthy breakfast or easy snack!
If you're a fan of tomato juice or the rich flavor of a Bloody Mary, you will love this delicious tomato smoothie! It's low calorie, packed with nutrients, and tastes great at room temperature or chilled.
Vegetable smoothies are some of my favorite recipes to start the day with. They're always refreshing, light, and as a bonus – they're a great way to pack almost an entire day's worth of veggies into one healthy drink!
Calories: 58 — Fiber: 3g — Protein: 3g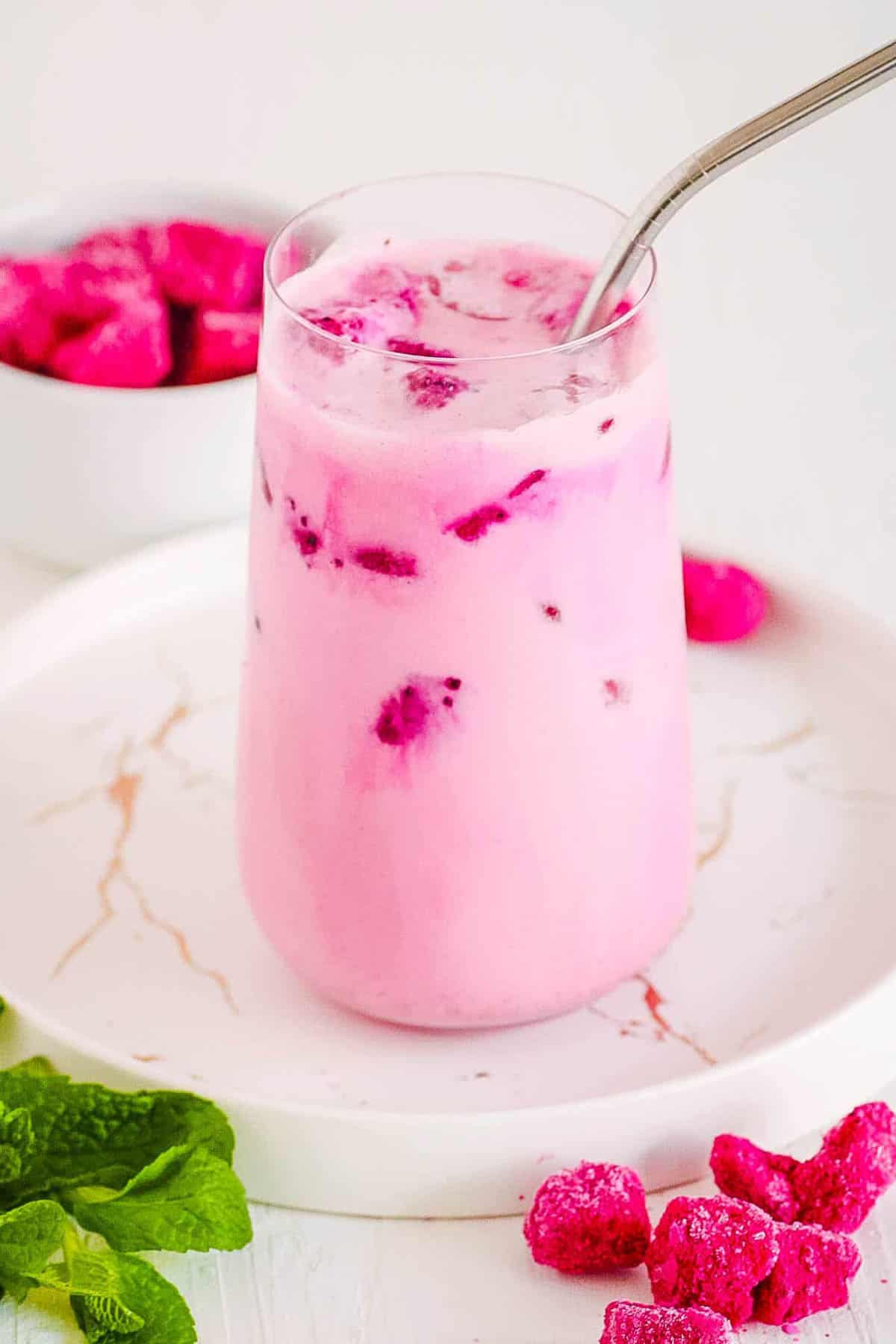 Simple to make, this Starbucks copycat dragon drink recipe is a lightened up, better way to enjoy one of our favorite drinks at home!
This specialty pink drink is made with simple ingredients, is vegan, gluten-free, and is easy to make caffeine-free. Everyone will love this amazing drink!
With delicious flavor and consistency, this drink will save you money and satisfy your sweet tooth. Be sure to add to your list of plant based diet recipes for beginners.
Calories: 155 — Fiber: 1g — Protein: 1g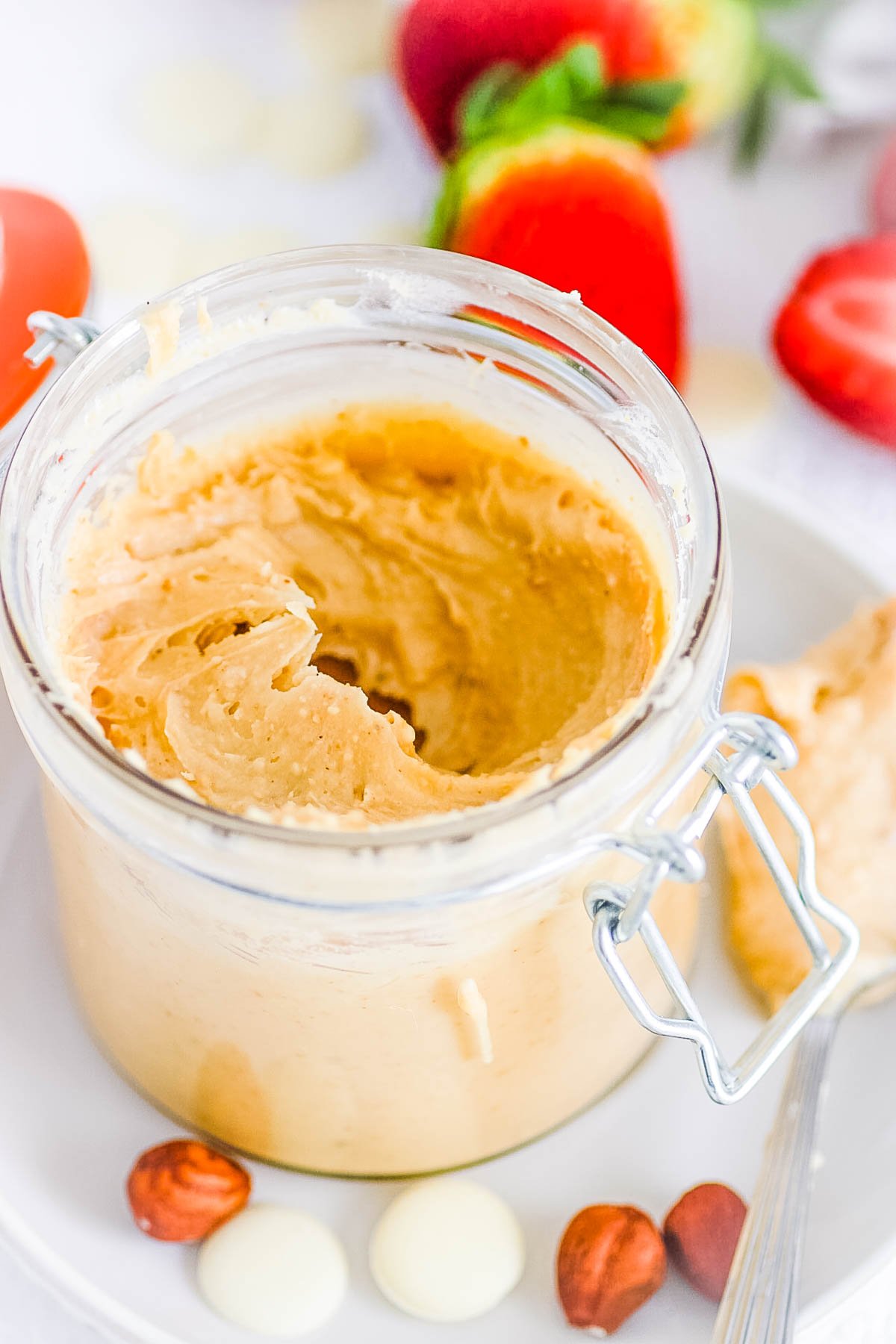 Vegan-friendly, this 3-ingredient recipe is easy to make and store. You can satisfy your sweet tooth without guilt.
Vegan-friendly and gluten-free, this versatile spread is a healthier twist on traditional Nutella, offering a delectable solution to your sweet-tooth desires.
Three simple ingredients create a velvety, nutty delight satisfying your cravings and fueling your creativity. Spread it on toast, drizzle over pancakes, or pair with any of your favorite plant-based meals.
Calories: 86 — Fiber: 1g — Protein: 1g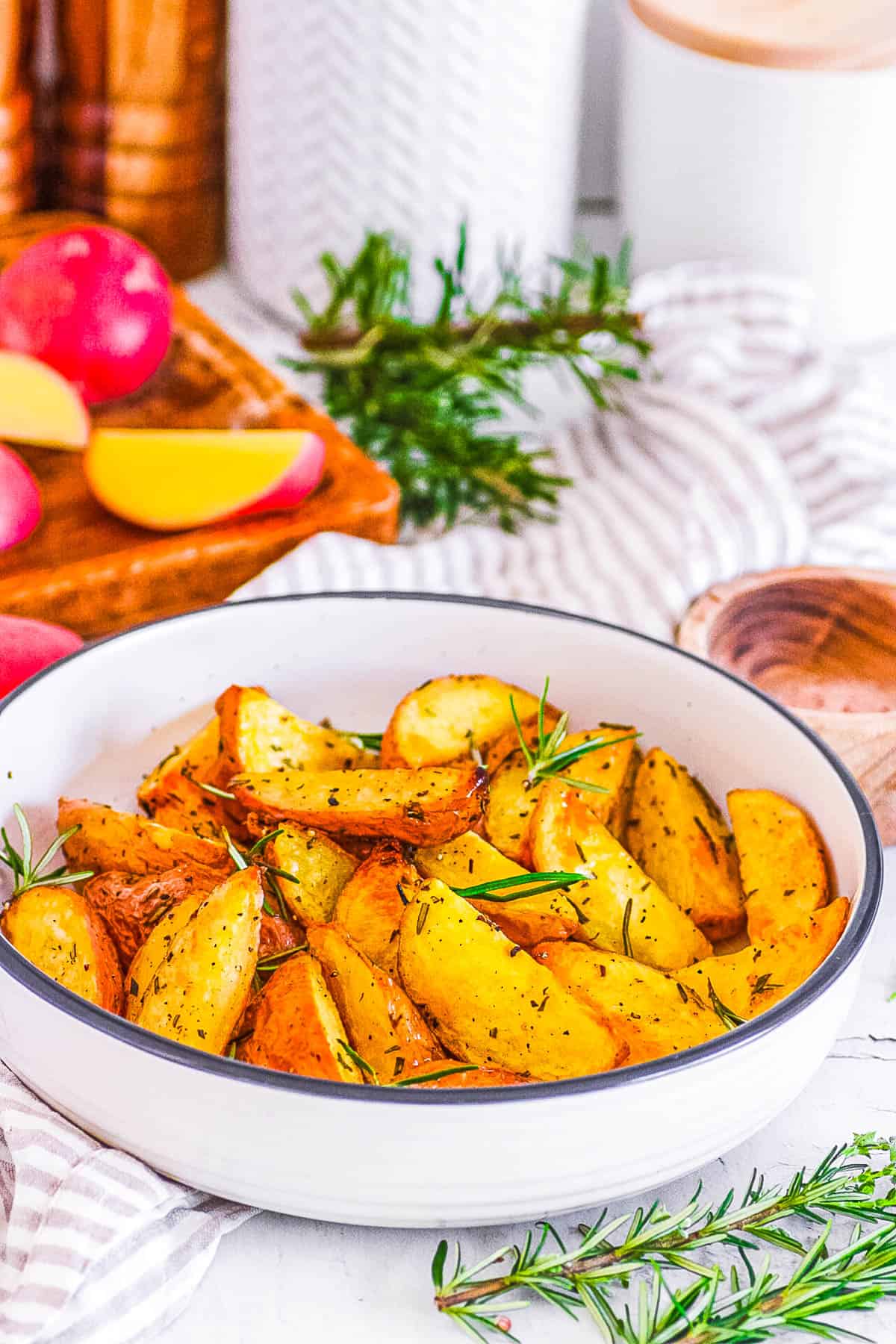 This classic recipe gets a plant-based twist, as tender potatoes with aromatic rosemary and olive oil perfectly balance textures and tastes. You only need 10 minutes of time to spare.
Gluten-free and vegan, this recipe elevates your side-dish game. Crispy exteriors, creamy interiors, and a burst of rosemary-infused flavor make these spuds an irresistible addition to any meal.
Whether it's breakfast, brunch, or a hearty dinner, these vegan rosemary roasted potatoes deliver a delightful, guilt-free indulgence that will have you returning for seconds.
Calories: 70 — Fiber: 2.1g — Protein: 1.5g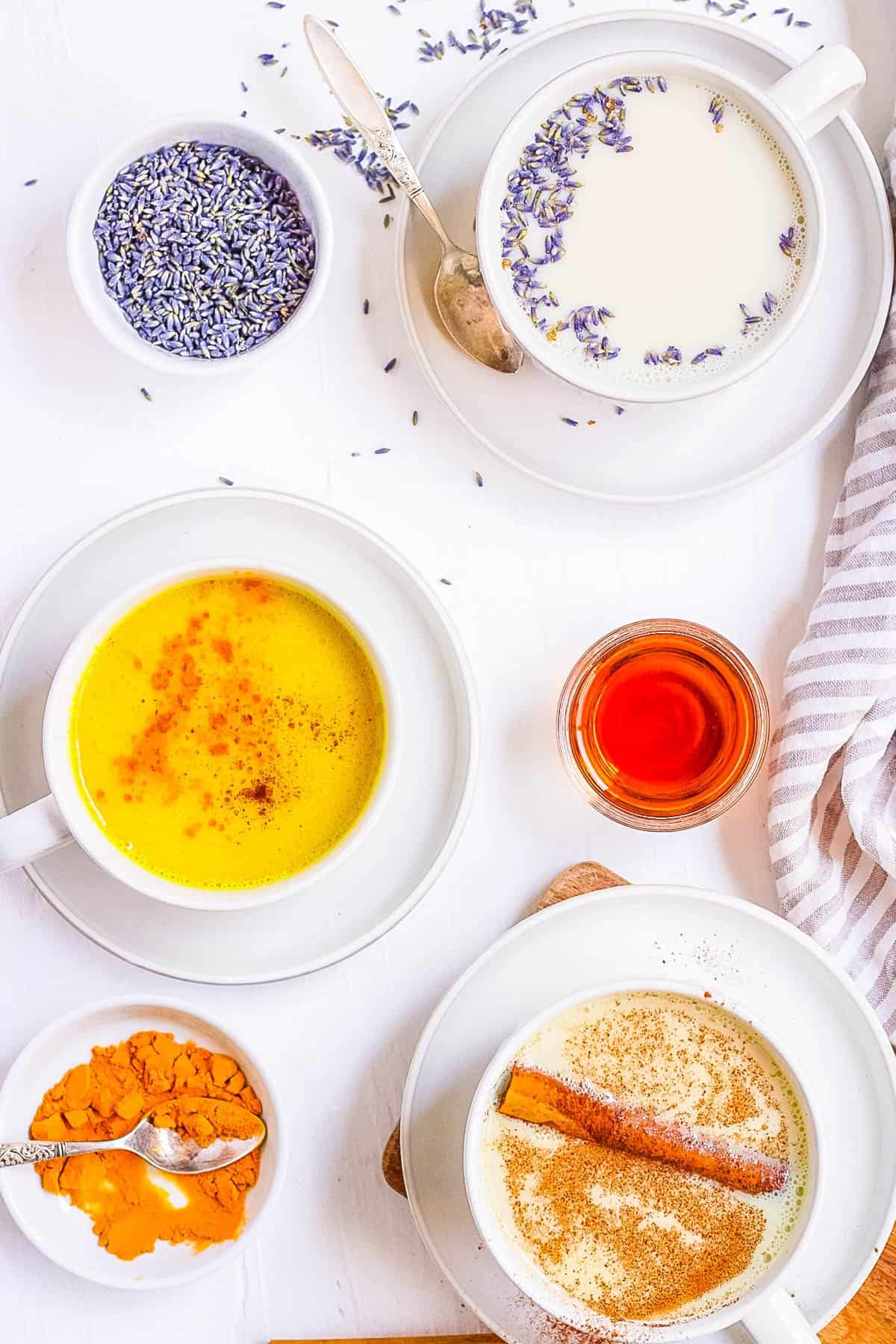 With easy step by step instructions and minimal ingredients, this is going to be one of your favorite easy vegan recipes!
A cozy mug of moon milk is a natural remedy for stress & sleep deprivation. Try one (or all 4!) warmly-spiced variations: the traditional version, chai spiced, golden turmeric, or lavender! Naturally dairy-free, vegan, & gluten-free!
I've been cozying up to a nightly glass of moon mylk on repeat for the last two weeks. It is one of the best easy vegan recipes for beginners to warm you up and put you right to sleep!
Calories: 121 — Fiber: 1g — Protein: 1g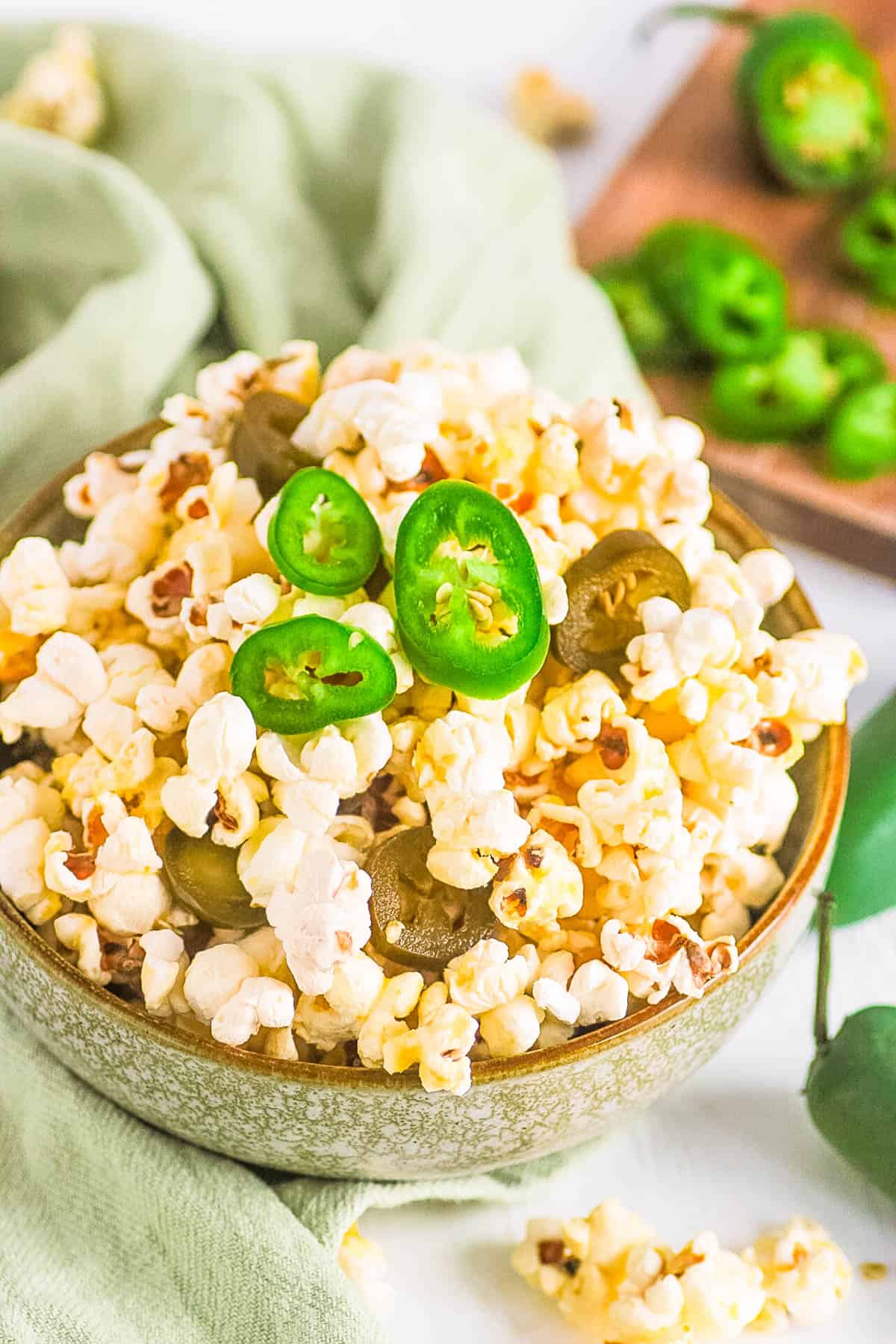 Revolutionize your movie night experience with this game-changing spicy recipe ready in under 20 minutes. Requiring just a handful of pantry essentials—real jalapeños, coconut oil, butter, and a pinch of salt—this snack is sure to be a crowd-pleaser.
Whether it's game day, movie night, or simply a craving for a zingy bite, this jalapeño popcorn is your go-to.
This snack ticks all the boxes with the flexibility to tweak the spiciness and a vegan option using plant-based butter. This is such a fun vegan food for beginners!
Calories: 70 — Fiber: 0.3g — Protein: 0.3g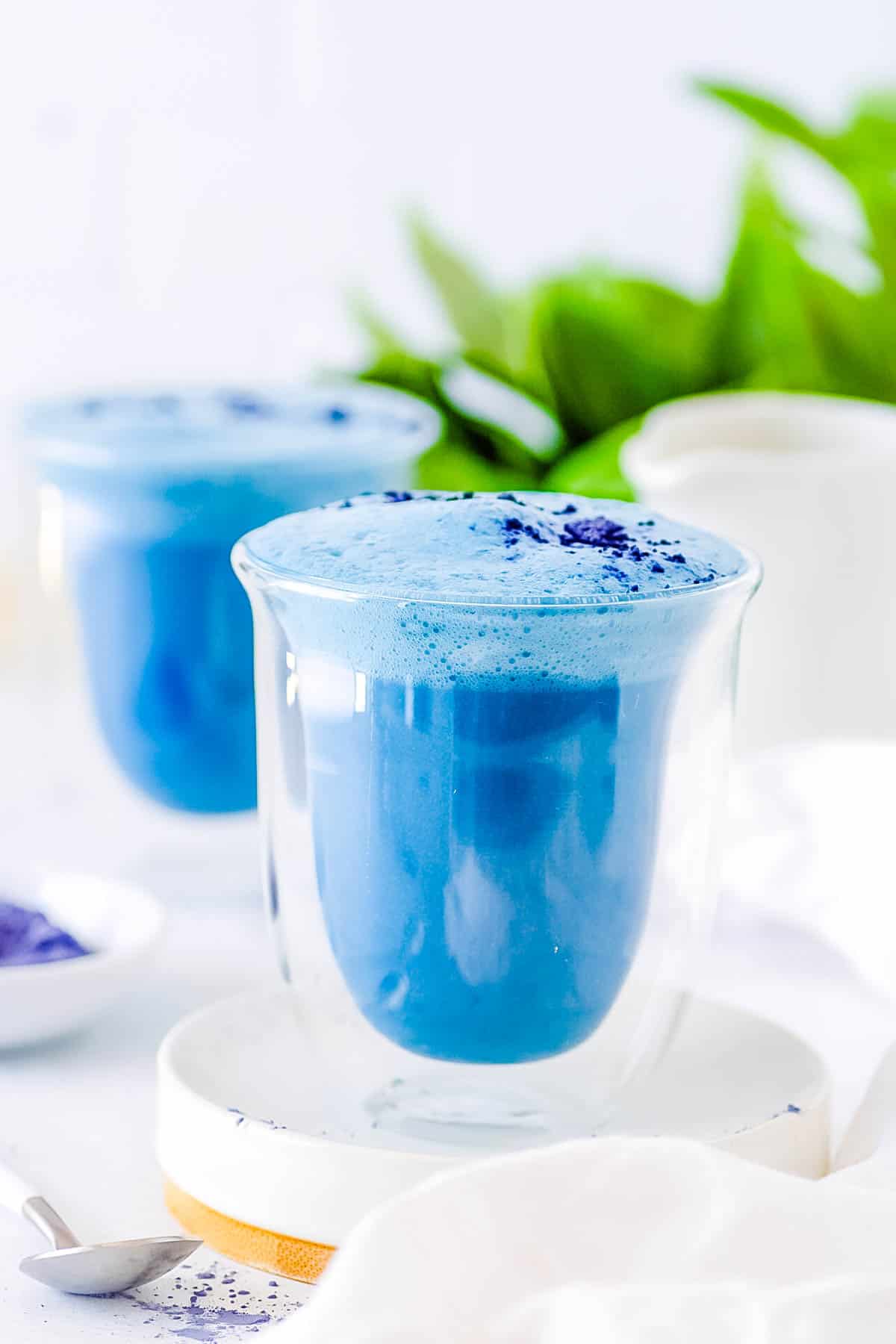 An eye-catching and unique tea experience, this 4-ingredient vegan latte is caffeine-free and easy to make.
You'll feel like an experienced barista in no time with easy to follow instructions. This blue butterfly pea flower latte is a great alternative to your morning coffee or night time tea.
The recipe is easily customizable too! Add espresso for a caffeine jolt or other flavors to make this tastier!
Calories: 63 — Fiber: 1g — Protein: 1g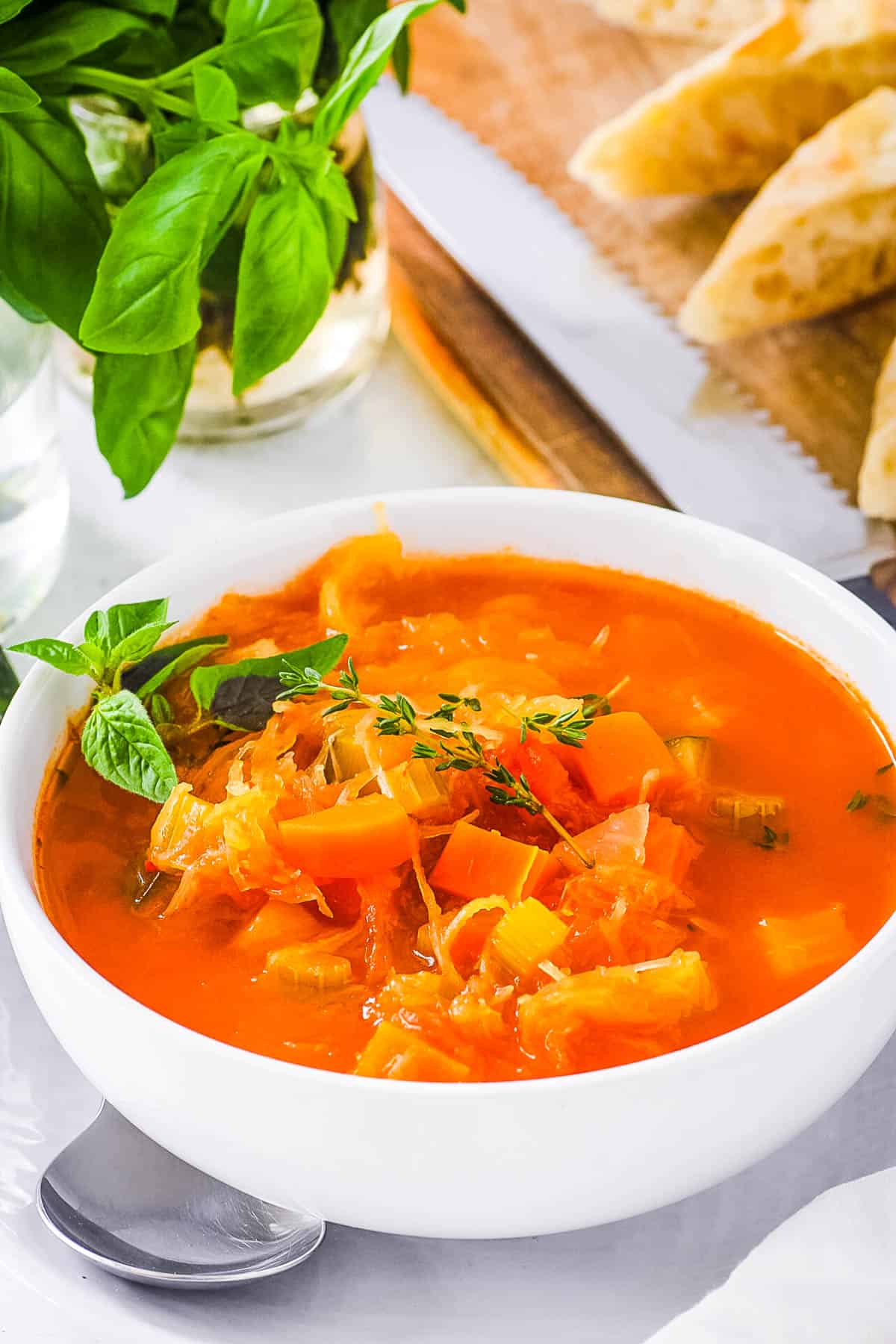 With only 20 minutes of prep time, this cream-free soup is a bold option for lunch or dinner. The recipe combines sweet and nutty spaghetti squash with bold flavors such as thyme and red onion.
Whenever you're craving a healthy and satisfying winter meal that's as yummy as it is healthy, this vegan spaghetti squash soup is right for you. It's perfect for family meals, too, as you can make larger batches easily.
I already know that you will love this easy vegan recipe, and it is a great way to try out some new ingredients.
Calories: 89 — Fiber: 3g — Protein: 2g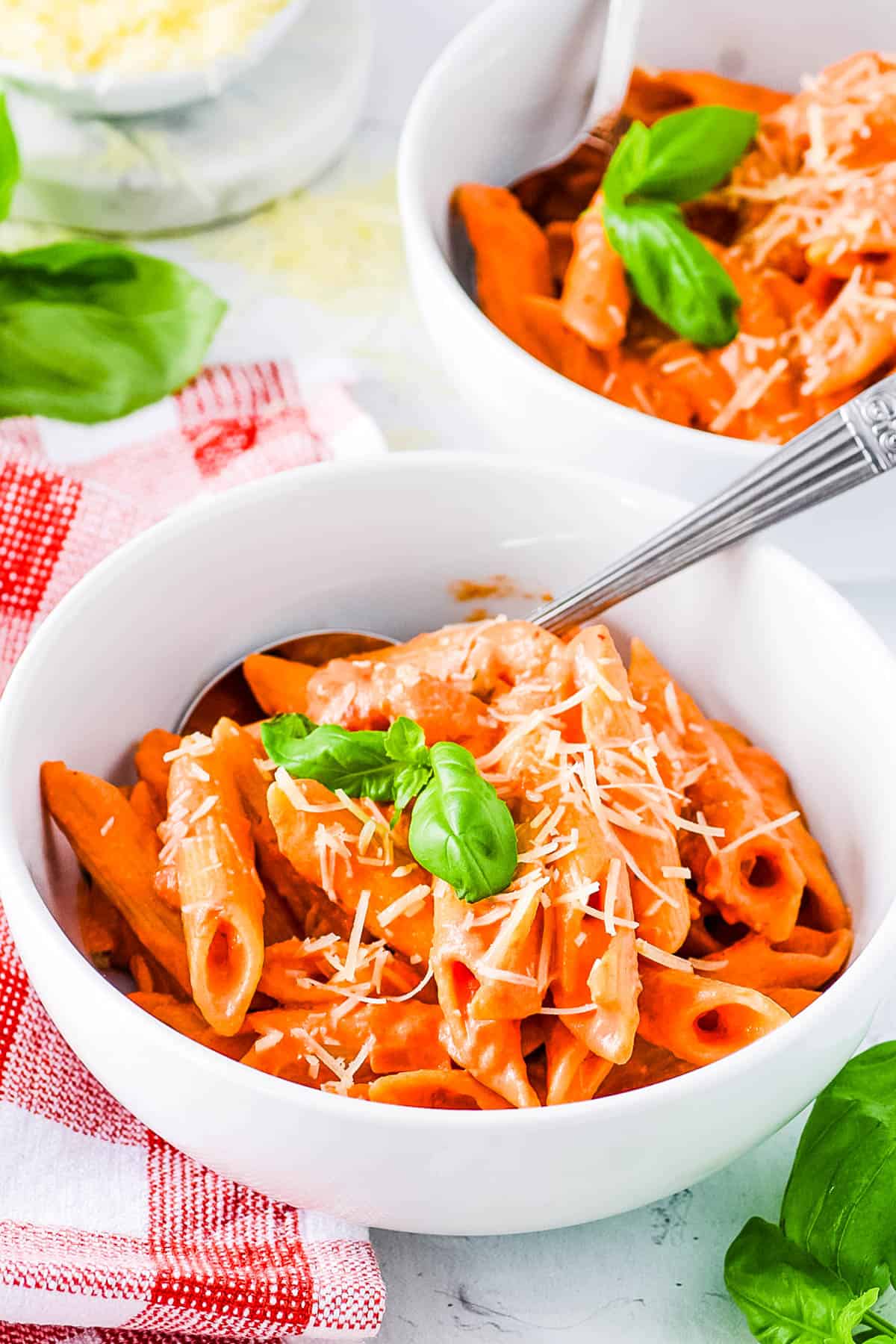 Turn pantry ingredients into a creamy, spicy, beginner vegan meal in 20 minutes.
Perfect for busy weeknights, this yummy pink pasta dish is a balance of flavor profiles that's effortless to make! Plus, it makes a family-friendly dish that you can adjust to your kid's liking.
Tomatoes and cream come together with a touch of spice in this dish which you can customize to your taste. The pink pasta sauce is well-balanced and nutritious, and you can easily make it vegan using simple substitutes.
Calories: 432 — Fiber: 8g — Protein: 14g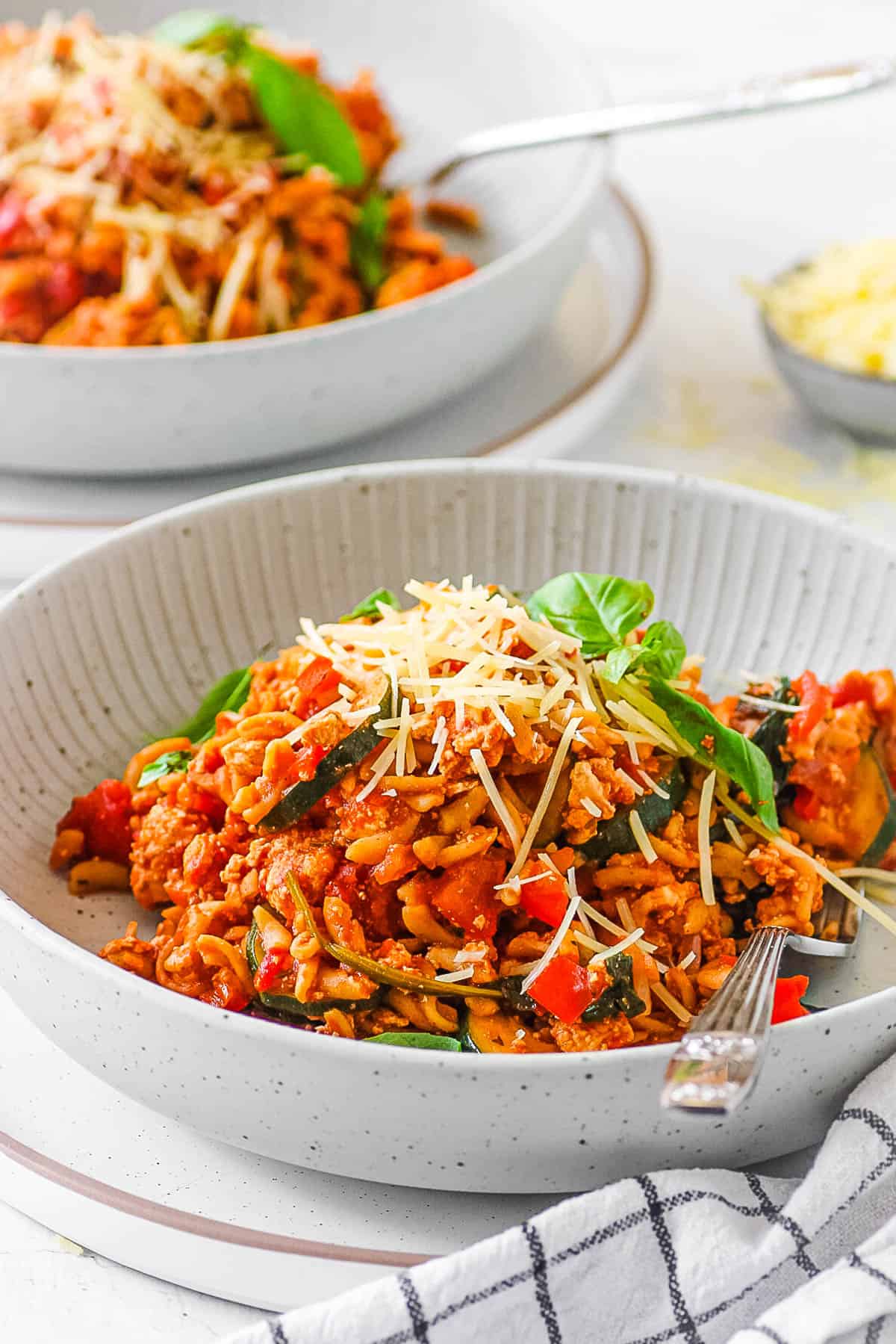 Ready in 30 minutes, this protein-packed tofu pasta recipe is great for feeding a crowd. Everyone will love it!
This nutritious and well-balanced recipe is a great way to introduce tofu to your diet—even kids and meat eaters will approve!
The vegan bolognese sauce is utterly delicious, and you can pick and choose which veggies and herbs to add. It contains wholesome ingredients and lasts up to 5 days, so make a big batch!
Calories: 335 — Fiber: 4g — Protein: 16g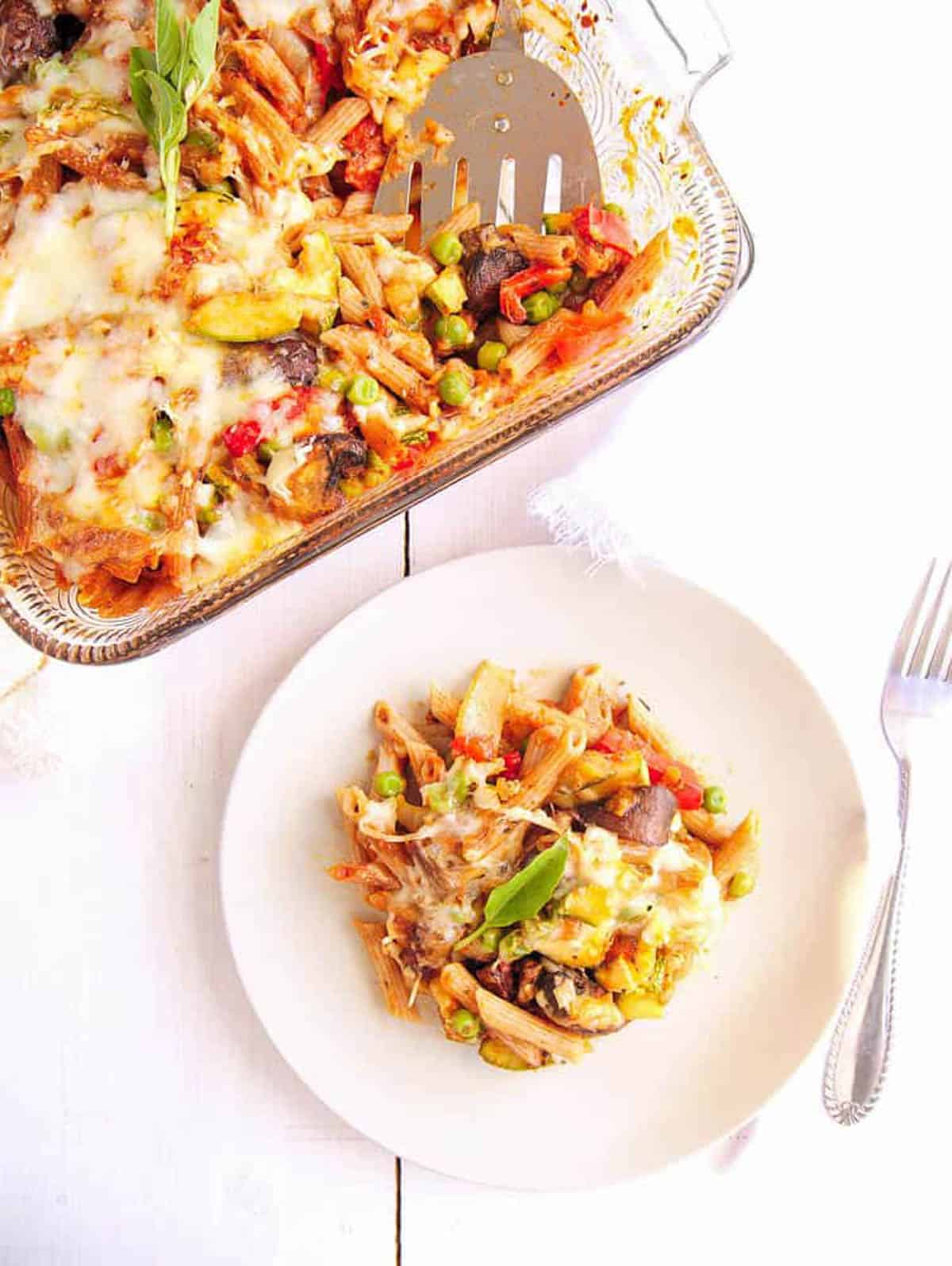 A vegan take on baked ziti, this is a recipe full of good-for-you ingredients that take little effort to prepare. You can indulge in this pasta dish because it's cheesy without all the added calories and fats.
It's great for meal prepping because the flavors shine better the next day. You won't miss any flavors of a traditional baked ziti, but you'll get more nutrition.
This guilt-free baked pasta casserole is high fiber, low calorie, low fat, vegan—but full of flavor! This is one of those beginner vegan meals the whole family will love.
Calories: 350 — Fiber: 10g — Protein: 16.1g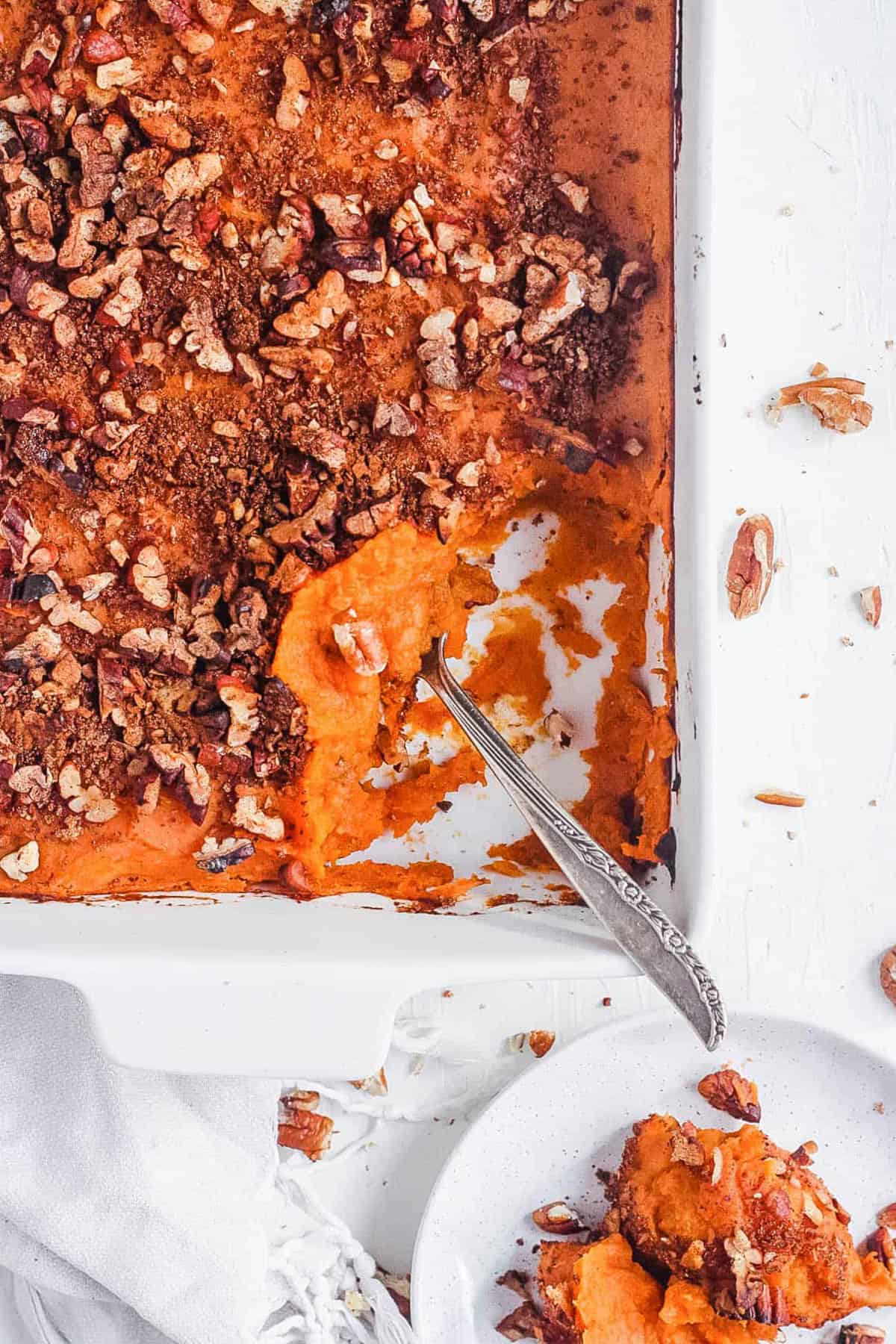 This easy-to-make recipe is an indulgent casserole bursting with fall flavors while staying vegan and full of healthy ingredients.
Fall spices bring warmth to this dish and allow the natural sweetness of the sweet potatoes to shine through. Kids and adults will both love this!
This is a sweet potato side dish you won't mind making all year long, but is especially perfect as part of your vegan thanksgiving recipes. The dairy-free recipe is delicious with less added sugars and a scrumptious crunchy topping.
Calories: 101 — Fiber: 2g — Protein: 1.3g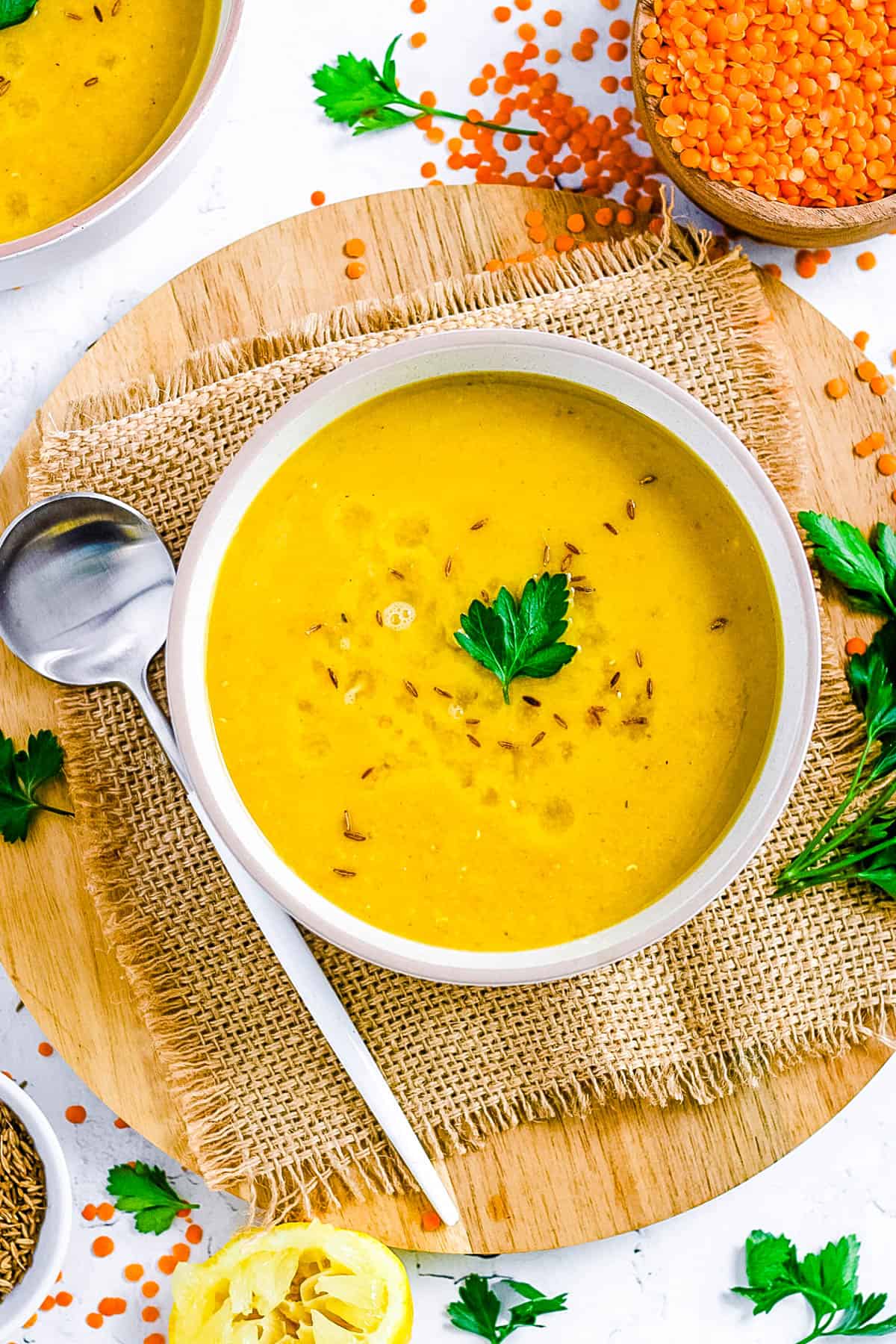 Packed with plant protein and nutrients, this fiber-rich soup will keep you satiated. Even better, you can make the soup in one pot, requiring only 15 minutes of prep time.
This vegan and gluten-free recipe makes a hearty soup that's warming, healthy, and perfect for the entire family. Whenever you crave comfort, this is the best recipe!
This recipe is a traditional Lebanese soup you'll probably add to your regular rotation. Perfect all year round, this soup transforms red dry lentils and a handful of vegetables into a satisfying velvety soup.
Calories: 284 — Fiber: 16g — Protein: 13g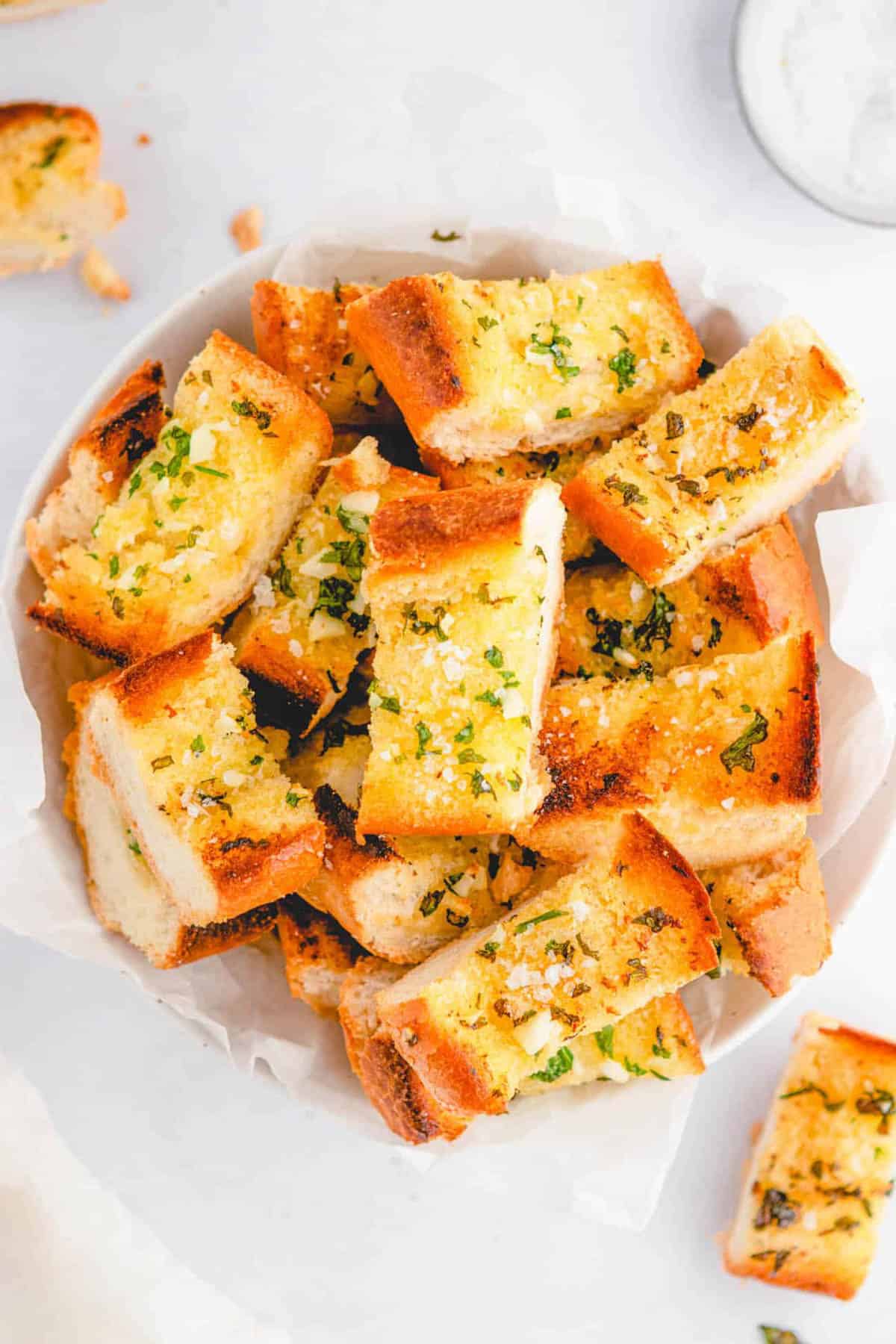 Using only four ingredients, this vegan recipe is foolproof. The garlic bread comes out buttery and absolutely delicious!
Garlic lovers, this one's for you! If you have been looking for healthier options while sticking to your vegan diet, give this bread a try.
You'll never go back to store-bought once you have a go at this recipe for homemade garlic bread that takes practically no time to make. You can even swap the bread to make this gluten-free, or add vegan cheese to up the protein (and flavor!).
Calories: 191 — Fiber: 2g — Protein: 6g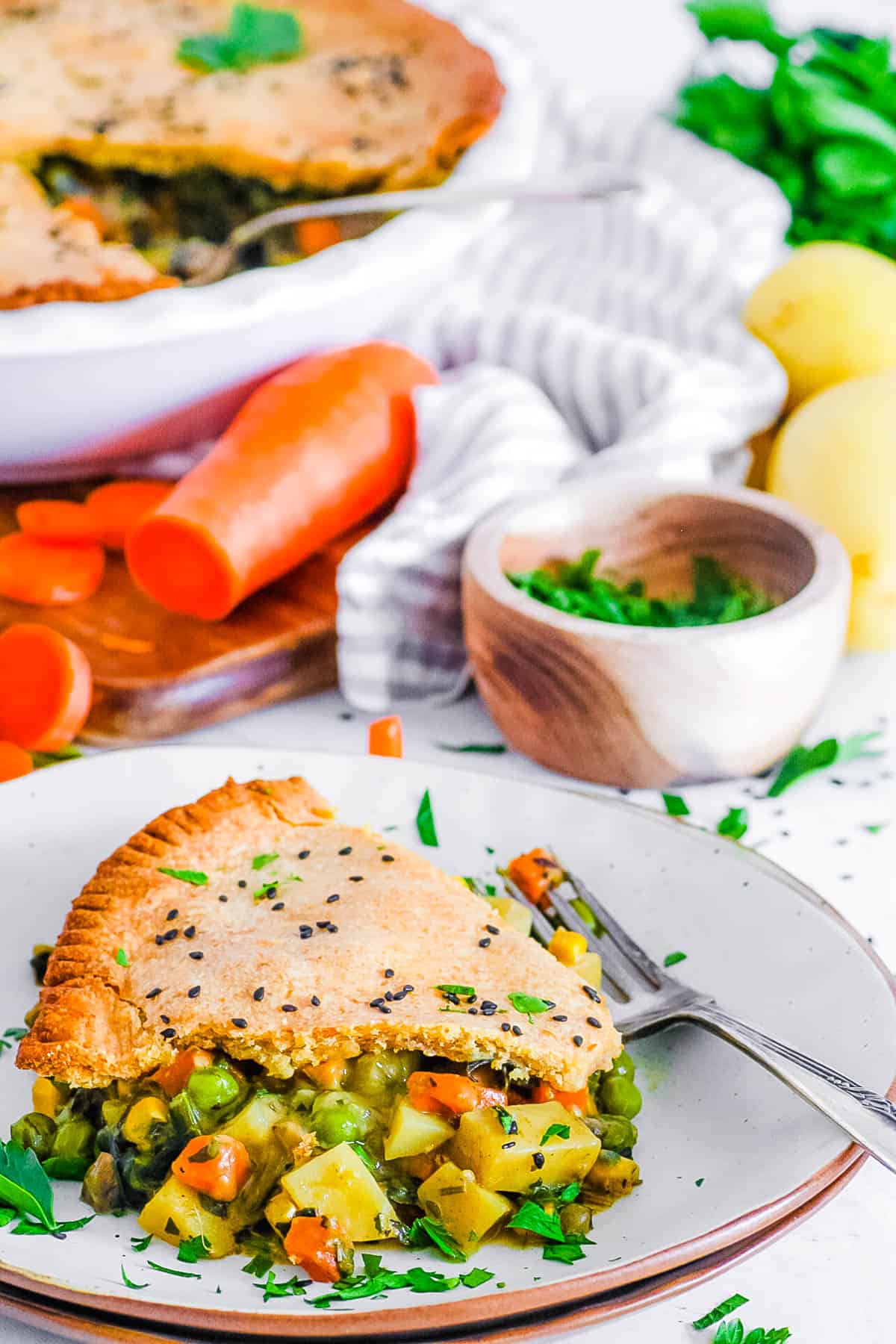 A vegan twist on the comfort food classic, this easy recipe is wholesome and healthy without compromising on that nostalgic flavor.
Satisfy your cravings by making this family-friendly meal full of healthy veggies and absolutely delicious. Even meat eaters will approve of the flavors in this recipe, so make it the next time you want a hearty and satisfying meal.
Customize the flavors and veggies according to your preferences, and double the recipe to feed a crowd!
Calories: 454 — Fiber: 10g — Protein: 10g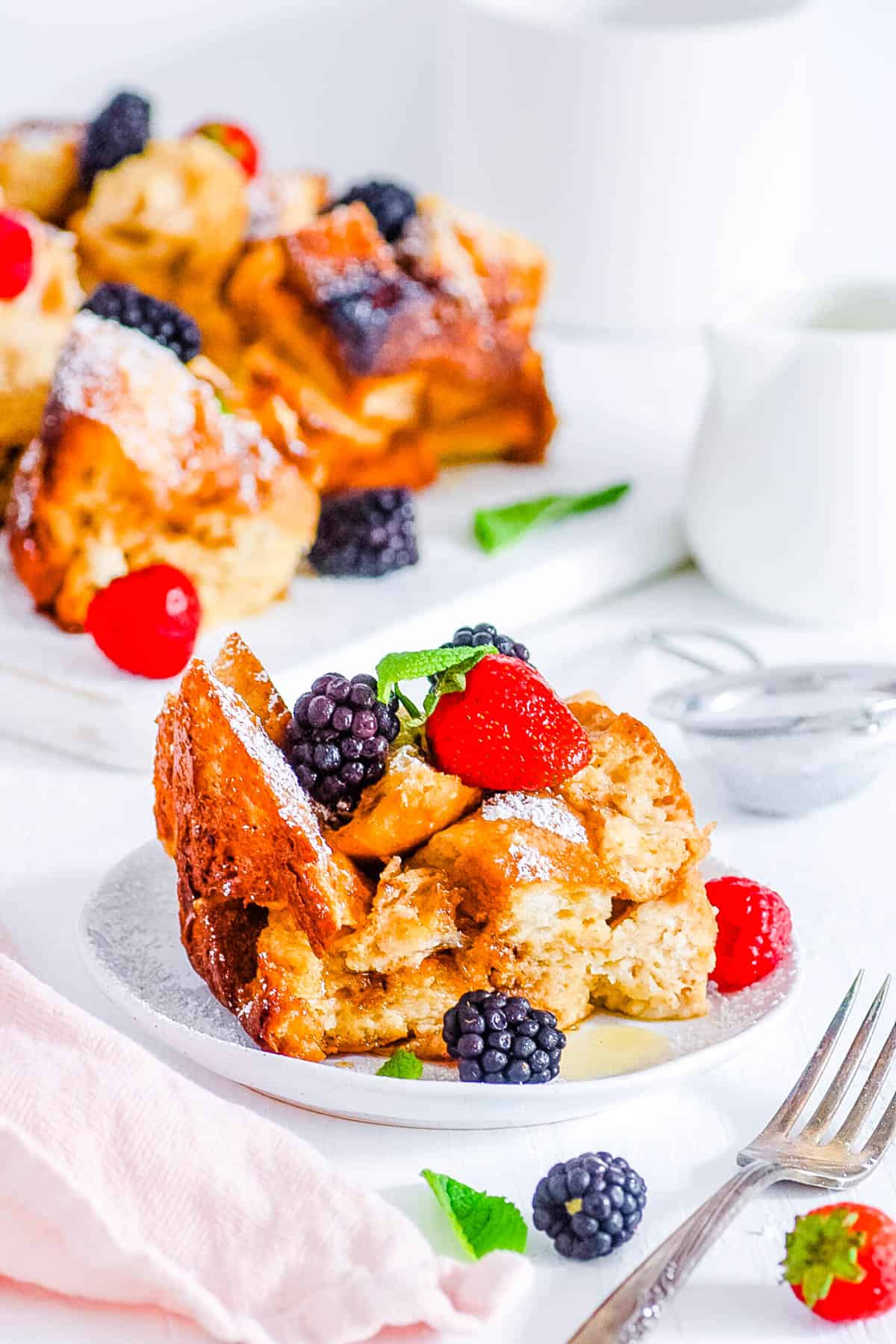 Satisfy your craving on lazy weekend mornings in this sweet vegan-friendly casserole that can't get any easier to make. No animal products here!
With only a handful of ingredients and minimal prep time, you can make this indulgent cinnamony breakfast in big batches. It is perfect to serve to a crowd while being mindful of dietary needs.
Have fun with the mix-ins, and you can even make this gluten-free by switching the bread. This recipe satisfies your sweet tooth and packs a lot of nutrition and protein.
Calories: 332 — Fiber: 1g — Protein: 12g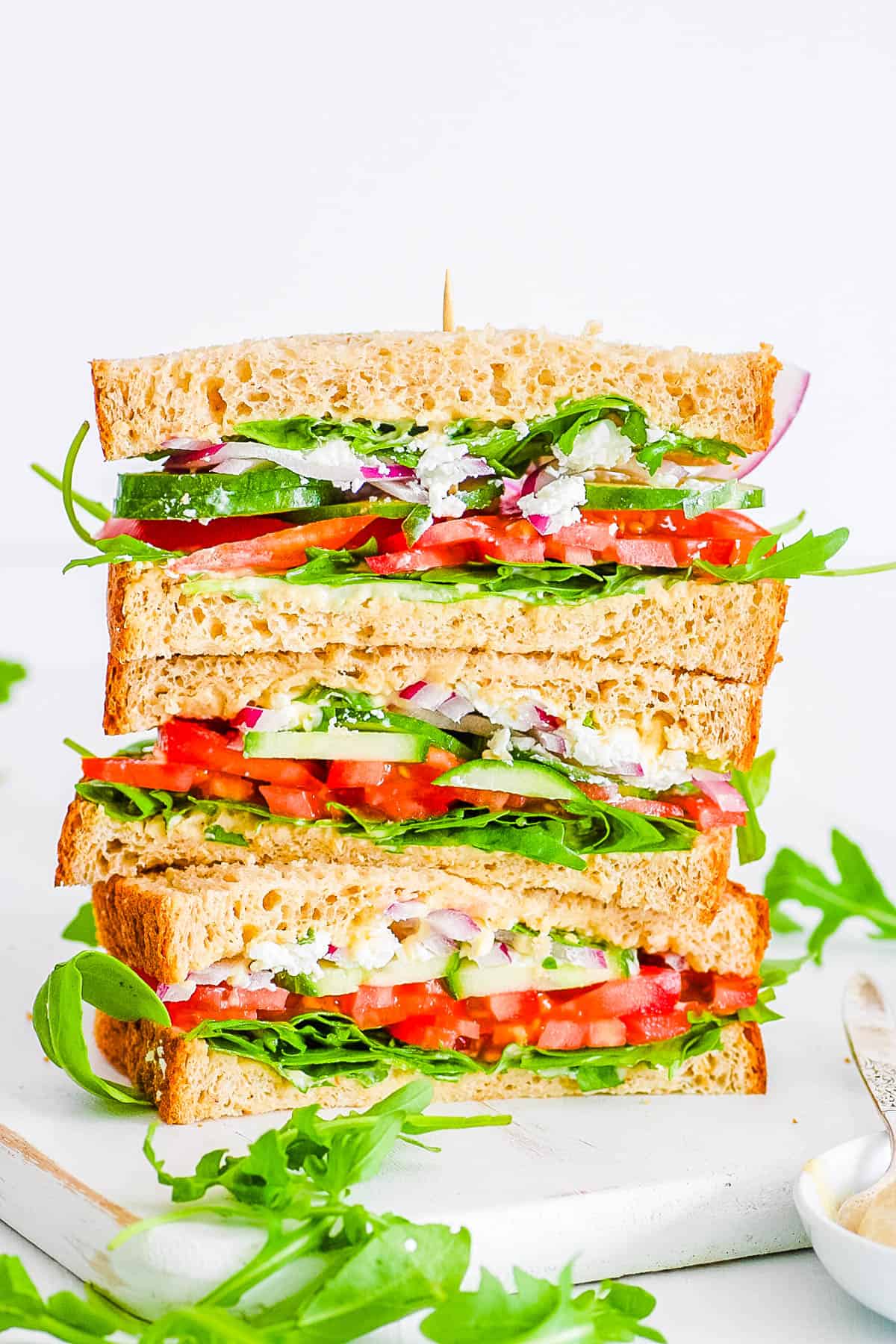 This is a vegan take on the infamous Panera veggie sandwich that's quick to make, low calorie, and vegan friendly. It only takes 10 minutes to put together, so it's perfect for lunch!
This copycat recipe is full of healthy ingredients like leafy greens, tomato, and whole wheat bread. Even picky eaters will enjoy this vegan sandwich, since it is super customizable.
This homemade option is much more affordable than ordering out! The creamy hummus pairs well with the yummy veggies and combines Mediterranean flavors for one of the best vegan sandwich recipes for beginner cooks.
Calories: 289 — Fiber: 8g — Protein: 16g
How To Stock A Vegan Kitchen?
When you're beginning a vegan lifestyle the first essential task is stocking your kitchen with pantry and fridge staples. A vegan diet consists of grains, vegetables, fruits, legumes, nuts and seeds, and non-dairy milks.
Seasonal Produce: You want to start by stocking your fridge and pantry with seasonal produce. This may include squash, potatoes, carrots, and other root vegetables in the winter. In the spring, you may include asparagus, and leafy greens. In the summer take advantage of fresh tomatoes, peaches, and berries. Luckily, we're able to get a lot of produce year round. However, fruits and vegetables will taste the best when in season.
Whole Grains: A large part of a vegan diet consists of whole grains. This includes whole wheat, bulgar, farro, quinoa, barley, oats, brown rice, and more! You can use whole grain bread to create sandwiches, and toast. Add quinoa and brown rice to make a buddha bowl. Enjoy oats for your morning breakfast. You may also include whole grain pastas.
Beans and Legumes: Black beans, white beans, kidney beans, chickpeas, and lentils provide both fiber and protein to a vegan diet. They can be added to your breakfast, lunch, dinner, and even dessert! Include them in your curries, soups, tacos, burritos, and more!
Nuts and Seeds: I recommend using raw unsalted nuts when possible. Nuts and seeds may be used in the form of nut butters as well. Look at the ingredients to be sure there aren't any added oils or sweeteners. Sprinkle seeds on your salads. Add flax and chia seeds to your smoothies and oats.
Dairy-Free Milk: There is a wide variety of dairy free milks out there. Some of my favorites include almond, cashew, oat, soy, coconut, and rice milk. There are also dairy-free cheeses, butters, ice creams, and yogurts. Just about every dairy item now has a dairy-free alternative. I recommend making your own homemade dairy alternatives when possible. They don't take a ton of time, and don't require many ingredients, but the result is both tastier and healthier. Many of the dairy-free alternatives contain added preservatives and other ingredients that are not beneficial to your health.
How Do You Start A Vegan Diet?
I recommend when starting any new lifestyle change to take it slow and one step at a time.
Depending on what your diet may look like before the change, you may want to do the following.
Try incorporating one meatless meal into your diet for a week or more. If you are used to eating a heavy meat and cheese diet, substituting one meal, whether that's breakfast, lunch or dinner, is a first step to getting used to a new lifestyle.
Once you've mastered one meal a day, I recommend trying to cut out either meat or dairy all together. You don't want to do both at the same time, as that can be a big change that could lead to you giving up all together. If you eat a heavy cheese and dairy diet, you may want to consider cutting that out first, and experimenting with dairy free milk alternatives. Try your hand at making your own vegan cream sauces, or even cheeses!
Once you've given up dairy, try letting go of meat. This is likely going to be the most difficult change. Be sure to start adding a lot of beans and legumes into your diet at this time. When you give up a main protein source, you want to be sure to add in a plant-based protein source. This is also a good time to experiment with tofu, and tempeh. I recommend trying to stay away from the processed versions of vegan meat alternatives. These are full of processed ingredients, and provide a bit of a crutch when trying a vegan lifestyle. Be sure to add natural whole food protein sources into your diet.
It doesn't have to be all or nothing. Incorporating healthy vegan choices into your diet at home, and enjoying alternatives when you go out to eat is okay, if that's what works for you and your lifestyle. The more healthy unprocessed plant-based choices you make the better for your health!
Additional Tips For Beginning A Vegan Lifestyle
Embrace whole grains. Opt for sprouted wheat bread (which is high in protein), whole wheat bread, brown rice, and other whole grain options. If you're used to white bread, make the switch. You'll get additional nutritional benefits from whole grains, as well as more fiber.
Reduce your sugar intake. While sugar is allowed on a vegan diet, white sugar is a bit tricky if you live in the United States. Some white sugars are processed with bone char. If you choose to use sugar in your diet, opt for organic sugar which is vegan friendly. As well as sugar alternatives such as coconut sugar, and maple syrup. However, reducing your overall sugar intake will have great benefits for your health.
What Should A Beginner Vegan Eat?
My favorite beginner vegan recipes are so easy, and simple you don't even need a recipe!
Chickpea pasta and marinara with spinach
Black bean tacos with corn tortillas, avocado and salsa
Oatmeal with ground flaxseed + your favorite fruit for breakfast
Lentils with vegetables and brown rice
Bean burritos
Fresh veggies with hummus for dipping
Stir-fried vegetables and tofu
Tips And Tricks To Preparing Beginner Vegan Recipes
Start with simple meals that don't require a ton of ingredients.
Don't make it overly complicated! Think about filling half your plate with vegetables, a quarter of your plate with whole grains, and a quarter of your plate with plant protein.
Add lots of spices! To create a depth of flavor, be sure to add lots of spices, both fresh and dried to your meals. It will make your vegetables and legumes taste different and amazing every time.
More Vegan Recipes & Tips!
18 responses to "110 Vegan Recipes For Beginners"