50 Beginner Vegan Recipes That Are Super Simple
This post may contain affiliate links. As an Amazon Associate, I earn from qualifying purchases. Please read my disclosure.
These super simple beginner vegan recipes will make meal time delicious and easy! Whether you're starting a vegan lifestyle for the first time, or looking for some easy meatless meals, these recipes will inspire your taste buds!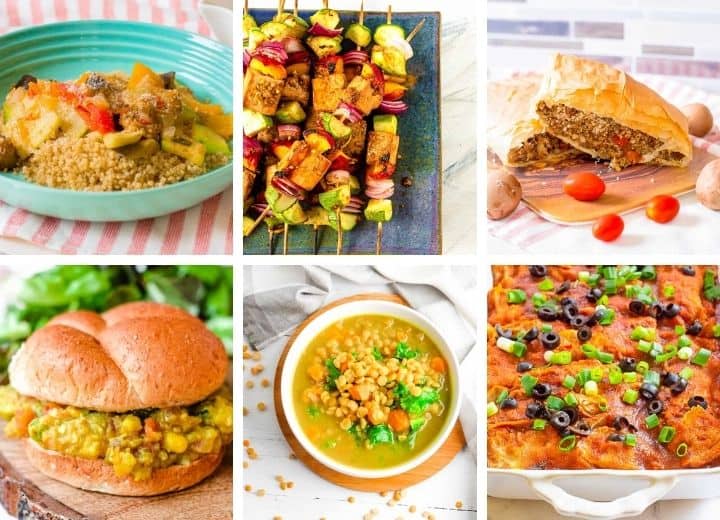 Beginning a vegan diet can seem overwhelming. Especially if you've been used to an omnivore diet for quite some time. Finding easy and delicious recipes is the key to success.
I'm not vegan, but I do follow a vegetarian diet. The recipes here at The Picky Eater are a combination of both vegan and vegetarian. Sometimes when I'm whipping up a meal, I don't realize until it's completed that it's actually vegan.
Whether you want to dive into a vegan lifestyle, incorporate more meatless meals into your diet, are looking for dairy-free alternative recipes, or having a vegan guest over for dinner, these beginner recipes will do the trick.
I've added breakfast, lunch/dinner, dessert, and snack recipes for all of your needs!
How To Stock A Vegan Kitchen?
When you're beginning a vegan lifestyle the first essential task is stocking your kitchen with pantry and fridge staples. A vegan diet consists of grains, vegetables, fruits, legumes, nuts and seeds, and non-dairy milks.
Seasonal Produce: You want to start by stocking your fridge and pantry with seasonal produce. This may include squash, potatoes, carrots, and other root vegetables in the winter. In the spring, you may include asparagus, and leafy greens. In the summer take advantage of fresh tomatoes, peaches, and berries. Luckily, we're able to get a lot of produce year round. However, fruits and vegetables will taste the best when in season.
Whole Grains: A large part of a vegan diet consists of whole grains. This includes whole wheat, bulgar, farro, quinoa, barley, oats, brown rice, and more! You can use whole grain bread to create sandwiches, and toast. Add quinoa and brown rice to make a buddha bowl. Enjoy oats for your morning breakfast. You may also include whole grain pastas.
Beans and Legumes: Black beans, white beans, kidney beans, chickpeas, and lentils provide both fiber and protein to a vegan diet. They can be added to your breakfast, lunch, dinner, and even dessert! Include them in your curries, soups, tacos, burritos, and more!
Nuts and Seeds: I recommend using raw unsalted nuts when possible. Nuts and seeds may be used in the form of nut butters as well. Look at the ingredients to be sure there aren't any added oils or sweeteners. Sprinkle seeds on your salads. Add flax and chia seeds to your smoothies and oats.
Dairy-Free Milk: There is a wide variety of dairy free milks out there. Some of my favorites include almond, cashew, oat, soy, coconut, and rice milk. There are also dairy-free cheeses, butters, ice creams, and yogurts. Just about every dairy item now has a dairy-free alternative. I recommend making your own homemade dairy alternatives when possible. They don't take a ton of time, and don't require many ingredients, but the result is both tastier and healthier. Many of the dairy-free alternatives contain added preservatives and other ingredients that are not beneficial to your health.
How Do You Start A Vegan Diet?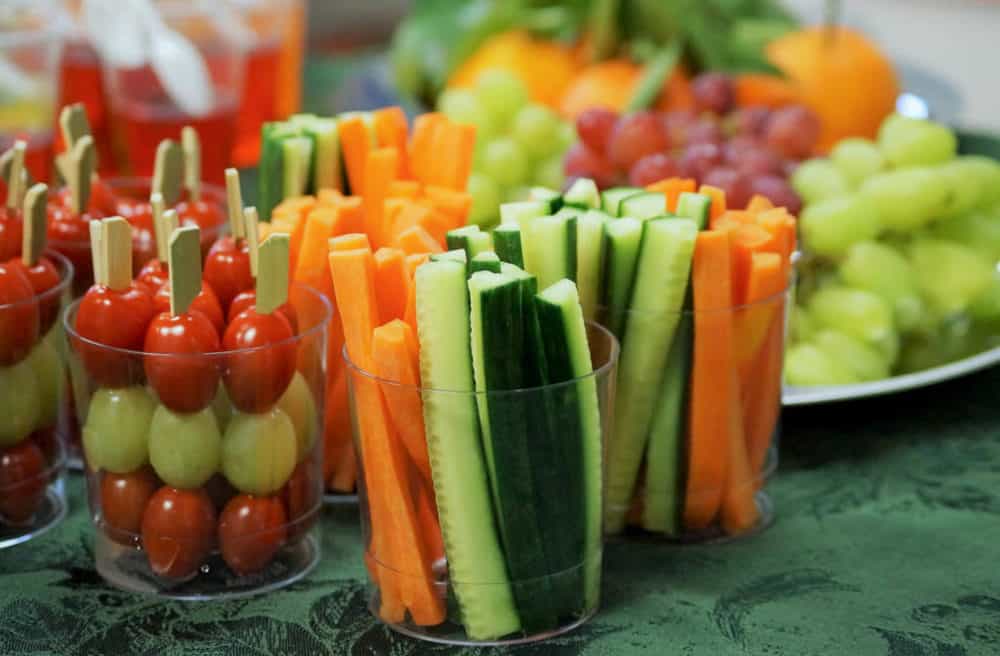 I recommend when starting any new lifestyle change to take it slow and one step at a time.
Depending on what your diet may look like before the change, you may want to do the following.
Try incorporating one meatless meal into your diet for a week or more. If you are used to eating a heavy meat and cheese diet, substituting one meal, whether that's breakfast, lunch or dinner, is a first step to getting used to a new lifestyle.
Once you've mastered one meal a day, I recommend trying to cut out either meat or dairy all together. You don't want to do both at the same time, as that can be a big change that could lead to you giving up all together. If you eat a heavy cheese and dairy diet, you may want to consider cutting that out first, and experimenting with dairy free milk alternatives. Try your hand at making your own vegan cream sauces, or even cheeses!
Once you've given up dairy, try letting go of meat. This is likely going to be the most difficult change. Be sure to start adding a lot of beans and legumes into your diet at this time. When you give up a main protein source, you want to be sure to add in a plant-based protein source. This is also a good time to experiment with tofu, and tempeh. I recommend trying to stay away from the processed versions of vegan meat alternatives. These are full of processed ingredients, and provide a bit of a crutch when trying a vegan lifestyle. Be sure to add natural whole food protein sources into your diet.
It doesn't have to be all or nothing. Incorporating healthy vegan choices into your diet at home, and enjoying alternatives when you go out to eat is okay, if that's what works for you and your lifestyle. The more healthy unprocessed plant-based choices you make the better for your health!
Additional Tips For Beginning A Vegan Lifestyle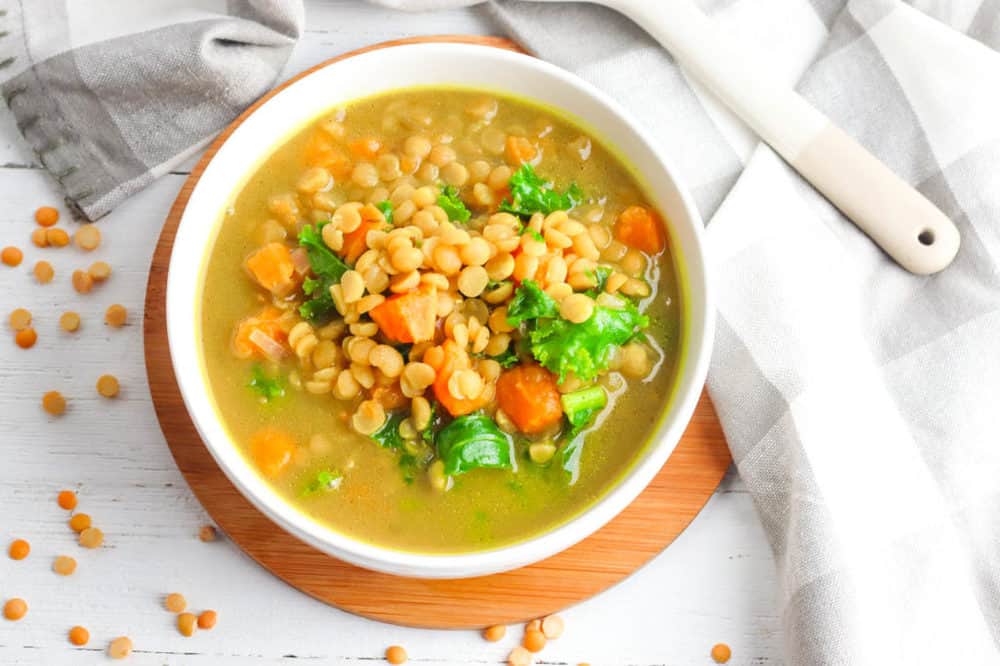 Embrace whole grains. Opt for sprouted wheat bread (which is high in protein), whole wheat bread, brown rice, and other whole grain options. If you're used to white bread, make the switch. You'll get additional nutritional benefits from whole grains, as well as more fiber.
Reduce your sugar intake. While sugar is allowed on a vegan diet, white sugar is a bit tricky if you live in the United States. Some white sugars are processed with bone char. If you choose to use sugar in your diet, opt for organic sugar which is vegan friendly. As well as sugar alternatives such as coconut sugar, and maple syrup. However, reducing your overall sugar intake will have great benefits for your health.
What Should A Beginner Vegan Eat?
My favorite beginner vegan recipes are so easy, and simple you don't even need a recipe!
Chickpea pasta and marinara with spinach
Black bean tacos with corn tortillas, avocado and salsa
Oatmeal with ground flaxseed + your favorite fruit for breakfast
Lentils with vegetables and brown rice
Bean burritos
Fresh veggies with hummus for dipping
Stir-Fried Vegetables and Tofu
Tips And Tricks To Preparing Beginner Vegan Recipes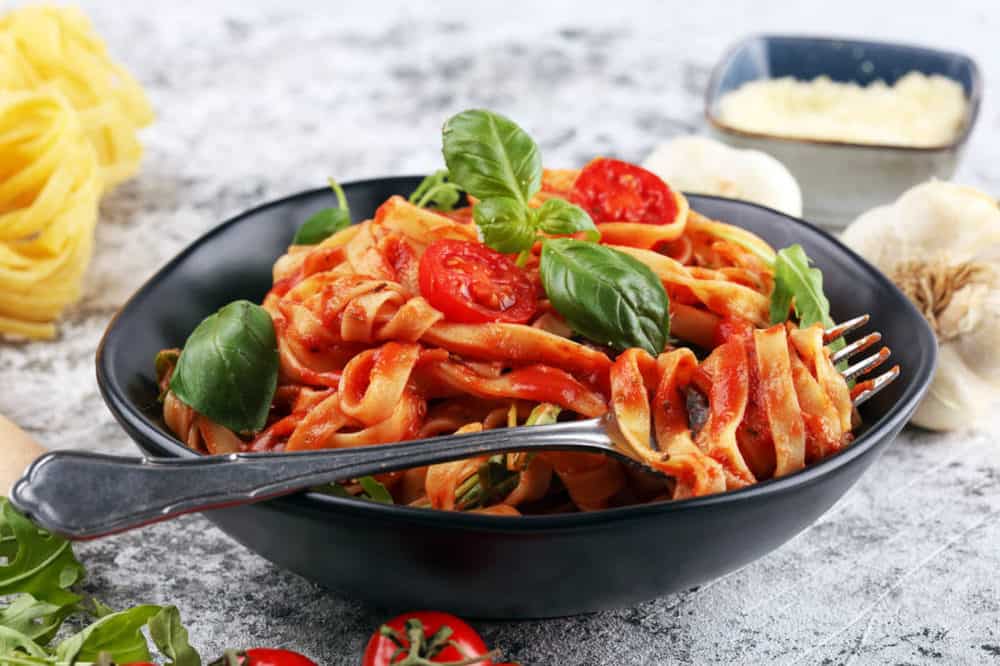 Start with simple meals that don't require a ton of ingredients.
Don't make it overly complicated! Think about filling half your plate with vegetables, a quarter of your plate with whole grains, and a quarter of your plate with plant protein.
Add lots of spices! To create a depth of flavor, be sure to add lots of spices, both fresh and dried to your meals. It will make your vegetables and legumes taste different and amazing every time.
50 Quick And Easy Beginner Vegan Recipe Ideas
Here are some of my favorite beginner vegan recipes! I've got you covered for breakfast, lunch or dinner, dessert, and even snacks! These recipes are quick, easy, simple, and super flavorful.
Even if you're not vegan you won't notice that these recipes are missing meat and dairy!
Beginner Vegan Breakfasts
Smoothies, oats, and quick breads are a great way to incorporate meat free choices into your breakfast rotation.
Beginner Vegan Lunches and Dinners
Adding lots of vegetables, plant-protein, and whole grains will help you create filling and delicious meals to enjoy for lunch or dinner!
Beginner Vegan Desserts
Just because you follow a vegan diet doesn't mean you can't enjoy dessert now and again! These sweet treats use natural unprocessed sugars, and whole grains to create out of this world sweets!
Beginner Vegan Snacks
Don't grab a bag of chips! Give these simple snacks a try! From easy to make energy balls, dips, home baked fries, and fresh fruit, snack time will become your favorite time of day!
Check Out These Other Helpful Vegan Tips!
If you have tried any of these beginner vegan recipes, or any other recipe on my blog, then please rate it and let me know how it turned out in the comments below! You can also FOLLOW ME on FACEBOOK, TWITTER, INSTAGRAM and PINTEREST to see more delicious, healthy, family friendly food!
10 responses to "50 Beginner Vegan Recipes That Are Super Simple"