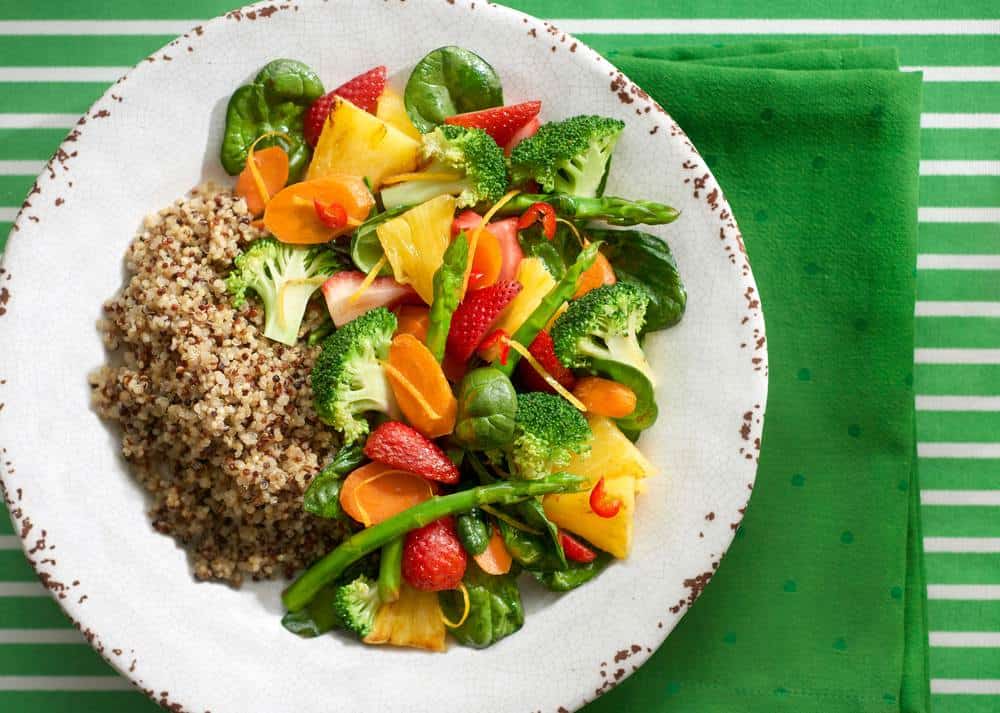 Stir-frys are one of the easiest healthy dishes you can make when you're pressed for time.
All you have to do is throw a bunch of vegetables, tofu (or another lean protein), a whole grain (like quinoa) and spices into a big pan (or wok), and within 15 minutes you'll have a fresh and well rounded dinner ready to eat!
This particular stir-fry is especially unique, thanks to its use of fresh fruit (strawberries and pineapple) in the stir-fry, which adds a sweetness that contrasts the spiciness of the dish nicely. The ginger and lemon bring a refreshing element to the recipe, and helps make this dish feel light while still being super satisfying and filling. This recipe is also vegetarian, vegan and gluten-free!
I'm sharing this recipe in honor of Breast Cancer Awareness Month — I've teamed up with Pink Ribbon Produce and its produce partners to help raise awareness about increasing fruits and veggies in our diets (the goal is at least 2.5 cups a day) to help lower cancer risk (cruciferous veggies like cauliflower, and greens like spinach are especially great for prevention!) You can read more about why I'm supporting this cause here. I hope you enjoy this recipe!
Lemon-Ginger Vegetable Stir Fry
Nutritional Info Per Serving: 210 Calories, 9g Fat (1g Saturated), 390mg Sodium, 31g Carbs, 6g Fiber, 10g Sugar, 7g Protein
Ingredients
2

tbsp

sesame oil

3

tbsp

low-sodium soy sauce

2

tbsp

grated fresh ginger

2

tbsp

grated lemon peel

1

tbsp

hoisin sauce

1

lb

asparagus spears

cut in half lengthwise

2

carrots

peeled and diagonally sliced

1

broccoli crown

cut into small florets

2

cups

chopped fresh pineapple

1

thinly sliced red chili pepper

2

tbsp

water

3

cups

fresh Baby Spinach

1

cup

quartered strawberries

2

cups

cooked hot quinoa
Instructions
Combine in sauté pan sesame oil, soy sauce, ginger, lemon peel and hoisin sauce, heat over medium high heat. Add asparagus, carrots, broccoli, pineapple, chili pepper and water, cover and cook for 2 minutes. Remove cover and continue cooking to desired softness.

Remove pan from heat and stir in baby spinach and strawberries. Serve over cooked quinoa.
TAGS: asian recipes, entrees, gluten-free, quick meals, vegan, vegetarian
2 responses to "Lemon-Ginger Vegetable Stir Fry"