Is Snickers Gluten Free?
This post may contain affiliate links. As an Amazon Associate, I earn from qualifying purchases. Please read my disclosure.
If you live a gluten-free diet or lifestyle, or have Celiac disease, and commonly have cravings for your favorite nutty chocolate bars, then you are probably wondering if Snickers candy bars are gluten-free. Believe it or not: this popular candy bar has gluten free ingredients, but is not certified gluten free! What does that mean? Read on to learn whether Snickers is gluten free, if snickers is healthy, and other delicious gluten free snacks similar to Snickers!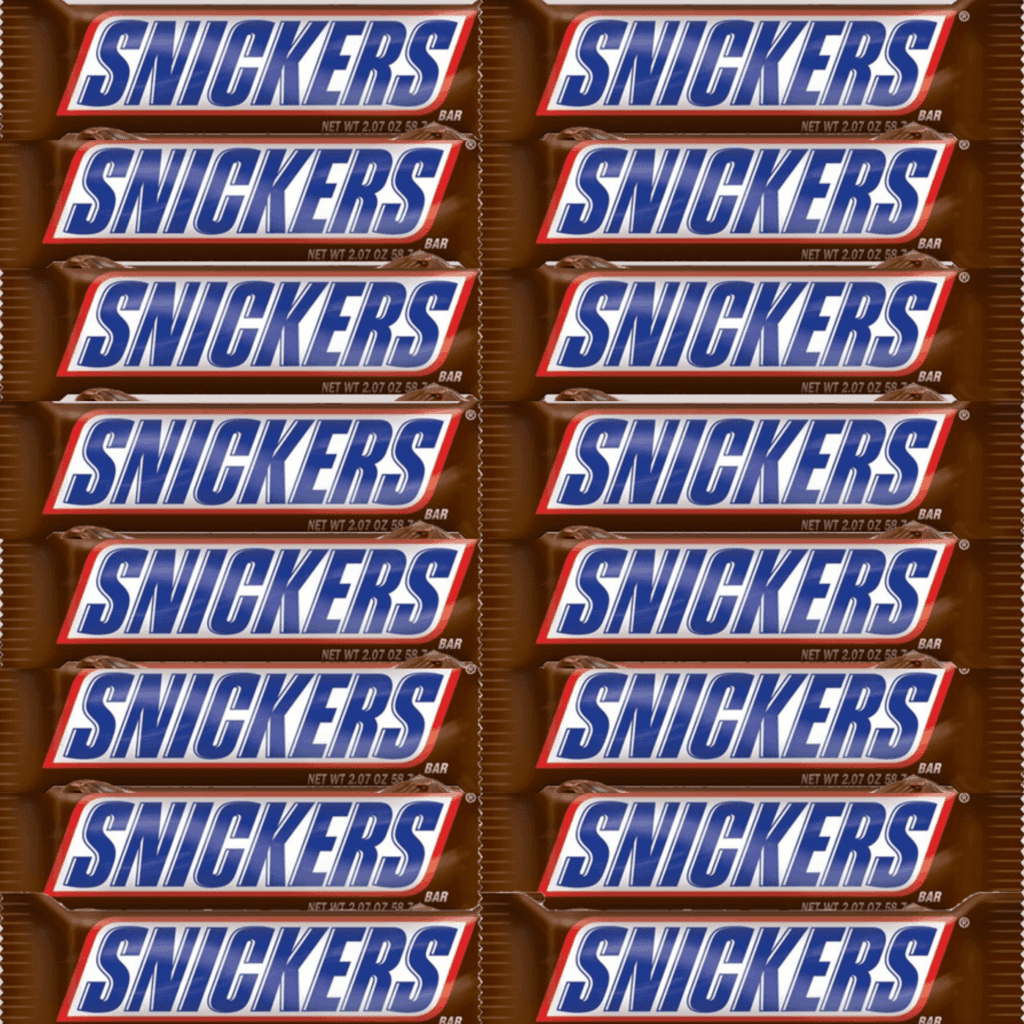 Snickers is one of those classic popular candy bars that everyone knows and loves. This brand name chocolate bar, with its caramel layer, peanut center and creamy milk chocolate coating, was one of my favorite treats as a kid!
But as I became more conscious about the foods I was eating, I started to wonder: Is Snickers gluten free? Is Snickers healthy? Is Snickers vegan or vegetarian friendly?
In this post, we'll answer all of these questions about Snickers and more, so if you're following a gluten free diet, you can figure out whether Snickers is the right candy for you.
What Are Snickers?
Snickers chocolate bars are American-made candy bars. They are characterized by the classic ingredients of caramel, crunchy peanuts, milk chocolate, and a fluffy, creamy, nougat base. You can find these popular chocolate bars in almost every grocery and convenience store around America in the candy aisles.
In the 1930s, Snickers chocolate bars were developed and named after a horse that belonged to the manufacturer's family horse, Snicker. Snickers is owned by the parent company Mars, who is known for producing Snickers along with the following candies: Milky Way, Twix, M&M, to name a few.
While these dark bars are not labeled certified gluten-free on the product label, the ingredients list does not contain any products that contain gluten. It is always best to check the allergy and nutritional information for cross-contamination with items that contain gluten for all flavors of Snickers.
Since its creation, there are now multiple types of this popular chocolate, and several countries have created their own versions, with some going by different names.
Here are some of the most common Snickers bars:
Snickers Original
Snickers Protein Bar
Snickers Minis and Bites
Snickers Almond
Snickers Peanut Butter
Snickers Brownie
Snickers Ice Cream Bars
Snickers Duo Bar
Snickers Crisp
Snickers White
Fun Size Snickers
Mini Snickers
Crunchy Snickers
Although Snickers are not vegan friendly, they are vegetarian-friendly!
What Is A Gluten-Free Diet?
A gluten-free diet consists of eating foods that do not contain gluten. Gluten is the protein found in wheat, barley, and rye, and it can trigger a negative reaction / different symptoms in those with Celiac disease and other allergies.
If someone is gluten-free, then they avoid common pasta, bread, certain sauces, etc. There are several gluten-free food options to choose from such as gluten-free flours, pizzas, tortillas, waffles, and more.
Is Snickers Gluten Free?
The answer is, Snickers candy bars are gluten free, but are not labeled Certified Gluten-Free. What does that mean? That means that the actual ingredients in Snickers do not contain gluten. However, in order to be certified gluten free, a product must be tested and certified every year to prove there are no gluten contaminants in the product.
Since manufacturers are required to list all allergens on the product label, we can see that Snickers contains milk, peanuts, soy and eggs, but wheat is not listed as an allergen. So if you're just trying to follow a gluten free diet, or have a mild gluten intolerance, you can likely enjoy these yummy chocolate bars whenever you want!
However, if you are diagnosed celiac, you should talk to your doctor before eating Snickers to make sure there is no risk of wheat contamination with this candy bar. As always, be sure to read the labels if you have dietary restrictions to be fully sure there are no hidden ingredients.
Is Snickers Safe For Celiacs?
Unfortunately, we can't be sure that Snickers is 100% safe for celiacs. Even though Snickers does not contain gluten ingredients, it is not certified gluten free, which means that there could be some trace gluten in this candy bar. Celiacs should consult with their doctor before eating Snickers.
Is Snickers Vegan?
Unfortunately, Snickers candy bars are NOT vegan so be sure to avoid these sweet treats if you are vegan and avoid animal-based products! Since Snickers bars have milk chocolate and egg whites, they are not considered vegan. Luckily, there are lots of recipes for delicious vegan snickers bars that you can make at home to get your Snickers fix!
Is Snickers Vegetarian?
Snickers contain mostly vegetarian-friendly ingredients but also contain palm oil which has proven to be really bad for the environment and wildlife due to the deforestation. Additionally the sugar used in Snickers bars may be processed using bone char. Depending on where you stand with palm kernel oil and how strict of a vegetarian you are, Snickers may or may not be suitable for you.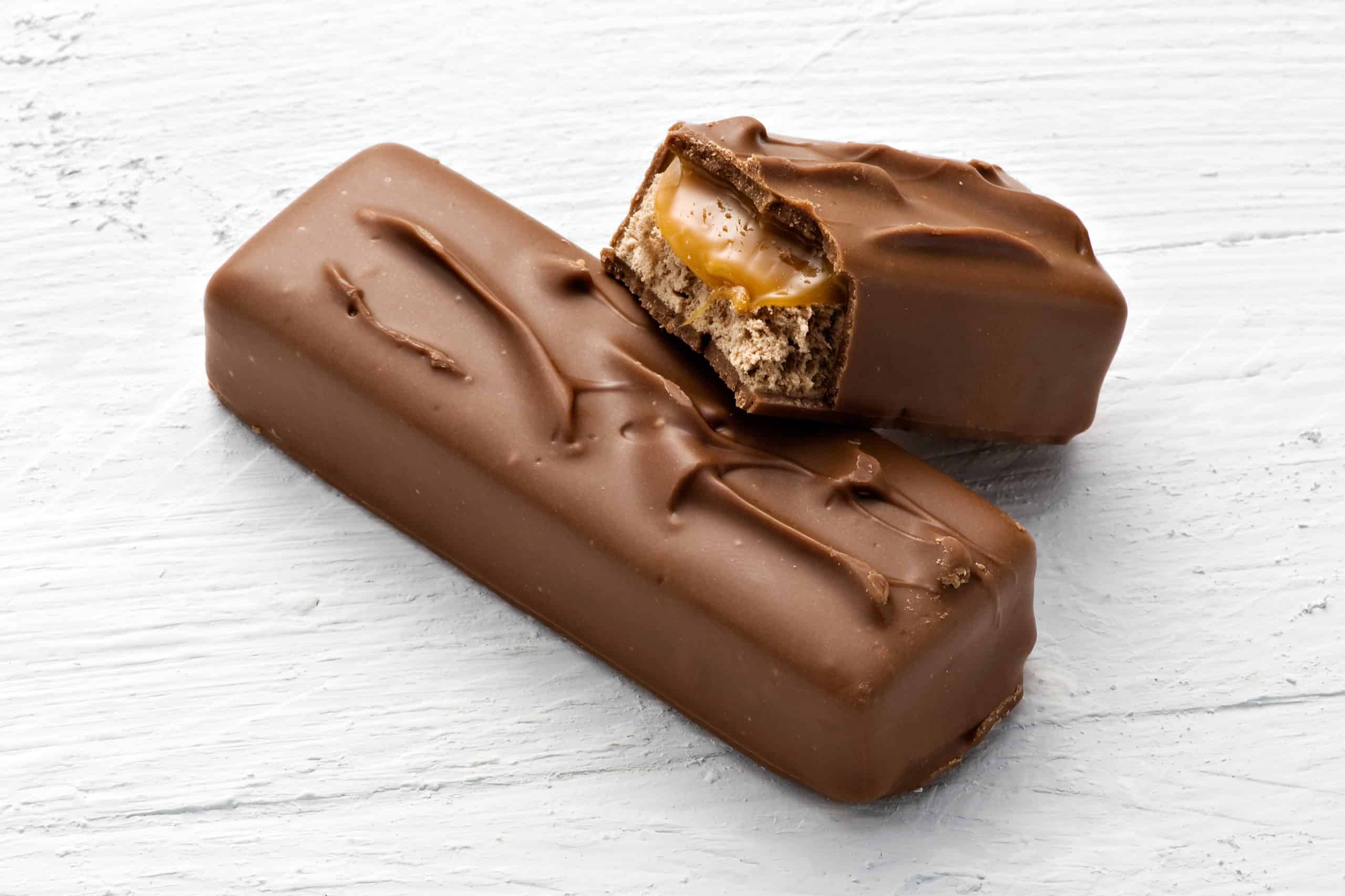 List Of Snickers Ingredients
The ingredients list of Snickers is pretty straightforward. In Snickers candy chocolate bars, you will find:
Milk chocolate (cocoa butter, chocolate, skim milk, sugar, soy lecithin, milkfat, lactose)
Peanuts
Corn syrup
Sugar
Palm oil
Skim Milk
Lactose
Salt
Egg whites
Other artificial flavors
In addition to the ingredient list, the allergen information states: Contains peanuts, milk, egg and soy. May contain tree nuts.
Nutritional Information For One Snickers Bar
One serving of a singles size, Original Snickers bar contains the following:
250 calories
12 grams of fat (4.5 grams saturated fat)
28 grams of sugar (26 grams of added sugar)
33 grams of carbohydrates
1 gram of fiber
4 grams of protein
Vitamins including Calcium and Vitamin A
Note: Other varieties of this favorite candy bar like Snickers Mini, Fun Size, 100 Calorie size all have less calories and sugar than Snickers Single Size.
Is Snickers Healthy?
Since one Snickers bar contains 250 calories, 33 grams of carbohydrates, and 28 grams of sugar, these yummy chocolate bars are not considered healthy to eat on a regular basis. On top of that, they contain artificial flavor (which is just designed to make you want to eat more of this candy), and palm oil (which is an unhealthy fat). So Snickers is best enjoyed in moderation, once in a while!
How To Eat Snickers
There are so many delicious ways to enjoy crunchy sweet Snickers. Here are some ideas:
Chop Snickers up or put them in the food processor to add to ice cream, cookie dough, or other yummy desserts.
Enjoy Snickers bars frozen or at room temperature.
As Halloween candy
Crumbled over pies, cakes, puddings, etc.
What Chocolate Bars Are Gluten-Free?
Keep in mind that manufacturers and companies constantly change the ingredients of products so the best way to avoid gluten in chocolate bars is to double-check the label! There are a variety of popular candy brands that are gluten-free:
Hershey's Milk Chocolate Bars (one of my favorite options for gluten-free Halloween candy!)
Reese's peanut butter cups (not the seasonal items)
Original Rolo Caramels
Heath Bars
Dark Chocolate Milky Way (Midnight Milky Way)
Hershey's Milk Duds
Payday Candy
Mounds Bars
List Of Other Yummy Gluten-Free Candies
The following popular candies are suitable for those with gluten-free dietary needs:
Jelly Belly jelly beans
Smarties
Peeps
Tootsie Roll candies
Sour Patch gummies
Now & Laters
Various Brach's candies
Lemonheads
And more
Healthier Alternatives For Snickers Bars
When you are craving something sweet, there are some healthier options to enjoy rather than Snickers bars! You can make your own Snickers bars with healthier and cleaner ingredients or make any of these sweet treats:
Common Product Questions
Are all Snickers Products gluten free?
The answer is – it depends on how strict you want to be! None of Snickers products are certified gluten free. That means there is always the risk of cross contamination with gluten substances. But almost all of Snickers bars don't contain gluten ingredients.
Is Milky Way gluten free?
Unfortunately no, the original Milky Way bar is not gluten free because it contains malted barley. However, Milky Way Caramel and the dark chocolate Milky Way (Milky Way Midnight) are gluten free as they don't contain malted barley!
Does Twix have gluten?
Unfortunately, yes, Twix contains gluten. All of the Twix flavors (Twix caramel, Twix cookies and cream, Twix ice cream bars) contain wheat flour, which means they are not gluten free.
Are M&Ms gluten free?
Most M&Ms are gluten free! M&M's Original Milk Chocolate, Peanut, Peanut Butter, M&M Minis, Almond, Dark Chocolate are all gluten free. The only M&Ms that are not gluten free are those that contain pretzels or seasonal items that contain wheat.
Are Snickers Ice Cream bars gluten free?
Unfortunately no, Snickers Ice Cream bars are not gluten free. While the bar itself doesn't contain wheat, on the box you will see that the allergy information states: "Contains milk, peanut and soy. May contain wheat." So that means they are not technically gluten free.
Final Thoughts
Although Snickers are not labeled gluten-free, and are not certified gluten free, the most up-to-date information from various sources and the manufacturer states that Snickers chocolate bars contain gluten-free ingredients.
This basically means that if you have celiac disease, you probably shouldn't eat Snickers to be on the safe side, since there could be some cross contamination with wheat products in the same manufacturing facility. But if you're just trying to follow a gluten free lifestyle or have a mild gluten sensitivity, you should be fine eating Snickers.
For more ideas and food guides, be sure to read:
If you have found this food guide helpful or tried any other recipe on my blog, then feel free to reach out to me in the comments below! I respond to every question and comment I get! You can also FOLLOW ME on FACEBOOK, TWITTER, INSTAGRAM and PINTEREST to see more delicious, healthy, family friendly food!
2 responses to "Is Snickers Gluten Free?"