Are Oreos Vegan?
This post may contain affiliate links. As an Amazon Associate, I earn from qualifying purchases. Please read my disclosure.
Oreos are one of those iconic cookies we remember from our childhood! Since Oreo first came out with their original cookie, they have expanded the brand to include numerous flavors and fillings. But, with all the changes that have been made, you may be wondering, are Oreos vegan? The short answer is: while they don't contain any obvious animal products, they are still, technically, not vegan. In this post, I'll review this iconic cookie, along with the ingredient list and company claims, so that you can make an informed decision the next time you reach for your favorite cookie!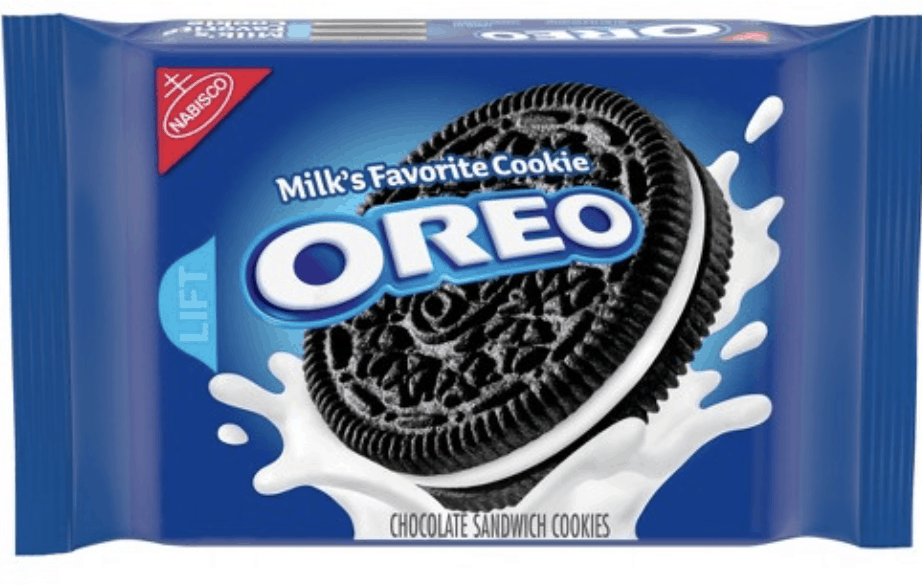 For as long as I can remember, classic Oreos have been a staple of childhood! That creamy middle sandwiched between dark chocolate cookies, I can still visualize the commercials of a little boy and his grandfather dipping their cookies in milk on the kitchen counter.
It has always been one of my husband's favorites! Oreos have snuck their way into other treats and snacks, like cookies and cream ice cream, popsicles, pie crusts, and so much more!
They are a versatile cookie, and always delicious. However, if you are following a vegan or vegetarian diet, you may be wondering if this famous chocolate sandwich cookie is, in fact, vegan.
What Are Oreos?
Oreos are a sandwich cookie that consists of two circular chocolate biscuits filled with a vanilla cream center. They were first introduced into the market in 1912, and have since become one of the most popular cookies / American cookie brands. They are made and produced by Nabisco and are widely available in over 100 different countries.
Around the 1990s, Oreos made a change to their recipe to remove lard (pig fat) from their cream based filling (they replaced it first with hydrogenated vegetable oil and then non-hydrogenated vegetable oil), and in 2013 they removed whey protein from their cookies as well, moving them away from animal based ingredients.
In recent years, new Oreo flavors have come out like Golden Oreos, Birthday Cake Flavored Oreos, Carrot Cake, Gluten Free Oreos, Oreo Thins, Caramel Coconut Cream, Cinnamon Bun, Double Stuf, Mint Oreos, Chocolate Hazelnut, and limited edition flavors have become popular as well.
What Is A Vegan Diet?
A vegan diet is where an individual does not consume any animal products or animal derived ingredients. Vegans only consume food that originated in plant form such as fruits, vegetables, grains, nuts, and seeds.
Vegans do not consume:
Meat
Dairy Products
Eggs
Fish
Honey
However, a vegan diet does not specifically restrict processed ingredients. As long as those processed ingredients are derived from a plant source, and not an animal source.
What Is A Vegetarian Diet?
Vegetarians do not consume meat or fish. However, they do eat bi-products from animals including dairy and eggs. Vegetarian meals are similar to vegan meals, but may include milk, cheese, cream, honey, or eggs. Similar to a vegan diet, vegetarian diets do not specifically restrict processed ingredients as long as those ingredients are not from meat or fish. However, if they are derived from a plant source, or dairy source, it is fair game.
List Of Ingredients In Oreos
Oreos don't have a long list of ingredients — but they do contain some controversial ingredients. These 11 ingredients are what make up "milk's favorite cookie."
Unbleached enriched flour (wheat flour, niacin, iron, thiamine mono-nitrate (vitamin B1), riboflavin (vitamin B2), folic acid)
Sugar
High oleic canola oil or palm oil
Cocoa Powder (treated with alkali)
High-fructose corn syrup
Leavening agent (baking soda and/or calcium phosphate)
Corn starch
Salt
Soy lecithin
Vanillin (artificial flavors)
Unsweetened Chocolate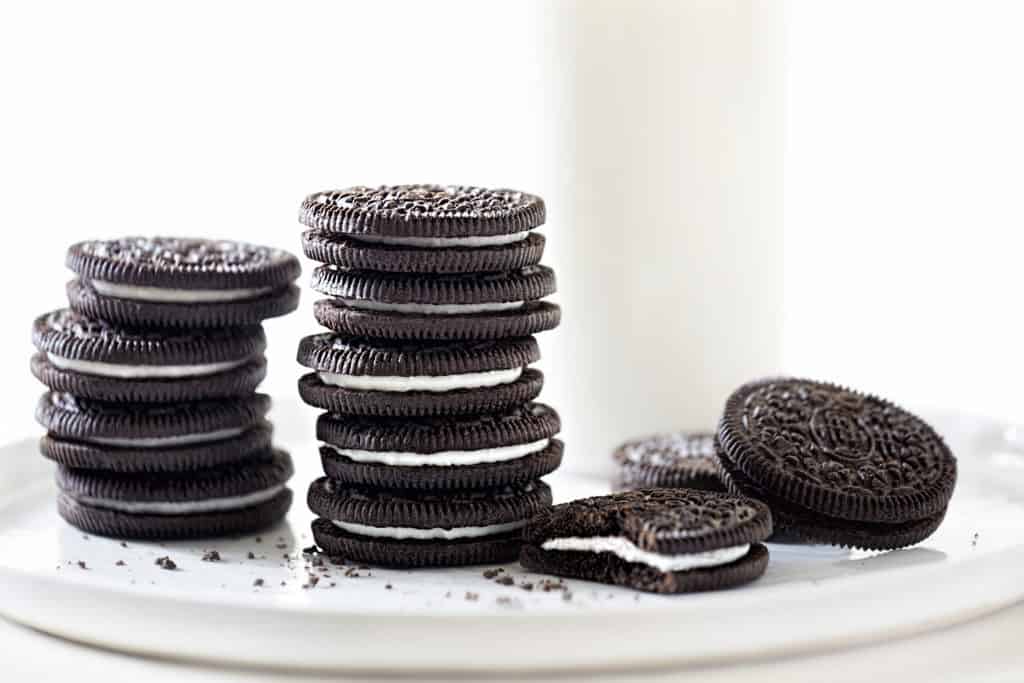 Are Oreos Vegan?
NO, Ores are NOT vegan!
While none of the ingredients in original Oreos are derived from animals or animal by-products (there is no mention of eggs or dairy), according to the company, they do not consider their cookies to be vegan friendly. They are also not stamped with the vegan shield, meaning they have not gone through any testing to verify that they are vegan.
According to the Oreo FAQ page, they are not suitable for a vegan lifestyle because they are made in a facility that produces other milk products, and have a risk of cross contact. This also makes them not ok for anyone with a dairy allergy.
Additionally, they contain plain sugar, which is often refined with the use of animal bone char. Bone char is used as a decolorizing agent, helping sugar gain its pure, white color. However, it makes it very difficult to trace which types of white sugar have gone through this process and which hasn't. (Note: ingredients like maple syrup and agave nectar are never processed with bone char – so food products made with those will always be vegan friendly).
Unfortunately, Mondelez International (Oreo's parent company) has confirmed that bone char is used by their sugar suppliers. This makes Oreo products not truly vegan, and none of the varieties of Oreos contain 100% vegan-friendly ingredients.
Lastly, while palm oil is technically vegan, palm oil production has been so harmful to the environment and has led to the destruction of so many animal habitats, that many vegans won't buy packaged foods that contain palm oil.
What Does Cross-Contact Mean?
Cross-contact happens when a factory produces other products that contain milk. These products may come into close contact with the ingredients in Oreo biscuits. Therefore, it is possible that trace amounts of dairy can be found in the cookies themselves.
Cross-contact and the risk of cross-contamination are slightly different. Cross-contamination occurs when the bacteria of a raw food comes into contact with another food, but is later cooked away.
Since you're not cooking your Oreos, the trace amounts of milk are not cooked out of the cookie!
Which Oreo Flavors Are Vegan?
None of the Oreo flavors are truly vegan, as they all contain sugar processed with bone char and none of them are processed on a separate production line that doesn't have any cross-contamination with traces of milk. Strict vegans shouldn't eat any Oreo Cookie flavor.
However, if you are not a strict vegan, aren't concerned about traces of animal products (e.g.bone char or cross-contact with dairy), and are only looking to avoid animal ingredients, then some flavors like: Peanut Butter, Mint Oreos, Golden Birthday Cake, Carrot Cake, Dark Chocolate are all free of animal based ingredients.
Are Oreos Vegetarian?
The answer is: It's complicated!
According the company's FAQ page, yes Oreos are suitable for vegetarians. This is because while they do not contain milk products, they could be cross contaminated, but eating dairy is approved on a vegetarian diet.
The only catch is, we don't know for sure if the sugar in the cookies is processed using bone char (although it likely is the case). Given that It's likely the cookies aren't technically vegetarian, even though they do not contain any animal products such as gelatin, or animal rennet.
Are Oreos Healthy?
Unfortunately, NO, Oreos are not healthy! It would be nice to wish they were, but they are full of processed ingredients such as refined sugar, unbleached white flour, canola oil, palm oil, high fructose corn syrup, and soy lecithin. While these ingredients make these snacks taste good and extend their shelf life, too much is not a good thing.
Diets high in sugar and processed ingredients (especially high fructose corn syrup/sugar) can lead to serious health concerns like obesity, heart disease, high blood pressure and diabetes. If you choose to enjoy processed cookies and sweets, do so in moderation for your health.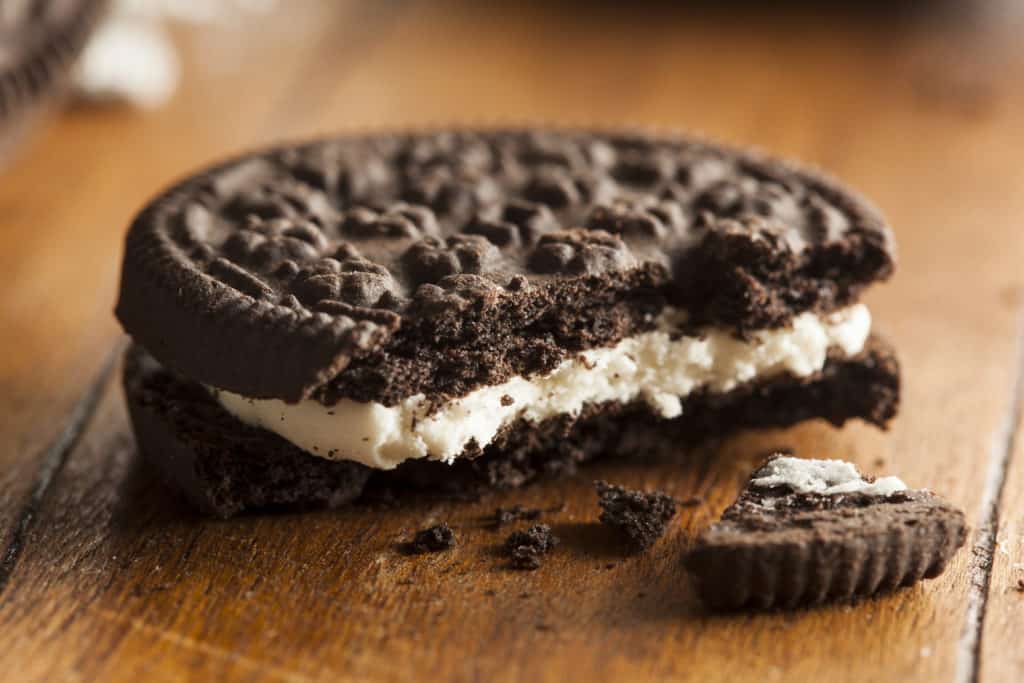 Vegan Alternatives To Oreos
While you may have been hoping that Oreos are in fact vegan, you are likely a bit disappointed! But do not fear! There is a range of vegan-friendly Oreo cookies and other vegan snacks on the market that are healthier, and just as delicious if not better than regular Oreos!
These plant-based snacks are vegan friendly! They are also non-GMO, free of high fructose corn syrup, and contain no hydrogenated oils. They are a crisp chocolate wafer, filled with a creamy vanilla frosting, perfect for dunking in your almond milk!
These KETO sandwich cookies are made with vegan ingredients. They are low carb, include plant protein, have no artificial ingredients, come in 4 different flavors, are high in fiber, low in sugar, 100% vegan, and plant-based!
These gluten-free and non-GMO cookies, are also vegan friendly. While they are not advertised as vegan, they do not have any reference to any cross contamination, and do not include any animal derived ingredients.
Final Thoughts
Though Oreos are a popular and well-known cookie, they are most certainly not a vegan-friendly treat and questionable as to whether they are vegetarian. They are a type of 'junk food' that can have a negative impact on your kids if consumed due to the artificial flavors and processed ingredients used.
Instead, try some of the healthier alternatives mentioned in this post, or make your own!
For more eye-opening health guides on what goes into your favorite products, take a look at these food guides:
Love this Eating Guide? Please leave a review in the comments section further down the page!
You can also FOLLOW ME on FACEBOOK, TWITTER, INSTAGRAM, and PINTEREST to see more delicious, healthy, family-friendly food, and if you have any questions, I'm here to help!