Beta Kids Review: A Natural Immunity Booster
This post may contain affiliate links. As an Amazon Associate, I earn from qualifying purchases. Please read my disclosure.
In this Beta Kids Review, I take an honest look at this immunity booster for kids. I will answer all your questions about beta-glucan, the pros, and cons of providing your child with this natural immunity booster, as well as the benefits of using a beta-glucan supplement.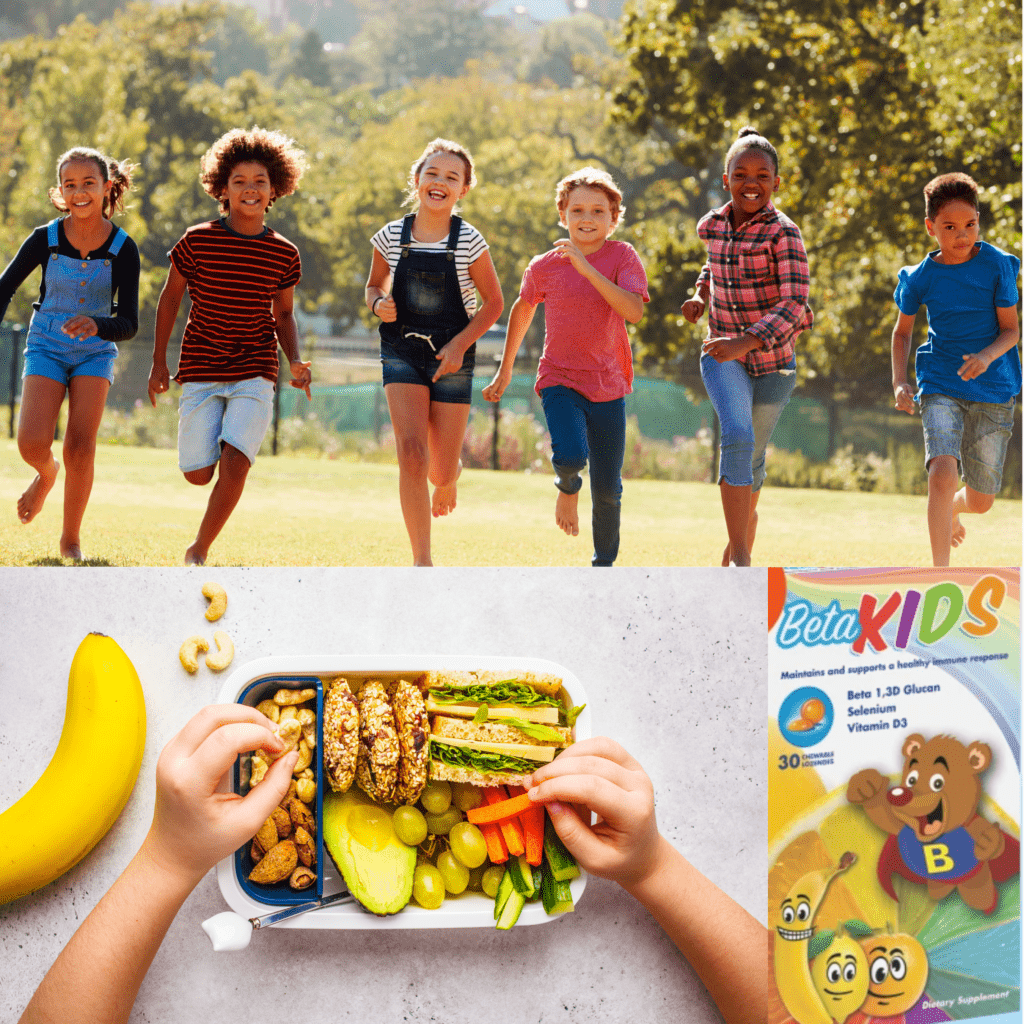 When flu season rolls around, parents and caregivers everywhere become worrisome about their kids' health! Will this be a school year in which they have to miss numerous days due to illness? Will the rest of the family get sick too?
We all want our kids to be healthy. Not only do we hate to see our kids suffer, but it's also so stressful for a family to tend to sick children when the rest of life must go on. Work, school, activities — nobody has the time or energy for illness to get in the way!
How do we help our kids spend less time being sick?
Aside from washing hands, and wearing masks, there wasn't a lot you could do until now!
While you may be giving your child the best multivitamin, most children's multivitamins do not make much of a difference in boosting immunity and preventing your child from becoming sick.
Beta Kids is different!
It's a supplement made with beta-glucan that helps to supercharge your child's immune system.
What Are Beta Glucans?
Beta-glucans are sugars that are found in the cell walls of bacteria, fungi, yeasts, algae, lichens, and plants, such as oats and barley.
The body doesn't produce beta glucans naturally, the only way to get the compound is through outside sources foods such as baker's yeast, shiitake mushrooms, and grains, such as barley, oats, rye, and wheat.
How do they work? Beta-glucans trigger a domino effect of events that help regulate the immune system and make it more efficient. Even when you and your family are leading healthy lifestyles beta glucans can give you the upper hand!
It's the most studied, most effective natural immunity supplement in the world.
The effectiveness of beta-glucan is backed by 50 years of scientific research and more than 160,000 studies.
It strengthens every aspect of the immune system at a cellular level.
Studies show beta-glucans help the body battle bacteria that are resistant to antibiotic treatment as well as viruses that cause upper respiratory infections.
Beta-glucans also appear to reduce the symptoms of the common cold and reduce the number of days people need to be out of school or work due to illness.
What Is Beta Kids?
Beta Kids is a gummy supplement made specifically for children to help boost their immune system and reduce the overall number of days a child becomes sick and needs to miss school. In essence, it helps kids spend less time being sick, and recover more quickly if they do get sick.
The primary ingredient in Beta Kids is beta-glucan. The purity of beta-glucan is important, as it is directly related to the effectiveness of boosting immunity.
Beta Kids has a patented process which creates a pure beta-glucan known as Beta-1, 3D Glucan. Due to its purity, it's 160 times more potent than other beta-glucan supplements. In addition to the beta-glucan, selenium and Vitamin D3 are also included to increase its effectiveness.
This beta glucan supplement for kids helps give their immune system that needed boost when it's cold and flu season!
What Makes Beta Kids Different From Other Kids Immunity Boosters?
Pure Beta Glucan
Beta Kids patented beta-glucan, Beta-1, 3D, is the purest form on the market. As a result, it is 160 times more potent than other supplements available.
Includes Other Immunity Boosters
Unlike other beta-glucan supplements, Beta Kids also includes Vitamin D3, and selenium, two other nutrients known to boost immunity, giving your kids even more protection from illness.
Tasty Gummy
Kids love gummy vitamins, and you can rest assured that these gummies are sugar-free but still great! It comes in a tutti fruitti flavor that combines banana, lemon, and orange. They are sweetened with natural sweeteners: xylitol, sorbitol, and erythritol.
Active Ingredients In Beta Kids
Beta Glucan
Helps to boost your immune system so that it works faster, smarter, and performs better.
Vitamin D3
Helps to protect immune cells and enhances healthy immune function.
Selenium
A powerful antioxidant that boosts the immune system.
Other Ingredients In Beta Kids
Xylitol, Sorbitol, Erythritol, Stevia
Natural sweeteners and sugar alcohols that don't increase blood sugar.
Bovine Gelatin
Gelatin is a powdered ingredient that is made from cows. It is what gives the gummies their jelly-like consistency. Note: this means that Beta Kids is not vegetarian or vegan friendly. They are working on a gelatin free version though!
Trisodium Citrate
A natural acid, that absorbs extra water and helps provide a longer shelf life.
Paprika Extract
Used as a natural coloring agent.
Vegetable Oil
Keeps the gummies from sticking to foil.
Medium Chain Triglycerides
These natural oils are found in foods such as nuts, seeds, and avocados, which are used as an anti-foaming agent.
Pros: What I Like About Beta Kids
A delicious chewable gummy supplement for kids.
Comes in three different flavors.
Non-GMO
All natural ingredients
Includes kids tracker for healthy habits
Clinically Tested
Claims to be the most effective immune support supplement
Made for kids aged 2+ (where many other kids immune supplements are for kids aged 4+)
Cons: Other Things To Consider
Not vegan or vegetarian, as it includes gelatin in the ingredients.
Not organic
While these supplements don't include white sugar, they do include sweeteners such as xylitol, sorbitol, erythritol, and stevia, which are all sweeteners.
While this beta glucan supplement is made to help boost immunity, you may want to consider providing your child with an additional multivitamin to ensure they are getting other needed nutrients.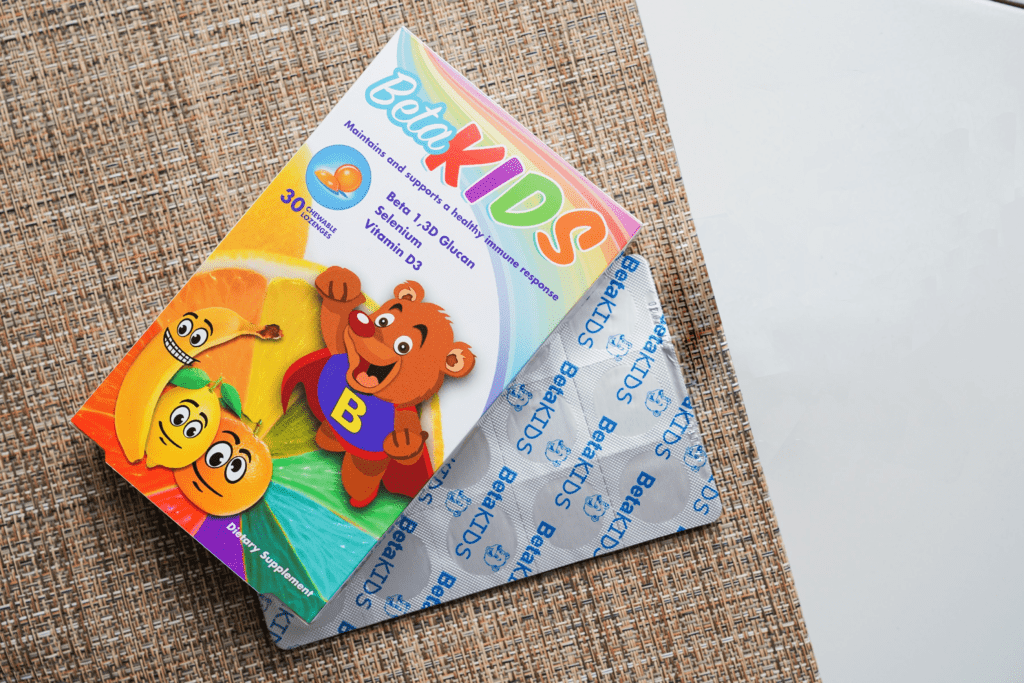 Are Beta Kids Supplements Right For My Child?
If you are looking for natural immune support for your child that is safe and effective to help keep them feeling healthy, and reduce the overall number of days of school or child care they need to miss, then Beta Kids may be a good fit for you and your child.
Some of the items below were given to me to review by the manufacturer or as part of an affiliate program. I may receive commissions if you make a purchase through the links provided. I only recommend products I've actually evaluated, I believe are the highest quality, and can do the most to help you and your family. By purchasing any of these products from the links below, you help keep this blog running, so thanks for your support!
Keep in mind that every person & situation is different, especially yours, so make sure to talk to your doctor and see how these guidelines and tips can help you. These tips are not a substitute for professional medical advice, diagnosis, or treatment. Never disregard or delay in seeking professional medical advice because of something you read here!
My recommendations are based on the manufacturer's claims and ingredients list, and what I feel best giving to my own family. Your individual results may be different based on your overall diet, exercise, age, weight, family history, or pre-existing conditions.
Beta Kids FAQs
Do kids need beta-glucan?
Kids and adults alike do not produce beta-glucan naturally. We must get it from foods or supplements. Beta Kids is essentially a beta glucan supplement that is formulated for kids to use!
How many chewable tablets does my child need to take a day?
Children ages 2-7 should take one gummy per day, a half-hour before eating. Children ages 8-11 should take two gummies per day a half hour before eating.
How long is the shelf life of Beta Kids?
These supplements have a two-year shelf life. Take a look at the expiration date of the supplements sent to you as the timing will vary between 12-18 months of receiving your supplements depending on when they were made.
Is Beta Kids safe for my child?
Yes! The level of ingredients in Beta Kids is safe for kids to consume. They have been tested at even higher doses and have shown no known side effects. However, you do not want to give your child more than the recommended dose, and make sure to consult your pediatrician before giving your child any new supplements.
Where do I buy Beta Kids?
At this time Beta Kids is available to be shipped within the United States. It is not available in stores, or on Amazon, at the time this article was written. You can, however, purchase their supplements directly on their site. Shipping is FREE!
How much does Beta Kids cost?
At the time this article was written Beta Kids costs $35 for a one-time purchase, and $30 (a 14% savings) if you subscribe for monthly shipments.
Final Thoughts
Beta Kids is a great product that provides children with a daily dose of beta glucans that studies have shown boost the immune system. Simply giving your child this supplement doesn't mean that your child will never get sick, but according to their research it will help your child be less likely to get ill, and if they do get sick they will take fewer days to recover.
Check Out These Other Vitamin Guides!
I hope I have thoroughly answered all of your questions in this Beta Kids review! If you have any further questions, please leave a comment below – I personally respond to every question I get! You can also FOLLOW ME on FACEBOOK, TWITTER, INSTAGRAM  and PINTEREST to see more delicious, healthy, family friendly food!