Ritual Vitamins Review: A Unique Vitamin Worth A Try
This post may contain affiliate links. As an Amazon Associate, I earn from qualifying purchases. Please read my disclosure.
In this Ritual Vitamins review, I take an honest look at this unique multivitamin, answering all your questions, and providing you with the pros, cons, and benefits of using Ritual to support your health.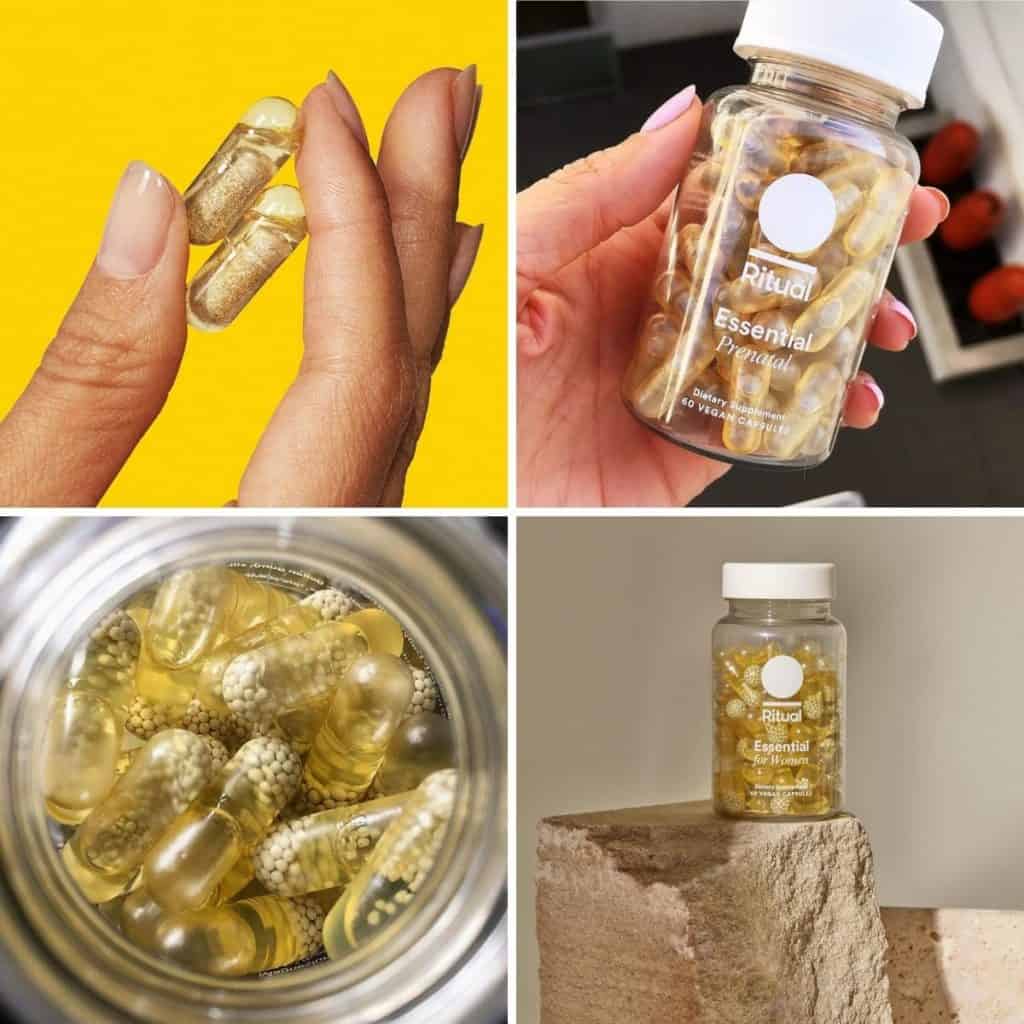 There are so many multivitamin brands and dietary supplements on the market today, and not all are created equal. There is a vast range in price, ingredients, quality and effectiveness. With all that in mind, it can be so hard to figure out which vitamin is best for you! I have done extensive research on multivitamins for women and have reviewed numerous brands.
There are a few key components to vitamins, that you must understand before making a purchase. What essential nutrients are included in the vitamin? What nutrients should be in a multivitamin? Are there any synthetic ingredients used?
Not all vitamins are created equal, and the vitamin industry is not FDA approved, so it is important to do your research before purchasing and making a multivitamin part of your daily routine.
Some of the items below were given to me to review by the manufacturer or as part of an affiliate program. I may receive commissions if you make a purchase through the links provided. I only recommend products I've actually evaluated, I believe are the highest quality, and can do the most to help you and your family. By purchasing any of these products from the links below, you help keep this blog running, so thanks for your support!
Keep in mind that every person & situation is different, especially yours, so make sure to talk to your doctor and see how these guidelines and tips can help you. These tips are not a substitute for professional medical advice, diagnosis, or treatment. Never disregard or delay in seeking professional medical advice because of something you read here!
What Are Ritual Vitamins?
Ritual is a vitamin company, founded by Katerina Schneider, a woman on a mission to create clean and healthy vitamins without questionable ingredients. After becoming pregnant, she replaced her cleaning products, beauty products, and everything else she could think of with more natural and chemical free products, but couldn't find a prenatal vitamin that she could trust!
So she decided to make it her mission to create her own vitamins, with transparent traceable ingredients. Ritual's products have all of the good stuff and none of the synthetic fillers or bad stuff.
And that's how Ritual was born!
What Makes Ritual Different?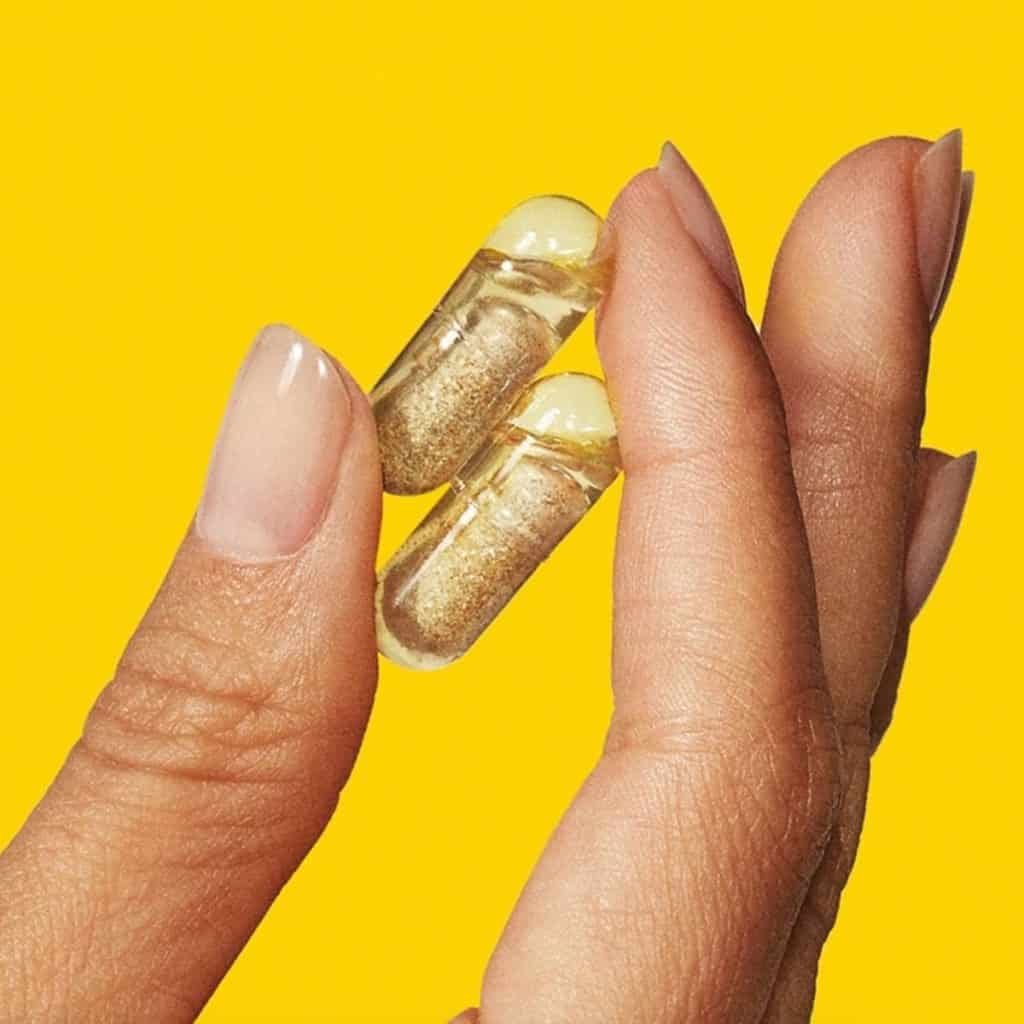 Ritual is a high quality daily vitamin that is quite different from others on the market today. Here's what sets them apart from the rest.
Filling in Dietary Gaps
Each vitamin is formulated to fill in dietary gaps based on the various stages of life. There are vitamins for kids, teen girls, teen boys, women 18 and older, men 18 and older, women 50 and older, men 50 and older, and prenatal and postnatal women.
After reviewing thousands of independent research studies, the scientists at Ritual looked at dietary intake, lifestyle, and genetics to identify the nutrients that were lacking in the typical diet, and created their vitamins to fill in those gaps.
High Quality Nutrients
Ritual prides themselves in providing high quality clean nutrients in bioavailable form — (e.g. methylated B vitamins) to ensure you're actually absorbing the vitamins in their products. You won't find any fillers, synthetic ingredients, or added colors in these vitamins either!
Each ingredient in these vitamins is traceable, meaning that you know where the nutrient was sourced form, as well as the supplier. You'll notice the difference with Ritual as soon as you look at their capsules — their vitamins are stored in small capsules with tiny beads (that contain the vitamins) suspended in oil (no fillers!)
Use 100% Recyclable Materials
The bottles are packaged with recycled materials. They are shipped in are also made from recycled newsprint and plant fibers.
What is in Ritual Vitamins?
Ritual believes that in an ideal world we would get all the nutrients we need in the food we eat. However, even if you eat a healthy diet, it can still be a challenge to get all of the nutrients we need from food alone due to dietary restrictions, genetics, or a range of other causes.
With Ritual supplements, they have set out to find where those dietary gaps are, and fill those in with their vitamins. That way you're getting all that you need without any extras you don't. This is also why there are different multivitamins for the different stages of life.
Since Ritual offers quite a few multivitamins for men, women, teens, and kids, I'm going do a deep dive on Ritual's Essential for Women's Multivitamin for 18+, and the Women's Multivitamin 50+. I will also provide a summary o the other vitamin options available along with which vitamins they include and the differences between them!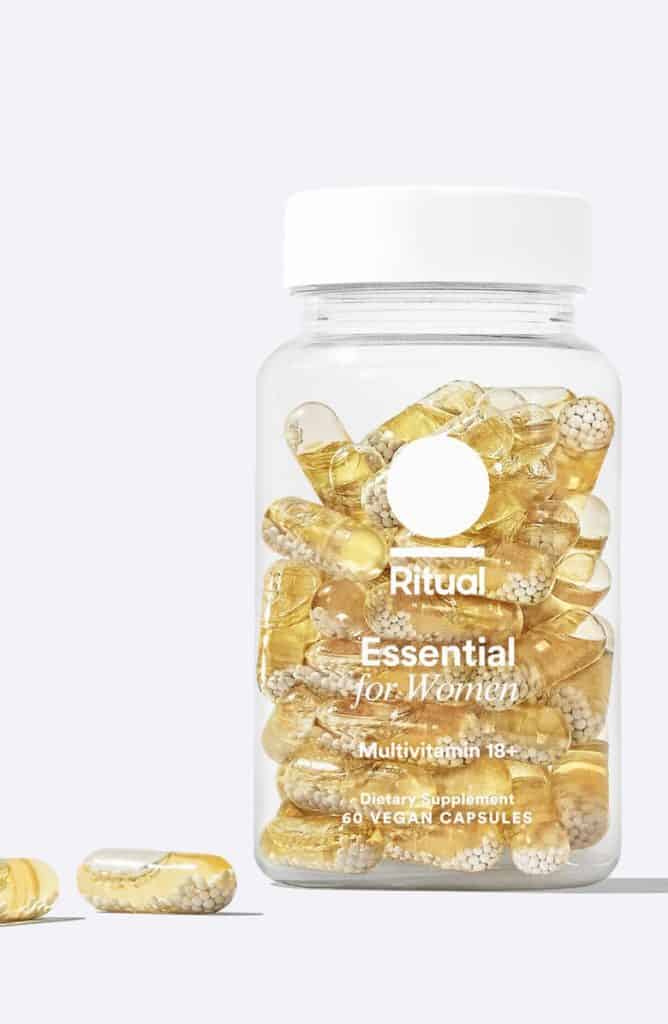 This is what you will find in their Multivitamin for Women 18-49.
Folate: 1000 mcg (250%)
Vitamin D-2000 IU (250%)
Magnesium: 30 mg (7%)
Vitamin B12: 8 mcg (333%)
Iron: 8 mg (44%)
Vitamin E: 6.7 mg (45%)
Omega-3 DHA: 330 mg
Vitamin K2: 90 mcg
Boron: .7 mg
Ritual essential multivitamins is Ritual's clinically backed multivitamin for women 18-49, formulated to help fill nutrient gaps in their diet. They provide nutrients for key healthy functioning including brain health, heart health, helping with your energy level, bone support, and antioxidant support.
Brain Health: A combination of Omega-3 DHA, and vitamin B12 help support brain health.
Heart Health: Omega 3s from Vegan DHA also helps to support heart health.
Energy: Iron plays an important role in red blood cells formation, and both Iron and B12 help improve your energy levels
Bone Support: A combination of vitamin D3, magnesium, and boron help to support healthy bones and improve calcium absorption.
Antioxidant Support: Added vitamin E provides to antioxidant support to fight free radicals.
You might notice that this mulltivitamin doesn't contain Vitamin C or Calcium. Ritual is super transparent about why that's the case. Since they are focused only on filling the nutrient gaps in your diet, they don't want to provide you with too much of a vitamin you're likely already getting a lot of in your diet. The majority of people in the US get enough Calcium and Vitamin C from food. But what we don't get enough of are the "vitamin helpers" that help us absorb Calcium and Vitamin C effectively (e.g. Boron, Vitamin K2, Vitamin D3). Which is why, those are the vitamins Ritual has chosen to focus on in their supplements.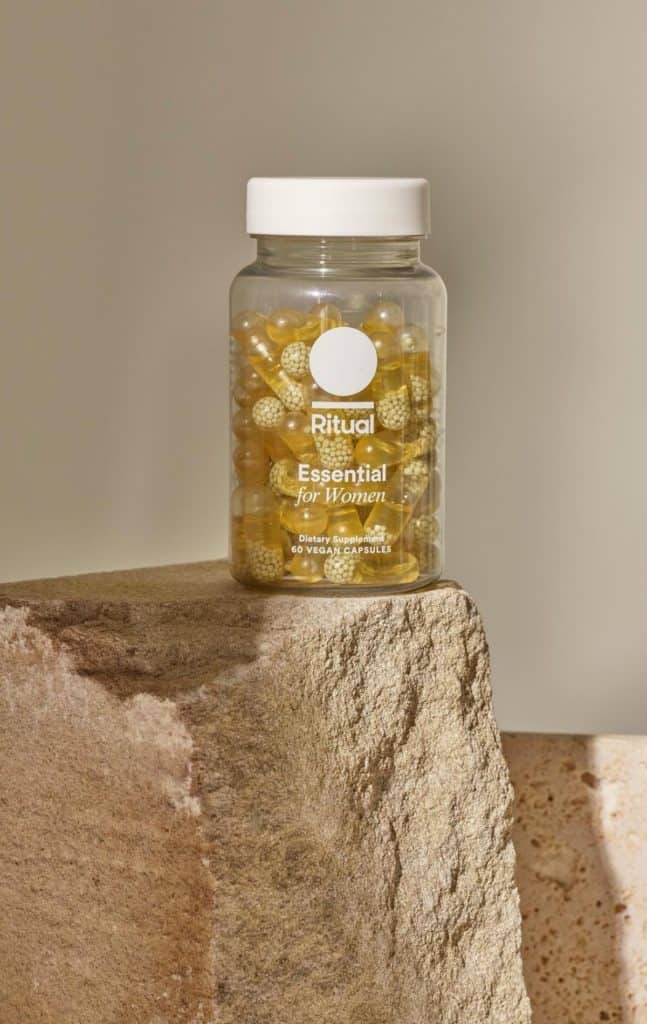 What's Included in the Women 50+ Multivitamin
Vitamin B12: 16 mcg (667%)
Folate: 400 mcg (100%)
Omega-3 Fatty Acids (DHA): 330 mg
Vitamin K2: 100 mcg (83%)
Boron: 1 mg
Vitamin E: 10 mg (67%)
Magnesium: 60 mg (14%)
Vitamin D3: 2000 IU (250%)
Designed for the needs of women post-menopause, these vitamins provide support for brain health / cognitive function, bone health, heart health, and normal muscle function.
Brain Health: Omega 3 DHA and folate help to support brain health.
Bone Support: Vitamins D3, K2, magnesium, and boron help support calcium absorption and bone support.
Heart Health: Omega 3 DHA helps to support heart health.
Normal Muscle Function: Magnesium and Vitamin D3 help to support normal muscle function.
The main difference between this vitamin and the Women 18+ version is that the Essential 50+ has more magnesium, and more of Vitamins K2, B12, and E. It doesn't contain iron and has less folate than the 18+ version.
What Other Vitamins Does Ritual Make?
As the company has evolved they have added products to include a daily multivitamin for every age and stage of life! Ritual's other vitamins Include:
Essential Prenatal Multivitamin
Ritual prenatal vitamins contain the 12 key nutrients you need before and during pregnancy. This includes: Folate, Omega-3, Vitamin B12, Choline, Iodine, Biotin, Vitamin D3, Iron, Boron, Vitamin E, Vitamin K2, and Magnesium.
Essential Postnatal Multivitamin
Ritual's postnatal vitamin is the counterpart to Ritual's prenatal vitamin, and is meant to be taken starting at 6 months postpartum and until breastfeeding is over. It contains 15 ingredients, with added Vitamins A, C, D3, and Zinc for immunity, more DHA to support the fatty acids in breastmilk, and less iron.
Essential For Men Multivitamin 18+
Essential for Men 18+ contains 10 vitamins for men including Omega-3, Vitamin A, Vitamin D3, Magnesium, Zinc, Vitamin K2, Folate, Vitamin B12, Vitamin E, Boron. This differs from the women's multivitamin in that it doesn't contain iron, and it contains more zinc and Vitamin A.
Essential For Men Multivitamin 50+
This vitamin has the same ingredients as the mens 18+ vitamin, but it has different amounts of each vitamin. Specifically, it contains more Folate, Magnesium, and Vitamins E, K2, and B12.
Essential For Teens Multivitamin for Her (Age 13-17)
This vitamin for teen girls contains 10 vitamins including Vitamin A, D, E, B12, K2, Folate, Omega 3, Magnesium, Zinc and Iron.
Essential For Teens Multivitamin for Him (Age 13-17)
Contains 9 vitamins including Vitamin A, D, E, B12, K2, Folate, Omega 3, Magnesium and Zinc. It differs from the vitamin for teen girls in two ways: it has different amounts of each of the vitamins listed and it doesn't contain iron.
Essential Gummy Multivitamins for Kids (Age 4+)
Ritual's kids vitamin is great for filling the gaps in nutrient deficiencies for kids, especially picky eaters! A gummy vitamin with no sugar, flavored with lemon, raspberry and monk fruit. Contains 12 vitamins including Vitamins A, B9 (folate), B12, C, D, E, K2, Zinc, Choline, Iodine, Omega-3s, Fiber and Prebiotics.
Do They Actually Work?
In a University led trial, researchers found that Ritual multivitamins had health benefits and high absorbability: the study found that women taking Ritual increased their vitamin D levels by 43%, and increased their Omega-3 DHA levels by 41%.
What I Like About Ritual Multivitamins
Minty Flavor: Unlike other multivitamins that leave you with a metallic taste in your mouth, these have a minty flavor that lingers after you take them.
Easy to Swallow: Taking large pills can be difficult for some to swallow. The nice thing about these vitamins is that the minty flavor makes them easy to go down, and they are not nearly as large as other multivitamins.
No Food Needed to Take: It's okay to take these on an empty stomach first thing in the morning. Unlike other vitamins that can leave you feeling sick if taken on an empty stomach, these vitamins have a delayed release capsule, which means they won't cause nausea like other vitamins. They are also easier to take for those with a sensitive stomach.
Non-GMO: It's important to find a vitamin that is Non-GMO, meaning no genetically modified ingredients.
Vegan: These are great for those that follow a vegan diet (no fish oil in these vitamins!) but you don't have to be vegan to take these. Not only are all of the ingredients vegan friendly, but the capsule itself is vegan, which is difficult to find.
Traceable Ingredients: All of the ingredients come from natural vegan forms of each nutrient. On top of that, you can literally see where in the world each nutrient is from on Ritual's website. For example, vitamin K2 comes from Oslo, Norway, and the Vitamin D they use comes from Nottingham, UK!
Gluten-Free: Those that follow a gluten-free diet can be rest assured that all of the ingredients in these vitamins are gluten-free!
Allergen Free: Their vitamins are free of the 9 major allergens. If you have other allergens be sure to reference their ingredient list before taking.
USP Verified: This means that the ingredients, amounts, and percentages on the label have been verified by an outside source.
No Artificial Colorants or Fillers: All of the ingredients are natural. You get all the good stuff with none of the bad stuff!
Great Customer Service: Ritual is dedicated to making sure you have a great experience with their products. They respond quickly to questions and make their customers their #1 priority.
Science Backed: To ensure their vitamins are actually doing what Ritual claims they can do, Ritual has a Scientific Advisory Board that helps guide their product innovation and clinical research. They also ran a double blind, clinical study with Auburn University on their Essential Vitamin for Women to validate that their vitamins work, and have proven results.
Cons
Cost: They are on the higher price of multivitamins. At this time they are $30 for a 30-day supply.
Subscription Plan: You can't just buy one bottle of Ritual's vitamins. Purchasing these vitamins is part of a monthly subscription plan. They are delivered to your door every month automatically. This can be a pro or a con depending on how you look at it. If you don't want to worry about having to remember to fill your vitamins when they run out, then having a subscription is a great option. But if you like to order as you go, then this can be a con. However, delivery is free, and you can cancel anytime. Ritual also has a 30 day money-back guarantee if their vitamins don't work out for you!
Are Ritual Vitamins Right For Me?
The Bottom Line: Ritual is one of the best multivitamin options I've found on the market today. While the supplement industry has many good options, Ritual Vitamins are an excellent choice for some. If you fall into most of these categories, consider giving them a try!
Vegan
Gluten-Free
Have difficulty swallowing pills
Need a supplement with iron
Need a pill to take on an empty stomach
Desire a vitamin with natural ingredients/no fillers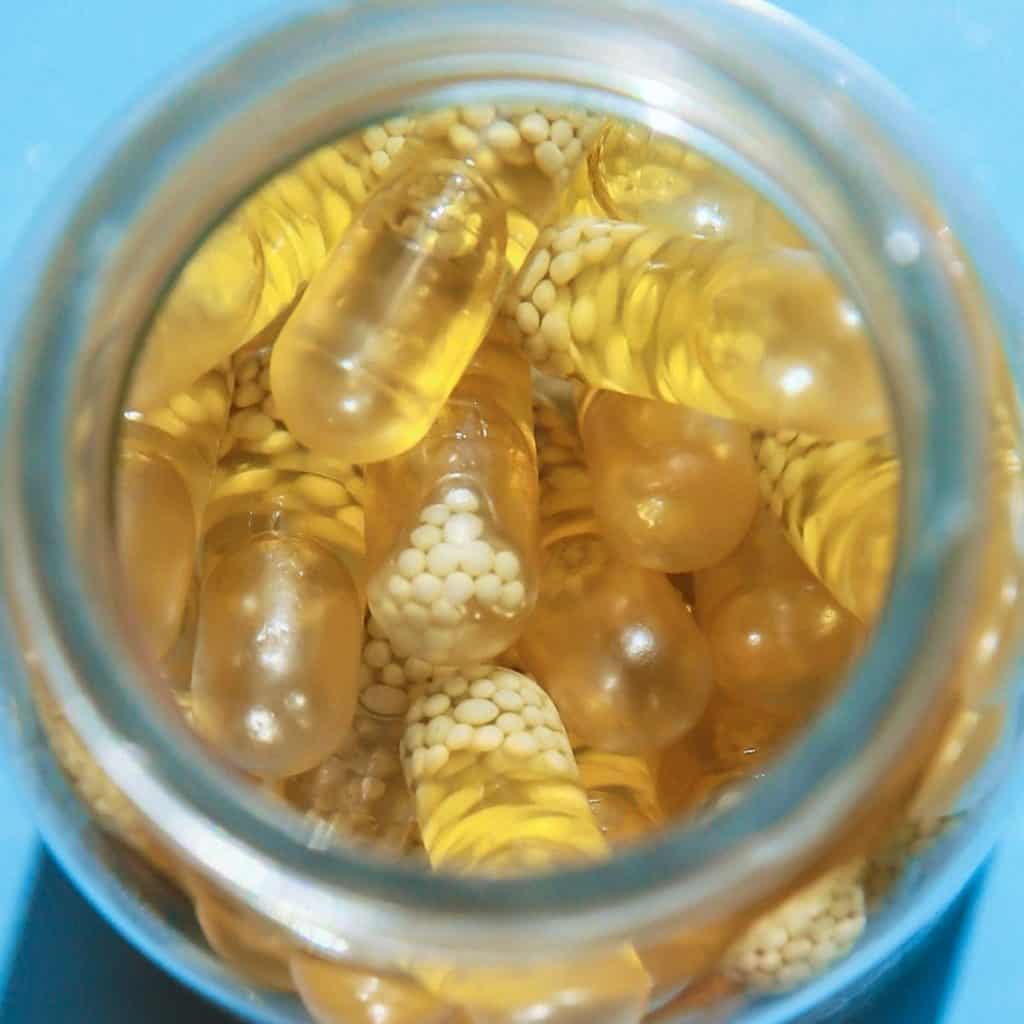 Check Out These Other Vitamin Guides!
I hope I have thoroughly answered all of your questions in this Ritual Vitamins review! If you have any further questions, please leave a comment below – I personally respond to every question I get!
Note: I am not a doctor, and am recommending Ritual based on my own personal experience. Please consult with your doctor before starting any supplement program.
2 responses to "Ritual Vitamins Review: A Unique Vitamin Worth A Try"