BEST Kids Vitamin For Brain Development
This post may contain affiliate links. As an Amazon Associate, I earn from qualifying purchases. Please read my disclosure.
Your child is growing not only physically, but cognitively too! During the early years of life, your child's brain development is in overdrive, as they learn to speak, communicate, walk, and eat solid foods. Help support your child's cognitive growth with the BEST kids vitamin for brain development.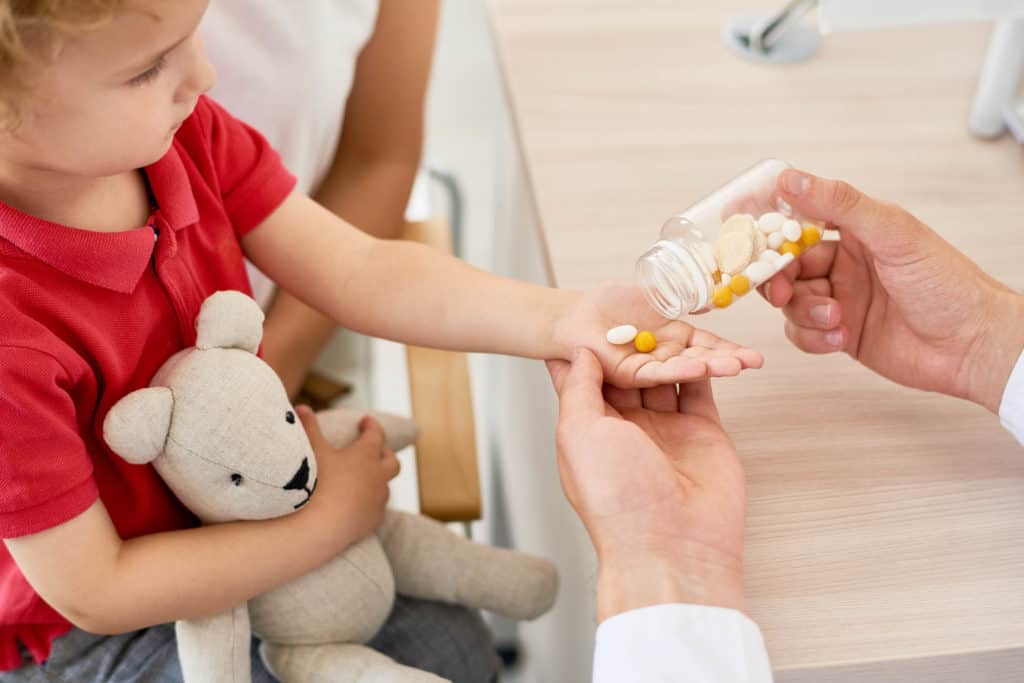 The most critical years of brain development occur before birth through to the first 8 years of a child's life. During this time, your child's brain size is growing at a rapid rate, especially into early childhood. While the brain continues to grow and learn beyond the first 8 years, these beginning years are essential for creating a strong foundation for growth and development into the teens and adulthood.
Healthy brain development is based on numerous factors including genes, proper nutrition, lack of exposure to harmful chemicals and toxins, steering clear of infections, as well as developmentally appropriate experiences with caregivers, other children, and the world around them.
As a parent, or caregiver you are not only your child's first teacher, but you are also there to protect them from exposure to harmful toxins such as lead, and mold, as well as provide them with a well rounded and nutritious diet full of healthy fruits, vegetables, whole grains, and lean protein.
The challenge is that even with the best of intentions, it is often difficult to ensure that your child is getting all the vitamins and nutrients they need to grow and thrive. Providing your child with a daily vitamin for brain development is one way to help ensure your child is getting the nutrients they need now, so that they will thrive in the future! If you a have teenagers in your family, check out my detailed 2023 guide about best vitamins for teens.
Top Brain Foods for Kids
These foods are the best foods to help your child's brain development. Encouraging your child to eat and enjoy these nutrient rich foods will help fuel their body and their mind! These foods improve brain function, memory, and concentration. Did you know that your brain is the first organ to absorb nutrients from the food we eat? When you choose these foods you are giving your child's brain the nutrients it needs to thrive and learn!
Salmon: These oily fish are a great source of the omega-3 fatty acids DHA and EPA — both essential for healthy brain growth and function. Salmon is a true brain food, as children eating a diet rich in Omega 3s have sharper minds and do better at mental skills tests.
Eggs: egg yolks are also packed with choline, which helps memory development. Hard boiled eggs are an easy lunch to pack, or make your child scrambled eggs for breakfast with toast to start them off right before the head to school!
Peanut Butter: Peanuts and peanut butter are a good source of vitamin E, a potent antioxidant that protects nervous membranes — plus thiamin to help the brain and nervous system use glucose for energy. Skip the jelly with added sugar, and try a peanut butter and banana sandwich on whole grain bread with a drizzle of honey for lunch!
Whole Grains: Our brains need glucose, and whole grains provide glucose, fiber, and B-vitamins which help with a healthy nervous system. If you haven't done so already, make the switch to 100% whole grain breads for sandwiches, and try whole grain tortillas, and pita bread. Leave the white refined carbs behind!
Oats/Oatmeal: Try giving your child a warm bowl of oatmeal in the morning for breakfast to give their brains a jumpstart for the day! Oats are a good source of fiber, vitamin E, B-vitamins, potassium, and zinc that help our brains and bodies function.
Berries: High in antioxidants, berries such as strawberries, blackberries, blueberries, and raspberries are also high in vitamin C. These berries give the brain a boost by improving memory!
Beans: A great source of protein (which keeps you full), fiber (for digestive health), vitamins and minerals, they are a great to add to your child's lunch to give them brain power throughout the afternoon. Try adding them to wraps, sandwiches, tacos, or quesadillas!
Vegetables: We all know vegetables are full of a myriad of vitamins and minerals. Dark leafy green vegetables in particular are an excellent source of antioxidants needed by the developing brain. Opt for vegetables that are rich in variety of colors, to get the most nutrients. Serve vegetable sticks at lunch or dinner paired with hummus for dipping.
Organic Milk and Yogurt: When choosing to give your child dairy products, be sure to opt for organic to reduce exposure to antibiotics and hormones. Milk and yogurt are good sources of protein, along with B-vitamins. These B-vitamins are essential for growth of brain tissue, neurotransmitters, and enzymes. When choosing yogurt for your child, opt for plain. So many of the fruit yogurts, and flip yogurts are just dessert in disguise. They are full of added sugar.
Iron Rich Foods: Iron helps kids concentrate and stay focused. Choose nutritious food that is rich in iron such as beans for vegetarians, or lean beef.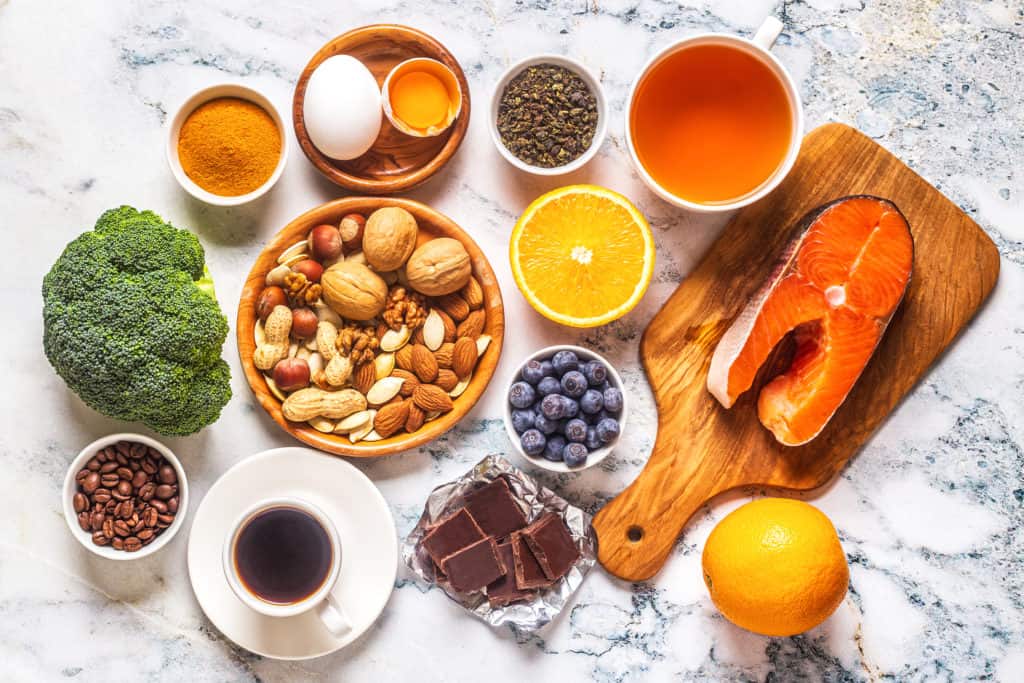 Vitamins and Nutrients that Improve Kids Brain Development
While the foods above are a great place to start, you may still feel that a vitamin for brain development is needed to ensure your child is getting everything the need! Below are the essential vitamins to help improve brain development, increase focus and concentration, and improve memory. When looking at vitamins, check the label to see if these nutrients are included.
B Vitamins: Vitamin B12, vitamin B6, vitamin B3 and folate (B9) are the B vitamins that play an important role in producing the energy needed to develop new brain cells. They also impact energy levels, and metabolism. So when your child is low on B vitamins they will lack the energy needed to focus while in school.
Minerals: Magnesium, zinc, copper, iron, iodine, selenium, manganese, and potassium are especially important during pregnancy, and early childhood when the brain is developing at a rapid rate.
Lutein and Zeaxanthin: Linked to a variety of brain functions such as verbal communication, executive functioning, memory, and recall.
Anthocyanins: Anthocyanins are what gives blueberries their color. This antioxidant is responsible for growing new neurons, and connecting different neurons together so that brain cells can communicate. In addition, some research suggests that they have neuroprotective benefits, meaning they protect the brain from toxins, inflammation, and cell damage.
Choline: This nutrient is required to make acetylcholine, an important neurotransmitter. It's involved in memory, muscle movement, regulating heartbeat and other basic functions.
Vitamin E: Vitamin E protects brain cells from damage due to oxidative stress caused by free radicals.
What Should Be Avoided In Kids Vitamins?
Added Sugar: Your child does not need added sugar in their vitamins. Steer clear of gummy vitamins, and chewables that have added sugar of any kind.
Added Preservatives: While preservatives help increase shelf life, they are not necessary in vitamins, and also have been shown to decrease the absorption of nutrients.
Artificial Ingredients: If you see a long list of ingredients you cannot read or pronounce, then your vitamins have artificial ingredients. These come in the forms of artificial colors, flavors, additives.
For more detailed information on the specific harmful ingredients in children's vitamins read best vitamins for kids for healthy options.
Some of the items below were given to me to review by the manufacturer or as part of an affiliate program. I may receive commissions if you make a purchase through the links provided. I only recommend products I've actually evaluated, I believe are the highest quality, and can do the most to help you and your family. By purchasing any of these products from the links below, you help keep this blog running, so thanks for your support!
Keep in mind that every person & situation is different, especially yours, so make sure to talk to your doctor and see how these guidelines and tips can help you. These tips are not a substitute for professional medical advice, diagnosis, or treatment. Never disregard or delay in seeking professional medical advice because of something you read here!
Best Kids Vitamin For Brain Health
FAQs
How can I help support my child's brain development?
Providing your child with a balanced diet, a healthy home environment, and a wide range of learning experiences will go a long way in supporting your child's growth and development. You are your child's first teacher, so take opportunities to slow down, and allow their curiosity.

Go for nature walks, read to your child daily, take them to the park, make arts and crafts. Engage and play with your child. Then make sure that your home is safe for your child by putting child locks on cabinets containing cleaning supplies, or harmful chemicals. Be sure that your home is free of lead paint and mold.

In addition, provide your child with a colorful diet rich in essential nutrients from fresh fruit, vegetables, whole grains, and protein. Limit processed sugar, and processed foods. This will help your child develop a taste for and preference for natural foods. When possible, buy organic.
What vitamins help kids focus?
Zinc, iron, vitamin C, vitamin B6, and magnesium are particularly helpful for focus and attention. Some studies have shown that taking zinc supplements can help reduce hyperactivity and impulsivity for children with ADHD.

Iron is another nutrient that improves focus. Just be careful to provide your child with the appropriate dosage so that they do not have too much. Vitamin C is used to make neurotransmitters like dopamine and norepinephrine. Children who are low in vitamin B6 can show signs of fatigue and irritability which can cause difficult with focus. Making sure that your child has sufficient B6 can help them improve their alertness. Magnesium has a calming effect on the brain which helps reduce hyperactivity and increase attention.
Does my child need to take a brain boosting vitamin?
Whether or not your child needs a kids vitamin for brain health is really dependent on a multitude of factors. If your child is struggling with focus in school, one way to help is with a brain boosting multivitamin that includes the vitamins and nutrients needed for adequate brain health. Also making sure that your child's diet is free of processed sugar, and rich in fruits and vegetables will likely help reduce inattention and increase focus.

However, if your child does not struggle with focus and attention, and has a healthy diet, you may not need to provide your child with a vitamin for brain development. Always consult with your pediatrician before starting your child on any supplements.
What are the benefits of taking a brain support vitamin?
The biggest benefit of taking a vitamin for brain support is knowing that your child is getting all of the recommended nutrients necessary for proper functioning and health. They can potentially improve focus, reduce hyperactivity, reduce anxiety, and calm the mind.

However, it is always recommended to get your nutrients from food sources rather than supplements. Supplements are not meant as a substitute for a healthy and well rounded diet.
Check Out These Other Vitamin Guides!
I hope I have thoroughly answered all of your questions! If you have any further questions, please leave a comment below – I personally respond to every question I get! You can also FOLLOW ME on FACEBOOK, TWITTER, INSTAGRAM and PINTEREST to see more delicious, healthy, family friendly food!
2 responses to "BEST Kids Vitamin For Brain Development"