The Picky Eater Meal Plan (Week 9)
This post may contain affiliate links. As an Amazon Associate, I earn from qualifying purchases. Please read my disclosure.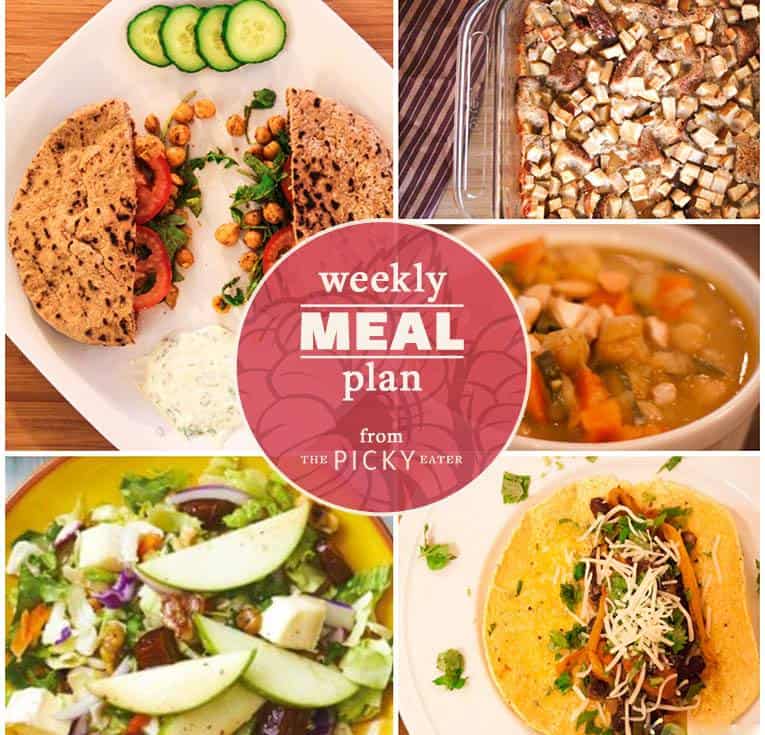 Weekly meal plans are back!! After Ayan was born, I took a little break from meal planning, because things were crazy busy as I'm sure you can imagine!
Our dinners ended up being lots of quick meals or stews made with whatever veggies/lean protein we had lying around the house, thanks to my Instant Pot.
We still were able to eat healthy, but things got kind of monotonous after a while – since there are only so many one-pot meals you can make.
If you're looking for quick and easy meals done in 30 minutes, you've got to try my 15 Pantry Meals.
I stuck to my general rules for meal planning this week, which were:
Breakfasts for us are always some version of oatmeal – I just mix things up by changing toppings every so often. If you're looking for a bit more variety, try one of these recipes here.
Lunches are usually either leftovers, or one of these easy recipes here.
For dinner: I alternate between super fast meals that are still healthy, and meals that might take a bit more time (no more than 45 min – 1 hour to make). I like variety but it's hard to figure out variety 3 times a day every day, so I keep our breakfasts and lunches simple, and change things up each night for dinner!
Here's what I'm cooking this week:
Monday: Smoky Fajitas
Tuesday: Brunch for dinner with this french toast bread pudding and apple and brie salad!
Wednesday: Leftover Fajitas, repurposed into a filling for burritos made with sprouted wheat tortillas
Thursday: Chickpea Pita Sandwiches with Yogurt Sauce
Friday: Healthy takeout! We usually look for places that have lots of fresh veggies and veggie-friendly, lean protein (like beans, quinoa, etc.)
Saturday: Thai Peanut Curry with Chickpeas
Sunday: Leftovers!
4 responses to "The Picky Eater Meal Plan (Week 9)"