39 Easy Last-Minute Dinner Ideas
This post may contain affiliate links. As an Amazon Associate, I earn from qualifying purchases. Please read my disclosure.
Enjoy easy and delicious meals any day of the week with this list of 39 last-minute dinner ideas! While quick and simple, these dinners are still filling, nutritious, and delicious. Read on to find your next favorite meal!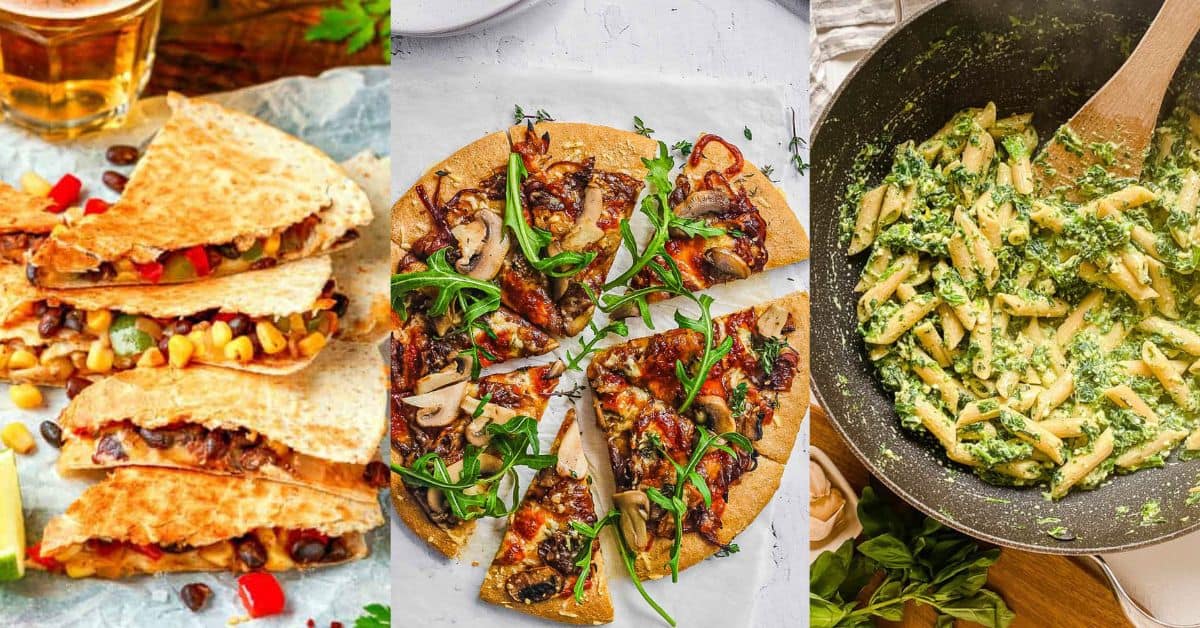 Dinner ideas can be a roadblock on even the best of days. Work runs late, scheduled activities run over, and days are more tiring than anticipated; there are so many scenarios that follow us into the kitchen come time to start cooking dinner.
The last thing you want to do at the end of these sorts of days is to go searching through dozens of recipes, trying to find the needle in the haystack recipe that is easy, quick, and delicious.
That is why I come to you today with this specially curated list of last minute dinner ideas! All recipes are ready with simple and easy-to-find ingredients and are prepared in 30 minutes or less. Perfect for busy moms, dads, and anyone who is long on appetite but short on time!
With sports practices, music lessons, and afternoon meetings, these recipes are a saving grace to get nutritious food on the dinner table as fast as you can. Browse the list of easy recipes below, bookmark or pin them for tonight or later, and get tasty home-cooked meals on the dinner table in a snap on even the most busy weeknights!
---
👩🏽‍🍳 39 Last Minute Dinner Ideas
Without further ado, the list of my favorite last minute dinner ideas: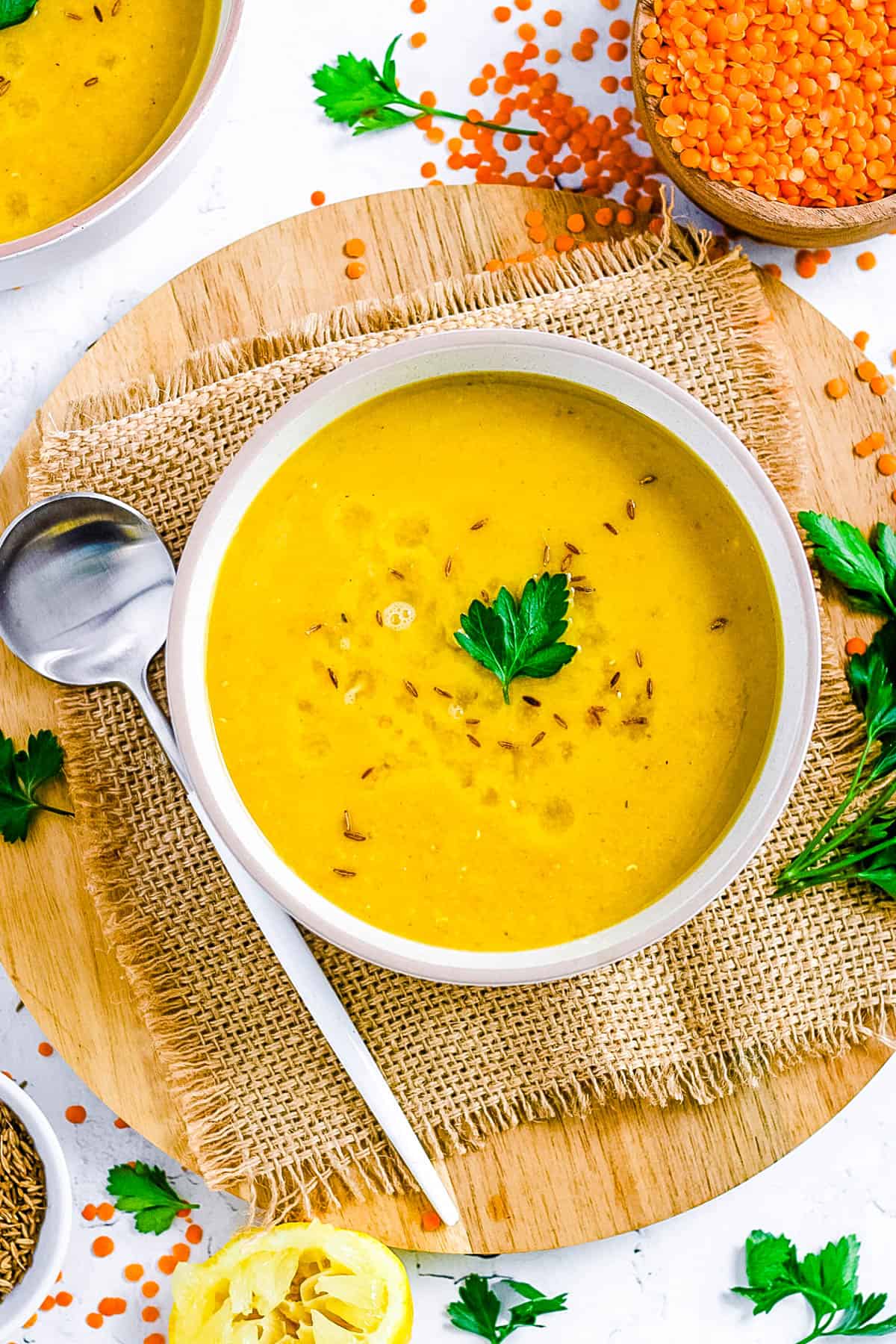 Calories: 284 – Fiber: 16g – Protein: 13g
Soups are great last minute easy dinner ideas, because you can throw a handful of ingredients into a pot and it tastes warm and comforting while still being delish. While it can be considered a lazy weeknight dinner, this Lebanese lentil soup will taste the opposite!
Kids enjoy this filling soup after a long day of school and extracurricular activities. It warms you up instantly and its neutral flavors are easy to love.
This rich and flavorful Lebanese Lentil Soup is cooked over high heat, adds spinach for some vegetable nutrition, and is served with a dollop of cool yogurt and cilantro. It's a hearty, healthy, and easy meal idea to pull together for a weeknight meal.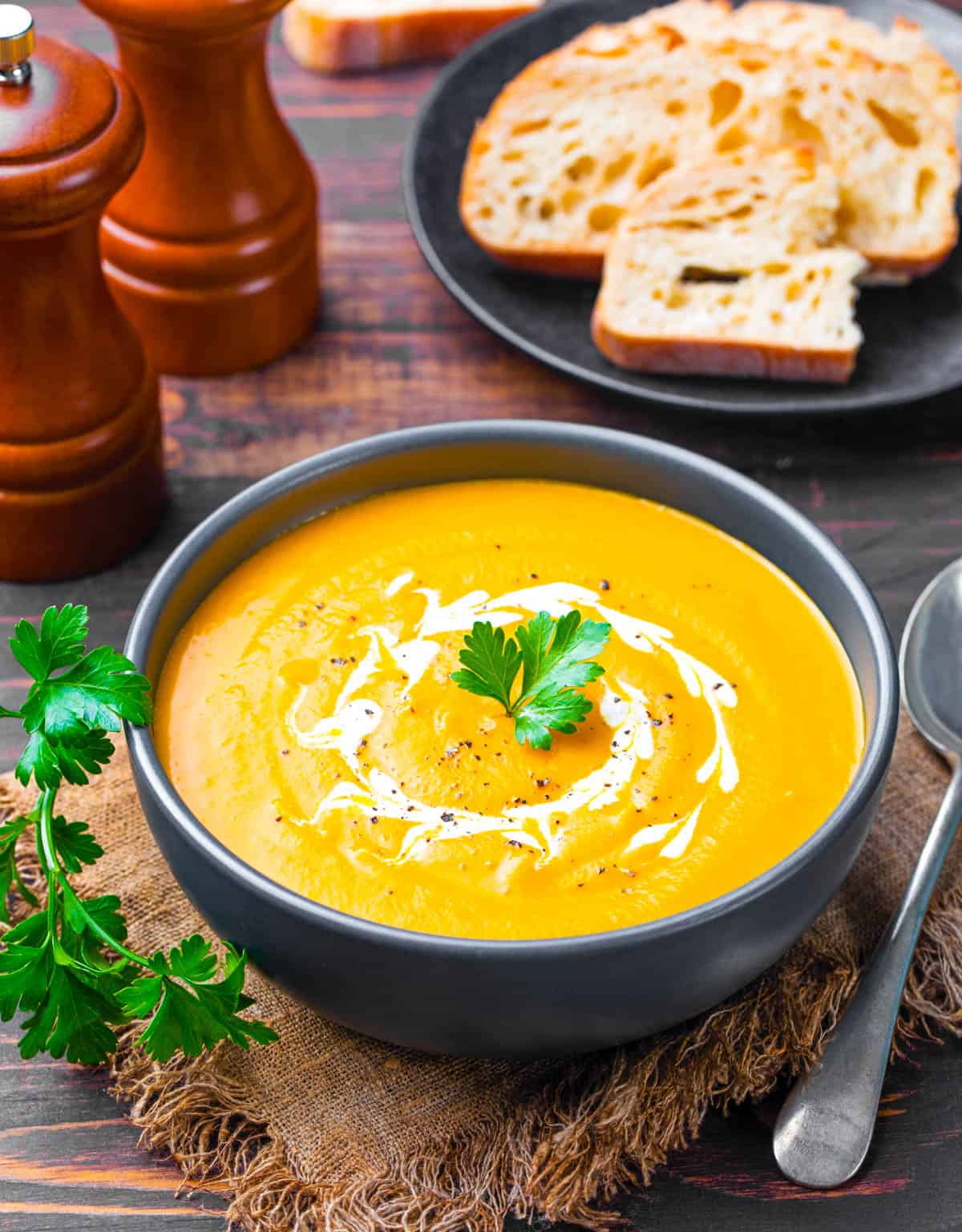 Calories: 155 – Fiber: 8.7g – Protein: 5.4g
Ready in 30 minutes, this pumpkin sweet potato soup is the perfect autumn meal to nourish your belly and warm you right up. Its creamy pumpkin broth is vegan, gluten-free, and healthy.
My family seems to crave all things pumpkin-flavored as the leaves begin to change. We love this hands-off soup because it feeds into our pumpkin craving and doesn't take away from the activity-filled fall evenings.
Using either an immersion blender or a regular blender, this soup combines cannellini beans and pumpkin puree for a nutritionally filling and rich soup. The ground cumin, garlic cloves, and diced red onion are the perfect savory complement to the winter squash.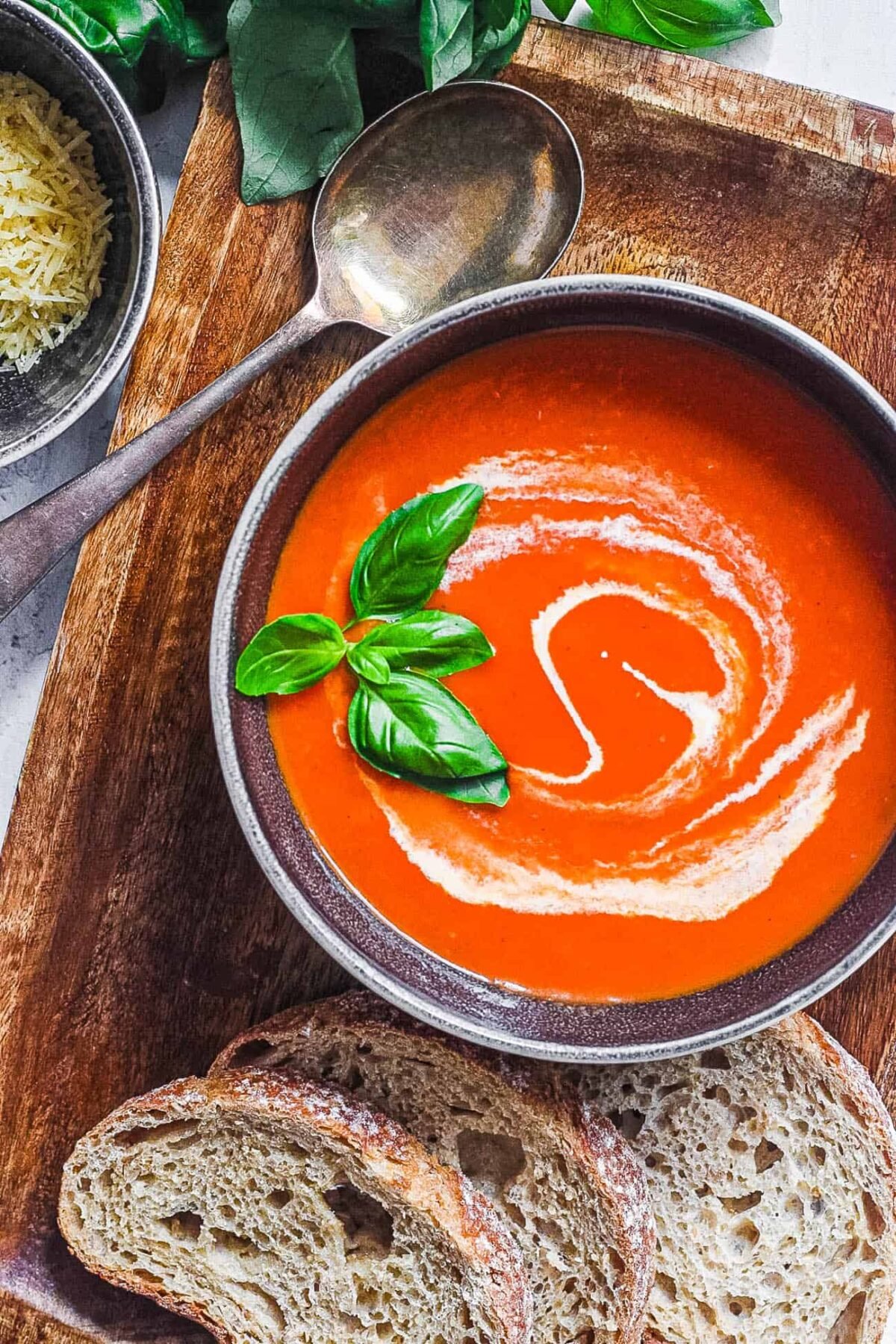 Calories: 70 – Fiber: 1.3g – Protein: 1.7g
Less than 75 calories per serving it's a healthy, rich, and easy-to-make classic recipe. This Instant Pot Tomato Soup is a creamy and delicious meal with the perfect amount of subtle spice.
It's an easy last minute meal that you can pair with just about any side dish and it'll taste great! Our family especially loves this late-night dinner idea when the weather cools and it's time to stay in.
Try it with my delicious sourdough grilled cheese sandwich and you'll never be the same. Kids cannot get enough of the perfect savory and cheesy duo – making this one of our favorite last minute meals for picky eaters and the whole family!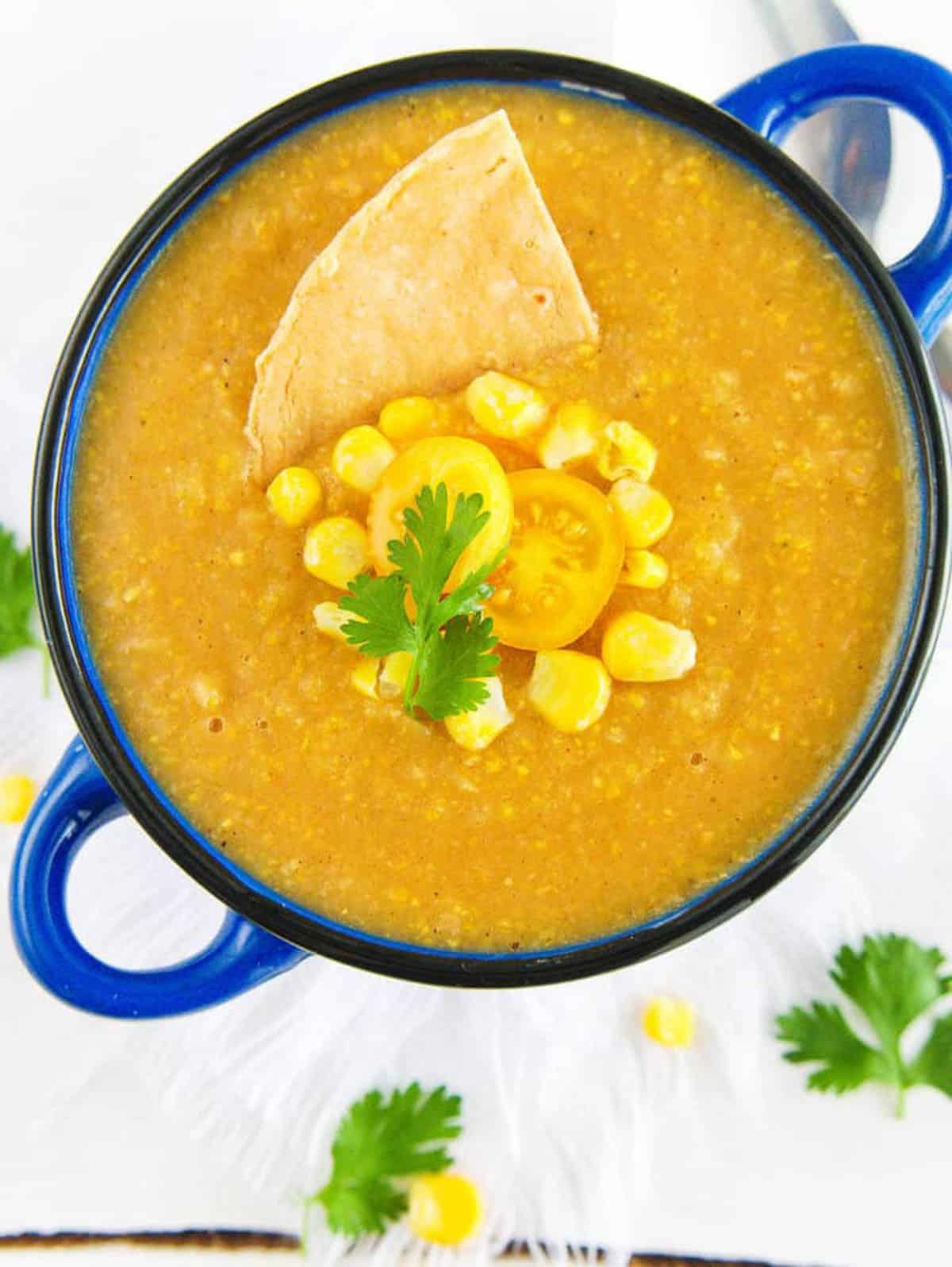 Calories: 128.7 – Fiber: 4.2g – Protein: 4.1g
This spicy potato corn chowder is packed full of fresh ingredients and a blend of delicious spices. Dairy-free, and low in calories, it's a decadent soup to be enjoyed without the guilt!
If your family prefers less spice, omit the cayenne pepper. If they enjoy the nice kick, add pepper to their liking.
The topping ideas are endless to personalize each bowl of soup. Whether it's crushed tortilla chips, a handful of cheddar cheese, or creamy avocado, this soup's Mexican-inspired broth is a great last-minute dinner.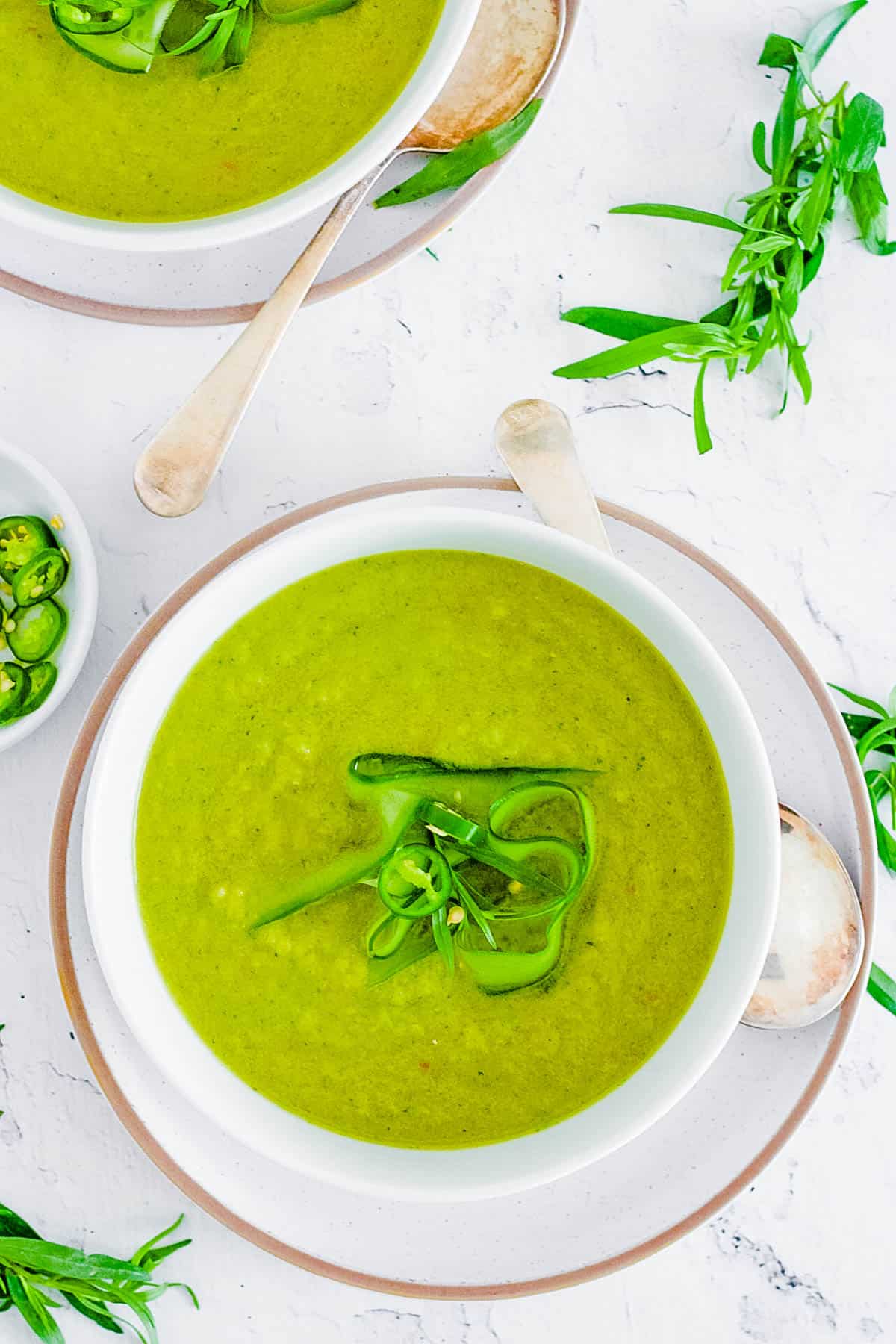 Calories: 91 – Fiber: 2.5g – Protein: 1.8g
This cucumber gazpacho is light, refreshing, and easy to make! With a combination of cucumber, honeydew, and fresh mint this gazpacho is cool, slightly sweet, and makes for the perfect light dinner.
Its dynamic flavor profile is perfect after your kids have had heavy meals and a long day. When they need a little something extra to top off their night, this gazpacho is wonderful.
This vegan and gluten-free recipe makes for a thoughtful dinner for visitors as well. In only 20 minutes, the savory garlic and heat from the serrano pepper come together for an impressive but quick meal.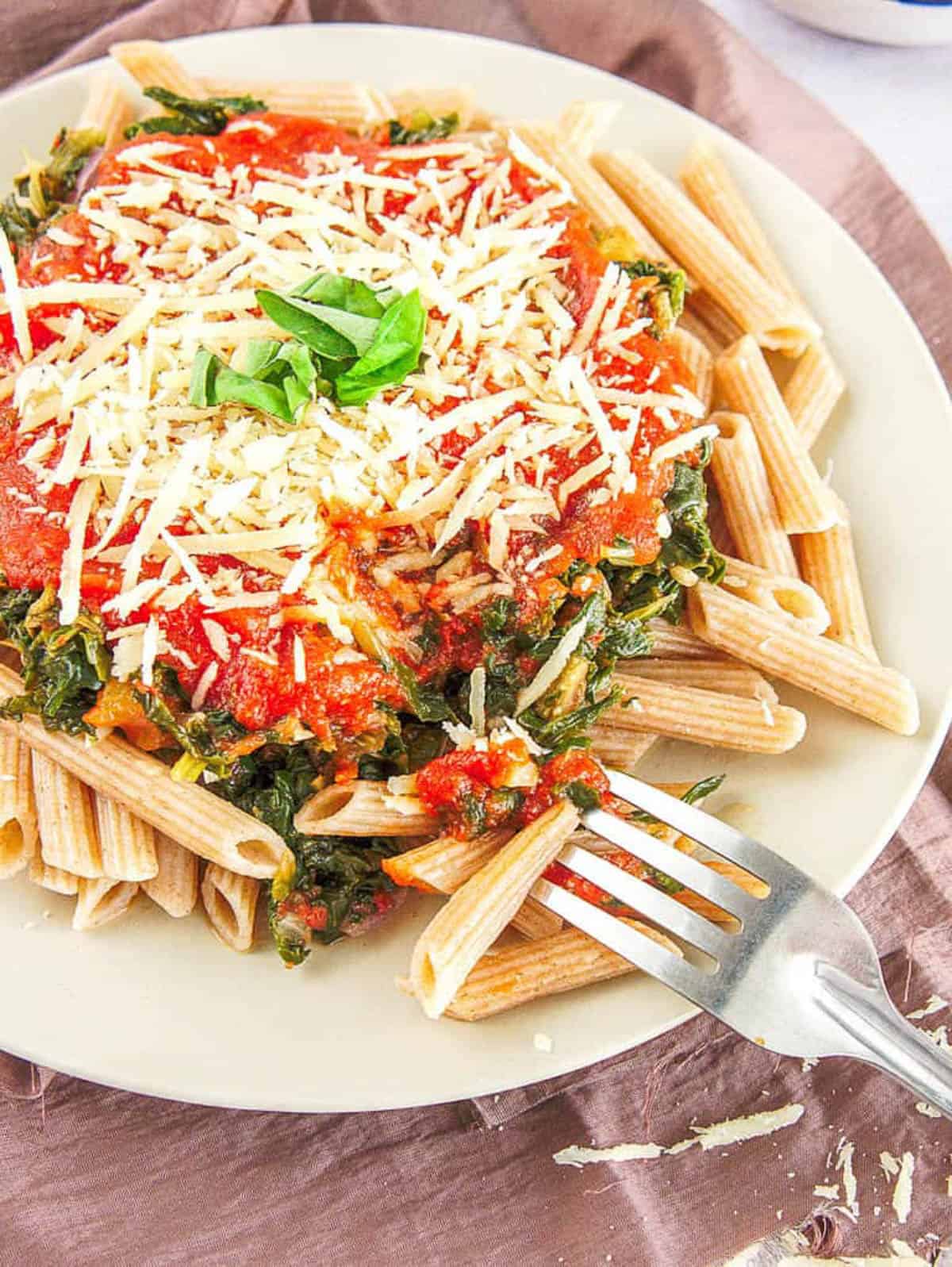 Calories: 380 – Fiber: 12.6g – Protein: 18g
A tasty pasta is a clever meal when you need some last-minute dinner ideas! Full of flavor and loaded with veggies, this family-friendly supper is a hit!
Pasta is one of the most reliable meals for my family. Maybe it's the bite-size penne that lures them in, but I'm just thankful they won't skip over the spinach that comes with it.
If you need some lazy dinner ideas for family dinner, pasta is often a common go-to. However, this recipe uses a whole bag of greens, whole wheat pasta, and your favorite marinara sauce to elevate the nutritional value of your meal while keeping it filling. Feel free to sub in gluten-free pasta for a gluten-free option too!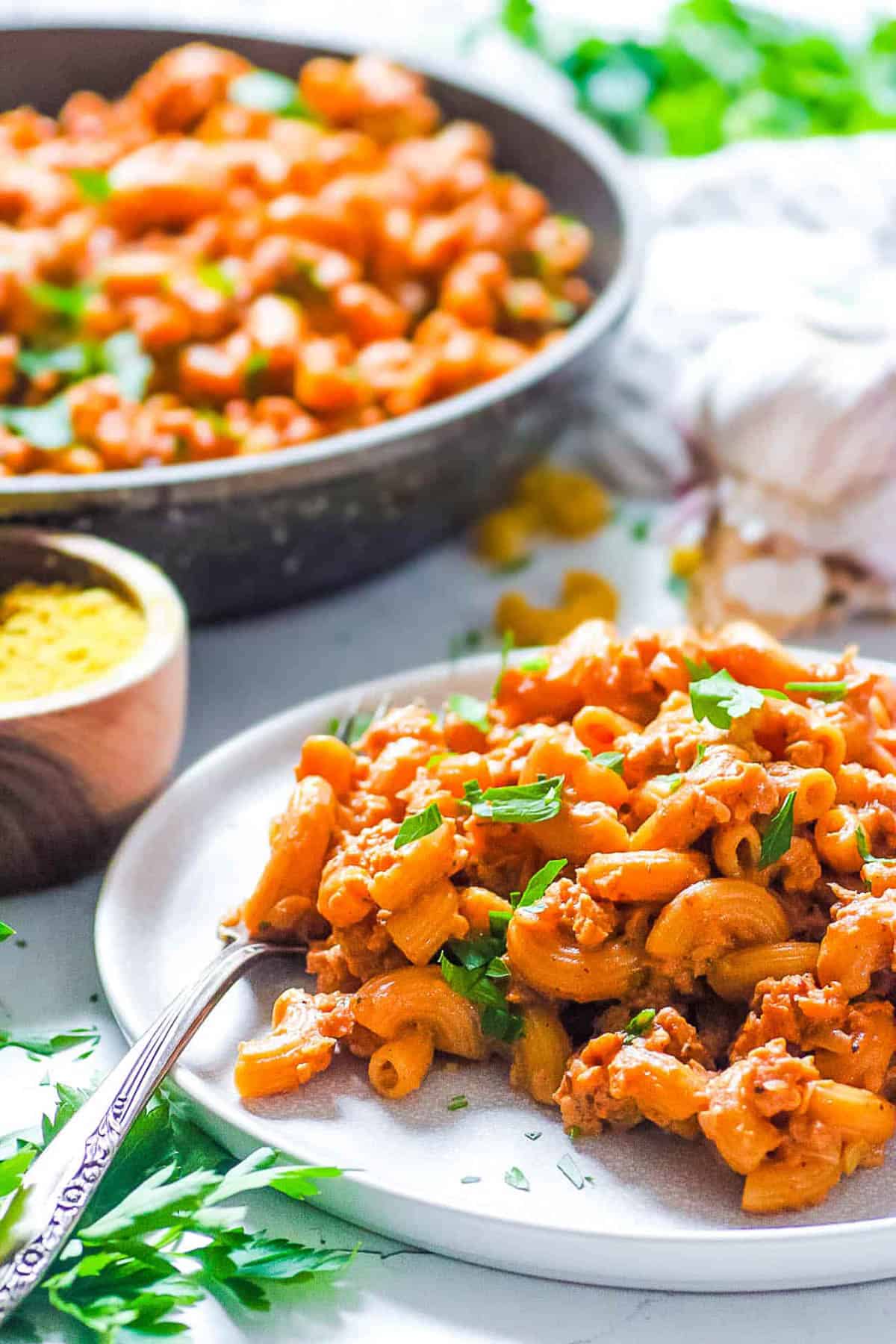 Calories: 443 – Fiber: 5g – Protein: 24g
Enjoy this childhood favorite with all the nostalgia, but none of the meat. Vegan hamburger helper is an easy one-pot dish that whips up in 25 minutes!
It's one of those easy last minute dinners that kids love, and its creamy soy-based sauce makes you forget there's no cheese. Made with vegan ground beef and a handful of pantry-staple spices, meat lovers won't know the difference!
The sauteed onion and garlic fill your house with an irresistible aroma while the meal comes together in only 5 steps. Vegetable broth, nutritional yeast, and unsweetened soy milk work magic to create a comparable childhood dish that may be even better than you remember.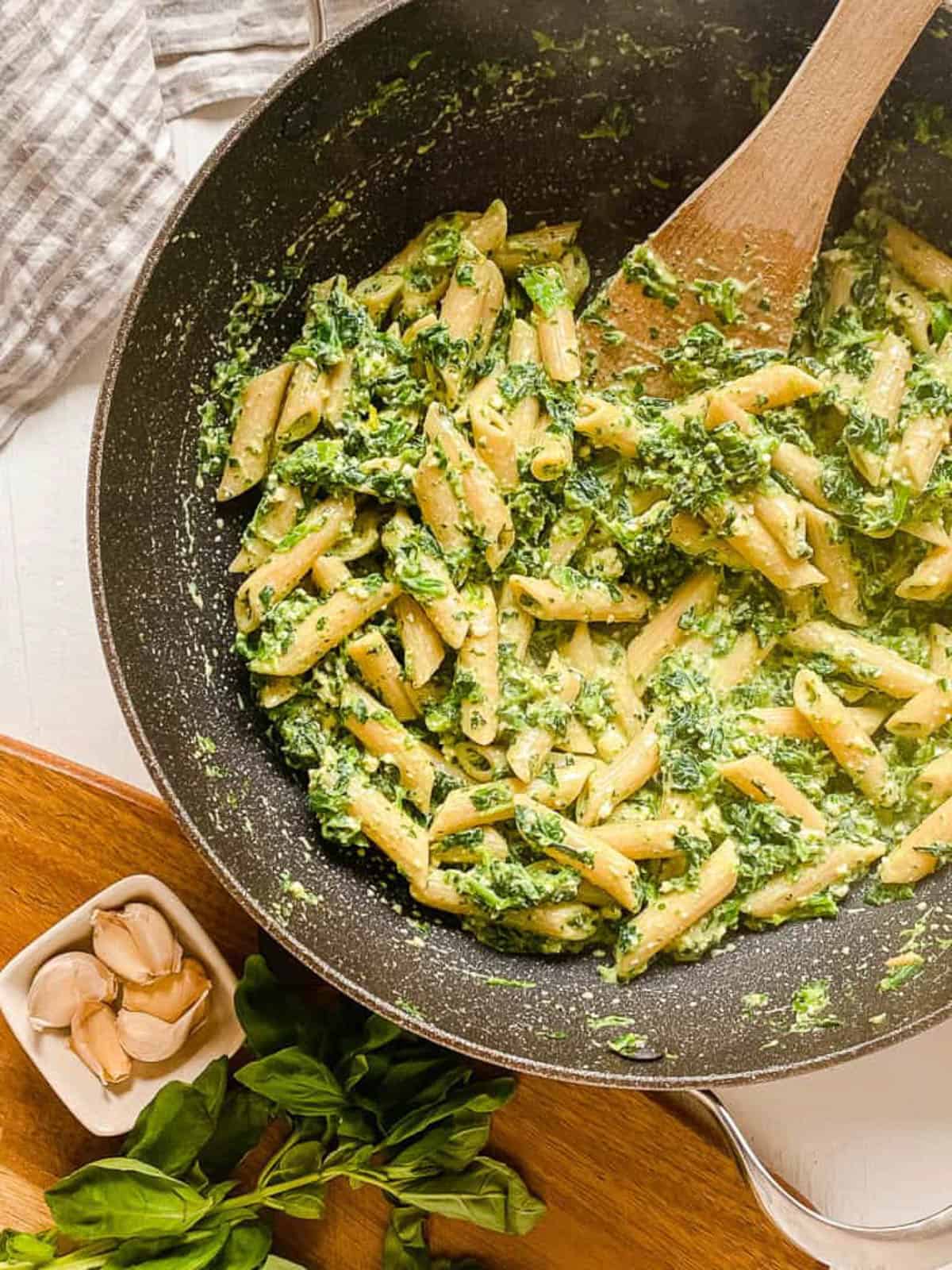 Calories: 323 – Fiber: 8g – Protein: 15g
This healthy vegetarian pesto recipe is easy to make and will become one of your classic last minute dinner ideas without meat. Ricotta gives this sauce a creamy texture and the added pine nuts give it the model-pesto texture!
My household loves this dish, even with the spinach in it! This uncomplicated vegetarian pesto pasta is a fun family favorite recipe, finished in just 25 minutes!
The fresh basil and pine nuts make all the difference in creating this scrumptious pesto. Meanwhile, the freshly grated parmesan cheese ties this dish together.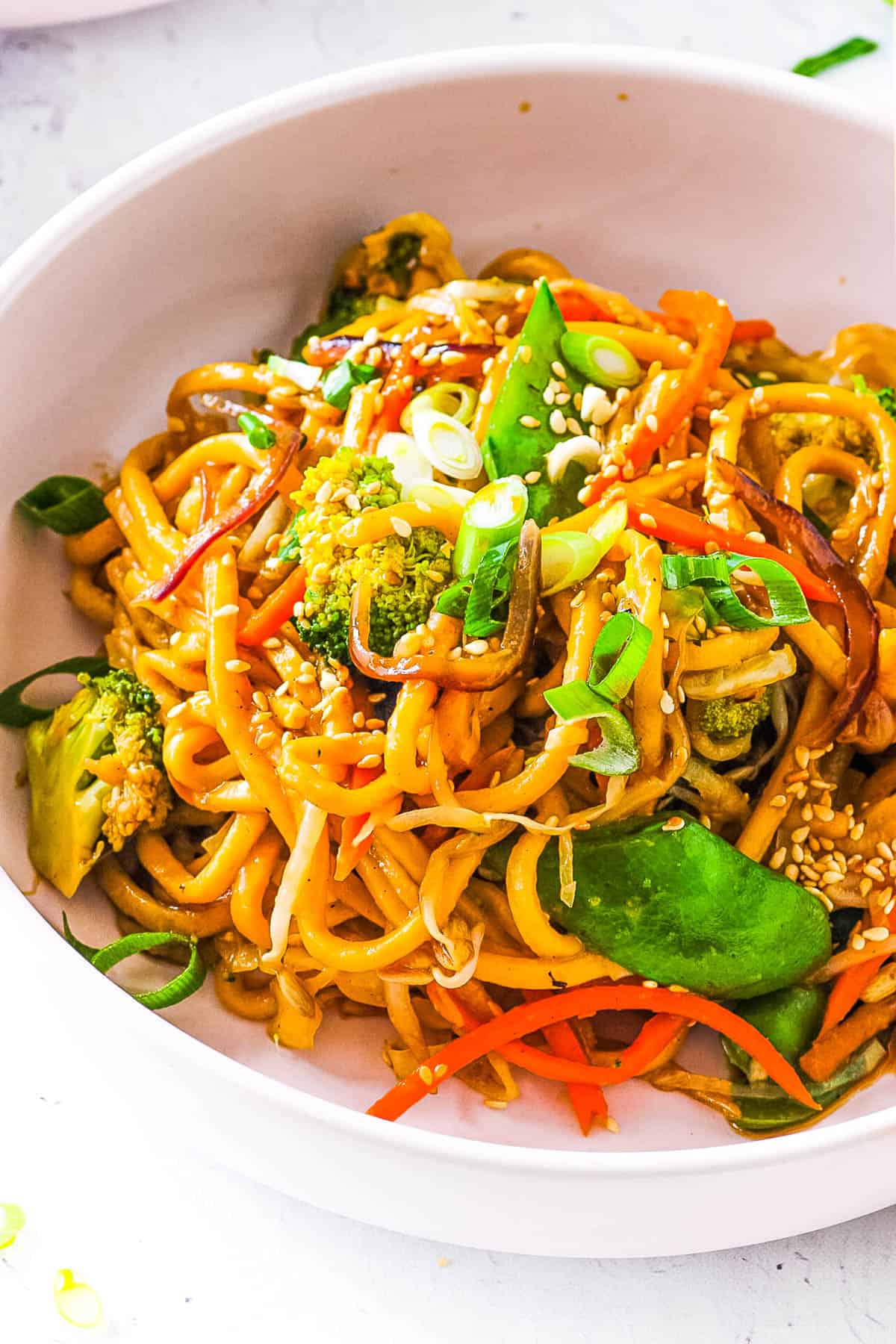 Calories: 549 – Fiber: 13g – Protein: 24g
These vegan noodles take only 30 minutes to make, using fresh vegetables and a scrumptious umami sauce. This noodle stir fry is a great weeknight choice.
Over high heat, the veggies cook quickly and the sauce infuses every bite. This healthy meal can be made with other types of Asian noodles, different vegetables, or added protein sources!
Leave out unknown additives from takeout and be satisfied by this vegetable-filled chow mein. Top with sliced green onions and toasted sesame seeds to create a restaurant-quality dinner from your kitchen!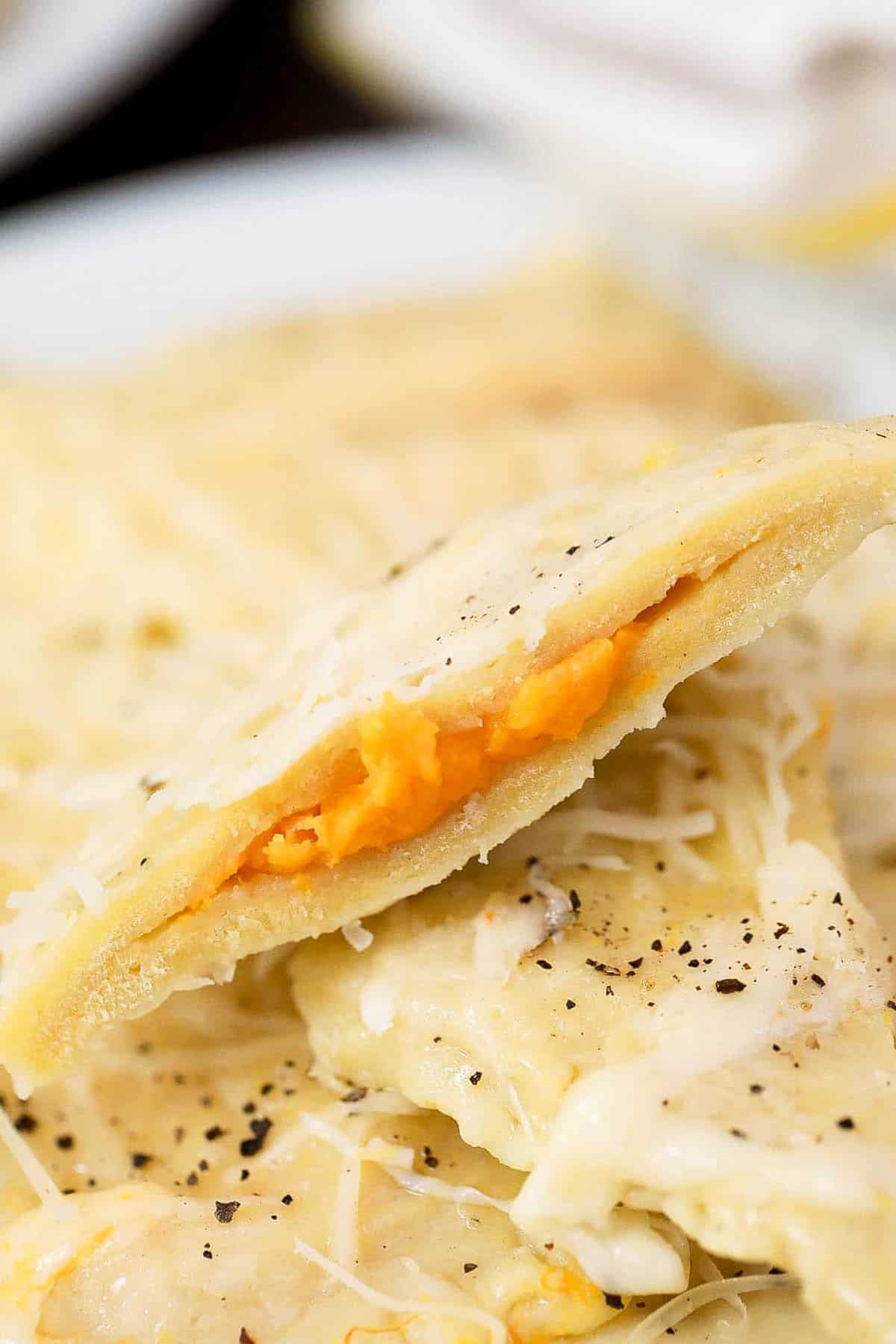 Calories: 402 – Fiber: 2g – Protein: 16g
A simple 15-minute recipe, this Trader Joe's Butternut squash ravioli has a simple, homemade, creamy, and cheesy sauce. It's an easy fast dinner that tastes like a gourmet meal!
Biting into a ravioli is a delicious surprise and is made even better thanks to caramelized butternut squash flavor. The key to making this simple sauce is to stir the cheese frequently until well combined with the olive oil.
Trader Joe's has a plethora of quick meals to make for dinner, but this is one of our favorites. Treat your crew to one seriously tasty dish with this butternut squash ravioli recipe!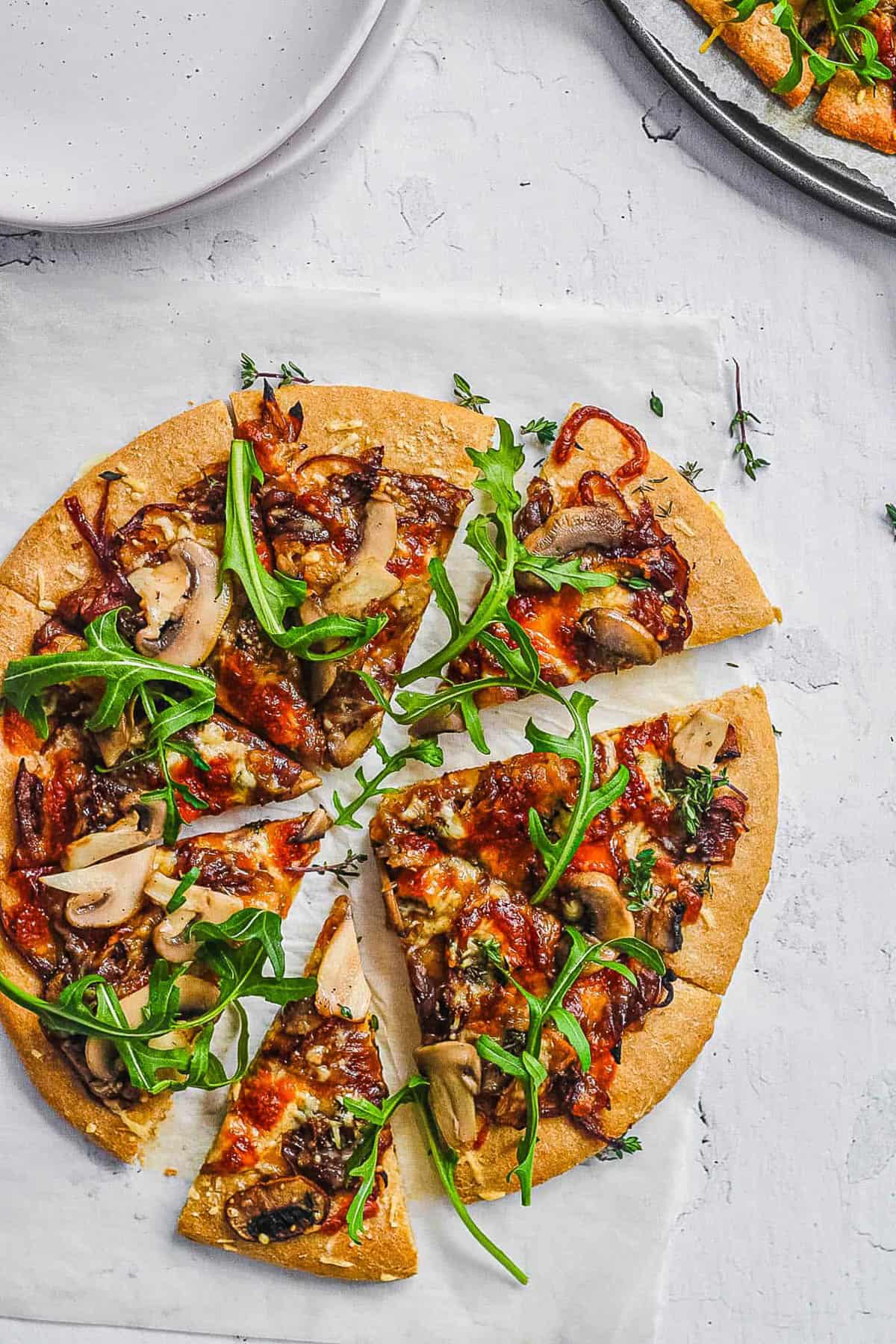 Calories: 350– Fiber: 7g – Protein: 17g
It's hard to control how fast a takeout pizza will be ready for pick up, or how fast it can get to your door for delivery. This pizza fast tracks your pizza dough by using baking powder in place of yeast, resulting in a gourmet pie in under 30 minutes.
Leave as is for a cheesy and rustic flavor, or customize for any dietary needs or preferences. With gluten-free variations available, pizzas are awesome quick dinner ideas for family and friends.
Carmelized onions and mushrooms create a delicious rustic flavor in this garlic cheesy pizza. There's no need to be intimidated if this is your first time making pizza dough, this recipe walks you through each step with tips for an extra crunchy or soft crust!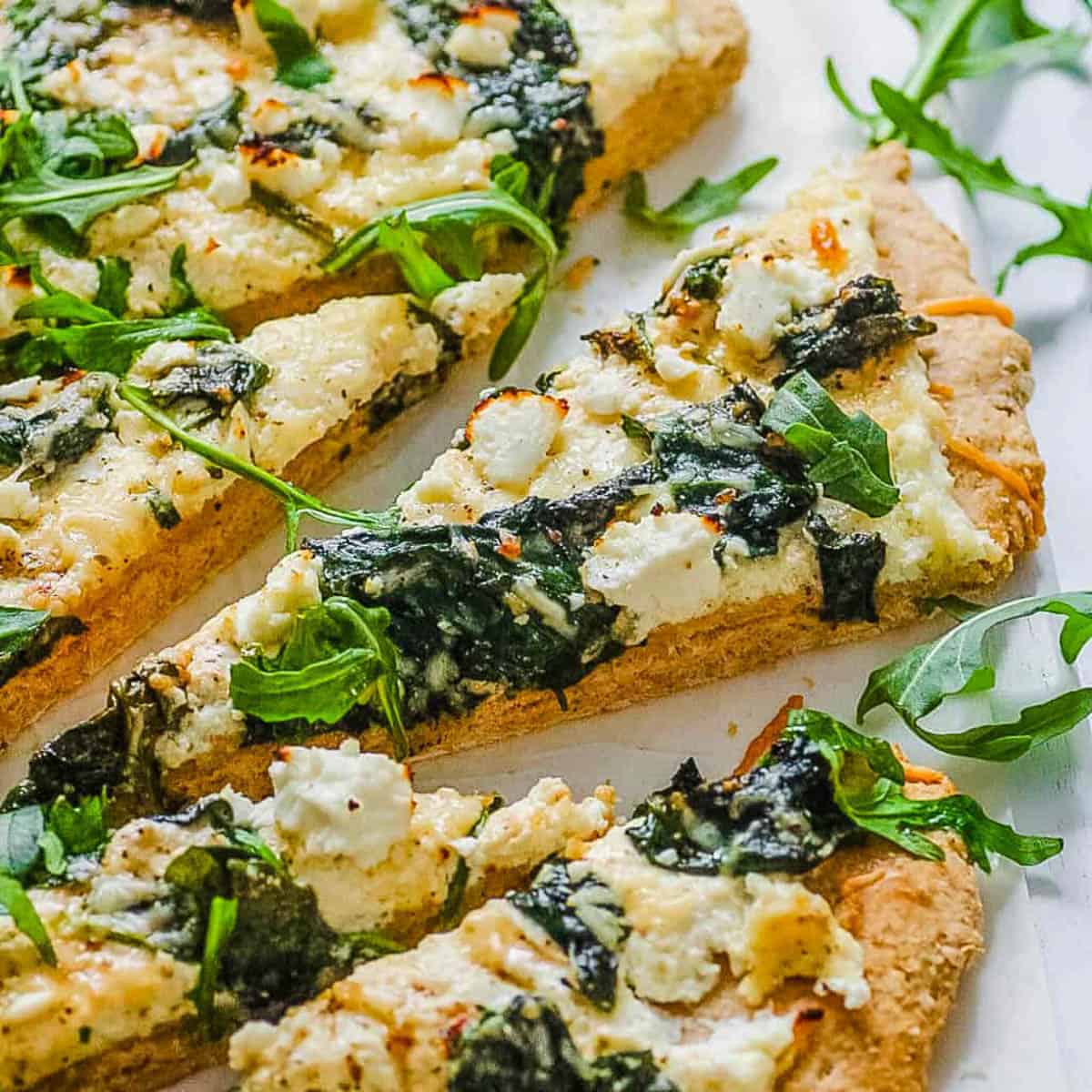 Calories: 130 – Fiber: 2g – Protein: 5g
Our delicious Florentine Pizza has bold flavors of garlic, a blend of scrumptious cheeses, and Italian seasoning. All of these ingredients can be found at your local grocery store.
This easy no-rise whole wheat crust cuts down baking time and speeds up ready-to-eat food after an eventful day at work, a day full of errands, or school pick-ups. Its crispy crust and chewy center make it a can't-miss, easy last minute family dinner.
If you like parmesan, feta, and mozzarella cheese, this pizza is for you. While loaded with gooey cheese, the pizza also loads up on fresh spinach to ensure filling and nutritious bites!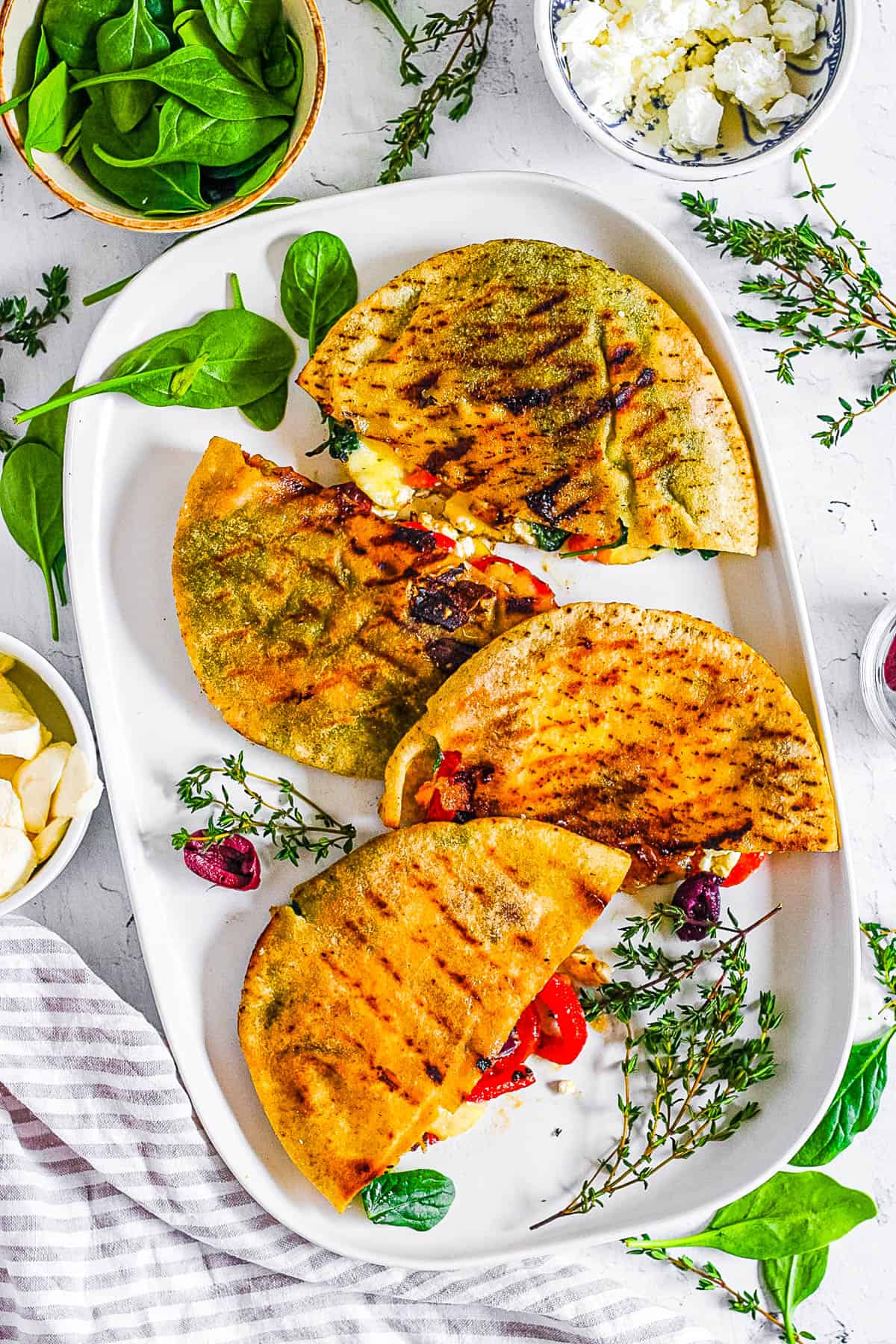 Calories: 440 – Fiber: 5g – Protein: 22g
A grilled cheese pita sandwich includes all things tasty from grilled cheese to favorite Mediterranean ingredients. Ready in only 25 minutes and it's one of the easiest meal ideas!
You can make uniform pita sandwiches for the whole family or each person can personalize their ingredient quantities to their liking! Take the burden off of dinner and let everyone pick their favorites.
These personal pita sandwiches are loaded with veggies for a well-balanced meal. When grilled to perfection, the gooey cheese brings scrumptious comfort to the whole family.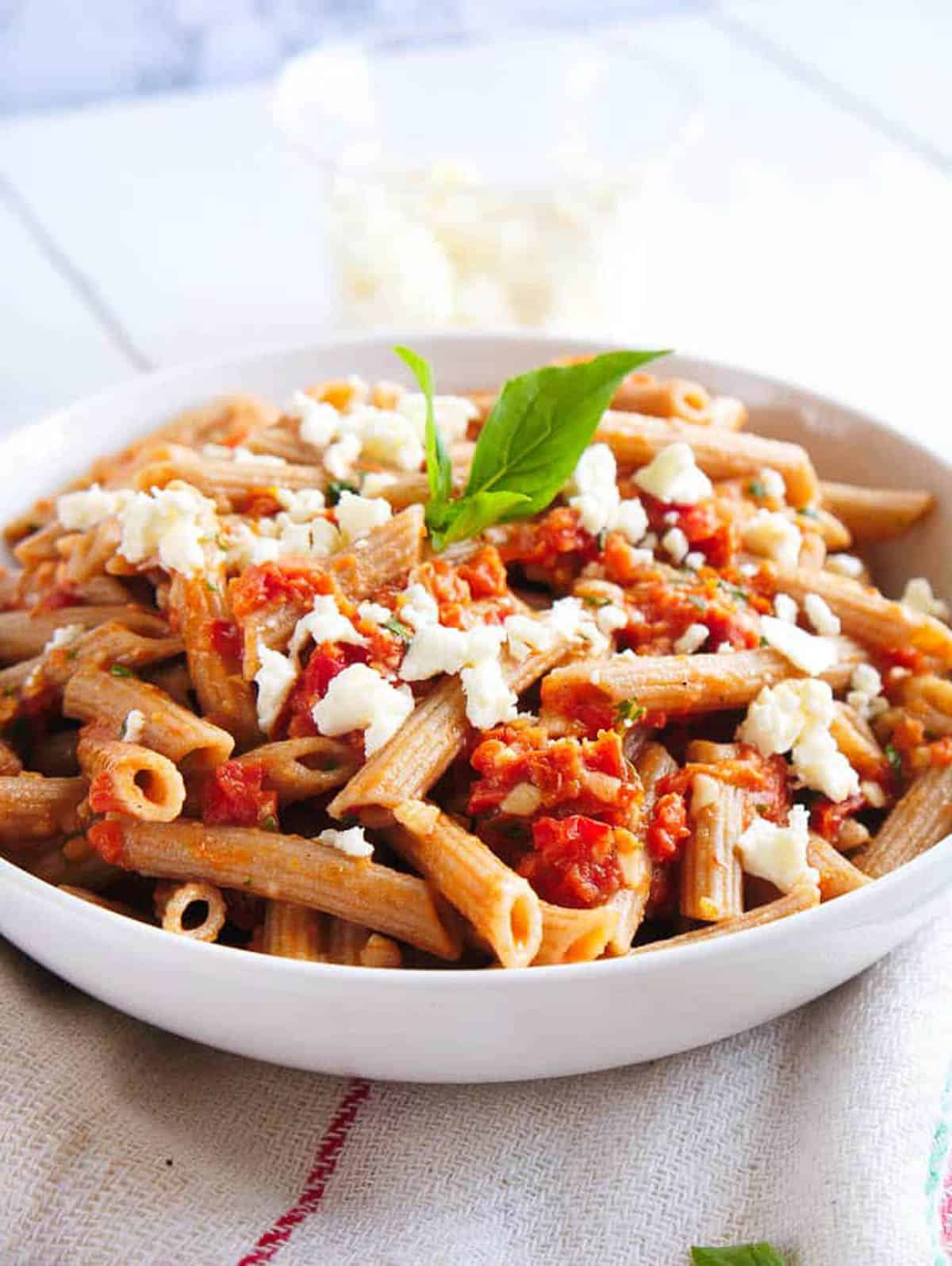 Calories: 300 – Fiber: 10g – Protein: 12.3g
Sun-dried tomato pesto and whole wheat pasta make an impressive combination! Topped with crumbled feta and made in 30 minutes, it's a delicious last minute supper idea, full of flavor for any weeknight.
Make this dish gluten-free with chickpea or lentil pasta, and simply leave out the cheese to make it dairy-free. This quick meal will satisfy the family in just 3 steps!
The slivered almonds complement the nuttiness of the whole wheat pasta, while the fresh basil and sundried tomatoes give a classic Italian-inspired flavor. Topped with feta, the finished dish has a creamy finish!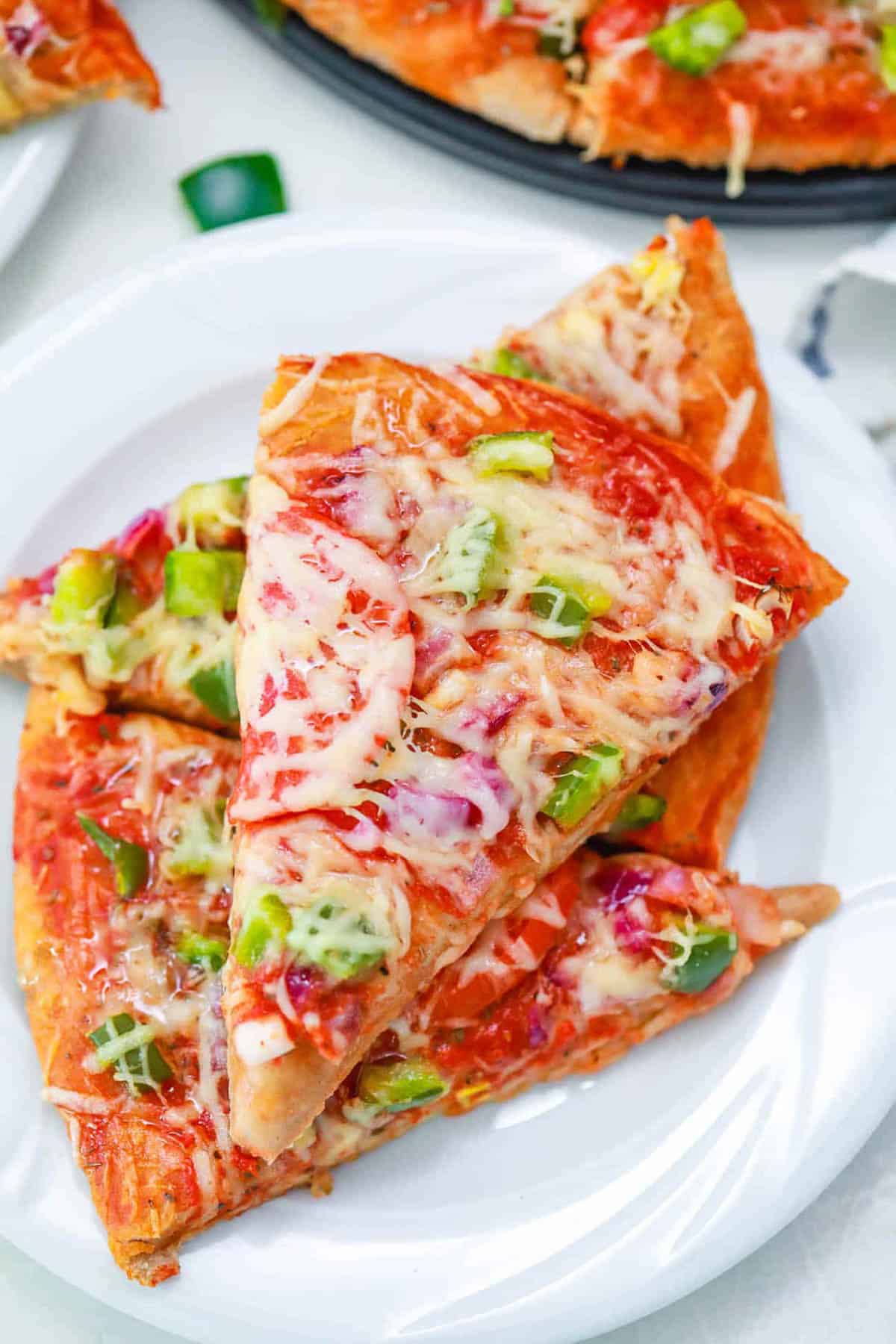 Calories: 219 – Fiber: 4.5g – Protein: 10.5g
Healthy tasty pizza? Yes! With perfect melted cheese, sweet green peppers, and red onion, this colorful pizza is both healthy and satisfying.
It's hard to find a person who doesn't appreciate a good slice of pizza, and even the pickiest eaters will enjoy this savory and balanced pie. It's easily customizable for vegetables on hand or your favorite vegetable combinations.
In just 30 minutes, this veggie pizza makes for a family-friendly stress free dinner! Let the kids help decorate with their favorite toppings to enjoy making dinner together. It's one of the best last minute dinner ideas for picky eaters too!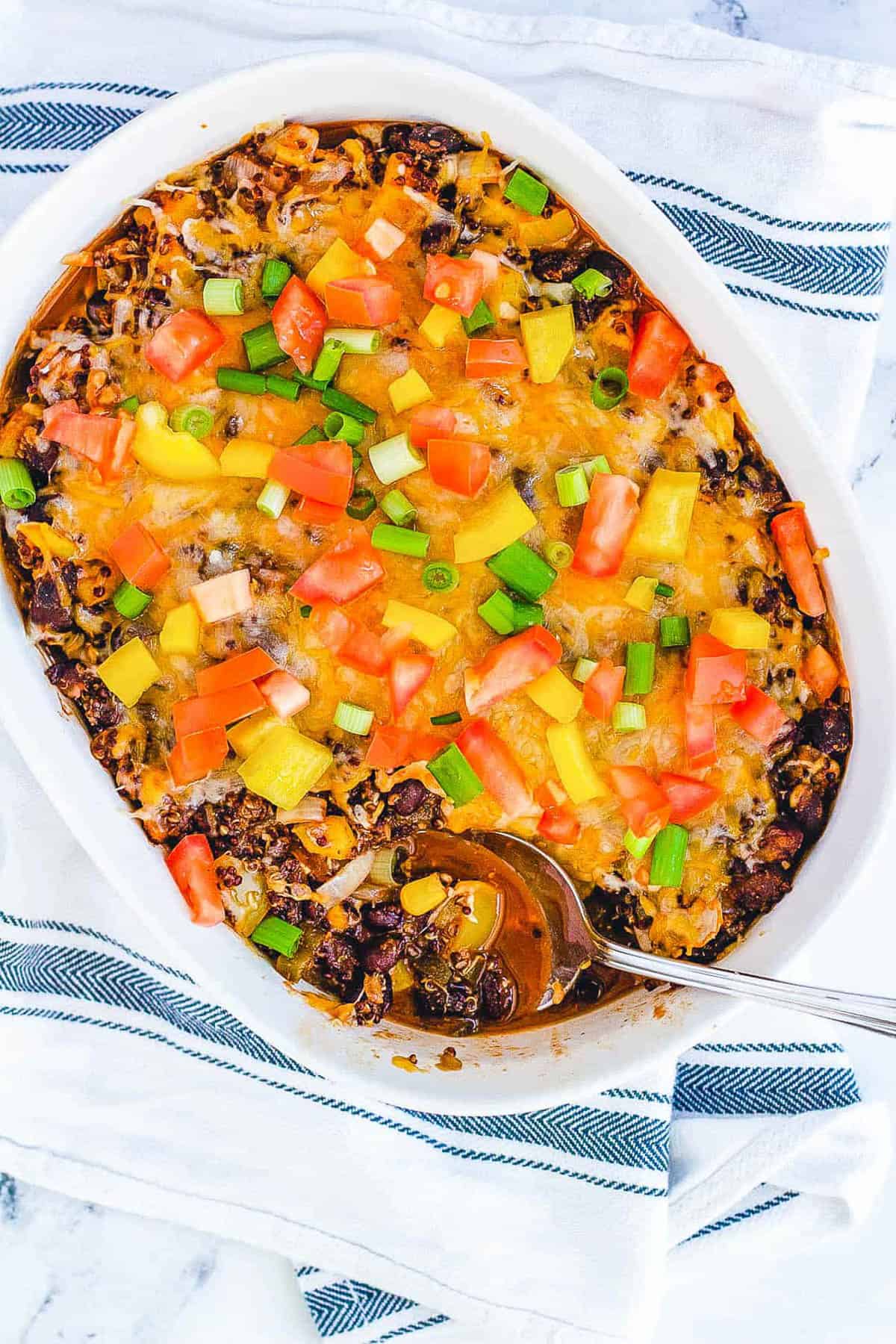 Calories: 242 – Fiber: 7.5g – Protein: 12.2g
A lightened-up, healthy quinoa bake that you can enjoy completely guilt-free. Reminiscent of enchiladas, slightly spicy and super satisfying, this easy last minute dinner idea is full of black beans, veggies, and cheesy goodness.
Quinoa has never tasted so good! While my kids are sometimes skeptical of quinoa in other dishes, they eat up this meal faster than I can serve them seconds.
Our family loves the layers of flavor in this black bean casserole. The veggies are tasty to eat and the gooey cheese on top is a no-brainer.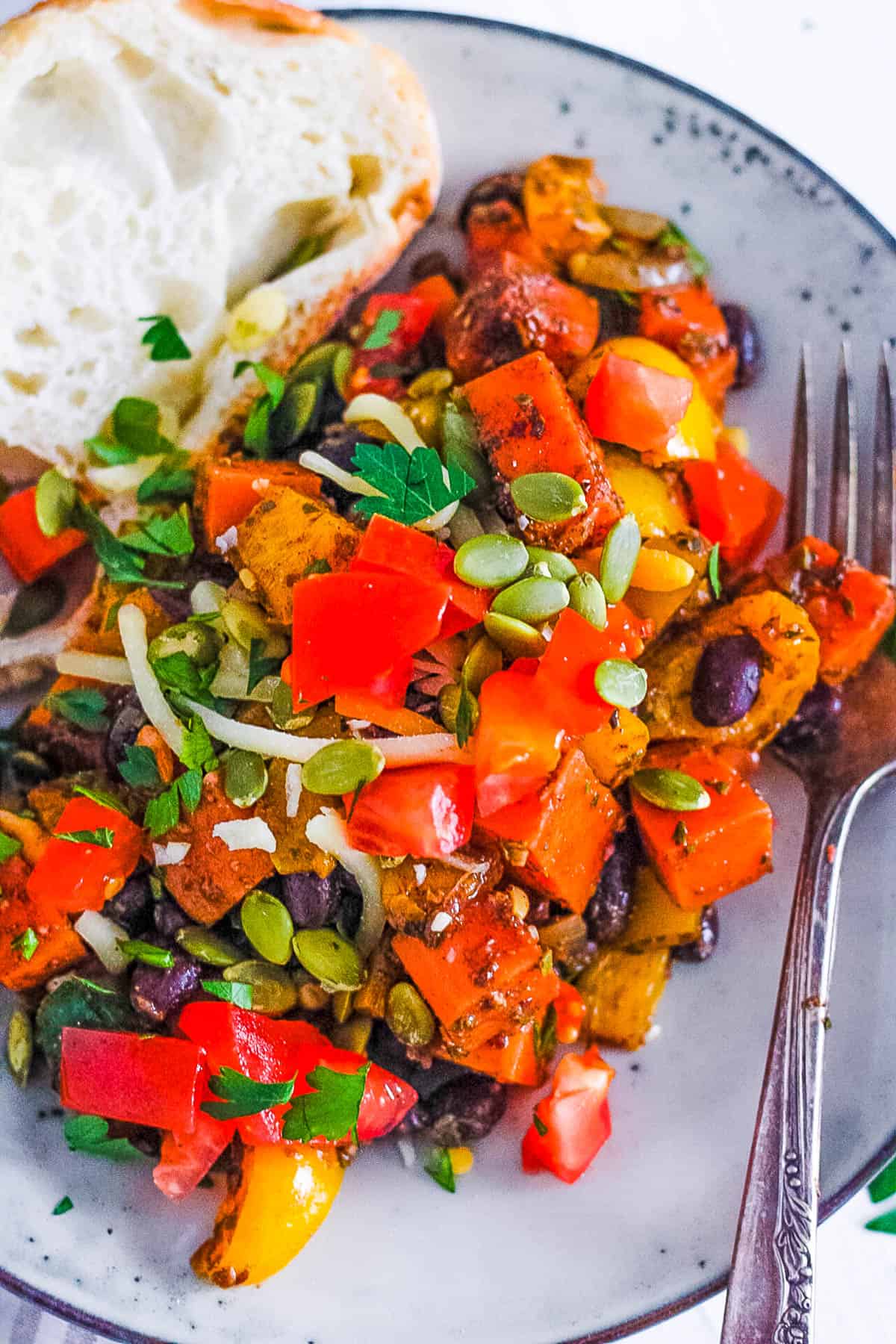 Calories: 181 – Fiber: 5g – Protein: 5g
How about breakfast for dinner? This sweet potato breakfast hash is packed full of flavor, and makes a great brunch, side dish or quick dinner!
Packed full of veggies and plant protein, this is a one-pan meal that's easy to make. We love the sweet potatoes in this because are naturally sweeter than Yukon or russet potatoes and add bright nutrients and color to the meal!
The added cinnamon and adobo sauce are the secret ingredients to this mouthwatering breakfast hash. In only 30 minutes, this filling dish is a go-to to impress visiting family and friends!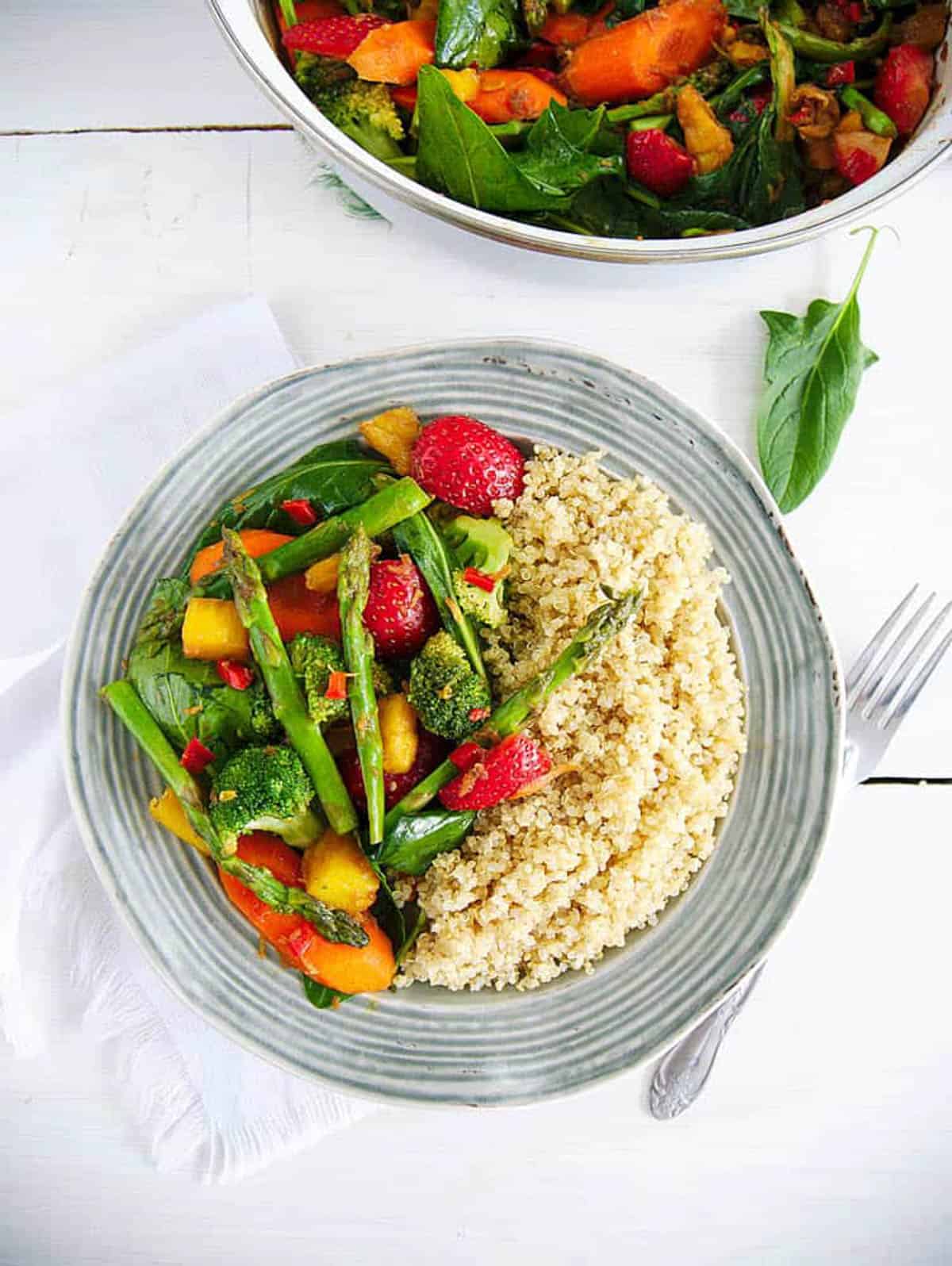 Calories: 210 – Fiber: 6g – Protein: 7g
Make this vegetable stir-fry sauce with fresh or frozen vegetables! With tofu and quinoa, this dish makes a nutritious, quick, and filling vegan dinner.
Using strawberries and pineapple may seem unconventional for most stir-fry recipes, but the sweet and savory combo is one of our prized skillet meals. When eaten with perfectly cooked, fluffy quinoa, no one will believe this meal is ready in just 15 minutes.
The best part? You can literally throw any vegetable in it and it will taste great. The lemon and ginger bring out more umami flavor from both the soy sauce and hoisin sauce and makes for truly irresistible veggies.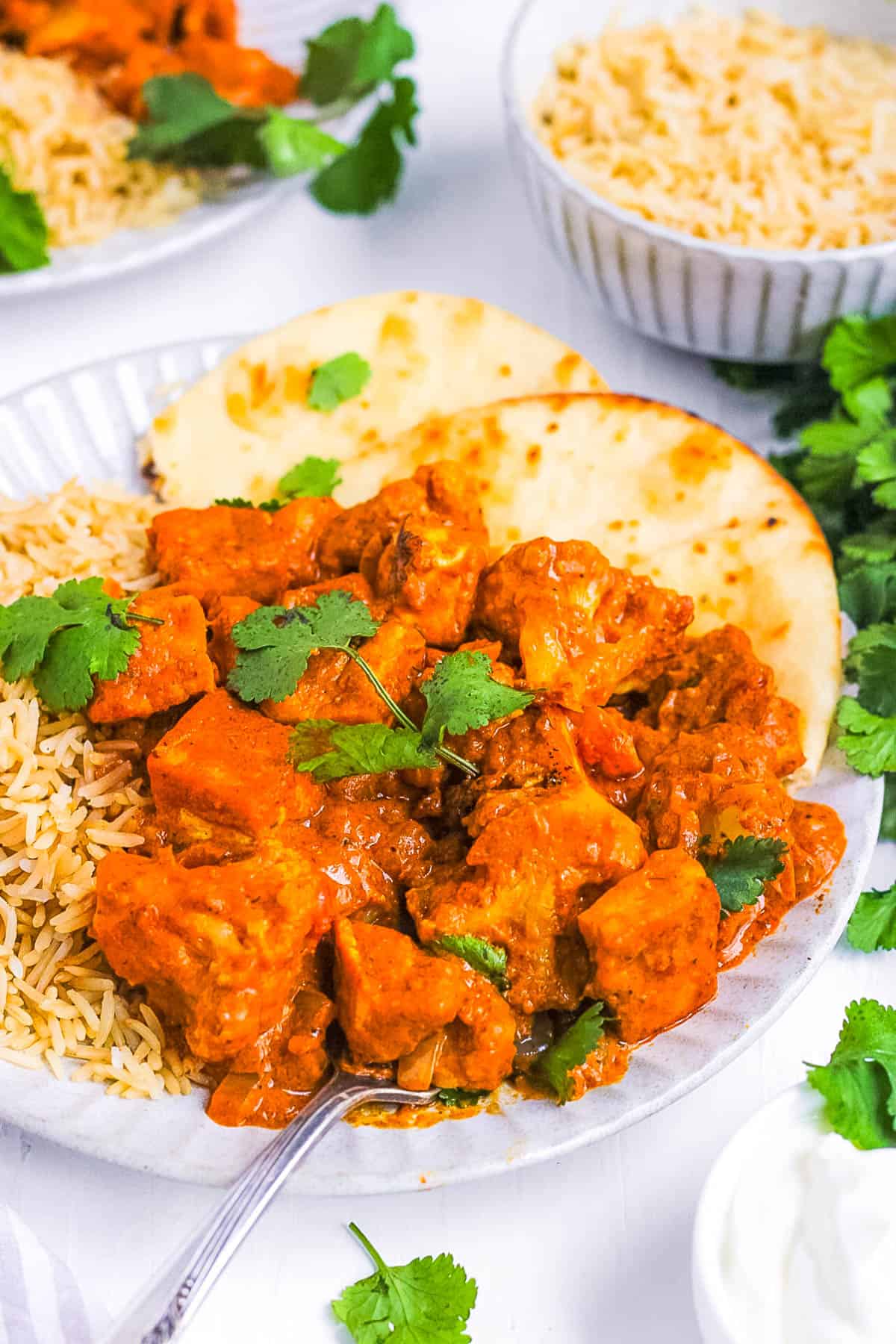 Calories: 180 – Fiber: 5g – Protein: 5g
Vegan tikka masala is made with tofu for a fast, healthy, and oh-so tasty dinner! Packed full of delicious Indian spices, this recipe is a perfect option for a weeknight meal.
The kids won't recognize that they're eating a healthy vegetable-packed meal. Made with coconut milk, this mild curry is a winner for the whole family!
The sizzling spices fill your kitchen and happily bring everyone to the table to enjoy this one pot meal. You can adjust spices to your family's needs and enjoy the leftovers for up to 5 days in the refrigerator.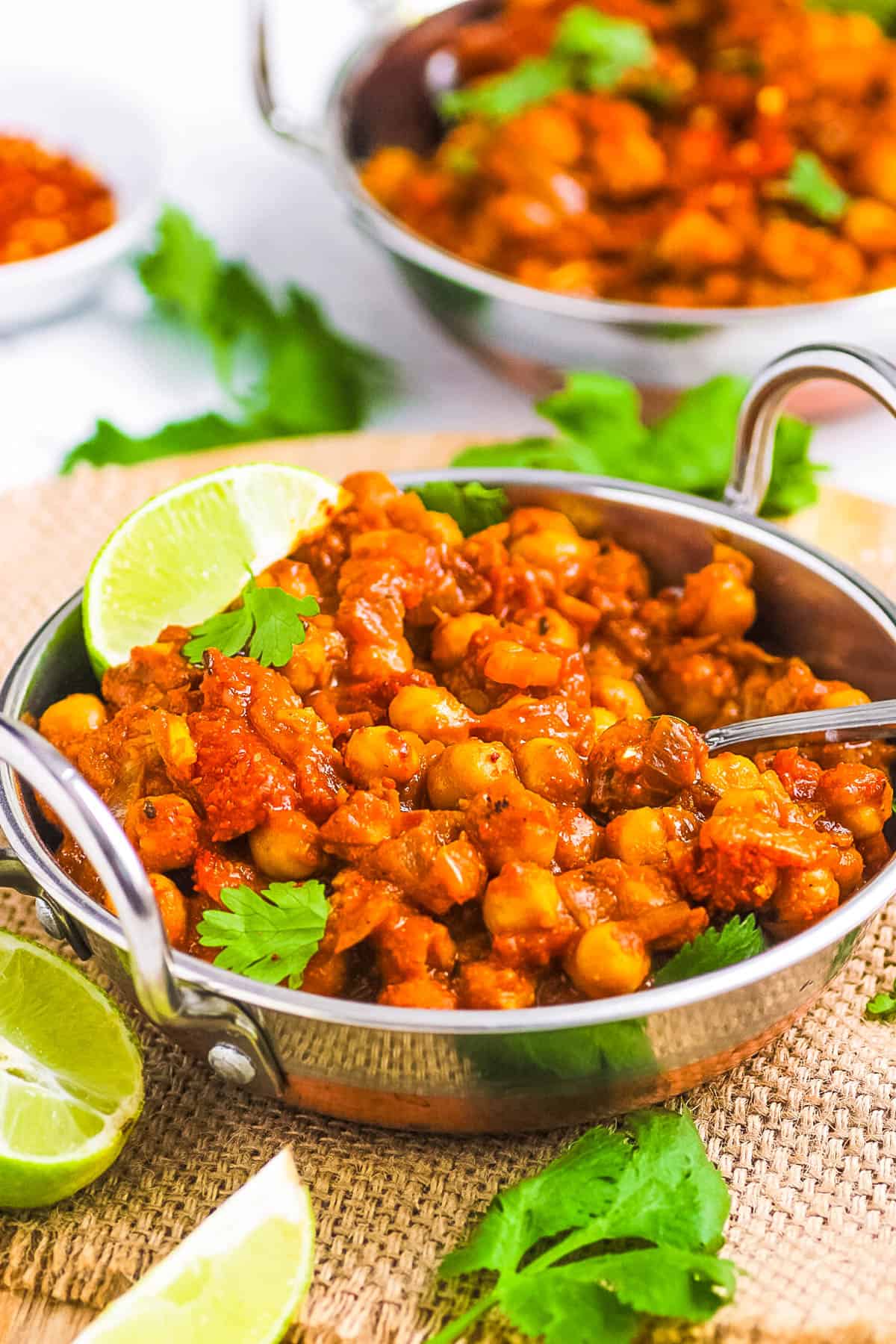 Calories: 278 – Fiber: 13g – Protein: 14g
Vegan chana masala tastes like a special menu item from your favorite Indian restaurant. It's healthy, gluten-free, naturally vegan, yet still rich and flavorful with the perfect amount of heat.
With no cream or coconut milk, this savory chickpea curry is heart-healthy and low-calorie. It is high in fiber and is great for eating with naan or on top of basmati rice.
It's one of my go-to last-minute dinner ideas and a favorite in our house. I hope your family will enjoy it too!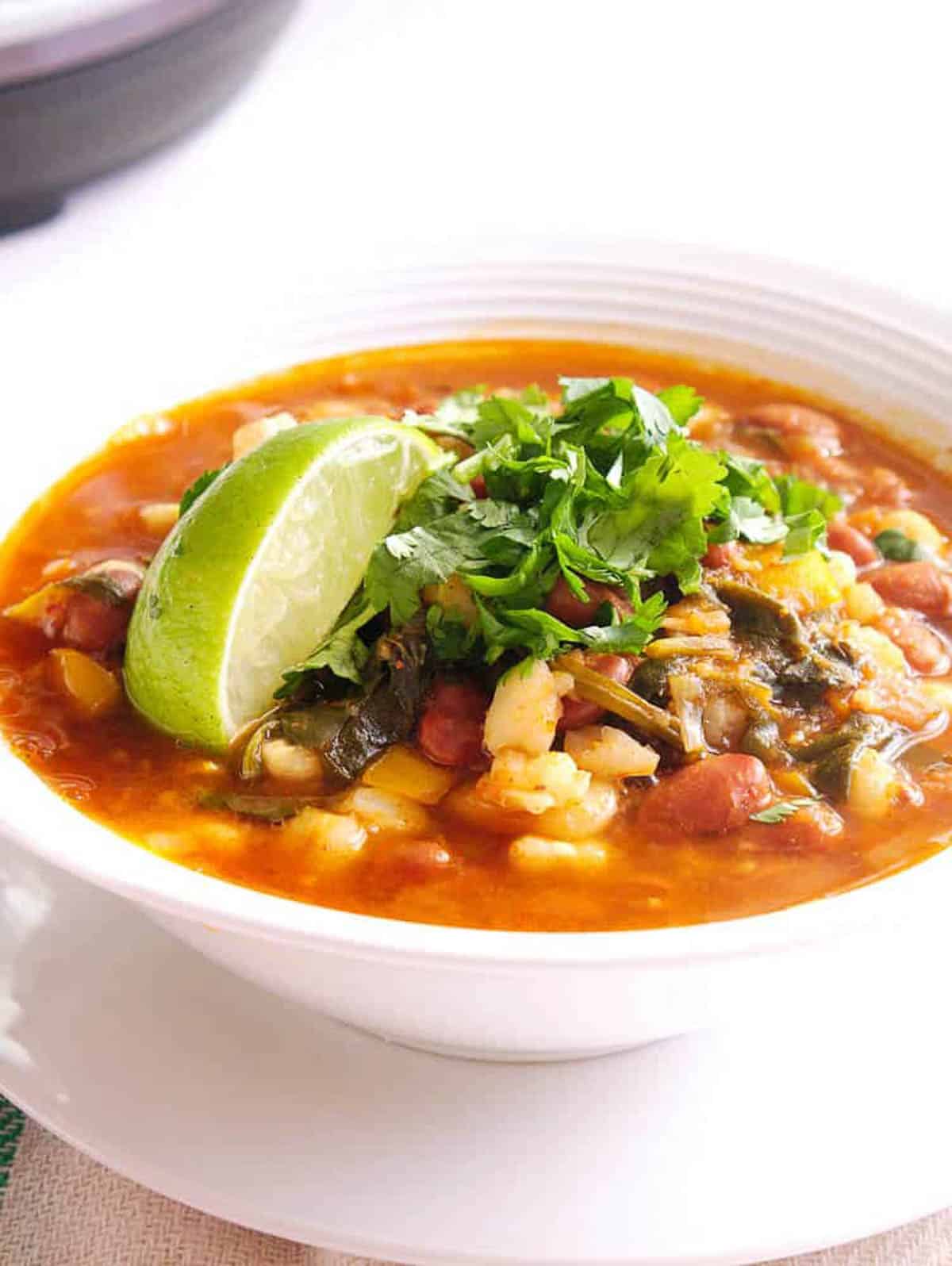 Calories: 207 – Fiber: 8g – Protein: 8g
With just a handful of ingredients, vegan pozole can help celebrate the welcoming of a new year or the end of a bustling Tuesday. Let this vegan pozole warm up the family with its rich broth and tender pinto beans.
In 30 minutes, a bowl of pozole can comfort tired bodies after a long day. Using mellow savory flavors and rich in plant-based protein, friends and family will enjoy this vegetable and bean-rich dish.
As an Instant Pot or slow cooker recipe, you'll have an easy cleanup and time to save after those tiresome weekdays. Throw in extra vegetables from the fridge to add nutrients and garnish with your favorite toppings.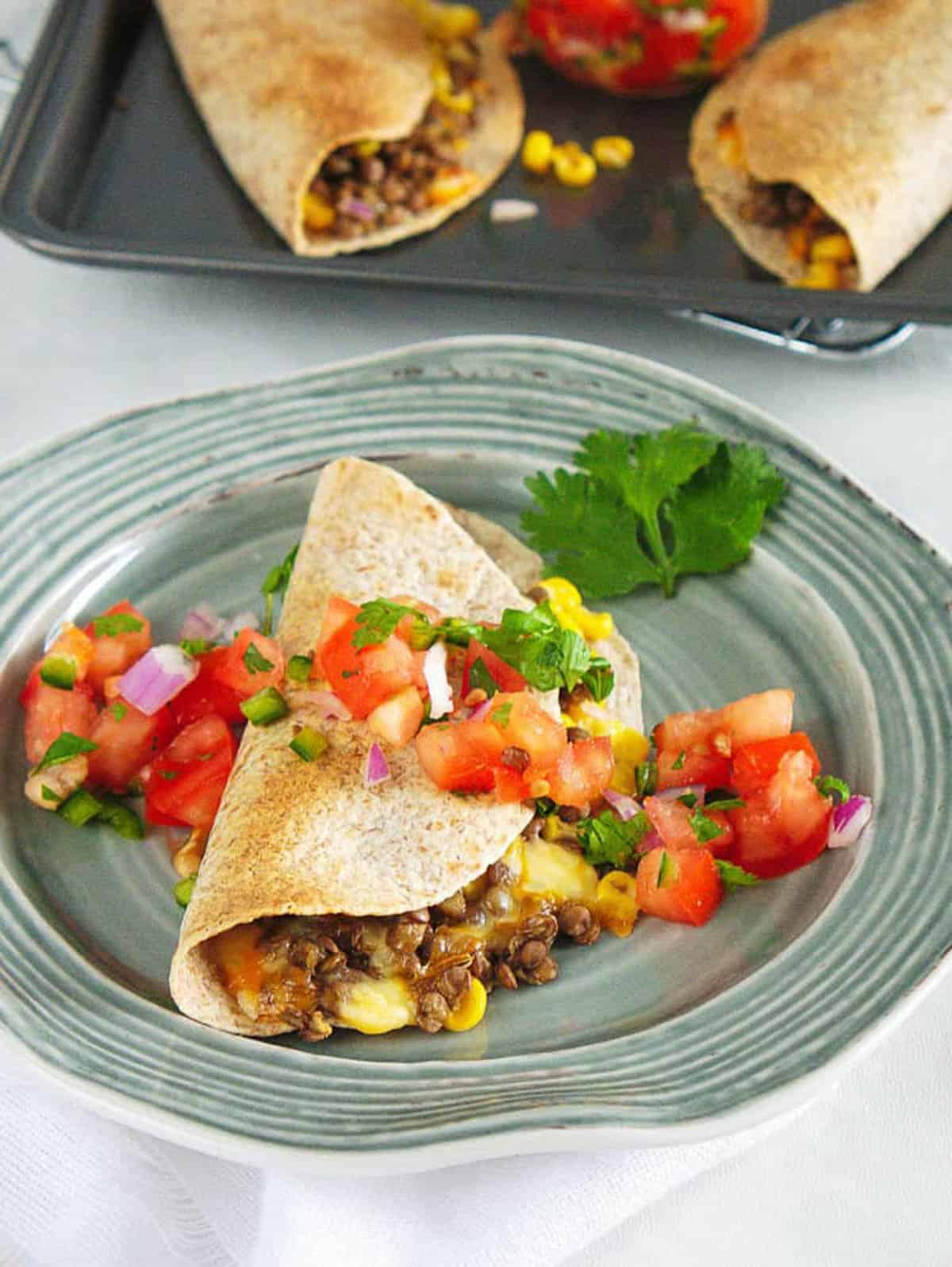 Calories: 250 – Fiber: 5g – Protein: 8g
Vegetarian quesadillas with cumin and lentils are a simple weeknight meal you can throw together in 30 minutes or less. Tortillas are stuffed with toasted cumin seeds, lentils, corn, and cheese, then topped with fresh pico de gallo.
With just 5 ingredients the high protein will keep everyone nourished and full. Use a Mexican cheese blend or your favorite choice of cheese to get the best gooey cheese to bind the scrumptious quesadillas together.
It's a kid-friendly meal your family will love! The quesadillas are baked in the oven so they can be easily made in large quantities for a big crowd. And it's so fast to prepare it's great for a late dinner idea too.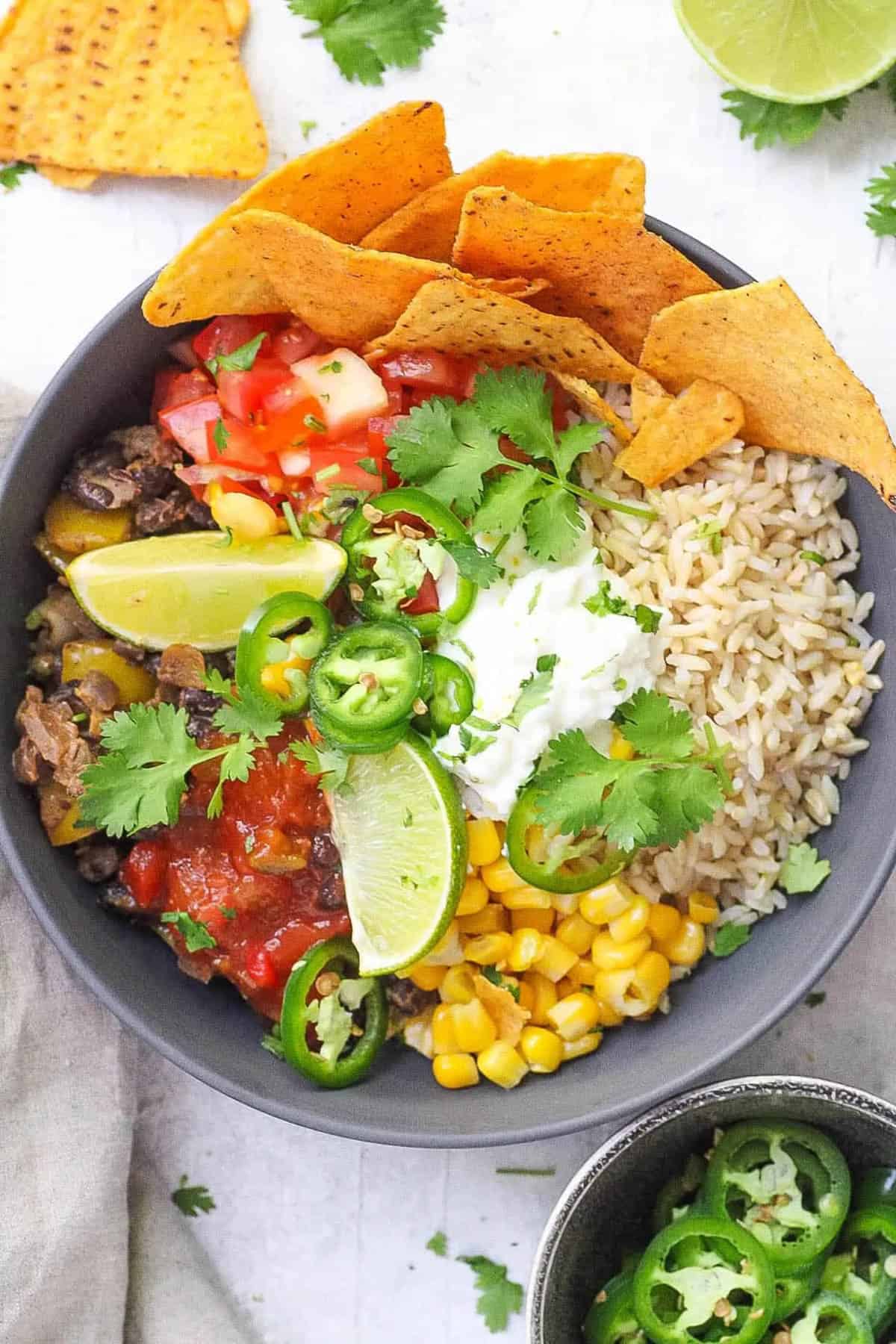 Calories: 291 – Fiber: 12g – Protein: 16g
Veggie burrito bowls: a simple Mexican-inspired dish that is packed with vegetables and delicious flavors! It's one of those fast and easy dinner ideas you can come back to again and again, and you change it up with whatever ingredients you have on hand.
This is one of our new favorite meals because it takes a selection of simple ingredients and can be easily made gluten-free or vegan. We like to invite our friends or family over for this meal because they can create their own bowls, just like Chipotle!
With less than 30 minutes to prepare, this satisfying and versatile meal is great for the weekdays. It's loaded with Mexican spices that only get better after combined.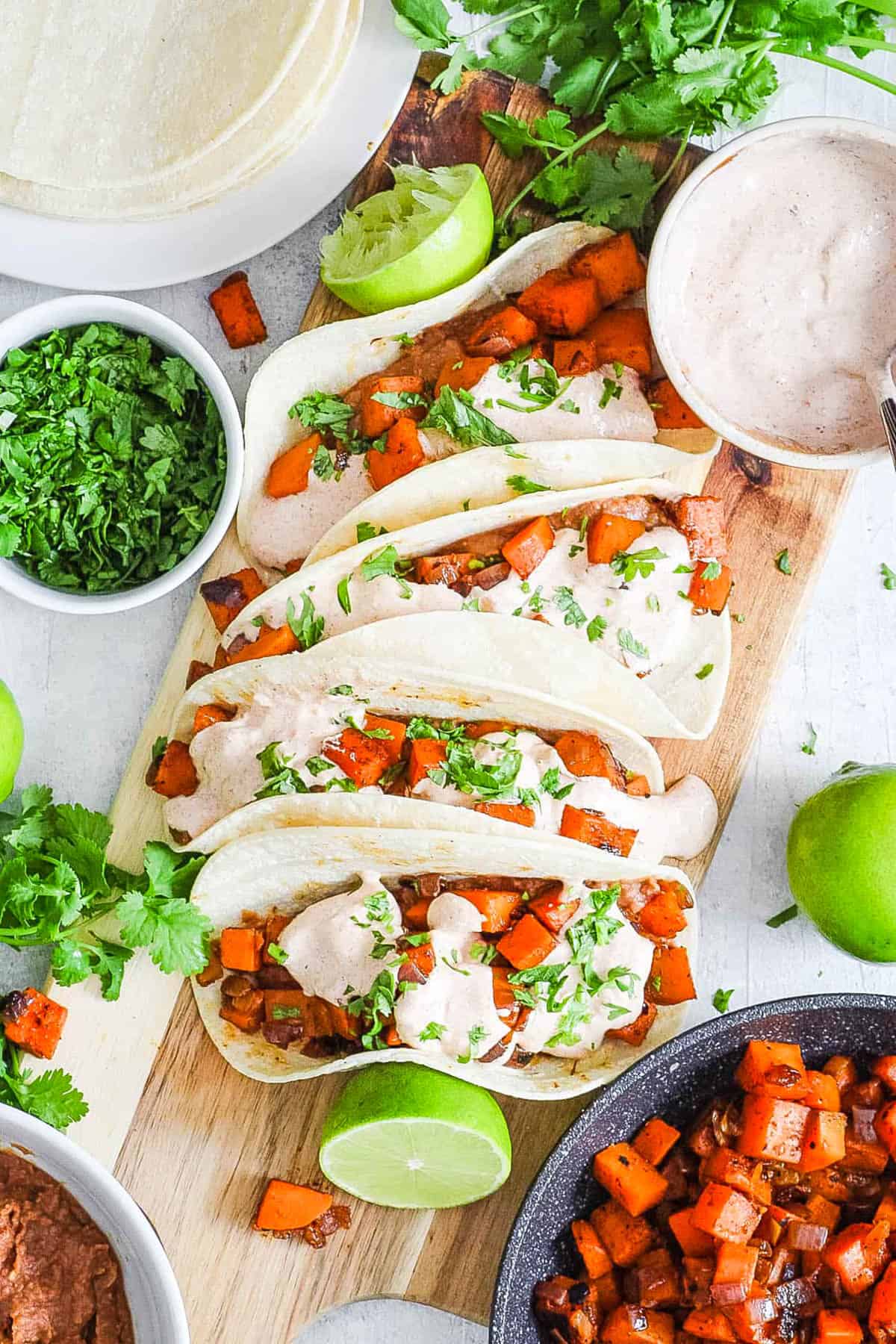 Calories: 160 – Fiber: 6g – Protein: 7g
The spicy and sweet combination of these tacos is such a fun dinner option. The tender sweet potatoes complement the hearty black beans in a way that just can't be beat!
It takes only 30 minutes to switch it up and cook this last minute dinner recipe with some out-of-the-box flavors. The spicy yogurt sauce is optional for kids who prefer mild flavor, and the tacos served alone are just as tasty.
Cooked over medium heat, these tacos are a great way to end busy weeknights. If you're not worried about dairy, topping them with shredded cheese or sour cream creates an even richer dish.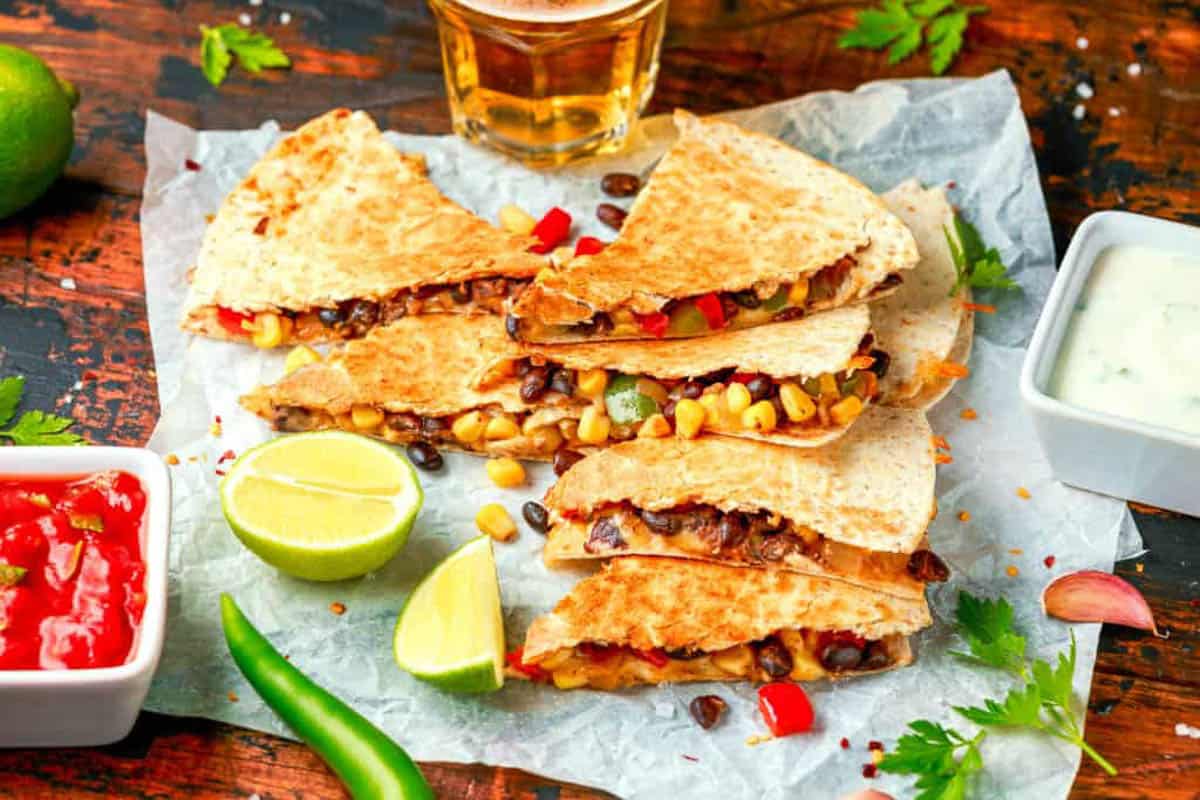 Calories: 380 – Fiber: 10.9g – Protein: 18.6g
This easy, healthy veggie quesadilla recipe is packed with gooey cheese, black beans, and crunchy veggies. These handheld vegetable quesadillas are ready in less than 30 minutes and make a great meal!
Use pantry staples to whip up these simple veggie quesadillas after a long day with the family. When cooking on medium-high heat, keep an eye on the quesadillas so that the tortillas won't burn.
Kick the guilt and load up on veggies in a way that kids will also welcome. Who will be able to resist the melted cheese and crispy tortillas? This will quickly become one of your favorite last minute healthy dinner ideas!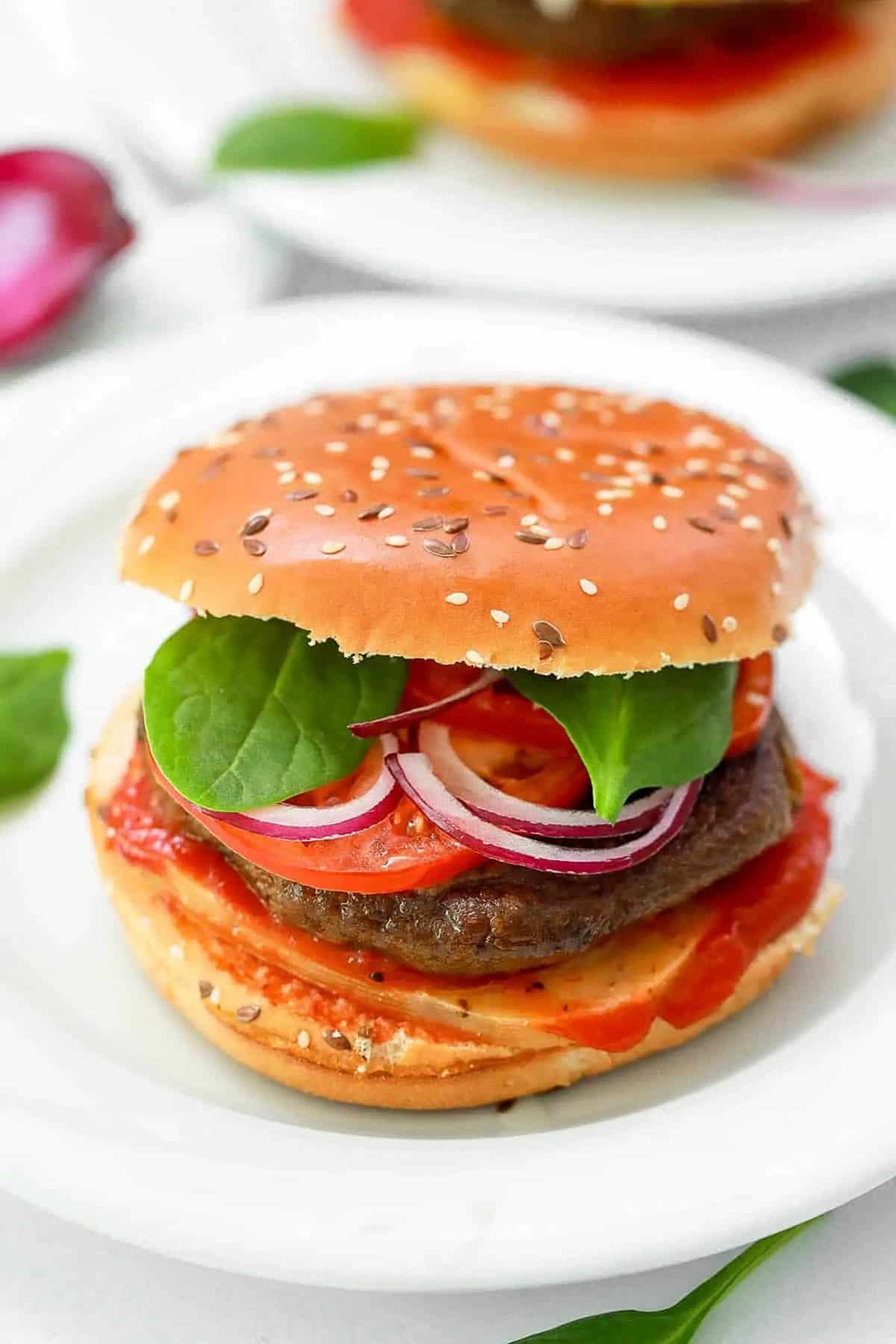 Calories: 508 – Fiber: 22g – Protein: 29g
Incorporate these veggie burgers in your rotation of fast easy dinner ideas. They are super easy to make, plus they taste delicious!
These burgers are hearty, healthy, great for making last-minute meals, and the perfect comfort food. My family loves personalizing their own burgers with their choice of cheese and sauce!
Made with black beans instead of ground beef, these plant-based burgers pack 29 grams of protein in just one patty. Check out how canned pumpkin puree and whole wheat flour are the secret ingredients to these high-protein burgers.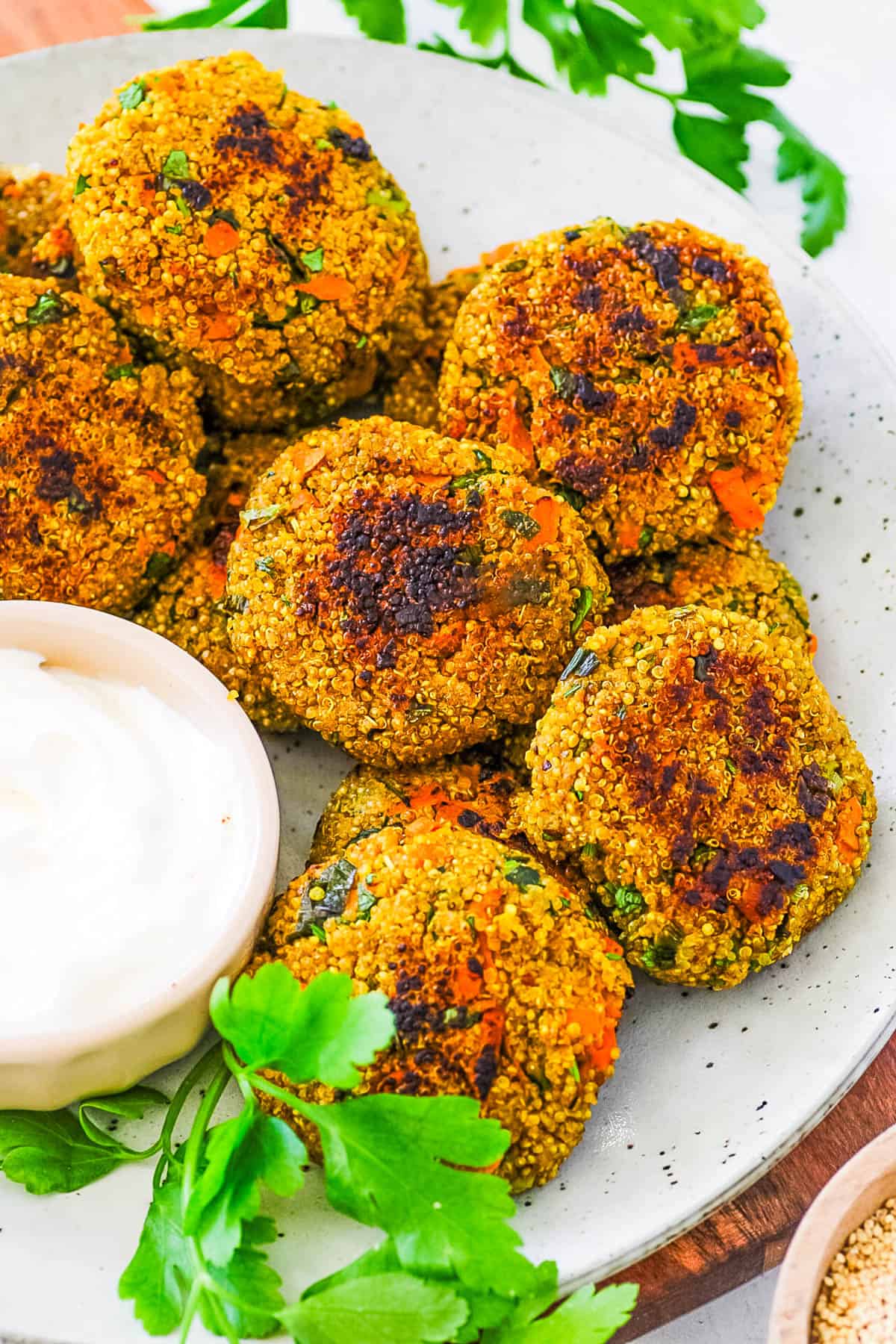 Calories: 311 – Fiber: 13g – Protein: 17g
Have leftover quinoa? This is a tasty, nutrient-dense way to reimagine it! They are a perfect addition to a filling weeknight dinner, or they can be the entree themselves.
These crispy quinoa patties are one of my favorite quick last minute dinner ideas! Combine the creaminess of feta cheese with a distinct Mexican flair for the perfect blend of flavor and texture.
Topped on top of a bed of spring mix or eat these patties between toasted buns. This plant-protein rich recipe is a versatile dish that reheats beautifully for leftovers throughout the week.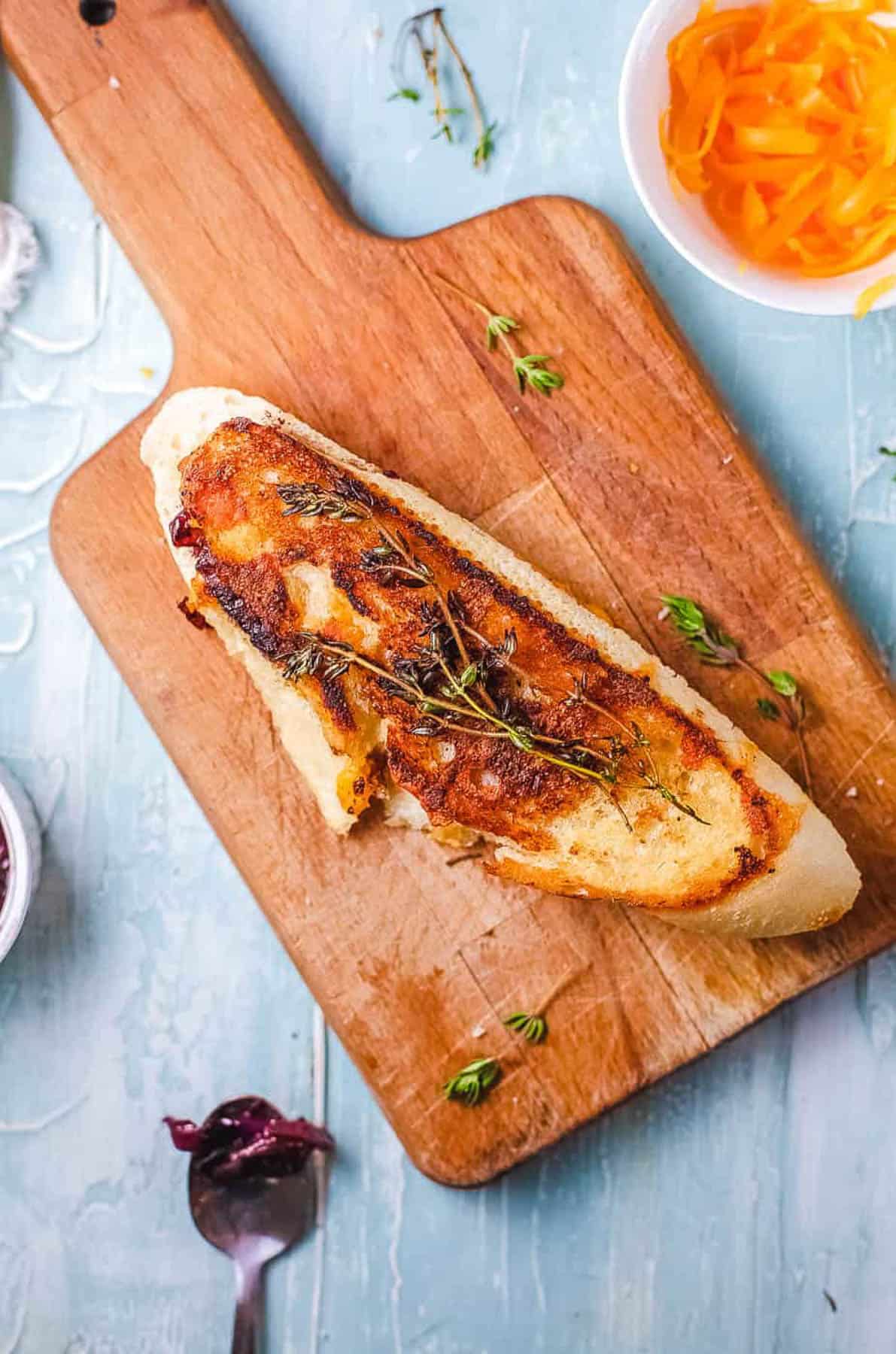 Calories: 406.4 – Fiber: 6.5g – Protein: 15g
Grilled cheese is one of those fast dinner recipes that is a total crowd-pleaser. This garlic bread grilled cheese with French onions is a supreme version with a healthy twist.
Some of the most classic comfort food consists of melted cheese and butter, and boy does it know how to satisfy! While this recipe calls for cheddar cheese, you can use sharp cheddar or medium cheddar for the same flavorful effect.
If you'd like more protein you can add the leftover meat from a rotisserie chicken or tuck in sauteed mushrooms for a plant-based sandwich. In just 30 minutes, this easy and delicious dinner is ready to serve!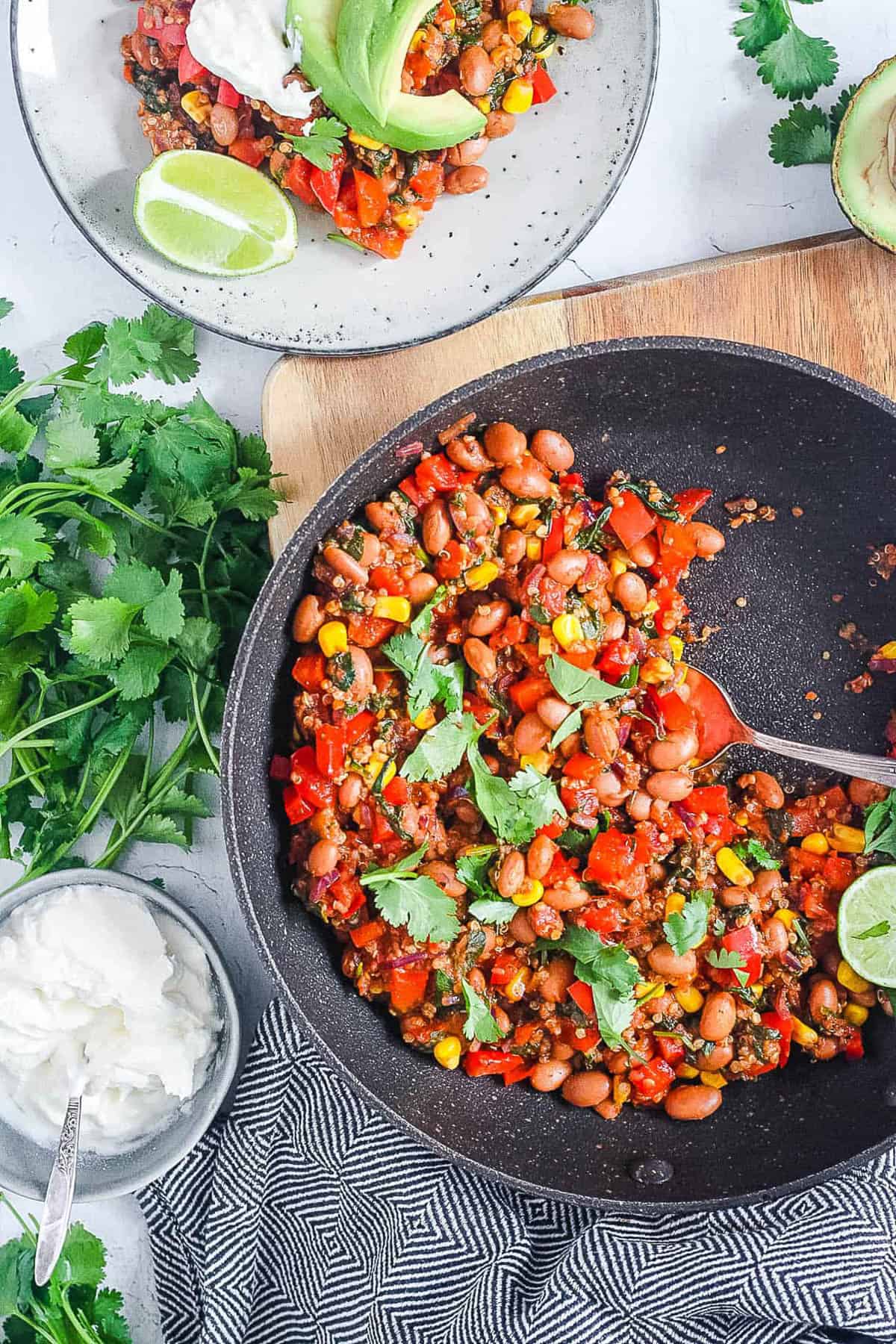 Calories: 263 – Fiber: 12.2g – Protein: 10.9g
Pinto bean casserole is a healthy one-pot meal and one of my go-to simple dinner ideas when I need to get dinner on the table in a hurry! Make a big batch and save half for dinner later in the week – it tastes even better the next time.
It's already gluten-free and not overly spicy for kids or those with milder palette preferences, so this casserole can be brought to potluck dinners as well. My favorite part of this recipe is that you can also use up any leftover vegetables in the fridge!
The quick meal swaps out rice and a meat for high-fiber and high-protein plant-based ingredients like beans and quinoa. In 25 minutes, these ingredients produce loads of flavors that the whole family can appreciate.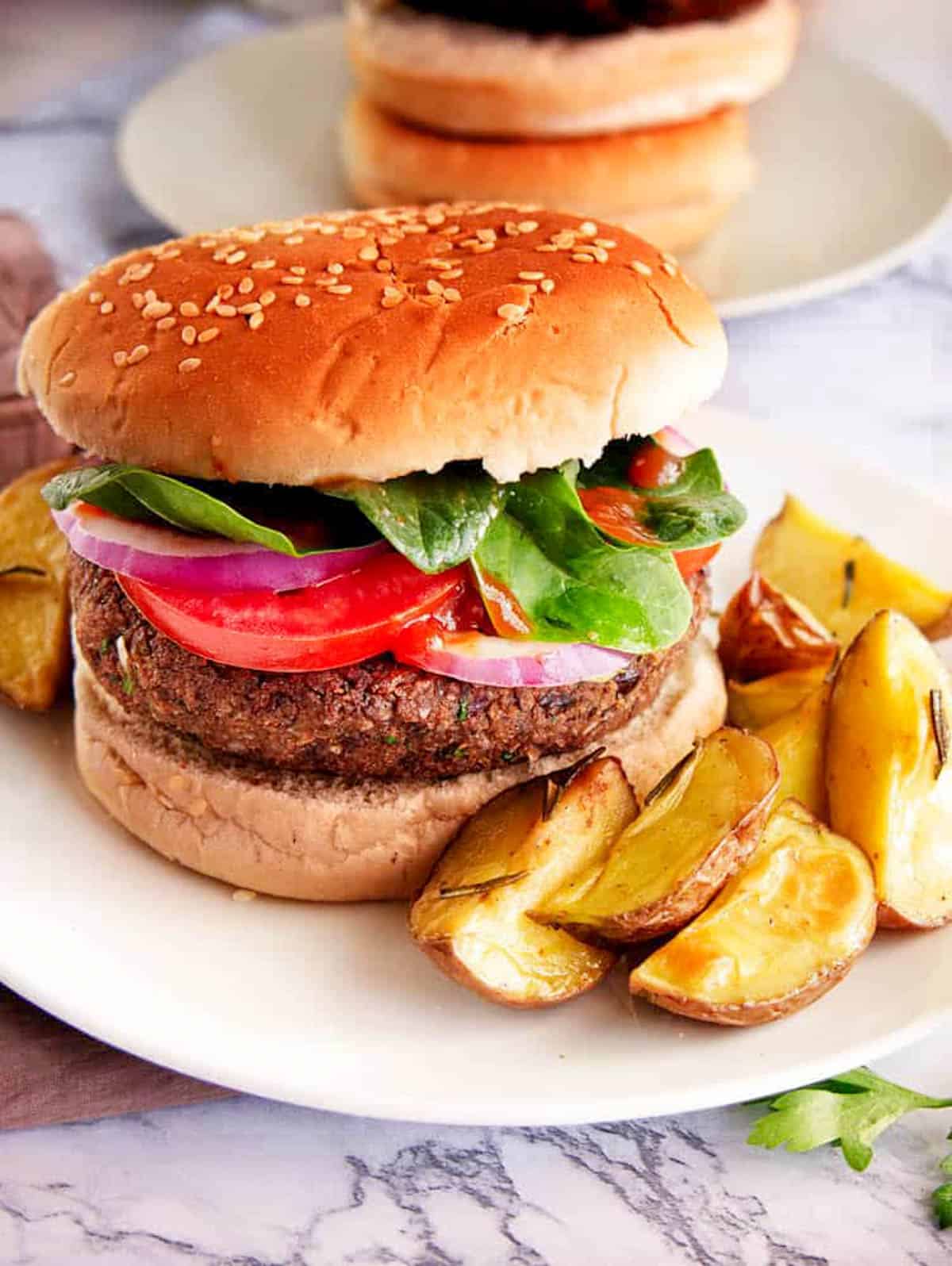 Calories: 250 – Fiber: 12g – Protein: 14g
Treat the family to these hearty, gluten-free, vegetarian burgers. These simple black bean burgers are easily customizable and can be made vegan or low-carb.
Burger toppings are always optional and our kids love picking what they can add to theirs to make it just the way they like it. Bring home different types of burger buns for those who may be sensitive to gluten or simply use your favorite white bread bun.
Whether it's different types of cheeses, grilled veggies, or a plethora of condiments, your family will have a blast building their burgers. Your kids won't even guess that this these burgers are good for them!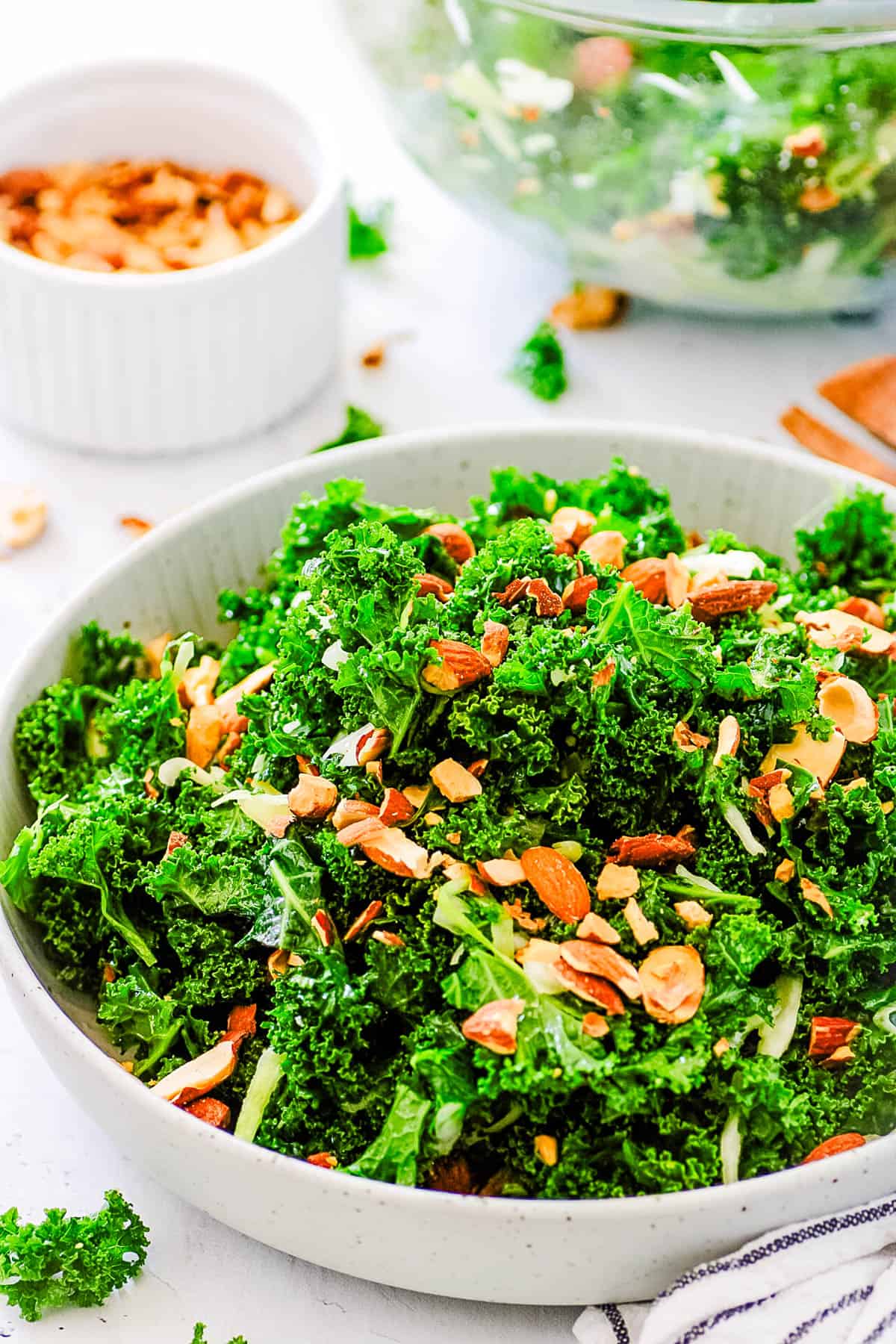 Calories: 288 – Fiber: 5g – Protein: 5g
Save yourself from the long fast food lines and enjoy a favorite Chik-Fil-A Kale Salad at home! This easy weeknight dinner can be made in just one large bowl in a snap!
While a homemade apple dijon vinaigrette may seem intimidating to make, you'll likely have a majority of these ingredients in your cupboards! For softer kale, make sure to massage the kale and allow it to sit in the refrigerator. If you enjoy a crunch to your kale, enjoy it right away!
Roasted almonds give a great crunch and added fiber for every bite. Meat lovers can top this super quick dinner with leftover chicken or even steak!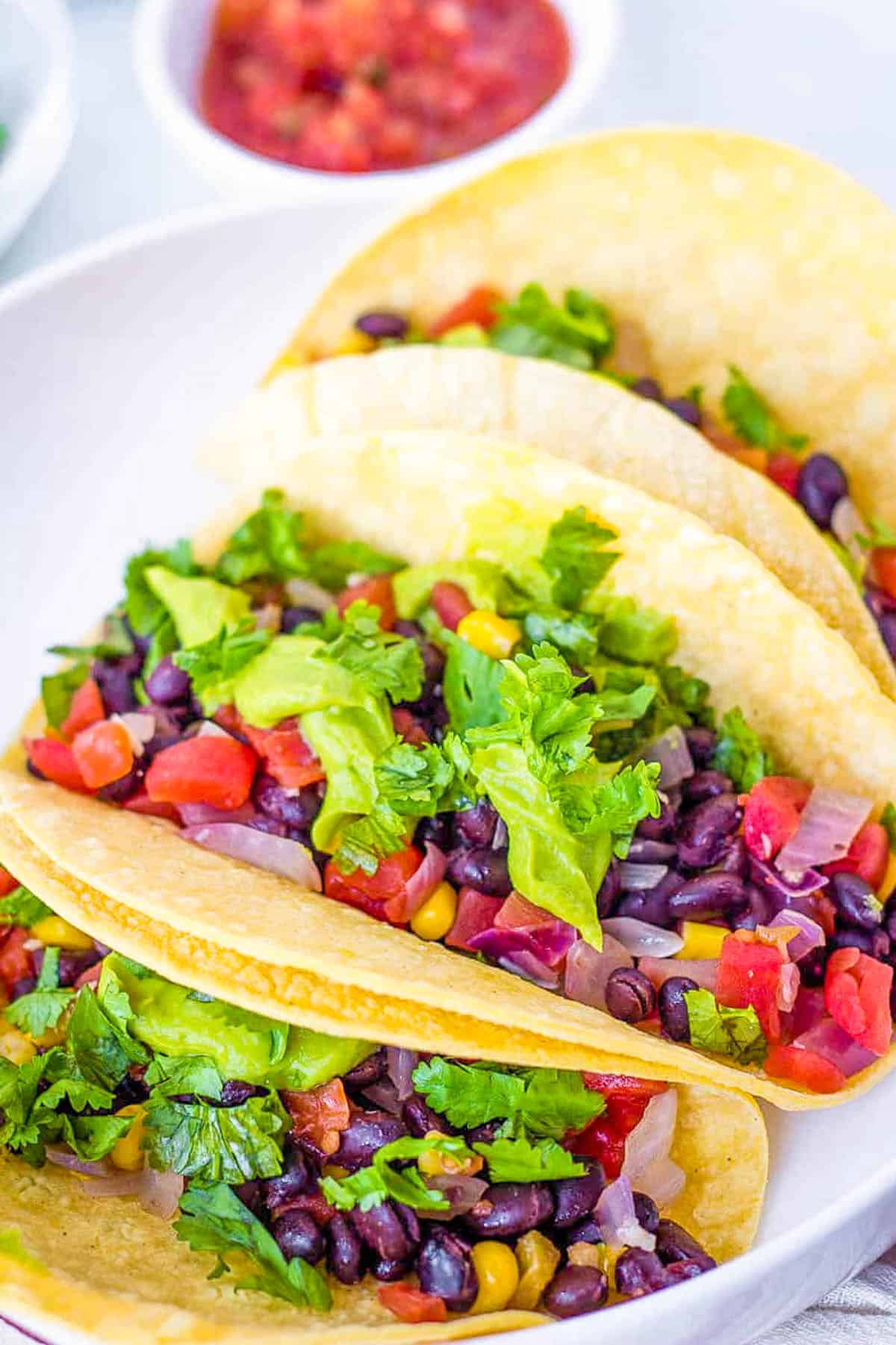 Calories: 357 – Fiber: 14.3g – Protein: 12g
With an active cooking time of only 10 minutes, this hearty meal is easy to make and full of bold Mexican flavors. These tortillas and black beans add over 10 grams of both protein and fiber to every serving.
Top with your favorite hot sauce, salsa, or fresh lime! Your family can curate their favorite flavors with the nearly endless possible garnishes.
Easy to double, this quick dinner is a great idea to meal prep for the rest of the week or last-minute visitors! Stomachs will be sated and happy after enjoying a plate of these tacos!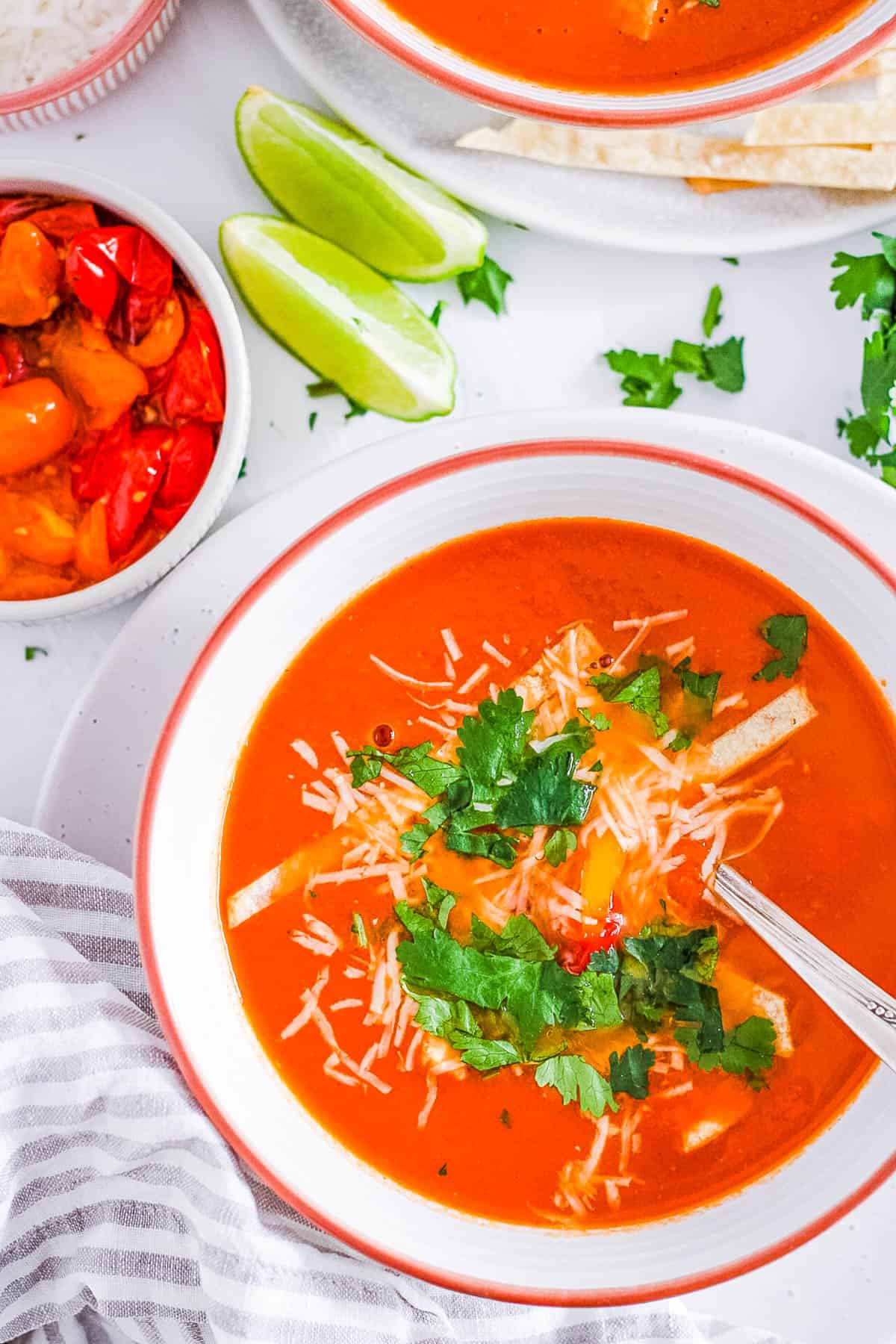 Calories: 219 – Fiber: 7g – Protein: 7g
Cut out excess oil, chicken broth, and ground meat, and you've got the vegetarian taco soup we've always dreamed about. Whether it's a hectic weeknight or a calm weekend evening, this tasty taco soup is always a big hit.
What a good idea to have a vegetarian taco soup after a long day in chilly weather. My kids love scooping out the aromatic broth and string in their beloved toppings of lime juice, roasted sunflower seeds, and fresh cilantro.
We also use corn tortillas to make homemade tortilla chips. Crumble them over the soup with cilantro and shredded cheese for a cozy and comforting meal!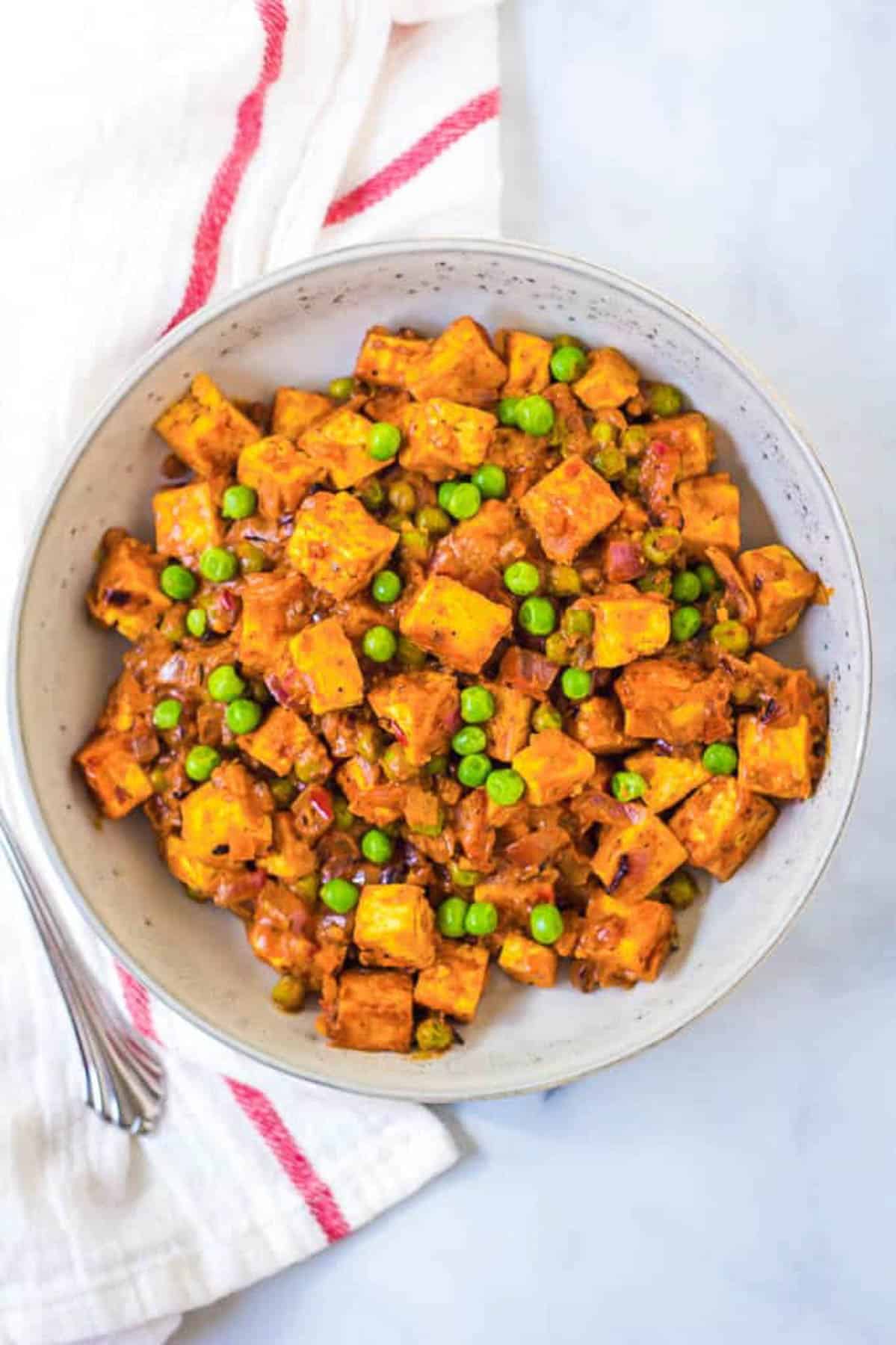 Calories: 229.1 – Fiber: 2.6g – Protein: 14.1g
Our tofu paneer is a luscious restaurant-quality dinner made in only 20 minutes! Using classic Indian flavors, this version of matar paneer is filled with protein but without excess fat and calories.
Featuring delicious green peas, this comfort food uses 5 ingredients and 4 simple steps to nourish your family at dinner time. Substituting the tofu for chickpeas or veggies can easily make this soy-free.
Learning how to press tofu is not as complex or arduous as it may seem. The step-by-step pictures take away all the mystery in creating a matar paneer that will melt in your mouth and have your taste buds asking for more.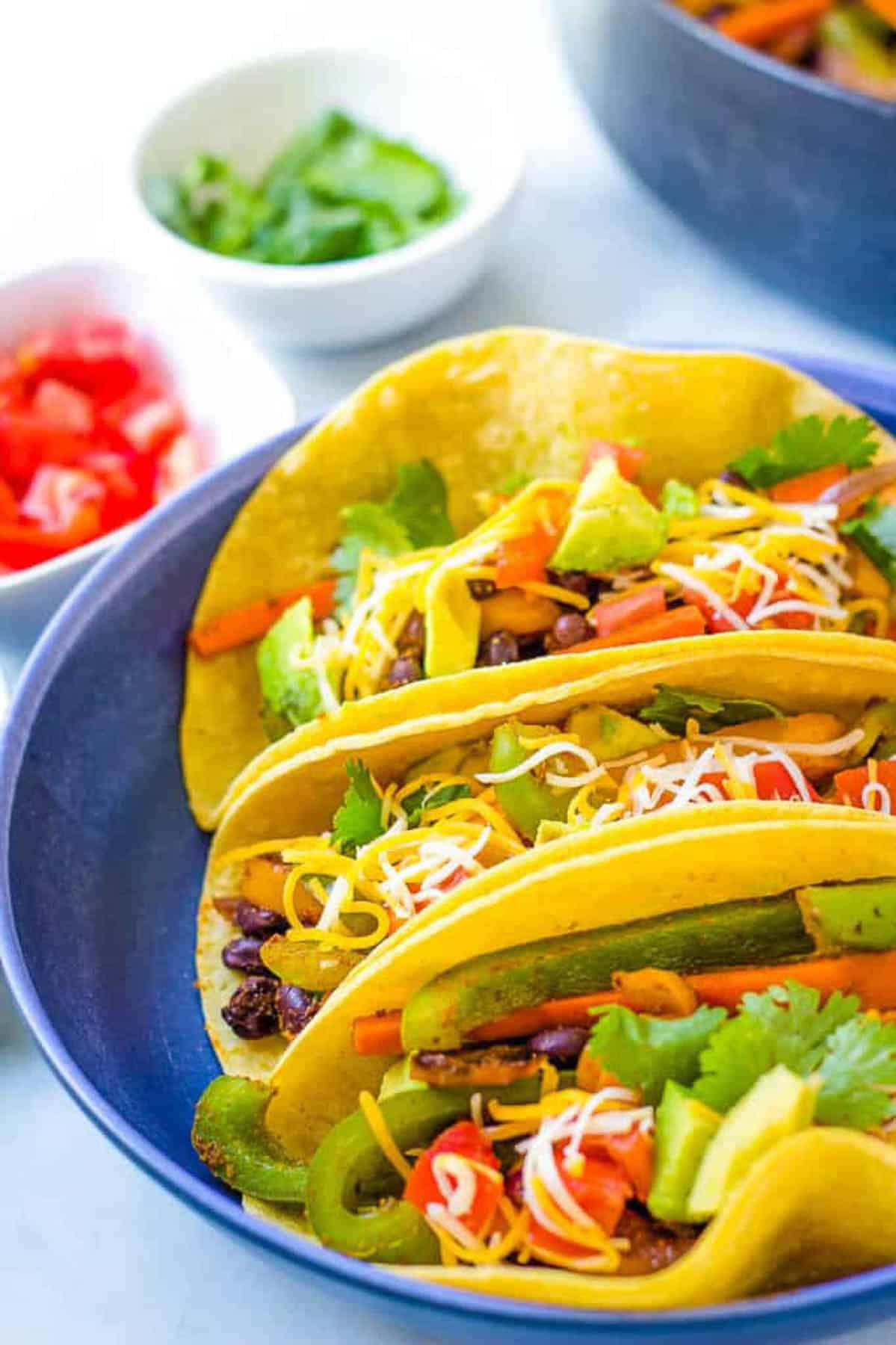 Calories: 346.5 – Fiber: 13.5 – Protein: 16g
With smoky seasonings and melted Mexican cheese, these vegetarian fajitas are a great gluten-free last-minute dinner choice.
Ready in only 30 minutes, bell peppers and black beans supply a hefty amount of plant protein that the whole family can enjoy. Top with creamy avocado, a dollop of sour cream, or add leftover chicken breast for meat-loving visitors!
We love having healthy recipes to reference in the middle of our week. After a swamped day, this recipe is a great addition to have in our back pocket and the smell and taste of caramelized veggies are unbeatable!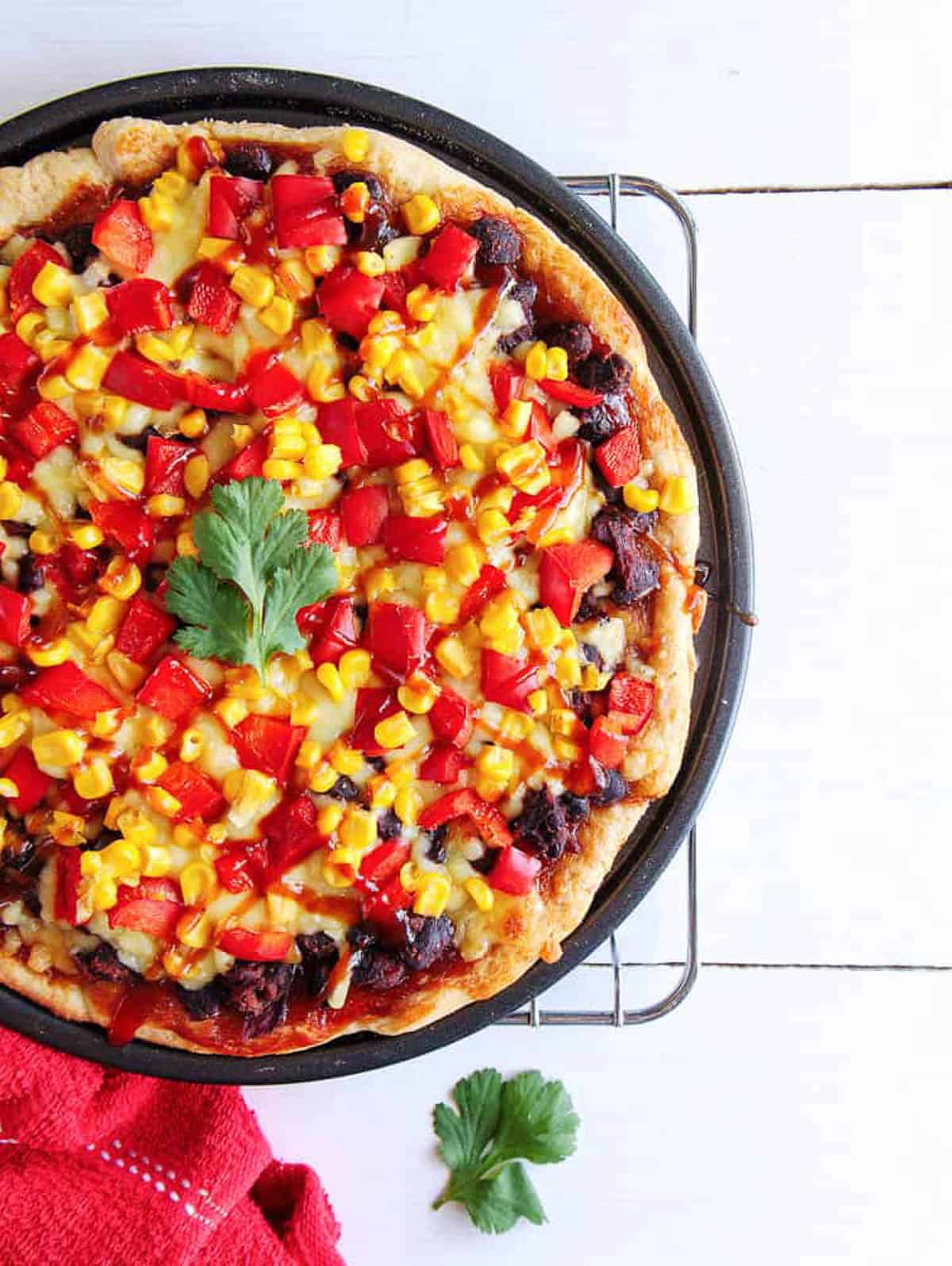 Calories: 190 – Fiber: 5g – Protein: 9g
Healthy and flavorful, this black bean and red pepper pizza recipe is an easy healthy dinner idea to make at home. It is low in calories while being loaded with fresh veggies is a fun twist on traditional pizza that keeps in the fridge for up to 4 days!
The melted mozzarella cheese will surely be a hit for kids and adults alike. Its tangy BBQ sauce pairs easily with black beans, red pepper, and corn!
As one of our home's most popular easy meals, this flatbread needs to bake for only 10-15 minutes after a quick saute of all the vegetables. So try out this BBQ black bean pizza as a quick dinner idea for tonight!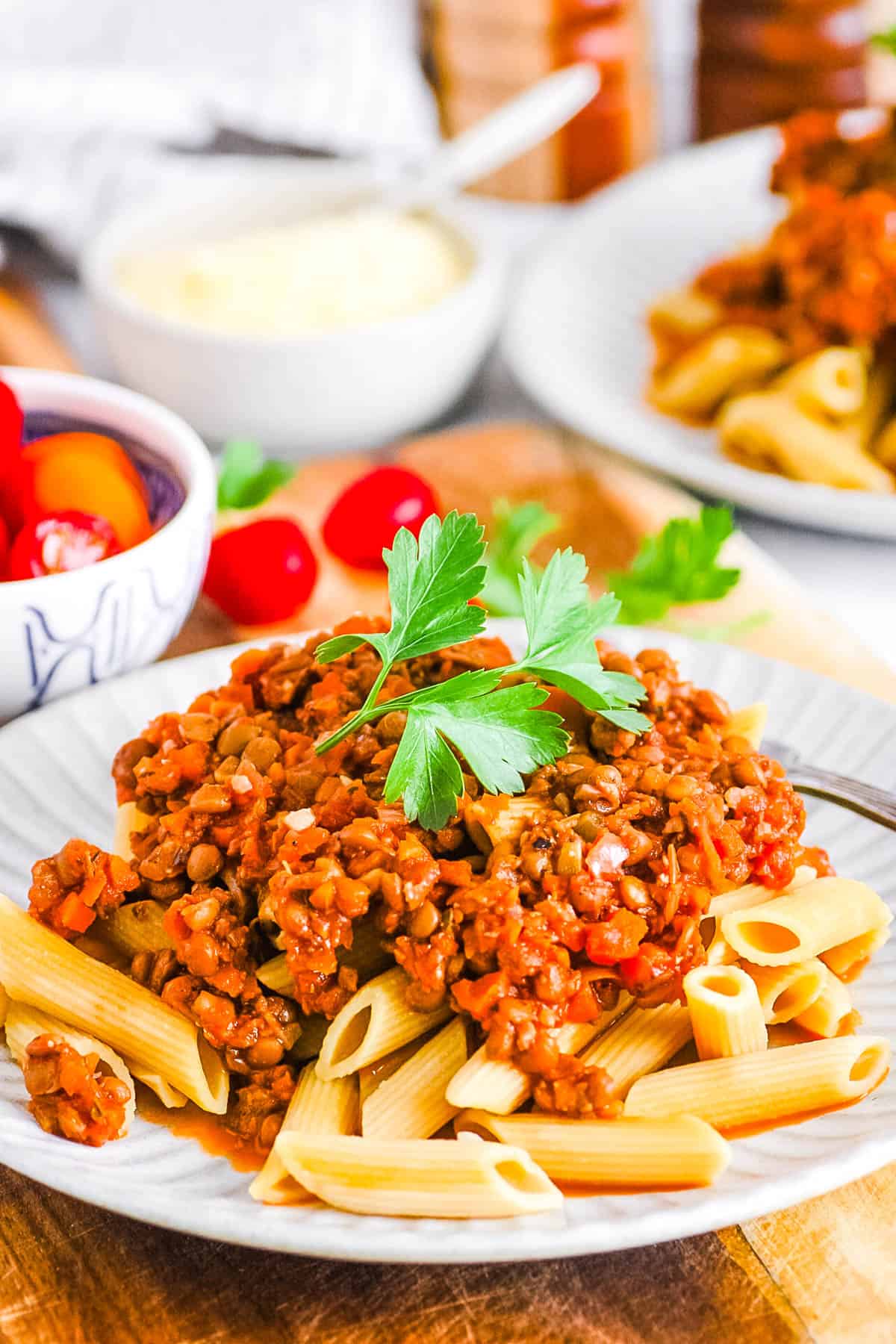 Calories: 160 – Fiber: 8g – Protein: 8g
There is never a bad time for a rich, chunky, savory pasta sauce! Better yet is a sauce that won't take hours over the stovetop. As a personal favorite of mine, this bolognese ingeniously uses plant-based ingredients to create a classic bolognese texture.
My hearty and healthy vegan bolognese stars lentils, walnuts, and mushrooms. It's an easy family-friendly weeknight meal that's done in 30 minutes!
My husband is always shocked to see how fast this flavorful dinner can be whipped up after a full day of activities. To cut down time even more time after a long day, use pre-chopped onions and pre-minced garlic from your produce section.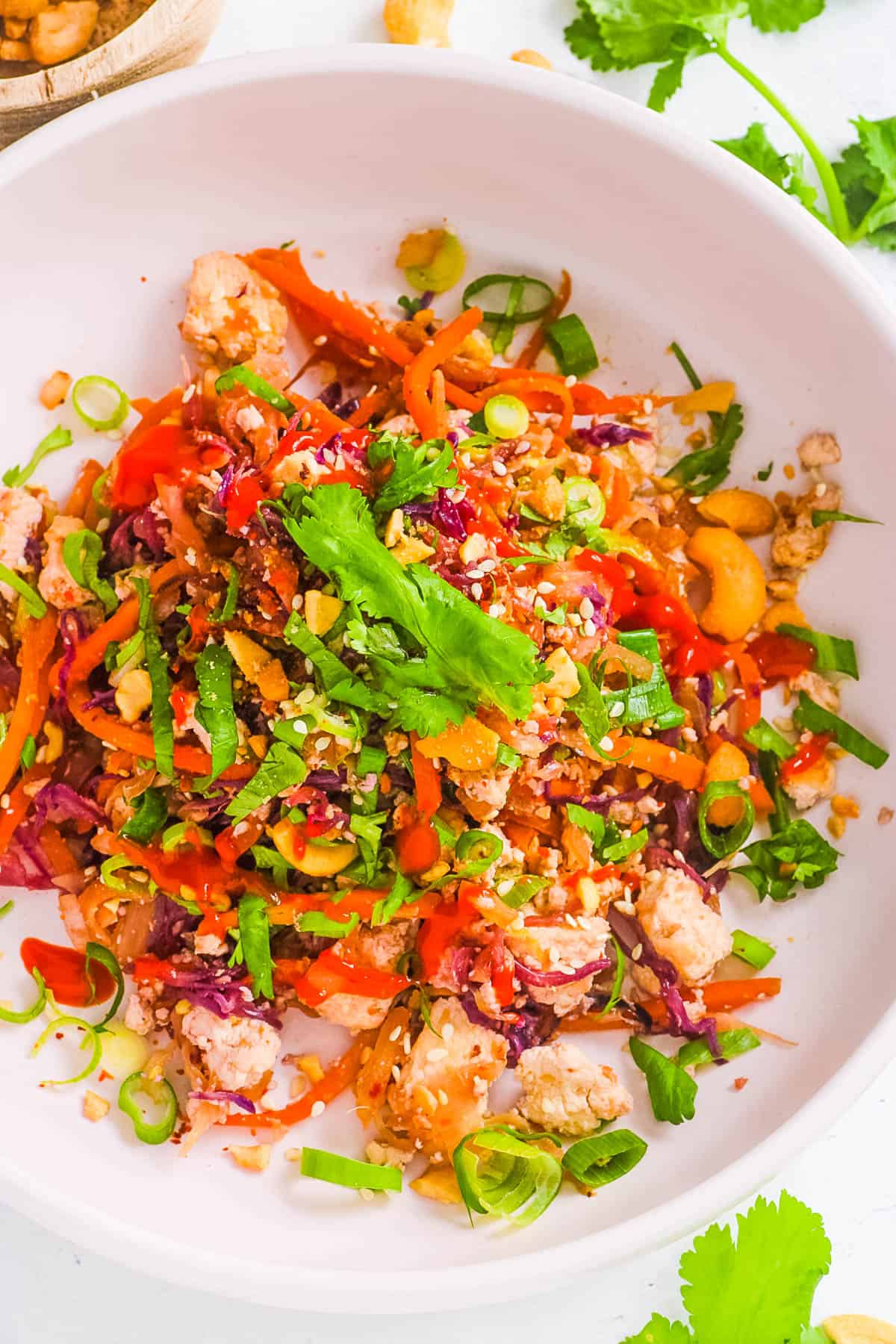 Calories: 144.3 – Fiber: 2.7g – Protein: 10.1g
Using a perfect flavor combination, this one-pan meal is full of fresh herbs and all the classic egg roll flavors. Without deep frying in a pot of oil, enjoy everything inside of an egg roll in this healthy vegetarian, vegan, gluten-free, and keto-friendly meal.
While a tiny traditional eggroll is 200 calories, you can enjoy a whole bowl of the deconstructed favorite in under 144 calories. In just 30 minutes, it's seriously easy to make and the whole family can enjoy it.
Cut down cleaning time after long week nights and try this one-pan recipe with sauteed tofu and tender vegetables. This vibrant dish can be enjoyed right off the pan or packed to enjoy when cooled.
🍽 What To Serve With Easy Last-Minute Dinners
What goes best with a dinner that's whipped up in less than 30 minutes? Sides and sweets that take just as long! Here is a list of scrumptious filling side dishes and better-for-you desserts that can also be made in 30 minutes or less. Here's a list of a few of my favorite recipes:
🫙 What Pantry Staples Do I Need To Prepare Last-Minute Dinner Ideas?
I recommend stocking up on a few simple ingredients to get a healthy meal on the dinner table in a hurry. The following items are essential to stock up on so that even when you haven't made a trip to the grocery store, you can still pull together an easy and delicious meal.
You don't need to have all of these on hand at all times, but if you have a good number from each category below you'll be able to make any of the meals on this list!
Canned Or Jarred Foods
Keeping a selection of organic canned or jarred foods means that you won't have to run to the store to create a healthy and delicious meal in a hurry.
Tomatoes and Bell Peppers: These come in handy to make chilis, soups, pasta sauces, and stir-fries.
Beans: These are great for easy last minute meals, because they are so versatile. Add to your chilis, soups, tacos, salads, nachos, or enjoy as a side dish.
Fruit (with no sugar added): This makes a simple dessert on its own, or creates a bake, crumble, or oatmeal.
Vegetables like pumpkin puree, butternut squash puree, whole green beans, or peas (no sugar added): These can make sauces or soups in a hurry.
Pasta Sauce: A must for those nights when you don't have much but some pasta and sauce!
Salsa: Adds flavor to your salads, tacos, and nachos, and makes a simple snack with chips.
Coconut Milk: Added to curries, soups, or used to create dairy-free desserts.
Soy Sauce: Great for stir-fries and curries.
Grains And Dry Items
These grains and dried goods have a long shelf life to create an easy meal. They will fill out your healthy recipes and give them the added bulk they need to fill you up and feel satisfied.
Dried Beans: Much less expensive than canned beans, dried beans are a great source of inexpensive protein and added nutrients. Make a large batch and use it throughout the week for all kinds of healthy last minute dinner ideas.
Dried Lentils: High in plant protein and quick cooking, lentils can be added to soups, stews, curries, on top salads, pasta sauces, and so much more!
Quinoa: A grain that is a good source of protein. It is also quick-cooking, so perfect to use in place of rice.
Farro or Barley: Both are grains that have a chewy texture. Make salads, soups, or create a simple side dish.
Rice (any kind – brown rice, wild, white, etc): Having rice on hand is essential. Pairs well with your stir-fries and curries.
Oats: Used to make oatmeal in the morning, but also can be used in savory dishes.
Whole grain pasta (or even legume-based pasta are great for extra protein): A selection of healthy pasta is important to have in hand to create quick meals your family will love.
Shelf Stable Items
Vegetable Stock: Can be used for soups, stews, chilis, and curries, and can be used in place of oil to sauté vegetables.
Nuts & Seeds: Add nuts to your salads and meals for extra crunch, healthy fats, and added protein.
Nut Butters: Create quick sandwiches, and add creaminess to some of your coconut-based sauces with peanut butter, and other nut butter.
Spices: Essential for added flavor in all your favorite dishes. While fresh herbs such as fresh basil are nice to have, dried herbs last a long time, so you will always have them on hand when you need to add flavor.
Olive Oil, Coconut Oil: These are the healthiest oils to use in your cooking. Use them sparingly to sauté vegetables, and create dessert recipes.
Long-Lasting Produce
Having long-lasting shelf-stable produce means you don't have to worry about your vegetables going bad too fast. This produce can be added to your soups and stews, create stir-fries, make a pasta sauce, and so much more. Shelf stable produce is also great for making hearty vegetarian last minute dinner ideas that will keep you full and satisfied!
Potatoes or Sweet Potatoes: Baked, steamed, mashed, or stuffed potatoes and sweet potatoes can make a meal when you add some fresh vegetables, and plant protein.
Winter Squash: Will last quite a while when kept in a cool dark place. You can roast your squash, and stuff it with additional ingredients. Or serve as a side dish, make it into a soup.
Cabbage: Make cabbage rolls, add to soup, braise.
Root Veggies (carrots, parsnips, etc.): These are excellent for creating a rich flavor in soups and stews, but also taste great when roasted.
Peppers: Stuff them with rice and beans, chop them up to add to your sauces, stir-fries, and soups. Cut them into think slices and enjoy them fresh as a snack.
Onions: I use onions in virtually every savory dish. They add such flavor, and are good for you too!
Garlic: Another staple, to add rich flavor.
Lemons/Limes: Will keep a bit longer and add a touch of necessary acidity to many last minute throw together dinners.
Easy Frozen Items
Frozen vegetables and fruits can be as nutritious, if not more so, than fresh!
Vegetables: Broccoli, mixed vegetables, cauliflower, spinach, beans, corn, peas, and edamame.
Fruit works great in smoothies: frozen berries, bananas, mango, peaches, cherries, and pineapple. You can also buy fruit fresh and freeze it.
Bread and tortillas freeze perfectly – so buy them fresh and put them in your freezer!
Dairy
Dairy-based items like cheddar cheese, cream cheese yogurt, cottage cheese, sour cream, and eggs will all keep for ~3 weeks in the fridge. They aren't necessarily pantry "staples" but you can stock up probably once every few weeks and get away with using these items for a while!
📖 What Are Some Easy Last Minute Pantry Dinner Ideas?
When you're short on time, but have a stocked pantry, you can make any of these last minute meal ideas in no time at all. These are my go-to meals using only pantry ingredients!
Whole wheat pasta with marinara sauce and frozen spinach
Vegetable soup using vegetable stock, canned tomatoes, and shelf stable produce.
Chili, using beans, peppers, onion, canned tomatoes and spices.
Stuffed peppers, with rice, cheese and beans.
Stuffed baked potatoes, either russet or sweet potatoes.
Sheet pan nachos with black beans, salsa, and whatever fresh produce you have in the fridge.
Rice and beans, with mixed vegetables.
Stir-fries with rice and frozen vegetables. Add tofu, or tempeh for added protein.
Breakfast for dinner! Make pancakes, oatmeal with fruit, or a tofu scramble!
🍎 More Healthy Roundups!
📋 Recipe Card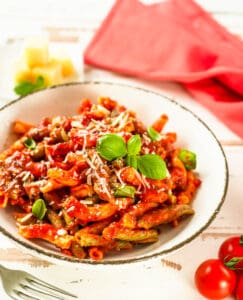 Print Recipe
Last Minute Dinner Ideas: Easy Homemade Pasta
This homemade pasta recipe is a fast and easy dinner idea that is perfect for hungry evenings when you are short on time. Marinara sauce is cooked with colorful and delicious vegetables for a complete meal the whole family will love! Top with grated parmesan or your favorite cheese for a delicious umami finish.
Plus, check out 39 more delicious last minute dinner ideas in the post above!
Instructions
Cook the pasta according to package directions.

In a medium sized pot, saute the peppers, onion, zucchini, spinach, garlic and spices (italian seasoning, salt, crushed red pepper) for about 5-10 minutes until soft.

Combine the cooked veggie mixture with the marinara sauce in a blender. Blend until smooth. Alternatively, you can add the red sauce to the pot, and use an immersion blender to purée.

Toss the hot cooked pasta with the pasta sauce. Top with parmesan cheese and serve.
Notes
Storage Directions:
Refrigeration: Leftovers keep covered in an airtight container in the refrigerator for 4-5 days. 
Freezing: You can also freeze leftover pasta in a freezer-safe container for up to 3 months. Defrost in the refrigerator overnight or until thawed through.
Recipe Pro-Tips:
For Extra Protein: Toss in a cup of cooked garbanzo beans with the pasta and sauce before serving or top with grilled chicken, broiled salmon, or toasted pine nuts.
Salt the Water: For the best flavored pasta, salt the water liberally before cooking the pasta, or about 1 tablespoon of salt for every 2 quarts of water. 
Nutrition
Calories:
318
kcal
|
Carbohydrates:
51
g
|
Protein:
23
g
|
Fat:
7
g
|
Saturated Fat:
2
g
|
Cholesterol:
7
mg
|
Sodium:
1481
mg
|
Potassium:
1125
mg
|
Fiber:
14
g
|
Sugar:
9
g
24 responses to "39 Easy Last-Minute Dinner Ideas"