30 Last-Minute Dinner Ideas For The Whole Family
This post may contain affiliate links. As an Amazon Associate, I earn from qualifying purchases. Please read my disclosure.
When you're short on time and ingredients, these 30 Last Minute Dinner Ideas will help you get a healthy, hearty meal on the table in 30 minutes or less!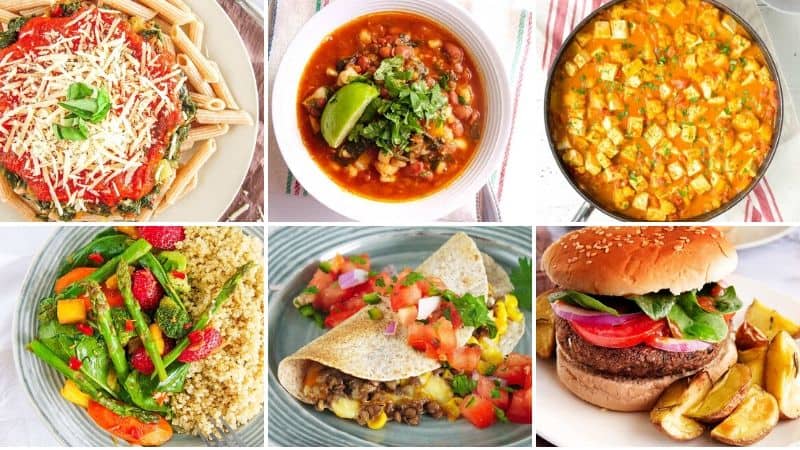 If you're anything like me, sometimes you might find yourself with an empty fridge and a hungry family to feed. For those times when you haven't been able to make a trip to the grocery store, or you're trying to stretch the ingredients you already have on hand, these last-minute dinner ideas will come in handy.
What Are Last Minute Dinner Ideas?
When I'm short on time, and ingredients, I turn to my pantry to prepare a quick meal in under 30 minutes for the entire family.
Having a go-to list of easy recipes is a great way to ensure you never feel like you're too overwhelmed to get dinner on the table. Shelf-stable vegetables are also handy such as onions, potatoes, and squash that can stay fresh for an extended period of time.
These types of last-minute dinners are recipes that you can pull together using a few staple canned ingredients as well as items such as pasta, rice, and quinoa.
Prepare these easy dinner recipes with minimal effort, or you can also consider slow cooker recipes so you don't have to do any work when you get home!
What Pantry Staples Do I Need To Prepare These Last-Minute Dinner Ideas?
I recommend stocking up on a few simple ingredients to get a healthy meal on the dinner table in a hurry. The following items are essential to stock up on so that even when you haven't made a trip to the grocery store, you can still pull together an easy and delicious meal.
You don't need to have all of these on hand at all times, but if you have a good number from each category below you'll be able to make any of the meals on this list!
Canned Or Jarred Foods
Keeping a selection of organic canned or jarred foods means that you won't have to run to the store to create a healthy and delicious meal in a hurry.
Tomatoes and Bell Peppers: These come in handy to make chilis, soups, pasta sauces, and stir-fries.
Beans: These are great for easy last minute dinners, because they are so versatile. Add to your chilis, soups, tacos, salads, nachos, or enjoy as a side dish.
Fruit (with no sugar added): This makes a simple dessert on its own, or creates a bake, crumble, or oatmeal.
Vegetables like pumpkin puree, butternut squash puree, whole green beans, or peas (no sugar added): These can make sauces or soups in a hurry.
Pasta Sauce: A must for those nights when you don't have much but some pasta and sauce!
Salsa: Adds flavor to your salads, tacos, and nachos, and makes a simple snack with chips.
Coconut Milk: Added to curries, soups, or used to create dairy-free desserts.
Soy Sauce: Great for stir-fries and curries.
Grains And Dry Items
These grains and dried goods have a long shelf life to create an easy meal. They will fill out your healthy recipes and give them the added bulk they need to fill you up and feel satisfied.
Dried Beans: Much less expensive than canned beans, dried beans are a great source of inexpensive protein and added nutrients. Make a large batch and use it throughout the week.
Dried Lentils: High in plant protein and quick cooking, lentils can be added to soups, stews, curries, on top salads, pasta sauces, and so much more!
Quinoa: A grain that is a good source of protein. It is also quick-cooking, so perfect to use in place of rice.
Farro or Barley: Both are grains that have a chewy texture. Make salads, soups, or create a simple side dish.
Rice (any kind – brown rice, wild, white, etc): Having rice on hand is essential. Pairs well with your stir-fries and curries.
Oats: Used to make oatmeal in the morning, but also can be used in savory dishes.
Whole grain pasta (or even legume-based pasta are great for extra protein): A selection of healthy pasta is important to have in hand to create quick meals your family will love.
Shelf Stable Items
Vegetable Stock: Can be used for soups, stews, chilis, and curries, and can be used in place of oil to sauté vegetables.
Nuts & Seeds: Add nuts to your salads and meals for extra crunch, healthy fats, and added protein.
Nut Butters: Create quick sandwiches, and add creaminess to some of your coconut-based sauces with peanut butter, and other nut butter.
Spices: Essential for added flavor in all your favorite dishes. While fresh herbs such as fresh basil are nice to have, dried herbs last a long time, so you will always have them on hand when you need to add flavor.
Olive Oil, Coconut Oil: These are the healthiest oils to use in your cooking. Use them sparingly to sauté vegetables, and create dessert recipes.
Long-Lasting Produce
Having long-lasting shelf-stable produce means you don't have to worry about your vegetables going bad too fast. This produce can be added to your soups and stews, create stir-fries, make a pasta sauce, and so much more.
Potatoes or Sweet Potatoes: Baked, steamed, mashed, or stuffed potatoes and sweet potatoes can make a meal when you add some fresh vegetables, and plant protein.
Winter Squash: Will last quite a while when kept in a cool dark place. You can roast your squash, and stuff it with additional ingredients. Or serve as a side dish, make it into a soup.
Cabbage: Make cabbage rolls, add to soup, braise.
Root Veggies (carrots, parsnips, etc.): These are excellent for creating a rich flavor in soups and stews, but also taste great when roasted.
Peppers: Stuff them with rice and beans, chop them up to add to your sauces, stir-fries, and soups. Cut them into think slices and enjoy them fresh as a snack.
Onions: I use onions in virtually every savory dish. They add such flavor, and are good for you too!
Garlic: Another staple, to add rich flavor.
Lemons/Limes: Will keep a bit longer and add a touch of necessary acidity to many last minute throw together dinners.
Easy Frozen Items
Frozen vegetables and fruits can be as nutritious, if not more so, than fresh!
Vegetables: Broccoli, mixed vegetables, cauliflower, spinach, beans, corn, peas, and edamame.
Fruit works great in smoothies: frozen berries, bananas, mango, peaches, cherries, and pineapple. You can also buy fruit fresh and freeze it.
Bread and tortillas freeze perfectly – so buy them fresh and put them in your freezer!
Dairy
Dairy-based items like cheddar cheese, cream cheese yogurt, cottage cheese, sour cream, and eggs will all keep for ~3 weeks in the fridge. They aren't necessarily pantry "staples" but you can stock up probably once every few weeks and get away with using these items for a while!
What If I Don't Have All The Ingredients?
The great thing about these making these last-minute meals is that they are adaptable and require basic ingredients. If you don't have fresh veggies, use frozen or canned. Or, if you don't have one ingredient, simply leave it out. If you don't have one type of veggie substitute it for one you do have. Or if the recipe calls for quinoa and you only have rice, use that instead!
What Are Some Easy Last Minute Dinner Ideas I Can Make With Food In My Pantry?
When you're short on time, but have a stocked pantry, you can make a quick dinner in no time at all. These are my go-to meals using pantry ingredients.
Whole wheat pasta with marinara sauce and fresh spinach
Vegetable soup using vegetable stock, canned tomatoes, and shelf stable produce.
Chili, using beans, peppers, onion, canned tomatoes and spices.
Stuffed peppers, with rice, cheese and beans.
Stuffed baked potatoes, either russet or sweet potatoes.
Sheet pan nachos with black beans, salsa, and whatever fresh produce I have in the fridge.
Rice and beans, with mixed vegetables.
Stir-fries with rice and frozen vegetables. I add tofu, or tempeh for added protein.
Breakfast for dinner! Make pancakes, oatmeal with fruit, or a tofu scramble!
30 Pantry Meals You Can Make In 30 Minutes!
Here is a list of some of my favorite pantry meals. From soups, to pasta recipes, to salads, and pizzas, I've got you covered with inspiring ideas for mealtime. All of these are last minute dinner ideas without meat, but you can easily add some shredded chicken or ground beef to most of these recipes if you'd like!
Lebanese Lentil Soup
Soups are one of the easiest last minute healthy dinner ideas you can make, because you can throw a bunch of ingredients into a pot and it usually tastes pretty good! This rich and flavorful Lebanese Lentil Soup is cooked over high heat, adds spinach for some greens, and is served with a dollop of cool yogurt and cilantro. It's a hearty, healthy, and easy dish to pull together for a weeknight meal.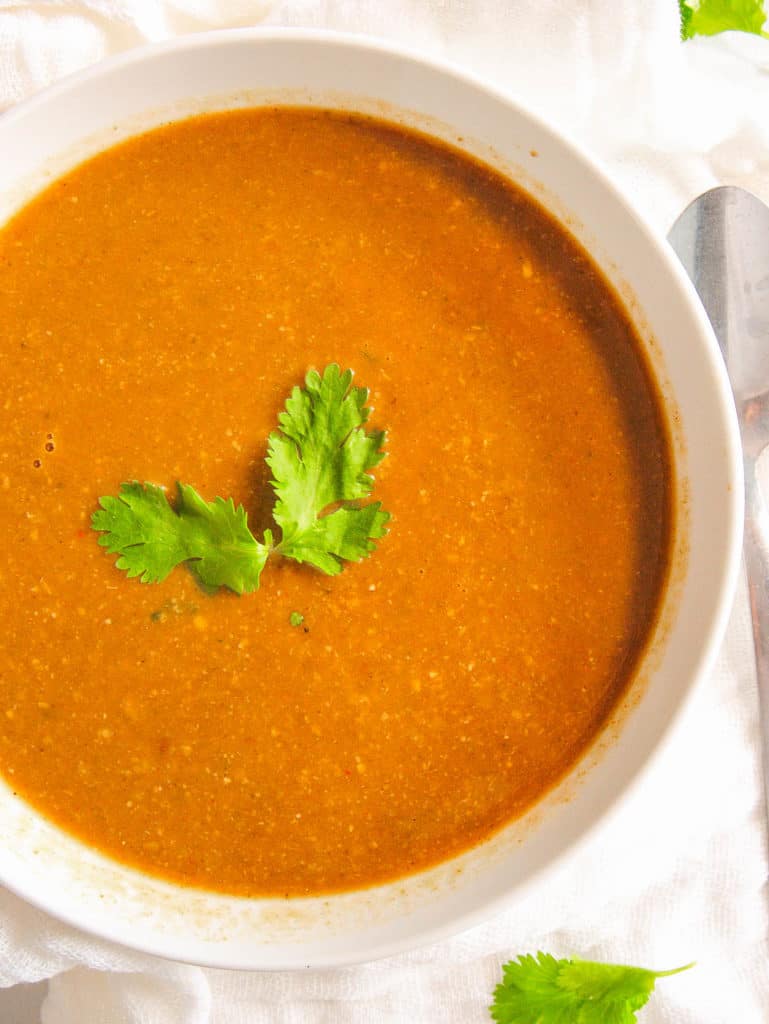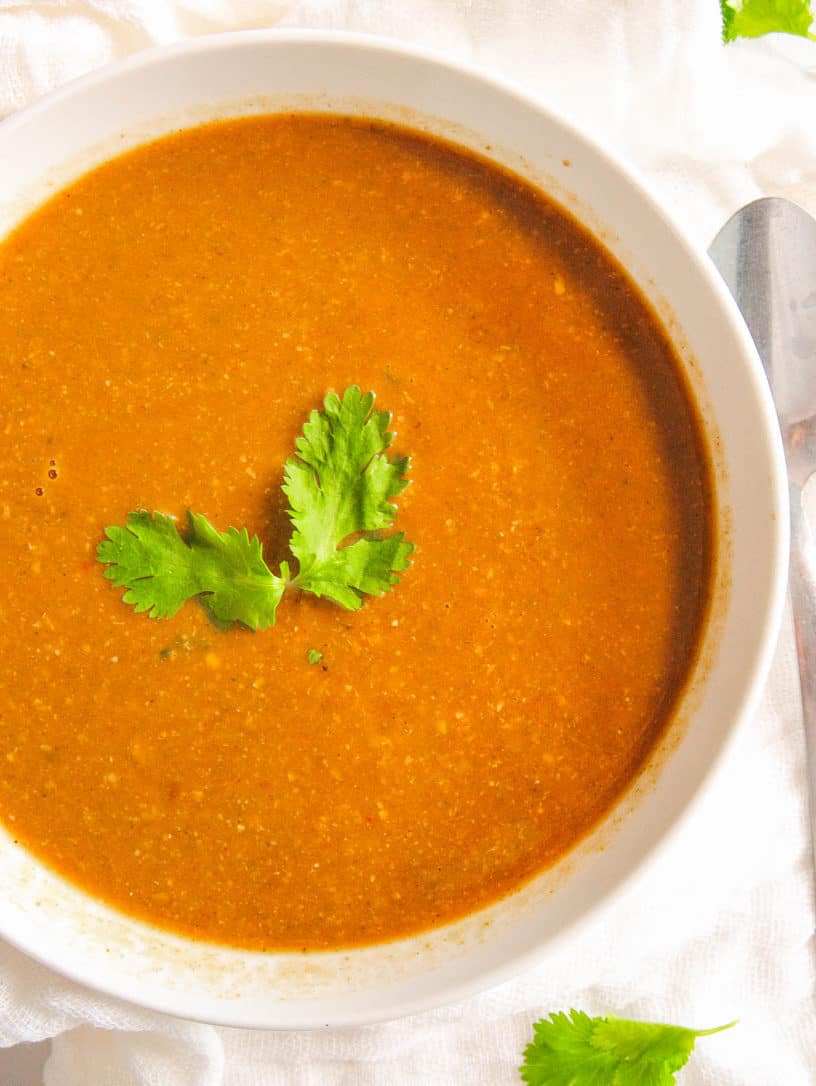 Vegetarian White Bean Soup with Pumpkin
This Vegetarian White Bean Soup with Pumpkin is a favorite recipe among my kids! It's healthy, delicious and really easy to make! The white beans give the soup a creamy taste and the pumpkin delivers a rich warmth that'll have you coming back for more! It's a delicious weeknight dinner for the whole family.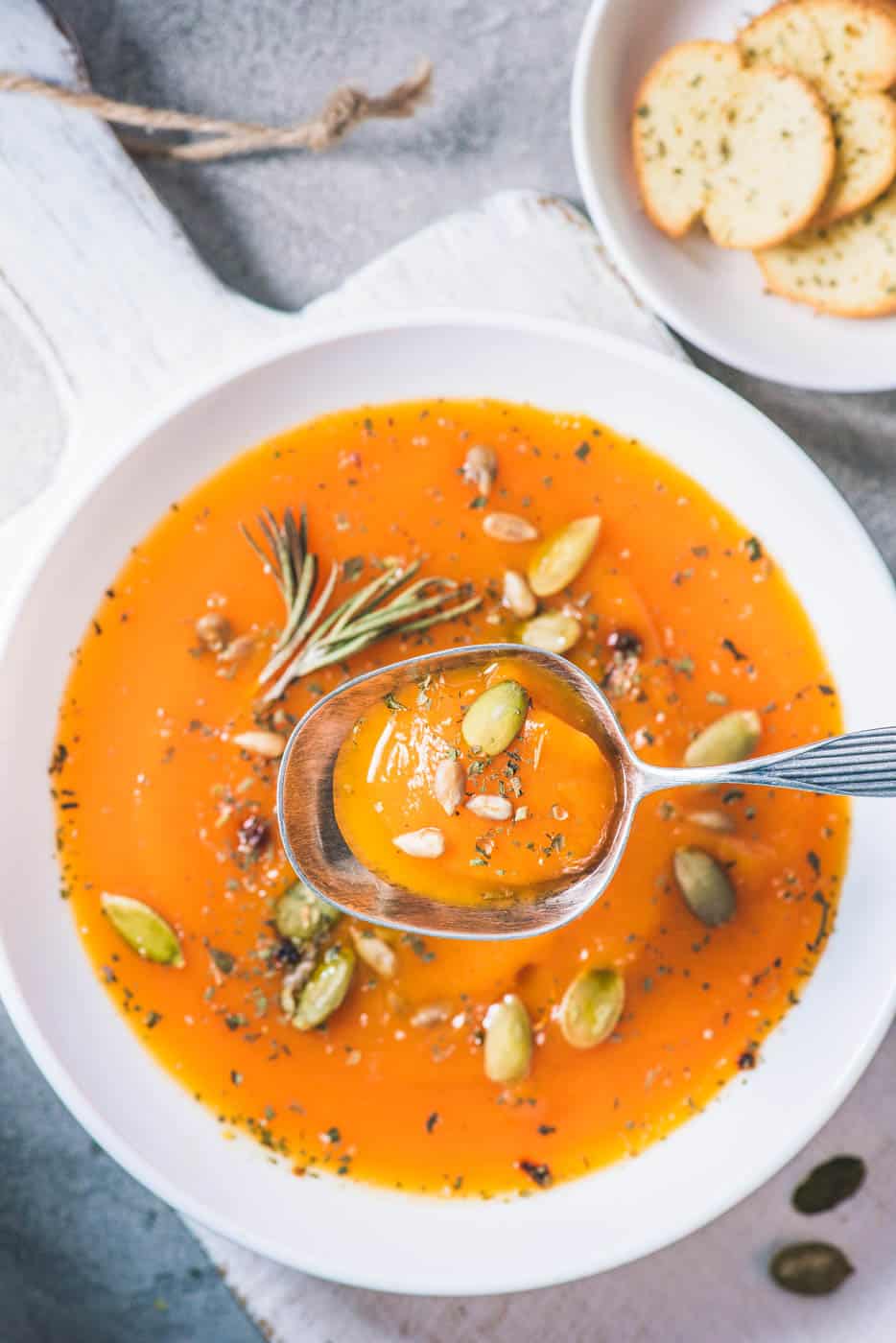 Instant Pot Tomato Soup with Cumin
This Instant Pot Tomato Soup is creamy and delicious with the perfect amount of subtle spice. Less than 75 calories per serving it's a healthy, hearty and easy to make classic recipe. It's one of those easy last minute meals that you can pair with just about any side dish and it'll taste great!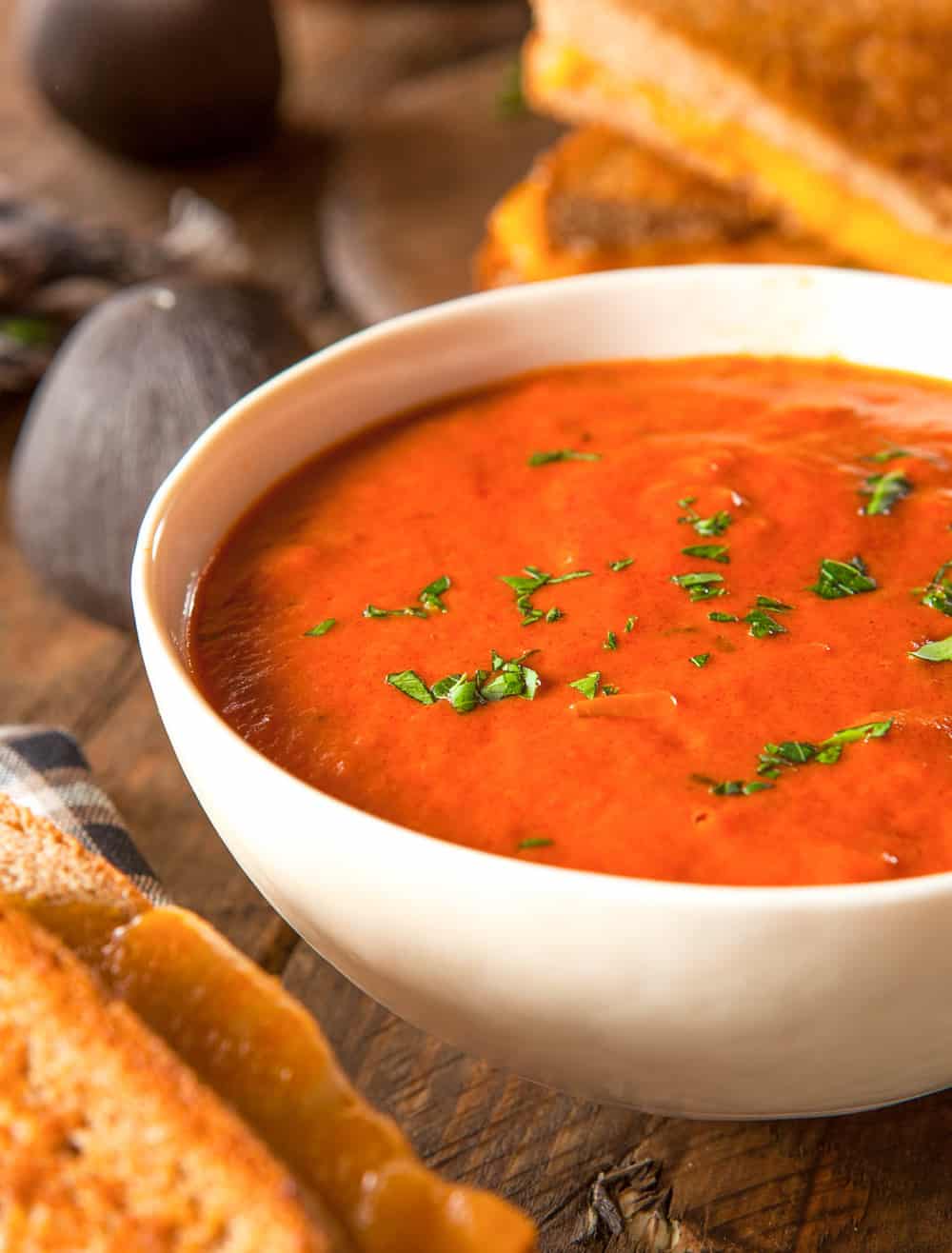 Spicy Potato Corn Chowder
This spicy potato corn chowder is packed full of fresh ingredients and a blend of delicious spices. Dairy-free, and low in calories it's a decadent soup to be enjoyed without the guilt!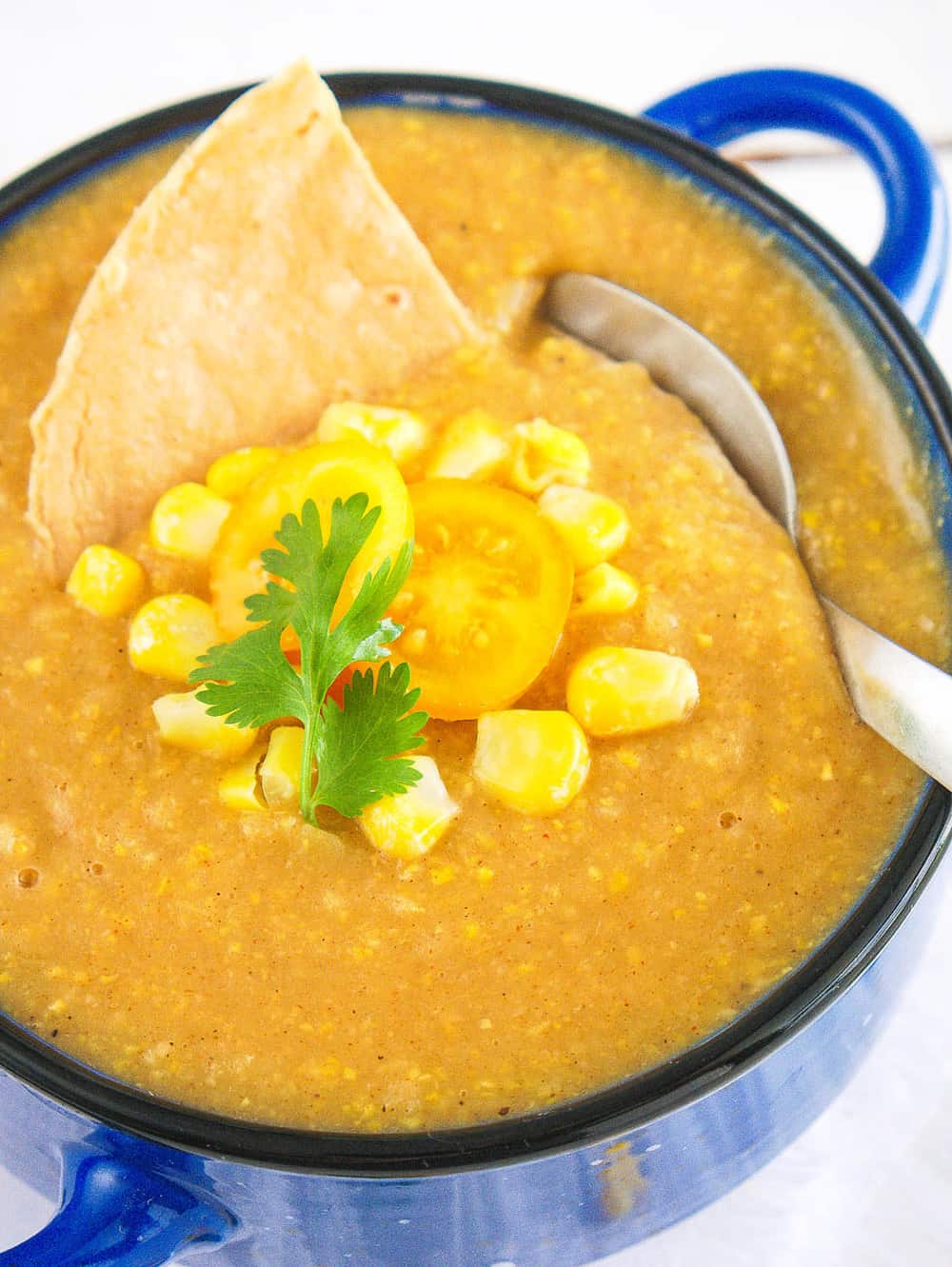 Creamy Cucumber Gazpacho
This cucumber gazpacho is light, refreshing, and so easy to make! With a combination of cucumber, honeydew, and fresh mint it's cool, slightly sweet, gluten-free, vegan, and makes for the perfect appetizer or simple side!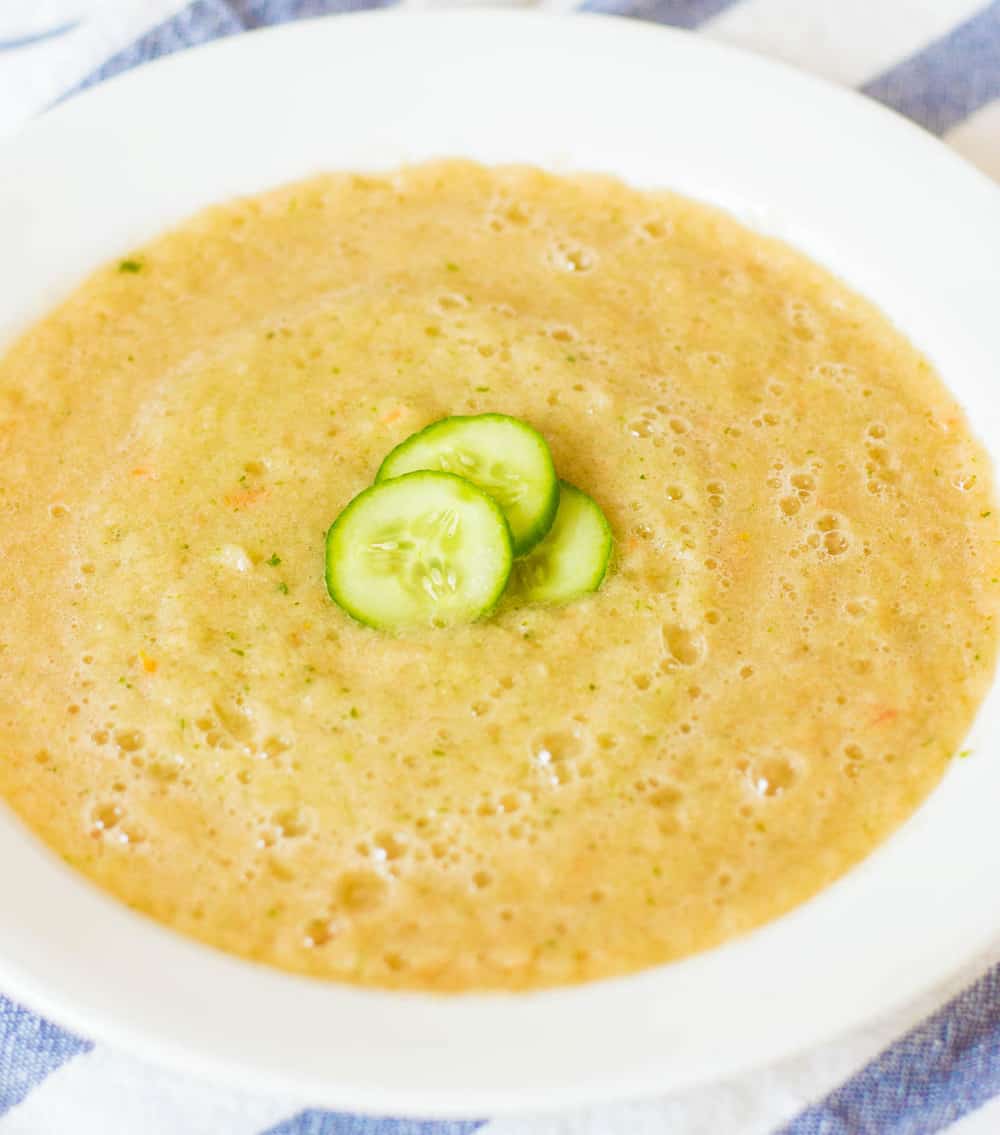 Whole Wheat Pasta Recipe
This easy, tasty, healthy Whole Wheat Pasta Recipe is easy to make when you need a last-minute dinner idea! Full of flavor and loaded with veggies, this family friendly supper will be a sure fire hit!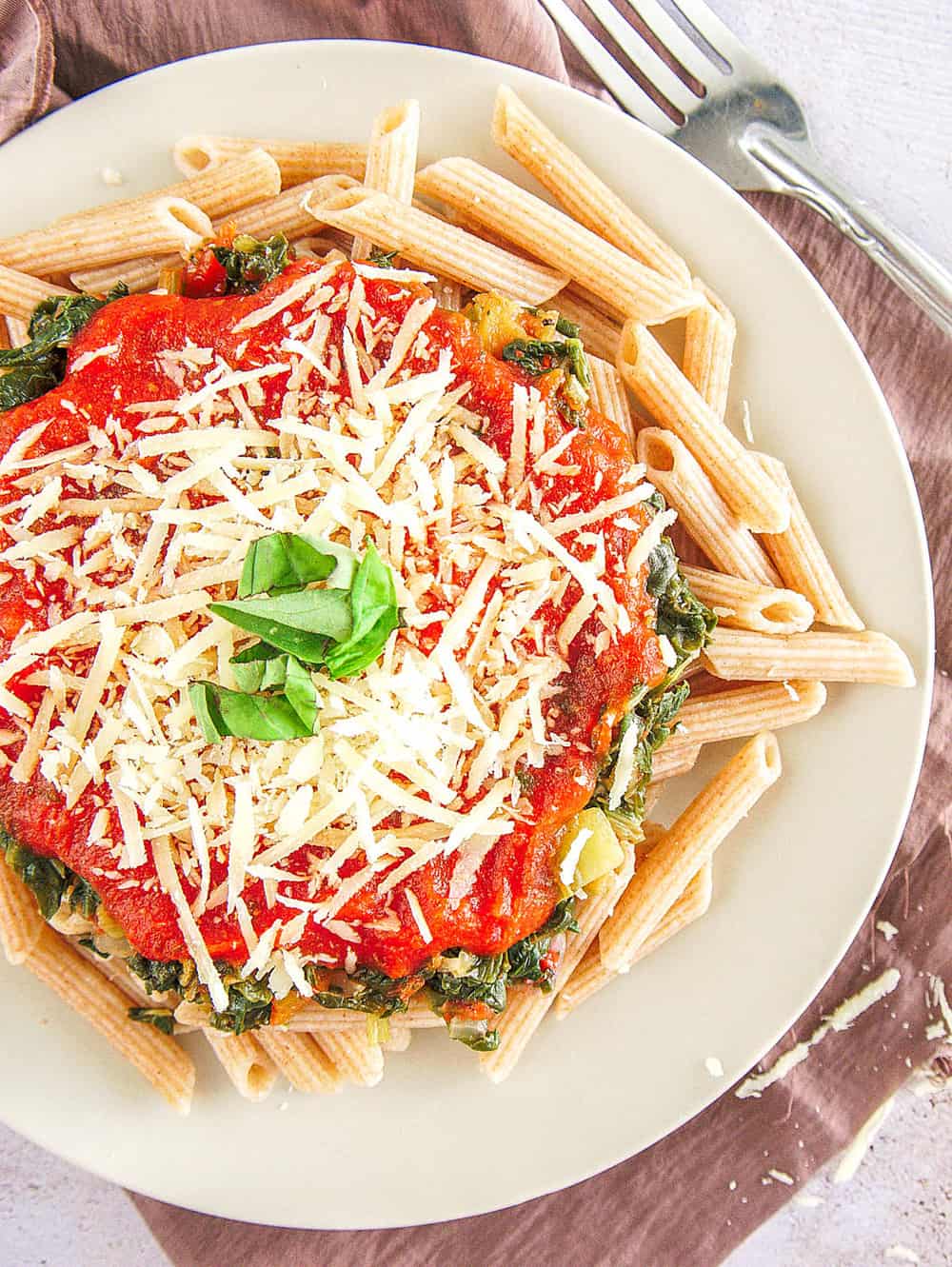 Pasta with Sun-dried Tomato Pesto and Feta
This whole wheat pasta dish is made with a delicious sun-dried tomato pesto and topped with crumbled feta. Packed with flavor, and easy and quick to make for a healthy weeknight meal.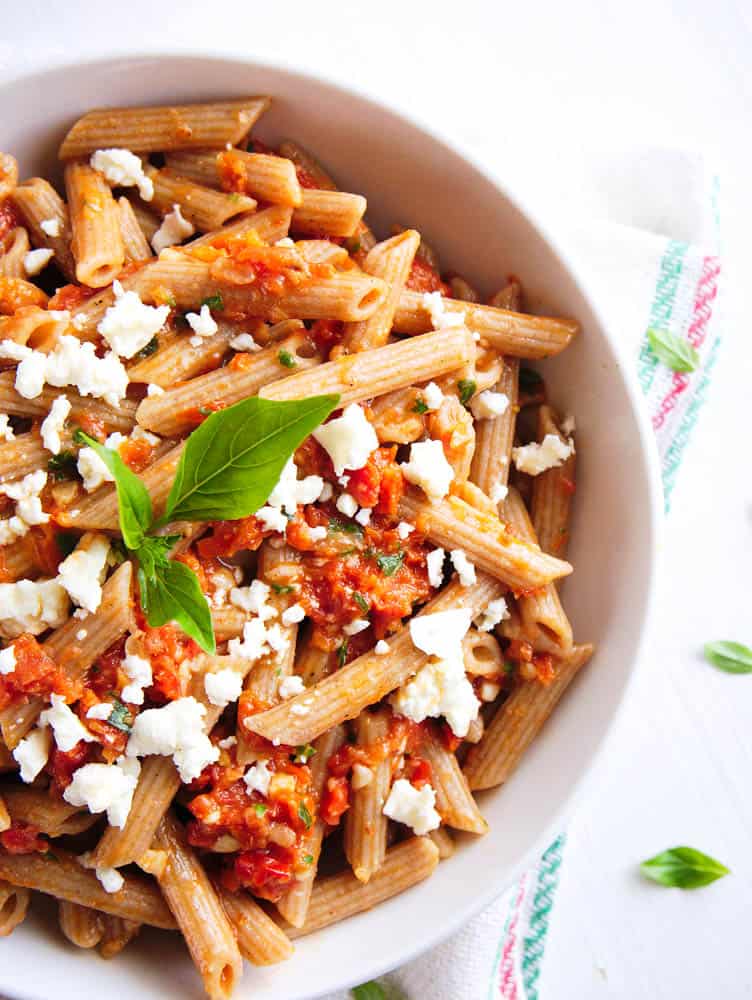 Vegan Hamburger Helper
Enjoy this childhood favorite with all the nostalgia, but none of the meat. Vegan hamburger helper is an easy one-pot dish that whips up in 25 minutes! It's one of those last minute supper ideas that kids will love too!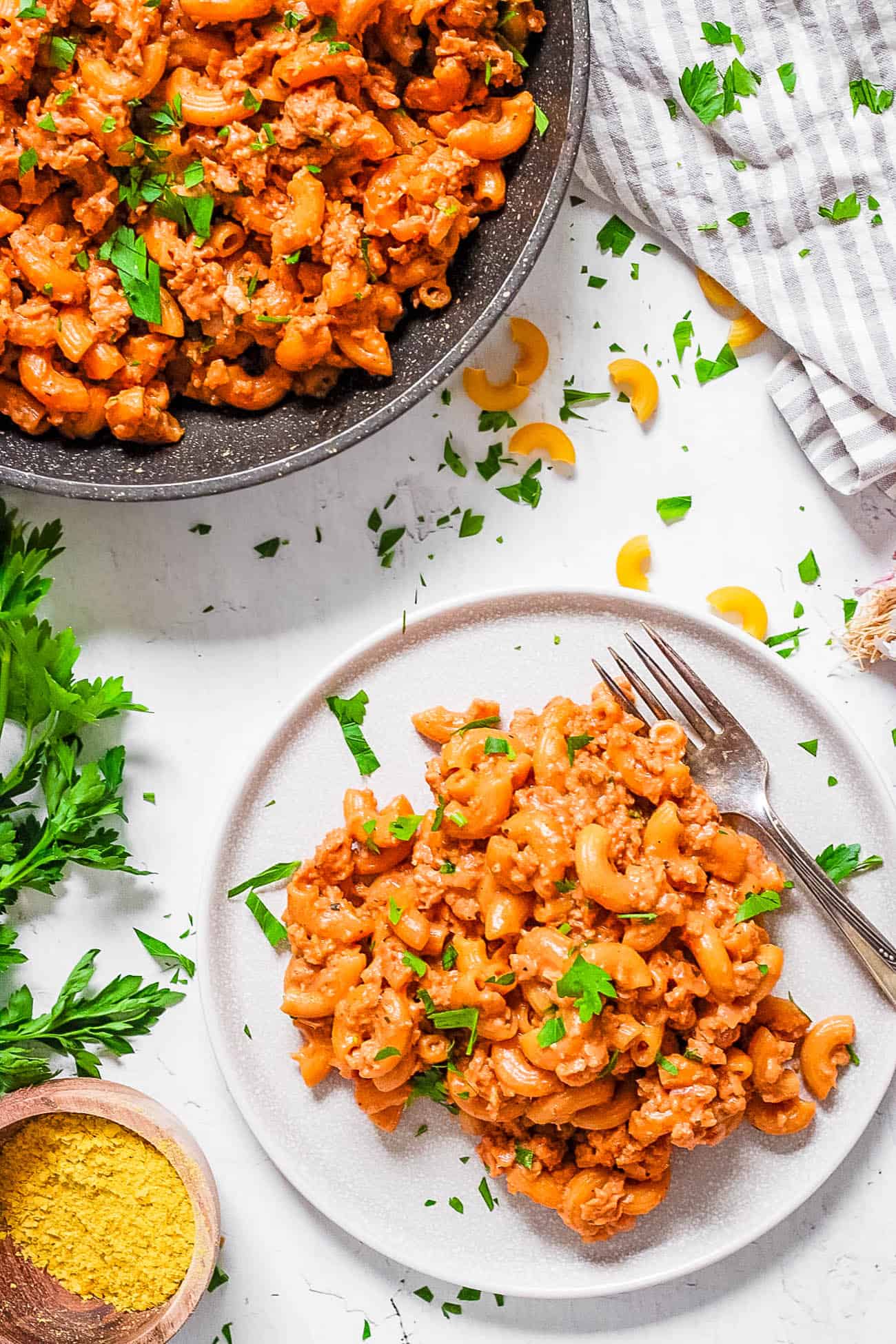 Vegetarian Pesto Pasta
This healthy vegetarian pesto recipe is easy to make and will become one of your staple last minute meal ideas. Ricotta gives this sauce a creamy texture and the added pine nuts gives it a nice crunch!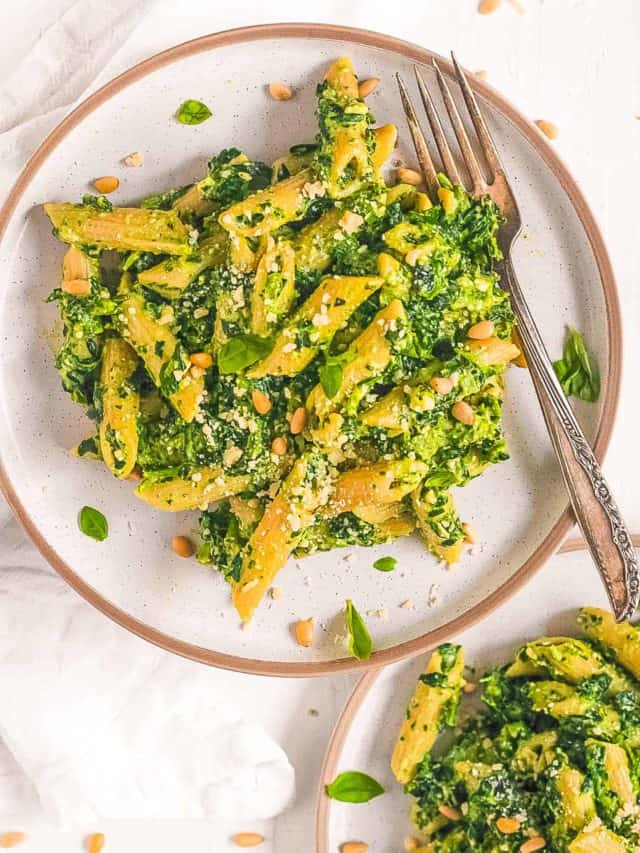 Red Lentil Pasta with Sundried Tomatoes
This healthy red lentil pasta recipe is the ultimate easy vegetarian meal that is filled with protein and ready in just 30 minutes! It's one of my favorite last minute dinner recipes!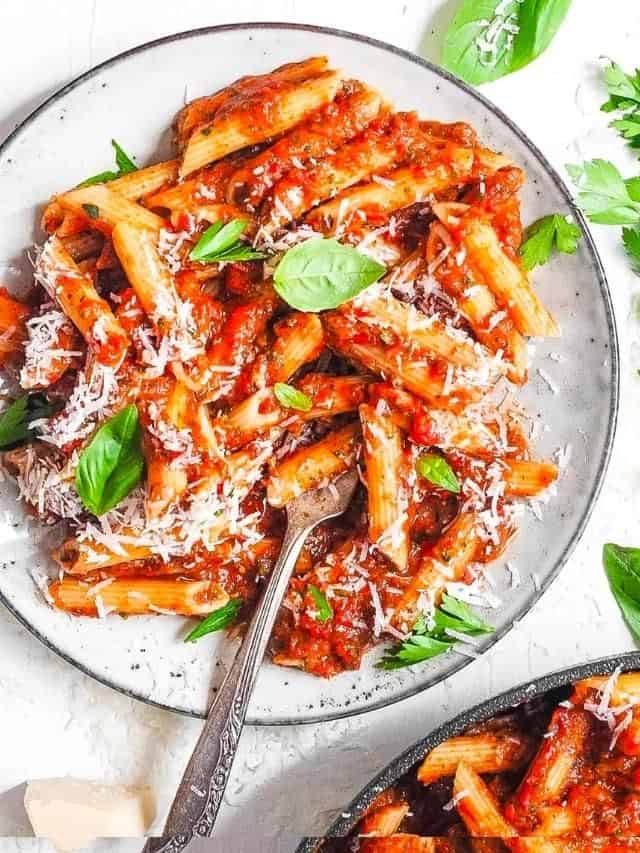 Butternut Squash Ravioli
A simple 15-minute recipe, this Trader Joe's Butternut squash ravioli has a simple, homemade, creamy and cheesy sauce. It's a quick weeknight dinner that tastes like a gourmet meal!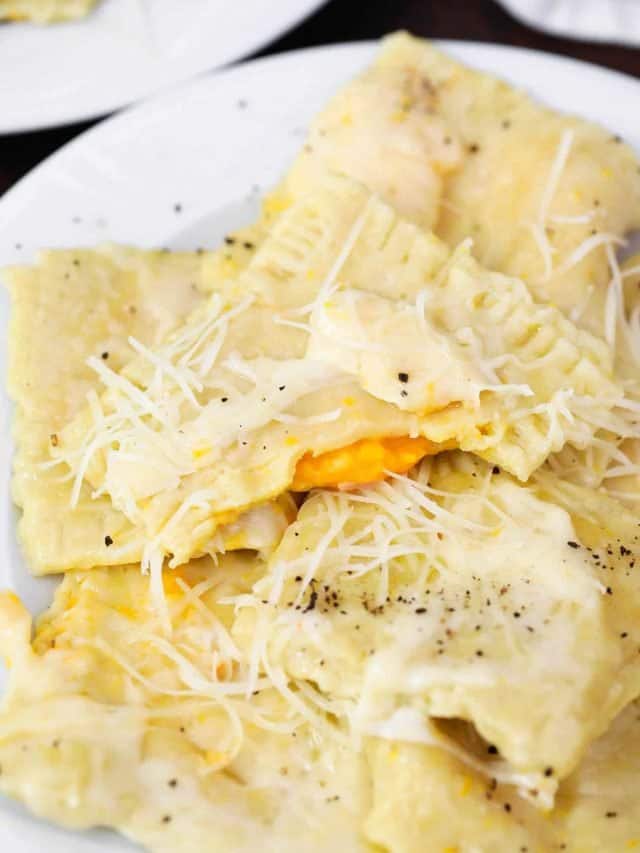 Rustic Pizza with Garlic and Mushrooms
Homemade pizza gets a rustic makeover with caramelized onions, mushrooms, and plenty of cheese! This rustic mushroom and garlic pizza makes for a delicious dinner that's ready to eat in less than 30 minutes.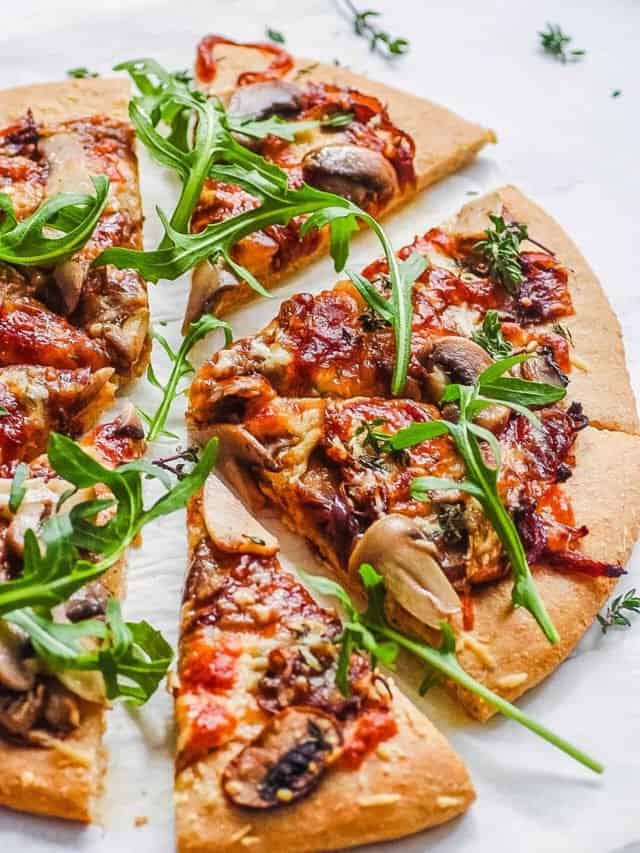 Florentine Pizza
This delicious Florentine Pizza has bold flavors of garlic, a blend of cheeses, and is topped with spinach — all on top of an easy no-rise whole wheat crust.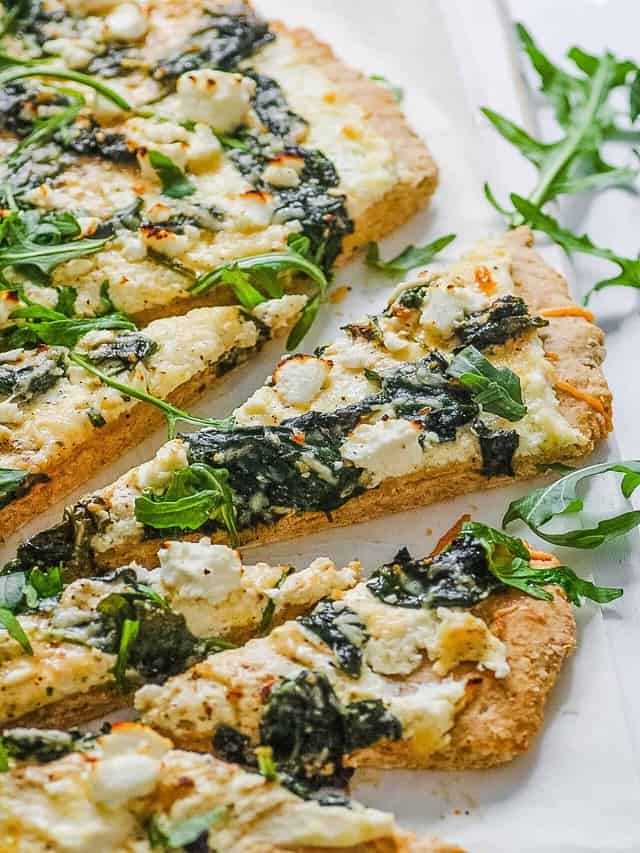 Veggie Pizza Recipe
This veggie pizza recipe is both enticing and healthy! Made with melted gooey cheese and tender fresh vegetables such as red onion and green bell pepper, this savory and yummy pizza is perfect for the summer or any other time of the year when you're looking for something quick, easy, and ready in 30 minutes!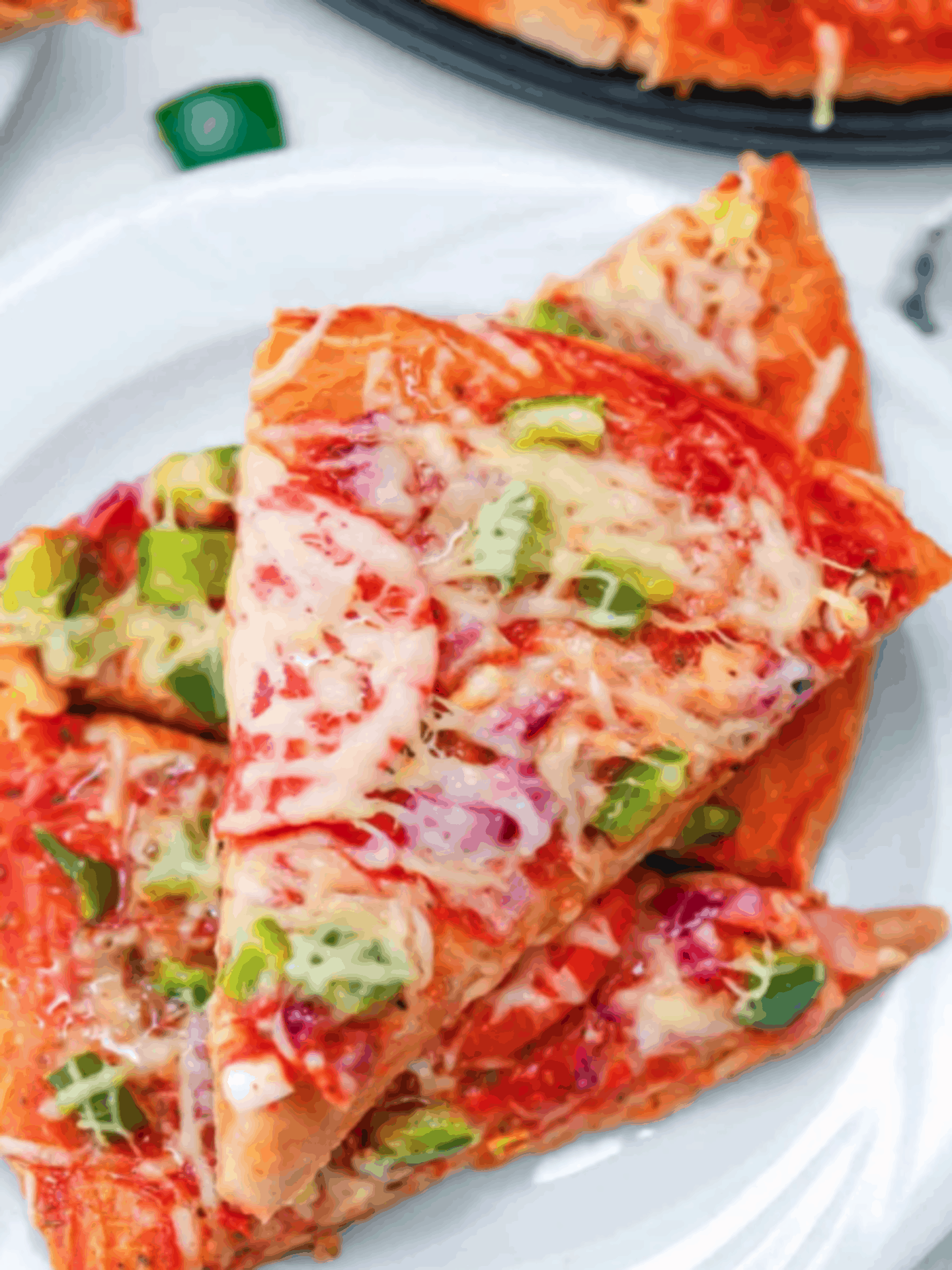 Healthy Pita Pizza
This Healthy Pita Pizza with Goat Cheese and Tomatoes is ready in only 15 minutes and is one of my favorite, easiest meal ideas! These personal pizzas are loaded with veggies for a well-balanced meal.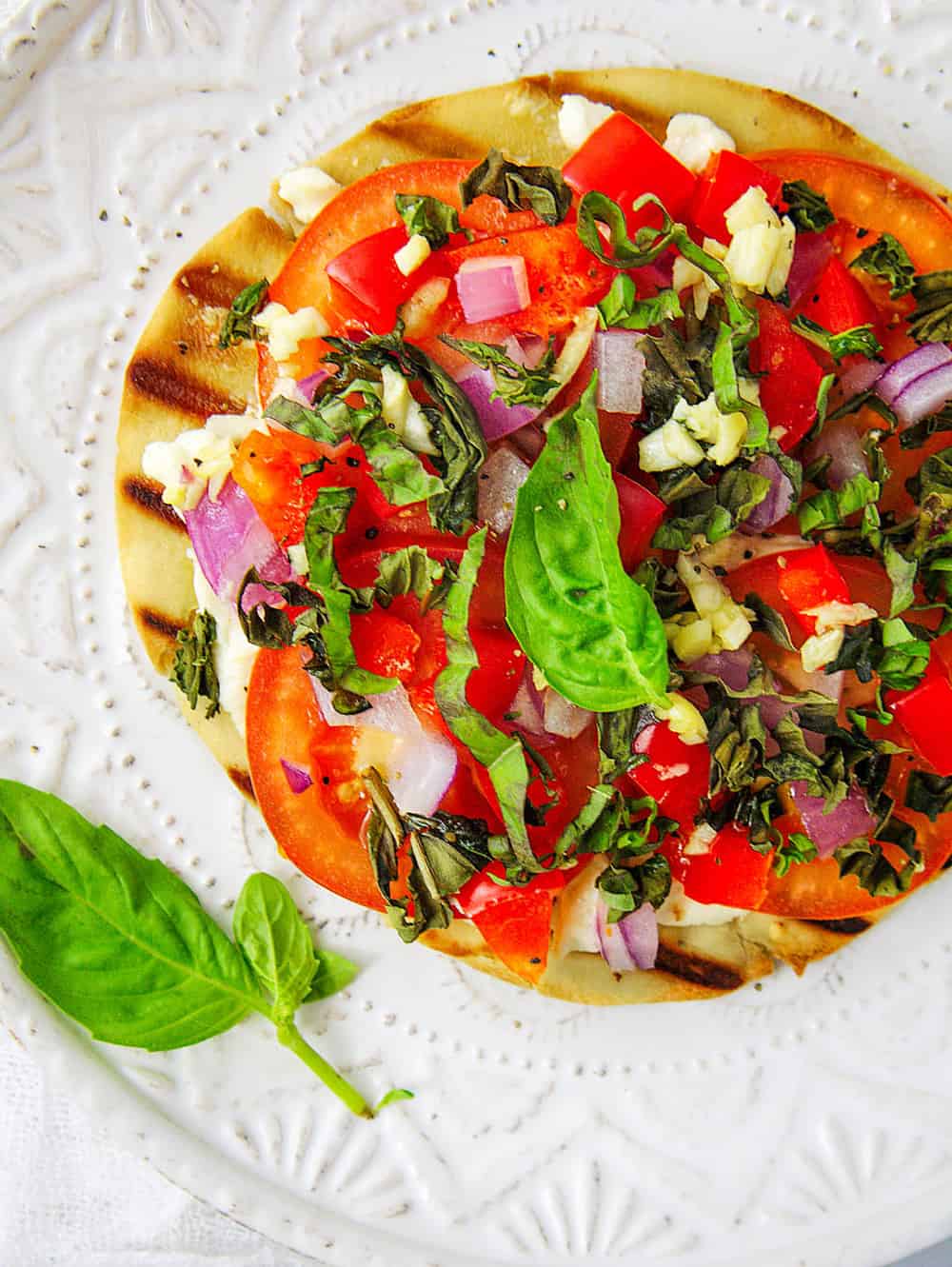 Cheesy Quinoa and Black Bean Casserole
A lightened-up, healthy quinoa bake that you can enjoy completely guilt-free. Reminiscent of enchiladas, slightly spicy and super satisfying, full of black beans, veggies, and cheesy goodness.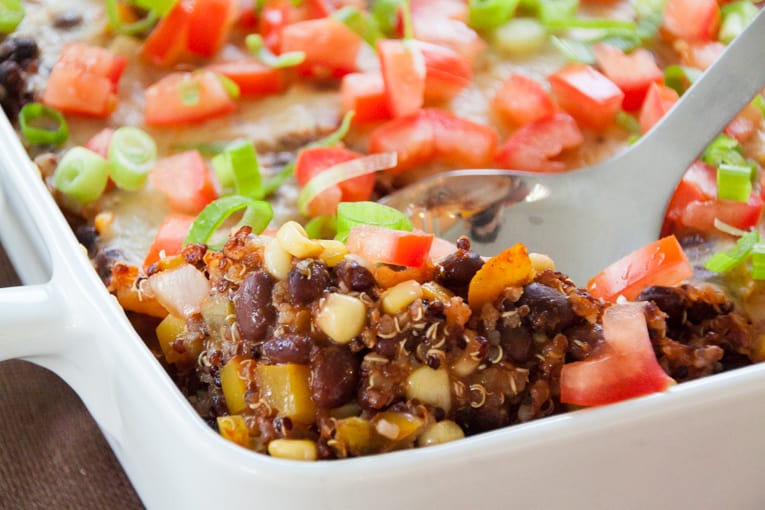 Spicy Sweet Potato Breakfast Hash
How about breakfast for dinner? This sweet potato breakfast hash is packed full of flavor, and makes a great brunch, side dish or even main meal! Packed full of veggies and plant protein this is a one pan meal that's easy to make.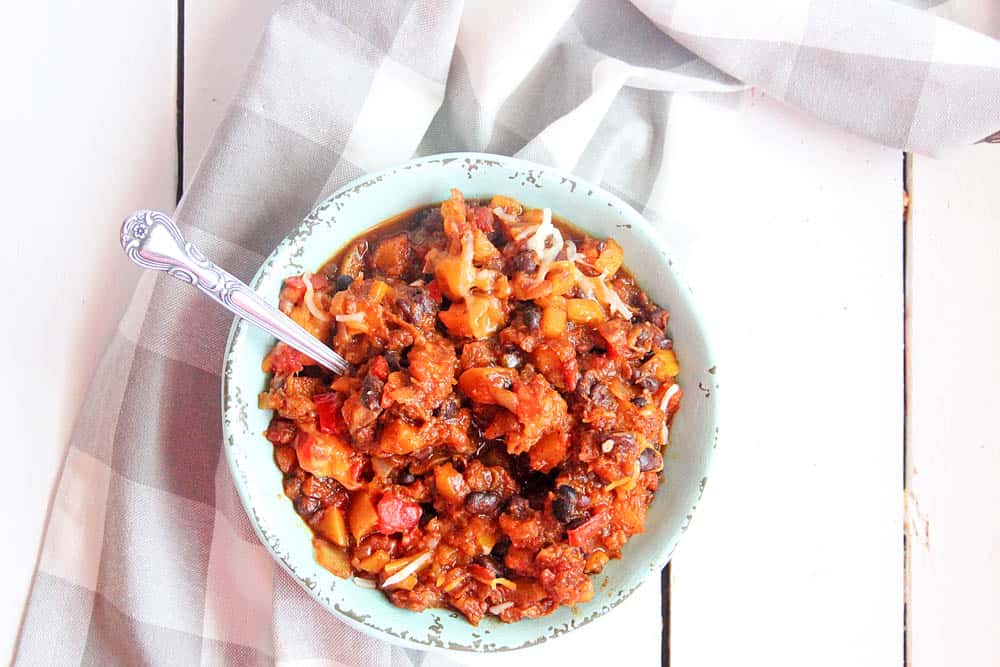 Vegan Tikka Masala with Tofu
This vegan tikka masala with tofu is quick, healthy, easy and oh so tasty! Packed full of delicious Indian spices, this recipe is a perfect option for a weeknight meal. Made with coconut milk, this mild curry will be a hit with the whole family!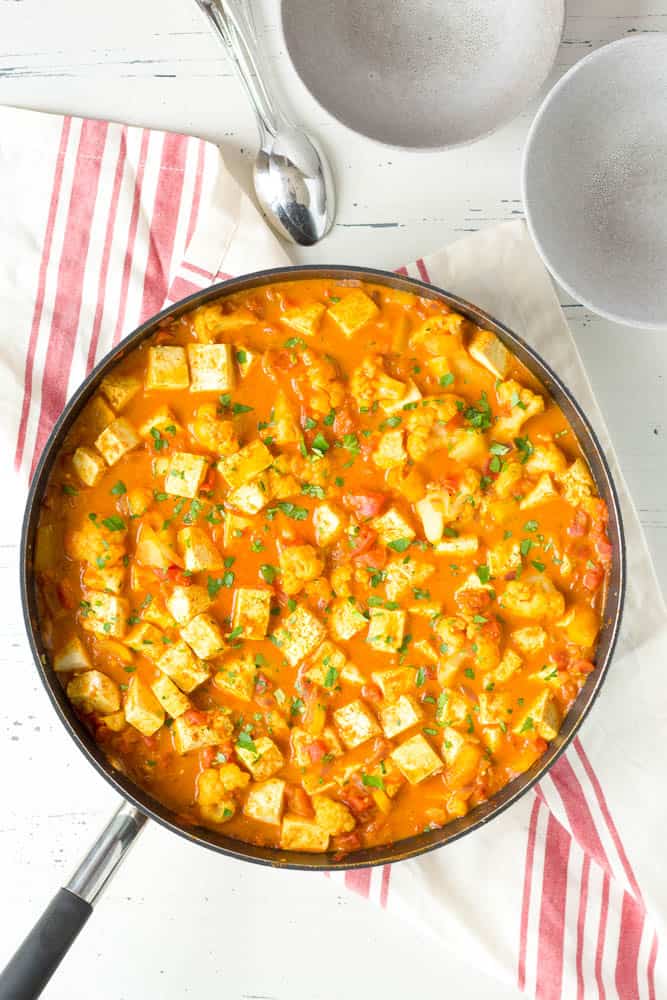 Vegan Chana Masala
This Vegan Chana Masala tastes like something you'd order from a fantastic Indian restaurant. It's healthy, gluten-free, naturally vegan, yet still rich and flavorful with the perfect amount of heat. One of my go-to last-minute dinner ideas!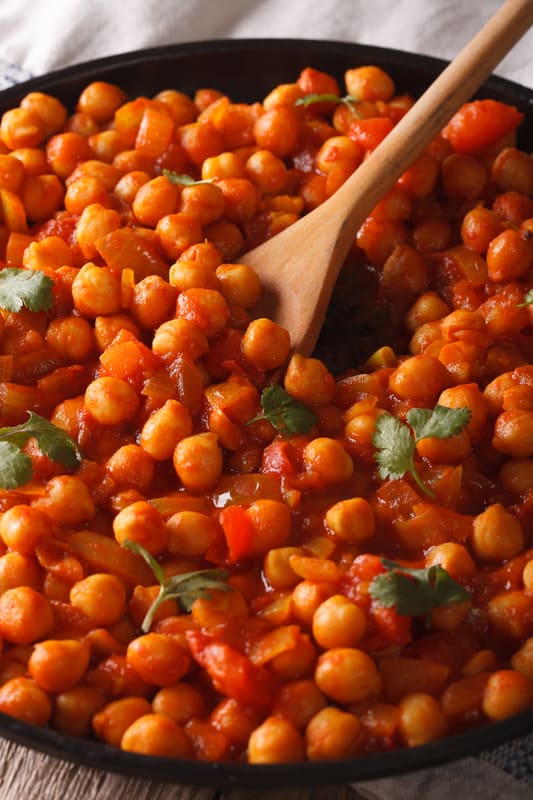 Instant Pot Pinto Beans Vegan Posole
This easy Instant Pot Pinto Beans Vegan Posole is a delicious Mexican stew that is packed full of flavor. Ready in just 30 minutes, with rich spices, crunchy veggies, and chewy hominy – this healthy soup is perfect for a quick one-pot meal when you're looking for a healthy dinner recipe.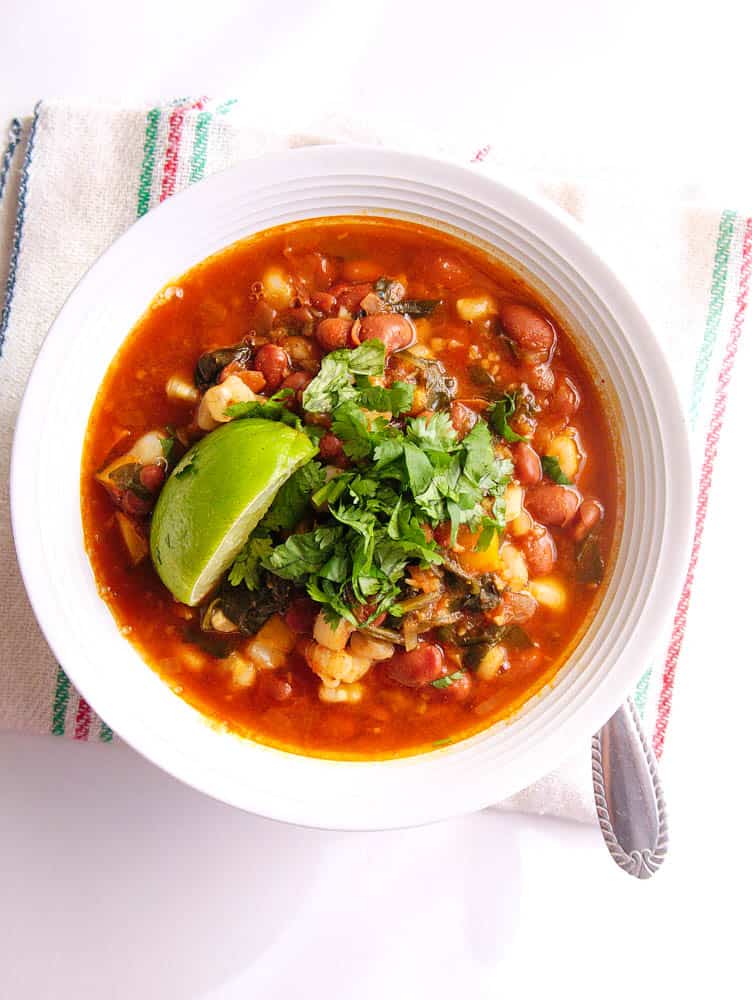 Vegetarian Quesadillas with Cumin and Lentils
These Vegetarian Quesadillas with Cumin and Lentils is a simple weeknight meal you can pull together in 30 minutes or less. Tortillas are stuffed with toasted cumin seeds, lentils, corn, cheese, then topped with fresh pico de gallo. It's a kid-friendly meal your family will love!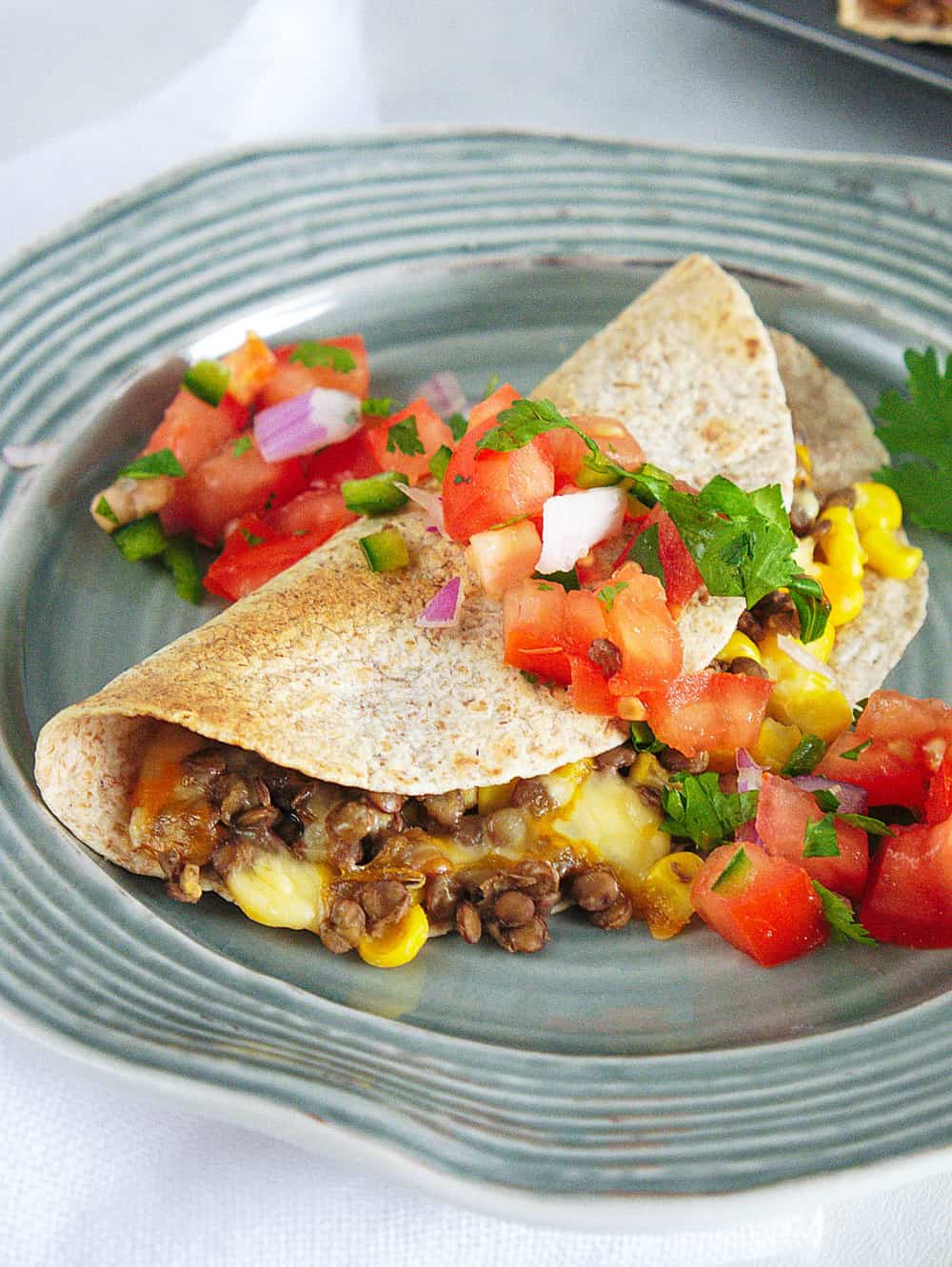 Veggie Burrito Bowl
This healthy and easy Vegetarian Burrito Bowl with black beans is packed with goodness and awesome flavors! It's one of those easy last-minute dinner recipes you can come back to again and again, and change it up with whatever you have on hand!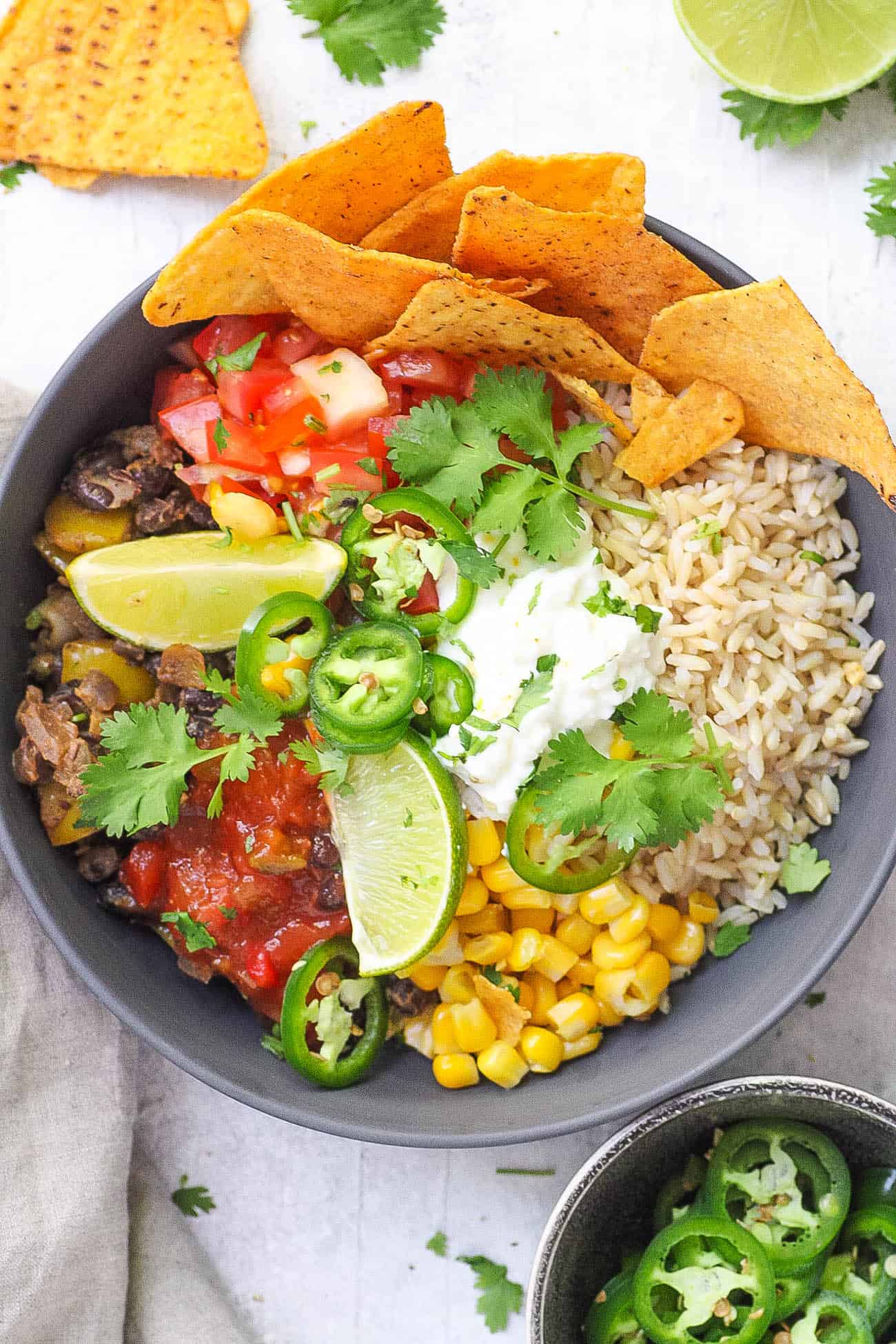 Sweet Potato Tacos
These hearty sweet potato tacos are loaded with refried black beans, and veggies, and topped with a spicy Greek Yogurt taco sauce.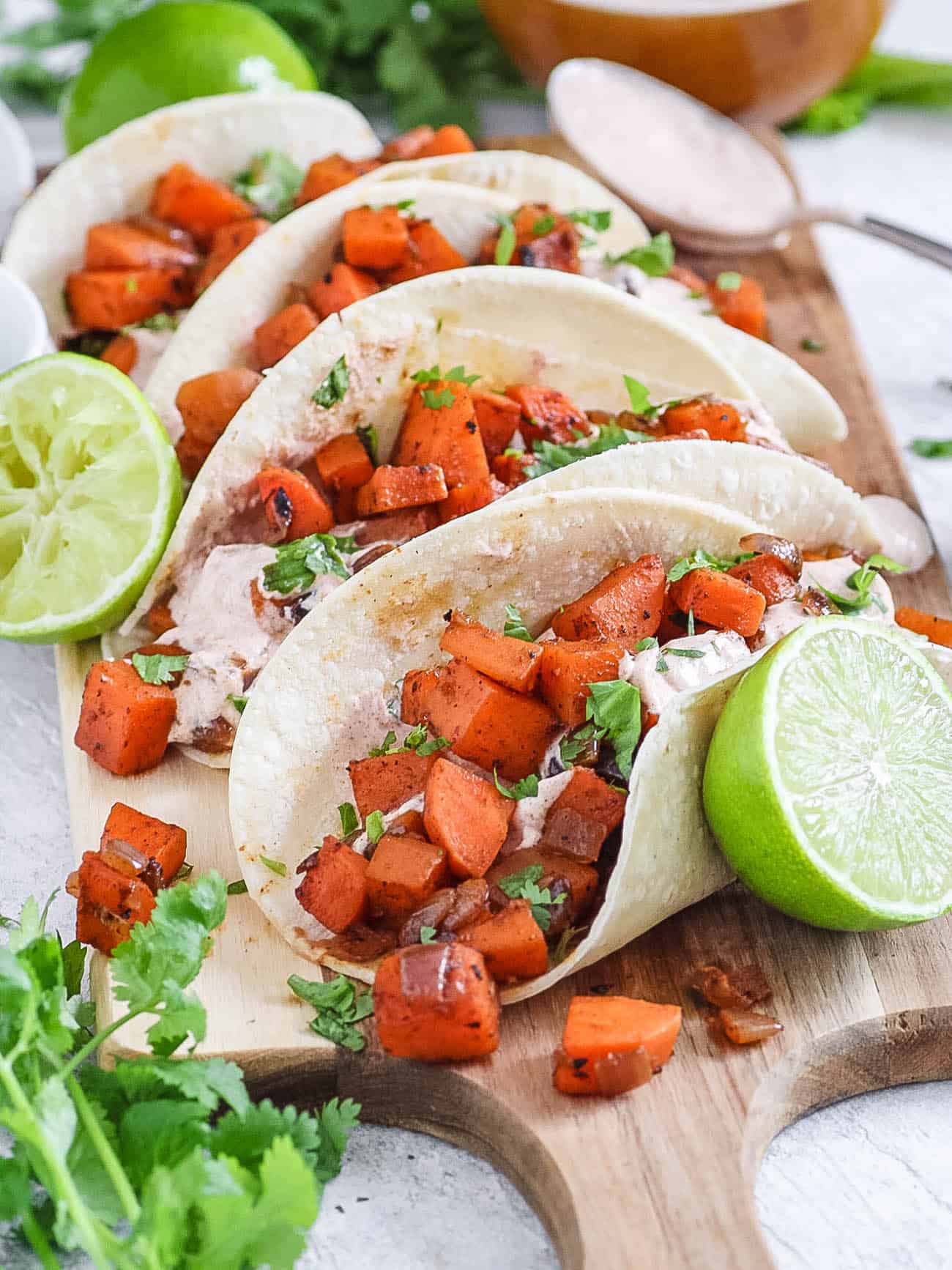 Veggie Quesadilla Recipe
This easy, healthy veggie quesadilla recipe is packed with gooey cheese, black beans, and crunchy veggies. Done in less than 30 minutes they make a great weeknight meal!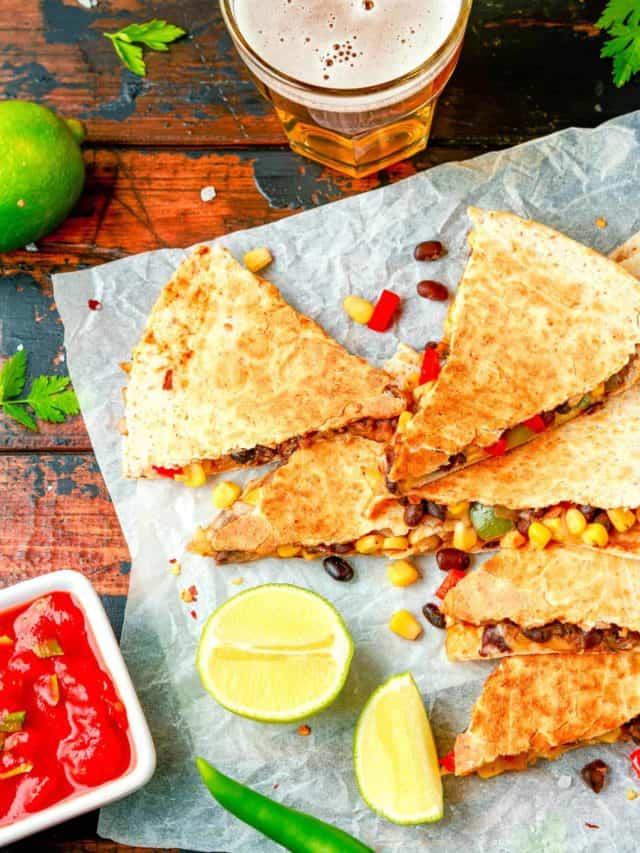 High Protein Veggie Burger
You should definitely have veggie burgers in your rotation of pantry meal recipes – because they are super easy to make! And this high-protein veggie burger recipe with black beans and vegetables is delicious! These burgers are hearty, healthy, great for making last minute meals, and the perfect comfort food.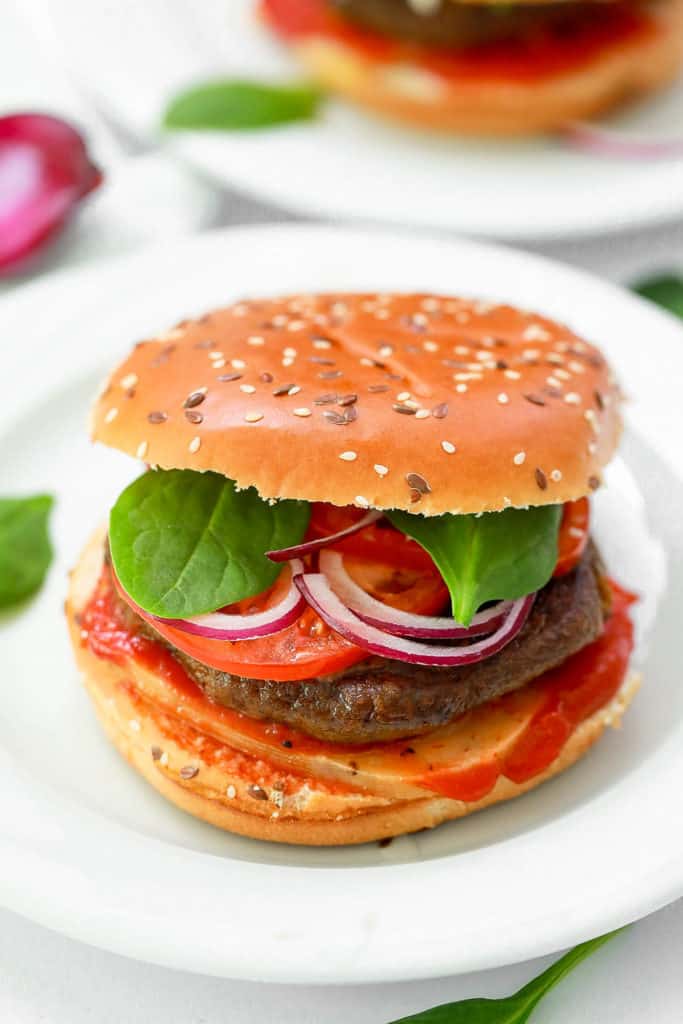 Black Bean Quinoa Cakes
These crispy quinoa patties are one of my favorite, quick last minute dinner ideas! Combine the creaminess of feta cheese with a distinct Mexican flair for the perfect blend of flavor and texture. Have leftover quinoa? This is a tasty, nutrient-dense way to reimagine it!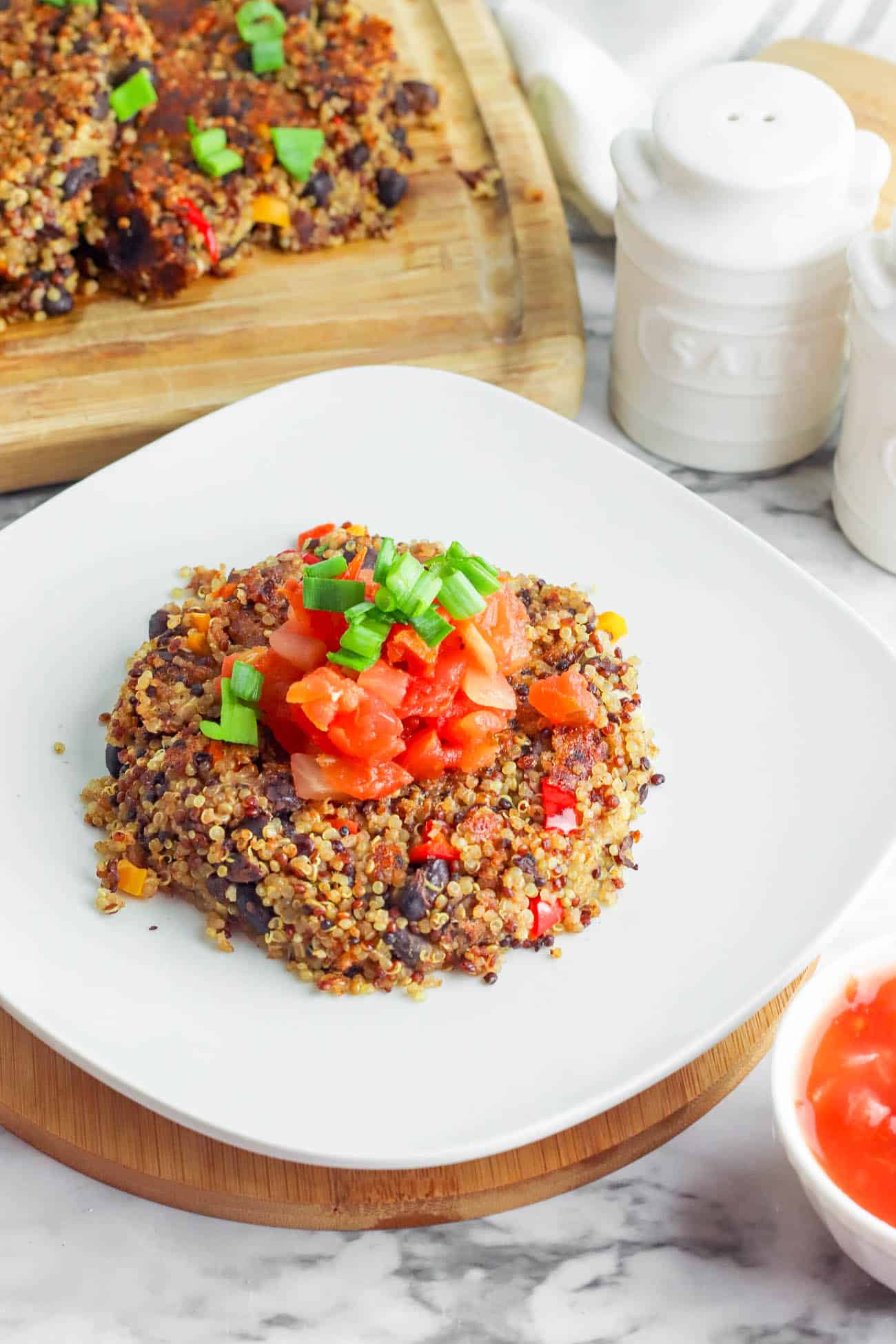 Garlic Bread Grilled Cheese
Grilled cheese is one of those fast dinner ideas that is a total crowd pleaser. And this Garlic Bread Grilled Cheese with French Onions is the ultimate gooey cheesy indulgent sandwich with a healthy twist. Packed with flavor and done in minutes, it's comfort food at its best!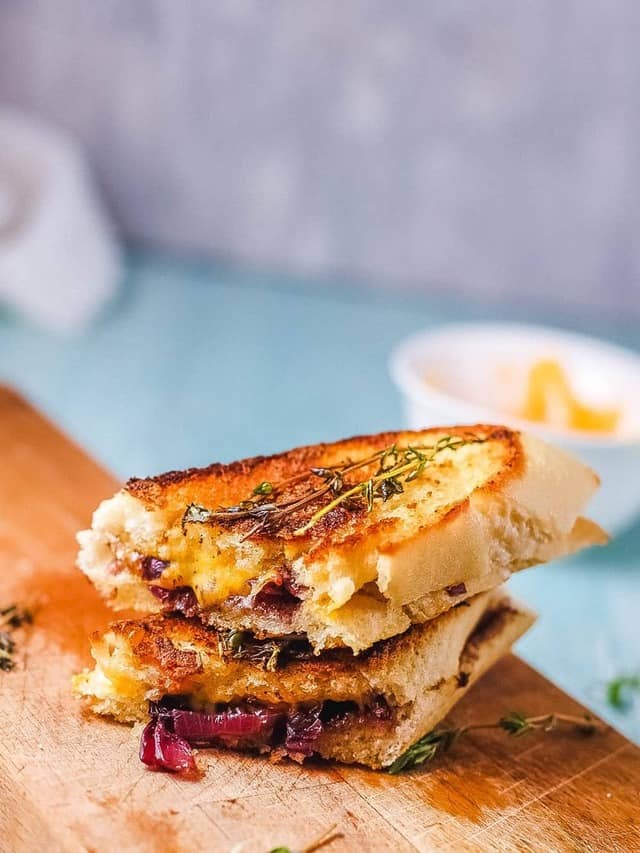 Vegetable Stir Fry Sauce with Lemon and Ginger
This healthy vegetable stir fry sauce tossed with fresh or frozen veggies, tofu and quinoa is a quick and easy vegan weeknight meal. The best part? You can literally throw anything in it and it will taste great. It's loaded with flavor from lemon and ginger, and is ready in just 15 minutes!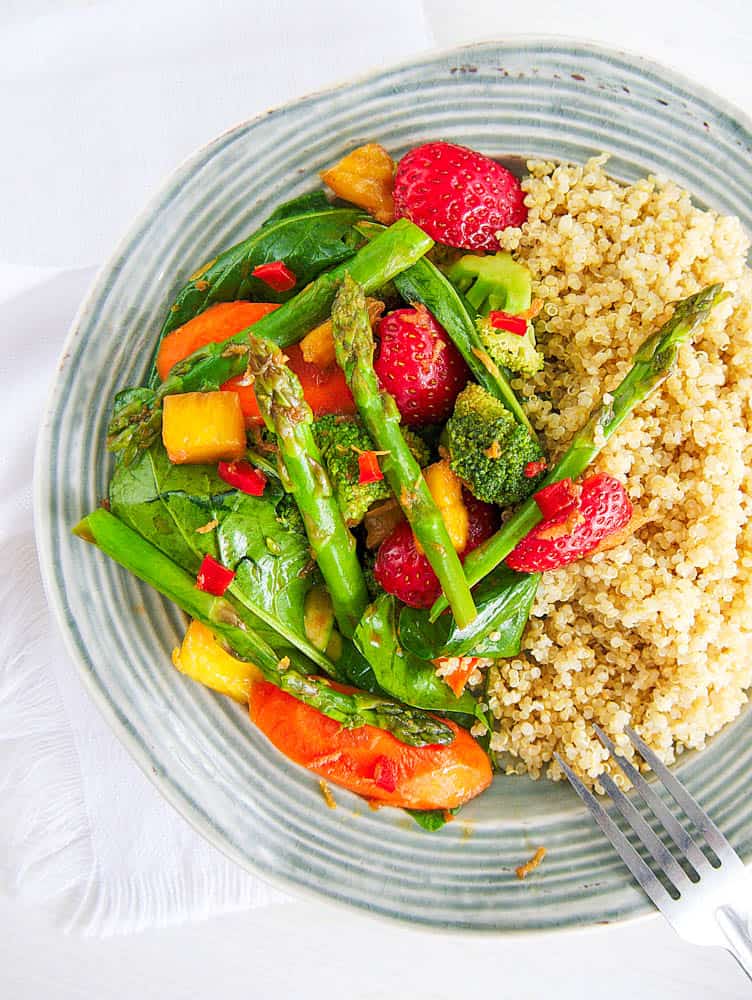 Mexican Taco Casserole
This healthy one pot meal is one of my go-to simple dinner ideas when you need to get dinner on the table in a hurry! Make a big batch and save half for dinner later in the week – it tastes even better the next day!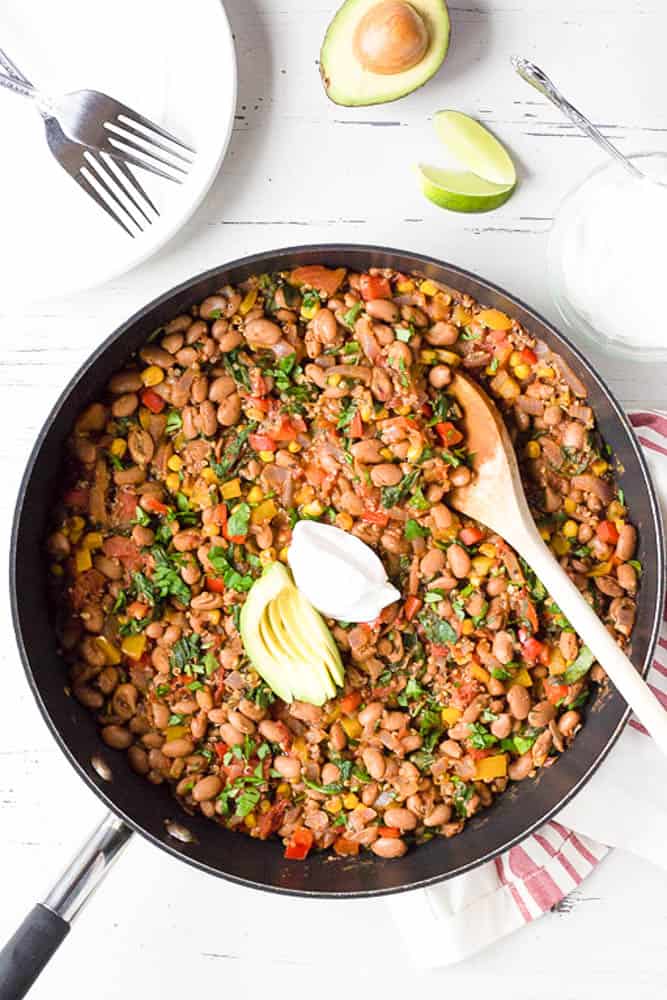 Budget Friendly Black Bean Burgers
These vegetarian black bean burgers are easy and quick to make, so they are perfect for a healthy weeknight meal.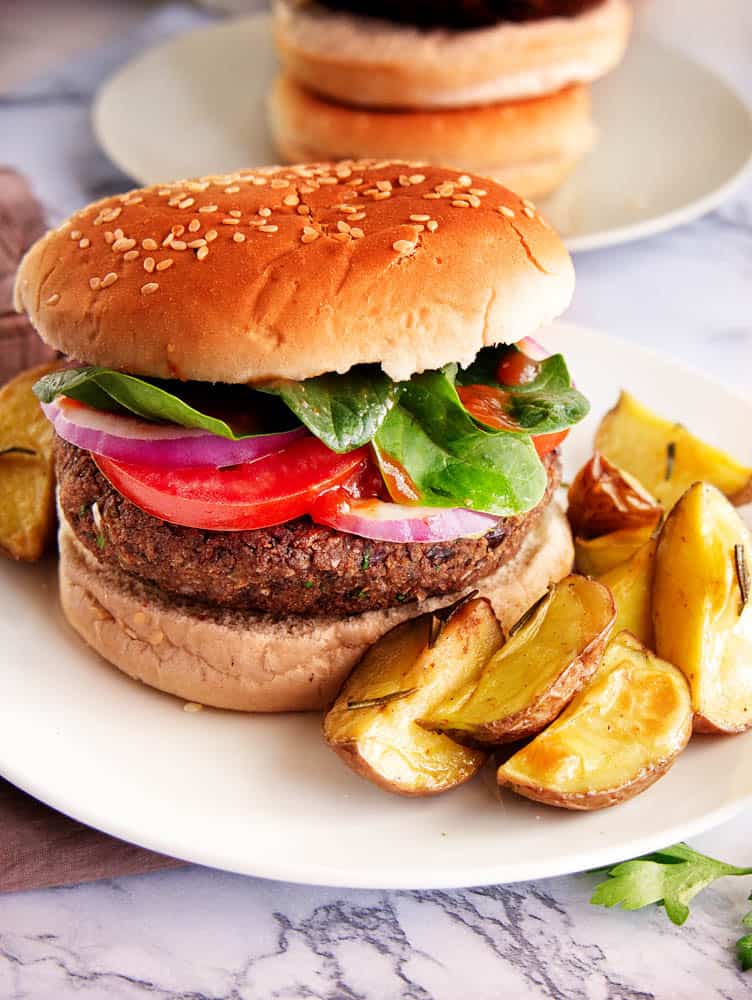 More Helpful Recipe Round-Ups!
If you have tried any of these last minute weeknight dinners, or any other recipe on my blog, then please rate it and let me know how it turned out in the comments below! You can also FOLLOW ME on FACEBOOK, TWITTER, INSTAGRAM and PINTEREST to see more delicious, healthy, family-friendly food!
16 responses to "30 Last-Minute Dinner Ideas For The Whole Family"