The Picky Eater Meal Plan (Week 6)
This post may contain affiliate links. As an Amazon Associate, I earn from qualifying purchases. Please read my disclosure.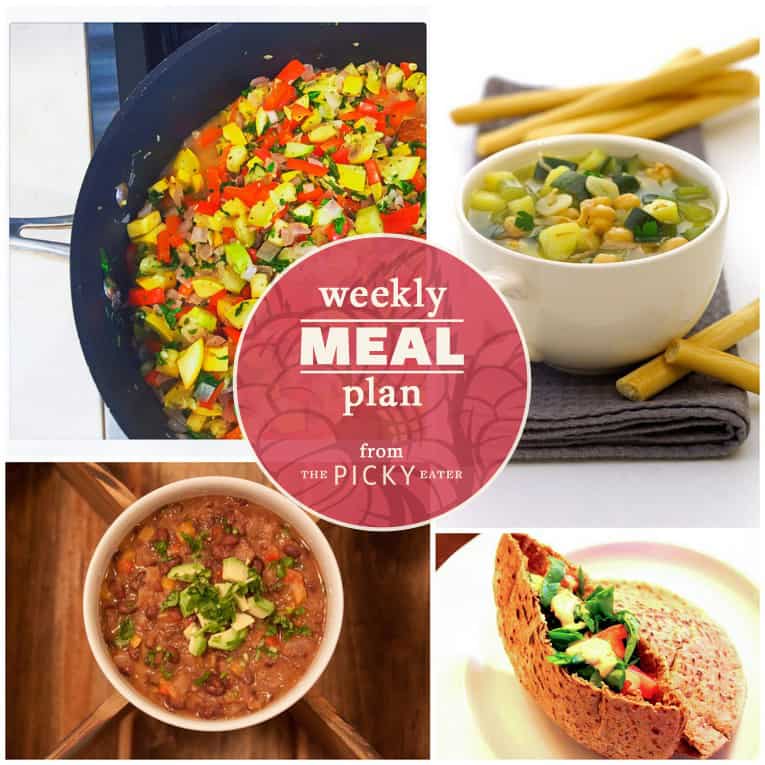 Oh man, this week has been rough because I literally contracted the viral plague from Layla! Ok, maybe not the viral plague, but it was a really brutal cough/cold/body aches situation. So our dinner plans got totally thrown off by my inability to function!
The result was a slightly modified plan for this week, but I'm still excited for some upcoming yummy meals on our menu now that I'm on the road to recovery 🙂
If you're looking for quick and easy meals you can make in under 30 minutes, check out my !5 Pantry Meals!
Our dinner plan this week:
Monday: Broth based soup for my sore throat — > I literally took veggie broth, Italian spices, salt, pepper and some prechopped vegetables and cooked them for a long time. Served it with a slice of sprouted grain bread and 1 slice of cheese melted on top.
Tuesday: More simple soup, and a grilled cheese on sprouted wheat bread (2 slices Sprouted Wheat Bread + 1.5 slices PepperJack cheese)
Wednesday: Chunky Black Bean Soup –> Clearly I'm in a soup mood this week thanks to my bad cold! We topped this with avocado, Greek Yogurt, shredded Mexican Cheese, and crumbled tortilla chips. YUM.
Thursday: Simple Stuffed Pita Pockets –> This week, I'm going to use: Feta, Hummus, diced red peppers, baby spinach, diced tomatoes, diced red onions, salt, pepper, and minced kalamata olives for our filling!
Friday: Leftovers!
Saturday: Date night!
Sunday: Pasta Primavera –> Topped with shredded Parmesan cheese!
4 responses to "The Picky Eater Meal Plan (Week 6)"