The Picky Eater Meal Plan (Week 8)
This post may contain affiliate links. As an Amazon Associate, I earn from qualifying purchases. Please read my disclosure.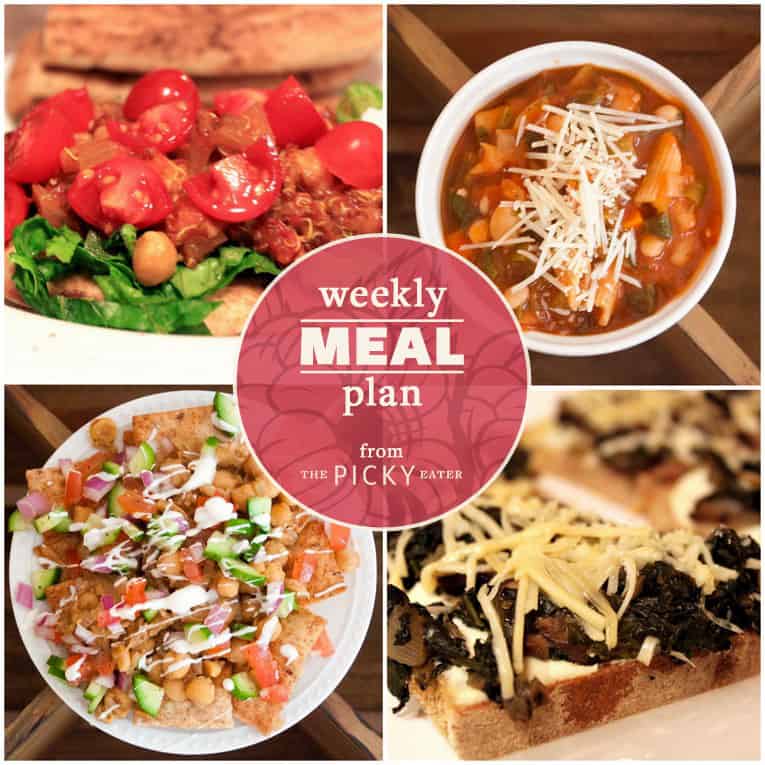 The past two weeks have been kind of crazy in our house! I was traveling for almost an entire week, and then the husband was traveling for almost an entire week. So basically, not much cooking got done. The night before I left for my trip, I made my Veggie Lasagna – which Layla and the husband ate for 4 days 🙂
And the day I got back from my trip, I made this Tuscan Chickpea Soup – and I added an entire box of baby spinach to it – which Layla and I ate for another 4 days. Outside of those two home cooked meals, we did a lot of Whole Foods Salad Bar takeout and frozen leftovers: since most of my recipes are freezer friendly, I freeze half of a lot of the recipes I make for instances like this!
But as of today we are all back in town and back on track.
If you're looking for quick and easy meals you can make in under 30 minutes, check out my !5 Pantry Meals!
Here's what I'm cooking this week:
Monday: Spicy Tomato, White Bean and Vegetable Stew
Tuesday: Mushroom and Spinach Tartines with Roasted Garlic Spread –> I like making these on sprouted wheat bread to amp up the fiber and protein!
Wednesday: Leftover Soup!
Thursday: Curried Chickpea and Quinoa Flatbread –> You can make this on naan for a more indulgent meal, or on a sprouted wheat tortilla for a healthier meal! This can also be used as a filling for whole wheat pitas, or in a wrap (with a sprouted wheat tortilla).
Friday: Healthy takeout! We usually like to order from a mediterranean place near our house that has amazing salads and soups (and we get a few falafel balls to crumble on top of our salad).
Saturday: Greek Nachos with Baked Chickpeas
Sunday: Leftovers!
6 responses to "The Picky Eater Meal Plan (Week 8)"