Oat Flour Chocolate Chip Cookies
This post may contain affiliate links. As an Amazon Associate, I earn from qualifying purchases. Please read my disclosure.
These oat flour chocolate chip cookies will make you rethink your traditional chocolate chip cookies. Made with homemade oat flour and brown sugar, they're soft, chewy, and incredibly delicious! They're the perfect treat for anyone looking to satisfy their cookie cravings with a healthier alternative, and they're naturally gluten-free too!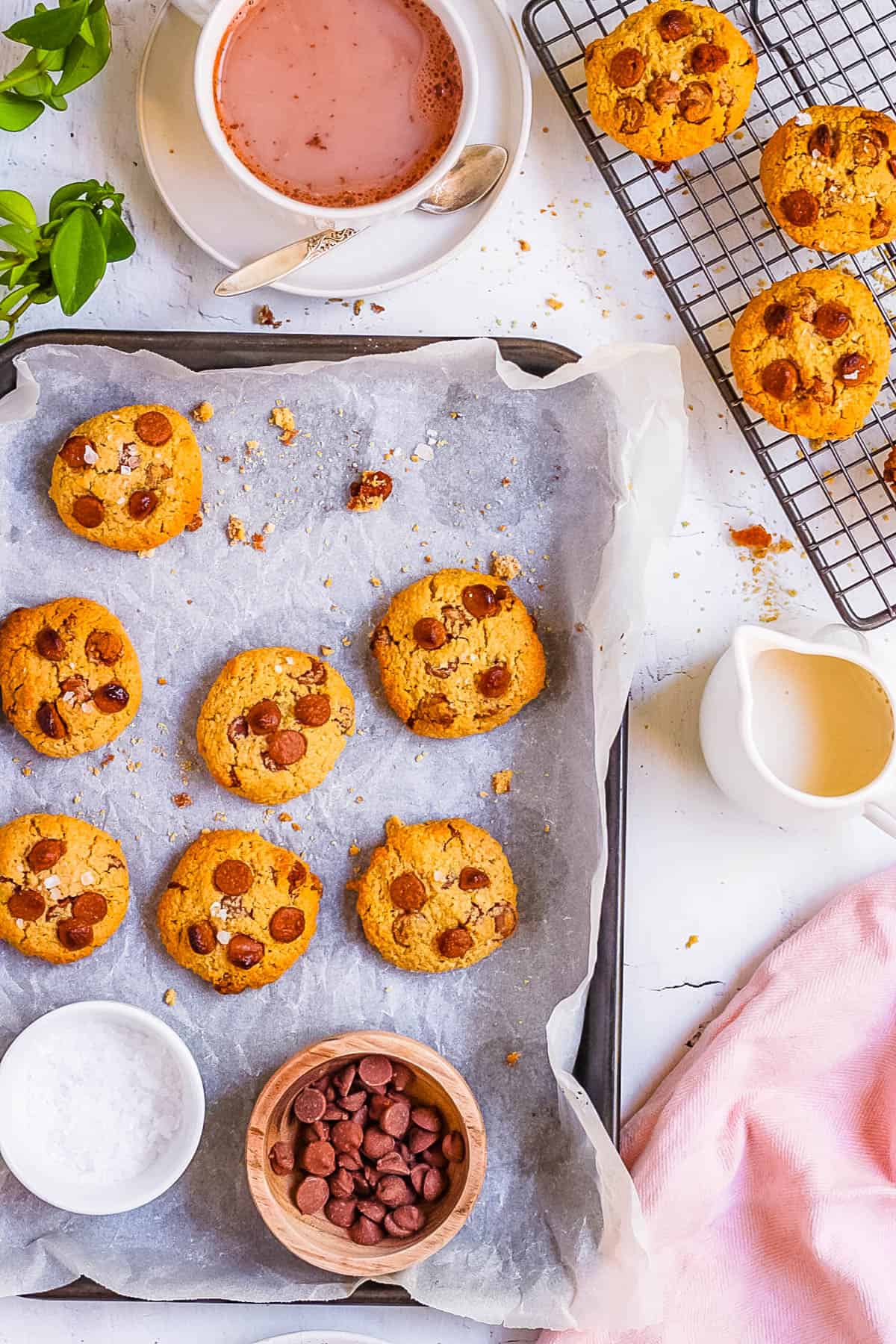 These oat flour chocolate chip cookies are a great example of how plant-based recipes can be just as tasty, if not more so, than their non-vegan counterparts!
The use of wholesome oat flour gives these cookies a unique texture that's both chewy and crispy, making them truly stand out. Plus, they're made with brown sugar and vegan butter, which add a rich, caramel-like flavor that's simply irresistible.
The main ingredients in these gluten-free cookies are oat flour, brown sugar, and dark chocolate chips. The oat flour gives the cookies a hearty, wholesome flavor, while the brown sugar adds a touch of sweetness that perfectly complements the bitterness of the dark chocolate chips.
These gooey oat flour cookies are not just delicious but also super versatile! You can customize them with your favorite add-ins, such as nuts or dried fruits, to make them even more special. Plus, they're easy to store in an airtight container, so you can always have a healthy snack on hand.
If you can't find oatmeal flour, don't worry, it's actually super simple to make it at home. All you need is a bag of rolled oats and a high-speed blender. Blend the oats until they look fine and flour-like, then use them in all your favorite oat flour recipes! Remember to purchase gluten-free oats if you're gluten intolerant.
Perfect Texture: These delicious oat flour cookies have perfectly crisp edges with soft centers that are absolutely irresistible!
Quick And Easy: This perfect recipe is a breeze to whip up. With simple instructions and a short baking time, you can have delicious cookies ready in just 20 minutes. Perfect for satisfying those sudden cookie cravings!
Gluten-Free: These chocolate chip cookies with oat flour are a great option for those with gluten sensitivities. They're just as gooey and chewy as regular chocolate chip cookies but without the gluten!
Perfect For Beginner Bakers: This gluten-free recipe is straightforward and easy to follow, making it perfect for beginner bakers. Plus, the dough is forgiving, so even if you're not a pro at making cookies, these will still turn out great.
Family Friendly: These oat chocolate chip cookies are sure to be a hit with the whole family. They're soft, chewy, and packed with chocolate chips – what's not to love? Plus, they're kid-friendly, both to eat and to help make.
Latest Recipe Video!
🥘 Ingredients
These healthy oat flour cookies call for just seven simple ingredients you can easily find in your local grocery store!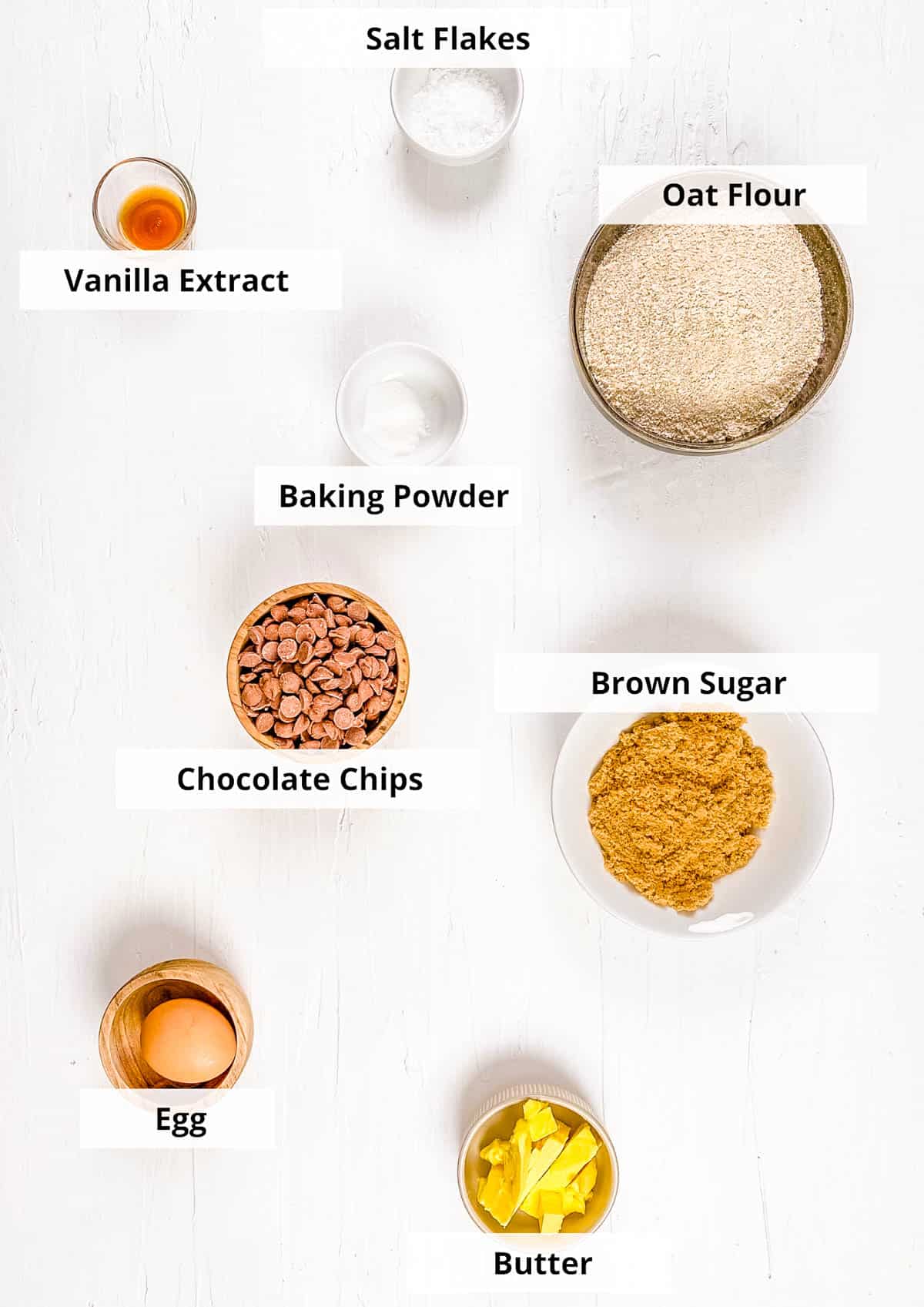 Butter: Softened at room temperature, butter is the foundation of our cookie dough, contributing to its rich and creamy texture. Remember to use room temperature butter for the best texture.
Brown Sugar: This sweetener gives these oat flour chocolate chunk cookies a delightful moistness and adds a hint of caramel flavor. Brown sugar also contributes to the lovely golden color of our cookies.
Egg: Acting as a binder, the egg holds our cookie dough together and gives these soft cookies a nice lift.
Vanilla Extract: A dash of vanilla extract enhances the flavors in the cookies, giving them a warm, aromatic depth that pairs beautifully with the chocolate chips.
Oat Flour: This is the star of the show, giving our cookies a wholesome, nutty flavor. It also makes this chocolate chip cookie recipe with oat flour naturally gluten-free, perfect for those with gluten sensitivity. Remember, store-bought oat flour tends to be finer than the homemade version, so use that if you can but you can definitely make your own oat flour for this recipe if you need to!
Baking Powder: A little bit of baking powder gives this cookie recipe with oat flour the perfect lift, making them light and fluffy on the inside.
Chocolate Chips: What's a chocolate chip cookie without the chocolate chips? They add a burst of chocolatey goodness in every bite. We reserve some to top the cookies for an extra chocolate hit.
Sea Salt Flakes: An optional ingredient, a sprinkle of sea salt flakes on top of the cookies enhances the sweet flavors and gives a nice contrast.
🍲 Ingredient Substitutions
Butter: For this oat flour chocolate chip cookies recipe, you can substitute the butter with vegan butter or coconut oil. Both options should be at room temperature for the best results.
Brown Sugar: You can replace the brown sugar with coconut sugar or light brown sugar. Both options will give your gluten free oat flour cookies a delicious caramel-like flavor. You can also use white sugar but it will slightly change the texture of your cookies.
Egg: A flax egg is a great plant-based substitute for a regular egg. To make a flax egg, mix one tablespoon of ground flaxseed with three tablespoons of water, then let it sit for about 5 minutes until it thickens.
Oat Flour: This is the star ingredient in our gluten-free oat flour cookies, and it's necessary for the recipe. If you can't find store-bought oat flour, you can make homemade oat flour using a food processor or a high-powered blender. A gluten free all purpose flour mixture would also work, but then these wouldn't be oat flour cookies! 🙂
Chocolate Chips: You can use dark chocolate chips for a healthier option or even vegan chocolate chips if you prefer. Chocolate chunks work great, too!
Ready to satisfy your cookie cravings with a healthier twist? Here's how to make gluten-free chocolate chip cookies with oatmeal flour that are delicious and perfect for those with gluten sensitivity. For a more detailed step-by-step guide and nutrition facts, see the recipe card at the end of this post.
Heat Oven And Prepare Baking Sheet: Start by preheating your oven to 340 degrees F / 170 C. Line a baking sheet with parchment paper and set it aside.
Cream Butter: Using a stand mixer, cream together softened butter and coconut sugar until it becomes light and fluffy.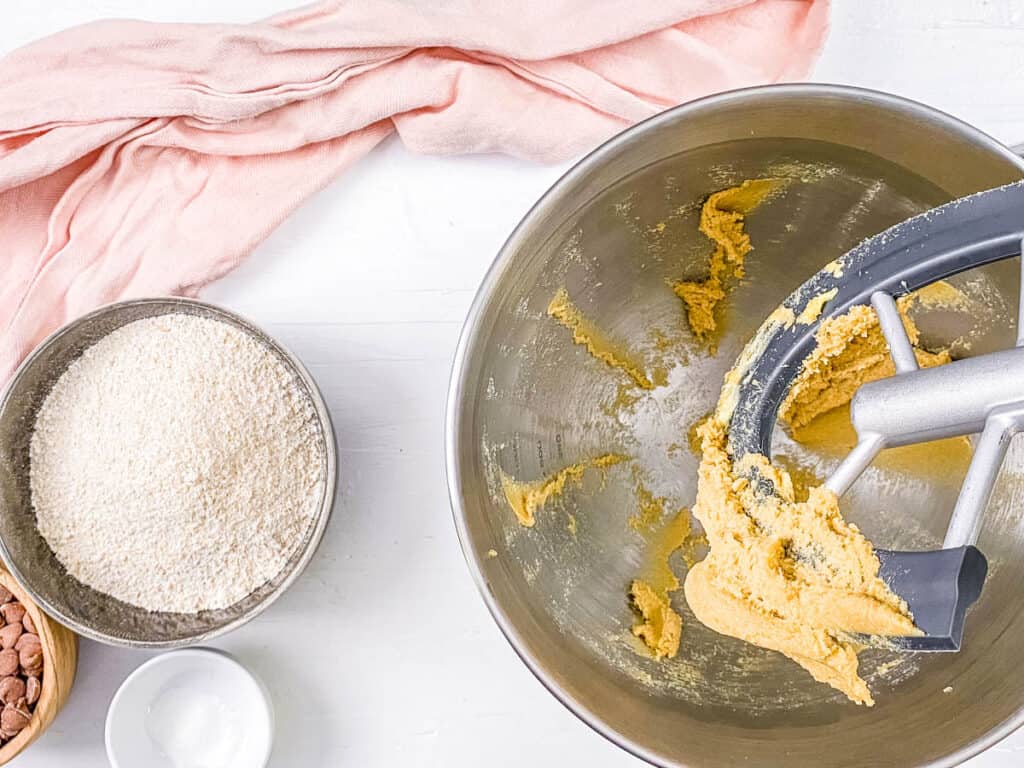 Add Wet Ingredients: Next, incorporate the egg and vanilla extract into the butter and sugar mixture. Continue to whisk until these wet ingredients are well mixed.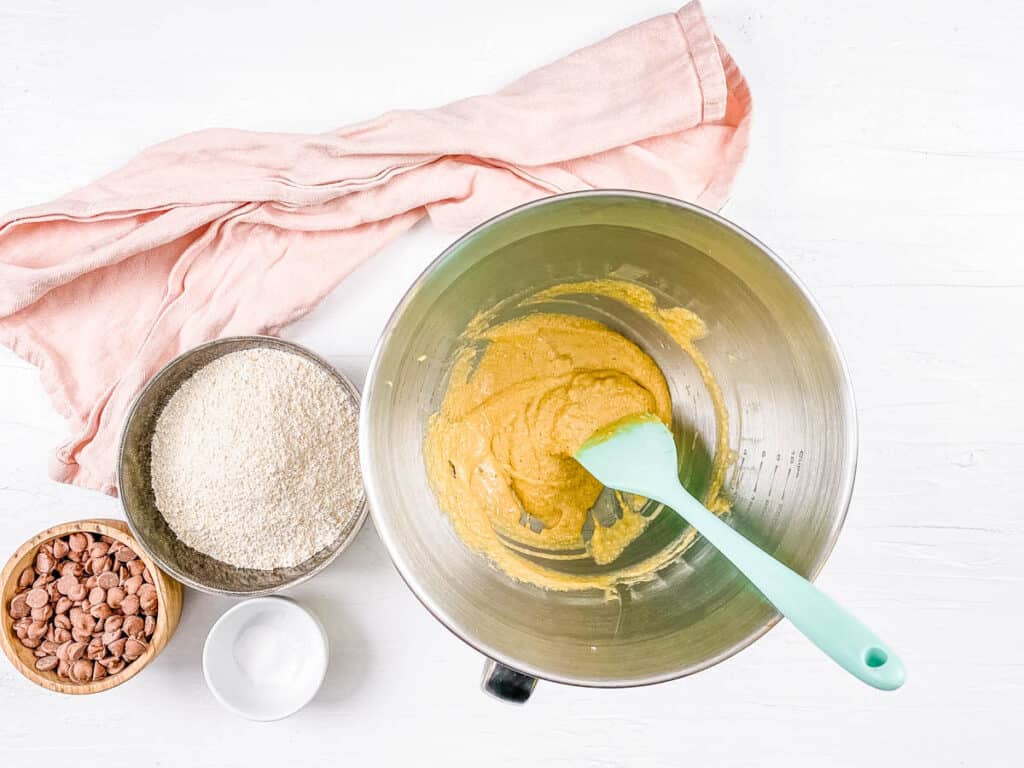 Add Dry Ingredients: Add the rest of the ingredients, except for the salt flakes, into the mixture. Stir them in until a cookie dough forms.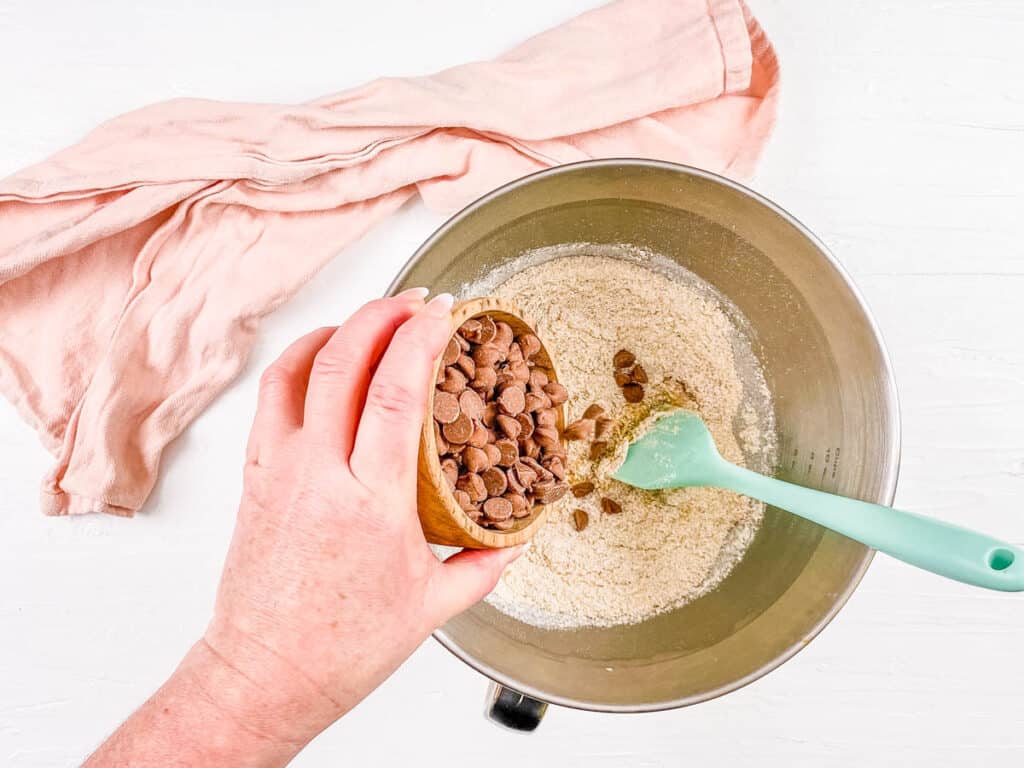 Chill The Cookie Dough: Place your oat flour cookie dough in the fridge for about 30 minutes.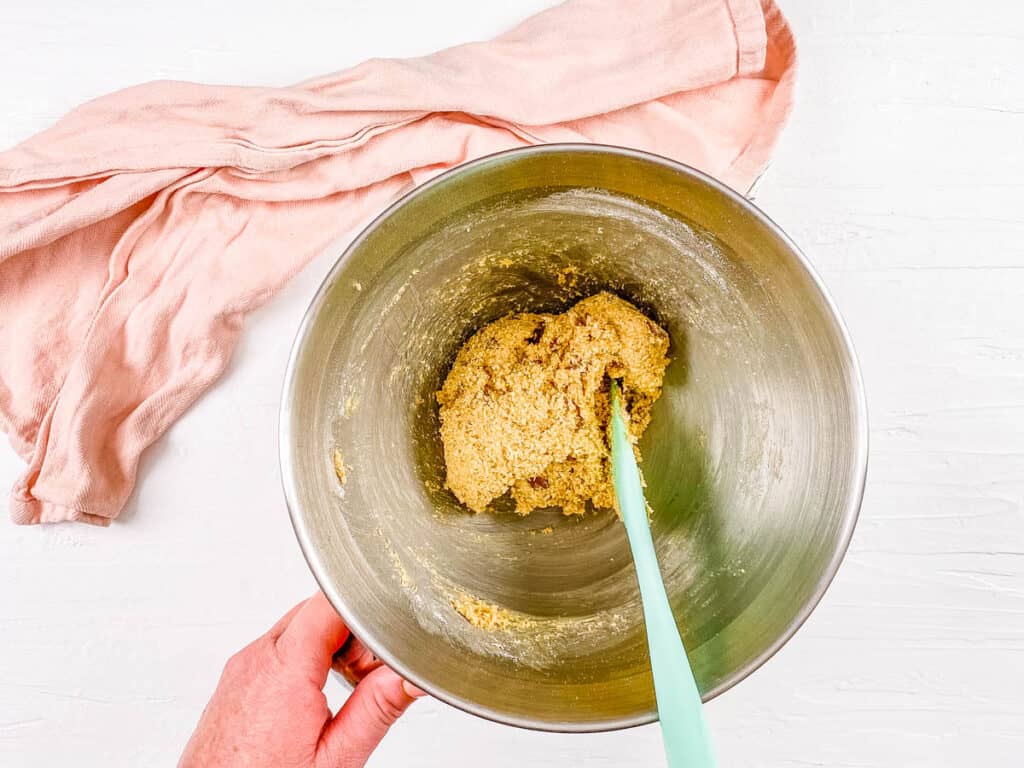 Shape Your Cookies: Scoop out a tablespoon-sized amount of dough and roll it into balls. Place these on your prepared baking sheet and gently press down, leaving space for the cookies to spread.
Add Chocolate Chips And Salt: Press several dark chocolate chips into the top of each cookie and sprinkle with a pinch of salt flakes if you're using them.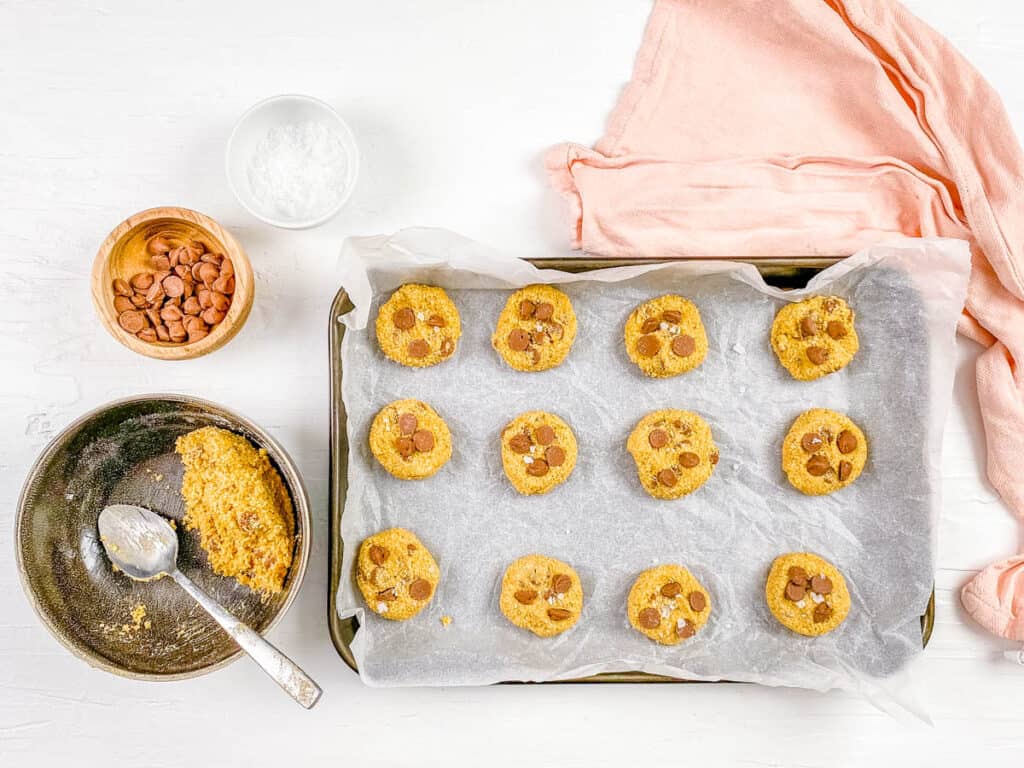 Bake Cookies: Repeat the process with the remaining cookie dough and bake in the preheated oven for 8-10 minutes, or until lightly golden.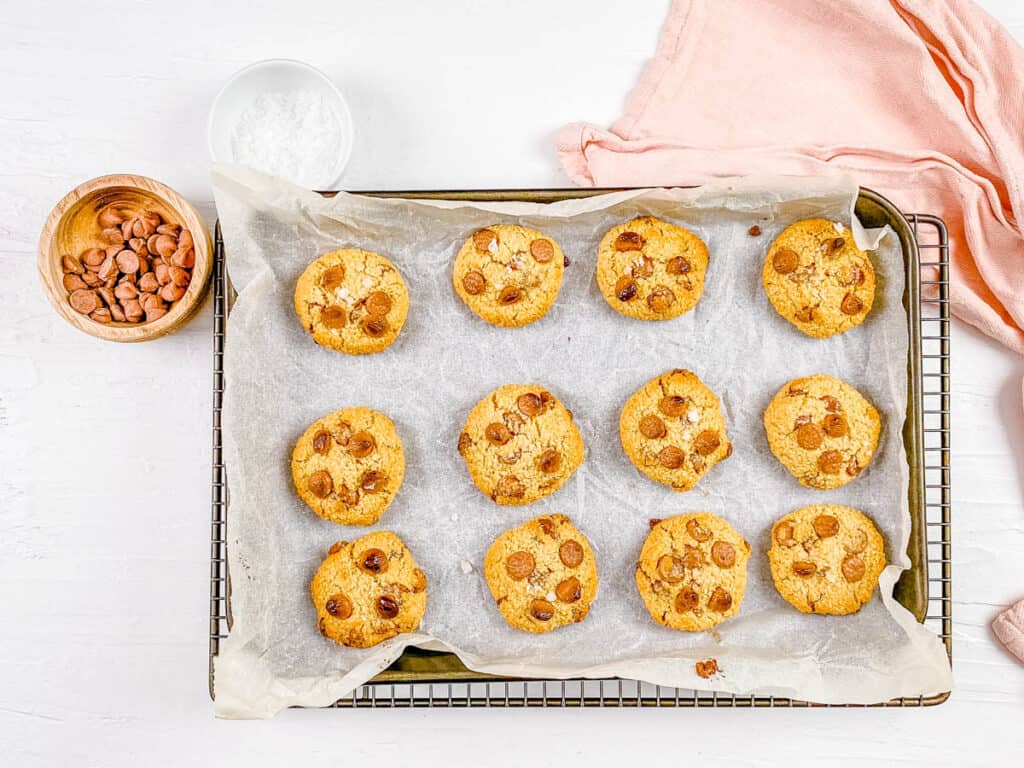 Cool Your Cookies: Once out of the oven, allow your gf chocolate chip oatmeal cookies to cool completely on a cooling rack.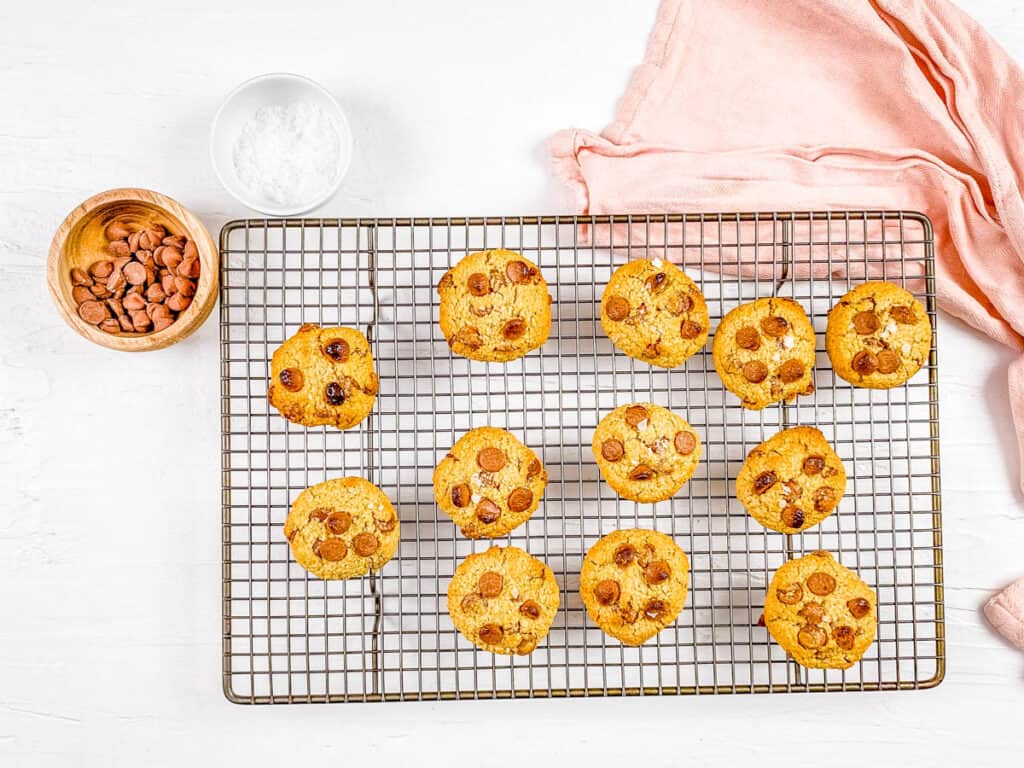 💭 Expert Tips
Chill Your Dough: To achieve the best results, let your cookie dough rest in the fridge for about 30 minutes before baking. This allows the oat flour to absorb the moisture and prevents the cookies from becoming too thin.
Use Room Temperature Butter: Room temperature butter whips better, giving your oat flour cookies the best texture. If you forgot to let your butter sit out, you can warm it in the microwave in 5-second increments, but be careful not to melt it.
Choose Your Cookie Texture: If you prefer crispier cookies, bake them for 10 minutes. If you love soft, chewy cookies, bake for only 8 minutes.
Don't Skip The Cooling Step: Allow your chocolate chip oat flour cookies to cool completely on a cooling rack before serving. This step is crucial as it helps the cookies hold their shape and not fall apart.
📖 Variations
Extra Crunchy Oat Flour Cookies: If you're a fan of crispier cookies, simply bake your oatmeal flour cookies for 10 minutes instead of 8. This extra time in the oven will give your cookies a lovely golden color and a delightfully crispy texture.
Protein-Packed Cookies: Looking to add a bit of protein to your sweet treat? Try adding a scoop of your favorite protein powder to the dry ingredients. This not only boosts the protein content but also gives a unique flavor to your cookies.
Double Chocolate Oat Flour Cookies: For all the chocolate lovers out there, this variation is for you. Add 2 tablespoons of cocoa powder to your dry ingredients for an extra chocolatey treat. Remember to adjust the amount of oat flour to ensure your cookie dough has the right consistency.
Oat Flour Cookies With Mix-Ins: Feel free to get creative and add your favorite mix-ins to the cookie dough. Chopped pecans, walnuts, dried coconut, dried cranberries, white chocolate chips, dark chocolate chips, or even chopped pretzels can add an exciting twist to your classic chocolate chip cookies. Just make sure to adjust the baking time if necessary, depending on your added ingredients.
🍽 Serving Suggestions
This easy oat flour cookies recipe is not just for dessert! They can be a delicious addition to a variety of meals and occasions. Here are some serving suggestions to help you enjoy these delicious cookies in different ways:
Breakfast: Start your day with a cookie or two paired with a refreshing mixed berry smoothie, biscoff latte, or oatmilk honey latte. or a warm cup of coffee. They can also be a great addition to this pumpkin yogurt parfait or a bowl of bananas and cream oatmeal for a hearty breakfast.
Snack Time: These oat flour cookies with chocolate chips make for a perfect snack. Pair them with a glass of almond milk or a cup of herbal tea for a mid-day treat. They also work well with this breakfast fruit salad or a handful of nuts for a balanced snack.
Dessert: Serve these cookies as a dessert after a healthy main course. They pair well with vegan matcha ice cream or vegan vanilla pudding. You can also crumble them over a bowl of plant-based yogurt for a quick and easy dessert.
🙌 Dietary Adaptations
This oat flour chocolate chip cookie recipe is naturally gluten free and only needs a few tweaks to be fully vegan and dairy-free. Here's how you can adapt the recipe ingredients:
Vegan Oat Flour Cookies: For those with dietary restrictions, try this vegan version of the recipe. Replace the butter with vegan butter or coconut oil – I personally prefer using Earth Balance vegan buttery sticks for a great taste and texture. You'll also want to use a flax egg instead of a regular egg. To make a flax egg, just mix 1 tablespoon of ground flaxseed with 2.5 tablespoons of water and let it sit for about 5 minutes until it thickens. Don't forget to use vegan-friendly chocolate chips as well!
Dairy-Free Option: The original recipe calls for butter and one egg. To make these oat flour cookies dairy-free, substitute the butter with an equal amount of vegan butter or coconut oil. Both are great alternatives that will still give you delicious cookies with crispy edges.
🫙 Storage Directions
To Refrigerate: Once your oatmeal flour chocolate chip cookies have cooled completely on a cooling rack, store them in an airtight container at room temperature for up to a week. If you prefer them chilled, you can keep them in the refrigerator for the same duration.
To Freeze (Baked): These cookies made with oat flour freeze well too! Simply place the cooled cookies in a freezer-safe airtight container, separating layers with parchment paper to avoid sticking. They can be frozen for up to 3 months.
To Freeze (Unbaked): Alternatively, you can also freeze the cookie dough. Scoop the dough using a cookie scoop onto a cookie sheet lined with parchment paper, then freeze until solid. Once frozen, transfer the cookie dough balls into a freezer-safe bag or container for up to 3 months. When ready to bake, no need to thaw – just add a couple of extra minutes to the baking time.
❓ Recipe FAQs
Can I replace flour with oat flour in cookies?
Absolutely! Oat flour has a similar texture to white flour and is a fantastic substitute in cookie recipes. However, keep in mind that oat flour absorbs more liquid, so it's not a 1:1 substitution. I'd recommend using a recipe that specifically calls for oat or oatmeal flour for the best results.
Is oat flour healthier than white flour?
Yes! Oat flour is made with the entire oat and is rich in protein, dietary fiber, and minerals. One third cup of oat flour contains about 7 grams of protein and 4 grams of fiber. It's also rich in chromium, magnesium, biotin, copper, manganese, and phosphorus. On the other hand, white flour is higher in calories and lacks these beneficial nutrients.
How do I prevent the cookies from spreading too much while baking?
Typically, cookies will spread too much because the fat in the cookie dough melts in the oven, and if there isn't enough flour to hold that fat, the cookies will spread. The best way to prevent this is to 1) make sure you chill the dough! and 2) spoon and level your flour when you measure it, or add just a little bit of extra flour to the cookie dough before baking.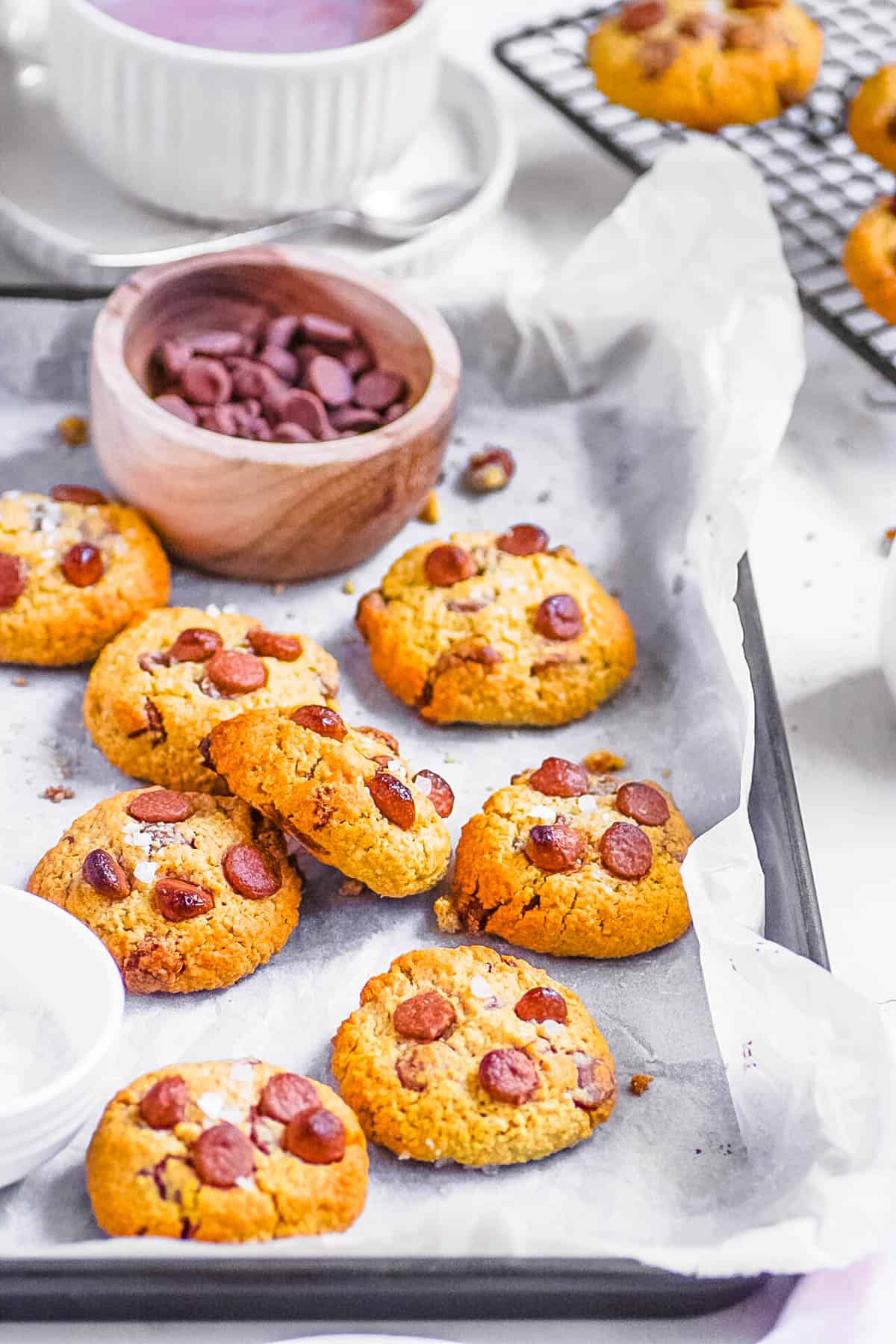 Love this plant based dessert recipe? Please leave a 5-star rating 🌟 in the recipe below and/or a review in the comments section further down the page!
You can also FOLLOW ME on FACEBOOK, TWITTER, INSTAGRAM, and PINTEREST to see more delicious, healthy, family-friendly food, and if you have any questions, I'm here to help!
📋 Recipe Card
Print Recipe
Oat Flour Chocolate Chip Cookies
Oat flour chocolate chip cookies that are soft, chewy, and dangerously delicious! With golden, crisp edges and soft middles, these cookies disappear quickly. Naturally gluten-free & kid-friendly!
Instructions
Preheat the oven to 340 degrees F / 170 C. Line a baking sheet with parchment paper and set aside.

In a stand mixer cream the softened butter and sugar.

When light and fluffy add the egg and vanilla extract and continue to whisk until well incorporated.

Add the remaining ingredients, except the salt flakes, and stir to form a dough.

Place the dough in the fridge for 30 minutes.

Scoop out a tablespoon size of dough and roll into balls. Place on the prepared baking sheet, gently press down and allow space for the cookies to spread. Press several chocolate chips into the top of the cookie and sprinkle with a pinch of salt flakes if using.

Repeat with remaining cookie dough.

Bake in the preheated oven for 8-10 minutes or until lightly golden.

Remove and allow to cool completely on a cooling rack.

Store cookies in an airtight container in a cool dry place for up to 5 days.
Notes
Cookie dough recipe can be doubled if needed.
Rest the dough in the fridge for 30 minutes helps the oat flour to absorb the moisture.
If you find the dough a little sticky lightly wet your hands to roll into balls.
Cookie dough can be prepared ahead of time, rolled into balls and either frozen for up to 3 months or kept in the fridge for up to 2 days before cooking.
To make this vegan friendly, substitute the butter, chocolate chips and egg with vegan butter, a flax egg, and vegan chocolate chips.
Nutrition
Serving:
1
cookie
|
Calories:
174
kcal
|
Carbohydrates:
25
g
|
Protein:
4
g
|
Fat:
6
g
|
Saturated Fat:
3
g
|
Polyunsaturated Fat:
1
g
|
Monounsaturated Fat:
1
g
|
Trans Fat:
0.1
g
|
Cholesterol:
17
mg
|
Sodium:
32
mg
|
Potassium:
110
mg
|
Fiber:
2
g
|
Sugar:
9
g
18 responses to "Oat Flour Chocolate Chip Cookies"