Hummus Without Garlic (No Garlic Hummus!)
This post may contain affiliate links. As an Amazon Associate, I earn from qualifying purchases. Please read my disclosure.
Hummus without garlic is smooth, creamy, and so fresh! With only seven ingredients and a few simple steps, you can make your own homemade hummus. It's quick, easy, and way better than store-bought. Vegan, gluten-free, & plant-based too!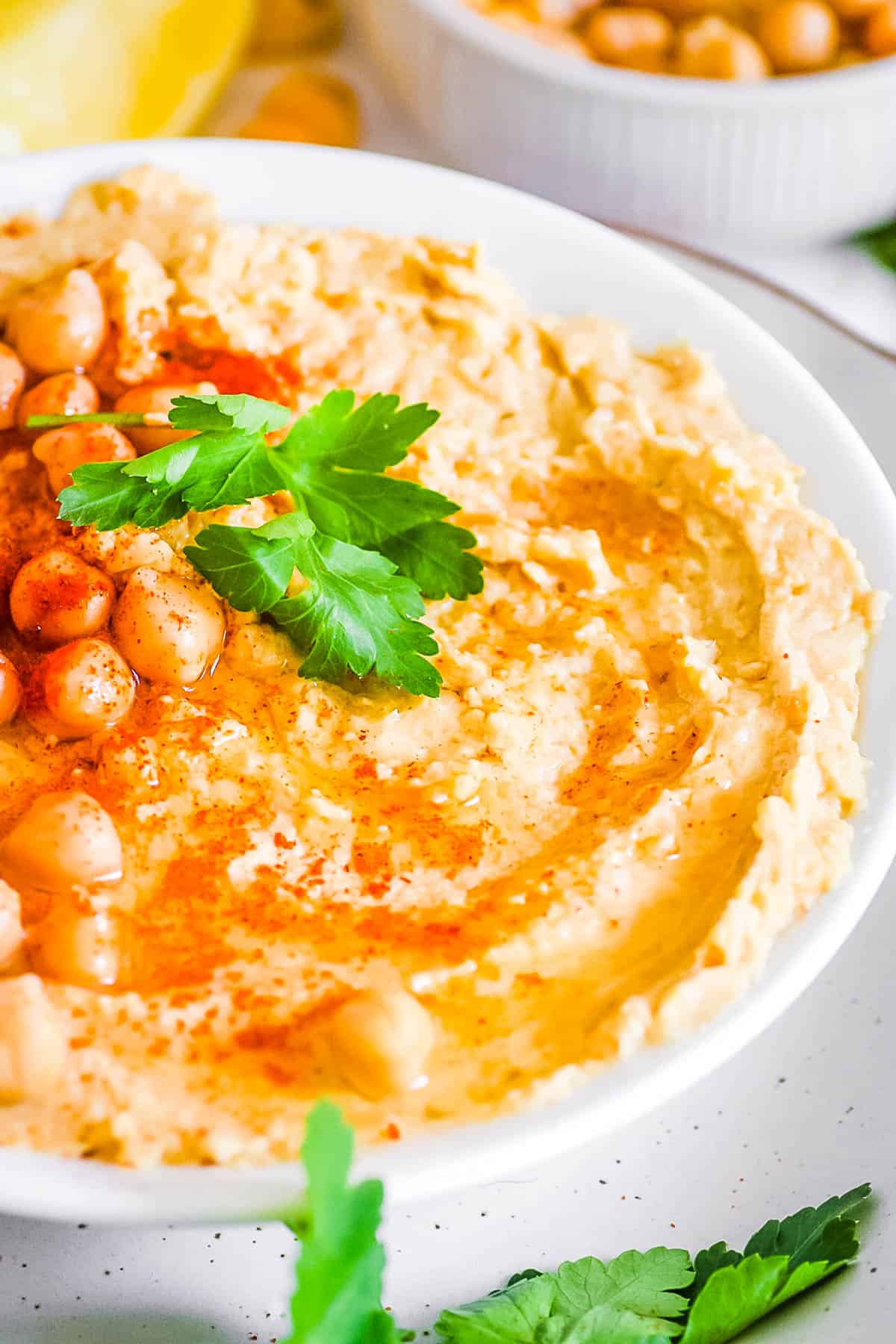 Nothing rivals the taste of fresh, velvety smooth hummus. It's creamy yet light, packed with plant-based protein, and super simple to make! The main ingredient is the humble chickpea, with plenty of dietary fiber, complex carbs, and healthy fat.
Latest Recipe Video!
Each recipe seems to have its own secret to the creamiest hummus, but I like to keep it simple. I've found that as long as you start with soft chickpeas, this garlic free hummus comes out perfect. All you have to do is blend everything together.
I like to serve homemade hummus without garlic on sandwiches, in veggie bowls, or smeared on avocado toast! Or you can go the traditional route, and serve it with pita bread or crunchy veggies!
👩‍🍳 Why This Recipe Works
Made with healthy ingredients
Super versatile and healthy
Use it as a sandwich spread or delicious dip
Serve with fresh veggies for a healthy snack
Perfect hummus with a creamy texture
Kid-friendly
Dairy-free, vegan, & gluten-free
Best hummus no garlic recipe ever!
🥘 Ingredients
This hummus without garlic recipe is made with basic pantry ingredients, and can also be found at just about any grocery store!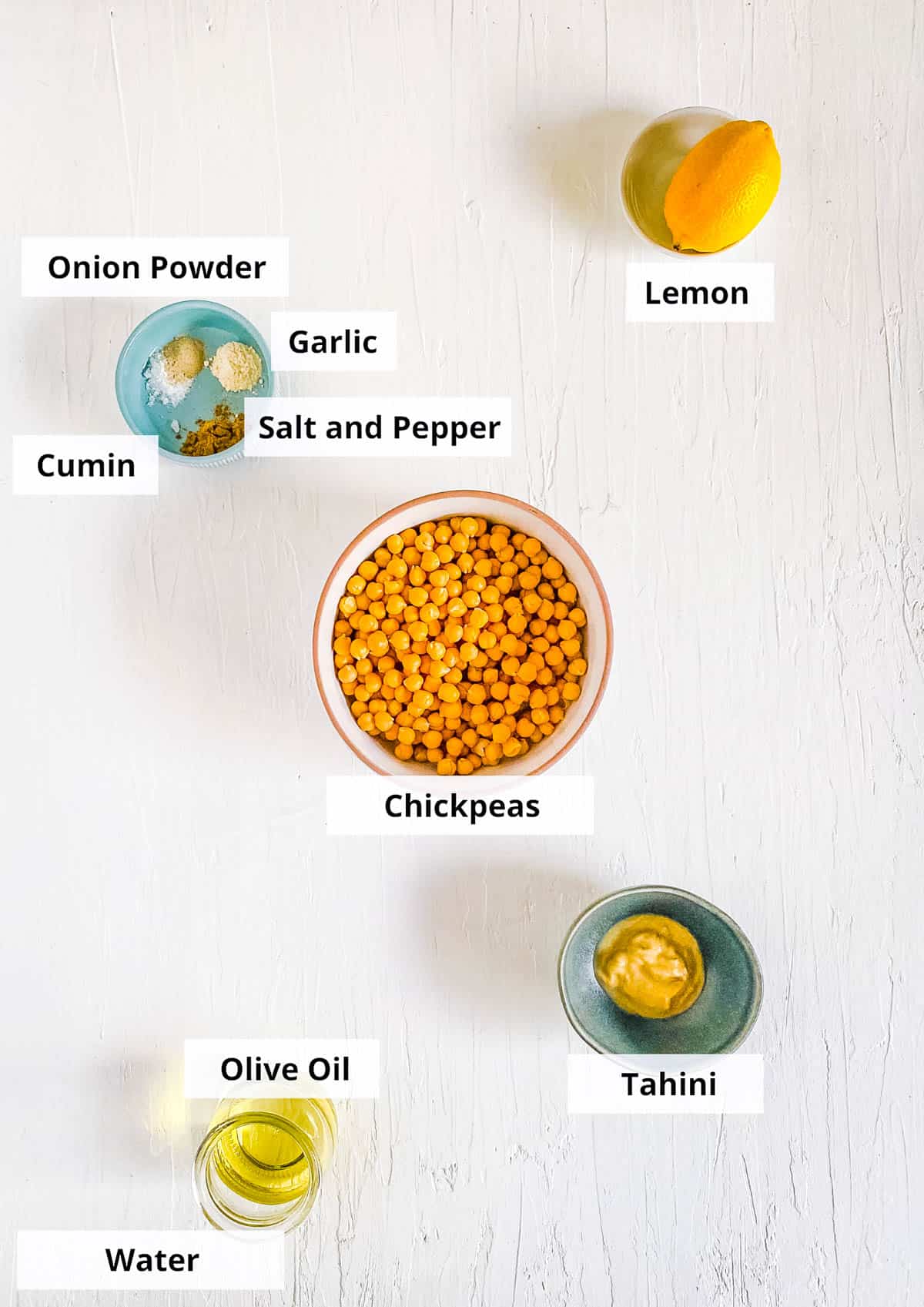 Chickpeas: Chickpeas or garbanzo beans are the base for traditional hummus. The cooked beans pulse into a smooth paste. I used a can of chickpeas to keep it simple, but if you like to cook them yourself, that's great too! Just be sure to cook them long enough, so they're soft and almost mushy. Not all canned chickpeas are created equal either, choose a brand that cooks them until they're soft.
Tahini: Tahini is a sesame seed paste made with hulled sesame seeds and oil. It has a thinner nut-butter like consistency, it adds flavor and creates a smooth texture. Not all brands are the same in taste and quality. I recommend Soom tahini or another good quality brand for the best results. Homemade tahini can be used too.
Extra Virgin Olive Oil: Heart-healthy olive oil adds flavor and creaminess to this hummus recipe without garlic. Don't be afraid to drizzle some on top as well. Avocado oil or sunflower oil will work, but I prefer olive oil for the flavor. Vegetable oil can also technically be used, but lacks flavor.
Lemon Juice: Fresh lemon juice is the way to go! It's bright, zippy, and fresh. I always keep fresh lemons on hand.
Spices: Don't forget to season with salt and black pepper. Ground cumin and onion powder add an earthy warmth.
Water: If the hummus is too thick, add a splash of water to thin it out. For a super creamy spread, add another tablespoon of olive oil instead.
📖 Variations
This hummus recipe with no garlic is easy to customize! Here are some of our favorite variations to try:
Toppings: Different toppings can be a great addition to this easy homemade hummus recipe. Try diced cucumbers, feta cheese, pine nuts, chopped olives, chili flakes, harissa, diced tomatoes, roasted red peppers, romesco sauce, roasted veggies, or fresh herbs!
Flavors: Plain hummus can be a great base for lots of delicious flavors. Add ingredients before you blend the chickpeas to switch up the flavor of your hummus. Try avocado, black beans, roasted red peppers, cooked or raw carrots, cooked sweet potato, lemon zest, roasted garlic, curry powder, cilantro, or jalapenos.
Hummus Without Chickpeas: Swap the cooked chickpeas with cannellini beans!
Homemade Garlic Hummus: This is the opposite of our no garlic hummus recipe! To add garlic to your hummus, add one clove of garlic to the blender along with the rest of the ingredients.
Hummus Without Lemon: Swap the lemon juice with apple cider vinegar.
Garlic Hummus Recipe Without Tahini: Add a clove of fresh garlic, and swap the tahini with cashew butter. Some people recommend peanut butter, but I find the taste too sweet.
🔪 Instructions
This recipe for hummus without garlic is quick and easy! See the recipe card for the full recipe.
Blend Ingredients: Place all the ingredients, except the water, into a high-speed blender and blend into a smooth paste. Alternatively, place all the ingredients into the bowl of a food processor and pulse into a smooth paste. You can also use an immersion blender if you don't have a regular blender or food processor.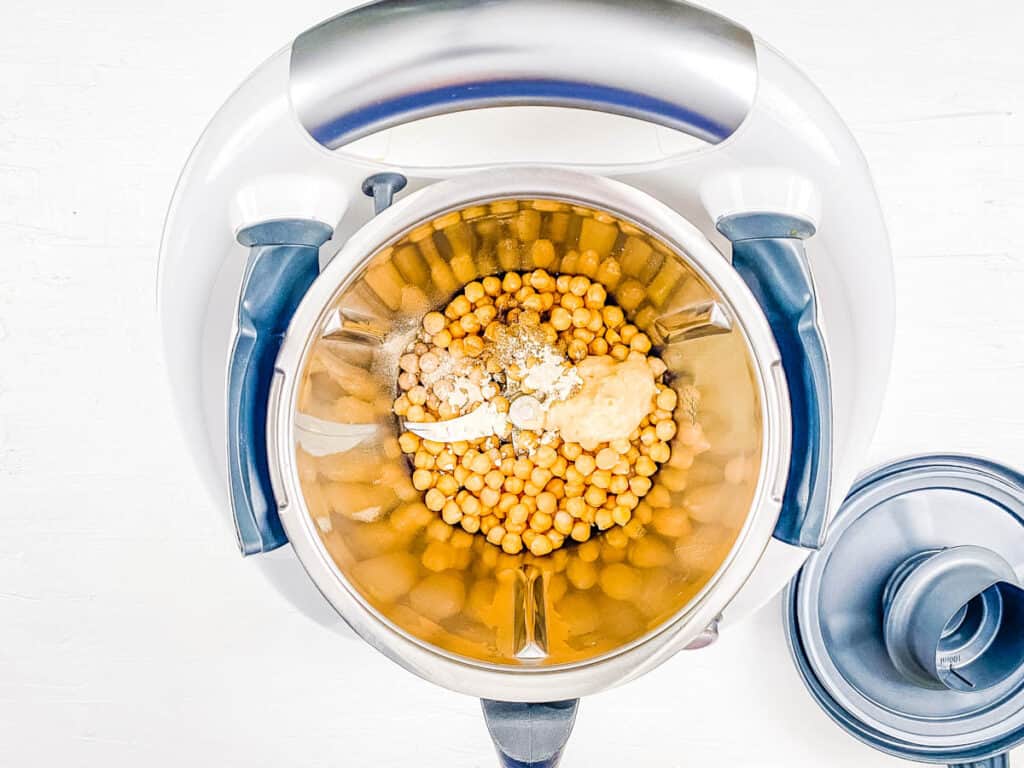 Scrape, Blend, and Serve: Stop the blender and use a spatula to scrape down the sides of the blender. Blend again, adding a tablespoon of water (about a few splashes of water) if necessary.
Transfer the silky smooth hummus to a bowl, top with a drizzle of olive oil, and sprinkle with paprika. Serve this healthy hummus without garlic immediately with warm pita breads or fresh cut veggies.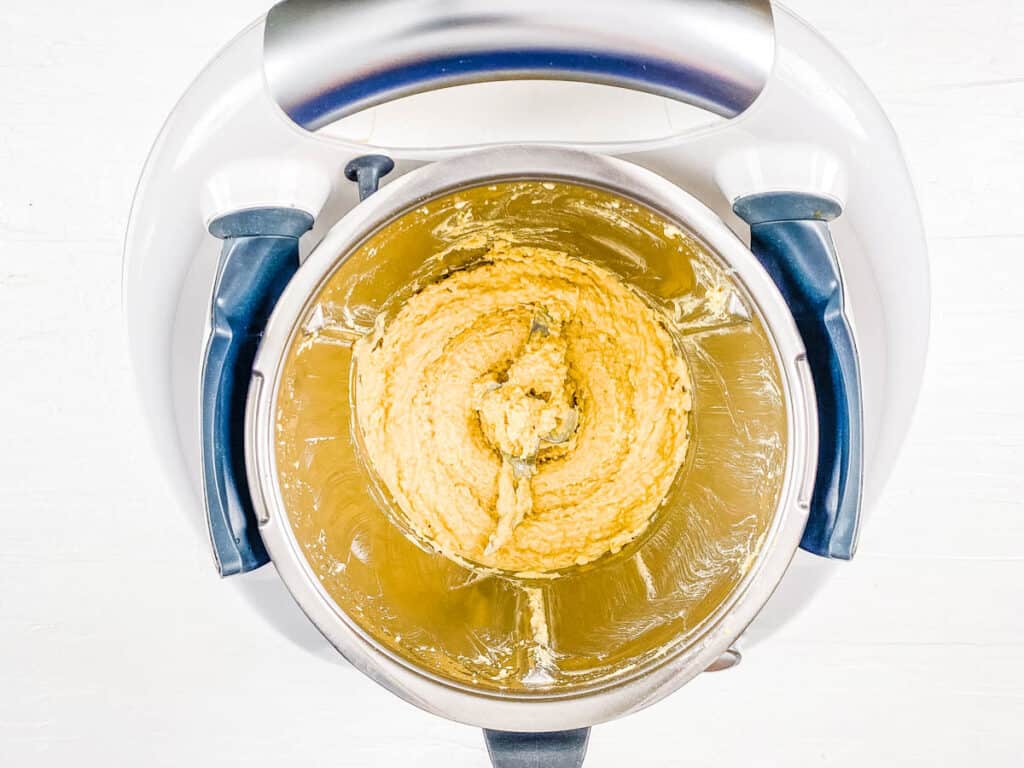 ❓ Recipe FAQs
What does hummus taste like?
Hummus is a thick and creamy dip or spread that tastes nutty, tangy, and savory with notes of olive oil and garlic. It's typically smooth with olive oil drizzled on top, and sometimes other toppings or flavors like pine nuts, red peppers, Mediterranean spices, or even avocado or black beans!
What can I substitute for garlic in hummus?
If you don't like or can't tolerate garlic, try adding more spices, an extra squeeze of lemon juice, or a bit of heat with cayenne pepper or chili flakes. If you like garlic but don't have any on hand, a little bit of garlic powder can be a great substitute!
What can I add to no garlic hummus for more flavor?
The sky is the limit here! You can add toppings or mix the ingredients right into the hummus. Black beans, avocado, roasted veggies, cucumbers, tomatoes, roasted red peppers, feta, fresh herbs, and chili flakes are great flavor boosters!
How should I store non garlic hummus?
Transfer the hummus to an air tight container and store in the refrigerator for up to 4 days.
💭 Expert Tips
Drain the chickpeas thoroughly before using. For the best hummus without garlic, make sure the chickpeas feel soft so they blend into a super creamy spread. If they feel too firm, boil them in water for 20 minutes before you blend them into creamy hummus.
For a creamier chickpea spread, swap the water with additional olive oil or aquafaba. Aquafaba is the liquid in a can of chickpeas.
Don't worry about peeling the chickpeas. While some recipes ask you to peel the chickpeas, I find this step unnecessary and time consuming. A good blender will pulverize the skins and you'll get a bit more fiber and nutrients by leaving them on. If the hummus seems dry, add a bit more water, olive oil, or aquafaba. If you want to remove the chickpea skins, microwave the chickpeas with a bit of baking soda then rinse and rub away the skins.
To fix a too-thin hummus: If for some reason, you add too much liquid and the hummus is too thin, refrigerate it for an hour or two. It should thicken as it chills. If it's still too thin, add a bit more tahini.
Serve this delicious hummus with a variety of toppings, pita bread, pita chips, naan bread, as a spread for sandwiches and wraps (like in this falafel wrap recipe), or even as a dip for corn chips!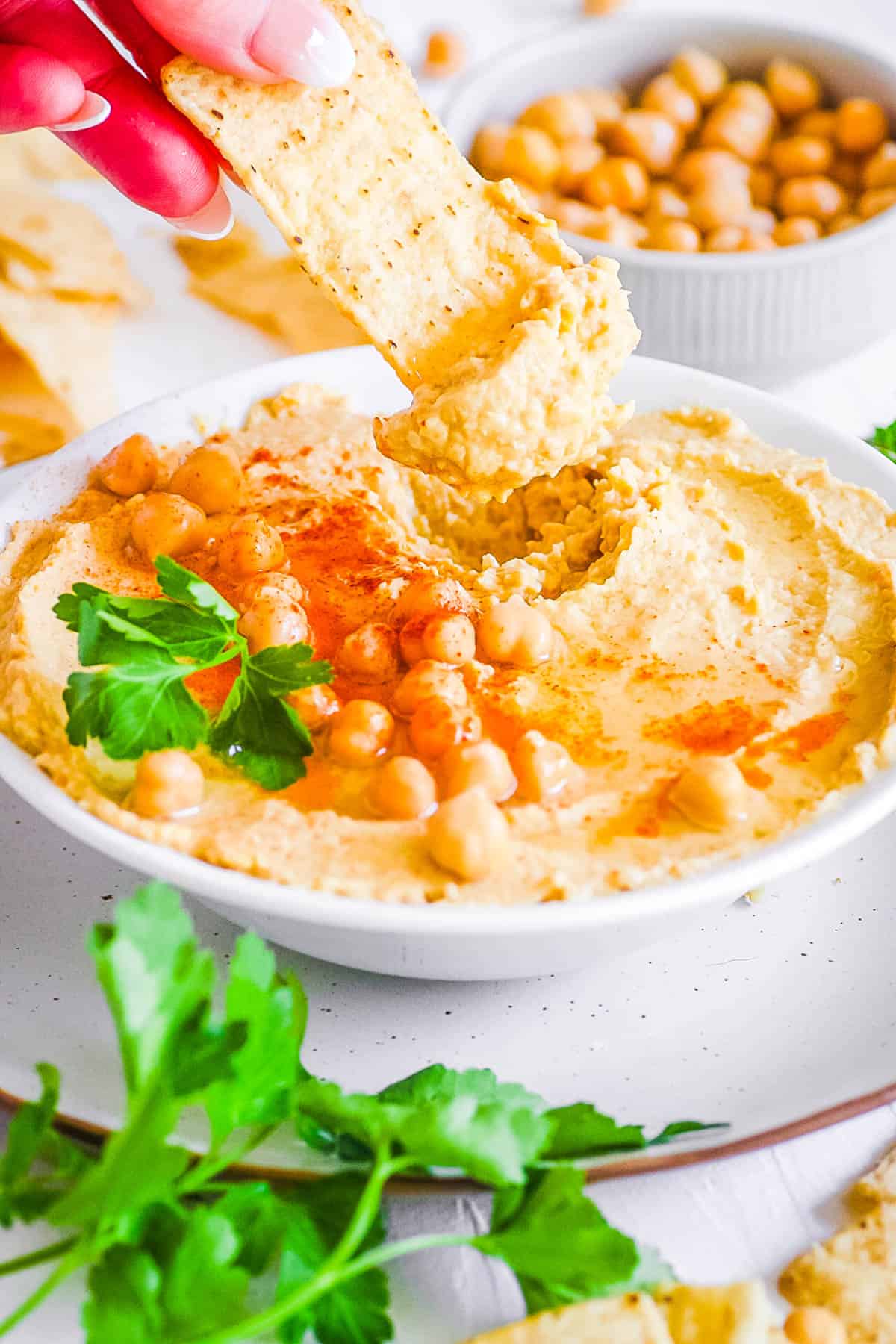 🍽️ More Delicious Dip Recipes!
LOVE THIS RECIPE? Please leave a 5-star rating 🌟 in the recipe card below and/or a review in the comments section further down the page!
You can also FOLLOW ME on FACEBOOK, TWITTER, INSTAGRAM, and PINTEREST to see more delicious, healthy, family-friendly food, and if you have any questions, I'm here to help!
📋 Recipe Card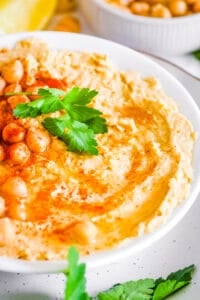 Print Recipe
Hummus Without Garlic
Hummus without garlic is smooth, creamy, and so fresh! With only seven ingredients and a few simple steps you can make homemade hummus. It's quick, easy, and way better than store-bought. Vegan, gluten-free, & plant-based too!
Instructions
Place all ingredients, except water, into a high-speed blender and blend until smooth.

Scrape down the sides and blend again, adding some water if needed.

Remove from the blender, serve with a drizzle of olive oil and a sprinkle of paprika if desired.
Notes
Store hummus in an airtight container in the fridge for up to 4 days.
Drain the chickpeas thoroughly before using.
To add a little spice add some chilli flakes when blending.
To create a creamier hummus substitute the water for additional olive oil.
Nutrition
Serving:
1
tbsp
|
Calories:
39
kcal
|
Carbohydrates:
1
g
|
Protein:
0.4
g
|
Fat:
4
g
|
Saturated Fat:
1
g
|
Polyunsaturated Fat:
1
g
|
Monounsaturated Fat:
3
g
|
Sodium:
59
mg
|
Potassium:
16
mg
|
Fiber:
0.2
g
|
Sugar:
0.1
g
10 responses to "Hummus Without Garlic (No Garlic Hummus!)"