20 Dinner-Worthy Vegetarian Italian Recipes You Have To Try Tonight!
This post may contain affiliate links. As an Amazon Associate, I earn from qualifying purchases. Please read my disclosure.
Indulge in some delicious and healthy Italian cuisine with these 20 must-try easy vegetarian Italian recipes! From classic Italian pasta dishes like spaghetti aglio e olio to creative takes on traditional favorites like eggplant parmesan, there's something for everyone in this collection. Whether you're a seasoned cook or just starting out, these recipes are easy to follow and packed with flavor. With so many amazing options to choose from, you'll never run out of inspiration for healthy and delicious meals.
Florentine Pizza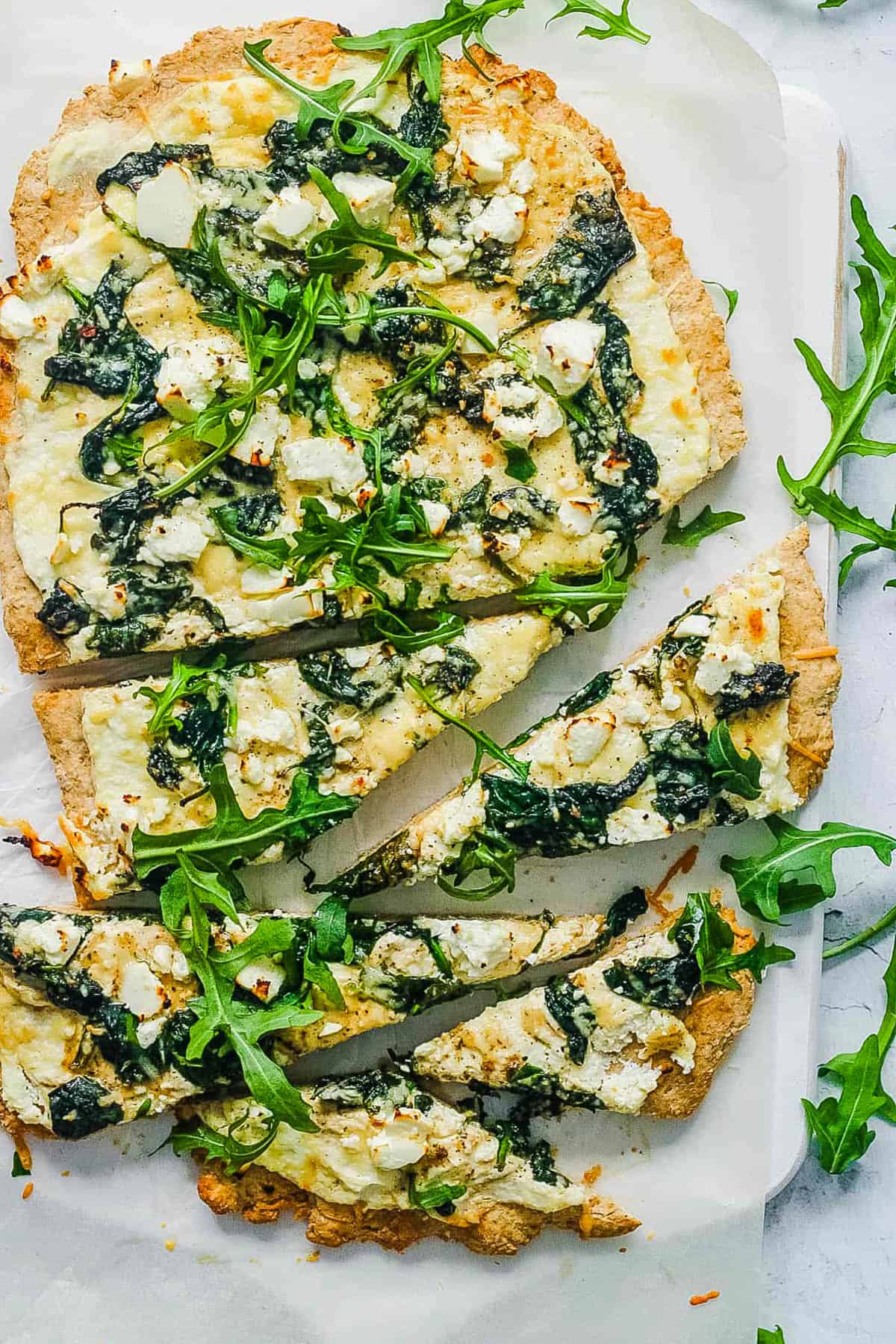 Pizzas are some of our favorite Italian veg dishes because they can be customized in so many ways! This cheesy white pizza sauce combined with sautéed garlicky spinach and an easy homemade no-rise crust is the perfect dish for a quick weeknight dinner or a lazy weekend brunch. Get this spinach pizza here.
Low Carb Pizza Bowl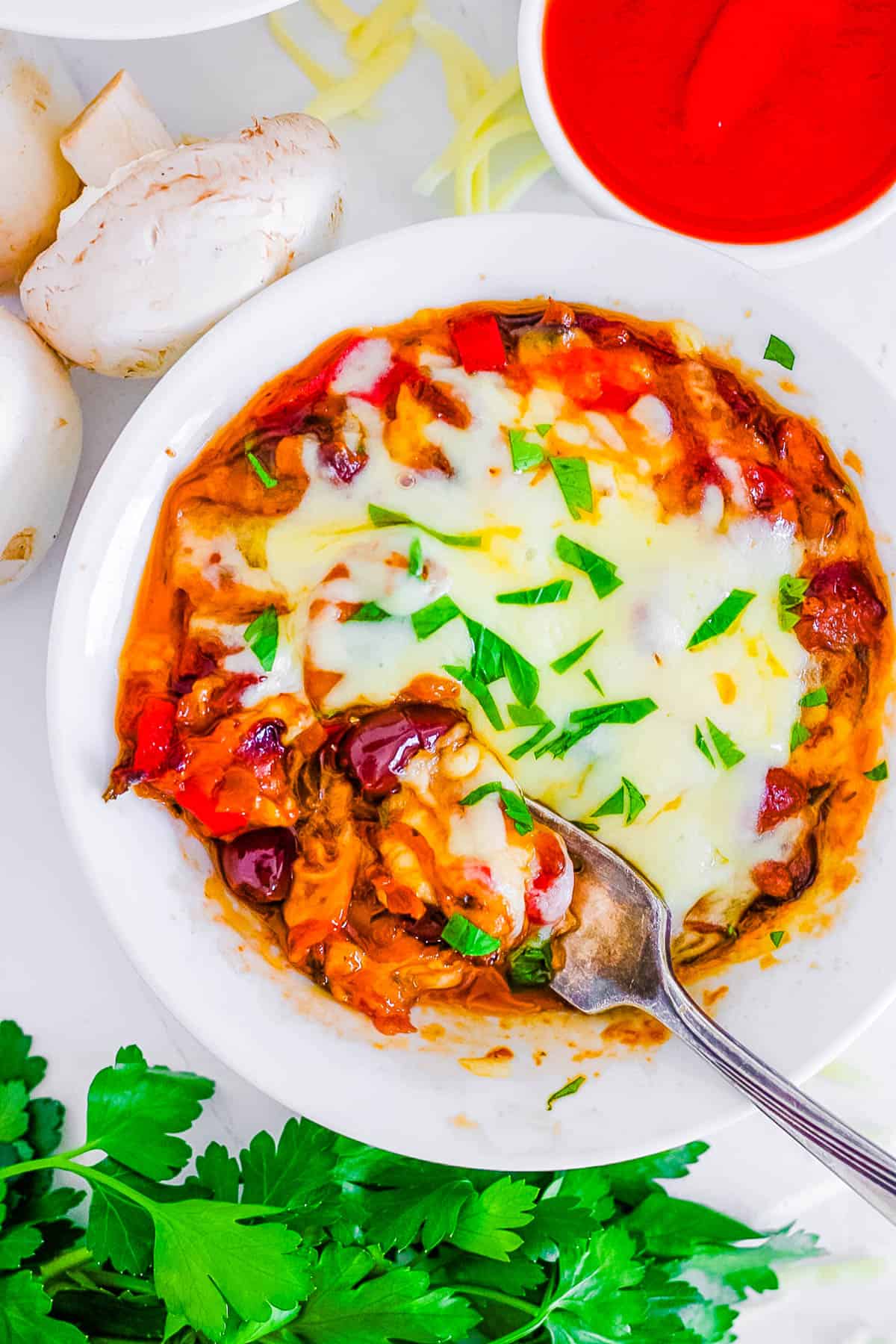 If you're looking to cut down on carbs but don't want to miss out on all the cheesy goodness, this recipe is for you. Packed with fresh vegetables and loaded with flavor, this saucy bowl of goodness will satisfy your pizza cravings in no time. Get this keto pizza bowl here.
Easy Veggie Pizza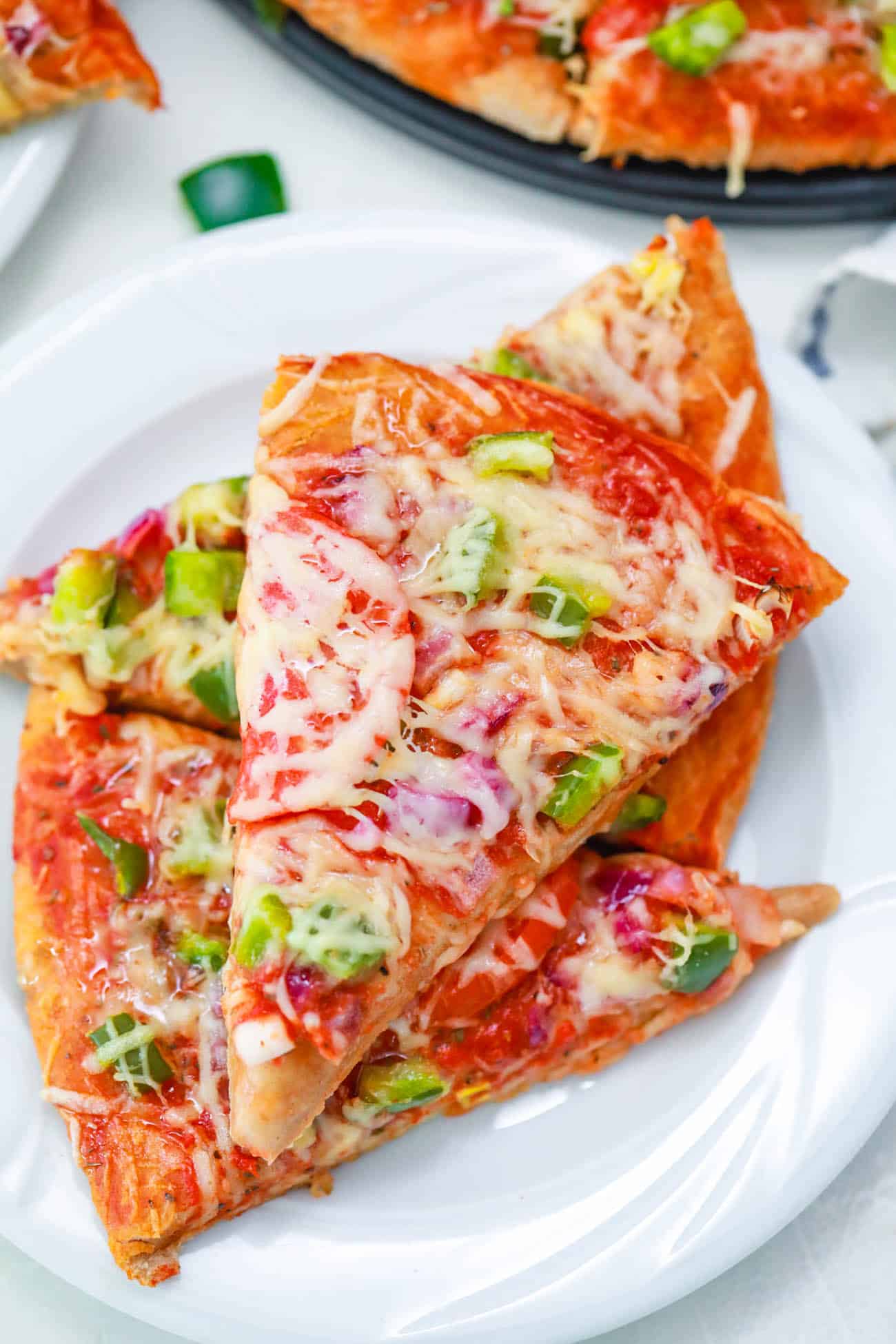 Made with melted gooey cheese and tender fresh vegetables such as red onion and green bell pepper, this savory and yummy pizza is perfect when you're looking for something tasty, satisfying, and ready in just 30 minutes! Get this veggie pizza here.
Italian Panini Recipe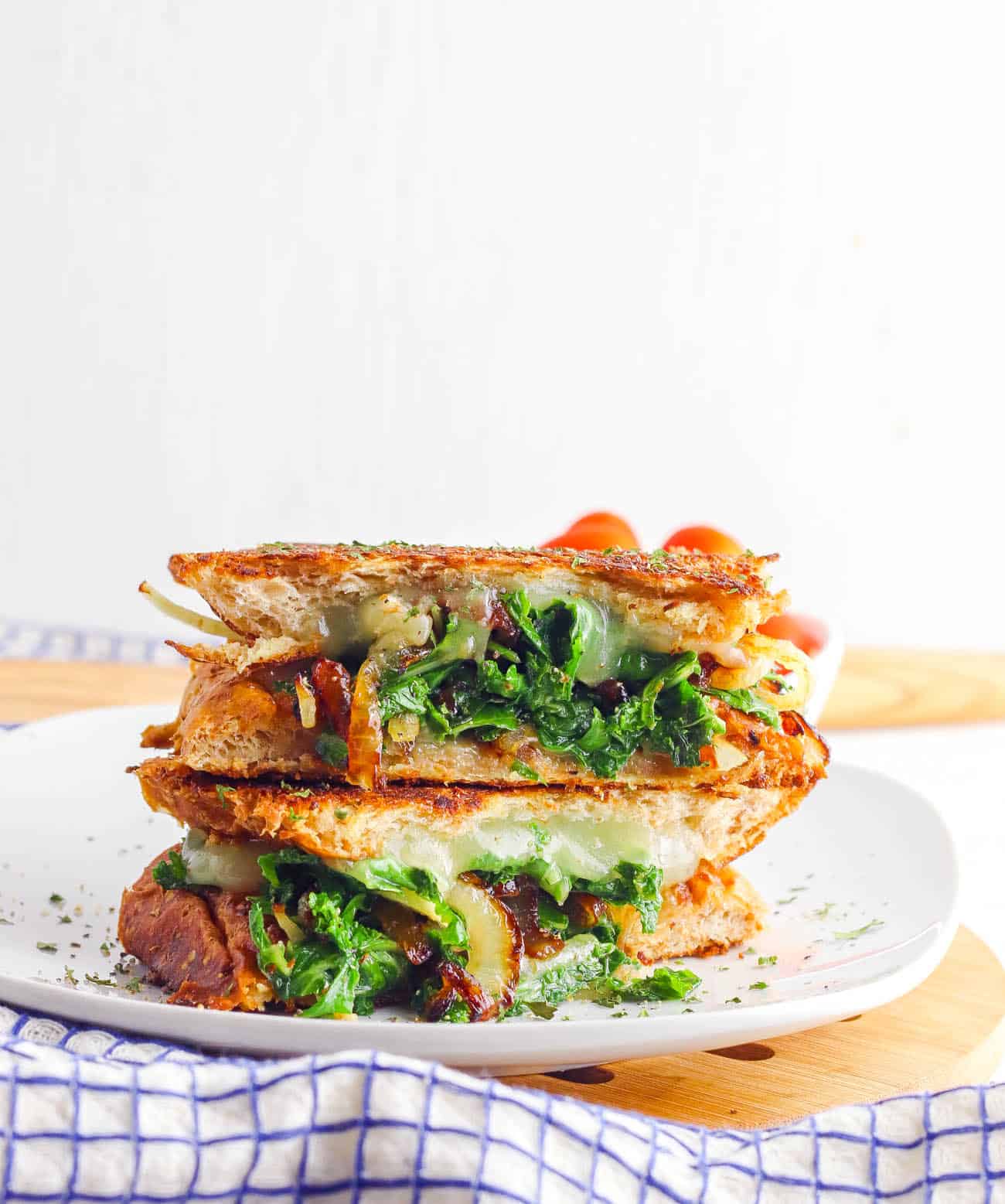 This hearty vegetarian Italian food is packed with flavor and can easily be made vegan or gluten-free to suit your dietary needs. Load up your favorite Italian bread with any of your favorite toppings, and in a few minutes you'll have a healthy and hearty Italian sandwich that's sure to satisfy. Get this vegetarian Italian sandwich recipe here.
Lentil Pasta Recipe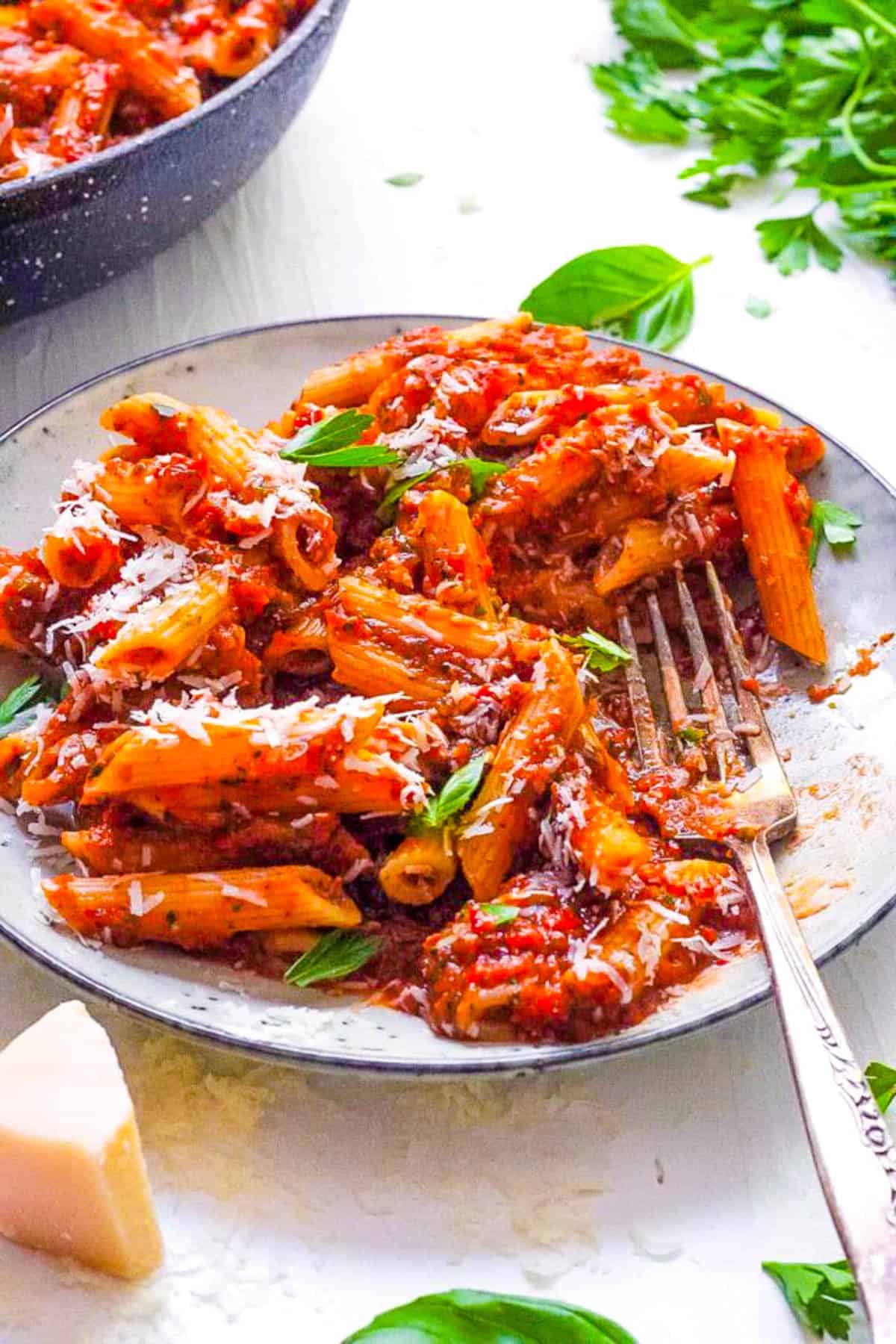 In just 30 minutes, you can whip up a delicious and nutritious meal that's perfect for the whole family. The secret is in the rich marinara sauce, which is mixed with tender vegetables to create a wholesome, balanced dish that's naturally gluten-free. A vegetarian Italian pasta that you will surely enjoy! Get this red lentil pasta here.
Vegetarian Pasta With Pesto Sauce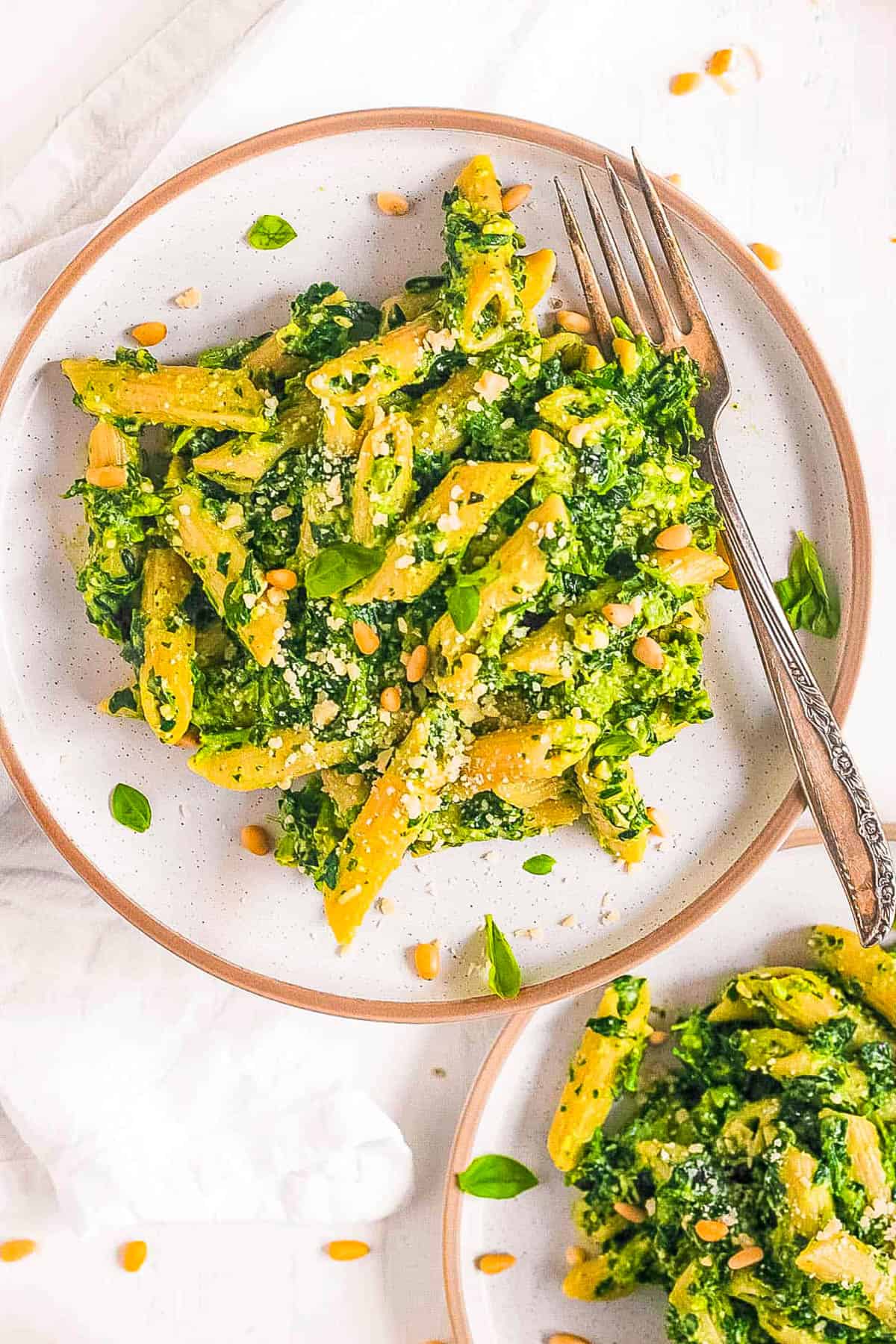 With creamy ricotta, flavorful basil, and crunchy pine nuts, this giant bowl of pasta is sure to please even the pickiest eaters. And with frozen spinach, it's easy to get your daily dose of veggies without any fuss. Experience Italian cooking directly from your kitchen with this recipe! Get this pesto pasta here.
Pasta with Sun-Dried Tomato Pesto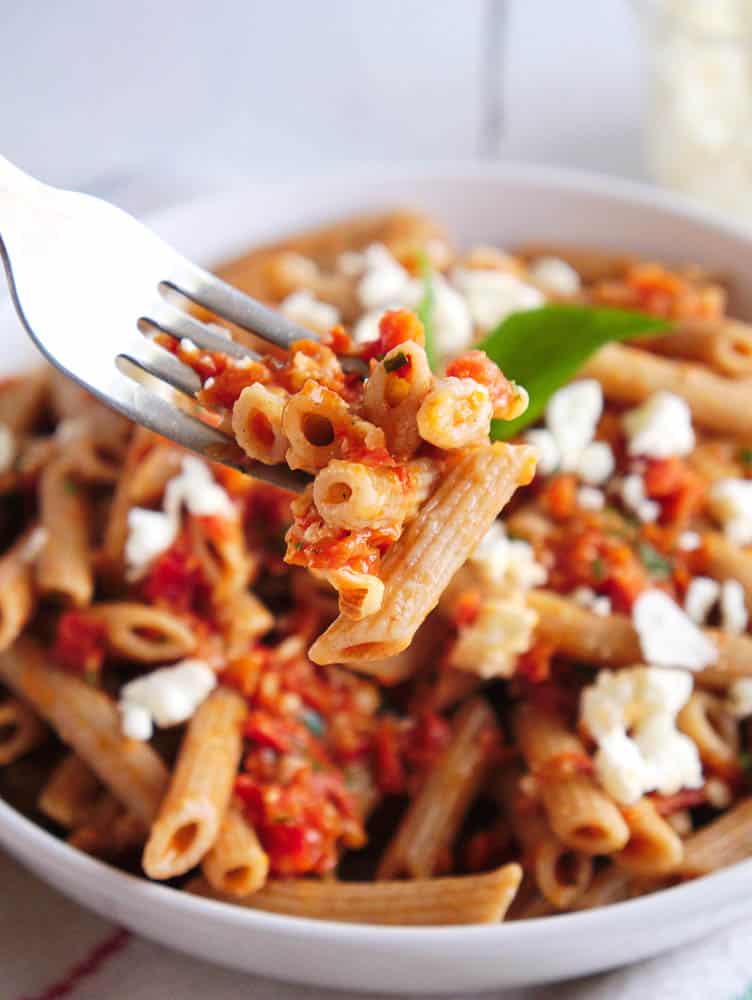 Pasta is a great base for all kinds of Italian veggie dishes. And this scrumptious whole wheat pasta dish is made with a mouthwatering sun-dried tomato pesto and topped with crumbled feta cheese. Not only is it packed with flavor, but it's also easy and quick to make, making it the perfect healthy weeknight meal for busy families on the go. Get this sun-dried tomato pesto pasta here.
Mushroom Pasta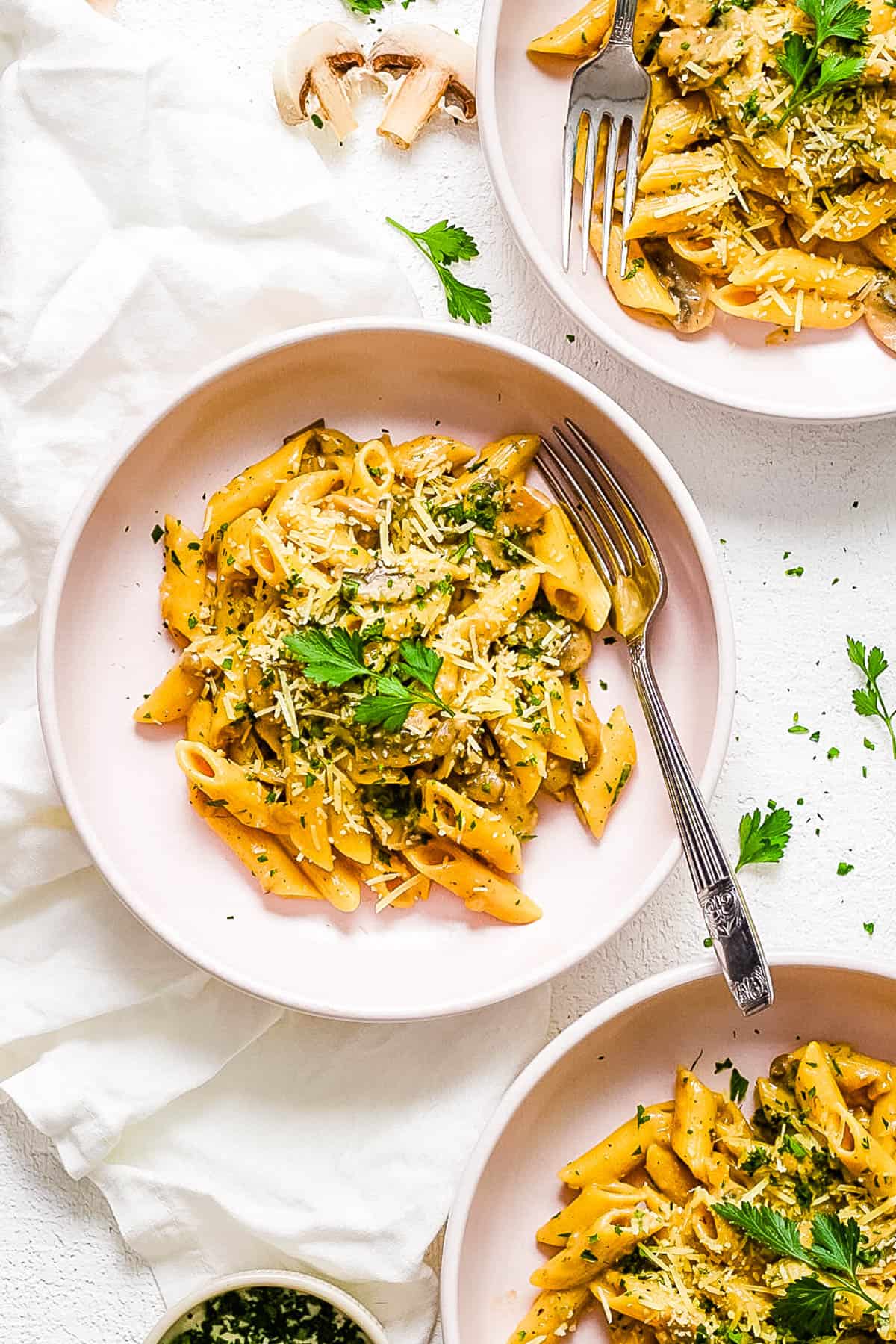 If you're looking for a comforting and satisfying vegan pasta recipe, look no further than this creamy pasta with fresh mushrooms! Not only is it hearty and warming, but it's also a healthy and easy recipe that can be made in under 30 minutes. Get this mushroom pasta here.
Italian Veggie Pasta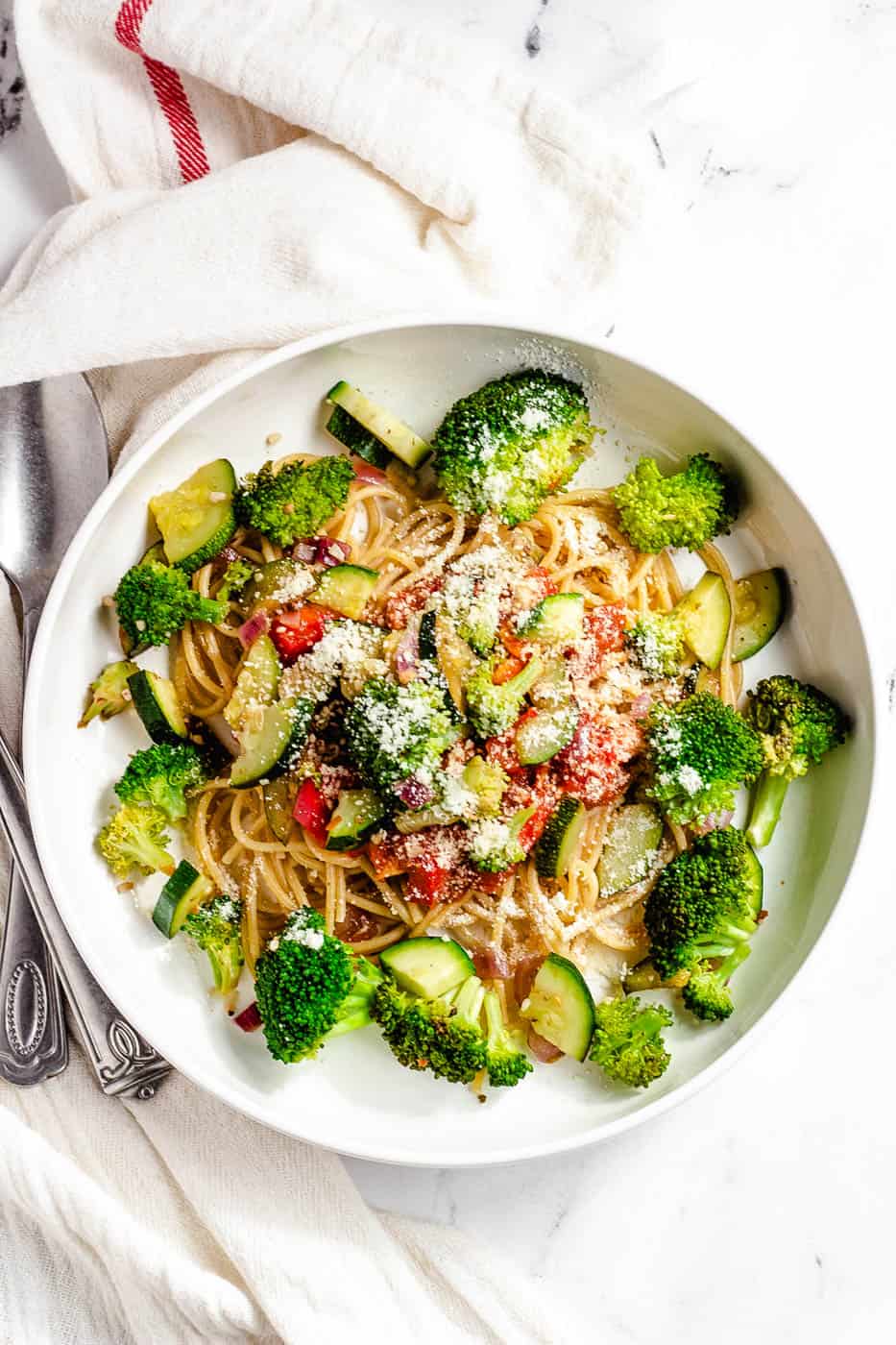 This easy Italian dish is not only delicious but also guilt-free. Loaded with seasonings and topped with parmesan cheese, it's a flavor explosion that's perfect for a vegetarian diet and will leave you wanting more. Get this veggie pasta here.
Pasta Primavera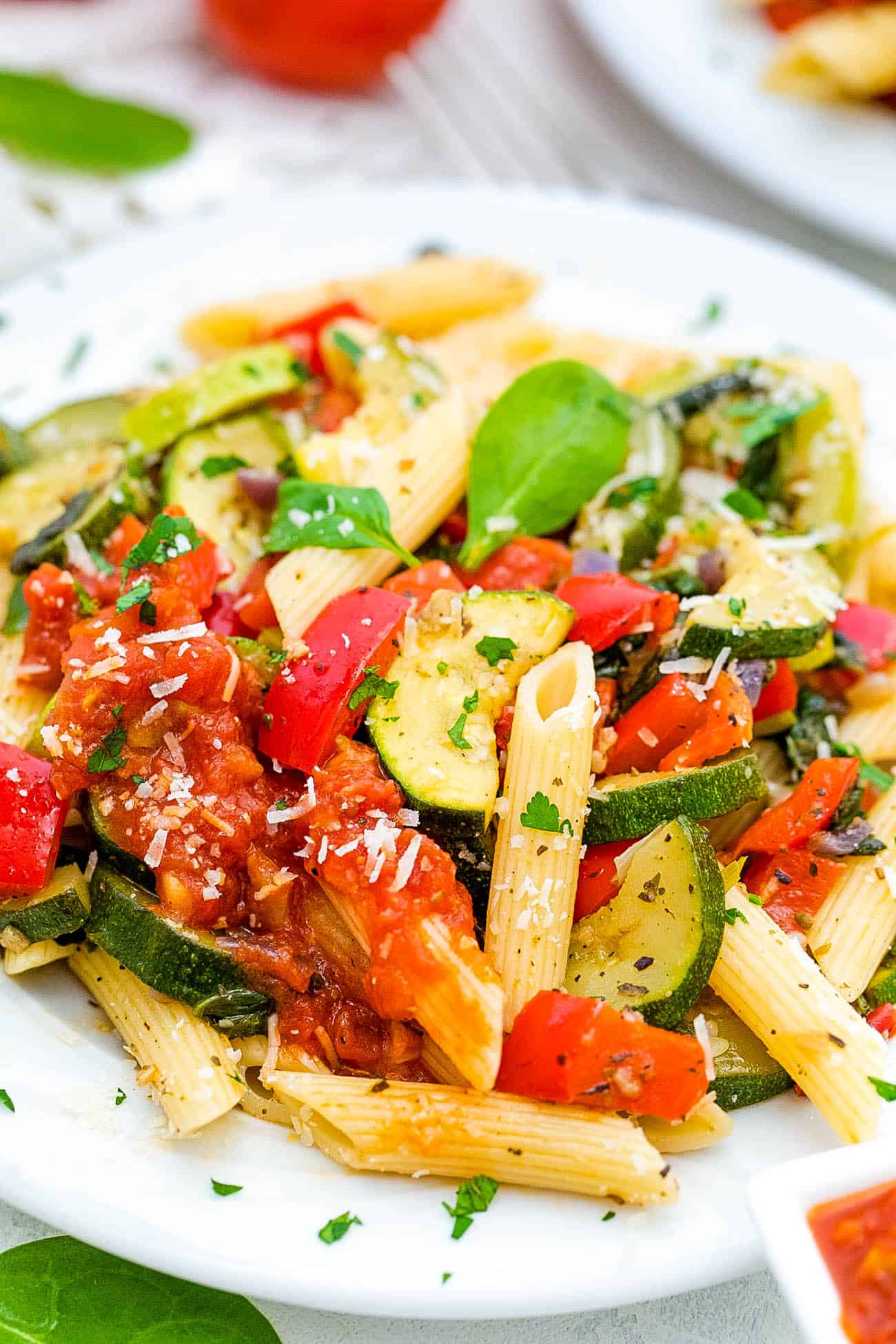 This is one of those healthy authentic Italian recipes that is bursting with fresh flavors, thanks to its combination of fresh pasta and loads of colorful veggies like bell peppers, zucchini, and cherry tomatoes. Get this pasta primavera here.
Italian Bean Stew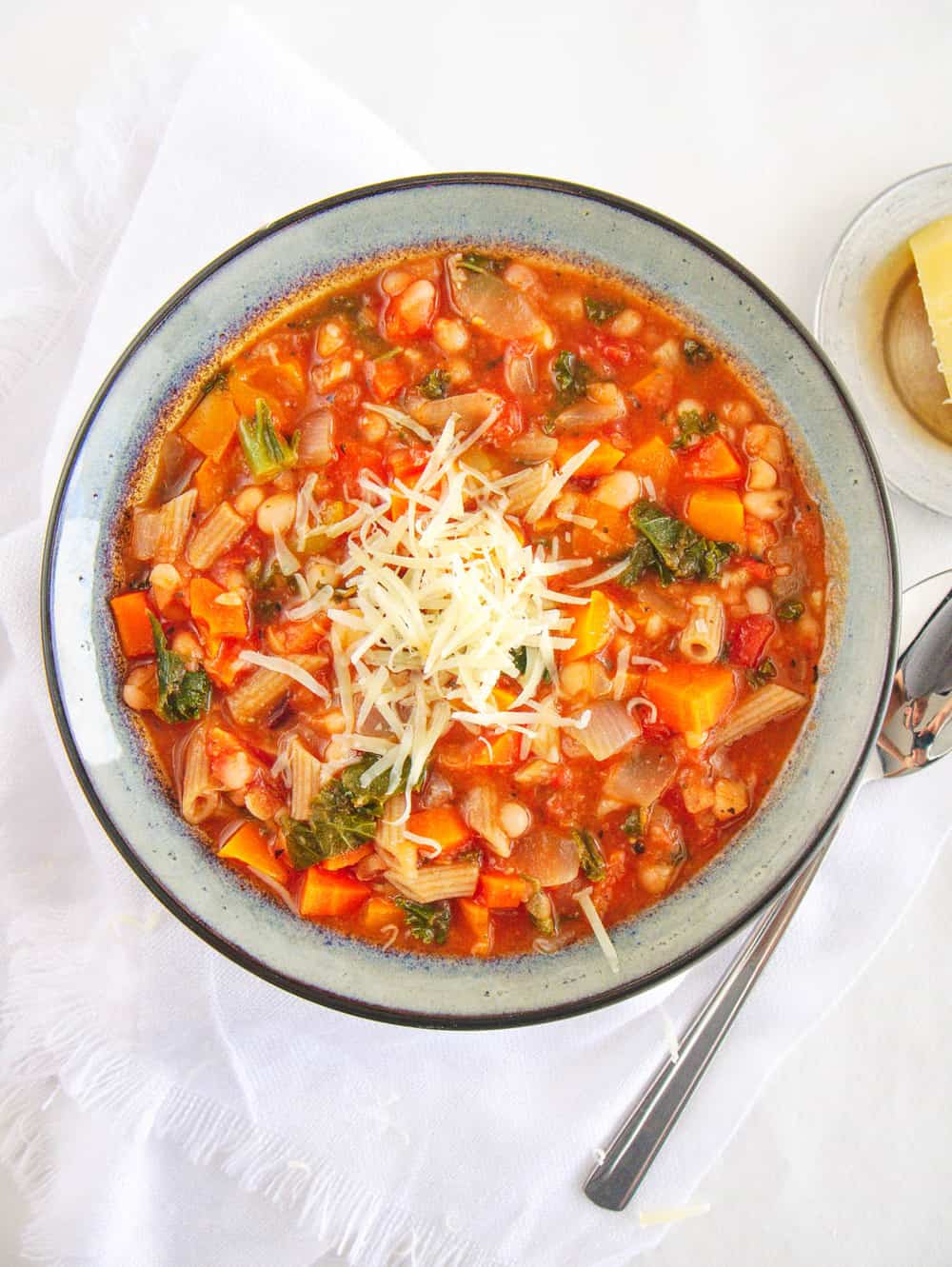 Packed with hearty veggies, flavorful beans, and nutritious whole wheat pasta, this dish is not only healthy but also satisfying. One of the easy italian recipes that is delicious and simple to make! Get this bean stew with pasta here.
Alfredo Sauce Without Heavy Cream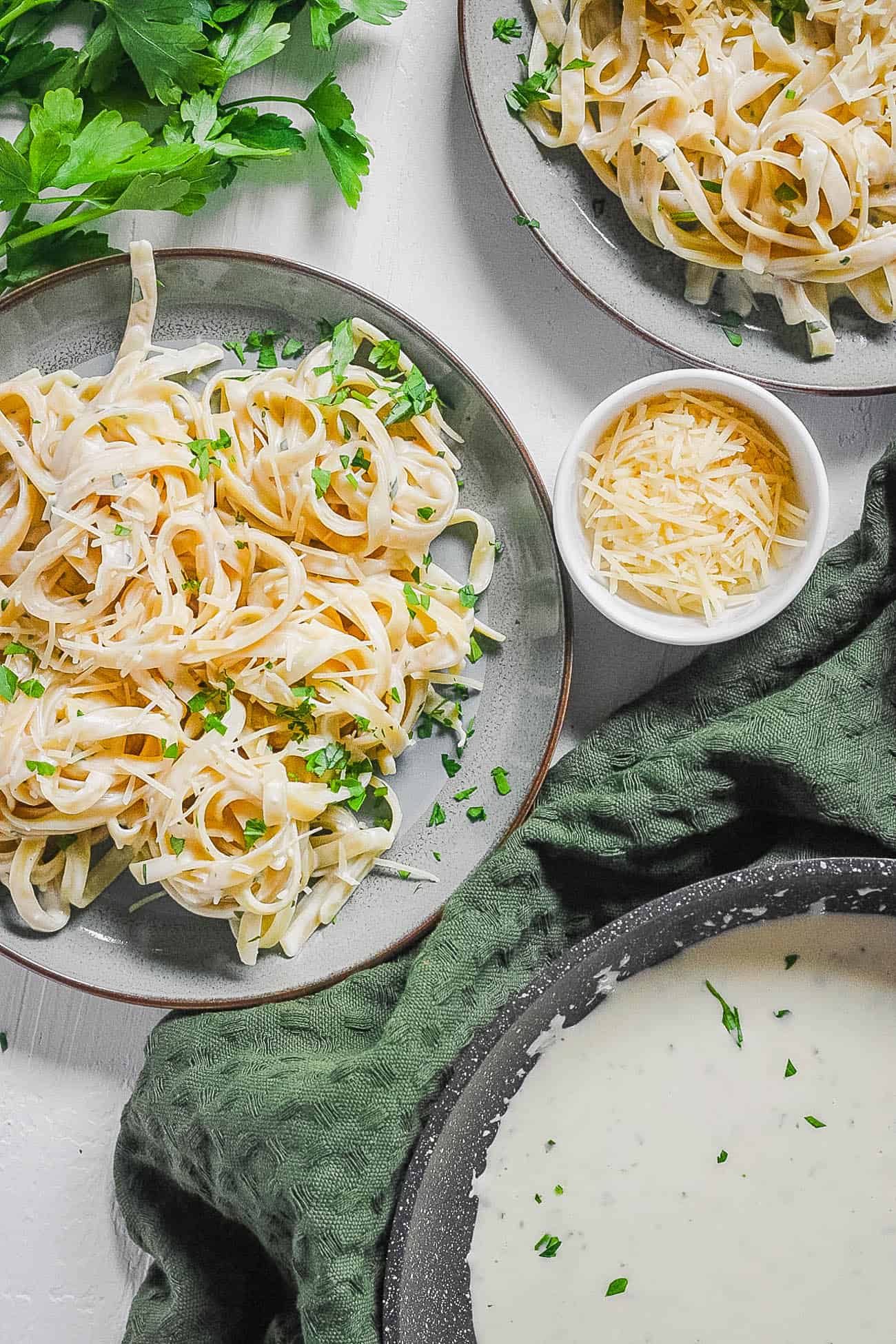 If you're a fan of fettuccine alfredo, then this Italian classic alfredo sauce recipe without heavy cream is a must-try! Made with parmesan cheese, black pepper, skim milk, and garlic powder, this creamy sauce is the perfect complement to your favorite pasta. Get this Alfredo sauce here.
Italian Vegetarian Lasagna Recipe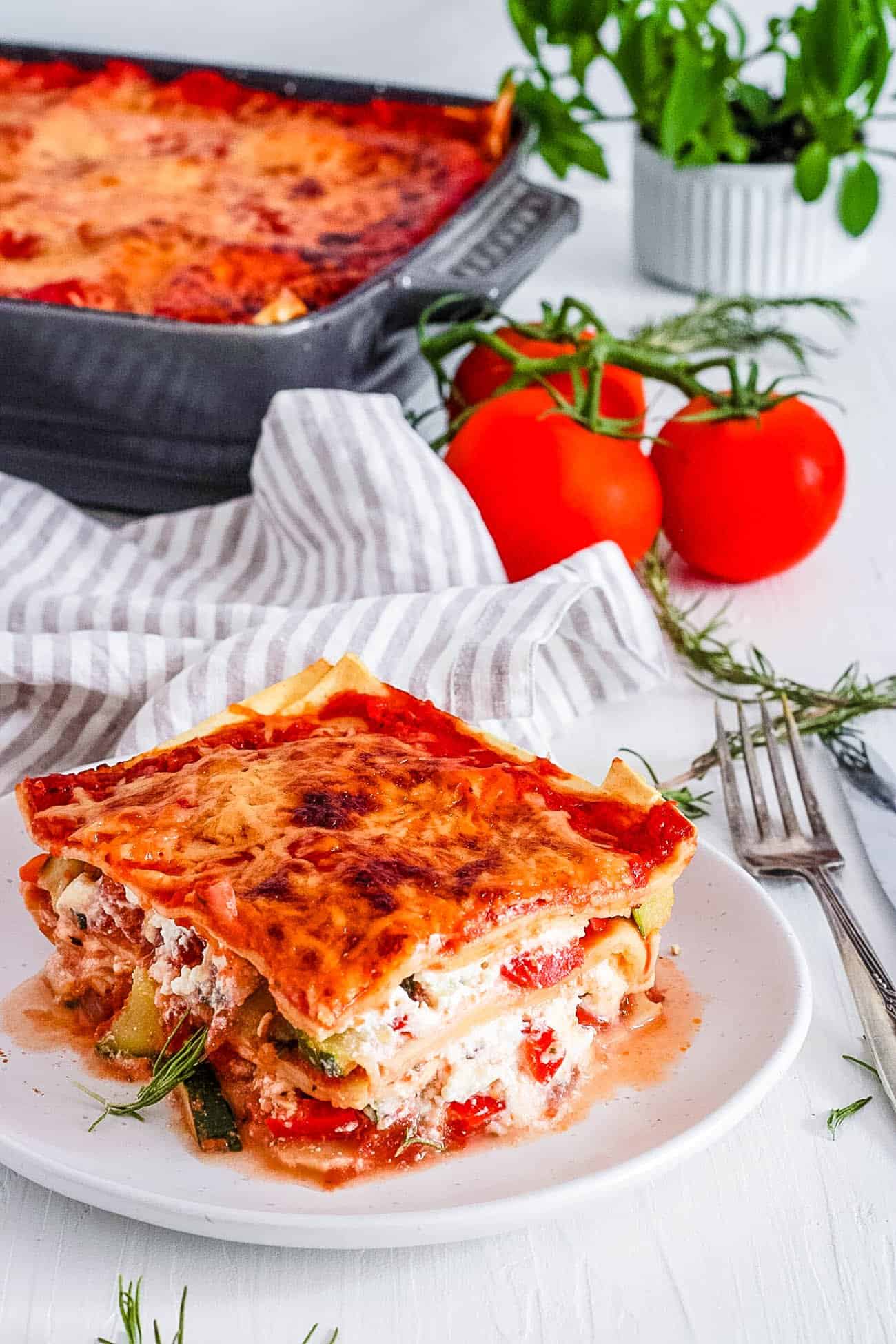 One of the vegetarian Italian recipes that you shouldn't miss out on. This lasagna recipe is made with whole wheat noodles, and fresh herbs, and packed with veggies and a mixture of cheeses, this one-dish meal is sure to become a favorite among your family and friends. Get this vegetarian lasagna here.
Zucchini Lasagna Recipe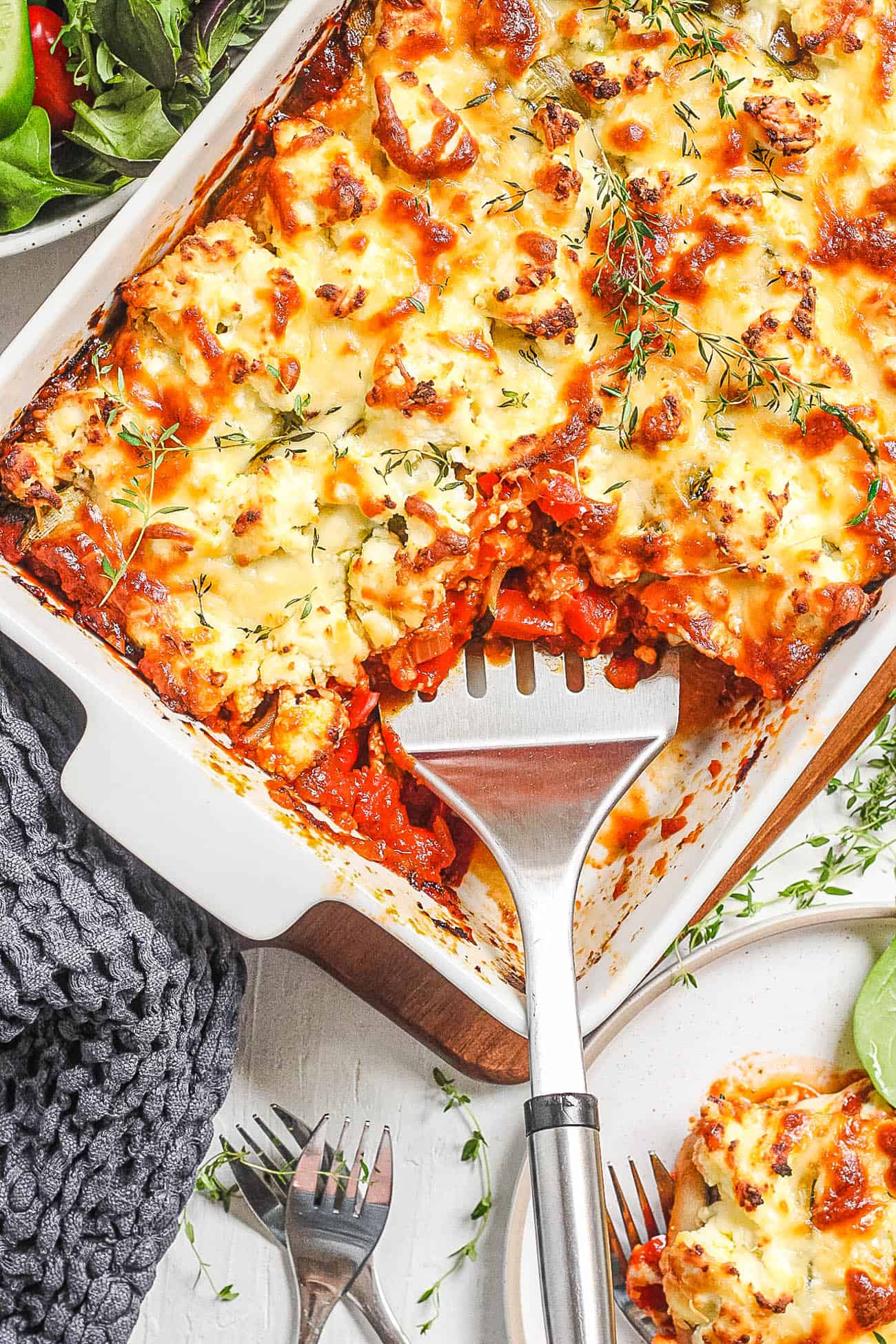 It's the perfect dish for those who are looking for a healthier alternative to traditional lasagna. This no-noodle 'pasta' dish is simple to prep and full of all the flavors you would expect from a classic lasagna recipe. Get this zucchini lasagna here.
Lasagna Rolls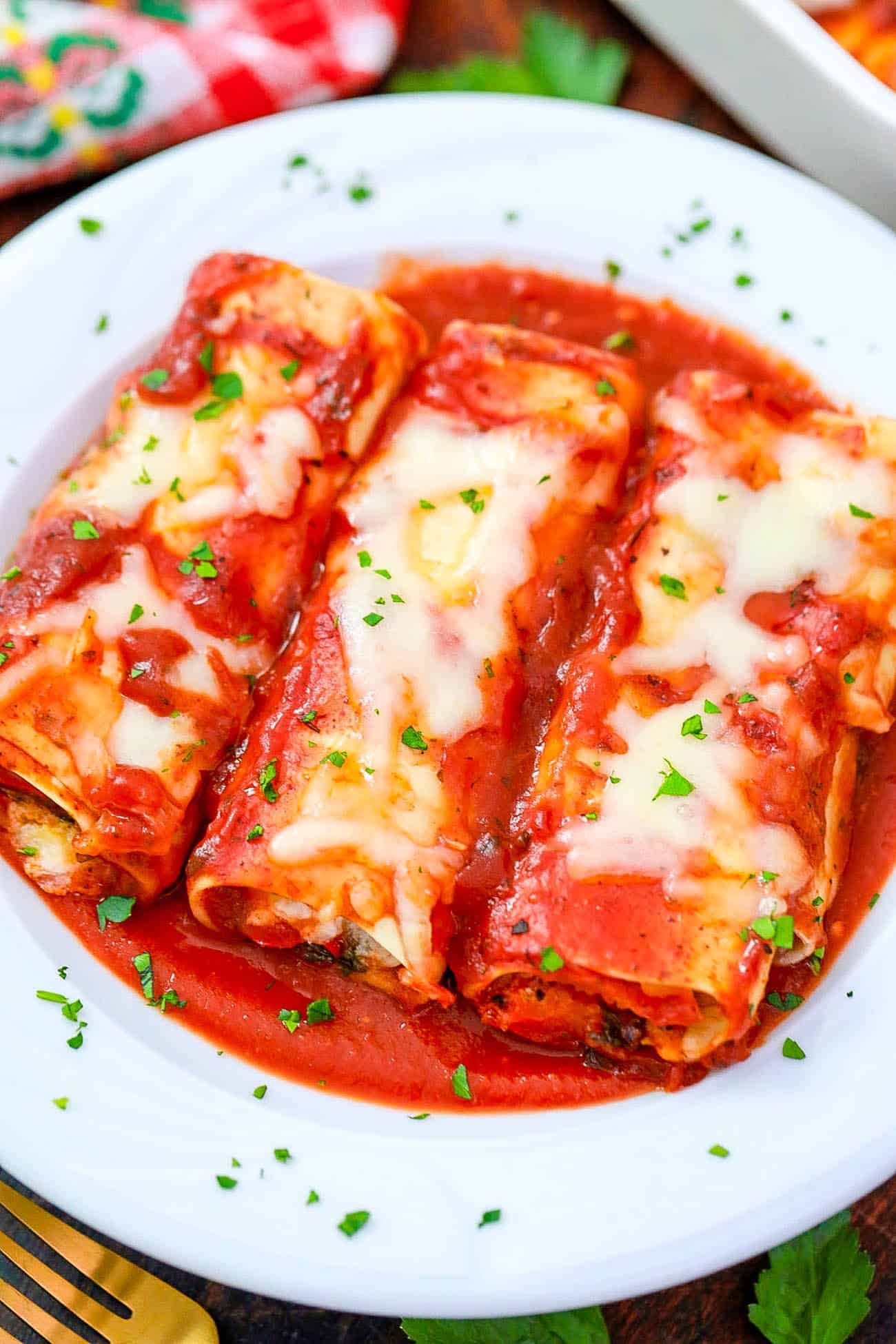 If you're a fan of lasagna but want a healthier and quicker option, then this Italian meatless lasagna is perfect for you! Packed with all the classic flavors of traditional lasagna, these rolls are covered in a delicious Pomodoro sauce that will have your taste buds dancing. Get these lasagna rolls here.
Chickpea Soup With Tomato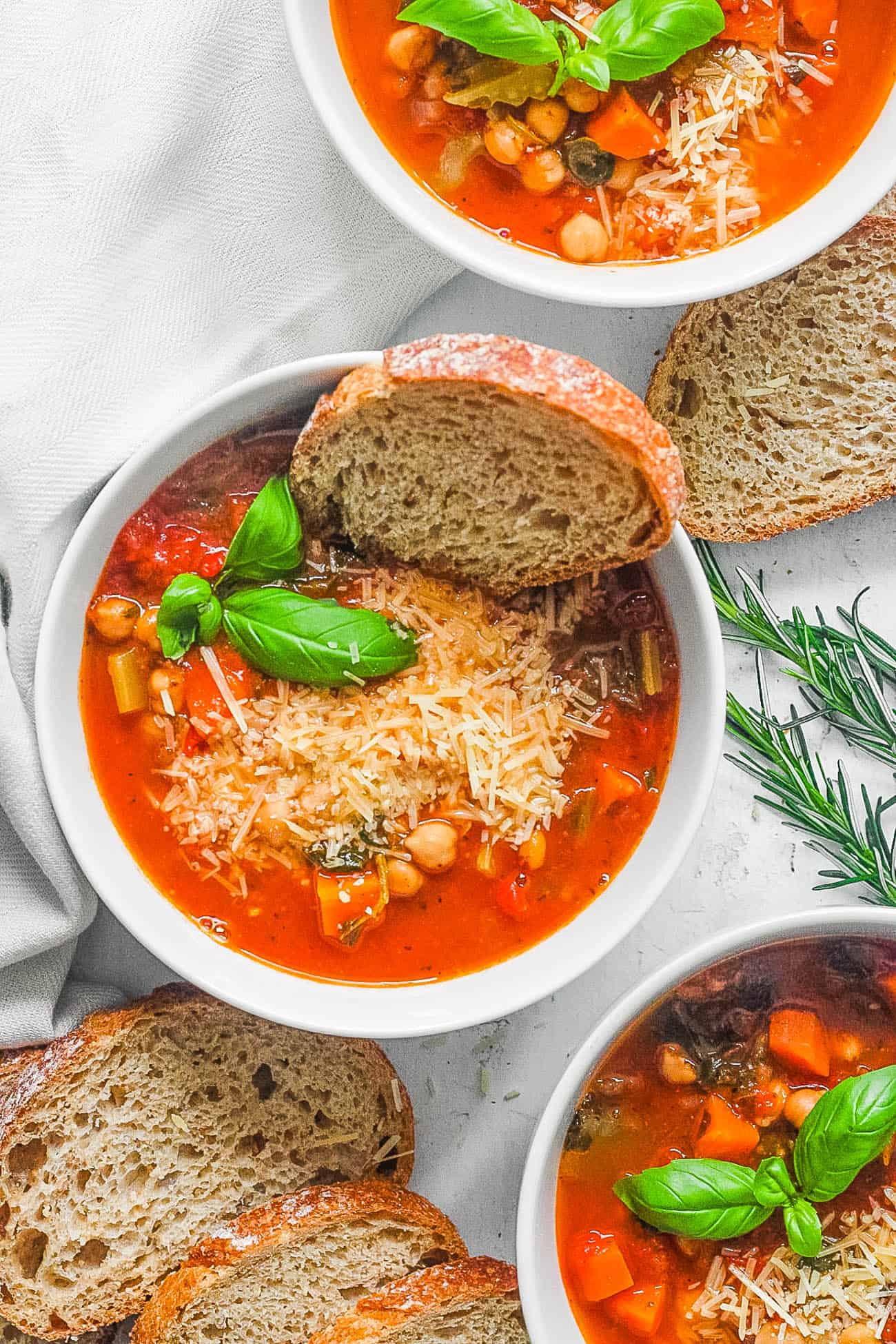 This simple Italian chickpea soup is not only healthy and nutritious but also comforting and easy to make. A great addition to your list of vegetarian Italian recipes! Best served with a side of crusty bread. Get this Italian chickpea soup recipe here.
Meatless Minestrone Soup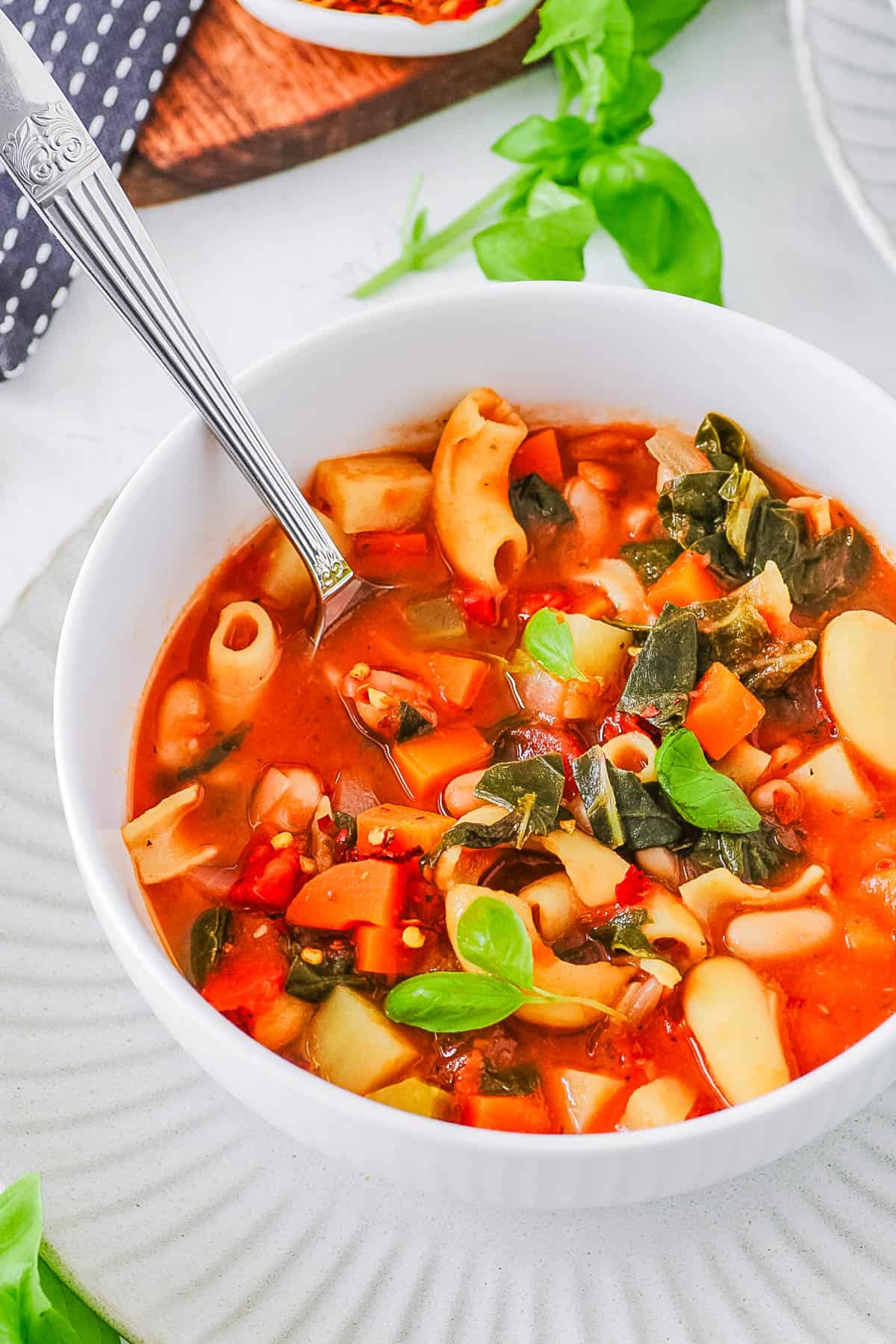 This Italian classic is packed with veggies and spices that will fill you up and warm you from the inside out. Not only is it delicious, but it's also incredibly nutritious, thanks to the abundance of vegetables that are included. Get this vegan minestrone soup here.
Healthy Vegan Bolognese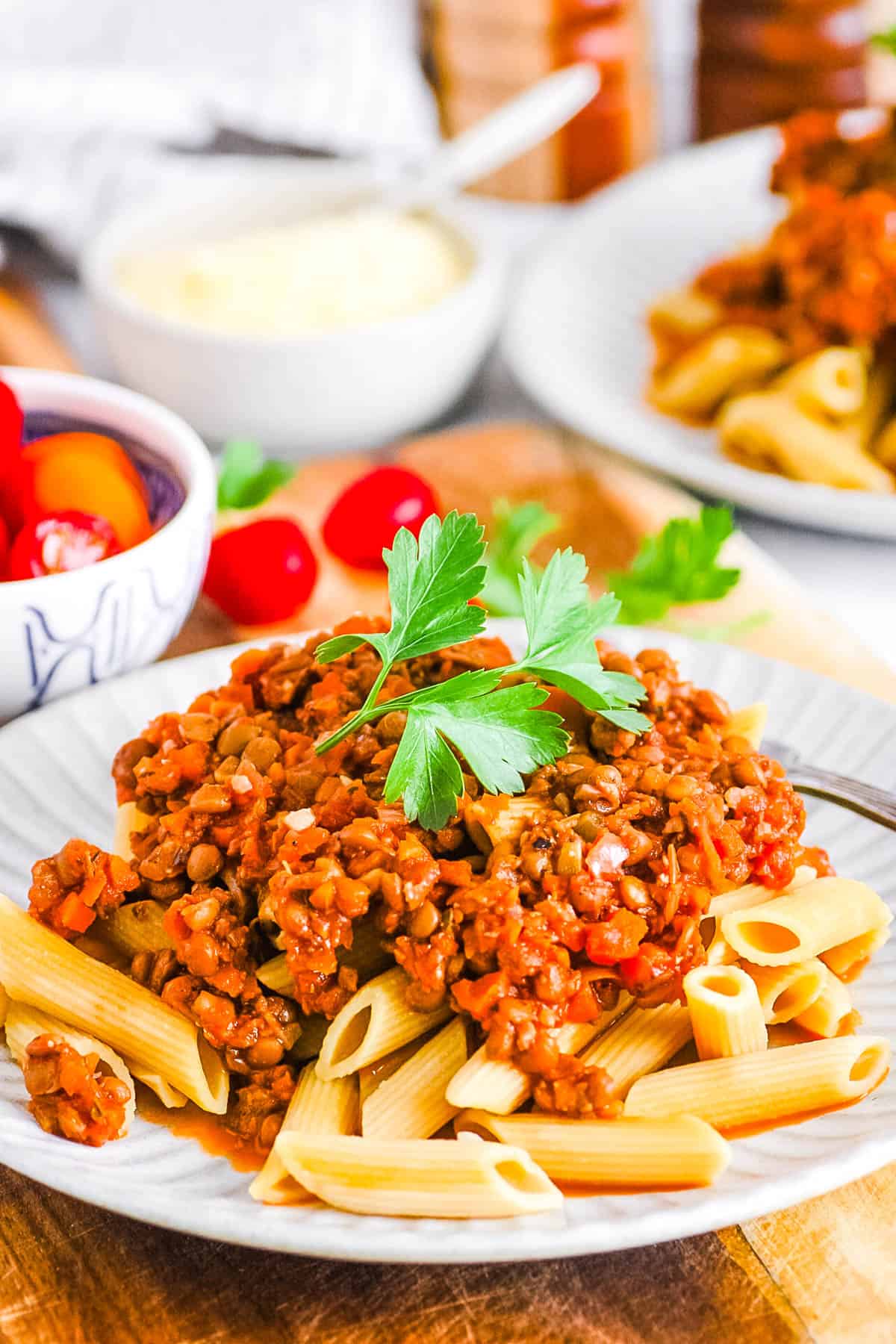 This recipe combines lentils, walnuts, and celery to create a meaty texture that will have you forgetting that there's no actual meat in it. This is one of our favorite Italian vegan recipes because it is so simple to make, even on the busiest of weeknights. Get this vegan bolognese here.
Pillowy Gnocchi With Spinach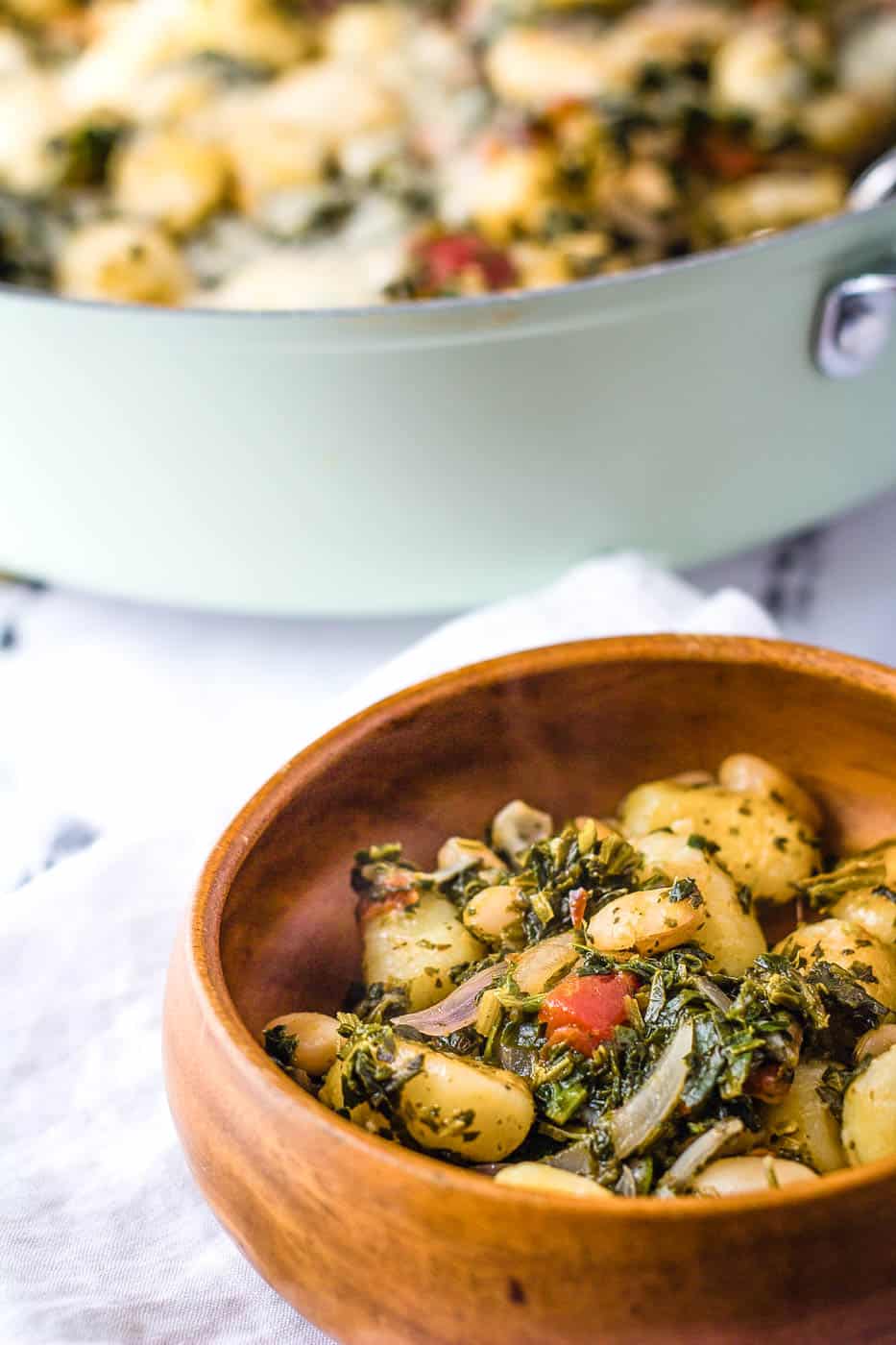 Gnocchi is a great alternative to traditional pasta, as it is made with potatoes and flour, making it lighter and healthier. The addition of spinach and white beans not only adds a delicious flavor but also provides an extra boost of antioxidants and protein. This potato gnocchi is one of the best vegetarian Italian recipes. Get this healthy gnocchi recipe here.
Easy Vegan Eggplant Parmesan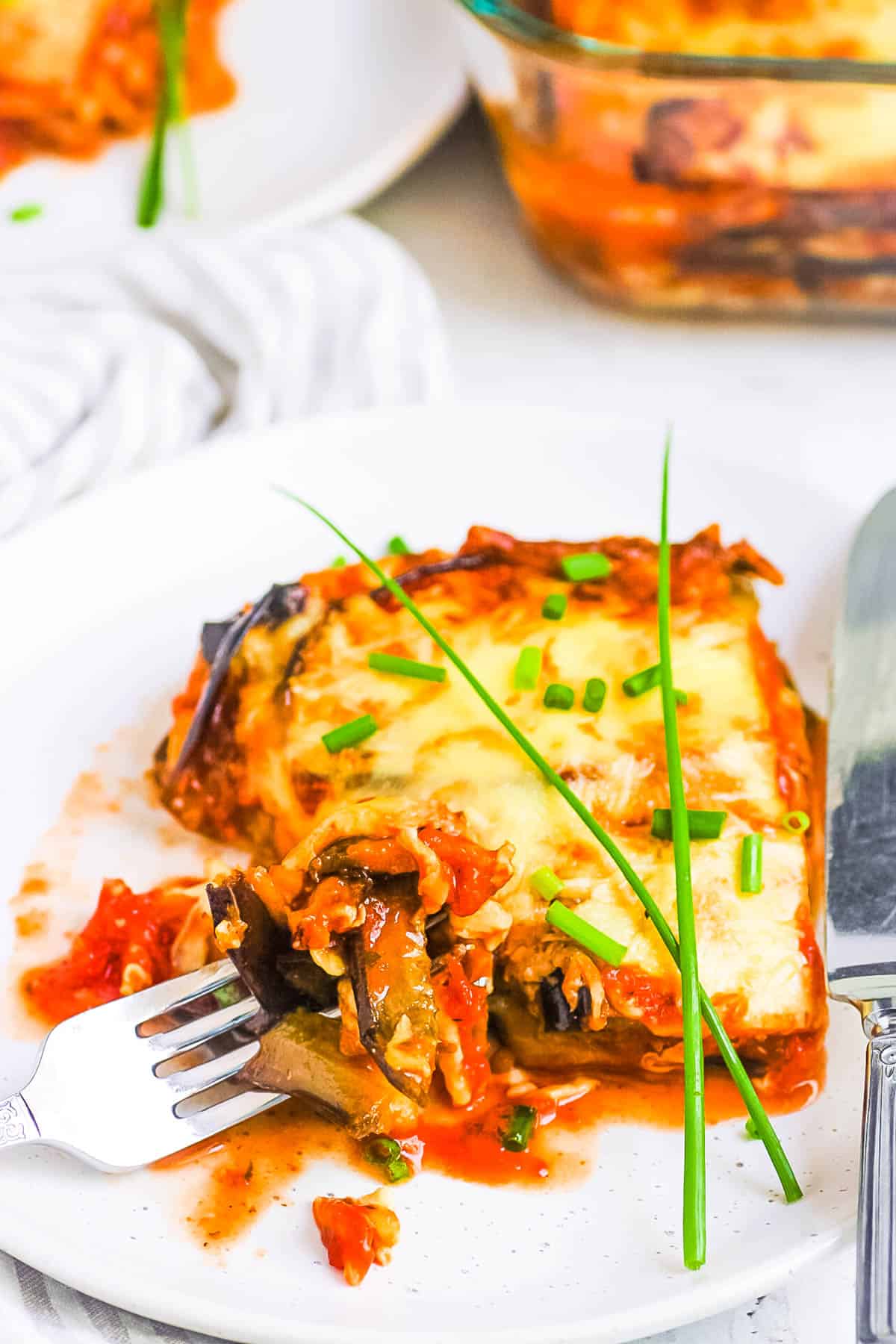 Get ready for a taste of Italy with this easy vegan eggplant parm recipe! This recipe is loaded with layers of tasty plant-based cheese, marinara sauce, oven-fried eggplant slices, and fresh basil. And the best part? There's no need for bread crumbs! Get this eggplant parmesan here.