Vegan Moussaka
This post may contain affiliate links. As an Amazon Associate, I earn from qualifying purchases. Please read my disclosure.
Delicious vegan moussaka is a rich casserole with caramelized eggplant and a tomato-based lentil filling smothered in vegan béchamel, then baked until hot and bubbly! It's Greek-inspired comfort food, minus all the dairy!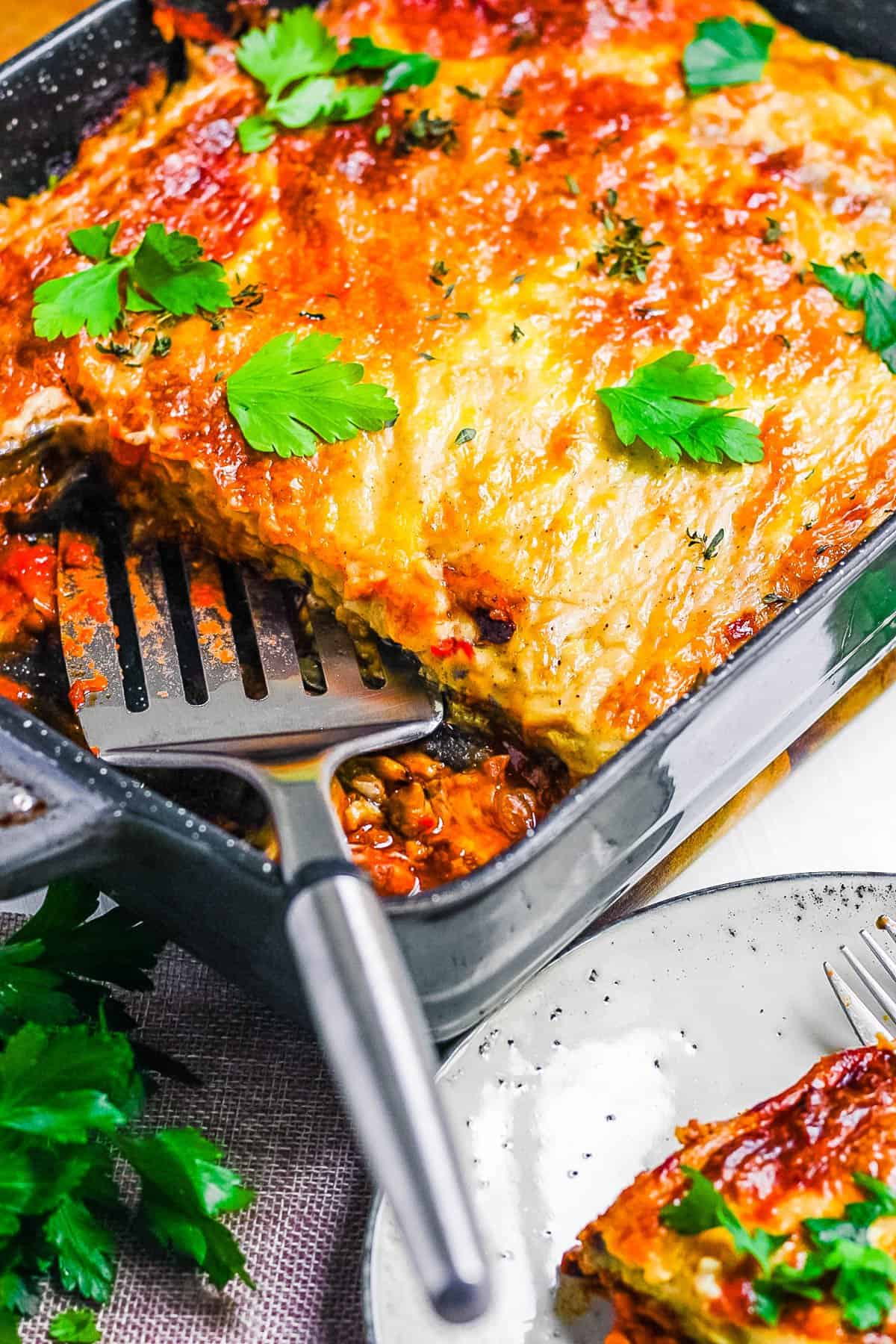 In this easy vegan moussaka recipe, I swapped the meat for lentils and the cheese sauce for a vegan version. It's fragrant, decadent, and most importantly, cheesy! Lentils are one of my favorite plant-based substitutes for ground beef. They add hearty texture and feel-good nutrients like fiber, folate, and potassium!
Latest Recipe Video!
While vegan eggplant moussaka takes more time than your classic dump-and-go casserole, it's worth all the effort! All the steps are simple, there's just a few different components to tackle. I will walk you through it with step-by-step photos and instructions.
✔️ What Is Moussaka?
A traditional moussaka recipe is a layered casserole with thinly sliced eggplant, meat sauce (typically beef or lamb mince), a layer of potato (sometimes), and béchamel sauce. It's a popular dish in Greek cuisine, well-loved for its aromatic filling and creamy cheese sauce.
My eggplant moussaka recipe keeps all of the flavors and textures of the traditional recipe, but is vegan friendly and healthier too! We still use layers of eggplant, but the bechamel sauce is vegan friendly, as is the "meat" filling.
👩‍🍳 Why This Recipe Works
Perfect for special occasions or busy weeknights
Creamy vegan béchamel sauce
Ultimate comfort food
Great recipe for feeding a crowd
No weird, hard-to-find ingredients
Step-by-step instructions
Best vegan moussaka recipe ever!
🥘 Ingredients
This veggie moussaka recipe requires simple ingredients found at your local grocery store.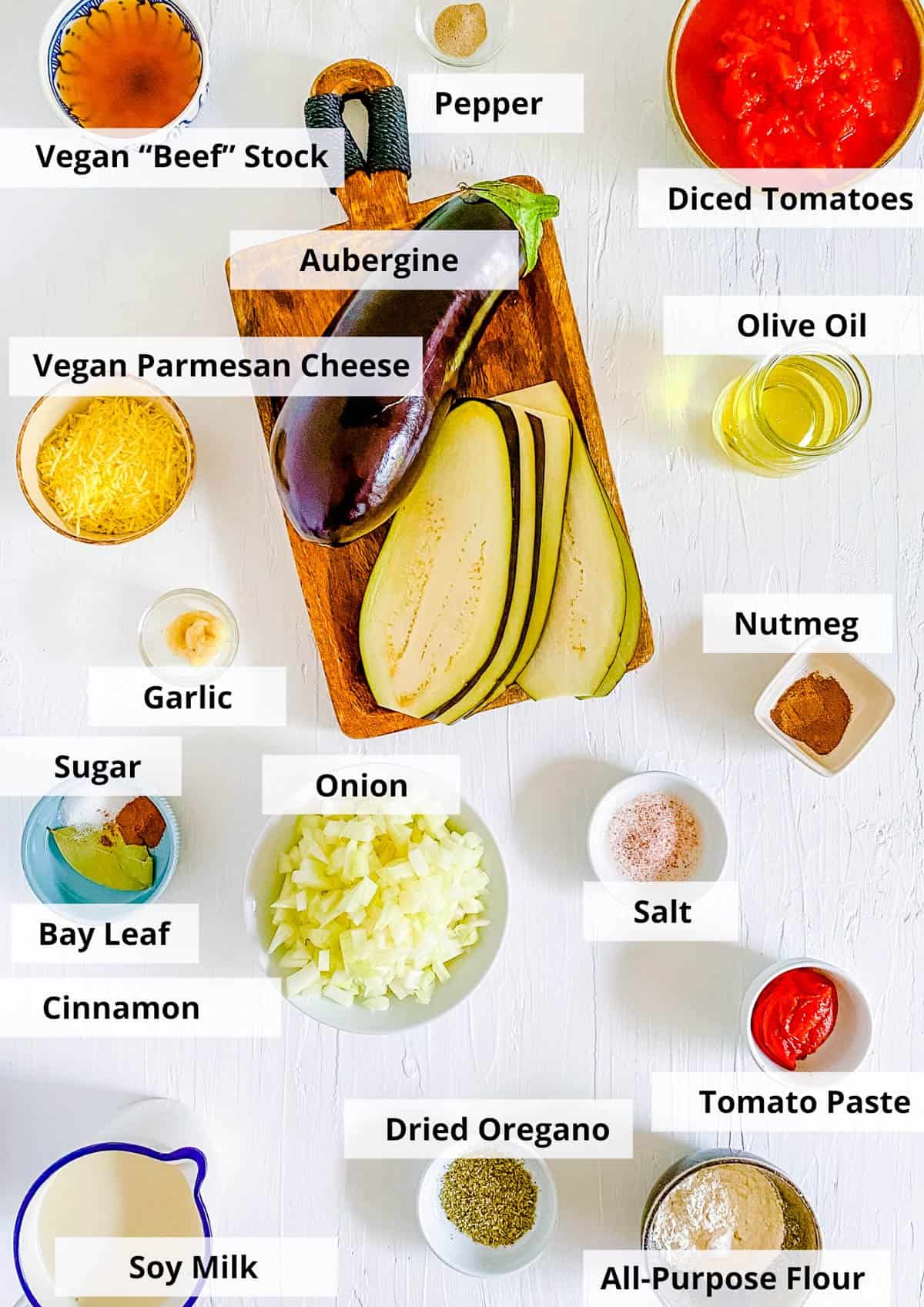 Oil: I like to use extra virgin olive oil to sauté the onion & garlic. It's heart healthy with a robust flavor. For the white sauce, I prefer a neutral flavored oil like vegetable or canola oil. Vegan butter works great too.
Aromatics: Onion & garlic create a depth of flavor in sauces, soups, and stews. Any type of onion can be used in this vegan lentil moussaka.
Tomato Paste: Doubles as a thickening agent and flavor booster. Tomato paste is just concentrated tomato purée & adds natural sweetness to the filling.
Brown Lentils: This meatless moussaka recipes calls for lentils in place of ground meat. Canned lentils are already cooked and ready to go. Avoid red lentils since they break down readily and turn mushy, and black lentils won't be creamy enough. Vegan ground beef can also be used. Learn how to cook red lentils if you plan to make a meal with it.
Diced Tomatoes: Fresh tomatoes for natural sweetness & acidity! Canned tomatoes are a must for soups, stews, and sauces. I stock up when they go on sale, so I always have them in my pantry.
Vegan Beef Stock: This ingredient adds that "meaty flavor" to this vegan version of moussaka. You can find this item at any well-stocked grocery store. If you can't find it, vegetable stock works great too.
Spices: Oregano, cinnamon, sugar, and bay leaf spice up the filling. Don't forget to season with salt & black pepper!
All-Purpose Flour: Flour acts as a thickening agent for the vegan cheese sauce.
Soy Milk: Soy milk has a neutral flavor that doesn't overpower the vegan parmesan. If you can't have soy, substitute with another neutral plant-based milk like almond milk.
Vegan Parmesan Cheese: Use your favorite brand!
📖 Variations
Make It Gluten Free: You might be wondering is moussaka gluten free? Traditionally, no it's not, because of the all purpose flour. But it's super easy to make this moussaka veggie recipe gluten free. Just swap the all-purpose flour with a gluten-free all-purpose flour blend, and the vegan beef stock with gluten free vegetable stock.
Add Potatoes: Layer thinly sliced potatoes (or sweet potato!) beneath the first layer of sliced eggplant. Bake as directed.
More Protein: Add crumbled plant protein (like Beyond Meat) into the lentil mixture.
Vegan Shepherd's Pie: Swap the bechamel sauce for a layer of mashed potatoes and bake!
🔪 How To Make Vegan Moussaka
Vegan aubergine moussaka does have a lot of steps, but it's actually relatively easy to make! Here's how you do it.
Prep, Slice Eggplant, Salt Eggplant: Start by prepping your dairy free moussaka ingredients. Slice the aubergine lengthwise. Sprinkle both sides of the eggplant slices with salt. Let it sit for 30 minutes while you make the lentil filling.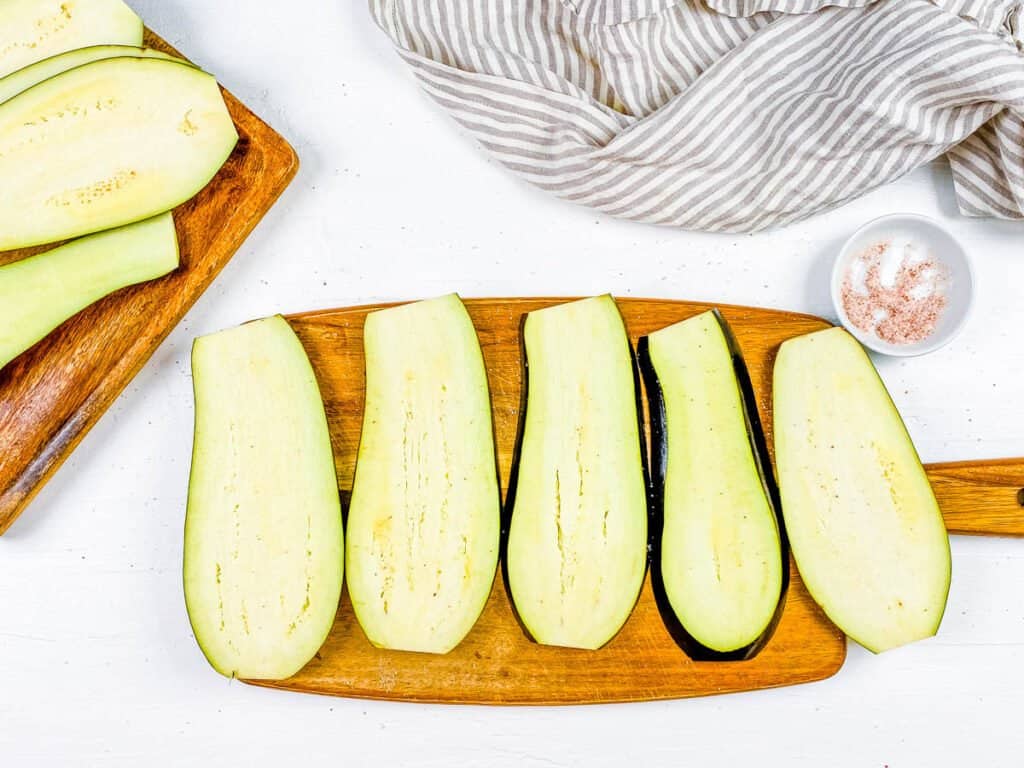 Sauté Aromatics: Heat a large skillet over medium heat, then a little bit of olive oil. Sauté the onion and garlic until softened. Add the tomato paste and cook for 2 more minutes, stirring occasionally.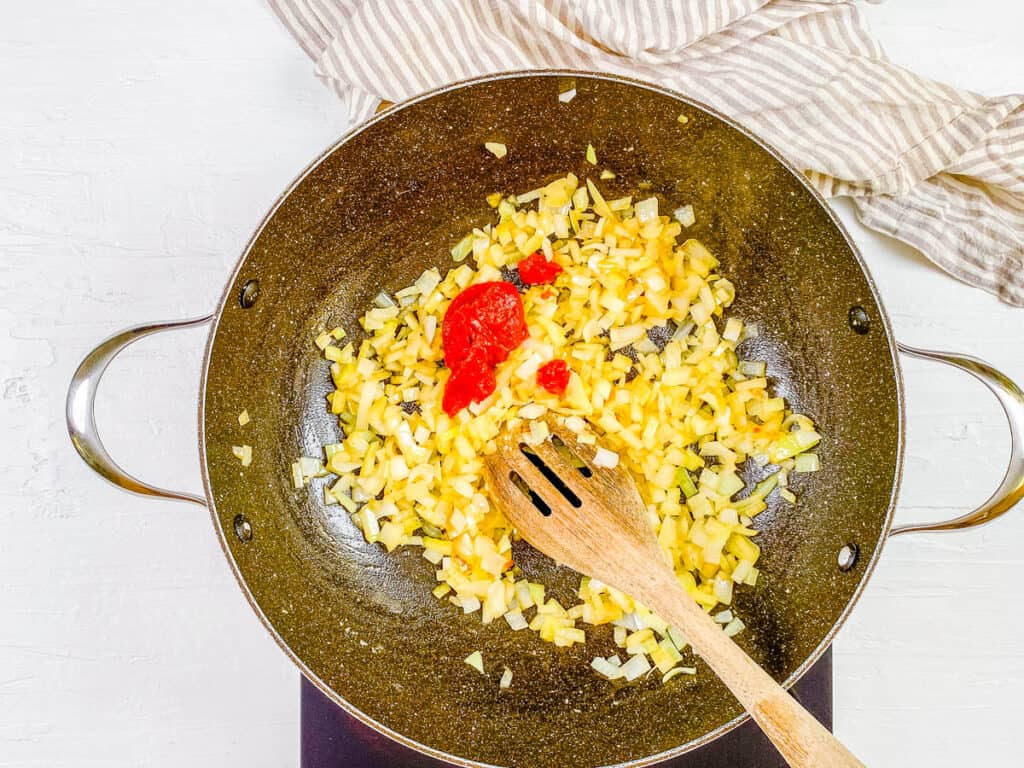 Simmer Cooked Lentils: Add the remaining ingredients for the filling over medium-high heat and bring to a boil. Reduce the heat, and simmer for 20 to 30 minutes. Carefully taste the mixture (it's hot!) and season to taste.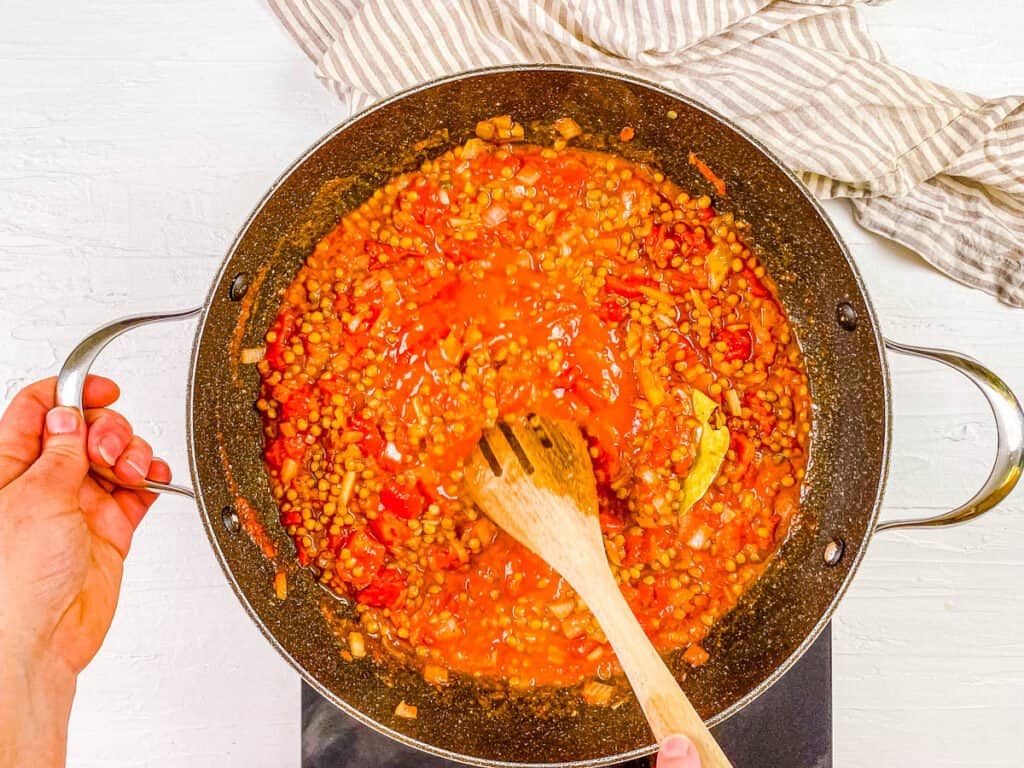 Start Vegan Béchamel: While the filling simmers, make the béchamel by heating the oil in a large saucepan and whisking in the flour. Cook for 2 to 3 minutes, stirring so it doesn't burn.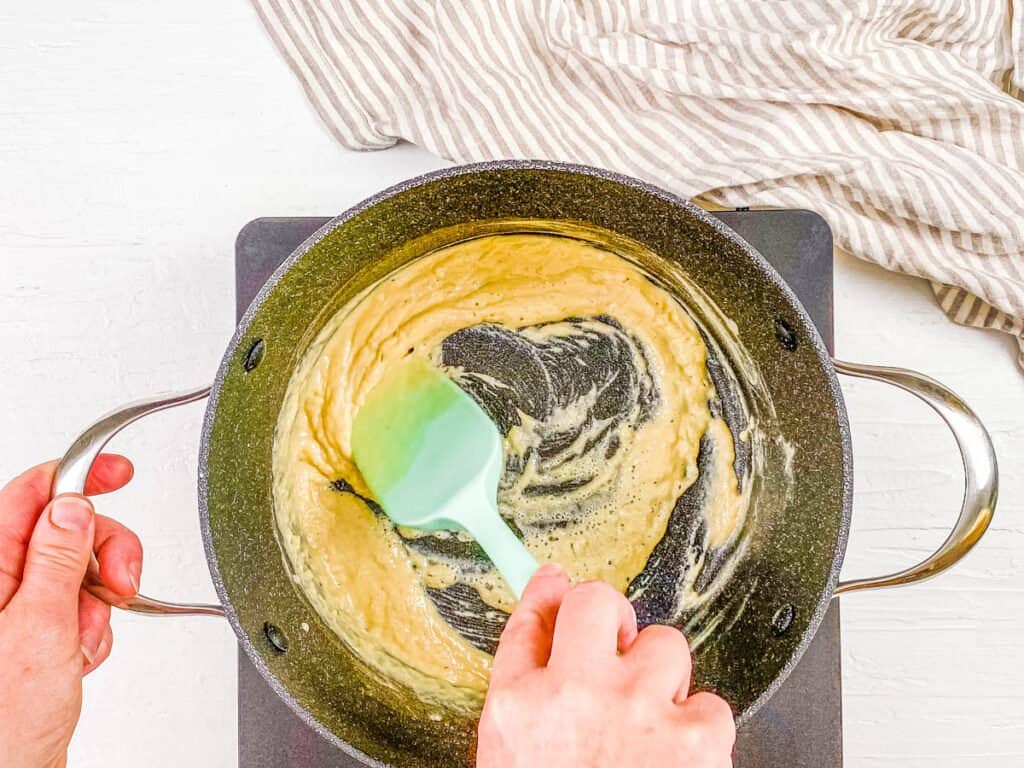 Add Soy Milk And Vegan Parmesan: Gradually whisk in the soy milk until the mixture is smooth. Don't dump all the soy milk in at once, or it will get lumpy. Cook over medium heat while whisking until thick. Add the nutmeg, 1/2 cup of parmesan cheese, salt, and pepper. Whisk until smooth.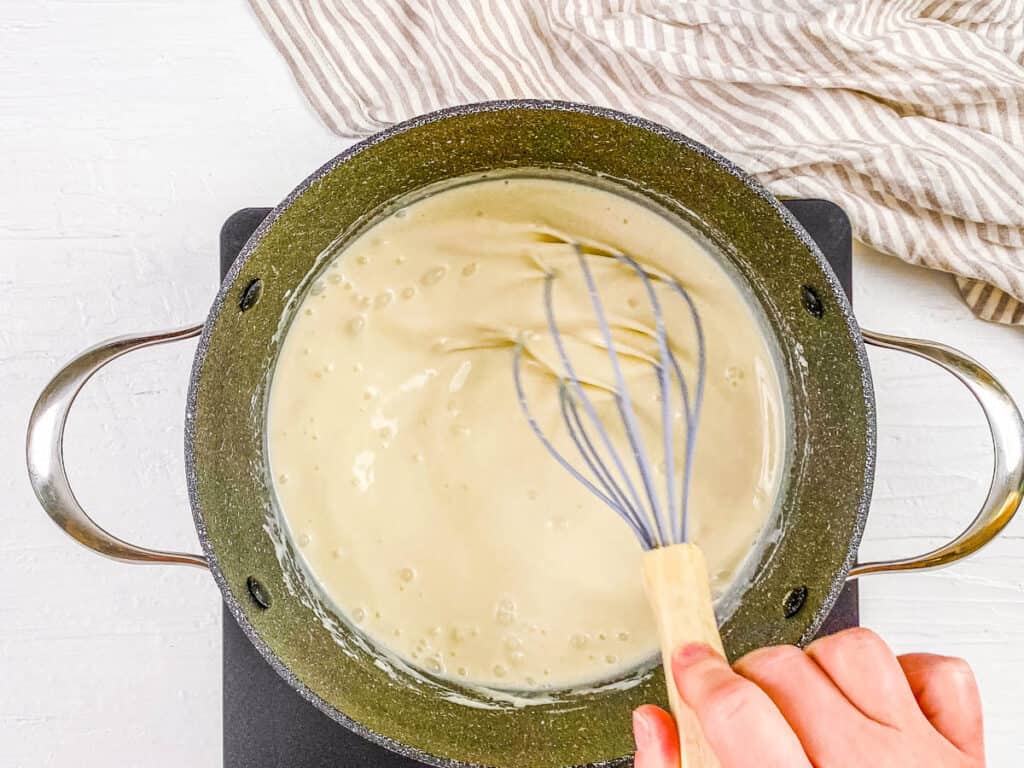 Cook Eggplant: Use a paper towel to dry the aubergine slices. Heat a large skillet over medium heat with oil and pan-fry the thick slices on both sides until golden brown. Preheat your oven to 350 degrees Fahrenheit.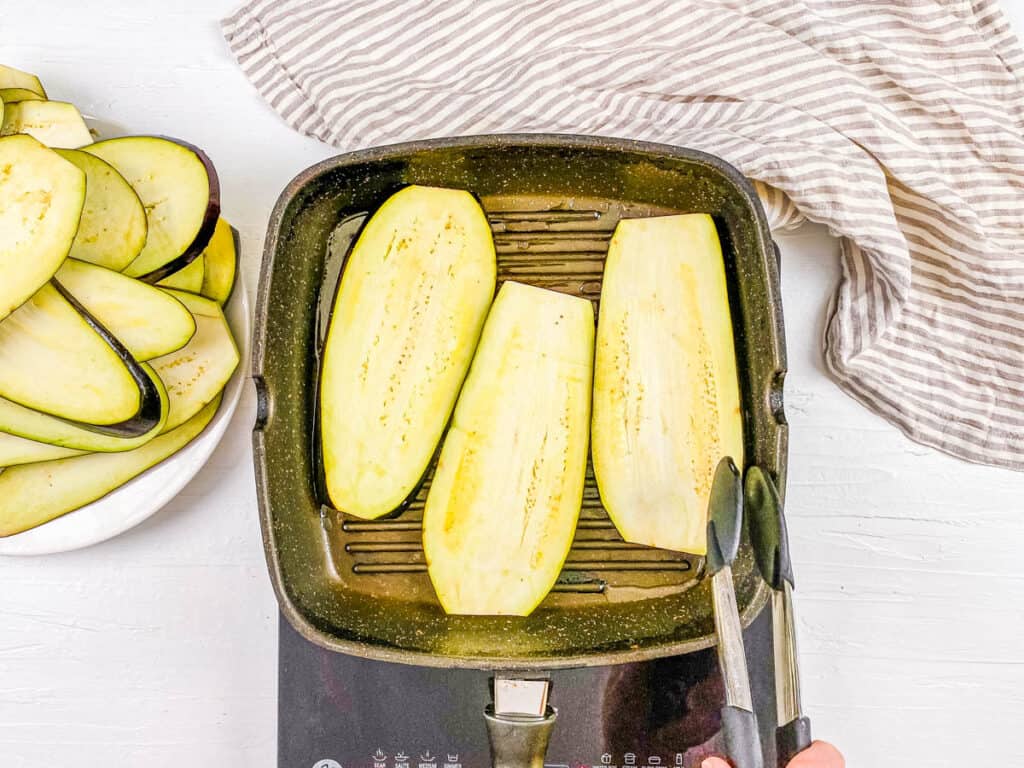 Start Assembling: Add half of the eggplant slices in a single layer in the bottom of a baking dish to get this Greek vegetarian moussaka recipe started.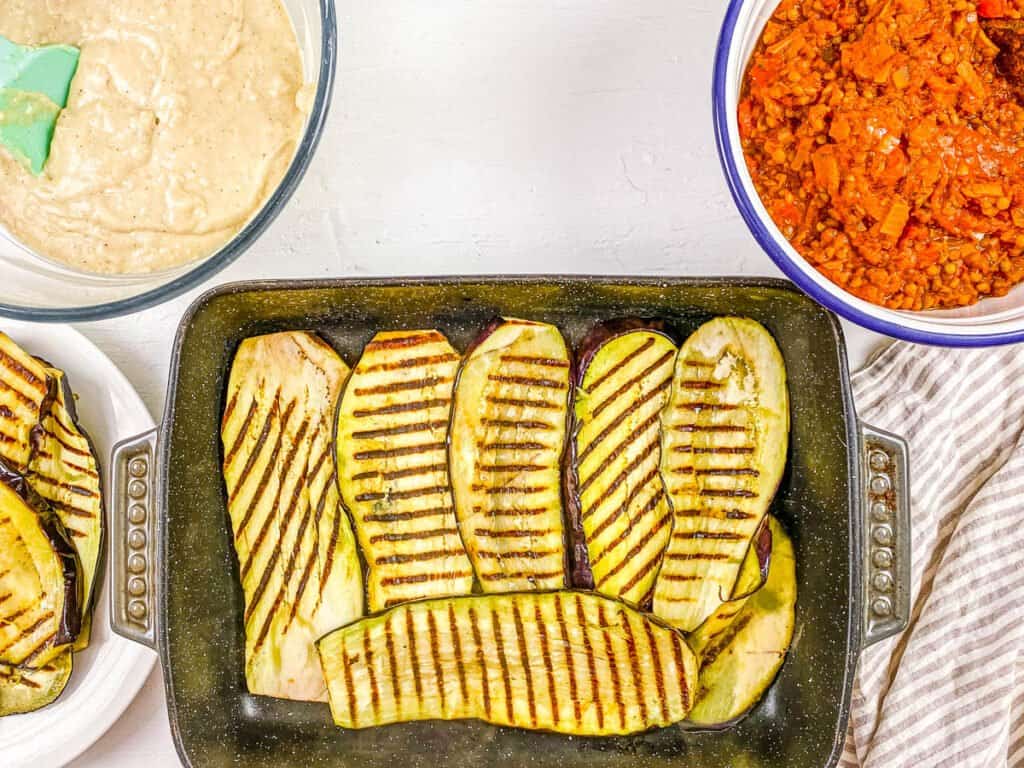 Add Filling: Spread the lentil ragu evenly over the eggplant.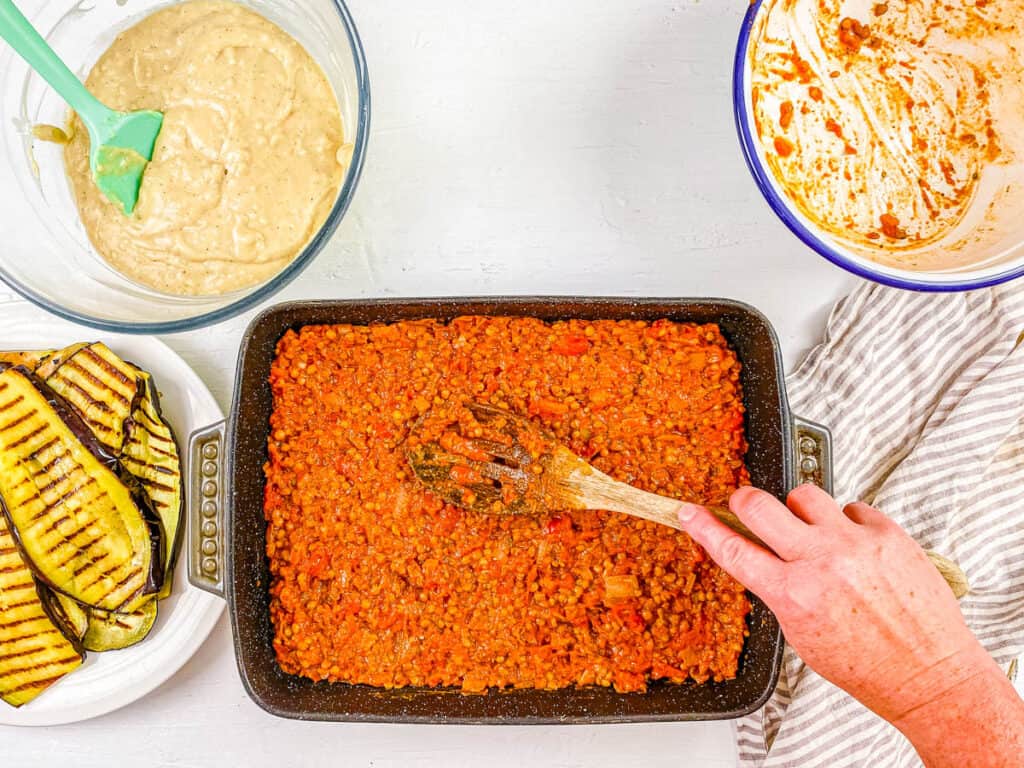 Layer Eggplant: Then add another layer of eggplant slices.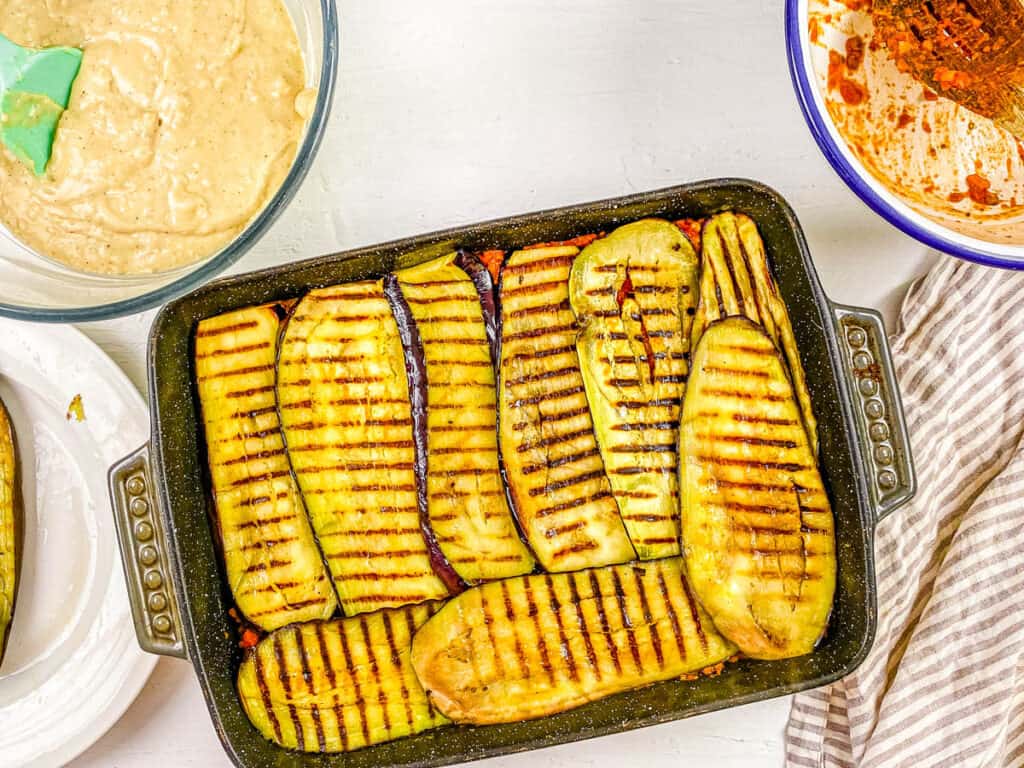 Add Béchamel Sauce: Pour the creamy béchamel sauce over top of the eggplant, then sprinkle with remaining parmesan.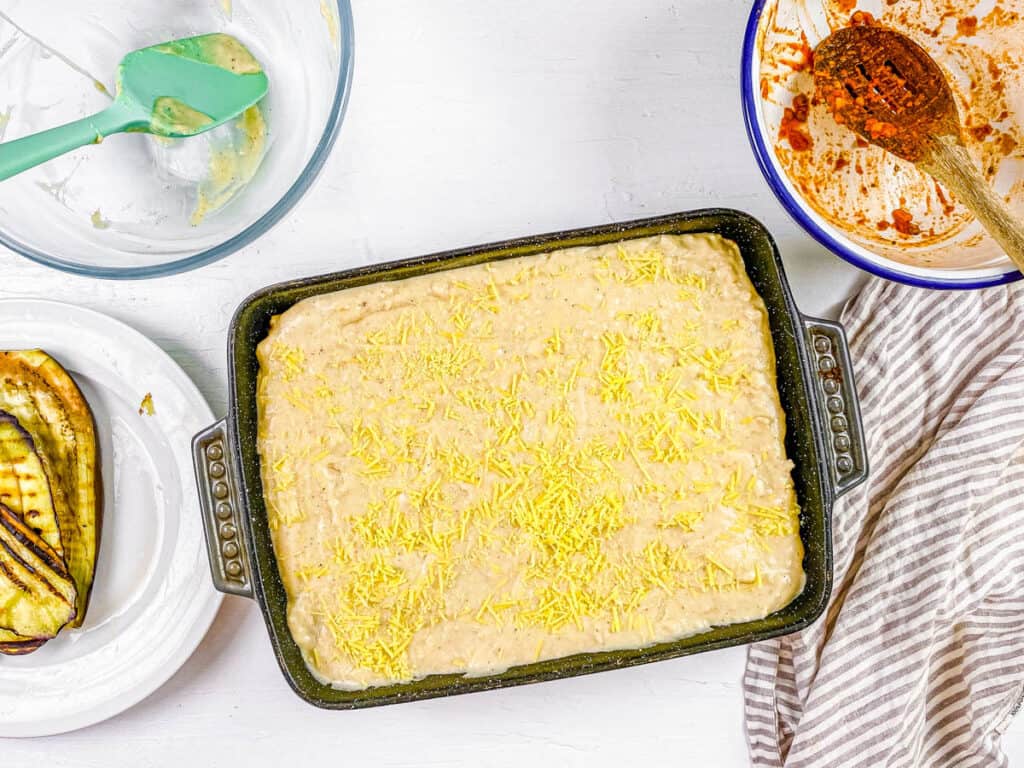 Bake: Transfer the dish to the oven and bake for 40 to 50 minutes.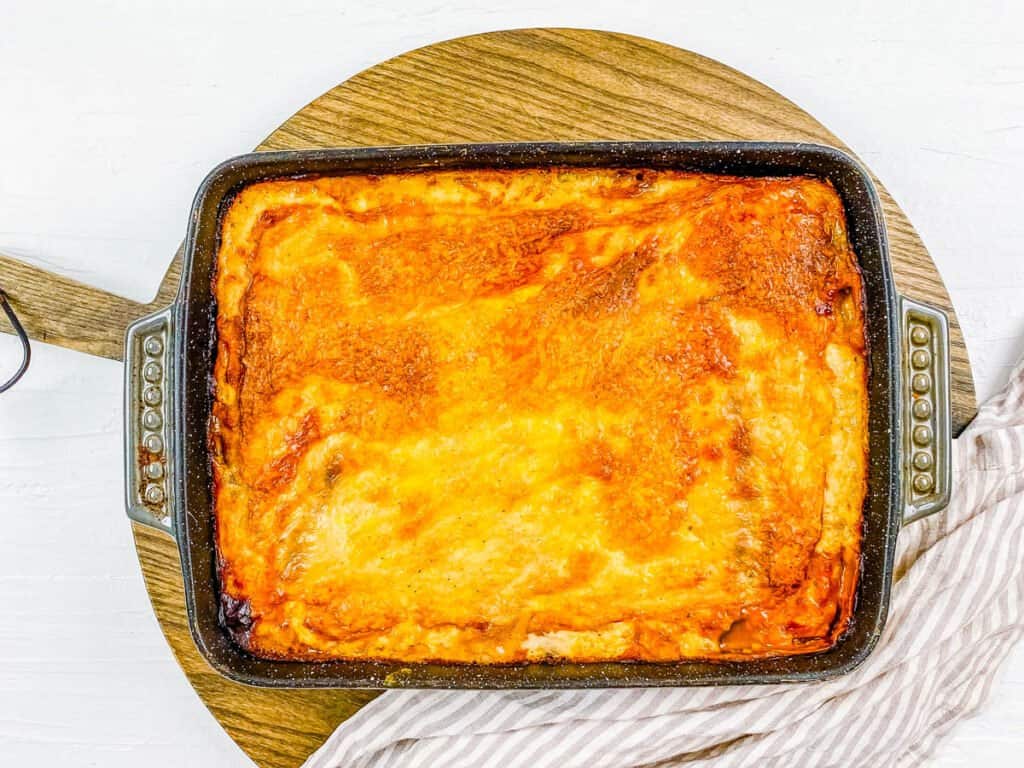 Serve: Let the baked moussaka cool for 20 minutes before diving in!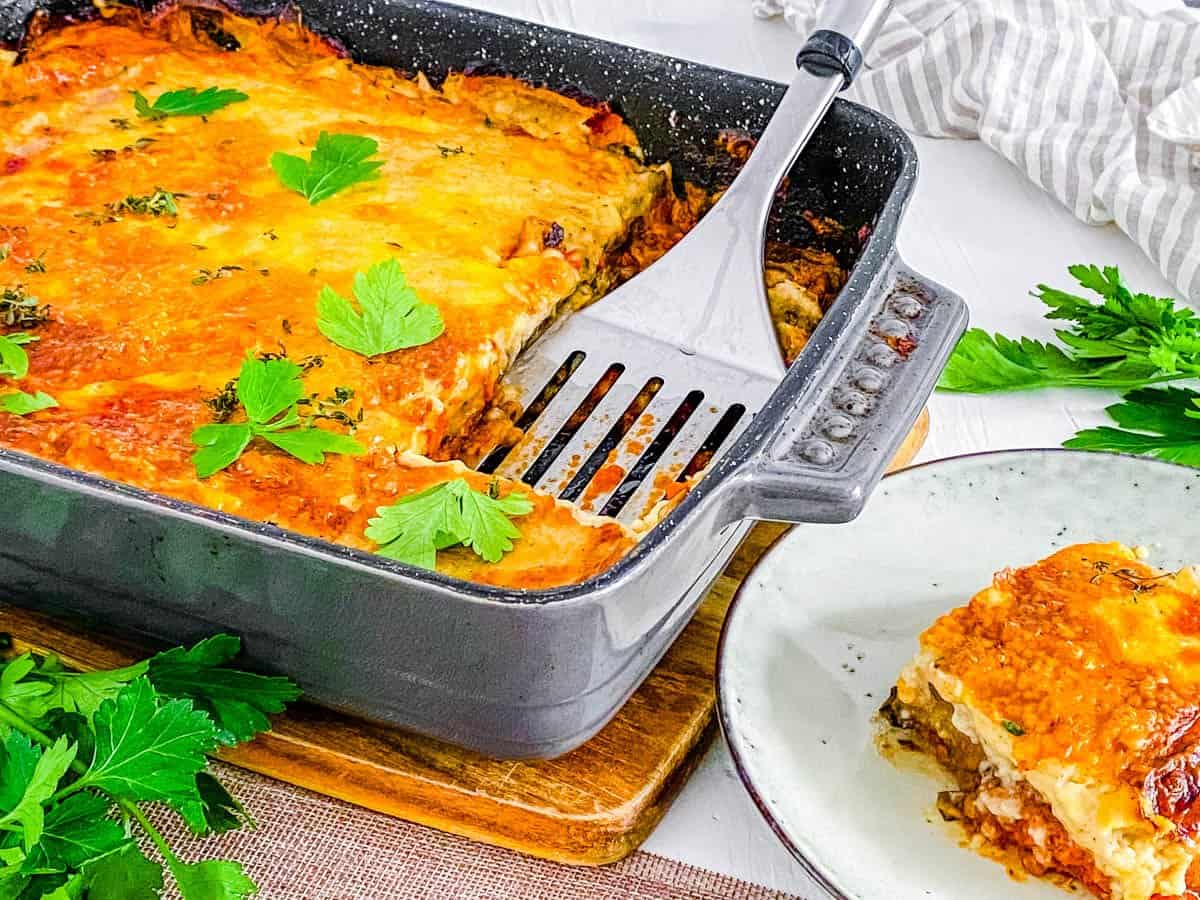 ❓Recipe FAQs
Is moussaka vegan?
No, a traditional recipe for Greek moussaka is not vegan. It's made with meat sauce and a béchamel cheese sauce, both of which contain animal products.
Does moussaka contain potato?
This middle eastern dish is traditionally made with sliced & fried eggplant, a seasoned tomato-based meat sauce, and a creamy béchamel sauce. There are multiple regional variations, some of which contain layers of potato or zucchini slices. You can easily add a potato layer to this lightened up moussaka if you would like (see the variations section earlier in this post!)
How should I store vegan greek moussaka? Can You freeze moussaka?
Moussaka can be frozen in a freezer safe, airtight container, and kept for up to 3 months. Thaw the moussaka overnight in the refrigerator, then cover with aluminum foil and reheat in a 350 degree oven until hot throughout.
Refrigerator Storage: Store leftover moussaka in the refrigerator, in an airtight container, for up to 5 days. Reheat in the microwave or the oven until warmed through.
How many calories are in vegan moussaka with lentils?
One serving of this moussaka has 264 calories, with 18 grams of fat and 6 grams of fiber.
What should I serve with plant based moussaka?
Moussaka is a filling dish on its own, but sides are always delicious! Try lemon roasted potatoes, cucumber salad, mixed greens salad, or vegan buttered toast. Add a glass of red wine for an elegant dinner!
💭 Expert Tips
Don't Forget To Salt The Eggplant! Salting the eggplant before you cook it removes some of the excess liquid which makes them caramelize better. It also removes any bitterness from the eggplant.
It's important to let the sauce simmer for at least 20 minutes. It intensifies the flavors and more importantly thickens the sauce so it's not watery.
Don't Skip Cooling The Moussaka: Let this Greek eggplant lasagna cool before you cut into it. It allows the béchamel to cool and set up, so it's not too liquidy.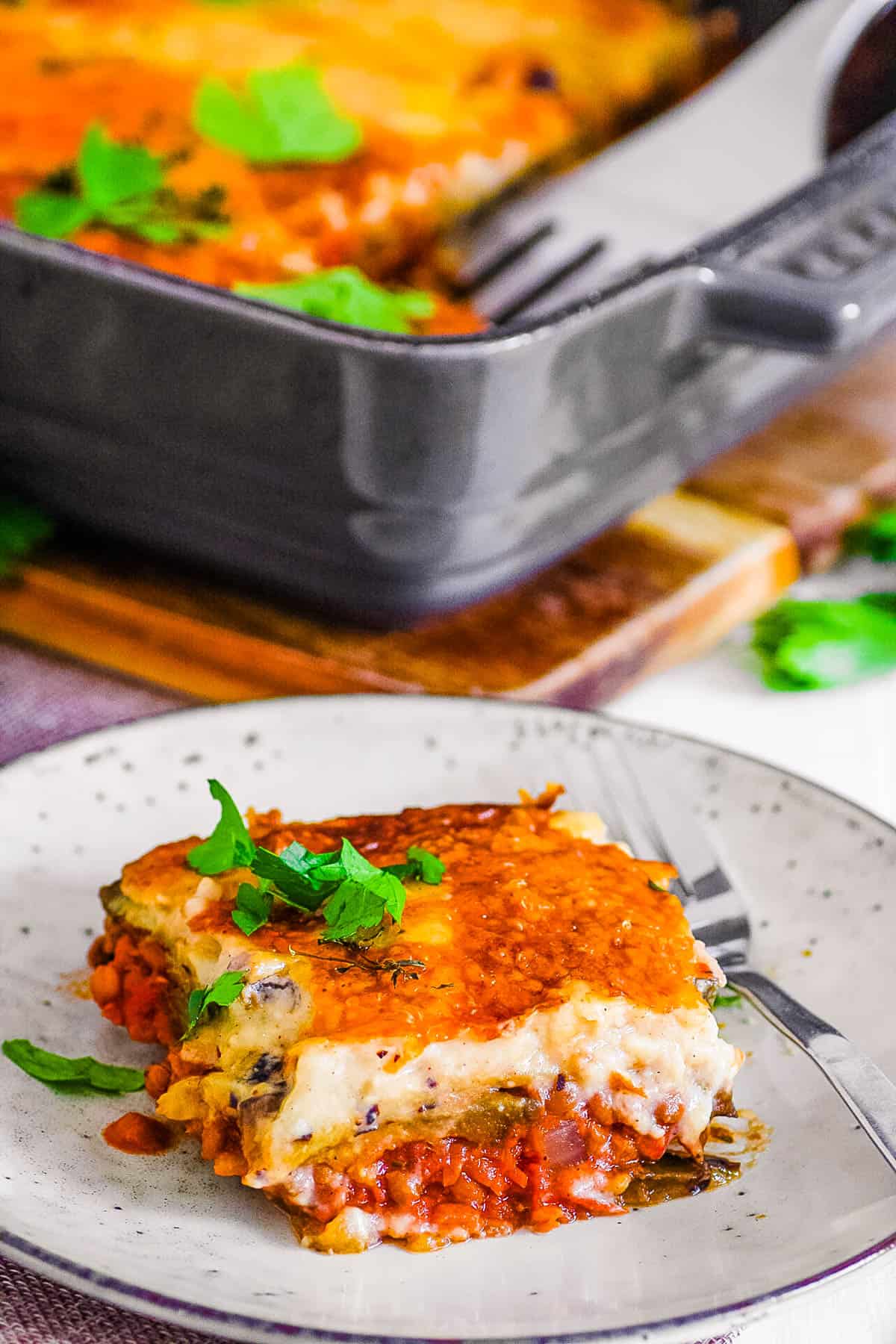 🍆 More Veggie & Eggplant Recipes!
LOVE THIS RECIPE? Please leave a 5-star rating 🌟 in the recipe card below and/or a review in the comments section further down the page!
You can also FOLLOW ME on FACEBOOK, TWITTER, INSTAGRAM, and PINTEREST to see more delicious, healthy, family-friendly food, and if you have any questions, I'm here to help!
📋 Recipe Card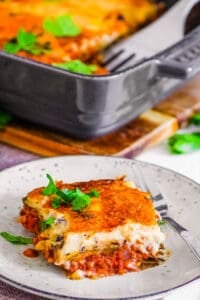 Print Recipe
Vegan Moussaka With Greek Flavors
Vegan moussaka is a rich casserole with sliced eggplant and a hearty tomato-based lentil filling smothered in vegan bechamel, then baked until hot and bubbly! It's Greek-inspired comfort food, minus all the dairy!
Instructions
Slice the eggplant lengthwise.

Sprinkle with salt on both sides and leave for 30 minutes while preparing the filling.

Prepare the filling by heating a large pot and sautéing the onion and garlic in the oil until softened.

Add the tomato paste and cook for 2 minutes.

Add remaining ingredients and bring to a boil, reduce heat and simmer for 20-30 minutes.

Adjust seasoning to taste.

While the filling is cooking prepare the bechamel sauce by heating the oil in a pot and whisking through the flour. Cook for 2-3 minutes.

Slowly whisk the soy milk in stages, into the flour mixture until all incorporated and smooth.

Cook over medium heat while whisking until thickened.

Add the nutmeg, ½ cup parmesan cheese, salt and pepper, whisking until smooth.

Pat dry the ​​aubergine slices with a paper towel.

Heat a skillet with oil and cook aubergine slices until golden on both sides.

Preheat the oven to 350 degrees F / 180 C.

To Assemble: Layer ½ of the aubergine slices over the base of a 15 inch x 10 inch baking dish.

Top with the filling and add another layer of eggplant.

Pour the bechamel sauce over top and sprinkle with the remaining cheese.

Bake in the oven for 40-50 minutes.

Once cooked remove from the oven and allow it to cool for 20-30 minutes before cutting into 10 pieces and serving.
Notes
Salting the eggplant before cooking helps to remove any bitterness.

Allow the filling to simmer and reduce down, thickening the sauce to ensure the moussaka isn't watery.

Moussaka can be frozen and kept for up to 3 months.

Cooked moussaka can be kept in the fridge, covered, for up to 5 days.

Allowing the moussaka to cool slightly before cutting helps the bechamel sauce to not be too watery.
Nutrition
Serving:
1
piece
|
Calories:
264
kcal
|
Carbohydrates:
22
g
|
Protein:
6
g
|
Fat:
18
g
|
Saturated Fat:
2
g
|
Polyunsaturated Fat:
5
g
|
Monounsaturated Fat:
9
g
|
Trans Fat:
0.1
g
|
Sodium:
1037
mg
|
Potassium:
562
mg
|
Fiber:
6
g
|
Sugar:
8
g
8 responses to "Vegan Moussaka"