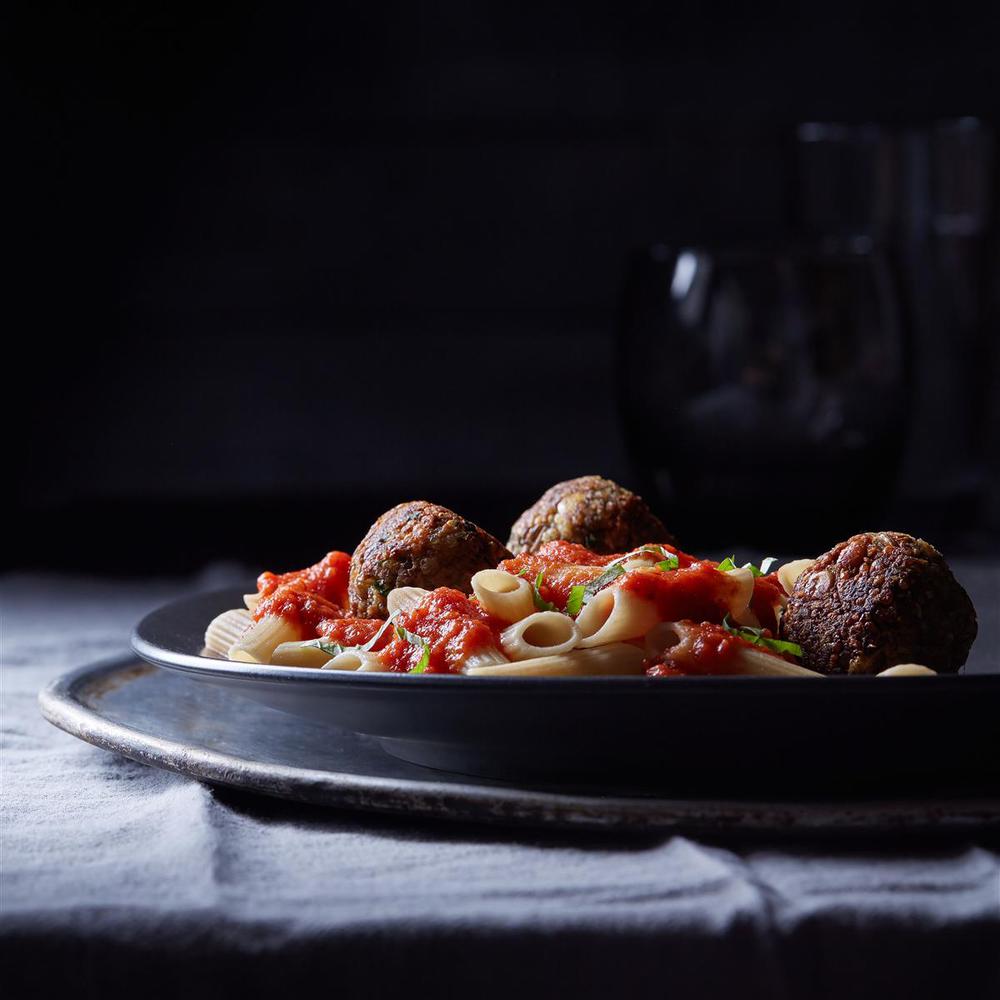 I know what you're thinking.
Quinoa, lentil meatballs? Do they actually taste good?
You'd be surprised as to how meaty and flavorful these vegan meatballs are! Made with lentils, mushrooms and pumpkin seeds, this recipe is packed with protein, fiber and is kid-friendly too thanks to the penne pasta and spaghetti sauce!
I like mixing baby spinach into pre-made marinara sauce to give it even more flavor and to sneak another veggie in there.
To make this recipe gluten-free, I used truRoots Ancient Grain Pasta — because they are made with a nutritious blend of whole grain brown rice, quinoa, amaranth and corn flours, and they're organic! Many gluten-free products have tons of processed ingredients in them, but truRoots has real, whole food ingredients that also happen to be gluten-free, so you can feel great about eating it.
And now, one lucky reader will win a prize pack of truRoots Ancient Grain Pastas!
To Enter: You can enter in one of six ways (each option below counts as a separate entry):
This giveaway will be open until 11:59pm PST on Sunday, April 9th. I'll be announcing the winner in the comments of this post on Monday, April 10th.
And now, for the recipe! I hope you enjoy this as much as we did!
Penne with Quinoa Lentil Meatballs (and a giveaway!)
Nutritional Info Per Serving (1/2 cup cooked pasta, 2-3 meatballs, 1/8 of the sauce and 1 tbsp cheese): 459 Calories, 14.9g Fat (3.2g Saturated), 770mg Sodium, 68g Carbs, 12g Fiber, 9g Sugar, 22g Protein
Ingredients
1 tbsp olive oil
1 pound baby bella mushrooms, stemmed and chopped
1/2 cup finely chopped onion
4 cloves minced garlic
2 tsp Italian seasoning (more to taste)
1/2 tsp red chili flakes
1/2 cup roasted and salted pepitas
1.5 cups cooked and cooled Sprouted Green Lentils
1 cup cooked and cooled Sprouted Quinoa
3 tbsp almond meal
1/4 cup finely grated Parmesan cheese, plus additional for garnish (omit if making this vegan)
3 tablespoons chopped flat-leaf parsley
Salt and pepper to taste
1 package of truRoots® Ancient Grains Organic Penne
1 28oz bottle of Marinara Sauce (I like Muir Glen Garden Vegetable Sauce)
1 6oz box fresh baby spinach, chopped
4 large fresh basil leaves, chopped
Instructions
Heat olive oil in a large skillet over medium high heat. Add mushrooms and onions, stirring occasionally, until mushrooms have softened, about 8 to 10 minutes. Stir in garlic, Italian seasoning and chili flakes. Cook until fragrant. Remove from heat. Cool mixture.
Pulse pepitas in food processor until finely ground. Add mushroom mixture and half of cooked lentils. Pulse 5 to 8 times or until finely chopped. Transfer to mixing bowl.
Add remaining cooked lentils, cooked quinoa, flour, cheese and parsley. Mix to combine. Season to taste with salt and pepper.
Shape into 16 balls.
Spray skillet with olive oil cooking spray.
Cook half of meatballs, using a spatula to gently release meatballs from pan. Turn meatballs occasionally, until golden brown, about 8 to 10 minutes. Repeat with remaining meatballs.
Cook pasta in large pot of boiling water salted water, just until al dente. About 8 to 10 minutes. Drain. Heat pasta sauce in medium saucepan, over medium heat, until warm. Add in the baby spinach and heat until the spinach is cooked through - 3.5 min.
Place serving of pasta on dinner plate. Top with several meatballs, marinara, basil and 1 tbsp shredded parmesan cheese per serving
Notes
https://pickyeaterblog.com/penne-quinoa-lentil-meatballs-giveaway/
Recipe by: The Picky Eater, pickyeaterblog.com
TAGS: entrees, giveaway, gluten-free, italian recipes, kid friendly recipes, pasta, vegan, vegetarian
144 responses to "Penne with Quinoa Lentil Meatballs (and a giveaway!)"