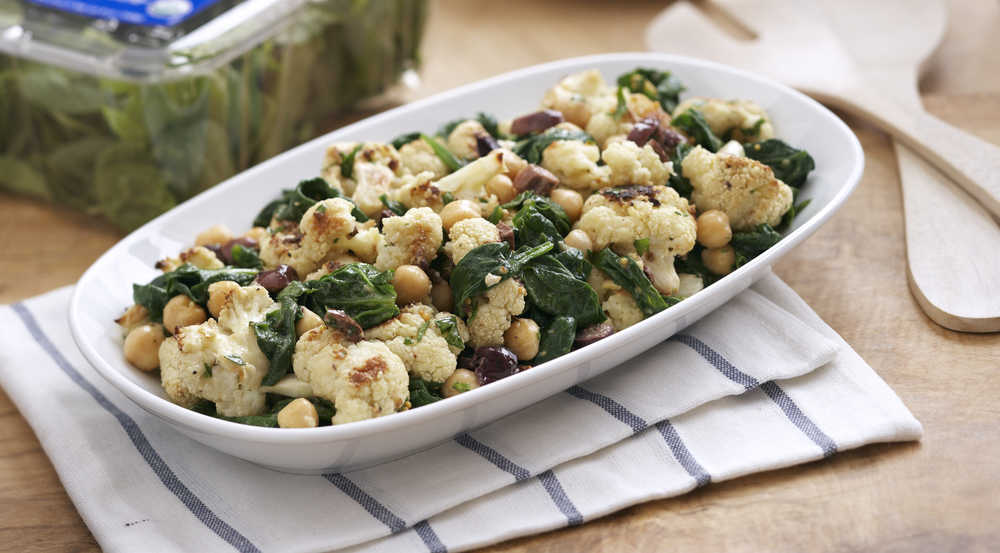 I love roasting vegetables in the fall. Butternut squash, carrots, cauliflower, zucchini, peppers, onions, tomatoes — I could go on. The best thing about roasting veggies is that you can extract a TON of flavor without needing to add too much fat or calories. It's also super simple to do, and you can make a big batch and use it throughout the week in different recipes (soups, casseroles, salads, etc.)
This recipe makes cauliflower the star, roasted to perfection and tossed with a warm dressing, along with some chickpeas for protein, spinach for some greens, and kalamata olives for a nice tangy bite. It's also vegetarian, vegan, and gluten free, but is so satisfying you won't even notice 🙂
I'm sharing this recipe in honor of Breast Cancer Awareness Month — I've teamed up with Pink Ribbon Produce and its produce partners to help raise awareness about increasing fruits and veggies in our diets (the goal is at least 2.5 cups a day) to help lower cancer risk (cruciferous veggies like cauliflower, and greens like spinach are especially great for prevention!)
A little bit about why I'm supporting this cause: PRP has raised over $553,000 for breast cancer awareness and prevention since it started 10 years ago. This month, 3 retailers: Harris Teeter, Meijer and Price Chopper are participating. When you shop at these stores during the month of October, (look for participating produce suppliers with a PRP icon next to them), you are both financially and symbolically supporting the National Breast Cancer Foundation. 100% of the donations made by the produce partners support NBCF and goes back into the community by providing mammograms and educational programs to help save the lives of thousands of uninsured women. And on a personal note, breast and ovarian cancer have affected many women in my family – so this hits particularly close to home.
I'd love your help in raising awareness about Pink Ribbon Produce by sharing this post! And I hope you all love this recipe!
Roasted Cauliflower Salad with Spinach and Chickpeas
This recipe makes cauliflower the star, roasted to perfection and tossed with a warm dressing, along with some chickpeas for protein, spinach for some greens, and kalamata olives for a nice tangy bite.
Ingredients
1

large head Cauliflower

outer leaves removed, cut or broken into bite-size florets/pieces

4

tbsp

extra virgin olive oil

1/2

tsp

salt

1/4

tsp

ground black pepper

1

tbsp

white wine vinegar

1/2

tsp

mustard seeds

1

tbsp

Dijon mustard

1/4

cup

chopped Italian parsley

15

oz

chickpeas

rinsed and drained (1 can)

6

oz

Baby Spinach

1/4

cup

Kalamata olives

chopped

Salt and freshly ground black pepper to taste
Instructions
Preheat oven to 400 degrees. Line a cookie sheet or sheet pan with parchment or foil.

Toss the cauliflower pieces with the 1 tbsp olive oil, salt and pepper. Spread on the prepared sheet and roast in the oven for about 35 minutes or until golden brown, tossing the vegetables once midway through cooking time.

While the cauliflower is roasting, heat the vinegar and mustard seeds in a small saucepan over low heat for 5 minutes. Stir in the Dijon mustard, parsley and olive oil. Keep warm.

Place the chickpeas, spinach and olives in a large bowl. Add the hot roasted cauliflower and warm dressing, tossing to wilt the spinach a bit and coat all ingredients lightly with dressing.

Taste and adjust seasonings with salt and pepper if needed. Serve warm or at room temperature.
Nutrition
Calories:
332
kcal
|
Carbohydrates:
34.8
g
|
Protein:
9.6
g
|
Fat:
19.3
g
|
Saturated Fat:
2.2
g
|
Sodium:
910
mg
|
Fiber:
10.2
g
TAGS: appetizers, christmas recipes, entrees, gluten-free, kid friendly recipes, quick meals, salads, side dishes, thanksgiving recipes, vegan, vegetarian
10 responses to "Roasted Cauliflower Salad with Spinach and Chickpeas"