One Week in Chile (Santiago, Colchagua, Valparaíso)
This post may contain affiliate links. As an Amazon Associate, I earn from qualifying purchases. Please read my disclosure.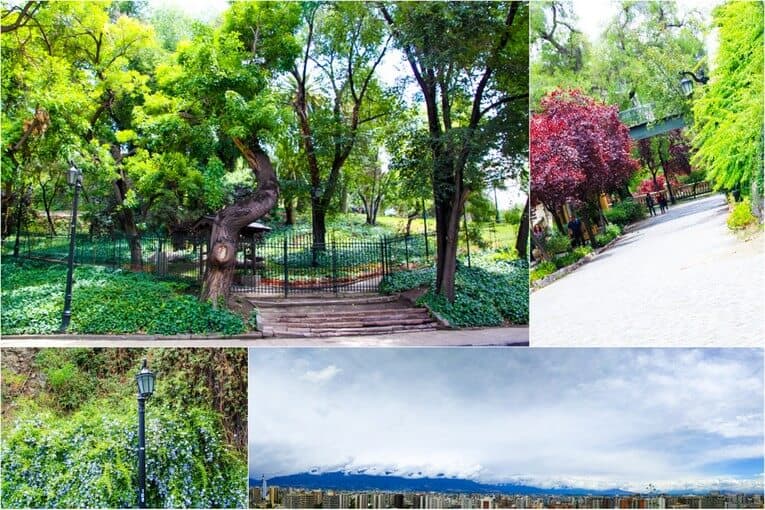 At the end of last year, during the holidays, the husband and I were lucky enough to spend a week in Chile! We left Layla with family and flew to Santiago on the evening of Christmas Day. It was the first international trip we had taken since before Layla was born (since July of 2013!) and it was the longest we had been away from her so we were both a little nervous about how it would go. But, we knew it was the right decision because there is no way she would have had fun on such a long, international trip. Layla is an amazing kid, but she is a terrible traveler: doesn't sleep on planes/car rides/in the stroller/anywhere except her crib, really, and we knew she wouldn't be able to remember the trip even if we did take her. So we prepped her for weeks before we left, and on the day we were leaving she didn't get upset or cry at all – what a relief!
And luckily, the rest of her time away from us went smoothly!
As for us, we landed on the morning of the 26th in Santiago and were so excited to explore the city.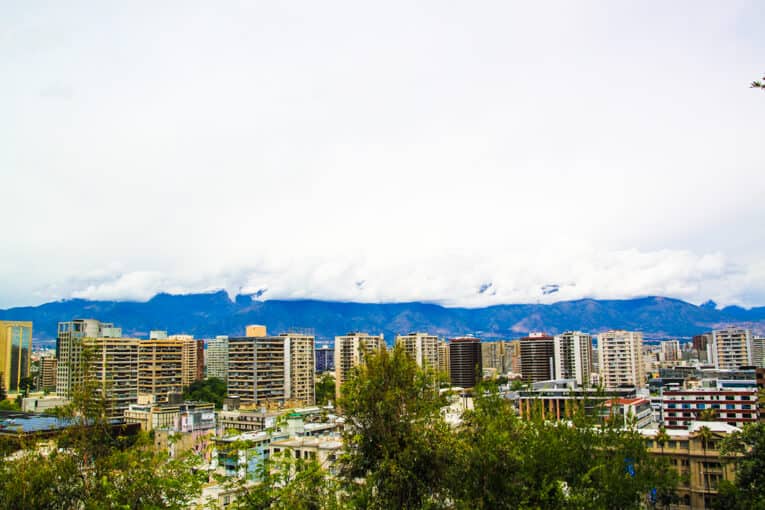 Our first stop was Cerro Santa Lucia, which had a beautiful park and a hike to the top that had the most incredible views.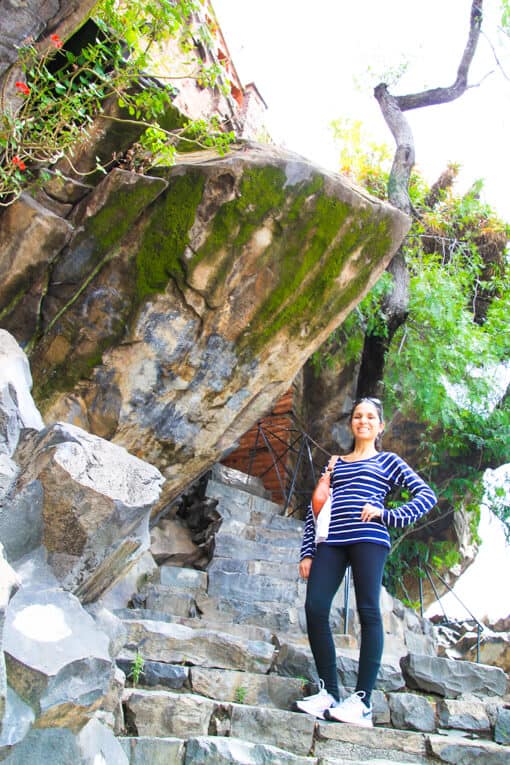 We could even see the Andes!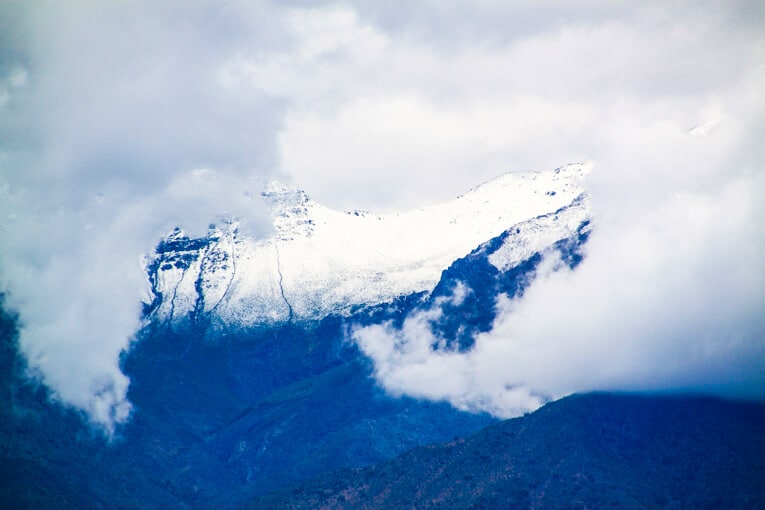 We stayed at the Hotel Cumbres Lastarria, which was super nice and had the most epic free breakfast I've ever had at a hotel: hot and cold options, seriously delicious and healthy too! They even let us check in 5 hours early when we got there at 10am so we could freshen up and nap before we headed out for the day.
After we left the park, we came across an cute neighborhood called Bellas Artes. There was an amazing Gelato place here, a quaint bakery that we stopped at, and we saw some really cool graffiti and architecture.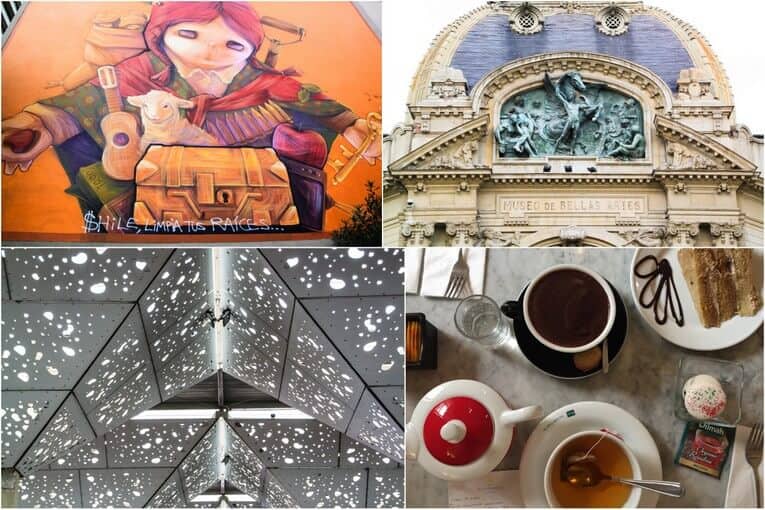 Santiago has tons of parks and markets, and we spent the remaining part of the afternoon meandering through all of the parks until we got tired enough to go back to the hotel before dinner. At the hotel, we met up with my brother, sister-in-law and two friends that we spent the rest of the trip with!
Dinner was incredible. We found an all vegetarian restaurant in the heart of Santiago called El Huerto. They made freshly baked sprouted wheat breads, fresh juices, and there were so many veggie options it was hard to decide what to order! We each ordered 2 dishes and had dessert on top of that. Stuffed and happy, we headed back to our hotel.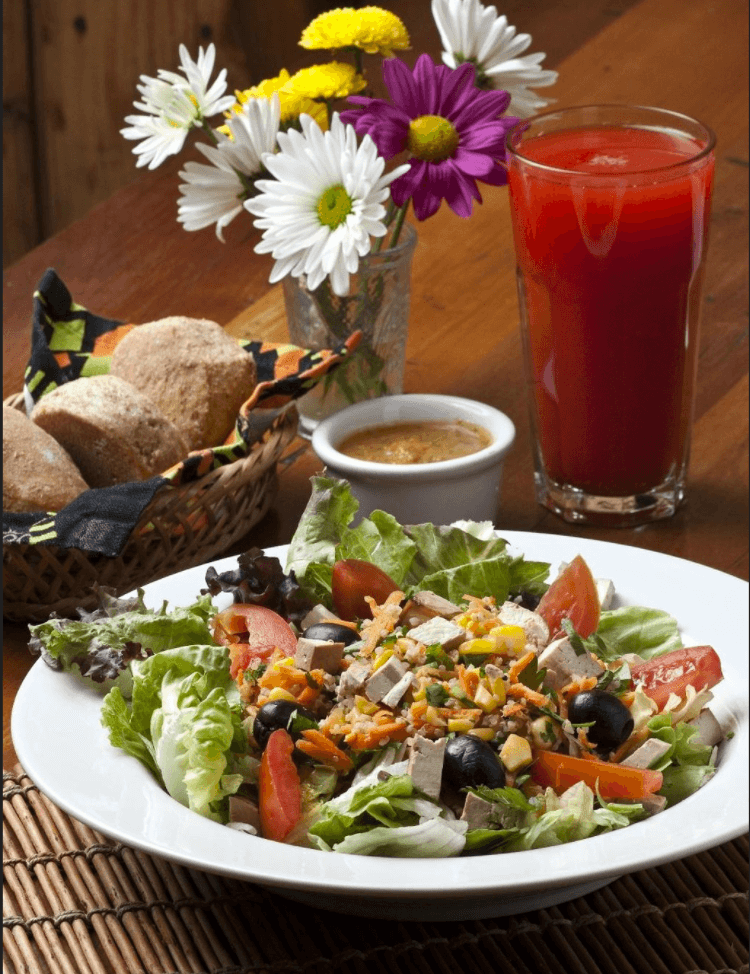 The next day, after our hearty hotel breakfast, we headed to the Andes for a 10 mile hike all the way to the glacier and back! We used EcoTours and were really happy with them. They picked us up at our hotel, drove us to the base of the mountain, guided us through the hike, provided a really robust veggie lunch (sandwiches on whole grain bread packed with veggies, avocado and cheese, homemade trail mix, fresh fruit, tons of water, and even some treats like chocolate and granola bars if needed), and dropped us back at our hotel at the end of the day. It was a long day (8am-7pm) but so, so worth it! The pictures and views were unreal.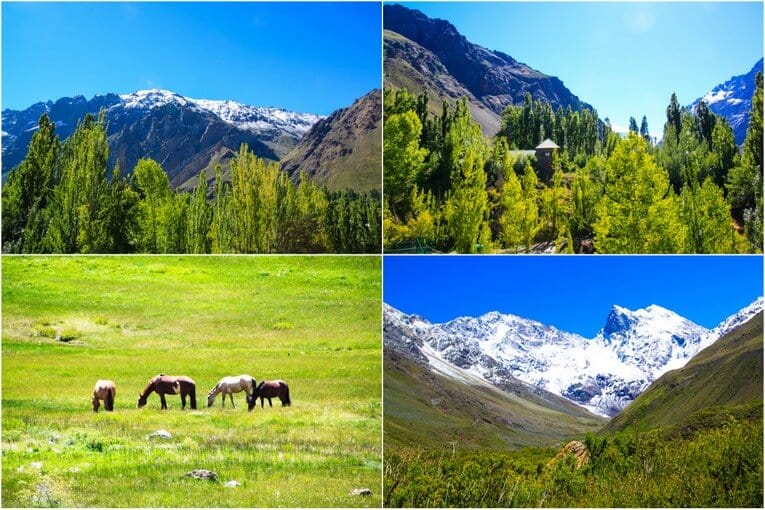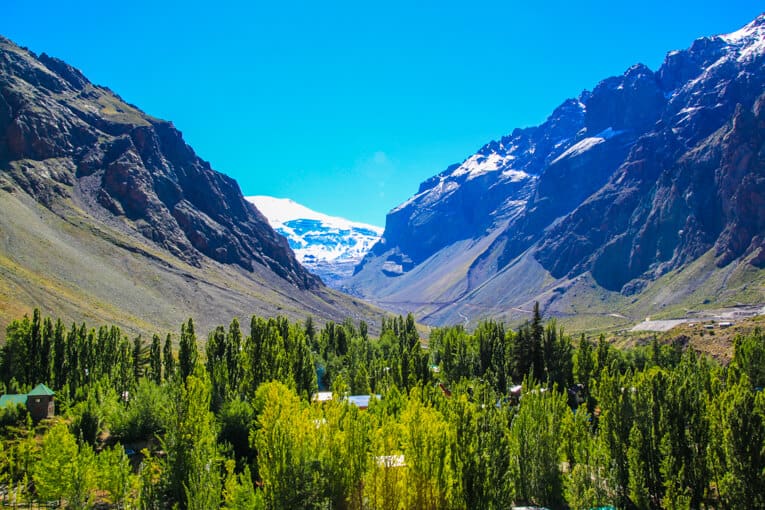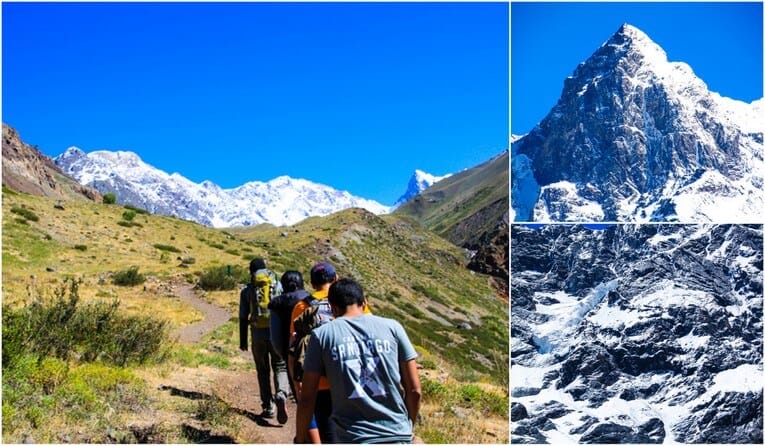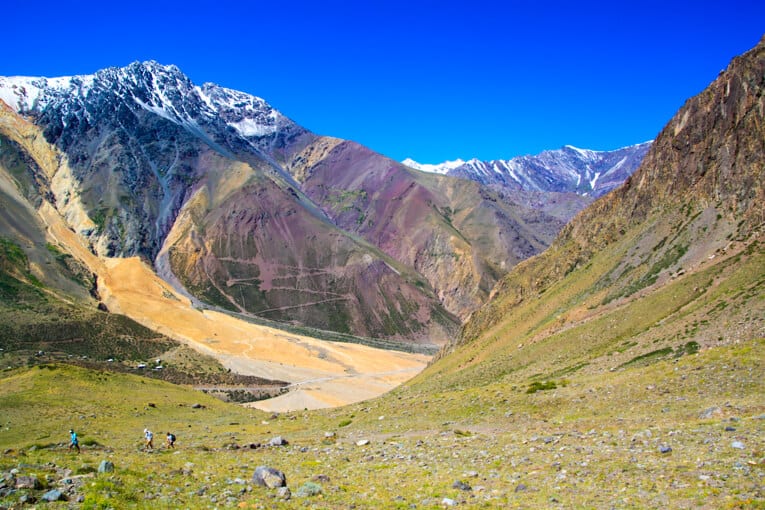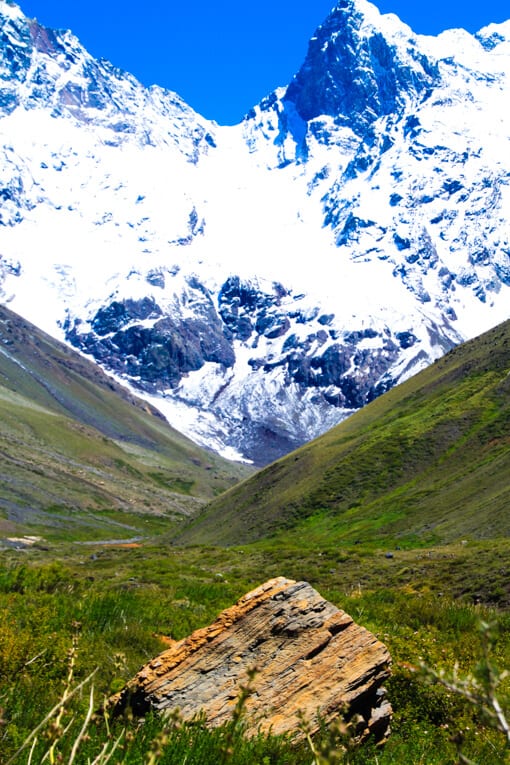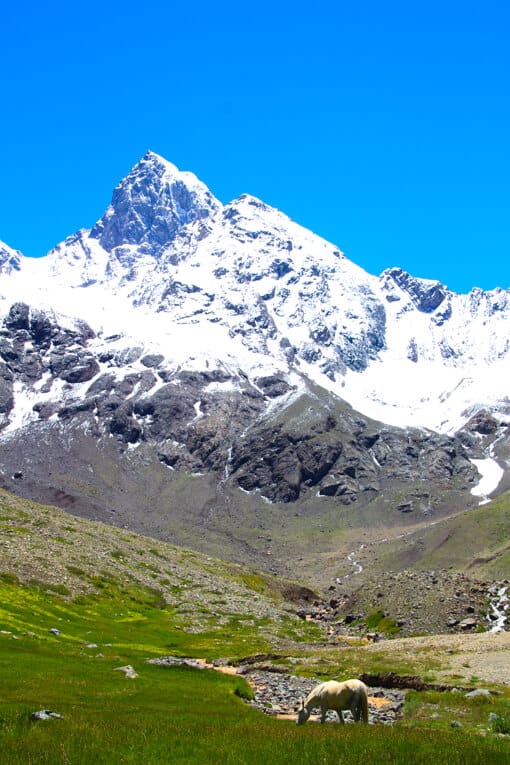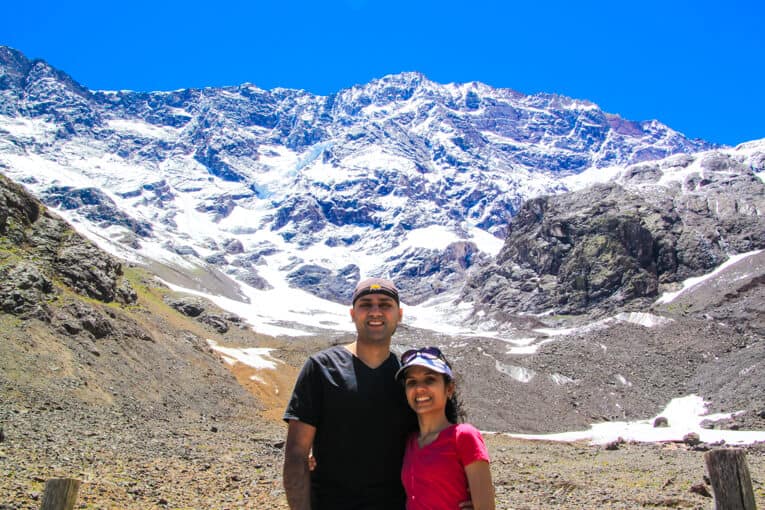 We got great weather for most of the hike, it only started to get super hot towards the end. The best part was, we had lined up another scrumptious dinner to reward ourselves with post hike!
For dinner, we went to Peumayen Ancestral Food – which had an all veggie tasting menu (but also meat dishes for our carnivorous travel buddies 🙂 ). The focus of this restaurant is native Chilean ingredients, used in interesting and inventive ways.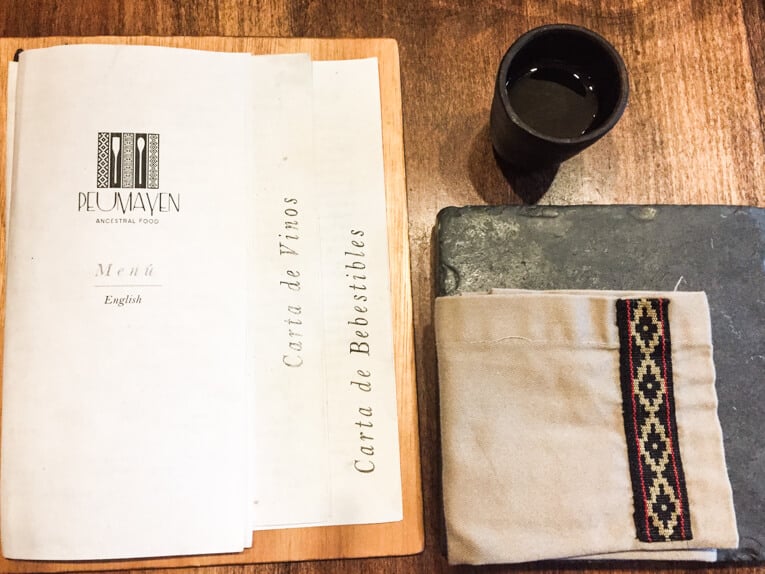 We started off with a little potato puff, topped with an onion and mushroom relish. It was hot, crispy on the outside and creamy on the inside, and melted in your mouth in one bite.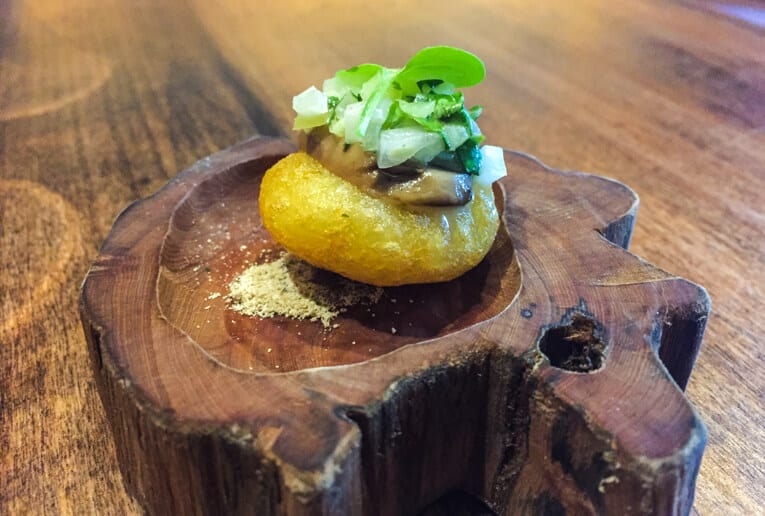 Then we had a tasting of ancestral breads from Chile! This was so interesting, each bread was incredibly unique and different from anything I had tasted before. There were sweeter breads made with pumpkin and sweet potatoes, savory breads made just from beans or lentils, and a flatbread with a dip that reminded me of a roasted red pepper hummus.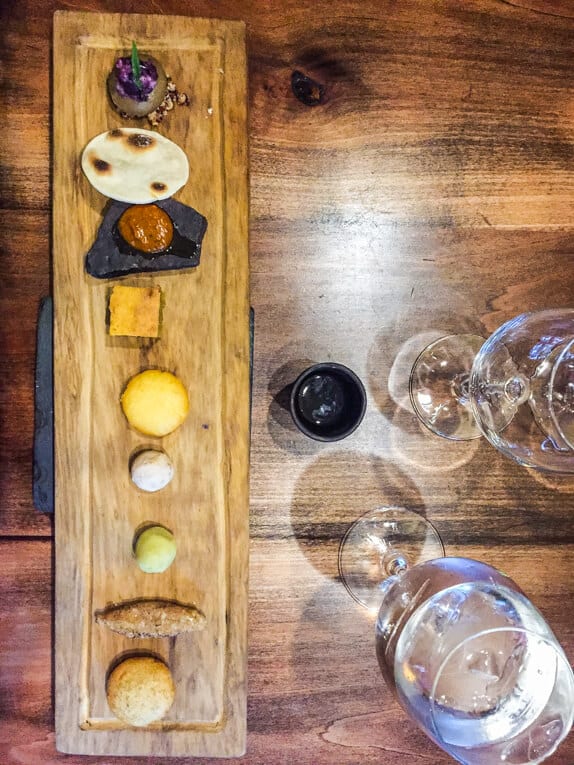 In preparation for our next course we were given a "snack" of roasted potato chips and a vegetable dip.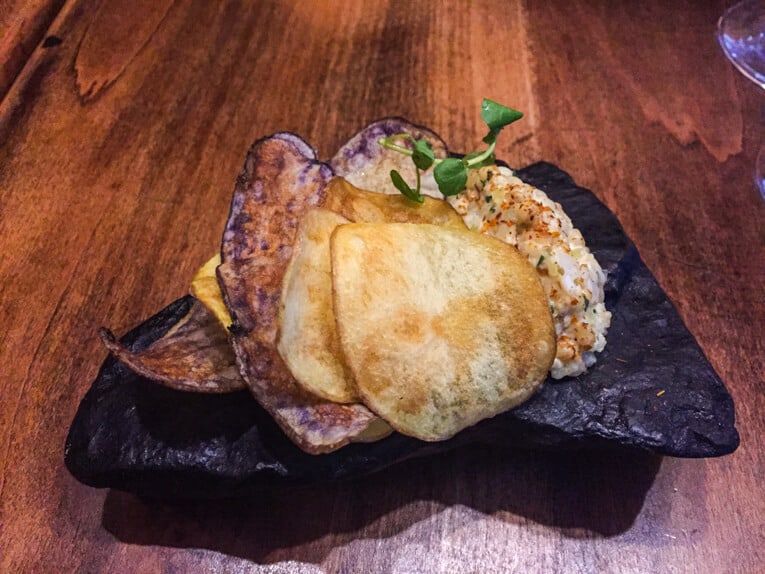 Then came the vegetarian appetizer tasting. I honestly can't even remember the details of this deliciousness, other than that there was a variety of roasted veggies, spices and dips that complemented each other perfectly.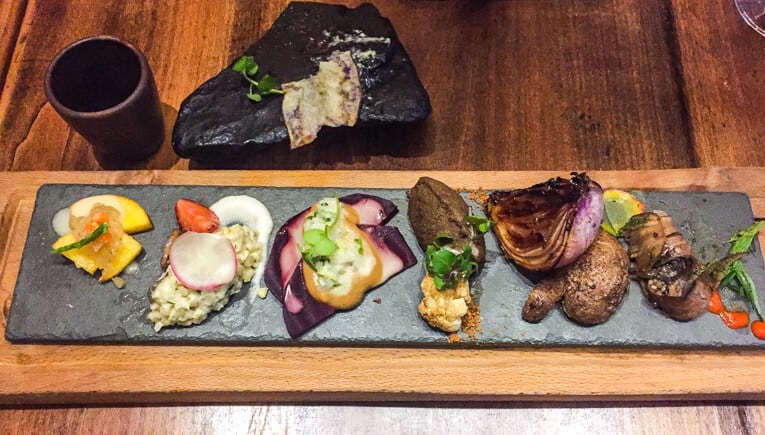 A roasted seaweed stick as a palate cleanser in between courses 🙂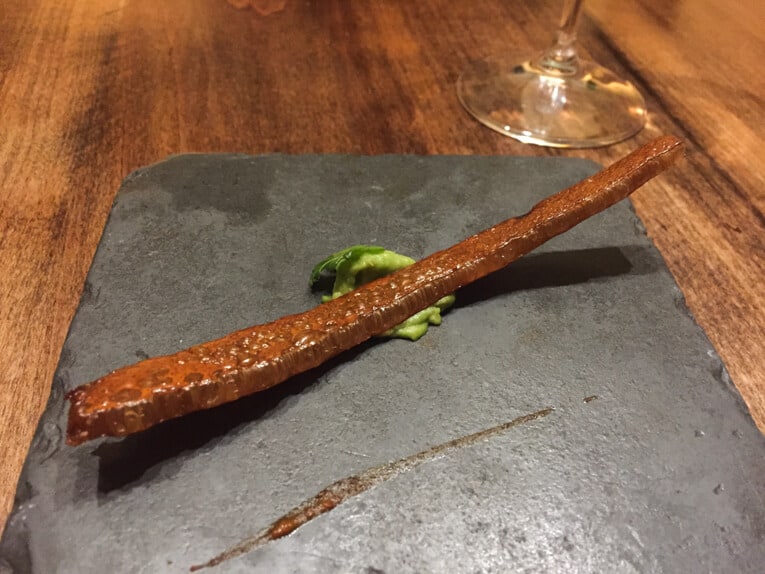 And then our tasting of mains: Roasted radishes with fava beans and chickpeas, a quinoa "porridge" with roasted peanuts, and a mix of roasted squashes topped with dried pineapple and kale. All three dishes sounded so simple when described to us, but the flavors were so complex I couldn't get enough of them!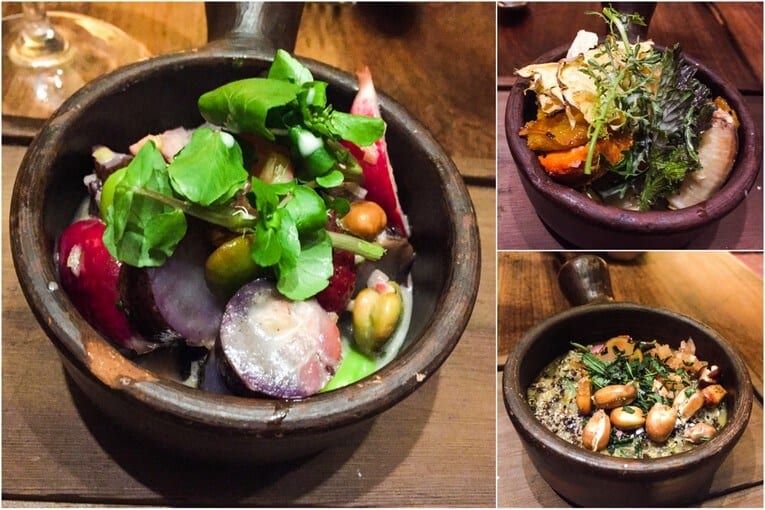 Then came the desserts.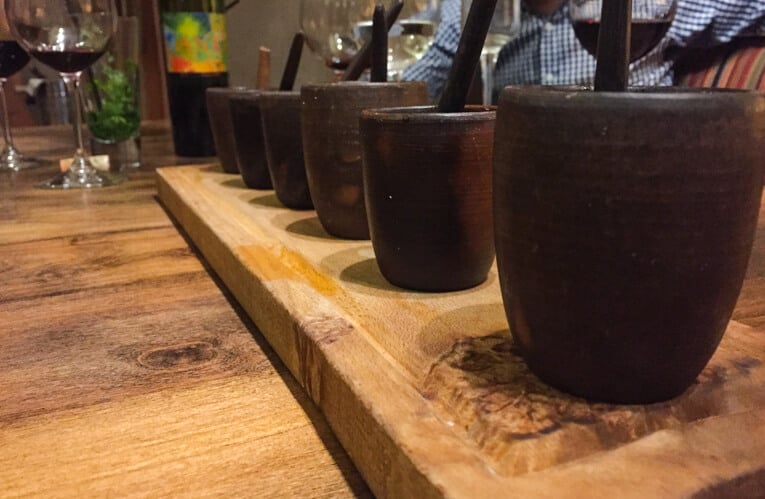 Shaved ice with lemon to start.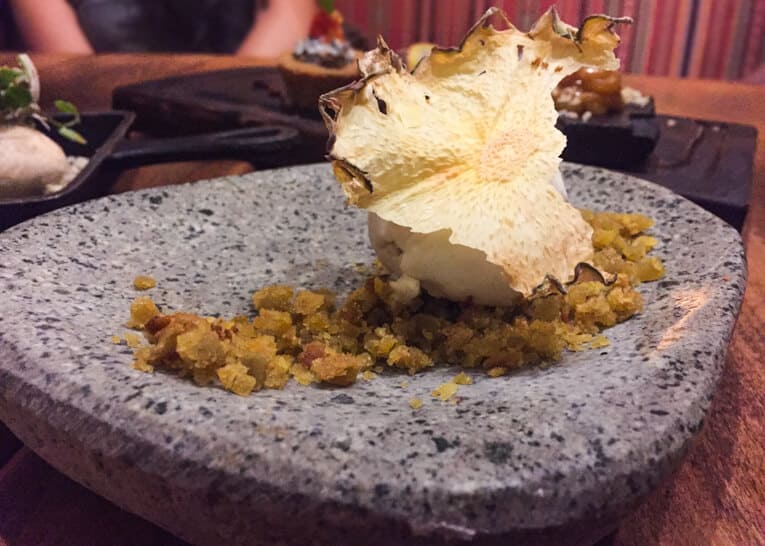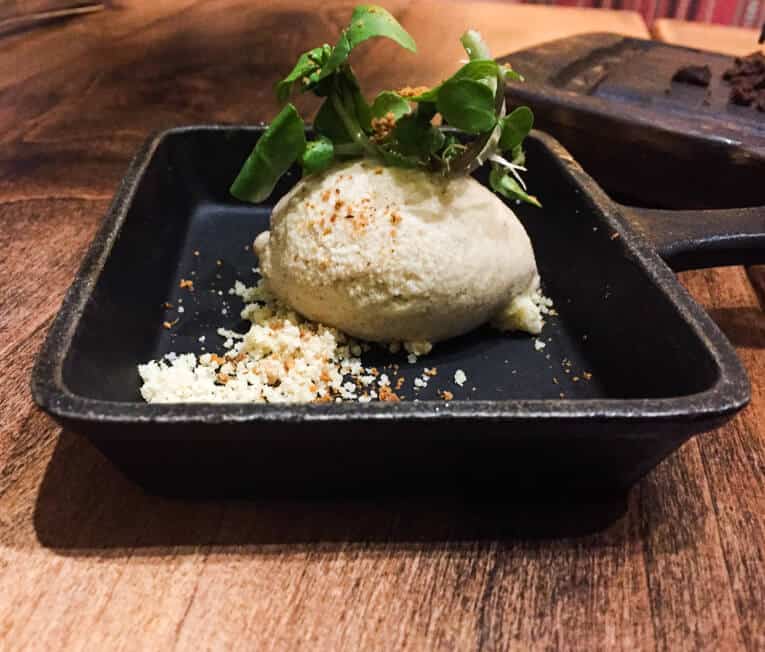 Then two different homemade ice creams, one with a pumpkin bread "crumble," and one with a coconut crumble. And lastly, the full dessert / chocolate tasting (where every dessert had an element of chocolate to it!) A deconstructed "brownie," a dark chocolate truffle, a corn cake with a quinoa pudding inside, to name a few!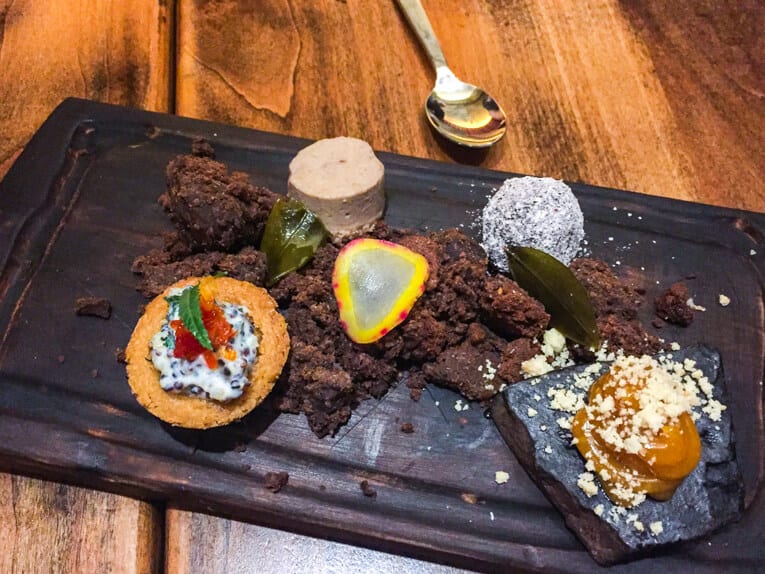 We left totally stuffed and happy, and very proud of ourselves for finishing that Andes hike. 😀
The next day we left for Colchagua Valley, which is essentially wine country in Chile.
.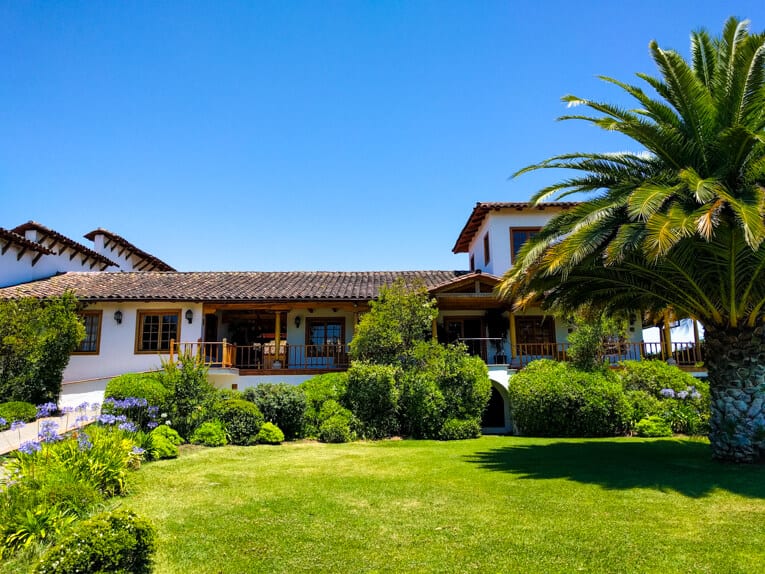 We left Santiago around 10am, and arrived in Colchagua around 1pm, where we started a 5 hour wine tour (and visited 3 wineries!)
.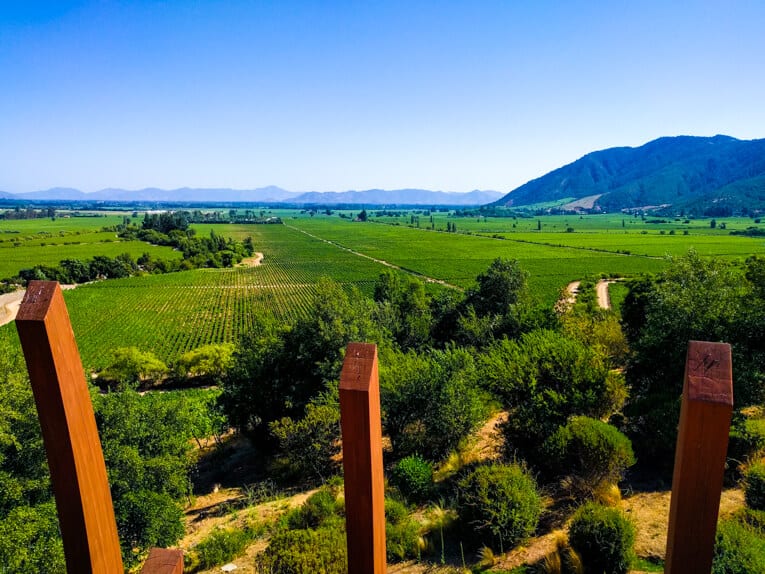 We used Colchagua Wine Tours for all of our transportation throughout Chile, and they organized our wine tour and tastings for us as well! They were absolutely amazing — handled ALL of our transportation at a super reasonable price: from Santiago to Colchagua, all of our transportation for the 2 days we were in Colchagua, from Colchagua to Valparaiso, Valparaiso back to Santiago, and Santiago to the airport! They are run by a husband and wife team – Connie and Fransisco – who are very nice, incredibly professional, and literally know everything there is to know about Chile — they helped us with all of our restaurant reservations in Santa Cruz, and they even helped my brother with some random travel logistics totally unrelated to their business just because they are so nice and knowledgeable!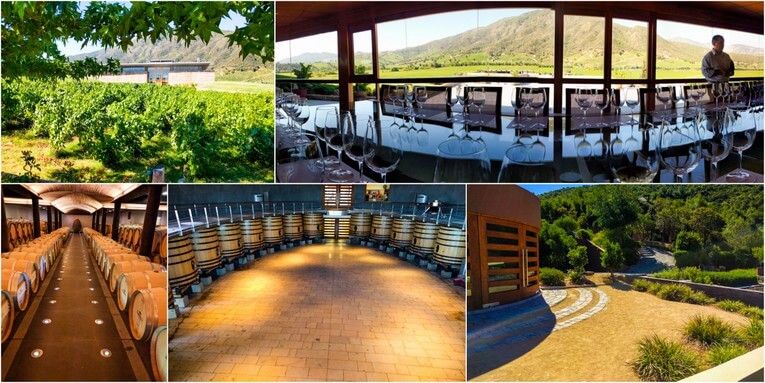 The wineries we visited were all unique and enormous (in terms of acreage) compared to the Napa and Sonoma wineries I'm used to. We also stopped at a restaurant called Vino Bello for lunch which was veggie friendly, quite tasty given that it was Italian food in Chile, and the portions were huge! We also got to eat in their outdoor terrace where we just breathed in the perfect weather and views.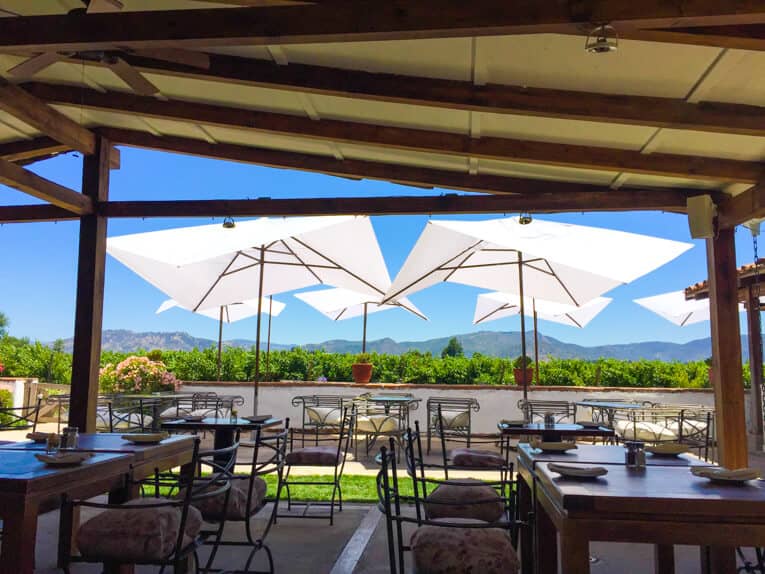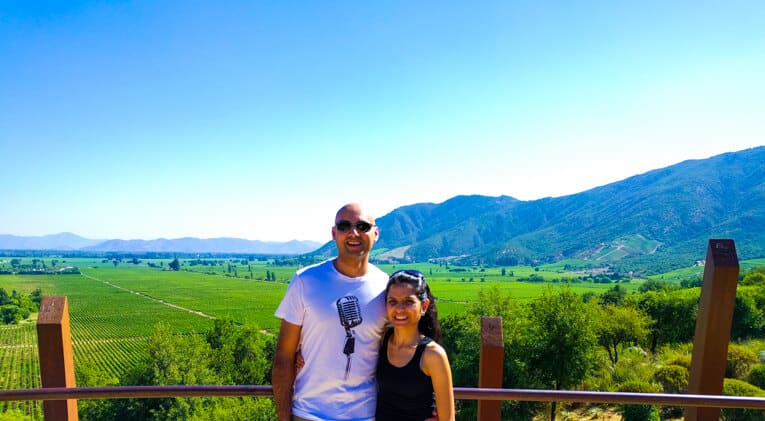 After our wine tour, we checked into our hotel: we stayed in Santa Cruz, at the Hotel TerraVina, which is a peaceful, boutique hotel on a vineyard about a mile from the center of town.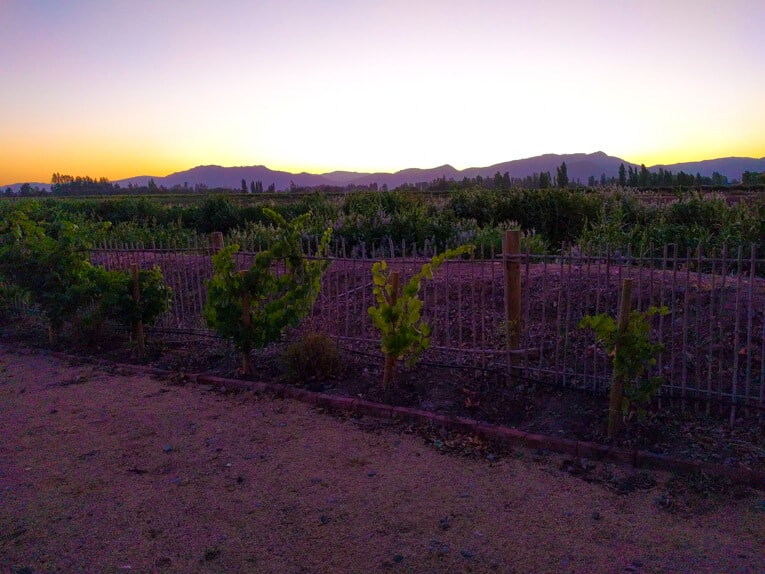 After checking in and relaxing a bit, we headed to Casa Colchagua for some more outdoor dining as the sun set, and a traditional Chilean dinner (that was still veggie friendly!)
The next day might be one of my favorites from this entire trip. We started our morning with another epic, free, hotel breakfast at Hotel TerraVina, and then around 10am headed to Pilar Rodriguez's Food & Wine Studio for an all day cooking class that ended in a 4 course meal and wine pairing.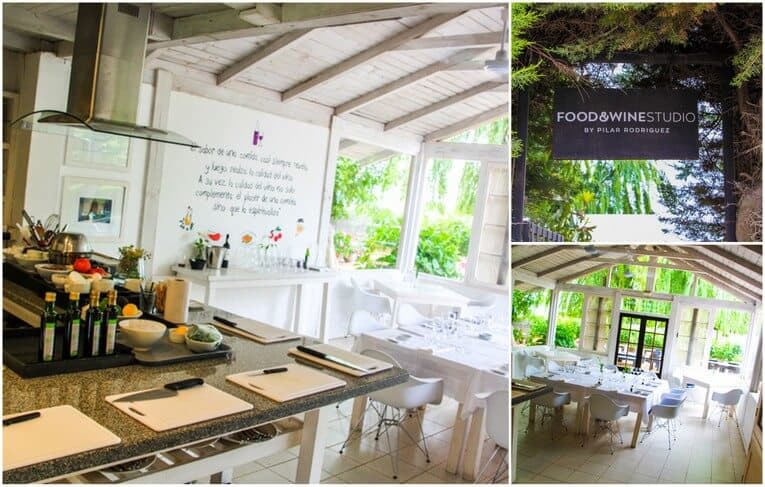 Pilar is an incredibly warm, enthusiastic, and knowledgable chef – who believes in making simple, tasty food with wholesome, fresh, organic ingredients.
To start, she took us to one of her favorite farms where she sources a lot of her ingredients. The farm was run by two brothers – and one of them – Luis – allowed us to explore his farm and literally pick the ingredients for our meal straight from the ground!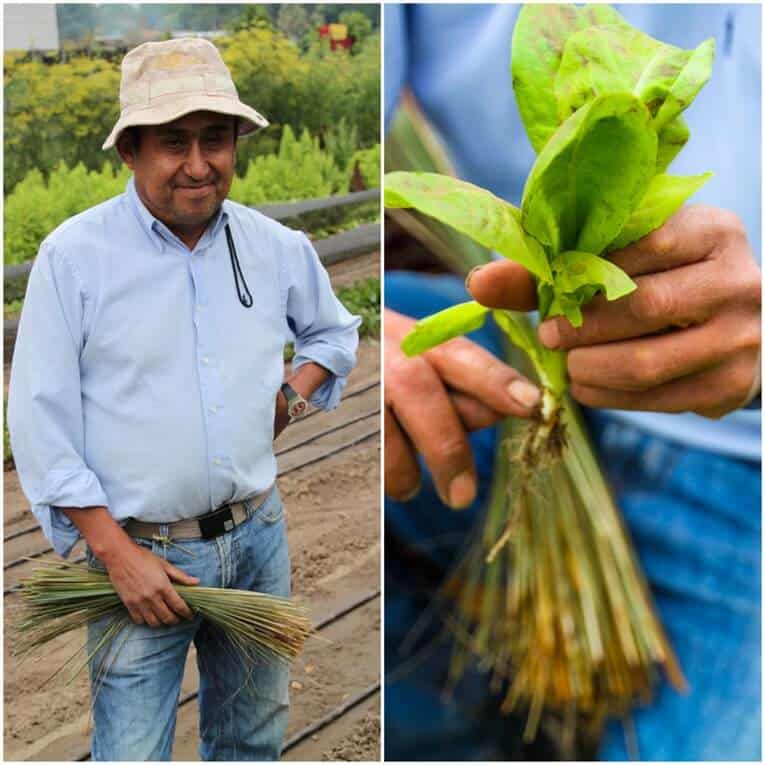 Luis explained to us how passionate he was about organic, sustainable farming. I had never heard anyone talk about soil as being "alive," who took such care in their work, and who was so passionate about taking care of these delicate vegetable and fruit plants.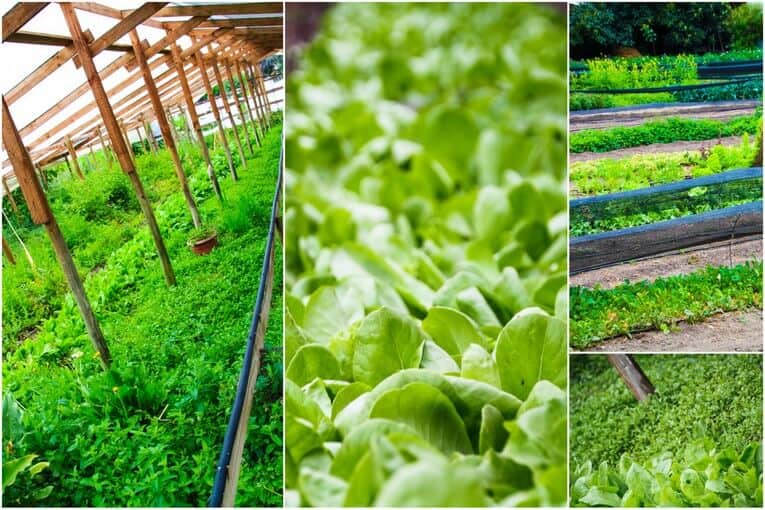 It was like stepping into the land of the greens.
.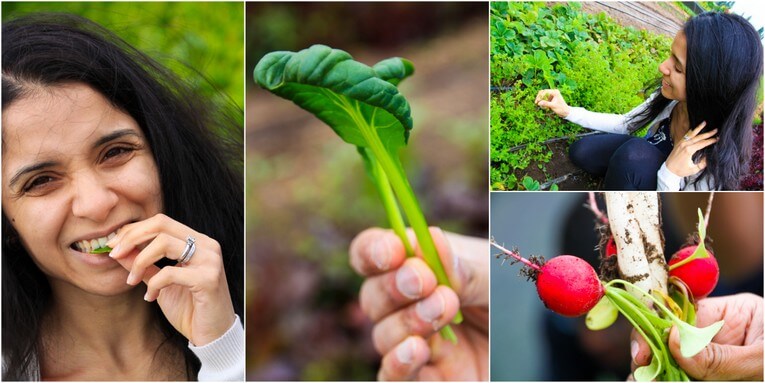 I was way too excited to be pulling mixed greens, chard, kale, radishes, bok choy and all kinds of other delicious ingredients straight from the ground.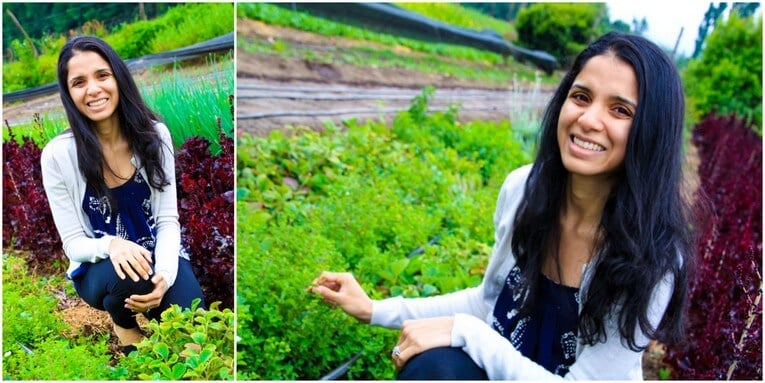 It was like the mother ship was calling me home 🙂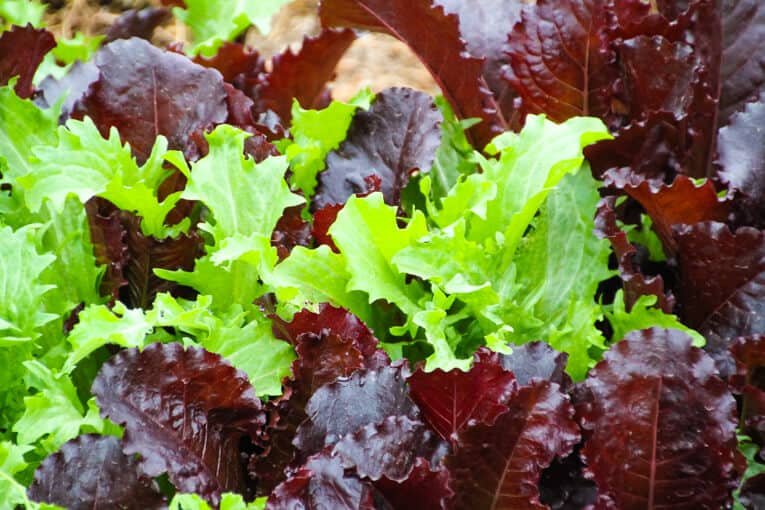 One of the coolest ingredients we found on the farm were these garlic flowers. The white flowers were edible and literally tasted just like garlic! If you pressed the flowers, garlic oil came out. Seriously, so cool.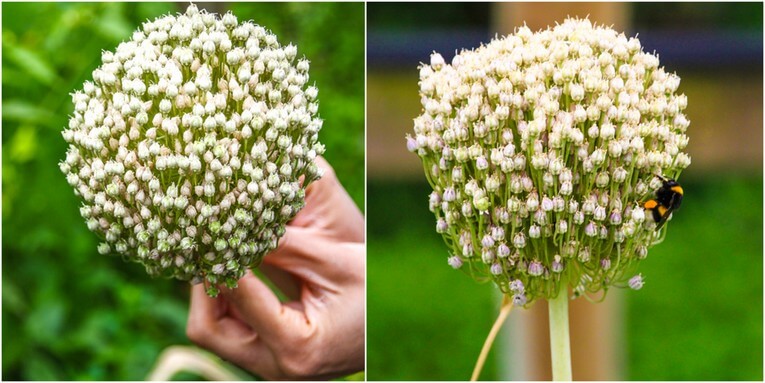 The farm was filled with all kinds of flowers and herbs – fresh rosemary, oregano, basil (more than 3 kinds!), lavender – to name a few!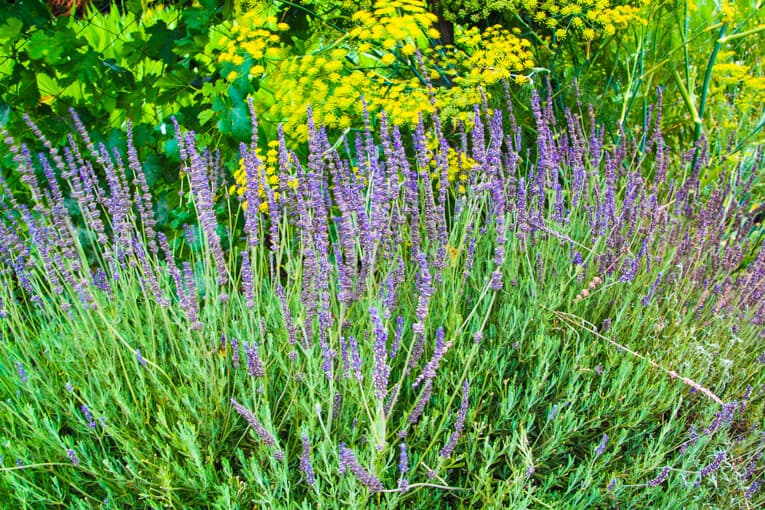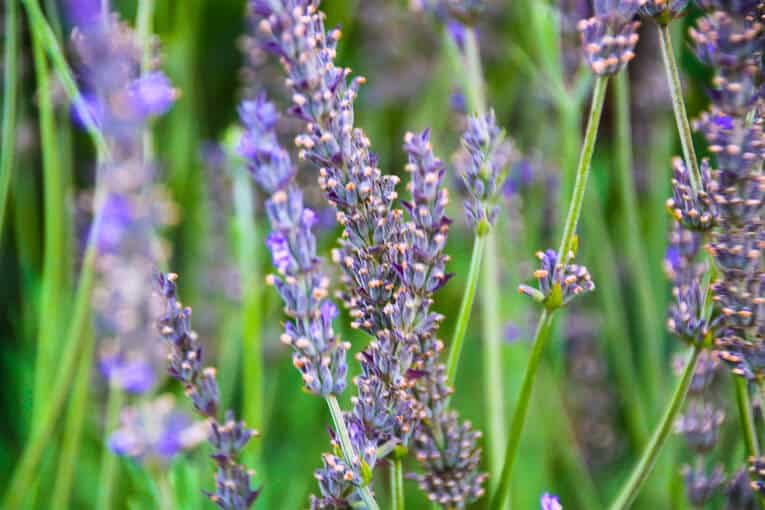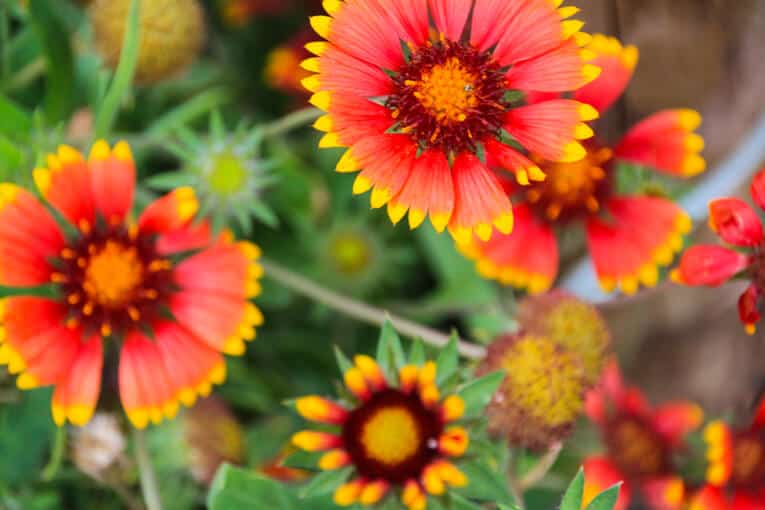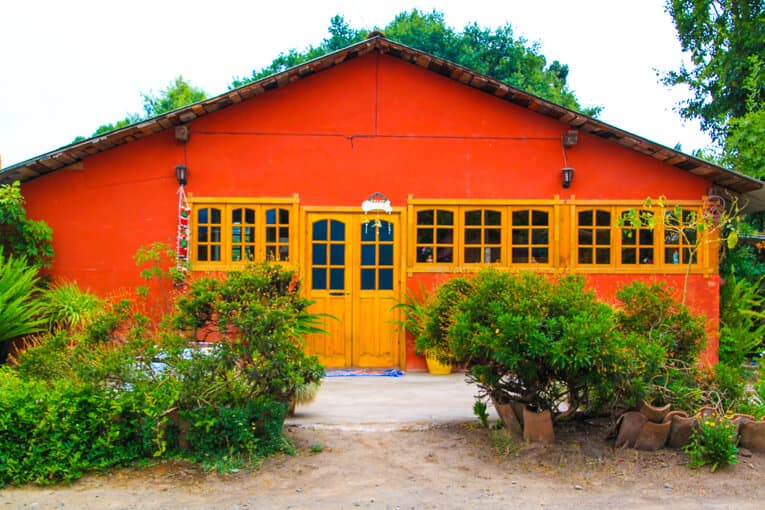 We spent about an hour there, and each of us left with a bag full of our "bounty," – the ingredients we'd be throwing into the best green salad I've ever had in my entire life.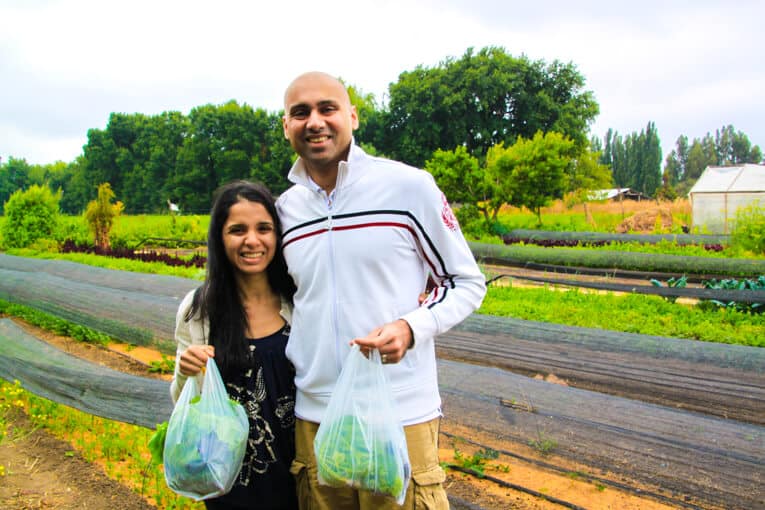 Back in the kitchen, we began cooking! Because there were so many of us, we were able to whip up a 4 course meal in under 1 hour. The entire meal was vegetarian, and ridiculously good. We used all of the ingredients we picked from the farm as well as some interesting additions like seaweed (to be added to veggie burger patties!)
.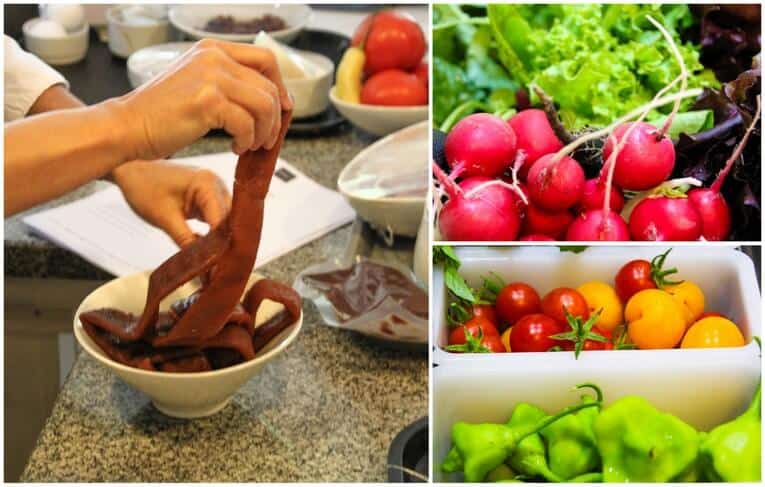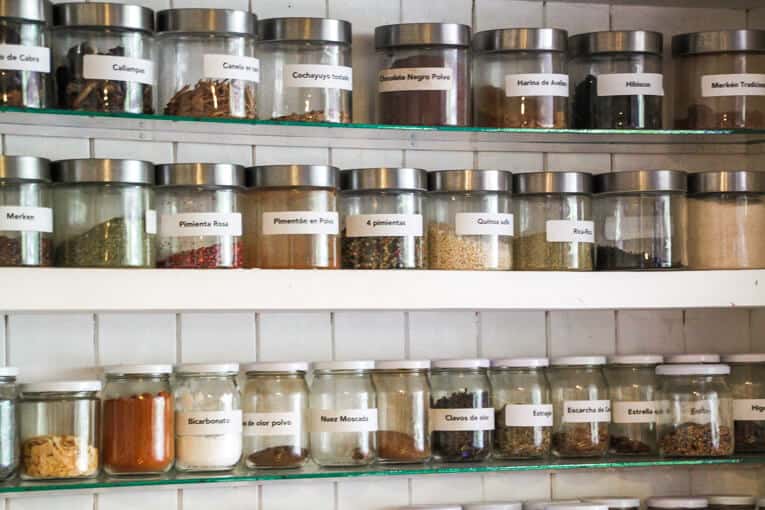 We also took green onions, parsley, garlic, lemon juice, olive oil, salt and pepper and blended it until smooth. Then we drained out the oil, took the solids that were left and mixed the solids with quinoa. Then we took the green oil and turned it into salad dressing for our greens. Such a simple idea, but it made the dish burst with flavor!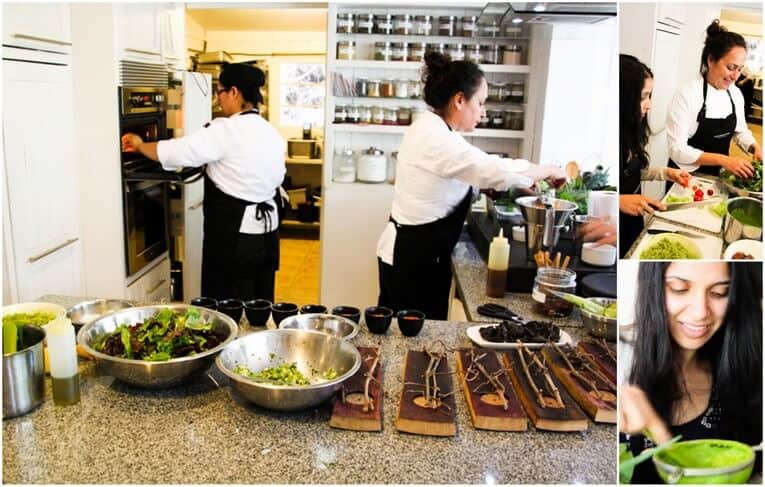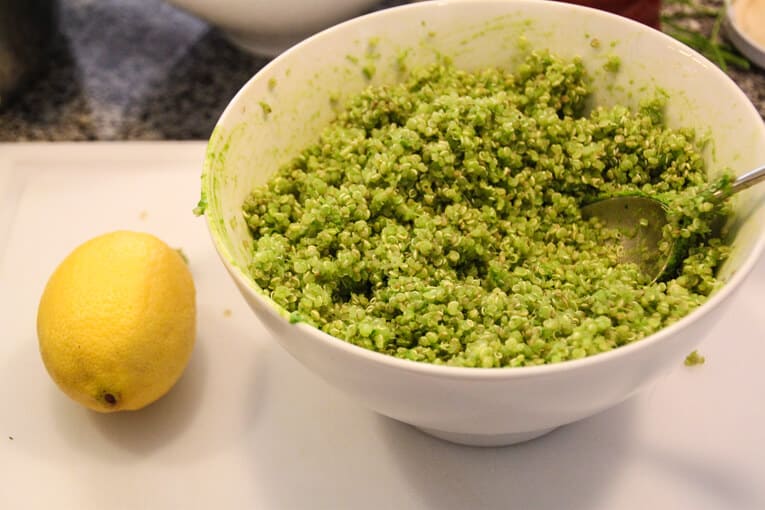 Once we were done cooking, it was time to eat!
We started off with a fresh tomato gazpacho with banana peppers.
.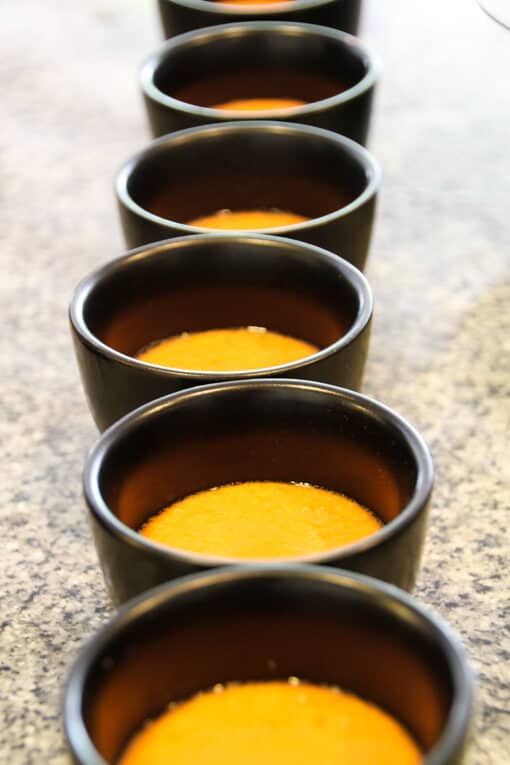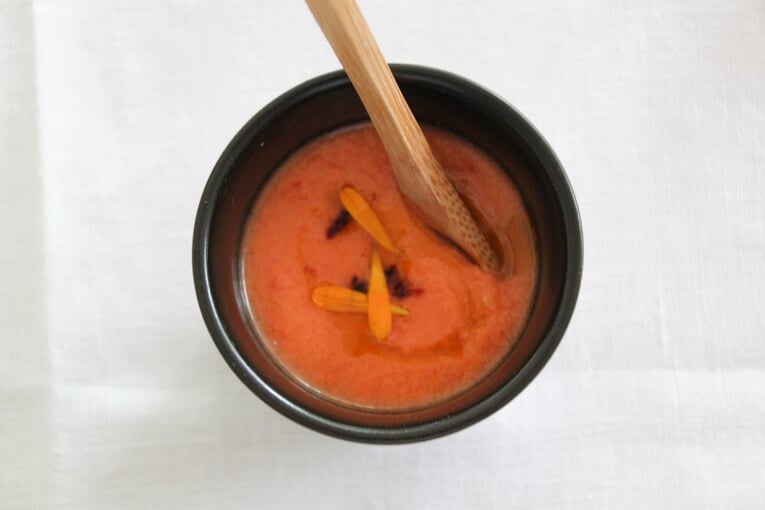 Followed by fresh ricotta bites with avocado puree and a cucumber and onion relish, served on the most unique plate I've seen.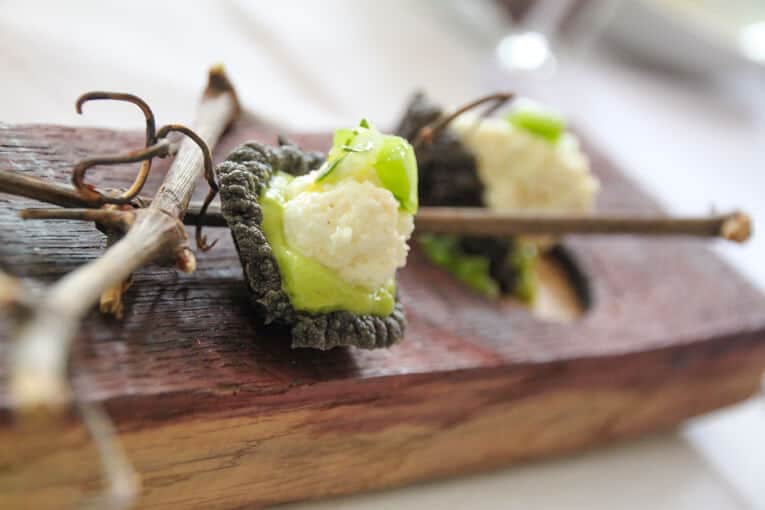 Then came our green salad, with pumpkin seeds, the quinoa mixture and our delicious homemade green dressing.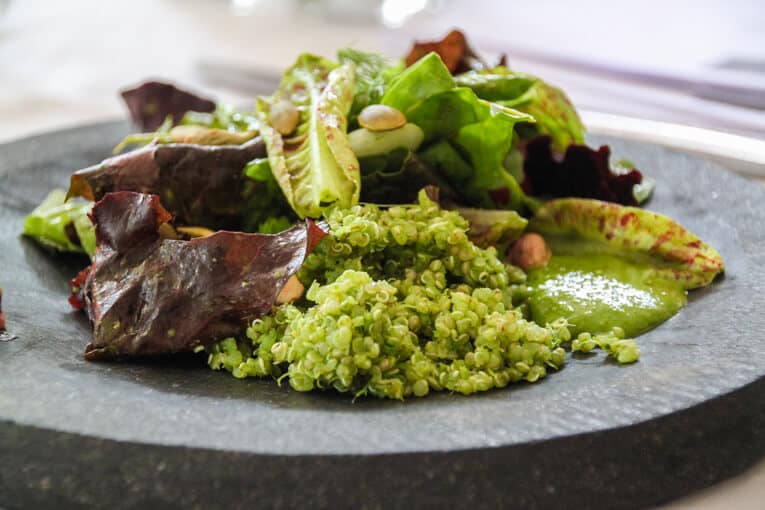 Third up, a quinoa "veggie burger" made with – of all things – seaweed. But it didn't taste sea-like at all! The seaweed just gave it a really meaty texture. It was topped with a roasted caramelized onion, served with a fava bean puree and the garlic flowers from the farm!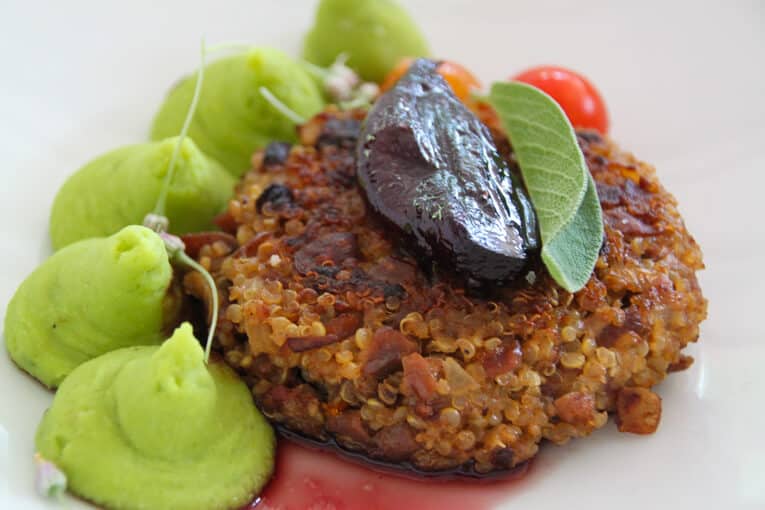 Pilar and her team also made fresh focaccia and other breads for us to enjoy during the meal with fresh butter 🙂
For dessert, we had a lemon sorbet, served with a berry "soup" and fresh cherries.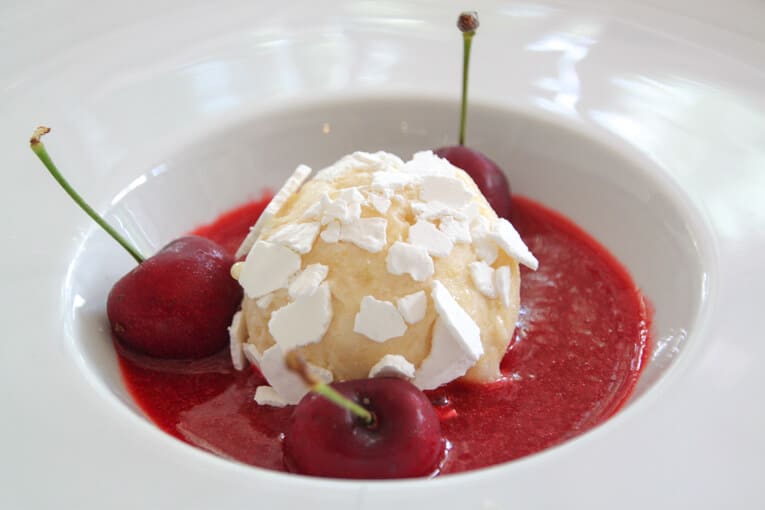 After our long and satisfying meal, we headed out to Pilar's garden for some coffee, tea and hot chocolate to round out the day.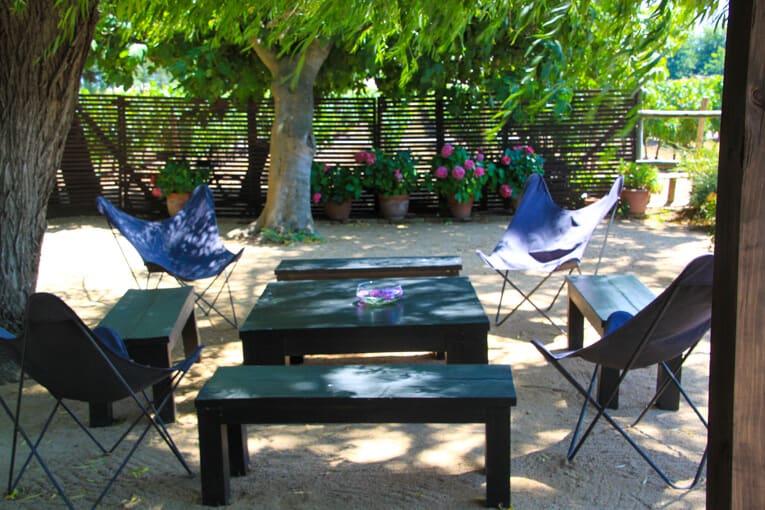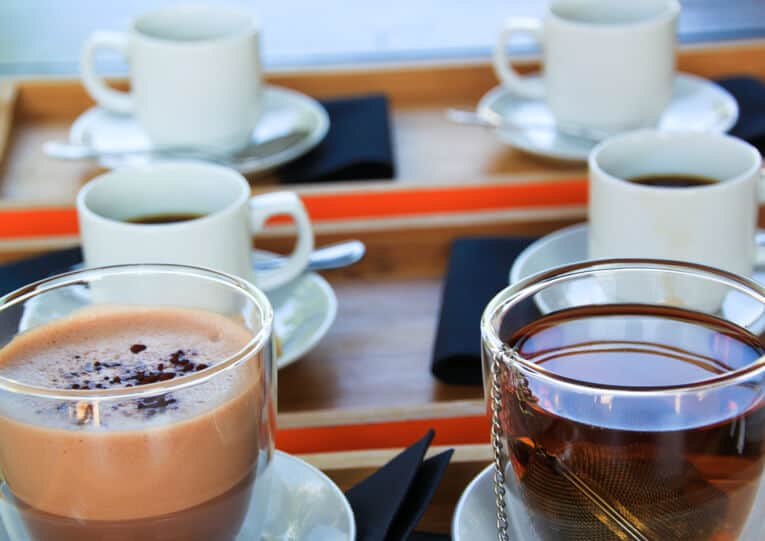 We were there for over 5 hours, and it literally flew by! I learned so much about Chilean food and farming from Pilar, it was truly a priceless experience. And I got some great recipes to try at home too!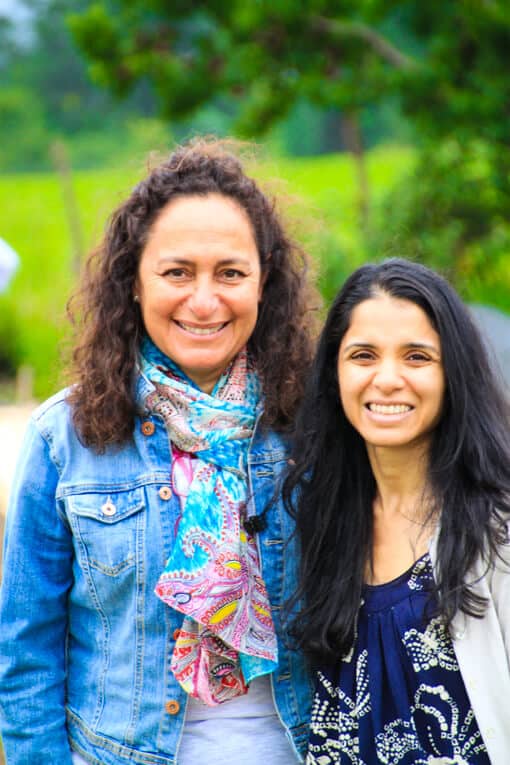 After our day with Pilar was over, we left for Valparaiso, which is a 3.5 hour drive from Colchagua. Valparaiso is a little town near the ocean, and we stayed in an AirBnB house in the hills.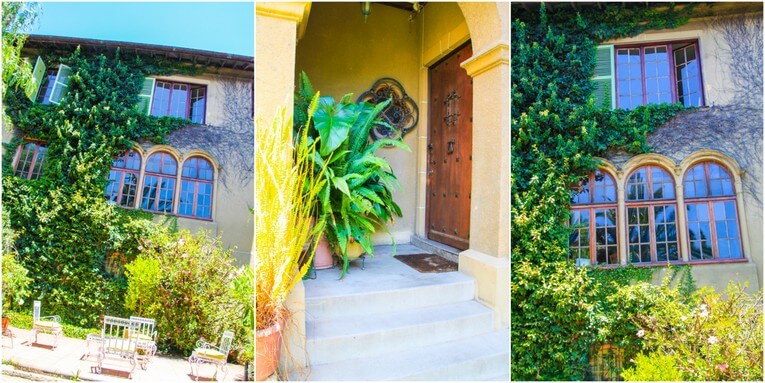 The house we stayed in was literally a mansion. It had a gorgeous courtyard, like 10 bedrooms (way more than we needed!) and the most eclectic, interesting decor inside. It was a really fun house for all of us to stay in for the last few days of our trip. It also had a decent sized kitchen, so we were able to buy some groceries and cook in the house a bit for a few of our meals (mainly breakfast).
The next day, we explored Valparaiso, which is a bohemian, free-spirited town with the most incredible graffiti art I've ever seen. We literally just walked through the hills of the city, exploring the various graffiti for an entire day.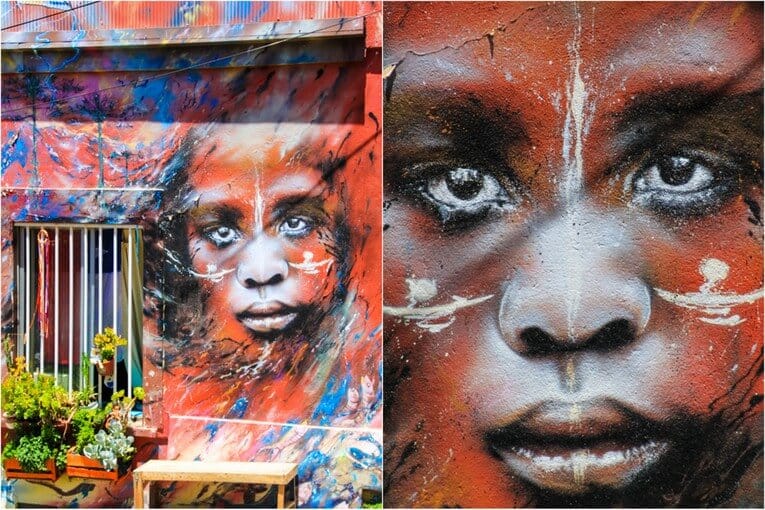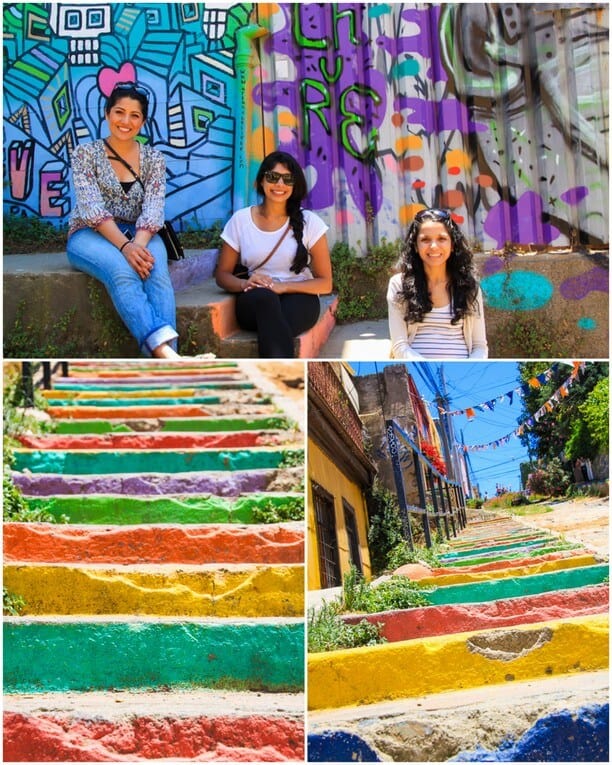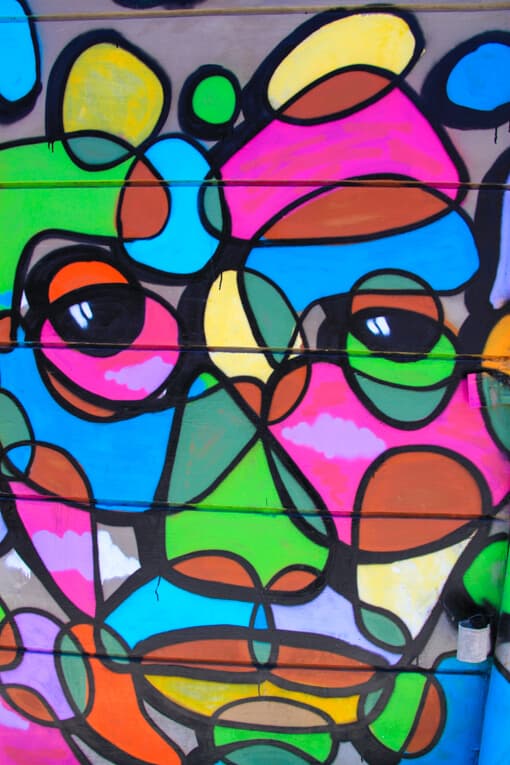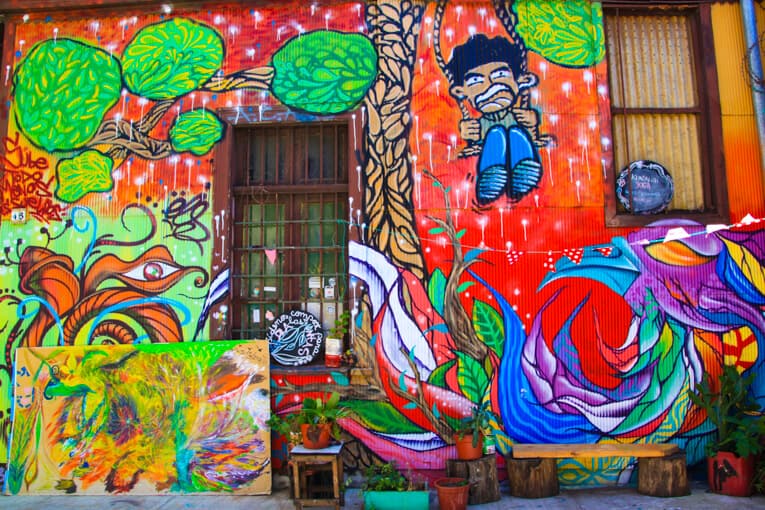 For lunch, we stopped at this tiny vegan place: La Chuchoca. It felt like a true hippie spot: you take off your shoes when you enter, you sit on the floor, and you "pay what you think the food is worth," which I thought was so cool. Throughout the restaurant there are messages about giving back, doing good, etc.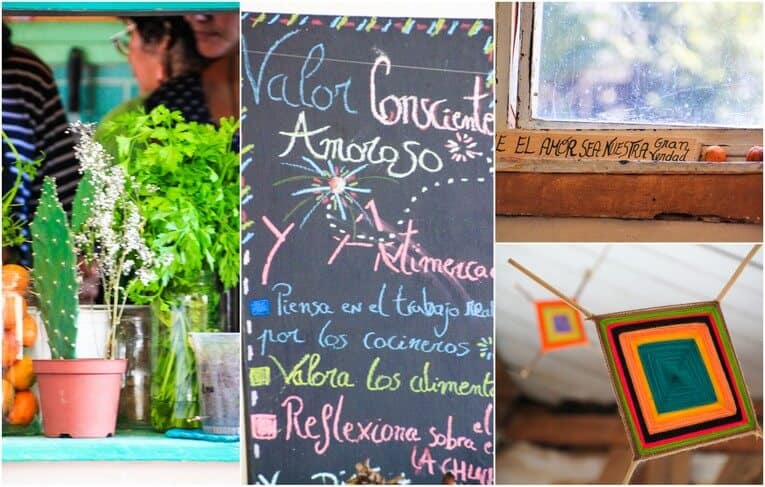 They had a set menu that changed each day, with fresh juices and a 3 course lunch! And the food was super healthy but also very very tasty. The only downside was because they made everything fresh to order, it took a while to get our food – we were there for 1.5 hours! Definitely worth stopping in though if you have the time.
We continued on our self guided tour of Valparaiso, and came across beautiful views of the ocean from the top of the city.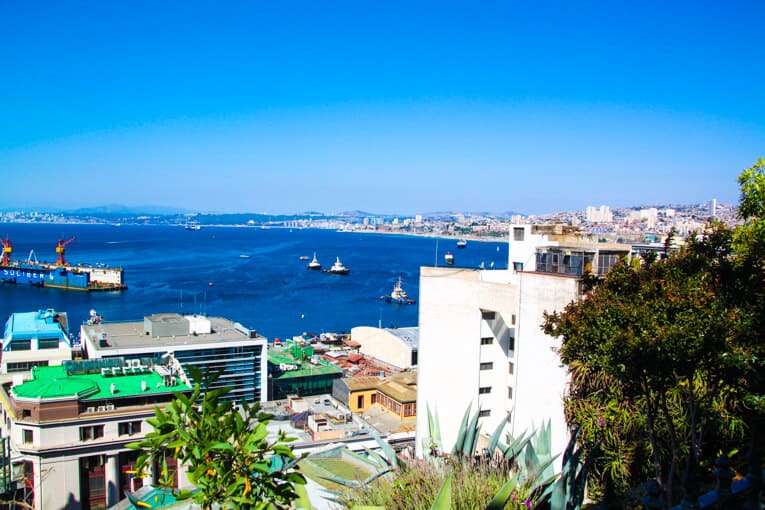 And more graffiti of course! Like this staircase painted like a piano…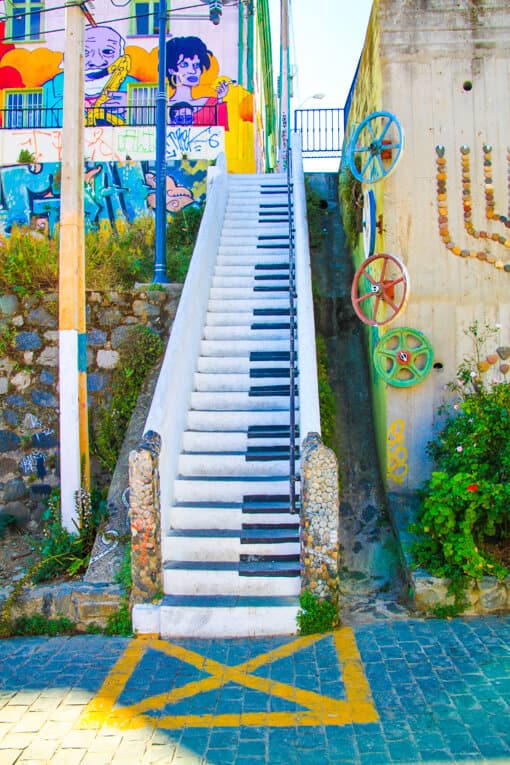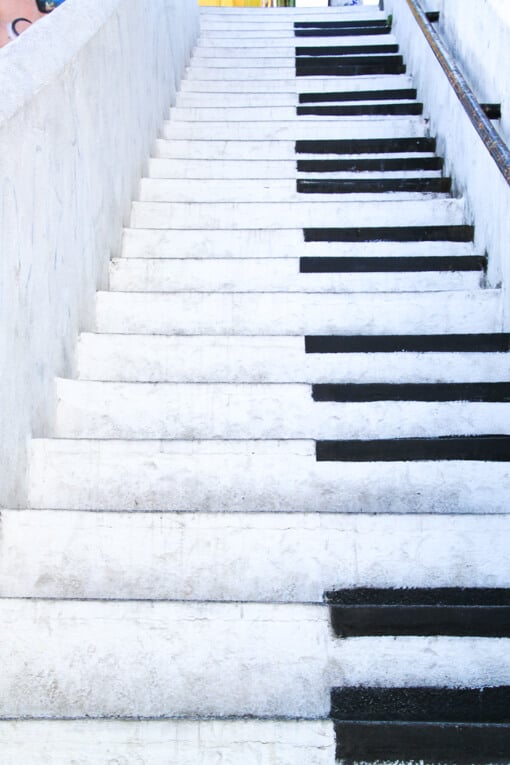 This Van Gough on the side of a building…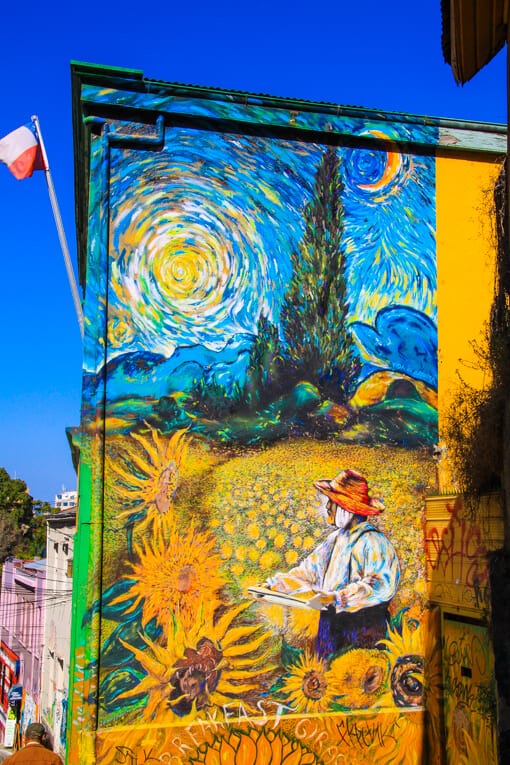 And we marveled at the rich colors of the town – it was like looking at a rainbow of buildings.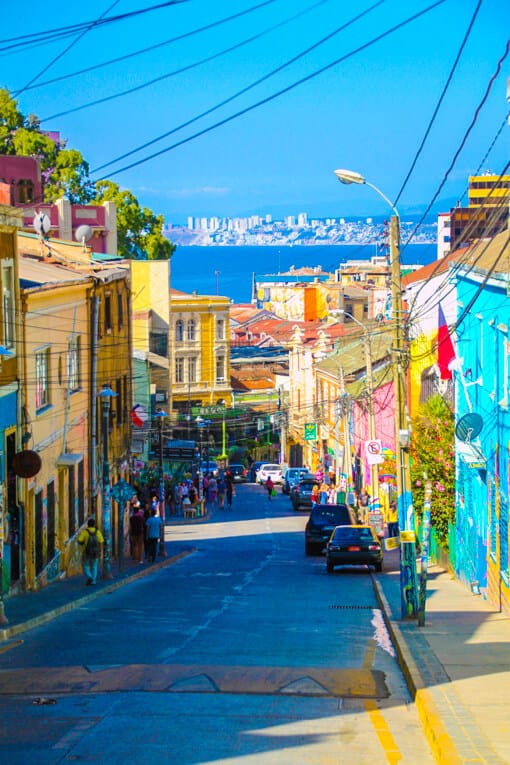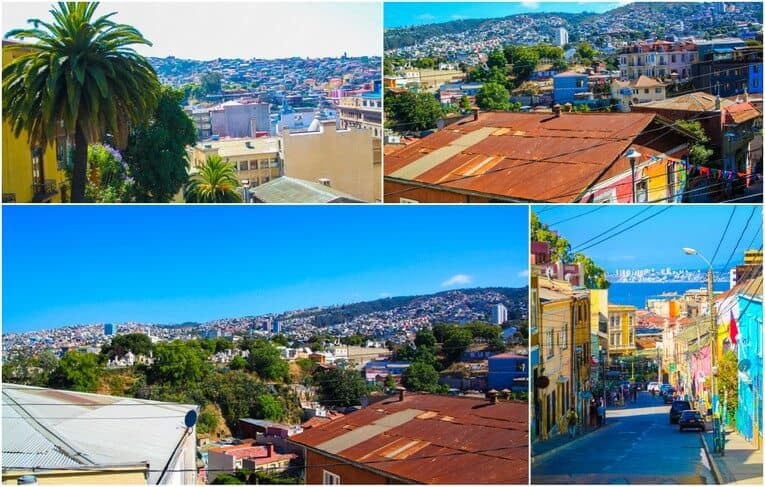 The next day was New Years Eve – where we headed to Fauna for dinner, drinks and a spectacular view of the fireworks at midnight! The restaurant overlooked the water, and we sat outside where we could truly enjoy the ambiance.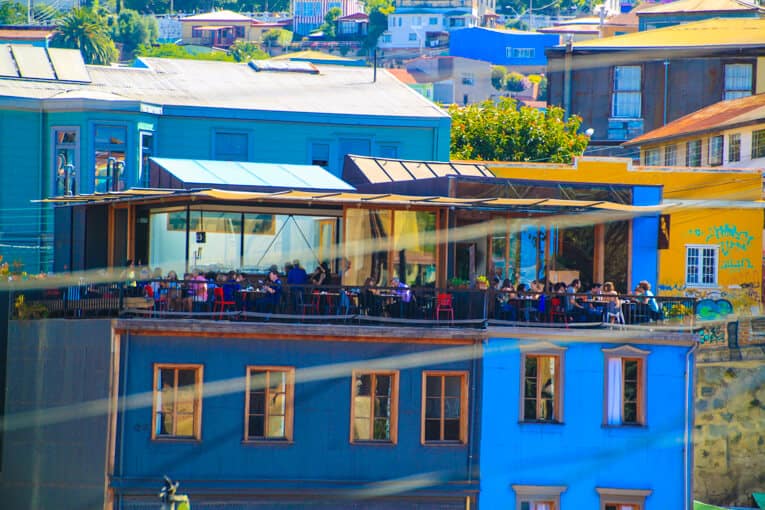 The meal was surprisingly good for a prie fix new years eve menu! We started with a fresh salad made with a variety of veggies (squashes, radishes, broccoli, to name a few – all shaved razor thin) and seasoned perfectly. Then we had a homemade pasta filled with a ricotta and squash puree, with a fresh herb and pesto sauce. And our dessert was actually 4 courses, so they definitely didn't skimp on that!
Once dinner was over the fireworks began! (Yes, they took a looong time between each course haha!)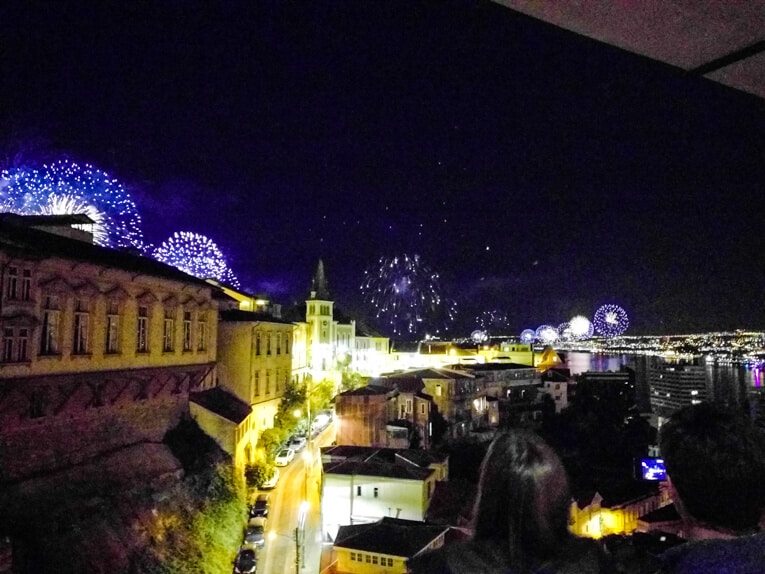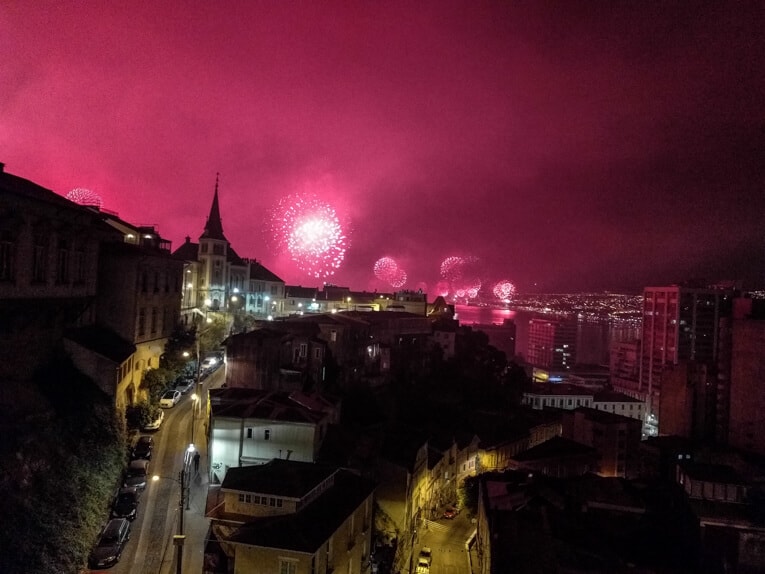 The sky was illuminated, and the husband and I were so excited to spend our first new years eve out and about (instead of at home with Layla asleep!)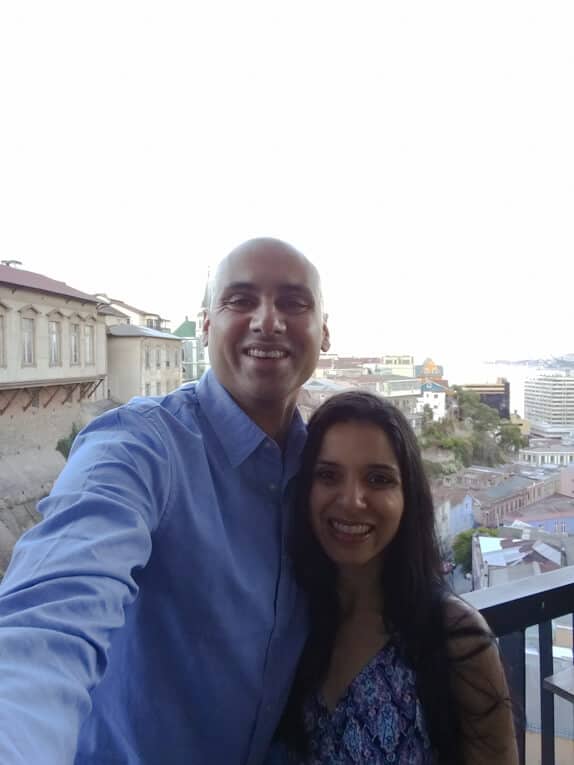 It was a fantastic trip. It was obviously hard to leave Layla for 7 whole days, but also so worth it because of the experience we were able to have! The weather was fantastic, it was the perfect break from the winter in Ann Arbor. We felt like we spent the right amount of time in each place, so we didn't leave wishing we had gotten more time there or that we wanted to do an activity we weren't able to do. And one of the best parts was the delicious, healthy, flavorful and tasty food we had for every meal in Chile. Really unforgettable and a great start to 2017!
6 responses to "One Week in Chile (Santiago, Colchagua, Valparaíso)"