Ultimate List of Plane Snacks for Long Flights
This post may contain affiliate links. As an Amazon Associate, I earn from qualifying purchases. Please read my disclosure.
Before you head out – for a vacation, business trip, spring break, or weekend getaway – read up on these healthy plane snacks so you can eat smart while you're on the go!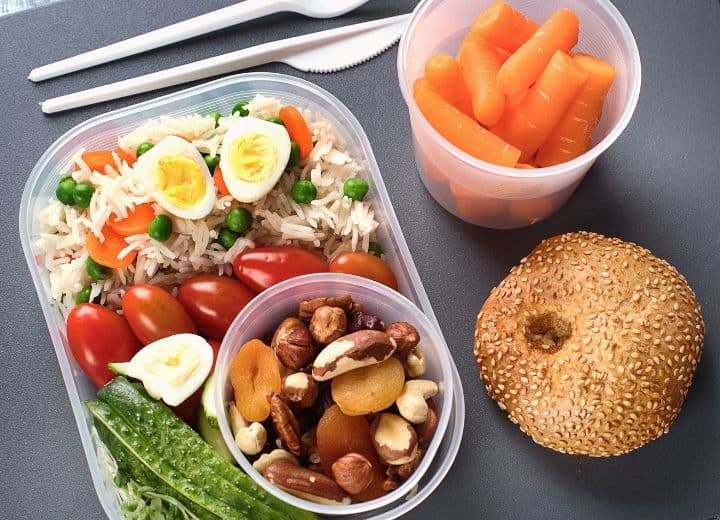 Summer is coming!
And if you're anything like me, that means lots of sun, hanging out with friends and family, outdoorsy activities, and hopefully – travel.
If you're like me, you need healthy plane snacks so that you can stay on track with your healthy lifestyle even when you're on the go.
The food and snacks you find at the airport and on the plane are not the healthiest options. That's why it's best to go to the airport prepared by bringing your own snacks.
I know it may seem like a pain, especially when you're already busy packing your bags, but trust me, you'll be so much happier knowing you've got a stash of nutritious and tasty snacks when you're trapped on the plane!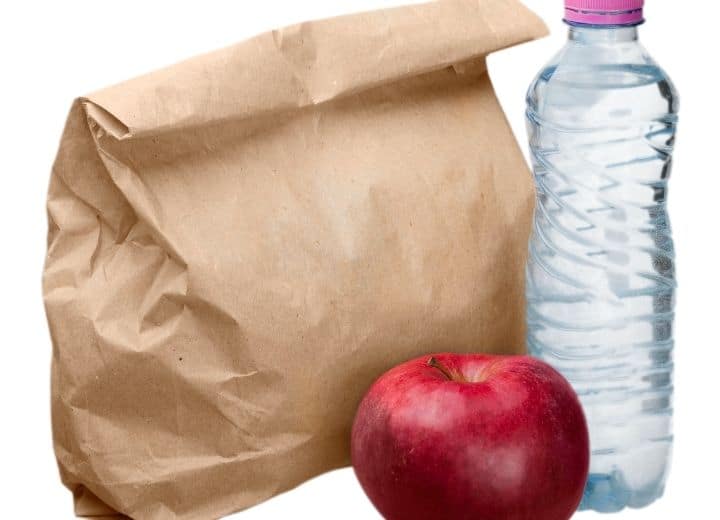 How To Pack Healthy Plane Snacks In Your Carry-On Bag
I always like to pack food and take it with me to the airport – that way I'm not searching for something healthy among the random fast food options, and I'm never hungry and stranded on an airplane either (oh and for the budget conscious, this is a much cheaper option).
It takes a bit of prep work before you leave, but it's so worth it when the person next to you is eating a greasy overcooked burger and fries and you have your healthy mini-meals to keep yourself going!
Pack A Mini Meal For Your Travel Day
When packing a mini meal, think of easy to travel food that doesn't need to be refrigerated. Here are some of my favorite ideas.
Peanut or Almond Butter Sandwich on Sprouted Wheat Bread with Low Sugar Preserves. This is a great one-dish meal that doesn't spoil, travels well and is super easy/fast to make.
Steamed Mixed Vegetables, seasoned with salt, curry powder and other spices, or salt & freshly ground black pepper. This is a great snack and a way to make sure you're eating veggies when you travel! I like to steam the veggies in the microwave, season them, and pack them in a disposable container to take on the plane.
Cheese and Veggie Sandwich on sprouted grain bread made from 1 slice of your favorite cheese, sliced tomato, some greens, salt & pepper. This is another great go-to sandwich – slightly more perishable than the PBJ, but a good option for a shorter flight or if you know you'll be eating the sandwich within a few hours of boarding the plane.
Pack a Bag of Healthy Plane Snacks
Pack a healthy snack bag – I fill my carry-on bag with non-perishable items.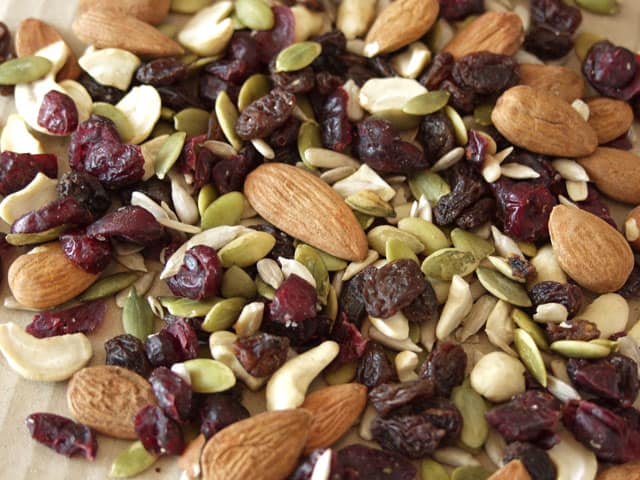 Best Non-Perishable Snacks for The Plane
Raw Nuts
Seeds (Pumpkin or Sunflower)
Unsweetened Dry Fruit
Raw Trail Mix
Fresh Fruit (apples, bananas, oranges)
Berries (strawberries, blueberries)
Celery Sticks
Carrot Sticks
Grape Tomatoes
Sliced Cucumber Sticks (or mini cucumbers)
Instant Oatmeal
Low Sugar Cereal
Nuts, Seeds, and Dried Fruit for the Plane
Make sure you get nuts, seeds and dried fruit without any added oils or sugar (I like a combination of raw cashews, raw walnuts, raw almonds and raisins in the "Go Raw" Trex Mix from Trader Joe's).
I like to separate them out into mini portion sizes (1/4 cup each). That way I don't go overboard and eat a ton!
Freeze dried fruit is even healthier than traditional dried fruit as it's typically lower in sugar and a bit more filling!
Fresh Fruit and Vegetables for the Plane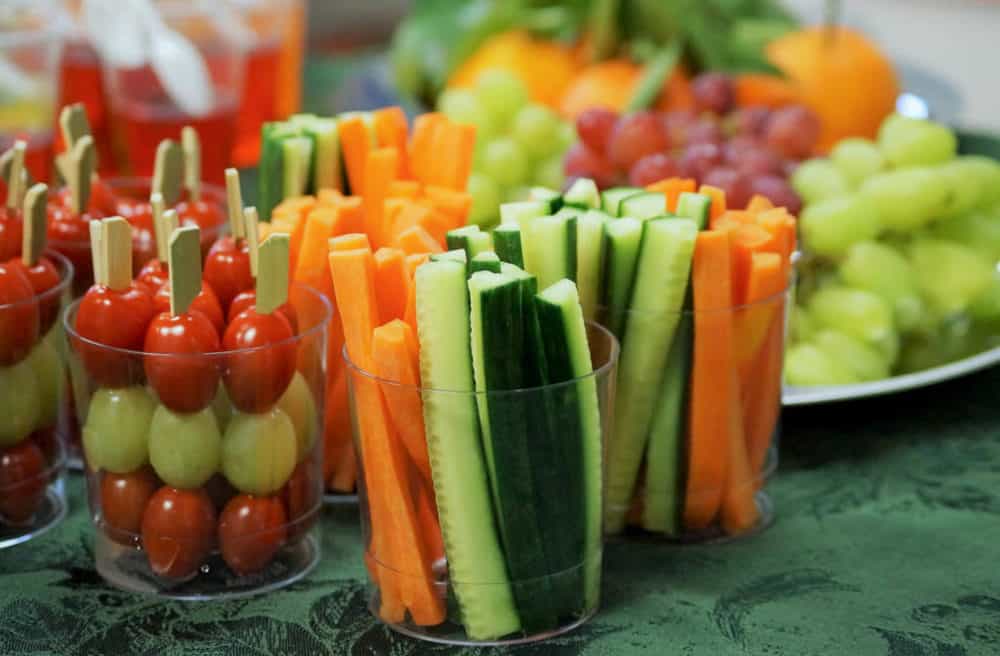 If you're packing fresh veggies, like celery, carrots, grape tomatoes, or cucumbers, place them in a durable container so they don't get squished. Depending on where you're traveling to, you may not want to hav to carry around containers with you once you've landed, so a disposable container is best in that case. That way you can throw out the trash on the plane, and not have to carry it around with you.
When considering what type of fruit to pack, consider any fruits that are easy to eat, not too messy and don't get squished easily. I usually stick to Fuji Apples because they're high in fiber and filling as a snack, and they're pretty durable too.
Healthy Protein Bars for the Plane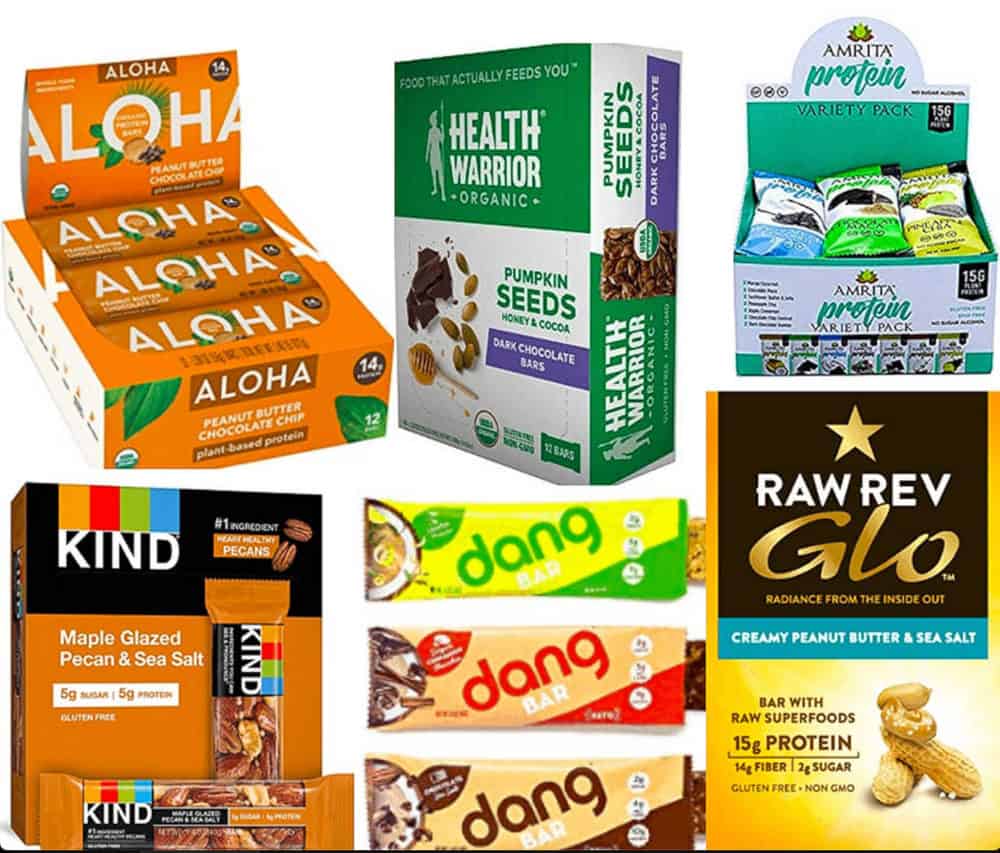 When choosing protein bars look for ones that are low glycemic and low in sugar. Get one with no more than 200 calories, and at least 4 grams of fiber and at least 6 grams of protein (but the more protein you can pack into your bar the better).
I like Aloha bars, or Raw Revolution Glo bars for higher protein options; and KIND nut bars for a less filling snack option. Make sure to check out my post on the healthiest vegan protein bars for my favorite options!
Instant Oatmeal and Healthy Cereals for the Plane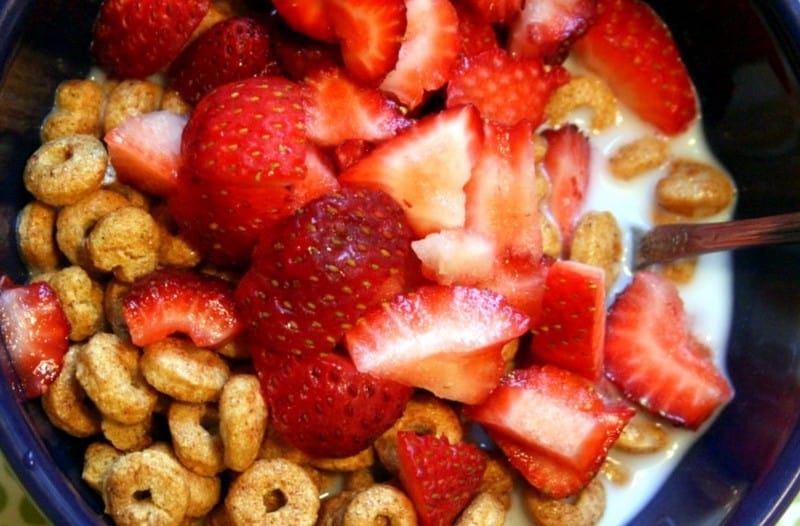 Include packets of plain instant oatmeal, or your favorite low sugar healthy cereals. Divide the cereal into individual portion sizes in separate containers so they're ready to go when you travel.
Either oatmeal or cereal can be a great snack or breakfast – you should be able to find boiling water in any airport (or even on an airplane) to cook the oatmeal, or low fat milk to eat the cereal with.
Add some of the fresh fruit you packed on top for a balanced and filling snack or meal!
Sweet Treats for the Plane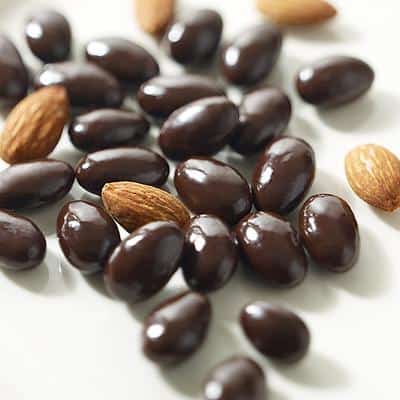 Craving something sweet at the airport? There is one easy way to satisfy your sweet tooth without breaking your diet or giving yourself a sugar high + crash!
The secret is dark chocolate. Choose dark chocolate that has a 70% or higher cacao content. I like 88% dark chocolate because it's super low in sugar, high in fiber and has some protein too!
Another great option is dark chocolate covered nuts. Dark chocolate covered almonds, peanuts, etc. are a perfect sweet treat, with a bit of protein, fiber and an anti-oxidant punch!
Healthy Plane Snacks to Get at the Airport
If you aren't able to pack food and have to rely on the maze of airport options – here is my list of healthy on-the-go plane snacks that you should be able to find at most airports.
Breakfast Ideas
Starbucks is always a good option, especially for a healthy breakfast. A non-fat tall latte has only 90 calories and tons of protein, and you can also get oatmeal (get it without the sugar or dried fruit), whole grain wraps (their spinach and feta wrap is high fiber and under 300 calories), and fresh fruit. Their fat free multigrain bagel has 300 calories and 6 grams of fiber (without the cream cheese).
Au Bon Pain can be found at many airports, and they also have healthy breakfast options similar to Starbucks
McDonald's has oatmeal (get it without all of the sugary add-ins though), and apple slices and low fat milk as well.
Dunkin Donuts has an egg white veggie flatbread that has 280 calories, 3 grams of fiber and 16 grams of protein – not bad!
Fruit – nearly every quick stop restaurant or cafe has pre-packaged food by the checkout counter!
Lunch or Dinner Ideas
Subway is a decent pick (choose wheat bread, tons of veggies on your sandwich, and use mustard, salt and pepper as your condiments – no mayo, dressing, or oil)
Au Bon Pain has customizable sandwiches (think the Subway strategy here) or great salads / soups too (their garden vegetable soup has only 80 calories for a small)
Starbucks also has a line of pre-packaged meals that are all under 500 calories – they come in fresh daily so it's great especially if you really need a grab-and-go option
Delis that allow you to customize your sandwiches work well – think of them as a good alternative to Subway. They also will typically have healthy soup options too.
Taco Bell – opt for the bean burrito or anything on the "Fresco" menu
Mexican Restaurants like La Salsa, Chipotle, Andale, or Baja Fresh have great options – look for soft corn tacos, or the "bowl" option filled with black beans, veggies, salsa for a satisfying treat (omit the sour cream & guac, avoid anything fried, and go light on the cheese)
Even McDonald's and Burger King have been offering a few healthy options – you can get salads (order the dressing on the side and use it very sparingly – dip your fork in it and eat your salad, don't pour it on your salad). McDonald's has apple slices and smoothies that you can order without the frozen yogurt as well.
Some airports have all natural frozen yogurt – like Red Mango or Pinkberry. The small size with fruit mix-ins is a decent option for a healthy snack or dessert.
Simple Formula For Healthy Plane Snacks
Here are a few simple things to remember when you're in the airport or on the plane to stay on track with your healthy eating lifestyle.
Avoid anything fried, or breaded and fried. Opt for baked or sautéd lightly in oil. Stir-fries often use too much oil.
Get the dressing on the side! Raw salads are awesome, but if you pour the dressing all over it you're adding tons of fat and up to 400 calories. When you get the dressing on the side you have control over how much you add.
Fresh is always best: fresh fruits, fresh veggies – anything without added sauces, etc. are good.
Stick to Water: When it comes to drinks, avoid soda, juice, smoothies, or sugary drinks. It's also important to stay hydrated. You can buy a large bottle of water in the airport to take with you on the plane. Or bring an empty water bottle, and fill it up once you enter the terminal.
Try to substitute as much as possible: wheat bread instead of white, egg whites instead of regular eggs, half the usual amount of cheese.
Don't forget to keep cold things cold and follow perishable guidelines.
But the most important rule is: have fun and don't stress out about eating healthy too much. If you indulge a few days, it's not a big deal – just get back on track the next day. The point of vacation is to relax, so make sure you do! Happy travels everyone!
Check Out These Other Helpful Healthy Eating Guides!
32 responses to "Ultimate List of Plane Snacks for Long Flights"