Adventures (and delicious food) in Australia
This post may contain affiliate links. As an Amazon Associate, I earn from qualifying purchases. Please read my disclosure.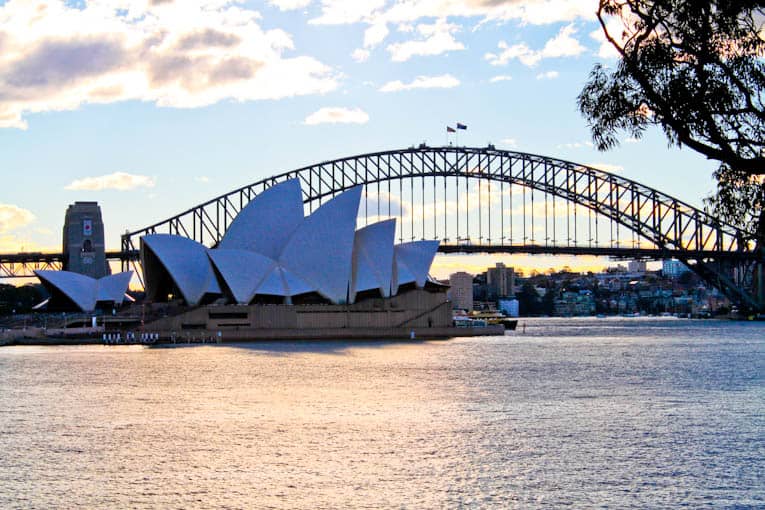 Hi Everyone! As many of you who follow me on Twitter and Facebook probably know by now – I've been "unplugged" for the past two weeks because the husband and I were in Australia on vacation!
It was a much needed break, and I feel truly refreshed.
I completely went off the map: no email, no phone, no computer (other than to watch TV shows we were catching up on), no internet for most of the time. All I did was read, explore, eat, swim in the ocean, and sit on the beach.
I hadn't done something like that in over a year, and I can't tell you how great it felt.
We spent about 7 nights in Port Douglas (near the Great Barrier Reef), and about 7 nights in Sydney (split between the Harbor and Newtown). The place we stayed in Port Douglas was truly paradise.
It was a jungle/beach lodge, where we had a cabin in the jungle, a private beach and a resort-y type feel. Our cabin was super cute and literally felt like we were camping out in a rainforest. Every morning the sun would shine through the trees, casting a bit of a glow on everything. This was the view from our balcony: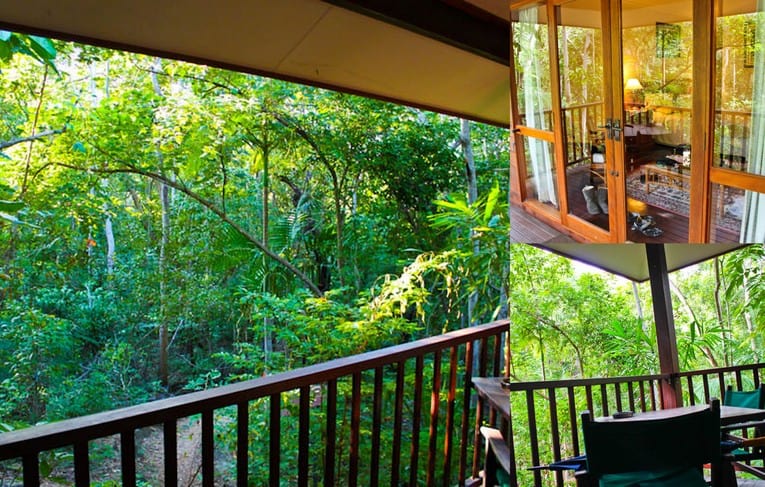 The beach was absolutely amazing as well: warm water, clean soft sand, and literally – we had it all to ourselves.
We got to wake up to this every morning for 8 days straight.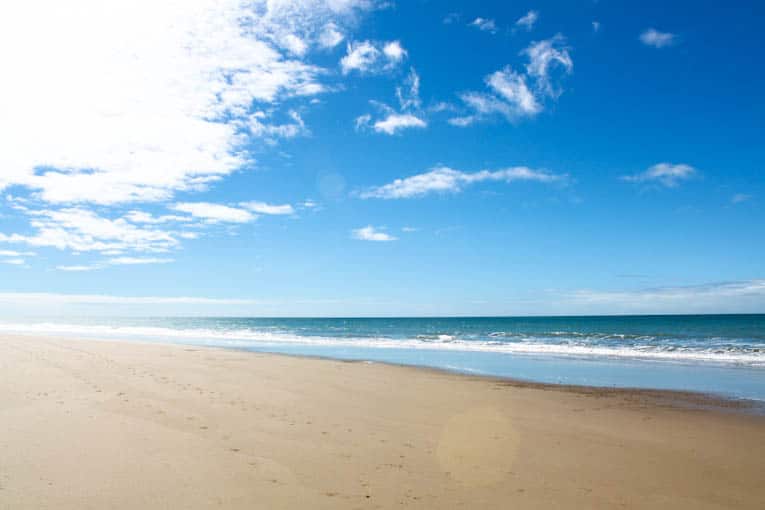 Pretty unbelievable right?
The husband and I would come here every day after breakfast and hang out until the late afternoon. It was just a short walk from our cabin. We'd go running up and down the beach, read, and relax in the hammocks that were tied between palm trees.
I'd never actually laid down in a hammock before, and it was amaaazingggg.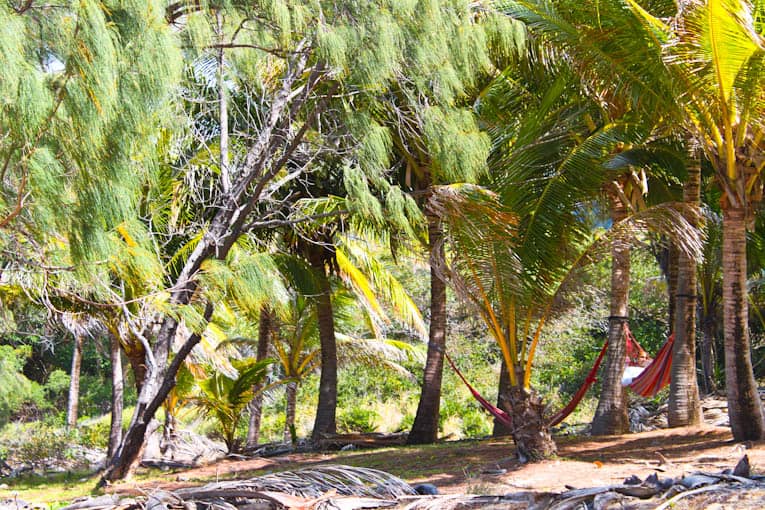 You'll notice that we didn't really have many activities day-to-day. Unless you count sitting or relaxing as an activity, which I do 🙂 The husband had fun burying me in the sand one day, and I had fun swimming in the ocean to get the sand off me.
I also could not stop taking pictures.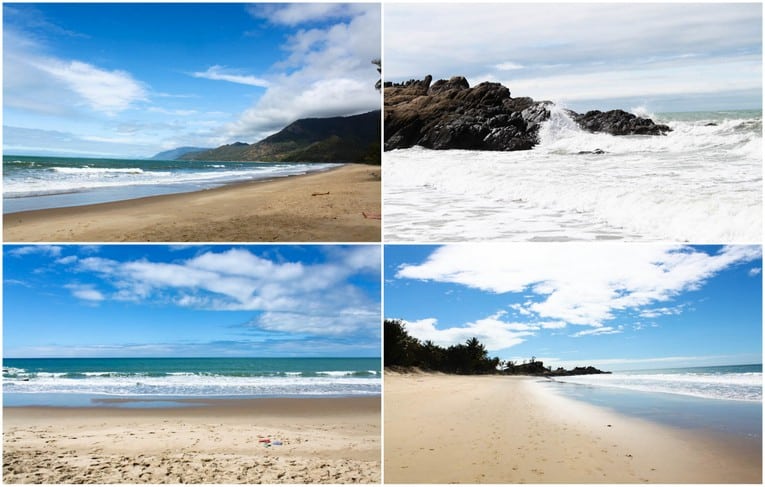 Our meals were pretty simple during this part of our trip – mainly because Port Douglas is a really small town, and the resort we stayed at was about 20 minutes outside of town.
We'd usually have breakfast at the resort, a small lunch in our room (we visited the grocery store on the first day and bought stuff for sandwiches), and then we'd go into town in the evening for dinner. The options were pretty limited, but there was an amazing Mexican restaurant in the center of town that was delicious.
Of course, the main part of town had its own beach, and we couldn't resist taking pictures as we watched the sun set on a particularly cloudy evening.
On our last day in Port Douglas, we went snorkeling at the Great Barrier Reef.
It was the coolest experience ever. It seriously felt like we were in the movie "The Little Mermaid" – there were schools of fishes swimming all around us, and the reef was vibrant and beautiful. We got to snorkel at 3 different sites for 3 hours, so we were able to see many different parts of the reef.
I just couldn't believe how there was an entire world under the surface of the ocean, that you just have no idea about unless you take a look below. Totally breathtaking.
The day after we visited the reef, we left Port Douglas and made our way to Sydney.
We stayed at The Four Seasons on the Harbor for the first couple nights, and the location was stunning. We chose a harbor view room, because if you're gonna stay on the harbor, you might as well see it right? 🙂
We were not disappointed with the view from our room.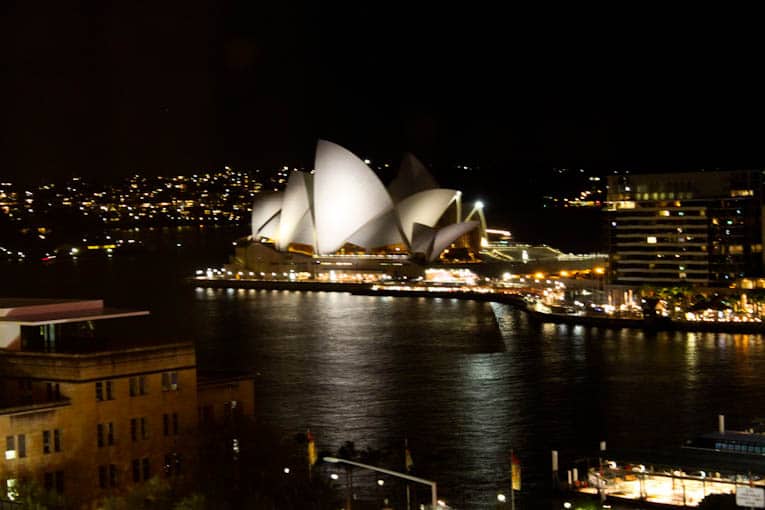 Also, this particular Four Seasons might be the best hotel I've ever stayed at in my life. The service was unbelievable. There is no other word to describe it. It was also in a great location because we were able to explore the Sydney Harbor, Darling Harbor, downtown, The Rocks, The Botanical Gardens just by walking around.
We also got to taste some wonderful food while we were in Sydney. There were tons of vegetarian options and all kinds of cusines. The first night, we went to Bodhi. They are an all-vegan, Asian inspired restaurant and their food just hit the spot.
Bodhi is located next to this gorgeous cathedral that just shined in the moonlight.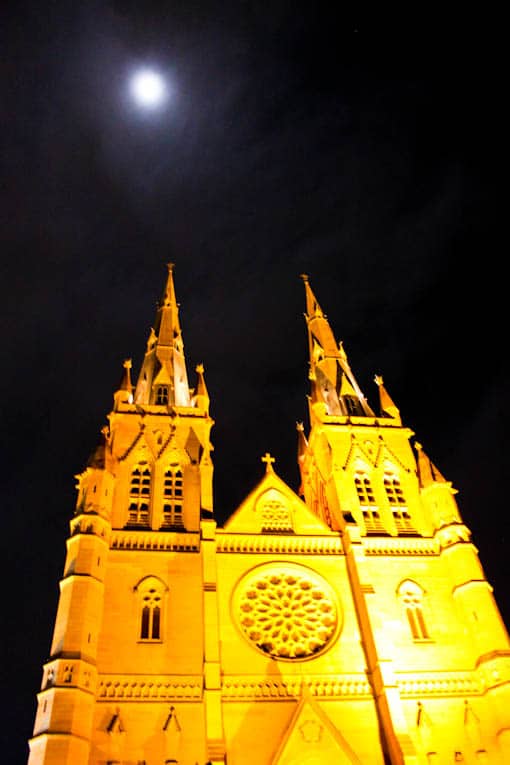 At Bodhi, we ordered the Pumpkin, Spinach, and Mushroom Dumplings, which came in this adorable container with two dipping sauces.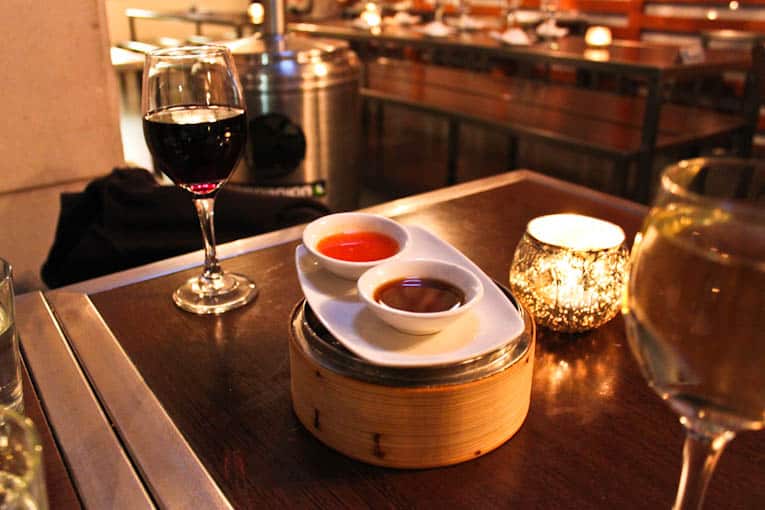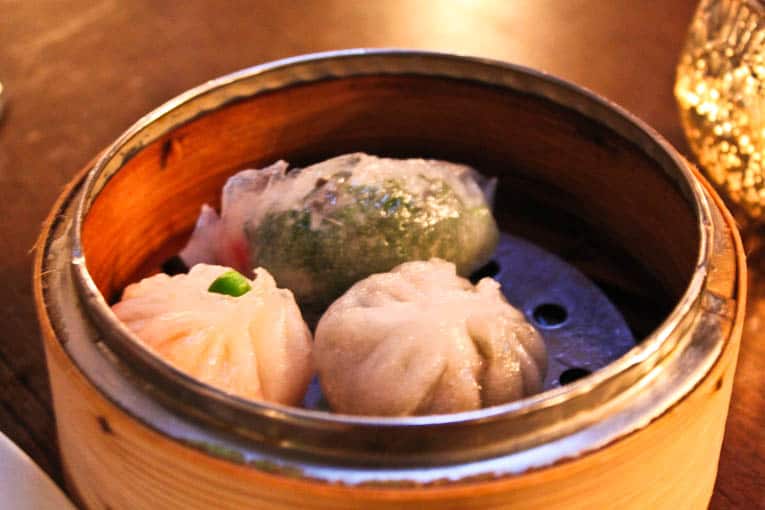 They were extremely flavorful and might have been some of the best dumplings I've had. The spinach one was my favorite.
For our main courses, I ordered the Malaysian Curry, with lychee, asparagus, pineapple, snow peas, tofu, bamboo shoots and pine nuts.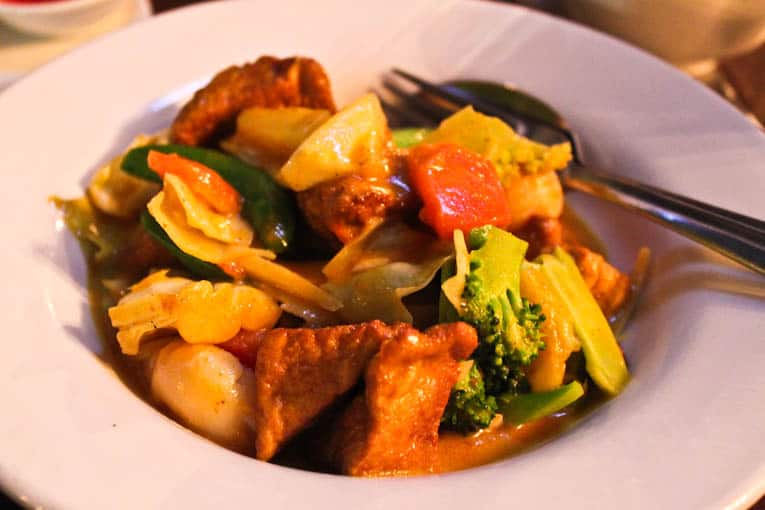 The vegetables were fresh, the curry was flavorful, and the tofu had great texture.
The husband ordered the Vegetarian Peking 'Duck', which was served with bbq sauce, cucumber and mini pancakes. You basically made your own little wraps with the "duck," sauce, and cucumber.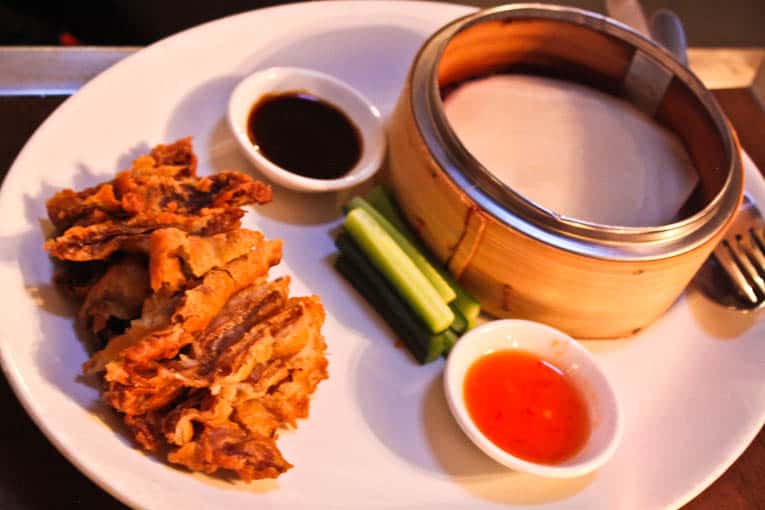 What really blew me away about this dish was how crispy and tender the fake meat was. It honestly didn't taste like fake meat at all – and I bet meat eaters would be pretty satisfied with this veggie version. The husband seemed to like it too.
After dinner, we walked around the Sydney Harbor at night. Sydney in general is a beautiful city – they have done such a great job with the harbor and everything surrounding it.
Of course, more picture taking ensued. Me and the husband in front of the opera house…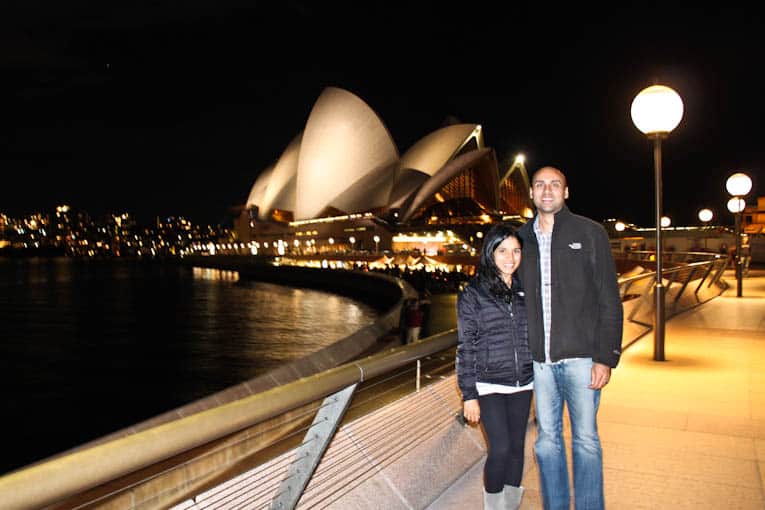 And the Sydney Harbor Bridge, which we climbed the next day (but more on that in a sec!)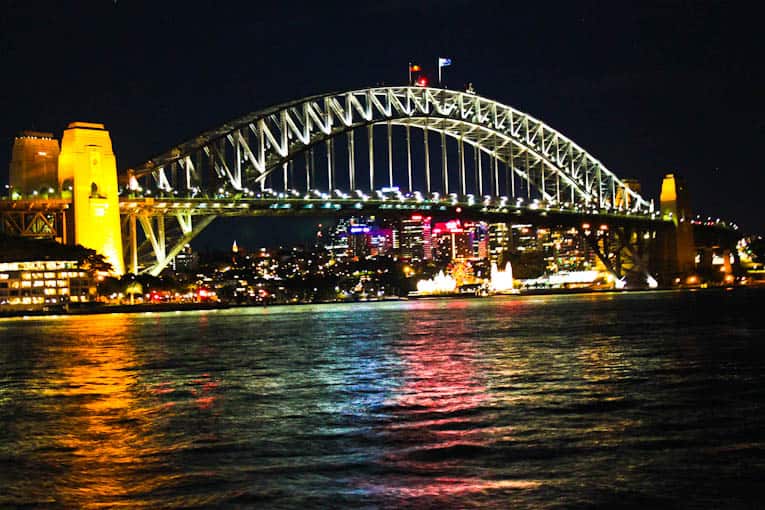 We spent the next day exploring The Rocks – which is a shopping/eating area that reminded the husband of Oxford. We had lunch at Pony, bought some Aboriginal artwork to take home with us, and did a 3 hour Sydney Harbor Bridge Climb.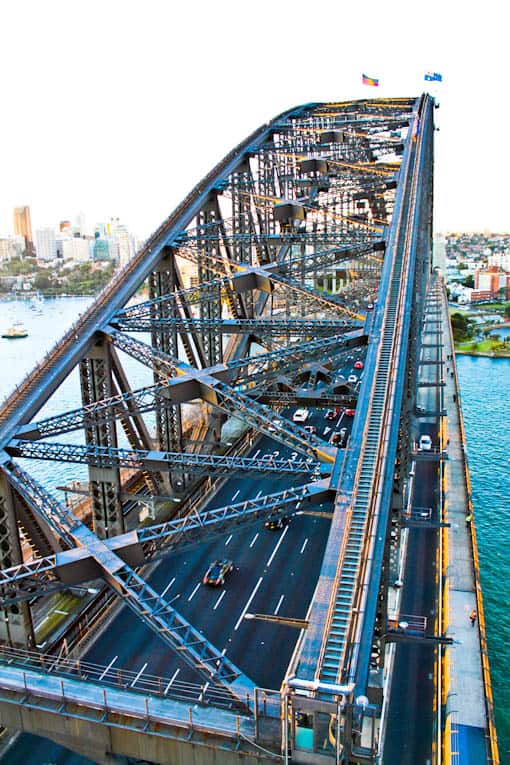 If you are ever in Sydney, you have to do this. You basically get taken on a guided climb of the bridge – where you end up climbing to the top on the outside of the bridge (if you can see the little steps in the picture above – that's what we climbed up on). It's exhilarating, and might be one of the best ways to see Sydney.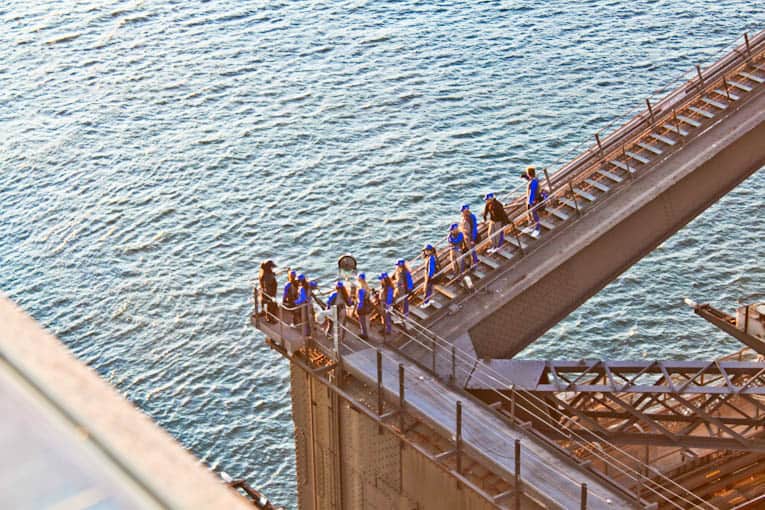 We did the afternoon climb, so the sun was just starting to set when we got to the top of the bridge. The views we got from the summit were beautiful!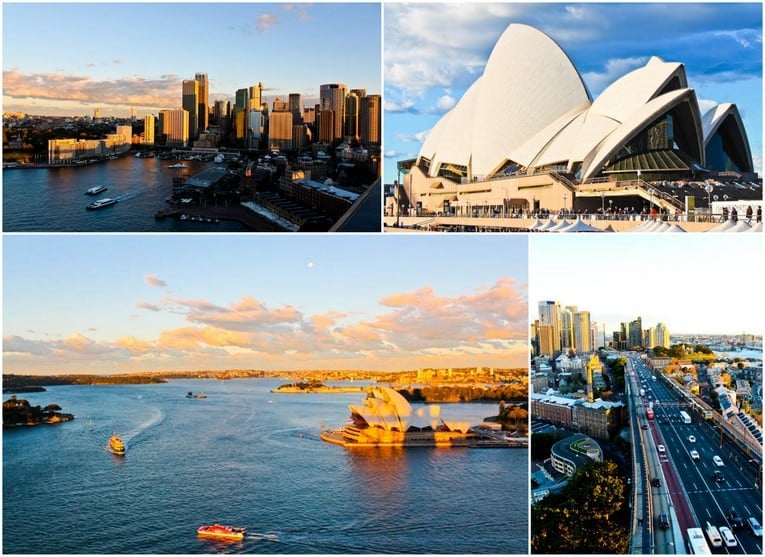 After our climb, we were starving, so we decided to walk to Darling Harbor to have dinner at Kazbah.
They had the coolest water pitchers there, they looked like fancy vases.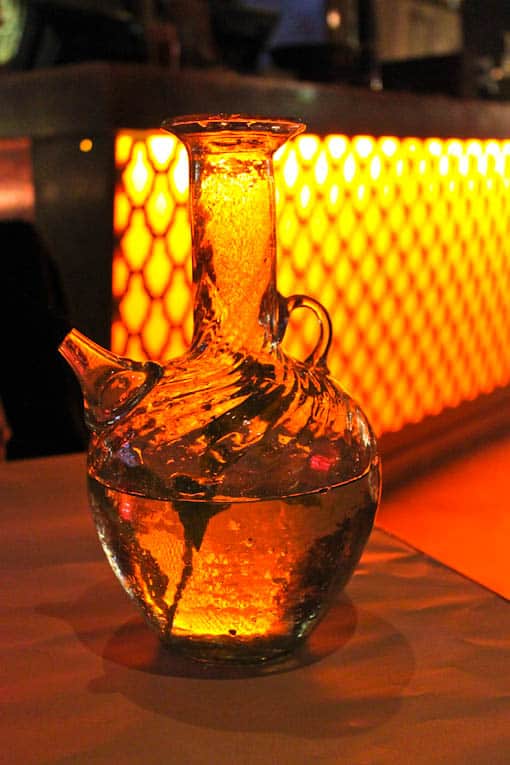 We started our meal with some dips – Hummus, Babaghanouj, Tzatziki, and Carrot – and pita bread.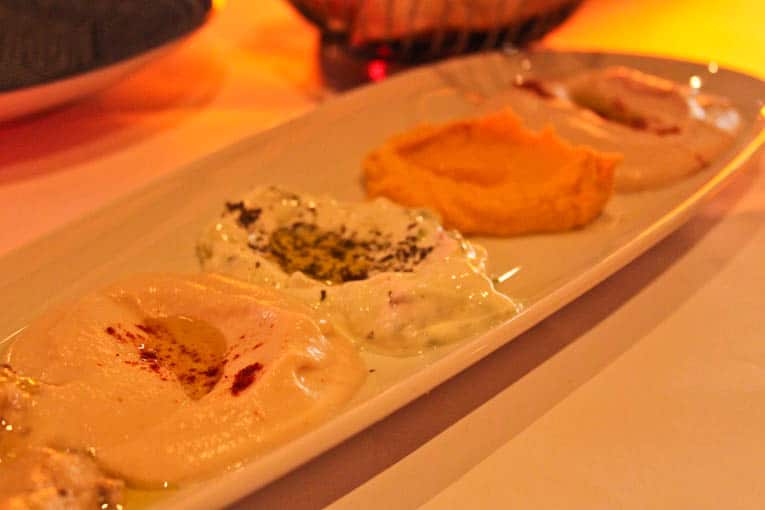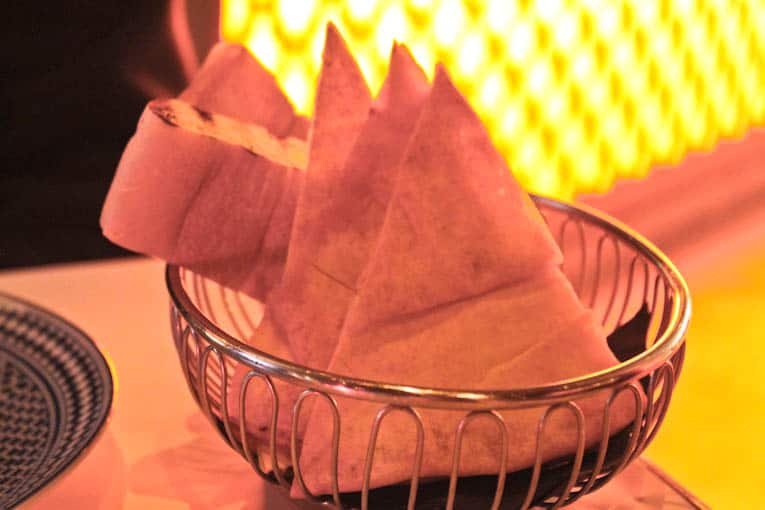 Then we shared the Seven Vegetable Tagine, with Carrot Steamed Couscous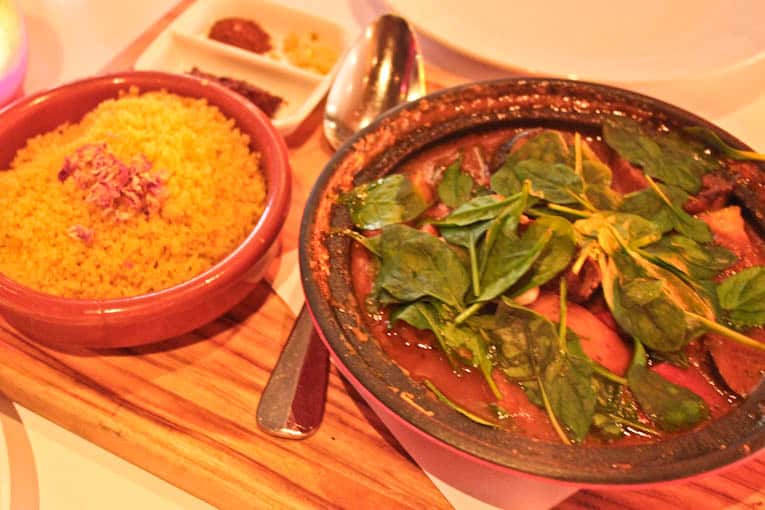 It warmed us up from the inside out.
Sydney was actually really cold (compared to the warmth of Port Douglas) – so we really needed a warming dish! Hot Chocolate became a staple of ours as an after dinner treat, and we were really impressed with the hot chocolate we found at Guylian, located near the Opera House.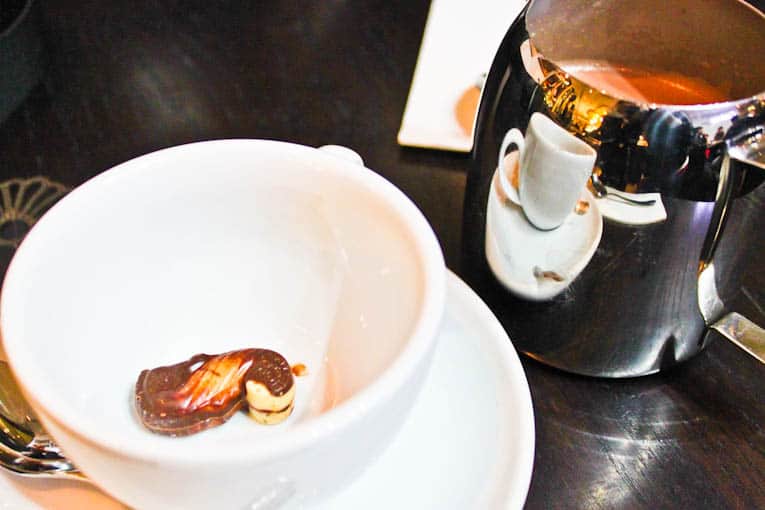 We ordered the Praline Hot Chocolate, poured over a white chocolate seahorse that melted into the drink.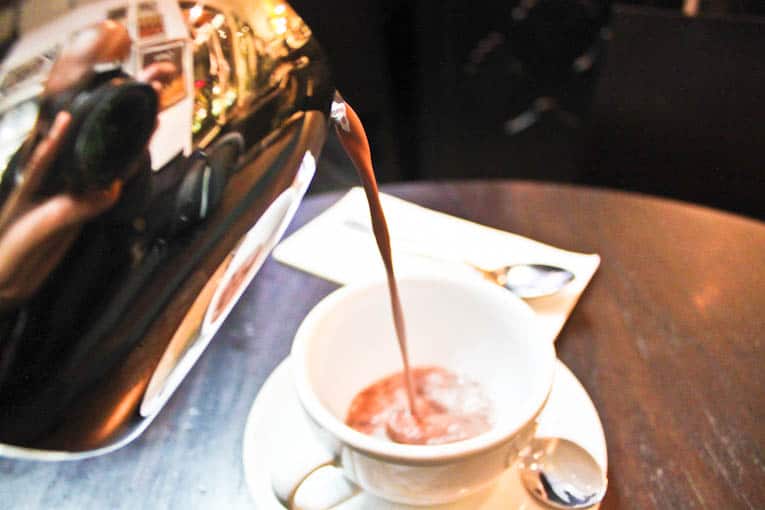 It was decadent, rich, and filled with chocolatey goodness. Somehow we also had room to order the Caramelt: a toffee caramelized hazelnut mousse with caramel ganache and a chocolate cacao sponge coating.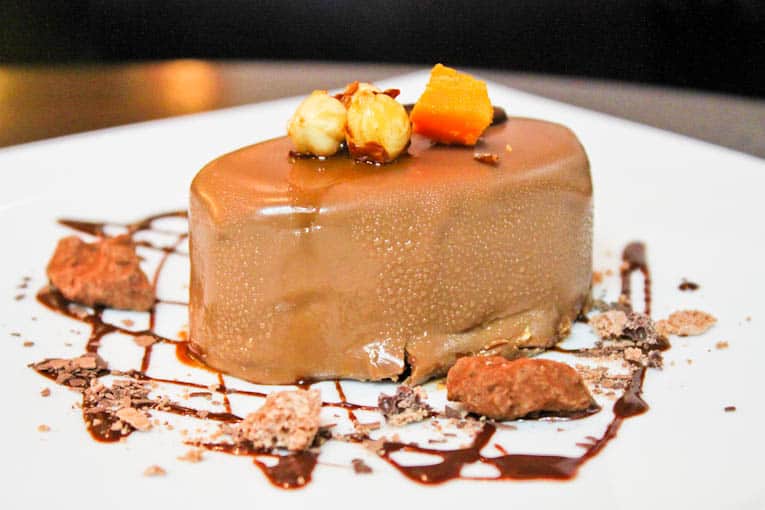 It was so rich we couldn't finish it, but it was totally worth getting.
The next day we had a late lunch at Cafe Sydney – an upscale, vegetarian friendly restaurant overlooking the harbor. We started with the Spinach Bhaji served with a Raita Sauce.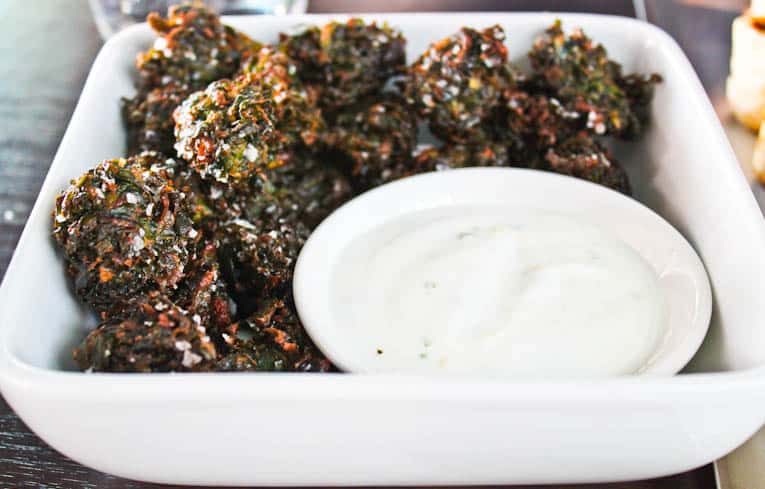 It wasn't anything like a traditional Indian "bhaji" or "sabji" – but the chef was able to capture all of the classic Indian flavors you'd expect and pack them into these bite-sized spinach balls of goodness.
We also ordered the Tandoori Naan Wraps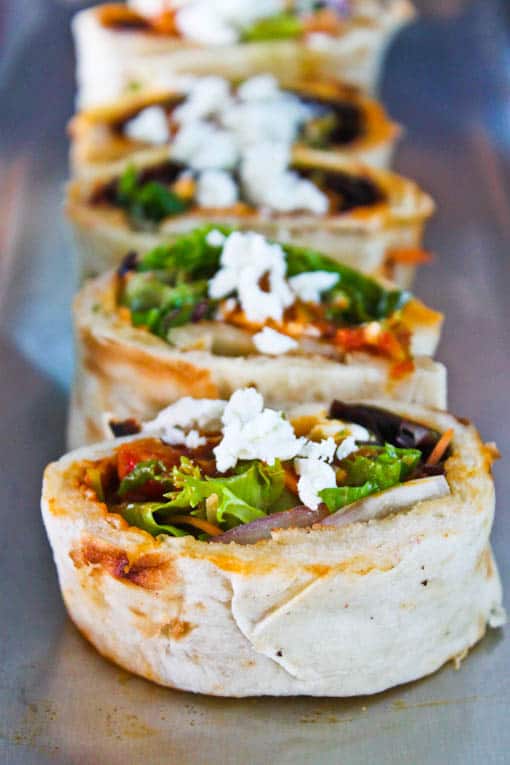 I have to admit, I was a little skeptical about how good these would be, but they turned out to be amazing. They were bursting with flavor, had a wonderful chutney as the sauce inside the wrap, and just the right amount of heat to round it out.
Our entrees included the Tomato Soup, served with a fennel oil and microgreens.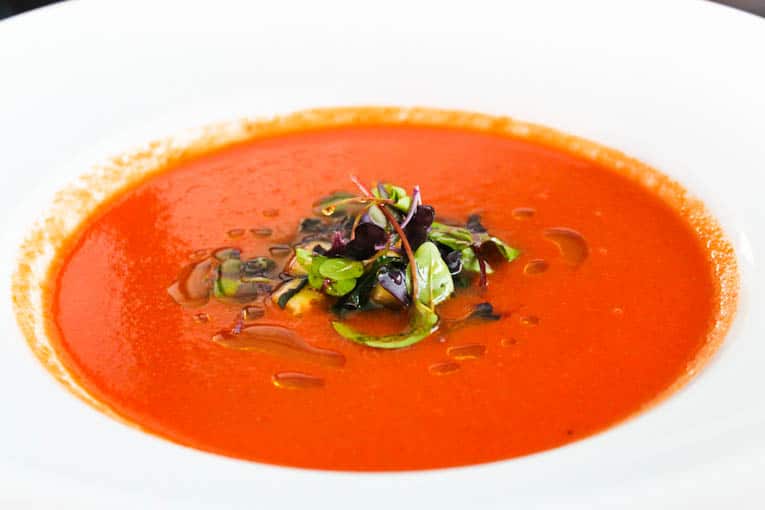 And the Thyme gnocchi, served with sweet corn, pickled celeriac, zucchini, chilli, asparagus, and pecorino.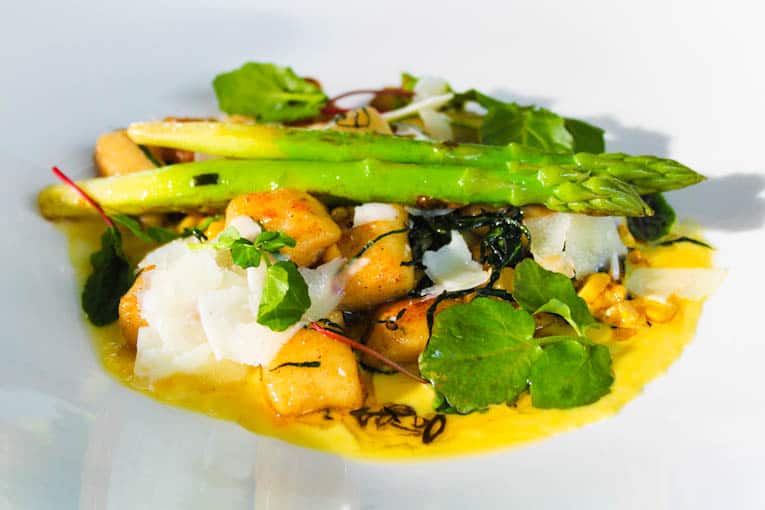 This entire meal was a standout in my mind. Every dish was unique and extremely flavorful – and needless to say, we were full for pretty much the entire day after such a huge lunch.
We walked off our lunch by visiting the Botanical Gardens, where we were able to capture this awesome view of the harbor bridge and the opera house in one shot.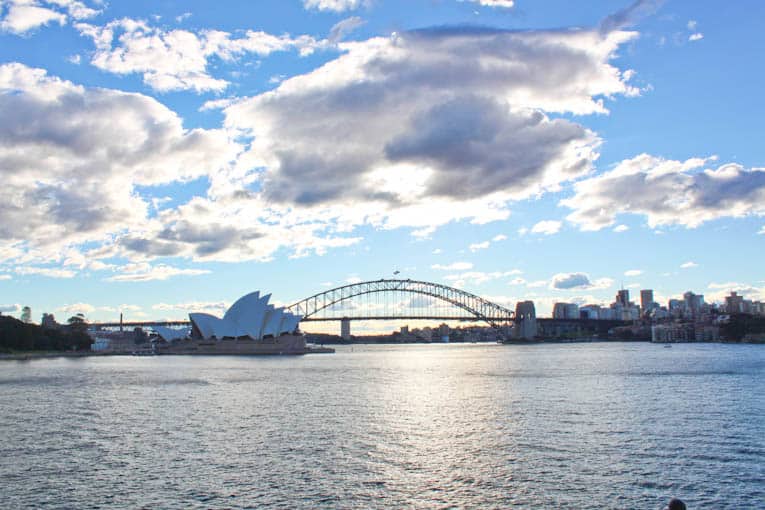 That evening, we traveled to a different part of Sydney: Newtown.
Newtown is an urban, eclectic neighborhood near the university – and it kind of reminded me of the Mission in SF. It has amazing restaurants (400 of them within 1 mile of the B&B we stayed at), a great vibe, and completely different than the harbor area.
We stayed at this wonderful Bed and Breakfast: Tara Guest House. The hosts – Brom and Julian are the warmest, kindest, most welcoming people you'll ever meet. Their B&B is small – I think it holds about 10 guests at capacity, and they live at Tara as well. Julian picked us up from the Four Seasons (and dropped us to the airport when our stay was over), and welcomed us to Tara with a glass of wine and wonderful conversation at their kitchen table. Oscar, their adorable dog greeted us as soon as we arrived, which just added to the cozy feel.
Our room at Tara was beautiful, modern and very classic. Every morning we'd have breakfast with Julian, Brom and the other guests at Tara – and let me tell you – the breakfasts were EPIC. So epic, in fact, that they kept us full through lunch!

This photo of TARA Guest House is courtesy of TripAdvisor
The location was perfect, we could pretty much access everything by walking or by taking the train/bus (if we had to go a bit farther). While I forgot to take my camera with me for most of our dinners, here were some of the great Vegetarian-friendly restaurants we found:
Beach Burrito Company
Ice + Slice
Bentley
While we were in Newtown, we took a day trip and trekked over to Bondi Beach to do the hike from Bondi to Bronte. It was one of the most gorgeous beach hikes I've ever done.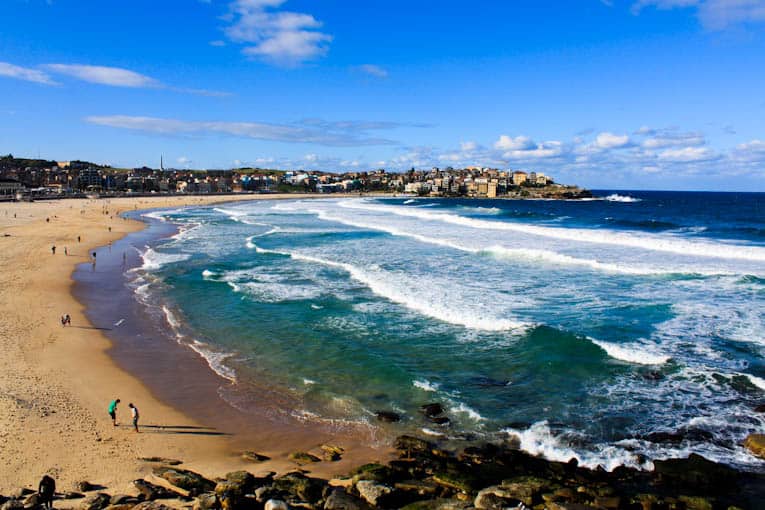 We were literally walking along the cliffs, and just got to see one beach after another.
I got distracted when I found this really cool rock wall on one side of the cliff. I decided to climb up into one of the small holes halfway up the rock, and the husband took a picture.
I needed some help getting down, but it was worth it 🙂
We stopped in Bronte for an early dinner before we headed back to Newtown. Hot Chocolate, as always, was on the menu.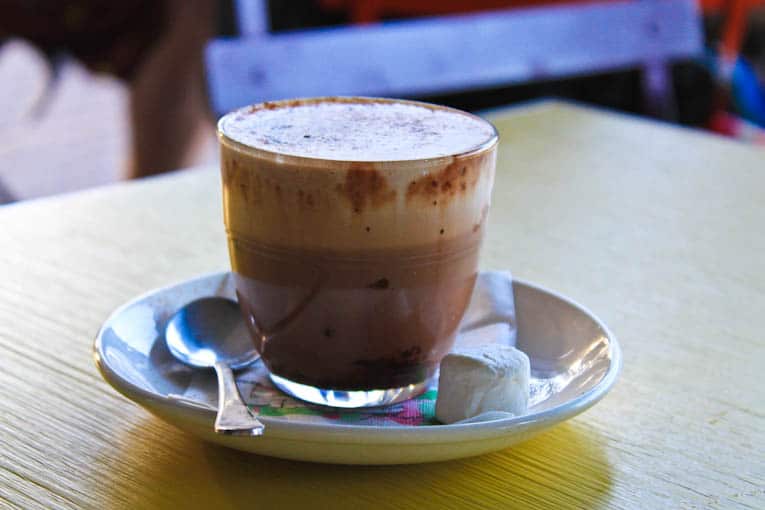 As was the Lentil Soup and Falafel Burger with Fries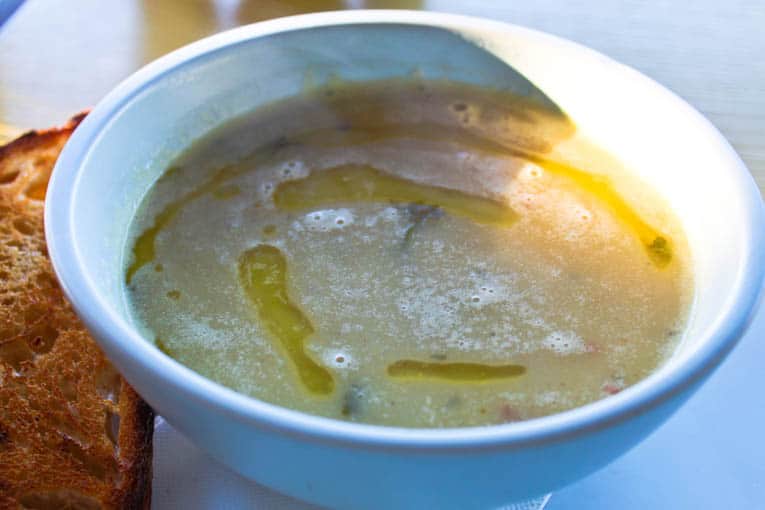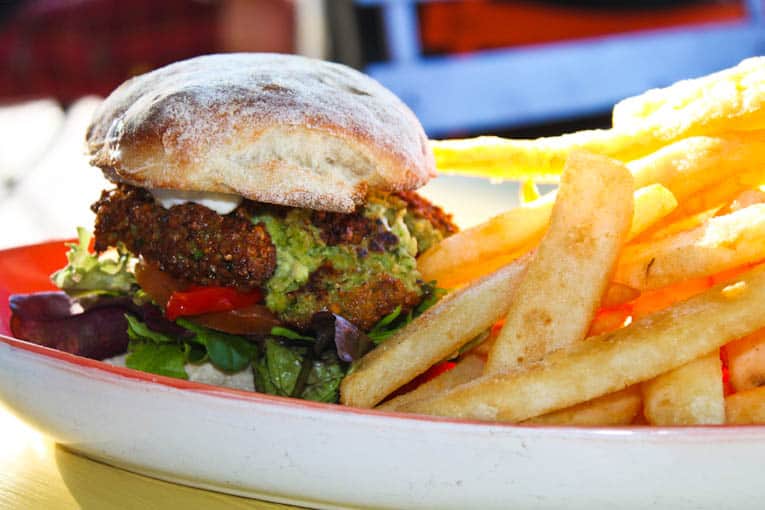 They really know how to do fries in Sydney. Everywhere we ate – the fries were incredible.
Our last night in Sydney was my birthday, and we decided to celebrate with a fancy dinner at Universal Restaurant. They have a vegetarian tasting menu that looked absolutely perfect to us, and we loved their indoor-outdoor seating area.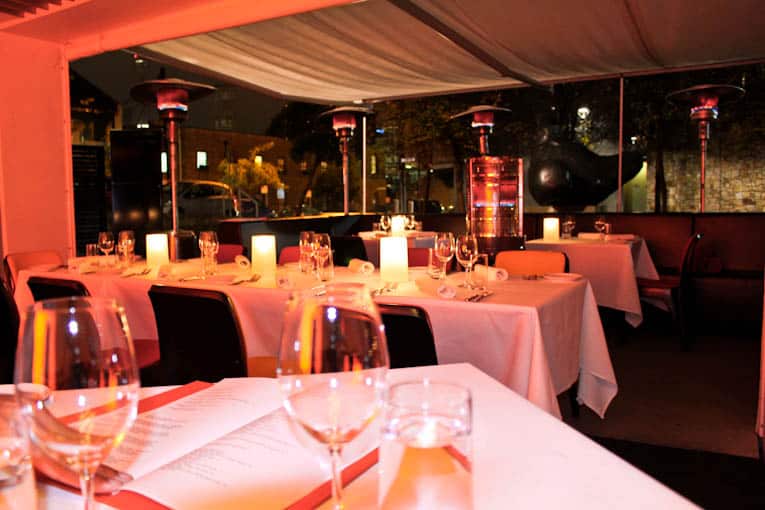 I was happy because we got to sit right next to the heat lamp!
We ordered 6 courses that we shared, and it all started with the Salt and Pepper Silken Tofu, with Oyster Mushrooms, Shiro Miso Seaweed, and a Taro Wafer.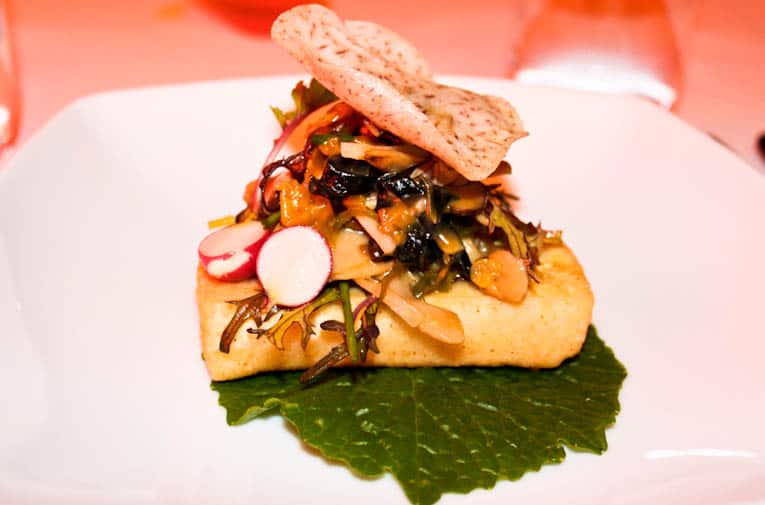 Then came the Steamed Heirloom Carrot and Kohlrabi Ravioli, served with a spinach puree and spiced carrot salad.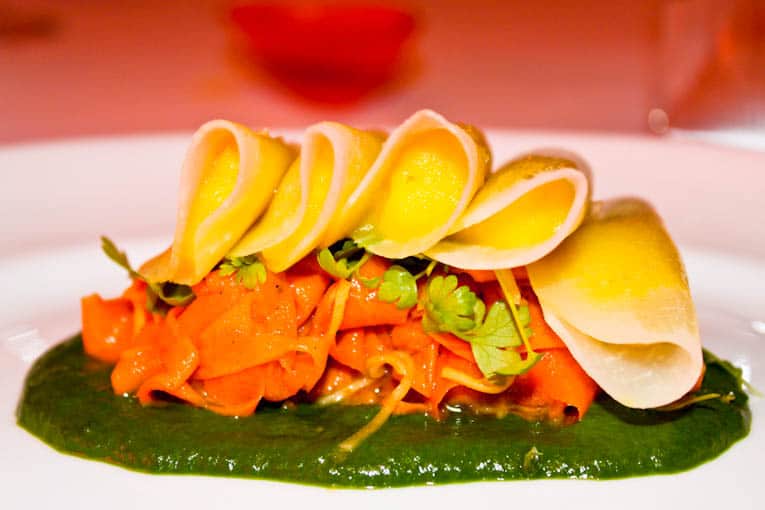 This might have been my favorite dish of the night. The entire vegetarian menu was Indian/Asian inspired in terms of the flavors and spices used, but this dish especially seemed to accomplish that "fusion" balance perfectly.
The next two dishes included the Sticky Rice and Salted Duck Egg Cakes, served with a Coconut, Pomelo, and roasted Cashew Salad.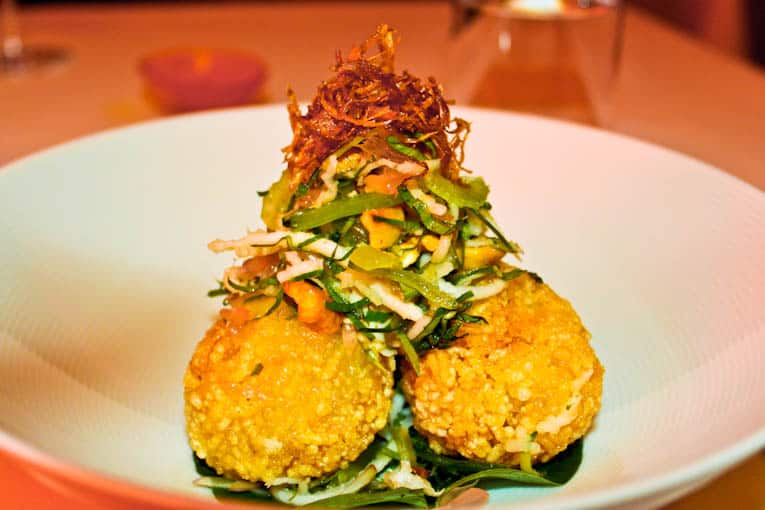 For this dish, the consistency of the rice cakes was a bit too dry, but the slaw on top was absolute perfection.
The husband's favorite dish of the night was the Grilled Haloumi, with toasted walnut crumbs, a coriander yogurt relish, freekah, pomegranate and cucumber.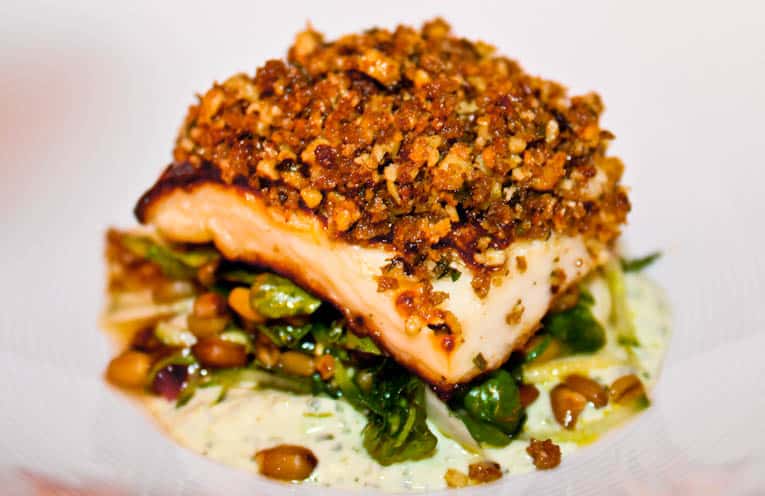 Our second to last entree was the Beetroot and Horseradish Spelt Risotto, with roasted golden beets, and a goats curd cigar.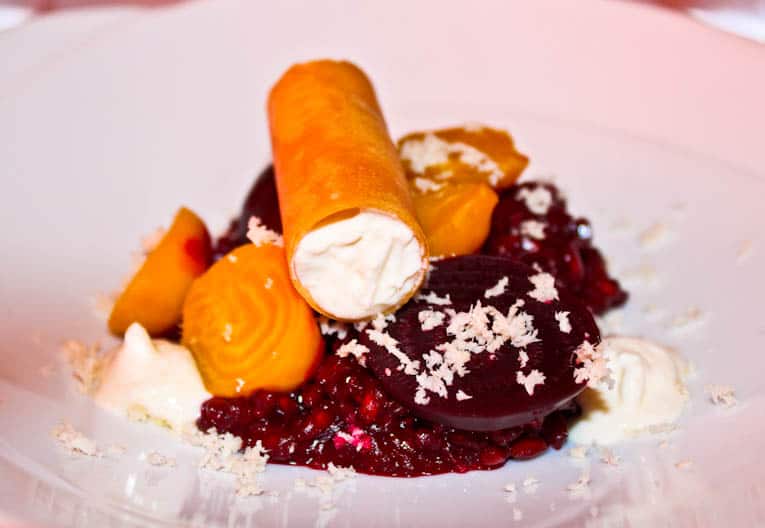 I loved the risotto and the beets in this dish, and the husband liked the cigar. It was the perfect way to split it up.
Our final plate of the night was the Spiced Pumpkin and Potato Dumplings, with turmeric lemongrass broth, palm heart and cavolo nero.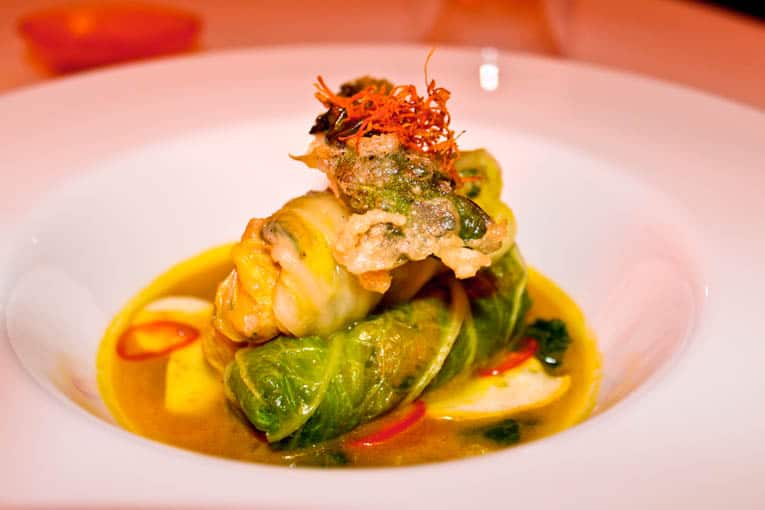 Somehow we did manage to squeeze in one dessert at the end of the meal. I mean, what's a birthday without dessert, right?
We ordered the Honeycomb Ice Cream Caramel Parfait, with Chocolate Crunch and Salted Hazelnut Caramel.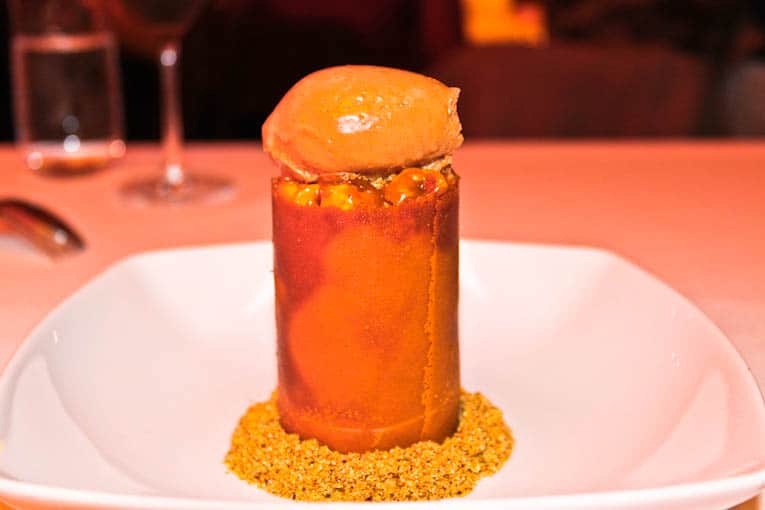 This dessert was one of those desserts you just can't stop eating. Every flavor with the caramel, chocolate and light honey caramel flavor in the ice cream blended together perfectly.
Despite being full, we devoured it.
Our meal at Universal was inventive, eclectic, beautiful and original – the perfect end to our vacation and a wonderful way to celebrate my birthday.
I can't believe our trip is already over, but it's nice to be home – I'm so excited to share many more recipes and easy healthy tips with you now that I'm back! I hope all of you had a wonderful 4th of July and enjoyed the long weekend!
18 responses to "Adventures (and delicious food) in Australia"