Our Winter Vacation in Argentina
This post may contain affiliate links. As an Amazon Associate, I earn from qualifying purchases. Please read my disclosure.
Hi Everyone – happy new year!
As you probably know, I've been gone for the past few weeks because the husband and I (and a couple friends) went to Argentina over the holidays. It was an amazing trip – filled with wonderful food, wine, funny travel mishaps, and absolutely gorgeous scenery.
The trip to Argentina from SFO is a long one: at least 24 hours, and in our case (because of many, many delays) – 48 hours! But once we got to Mendoza, our first destination, it was totally worth it.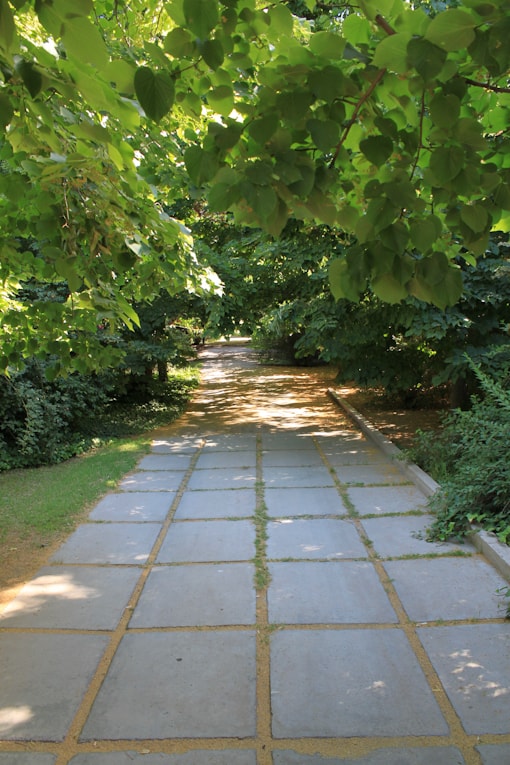 That was the walkway to the little villa we stayed at in Mendoza: Casa Glebinias. Mendoza is the heart of Argentina's wine country, and Casa Glebinias is nestled right in the Lujan wine region – an oasis next to all of the wineries.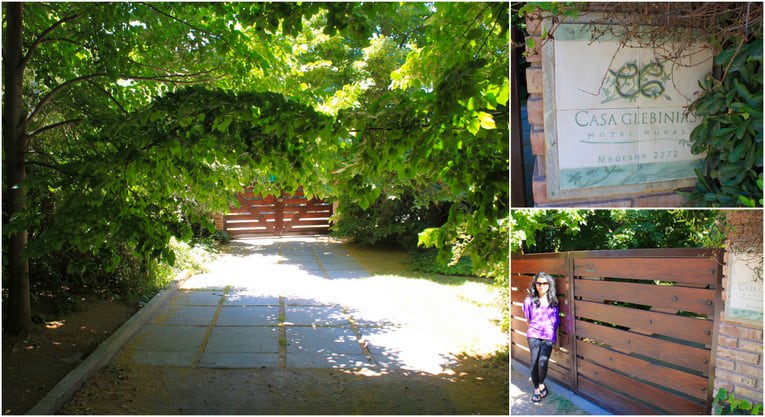 The husband and I love Malbecs, and we couldn't wait for our wine tour the next day. But since we were starving after our long trip to Mendoza, we headed out into the nearby town (Chacras de Coria) in search of food.
We ended up at this awesome wine bar: Hand of God – where we proceeded to order every Vegetarian dish on the menu and a flight of wines 🙂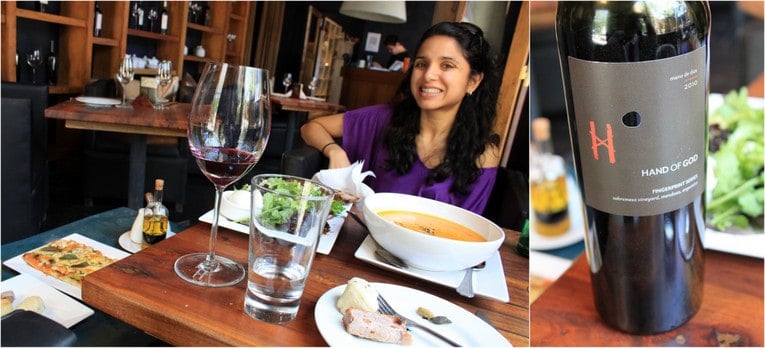 Fresh pumpkin soup; a salad with greens, caramelized onions, grilled tomatoes and burratta; a flatbread with veggies and melted cheese; freshly baked bread; and some of the best red wines ever made this the perfect welcoming meal to Mendoza.
It totally hit the spot, and I was very happy.
When we walked back to our villa, we were greeted with the most gorgeous evening light shining through the trees, and I couldn't believe that we got to stay in this house for the next few days: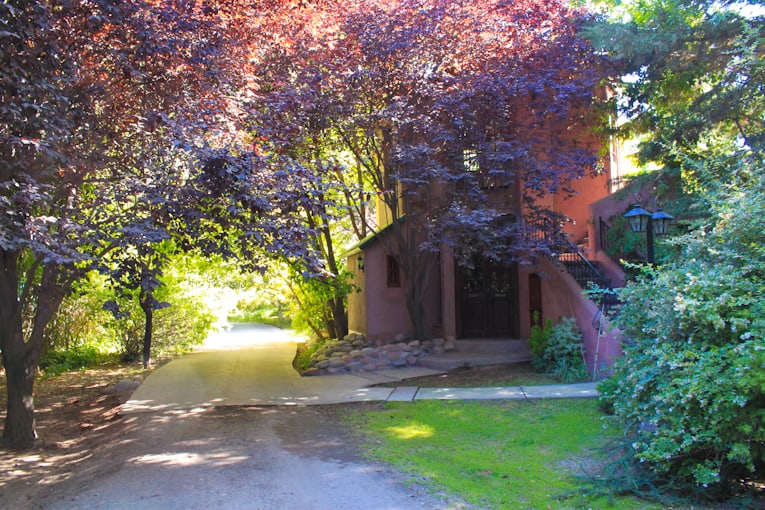 It looked like an impressionist painting!
The next day, we headed out on our wine tour (from this awesome company – Trout & Wine). We toured the Lujan region we were already in, but they have other tours going to the other wine regions in Mendoza as well. The wines in the Lujan region were really impressive. We went to: Catena Zapata, Vina Cobos, Club Tapiz (which included a 4 course lunch with wine pairings that I'll get to in a bit), and Alta Vista.
The tour was super relaxed: we ended up spending 1.5-2 hours at each winery touring the grounds, learning about their wines, and tasting all kinds of wines (there's more to Mendoza than Malbecs!)
One thing that struck me was that the wineries in the Lujan region have really interesting, modern architecture. Each building was extremely unique, and we couldn't stop taking pictures. Here are a few of my favorites: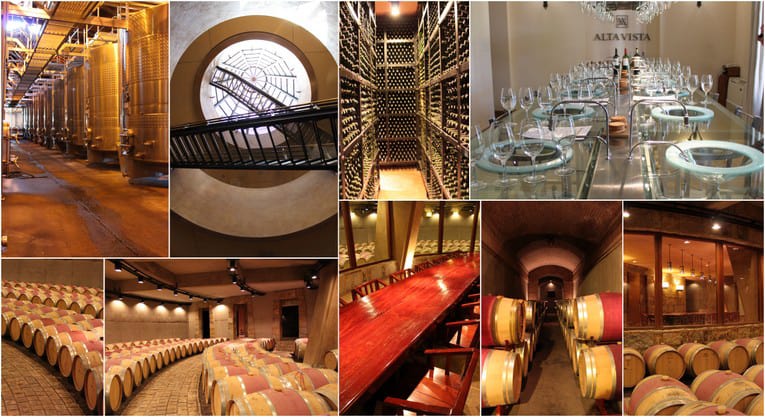 There is so much space in the Lujan region, so it doesn't feel as crowded as Napa or some of the other wine regions we've been to. The views from the wineries were incredible as well.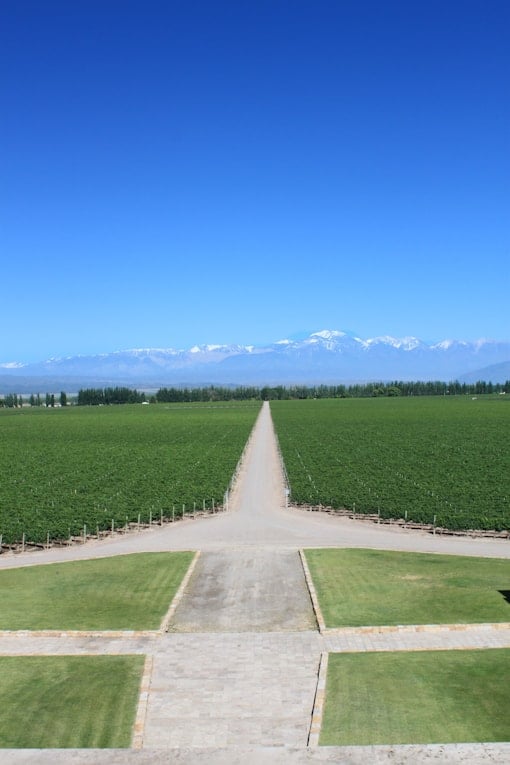 I was really happy with the food (and the Vegetarian options) in Mendoza. Our lunch at Club Tapiz was no exception. We were seated in a private room overlooking the entire winery: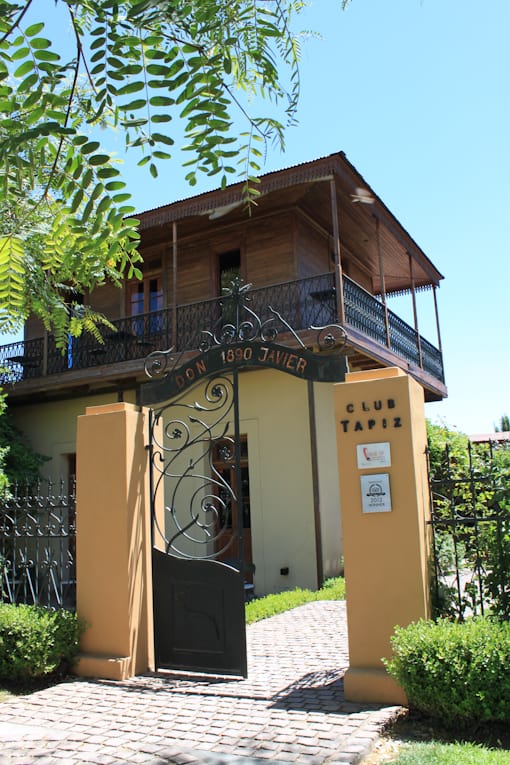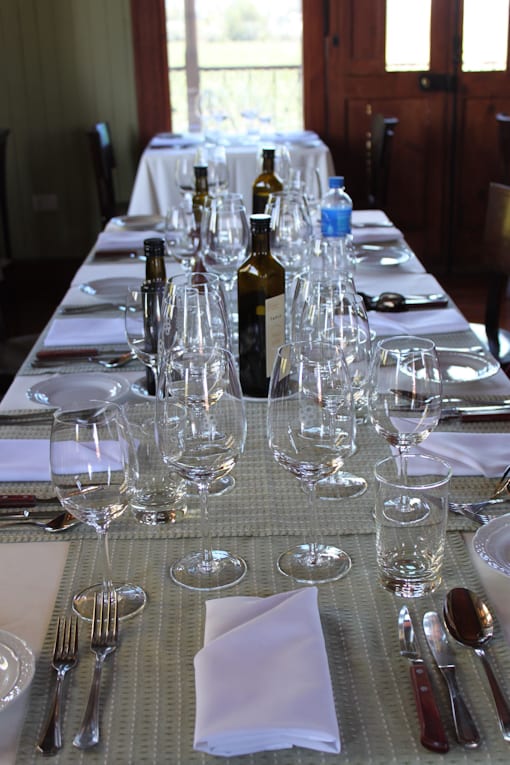 And our lunch consisted of: a cold arugula and herb soup with freshly made croutons; a beet and carrot salad with a balsamic reduction, and an Asian stir fry which ended up being super, super flavorful!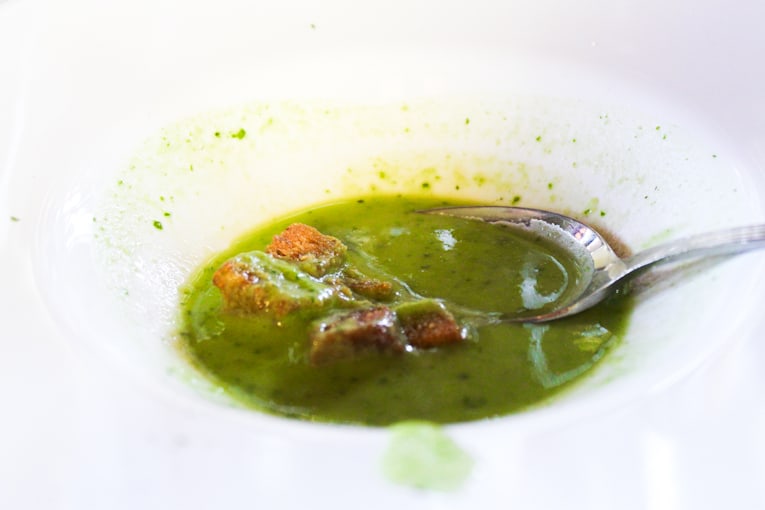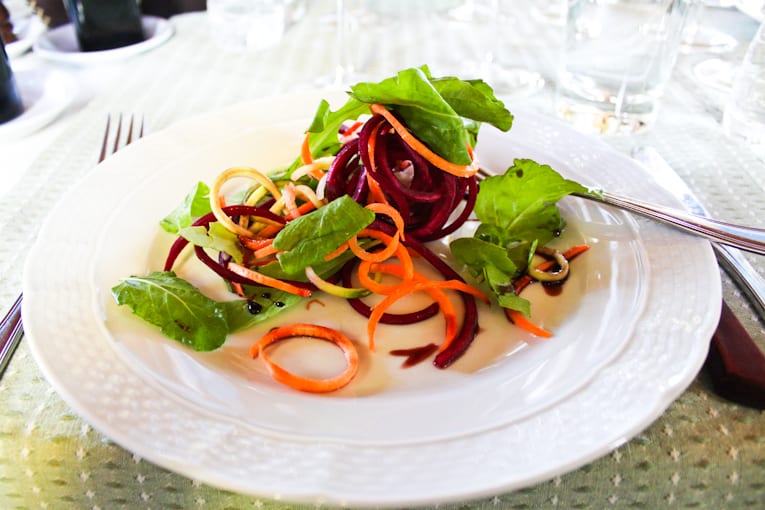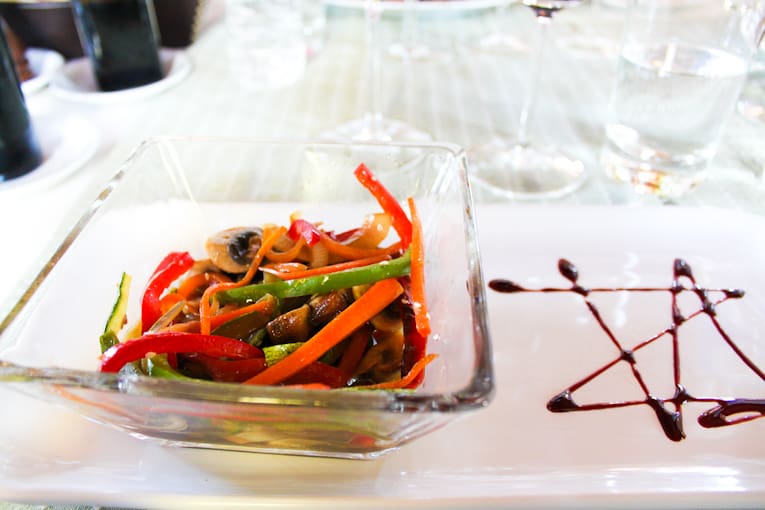 Dessert (which I ended up eating too quickly and forgot to take a picture of) was a Marscapone ice cream topped with meringue and chocolate cookie crumbles, with fresh berries sprinkled throughout. It was light, refreshing, and oh-so-sweet.
Our tour pretty much lasted all day, and by the time we got back, we were full and satisfied. For dinner, we ended up eating homemade empanadas and hot chocolate courtesy of the owners at Casa Glebinias.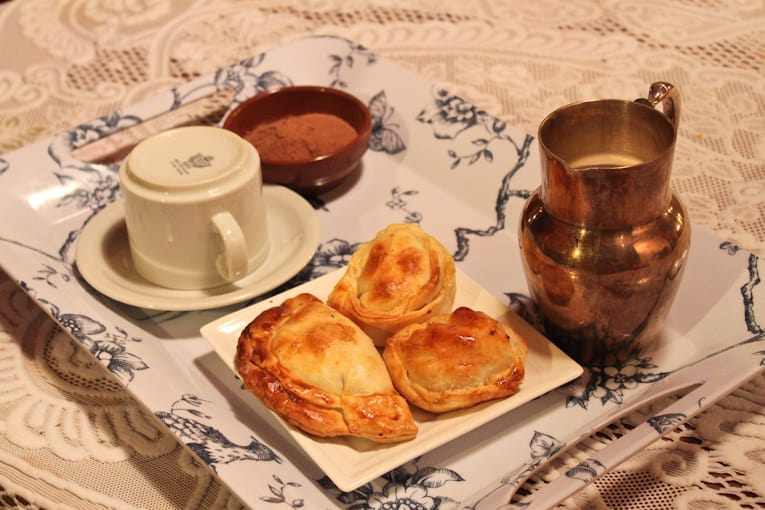 It was a great, warm ending to our stay there. I honestly wished we could have stayed there longer – the couple who runs and owns this B&B-esque place were the nicest people – they were inviting, helpful, welcoming, and made our stay there super relaxing.
After Mendoza, we headed to Bariloche – which is in the northern part of Patagonia. It has a "Swiss Alps" feel to it, with a lot of Swiss, German and Italian influences in the town.
We stayed at Llao Llao – a hotel that was literally surrounded by beautiful lakes and nestled against the Andes mountains.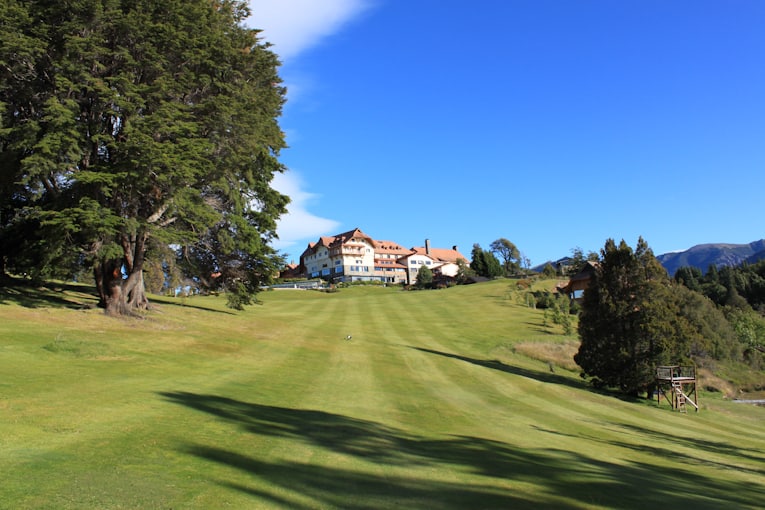 The first day we were in Bariloche, it rained and was cloudy most of the day. So we took a drive to a few scenic points where the misty mountains and fog made me feel like we were in Lord of the Rings.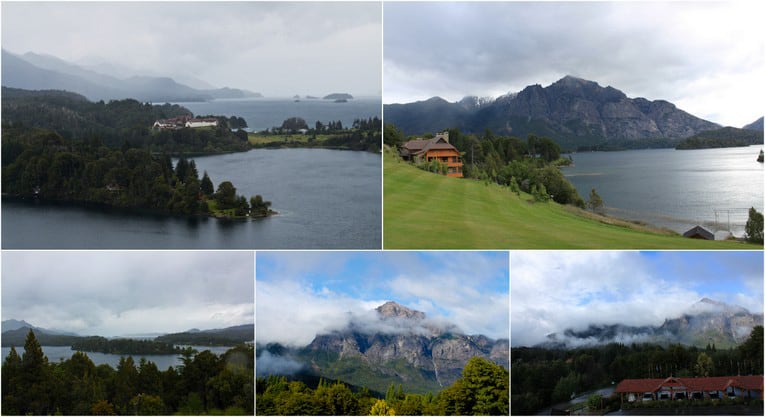 Even with the clouds it was still pretty majestic. But luckily we got great weather for the rest of our stay. While we were in Bariloche, we went on some beautiful hikes, went horseback riding through the mountains, learned archery (which was so cool!), and took a boat to hike around some of the islands in Bariloche (Victoria Island and the Arrayanes Forest).
While we were on the boat to Victoria Island, these seagulls started following us, and the husband took about 100 pictures of them 🙂 Here is one of my favorites: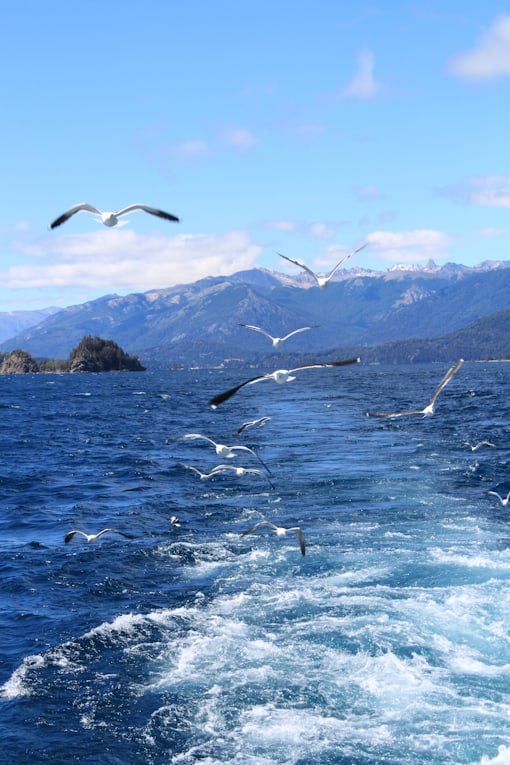 When we arrived at Victoria Island, we were in awe of the breathtaking views.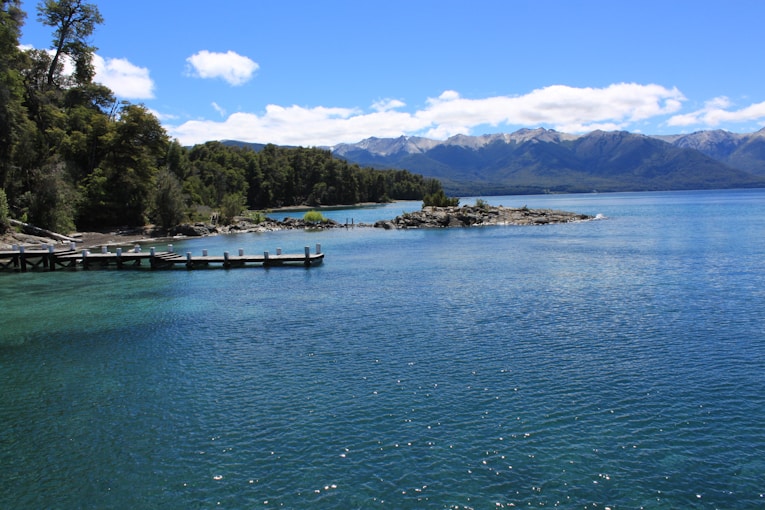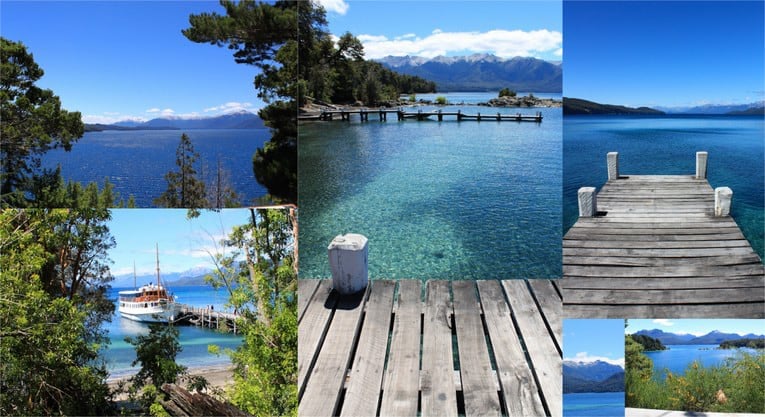 Our last hike on the island ended up being a pretty steep uphill climb, but then we were rewarded with this: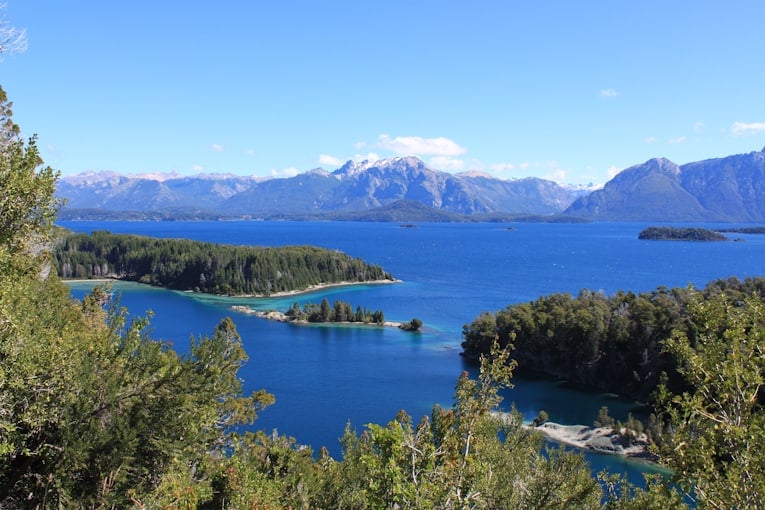 I just couldn't believe how amazing it was.
On the boat ride back to Llao Llao, we met a few other American tourists (from Chicago and Philly), and ended up having a really fun dinner with all of them that night at Dias de Zapata: Veggie-friendly Mexican food that actually was pretty good!
Another restaurant we absolutely loved (and ate at twice for dinner) was Il Gabbiano. Delicious, authentic, flavorful Italian food – where the pasta is made in-house and the ambiance is warm and cozy. The husband, me and two of our friends literally had 4 hour dinners there both nights we went (although, 4 hour late dinners became the norm during our trip!)
Our last day in Bariloche was spent mostly relaxing, and for dinner we went to Cassis. They created a 5 course Vegetarian meal made with ingredients from their own garden. It was fantastic.
Cassis is located right on the lake, overlooking the mountains. We could see their flower garden from one side of our table, and the lake from the other.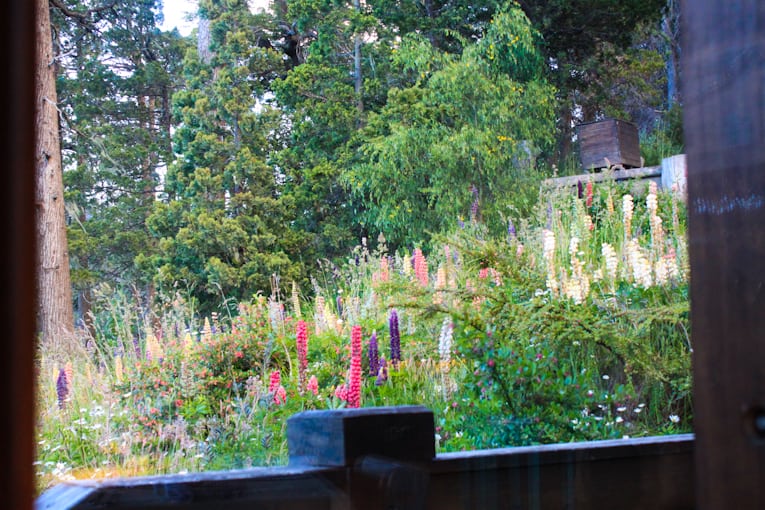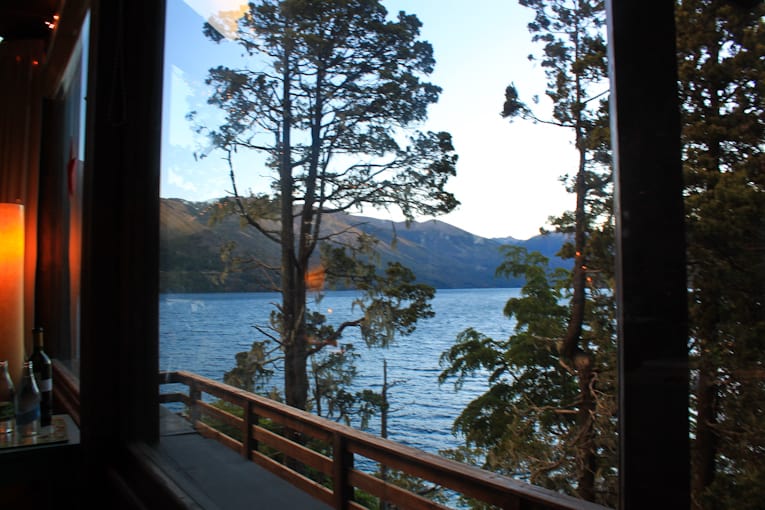 We were greeted with a complimentary glass of Sparkling wine, with little tiny flowers as a garnish!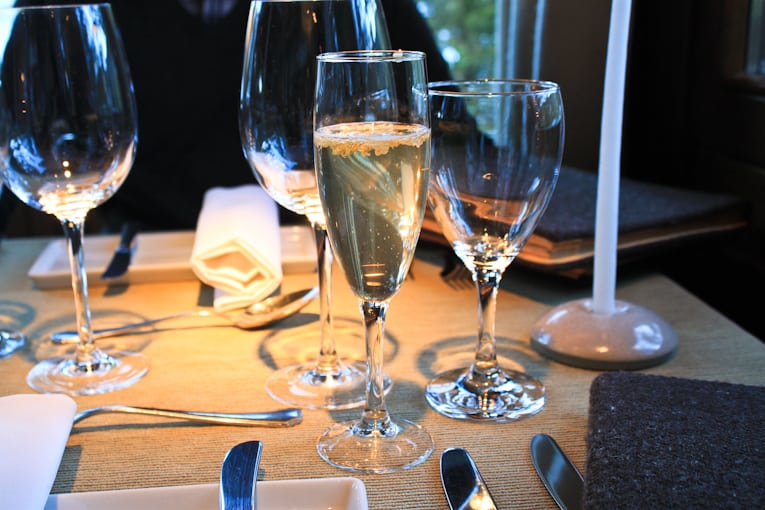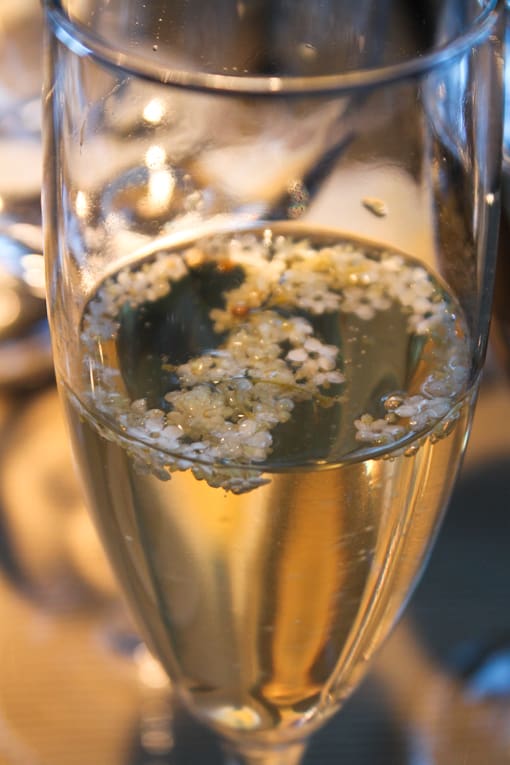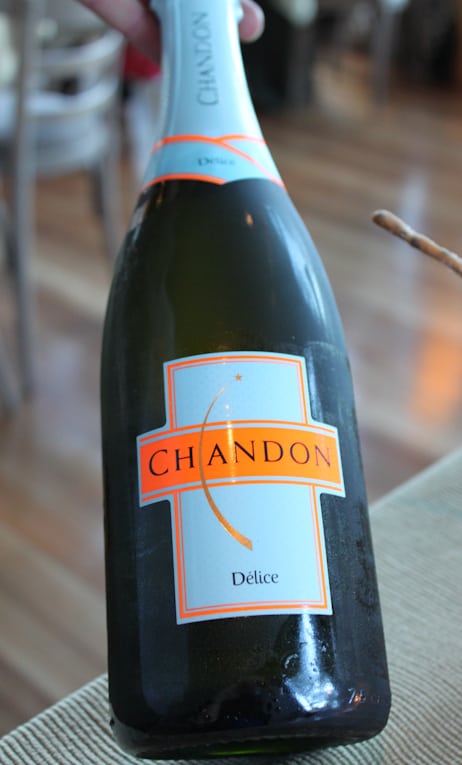 Before our first course, we were given their freshly baked bread basket (their breads were amazing), and an amuse bouche: a mushroom/cream/foam.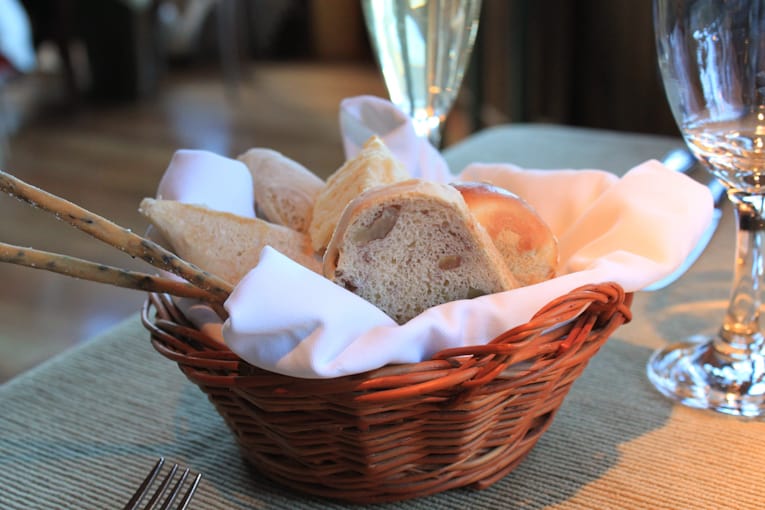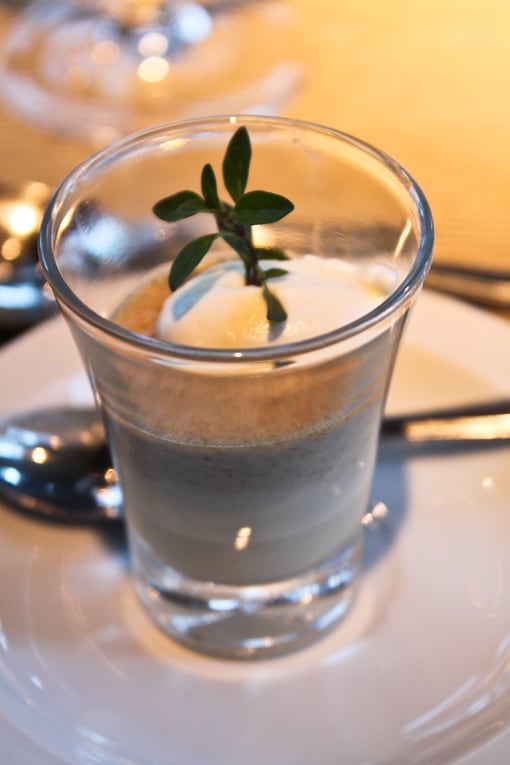 Our first course was a cold sorrel soup, with two mini cheese biscuits. The sorrel soup was one of the most unique things I've ever tasted. It had hints of apple, pear, citrus and greens. So refreshing!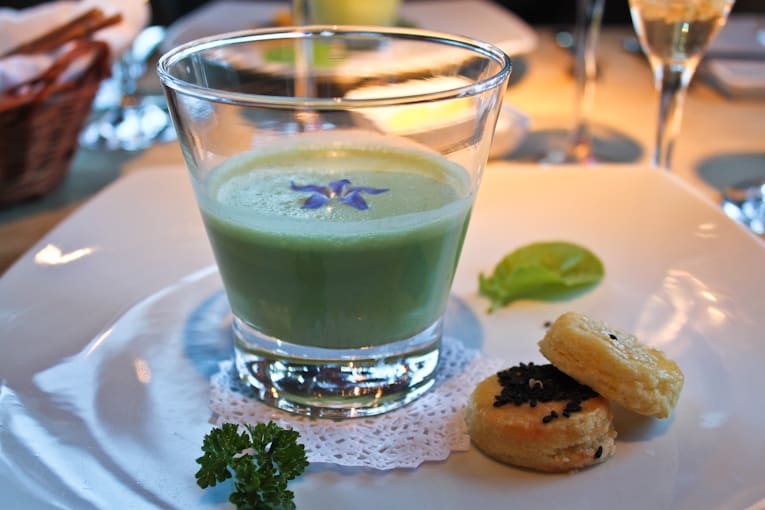 Our second course was a salad made with greens and flowers from their garden, served in a little Parmesan crisp cup.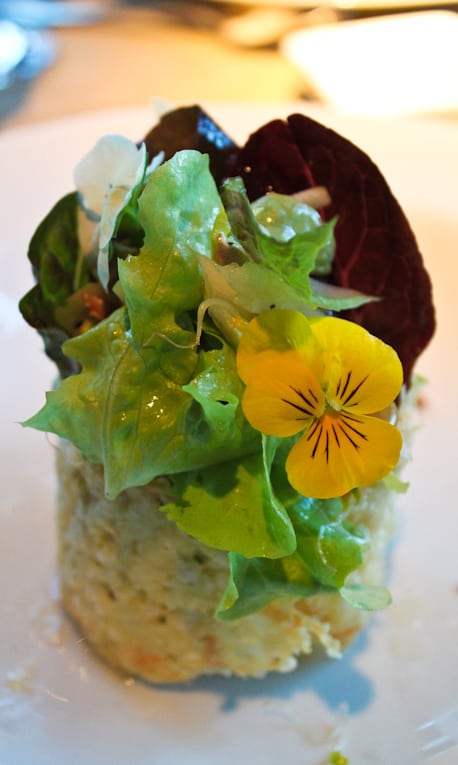 A palate cleanser came next: Grapefruit sorbet.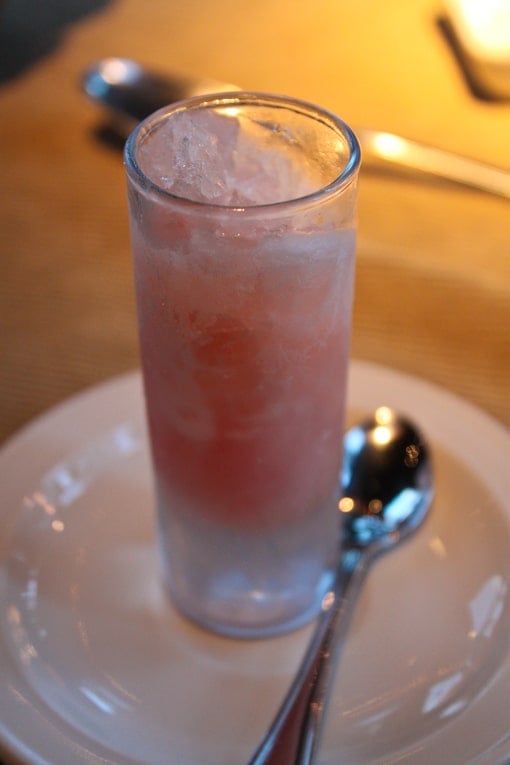 Our main course were these perfectly formed house-made ravioli with ricotta and marscapone creme. They were like little pillows of happiness that melted in my mouth.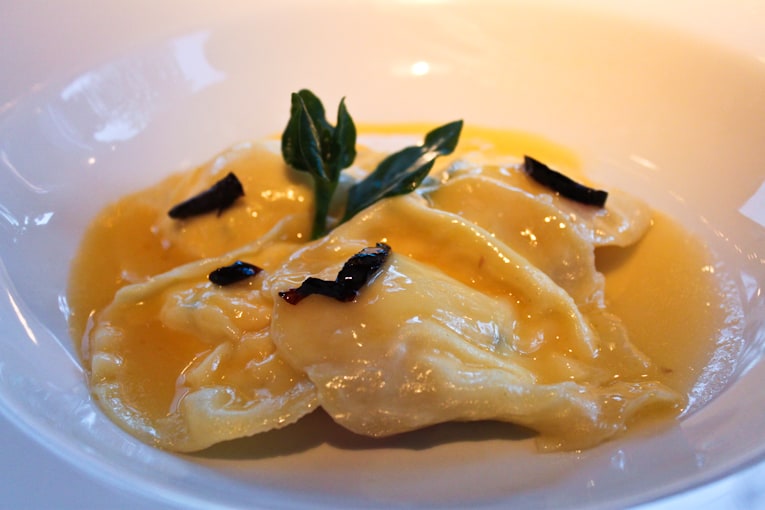 Dessert ended up being two courses for us: first, profiteroles with vanilla ice cream and an almond brittle crumble on top.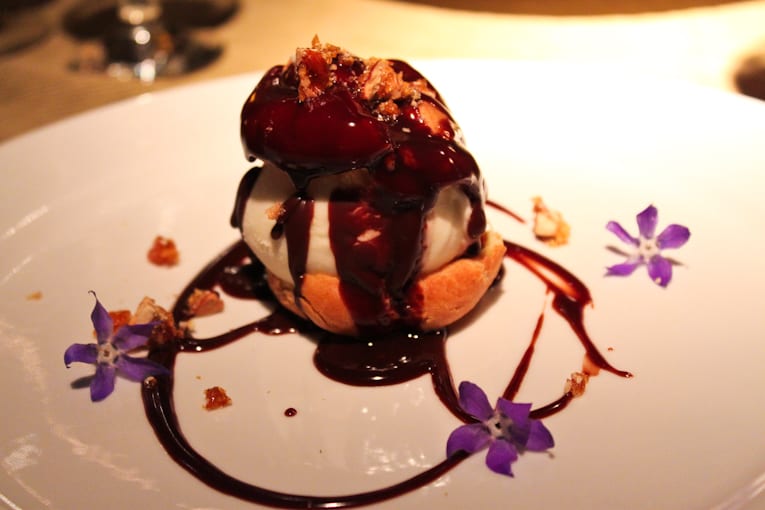 Next, a dulce de leche mousse with caramel, dark chocolate gelato, and lavender sea salt.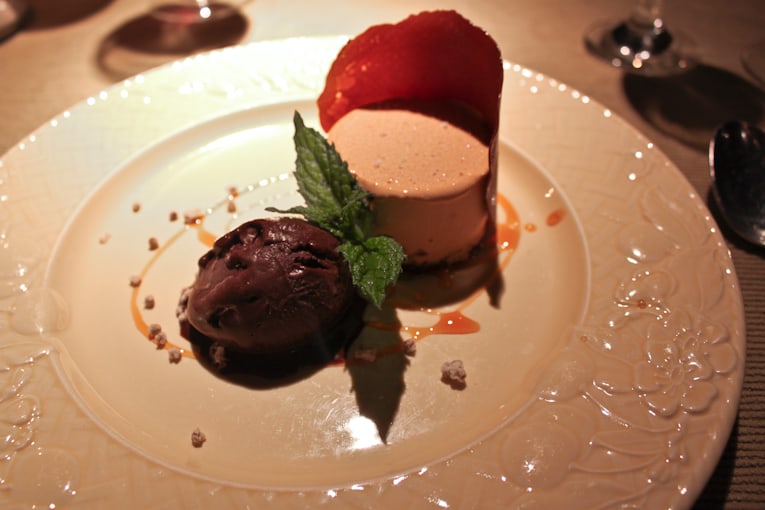 Both desserts were incredible, and the dulce de leche mousse was really unique.
And with that, our time in Bariloche came to an end.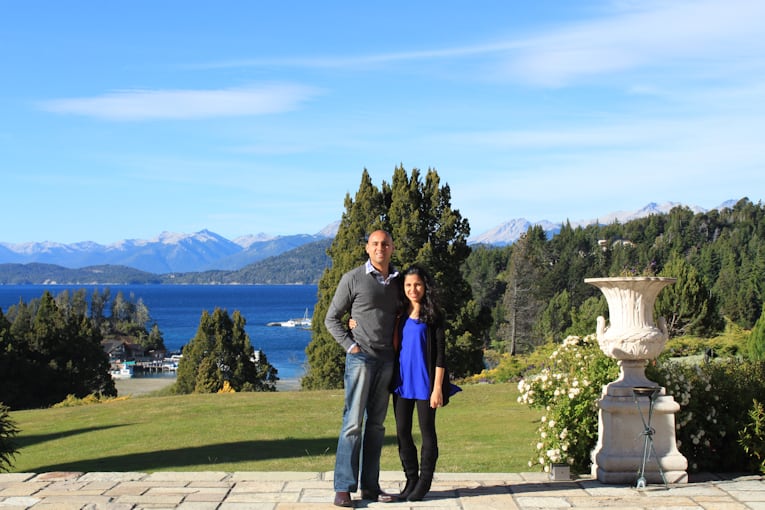 Next we were off to Buenos Aires, where we rented an apartment with a couple of our friends in the Palermo Soho neighborhood – a boho-chic type of area with great restaurants, nice parks and tons of shops.
Our apartment ended up being a great find: it was really spacious, on the 29th floor, and was literally surrounded by windows. So, as you can imagine, the view was incredible!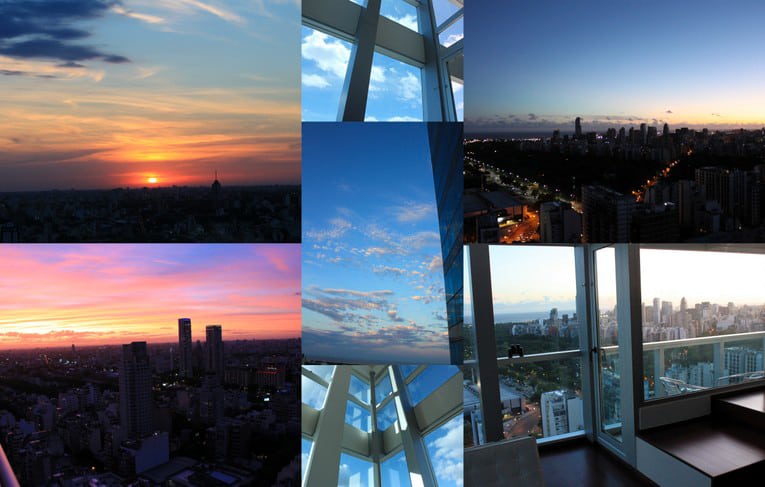 Each day in Buenos Aires was spent exploring a new neighborhood – from the street market and Tango in San Telmo…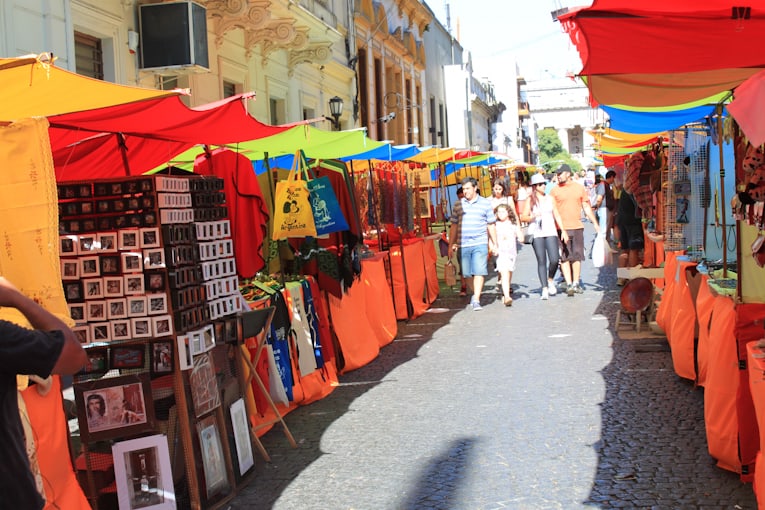 To the famous Opera House in the city center, the port (Puerto Madero) at night, and the Presidential house at Plaza de Mayo (which is pink!)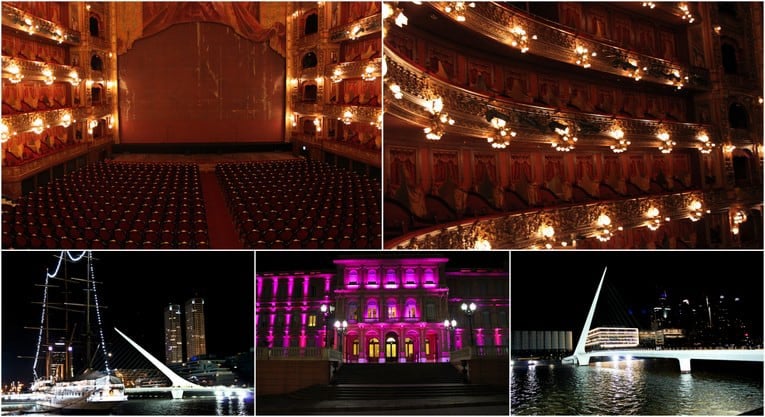 We also spent a ton of time wandering through the Recoleta and Palmero neighborhoods, running through all of the parks in the area as well as the Ecological Reserve, and visiting Boca – one of the more historical areas known for Tango that has beautifully colored buildings.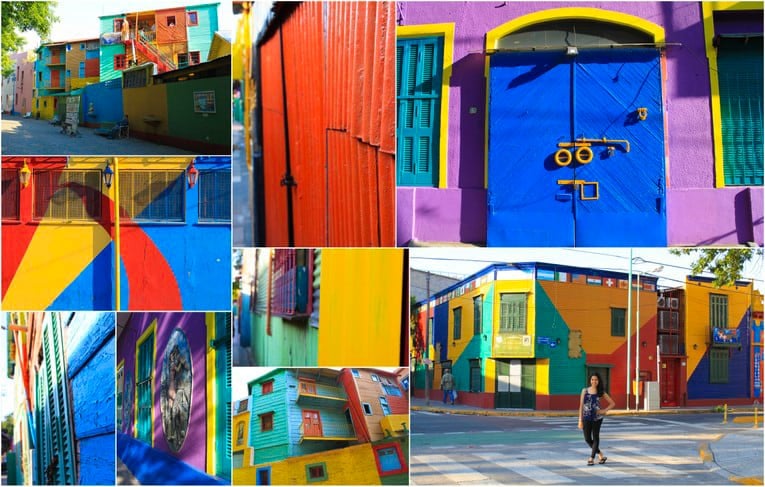 We also went to a Tango show and then had a Tango lesson (thanks to We are Tango), and we had pretty good dinners most nights.
Some of the highlights included:
1) Casa Felix: a dining experience that's a must-do if you're in Buenos Aires. Several months out of the year, the Felix's open the doors of their private home and invite up to 15 dinner guests to a pescetarian tasting menu inspired by Latin American spices, aromas and ingredients (they also do Vegan and Vegetarian menus upon request). The menu changes weekly according to the availability of local ingredients, many of which are grown in the backyard garden. The evenings begin at 9:30pm in the garden with cocktails and passed hors d'oeuvres progressing to the intimate, but causal, dining setting where guests are served a 5 course dinner menu, with optional wine pairings. The food was inventive, flavorful, and delicious.

2) Marcelo: decent Italian food, with huge portions, located on the port. It was a bit touristy, but was still a great meal for New Year's Day (especially since most restaurants were closed that day so our options were limited!)
3) Tandoor: surprisingly awesome Indian food, where we also spent New Years Eve. They really did a great job – the restaurant turned into a huge party around midnight. We ended up dancing in the street with the locals as a result!
4) Kensho: organic, vegan, raw cuisine in the heart of Palermo Hollywood. Our last dinner in Buenos Aires, and a wonderful experience. I took photos because the food was so interesting I couldn't resist! The restaurant itself is small – seats only about 20 people so we were happy we had a reservation.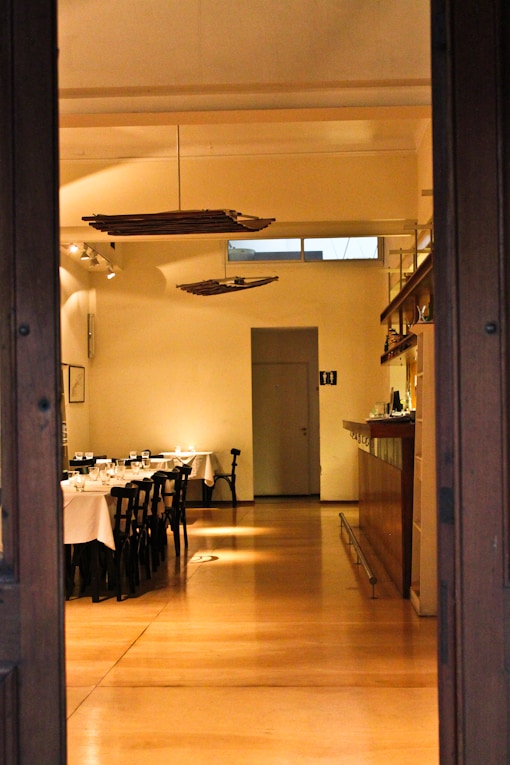 Our dinner started with a freshly made berry smoothie – the first (and only) fresh juice we had had on the trip!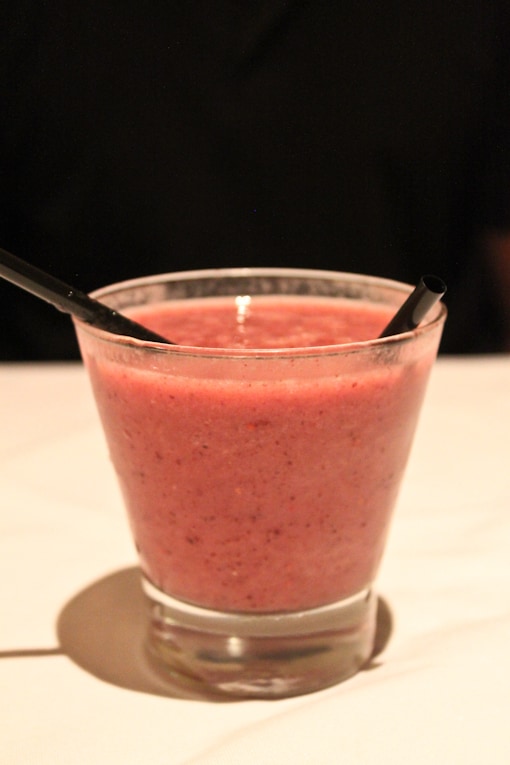 We were given this awesome black bean spread and freshly baked bread while we waited for our appetizers and entrees. I could have kept eating the black bean spread for dinner – it was that good.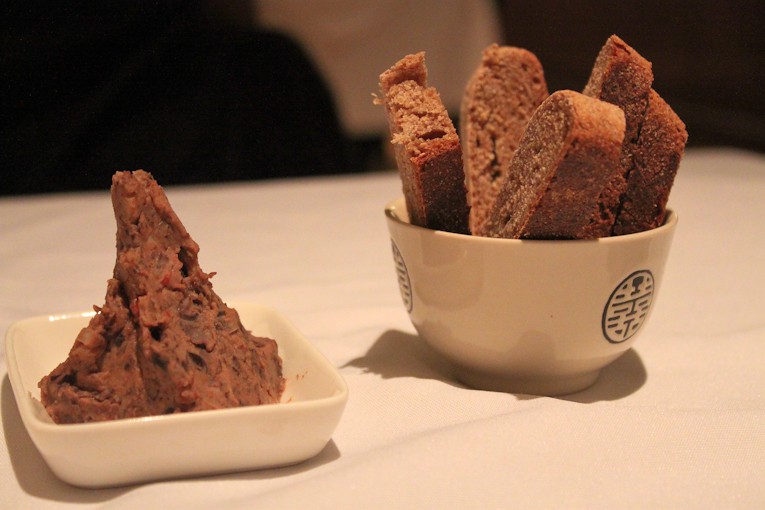 Our first appetizer was a mushroom "ceviche" made with portobello, shiitake and oyster mushrooms marinated Peruvian style, served with a variety of Andean potatoes and ocopa sauce.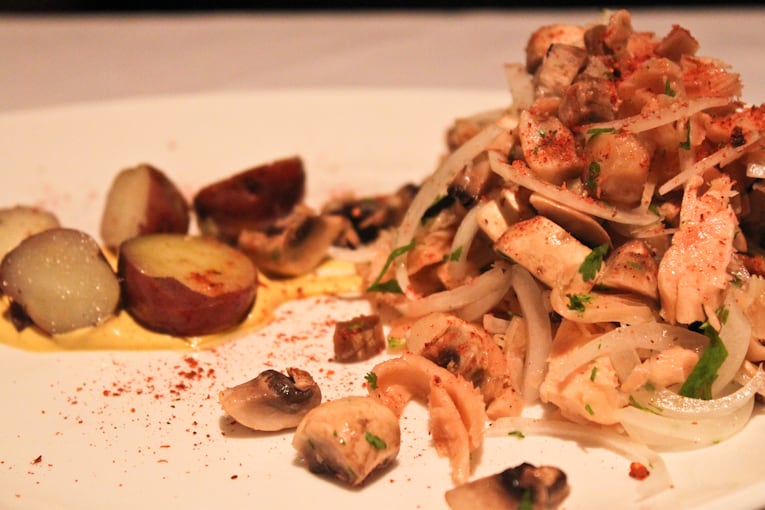 Our second was a trio of dips served with pita chips: a carrot foam, black bean "guacamole" and walnut pâté.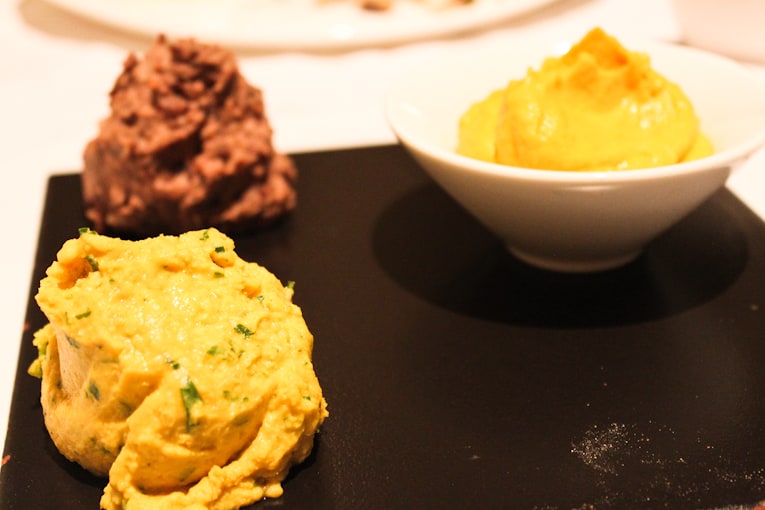 The husband ordered the Mushroom Burger with mashed potatoes, "criolla" salad and mustard sauce – which was seriously one of the best veggie burgers either of us had ever had. It was delicious.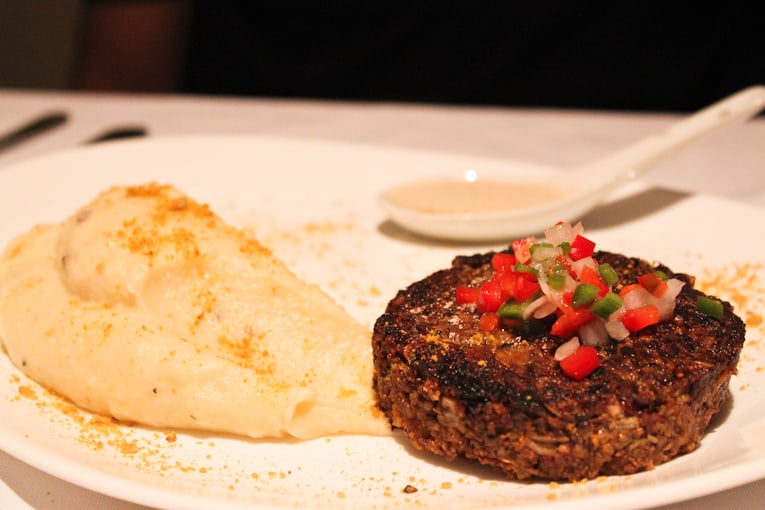 I ordered the "Tabbouleh Inca" made with quinoa, seasonal vegetables, mint, walnuts and almonds, served with raw falafel and tahini. It was filling and felt like something I'd make at home, which was a nice change of pace from the heavier restaurant food we had been having on the trip.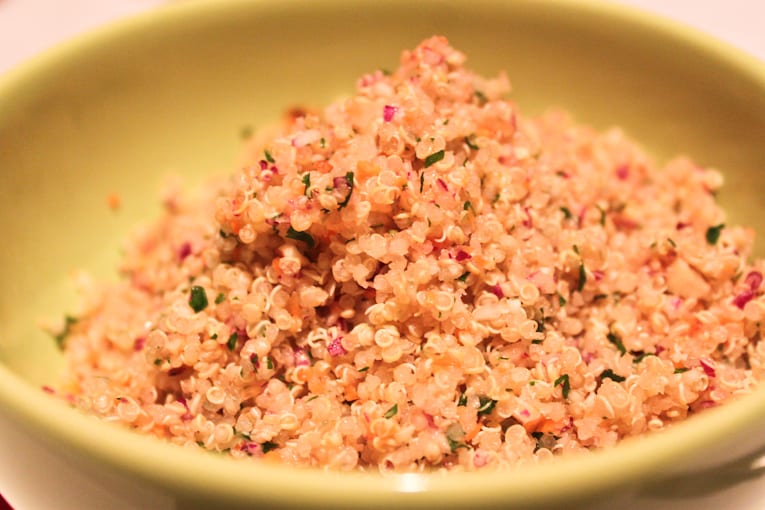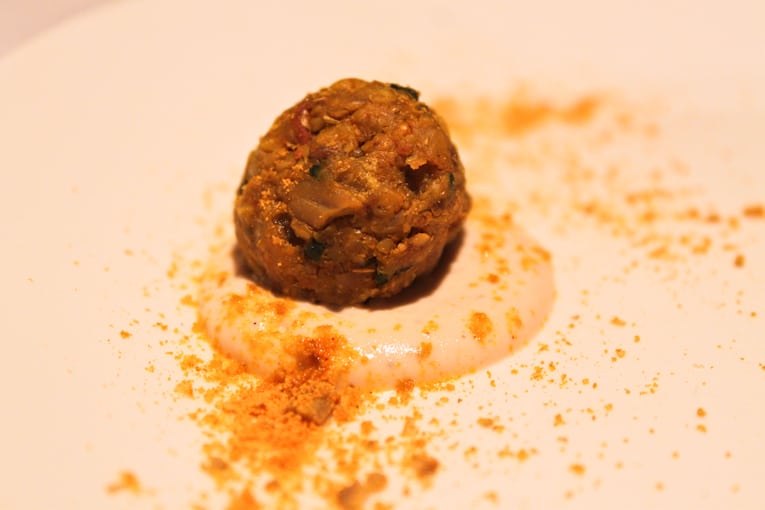 We didn't have room for dessert, so we headed home earlier than usual from dinner to enjoy our last night in our apartment.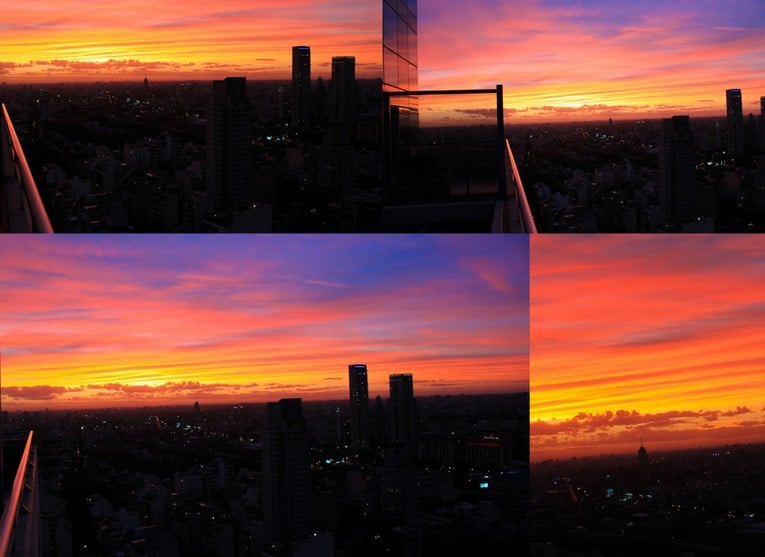 We were so lucky to end up in the apartment and area where we stayed. Most of the restaurants we ate at were within walking distance, and we had the good fortune of getting some breathtaking sunsets that we could enjoy from our balcony.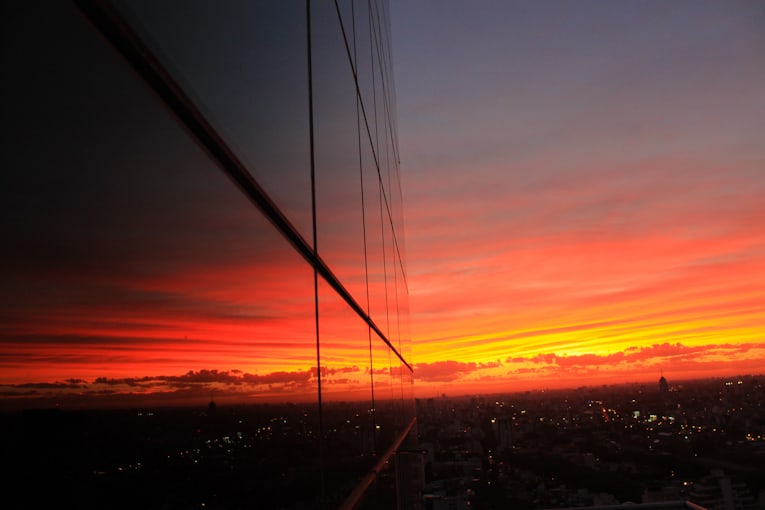 All in all, it was an incredible trip in a diverse and interesting country. Spending winter in Argentina was the perfect time to go – it was super warm, perfect weather, and not too crowded. We didn't have too much trouble finding good Vegetarian restaurants to eat at throughout our trip, and everyone we met was really friendly. Definitely an experience I will never forget!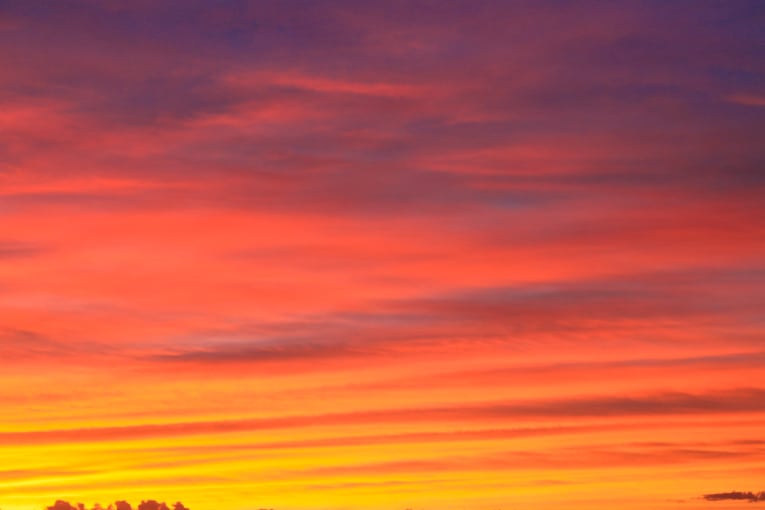 50 responses to "Our Winter Vacation in Argentina"