Vegan Potato Pancakes
This post may contain affiliate links. As an Amazon Associate, I earn from qualifying purchases. Please read my disclosure.
With just 5 ingredients plus spices, these easy vegan potato pancakes feature golden brown, crispy edges and creamy centers! They're family friendly, simple to make, and ready-to-eat in just 20 minutes. Dairy-free, vegan, and gluten-free too!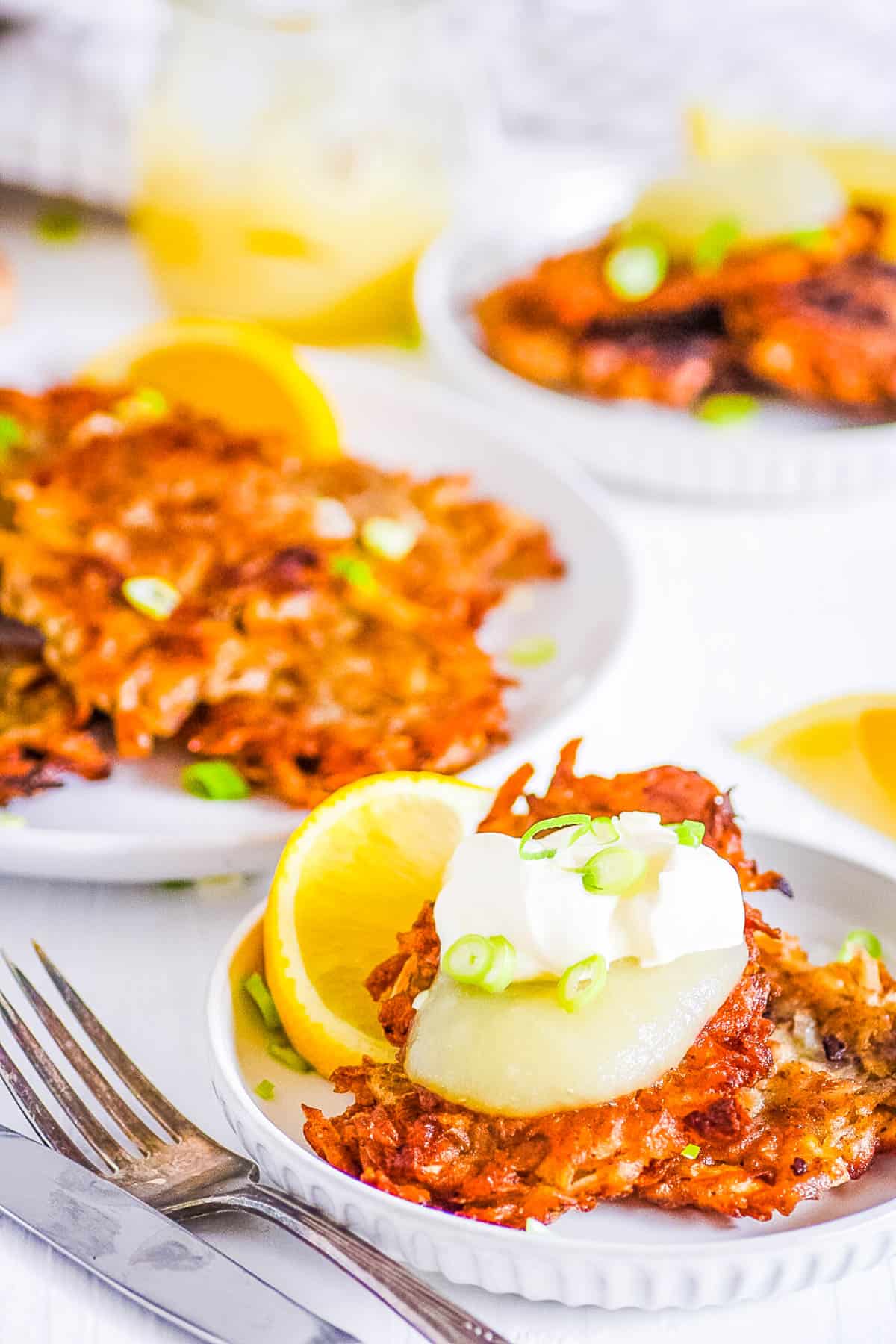 Nothing is more versatile in the kitchen than the humble potato! You can mash, fry, roast, or bake it, with lip-smacking drool-worthy results. While I relish a crispy French fry or a creamy mash, nothing compares to vegan potato latkes! The edges caramelize in a hot skillet, while the centers stay creamy & light.
Latest Recipe Video!
Latkes are a type of potato pancake made with grated potatoes, eggs, and spices. They're pan-fried until crispy then served with apple sauce and sour cream. For this vegan latke recipe, I've swapped the eggs with flax eggs with delicious results. You won't even notice the difference.
Not only do my kids devour these easy vegan latkes, they love to help make them too. My oldest grates the potatoes and my youngest squeezes out the excess water. I've been making these vegan potato cakes on repeat for the last two weeks! Simple recipes with BIG flavor are number one in my kitchen.
👩‍🍳 Why This Recipe Works
Allergen-friendly eggless potato pancakes
Perfect meal for a busy weeknight
Only 10 minutes of prep time
Super simple recipe
Great recipe for the holidays, but delicious any time of year too

Gluten-free

Kid-friendly to make & eat
Five ingredients, plus spices
Tastes just like traditional German potato pancakes, but is vegan friendly!
🥘 Ingredients
This vegan potato pancakes recipe calls for five main ingredients found at your local grocery store. Here's what you need.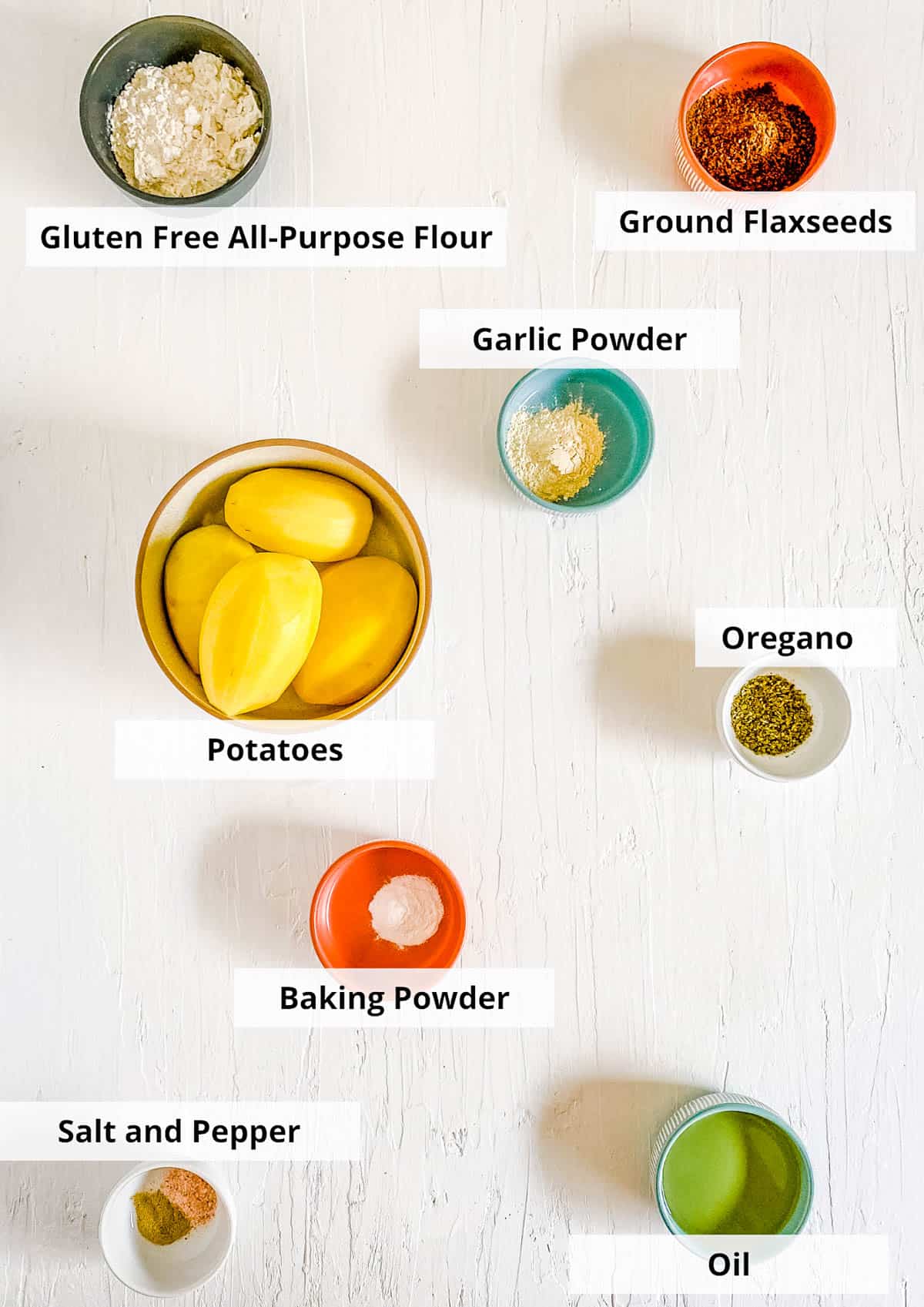 Flaxseeds: A mixture of ground flaxseeds and cold water creates flax eggs. Flax eggs bind and provide structure just like a regular egg. You can typically find flaxseeds near other grains like rice and quinoa.
Potatoes: Any kind of potatoes work well in this eggless latke recipe, but starchier potatoes like Russets work the best. The high starch content keeps them from falling apart. Yukon gold potatoes are a good swap if you don't want to use russet potatoes.
Gluten-Free Flour: My favorite brand is Bob's Red Mill 1:1 Gluten-Free Baking Flour. Chickpea flour, oat flour, or potato starch can also be used. If you can have gluten, regular all-purpose flour works too.
Baking Powder: For the perfect texture! Without baking powder, these eggless latkes come out too dense.
Spices: I like to keep it simple with garlic powder, oregano, salt, and pepper, but feel free to add onion powder or cayenne too.
Oil: You need a neutral oil to pan-fry the latkes. Olive oil can work, as long as you don't let it smoke. Alternatively, avocado or vegetable oil works great!
📖 Variations
Customize this vegan potato pancake recipe to fit your tastes and dietary preferences! Here are some of our favorite variations:
Toppings: Try apple sauce, pear compote, or apple curd, vegan sour cream, sliced green onions, vegan cheese, diced tomatoes, sliced avocado, diced red onion, fresh herbs, or sliced cucumbers!
Vegan Sweet Potato Latkes: Swap grated potatoes for grated sweet potatoes.
Vegan Mashed Potato Pancakes: Swap the grated potatoes for two cups of leftover mashed potatoes. Add one tablespoon of nutritional yeast.
Vegan Baked Latkes: Grease a sheet pan with coconut oil. Bake the latkes at 425 degrees Fahrenheit for 15 minutes. Flip and cook for 10 to 15 more minutes, until golden and cooked through. Enjoy these healthy latkes with a dollop of apple sauce.
🔪 How To Make Vegan Potato Pancakes
Make Flax Egg: In a medium bowl, combine the ground flaxseeds and 3 tablespoons of cold water. Stir, then set aside.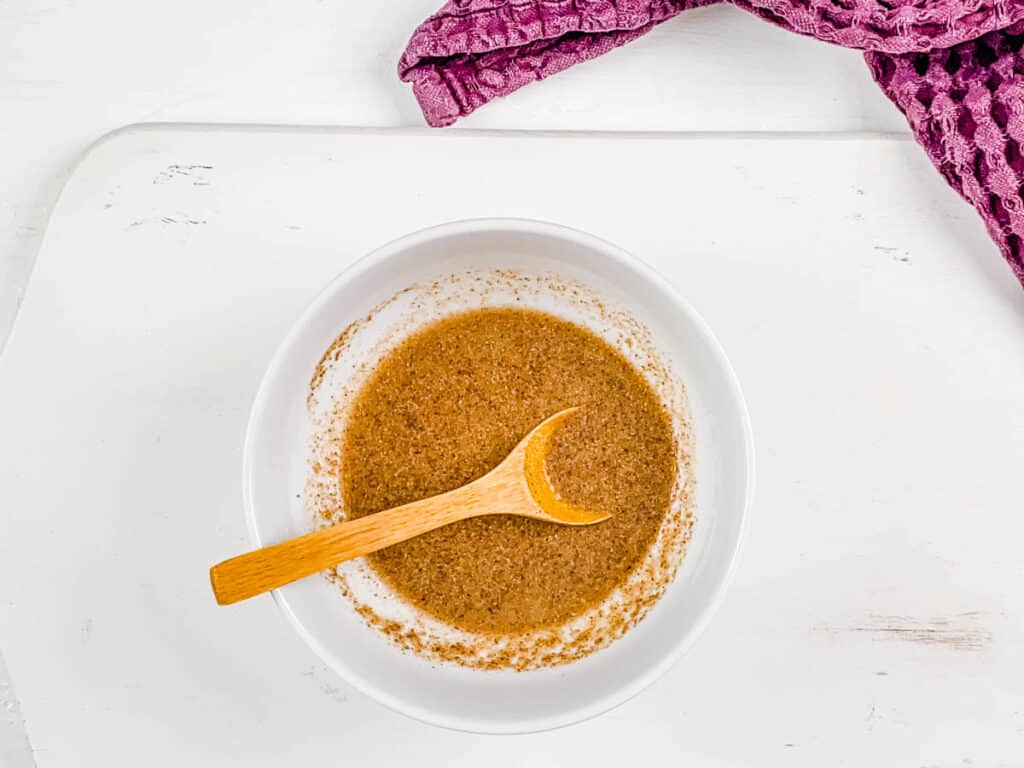 Grate Potatoes: Grate the potatoes – a box grater or a food processor with a grating attachment both work fine.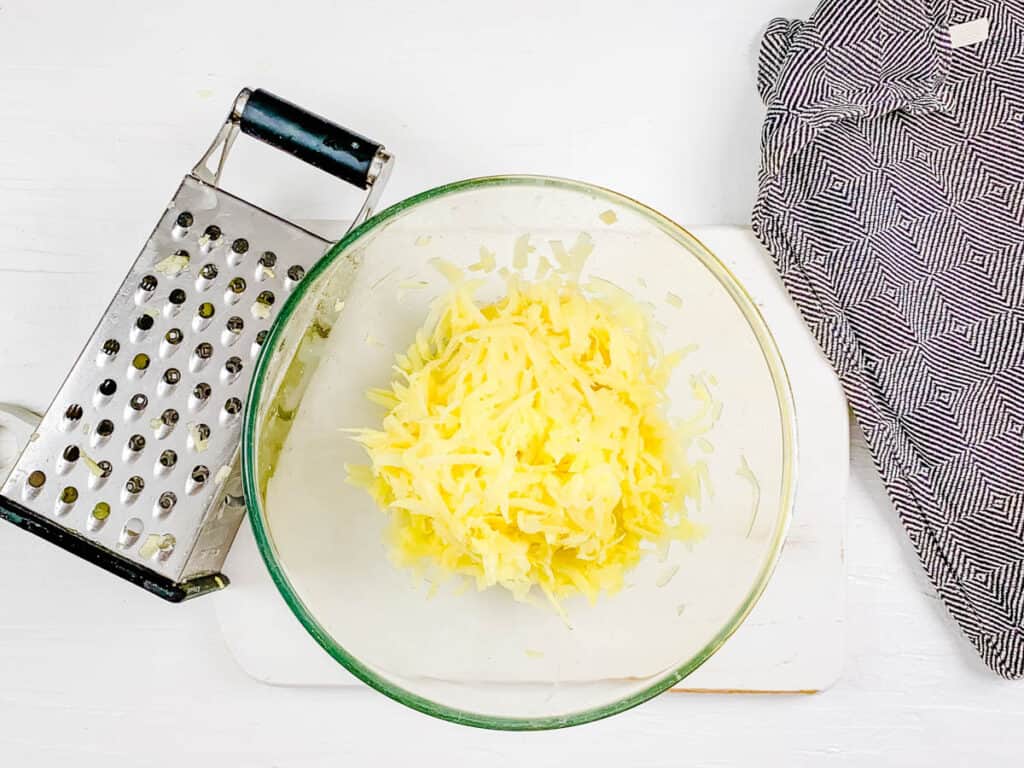 Remove Excess Water: Using a clean dish towel or kitchen towel, squeeze out the excess liquid, and then transfer the potatoes to a large bowl.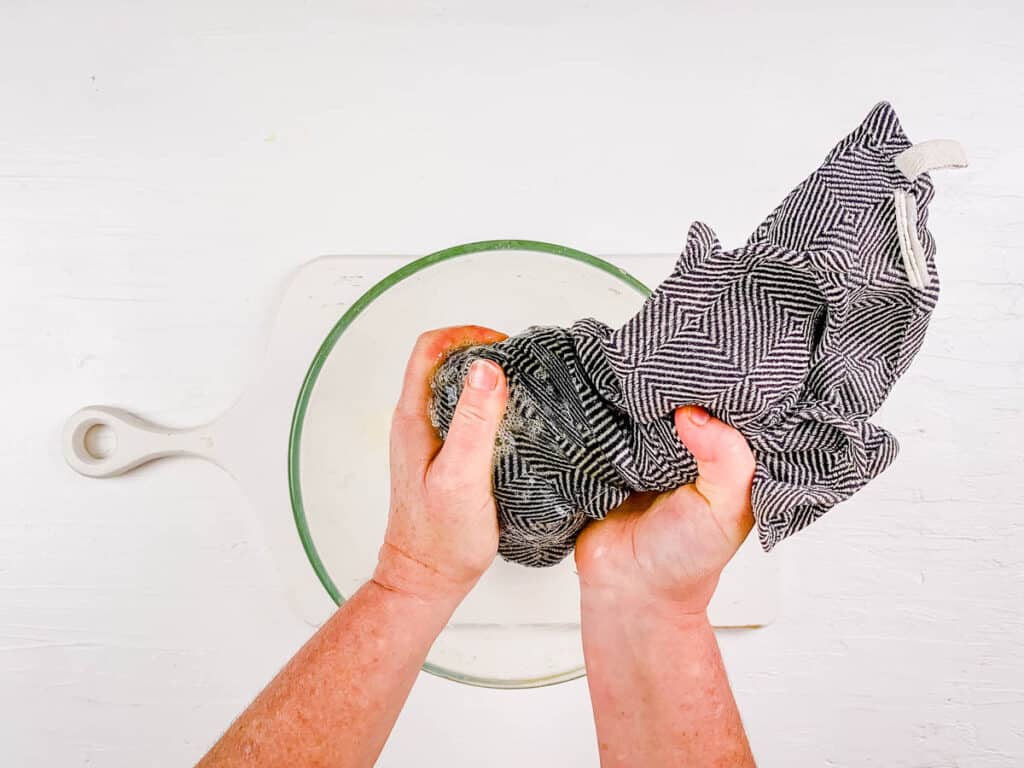 Add Remaining Ingredients: Add the rest of the ingredients except the oil to the bowl with the squeezed potatoes. Stir until well combined. You can use a wooden spoon or just your hands!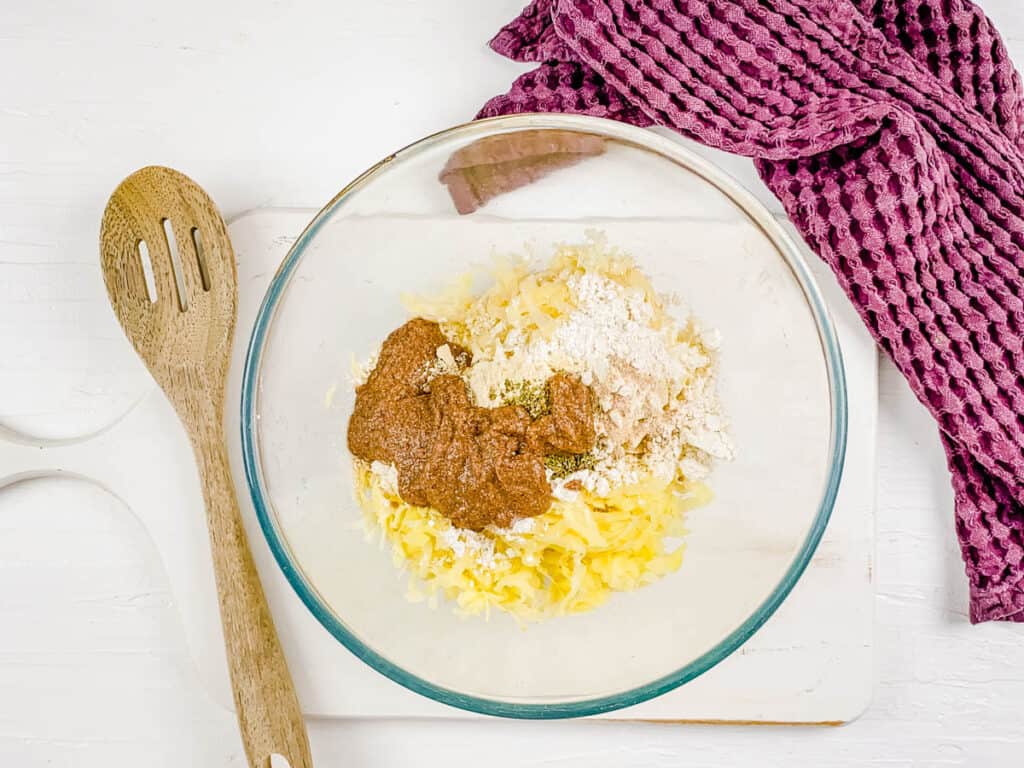 Pan-Fry Latkes: Add 2 to 3 tablespoons of oil to a large skillet or frying pan over medium heat. Scoop approximately two tablespoons of the batter into the hot pan and gently flatten with a spatula. Repeat until the skillet has 3 to 4 latkes.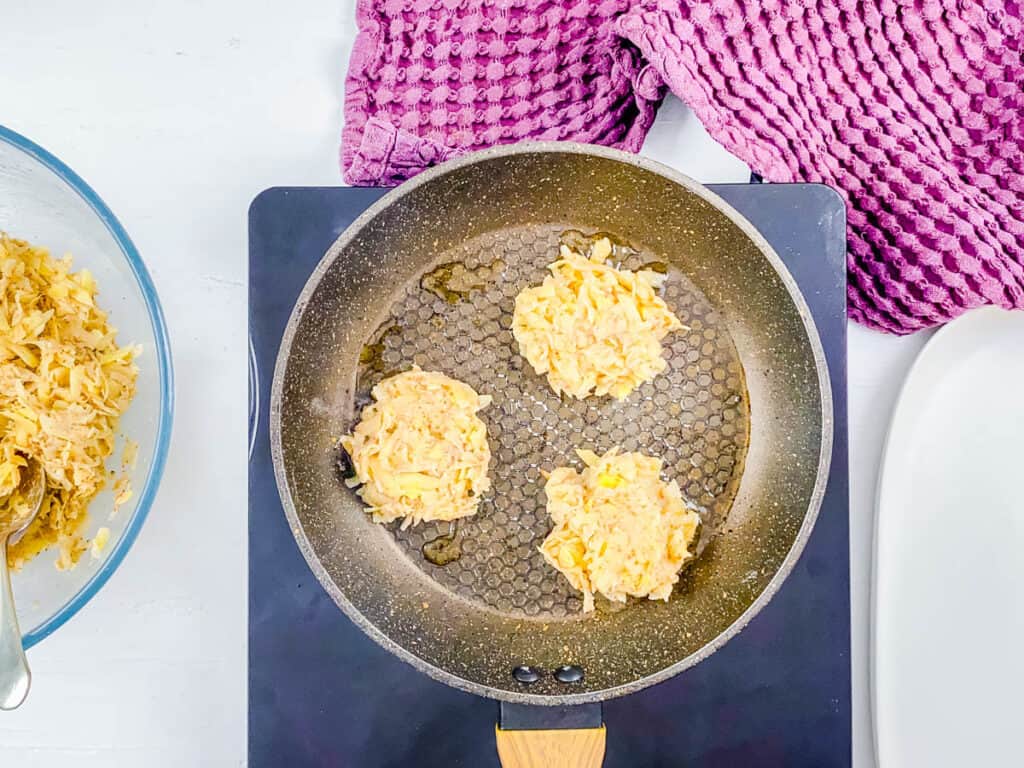 Flip Latkes: Cook the latkes for 3 to 4 minutes, then flip and cook for another 3 to 4 minutes. Transfer the latkes to a wire rack. Repeat with the remaining potato mixture. Remove any excess oil with a paper towel.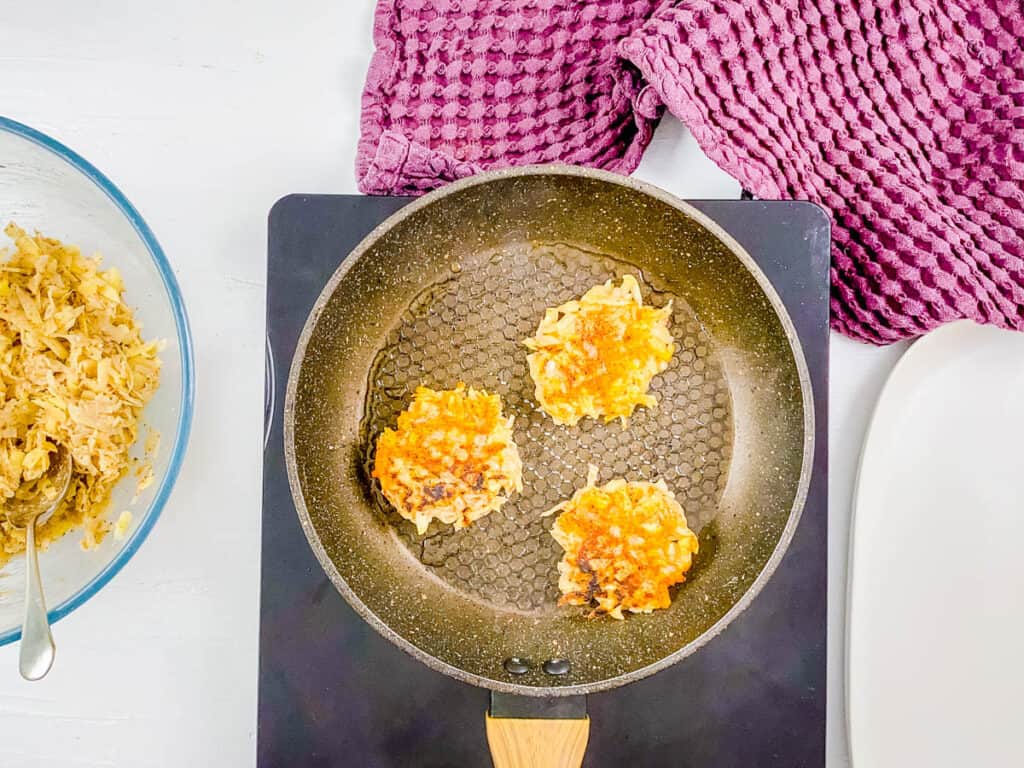 Serve: Enjoy the crispy latkes with apple sauce, a squeeze of lemon juice, a sprinkle of green onion, or a dollop of vegan sour cream.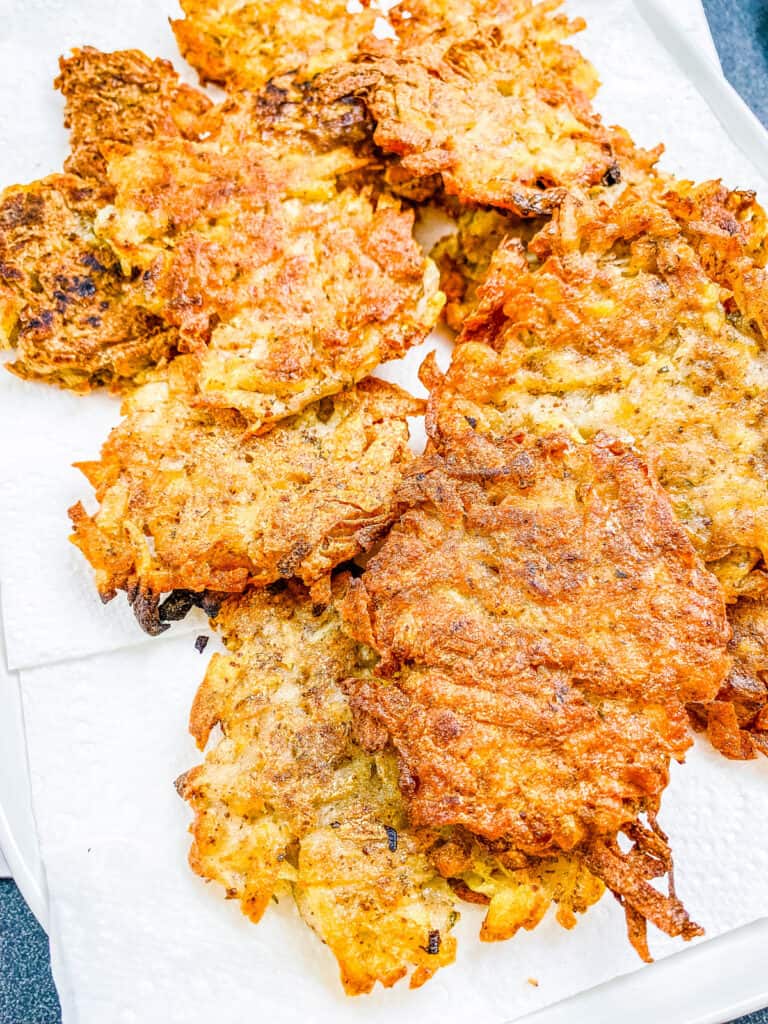 ❓ Recipe FAQs
Are potato pancakes just hash browns?
While the two are very similar, they are not the same. While they both use grated or shredded potatoes as a base, hash browns don't typically contain eggs as a binder, usually only consist of potatoes, oil and salt, and are often cooked in one giant batch in a skillet.

These savory pancakes on the other hand, contain flax eggs and gluten free flour as a binder and are cooked in individual pancake portions in a skillet.
How do you make crispy potato latkes (Jewish potato pancakes)?
There are two important steps to make a crispy latke. One is to make sure the pan is sizzling hot before you add the potato mixture. The other is to cool the latkes on a wire rack instead of a paper towel, so they don't sit in oil or steam from their own heat.
How do you store potato latkes?
Store cooked potato pancakes in an airtight container in the fridge for up to 3 days. Reheat them in a non stick skillet on medium heat for 2-3 minutes per side.
How should I serve potato latkes?
Serve these easy potato pancakes with your favorite toppings! Apple sauce and sour cream is a classic combination, but feel free to add cheese, green onions, tomatoes, or even avocado. Serve alongside slaw, kale salad, or soup!
💭 Expert Tips
Fry the vegan gluten free latkes in a neutral oil with a high smoke point. Olive oil can work but make sure you don't bring the heat up too high past its smoke point. Higher smoke point oils like avocado oil, vegetable oil, coconut oil all will work and tastes great!
Don't add the latkes to the skillet until it's hot! They should sizzle as you scoop them into the pan.
Use your spatula to flatten the latkes in the pan. This makes it so the insides will cook too.
Don't make the latke batter ahead of time – it will turn brown in the refrigerator if you store it uncooked. It only takes a few minutes to prep, so just make the batter right before you're ready to cook your latkes!
Make sure to squeeze the excess water out of the potatoes, otherwise they won't get crispy.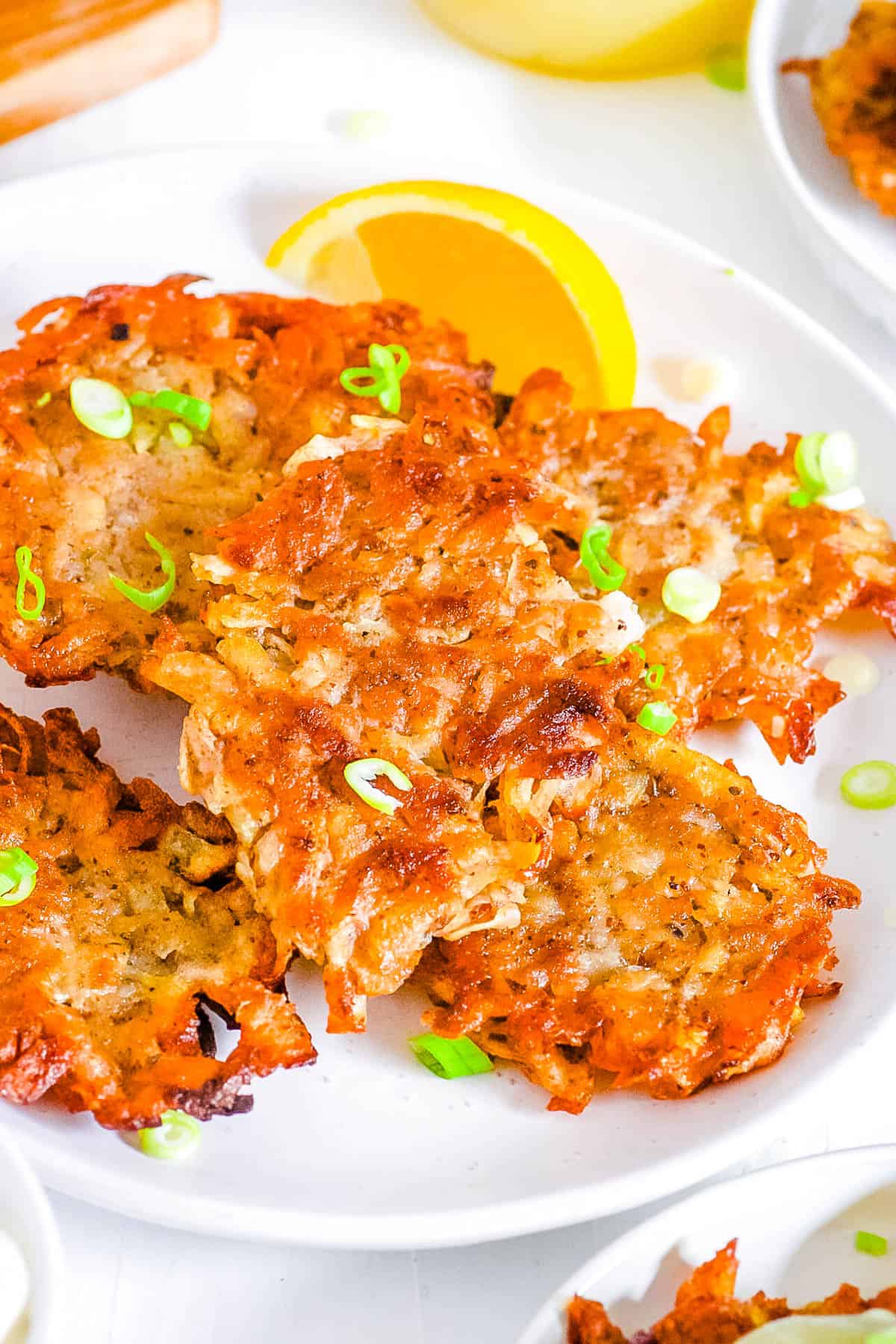 🥔 More Delicious Potato Recipes!
LOVE THIS RECIPE? Please leave a 5-star rating 🌟 in the recipe card below and/or a review in the comments section further down the page!
You can also FOLLOW ME on FACEBOOK, TWITTER, INSTAGRAM, and PINTEREST to see more delicious, healthy, family-friendly food, and if you have any questions, I'm here to help!
📋 Recipe Card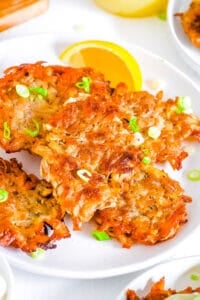 Print Recipe
Vegan Potato Pancakes
With just 5 ingredients plus spices, these vegan potato pancakes feature golden brown, crispy edges and creamy centers! They're family friendly, easy to make, and ready-to-eat in just 20 minutes. Dairy-free, vegan, and gluten-free too!
Instructions
In a small mixing bowl add the ground flaxseeds and 3 tbsp cold water, stir and set aside.

Grate the potatoes, squeeze out excess water and place into a mixing bowl.

Add all remaining ingredients including the flax egg, except the oil, in with the grated potato.

Stir until well combined.

Add 2 to 3 tablespoons of oil to a large skillet and heat over a medium heat.

When the oil is hot, scoop out approximately 2 tablespoons of potato mixture and add to the skillet. Using a spatula gently press to flatten.

Repeat until the skillet has 3-4 potato pancakes. Cook for 3-4 minutes, flip and cook for another 3-4 minutes.

Remove and drain on kitchen paper.

Repeat with remaining potato mixture. This mixture will make approximately 12 pancakes.

Serve the potato pancakes with apple sauce or vegan sour cream.
Notes
Squeeze out excess water from the potatoes to create the crispiest potato pancakes.
Adjust seasoning to taste.
Serve with applesauce and vegan sour cream!
Store cooked potato pancakes in an airtight container in the fridge for up to 3 days. Reheat them by heating in a non stick skillet for 2-3 minutes each side.
Nutrition
Serving:
2
pancakes
|
Calories:
223
kcal
|
Carbohydrates:
31
g
|
Protein:
4
g
|
Fat:
10
g
|
Saturated Fat:
1
g
|
Polyunsaturated Fat:
3
g
|
Monounsaturated Fat:
6
g
|
Trans Fat:
0.04
g
|
Sodium:
203
mg
|
Potassium:
651
mg
|
Fiber:
4
g
|
Sugar:
1
g
10 responses to "Vegan Potato Pancakes"