Easy Apple Curd
This post may contain affiliate links. As an Amazon Associate, I earn from qualifying purchases. Please read my disclosure.
A fun twist on traditional lemon curd, this easy homemade apple curd tastes delicious on oatmeal, toast, pancakes, and more. Learn how to make this sweet and rich spread with fresh apples and no eggs! Ready in just 30 minutes, you will want to slather this sweet curd on just about everything!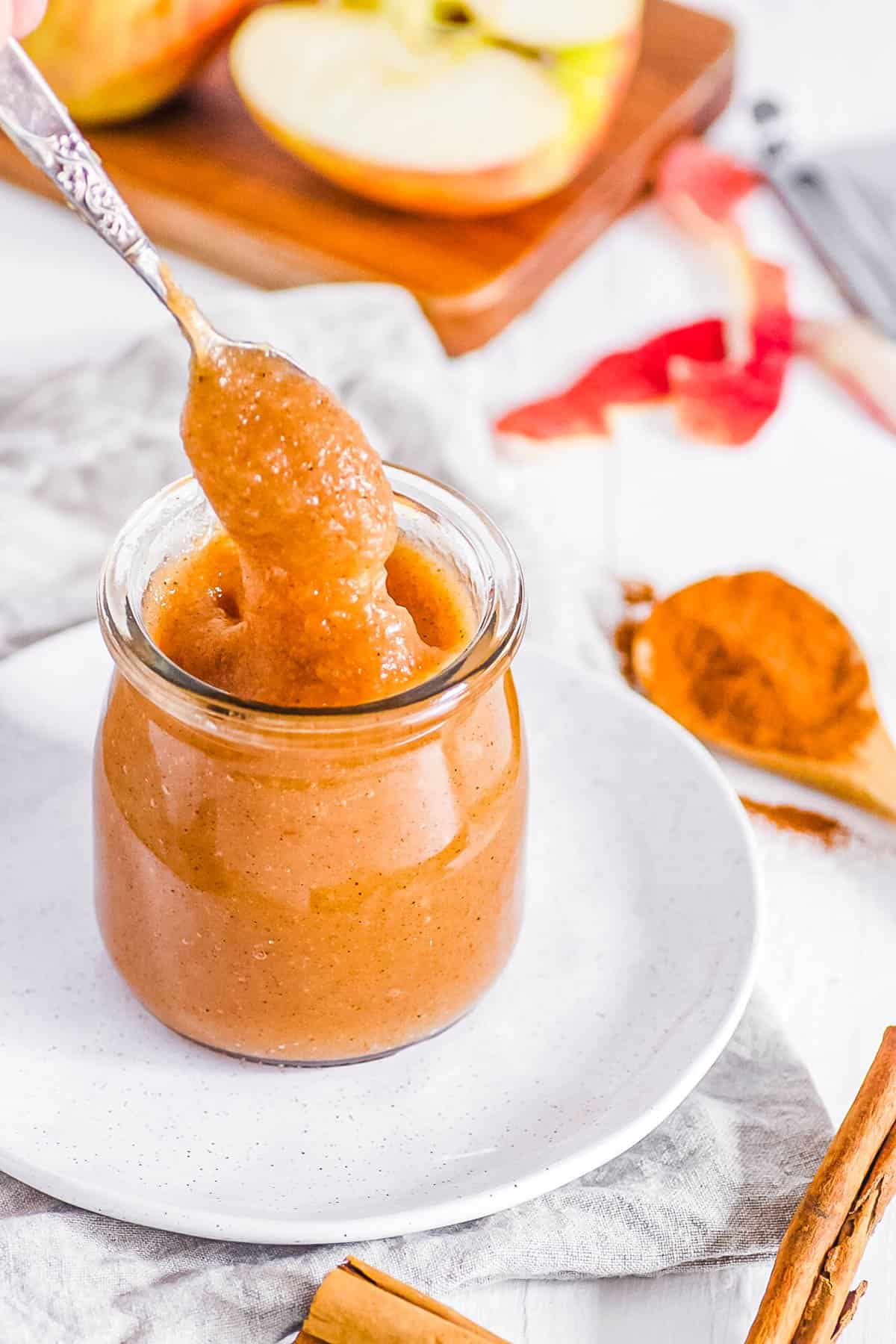 While the fall and winter months are technically apple season, our family is eating apples all year round! I often will have extra apples in our fridge, and while applesauce is always a go-to recipe, sometimes I like to change things up and make something more versatile and a little more decadent.
That's where this easy apple curd recipe comes in! It's simple yet bursting with apple flavor. It's similar to apple butter but silky and rich. It's a great way enjoy all my excess apples!
Fruit curds originated in British cuisine, but are typically made with citrus fruits like lemon, oranges or even lime. Traditional fruit curds are made with eggs, sugar, and sometimes dairy, but I wanted to create an egg-free version that tastes just as good as classic fruit curd!
This curd made with apples is just as good as curd made with citrus fruits! I spread it onto everything I can because frankly, it's just that good.
Try this vegan apple curd on top of vegan potato pancakes or vegan sweet potato pancakes; as a spread for breakfast toast, biscuits without baking powder, low calorie biscuits, or healthy pumpkin scones; as a topping for vegan zucchini muffins; swirled onto vegan protein waffles, vegan baked oatmeal, or in a peanut butter yogurt bowl!
Or use it as a healthy apple curd filling in a vanilla layer cake – the possibilities are endless!
👩🏽‍🍳 Why This Recipe Works
Perfect way to use all those extra apples
Kid-friendly & healthy
Tastes like apple pie in a jar
Makes a delicious cake filling!
Dairy-free, vegan, gluten-free
Apple version of the classic lemon meringue curd
Easy & quick to make
Super versatile
No egg yolks or dairy needed
Best apple curd recipe ever!
Latest Recipe Video!
🥘 Ingredients
This easy recipe for apple and cinnamon curd requires just seven simple ingredients! Here's what you need: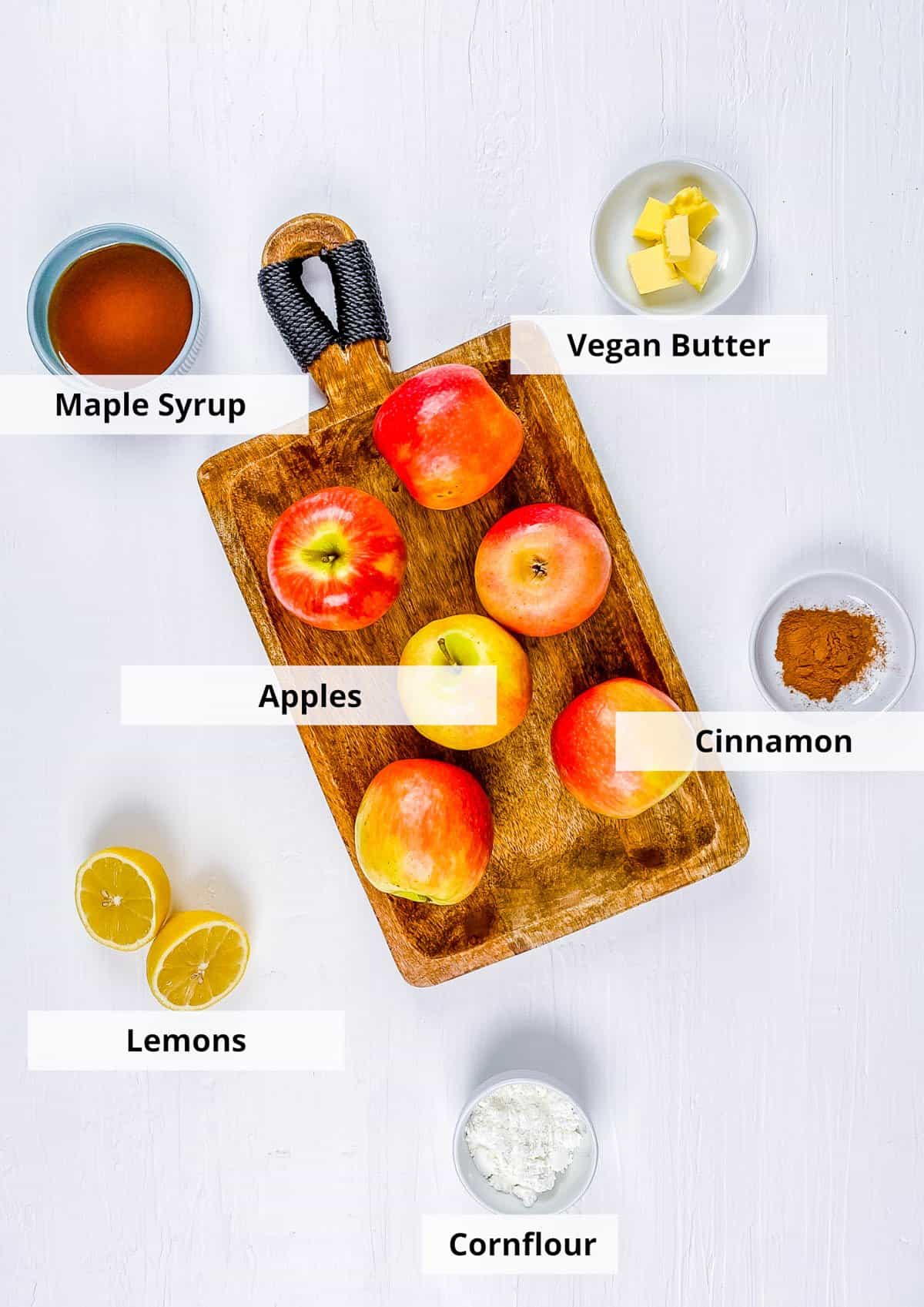 Apples: Feel free to use any type of apple with curd! I like to use a variety of sweet and tart apples. Just remember the curd will taste sweeter if you use sweet apples like fuji, gala, or ambrosia apples. I used honey crisp and pink lady apples.
Fresh Lemon Juice: A squeeze of juice from fragrant lemons accentuates the natural sweetness of the apples, and the citric acid from the lemon juice helps keep the apples from turning brown. A good lemon will feel heavy for its size with a bright yellow color. Feel free to add some lemon zest too!
Water: Water softens the apples, so they don't burn as they cook. For an extra sweet fruit curd, use apple juice instead (keep in mind, this will increase the sugar content in the recipe). You can also use apple cider to turn this into a dessert-like apple cider curd!
Ground Cinnamon: Apples and cinnamon are a match made in heaven!
Maple Syrup: Sugar, dark brown sugar, coconut sugar, or honey are great options! I like the flavor and nutrient boost from pure maple syrup.
Cornflour: Cornflour is another term for cornstarch. This secret ingredient acts as a thickener and omits the need for beaten eggs! Just be sure to combine it with water before adding it to the apple flavored curd. This creates a slurry and reduces the risk of lumps.
Vegan Butter: If you're not vegan, regular unsalted butter works too. There's no need to melt it. Cold butter melts easily once it's added to the warm curd.
🔪 Instructions
You don't need a double broiler, special equipment, or lots of time for this easy recipe. Here's how to make apple curd!
Prep Apples, Combine Apples: Peel, core, and dice the apples. An apple peeler comes in handy here because it does all three at once! Add the chopped apples, cinnamon, lemon juice, and water to a large pot.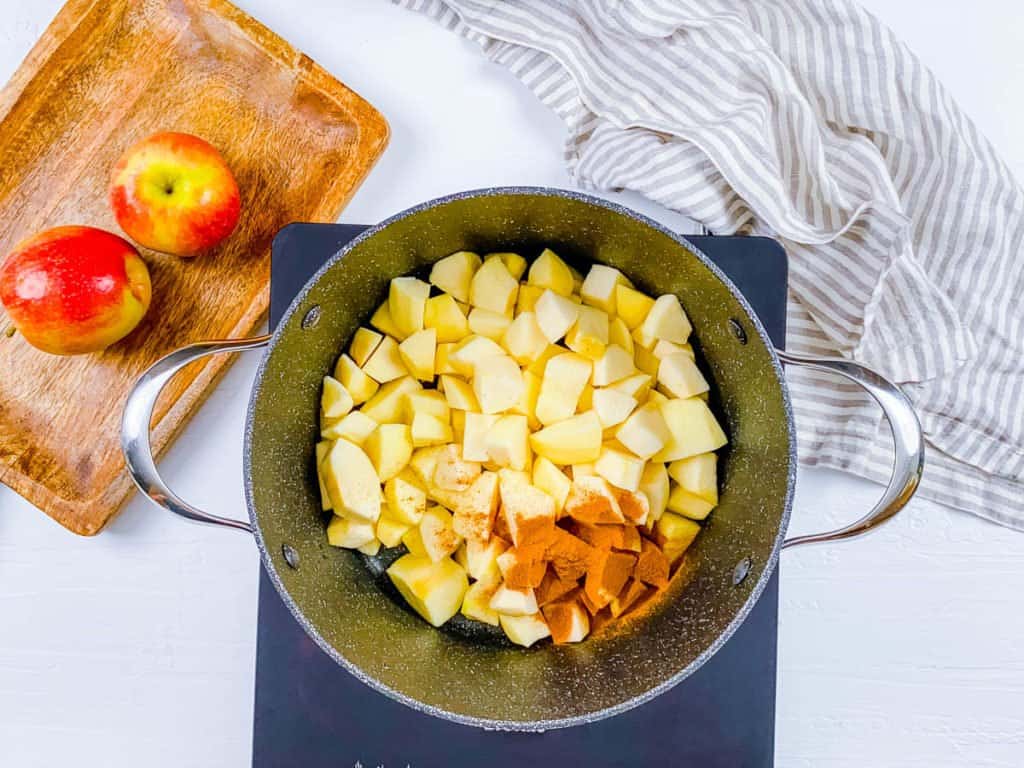 Simmer Apples: Stir and bring to a gentle simmer. Reduce to low heat, cover with a lid, and cook until the apples soften – about 15 minutes. Be sure to stir occasionally so the apple mixture doesn't burn.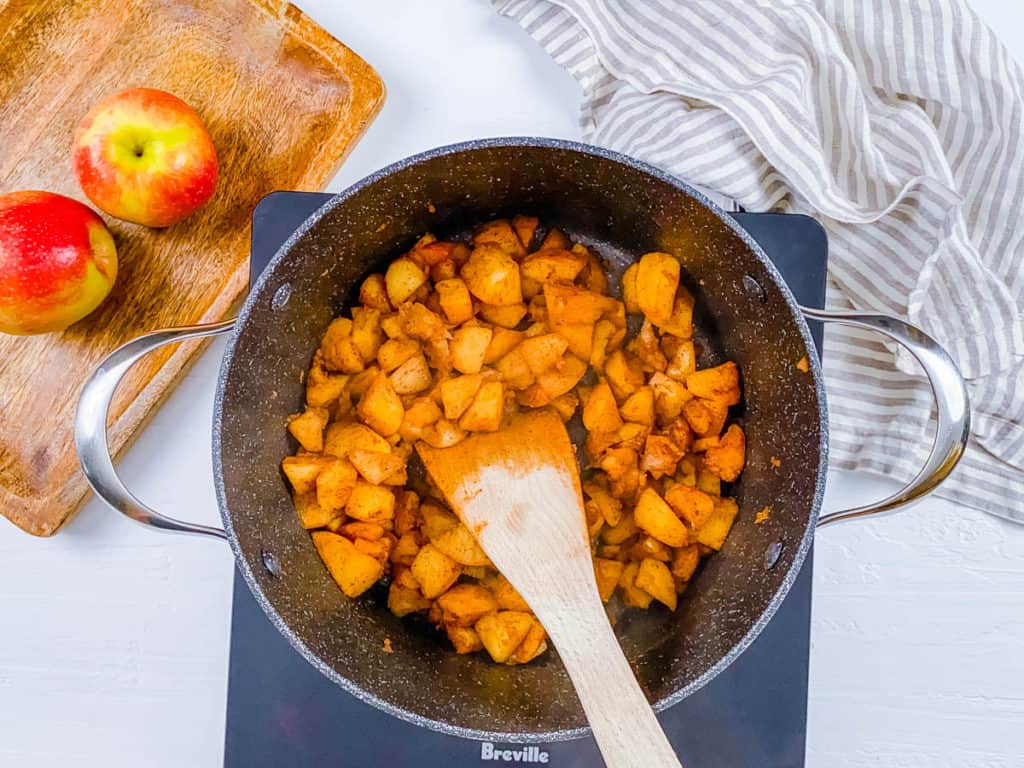 Blend: Remove the pot from the heat and carefully transfer the curd mixture to a blender or food processor. Blend until smooth.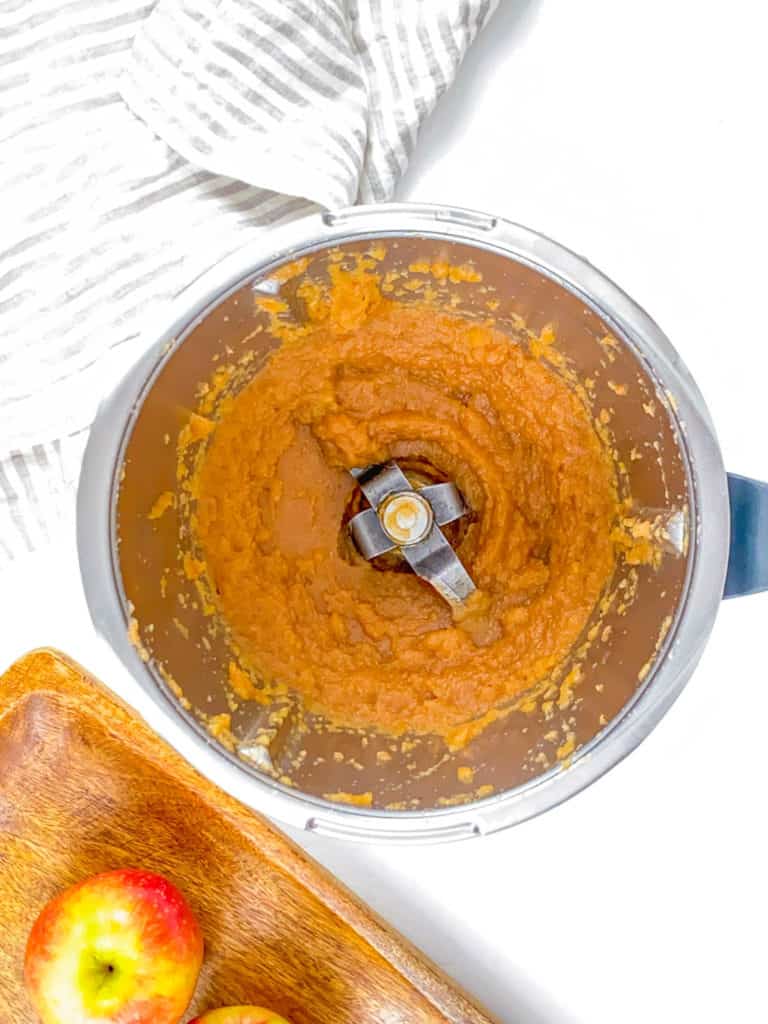 Strain Apple Puree: Pour the apple mixture into a sieve. Use a spoon to press the apple purée through the sieve. Feel free to skip this step for a chunkier curd with apple.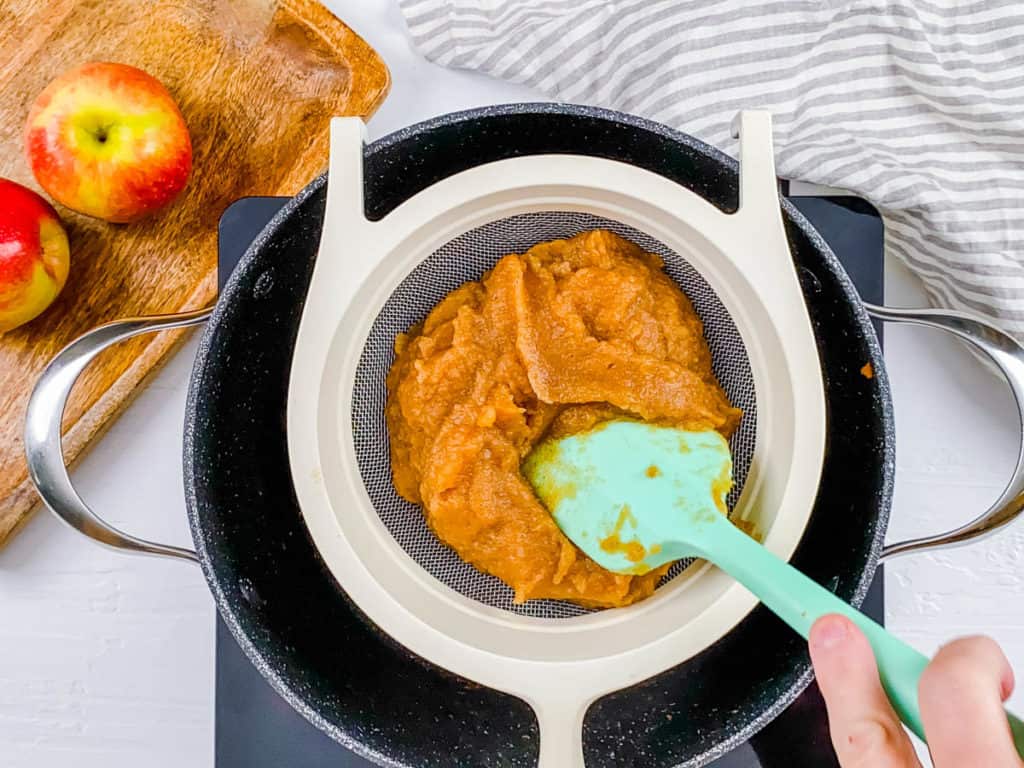 Return To Pot: Return the apple puree to the pot and heat over medium heat. In a small bowl, whisk the cornflour with two tablespoons of cold water. This will prevent it from forming lumps once it's added to the apple cinnamon curd.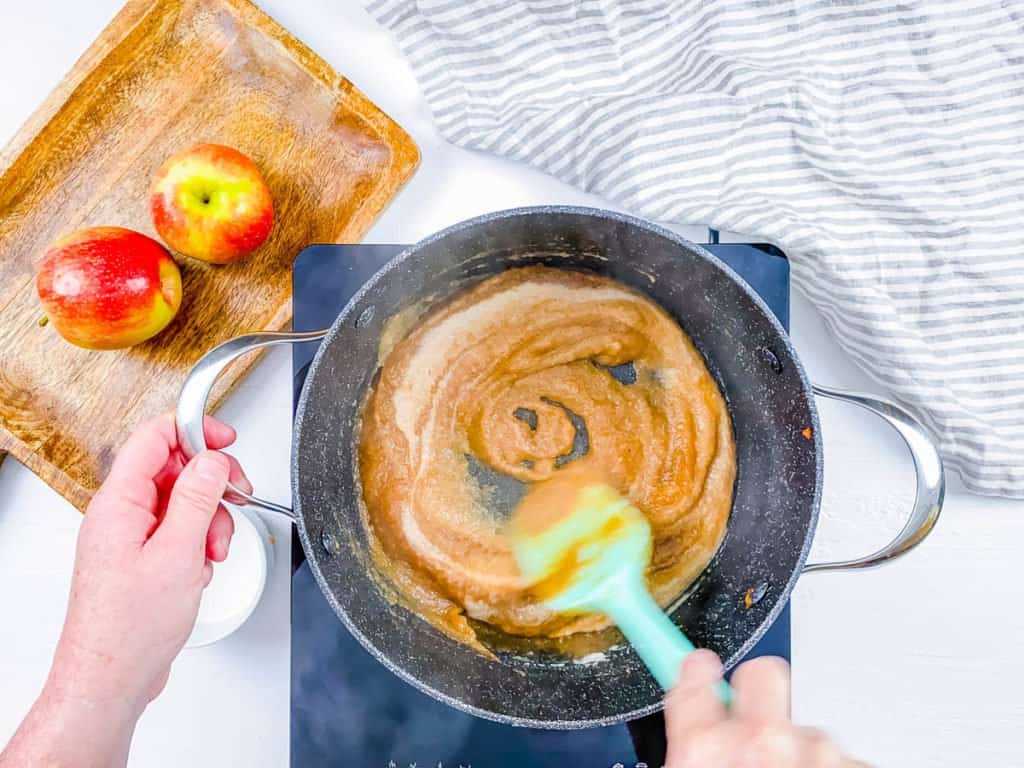 Add Cornflour (or cornstarch): Once the puree comes to a boil, add the cornflour mixture and whisk until smooth. Reduce the heat and cook until thickened.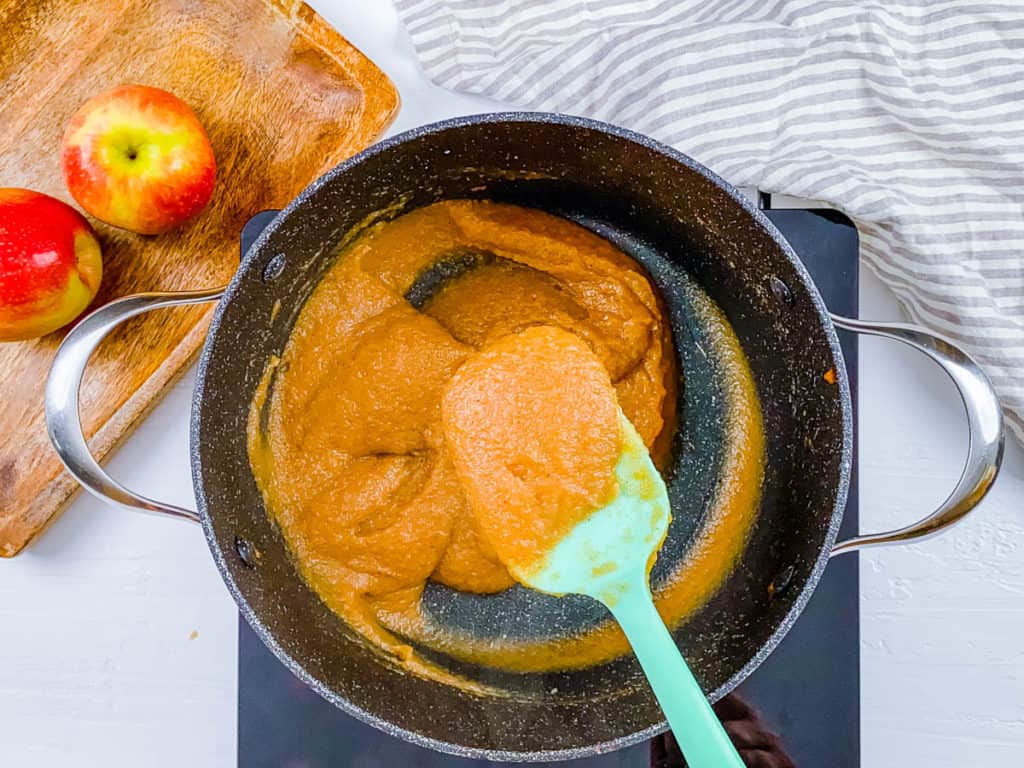 Add Butter: Remove the pot from the heat and allow the apple curd mixture to cool a little bit before stirring in the vegan butter.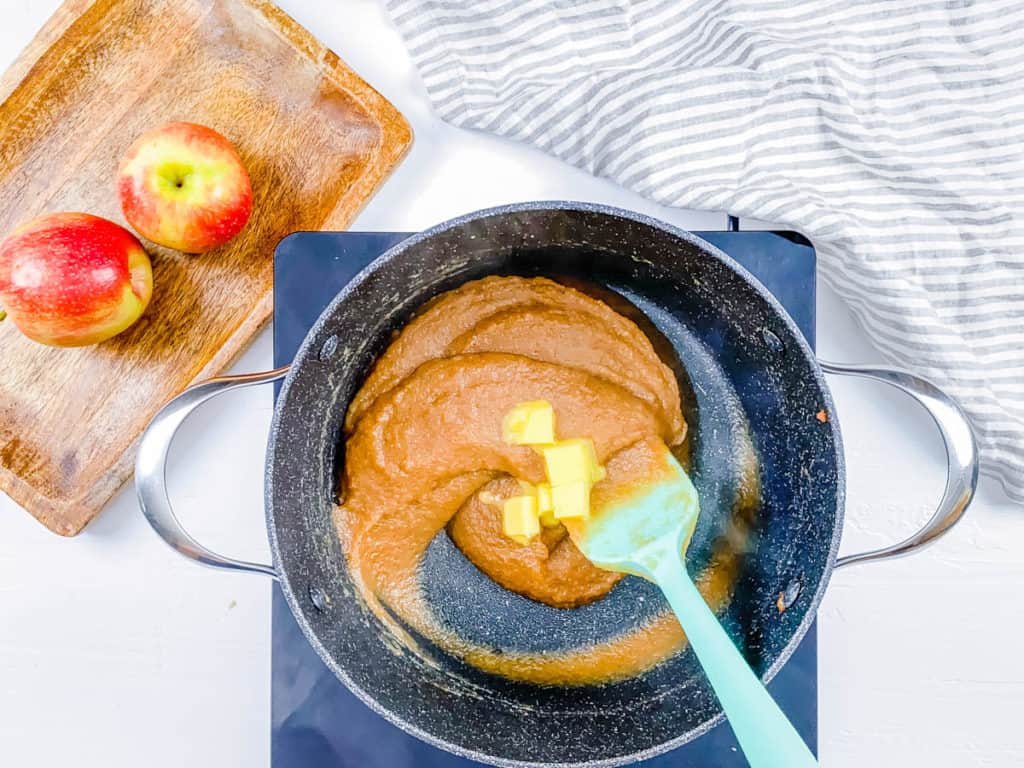 Store: Let it cool to room temperature before transferring to an airtight container. Store this apple and cinnamon curd recipe in the refrigerator for up to 5 days.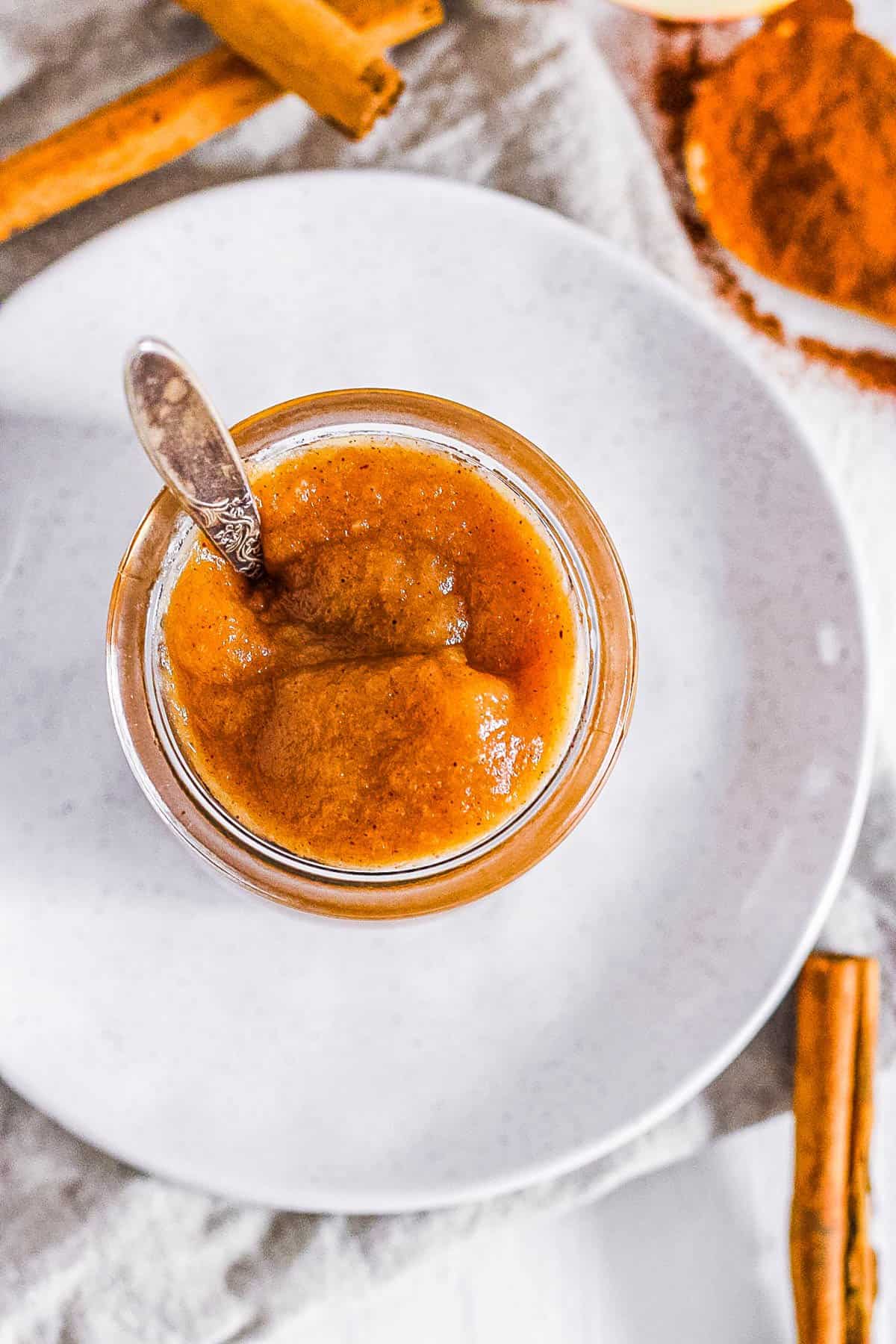 💭 Expert Tips
Any type of apple works for this vegan recipe! Sweet, red apples produce a sweet curd, while tart apples produce a tangy one.
Adjust the sweetness as needed: If you like it extra sweet, add more maple syrup to taste!
Feel free to adjust the consistency as needed: You can blend until it's slightly chunky and skip straining the curd, or for a curd with leftover chunks, an immersion blender can puree the mixture partially too. Follow the directions as written if you want a super smooth curd.
This recipe won't work for canning: Since this flavored curd has vegan butter in it, it's not suitable for home canning. However, it can be frozen and used later – so feel free to make a big batch, freeze in individual portions, and use as needed!
📖 Variations
Apple Lemon Curd: For a more pronounced lemon flavor, increase the lemon juice to 1/4 cup and the maple syrup to 3 tablespoons to turn this into an apple and lemon curd. Pure lemon curd is always made with fresh lemon juice, because it tastes much better than the bottle!
Try Different Apples: Use granny smith apples! Feel free to increase the maple syrup to 1/4 cup since granny smith apples are so tart, or just enjoy a tart curd on its own!
Toffee Apple Curd Recipe: Increase the maple syrup to 1/4 cup, vegan butter to 2 tablespoons, and add a teaspoon of vanilla extract to turn this recipe into a dessert with a caramel / toffee essence!
Spices: Warm spices are the perfect addition for a spiced apple curd! Pumpkin pie spice, apple pie spice, cinnamon, ginger, nutmeg and allspice are good options.
Make Dessert: Blind bake puff pastry cups in the center rack of the oven, then top with pure apple curd and enjoy!
❓ Recipe FAQs
What is apple curd?
Curd made with apples is a rich, fruit curd made from cooked apples, lemon juice, sugar, butter, and eggs. In this dairy free, egg free version, I use corn starch to thicken the fruit puree instead of eggs, and vegan butter to add richness!
How do you thicken fruit curd?
Typically eggs are used to thicken fruit curd, but a cornstarch slurry can be used as well. The natural fruit pectin in the apples thickens the mixture too!
How do I store fruit curd?
Store this vegan curd in an air-tight container in the refrigerator for up to 5 days. I like to use a mason jar with a lid.

For longer storage, transfer to ice cube trays, wrap in plastic wrap (or use ice cube trays with a cover) and freeze for up to 6 months. Once the curd is frozen, pop out the cubes and transfer to a freezer bag for long term storage in the freezer. Defrost the curd in the refrigerator overnight before serving.
How do you use toffee apple curd? What are fruit curds used for?
This delicious spread can be served as a topping for toast, english muffins, spooned over ice cream, pancakes, oatmeal, cake, puff pastry, or waffles, served in a tart shell, and spread on quick-breads.

The sweetness of the apple curd is also a great addition to a charcuterie board! Serve it in a small bowl alongside a variety of cheeses. You can also use it to fill thumbprint cookies or mini hand pies.

Fruit curds were traditionally used as an alternative to jams, jellies or other fruit spreads – and were served with toast, scones or muffins during tea time. But now fruit curds can be used for just about anything! Try it as a filling for cakes, pastries, tarts, pies, or as a spread for a variety of breakfast foods.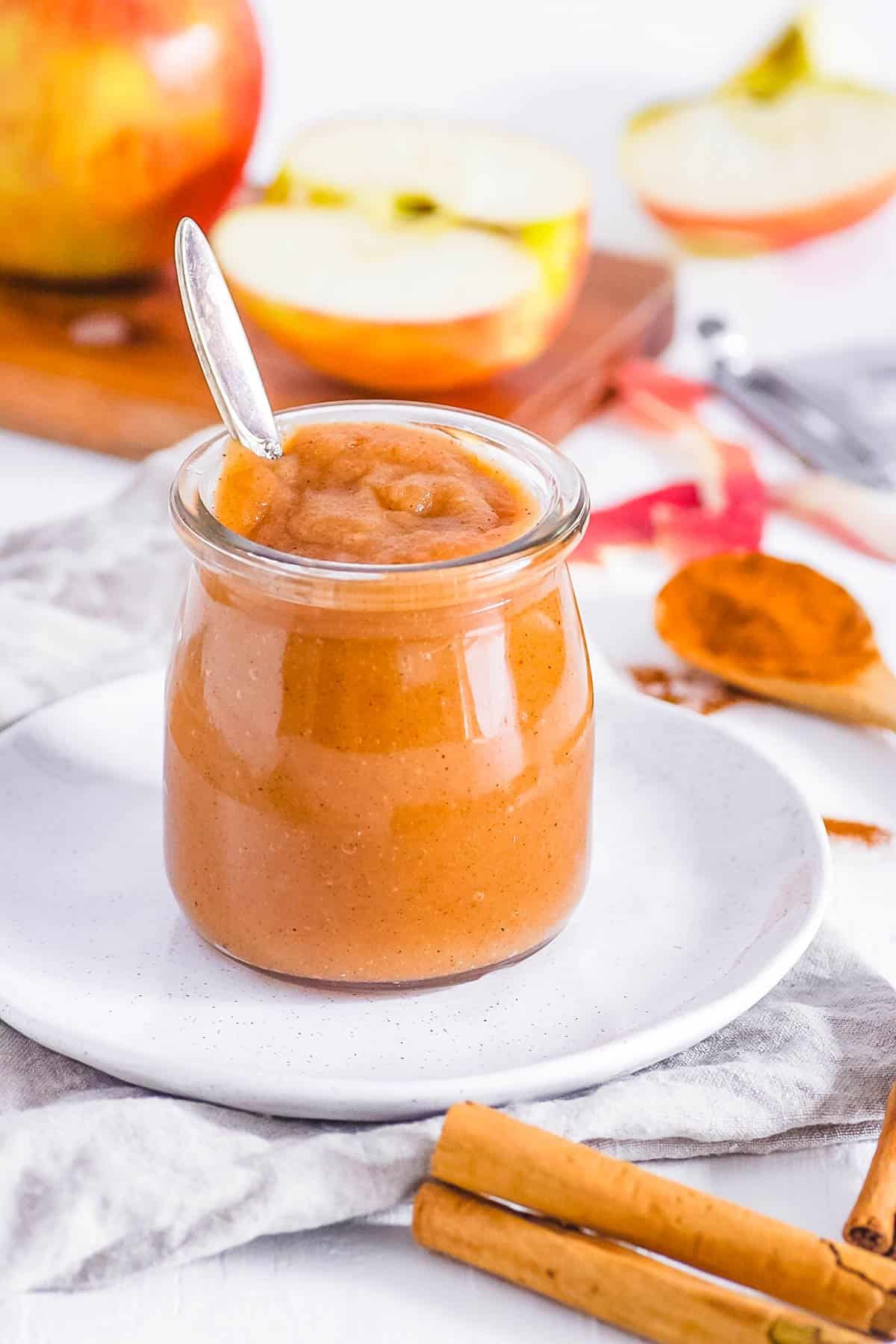 🍎 More Delicious Apple Recipes!
Love this healthy plant based snack recipe? Please leave a 5-star rating 🌟 in the recipe below and/or a review in the comments section further down the page!
You can also FOLLOW ME on FACEBOOK, TWITTER, INSTAGRAM, and PINTEREST to see more delicious, healthy, family-friendly food, and if you have any questions, I'm here to help!
📋 Recipe Card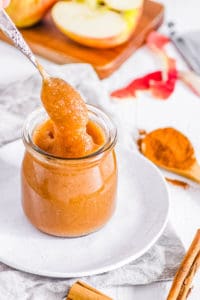 Print Recipe
Easy Apple Curd Recipe
A fun twist on traditional lemon curd, this easy homemade apple curd tastes delicious on oatmeal, toast, pancakes, and more. Learn how to make this sweet and rich spread with fresh apples and no dairy! Ready in just 30 minutes, you will want to slather this sweet curd on just about everything!
Instructions
Peel, core and dice the apples.

Add the apples, cinnamon, lemon juice, and water to a pot.

Stir and bring to a simmer. Reduce heat over with a lid and cook for 10-15 minutes, stirring throughout this time, until the apples are soft.

Remove from the heat and blend in a high speed blender until smooth.

Pass the apple puree through a sieve to make a smooth curd, alternatively skip this step for a slightly more textured curd.

Return the apple puree to the pot and heat over a medium heat.

In a small bowl mix the cornflour with 2 tbsp cold water.

When the puree has started to boil, add the cornflour and whisk until smooth. Reduce heat and cook for a further 2 minutes until thickened, continue to whisk to prevent any lumps.

Remove from the heat and allow to cool slightly before stirring through the vegan butter. 

Allow to cool completely before storing in an airtight container in the fridge for up to 5 days.
Notes
Use your favorite type of apple, red apples will provide a slightly sweeter curd whereas a green apple will provide a slightly sour taste.
Adjust the sweetness to taste by adding more maple syrup if desired.
Step 5 can be skipped if you're wanting a slightly textured curd.
Apple curd can be served with pancakes, spread on toast or even mixed through your morning bowl of oatmeal or porridge.
Nutrition
Serving:
0.25
cup
|
Calories:
79
kcal
|
Carbohydrates:
19
g
|
Protein:
1
g
|
Fat:
1
g
|
Saturated Fat:
1
g
|
Polyunsaturated Fat:
1
g
|
Monounsaturated Fat:
1
g
|
Trans Fat:
1
g
|
Sodium:
8
mg
|
Potassium:
129
mg
|
Fiber:
3
g
|
Sugar:
14
g
16 responses to "Easy Apple Curd"