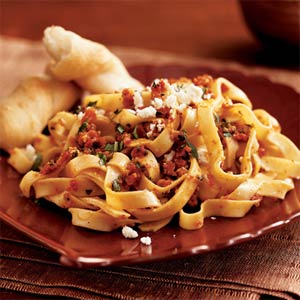 I often gather my cooking inspiration from other recipes I find online. Recently, I came across this recipe from myrecipes.com and I loved the Greek/Italian flavors so much that I had to try it.
I made some very simple and easy substitutions to make it much healthier without losing any of the flavor and deliciousness of the original recipe! This is a super fast recipe and perfect for a weeknight meal.
Serve it up with a spinach salad dressed with a little balsamic, salt and pepper and you are ready for a light and rich meal. The feta and sundried tomatoes add a wonderful sharp bite, while the almonds, basil, garlic, and cheese give it a velvety creaminess. It's family friendly and husband-approved!
Pasta with Sun-Dried Tomato Pesto and Feta
Nutritional Info Per Serving: 300 Calories, 9.9g Fat, 42g Carbs, 570mg Sodium, 10g Fiber, 12.3g Protein
Ingredients
8 oz whole wheat linguine or penne
3/4 cup oil-packed sun-dried tomato halves, drained and patted dry with a paper towel (to cut down on the oil a bit)
1/4 cup loosely packed basil leaves
2 Tbsp slivered almonds
2 Tbsp preshredded fresh Parmesan cheese
1 Tbsp minced garlid
1/2 tsp salt
1/4 tsp black pepper
1/2 cup crumbled low fat feta cheese
Instructions
Cook pasta according to the package directions, omitting salt and fat. Drain through a sieve over a bowl, reserving 1 cup cooking liquid. Return pasta to pan.
While pasta cooks, place tomatoes and next 6 ingredients (through black pepper) in a food processor; process until finely chopped.
Combine tomato mixture and the reserved 1 cup cooking liquid, stirring with a whisk. Add to pasta; toss well to coat. Sprinkle with feta.
Notes
https://pickyeaterblog.com/pasta-with-sun-dried-tomato-pesto-and-feta/
Recipe by: The Picky Eater, pickyeaterblog.com
TAGS: entrees, italian recipes, pasta, vegetarian
10 responses to "Pasta with Sun-Dried Tomato Pesto and Feta"