Low Calorie Candy Without TOO Much Sugar
This post may contain affiliate links. As an Amazon Associate, I earn from qualifying purchases. Please read my disclosure.
When it comes to sweets, sometimes, you just can't resist! That's okay! We all should have the opportunity to indulge once and awhile! When you find the urge to reach for something sweet, consider some of these low calorie candy options! They will curb your craving without ruining your healthy eating plan!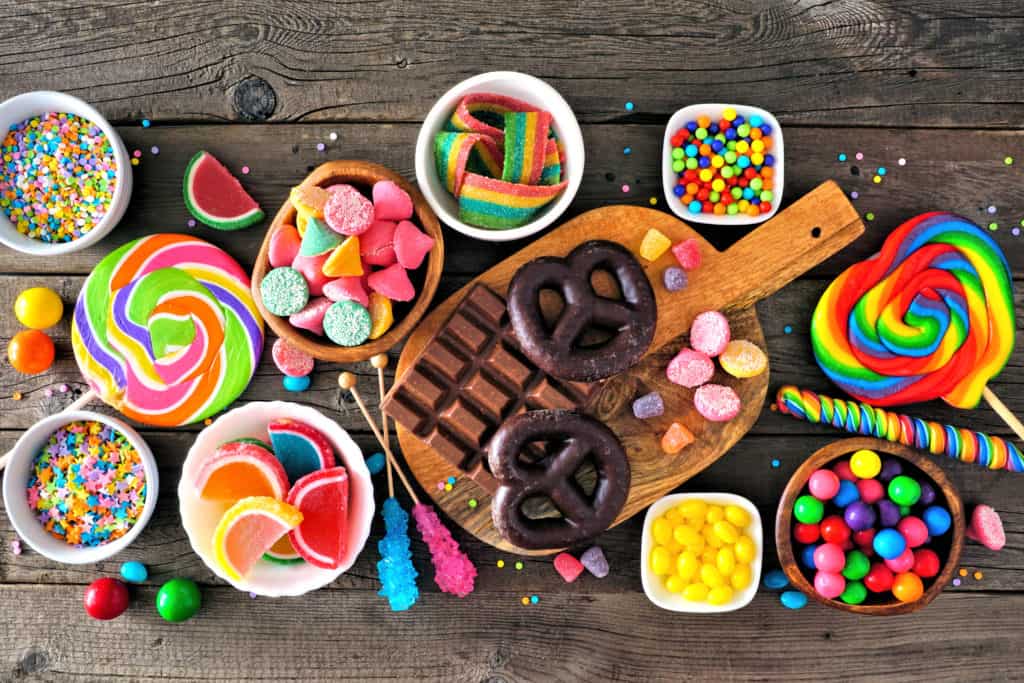 I love dessert! I have the biggest sweet tooth ever – candy, cookies, chocolate, ice cream – you name it – I'm a fan. If I'm at a dessert buffet, it's always really hard to resist temptation!
Most candy and sweet treats are mainly made of a fair amount of sugar — so they are technically just empty calories. Even though all this junk isn't good for you, depriving yourself completely isn't necessarily the way to go. If you totally deprive yourself you'll only crave it more, and eventually you'll go nuts and eat like 5 chocolate bars and your whole healthy living plan will be gone. Junk food is ok – in extreme moderation.
Because I'm a candy addict, I took the initiative to find healthier, better choices for dessert options when I have my sweet tooth cravings!
Tips for Healthier Low Calorie Candy Options
Limit the serving size: One way to make sure you don't overindulge is to choose a candy that already has a pre-portioned amount in a small bag. The snack size candy bars and chocolates you get around Halloween are the perfect size for a quick treat!
Chew Gum: If you have a sudden urge for something sweet, try opting for sugar free chewing gum. For just 10 calories, you'll get all the sweetness and flavor you're looking for! I like to opt for fruity flavors like watermelon, orange, or berry!
Hard Candy: When you really want something sweet, try sucking on a hard candy. This will give you a longer lasting flavor in a small size, for fewer calories. Try peppermint, butterscotch, caramels, Jolly Ranchers, Werther's, or Life Saver's.
Avoid high fructose corn syrup: High fructose corn syrup has been linked to weight gain, diabetes, an increased risk of heart disease, arthritis, insulin resistance, elevated triglycerides and LDL cholesterol.
Stay away from some artificial sweeteners: Artificial sweeteners like sucralose, aspartame and sacchrin will lower the calorie count of any candy, but they can cause other problems — research shows that these 3 sweeteners can change our gut bacteria or cause an insulin response. But some sugar substitutes are ok in moderation – like sugar alcohols or natural substitutes like monk fruit or stevia. So candy that includes more natural sugar substitutes can be a good choice if you are diabetic or cannot have any regular sugar at all.
Do You Really Want Candy?
Before you reach for your candy stash, ask yourself, if you really want it. Sometimes we reach for something sweet when we're feeling tired, or bored. Prevent yourself from indulging in your candy stash too often, by checking in with yourself and really asking yourself, why you're reaching for something sweet.
If you've reached a mid-afternoon slump, and need a pick me up, walk away from your work, or take a break. Get a tall glass of water, and go for a brief walk to refresh your senses.
If you are reaching for candy because you are bored, consider engaging in a conversation with a friend or colleague, read a book, or listen to music.
After you've done those things, if you are still craving something sweet, go ahead and give yourself a small indulgence.
Tips for Limiting Sweets
Hide Your Sweets Stash: Instead of giving your candy a prominent place in your pantry, hide it behind other food so it's out of sight. Same goes with your sweet treats in the freezer, or refrigerator. If you don't see it every time you open your pantry and fridge, you will be less likely to reach for it.
Plan for It: Instead of snacking on sweets whenever the mood strikes, make a plan for when you enjoy your sweet treat! Maybe it's after dinner, or lunch, or as a reward when you get home from work, or when you have a chance to sit down and watch your favorite show. Making a plan for when you can enjoy your candy, and only allowing yourself to enjoy it at that time will give you something to look forward to, and prevent you from snacking on sweets throughout the day.
Mix it up with some fresh fruit: Fruit can be surprisingly sweet, so even if you are craving candy, try a piece of fruit first, and then try one of these lower calorie candies below!
15 BEST Low Calorie Candy Options (120 Calories or Less)
For more eye-opening health guides on what goes into your favorite products, take a look at these food guides:
If you have found this low-calorie candy guide helpful, or tried any other recipe on my blog, then feel free to reach out to me in the comments below! I respond to every question and comment I get! You can also FOLLOW ME on FACEBOOK, TWITTER, INSTAGRAM and PINTEREST to see more delicious, healthy, family friendly food!
10 responses to "Low Calorie Candy Without TOO Much Sugar"