Kendamil Formula: Everything You Need to Know
This post may contain affiliate links. As an Amazon Associate, I earn from qualifying purchases. Please read my disclosure.
This in-depth guide will help you learn everything you need to know about possibly the most premium organic formula on the market: Kendamil. You'll learn more about what Kendamil is, what the benefits are, how it compares to other organic baby formulas, and where you can find & buy it!

With so many baby formula brands competing to create organic baby formulas—it can be hard to choose the right one for your baby. However, one brand from Britain, which supplies the British Royal Family(!), is setting new standards for natural, organic formulas, supported by rave reviews from parents around the world. For parents wondering if Kendamil is worth the investment and hype, and if it meets the criteria for a healthy baby formula, this post is for you!
What is Kendamil formula?
Kendamil is the only infant formula made in the United Kingdom. Built on over 58 years' expertise in infant nutrition and located in the heart of the English Lake District, a UNESCO World Heritage Site, Kendamil is a family business committed to developing the most premium, natural, traceable and sustainable organic formulation in the world.
Kendamil's unique advantages trace back to their founder's commitment to nature. As a farmer himself, Ross McMahon was passionate about developing the most premium infant formula in the world, exclusively using local, traceable ingredients to guarantee quality from farm to formula. He partnered with Steve McCann, an industry expert with over 40 years' experience in infant formulations to create Kendamil in 2016.
Every can of Kendamil is designed, formulated and hand-crafted in-house. They also work hand-in-hand with 220 local organic farms around the English Lake District to meet the highest standards of organic farming, animal welfare and milk quality. This collaboration enables Kendamil to include the highest levels of natural mammal fats in the industry, as well as to be the only whole-milk formula that is both palm oil free and vegetarian friendly (it includes DHA/ARA by using zero fish oil).
This devotion to quality paid off in 2019, when the Royal Nanny of Prince William and Princess Kate contacted Kendamil to help with combination feeding for Prince Louis!
Is Kendamil a safe and healthy baby formula?
From my extensive research including conversations with the Kendamil team, I am confident that this unique formula sets a new standard for natural, traceable and organic formulas.
Kendamil is the only infant formula whose cows happily graze in a UNESCO World Heritage Site all year round. All of Kendamil's supplier farms (who they know personally!) are organic and Red Tractor certified – meaning they meet the highest standards of quality and care throughout the supply chain, from farm to formula. Kendamil is organic certified by the EU, a much higher standard than the US. In addition, Kendamil meets the even stricter standards of the British Soil Association (which has the strictest interpretation of the European organic guidelines allowing only 5% non-organic vitamins / minerals in the soil). (Learn More: Kendamil vs. Bobbie).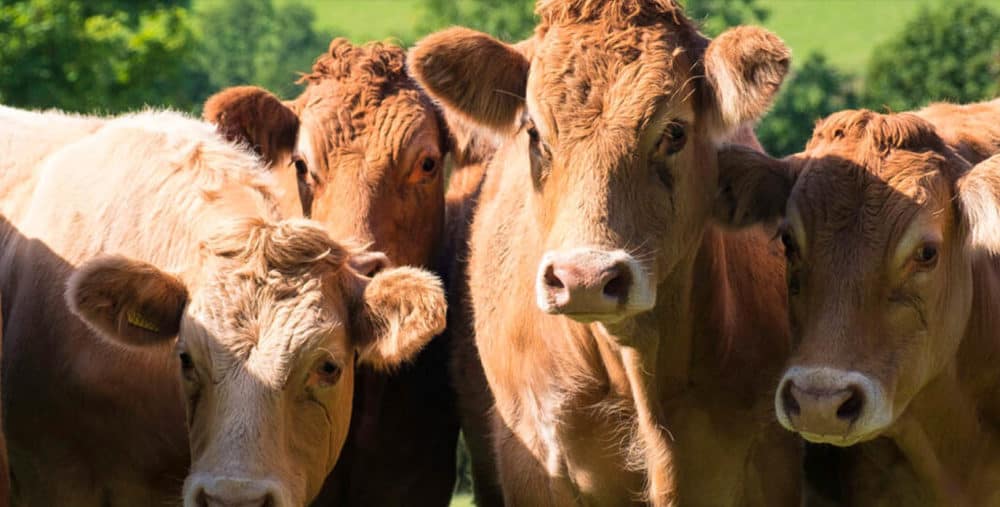 What are the benefits of Kendamil?
#1 | EU CERTIFIED ORGANIC, BRITISH GRASS FED COWS
European formulas are popular for a reason – European organic standards and farming regulations are much higher/stricter than US organic standards. You can read more about the standards for European formulas here, and the benefits of organic formula here.
Kendamil's cows are grazed outdoors with access to indoor housing and milking twice per day, providing a stress-free environment and a healthy diet supplemented with silage and hay from grass production during winter. The native English Jersey cows are renowned for containing the highest % milk fat in the world and the highest nutrition per unit of volume of any cow in the world. Because of this, their milk is richer in Omega-3 fats, Vitamin E beta-carotenes and CLA fatty acids. Jersey milk contains 18% more protein, 20% more calcium and 25% more butterfat than average (a butterfat level up to about 6.8%). Furthermore, Jersey cows produce mainly A2 milk, which emerging evidence from studies in preschool children and adults suggests is less likely to be associated with digestive discomfort versus the A1 milk common in most cow breeds.
This is in direct contrast to American cows who produce A1 milk, and who are crammed into a factory, injected with antibiotics and hormones, and given low quality corn/soy based foods. The UK bans the use of growth hormones, and UK organic farms use natural manure and are prohibited from using artificial fertilizers, pesticides or chemicals. Kendamil ensures that their animals are treated ethically and with care, and that all organic feed and animal welfare standards are met for their cows.
Note: Kendamil recently launched a high quality goat milk formula for infants that follows the same farming practices as they use for their cows. See this guide for more information on the best goat milk formula (including Kendamil Goat).
#2 | NATURAL & HEALTHY FATS, NO PALM OIL
Today, most infant formulas are made with skim milk and have added vegetable fats to meet WHO guidelines and match breastmilk (which contains up to 30% milk fat). While there is nothing wrong with skimmed milk in formula, and some added fats (like coconut oil) are healthy, palm oil has a negative impact on our rainforests, wildlife and indigenous populations. Additionally, palm oil may cause digestive issues like constipation and may lower calcium and fat absorption in infants.
Because Kendamil uses natural full-cream mammal milk fat, they avoid the need for palm oil and use less vegetable oils overall. The type of fat in whole milk has a high concentration of medium chain triglycerides with palmitic acid in the Sn2 position (similar to breast milk triglyceride composition), which helps with calcium absorption, digestibility and fat absorption, and minimizes constipation. Kendamil uses a blend of coconut oil, sunflower oil and canola to provide linoleic acid and alpha linolenic acid, which infants need as a supplement in addition to the full cream milk fat to make Kendamil closer to breastmilk in composition.
#3 | NO FISH OIL, NO HEXANE, VEGETARIAN FRIENDLY
Omega 3 fats are essential to healthy infant development, which is why most formulas include DHA/ARA in some form (or, if they don't, you have to supplement). Most formulas use fish oil as their source of DHA, which technically makes the formula not vegetarian or vegan friendly.
Kendamil uniquely sources their Omega-3 DHA from plant based pure marine algae (which is what fish eat to obtain their Omega-3). The algae DHA is extracted gently without the use of chemical solvents or hexanes. By going straight to source, Kendamil provides a non-allergen, plant-based source of essential DHA and ARA which also uniquely makes Kendamil suitable for vegetarians. They take their commitment to vegetarianism a step further by ensuring no animal rennet is used in the source of their Organic Lactose, Organic Whey and our Organic GOS. This makes them halal friendly too!
#4 | WHOLE MILK FORMULATION
Kendamil uses a whole milk base and contains the highest level of full-cream nutrients in the industry. Kendamil's formula contains MFGM (Milk Fat Globule Membrane), scientifically proven to support infant cognitive development, and naturally found in milk fat (additional source here). Whole milk also contains naturally-occurring fat-soluble vitamins and minerals that babies need for growth and development. Skimmed milk has less of these vitamins, but formulas using skimmed milk end up adding additional vitamins back into the formula to make it match the components found in whole milk.
One nice feature of whole milk is that it's naturally sweet! Which means that, without adding sugar, Kendamil's formula has a unique golden color and creamy sweet taste that babies love.
#5 | NO SOY
Kendamil uses the full cream nutrient from cow's whole milk to provide a source of naturally-occurring proteins, and on top of that, uses no soy ingredients (no soy oil, no soy lecithin and no soy protein). Why does this matter? Research has shown that too much soy in infancy can have negative effects later in life.
#6 | LACTOSE AS THE CARBOHYDRATE
Unless your baby has lactose intolerance, lactose is the best primary carbohydrate that a baby formula can include. Cheaper, processed substitutes for lactose include: maltodextrin, corn syrup, glucose syrup solids, sugar, brown rice syrup, sucrose, etc. In formulas that are hypoallergenic, some of these ingredients may be unavoidable. But for regular, organic baby formula, these ingredients should not be included as a source of carbs. Kendamil Stage 1 uses 100% lactose for their carbohydrate, meaning parents are getting the best carbohydrate for their babies without the non-lactose sugars. Lactose is naturally broken down slowly in the baby's digestion process , so the pancreas does not have to quickly release insulin, therefore lactose has a low glycemic index.
#7 | ALL NATURAL
In addition to these benefits, Kendamil doesn't contain any of the ingredients I recommend avoiding (that other baby formulas do contain). Those include: GMOs, soy products, lutein, lycopene, L-methionine, added sugars, and synthetic ingredients. Kendamil does include nucleotides and taurine, but unlike most formulas – they add these nutrients without using hexane. Here is a direct quote from them on the inclusion of both of these nutrients:
Nucleotides are the building blocks of human DNA. The Kendamil QA Department ensure these nucleotides are produced through a physical fermentation and filtration process without the need for chemical solvents and no hexanes.
Taurine is found in breastmilk has been shown to help aid visual development of infants. Like all vitamins (which with the exception of 3 (Vitamin B2, B12 and D), taurine is made synthetically in a laboratory in order to ensure consistent purity.
#8 | ENVIRONMENTALLY FRIENDLY
Kendamil has the lowest carbon footprint of any formula in the world thanks to their farm-to-formula, all-British supply chain. They are also the only formula that uses neither palm oils nor fish oils – protecting our rainforests and our oceans. Finally, all Kendamil products are stored in recyclable metal cans, perfect for re-use for planting or storage.
#9 | INCLUDES HMOs
For the first time in an organic infant formula, Kendamil has verified the presence of HMOs in Kendamil Organic through the use of High-Performance Liquid Chromatography (HPLC), which identified the presence of 3'-GL , 4'-GL and 6'-GL. All three of these HMOs are found in mothers' colostrum after birth. 3'-GL has been proven in ex-vivo laboratory studies conducted by Utrecht University to protect the lining of the intestine of infants, shielding them from inflammation and benefitting their immune system.
Where Can You Find and Buy This Formula?
The great thing about Kendamil is that it's very easy to get in the US from two of my favorite distributors: The Milky Box and Bottles and Burps.
The Milky Box is the only online retailer I've found that literally has every European formula you can think of. They are dedicated to ensuring that organic European formulas are available to any parents who want them in the US. And their supply chain is so robust they virtually guarantee that they will be in stock of all formulas at all times!
The Milky Box is also offering an additional 10% off by using the code "PICKY10" at checkout.
Other things that make them great:
They are always in stock of HiPP Dutch, HiPP UK, HiPP Germany, Holle, Lebenswert, Goat Milk formula, and the sensitive formulas (HiPP HA, Comfort, Anti-Reflux)
They carry more specialty formulas like Jovie Goat Milk, HiPP Goat Milk, Stage 3 and Stage 4 formula from HiPP, Holle, Jovie, Kendamil, Lebenswert, Kabrita, Nannycare, Premibio, and organic vegan baby formulas like Bebe M!
Free standard shipping on all 6, 8, & 12 pack orders!
A comprehensive mixing guide for every formula listed on their website.
Subscribe & save option
Amazing customer service!
You can read more about The Milky Box's story here and more about Kendamil's story here.
Bottles & Burps: When it comes to reliability and affordability, Bottles & Burps is the lowest priced US retailer I have found that sells Kendamil. They can get all of these products to most US households in 2-4 days from their with their standard free shipping from Europe.
If you're looking to save even more, you can order bundles direct from their warehouse in Europe (with free, express 2-5 day shipping to the US). Express shipping from Europe is important because the alternatives can take upwards of 30 days and suffer additional customs delays.
Bottles & Burps is also offering a $10 discount code using the code PICKYEATER10 (just enter it manually in the checkout process!)
What are the Differences Between Stage 1, 2, and 3 of Kendamil?
There are slight differences between the 3 Stages of Kendamil – so to help you figure out which one is best for your baby, I've outlined the differences between Stages 1, 2, and 3 below.
Stage 1
Kendamil Stage 1 is for birth to 6 months. You can use this formula to replace breastmilk or use alongside it as a supplement. Kendamil stage 1 is based on the same whey to casein ratio as breast milk which is 60% whey and 40% casein.
This formula is easy on digestion due to the use of whole milk and no palm oil and contains all essential vitamins, including MFGM, Iodine and Iron (for cognitive development), Calcium and Vitamin D (for growth and bone development), Iron, Zinc and Vitamins A, C & D (for the immune system) and DHA (for visual development). Lactose is the only/primary carbohydrate used (Stage 1 is 100% lactose), and along with natural milk fats, a combination of coconut, sunflower and canola oils form the primary fat source.
Each Kendamil product comes in a 800g recyclable metal can (better for storage and shelf life) with instructions (in English!). You'll get approximately 31 bottles per 800-gram can.
Stage 2
Kendamil Stage 2 is a "follow-on" milk perfect for babies aged 6-12 months.
Kendamil Stage 2 has been designed with a whey to casein ratio of 50% whey and 50% casein. This is more like cow's milk and is a transition to the normal family diet. It is higher in minerals naturally found in milk like calcium, magnesium and phosphorus and more satisfying for baby.
Each Kendamil product comes in a 800g recyclable metal can (better for storage and shelf life) with instructions (in English!). You'll get approximately 29 bottles per 800-gram can.
Stage 3
Kendamil Stage 3 is for babies 12 months and onward. This "toddler milk" is perfect for parents who want to use formula into toddlerhood.
Kendamil Stage 3 is based on a whey to casein ratio, of 20% whey to 80% casein, allowing children over 1 year to be ready to be weaned onto normal cows milk of a similar whey to casein ratio. The iron and calcium content is higher than Stage 2.
Each Kendamil product comes in a 800g recyclable metal can (better for storage and shelf life) with instructions (in English!). You'll get approximately 29 bottles per 800-gram can.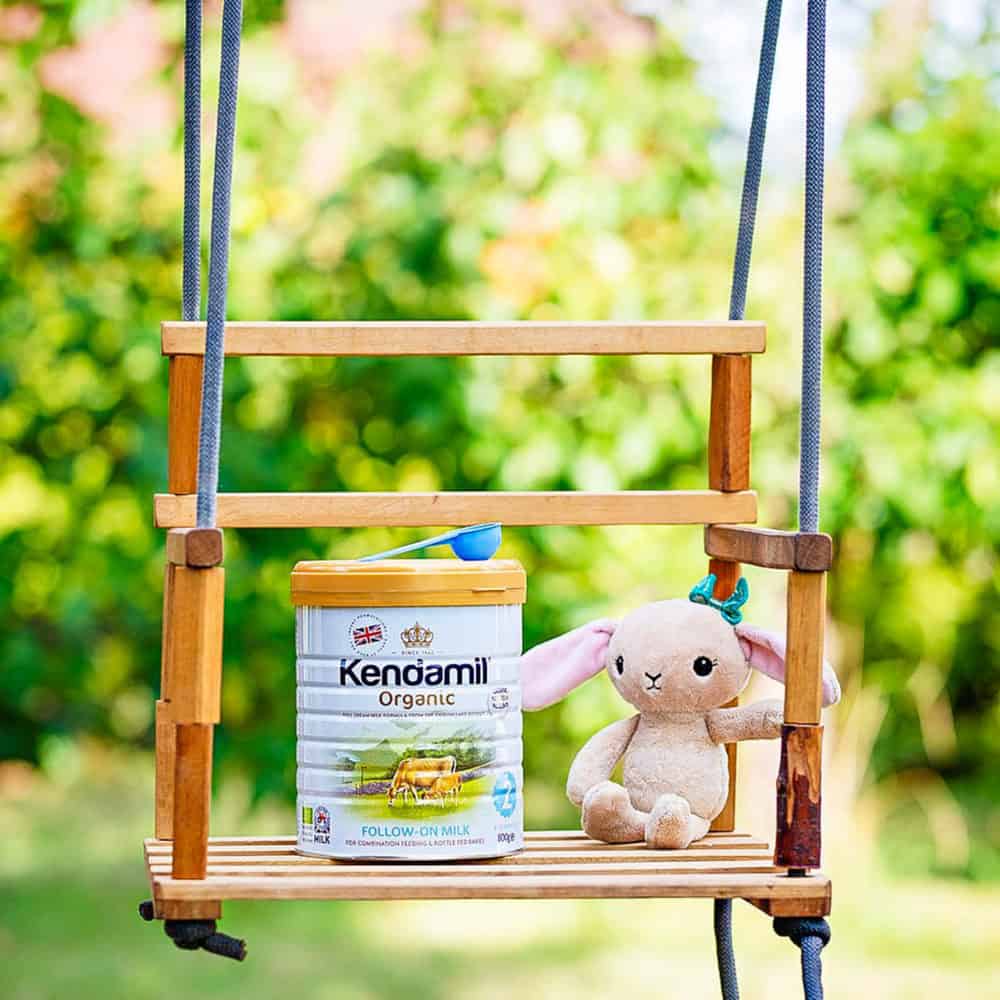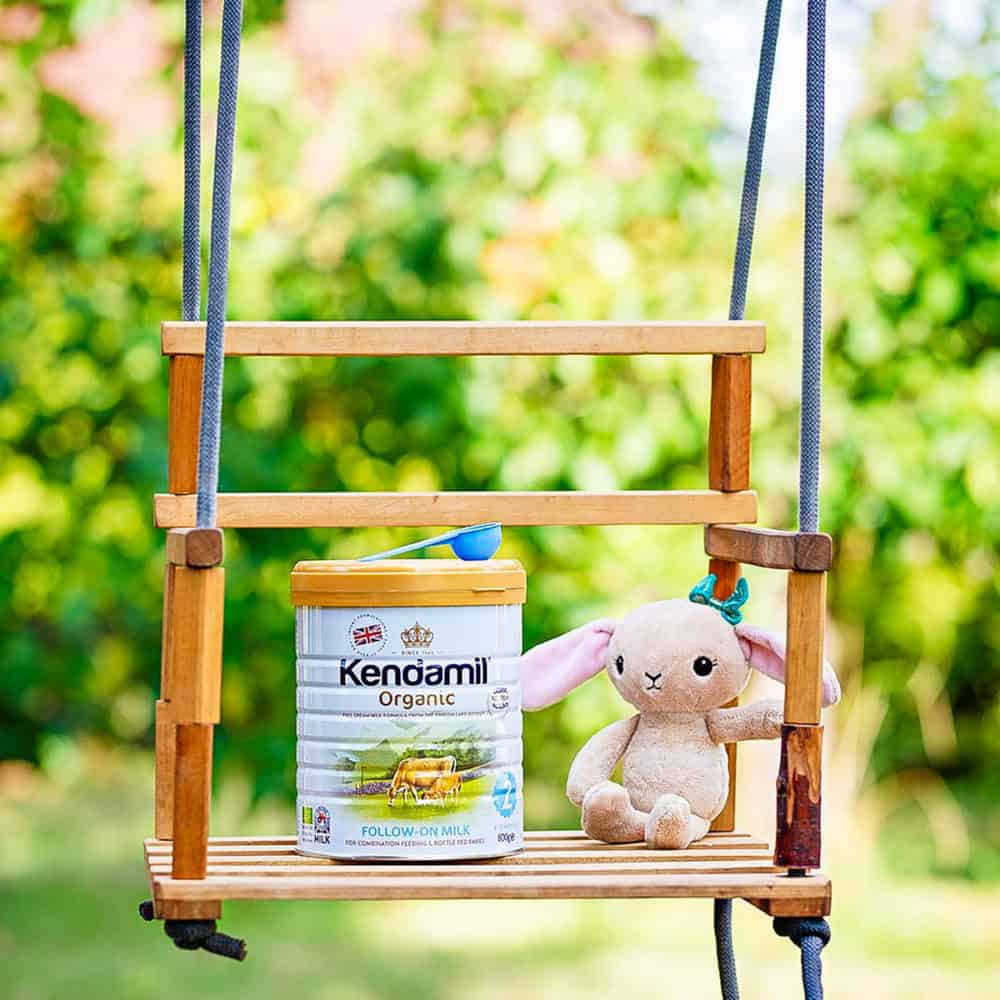 Final Thoughts
For parents who value nutrition, wholesome ingredients, and EU organic certification—Kendamil could be the perfect formula for you and your baby! Kendamil is made with sustainable, organic British milk and has no synthetic ingredients, no palm oil, and no soy products – which means you can be confident your baby is getting a healthy, safe, and nutritious formula to promote growth and development. Kendamil is one of my top ranked organic baby formulas among all of the options out there! If my kids were still in the 0-12 months range, I would purchase Kendamil to give to them.
Note: Kendamil does make a non-organic version of their formula, so when you are purchasing Kendamil, be sure to pick the organic version!
106 responses to "Kendamil Formula: Everything You Need to Know"