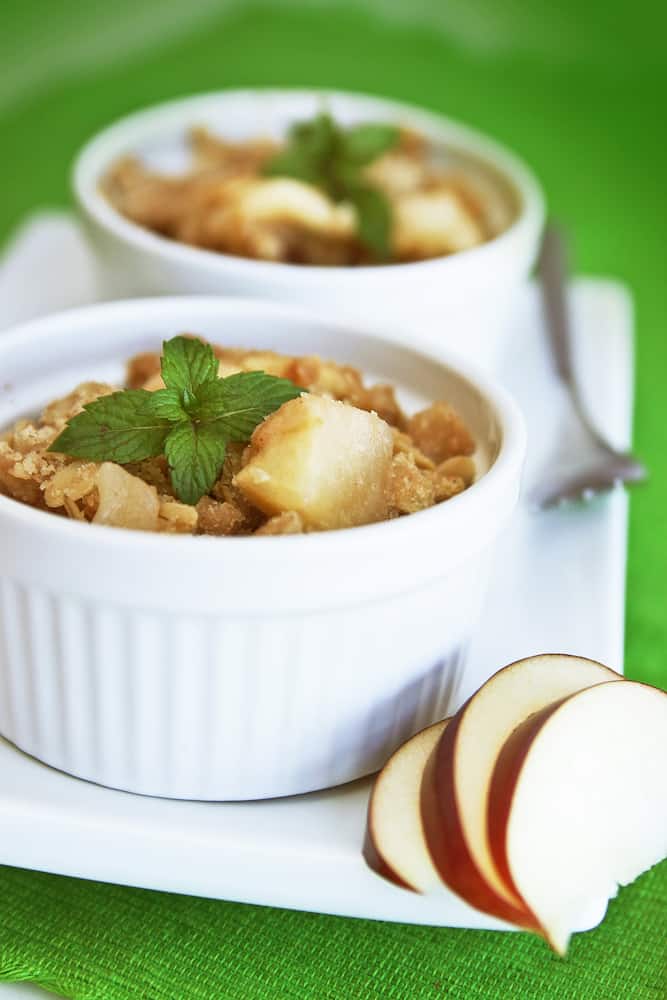 I've been eating a lot of cookies and ice cream lately.
For some reason, it's been the only dessert that tastes good to me! Maybe it's an end of the pregnancy thing, or a winter-comfort-food thing, but nothing really compares to the warm, freshly baked, gooey cookie with ice cream on top.
In an effort to give myself variety in the "warm dessert/ice cream combo" department, I decided to healthify dessert a bit, and create a fresh fruit compote for myself at home.
It's lower in sugar than most desserts, and is only 200 calories for a HUGE portion! You can top it with a little bit of vanilla ice cream, or eat it straight out of the oven — either way it will taste absolutely delicious.
Nutritional Info Per Serving: 195 Calories, 6.3g Fat (1.6g Saturated), 40g Carbs, 29g Sugar, 17.3mg Sodium, 4.5g Fiber, 1.9g Protein
Ingredients
For the filling

2 cups organic Bosc pears, cut into 1/4 inch cubes (about 4 medium pears)
2 cups organic Fuji apples, cut into 1/4 inch cubes (about 2 large apples)
1/4 cup brown sugar
1 Tbsp freshly squeezed lemon juice
1 tsp ground cinnamon
½ tsp ground nutmeg
For the topping

1 tsp brown sugar
3 Tbsp graham cracker crumbs (from about 2 1/2 graham cracker sheets)
1/2 tsp cinnamon
1/4 cup chopped walnuts
1 Tbsp butter, melted
Instructions
Preheat the oven to 350° F, and coat 6 small ramekins with cooking spray (if you don't have these, you can use a large baking dish).
Combine all ingredients for the filling in a large saucepan over medium-high heat. Bring to a simmer.
Decrease the heat to medium, and continue cooking, stirring often, until the apples and pears are tender and the liquid reduces by half (about 25 minutes).
Transfer filling to the ramekins or baking dish.
Combine all topping ingredients in a small bowl.
Sprinkle the topping over the apple-pear mixture, then bake for 5-10 minutes, or until the topping has browned and is slightly crispy.
Garnish with a sprig of fresh mint (optional).
Notes
https://pickyeaterblog.com/apple-and-pear-crisp/
Recipe by: The Picky Eater, pickyeaterblog.com
TAGS: christmas recipes, dessert, thanksgiving recipes, vegetarian
17 responses to "Apple and Pear Crisp"