Easy Vegan Tomato Soup
This post may contain affiliate links. As an Amazon Associate, I earn from qualifying purchases. Please read my disclosure.
This easy vegan tomato soup is hearty, creamy, and full of sweet tomatoes, making it perfect for any time of the year. This rustic soup is thickened with brown rice instead of heavy cream for a deliciously creamy texture without any dairy! Serve with crusty bread or a vegan grilled cheese sandwich for a hearty lunch or dinner!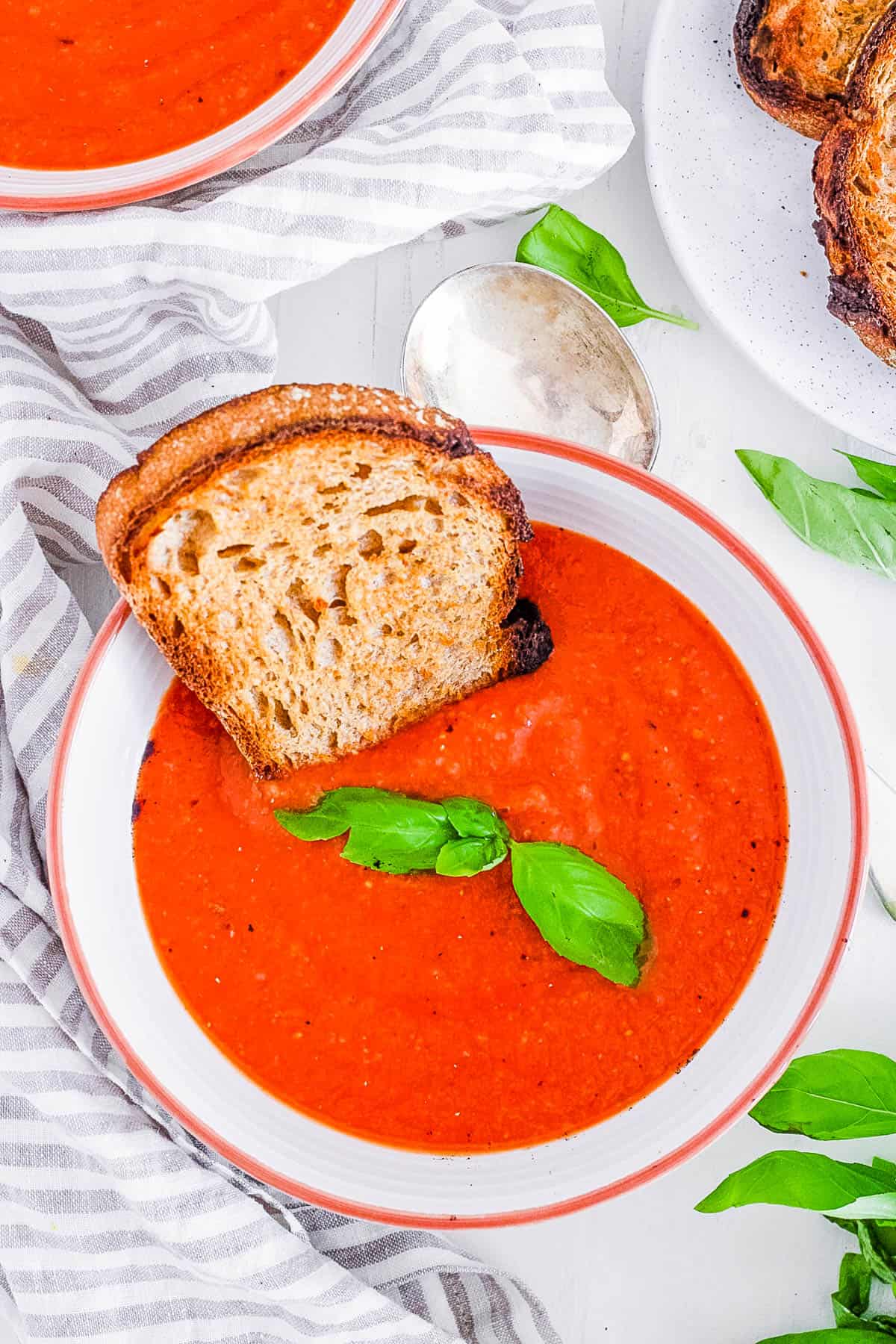 This homemade vegan tomato soup is one of our favorite light and creamy soup recipes! And because it's vegan and dairy-free, it's not heavy like most creamy tomato soups. I use a secret ingredient to get the right, thick consistency but without the heaviness. A bowl of hot soup like this is perfect for a chilly night!
For this lighter, vegan roasted tomato soup, I roast the tomatoes first. The tomatoes caramelize for a deep, sweet flavor that takes it to the next level! Then brown rice, my secret ingredient, thickens this easy soup to make it creamy, and I puree it right in the pot. So, if you're looking for a simple, nutritious, and satisfying meal, this soup is just what you need!
The result is the most perfect, creamy vegan tomato soup recipe, even better than the kind you'd get at your favorite restaurant. I top it with a dollop of vegan yogurt and some chives or fresh parsley for a touch of green! I can't seem to get enough of this plant-based tomato soup during the soup season. It's creamy, hearty, and healthy too!
This creamy tomato soup is versatile enough that it can be served as a main course or a starter. It's just perfect for a cozy family dinner or a casual get-together with friends. You can even customize it with your favorite toppings like fresh chives or parsley. Plus, it's not just delicious; it's also packed with nutrients, making it a healthy choice for everyone in the family.
The best part? This soup is incredibly easy to make and is sure to impress even the pickiest eaters. So, why not give it a try? Trust me, once you've tasted this delicious vegan tomato soup on a cold winter day, it'll become a regular in your kitchen rotation!
👩🏽‍🍳 Why You'll Love Vegan Tomato Soup
Plant-Based: This easy vegan tomato soup recipe makes a comforting meal for those following a plant-based diet. It's packed with fresh vegetables and uses no dairy, making it a perfect vegan-friendly meal.
Gluten-Free: This soup is not only vegan but also gluten-free. It is thickened with brown rice instead of flour, making it a great choice for anyone with gluten sensitivities or allergies.
Family Friendly: This vegan tomato soup is a crowd-pleaser that the whole family will love. Its creamy texture and rich tomato flavor make it a hit with both kids and adults. Plus, it goes great with a vegan grilled cheese sandwich!
Simple Ingredients: Made with fresh tomatoes, garlic, brown rice, and a few pantry staples, this soup is a testament to the magic that can happen with simple ingredients. It is a great recipe for beginner cooks to try and uses only eight ingredients, including salt and pepper!
Better Than Eating Out: This vegan tomato cream soup is a healthier and tastier alternative to the kind you'd get at your favorite restaurant. It's packed with nutrients from fresh vegetables and has lower sugar content, making it a wholesome choice for your family, and it has a super rich taste without any heavy cream!
Holiday Ready: This comforting soup is not just for everyday meals – it is also holiday-ready. Serve it as a starter during Thanksgiving, Christmas, or the next dinner party, and watch as it becomes a new family tradition.
Latest Recipe Video!
🥘 Ingredients
The beauty of this vegan tomato soup lies in its simplicity. The ingredients are easy to source, and you may already have most of them in your pantry! All these basic ingredients can easily be found at your local grocery store.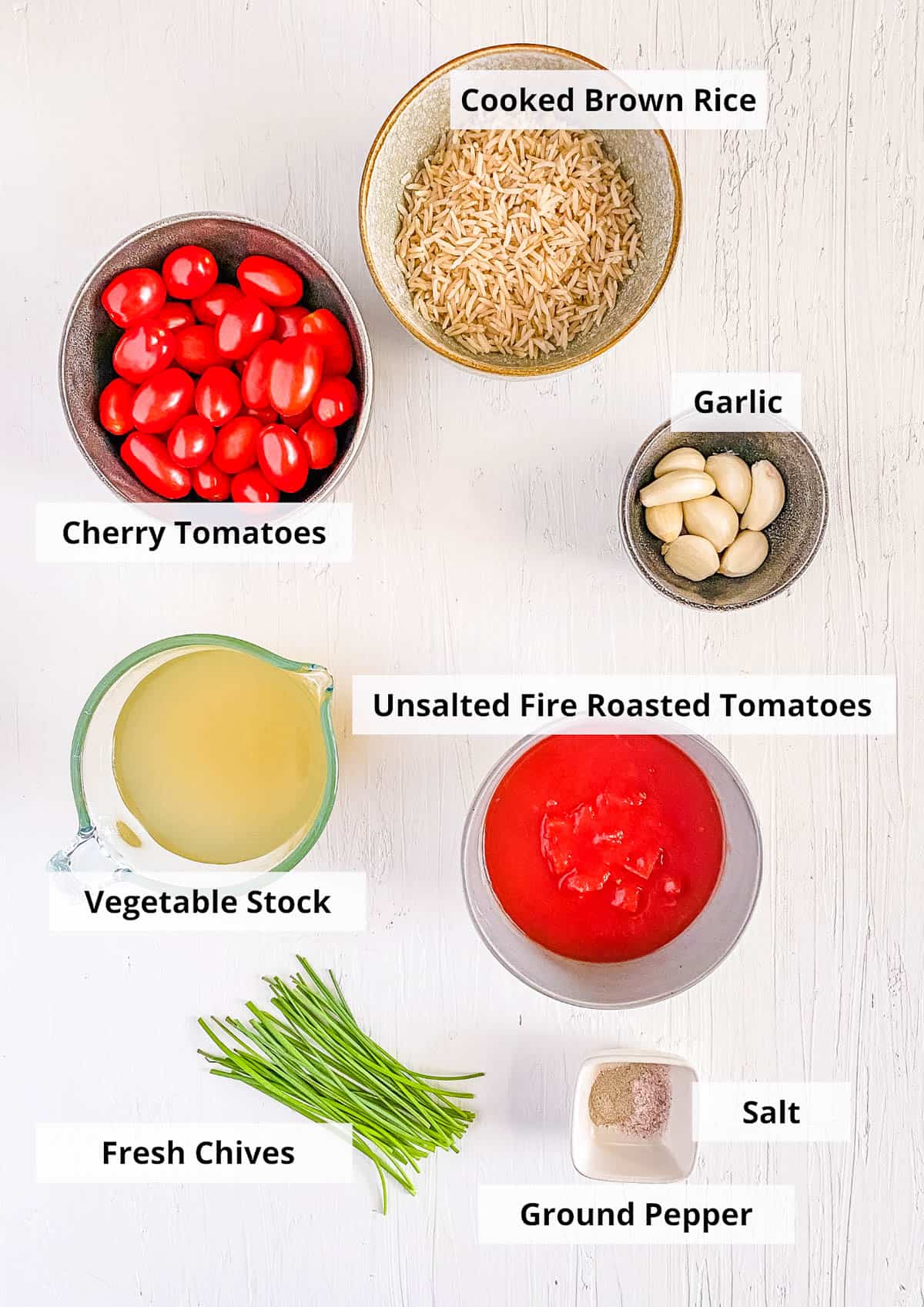 Fresh Cherry Or Grape Tomatoes: These tiny whole tomatoes pack a punch of flavor. They add a sweet and tangy taste to the soup. Roasting them adds an extra something!
Garlic Cloves: Garlic adds a depth of flavor that compliments the tomatoes beautifully. It gives the soup a robust and aromatic edge. Eight cloves may seem excessive, but fresh garlic mellows and sweetens as it cooks.
Olive Oil Cooking Spray: A healthier alternative to butter or regular cooking oil, olive oil cooking spray is used to roast the tomatoes and garlic. It adds a subtle, savory note to the soup.
Cooked Brown Rice: Brown rice is a fantastic thickener for this non-dairy tomato soup, replacing the heavy cream often found in traditional recipes. As the soup cooks, the starches in the brown rice release, creating a smooth soup once pureed.
Low Sodium Vegetable Stock: This forms the flavorful liquid foundation of this vegan fresh tomato soup. It adds depth and complexity to the overall taste.
Unsalted Fire Roasted Tomatoes: These tomatoes add a smoky, charred flavor that elevates the soup to new heights. For best results, use canned as well as fresh tomatoes. The consistency will be better! San Marzano tomatoes are a popular choice for their sweet taste and low acidity.
Salt And Black Pepper: These basic seasonings are used to enhance the natural flavors of the other ingredients. They bring out the sweetness of the tomatoes and the nuttiness of the brown rice.
Minced Fresh Chives: Chives add a mild, onion-like flavor and a pop of bright green color. They also add a nice textural contrast to the creamy soup.
🍲 Ingredient Substitutions
Cooking Spray: If you don't have olive oil cooking spray, you can simply use a little bit of liquid olive oil and spread it evenly over the cooking surface with a brush or paper towel.
Brown Rice: It adds a delicious creaminess to the soup that's absolutely unparalleled. But you can replace it with a mix of non-dairy milk, such as full-fat coconut milk, and some cashew cream or full-fat coconut cream.
Vegetable Stock: If you don't have vegetable broth or stock, you can use water in its place. For a creamier soup, you can also use unsweetened almond milk or light coconut milk. If you're not strictly vegan, you can use chicken broth or chicken stock instead.
Tomatoes: If you can't find fire roasted tomatoes, you can use regular canned tomatoes. You can add a bit of smoked paprika to mimic the smoky flavor of fire roasted tomatoes. And if you need to save time, you can make this an entirely vegan canned tomato soup – by replacing all of the roasted fresh tomatoes with canned diced tomatoes.
Fresh Chives: If fresh chives aren't available, you can use dried chives. Alternatively, you can use other fresh herbs like parsley or fresh basil in this homemade tomato soup recipe.
🔪 How To Make Vegan Tomato Soup
Looking to warm your soul with a comforting bowl of homemade vegan tomato soup? Here's how to whip up this simple yet delicious recipe! For more detailed instructions and nutrition facts, see the recipe card at the end of this post.
Cut Tomatoes, Coat & Season: Preheat the oven, then cut your tomatoes in half. Arrange them on a baking sheet. Spray the tomatoes with cooking spray, then season with salt and pepper. You can toss them in olive oil or melted coconut oil in place of the cooking spray if you prefer. This step encourages them to caramelize in the oven.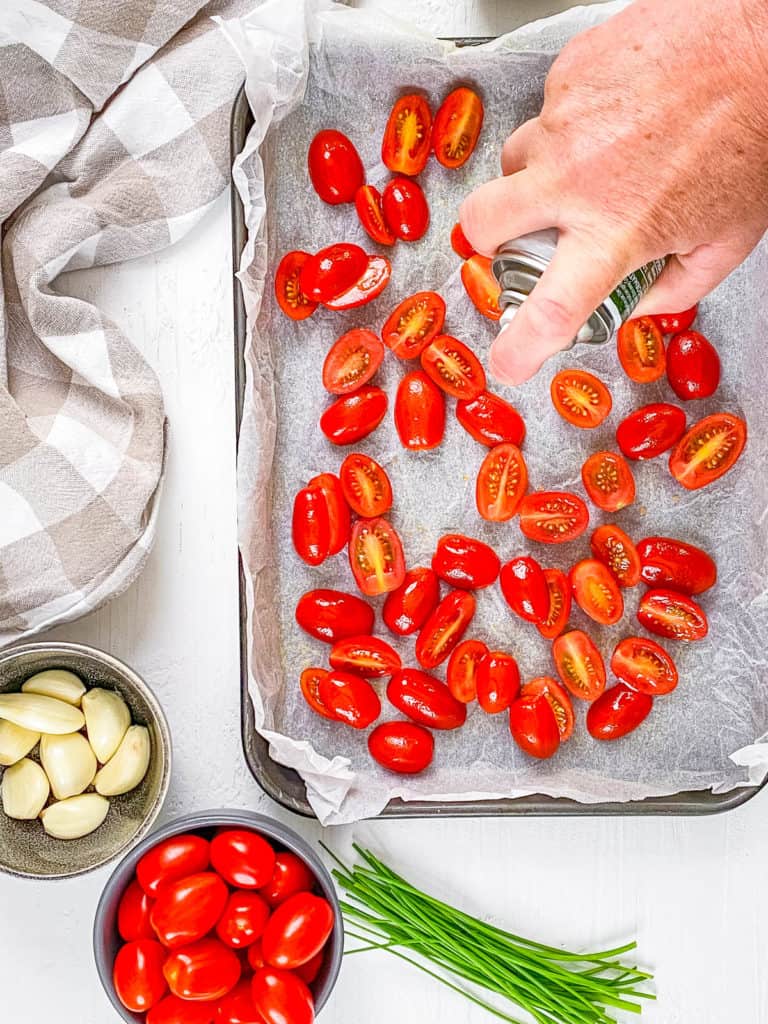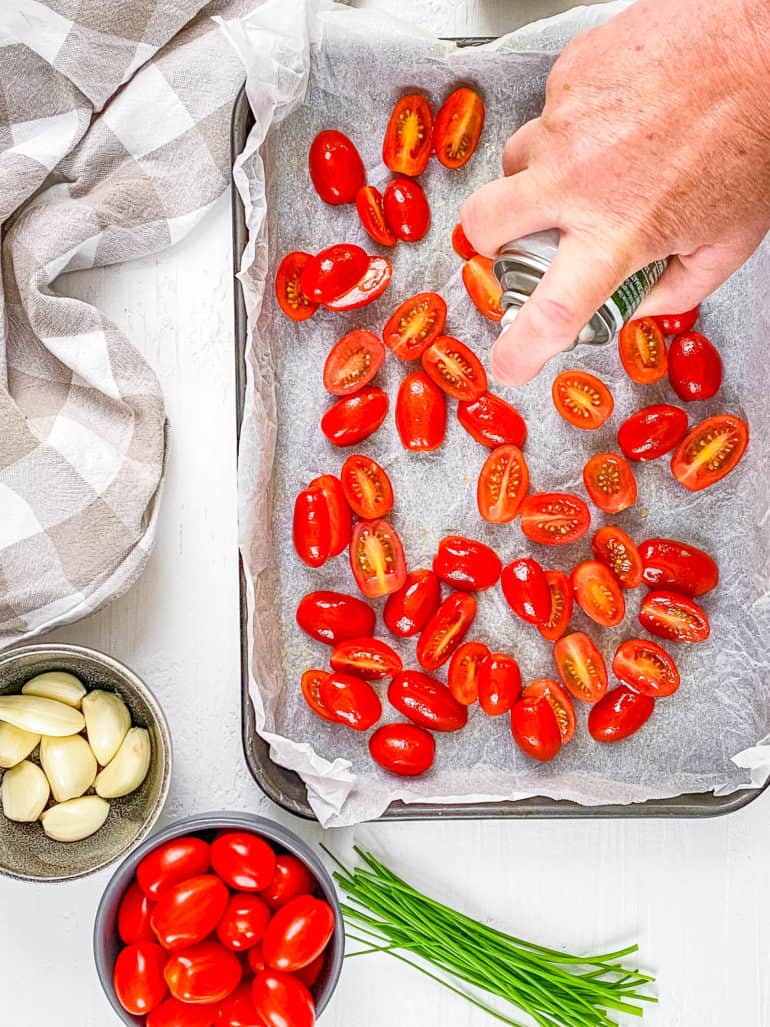 Roast Tomatoes: Roast until the tomatoes are lightly charred and slightly shriveled. Reserve the juices for the soup.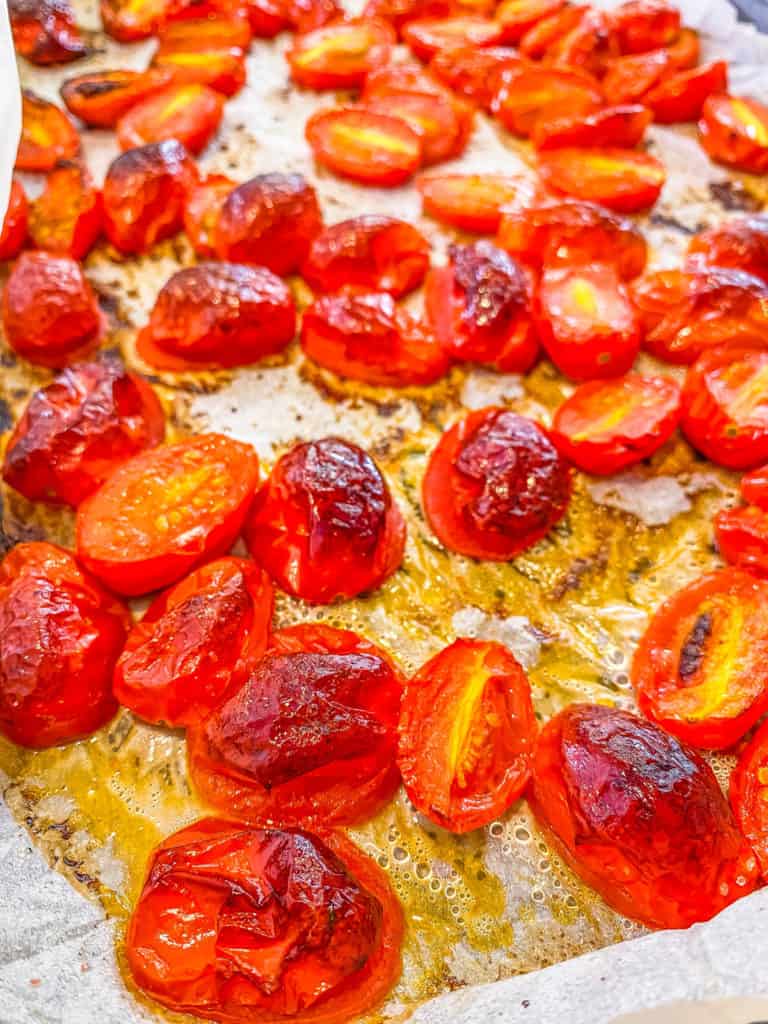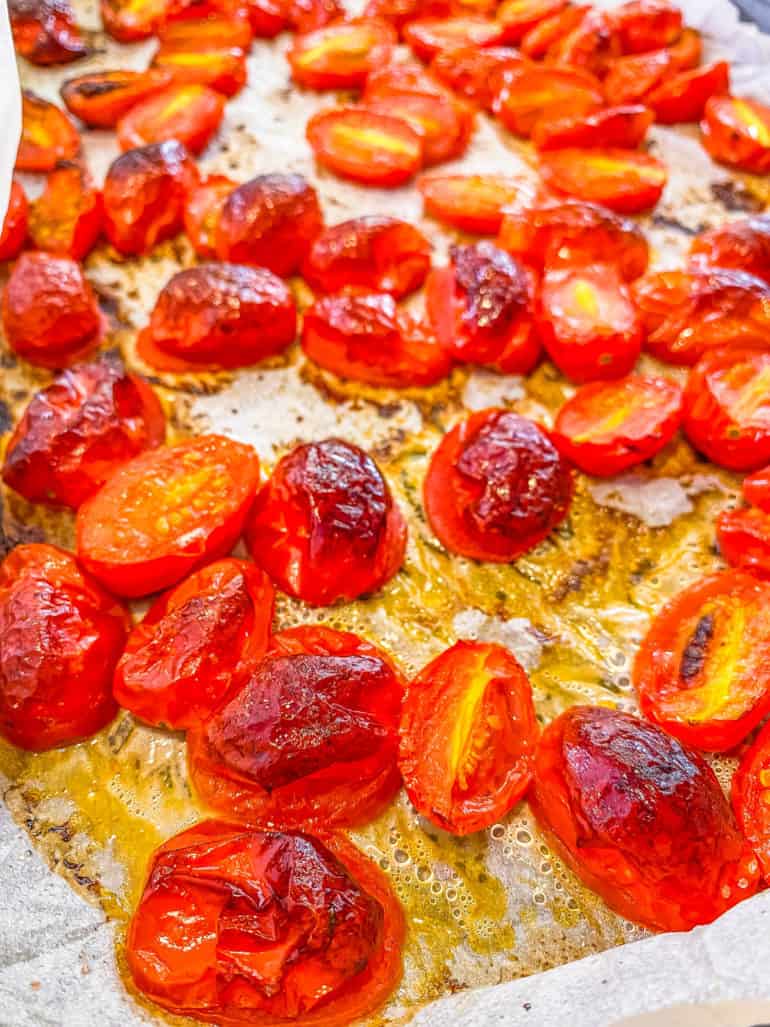 Combine Ingredients In Pot: In a large pot or Dutch oven, heat some olive oil or vegan butter over medium heat. Add the tomatoes, rice, garlic, veggie broth, and seasoning to the pot.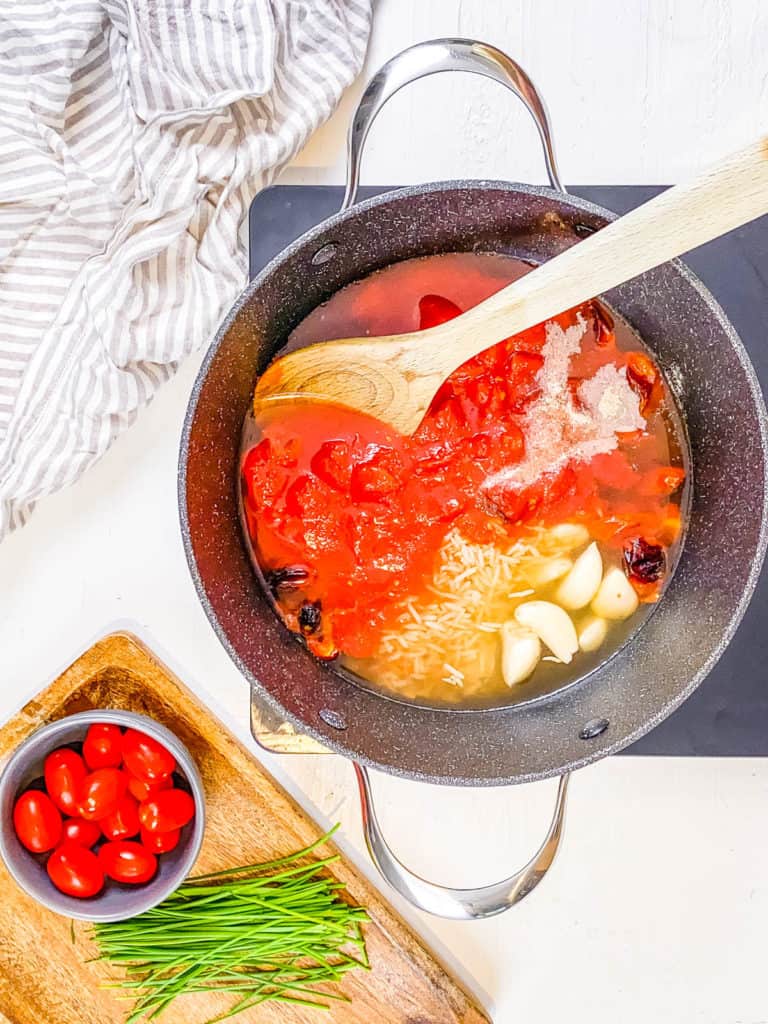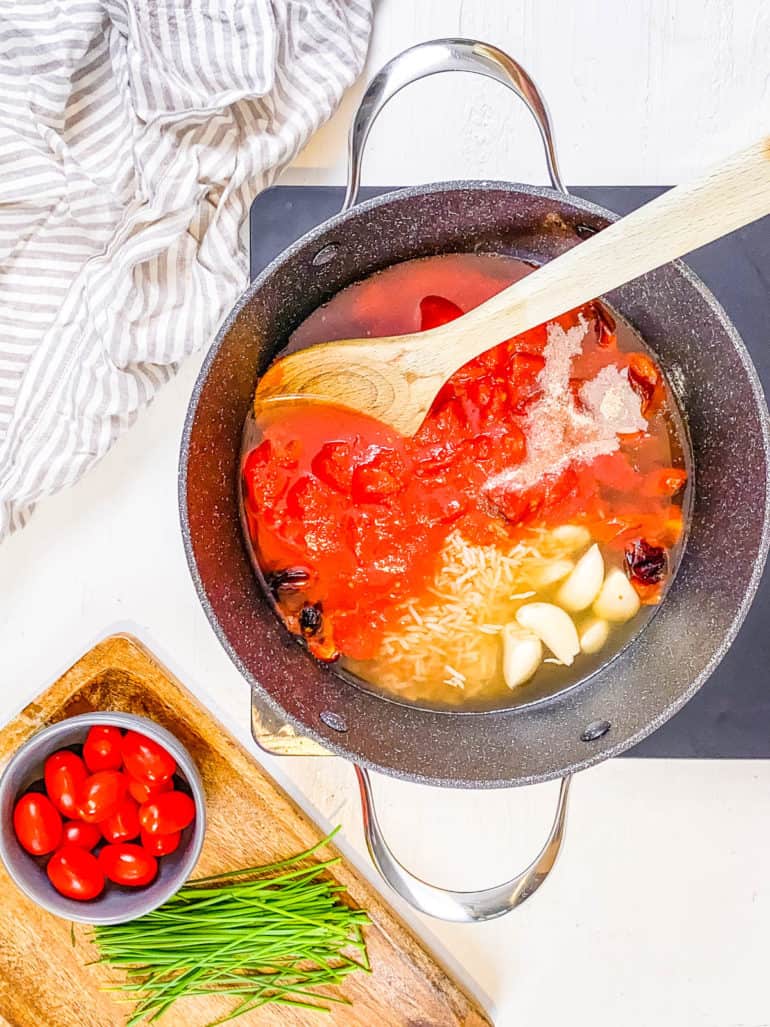 Simmer: Stir and bring the mixture to a boil on medium high heat. Reduce the heat and let the soup simmer for 20 minutes.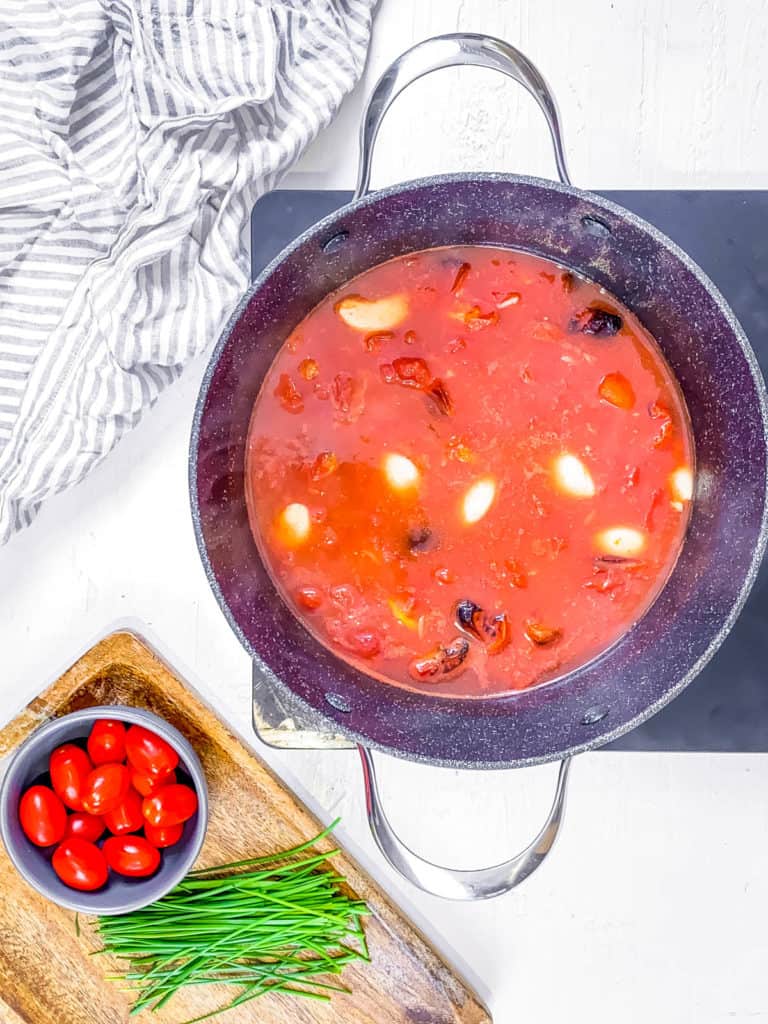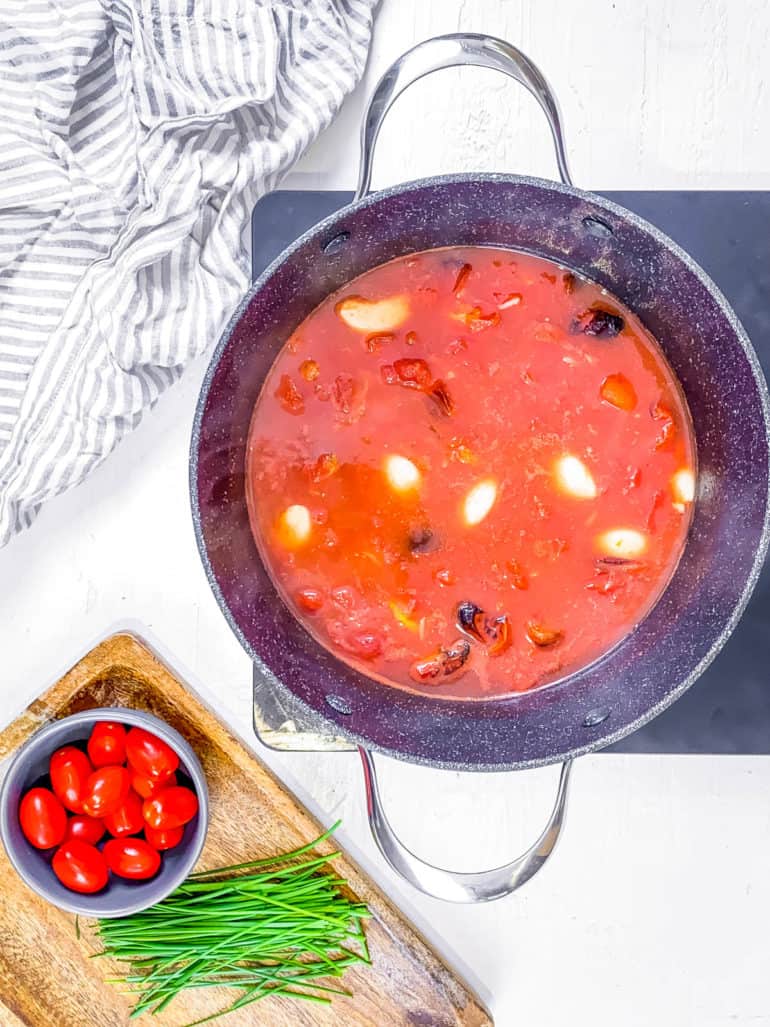 Blend Soup: Use an immersion blender to puree the soup right in the pot. If you don't have a stick blender, carefully transfer the hot liquid to a high-speed blender or food processor and puree.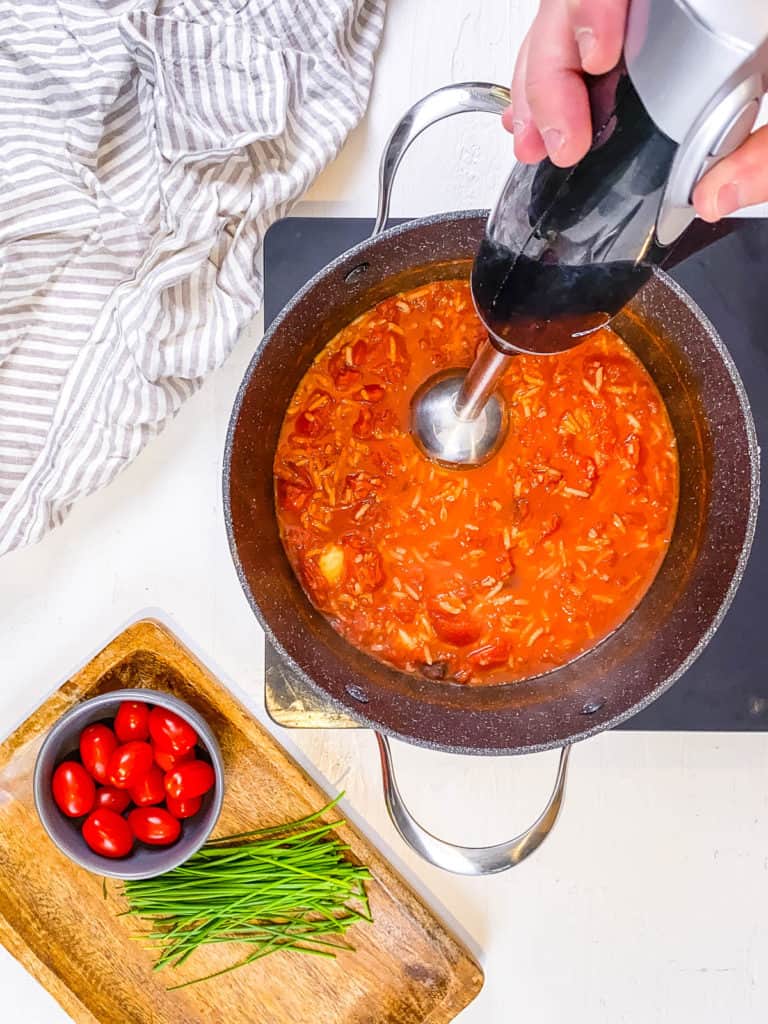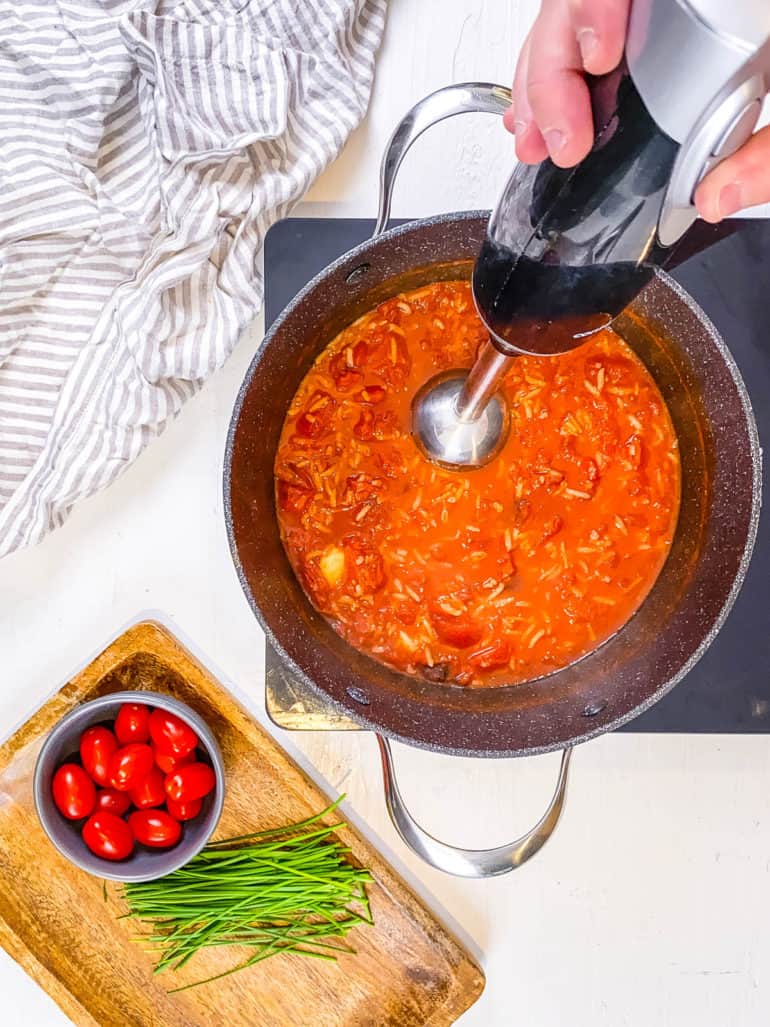 Note: If using a regular blender, I recommend pureeing in batches – starting on a low speed and bringing it up to a high speed. You can also hold a kitchen towel over the top of the blender so that the soup doesn't splatter when you blend it.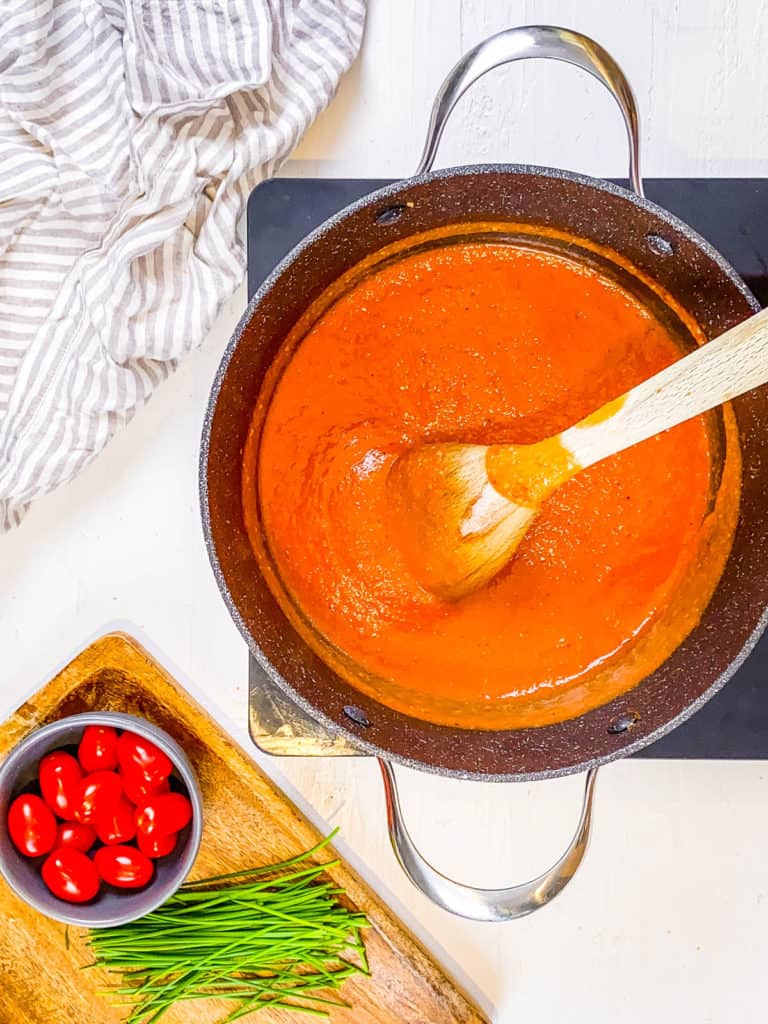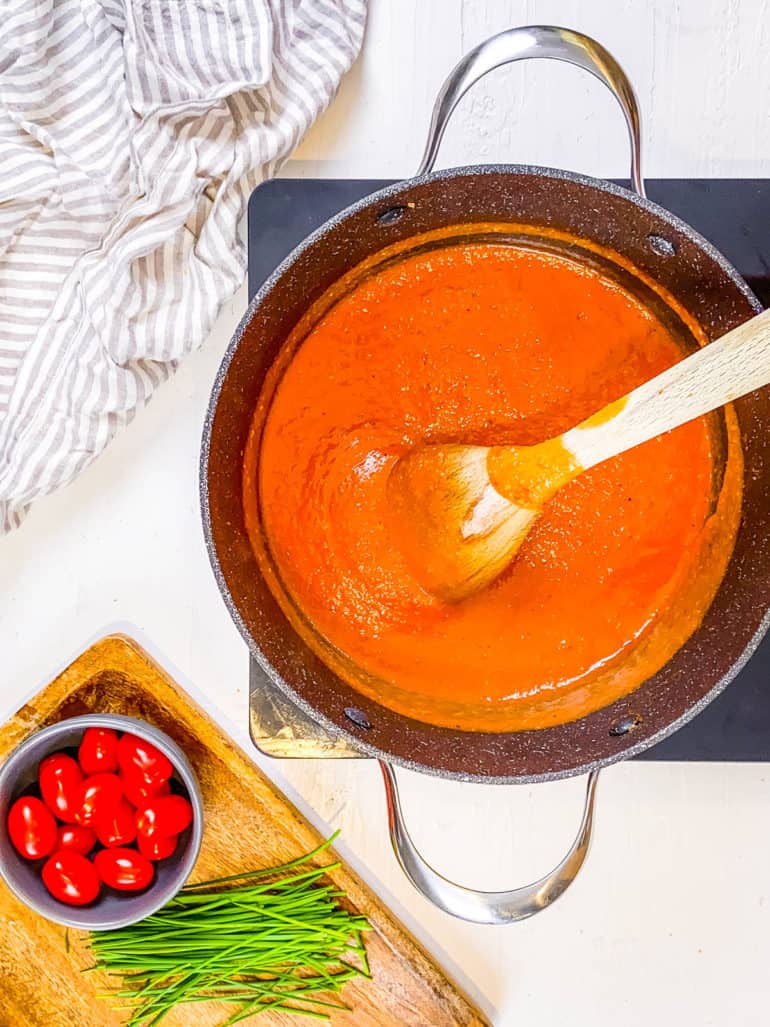 Enjoy Warm: Carefully divide the hot soup into four individual serving bowls and top it with chives or fresh parsley if desired. Enjoy it on a cold day with a delicious grilled cheese sandwich!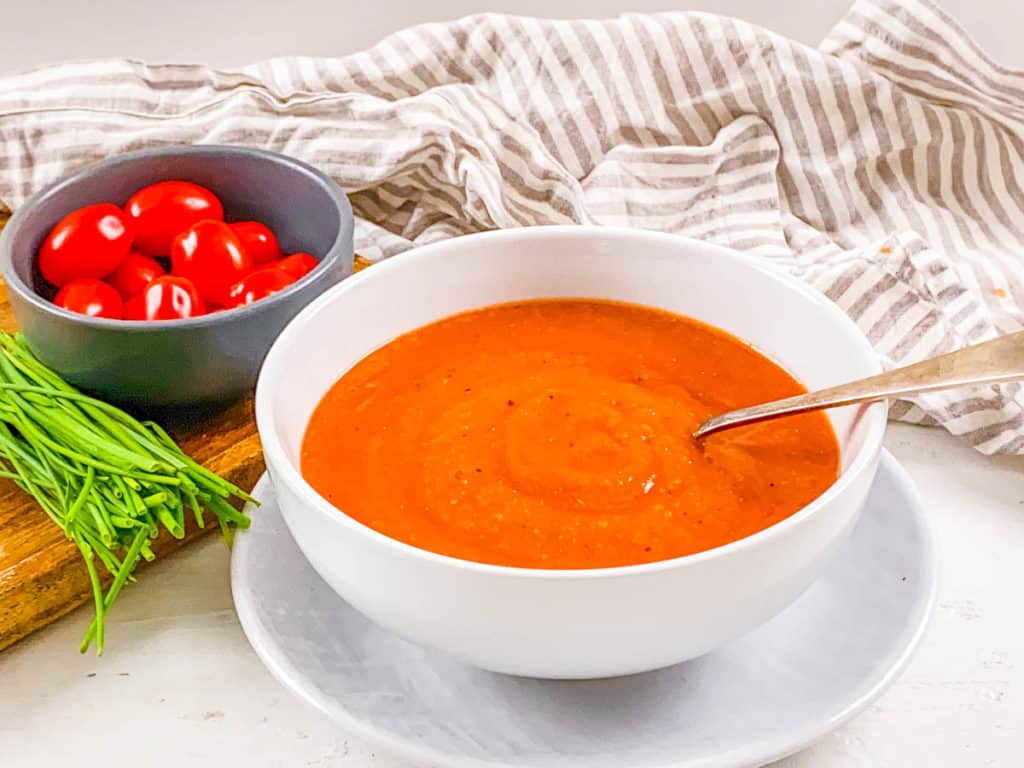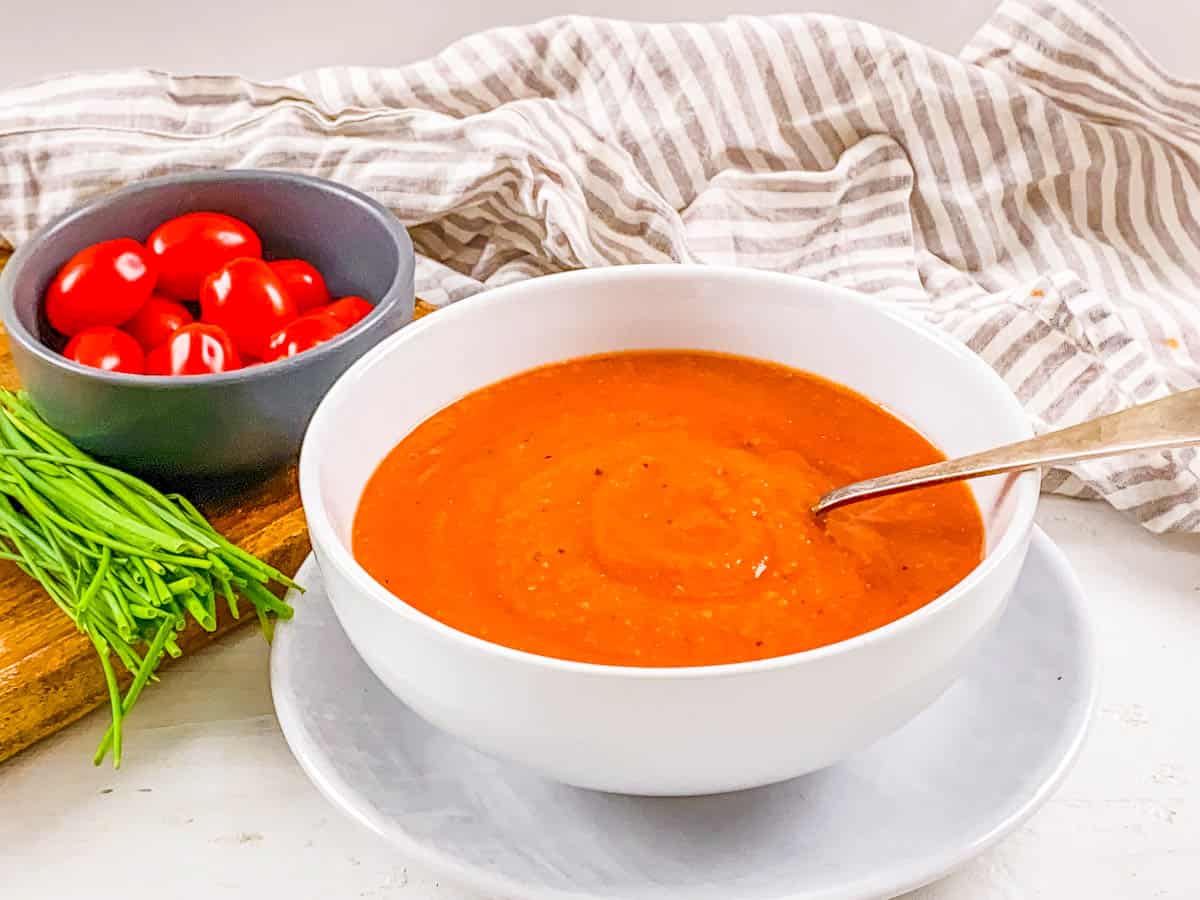 💭 Expert Tips
Choose Ripe Tomatoes: For roasting, always choose ripe tomatoes. They are naturally sweeter and will add a rich flavor to your vegan tomato soup.
Blend Carefully: Use an immersion blender to blend the soup right in the pot. If you don't have one, you can pour the soup into a high-speed or regular blender and blend in batches. You can also hold a kitchen towel over the top of the traditional blender so that the soup doesn't splatter when you blend it.
Balancing The Acidity: If the acidity of the tomatoes tastes overpowering, add a tablespoon of sugar or maple syrup. This will help to balance the flavor.
Make It Extra Creamy: If you want a vegan tomato bisque style soup that's extra creamy, stir in vegan plain yogurt or canned coconut milk. This will make your vegan tomato soup creamier without using heavy cream.
Use A Mix Of Tomatoes: For the best consistency and flavor, use a mix of canned and fresh tomatoes. The combination will result in a better texture and more complex flavor.
📖 Variations
Vegan cream of tomato soup is comfort food at its best! Try one of these unforgettable combinations for a little something extra.
Herb-Infused: For a fresh twist, add some of your favorite herbs to the vegan soup. Basil, rosemary, thyme, parsley, or mint can be a great addition. Vegan tomato basil soup recipe is a classic, and for a good reason! You can also add a spoonful of dried Italian seasoning instead of fresh herbs as the soup is simmering.
Protein-Packed: If you're looking to increase the protein content, add a can of white beans to the soup while it is simmering. Not only will this boost the protein, but it will also add a creamy texture when pureed.
Crouton Crunch: Homemade croutons can add a delightful crunch to your soup. Toss cubed bread with olive oil and seasonings, then bake at 400 degrees until golden brown and crisp – about 12 minutes. For cheese croutons, add 1/4 cup of nutritional yeast with the olive oil.
Extra Veggies: Sneak in more veggies like red bell peppers, red onion, or baby spinach into the soup. Once cooked down and pureed, you won't be able to taste them at all. Remember to adjust the seasonings to ensure the soup isn't bland.
Creamy Delight: For an extra creamy soup, stir in vegan plain yogurt or canned coconut milk. If you prefer a lighter option, you could use almond milk or soy milk, though the soup won't be as creamy.
Intense Tomato Flavor: If you're a fan of intense tomato flavor, add a tablespoon or two of tomato paste to the soup. This will enhance the tomato taste and make the soup even more delicious.
Sweet And Sour: For a sweet yet acidic punch, drizzle some balsamic vinegar on top of the soup before serving. This will provide a delightful contrast to the creamy tomato goodness of the soup. Add some red pepper flakes on top for extra heat!
🍽 Serving Suggestions
There's nothing like a warm bowl of our vegan tomato soup to comfort and satisfy. Whether you're enjoying it as a hearty lunch or a light dinner, this easy recipe pairs beautifully with a variety of dishes. Here are some of our favorite serving suggestions:
🙌 Dietary Adaptations
Good news! This easy soup recipe is already plant-based, dairy-free, and gluten-free, making it a perfect fit for those following these dietary restrictions. It's truly the best vegan tomato soup about there!
🫙 Storage Directions
To Refrigerate: Leftover soup can be stored in an airtight container and kept in the refrigerator for up to four days. The soup's creamy texture from the brown rice and the robust flavor of the ripe tomatoes will be preserved well.
To Freeze: This rustic tomato soup freezes beautifully, making it great for meal prep. Simply pour it into a freezer-safe container or resealable freezer bag, and it can be stored for up to three months. Remember to leave some space at the top of the container, as the soup will expand when frozen.
To Reheat: When you're ready to enjoy the soup again, thaw it in the refrigerator overnight. Then, reheat it gently on the stovetop, stirring occasionally, or use the defrost setting on your microwave.
❓ Recipe FAQs
How can I choose the best tomatoes for my soup?
There are a few tips to ensure that the tomatoes you choose for your soup have the best flavor and texture! Make sure to opt for fresh, ripe tomatoes that are firm, but yield slightly when gently pressed. Choose tomatoes that have a deep, vibrant red color, vs. those that are overly green or have blemishes or bruises. Lastly, smell the tomatoes – they should have a sweet and slightly earthy aroma. If they lack fragrance, they might lack flavor.
How do I thicken tomato soup without using dairy products?
Here are some of our favorite ways to thicken tomato soup without cream or dairy!
1) Puree the soup with starchy vegetables like potatoes and carrots.
2) Use tomato paste to thicken it an intensify the tomato flavor.
3) Add cooked rice or quinoa, other grains, stale bread, or even beans like white beans or chickpeas – and then puree!
4) Try coconut cream or coconut milk to add creaminess and thickness to your soup.
How can I make sure my tomato soup is smooth and creamy without any lumps?
The key to getting a super smooth soup without any lumps is to cook your ingredients for an extended amount of time so they get super soft, and then use a high powered blender or immersion blender to puree! You can puree in batches to ensure a really consistent smooth texture, and also feel free to strain the soup once you're done pureeing to ensure that any small lumps get removed.
Is Campbell's Tomato Soup Vegan?
While the ingredients listed on Campbell's tomato soup can are free from animal products, it is a much healthier and tastier option to make your own at home. Homemade tomato soup is free from preservatives, has less sodium, and uses fresh ingredients. Plus, it is simple to make and a delicious alternative to canned soup.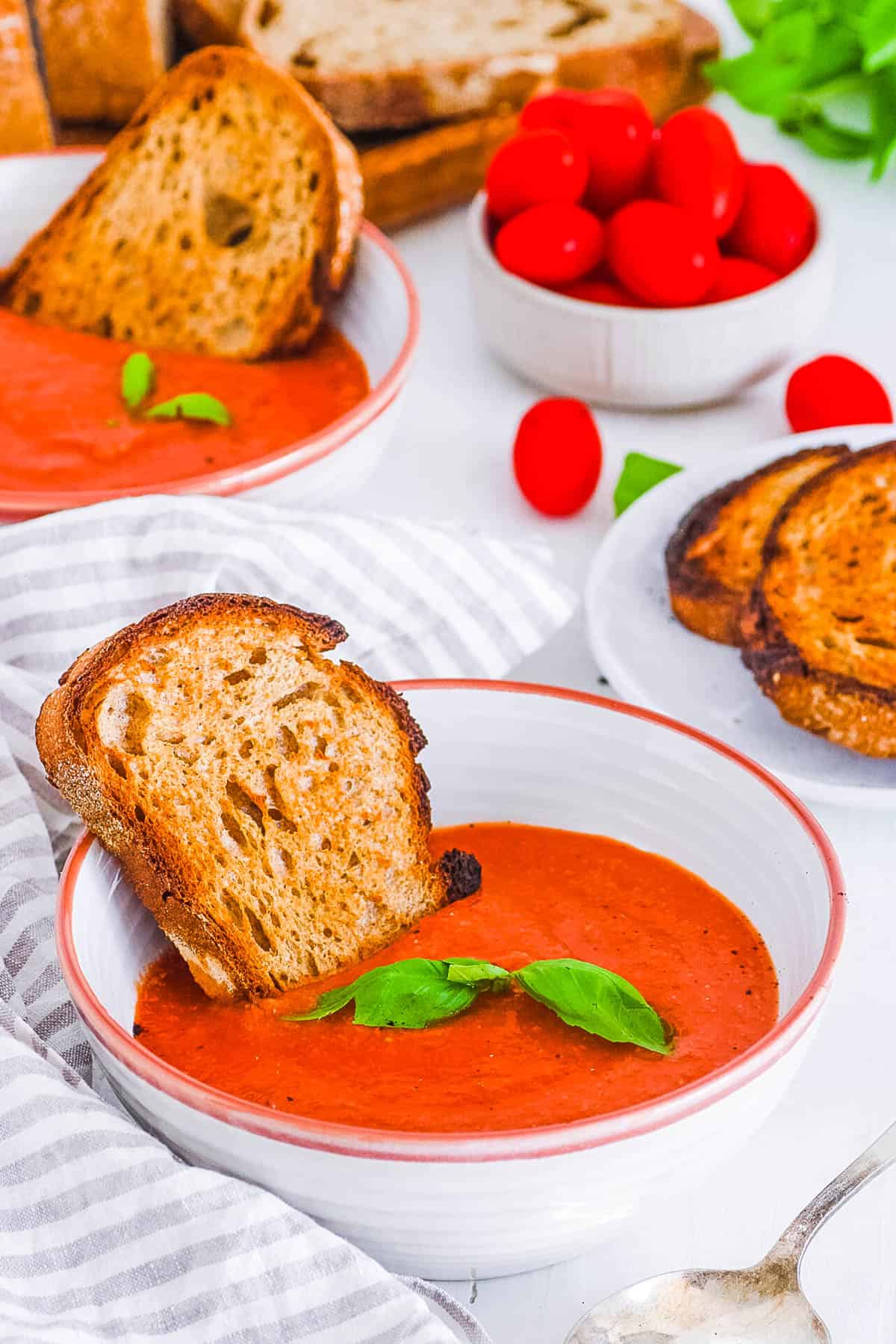 🥣 More Soup Recipes!
Love this plant based soup recipe? Please leave a 5-star rating 🌟 in the recipe below and/or a review in the comments section further down the page!
You can also FOLLOW ME on FACEBOOK, TWITTER, INSTAGRAM, and PINTEREST to see more delicious, healthy, family-friendly food, and if you have any questions, I'm here to help!
📋 Recipe Card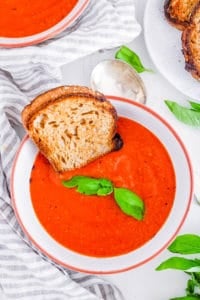 Print Recipe
Easy Vegan Tomato Soup
This easy vegan tomato soup is hearty, creamy, and full of sweet tomatoes, making it perfect for any time of the year. This rustic soup is thickened with brown rice instead of heavy cream for a deliciously creamy texture without any dairy! Serve with crusty bread or a vegan grilled cheese sandwich for a hearty lunch or dinner!
Instructions
Preheat oven to 400 degrees. Cut your tomatoes in half and arrange on a baking sheet.

Coat tomatoes with cooking spray, sprinkle with salt & pepper to taste.

Bake at 400° for 50 minutes or until tomatoes are lightly charred. Reserve juices.

Heat olive oil in a large pot over medium heat. Add roasted tomatoes, garlic, rice, vegetable stock, fire roasted diced tomatoes, salt, and pepper to the pot.

Bring to a boil, reduce heat and simmer for 20 minutes.

Using an immersion blender, blend the soup in the pot.

Divide into 4 bowls, top with chives or fresh parsley if desired.
Notes
Use ripe tomatoes for roasting, they will have more flavor.
Use an immersion blender to blend in the pot, or pour the soup into a high speed or stand blender and blend in batches.
Use a combination of the fresh whole roasted tomatoes and canned fire roasted tomatoes for a balanced flavor.
Fresh herbs with this soup make it spectacular. Some of my favorites to add are basil rosemary, thyme, chives, parsley, or even mint!
If you want a soup that's extra creamy, stir in vegan plain yogurt.
Drizzle a bit of of balsamic vinegar on top for a bit of tartness.
Leftovers can be refrigerated or frozen.
Adapted from CookingLight
Nutrition
Serving:
1.25
cups
|
Calories:
96
kcal
|
Carbohydrates:
17.4
g
|
Protein:
1.8
g
|
Fat:
1.4
g
|
Saturated Fat:
0.2
g
|
Sodium:
438.4
mg
|
Fiber:
1.7
g
|
Sugar:
5.5
g
50 responses to "Easy Vegan Tomato Soup"