Honeydew Milk Tea
This post may contain affiliate links. As an Amazon Associate, I earn from qualifying purchases. Please read my disclosure.
Fresh honeydew and chilled green tea create a refreshing and fruity drink that's super satisfying and so delicious! This Honeydew milk tea recipe is a perfect afternoon pick-me-up or antioxidant-packed treat. Vegan & gluten-free!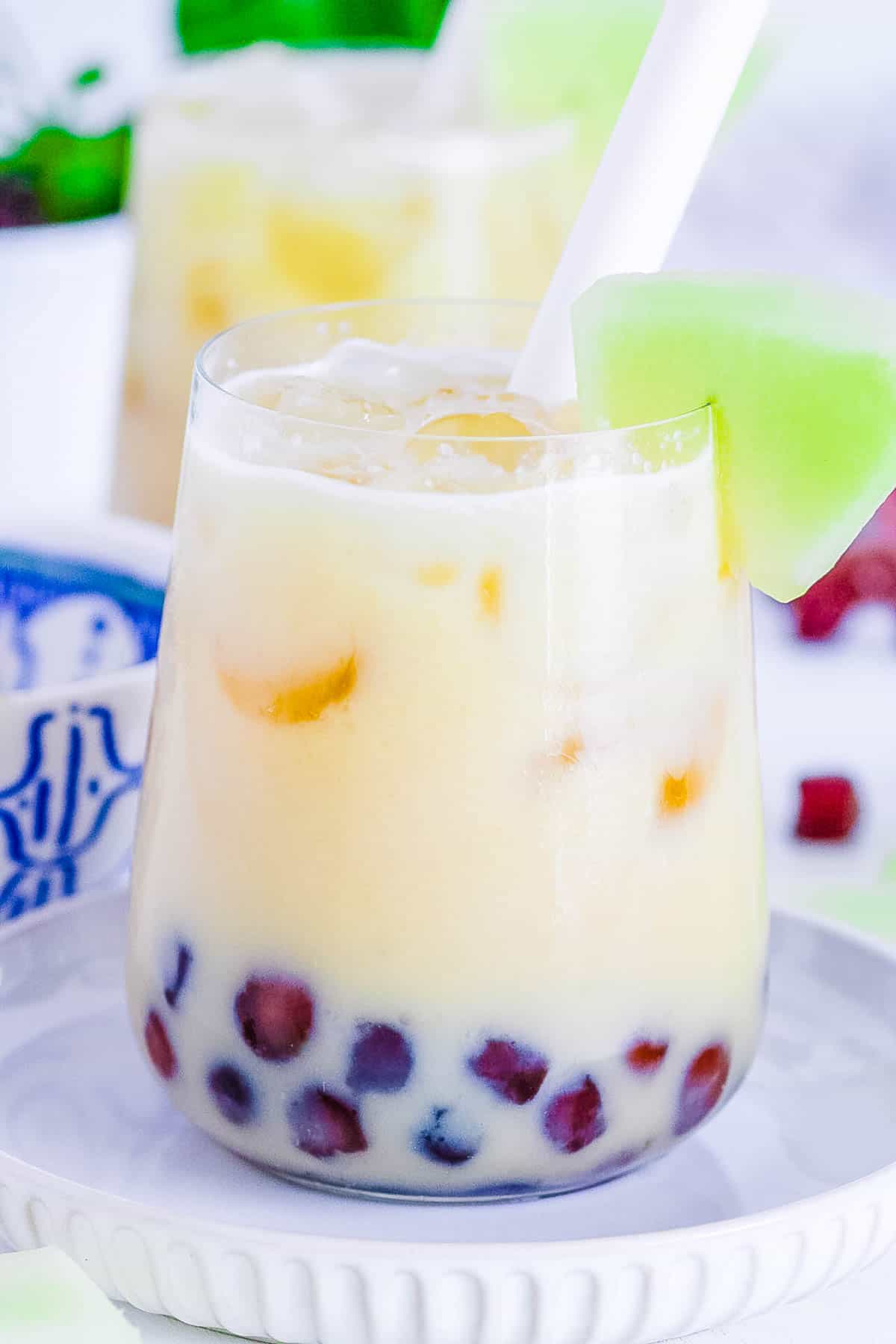 Fresh honeydew melon isn't just for fruit salad! It's crisp and refreshing flavor tastes great in honeydew melon bubble tea. Bubble or boba tea is a chilled, tea-based drink with milk and chewy tapioca pearls on the bottom.
Honeydew melon is the star of this fruity boba drink. Honey dew melon, or honey melon is in the cantaloupe family but is typically a little sweeter than cantaloupe. It's light green in color and is juicy, fresh, and absolutely delicious.
You'll see this drink on the menu of most bubble tea stores, and it may be listed as "melon milk" or "honey dew milk" – because sometimes this drink is called "tea" but isn't made with actual tea!
Latest Recipe Video!
I like to skip the bubble tea shops and make honey dew milk tea at home. It's easy to do, more affordable, and you get to control the quality of ingredients. I like to add steeped green tea, because it adds an earthy flavor, provides plenty of disease-fighting antioxidants, and complements the fresh melon's Vitamin C!
Honeydew boba tea is one of my favorite summertime flavors. This vitamin-rich drink is a healthy and energizing treat for a hot summer day. Serve it in your favorite glass!
👩‍🍳 Why This Recipe Works
Simple honey dew milk tea recipe
Dairy-free, gluten-free, & vegan
Easy to customize
Perfect drink for a hot day
Sweet honeydew flavor
Natural ingredients without additives
Made with real fruit
Fruity flavor with a creamy texture
🥘 Ingredients
This honeydew bubble tea recipe requires just 5 simple ingredients, plus boba pearls! You can find all of these ingredients at most grocery stores.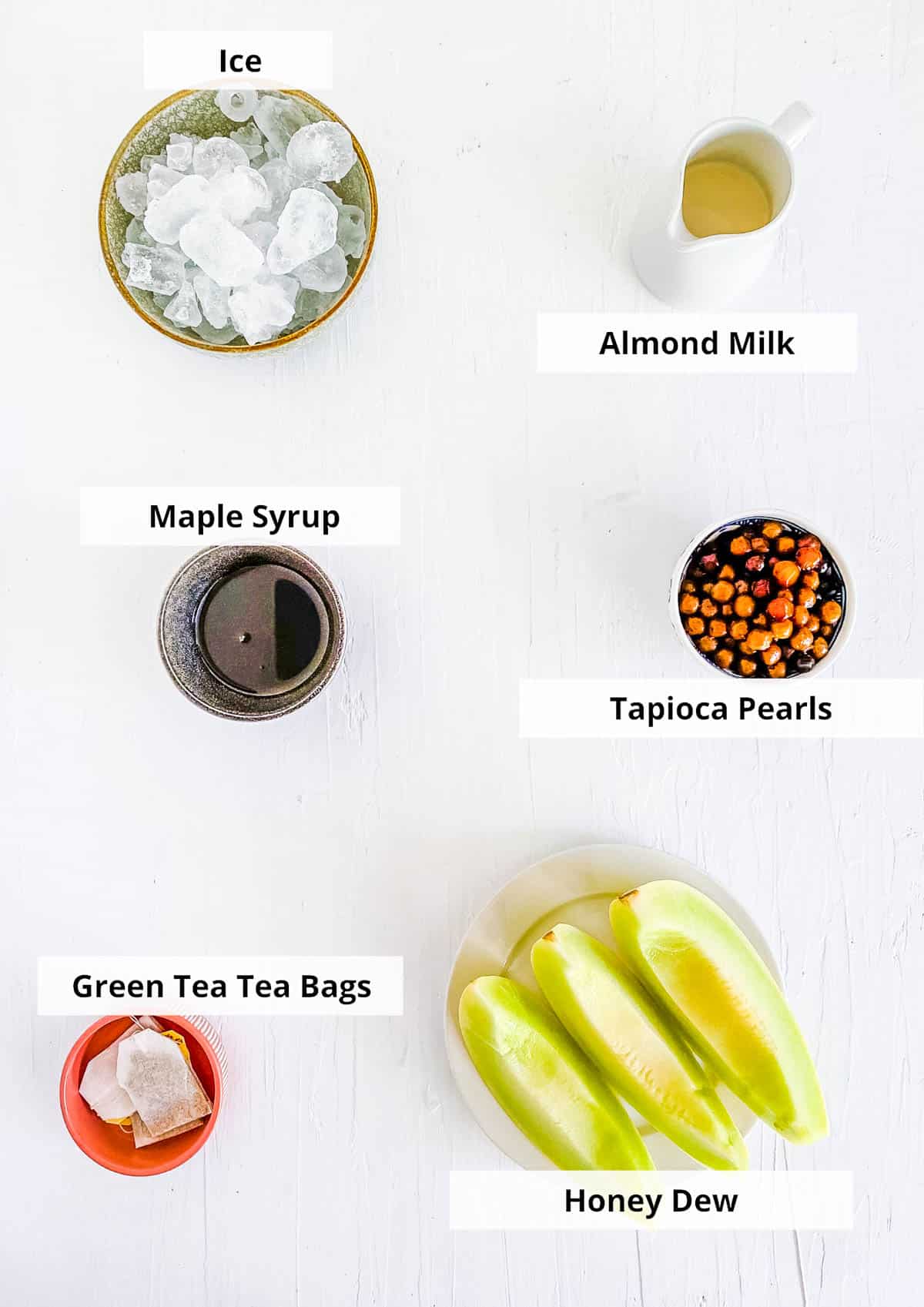 Green Tea: I love green tea for its earthy flavor and extensive health benefits. It's a nutrient powerhouse with antioxidants, plant compounds, and polyphenols. I used green tea bags, but loose leaf works great too. Use a tea diffuser or strain it through a sieve to remove the leaves. This is technically an optional ingredient, because you can make this boba drink without steeped tea!
Tapioca Pearls: Boba pearls are chewy tapioca balls made from tapioca starch. They don't have much flavor until they're soaked in a sweet syrup. You can buy them online or at your local Asian market.
Maple Syrup: To sweeten the pearls and create a syrup. Brown sugar or vegan honey can also be used.
Honeydew: Fresh fruit is key to making this drink packed with flavor! Honeydews are round melons with a beige rind and a pale green flesh. They have a slightly sweet but crisp taste, similar to a cucumber. You can typically find pre-cut ripe honeydew melon in the refrigerated produce section.
Almond Milk: Almond milk has a mild taste and creamy texture perfect for boba drinks. For a sweeter drink, use sweetened almond milk.
Ice Cubes: Lukewarm milk tea isn't refreshing! Use as much ice as you need to make it cold.
📖 Variations
Honeydew bubble tea is easy to customize! Make this creamy drink with your favorite tea, milk, and sweetener.
Tea: Green tea has a delicate flavor that doesn't overpower the taste of honeydew. You can use any kind you like best though. Black tea, white tea, oolong tea, green jasmine tea, or even fruit tea are great options. I don't recommend bubble tea powder, since it's expensive and full of additives.
Milk: Any type of milk can be used. Try soy milk, oat milk, whole milk, or cashew milk. For a richer flavor, try half and half or non-dairy creamer.
Sweetener: Sweeten your honeydew melon milk tea to taste. Maple syrup, honey, sugar, brown sugar, and coconut sugar can all be used. It's best to add the sweetener while it's still hot so it dissolves, or use simple syrup instead.
Using milk tea powder instead of fresh honeydew: Use melon milk powder – mix with sugar, milk, and tea. Add boba pearls to bottom of a glass with ice, pour boba milk over the ice.
Using honeydew syrup instead of fresh honeydew: Use honey dew syrup – mix with milk and tea, add sugar to taste. Add boba pearls to bottom of a glass with ice, pour boba milk over the ice.
🔪 How To Make Honeydew Milk Tea
Steep Tea: Simmer 2 cups of water and remove from the heat. Add three bags of green tea and steep for 5 minutes. Remove the tea bags and let it come to room temperature.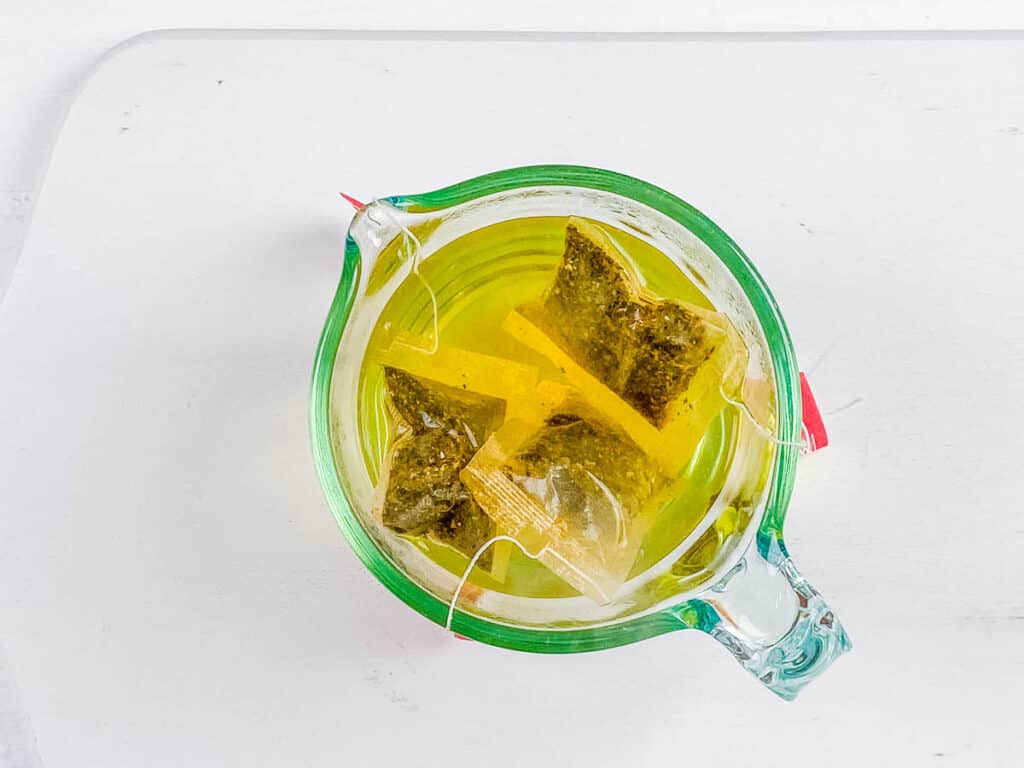 Cook Tapioca Pearls: Bring a large pot of hot water to a boil. Add the black tapioca pearls, reduce the heat, and simmer for 5 to 6 minutes.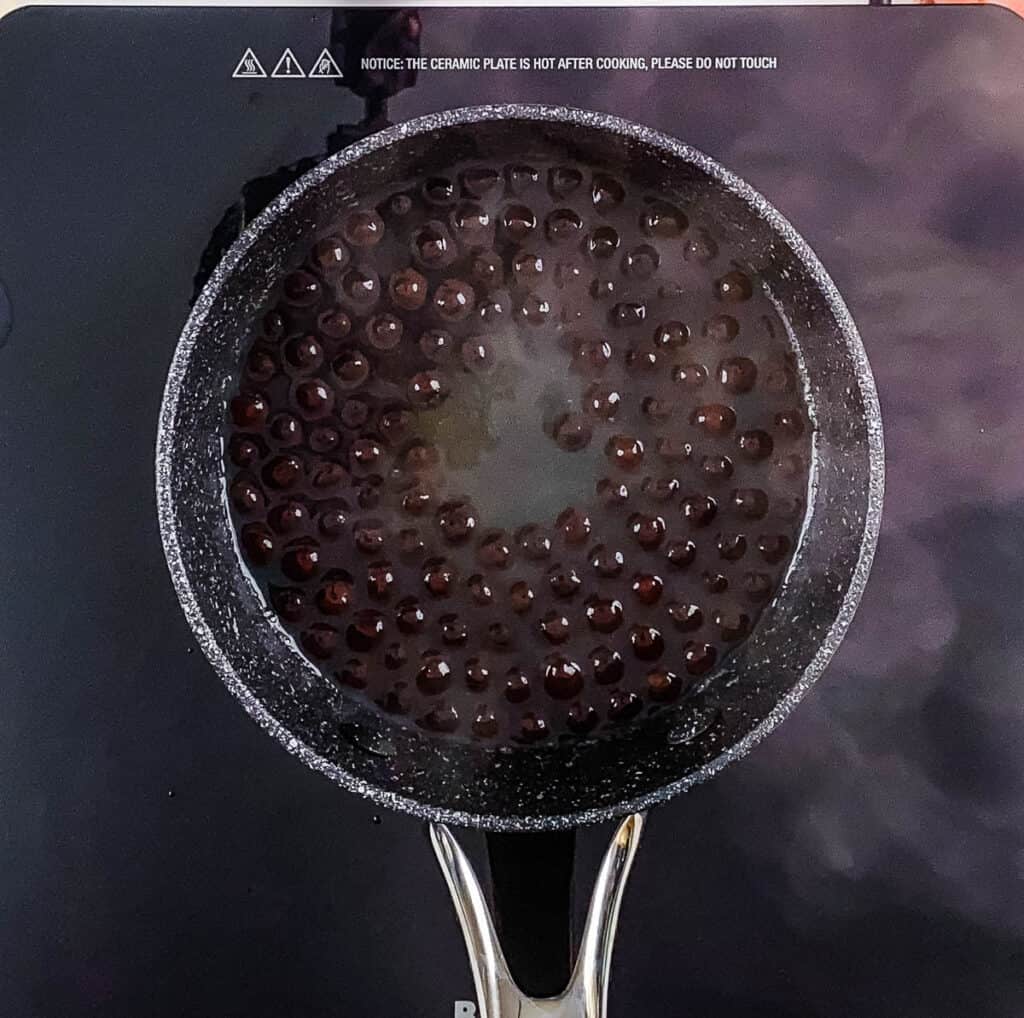 Strain Pearls: Drain tapioca pearls and transfer to a small bowl. Stir in the maple syrup, then set aside to cool.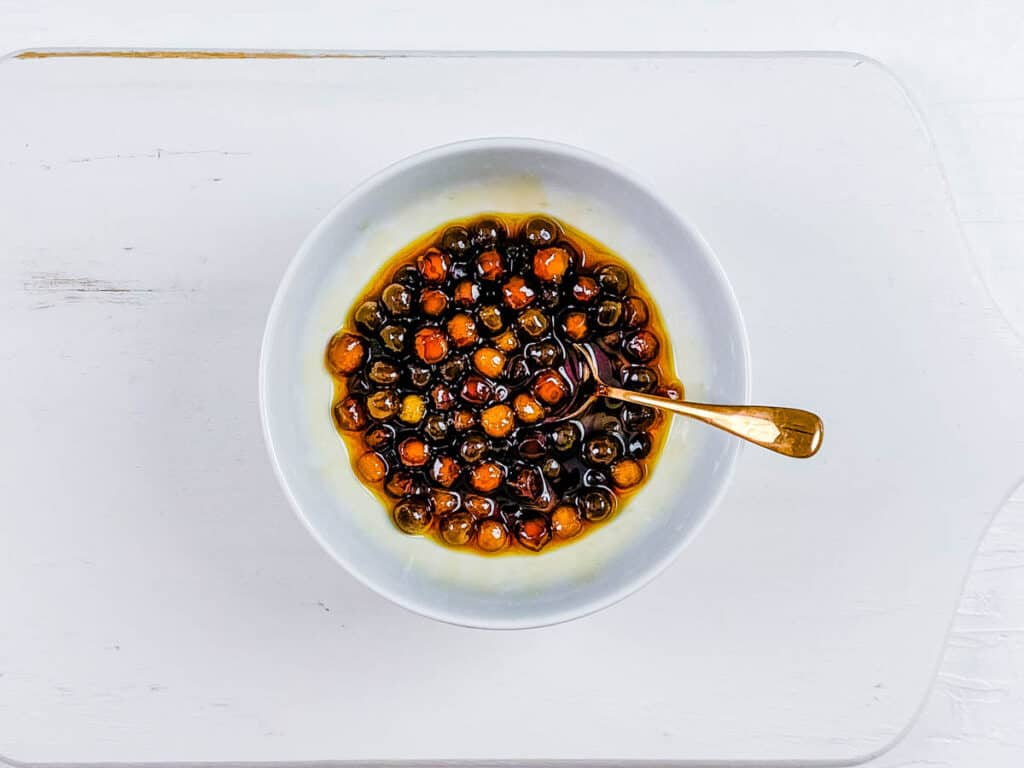 Blend Honeydew: Add the diced honeydew and brewed tea to a high-speed food processor or blender and blend until smooth.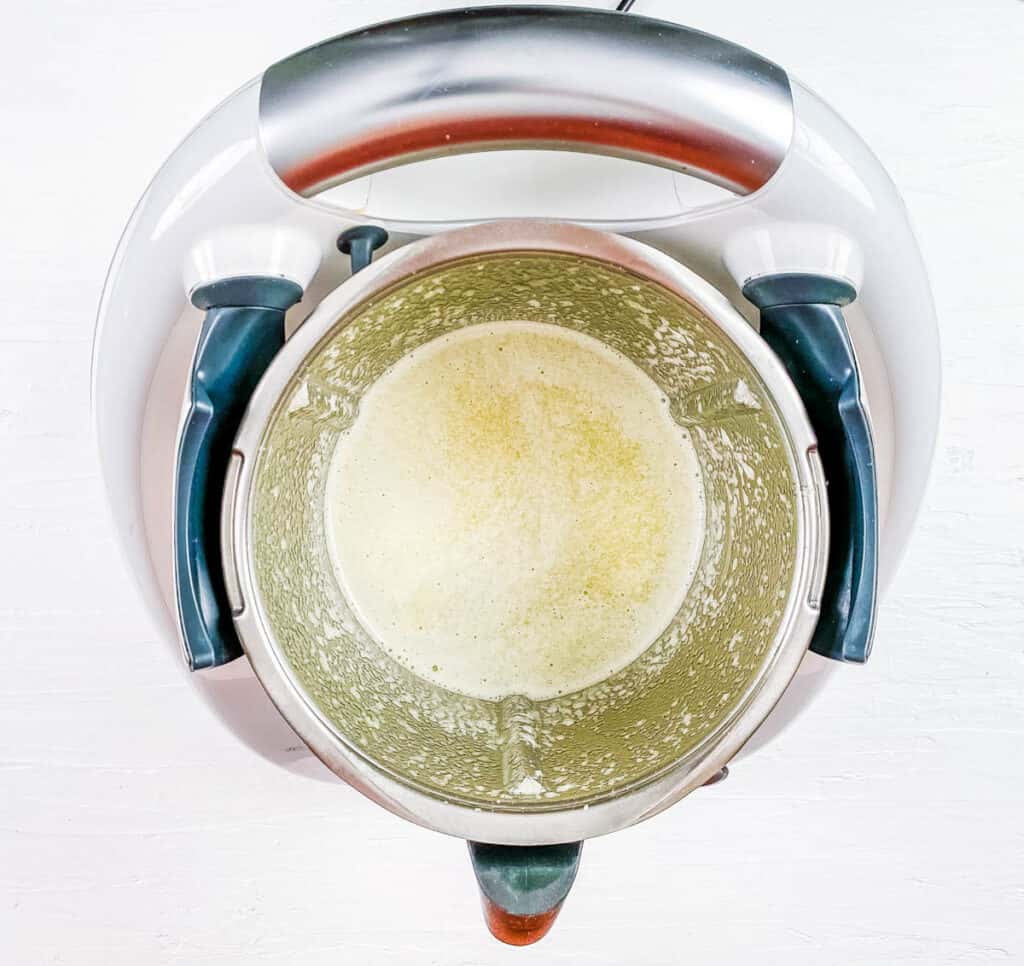 Strain Honeydew: Strain the honeydew mixture, reserving the liquid but discarding the pulp.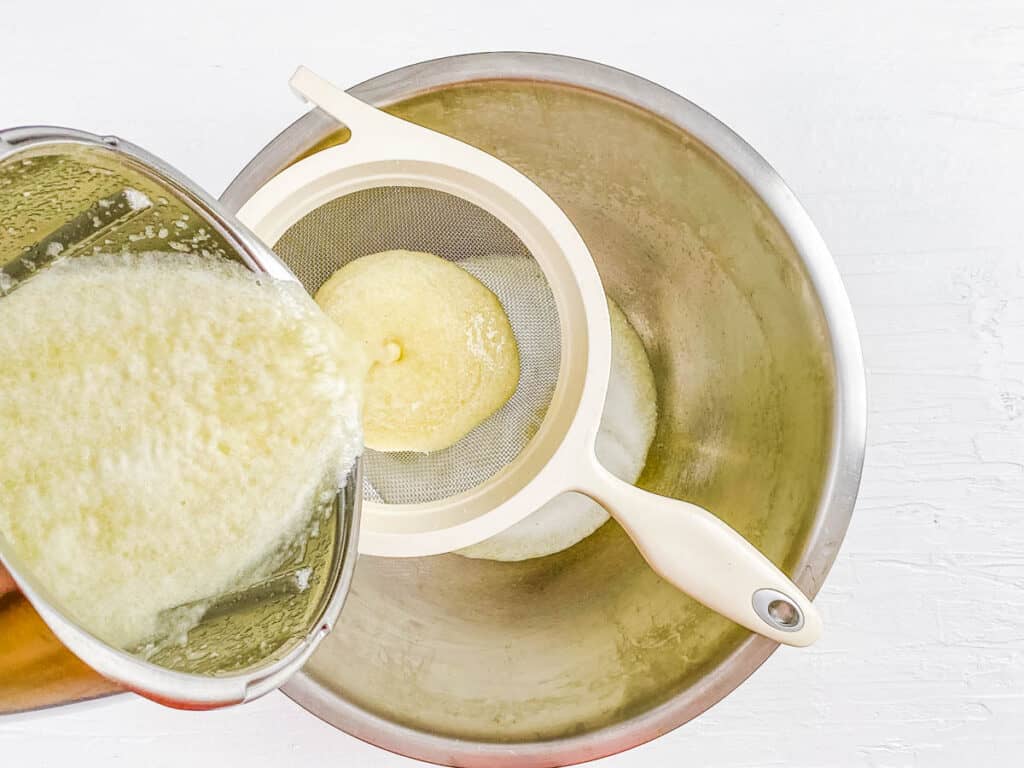 Assemble: Add the tapioca pearls and syrup to the bottom of the glass. Add a handful of ice to each glass.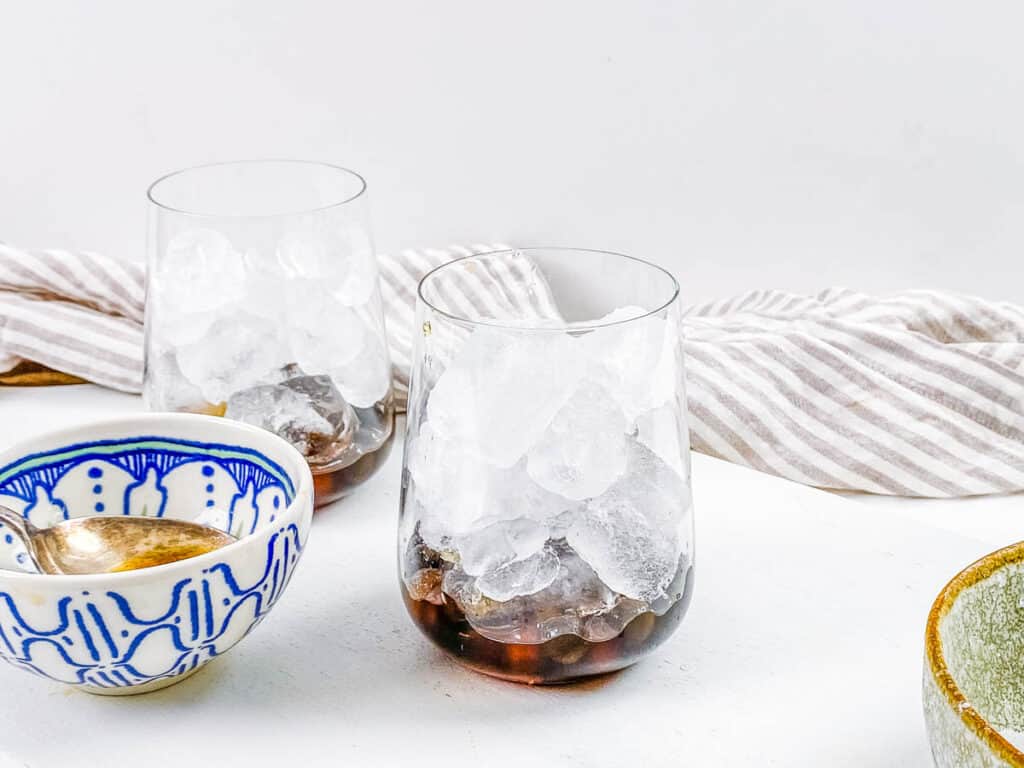 Add Milk: Top with honeydew tea and almond milk.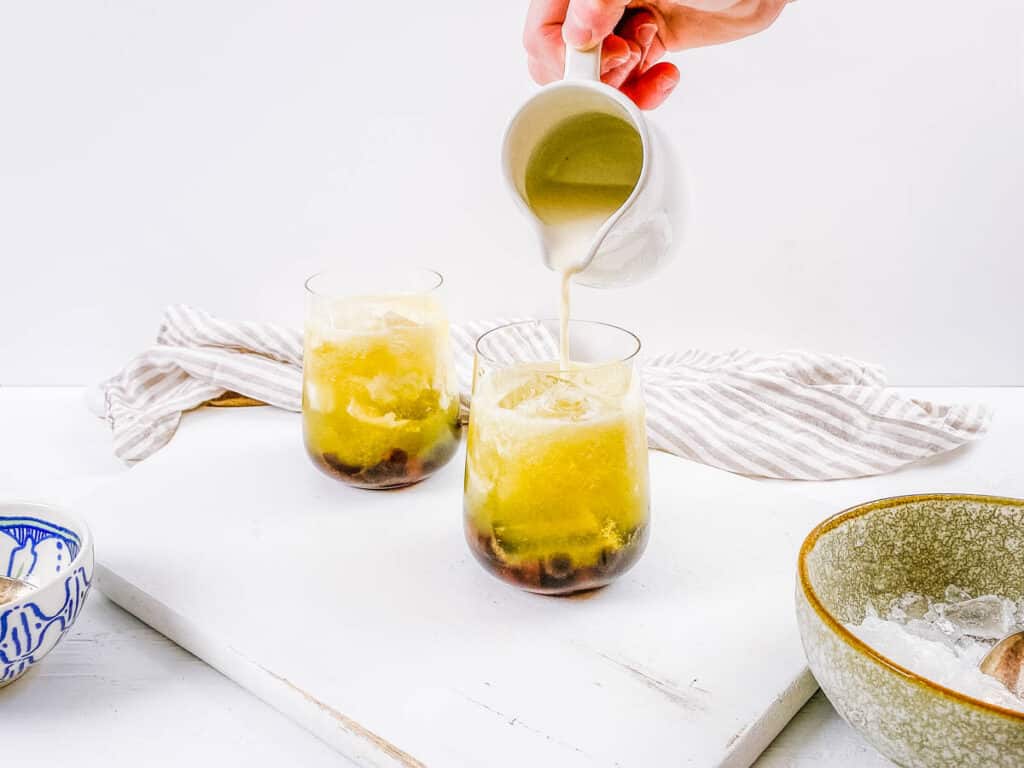 Enjoy immediately.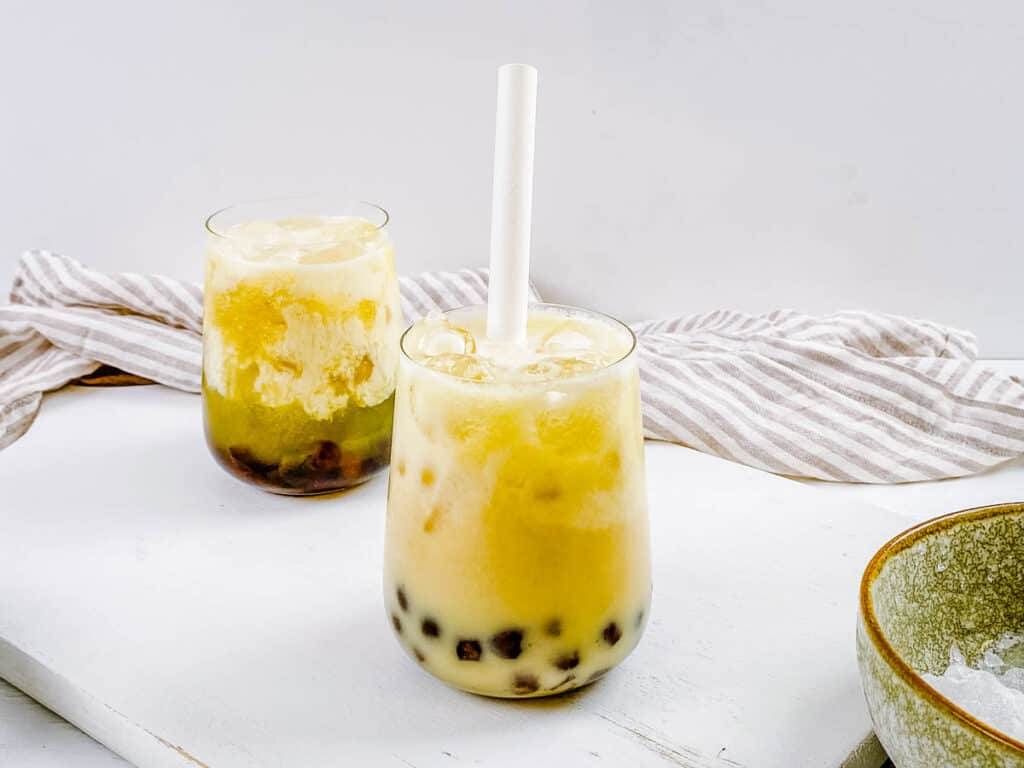 ❓ Recipe FAQs
Is honey dew milk tea healthy?
It depends on how you make it! If you're getting this drink from a boba shop, it's likely made with heavy cream or whole milk and tons of sugar, making it more of a dessert than a healthy drink. But this honeydew melon bubble tea is made with fresh melon, green tea, and less sugar – making it a healthier option than what you'd find at the store!

Additionally, hHoneydew melon is low in calories but rich in nutrients like vitamin C, B6, and K. It's high in potassium and beta-carotene too! Green tea helps reduce inflammation and fight oxidative stress. Overall, this honeydew tea provides plenty of health benefits.
What does honeydew boba tea taste like?
It tastes like a creamy mixture of honeydew juice and green tea! Honeydew melon tastes similar to a sweet cucumber. It's refreshing, lightly sweet, and crisp.
Does honeydew milk tea have caffeine?
Yes, this particular recipe does contain caffeine because it's made with green tea. Green tea provides about 35 mg of caffeine per one 8-ounce cup. If you'd like to avoid caffeine, swap green tea for a decaf version, or use a fruit or herbal tea (or leave the tea out altogether!)
Can you make honeydew bubble tea ahead of time?
Bubble tea is best served fresh! However you can make the honeydew tea ahead of time. Refrigerate for up to 2 days. It's best to cook the boba pearls right before you plan to use them.
How many calories does this honeydew boba drink have?
This boba drink has only 193 calories! See the recipe card below for full nutritional information.
💭 Expert Tips
Use an extra large straw so you can suck up the boba as you enjoy your drink!
Use fresh fruit – I don't recommend honeydew bubble tea powder. It's full of additives and packed with sugar or glucose syrup! Not to mention, honeydew powder doesn't always contain honeydew! Fresh honeydew melon will give you the best flavor in this nutritious boba drink.
For a stronger tea flavor, steep the green tea a minute or two longer.
You can make your own simple syrup to sweeten lemonade, bubble tea, or regular brewed tea. Just heat equal parts sugar and water on the stove until the sugar dissolves. Refrigerate for up to 1 month.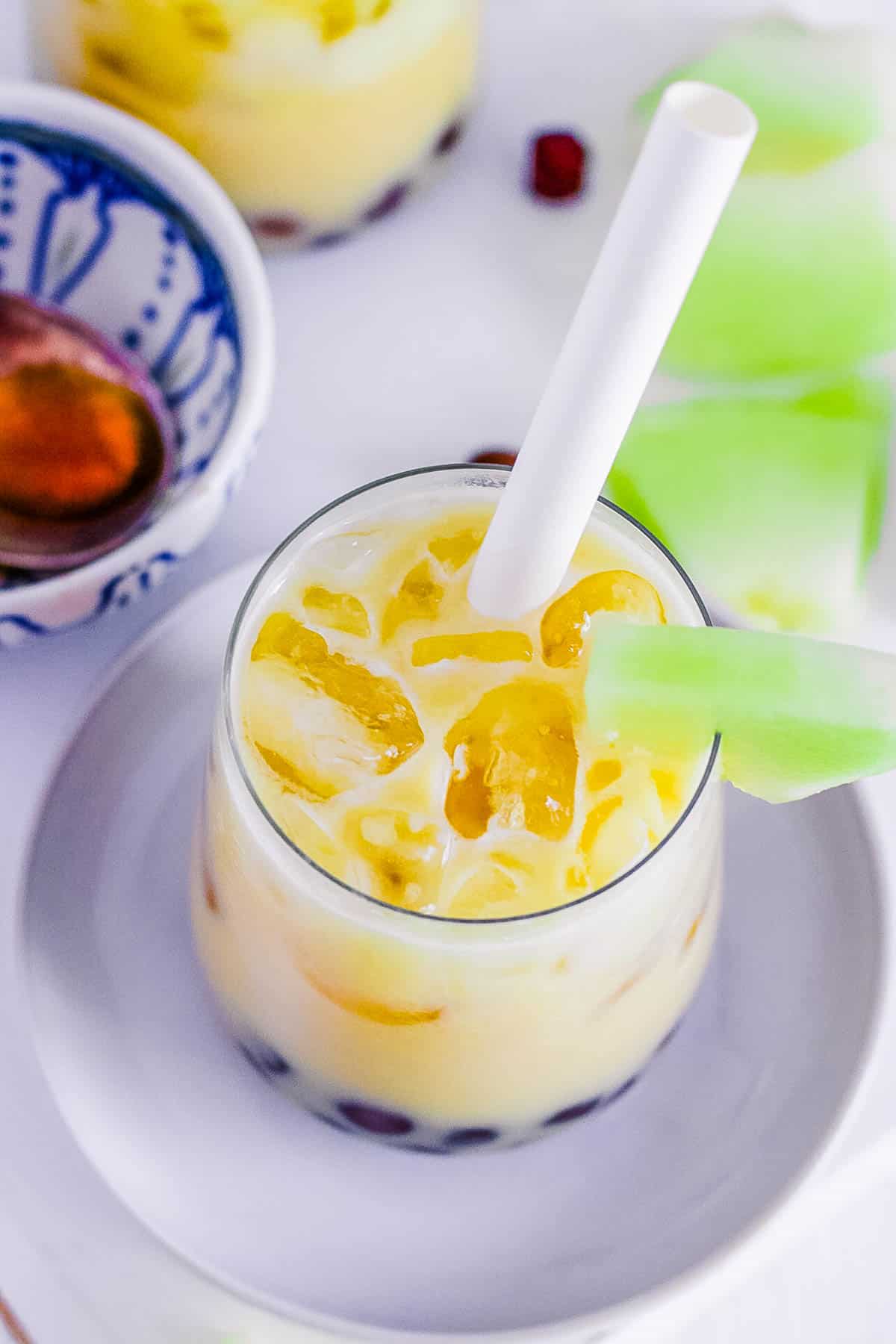 🧋 More Bubble Tea Recipes!
Try more of my favorite boba recipes!
LOVE THIS RECIPE? Please leave a 5-star rating 🌟 in the recipe card below and/or a review in the comments section further down the page!
You can also FOLLOW ME on FACEBOOK, TWITTER, INSTAGRAM, and PINTEREST to see more delicious, healthy, family-friendly food, and if you have any questions, I'm here to help!
📋 Recipe Card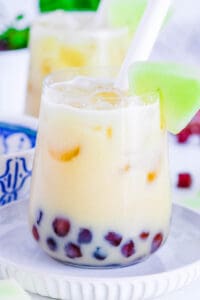 Print Recipe
Honeydew Milk Tea
Fresh honeydew and chilled green tea create a refreshing and fruity drink perfect for summer! Honeydew milk tea is a perfect afternoon pick-me-up or antioxidant-packed treat. Vegan & gluten-free!
Instructions
Simmer 2 cups of water, remove from the heat.

Add the tea bags and steep for 5 minutes.

Remove the tea bags and allow the tea to come to room temperature.

While the tea is cooling bring a small pot of water to a boil, add the tapioca pearls reduce heat and simmer for 5-6 minutes.

Strain the pearls, add to a small bowl and stir through the maple syrup. Set aside and cool completely.

Add the diced honey dew and cooled tea to a high-speed food processor and blend until smooth.

Strain the honey dew, reserving the liquid and discarding the pulp.

Evenly divide the soaked tapioca pearls and syrup between two glasses.

Divide the ice between the glasses and top with the honey dew and finish off with almond milk.

Stir and serve immediately.
Notes
Cook and soak the tapioca pearls when needed.
Adding ice to the drink makes it lovely and chilled.
Any sugar can be used however if using coconut or brown sugar it may slightly change the color of the drink.
Any plant-based milk will work in this recipe.
Nutrition
Serving:
1
glass
|
Calories:
193
kcal
|
Carbohydrates:
46
g
|
Protein:
1
g
|
Fat:
1
g
|
Saturated Fat:
0.1
g
|
Polyunsaturated Fat:
0.4
g
|
Monounsaturated Fat:
0.3
g
|
Sodium:
98
mg
|
Potassium:
519
mg
|
Fiber:
3
g
|
Sugar:
18
g
12 responses to "Honeydew Milk Tea"