Taro Milk Tea (Bubble Tea Recipe)
This post may contain affiliate links. As an Amazon Associate, I earn from qualifying purchases. Please read my disclosure.
With a bright purple hue, rich taro milk tea tastes as creamy and delicious as it looks! This sweet bubble tea is flavored with green tea, taro root, and tapioca pearls in a brown sugar syrup.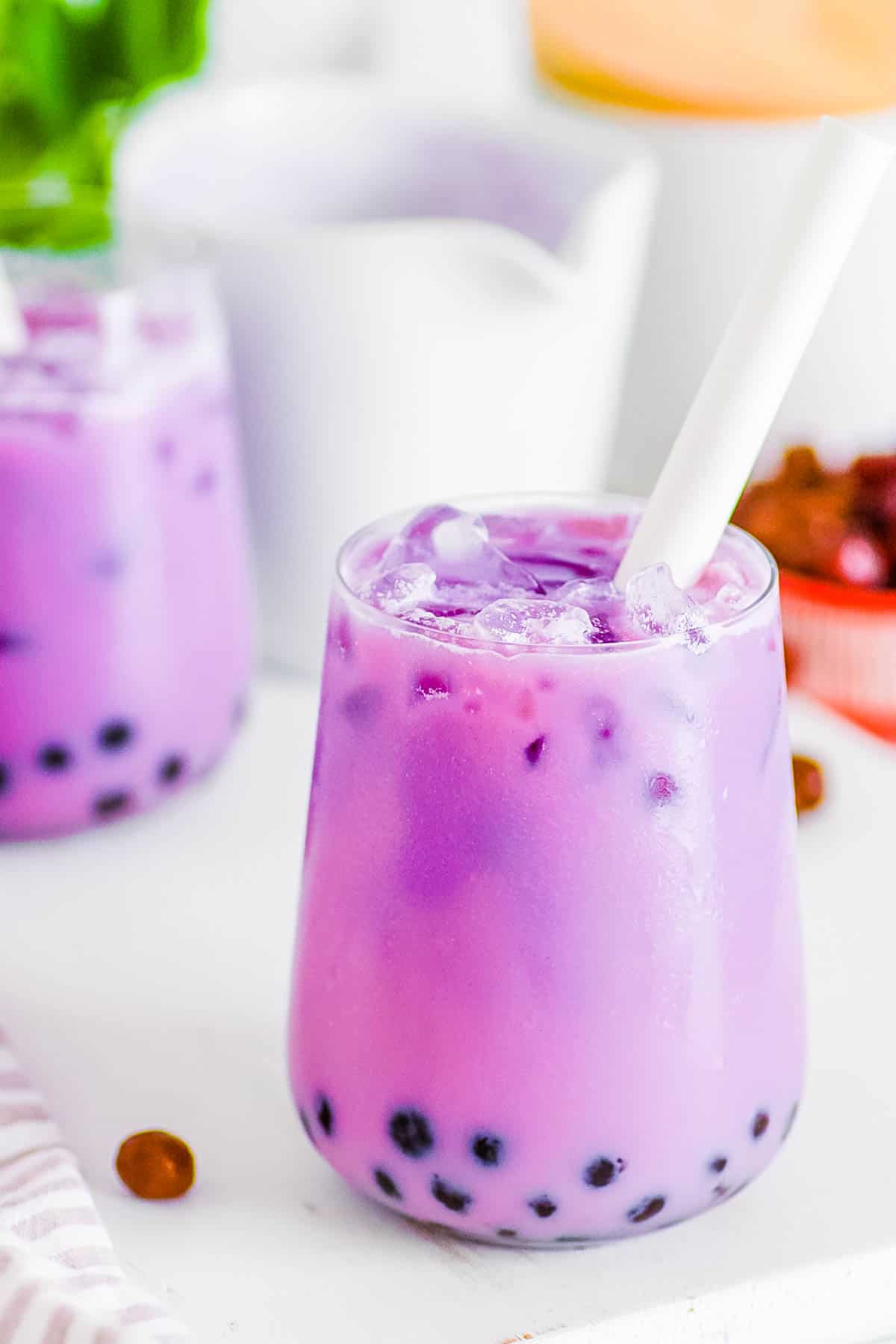 Fresh taro root is a sweet but starchy root vegetable native to Southeast Asia. This popular ingredient tastes similar to a sweet potato but with a nutty flavor. You can find it mashed, fried, simmered, or sweetened. It tastes delicious in taro ice cream, or my favorite, taro bubble tea!
Latest Recipe Video!
To say I'm obsessed with taro boba tea is an understatement. It's sweet, creamy, and refreshing, plus it's easy to make at home. Not only is it more affordable than what you'll find in most bubble tea shops, but you get to control the intensity and sweetness.
Taro milk bubble tea is easy to customize to fit your taste and preferences. Swap the tea, milk, or sweetener as you please. This is quickly going to become one of your favorite drinks to enjoy year round!
👩‍🍳 Why This Recipe Works
Budget-friendly
Vibrant purple bubble tea
Homemade boba is way better than what you'll find in most Boba shops
Refreshing and perfectly sweet
Easy to make & customize

Nice taro flavor

Best taro bubble tea recipe ever!
🥘 Ingredients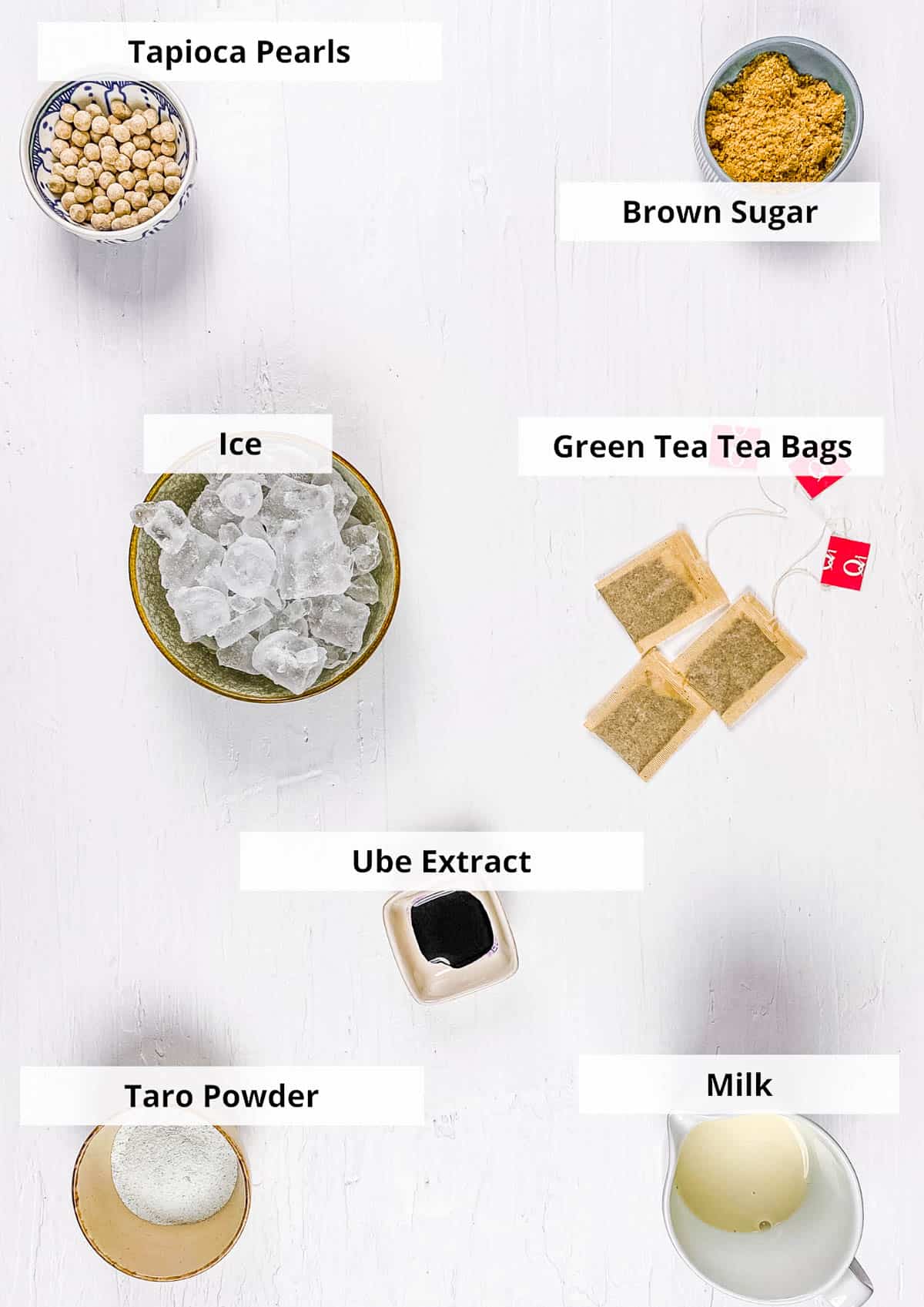 Green Tea Bags: Green tea has a grassy but fresh flavor profile. Green tea leaves work too, but you will need to strain the tea or use a tea diffuser. I like to use Jasmine green tea!
Tapioca Pearls: You can find these chewy tapioca pearls at Asian food markets or online. Black boba pearls need to be cooked before they are enjoyed with tea.
Brown Sugar: Boba pearls have a mild flavor and need to be sweetened. Stirring brown sugar with warm boba pearls creates a sweet syrup. You can also use cane sugar if you don't have brown sugar.
Taro Powder: Taro root powder is easier to mix with tea than fresh taro paste. You should be able to find it at Asian grocery stores or online. Taro root powder is not the same as Taro boba tea powder or Taro bubble tea powder – and it's also not the same as "real taro root". If you wanted to use real taro, boil the flesh and mash it into a fresh paste and use instead of the taro powder. However, taro root powder is what bubble tea stores typically use, so your drink will taste more authentic if you use taro powder vs. the root itself. It's also easier to use and easier to find than raw taro root!
Ube Extract: Ube extract has a sweet, vanilla-like flavor and bright purple color. It makes a beautiful and refreshing iced ube latte!
Milk: To make the purple boba tea extra creamy!
Ice Cubes: Lukewarm bubble tea isn't great. Make sure to use plenty of ice.
📖 Variations
When you make taro pearl milk tea at home, customizing it is easy! All of the main ingredients can be changed to your liking.
Tea: If you're not a fan of green tea, try black tea, jasmine tea, or white tea.
Milk: Use your favorite milk of choice. Try almond milk, soy milk, oat milk, whole milk, or condensed milk. Or for a richer flavor, use half and half or non-dairy creamer.
Make It Vegan: Typically, taro bubble tea is not vegan because it uses regular milk, but this drink is easily made vegan by just using a plant-based milk! Also, some taro powders may include a milk based ingredient, so just be sure to find a dairy free taro root powder.
Sweetener: Coconut sugar, honey, maple syrup, simple syrup, or sugar can be used to sweeten the this purple drink. If you plan to use coconut sugar, sugar, or honey, add it to the brewed tea so it dissolves.
Taro Milkshake: Blend 1 cup of cooled green tea, taro powder, ube extract, milk, and vanilla ice cream. Pour over chewy tapioca pearls and enjoy!
Taro Coconut Milk Tea: Swap milk for coconut milk and sweeten as necessary.
🔪 How To Make Taro Milk Tea
Make Green Tea: Simmer 2 cups of water over medium heat. Remove the pan from the heat. Add the tea bags and steep for 5 minutes in the hot water. Remove the tea bags and let the tea cool.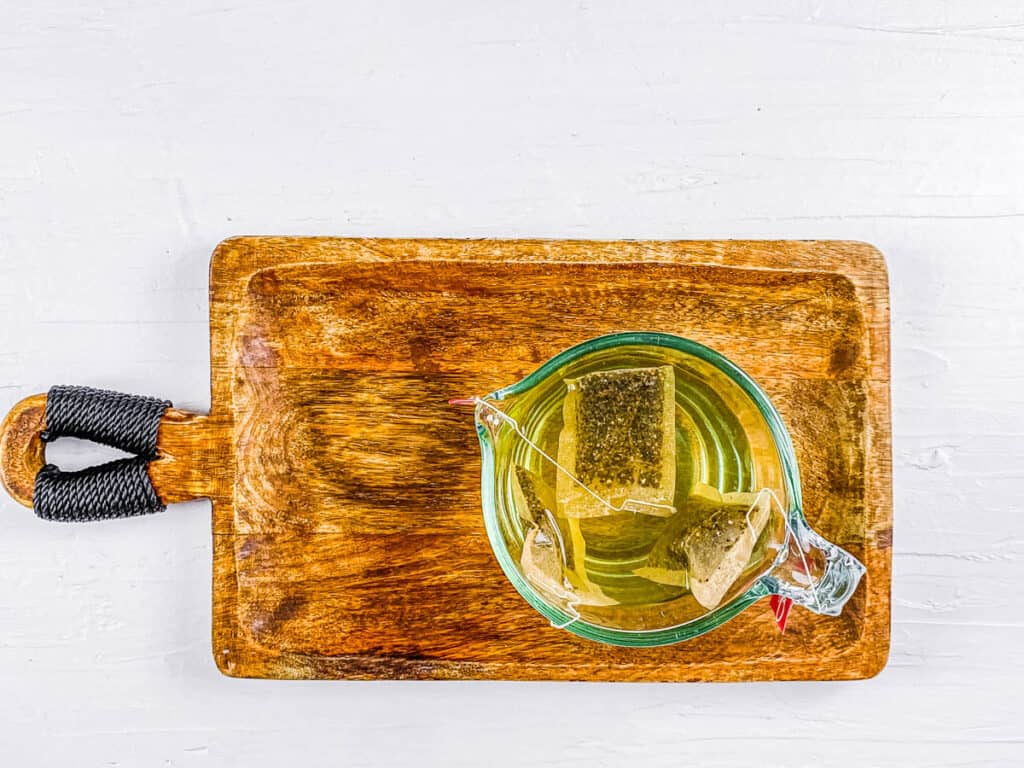 Cook Tapioca Pearls: While the tea cools, bring a small pot of cold water to a boil. Add the chewy tapioca balls, reduce the heat, and simmer for 5 to 6 minutes.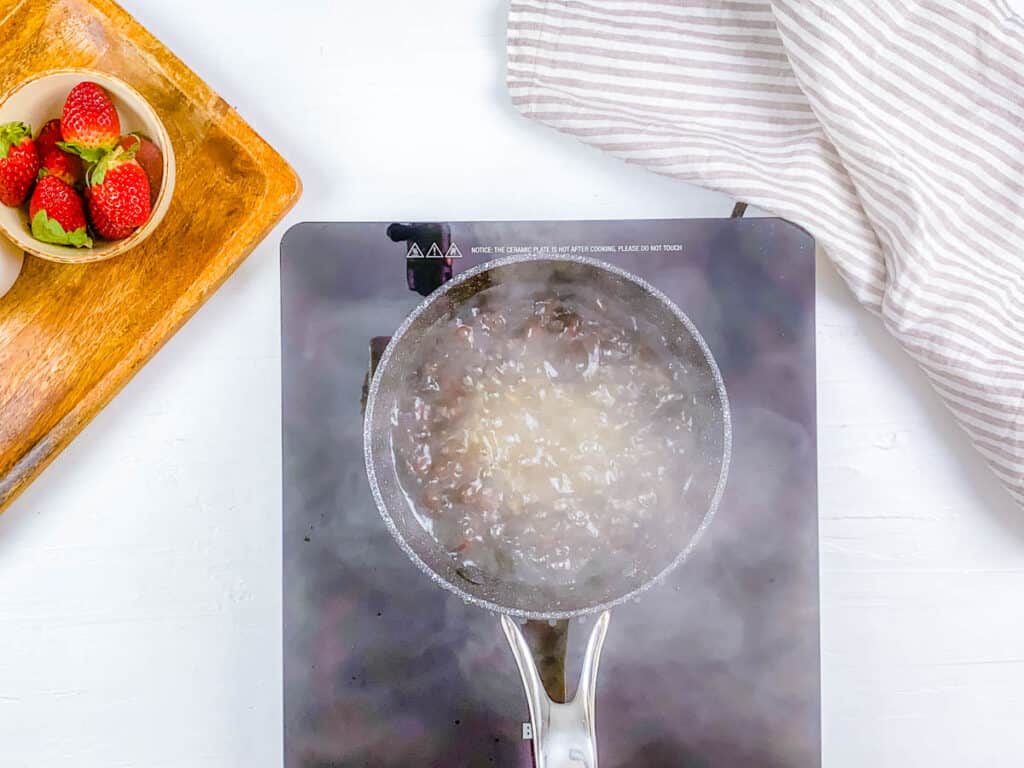 Strain Pearls: Carefully strain the chewy boba pearls and transfer to a small bowl. Stir in the brown sugar, then set aside to cool.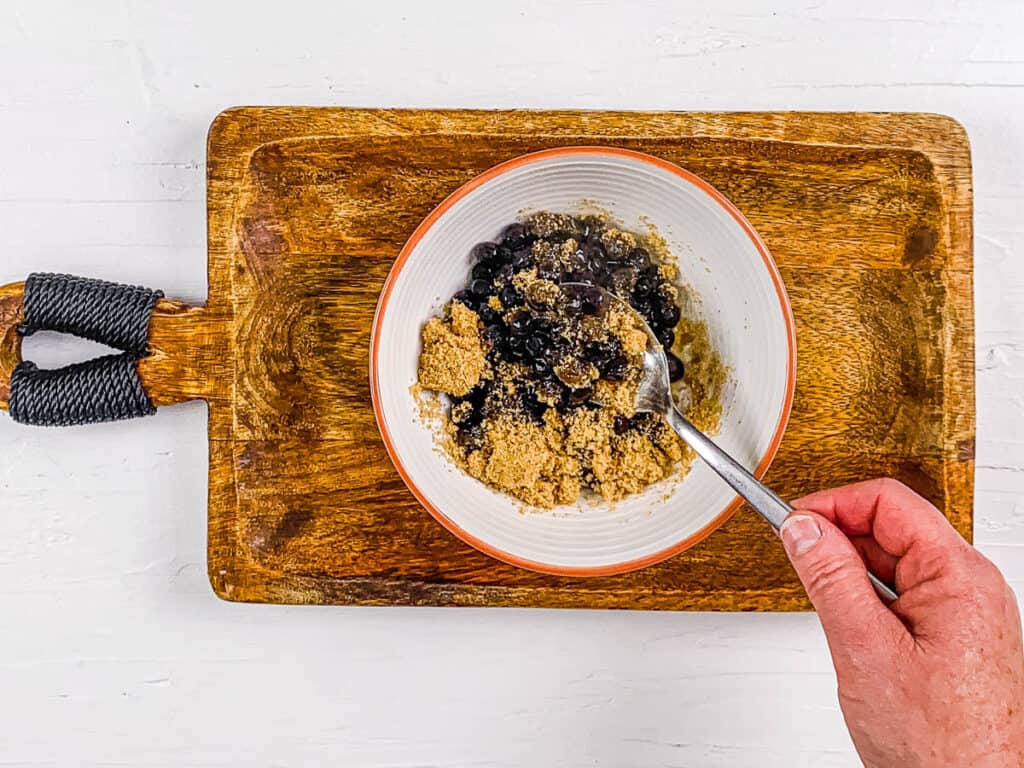 Add Taro Powder: Add the taro powder, ube extract, and milk to the cooled tea base. Whisk until thoroughly combined.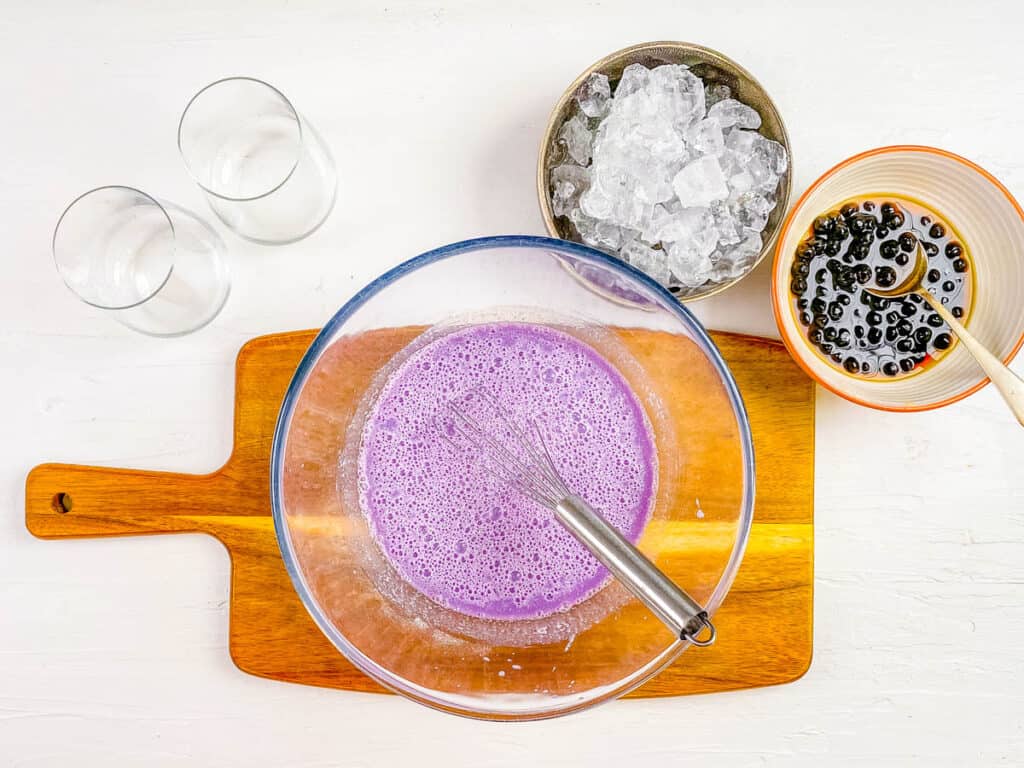 Assemble: Evenly divide the black tapioca pearls and syrup between two tall glasses.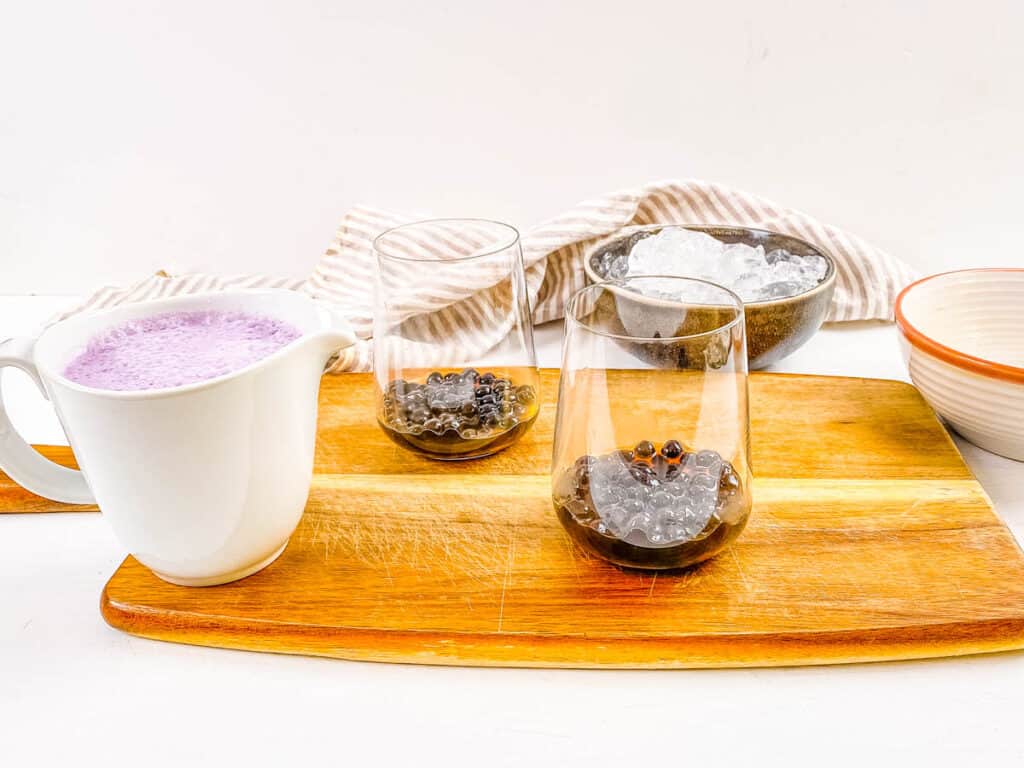 Add Tea: Top each large glass with a cup of ice and taro tea.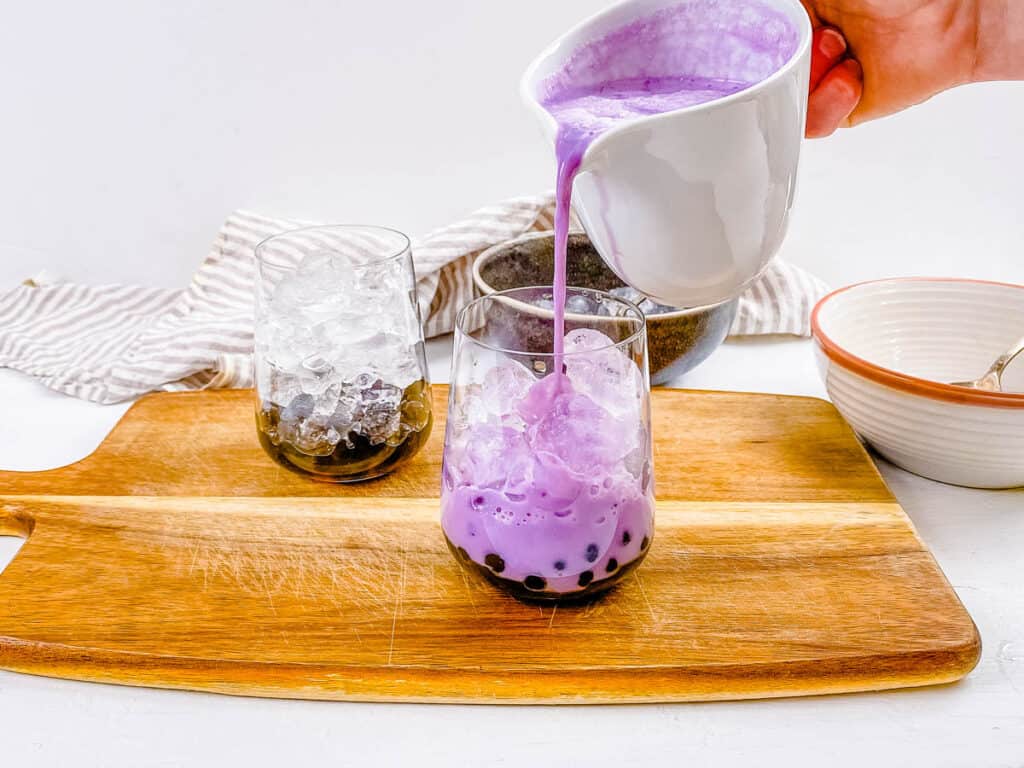 Enjoy your taro boba milk tea immediately!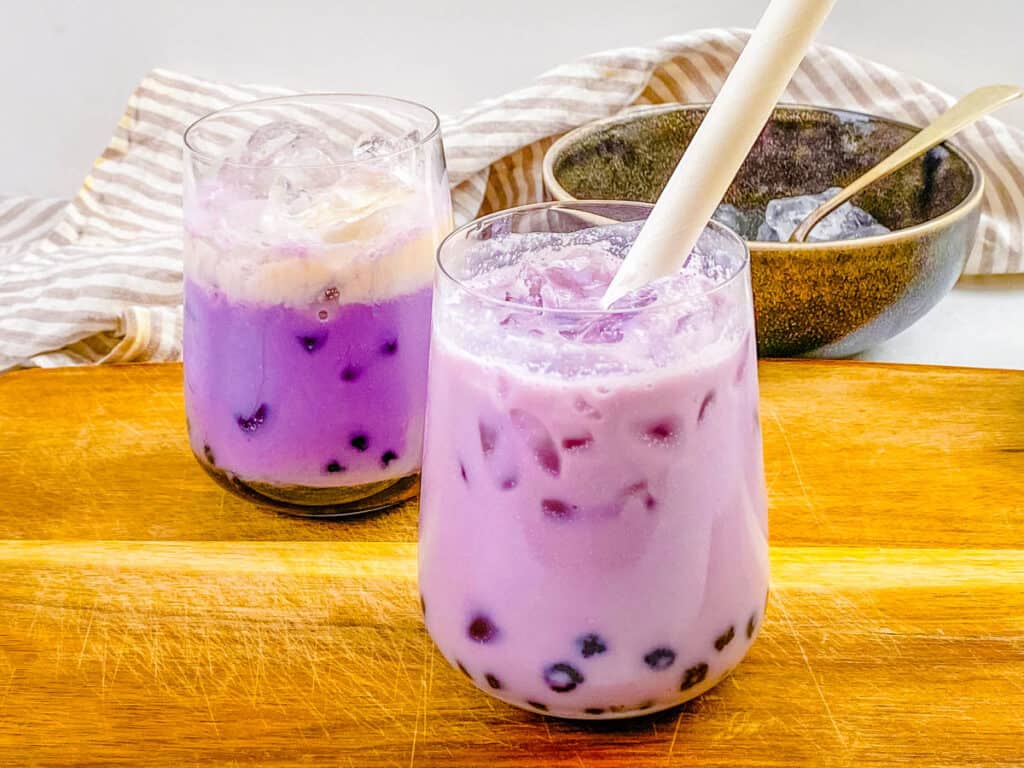 ❓ Recipe FAQs
Is taro milk tea good?
It's a matter of preference, but it's a popular drink for a reason! Tea lovers describe it as nutty, buttery, and creamy with notes of vanilla and caramel. It has a mellow sweetness and creamy texture.
What does taro bubble tea taste like?
Taro has a unique flavor similar to a sweet potato. It's sweet, nutty, and vanilla-like. Once it's combined with tea, milk, and sugar, it becomes a lightly sweet, creamy, and refreshing drink.
What are the health benefits of fresh taro milk tea?
Taro is a good source of dietary fiber, vitamin C, vitamin B6, and vitamin E. High-quality green tea is loaded with health benefits too! It's jam-packed with disease-fighting antioxidants that reduce inflammation and help fight cancer.
Does taro boba tea have caffeine?
Yes, the caffeine content varies depending on what type of tea is used and how long it's steeped. A cup of green tea typically contains between 30 to 50 milligrams of caffeine.
Is taro bubble tea healthy?
The answer is, it depends! Some recipes will call for whole milk or heavy cream + lots of sugar, which would make it more of a dessert than a healthy drink. This recipe is on the healthier side, as we use plant based ingredients, less sugar, and each serving is only around 200 calories!
What's the difference between milk tea, bubble tea and boba tea?
There is no difference! They are all the same type of drink – made with a tea base, tapioca balls, milk, typically some sort of added sugar, and your favorite flavors and mix-ins added!
Are taro and ube the same thing?
Taro and Ube are both vegetables, but they are not the same thing. Taro is a white colored root vegetable with a mild flavor, while ube is in the yam family, has a purple color (it's also known as a purple yam), and has a slightly sweeter flavor. This particular bubble tea recipe combines both taro and ube for the best of both worlds!
💭 Expert Tips
Use taro powder instead of raw taro root for a more authentic feeling drink.
Use a jumbo straw so you can enjoy the delicious pearls with the tea!
Boba drinks are best enjoyed fresh! Don't make it ahead of time and save it for later. If you want to make the process quicker, make the tea base ahead of time and cook the boba + assemble right before drinking.
Don't forget to add ice! This drink is best enjoyed chilled.
Feel free to vary the flavors and sweetness: If you don't like the taro boba tea flavor, try a different version. You can make bubble tea in almost any flavor! You can also adjust the sweetness and creaminess to your liking!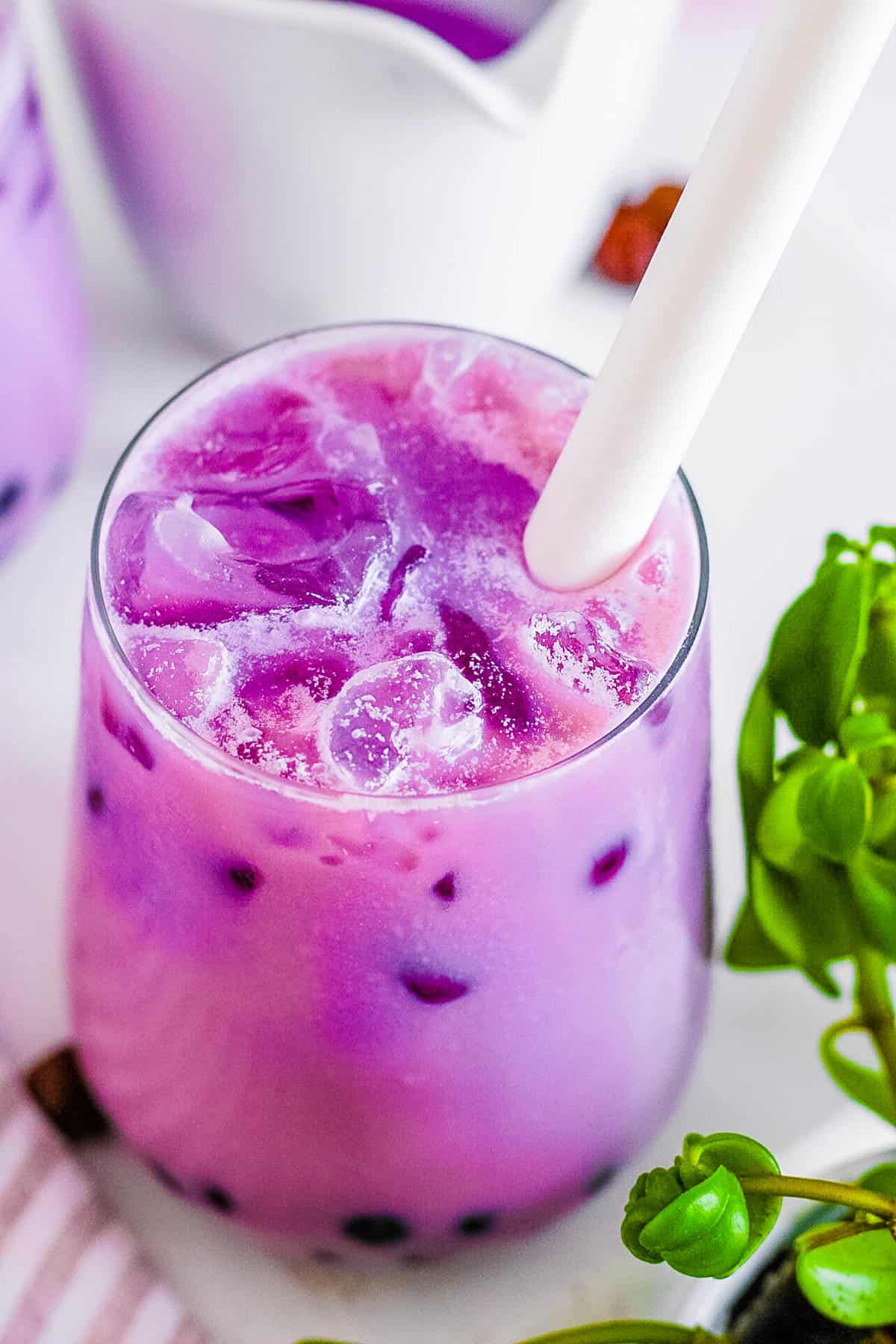 🧋 More Bubble Tea Recipes!
A few more popular boba tea flavors for you!
LOVE THIS RECIPE? Please leave a 5-star rating 🌟 in the recipe card below and/or a review in the comments section further down the page!
You can also FOLLOW ME on FACEBOOK, TWITTER, INSTAGRAM, and PINTEREST to see more delicious, healthy, family-friendly food, and if you have any questions, I'm here to help!
📋 Recipe Card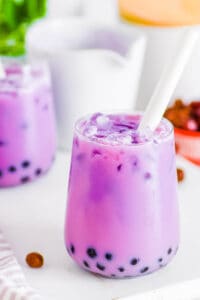 Print Recipe
Taro Milk Tea
With a bright purple hue, taro milk tea tastes as creamy and delicious as it looks! This sweet bubble tea is flavored with green tea, taro root, and tapioca pearls in a brown sugar syrup.
Ingredients
3

green tea bags

½

cup

tapioca pearls

2

tbsp

brown sugar

3

tbsp

taro powder

¼

tsp

ube extract

½

cup

milk of choice

1

cup

ice
Instructions
Simmer 2 cups of water, remove from the heat and add the tea bags and allow to steep for 5 minutes. Remove the tea bags and allow the tea to come to room temperature.

While the tea is cooling bring a small pot of water to a boil, add the tapioca pearls reduce heat and simmer for 5-6 minutes.

Strain the pearls, add to a small bowl and stir through the brown sugar. Set aside and allow to cool.

When the tea has come to room temperature add the taro powder, ube extract and milk, whisking until well combined.

Evenly divide the soaked tapioca pearls and syrup between two glasses.

Divide the ice between the glasses and top with the taro milk tea.
Notes
Cook and soak the tapioca pearls when needed.
Adding ice to the drink makes it lovely and chilled.
Any sugar, maple syrup or honey can be used to sweeten this drink
Any plant based milk will work in this recipe. Nutrition information calculated using unsweetened almond milk.
Nutrition
Serving:
1
glass
|
Calories:
217
kcal
|
Carbohydrates:
52
g
|
Protein:
1
g
|
Fat:
1
g
|
Saturated Fat:
0.01
g
|
Polyunsaturated Fat:
0.4
g
|
Monounsaturated Fat:
0.4
g
|
Sodium:
94
mg
|
Potassium:
161
mg
|
Fiber:
2
g
|
Sugar:
13
g
12 responses to "Taro Milk Tea (Bubble Tea Recipe)"