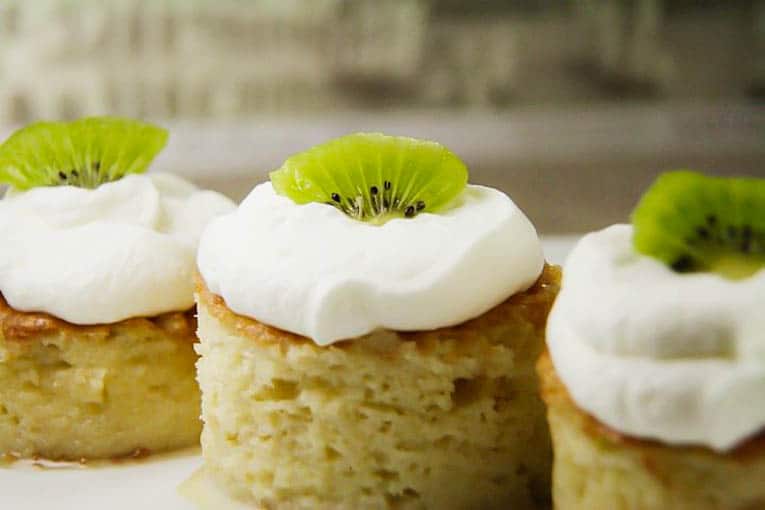 Photo Courtesy of Zespri
Today is an exotic fruit kind of day.
It's also a recipe makeover day.
AND – it's a giveaway day!
Could it get any better than that? So let's start with the recipe makeover, inspired by Zespri KiwiFruit and a comment I recently received on my Facebook Page, where one of my readers requested a healthier Tres Leches Cake recipe.
After scouring the internet for inspiration, I came across this recipe from Eat Better America, which I decided to switch up a bit by adding some fresh, ripe Kiwis to give it a bit of an exotic twist.
Why Kiwis?
Because when Kiwis are ripe, they are juicy, sweet, slightly tangy, and just absolutely delicious, which make them the perfect addition to this cake.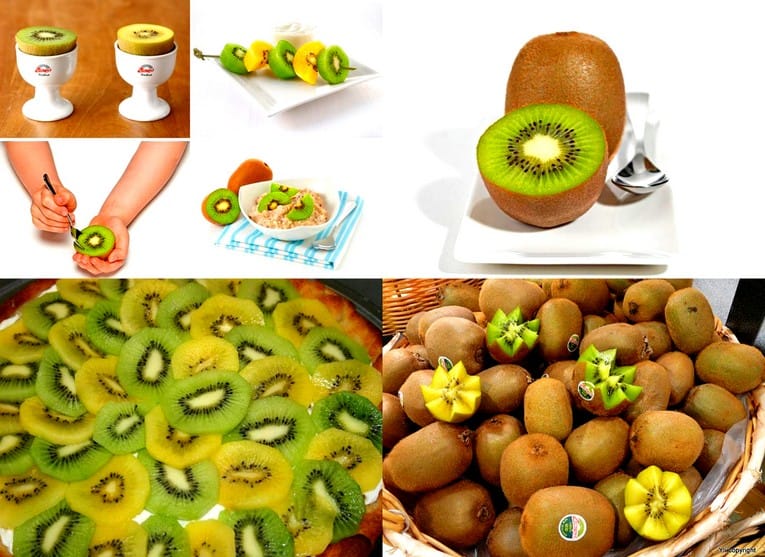 The great thing about this recipe is that it's almost 100 calories less per serving than the original (from 350 calories to 260 calories per slice), and it has 1/4 the amount of fat in it! (from 16g to 4.5g). Here's how you make it:
Healthier Tres Leches Cake Recipe
Nutritional Info Per Serving: 260 Calories, 4.5g Fat, 285.1mg Sodium, 49.9g Carbs, 0.8g Fiber, 33g Sugar, 5.3g Protein
Ingredients
1 box Betty Crocker® SuperMoist® yellow cake mix
1.25 cups water
1 tablespoon canola oil
2 teaspoons vanilla
2 whole eggs
3 egg whites
1 can (14 oz) fat-free sweetened condensed milk (not evaporated)
1 can (12 oz) evaporated fat-free milk
1/2 cup fat-free (skim) milk or fat-free half-and-half
1 container (8 oz) frozen reduced-fat or fat-free whipped topping, thawed
4 KiwiFruits (2 sliced, 2 pureed)
Instructions
Heat oven to 350°F (325°F for dark or nonstick pan). Spray bottom only of 13×9-inch pan with cooking spray.
In large bowl, beat cake mix, water, oil, vanilla, whole eggs and egg whites with electric mixer on low speed 30 seconds, then on medium speed 2 minutes, scraping bowl occasionally. Pour into pan.
Bake 29 to 35 minutes or until edges are golden brown and toothpick inserted in center comes out clean. Let stand 5 minutes. Poke top of hot cake all over with fork or wooden skewer, wiping fork occasionally to reduce sticking.
In medium bowl, stir condensed milk, evaporated milk and skim milk until blended. Slowly pour evenly over top of cake. Cover; refrigerate about 1 hour or until mixture is absorbed into cake.
To make individual sized cakes (pictured above), wait until the cake has chilled for 1 hour, then use cookie or biscuit cutters to cut out rounds.
Puree 2 kiwis in a food processor, and mix into the whipped topping until combined.
Spread whipped topping over cake (or mini cakes). Top with sliced kiwis.
Notes
https://pickyeaterblog.com/healthier-tres-leches-cake-and-a-coach-bag-giveaway/
Recipe by: The Picky Eater, pickyeaterblog.com
And now, our giveaway: To help us celebrate this healthy recipe with Kiwis, ZESPRI Kiwifruit is giving two lucky readers the opportunity to win a Kiwi-inspired Coach change purse valued at $100!

To Enter: You can enter in one of three ways (each option below counts as a separate entry):
Follow me on Twitter (@pickyeaterblog)
Like The Picky Eater on Facebook
Then post a comment here letting me know which options above you chose, and what recipe you'd make using ZESPRI's Kiwifruit.
This giveaway will be open until Monday, August 6th at 11:59pm PST. I'll be selecting the winner at random (via random.org) and will contact them via email. I'll be announcing the winner in the comments of this post on Tuesday, August 7th.  
TAGS: dessert, giveaway, vegetarian
241 responses to "Healthier Tres Leches Cake and a Coach Bag Giveaway!"