Best Protein Powders for Kids
This post may contain affiliate links. As an Amazon Associate, I earn from qualifying purchases. Please read my disclosure.
Are you looking for the best protein powders for kids on the market today, or for a healthier alternative to Pediasure? This guide will help you discover what ingredients to look for and what to avoid when buying the best protein powder for your child.
If you're a parent of a young child (aged 0-12), making sure your child is eating enough, gaining weight appropriately, and battling picky eating tendencies might be high on your mental checklist. And if you're a parent of older children/teenagers — you might have the opposite problem in figuring out how to keep them full and making sure they're getting enough protein to fuel all of their activities!
Because of this, protein powders and Pediasure are common recommendations made to parents who either need to give their children more protein, help them to gain weight, or supplement the nutrients lost from picky eating. But the problem is, most protein powers on the market, as well as Pediasure are not healthy for kids!
What's wrong with most protein powders for kids on the market?
Most of the protein powders on the market aimed at kids are too high in sugar, or contain fake sugars such as sucralose. They're also full of many processed ingredients, artificial colors and flavors, and aren't organic. They are in essence an expensive powder of processed ingredients and sugar.
Is Pediasure Healthy?
Pediasure is a meal replacement shake for kids. It's often recommended by pediatricians for kids who aren't getting adequate nutrition through their diet. However, Pediasure is likely the last thing you want to give your child to improve their nutrition. It's basically a vehicle for sugar and processed ingredients. Just look at the pediasure ingredients list:
Water, Corn Maltodextrin, Sugar, Blend of Vegetable Oils (Canola, Corn), Milk Protein Concentrate, Soy Protein Isolate, Nonfat Milk. Less than 0.5% of: Natural & Artificial Flavor, Cellulose Gel, Potassium Chloride, Magnesium Phosphate, Calcium Phosphate, Potassium Citrate, Tuna Oil, Calcium Carbonate, Potassium Phosphate, Choline Chloride, Ascorbic Acid, Monoglycerides, Soy Lecithin, Cellulose Gum, Salt, Carrageenan, Potassium Hydroxide, Inositol, Taurine, Stevia Leaf Extract, Ferrous Sulfate, Monk Fruit Extract, [List of Vitamins and Minerals]
What is wrong with Pediasure's Ingredients?
Sugar is the second and third ingredient (which has been widely proven to contribute to a variety of health issues in kids). 1 bottle of Pediasure has 12g sugar – more than a fun sized Milky Way bar!
The vegetable oils included are too high in Omega 6 fats, which can contribute to inflammation. Tuna oil makes Pediasure not vegetarian or vegan friendly!
Soy protein isolate has a variety of issues including: GMOs, heavy metal contamination, can impact hormones, contains unhealthy additives and processed ingredients.
The rest of the bolded ingredients are preservatives, artificial flavors (which can contribute to ADHD), and artificial sugars.
So what are you supposed to buy for your kids if you need a meal replacement or protein supplement? That's where this guide comes in! Here are my picks for the best protein powders for kids on the market today. Below you'll find a list of the best protein powders, and later on in this post I give details on what to look for and what to avoid when it comes to finding the best protein powder for your child!
Some of the items below were given to me to review by the manufacturer or as part of an affiliate program. I may receive commissions if you make a purchase through the links provided. I only recommend products I've actually evaluated, I believe are the highest quality, and can do the most to help you and your family. By purchasing any of these products from the links below, you help keep this blog running, so thanks for your support!
Keep in mind that every person & situation is different, especially yours, so make sure to talk to your doctor and see how these guidelines and tips can help you. These tips are not a substitute for professional medical advice, diagnosis, or treatment. Never disregard or delay in seeking professional medical advice because of something you read here!
My recommendations are based on the manufacturer's claims and ingredients list, and what I feel best giving to my own family. Your individual results may be different based on your overall diet, exercise, age, weight, family history, or pre-existing conditions.
Best Protein Powders for Kids
Best Protein Powders for Kids Who Are Picky Eaters
Many of these protein powders are sweetened with Monk Fruit and/or Stevia, and don't need to be mixed with whole fruits to sweeten them up naturally. While I recommend blending all of these protein powders with whole fruits and baby spinach to round out a "meal", I understand there are some kids who won't even drink anything that isn't the color of either milk or chocolate milk! If that describes your child, these protein powders are for you!
Note: If your child is an extremely picky eater, I recommend supplementing with a whole food multivitamin that includes 12 organic fruits & veggies as well — my pick is Hiya Vitamins!
Best Protein Powders for Kids Who Like Smoothies
All of these protein powders are completely unsweetened, so they need to be blended with milk (or an unsweetened milk substitute), fruits and veggies to give them flavor! Great for kids who like smoothies, and will accept smoothies of multiple colors (e.g. purple, green, etc.).
Best Protein Powders for Kids Aged 1-2
For young toddlers, I recommend trying an unsweetened toddler formula first before moving to an actual protein powder, since these two options below are formulated especially for infants and toddlers!
What Should You Look For When Choosing The Best Protein Powder for Your Child?
Minimal Added Sugar (6g max per serving). No syrup or syrup solids as a primary ingredient.
No artificial sweeteners (Except stevia and monk fruit). Your child does not need added sugar or artificial sweeteners which are addicting and make them crave more sweets.
No processed isolated soy. Soy isolate protein is derived when the soybean undergoes processing to strip it of its nutrients and "isolate" the protein. Through this process other substances such as aluminum and hexane are left behind. In addition, the method used to isolate the protein can form nitrites which can form carcinogens in the body.
Organic whenever possible, otherwise non-GMO. Providing your child with organic foods whenever possible is best to avoid harmful pesticide residue.
Non-GMO. If purchasing a protein powder that contains dairy or grain look for one that is non-GMO which will eliminate the chance of hormones produced in the growing process are passed down to your child.
Calories Per Serving. Less than 160 calories per serving for kids under age 12, less than 200 calories per serving for older kids.
No heavy metals. A recent study done by Consumer Reports discovered that arsenic, lead, cadmim, mercury, and toxins such as BPA were found in many popular protein supplements. These substances should be avoided as they have been linked to cancer, brain damage, and reproductive problems.
How much protein do kids need?
When it comes to making sure that your child is getting enough protein it's not a one size fits all number. It depends on the age, weight, and gender of your child. Children's protein needs are far less than adults. It is more than likely that your child is already getting their recommended daily dose of protein, unless they are an especially picky eater.
Typically, if your child is between the ages of 4-13 they need .45 grams of protein for every pound of body weight. Below are the averages for children in each age group.
Ages 2-3 need about 13 grams of protein
Ages 4-8 need about 19 grams of protein
Ages 9-13 need about 34 grams of protein
Ages 14-18 need 52 grams for boys, and 46 grams for girls
One thing that's important to remember that not all protein sources of protein come from animals. Foods like beans, nuts, nut butters, dairy, yogurt, peas, broccoli, grains, cheese, milk, eggs, are all great sources of protein.
What foods are high in protein for kids?
Looking for protein rich foods your child will enjoy? Here's a list of high protein foods with the amount of protein per serving.
1 cup of milk has 8 grams of protein
3 oz of meat has 21 grams of protein
1 cup of beans has 16 grams of protein
8 oz of plain Greek yogurt has 15 grams of protein
1 egg contains 6 grams of protein
1 oz of cheese had 7 grams of protein
2 tbsp of Peanut Butter has 8 grams of protein
1 cup of cooked oatmeal has 9 grams of protein
1 oz of pumpkin seeds contain 5 grams of protein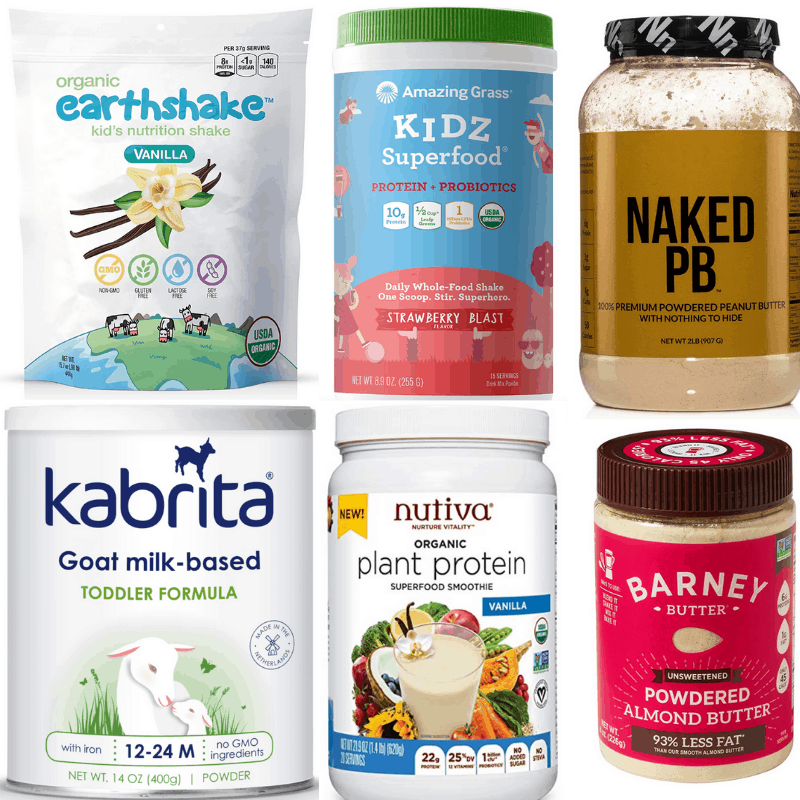 Are protein powders healthy for kids?
If you're choosing one of the protein powders on our list, they are absolutely healthy. But whether your child needs a protein supplement should be determined by you and your pediatrician. If you do decide to supplement with a protein powder, choosing one of the options on this list will ensure you are giving your child the healthiest protein source possible.
Note: There is concern that's been raised through research that too much protein is actually unhealthy for kids. An article by Parent Magazine suggests that too much protein is hard on a child's kidneys and liver and can interfere with calcium absorption.
In general, it's best to stick to whole foods with kids. It teaches them to enjoy a variety of foods. If a child is eating a well balanced whole food diet with minimally processed foods they are likely getting their needed protein intake for the day. Even if your child is a picky eater they might still be getting protein through sources such as grains, dairy, nut butters, etc.
For some parents who have very picky eaters, it may be necessary to use a meal replacement shake or protein powder until you're able to help your child eat more real fruits and veggies. Or if you're a parent of an older child, a protein powder can be a healthy way to create a filling on-the-go breakfast or snack for your active teenager.
I will often add the peanut or almond protein powders on this list to my kids whole food based smoothies, to help keep them fuller longer. If you're in the market for a protein powder to help supplement your child's diet there are a few things you need to look out for before you make a purchase.
Reasons Why You May Want to Use a Protein Powder for Your Kids
If you are concerned your child is not getting enough protein in his/her diet, a protein powder might be a good fit. Here are a few reasons why you may want to use a protein powder to supplement your child's nutrition.
Your child suffers from a growth disorder or nutritional deficiency.
Your child isn't gaining weight as quickly as they should be (falling off the weight curve for their age)
Your child has a high level of activity such as playing active sports for a number of hours during certain periods.
Your child has food allergies or intolerances that don't allow him/her to include protein rich foods in their diet.
Picky Eaters! You have an extremely picky eater who refuses to eat certain protein rich food sources.
Your pediatrician has recommended trying Pediasure.
Consult Your Child's Pediatrician
Note: Before you add any type of protein powder or meal replacement shake into your child's diet you should consult your child's pediatrician.
I hope you have found this list helpful in making a decision regarding the need for protein powder for your child, and have directed you to some healthier options than Pediasure! As always, be sure to consult your child's pediatrician before making any changes to (or adding supplements to) your child's diet.
Check Out These Other Healthy Food & Grocery Store Guides!
88 responses to "Best Protein Powders for Kids"