Sneaky Zucchini Lasagna and a Giveaway from Snack Girl!
This post may contain affiliate links. Please read my disclosure.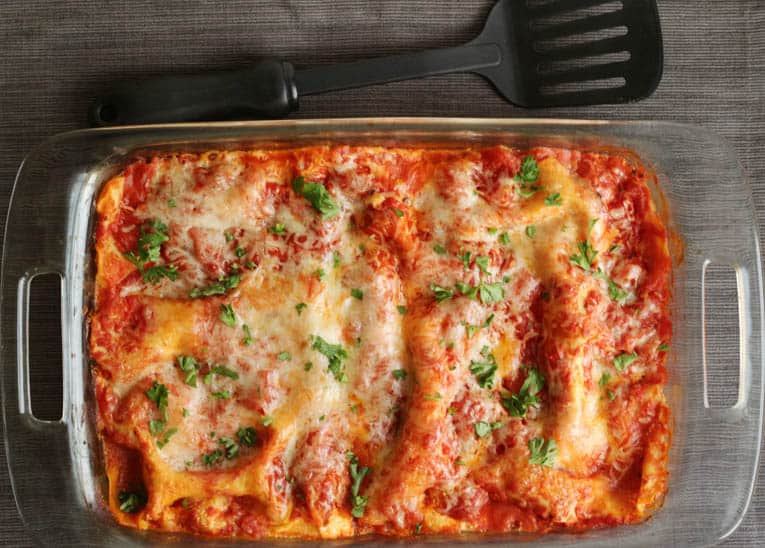 Hi Everyone! This month's giveaway comes from one of my favorite healthy food bloggers – Lisa Cain at SnackGirl! Lisa makes healthy food super easy and simple – through her family-friendly recipes and real-life solutions for losing weight and getting healthy.
She recently wrote an amazing cookbook – Snack Girl to the Rescue!: A Real-Life Guide to Losing Weight and Getting Healthy
 – and that's what today's giveaway is all about 🙂
This book:
Will show you how small, easy tweaks can change your lifestyle to be healthier and happier
Is packed with encouraging, smart, and sometimes hilarious advice on avoiding common weight-loss pitfalls, shopping healthier on a budget, and getting in shape
Has 100 recipes for fun, quick, and affordable meals and snacks—all of which clock in under 400 calories and are Weight Watchers friendly. There are no gimmicks, no short-cuts, it's simply a healthy balanced guide to how you are supposed to live.
The recipes have been tested by home chefs and are delicious, easy, and simple!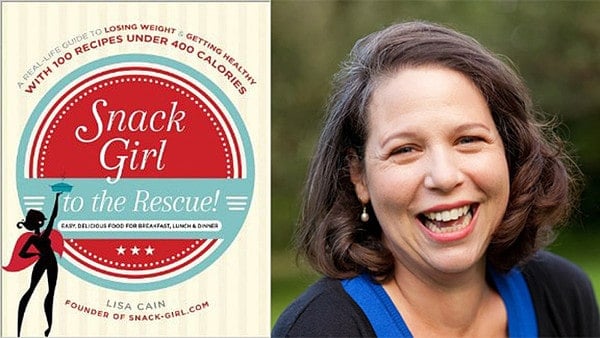 The sneaky zucchini lasagna recipe is straight from her book, so you can imagine how delicious the other recipes are! As Lisa put it: "I am not a big fan of adding pureed vegetables to food, but sometimes it's a way to sneak in some veggies without anyone catching on. This recipe hides slices of zucchini under sauce and cheese. When my kids first tried this recipe, no one noticed they were eating zucchini for half the meal. Then, my eight-year-old found a green edge and demanded to know what it was. I told her it was "green pasta" but she was too smart for that and removed the rest of the zucchini. If you have super picky eaters, try peeling the zucchini so they don't notice the tell-tale green. My six-year-old son didn't notice the zucchini and ate everything on his plate!"  
One lucky reader will win a copy of Lisa's book as part of this giveaway – which means 100 healthy recipes delivered right to your doorstep!
To Enter: You can enter in one of five ways (each option below counts as a separate entry):
Sign up for my free, monthly newsletter (it has healthy recipes and tips – no annoying ads  plus you'll get a free healthy meal plan when you sign up!)
Like The Picky Eater on Facebook
Follow me on Twitter (@pickyeaterblog)
Follow me on Pinterest
Then post a comment here for each option above that you chose. 
This giveaway will be open until Sunday, October 12th at 11:59pm PST. I'll be selecting the winner at random (via random.org) and will contact them via email. I'll be announcing the winner in the comments of this post on Monday, October 13th.
And now, for Lisa's Sneaky Zucchini Lasagna recipe: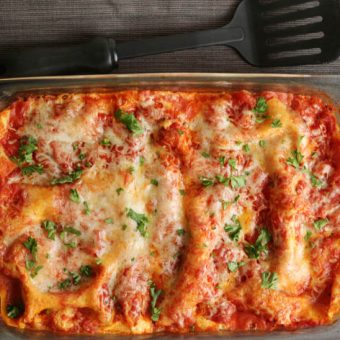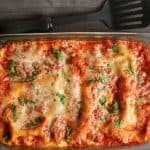 Print Recipe
Sneaky Zucchini Lasagna
"Sneak" some zucchini into your lasagna by adding it in layers with your pasta.
Ingredients
15

oz

container part-skim ricotta cheese

½

cup

grated Parmesan cheese

1

large egg

25

oz

jar tomato sauce, no cheese or sugar added (such as marinara sauce)

14.5

oz

diced fire-roasted tomatoes with juice

1 can

1

large zucchini

sliced lengthwise into 7 or 8 slices

6

no-bake lasagna noodles

Anjali's note: I'd use whole wheat lasagna noodles if you can!

1

cup

grated mozzarella cheese
Instructions
Preheat the oven to 375°F degrees.

Mix the ricotta, Parmesan, and egg in a small bowl. In another bowl, combine the tomato sauce and diced tomatoes.

Pour 1 cup of the tomato mixture into a 9 × 13 × 2-inch casserole. Layer all of the zucchini slices over the sauce.

Dollop half the ricotta mixture over the zucchini and top with another cup of the tomato mixture.

Cover with 3 pasta sheets and spread with the rest of the ricotta mixture. Add 1 cup sauce and top with the remaining 3 pasta sheets. Top with the rest of the sauce and cover with grated mozzarella.

Cover with foil and bake for 40 minutes. Remove the foil and bake for another 10 minutes to finish melting the cheese. After taking the lasagna out of the oven, let it sit for 5 to 10 minutes to firm up.
Notes
From Snack Girl to the Rescue!
Note: This recipe is a bit high in sodium because the pre-made tomato sauce and fire-roasted tomatoes have a lot of added salt. If you are concerned about your sodium level, use low-sodium versions of these products and you will be fine.
Nutrition Tip: One serving of this includes 36 percent of your daily value of calcium and 11 percent of your iron.
Nutrition
Calories:
254
kcal
|
Carbohydrates:
24.3
g
|
Protein:
16.6
g
|
Fat:
10.8
g
|
Saturated Fat:
5.7
g
|
Sodium:
644
mg
|
Fiber:
2.5
g
|
Sugar:
6.3
g
121 responses to "Sneaky Zucchini Lasagna and a Giveaway from Snack Girl!"