My Dream Kitchen
This post may contain affiliate links. As an Amazon Associate, I earn from qualifying purchases. Please read my disclosure.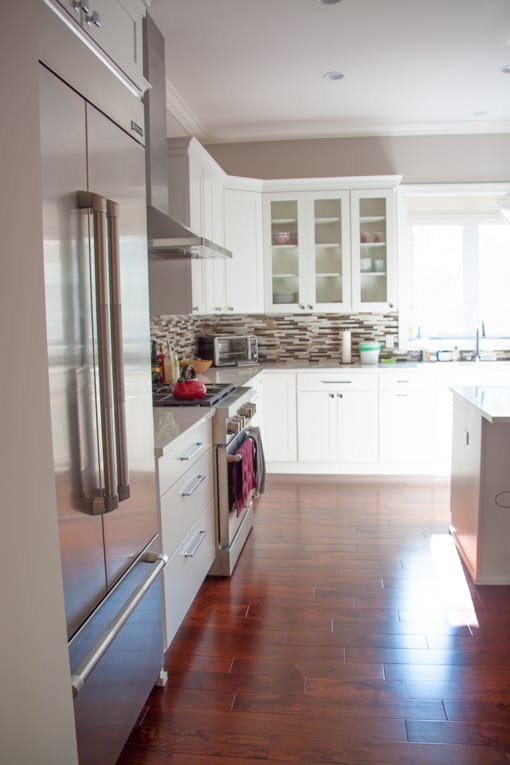 When the husband and I moved to Ann Arbor, I never thought I'd get the opportunity to design my very own custom, dream kitchen from scratch! But when we started searching for a house, we came across a property that was still under construction: the foundation had been poured and some of the frame was up, but nothing else was done. Which meant – we'd be able to design everything in our house from the ground up!
So for a year, the husband and I embarked on the adventure of building a house almost from scratch, and of course – designing our dream kitchen.
Over the years many of you have asked me questions about my kitchen – how much space I have – what kind of stove, appliances, etc., so when Arhaus asked me to share my ideas with them on a dream dining room, I thought it would be the perfect opportunity to answer many of the questions I've gotten about our kitchen!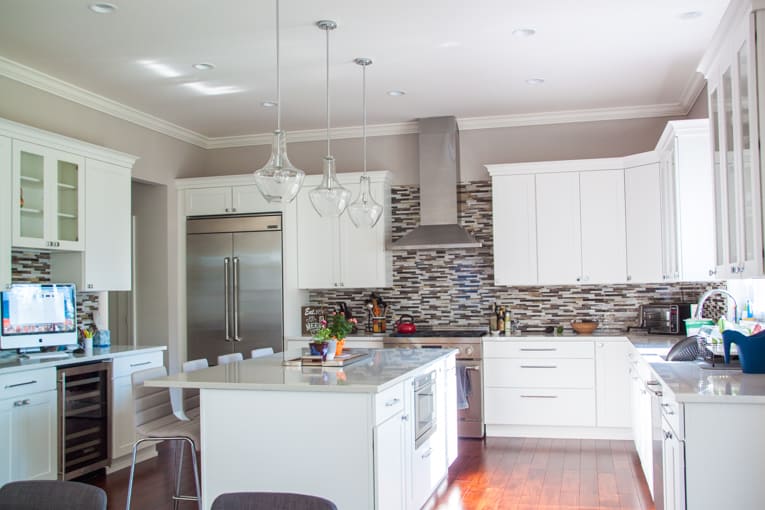 Some questions I get a lot are: What were some of our must-haves when picking items for our kitchen? And what are some things that make your kitchen easy to work in?
Here are my must-haves and other things that make our kitchen work well:
A 6 burner gas range: We went with Jen Air's model. I love having so many burners because I can basically cook multiple courses at one time. Time saver for sure!
A micro-drawer: So much cooler than a microwave because it doesn't take up counter or cabinet space! You can see ours tucked into our island… which brings me to…
An enormous island! Def a must have. I wanted enough space for prepping and eating.
A farmhouse sink that's stainless steel: I don't know why, but I hate sinks with a divider in them. I always felt like it wasn't practical and would get in the way of putting dishes in the sink. I just wanted a big huge space that would make dishwashing super easy. I loved the ceramic farmhouse sinks, but stainless steel is more durable and doesn't get stained – so we opted for that.
Also with the sink – we have a simple, clean looking faucet that pulls out, has a hidden sprayer button and snaps back into place magnetically. It's the simple things 🙂
Energy efficient appliances: All of our appliances are Jen Air's energy efficient line. Saves a lot on our energy bill!
Lots of counter space: That's an obvious one if you can make it happen!
Garbage Drawer: It looks just like a cabinet and it's HIDDEN, and perfectly positioned for food scraps next to the sink. I used to hate having a separate ugly looking garbage can on display in our kitchen! Now we don't have to really think about it unless we are taking out the trash.
Tons of storage. And more importantly – practical storage: We have huge deep drawers perfect for storing pots and pans, vertical cabinets with dividers for storing sheet pans and other baking items, and I have a long rectangular drawer that isn't too tall next to the stove which is perfect for storing my spice jars!
Hidden plugs! All of the plugs in our kitchen are in a strip hidden under our cabinets – so the plugs don't interrupt the backsplash.
A wine fridge: With two zones of temperatures (for whites and reds) – because you know, obviously 🙂
A white kitchen with quartz counters: Love the clean lines of quartz, and white because I like the open and airy feel it provides!
We are also big on open concept, so we wanted just one big space for our kitchen, dining and living areas. I like how I can see all the way from our kitchen to our family room.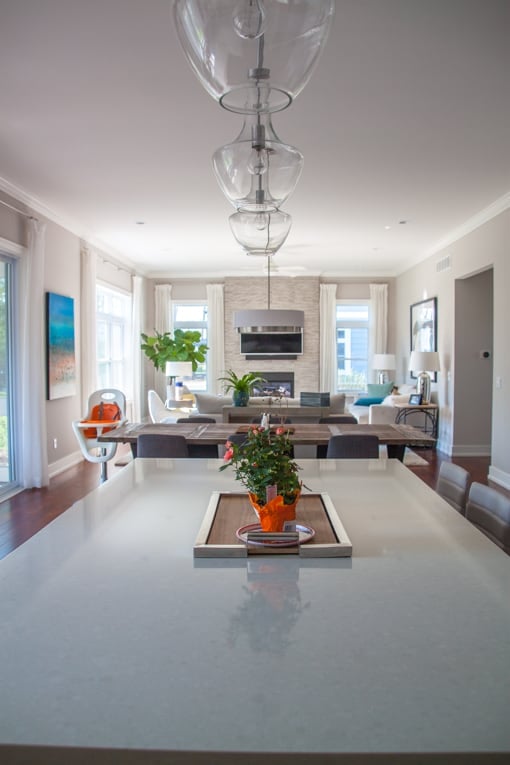 And vice versa! From our family room to our kitchen.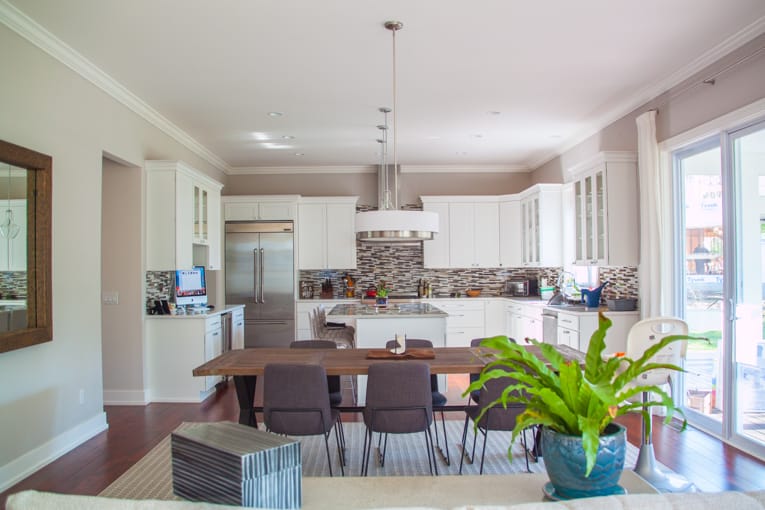 The last must-have was lots of light. One of our walls is virtually all windows — between a set of large windows in our family room to these doors that lead out to our screened in porch. So in the summer, we can open these doors and it feels like we're eating outside even if we are at our dining table!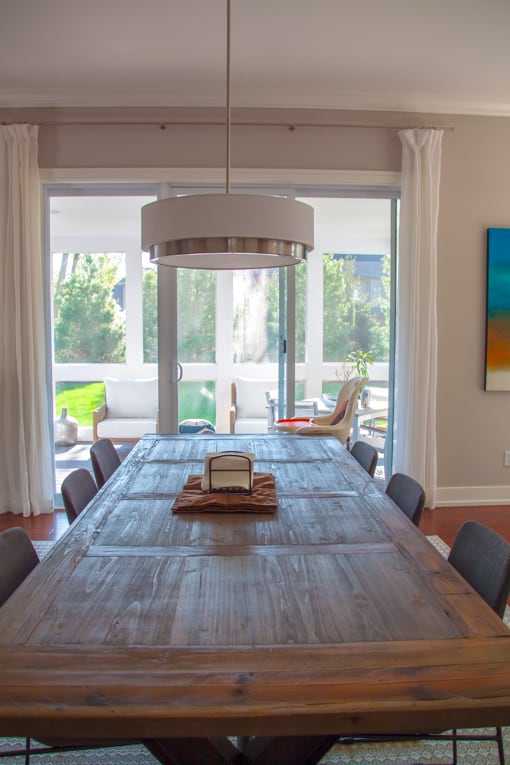 We learned so much when we were building our house and putting this kitchen together – it really was a labor of love. And now that we've been enjoying it for a while I can't imagine cooking anywhere else!
6 responses to "My Dream Kitchen"