Instant Pot Popcorn
This post may contain affiliate links. As an Amazon Associate, I earn from qualifying purchases. Please read my disclosure.
Make your favorite movie-time snack in your pressure cooker! This homemade instant pot popcorn is easy, mess-free, and perfectly crisp. You only need four ingredients and less than 20 minutes to make it!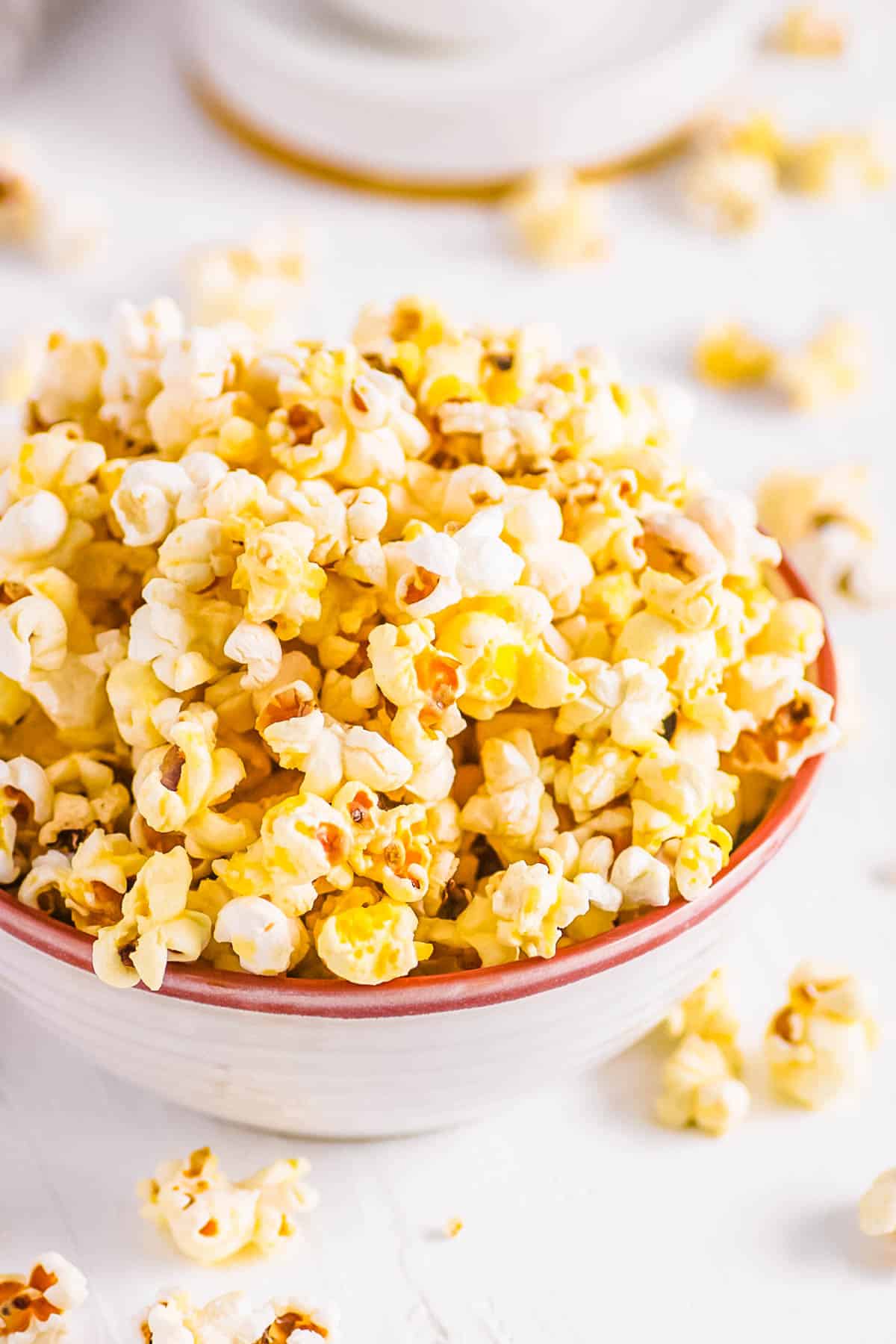 Skip store-bought popcorn this time! Homemade popcorn is fun to make and tastes a million times better. My favorite way to make it is in my instant pot.
Pressure cooker popcorn is also much healthier and cheaper than both microwave air-popped popcorn and movie theater popcorn (but tastes just as good!)
Latest Recipe Video!
My kids love to help make and season Instapot popcorn. They scoop the corn kernels into the pot, and then watch it pop like crazy. It's a fun tradition for movie nights with the whole family.
Our favorite way to season pressure cooking popcorn is with butter and salt, but you can spruce it up however you like! Add sweet or savory toppings, candy mix-ins, or shredded cheese and herbs. The sky is the limit.
👩‍🍳 Why This Recipe Works
Perfect for movie night
Kid friendly
No need for a popcorn maker, easier than making stovetop popcorn
Healthy snack
Makes 10 cups of popcorn
Customize with your favorite seasonings
Learn how to pop IP popcorn at home in minutes!
More affordable than microwave popcorn
Super easy instant pot popcorn recipe!
🥘 Ingredients
Pressure cooking popcorn requires simple ingredients found at your local grocery store. The full list of ingredients and nutritional information is included in the recipe card at the bottom of this post.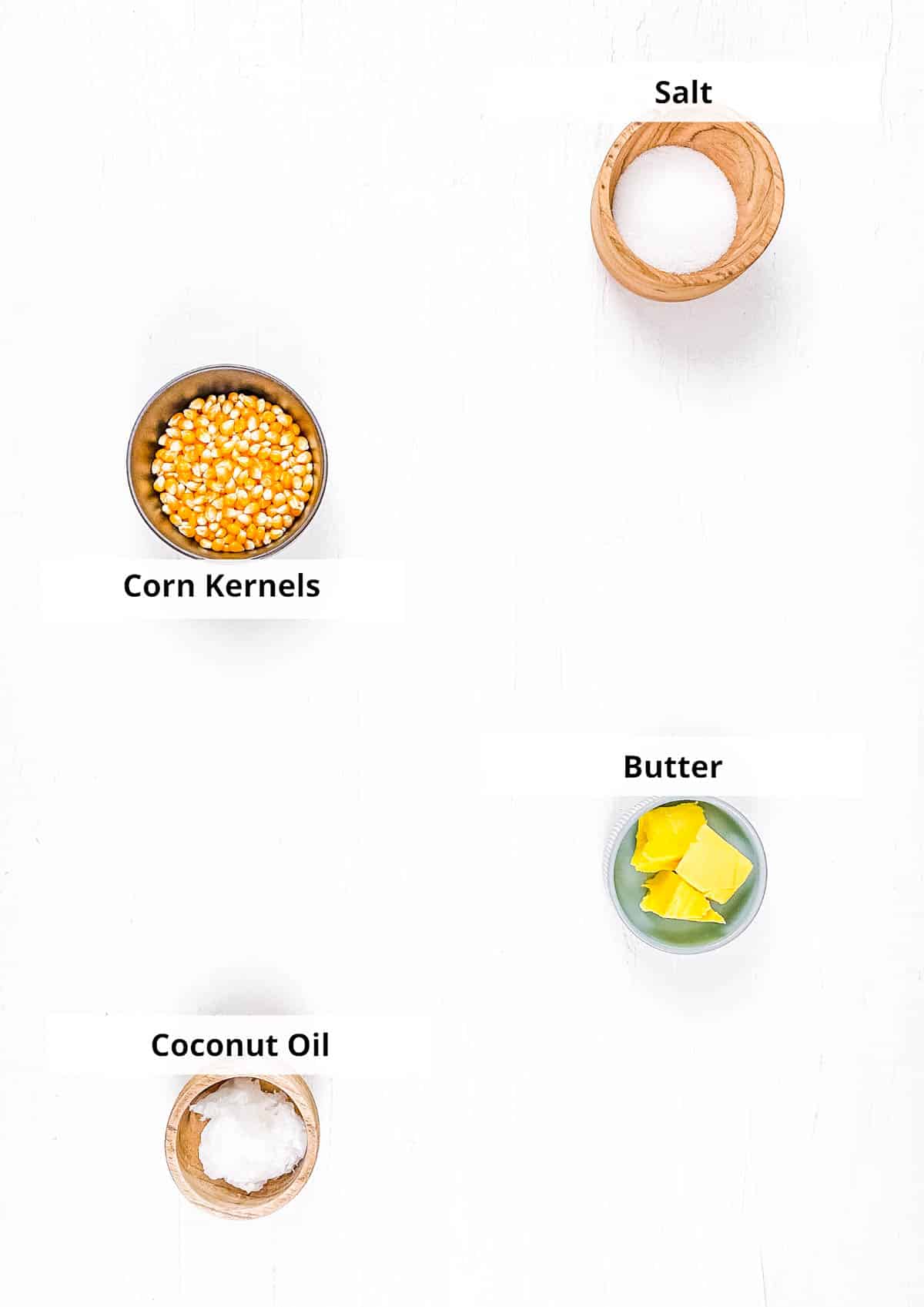 Extra Virgin Coconut Oil: Oil coats the kernels and keeps them from burning. I like using unrefined coconut oil because it has healthy fats and a very high smoke point. The best oil for making popcorn is really any type of neutral flavored oil works great. Try olive or avocado oil if you don't have coconut oil. If you don't have any of these three options, you can also use vegetable oil for popcorn (like canola oil or regular vegetable oil), but these oils don't have healthy fats the way olive, avocado or coconut do.
Corn Kernels: You can find the corn kernels in the same aisle as the microwaveable bags. It's usually sold in a large plastic container or bag. Be sure to use fresh corn kernels for the best results.
Salt: Salt is crucial if you want this easy snack to have flavor! Start with a half teaspoon, then add more at the end if desired.
Butter: For movie theater style buttered popcorn!
📖 Variations
Popcorn in the instant pot is easy to customize! Try one of these delicious options.
Seasoning: Add your favorite seasonings or different flavors for a twist on this homemade movie theater popcorn recipe! Make a spicy jalapeno popcorn, or try cajun seasoning, white cheddar, ranch seasoning, pumpkin spice, chili powder, cinnamon, cayenne, curry powder, or Italian seasoning.
Mix-ins: Cranberries, raisins, nuts, seeds, pretzels, shredded coconut, yogurt-covered raisins, M&M's, marshmallows, chocolate chips, brown sugar, or cookies are all delicious!
Drizzle: Drizzle it with white, milk, or dark chocolate. Try making unicorn popcorn using candy melts. You could also add caramel sauce! To make caramel popcorn, you have to make your own caramel – it's so delicious that way!
Cheese: Add parmesan cheese, pecorino, cheddar cheese, or mozzarella cheese.
Instant Pot Popcorn Without Oil: If you don't want to use oil, swap it with ghee or clarified butter. If you don't want to use butter either, it's best to use an air popper.
🔪 How To Make Instant Pot Popcorn
Learn how to make popcorn in the instant pot with my step-by-step instructions and photos!
Heat Instant Pot, Add Coconut Oil: Turn on your instant pot and press the sauté button. Change the temperature to high. Once the instant pot shows it's hot, add the coconut oil and stir until melted.
Add Corn Kernels: Add 1/2 cup of kernels and 1/2 teaspoon of salt. Stir until the corn is coated in the oil. Continue to heat for another 30 seconds. The corn kernels will begin to sizzle.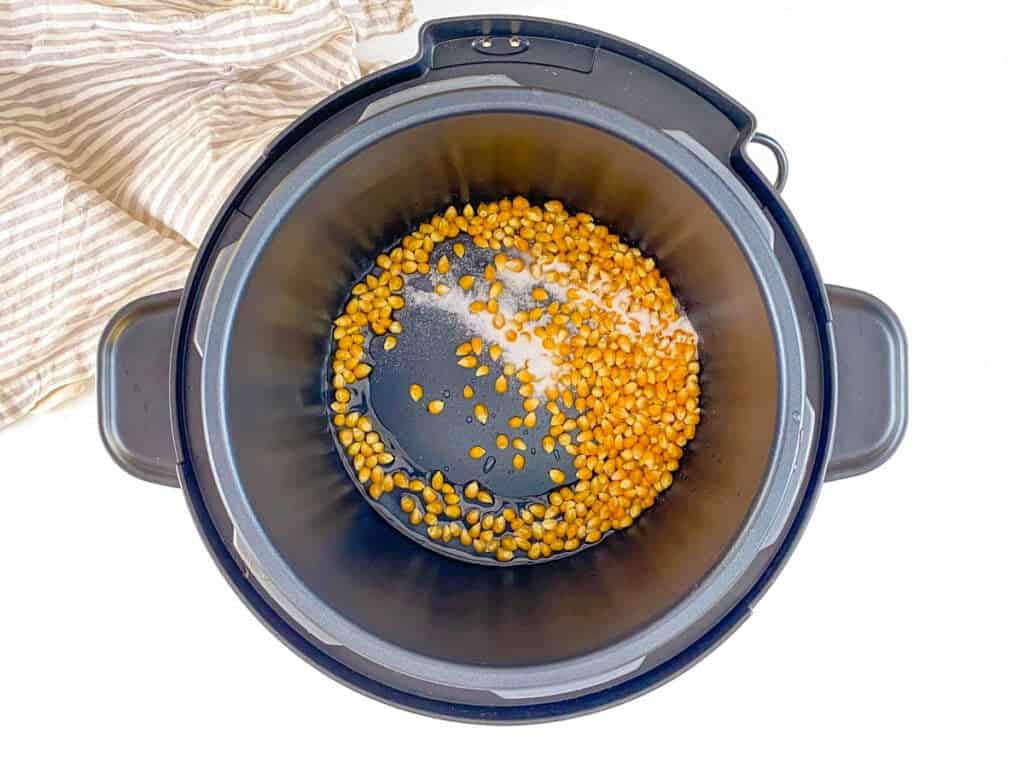 Pressure Cook Popcorn: Cover with a clear glass lid and let the popcorn cook. Continue to let the popcorn pop for 5 minutes. You don't need the specific Instant Pot glass lid if it didn't come with your Instant Pot, any glass, regular lid that fits on a large pot will do. Turn off the instant pot and let the popped corn sit until no more un-popped kernels left.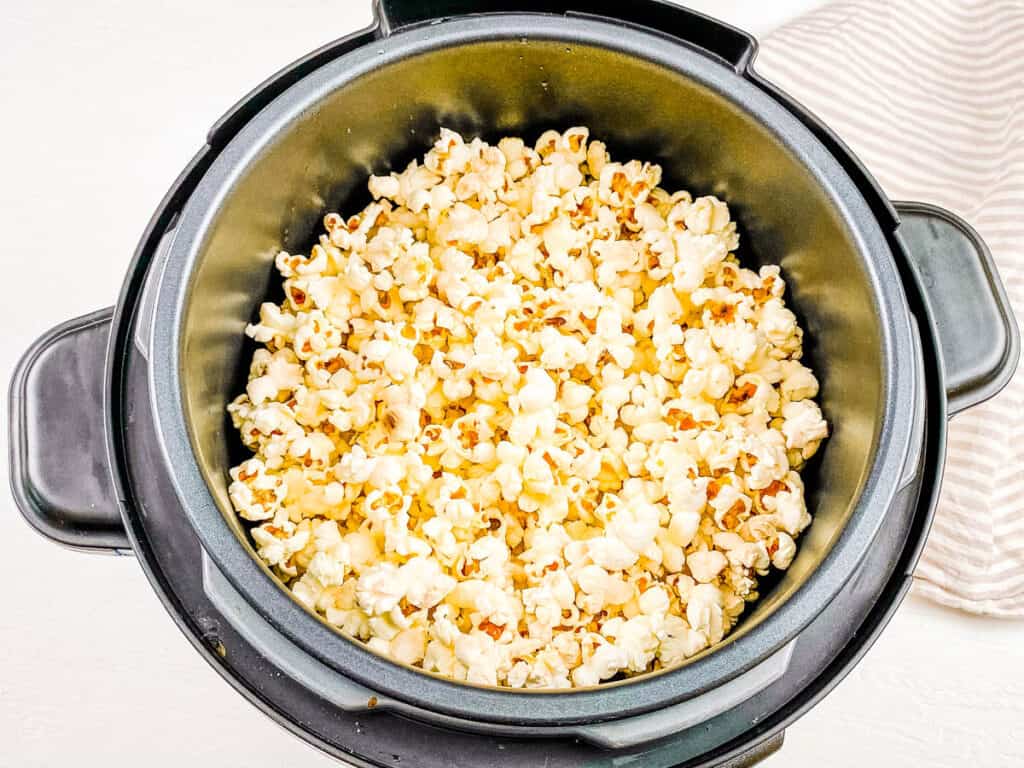 Add Butter: Transfer the hot popcorn to a large bowl, and pour the melted butter over top, if desired.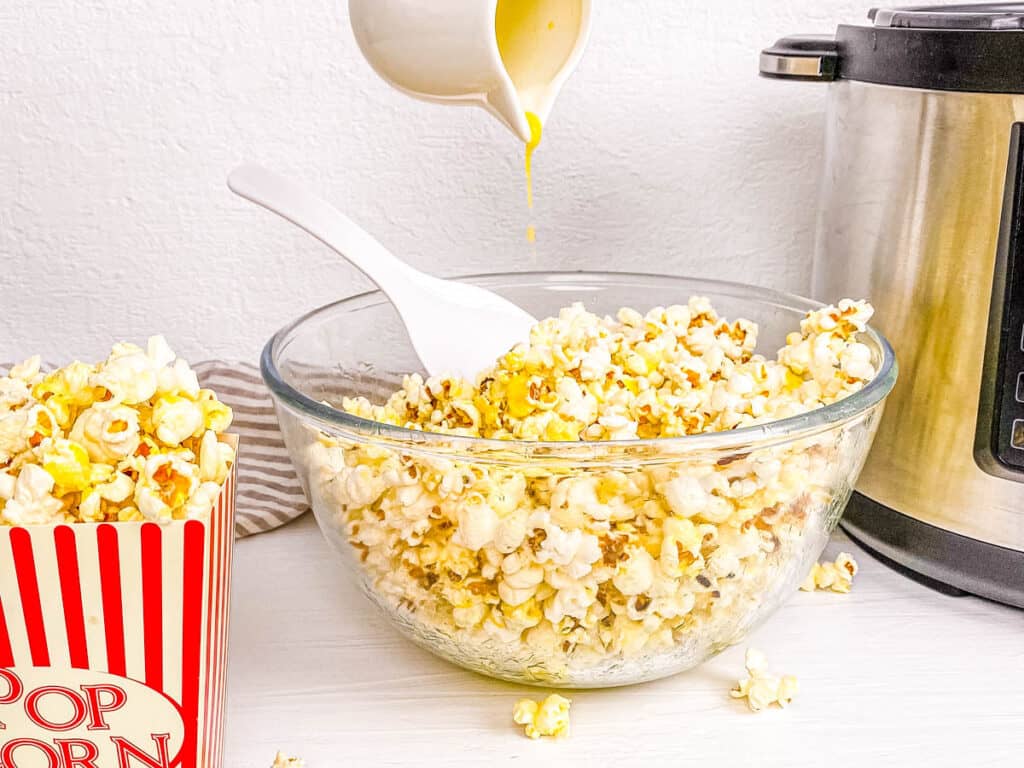 Toss and adjust the seasoning to taste. Serve warm!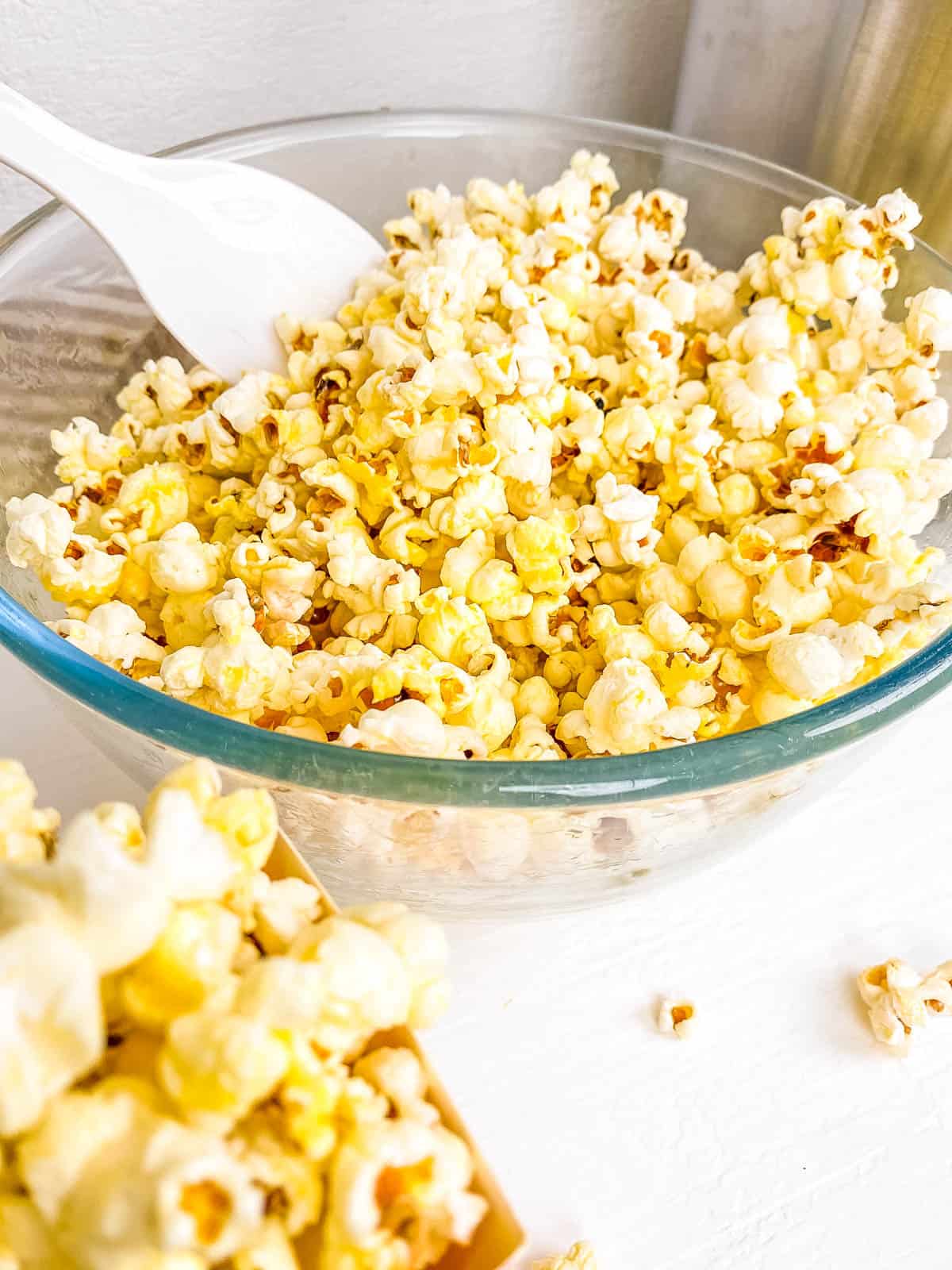 ❓ Recipe FAQs
Can you pop popcorn in an instant pot without oil?
Yes! To make pressure cooker popcorn without oil, first set your Instant Pot to High pressure and let it heat. Then, put the kernels in your pot in a single layer, with enough space for them to expand. Cook for about four minutes. Once you hear 2-3 seconds in between the popping sounds, the popcorn is done.
Can you pop popcorn in butter?
Yes, but it's important to use clarified butter or ghee. Clarified butter is butter with the milk proteins removed. Doing this gives it a higher smoke point so it can be used in high heat cooking without burning. I wouldn't recommend popping popcorn in regular butter as it will burn!
Why isn't my instant pot popcorn popping?
There are likely two reasons why your pressure cooker popcorn isn't popping:
1) Your kernels are too old – fresh kernels pop the best, old kernels may not pop evenly or at all
2) Your kernels aren't in an even layer on the bottom of the instant pot. If your kernels are stacked or you put too many kernels in the pot, then the popped kernels will expand and the unpopped kernels won't get enough heat to pop properly.
Is homemade popcorn healthy?
Yes, popcorn is a whole grain with a low amount of calories and plenty of fiber. When you make it at home, you can control the amount of fat and salt, so you can easily make it with a small amount of healthy fats and less salt!

However, a bucket of popcorn from the movie theaters is likely not healthy, because they use low quality oils, tons of salt, and often add extra butter (or a fake butter flavoring) on top.

So basically, popcorn can be super healthy, but it depends on what you season it with! Cook the corn kernels in heart-healthy olive oil or coconut oil, skip the melted butter, and top with a small amount of sea salt instead.
How do you season homemade popcorn?
You can season it with whatever spices or popcorn seasoning you like! Toss the instant popcorn in melted butter or spray with olive oil, then add your seasonings. Doing this ensures they stick to the popcorn and coat it evenly.
How Do You Store Leftover Popcorn?
Allow the popcorn to cool to room temperature. It will end up mushy if you store it before it's cooled. Place the popcorn in a plastic bag that has excess air removed, in a plastic container, or a glass container.

Make sure to keep it away from sunlight, steam, or heat for best results. It will last for about 1-2 days when kept in an airtight container at room temperature.
💭 Expert Tips
For perfect popcorn, use fresh popcorn kernels that aren't expired. Old popcorn kernels don't always pop!
Make it vegan by only using toppings that are dairy-free and vegan. Replace the butter with extra coconut oil, vegan butter, or olive oil.
Make multiple batches of popcorn – you can easily make a few batches of popcorn at home, but just make sure to only make one batch at a time! Don't put more than one layer of kernels in your Instant Pot so they pop evenly. Also, in between batches, make sure to wipe out your Instant Pot as sometimes you could have some burnt kernels on the bottom.
Use a glass lid to cover the pot – this way you can trap the heat in the pot while still being able to see what's going on with your popcorn!
If you have unpopped kernels, shake the Instant Pot slightly so that the unpopped kernels make it to the bottom of the pot (to get enough heat to pop!)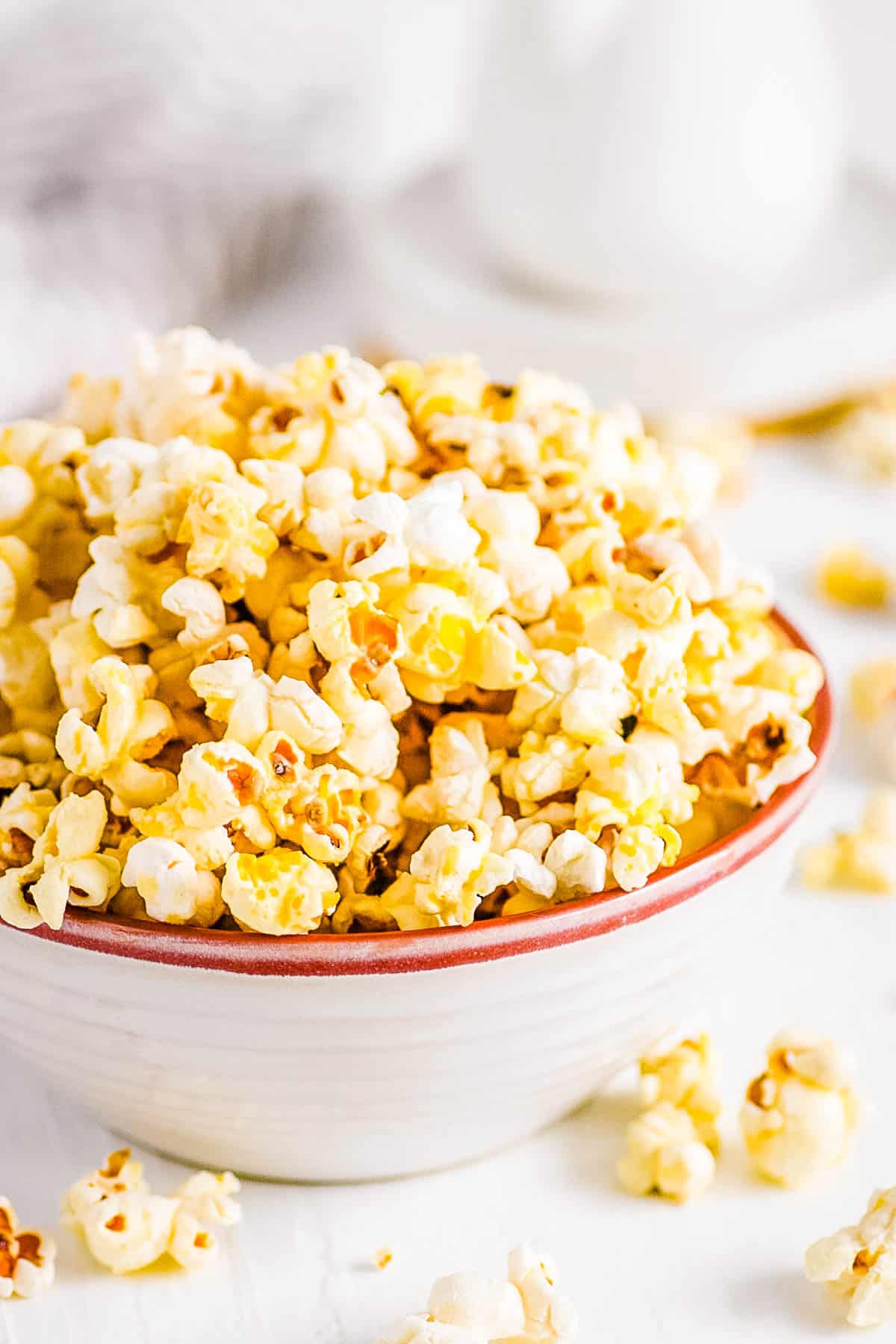 🍽️ More Easy Instant Pot Recipes!
LOVE THIS RECIPE? Please leave a 5-star rating 🌟 in the recipe card below and/or a review in the comments section further down the page!
You can also FOLLOW ME on FACEBOOK, TWITTER, INSTAGRAM, and PINTEREST to see more delicious, healthy, family-friendly food, and if you have any questions, I'm here to help!
📋 Recipe Card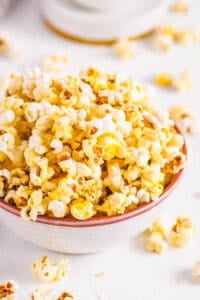 Print Recipe
Instant Pot Popcorn
Make your favorite movie-time snack in your pressure cooker! This instant pot popcorn is easy, mess-free, and perfectly crisp. You only need four ingredients and less than 20 minutes to make it.
Instructions
Turn on the instant pot and select 'sauté', press temperature to show 'more' or 'high'.

When the instant pot shows that it's hot, 3-5 minutes, add the coconut oil and stir until melted.

Add the corn and ½ tsp salt, stir until corn is well coated in oil.

Continue to heat for another 30 seconds, the corn kernels will begin to sizzle.

Cover with a glass lid and cook for 5 minutes. Turn off the instant pot and allow the popcorn to sit until there are no more kernels popping.

Transfer to a large bowl and pour over the melted butter.

Toss and adjust seasoning to taste.

Store leftover popcorn in an airtight container for up to 2 days.
Notes
Use a glass lid from any pot large enough to cover the instant pot.
To make this vegan friendly substitute the butter for vegan butter or completely omit it if preferred.
Nutrition
Serving:
1
cup
|
Calories:
70
kcal
|
Carbohydrates:
1
g
|
Protein:
0.2
g
|
Fat:
7
g
|
Saturated Fat:
5
g
|
Polyunsaturated Fat:
0.3
g
|
Monounsaturated Fat:
1
g
|
Trans Fat:
0.2
g
|
Cholesterol:
12
mg
|
Sodium:
402
mg
|
Potassium:
12
mg
|
Fiber:
0.2
g
|
Sugar:
0.4
g
22 responses to "Instant Pot Popcorn"