Hawaiian Macaroni Salad
This post may contain affiliate links. As an Amazon Associate, I earn from qualifying purchases. Please read my disclosure.
Tender macaroni, crunchy carrots, tangy apple cider vinegar, aromatic green onion, and flavorful mayo are combined to create this simple, delicious, authentic Hawaiian macaroni salad recipe. Light, bright, and creamy, this macaroni salad is a refreshing side dish perfect to pair with any meal.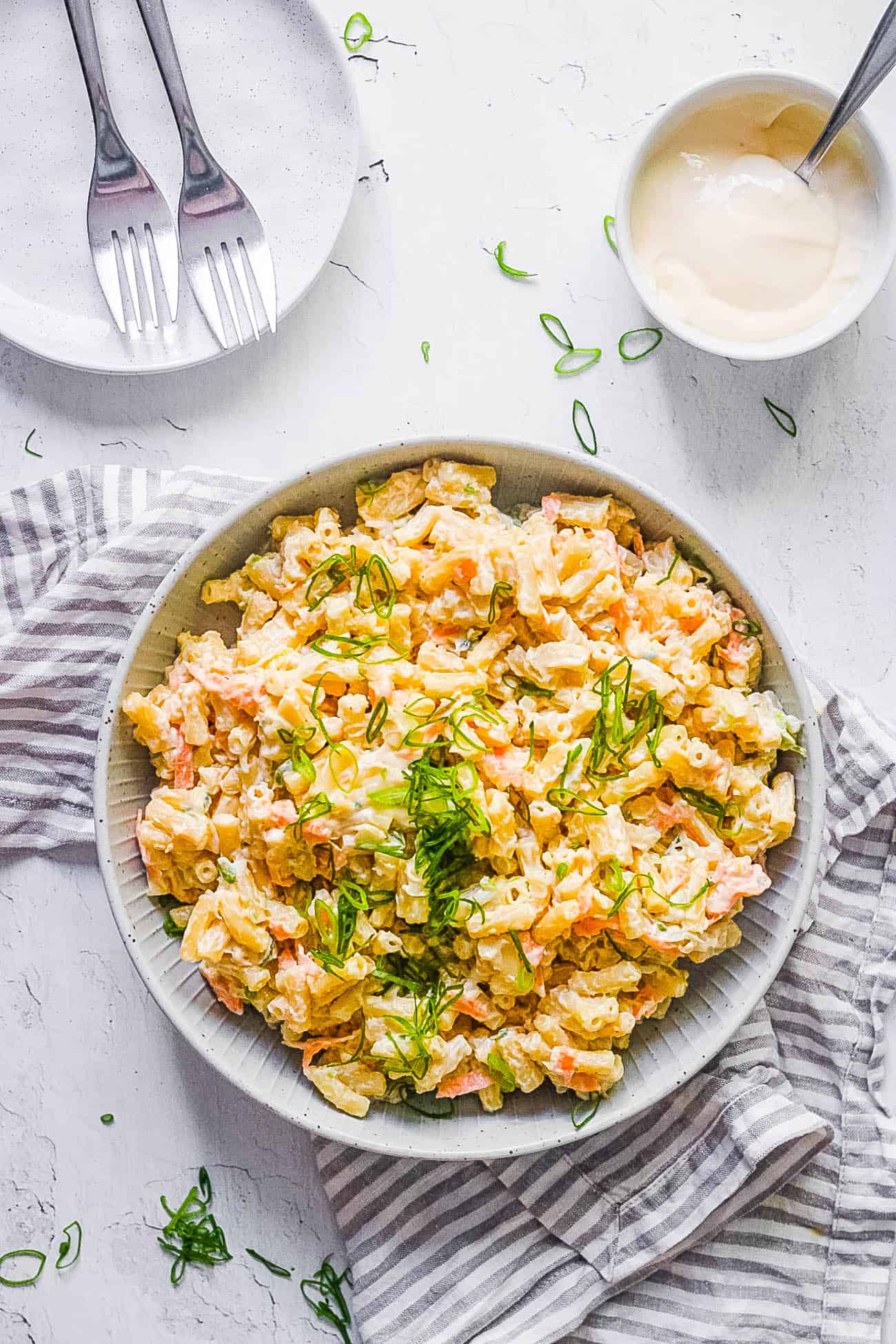 Pasta salad is a staple dish for picnics, summer cookouts, and year round side dishes for a reason – it's easy to make, and is a wonderfully cooling, creamy, and delicious recipe!
My newest pasta salad recipe, this Hawaiian macaroni salad, stays true to its island roots with clean and simple ingredients that you likely already have around your kitchen. It elevates basic macaroni salad by adding in crunchy veggies and flavorful seasonings!
One of the best parts? You can easily throw together this creamy side dish in just 20 minutes!
Latest Recipe Video!
🍍What Is The History Of Hawaiian Macaroni Salad?
Hawaiian Macaroni Salad is a twist on traditional pasta salad where tender macaroni noodles and a variety of crisp veggies are tossed in a mixture of vinegar, mayo, and spices.
This classic macaroni salad recipe originated in the late 1800s (likely in the 1880's) when the Hawaiian plate lunch began to rise in popularity. If you've been to Hawaii, you have probably seen the Hawaiian lunch plate being served at local Hawaiian restaurants, roadside stands, food trucks, and hole-in-the-wall restaurants.
Plate lunches typically consist of a serving of protein, white rice, vegetables and a mayo based salad – often a creamy mac salad! Most plate lunch can have a variety of different proteins and grilled meat such as Teriyaki chicken, huli huli chicken, kalua pork, poke, salmon, and spam musubi. You can also make it vegetarian or vegan by using grilled tofu for the protein.
So why was this particular style of macaroni salad included in plate lunch? Because it was a budget friendly and satisfying dish for workers at the sugar and pineapple plantations on the Hawaiian islands.
Real Hawaiian mac salad is made with macaroni, mayo, milk, vinegar, carrots, salt, and pepper. But you can throw in a wide variety of mix-ins — celery, green onions, potato or even pineapple!
👩🏽‍🍳 Why This Recipe Works
Vegetarian, and easily made vegan or gluten-free
Perfect balance of tangy, savory, and creamy
Made with real mayo, soft noodles, and a little sugar
Super easy recipe!
Local and authentic Hawaiian dish
Perfect side dish for summer BBQs, but great anytime of the year
Great recipe for feeding a crowd
Best Hawaiian Macaroni Salad Ever!
🥘 Ingredients
This recipe calls for just a handful of ingredients for this easy Hawaiian macaroni salad – many of which you likely already have in your pantry or fridge!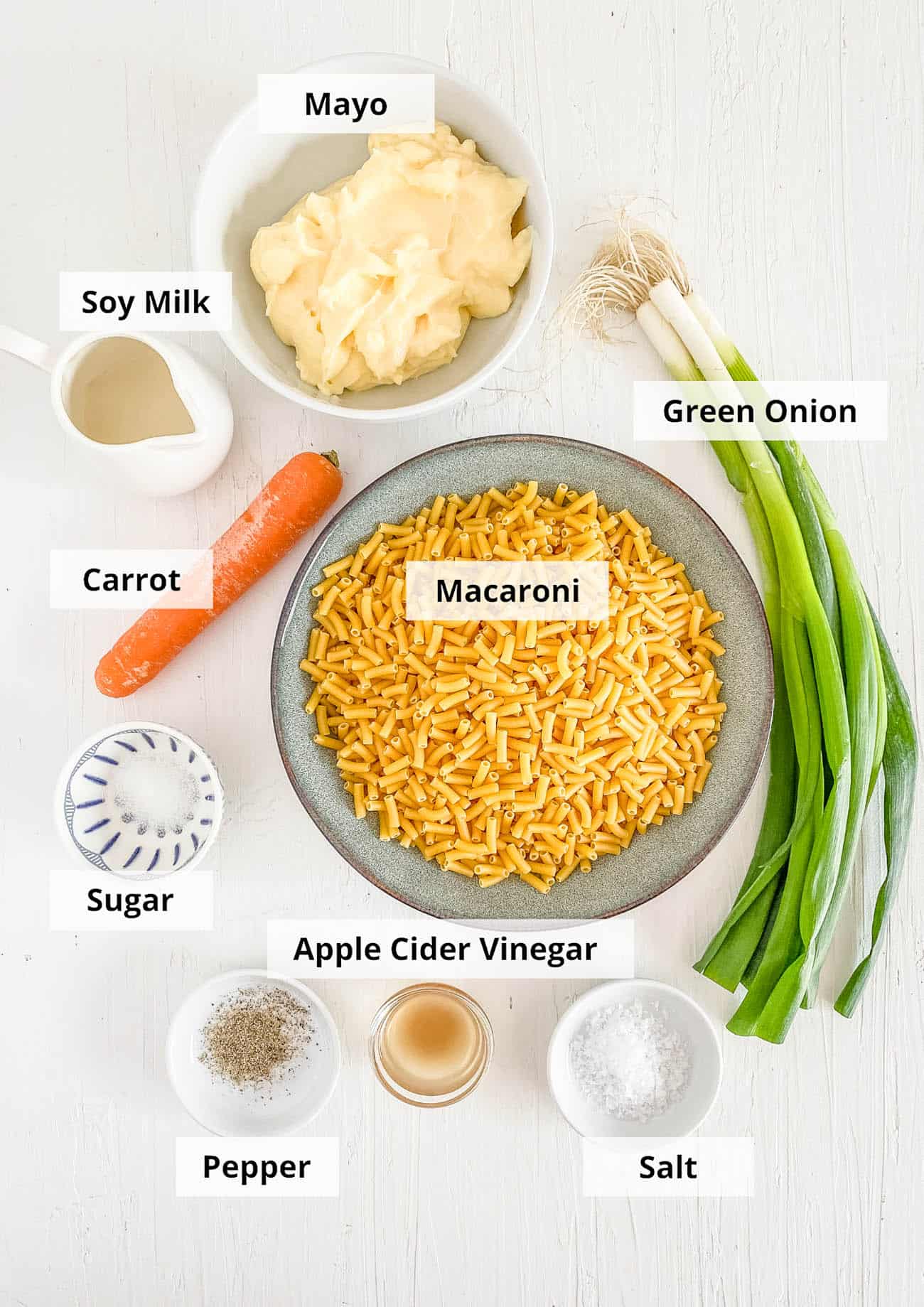 Elbow Macaroni: Cooked according to package directions until al dente. Whole wheat pasta, chickpea pasta or any gluten free pasta would also work nicely.
Apple Cider Vinegar: Adds a nice tang that ties together all your other salad ingredients.
Carrot: When grated thinly, adds a slight sweetness and nice crunch.
Green Onions: Adds an aromatic bite that cuts nicely through the creamy dressing and starchy pasta.
Mayonnaise: Good mayo is one of the most critical components to making this authentic Hawaiian mac salad shine. I recommend Best Foods Mayonnaise, Duke's Mayo, Hellmann's, or any organic mayo at your local grocery store. It acts as a flavorful binding agent to hold all your salad ingredients together. I used light mayo to make this recipe slightly healthier. You can also use vegan mayo to make this recipe vegan friendly. Note: Do not substitute the mayo for miracle whip! It will not turn out nearly as good!
Milk: A little milk is all you need to add a creamy richness to this dish; also helps to slightly thin out the mayo. You can use whole milk or lowfat milk, or unsweetened almond or soy milk to make this recipe vegan.
Seasonings: Salt, pepper, and a pinch of sugar (granulated or brown sugar) combine to perfectly season this salad.
🍽 Equipment
All you need to create this Hawaiian mac salad recipe are a few mixing bowls, some measuring cups and spoons, and a sturdy wooden spoon. No cooking or fancy equipment required! In no time, you'll have a bowl full of deliciously creamy macaroni salad, ready to please a crowd!
📖 Variations
Add More Veggies: Feel free to add even more of your favorite veggies to this great side dish. I occasionally like to throw in potatoes, sweet onion, corn kernels, cucumber, celery, olives, tomatoes, red onion, broccolini, or bell peppers.
Switch The Spices: Switch up the basic flavors of your pasta salad by adding different spices. Create an Italian-style salad by adding garlic powder, onion powder, basil, oregano, thyme, and rosemary. You can also swap out the mayo for a tangy dressing like an Italian style salad dressing!
Potato Mac Salad: Chop up 1 cooked baked potato into small cubes and toss it into this salad.
Add Toppings: Get creative with your salad toppings. Some of my favorite things to add include parmesan cheese, cubed avocado, diced pineapple, toasted breadcrumbs, extra veggies, crunchy chow mein noodles, fresh herbs, a squeeze of fresh lemon juice, sunflower seeds, or even hot sauce to the top of my macaroni salad.
Turn It Into A Main Dish! Serve this local dish with a protein to make it a complete meal, or add protein into your this Hawaiian mac salad recipe for a one-pot meal!
Make it Vegan: Use a plant based milk and vegan mayo
Gluten Free Macaroni Salad: Use your favorite gluten-free pasta!
🔪 Instructions
Cook Pasta: Add macaroni to a large pot and cover with water. Bring to a boil, and cook as directed on the packaging. Drain and pour into a large bowl.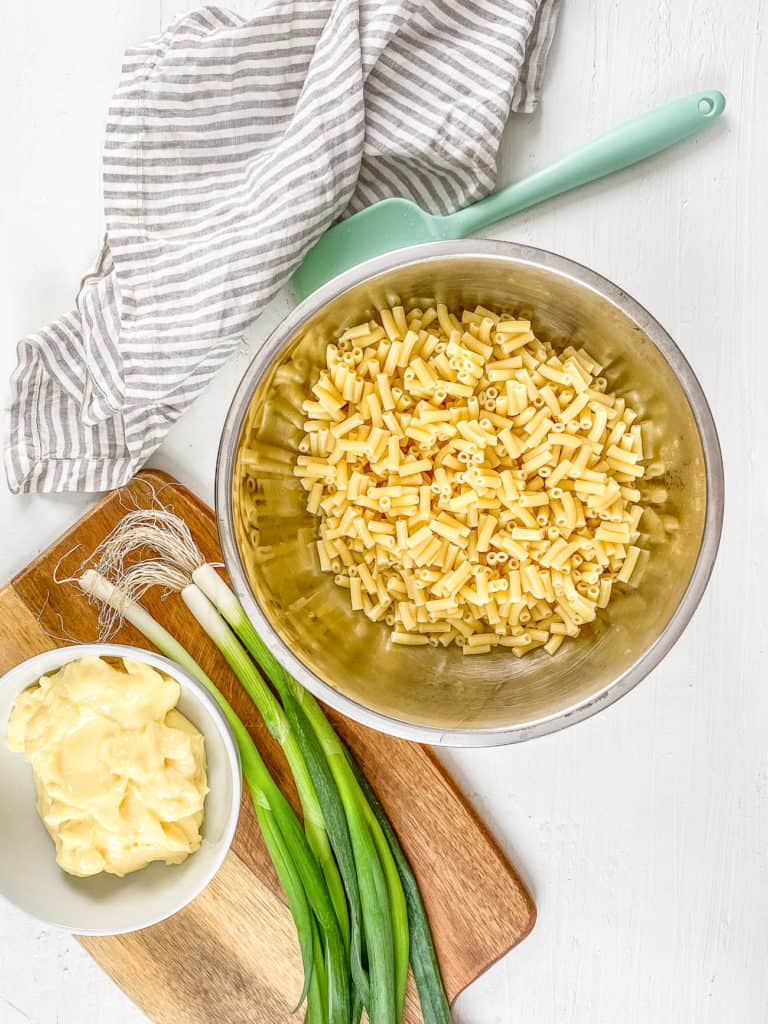 Mix Ingredients: Pour the vinegar over the warm pasta and stir to combine. Add the carrot, green onion, salt and pepper and stir.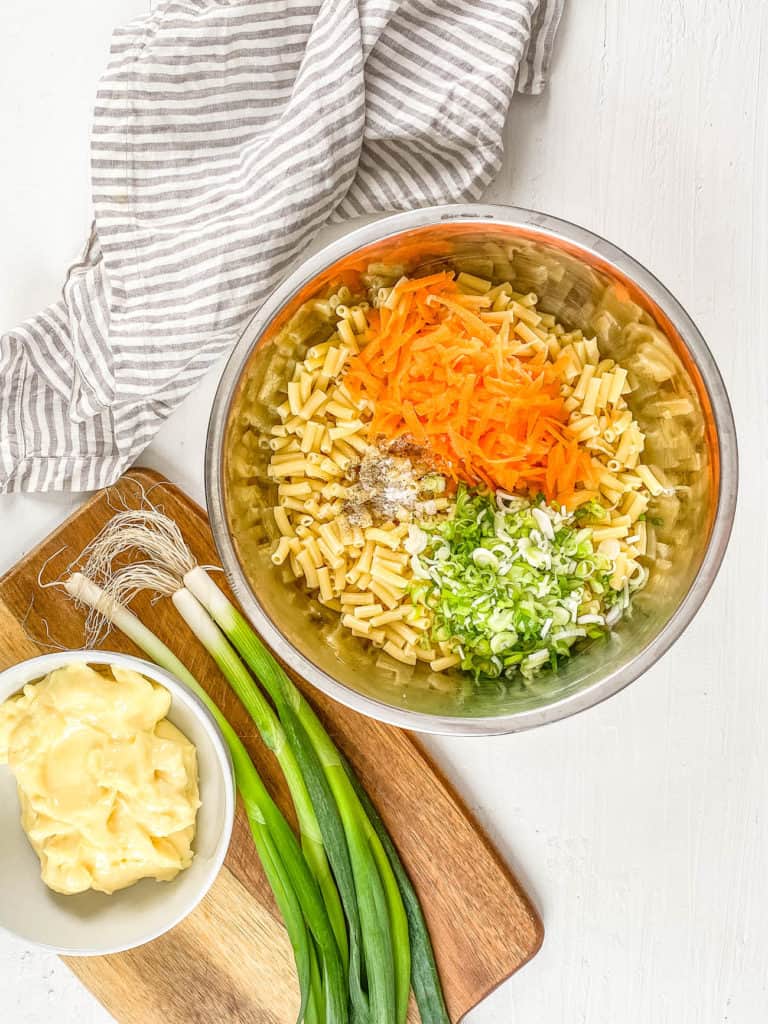 Whisk Dressing: In a separate bowl, combine your mayo, milk, and sugar and stir or whisk until smooth and creamy.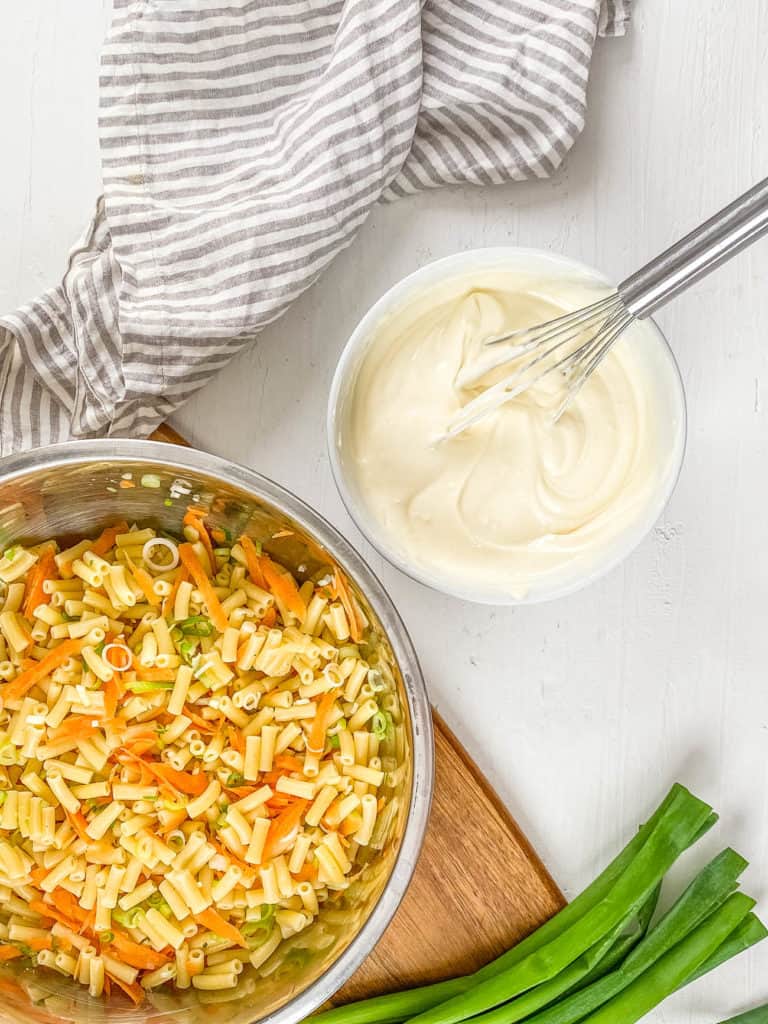 Combine: Gently fold your mayo mixture into your pasta mixture, being sure to evenly coat everything.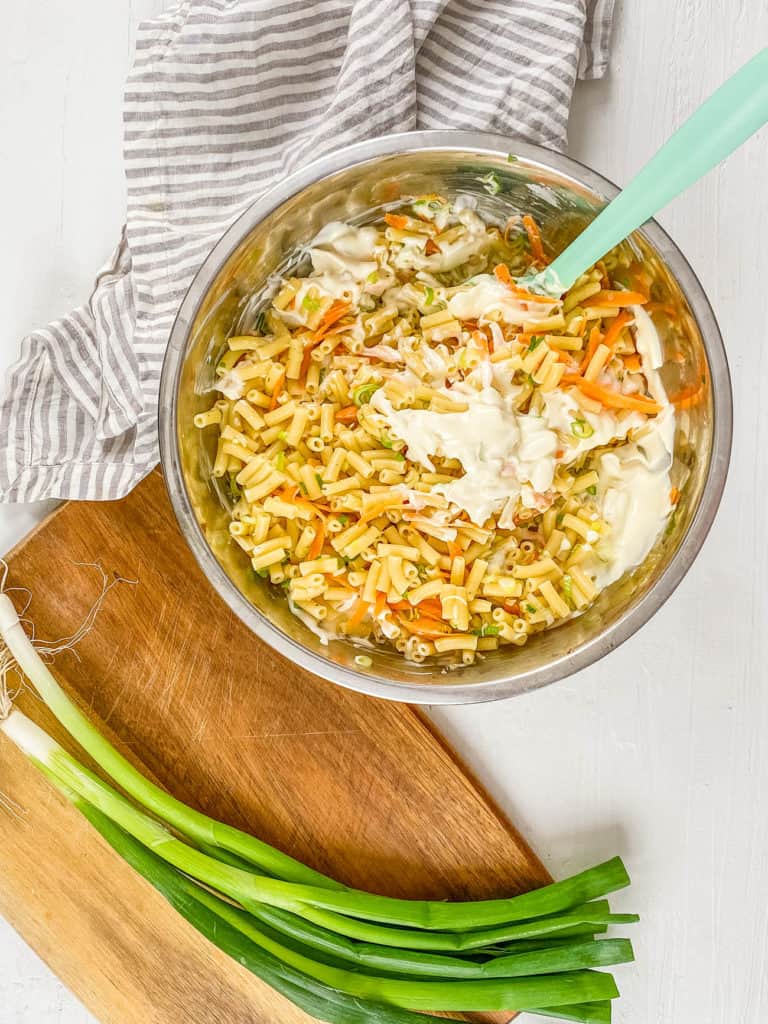 Chill: Allow to cool before covering and storing in the fridge to chill completely. Serve this Hawaiian style macaroni salad cold!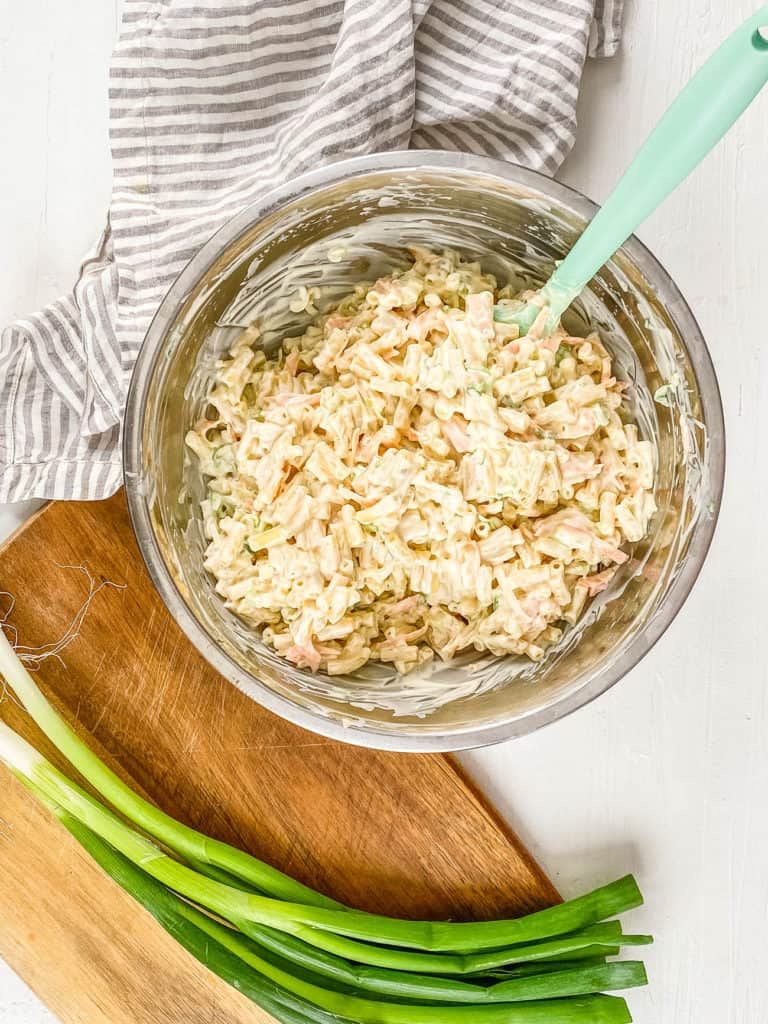 ❓Recipe FAQs
Do I need to let my pasta cool before making this salad?
Nope! Feel free to cook your pasta right before assembling this salad. Just be aware that you may need to let your assembled salad cool slightly before storing in the fridge.
Is Hawaiian macaroni salad best served warm or cold?
Traditional Hawaiian macaroni salad is best served cold. It may sound a little odd to eat cold pasta, but the cool temperature actually makes this salad taste light, flavorful, and refreshing.
Can you freeze macaroni salad?
While technically, you can freeze macaroni salad, the mayonnaise likely won't defrost properly and have the same texture as it had before freezing. That's why I don't recommend freezing Hawaiian mac salad. Instead, you can store it in the fridge in an airtight container for up to 5 days!
Why is macaroni salad unhealthy? How to make a Healthy Hawaiian Macaroni Salad?
Macaroni salad is unhealthy for two reasons:
1) It's traditionally made with white pasta, making it high in refined carbs and low in fiber
2) It's made with high fat ingredients (mayo, whole milk)
This makes Hawaiian mac salad high in calories, high in refined carbs, and high in fat.

But you can make a healthy Hawaiian macaroni salad with just a few simple swaps!
1) Use whole wheat macaroni or chickpea macaroni instead of white pasta. You'll end up with more fiber and protein per serving!
2) Use light mayo or vegan mayo instead of traditional mayo. You'll cut the fat and calories by almost half.
How many calories are in macaroni salad?
Typically, one cup of macaroni salad will run you about 350 calories. But one cup of this lightened up version is only 246 calories for 1 cup!
Can you make Hawaiian macaroni salad without mayo?
You can, but it won't be as creamy! You can use an Italian dressing or even Greek yogurt + avocado oil instead of mayo in this recipe.
🧊 How To Store
To Refrigerate: Place any leftover Hawaiian style macaroni salad in an airtight container and store in the fridge for up to 5 days. Feel free to enjoy this leftover salad straight out of the fridge, no reheating required!
👨‍👩‍👧 How To Serve
This simple recipe for Hawaiian pasta salad pairs well with a wide variety of main dishes. You can go the traditional Hawaiian BBQ route and serve your macaroni salad alongside grilled plant-based meats, steamed veggies, scoops of sticky rice, and fresh pineapple or this Mexican fruit salad.
Alternatively, you can pair your Hawaiian macaroni salad with less-traditional meals such as my Lentil Falafel Burgers, Tofu Yellow Curry, Black Bean Quesadillas, or even my veggie pizza. This light and creamy vegetarian side dish is sure to add interest to any plate!
💭 Expert Tips
You can easily make this Hawaiian macaroni salad recipe vegan by swapping out the milk and mayo for plant-based alternatives. If you or your loved ones have a gluten allergy, try swapping the regular pasta for a rice, cassava, almond flour, chickpea, or other gluten-free pasta.
You'll want to make sure your Hawaiian macaroni salad is completely chilled before serving – I recommend at least 2 hours of chill time.
Feel free to meal prep this recipe and store it in the fridge until you're ready to serve. If you make it a day or two in advance, you may need to add a little more milk + mayo to the salad before serving, as the pasta will start to absorb the mayo dressing as it sits in the fridge.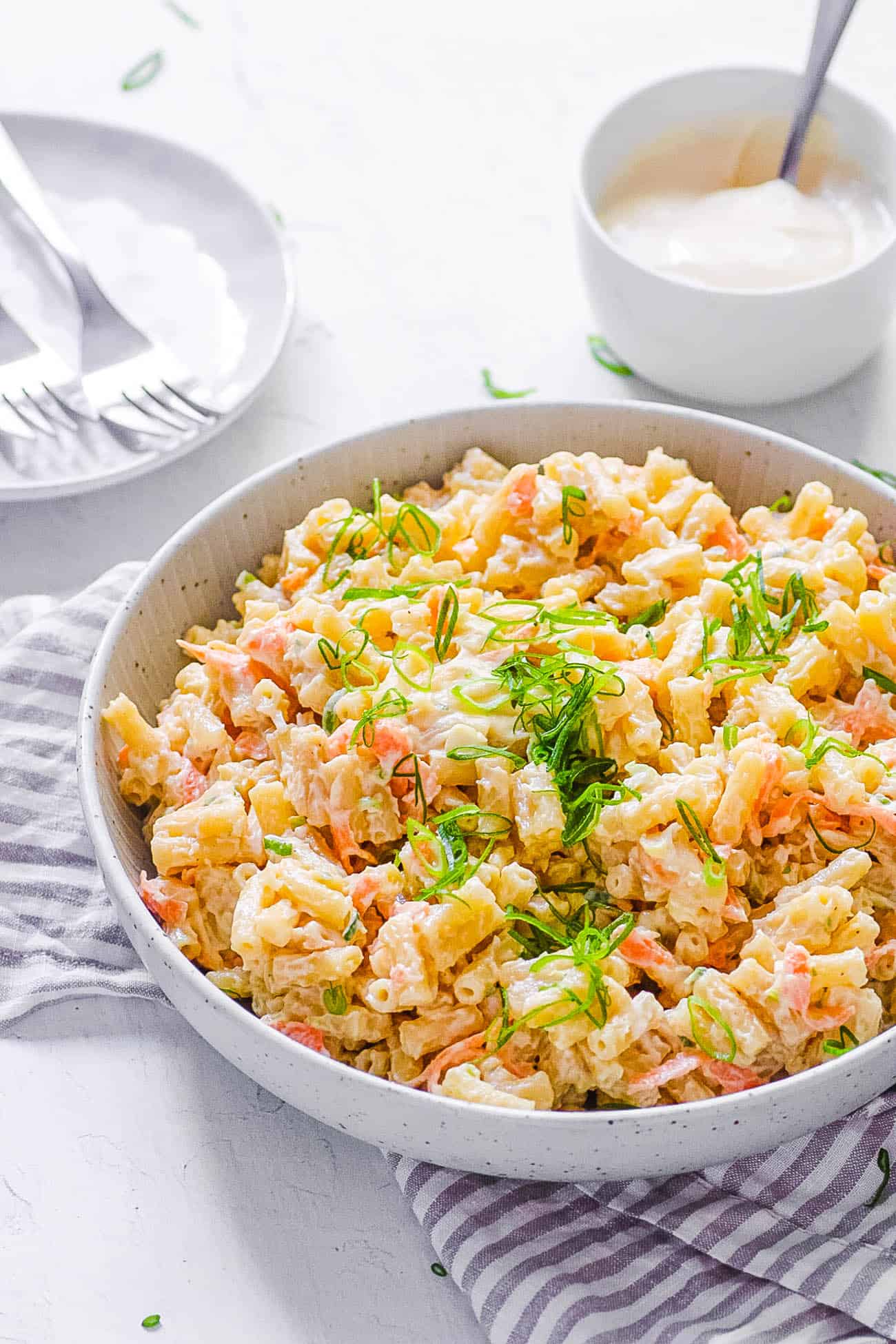 🥗 More Flavorful Side Salads!
LOVE THIS RECIPE? Please leave a 5-star rating 🌟 in the recipe card below and/or a review in the comments section further down the page!
You can also FOLLOW ME on FACEBOOK, TWITTER, INSTAGRAM, and PINTEREST to see more delicious, healthy, family-friendly food, and if you have any questions, I'm here to help!
📋 Recipe Card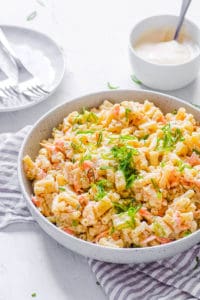 Print Recipe
Hawaiian Macaroni Salad
Tender macaroni, crunchy carrots, tangy apple cider vinegar, aromatic green onion, and flavorful mayo are combined to create this simple, delicious, authentic Hawaiian macaroni salad recipe. Light, bright, and creamy, this macaroni salad is a refreshing side dish perfect to pair with any meal.
Ingredients
1

pound

macaroni

use whole wheat macaroni or chickpea macaroni for a healthier option

2

tbsp

apple cider vinegar

1

carrot, grated

3

green onion, thinly sliced

¼

tsp

salt

¼

tsp

black pepper

2½

cups

mayo

use a light mayo or vegan mayo for a healthier option

½

cup

milk

use low fat milk for a healthier option

1

tsp

sugar, optional
Instructions
Cook macaroni as directed on the packaging. Drain and pour into a mixing bowl.

Pour the vinegar over the macaroni and stir to combine. Add the carrot, green onion, salt and pepper and stir.

In a separate bowl mix together the mayo, milk and sugar.

Fold the mayo mixture into the macaroni. Allow to cool before covering and storing in the fridge to chill completely.

Store in an airtight container in the fridge for up to 5 days.
Notes
To make this vegan friendly, substitute the milk with soy milk and use vegan mayo.
Gluten free pasta works really well in this recipe if you're needing a gluten free option.
Allow the salad to chill completely before serving.
Nutritional info is calculated using chickpea macaroni, light mayo and 1 tsp sugar. If you used whole wheat macaroni, you'd have the same general nutritional information but would have only 6 grams of protein and 2 grams of fiber per serving. 
Nutrition
Serving:
1
cup
|
Calories:
246
kcal
|
Carbohydrates:
27
g
|
Protein:
10
g
|
Fat:
13
g
|
Saturated Fat:
2
g
|
Polyunsaturated Fat:
6
g
|
Monounsaturated Fat:
2
g
|
Trans Fat:
1
g
|
Cholesterol:
8
mg
|
Sodium:
444
mg
|
Potassium:
56
mg
|
Fiber:
6
g
|
Sugar:
6
g
|
Vitamin A:
931
IU
10 responses to "Hawaiian Macaroni Salad"