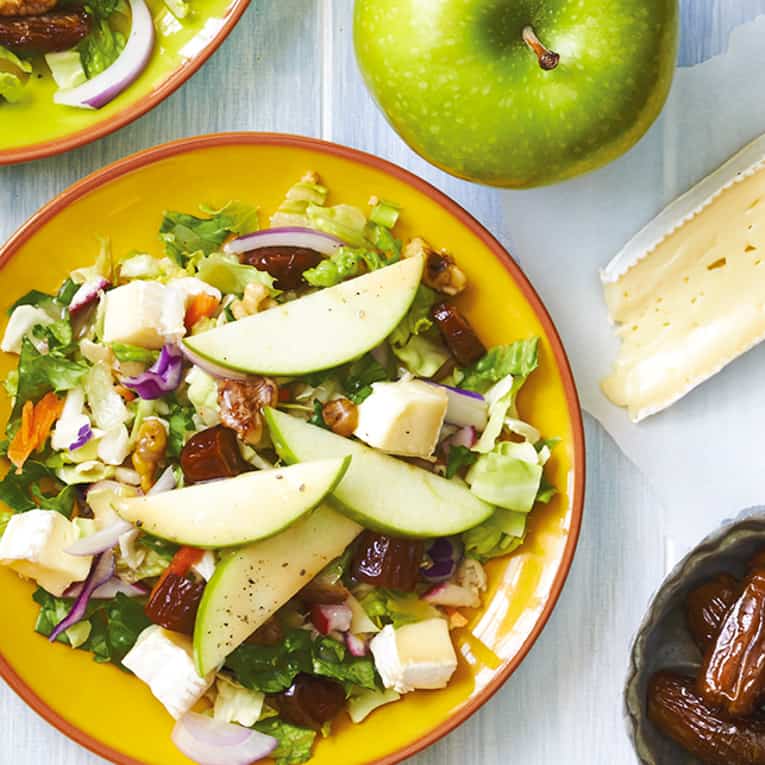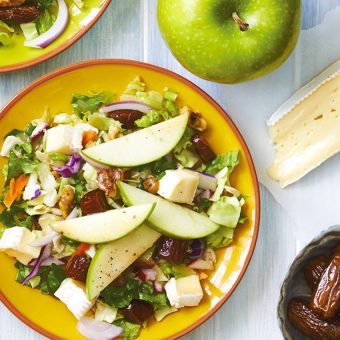 I'm usually a baby spinach kind of girl.
I use baby spinach for everything: as lettuce in tacos, as a mix-in for lentil soup, in smoothies, I could go on. It's such an easy way to get your full serving of greens every day, and baby spinach has such a mild flavor that it goes in just about anything!
But this time, I decided to try a different mix: a blend of Green Cabbage, Red Cabbage, Romaine, Radishes, Carrots, Green Onions for this Apple and Brie Salad.
I topped it with an Apple Cider Vinaigrette, which has sweet notes of apple, fruity olive oil, tangy apple cider vinegar and spicy cayenne in it.
If you love brie, then you will adore this salad. You can even use this mixture as a filling for a sandwich — just spread some of the vinaigrette on two slices of sprouted wheat bread, add 1 slice of brie and top with this salad — delicious!
I'm sharing this recipe in honor of Breast Cancer Awareness Month — I've teamed up with Pink Ribbon Produce and its produce partners to help raise awareness about increasing fruits and veggies in our diets (the goal is at least 2.5 cups a day) to help lower cancer risk (cruciferous veggies like cauliflower, and greens like spinach are especially great for prevention!) You can read more about why I'm supporting this cause here. 
Apple and Date Salad with Brie
Nutritional Info Per Serving: 242 Calories, 14.1g Fat (3.6g Saturated), 115.1mg Sodium, 27.5g Carbs, 4.7g Fiber, 18.1g Sugar, 5.8g Protein
Ingredients
1

pkg. DOLE Chopped Summer Garden Blend

1

Granny Smith apple

cored and sliced

1/4

cup

pitted dates

chopped

1/3

cup

walnuts

toasted and chopped

1/2

cup

red onion

chopped

2

oz.

Brie cheese

chopped

Salt & ground black pepper to taste

2

tbsp

apple jelly

1

tbsp

apple cider vinegar

1

tbsp

olive oil

1/2

tsp

Dijon mustard

1

clove

garlic

pinch

of cayenne pepper
Instructions
Combine apple jelly through cayenne pepper in a blender. Cover, blend until smooth (this is the dressing)

Combine salad, apples, dates, walnuts, onion and Brie in large bowl. Toss with dressing until coated as desired. Season with salt and pepper to taste.
TAGS: appetizers, christmas recipes, gluten-free, kid friendly recipes, quick meals, salads, side dishes, thanksgiving recipes, vegetarian
4 responses to "Apple and Date Salad with Brie"