35 Easy Vegetarian Keto Recipes (Ebook)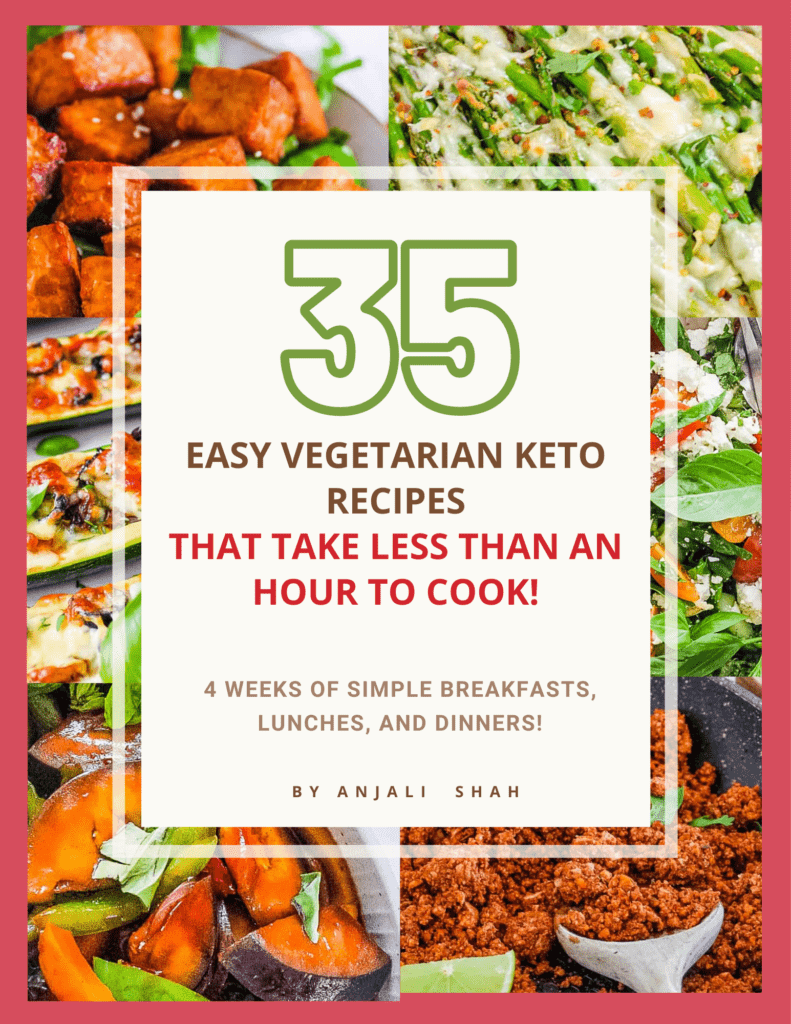 35 Easy Vegetarian Keto Recipes That Take Less Than An Hour To Cook!
Take all the guess work out of meal planning with these easy, healthy, flavorful, keto-friendly recipes, that also happen to be 100% vegetarian!
You'll get:
35 EASY, DELICIOUS RECIPES for breakfast, lunch, and dinner
TIPS FOR EATING VEGETARIAN + KETO with modifications so you can be as strict on carbs as you like!
NUTRITION INFO for each recipe
EASY to follow step by step format!
Eating plant-based is hard; eating plant based + keto is almost impossible. That's why I've done the work so you don't have to!
I've compiled everything I know into these easy, delicious recipes that are all keto friendly and low carb. This cookbook contains my favorite 35 vegetarian keto meals to help you get dinner on the table in no time!
Not only that, you get to spend less time cooking, less time meal planning, and you don't have to read every nutrition label to make sure you're following your diet properly.
Most keto meals can be repetitive and boring. But this cookbook has a large variety of recipes, guaranteed to keep your meals interesting, totally satisfying, and super flavorful!
The recipes in this book are super simple, super quick (most have less than 30 minutes of active time), and are total comfort foods that you and your family will love.
Whether you're hosting an event, enjoying a slow weekend morning, or just trying to get everyone fed, these easy yet healthy recipes are the perfect way to eat plant-based and low-carb at the same time – and the best part is – they taste amazing!
Here are a few of the recipes you'll learn how to make:
In addition, you'll find:
Over 20 of our most popular easy dinner recipes including Keto Enchiladas and Zucchini Pizza Boats…
Mouth watering appetizers that will turn your vegetable box into a delicious feast including Jalapeno Artichoke Dip, Guacamole with Edamame, and Crispy Air Fryer Jicama Fries…
4 delicious crowd pleasing deserts including Keto Carrot Cake and Creamy Chocolate Mousse…
And 5 endorphin boosting breakfast recipes that will transform your mornings!
All of my recipes are designed to make your life easier. You can spend more time doing the things you love and less time trying to figure out what to make each day.
You won't find any recipes that are too hard to make. I've tried to make every recipe as easy as possible without sacrificing quality or flavor.
What's Included In This Cookbook?
All the work is done for you! Every recipe in my ebook is:
Guaranteed vegetarian
Guaranteed keto
Low – Moderate net carbs (with notes for modifications so you can be as strict on carbs as you like!)
Already planned for you
Clearly explained in an easy-to-read format
Simple to follow along
Fast to prepare – all of them take less than an hour to cook
Super Delicious – these are all recipes that I love and that I think you'll enjoy too!
In This Book You'll Also Find:
Vegan and gluten free alternatives for most recipes
Easy to follow table of contents broken into categories
Tips for eating vegetarian + keto
Simple to follow instructions
Large color images for each recipe
Nutrition facts, including net carbs for each recipe
Expert tips and tricks to make each recipe perfectly every time!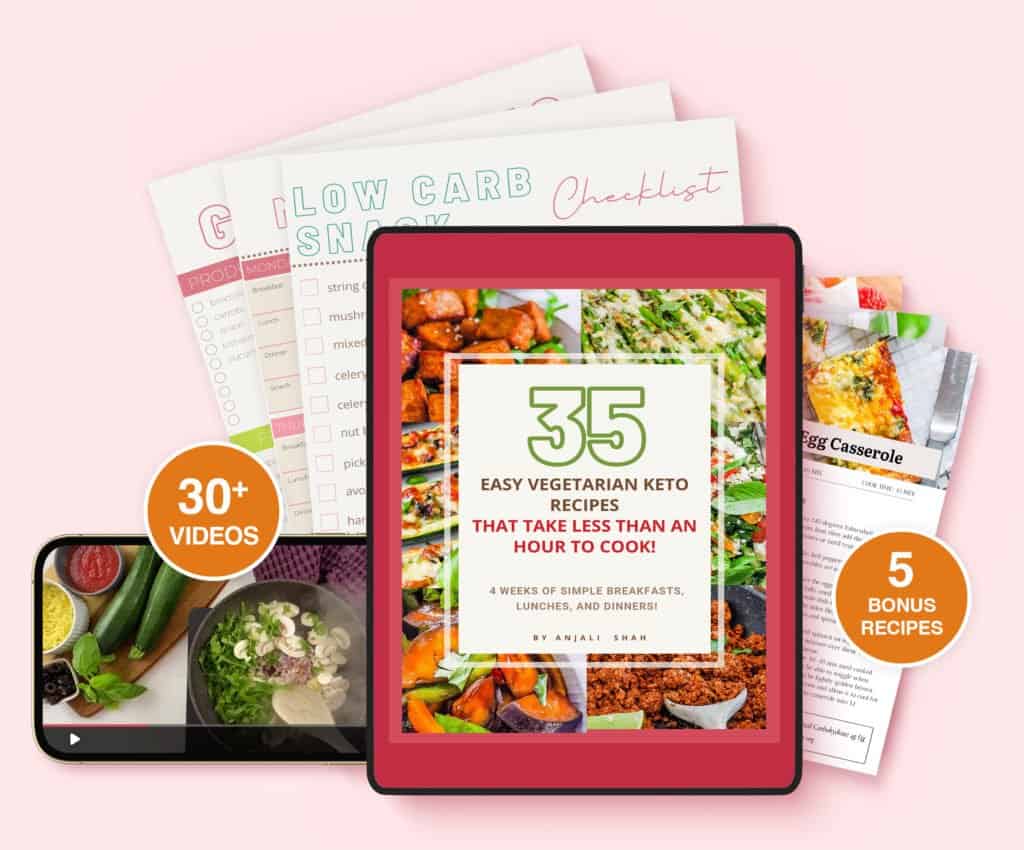 Save even MORE time with this Cookbook + Meal Planning Bundle!
Purchase my ebook with extras to supercharge your meal planning! The extra bundle includes:
30+ LIVE how to videos for the recipes in this book!
Grocery list planner
Weekly meal planner
Over 40 different low-carb snack ideas!
5 EXCLUSIVE bonus recipes!
Frequently Asked Questions
Do you use expensive or uncommon ingredients?
No weird ingredients! Nothing is too expensive or hard to find. Some ingredients may be new to you, especially if you're new to keto meals. Everything included in my book can be found in most grocery stores.
Are all of the recipes vegetarian?
Yes, all of the recipes are vegetarian! While most keto recipes are very meat-heavy and high in fat, and it might seem impossible to be able to stay vegetarian and eat keto at the same time, it is really easy to eat vegetarian + keto! All of my recipes are vegetarian with whole foods (no meat substitutes or processed ingredients).
Are all of the recipes vegan?
No, all of the recipes are not vegan, but most of them are. Additionally, if they are not vegan, there are substitution options in the recipe notes. 
Are all of these recipes gluten-free? 
Almost all of the recipes in this ebook are gluten-free, and every recipe has a gluten-free substitution.
What if I don't need to lose weight or eat keto, but just want to eat healthier?
That's totally fine; these recipes are for you too! While these meals are helpful for anyone trying to follow a keto diet as they are low-calorie, packed with veggies, and super healthy, they're great for anyone following a plant-based diet.
Do I have to be vegetarian to enjoy the recipes?
Plant-based meals are for everyone! Omnivores can enjoy the recipes too. You don't have to be strictly vegetarian to find new favorites, and there are plenty of healthy options to try.
How many servings does each recipe make?
Most of these recipes make 4-6 servings (some have more than that!) Every recipe is designed so that you have large portions and potentially leftovers as well – so you can cook once and eat twice if you want to! You can also cut the recipes in half if you are cooking for less people, or save the leftovers for lunch or dinner later in the week! 
Can I buy this book in a hard copy or in stores?
This book is only sold through The Picky Eater as an ebook, but it's easy to print recipes out and add them to a binder or folder.
How many pages is this book? 
This book is 62 pages from front to back.
I have a different question
If you have any additional questions I haven't answered here, please reach out through my contact form! I respond to every question I get!