Where to buy Holle, HiPP and Lebenswert formula in the US: The Best Trustworthy Vendors in 2019!
This post may contain affiliate links. Please read my disclosure.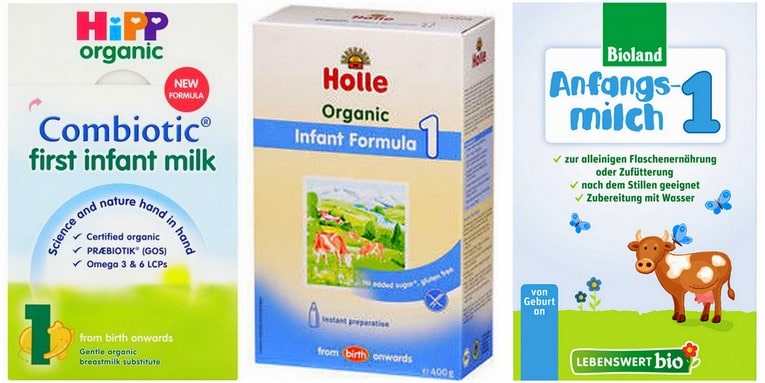 Many of you know that when I had Layla, breastfeeding was not easy. I stuck with it for as long as I could but eventually I needed to supplement with formula.
And after a ton of research, I came up with this list of the best organic formulas for your baby. Since all of the healthiest formulas are still coming from Europe, it became equally important to research the best places to buy European baby formula in the US. The good news is – since Layla was born 5 years ago, there are many more places where you can buy baby formula in the US! The bad news is, there are also still a lot of untrustworthy vendors out there. Which is why I have created a thorough screening process to find the most most trustworthy online vendors that I could feel comfortable recommending as places to buy HiPP, Holle, and Lebenswert in the US. Here they are (not in any particular order):
#1 | Huggable is an amazing and incredibly reputable online retailer based in the Bay Area, founded by a mom who (just like me) was looking for healthier baby formula options for her little one. Madhu, the owner, is committed to making the first year of feeding your baby as easy and stress-free as possible. After speaking with her extensively and learning about Huggable's sourcing practices, I feel confident in recommending them as a place to purchase all of the best European baby formulas: HiPP, Holle, Lebenswert, and Holle Goat. Huggable formulas ship free on orders over $40 and arrive at your doorstep in 1-5 business days! And, they truly care about the comfort and happiness of both mom and baby. They have a baby satisfaction guarantee, where if a formula isn't right for your baby, they'll send you a box of another to try, 100% FREE. Huggable also wants to support single moms — they recently launched the The Huggable Supermom Scholarship, which awards $2,000 and a year of free baby formula to single mothers who are on their way to achieving degrees!
#2 | DutchExpatShop is pretty awesome because they are the most affordable online retailer for HiPP Dutch! Many of you have struggled with HiPP Dutch being out of stock, and DutchExpatShop pretty much guarantees that they will always have HiPP Dutch at an affordable price to ship to the US. They are based in the Netherlands, and they also have the widest selection of Baby Care products from the Netherlands that I've seen. The cool thing about their shop is that you can pretty much get any products from Holland and Belgium through their site (like even stuff for mama like yummy snacks, fresh cheeses, beauty products, body care and more!)
#3 | BabyKindMarket is a reputable online seller based in the US who offers free shipping on all orders over $25 (which is a very low threshold to hit!) They're never out of stock of HiPP Dutch, and they offer all of the Holle, Lebenswert, HiPP, and Goat Milk formulas available in the EU. They also carry HiPP Comfort which can be difficult to find at other retailers. They also offer a whole line of baby care products from the EU including lotions, body wash, sunscreen and more!
#4 | Organic Baby Food is another reputable, online retailer based in the EU who has fast shipping to the US! They sell HiPP, Lebenswert, and Holle, along with Hypoallergenic formula and Goat's Milk formula. They have reasonable prices, reliable shipping (within 1-3 business days!), amazing customer support and I have been in contact with the owner personally. In addition to baby formula they also have a variety of organic cereals and snacks for babies from HiPP/Holle/Leb, as well as a line of baby care products (shampoo, lotion, calendula) that are gentle and free of any synthetic ingredients so they are perfect for babies! A few other great things about this company: guaranteed delivery within 2 days, money back if your shipment is delayed, dedicated customer support (a few hours turnaround time for emails or direct phone support at 1-800-701-4303), and deep discounts up to 60% off sometimes! They are also giving readers of The Picky Eater a 10% off coupon code at checkout – just use the code: PICKY and you will get the discount!
I'm in personal contact with the owners of all 4 of these companies: Huggable, Dutch Expat Shop,  BabyKindMarket,and  Organic Baby Food, and I feel comfortable recommending all of them to you.
Please note that The Picky Eater is not responsible for the quality of either the formula itself or the experience of ordering from any of the distributors listed above. I am simply saying that based on my research, if I were buying a European formula for my own child, I would feel 100% comfortable getting it from any of the vendors listed in this post.
121 responses to "Where to buy Holle, HiPP and Lebenswert formula in the US: The Best Trustworthy Vendors in 2019!"