The Chef's Corner at Wood Tavern
This post may contain affiliate links. Please read my disclosure.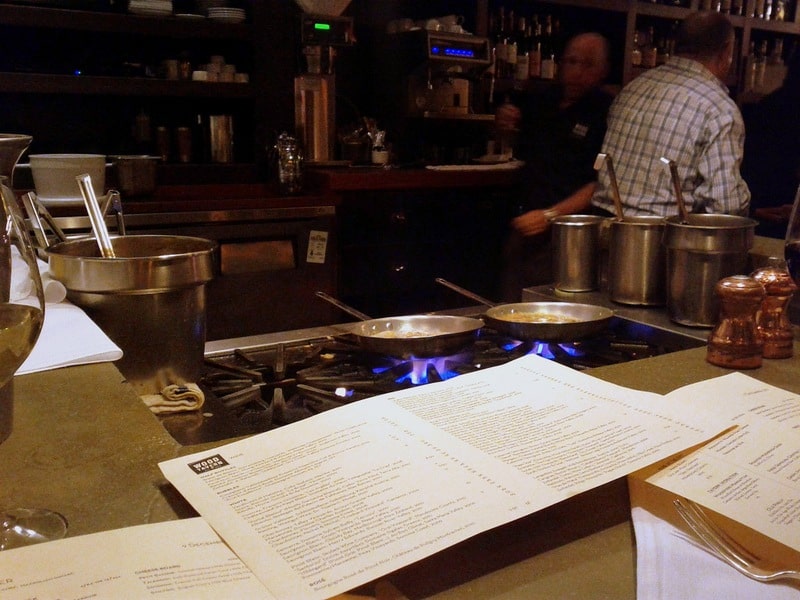 How often do you get to eat at a restaurant where you're literally in the chef's corner of the kitchen? Where you get to watch your dishes being prepared, plated and then delivered to your table?
I thought that only happened to VIPs and Celebrities who paid like crazy for it. But at Wood Tavern in Oakland, you can get that experience just by waiting a little and requesting to be seated at "The Chef's Corner."
Not a bad deal for a Friday night dinner right?
The husband and I randomly decided to go out to dinner in our neighborhood on Friday, without any planning or reservations made beforehand. Wood Tavern is always packed, so we figured we'd have to wait over an hour for a table. What we found out when we got there, was that The Chef's Corner was an option for walk-ins – that in fact, you can't reserve seats at The Chef's Corner.
Sweet!
So we waited about 45 minutes, and were escorted over to our seats.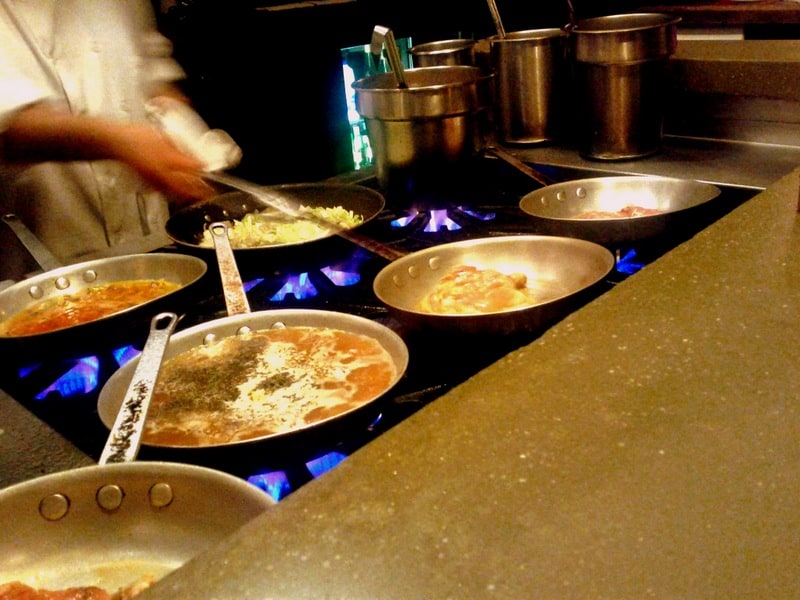 Yes, that was our view.
It was such a cool experience! The chef was really nice, as was our waiter, and we weren't rushed through our meal at all even though the Chef's Corner only seats 4 people max.
We started our meal with a Roasted Mushroom Soup, served with Truffle Oil and Chives, served with some crusty bread & butter.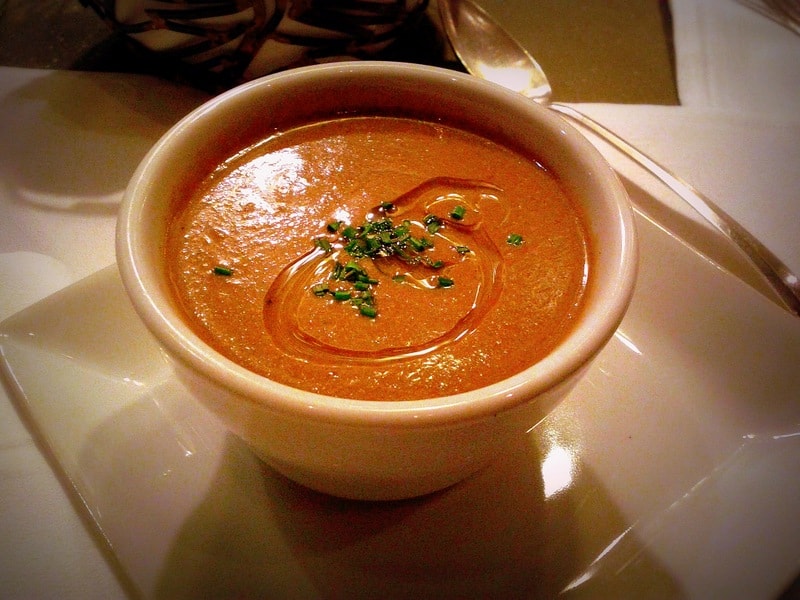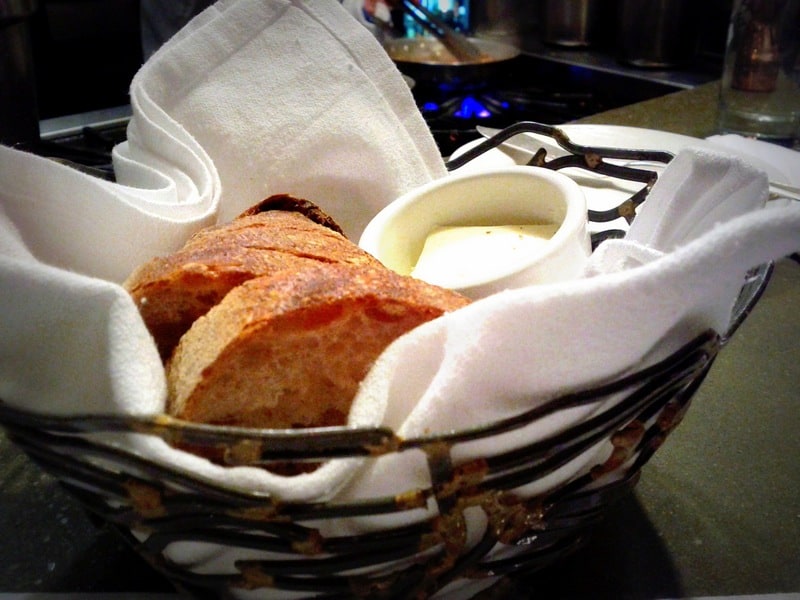 The soup was the perfect portion, and even though I'm not a huge fan of mushroom soup – I really enjoyed the heartiness of this appetizer. Speaking of appetizers, we also ordered the Gioia Burrata Cheese with Wild Mushroom Duxelles, served with Mache, Spiced Honey, Toasted Walnut Bread, and White Truffle Oil.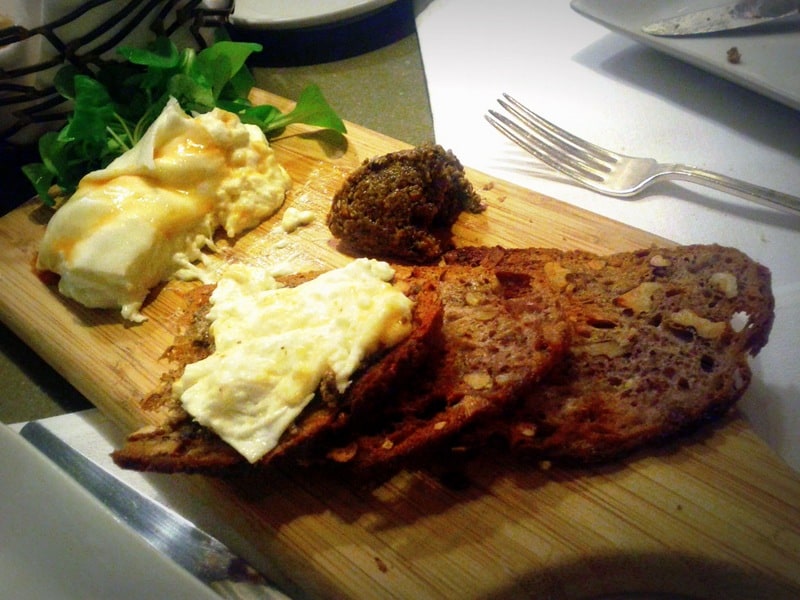 Burrata cheese is definitely a weakness of mine. Mozzarella cheese stuffed with cream? It doesn't get much better than that. The spiced honey with the wild mushrooms and burrata together was incredible.
For our entree, we ordered the Russet Potato Gnocchi, served with Sugar Pie Pumpkin, Chestnuts, Sauteed Leeks, Parmesan Cheese and Truffle Oil.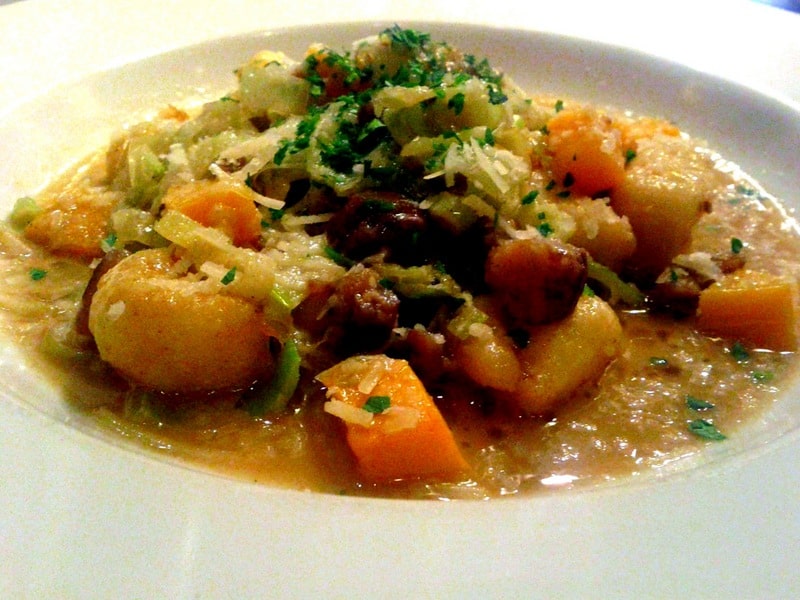 The great thing was, they didn't start cooking our gnocchi until after we were done with our appetizers – we could see the gnocchi simmering away in the sauce right in front of us, as the chef plated it and split it into two portions when it was ready to be delivered to our counter.
We loved this dish.
As the husband put it: "this is the best gnocchi I've ever had." The combination of the chestnuts, pumpkin and leeks had such a great flavor profile, it made what could just be a boring gnocchi into a wonderful, inventive meal.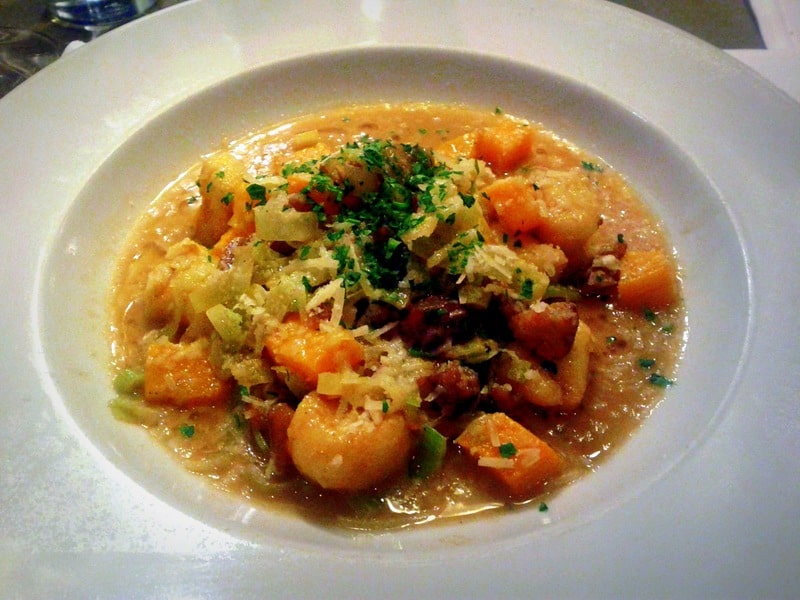 Of course, we had to finish off this meal with dessert.
They all sounded delicious from the dark chocolate salted caramel brownie, to the pumpkin bread pudding, to the apple pocket pie – we spent a while just dreaming about how good the desserts would be. We also watched the pastry chef plate up desserts for other people, which helped us pick the dessert that looked most decadent to us.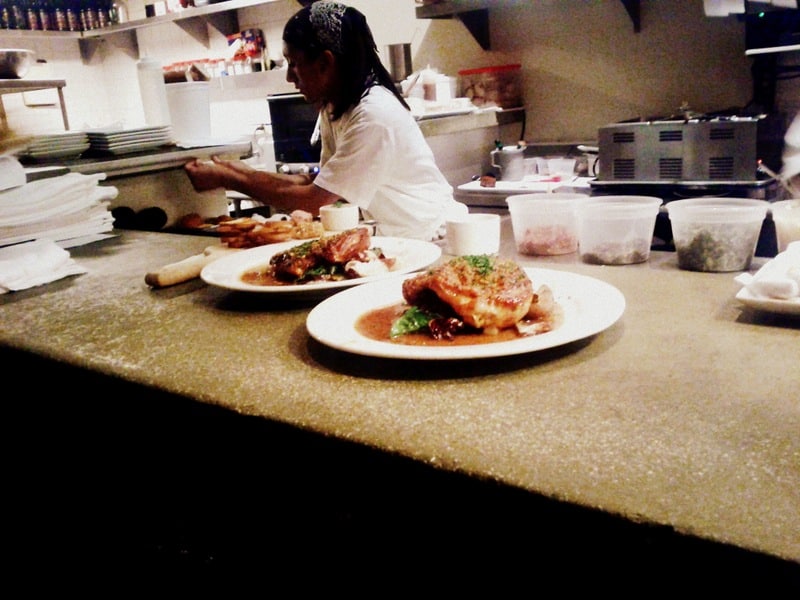 Throughout this meal, I couldn't get over how close we were to the kitchen!
Finally, we ended up deciding on the dark chocolate salted caramel brownie, served with vanilla creme anglaise and malt ice cream.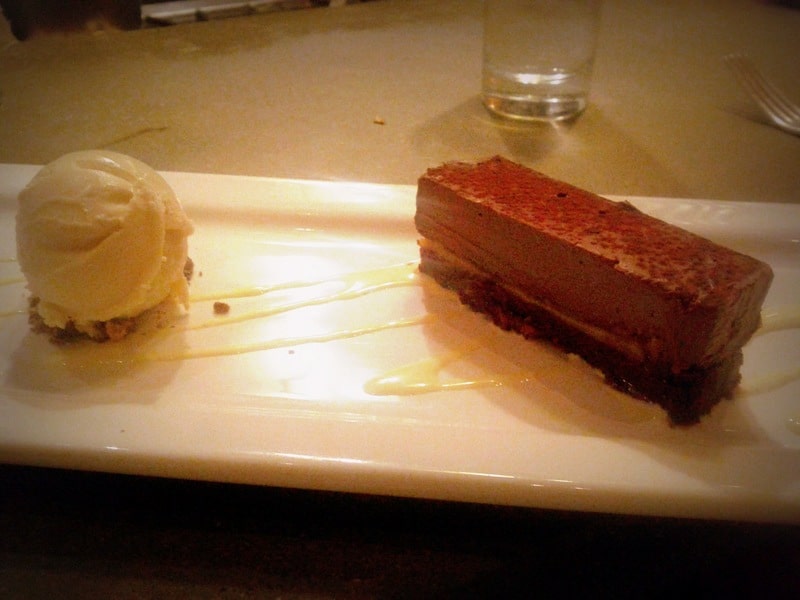 I loved how this brownie was a combination of the traditional cakey brownie, and a lighter, smoother mousse. The husband wished it was more cakey, but I liked this just fine. The ice cream wasn't too sweet and so it pared perfectly with the richer brownie.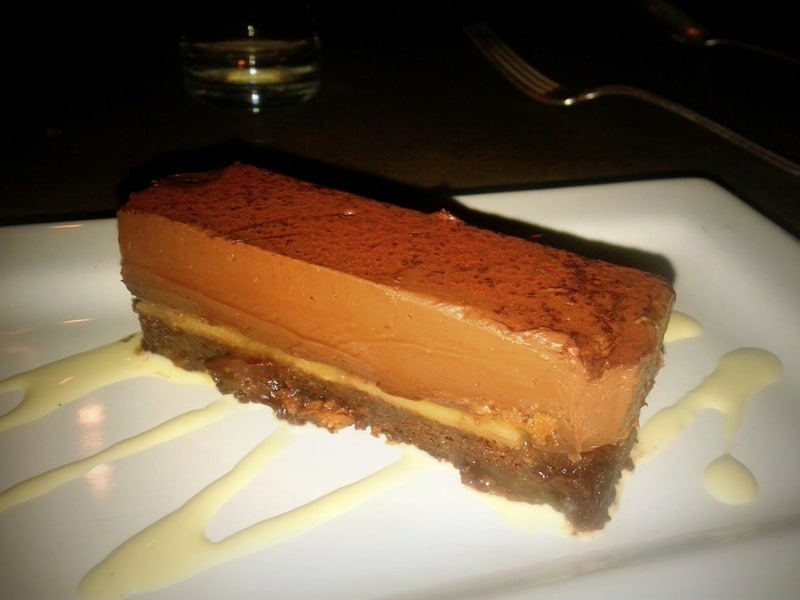 How can anyone resist that?
Yes, we finished the whole thing. It was an awesome dinner.
6 responses to "The Chef's Corner at Wood Tavern"