The Best Peanut Butter Sandwich Ever
This post may contain affiliate links. Please read my disclosure.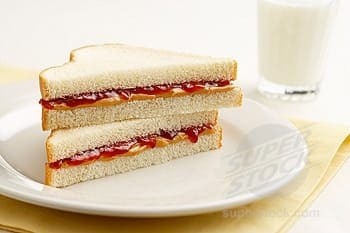 Substitution #3
Use organic, fresh peanut butter. By this I mean – get the kind of peanut butter you have to stir, where the ingredients are "Peanuts, Salt." Just because you have to stir it doesn't mean it won't taste good! Trader Joes has a great organic peanut butter that is super creamy and tastes great!
By the way – some people use "Better N Peanut Butter" – which has only 100 calories for 2 Tbsp. Personally, I don't like it – it doesn't taste like peanut butter at all! It tastes kind of weirdly sweet and has a different texture. I'd recommend sticking to the real stuff (natural, organic peanut butter) and just using a bit less of it!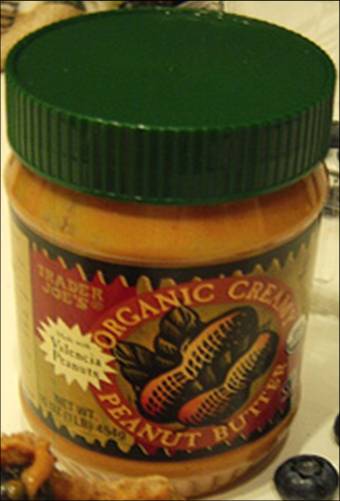 Substitution/Addition #4
Add toppings. Now this is optional. If you don't like bananas or raisins or apples inside your PBJ, don't worry about it. Peanut butter + fresh fruit preserves/jam will still pack a nutritious punch. But if you do like toppings, leave out the jam and instead use: bananas and walnuts, bananas and raisins, raisins and apples, or any combination of nuts/fruits that you like! It'll turn out great.
Now for the proportions
You can make a healthy PBJ sandwich for only ~350 calories if you
1) Use 2 slices Double Fiber bread (140 cal)
2) Use 1 Tbsp peanut butter (100 cal). The key to only using 1 Tbsp peanut butter but having it still taste great is to toast the bread lightly so the peanut butter spreads easier across the bread (and you can get a thinner layer of peanut butter without sacrificing any flavor!)
3) Use 1-2 Tbsp jam (50-100 cal)
Spread peanut butter on both slices, jam on both slices and put them together. You can also eat it open faced – like toast with jam which is fun too 🙂 If you use toppings, then you can substitute the calories you'd use for the jam for the toppings and still keep it to 350-400 calories. With a high fiber bread, you could end up with 10-12 g fiber per sandwich too! Now that's the best PBJ sandwich ever. Let me know if these tips work for you!
8 responses to "The Best Peanut Butter Sandwich Ever"