The Best Non-Candy Halloween Treats for Kids in 2019
This post may contain affiliate links. As an Amazon Associate, I earn from qualifying purchases. Please read my disclosure.
Candy on Halloween is something all kids look forward to! But, there are all kinds of reasons why you might need some non-candy halloween treats: allergy-friendly alternatives, healthier alternatives, dye-sensitivities, orthodontic-friendly treats, to name a few! Here are my top 10 non-candy halloween treats that kids will love this year!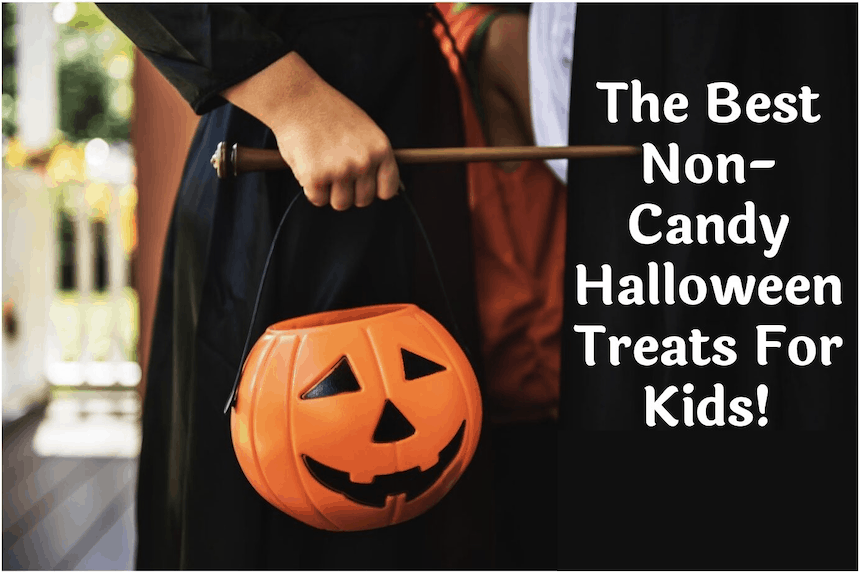 As all of you know, I'm a pretty health conscious mom. I've always been an advocate for healthy, clean eating, and am often appalled at the junk that's allowed into our food supply by way of packaged foods. I'm especially appalled at the marketing of junk food to kids.
So what does a mom like me do on Halloween? It might surprise you to hear this but I….
Let my kids go trick or treating and eat candy.
Why??
Because honestly, I don't want to deprive them of enjoying a special, festive holiday. I also don't want them to develop an unhealthy relationship with food, and I want them to learn that there's a time and space to enjoy treats – and that treats are ok in moderation. There's nothing wrong with a little bit of candy, once in a while.
After we're done trick or treating I let them pick out one or two pieces to enjoy, and then we put the rest away (and my husband slowly makes his way through the stash 😂). But when I'm handing out candy, I hand out a mix of traditional halloween candy, healthier sweet treats and non-candy treats to be both allergy-friendly and provide a healthier option for trick-or-treaters!
Here are my Top 5 Healthy Halloween Sweet Treats
Here are my Top 10 Non-Candy Halloween Treats for Kids in 2019
No matter what you hand out at Halloween, the main thing is to just enjoy the holiday with your kids!! It only happens once a year, so if they eat a little bit more sugar than usual it's not the end of the world ☺️
I'd recommend buying a handful of these non-candy (or healthier candy) treats to mix up what kids can pick out from your Halloween basket. It also helps to add these in if you're trying to be a little healthier this holiday, provide something for kids who have allergies/dietary restrictions, or provide an alternative for parents want to reduce the volume of candy their child is bringing home. These treats are great options that kids will absolutely love! I hope you have an amazing start to this fall and holiday season and a great upcoming Halloween!