50 Vegetarian Taco Toppings for Taco Night
This post may contain affiliate links. As an Amazon Associate, I earn from qualifying purchases. Please read my disclosure.
Need some inspiration to spice up taco night? Try these 50 vegetarian taco toppings to create delicious meat-free homemade tacos!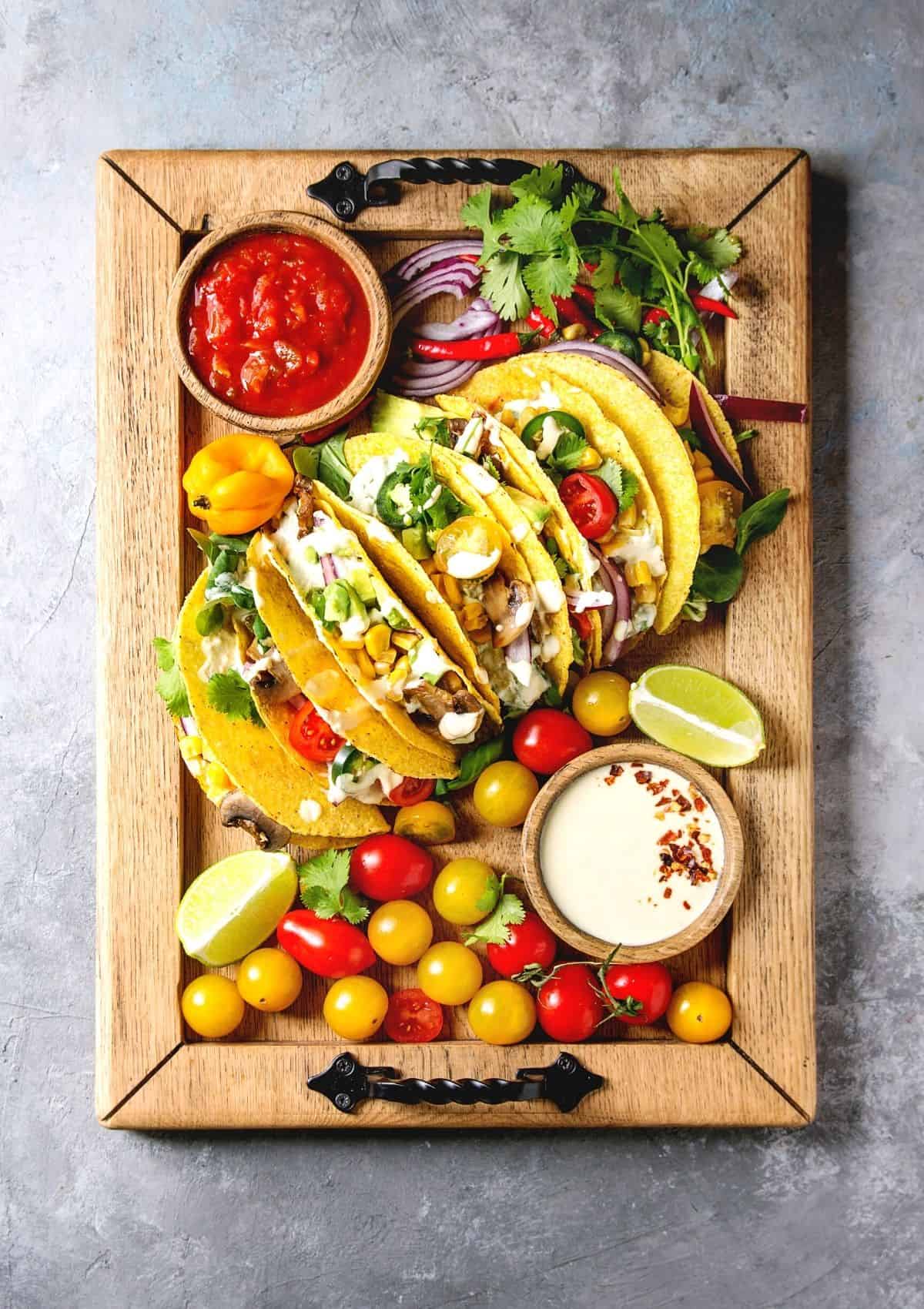 Mexican recipes are my favorite! A vegetarian diet doesn't mean missing out on traditional comfort foods! And what family doesn't love to gather around the dinner table for taco night? Everyone has their favorite toppings, and vegetarian options are just as delicious as any traditional tacos with meat! 
Keeping your loved ones around the table to spend some quality time together is difficult these days. But with some of these quick and delicious toppings, you'll soon find them flocking to the table and asking for more!
Whether you're planning a romantic meal, a solo cooking adventure, or preparing to host a big event, here are 50 of my favorite taco toppings to keep your food fun, veggie-friendly, and full of flavor!
#1-7: Beans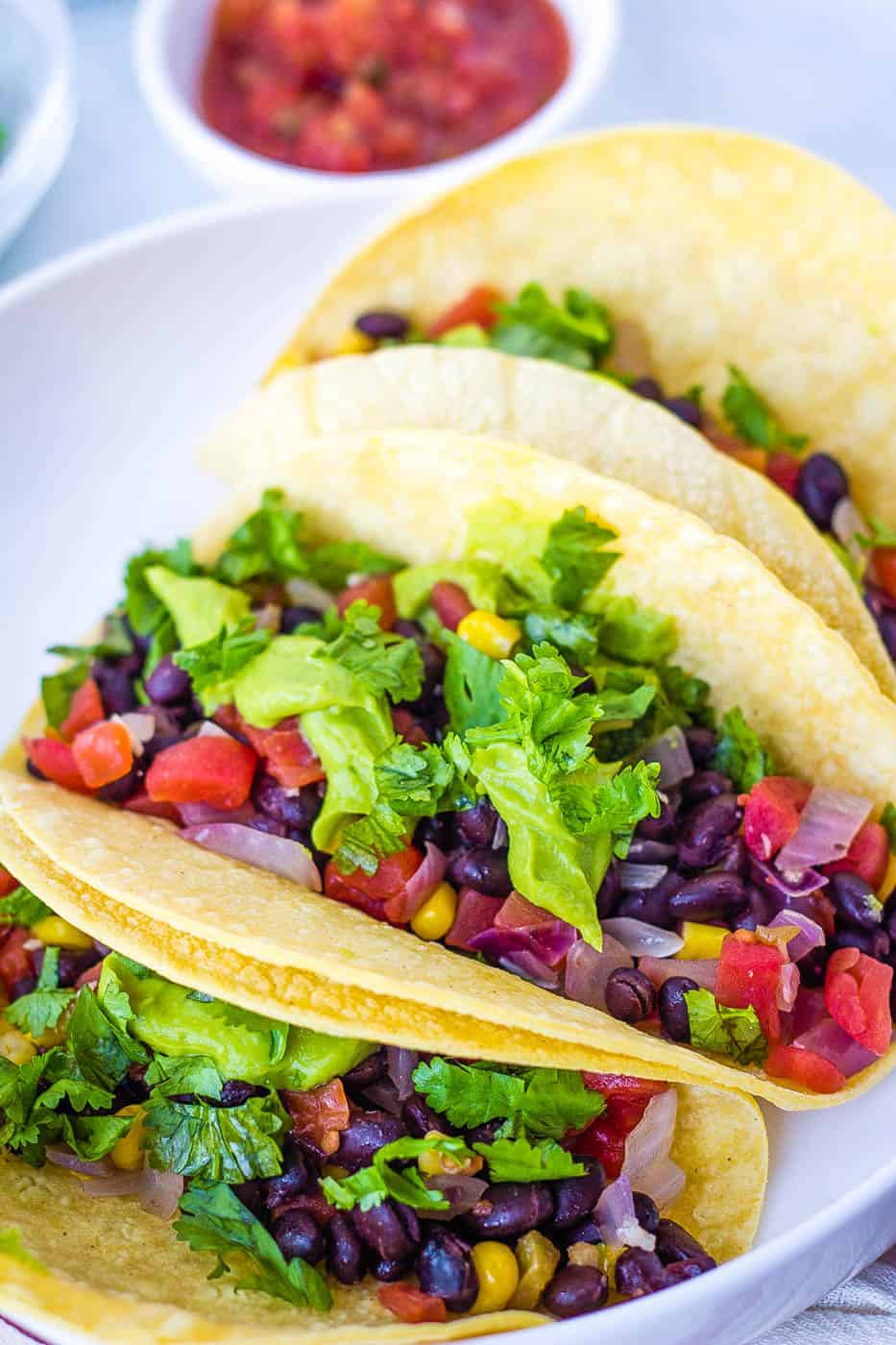 The variety of beans available makes this one of the best taco toppings out there! As long as you enjoy the texture of beans, you can create a delicious vegetarian filling that's spicy, plain or anything in between. Try these vegan tacos with black beans and avocado for a simple recipe!
Pair your beans with a crunchy hard shell. It complements the softness of a generous helping of seasoned beans perfectly. Compatible with any salad or vegetable, beans are the ultimate filling (and a great plant-based substitute for taco meat) for a healthy and tasty mouthful of protein for your next taco night.
1. Kidney Beans – A large bean, that's red in color and in the shape of a kidney.
2. Butter Beans – A large flat and chewy bean with a mild flavor.
3. Cannellini Beans – A white bean most often used in Italian cooking, they have a nutty flavor.
4. Black Beans – Most commonly used in Mexican cuisine, black beans are small in size, and are black in color. They have a mild flavor.
5. Vegetarian Refried Beans – If buying from the grocery store, be sure to get the can labeled vegetarian, as most other refried beans are made with lard.
6. Garbanzo Beans (Chickpeas) – Small white beans that are circular in shape, and high in protein, vitamins and nutrients.
7. White Beans – Tender, with an earthy, nutty flavor.
#8. Tofu or Tempeh
Tofu and tempeh take on the flavors that are added to it, which makes it a great alternative to meat tacos. Press, drain, and crumble the tofu or tempeh for a high protein taco topping or filling. Add some veggies, salsa, and spices to really amp up the flavors.
#9. Lentils
Taco toppings and taco fillings need to be hearty, filling, and full of flavor. So, where do we find all of that when making vegetarian tacos? With the tried and tested veggie classic, the lentil, of course! It's an easy taco filling that resembles the ground beef tacos you're familiar with as a kid!
Much like beans, a vegetarian taco filling like lentils means you can blend some beautiful spices within your crisp or soft shell. Simply sprinkle it over the top of your taco salad toppings for a little extra kick. It's also an easy slow cooker recipe, so you'll have lentils ready to go for dinner without hardly any prep time!
#10. Vegan Chorizo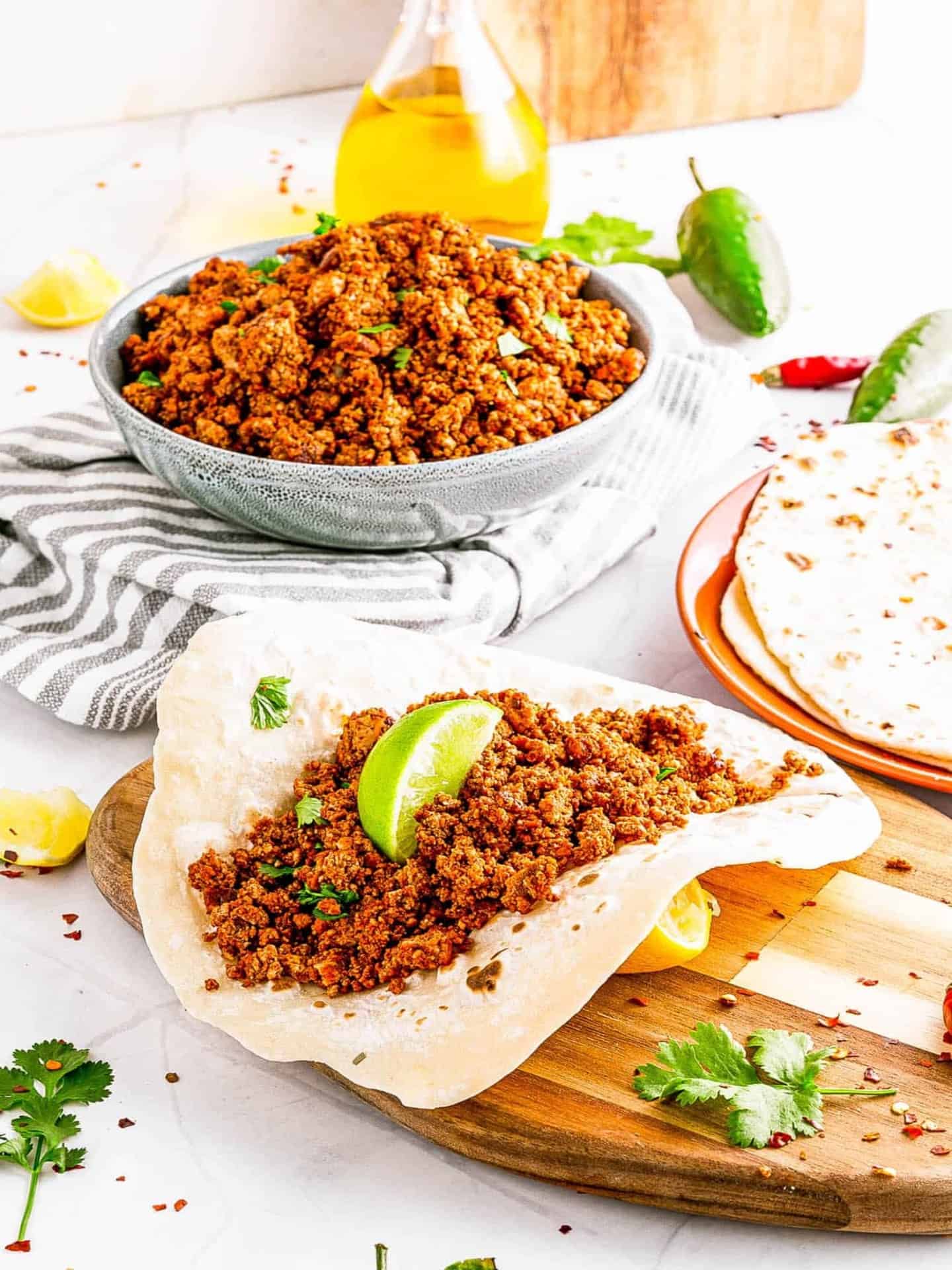 If you love your vegetarian tacos to have a little spice and a lot of flavor, then try out my easy and delicious vegan chorizo. It's a great option for a super hearty taco, and pairs perfectly with whole wheat flour tortillas topped with fresh salsa, and veggies.
#11-15: Cheese Toppings for Tacos
What taco feast is complete without a liberal sprinkling of rich, delicious cheese on top? As a vegetarian taco topping that makes absolutely anything you add to it even better, you can't do wrong!
Below are just a few of the cheeses you can indulge in with your next vegetarian taco night.
11. Grated/Shredded Cheeses – Any grated or shredded cheese is a simple addition. Some of my favorites include Mexican Blend, sharp cheddar, and Monterey Jack.
12. Goats Cheese – With a creamy consistency when melted, and a crumbly texture when cold, goat cheese has a tangy flavor.
13. Vegan Cheeses – If you're vegan, there are many vegan cheese options available, or you can make your own! I recommend using the shredded vegan cheese varieties.
14. Cotija Cheese – A Mexican cheese made from cow's milk that's salty in flavor and crumbly in texture.
15. Queso Fresco – A Mexican cheese that's name means "fresh cheese." It's a mild white cheese that's a soft and moist in texture.
With such a wide selection of tastes, textures, and flavor strength, your tacos can get a little spicy cheddar, a smoky cheese aftertaste, or even the cool and subtle taste of a goats cheese. The possibilities are endless!
#16. Salad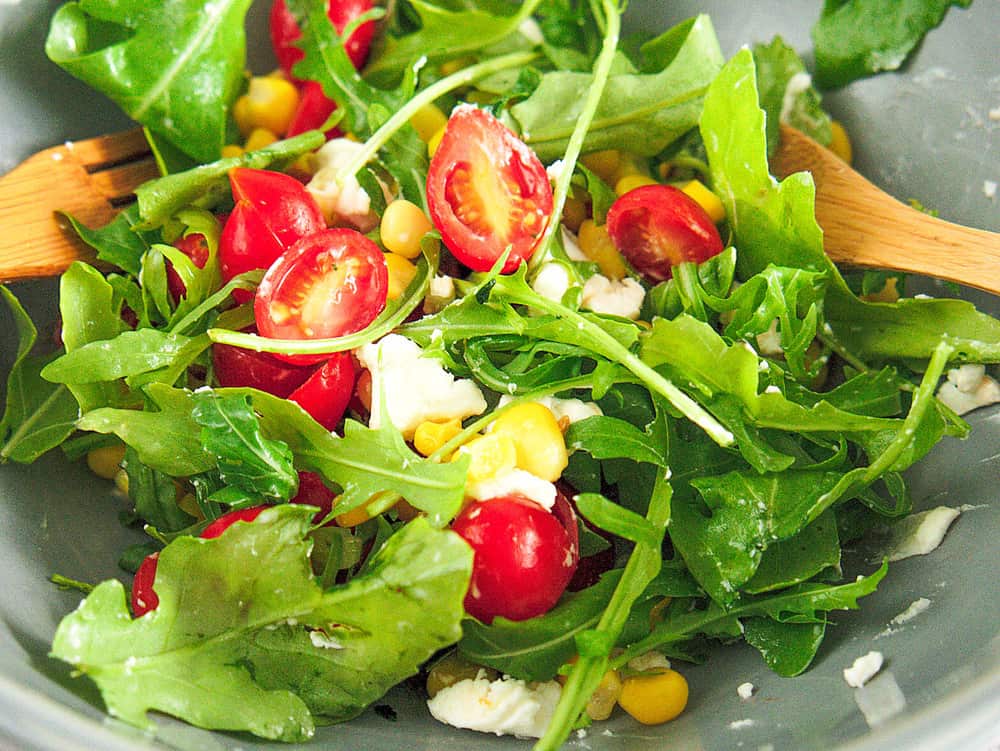 If you love a good smothering of spice but don't need the heaviness of additional fillings then why not just enjoy a leafy salad paired with soft tortillas!
Who says that the best taco toppings need anything but the delicious, fresh crunch of salad and taco? A lovely mix of celery, red onion, tomatoes, lettuce, and spinach with a little dressing will make your mouth pop with leafy goodness!!
When you make taco salad toppings and fillings, you're sure to leave the dinner table feeling satisfied but less heavy in comparison to other fillings. Ideal for summer events and simple snacks!
#17-29: Vegetables
For the ultimate combination of texture and flavor in a filling meat-free option, fresh vegetables should be top of your tacos toppings list.
Think about the options for your taco fillings that vegetables offer. The possibilities are endless!
17. Eggplant – Slice thin, and roast in the oven.
18. Mushrooms – Naturally meaty in texture and flavor, sautéd mushrooms are an excellent filling or topping.
19. Cauliflower – Roasted with spices, cauliflower is a hearty addition.
20. Broccoli – Sauté or roast your broccoli in a bit of garlic, butter, and spices, and then add more of your favorite toppings for a healthy bite!
21. Zucchini – Perfect in the summer when it is in season, this mild flavored vegetable will take on the flavor spices you add.
22. Carrots – Grate your carrots and add them fresh, or sauté with other veggies for a mixed vegetable medley.
23. Artichokes – Use canned, diced artichoke hearts, or fresh for a unique texture combination.
24. Red Onions & Sweet Onions – For red onions, finely dice, and add to the top for a simple addition. Sweet onions can be yellow or white onion. Yellow onions are the typical onion you see in your grocery store, and is covered with the golden brown skin. It has a mild sweet flavor.
25. Green Onions – Milder than red onions, they bring a nice balance of flavor.
26. Baby Spinach or Fresh Greens – There are a variety of options for crunchy greens to top your tacos. I love chopped up baby spinach, but fresh romaine, baby kale, or even sauteed greens would all taste great.
27. Butternut Squash – An excellent addition to your fall taco menu. Roast and season, then add to your favorite taco shell.
28. Black Olives – Always a favorite among my kids, these salty, briny olives pack a flavorful punch!
29. Green Bell Peppers or Red Peppers – Delicious both raw and roasted, dice these up and add them for a crunchy refreshing bite, or roast them in the oven for more of a fajitas veggie feel!
For your vegetarian taco-filling ideas, whip up a quick bowl of delicious veggies. Feel free to mix things up a little bit too. The way you prepare your vegetarian tacos will give you a different taste experience each time!
Roasting: Roasting your vegetables with olive oil, and give them a sweet and slightly toasted taste that'll complement the salty hard taco shells.
Frying: With a little oil and some seasoning, your veggies can soak up the smoky seasonings you add to them and give your vegetarian taco fillings more depth.
Steaming: For the ultimate health kick, steam your vegetables and add a few dollops of salsa or sour cream to make mouth-watering tacos!
#30-33: Spicy Vegetarian Taco Toppings
If you like a little bit of spice in your life, then vegetarian taco toppings that pack a little extra punch are perfect for turning your tastebuds into a non-stop party!
Here are just a few of the hot little numbers that'll add some delicious fire to your taco night.
30. Jalapeño Peppers – Super spicy, dice thin, and use sparingly.
31. Red Pepper Chilli Flakes – A simple addition to spice up your food.
32. Hot Sauce – We all have our favorite brands! Drizzle a bit on top to bring more heat to your taco!
33. Green Chiles – Milder than jalapeños, but still slightly spicy, they are a great addition if you're looking for a mild heat.
#34-38: Salsas and Chutneys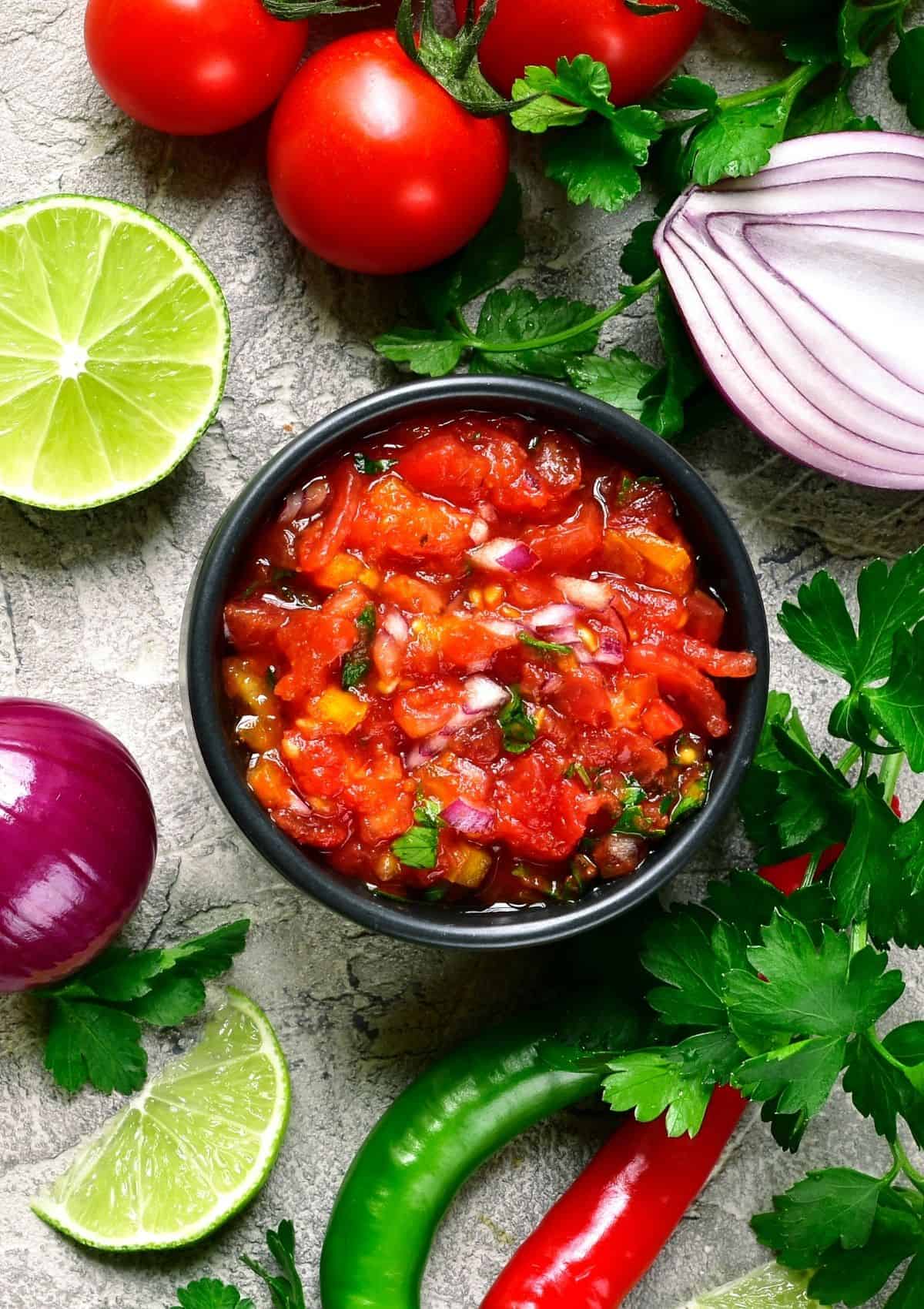 If you prefer a cool and mild taste in your tacos, try some of these fresh flavors! The tang of tomato in the salsa or a little dollop of chutney can transform a simple taco into the ultimate taste sensation. There are so many salsa varieties out there, but these are some of our favorites!
34. Mango Salsa – A combination of sweet and spicy, mango salsa is a nice cooling element to any taco.
35. Fresh Tomato Salsas – This traditional taco topping is zesty! This type of salsa is a staple of traditional Mexican food, and can also be made using tomatillos (for a salsa verde!)
36. Sweet Chutneys – How about trying a chutney? More commonly used in Indian cuisine, chutneys are made from fruits, vegetables, herbs, vinegar, sugar, and spices.
37. Pico de Gallo – Made from chopped tomatoes, onions, cilantro, and spices.
38. Lime Juice – A simple a refreshing wedge of lime brings a nice balance of acidity.
#39. Sweet Potatoes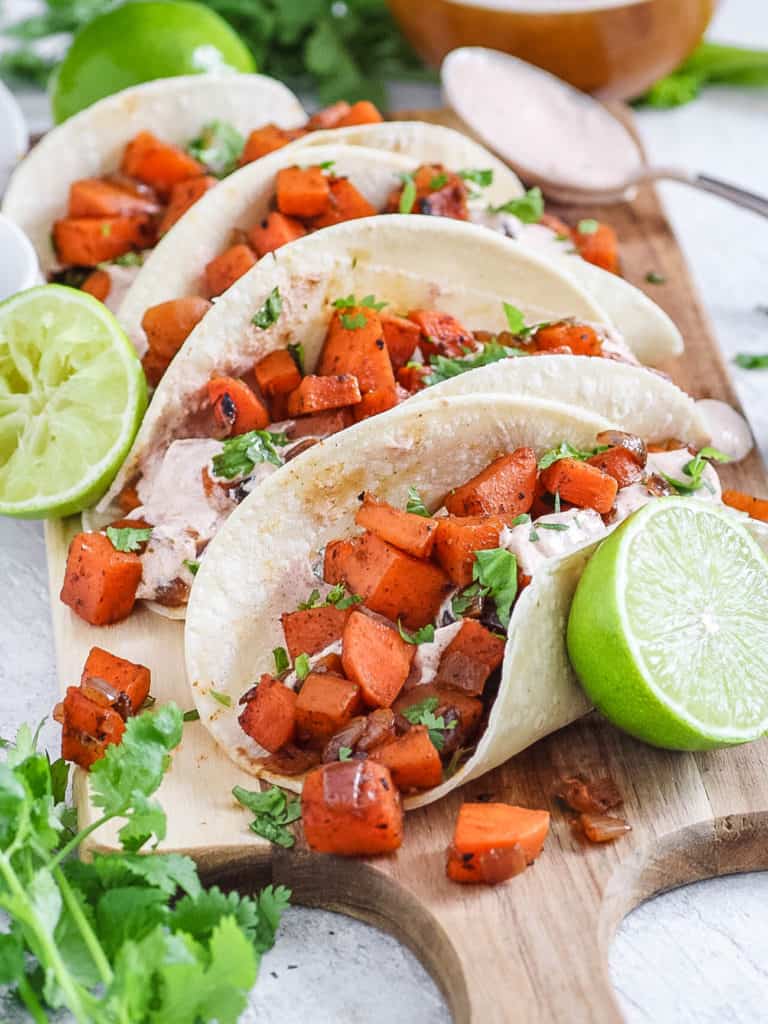 While they may not be the fish tacos that popped into your head, this sweet potato taco meat filling with soft corn tortillas is one serious contender for vegetarian taco supremacy. It's a healthier option, and a great choice when you want something that is hearty and filling.
The sweetness of these potatoes creates a delicious and soft texture to the hard taco shell. Not only is this healthy and extremely filling, but sweet potato goes well with anything!
For that extra little burst of flavor, why not sprinkle some nuts or roasted pumpkin seeds over the top and add a bit more crunch!
#40-43: Condiments
Any vegetarian taco can be turned into a symphony of flavor with some of these easy-to-make and delicious condiments. When taco night comes around, healthy doesn't need to mean flavorless and dull!
40. Plain Greek Yogurt – Creamy, low in fat, and high in protein, it's a healthy alternative to sour cream.
41. Hummus – For a mediterranean inspired taco, add hummus spread.
42. Sour Cream – Mild and creamy, it adds a cooling effect to all the spices in your filling.
43. Tahini – Made from ground sesame seeds it has a nutty flavor and a smooth texture.
#44. Fresh Cilantro
Use as whole leaves, or chop to add as a garnish. Cilantro is a fresh herb that is often used as a fresh topping on dishes to give it a bright finish. It grows from coriander seeds. So the spice coriander and the leaves of cilantro come from the same plant. It's also an excellent source of antioxidants!
#45-50: Seasoning and Spices
When it comes to adding seasoning to your taco filling or toppings, there are so many different options! These 6 spices are my go-tos, and I use them in most of my taco recipe ideas. They add tons of flavor and will satisfy your taste buds, whether you desire something spicy, medium, or mild!
45. Chili Powder – Made with a combination of spices. Chili peppers is blended with cumin, onion, garlic powder, and sometimes salt.
46. Garlic Powder – Used in a chili powder blend, add garlic powder to bring a salty garlic flavor undertone. It's made from crushed and dehydrated garlic cloves.
47. Onion Powder – Also an excellent addition, onion powder is made from crushed and dehydrated onions.
48. Smoked Paprika – Made from peppers that are smoked and dried over an oak fire it gets its red color and smoky flavor from the process it undergoes.
49. Cayenne Pepper – A thin red or green chili pepper. They are dried and ground into a powder that brings the heat to any dish.
50. Cumin – An earthy spice with a warm flavor.
What Can You Put in Tacos Instead of Meat?
Just about anything! As you can see, you don't have to sacrifice delicious taco toppings to stay healthy. So make some space at the dinner table and get ready to dig in!
I hope you enjoy these meat-free alternatives to your taco night. Who knows, maybe you'll even convert a few carnivores with some of these tasty taco ideas!
More Cooking Tips!
For more healthy recipes and helpful healthy living tips FOLLOW ME on FACEBOOK, TWITTER, INSTAGRAM, and PINTEREST to see more delicious, healthy, family friendly food!
10 responses to "50 Vegetarian Taco Toppings for Taco Night"