Spinach And Banana Smoothie
This post may contain affiliate links. As an Amazon Associate, I earn from qualifying purchases. Please read my disclosure.
This healthy, creamy spinach and banana smoothie recipe is perfectly balanced, lightly sweet, and totally satisfying! Sweet bananas, nutrient rich spinach, creamy peanut butter, and your milk of choice come together in this easy recipe that's ready in just 5 minutes. It's simple to customize, vegan and gluten free friendly, and makes for a great breakfast or delicious snack!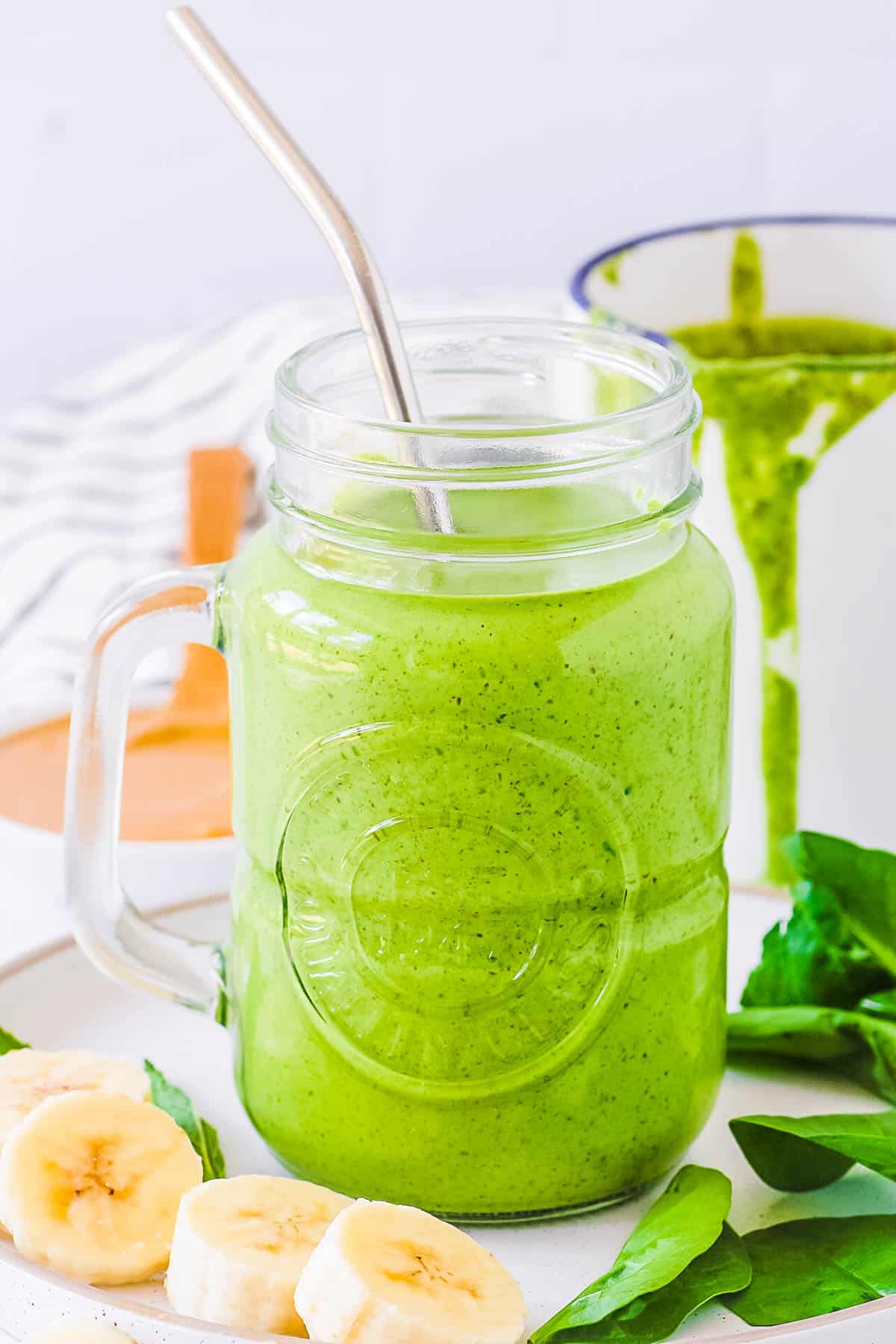 Smoothies are one of my go to recipes during the week – I love them as an easy breakfast, a healthy snack, or even when I'm craving something sweet for dessert.
One of my favorite ways to get my greens in the morning is to make this spinach and banana smoothie. It's the perfect on the go breakfast that's healthy, nutrient rich, and totally creamy and delicious!
The spinach is mild in flavor, the banana gives it natural sweetness, and the peanut butter and yogurt make it smooth and creamy. It's packed with protein, fiber, healthy fats, and is so deliciously sweet with no added sugar!
With endless options for customization, you can easily change up this spinach peanut butter smoothie however you like by adding your favorite mix-ins, fruits, or even grains.
With only 5 minutes of total time to make, and super easy cleanup, you can enjoy this healthy breakfast smoothie with minimal effort any time!
👩🏽‍🍳 Why This Recipe Works
Easy, quick, and satisfying
Ready in 5 minutes
Packed with healthy ingredients
Kid friendly
Great way to get your greens
Easy to customize
Vegan option and naturally gluten free
Best spinach and banana smoothie ever!
Latest Recipe Video!
🥘 Ingredients
This delicious banana spinach smoothie requires just a handful of simple ingredients, easily found at any grocery store! For the full printable recipe and nutrition information, see the recipe card at the bottom of this post. Here's what you need: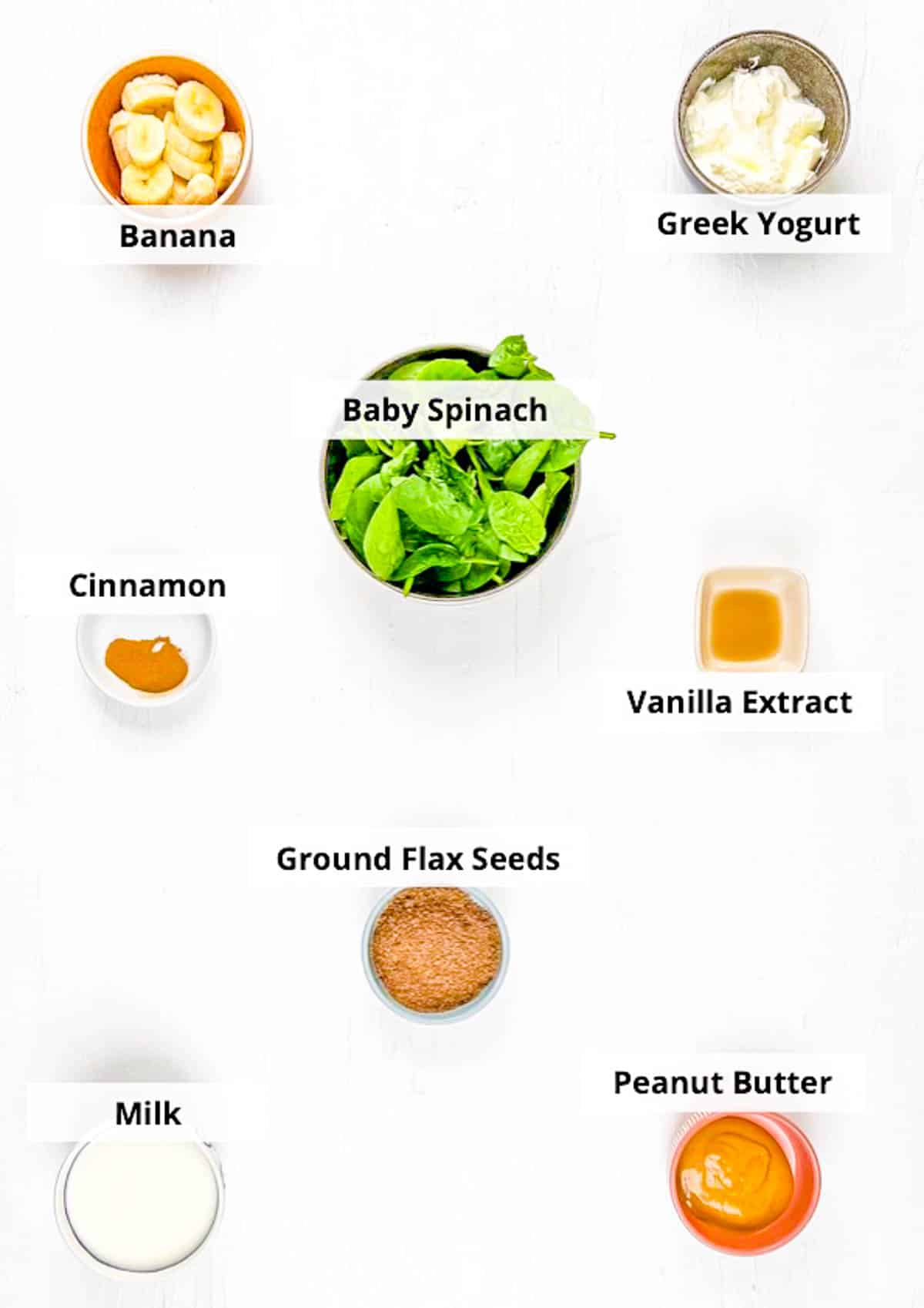 Milk Of Choice: I used low fat organic milk when I made this green hulk smoothie, but you can use any milk you like! Any non-dairy milk like unsweetened almond milk, cashew milk, soy milk, oat milk, or even coconut milk would work, as would dairy milk options like whole milk, low fat milk or nonfat milk.
Yogurt Of Choice: I used low fat plain Greek yogurt but a vegan yogurt will also work in this spinach drink recipe!
Flaxseeds & Peanut Butter: Ground flaxseed and peanut butter add bulk, healthy fats, protein, and fiber to this healthy green smoothie with banana. You could also use chia seeds or any nut butter you like!
Baby Spinach: You can't make a spinach banana smoothie without spinach! Spinach is so mild, it blends with the other flavors in this smoothie and you can't even taste it!
Fresh Or Frozen Banana: For adding sweetness without needing any added sugar. I recommend freezing your bananas first, and adding them to this spinach peanut butter banana smoothie while frozen to get a creamier and richer texture!
Cinnamon & Vanilla Extract: I use these two ingredients often in blended drinks when I want to add sweetness, or enhance the natural sweetness of the ingredients in this spinach shake without adding any sugar!
🔪 Instructions
This spinach milkshake recipe literally only requires two steps! Here's how to make a spinach and banana smoothie:
Add Ingredients: Place all the ingredients in a high-speed blender. I prefer to start with the milk, then yogurt, frozen or fresh banana, peanut butter, spices, and spinach last.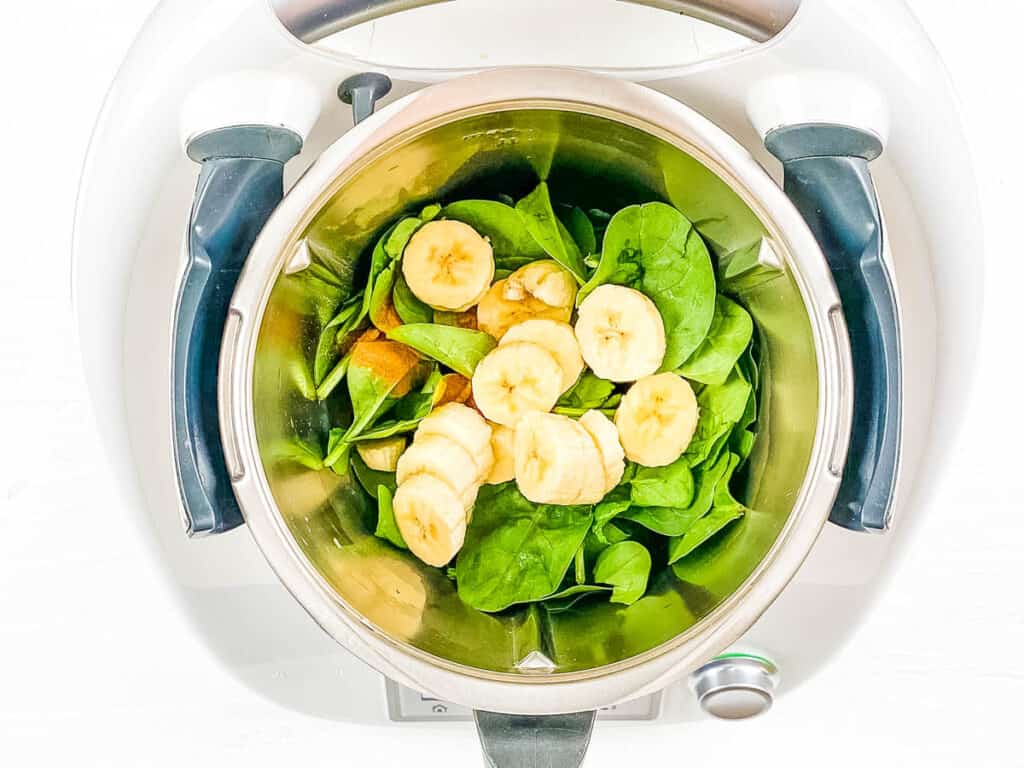 Blend: If using a high speed blender start on low and slowly increase speed until all ingredients are blended. Serve this smoothie with banana and spinach immediately.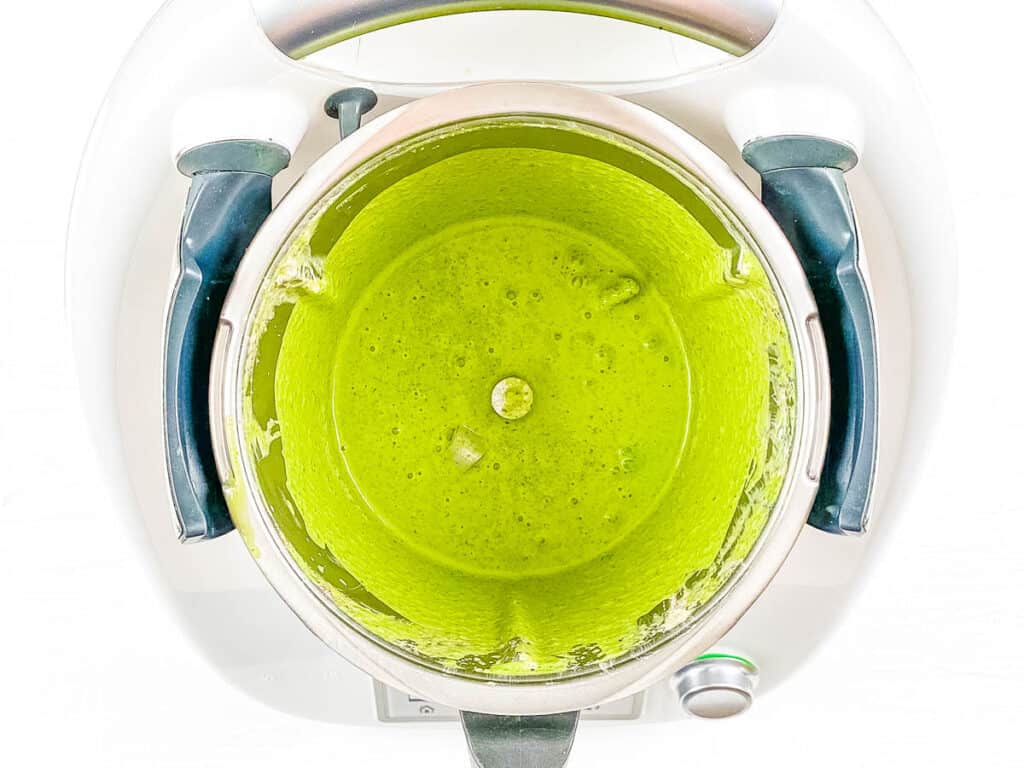 💭 Expert Tips
Use ripe bananas. Ripe bananas are naturally sweeter, which can help balance the taste of the spinach. If you want a creamier smoothie, peel and freeze ripe bananas in advance.
For best results, use a high quality blender. This matters! You want to get a texture that has no grittiness, and a good blender will help you achieve that.
Add in mix-ins. See our ideas below for all of the different ways you can change up this easy spinach smoothie with banana to keep things interesting!
Adjust the thickness. You can always add more milk if your smoothie is too thick, so I recommend adding the amount in the recipe card below first, and adding more only if you want a thinner smoothie.
Serve immediately. This green banana smoothie is best served right after it's blended! While you can store it in the fridge for 24 hours, I recommend making it and serving it right away if you can for the best flavor.
📖 Variations
The base recipe of this smoothie is made with bananas and spinach. But you can change this recipe in a variety of ways by mixing and matching other fruits and veggies! Here are some easy ways to change up this spinach smoothie with banana:
Add Berries: Make a strawberry banana spinach smoothie or a blueberry banana spinach smoothie recipe by adding 1/2 cup of frozen or fresh strawberries or blueberries into this spinach drink along with the other ingredients!
Add Tropical Fruits: Try a spinach pineapple banana smoothie, or a mango banana spinach smoothie by adding 1/2 cup of either pineapple or mango along with the rest of the ingredients.
Vegan Smoothie: You can make a spinach almond milk smoothie by replacing the regular milk with almond milk and the yogurt with almond milk yogurt. Or just use any plant-based milk and a vegan yogurt to make this recipe vegan. If you don't want to use milk, you can also try coconut water. I don't recommend using any fruit juice like orange juice or apple juice in smoothies because they're high in sugar.
Spinach Apple Banana Smoothie: Add up to 1 whole sweet apple into this recipe depending on how much you want to change the base flavor.
Easy Spinach Smoothie Without Banana: Don't like banana? No problem! Leave it out altogether and replace it with 1 apple, 1 pear, 1 peach, or half of a mango.
Spinach Smoothie Bowl: Instead of serving this in a glass, serve it in a bowl! Add fun topping ideas like granola, whole flax seeds or chia seeds, nuts, a drizzle of maple syrup or honey, fresh fruit, or even chocolate chips!
🍉 Banana Spinach Smoothie Add-Ins
There are so many different mix-ins you can add to this green smoothie recipe with spinach! Here are some of our favorite toppings and mix-ins:
Nut Butters: Try almond butter, cashew butter, sunflower seed butter, or even pumpkin seed butter! For a chocolatey twist, try my vegan nutella along with some unsweetened cocoa powder, or this white chocolate hazelnut spread in this spinach breakfast smoothie.
Seeds: Along with the flaxseeds, you can add in chia seeds, hemp seeds, sunflower seeds, or pumpkin seeds for bulk, fiber and healthy fats.
Protein: Make a spinach protein smoothie by adding 1-2 scoops of your favorite protein powder to this recipe! Any chocolate or vanilla protein powder should taste great. Try whey protein or a plant-based protein powder like pea protein or brown rice protein will work.
Grains: Raw rolled oats or quick oats, or cooked (and cooled) quinoa can add bulk, fiber, protein and a hearty texture to this recipe.
Greens Or Veggies: This creamy smoothie tastes great with spinach, but you can also use baby kale or any other leafy greens you like – just keep in mind the flavor of this drink will change slightly. Other sweet veggies like carrots, pumpkin, or squash will also work!
Creamy Ingredients: Any yogurt can replace the Greek yogurt in this recipe, but you can also add in make a banana avocado spinach smoothie by adding in 1/4 of an avocado, or you can even try coconut butter for more healthy fats and a creamier drink.
Spices: Any warm spices will taste great in this simple spinach smoothie! Try nutmeg, ginger, or even cardamom. For some caffeine and a different spiced flavor, try making a matcha spinach smoothie by adding just a little bit of matcha powder into this recipe!
✔️ Spinach And Banana Smoothie Benefits
If you're new to making green smoothies, you might be wondering, "what are the health benefits of a spinach smoothie?" The reason I love this recipe is because it's so good for you, but tastes like a sweet treat! Here are some of the benefits of a banana spinach smoothie:
Low In Fat And Calories: This spinach banana peanut butter smoothie is creamy, naturally sweet, and has a nice nutty flavor, yet it's low in fat and is only about 200 calories per serving. It's a cool filling and satisfying breakfast for on the go or a lazy weekend morning.
High In Fiber: Banana and spinach make this smoothie a great source of fiber. Fiber helps you feel fuller longer as well as improves your digestion.
Rich In Vitamins And Nutrients: This smoothie with spinach and banana is high in essential vitamins and nutrients. Spinach is high in iron, calcium, and magnesium to name a few. Bananas are high in potassium, B6, and vitamin C.
High In Protein: Added peanut butter and Greek yogurt make this a high protein vegetarian breakfast.
Calcium Rich: Greek yogurt is an excellent source of calcium, is packed with probiotics, and can improve bone health.
Banana And Spinach Smoothie For Weight Loss: Because it's low in calories, high in nutrients, and high in fiber and protein, this spinach smoothie with milk recipe is a great part of a diet for weight loss, or for maintaining a healthy weight overall.
❓Recipe FAQs
What is the best blender to use for making smoothies?
Making a good smoothie requires a high-powered blender! Here are my top picks for the best blenders for making smoothies:
** The Ninja Countertop Blender: Most affordable, Under $100, really effective
** The Breville Fresh & Furious Blender: Under $200 with a few more features than the Ninja
** The Vitamix: Most expensive, but top of the line – will literally pulverize anything and the most versatile blender of them all! Makes "Jamba Juice style smoothies." It also lasts forever. This is the one I have!
Is spinach good in smoothies?
Yes! Smoothies with spinach are great because the spinach leaves gives you a huge nutritional boost without altering the flavor of your smoothie. Spinach has a mild flavor, and while it will turn your fruit smoothie green, you'll still taste the natural sweetness of the other ingredients you add to it. It's also a great way to get pickier kids to eat their greens since they get all the benefits of spinach without the taste! Which is why it's one of our favorite healthy recipes for picky eaters too!
Can you use frozen spinach in smoothies? Can you put raw spinach in smoothies?
Yes, you can use frozen spinach in smoothies, but I prefer to use fresh raw spinach in my smoothies. I find that this healthy spinach smoothie texture is a little bit lighter and creamier when you use fresh baby spinach. But frozen spinach will absolutely work if you're out of fresh spinach! When using raw fresh spinach in smoothies, be sure to clean the leaves well and use a salad spinner to remove any excess water before adding to your smoothie.
Can you taste spinach in a smoothie?
No, you can't taste spinach in a smoothie, as long as you add other naturally sweet ingredients! The great thing about spinach is that it's so mild in flavor that it will take on the flavors of the other ingredients it's paired with. Banana, pineapple, mango, and apples are especially good at masking the flavor of spinach in smoothies.
How many calories are in a spinach banana smoothie?
The answer is, it depends on what other ingredients you add into it! Our creamy spinach banana smoothie recipe has about 200 calories per serving.
Should I use fresh or frozen fruit in smoothies?
While you can use both fresh or frozen fruit in smoothies, I recommend using frozen fruit for a few reasons:
1) Frozen fruit will help you create a creamier texture and a thicker smoothie without needing any ice cubes (ice tends to water down the flavors of a smoothie which isn't ideal)
2) Frozen fruit is typically more budget friendly than fresh fruit
3) Frozen fruit lasts longer! Since you can store it easily in your freezer, you'll always have high quality fruit on hand to make spinach smoothies for breakfast any time!
How to store this green spinach smoothie recipe? Can I make it ahead of time?
You can make this recipe ahead of time, as this spinach and peanut butter smoothie will store in the fridge in an airtight container for up to 24 hours. Before serving, I recommend stirring it or re-blending it as separation will occur while it's stored in the fridge.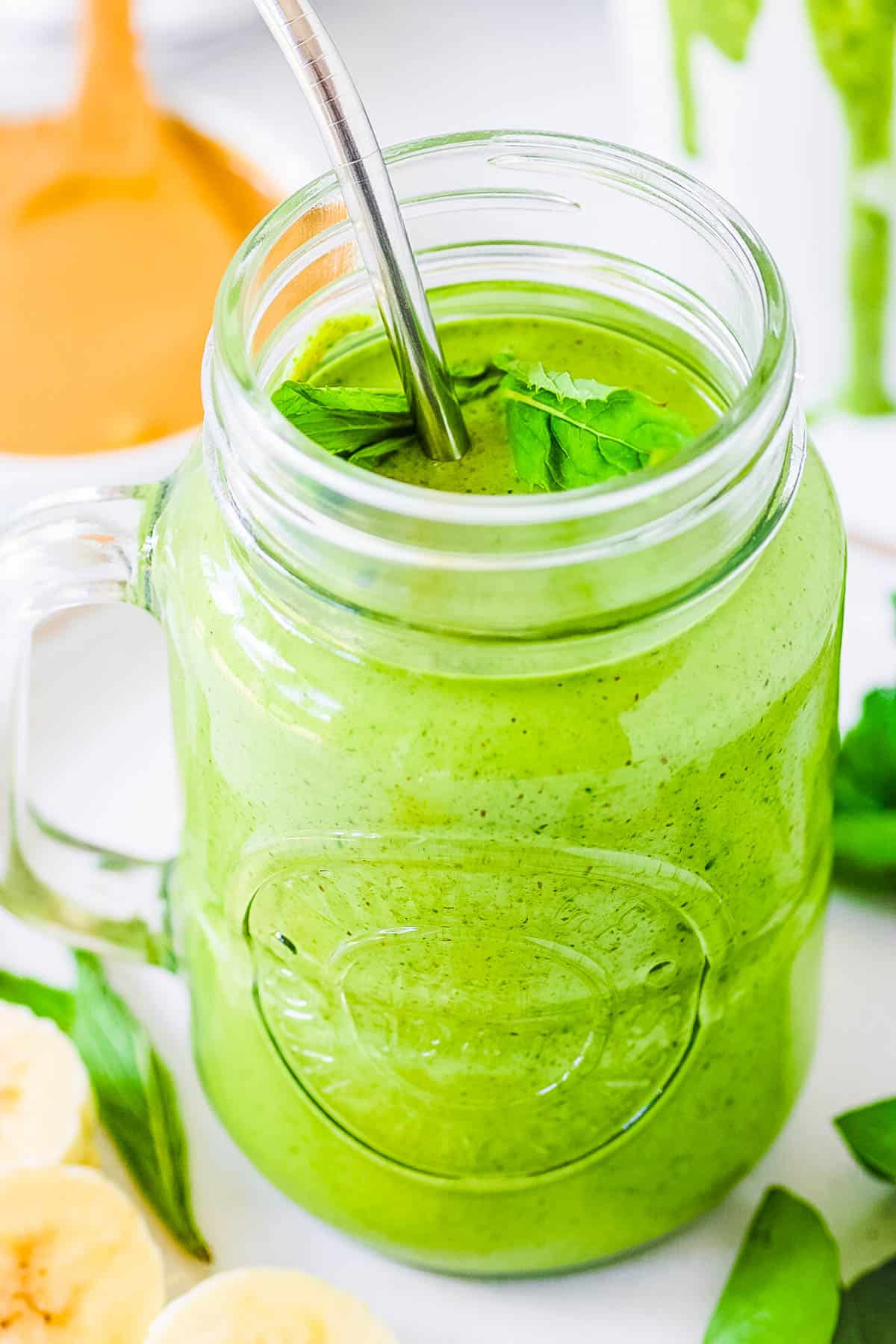 🥤 More Healthy Smoothie Recipes!
Love this healthy smoothie recipe? Please leave a 5-star rating 🌟 in the recipe below and/or a review in the comments section further down the page!
You can also FOLLOW ME on FACEBOOK, TWITTER, INSTAGRAM, and PINTEREST to see more delicious, healthy, family-friendly food, and if you have any questions, I'm here to help!
📋 Recipe Card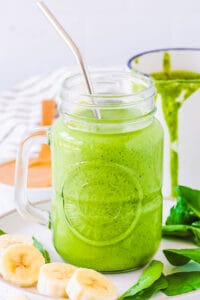 Print Recipe
Spinach And Banana Smoothie
This healthy, creamy spinach and banana smoothie recipe is perfectly balanced, lightly sweet, and totally satisfying! Sweet bananas, nutrient rich spinach, creamy peanut butter, and your milk of choice come together in this easy recipe that's ready in just 5 minutes. It's simple to customize, vegan and gluten free friendly, and great for an easy breakfast or delicious snack!
Instructions
Place all ingredients in a blender and blend until smooth.
Notes
Use organic milk and yogurt. You can also substitute it with an unsweetened plant-based milk and yogurt of your choice to make it vegan. If you choose a plant-based milk, make sure to choose one without any carrageenan or other stabilizers added.
Use a ripe banana for extra sweetness.
Use fresh baby spinach leaves, not frozen spinach.
Transfer to a to-go cup for an easy morning breakfast.
Feel free to modify this recipe with any of your favorite fruits!
Nutrition information calculated using low fat milk and low fat plain Greek yogurt.
Nutrition
Calories:
211
kcal
|
Carbohydrates:
23
g
|
Protein:
12
g
|
Fat:
9
g
|
Saturated Fat:
2
g
|
Polyunsaturated Fat:
3
g
|
Monounsaturated Fat:
3
g
|
Cholesterol:
6
mg
|
Sodium:
95
mg
|
Potassium:
493
mg
|
Fiber:
4
g
|
Sugar:
13
g
149 responses to "Spinach And Banana Smoothie"