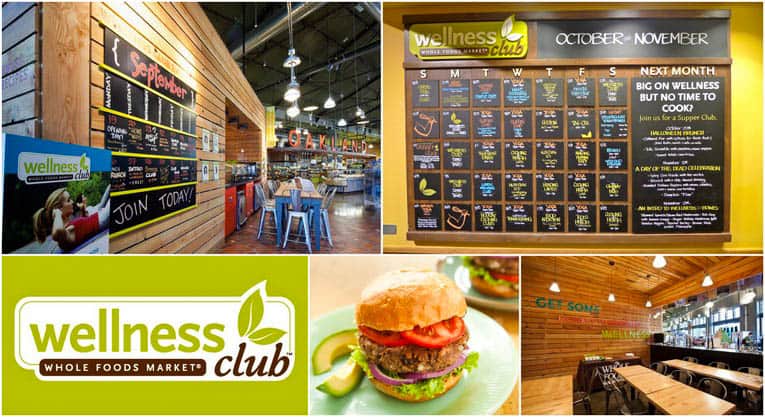 Hi Everyone!
I have a very exciting announcement to share with all of you. I'm going to be partnering with the Whole Foods Wellness Club in Oakland to bring you monthly cooking classes with my recipes!
I'll be teaching my very first class with Chef Jesse (one of the Wellness Club Chefs) on Sunday, December 16th at 3:30pm at the Whole Foods in Oakland.
This class is FREE and is open to the public, which means that if you are in the Bay Area, I would love to have you attend and meet you in person!!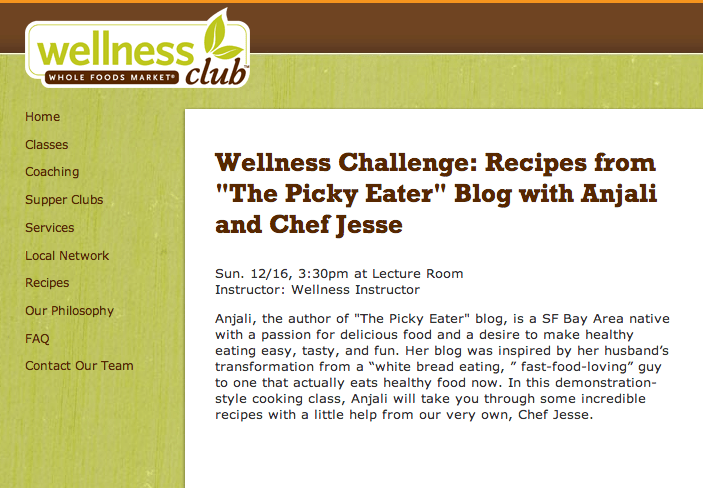 We'll be teaching all of you how to cook three of my favorite recipes, "wellness club style." The recipes will be a surprise, but I promise you will love them 🙂
If you're interested in signing up, be sure to RSVP to harwellness.instructor@wholefoods.com or call 510.280.4493 ext. 290.
The class capacity is only 20 people, so be sure to reserve your spot asap!
For those of you who aren't familiar with the Wellness Club, it's a pilot program that Whole Foods Market created to empower their customers to make educated and positive lifestyle choices that promote their long-term health and well-being. They support their members through coaching, nutrition education and skill-building classes, delicious food, discounts on select Whole Foods products, and a supportive community.
They also provide their members with healthy and flavorful recipes, like this Curried Sweet Potato Soup which I recently tried and absolutely loved.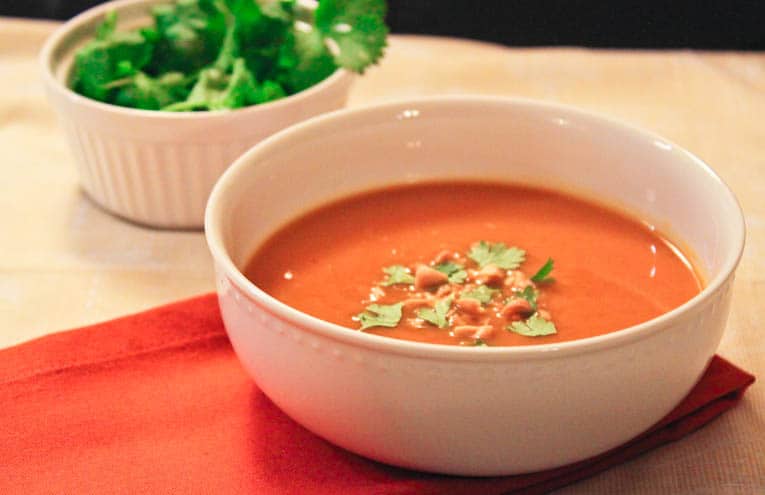 The Wellness Club is currently located in 5 stores: Oakland (CA), Princeton (NJ), Chicago (IL), Dedham (MA) and New York (NY). To find out more about membership, services, and pricing, click here.
I am so excited to be partnering with them, because their health and food philosophies align really well with my own.
They base their food philosophy on the Four Pillars of Healthy Eating: 
1. Whole Foods
2. Plant Strong
3. Healthy Fats
4. Nutrient Dense
They recommend limiting or eliminating:
Oil because it's oven highly processed, a single nutrient and very calorically dense. Instead they recommend you get your healthy fats from whole, plant food sources e.g. nuts, seeds, avocados, legumes, etc. If you want to eliminate oil 100% from all cooking, try these methods in the kitchen.
Dairy because of the health concerns surrounding dairy and because often people have a hard time digesting it. They recommend you get your calcium from green leafy vegetables.
Sodium because it has the potential to lead to heightened blood pressure and heart disease.
While I do eat dairy and use a tiny amount of oil and salt in my cooking, I completely agree with their four pillars, which is why it's such a good fit 🙂
For the FREE class on December 16th, we'll be taking 3 of my recipes and showing you how you can recreate them to be completely aligned with the Wellness Club guidelines (so no oil, dairy, salt). Trust me, the substitutions you'll use instead will still be delicious!
At the class you'll be receiving a packet of my recipes, which I will also be sending out in my monthly newsletter after the class is over, so if you can't attend on the 16th, be sure to sign up for my newsletter so you can experience it virtually! (you'll also get a free 7 day plan for clean eating when you sign up!)
I hope to see all of you there, and if you can't make it this time around, there will be more opportunities to attend in the New Year.
Happy healthy eating!
15 responses to "My New Partnership with Whole Foods!"