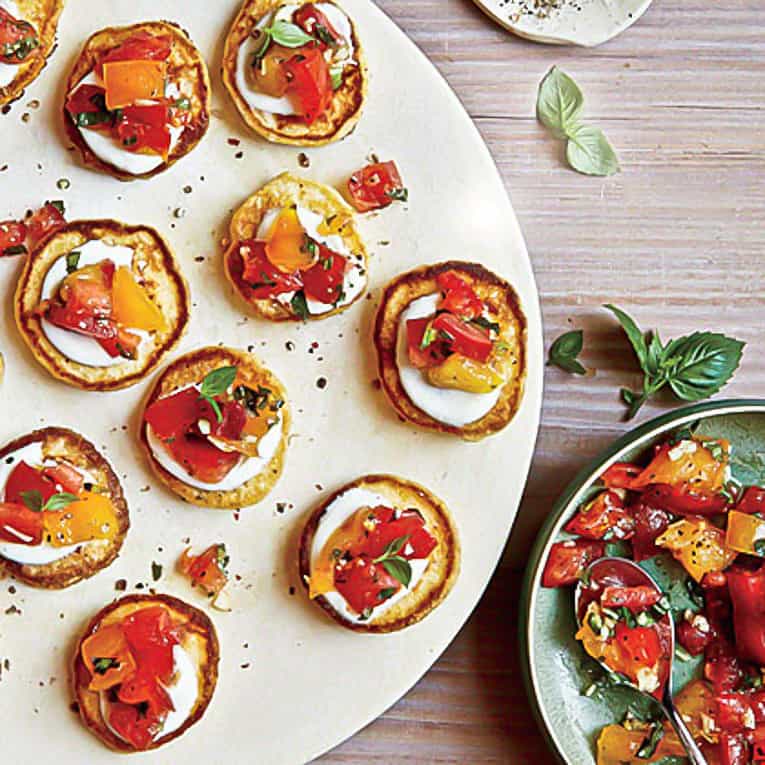 Photo credit: CookingLight.com
Ahhh summer produce.
Fresh herbs, heirloom tomatoes, corn on the cob – it really doesn't get much better than that!
This recipe is the epitome of a simple summer dish. Perfect as an appetizer for a picnic or get-together, or even as a light snack mid-day – this recipe encompasses the full flavors of this season's best produce.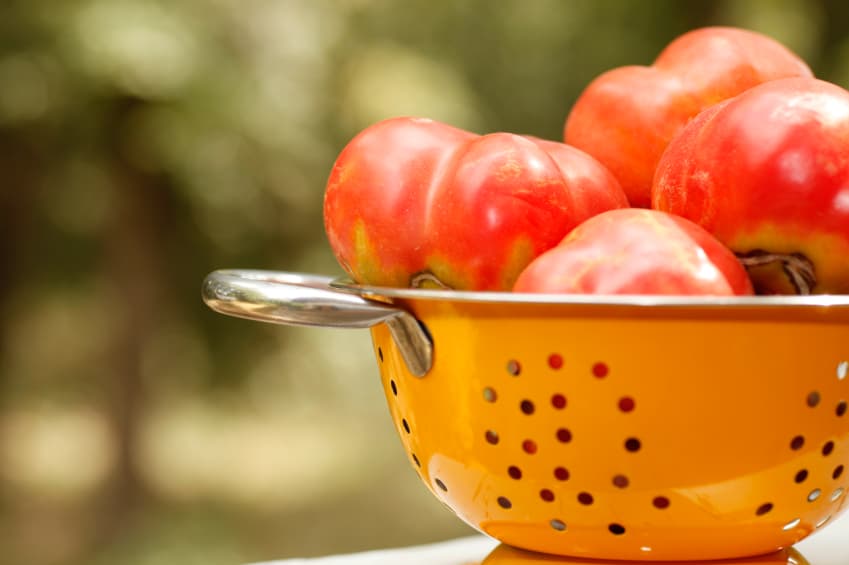 Don't those tomatoes just look so happy?
I love going to the farmer's market in the summertime – I feel like there are always new and interesting things to explore. My weakness is definitely heirloom tomatoes though. Pair them with some herbs, salt, pepper, fresh cheese, and some homemade crackers or crusty whole grain bread, and I'm a happy camper for a while.
In this recipe, heirloom tomatoes become the "syrup" for these savory "pancakes."
Fresh basil, garlic, corn, extra virgin olive oil, and crème fraîche round out these yummy bites.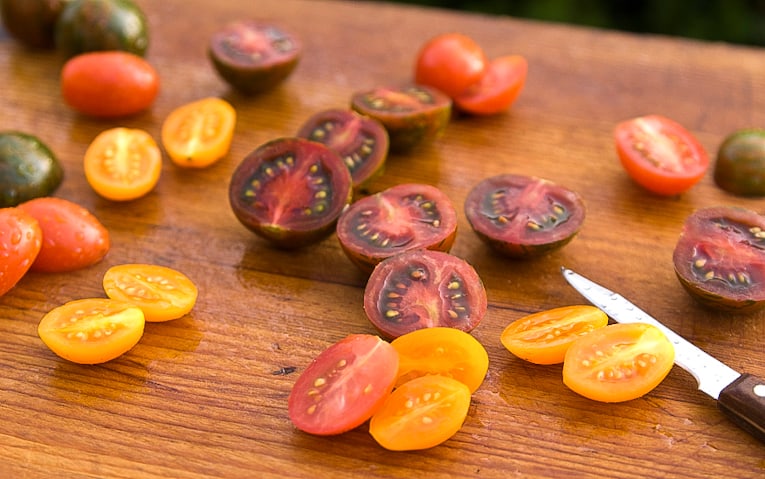 Normally, appetizers are an easy way to blow a ton of calories on something not-so-healthy, but these little cakes are healthy and delicious! One topped pancake has only 35 calories, but tastes rich and decadent 🙂
I came across this recipe thanks to my friends at CookingLight, and made it as-is. No modifications needed for the slightly sweet cornmeal cakes and perfectly acidic tomato relish that awaits you.
Happy summer cooking everyone!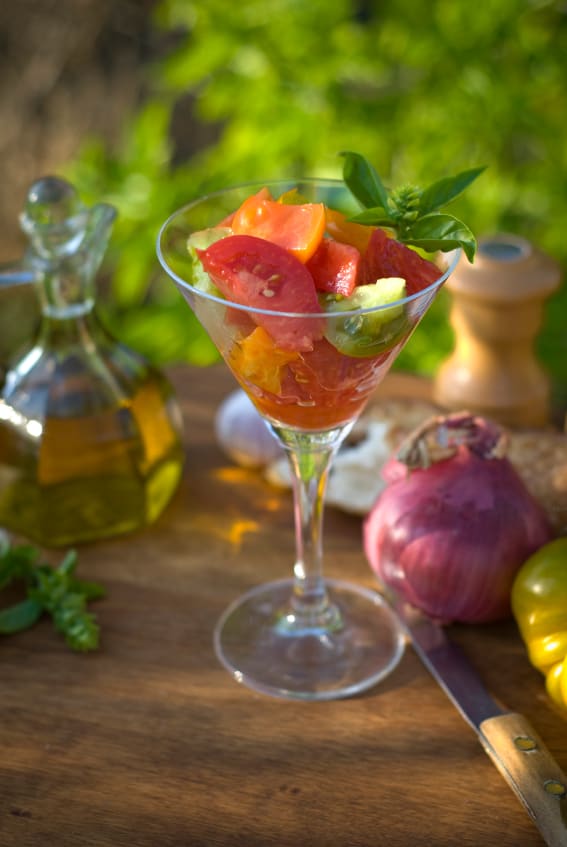 Mini Cornmeal Cakes with Heirloom Tomato Relish
Nutritional Info Per Serving (2 topped pancakes): 69 Calories, 2.5g Fat, 9.2g Carbs, 201mg Sodium, 1g Fiber, 2.5g Protein
Ingredients
Relish

2 small heirloom tomatoes, seeded and finely chopped (about 1 pound)
1/4 cup chopped fresh basil
1 teaspoon extra-virgin olive oil
1/2 teaspoon kosher salt
1/2 teaspoon freshly ground black pepper
3 garlic cloves, minced
Pancakes

1.75 ounces all-purpose flour (about 1/3 cup)
2 tablespoons yellow cornmeal
1/4 teaspoon kosher salt
1/4 teaspoon freshly ground black pepper
4 1/2 tablespoons whole buttermilk
1 large egg, separated
Cooking spray
4 teaspoons crème fraîche or reduced-fat sour cream
Instructions
Combine first 6 ingredients for your relish.
Weigh or lightly spoon flour into a dry measuring cup; level. Combine flour and next 3 ingredients (through 1/4 teaspoon pepper) in a medium bowl. Combine buttermilk and egg yolk; add milk mixture to flour mixture, stirring with a whisk just until moist.
Place egg white in a bowl; beat with a mixer at high speed until medium peaks form. Fold one-fourth of egg white into buttermilk mixture. Gently fold in remaining egg white.
Heat a large skillet over medium-high heat. Lightly coat pan with cooking spray. Spoon about 1 tablespoon batter per pancake into pan, spreading slightly. Cook 1 minute or until tops are covered with bubbles and edges begin to set. Turn and cook 1 minute. Repeat with remaining batter for a total of 16 pancakes. Top each pancake with 1/4 teaspoon crème fraîche and 1 1/2 teaspoons tomato relish. Serve immediately.
Notes
https://pickyeaterblog.com/mini-cornmeal-cakes-with-heirloom-tomato-relish/
Recipe by: The Picky Eater, pickyeaterblog.com
TAGS: appetizers, italian recipes, kid friendly recipes, quick meals, side dishes, snacks, vegetarian
8 responses to "Mini Cornmeal Cakes with Heirloom Tomato Relish"